Born in 1975 in Sao Paulo, Brazil, Eduardo Kobra is a street artist. He officially began his career in 1987 at only 12 years of age in his hometown.
Since then, he has painted more than 3,000 murals on five different continents. Some of them are commission, while others are his original and raw idea. He now works with a team of artists who paint between two and four murals each month.
Kobra continues to live and work in his hometown of Sao Paulo. But when asked, he goes to a different country.
Speaking about influence on his work, he was influenced by both modern and contemporary artists around the world. But he specifically cites muralists such as Keith Haring, Diego Rivera, and Banksy as his biggest influences.
He is notable for painting murals usually depicting portraits with a kaleidoscope theme, bright colors nad bold lines. Kaleidoscope is a toy consisting of a tube containing mirrors and pieces of colored glass or paper. The reflections produce changing patters when you rotate the tube.
The main goal of Kobra's work is to provide space for the public to interact with his art. He says he doesn't want the public to go to a museum to see art. Instead, he wanted to make art accessible to everyone.
1. The Kiss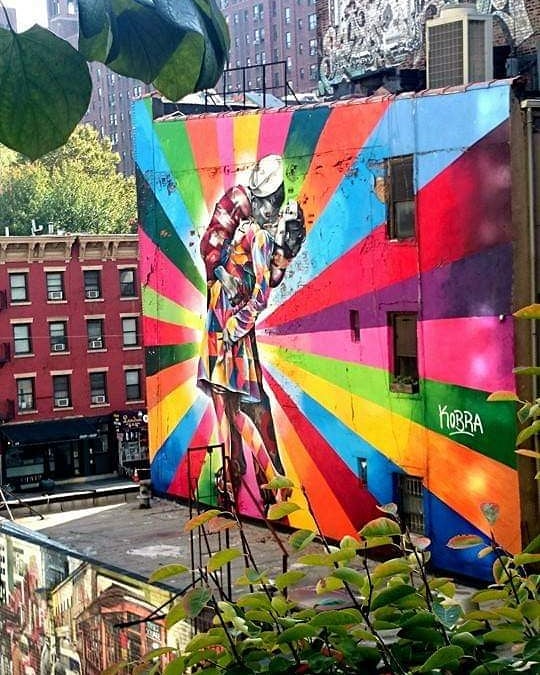 Let's start with a classic Eduardo mural, one that is full of bright colors. It looks vividly and colorful. And that is the main goal. To make the world more colorful.
2. Coexist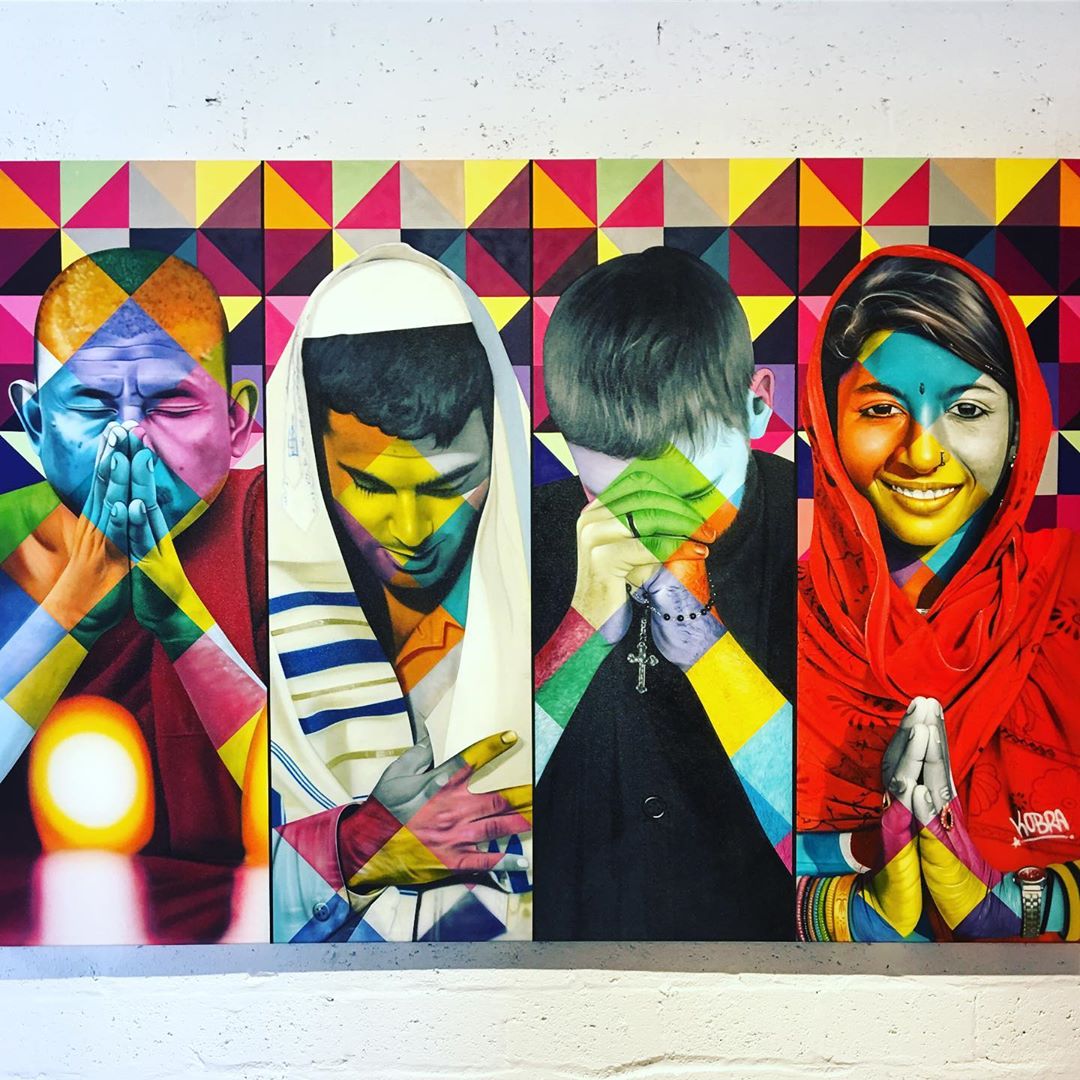 We said Kobra wants to make art accessible to all. He is a huge supporter of equality in all ways possible. And this painting shows exactly that, people of different races coexisting together.
3. Mount Rushmore (Andy Warhol, Frida Kahlo, Keith Haring and Jean-Michel Basquiat)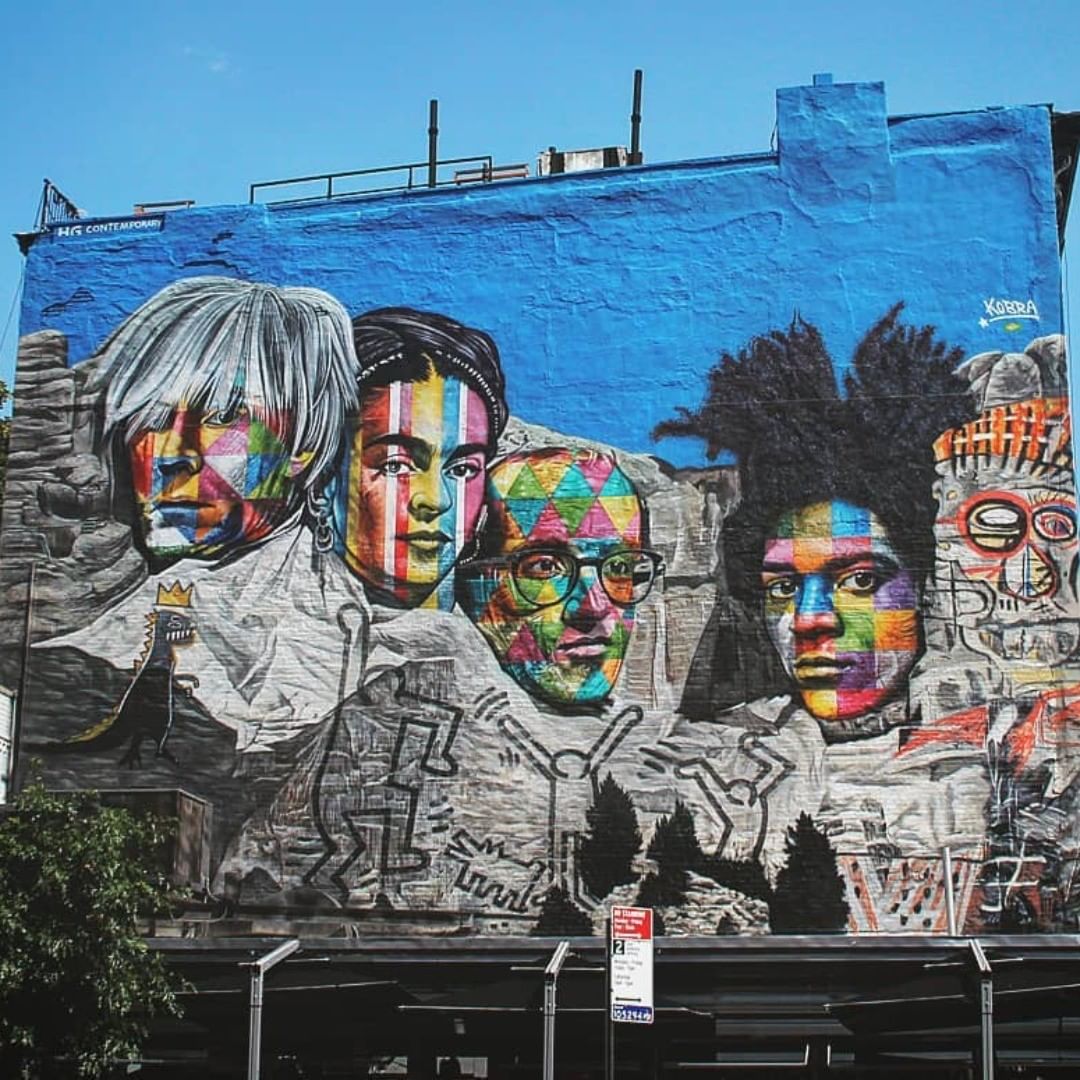 This painting shows his biggest influences and the artists he considers the most important in his life. They all emit colors from their face, while the mount is rich with symbols the authors got famous for. For example, you can see Keith Haring's famous gender neutral person.
4. Ballerina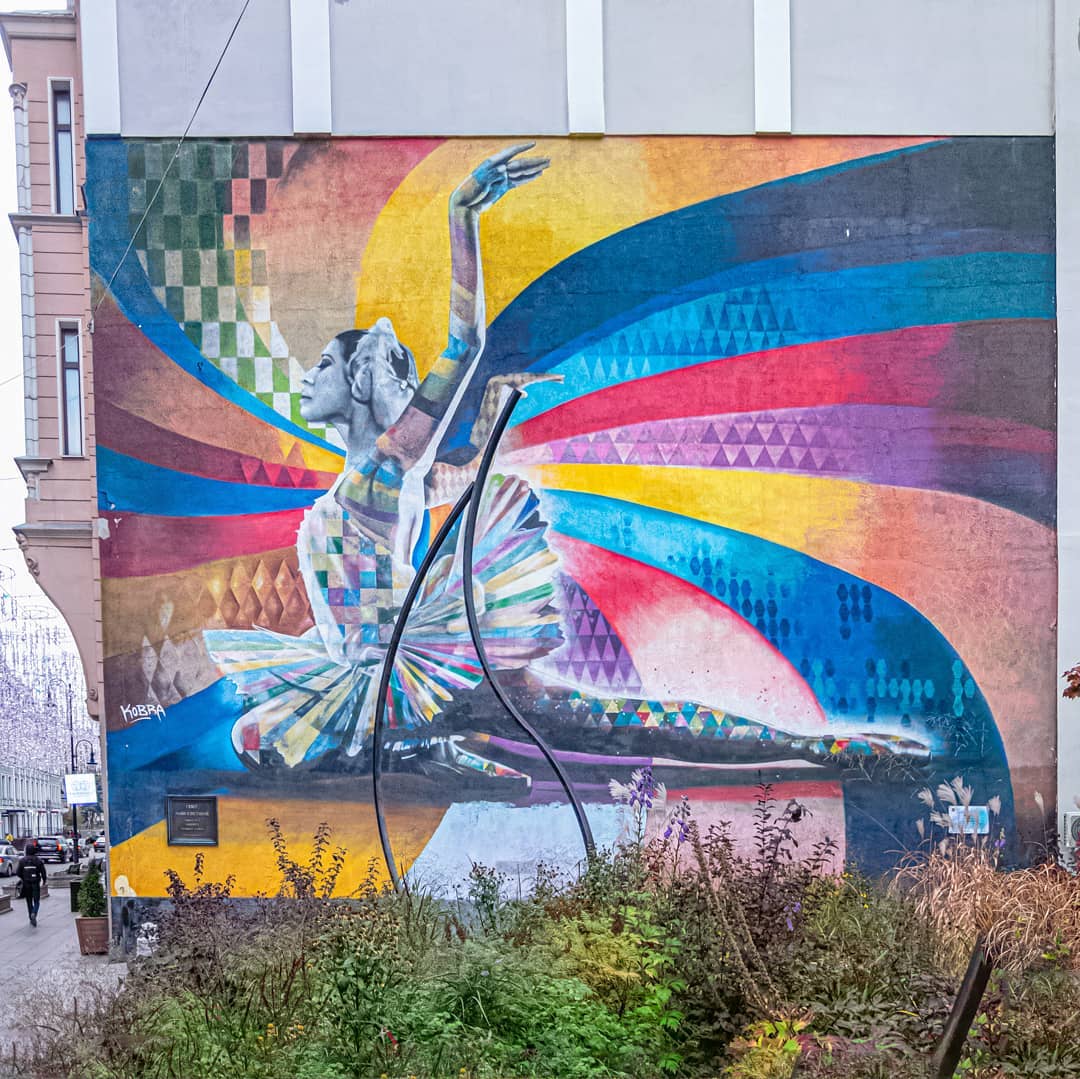 Kobra is a master at making a simple object or person stand out from the crowd. How does he do it? By masterfully combining colors that pop. Here, he took an inspiration from Edgar Degas ballerina series.
5. Anne Frank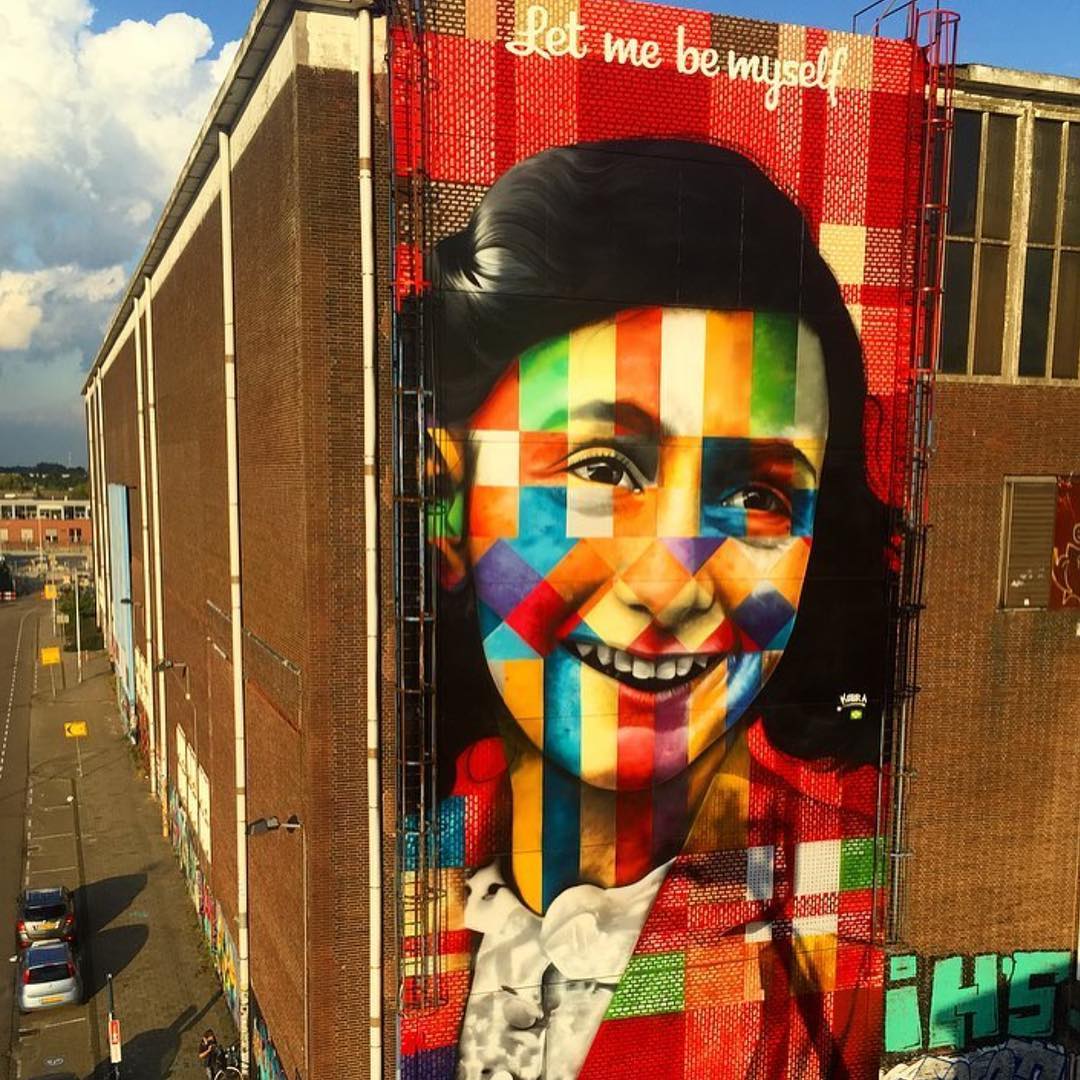 We said the Brazilian artist is all about equality and equal opportunities. In that regard, he often speaks about people who fought for it as well. And Anne Frank is definitely one of the most famous anti-Nazi characters in history.
6. David Bowie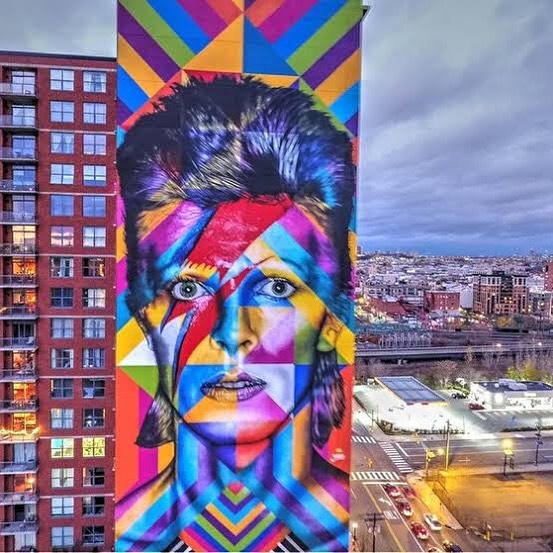 Kobra and David had one thing in common, they both loved colors. The Brazilian artist paid his tribute to the musician with this mural.
7. The 27 Club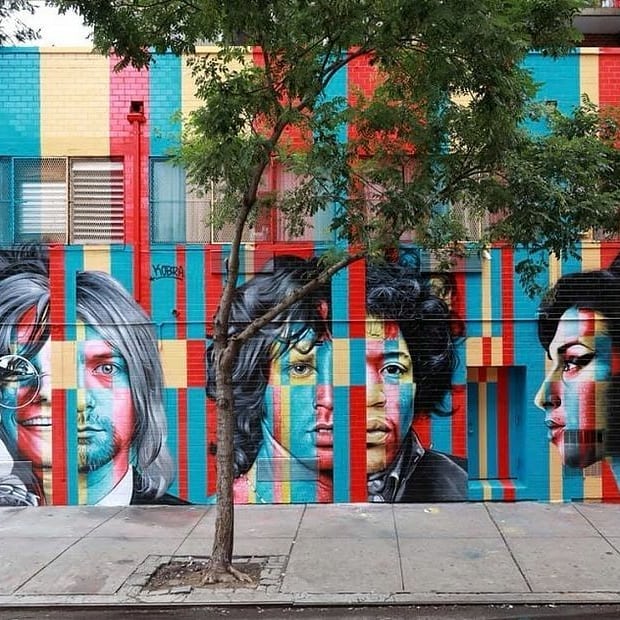 The 27 Club is a club of celebrities who died at the age of 27. They could have achieved much more, but life had other plans for them. There are more than these three in the club.
8. Larger Than Life Ethnicities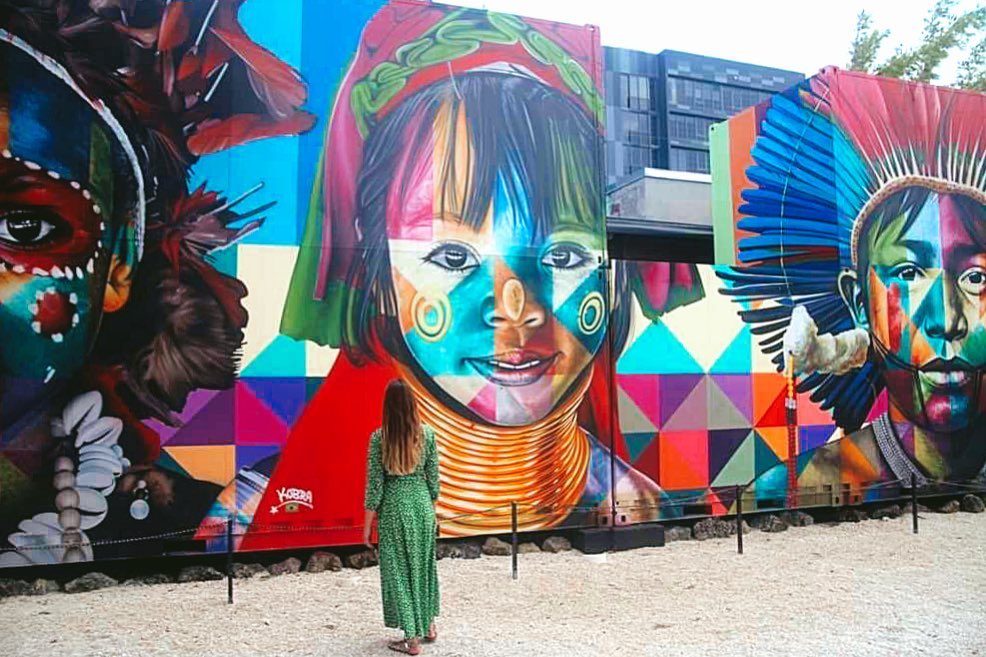 Speaking about equality among people, Kobra also supports ethnicities around the world. They are left on the margins of life, but this artist wants to bring them to the mainstream public.
9. Ethnicity Aborigine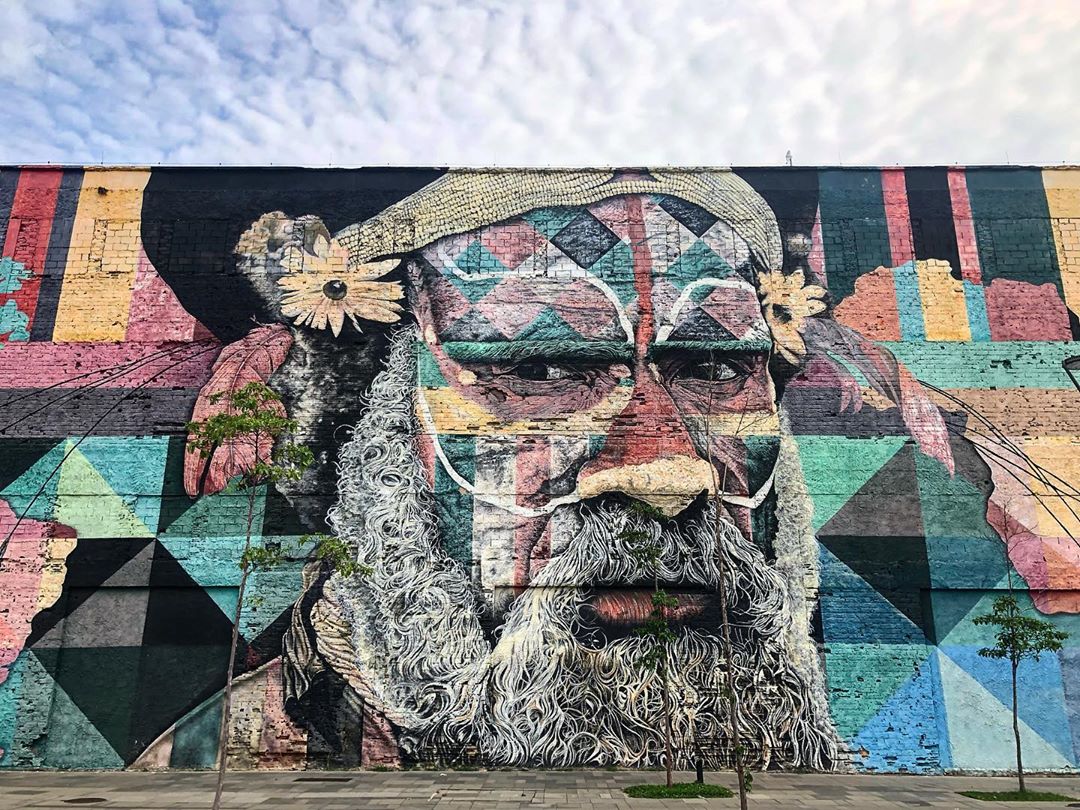 Aboriginal Australians comprise many distinct people who have developed across the continent for over 50,000 years. They have a broadly shared but complex genetic history. In the past several years, more and more people want to know about the Aborigines.
Fun fact: Aborigine is generally perceived as insensitive. Why? Because it has racist connotations from Australia's colonial past. You should rather use Aboriginal Person or Aboriginal.
10. Ethnicities African Girl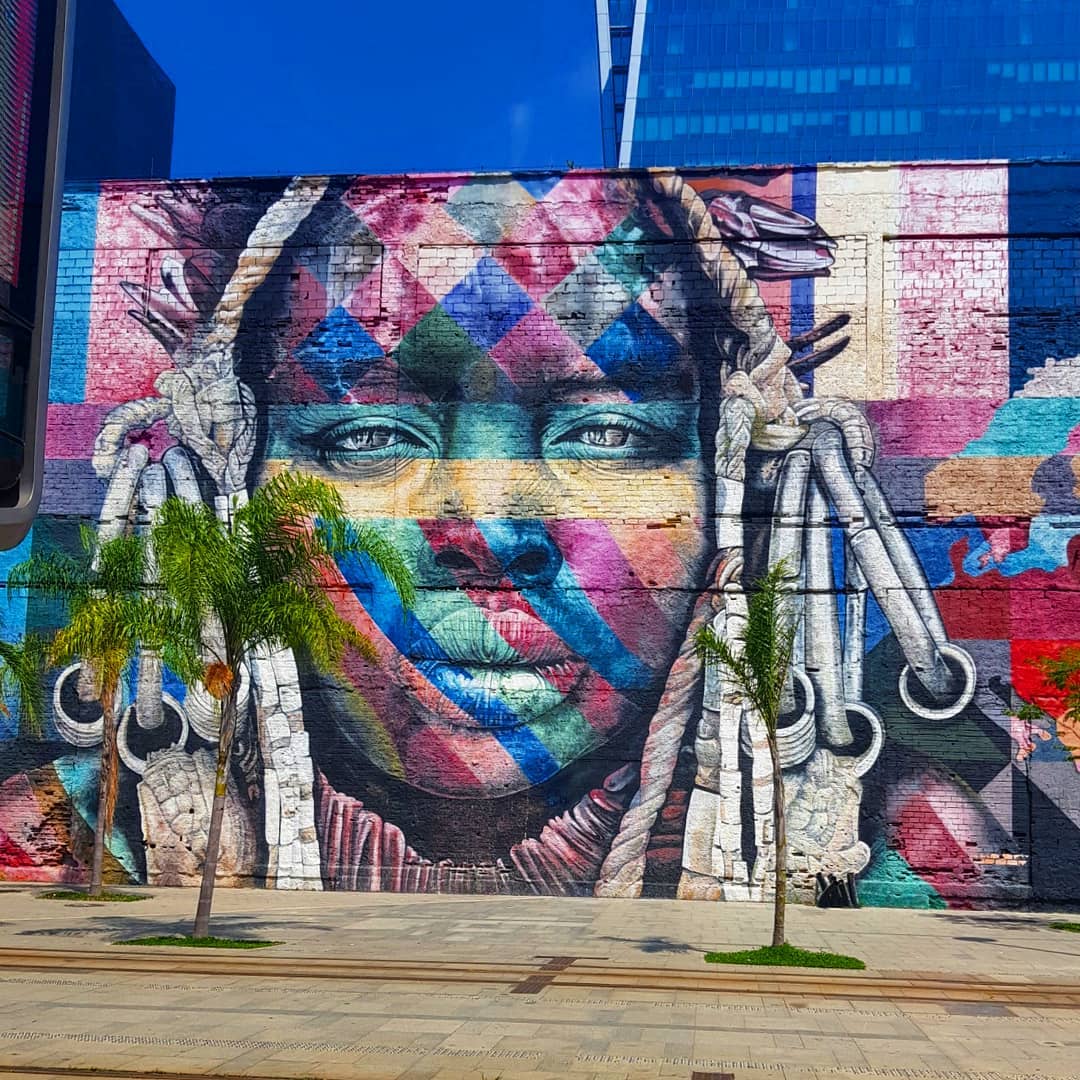 Africa is one of the poorest continents in the world. People out there live in near brutal life conditions. More and more people are making it out of Africa, but the continent remains shrouded in poverty.
11. Ethnicities Old Lady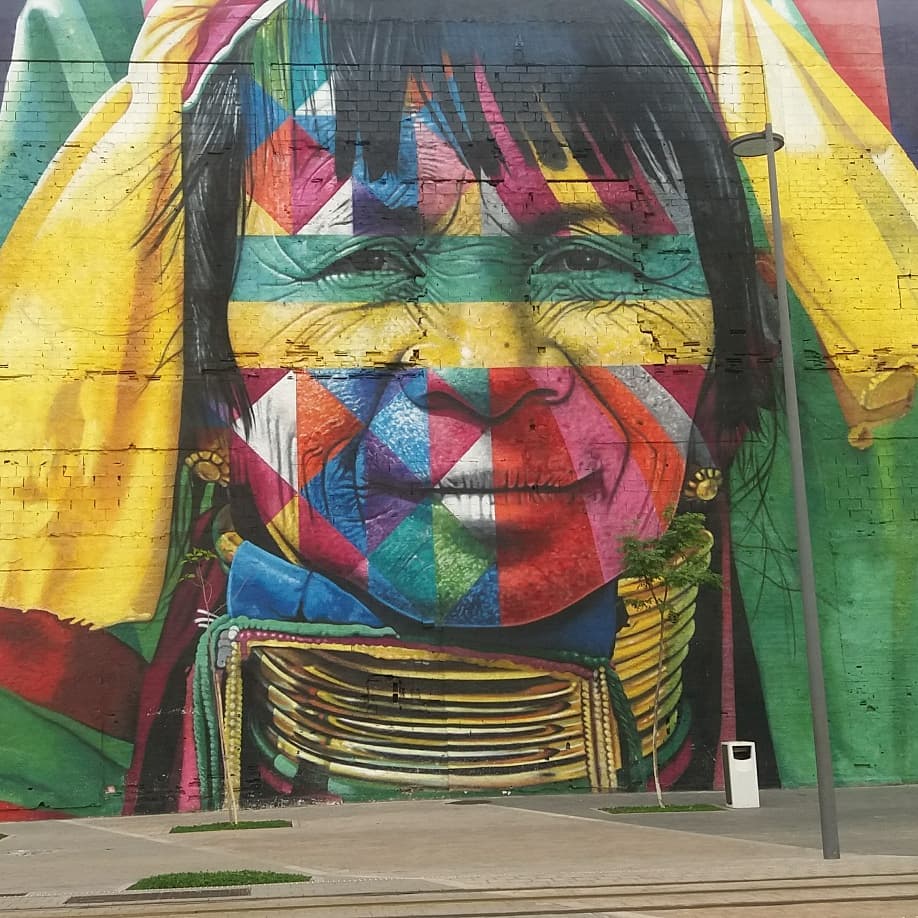 This old lady resembles Native Americans. She is part of the Ethnicities series that Kobra did to bring attention to their problems.
12. Neil Armstrong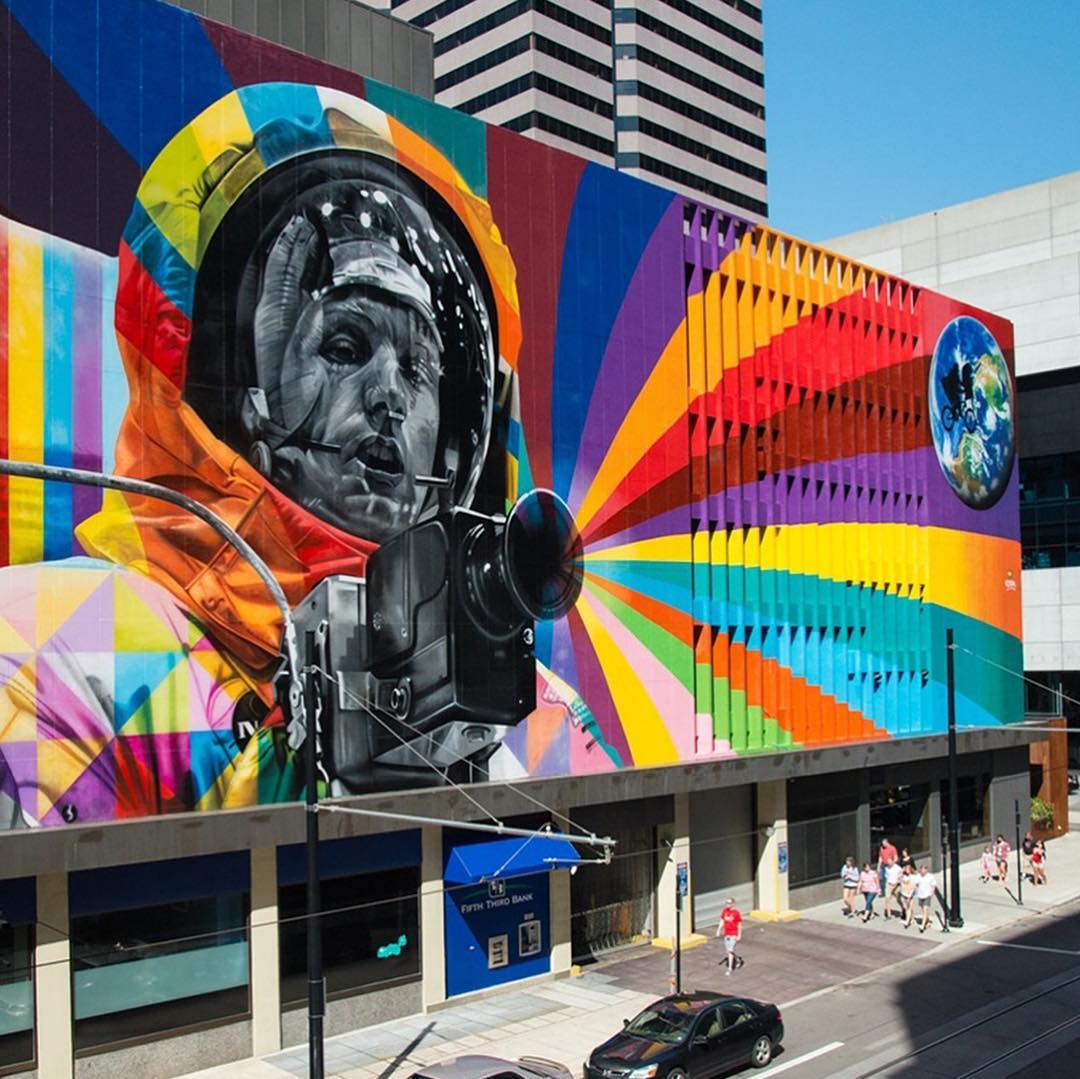 Eduardo also is a fan of painting celebrities that left a mark in our society. And the first man to walk on the moon is exactly that.
13. Bob Dylan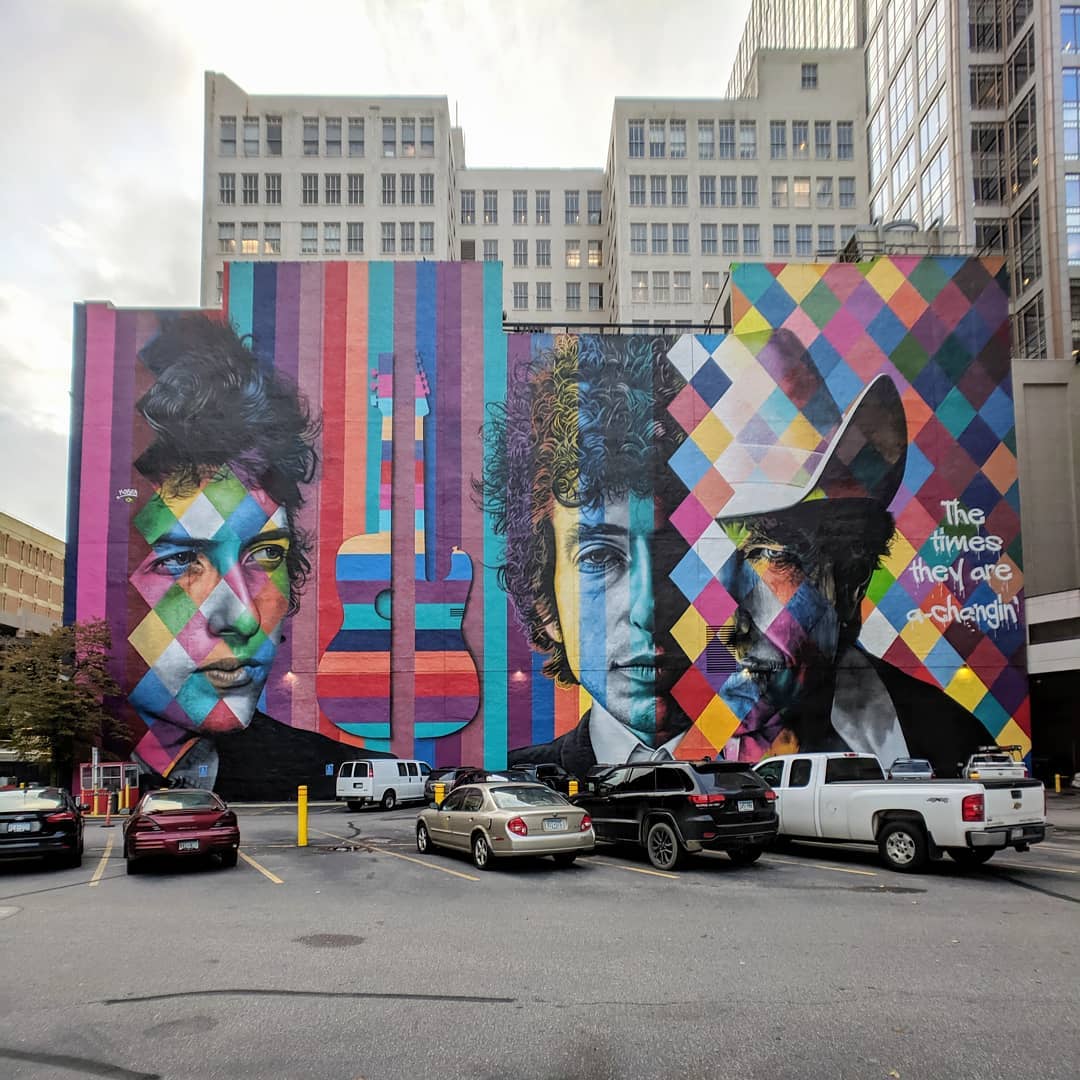 Bob Dylan is one of the most famous and respected songwriters in history. With more than 125 million record sales, he is one of the best-selling musicians in history as well.
14. Claude Monet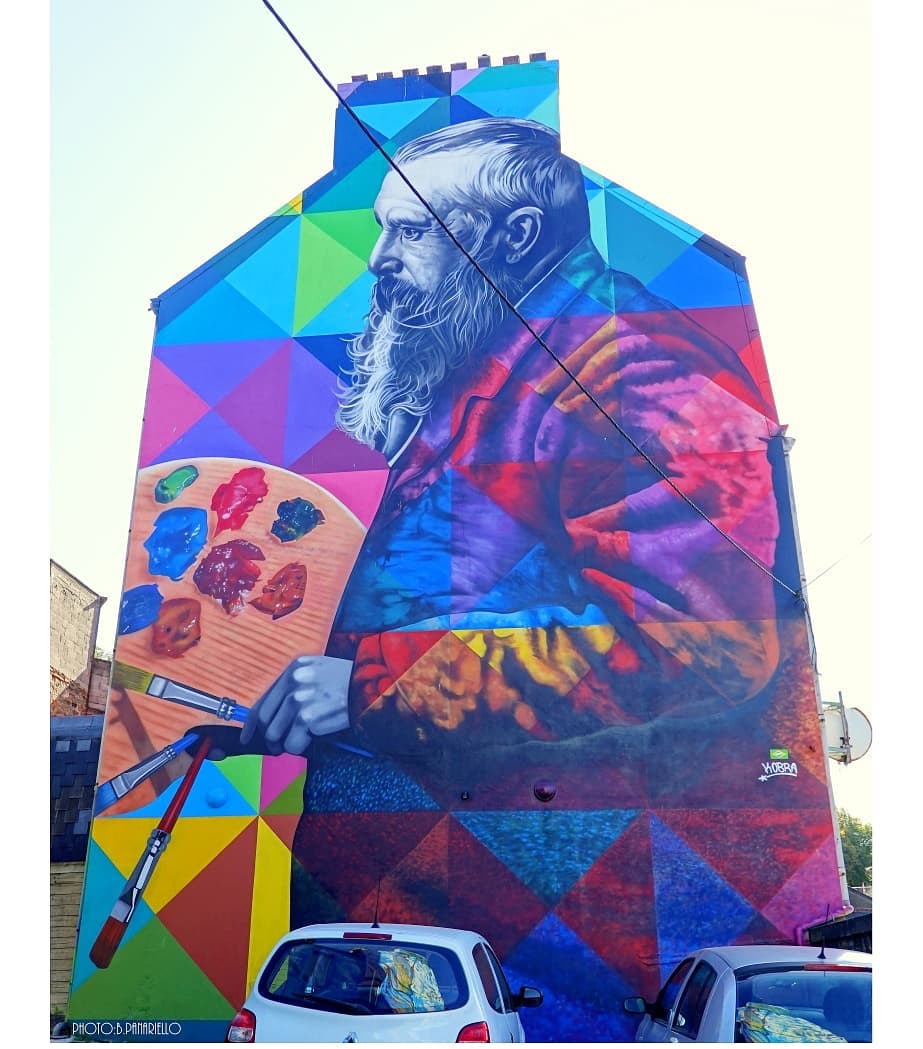 Claude Monet was among the first to introduce beautiful colors in paintings. He was founder of Impressionism, a movement that depicted things as they saw it in nature.
15. Muddy Waters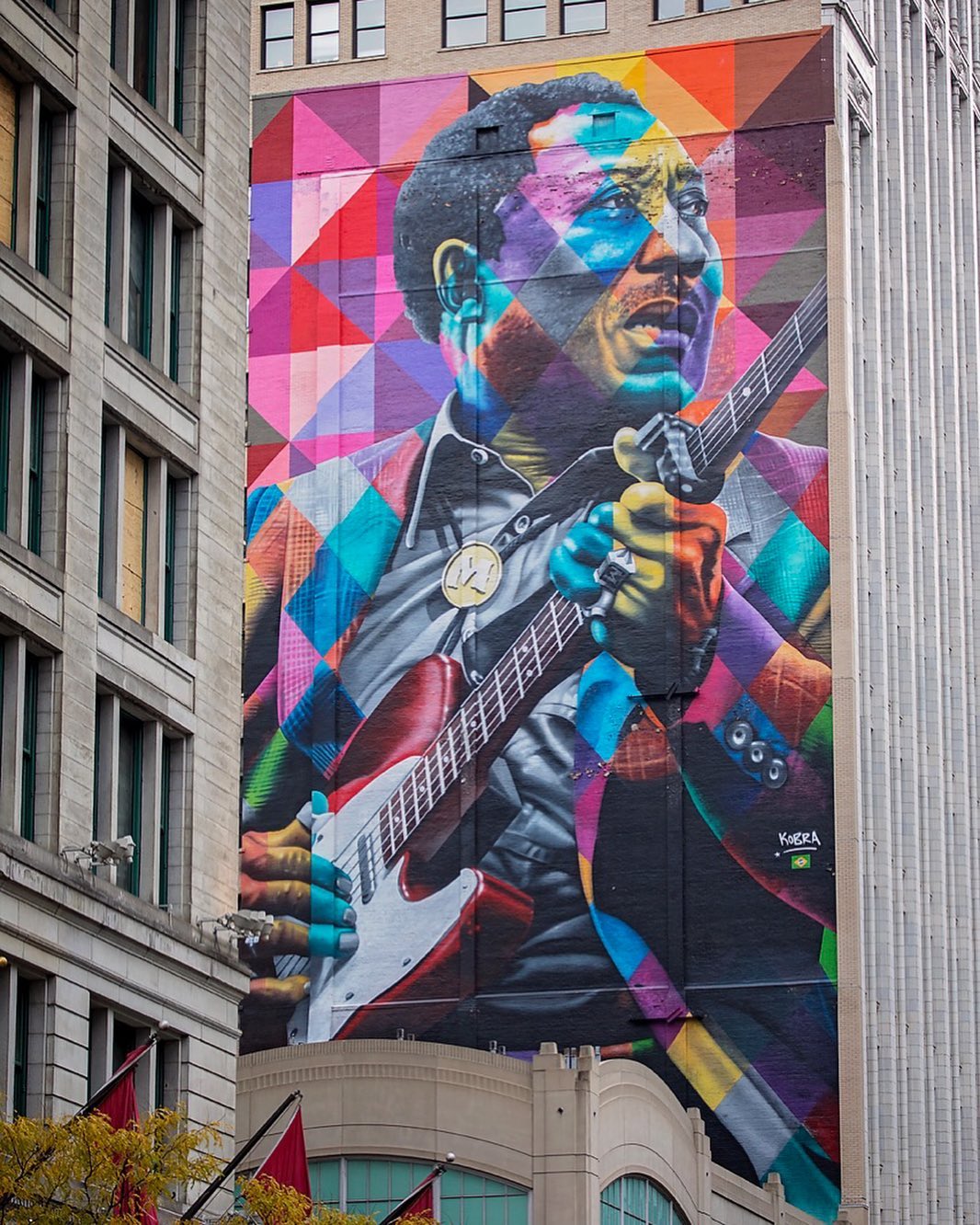 Muddy was an American blues singer-songwriter and musician. He is often cited as the father of modern Chicago blues. Critics describe his style as raining down Delta beatitude. His most famous song remains Hoochie Coochie man, released as a Chess single in 1954. He played a huge role during the post-war blues scene.
16. The Braves Of 9/11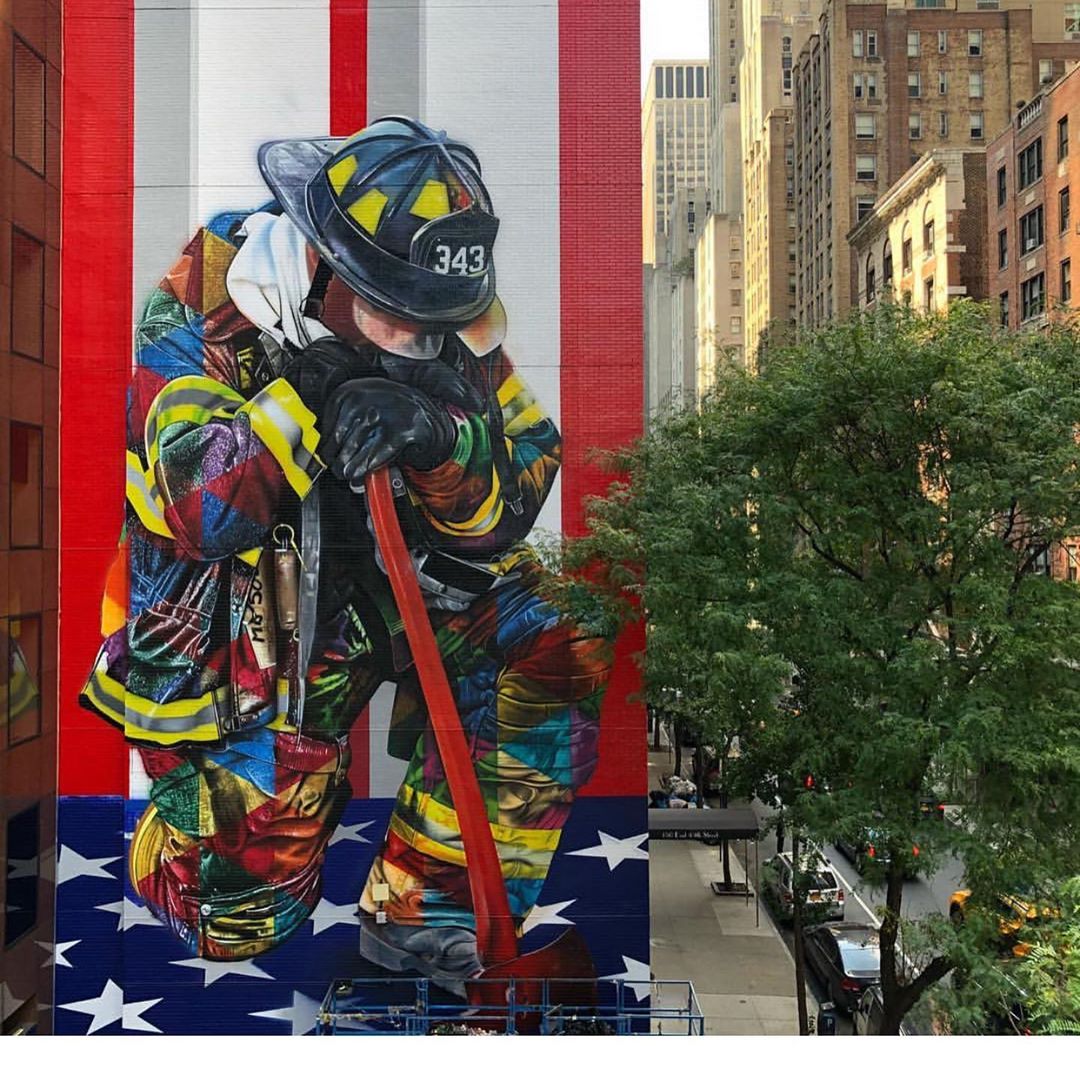 Kobra is a Brazilian artist, but even he knew he needs to pay respect to the heroes of 9/11 attack. And those were the people trying to save lives and find the injured in the ruins.
17. Vivian Maier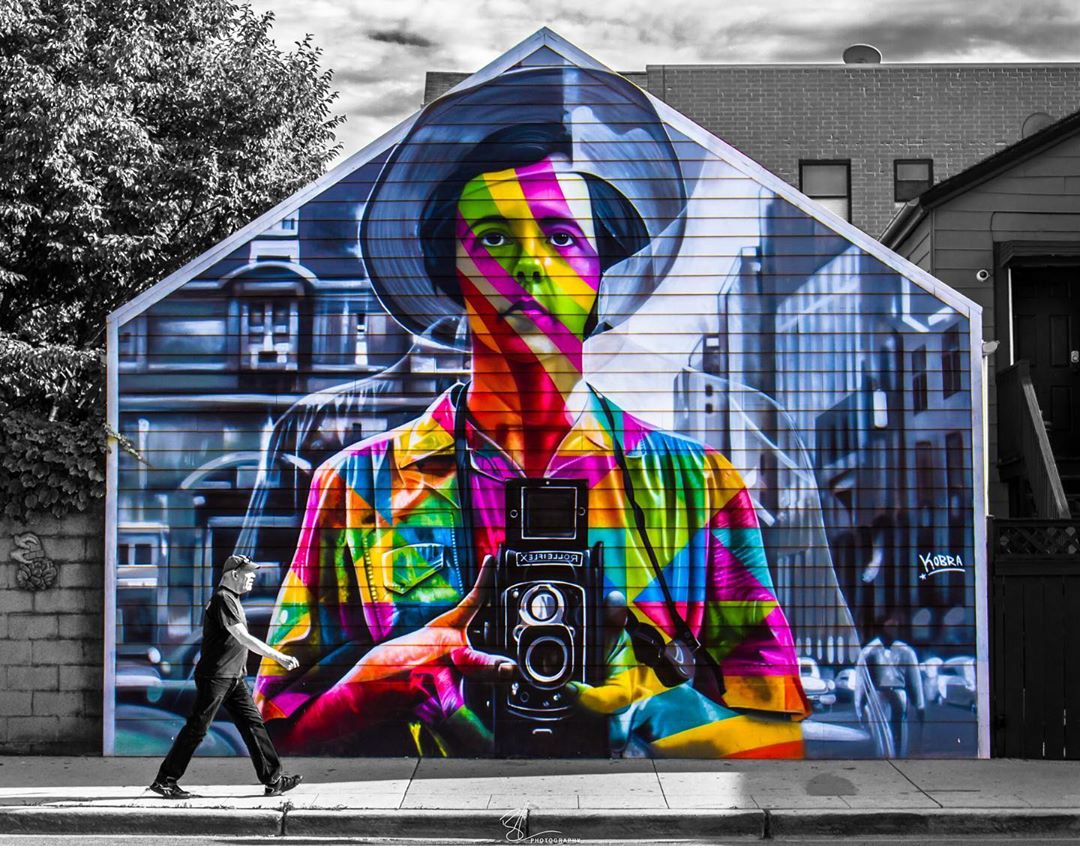 Vivien was an American street photographer. Her work was discovered and recognized after her death. Working as a nanny for more than 40 years, she photographed the urban human landscape during that period as well.
18. Stop Wars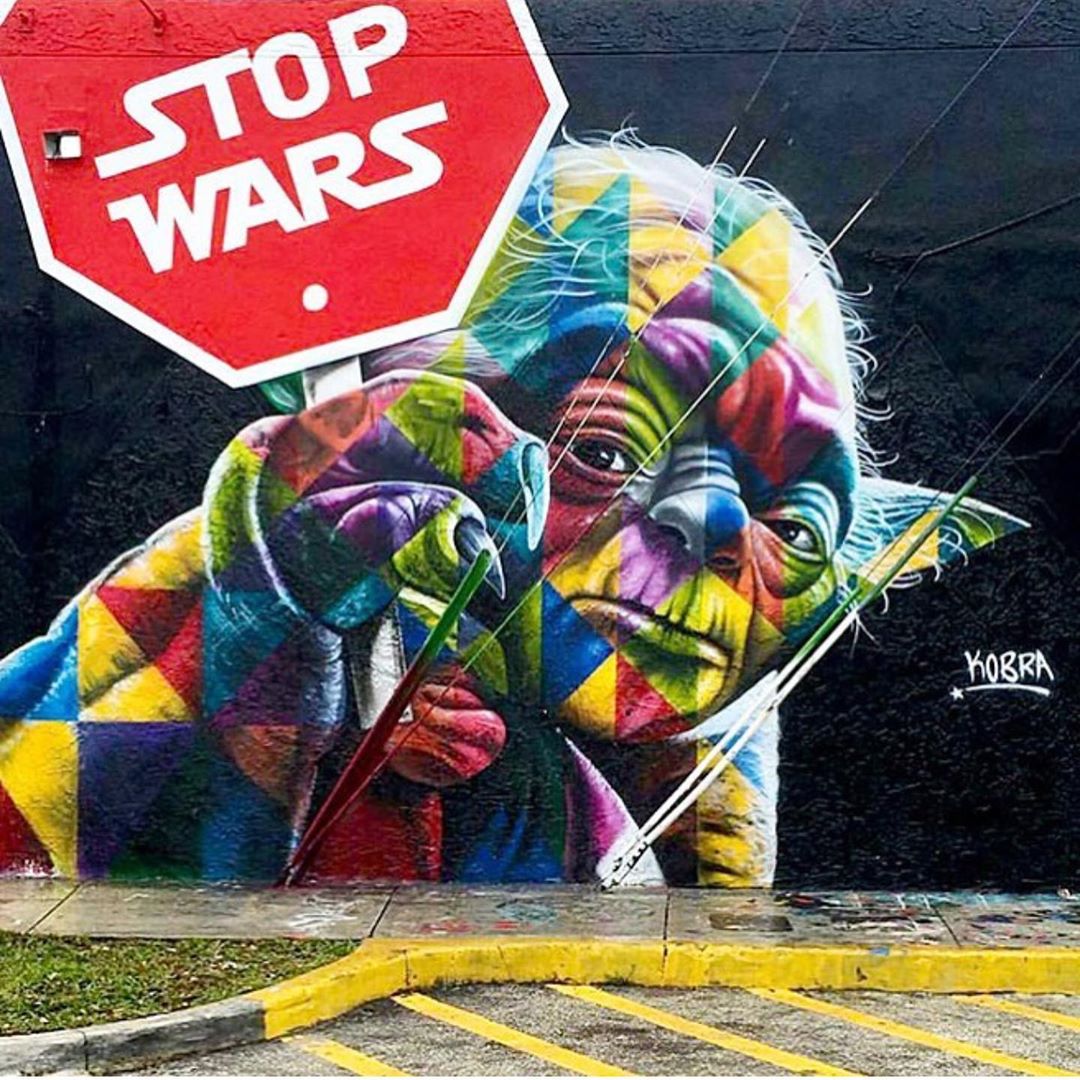 Kobra is a huge supporter of the Anti-war movement. And he came up with a unique idea for his sign. He used Yoda, a Star Wars character, who was all about peace in the Universe.
19. Ellis Immigrants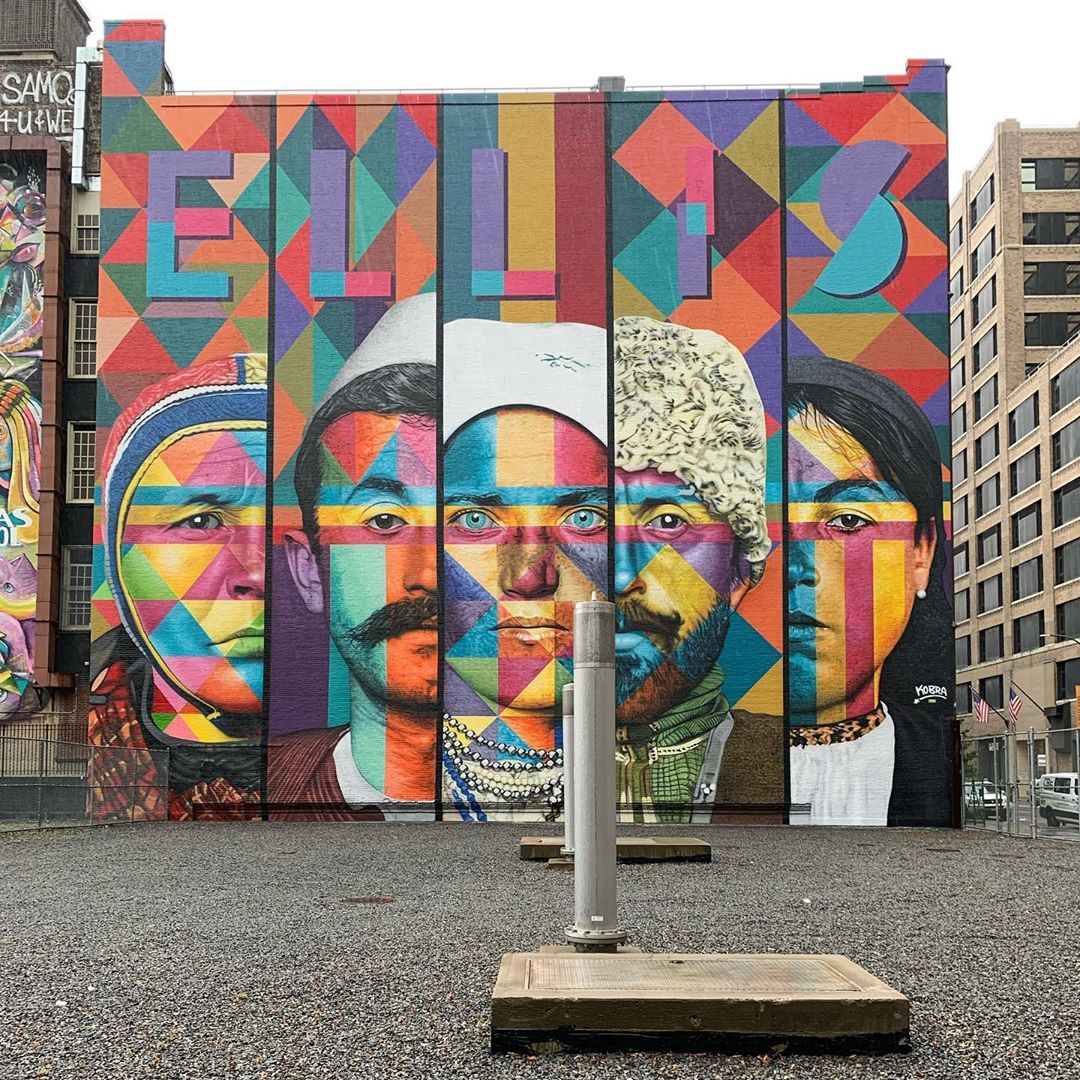 Ellis Island is the home of the Statue of Liberty. The island welcomed more than 12 million immigrants and it is now a poetic symbol of the American Dream.
20. Stop Guns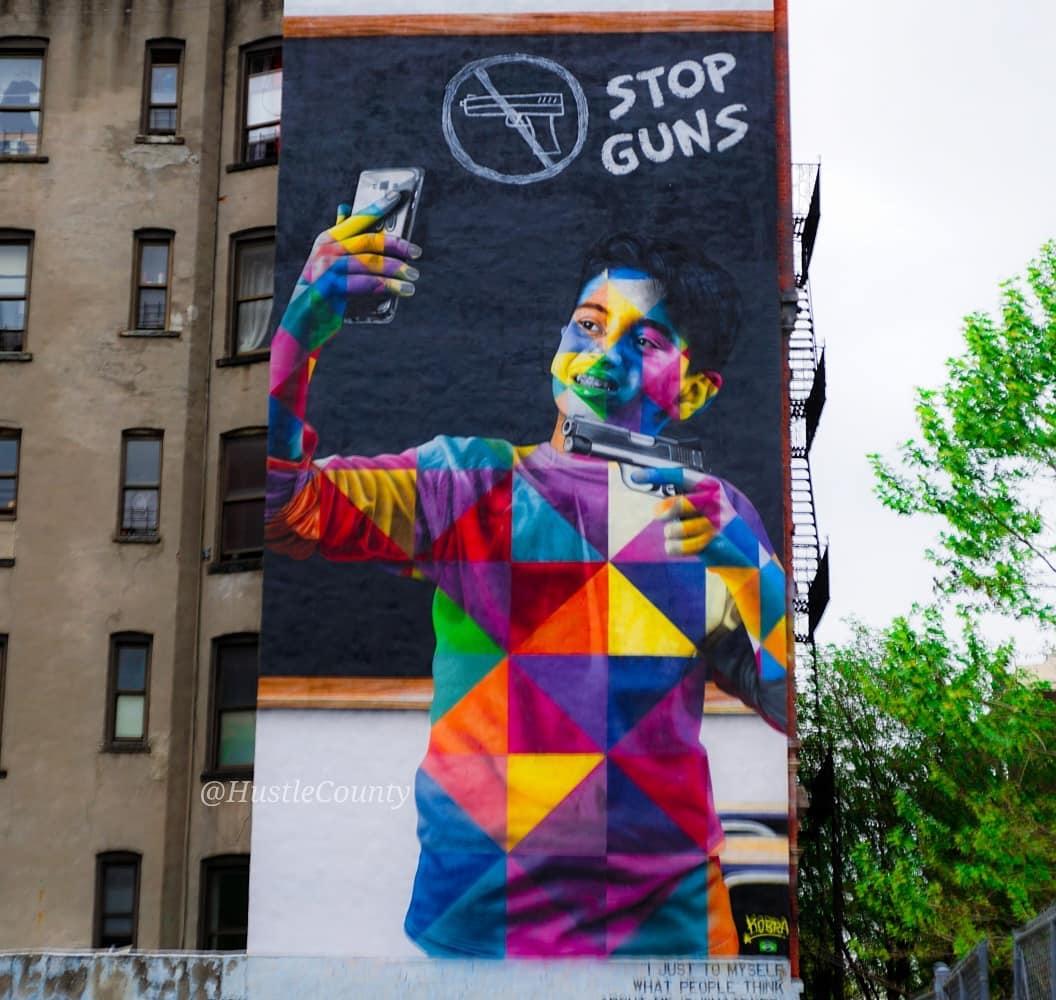 Here is another signature photo supporting the anti-war movement in the US. It is a nice reminder to stop using children as part of war propaganda and in the military.
21. Black Or White (Michael Jackson)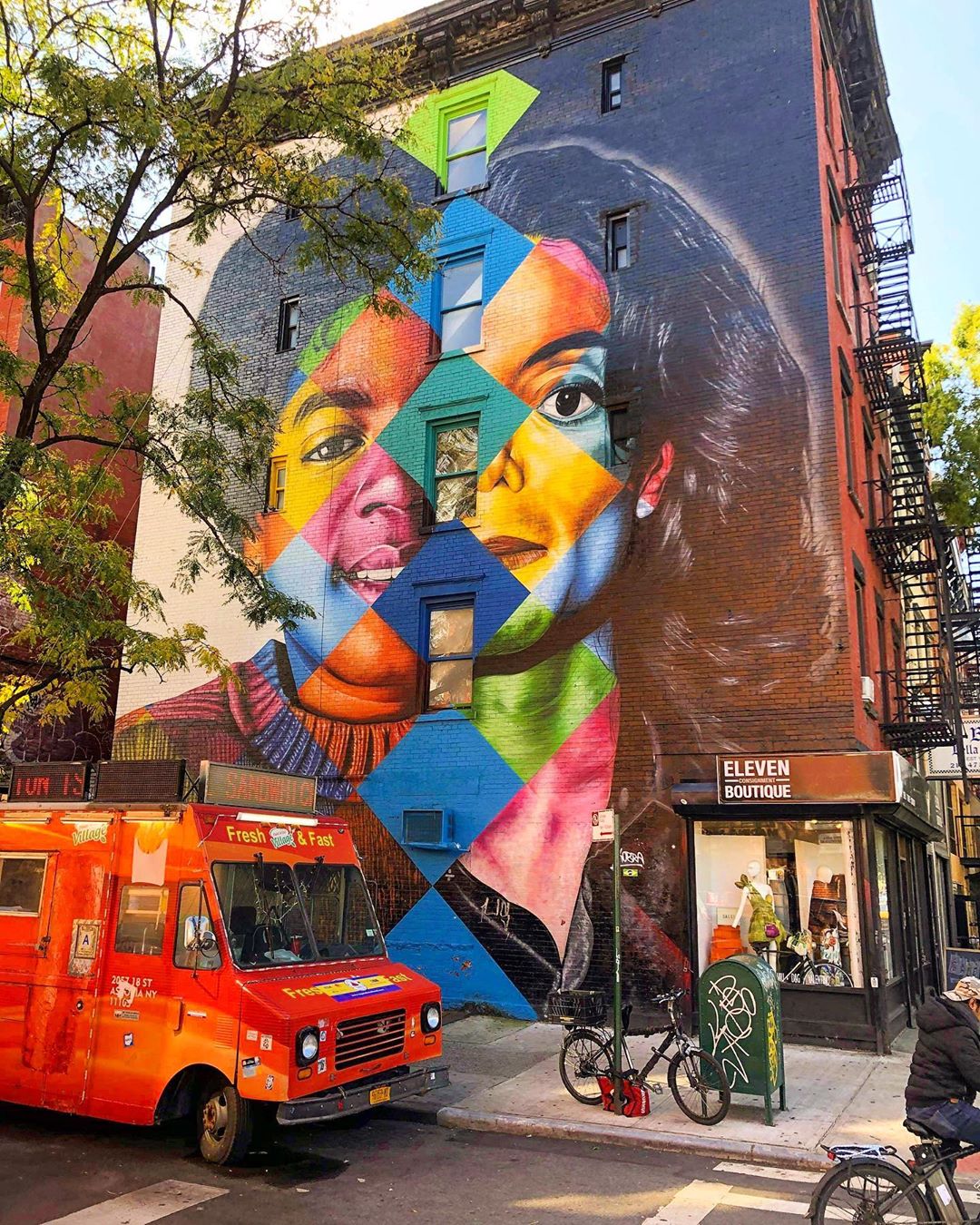 Black or White? Well, colorful looks better. In the beginning, Kobra got famous for painting musicians and celebrities from all over the world.
22. Ballerina Edgar Degas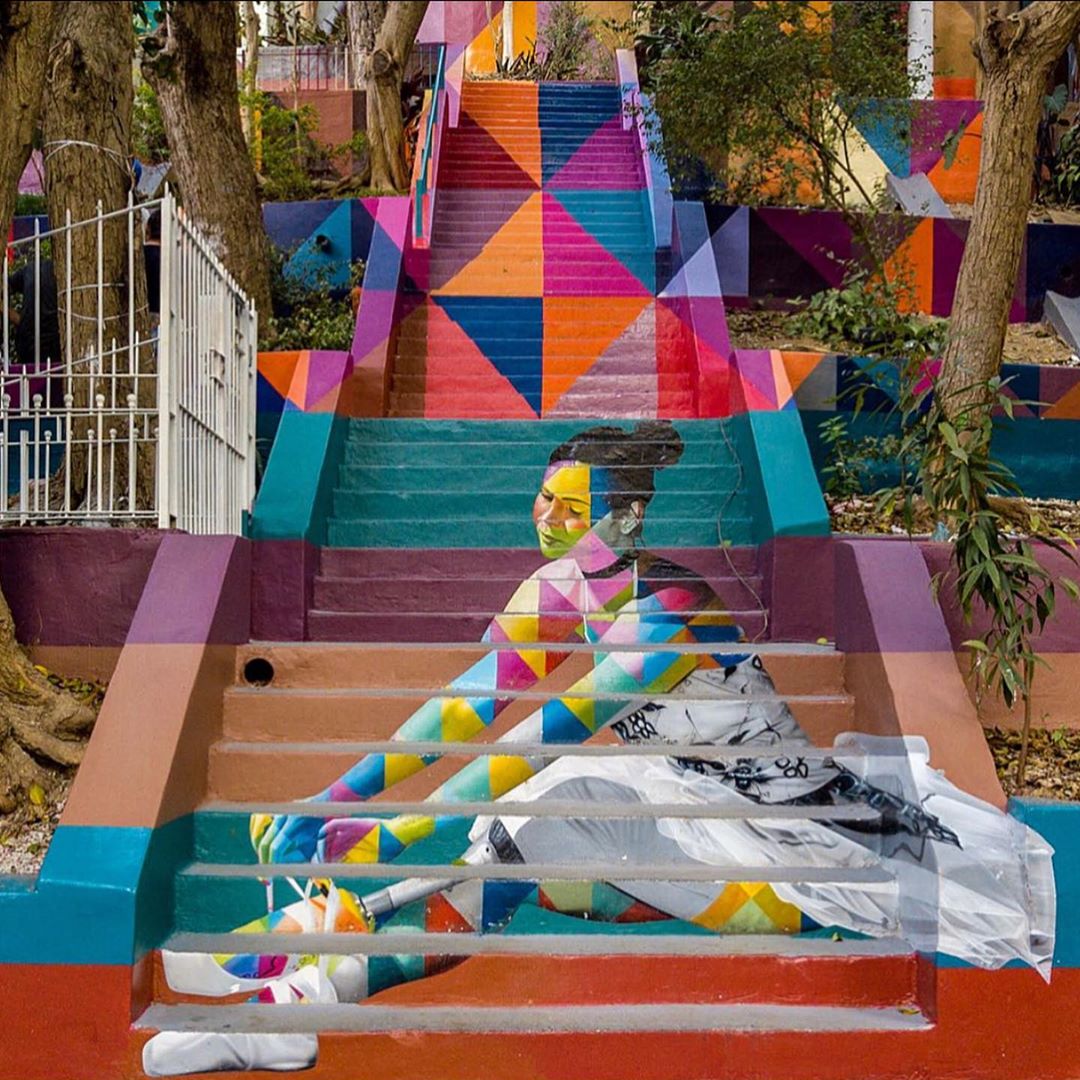 Edgar Degas was a French impressionist. His ballerina paintings definitely helped push his popularity around the world.
23. Tolerance (Madre Teresa & Mahatma Ghandi)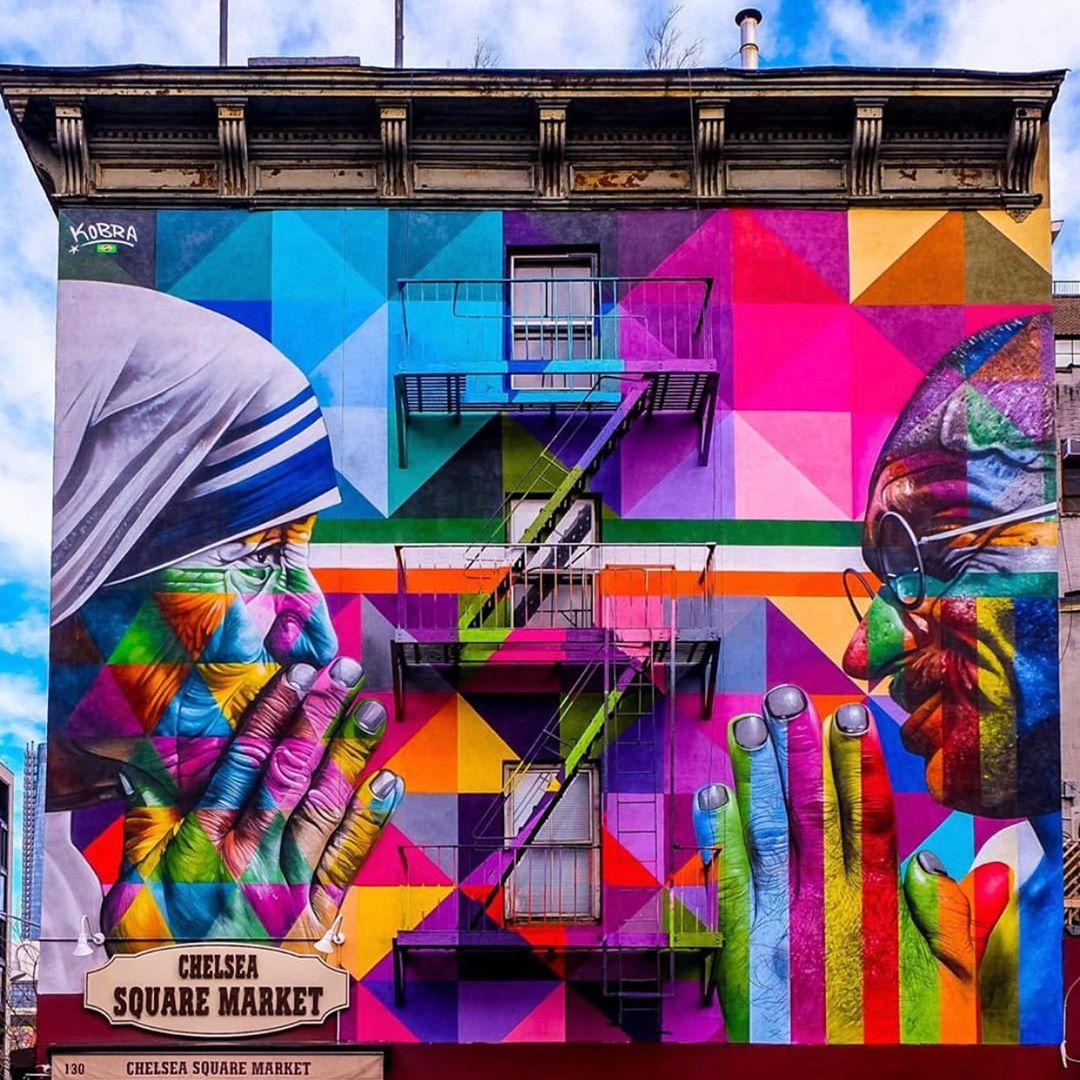 It is fitting that in a painting about tolerance, we have two of the most important people in history when you talk about peace and equality. Mahatma Gandhi and Mother Teresa left such a huge mark in our history. They left lessons for all us.
24. Colors of Liberty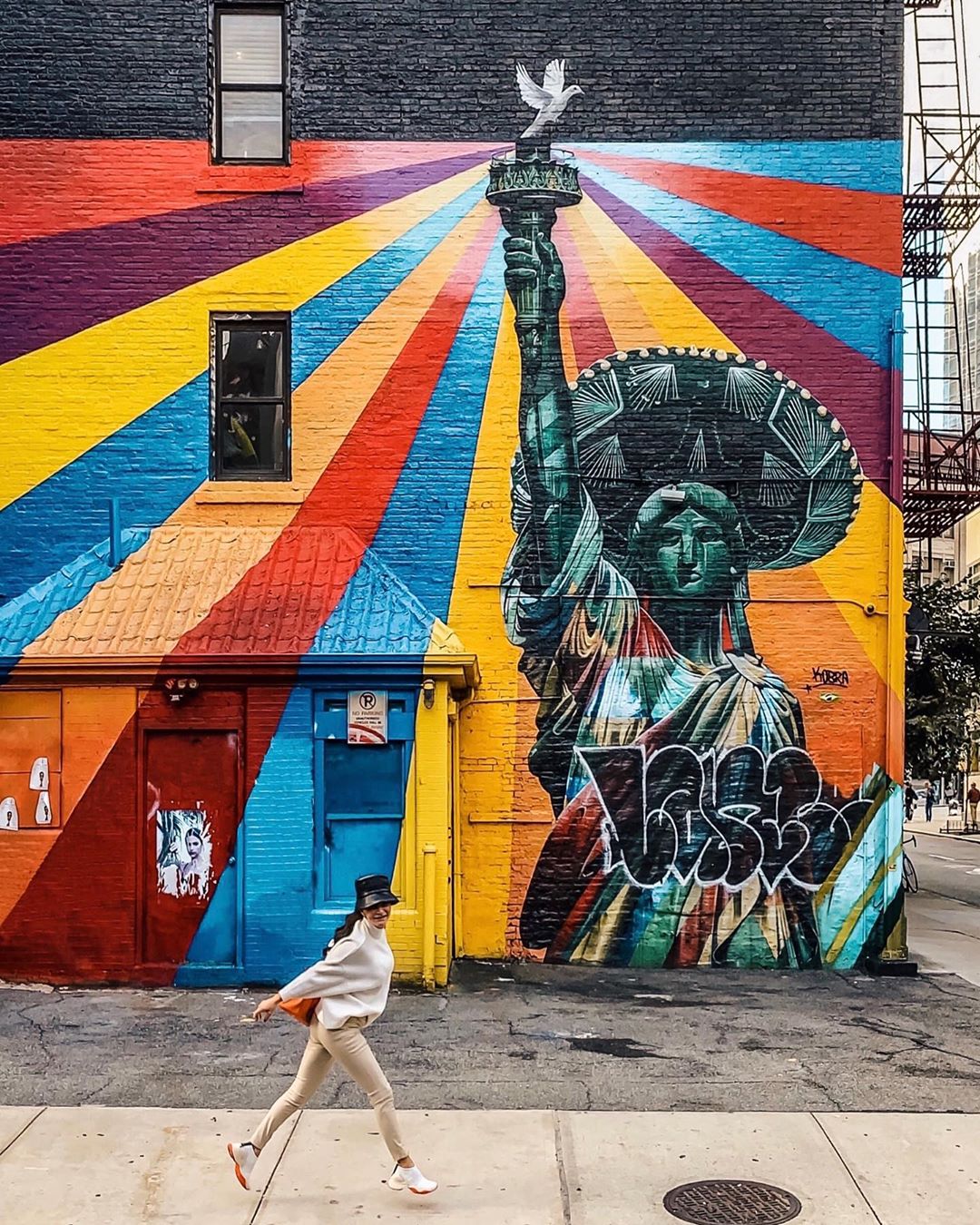 Here is another painting depicting the statue of Liberty. As we said before, Ellis Island and the Statue of Liberty are now the signature representation of The American Dream.
25. Ray Charles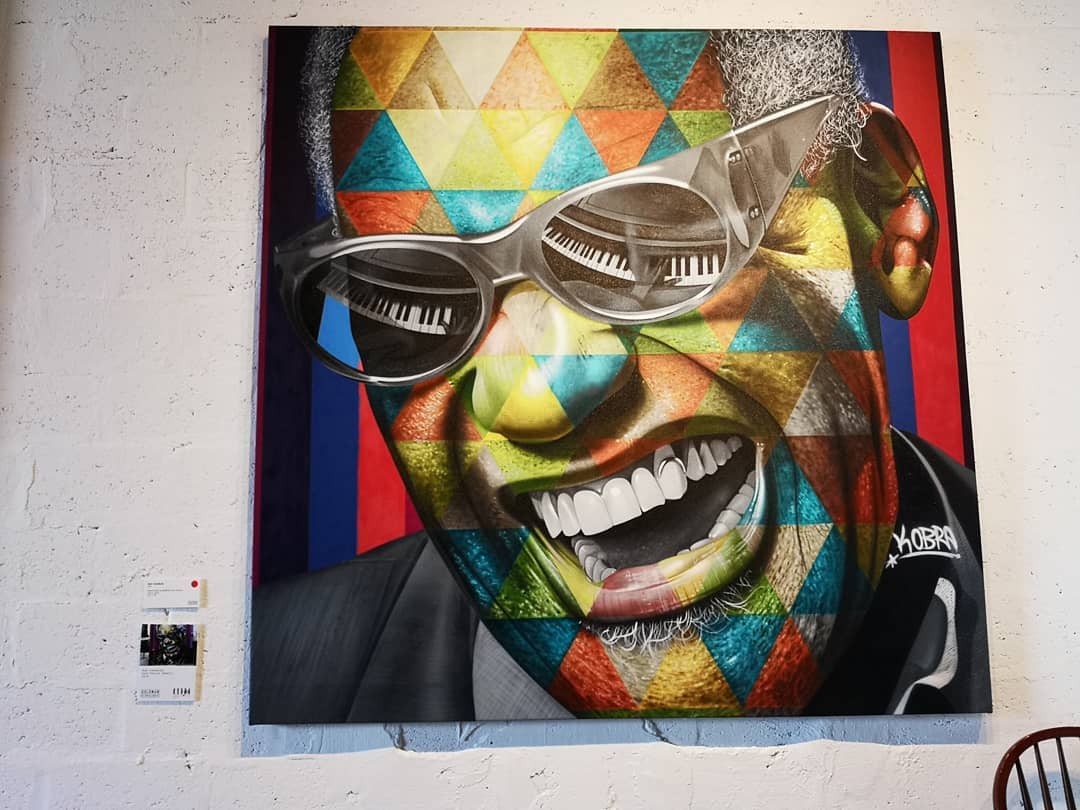 Ray Charles could not see in colors. He only saw blackness. Blinded by glaucoma as a kid, Ray never let his disability represent an obstacle to success. He brought such lively songs to us, it is fair that he is colorful.
26. Mark Twain And John T Lewis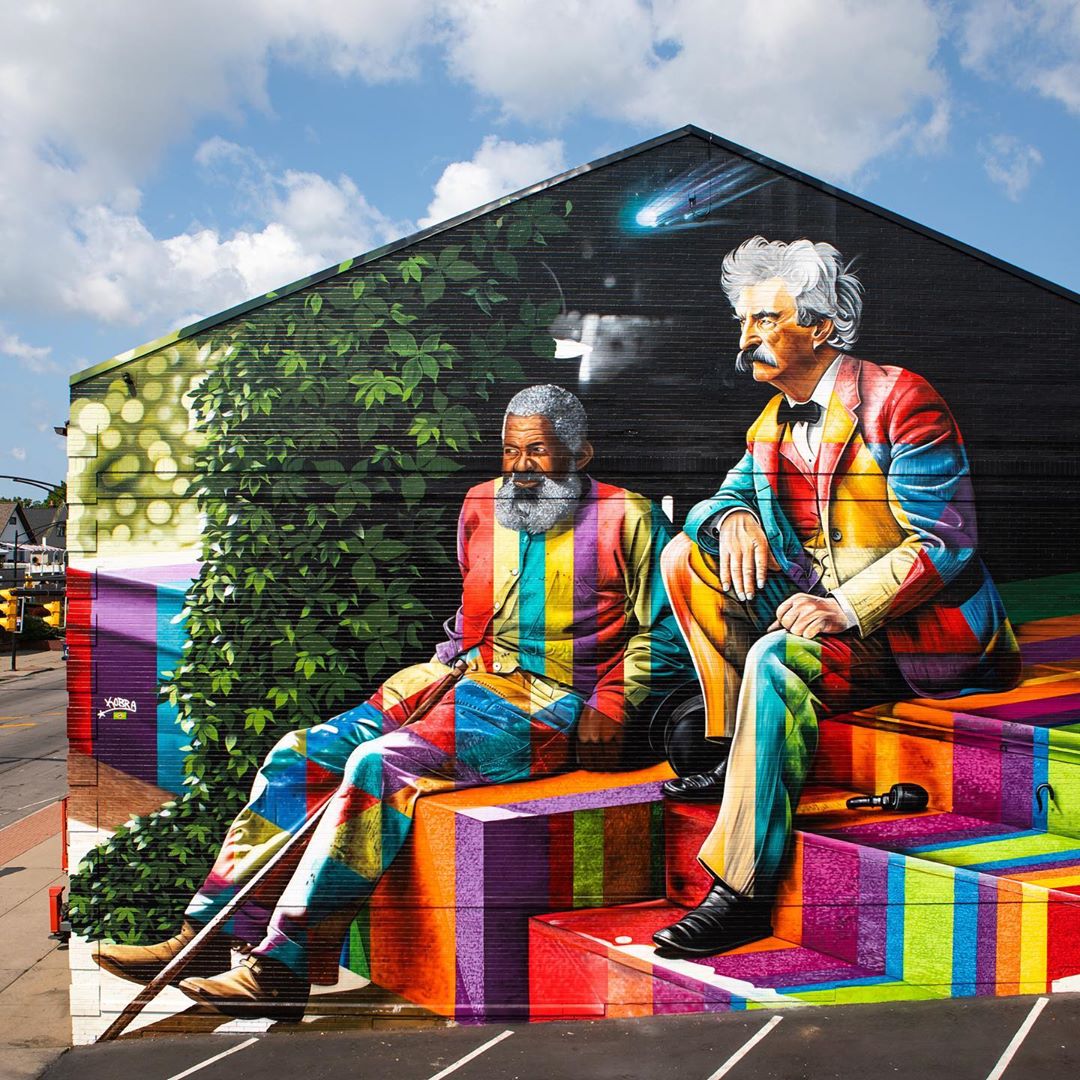 John T. Lewis served as Mark Twain's longtime friend. The two had a friendship that overcome a lot of adversity. Many believe that Lewis served as an inspiration for the character Jim in Twain's best-known novel. The two met in 1869, when Lewis was working for Jervis Langdon. Twain was courting Langdon's daughter.
27. Arthur Rubinstein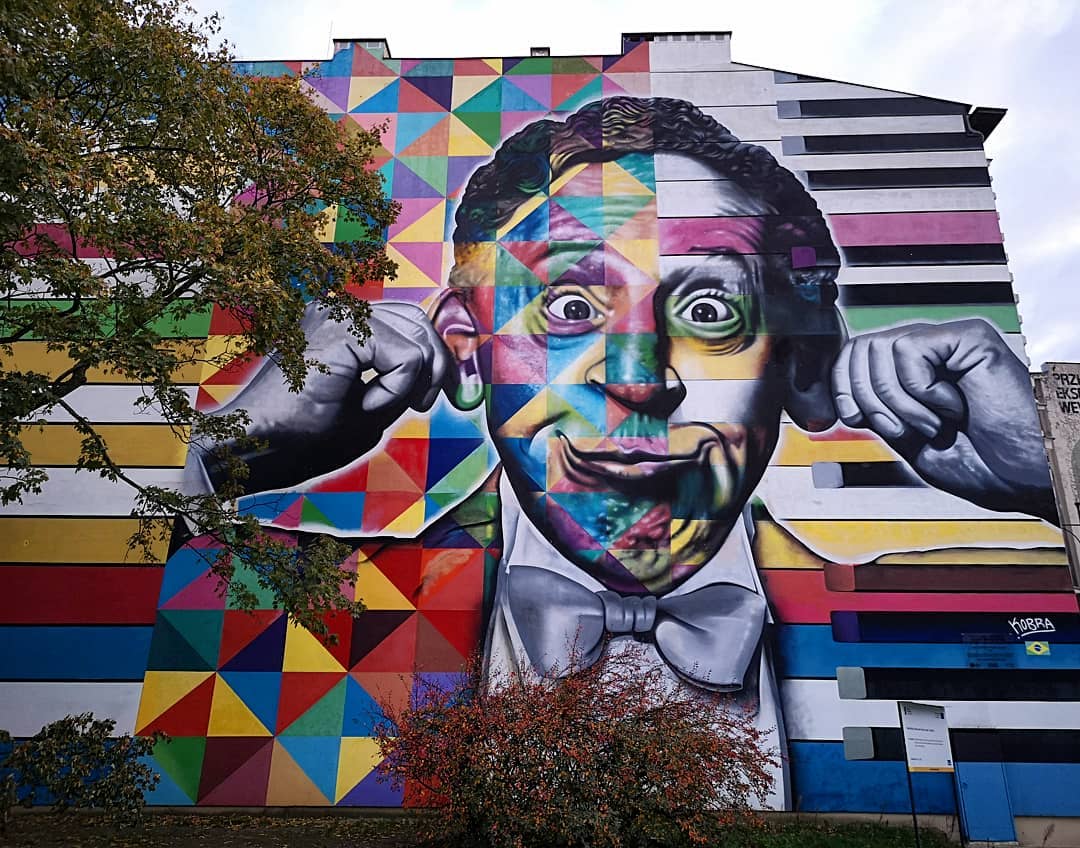 Rubinstein was a Polish American classical pianist. Widely regarded as one of the greatest pianists of all time, he performed music written by a variety of composers.
28. Biggie And Tupac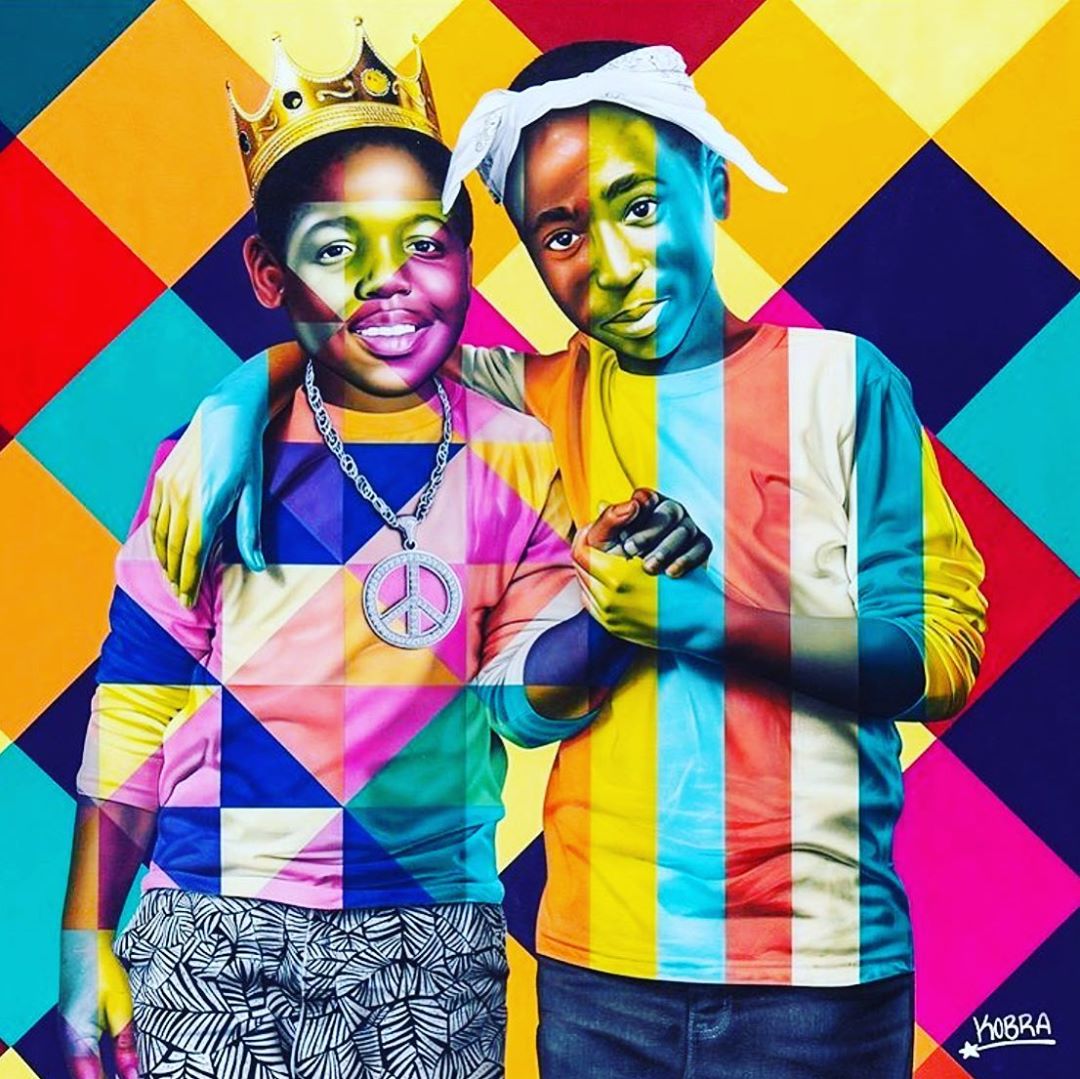 These two were friends, and then they become enemies. Nobody knows the mystery behind the killing of 2pac and Biggie. But the two defined the hip hop scene of the 1980s and 1990s.
29. Genius is to bike ride (Albert Einstein)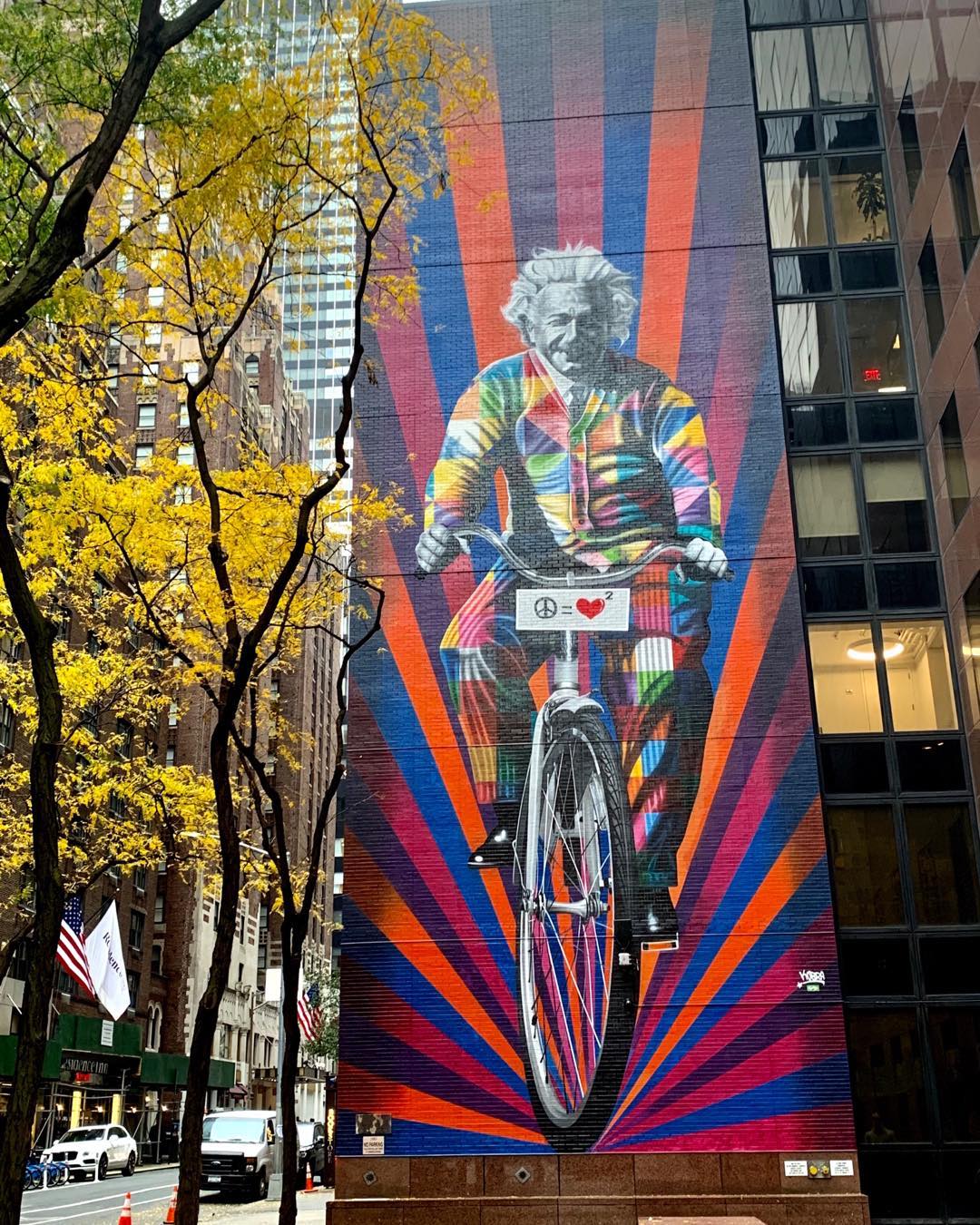 Albert Einstein is a genius in every sense of the word. And in today's society, his picture can serve as an inspiration to ride bike and reduce carbon footprint.
30. Vitruvian Man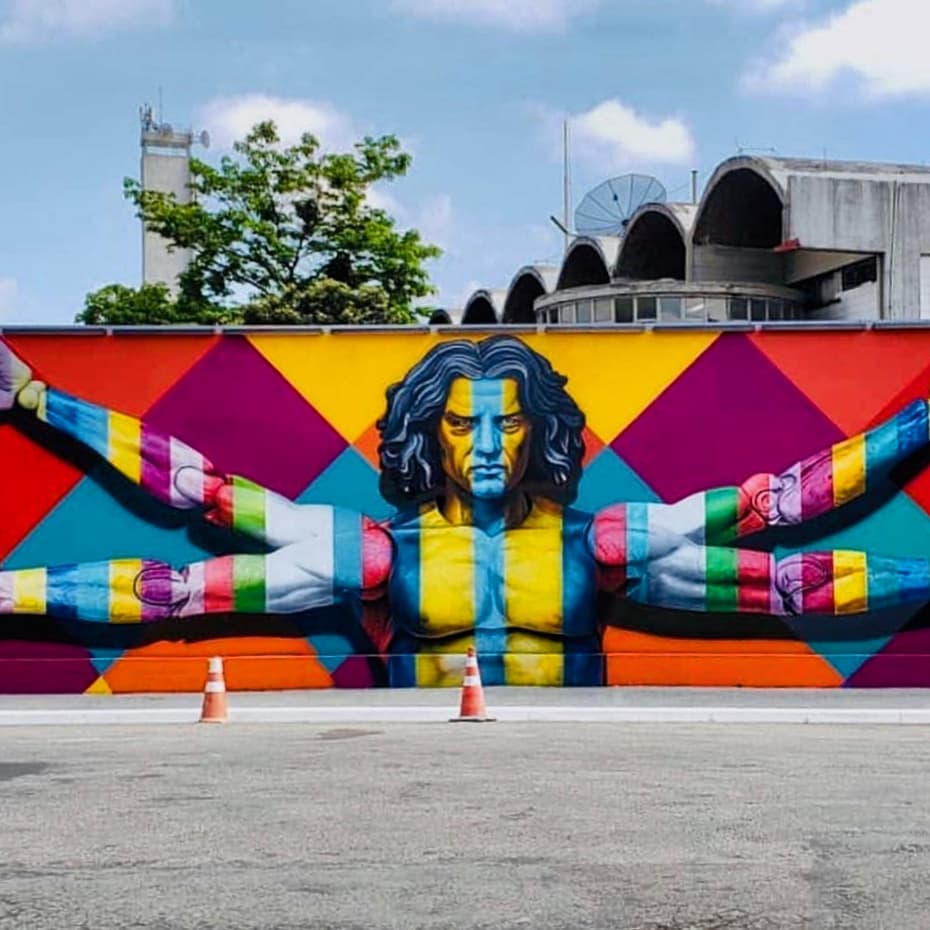 The Vitruvian Man is a drawing by Leonardo da Vinci, made in about 1490. It depicts a male figure inscribed in a circle and square. Many believe it illustrates the divine connection between the human form and the universe.
31. No Violence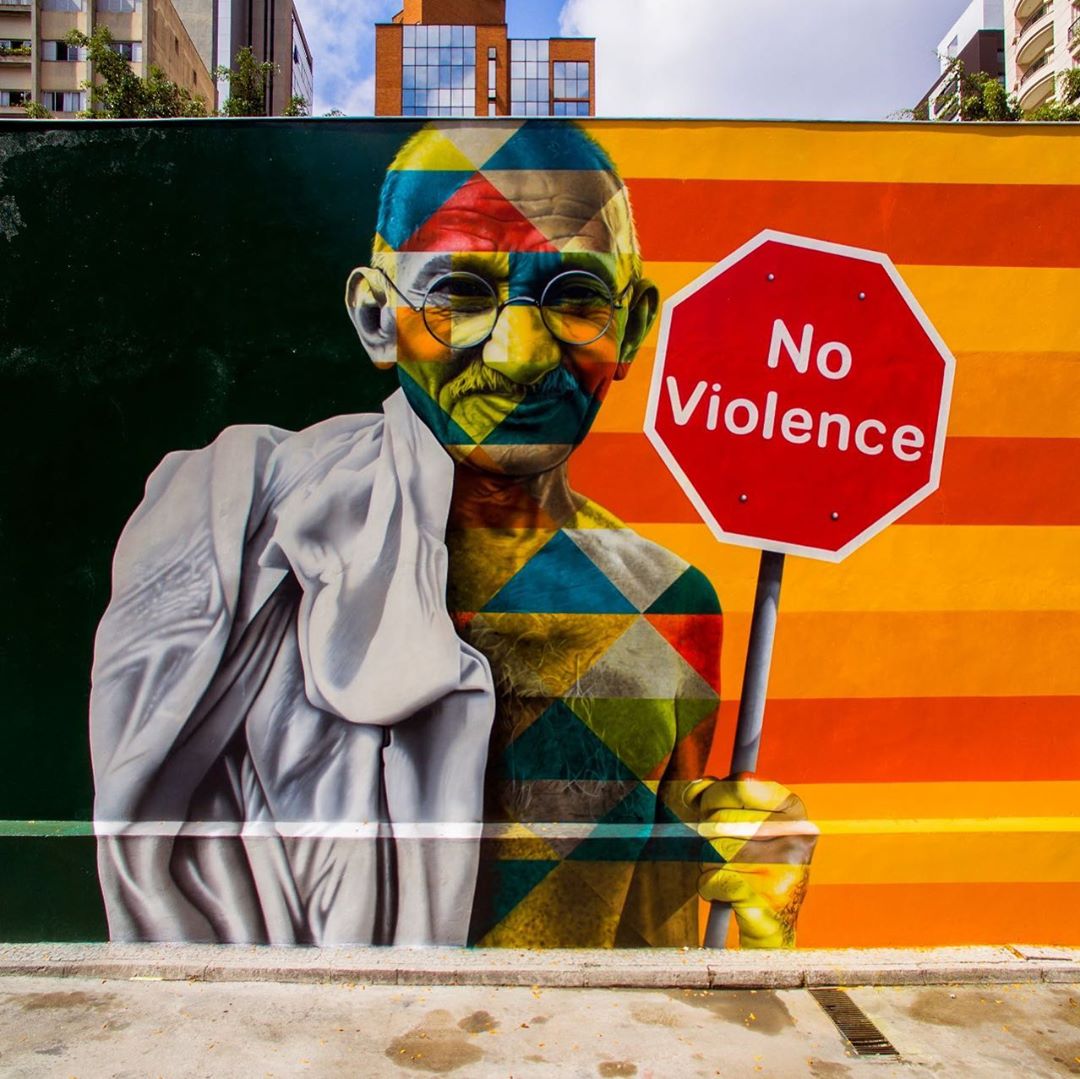 Here is another painting that depicts Mahatma Gandhi sending us the no violence message. He once said, ""I object to violence because when it appears to do good, the good is only temporary; the evil it does is permanent."
32. Frida And Diego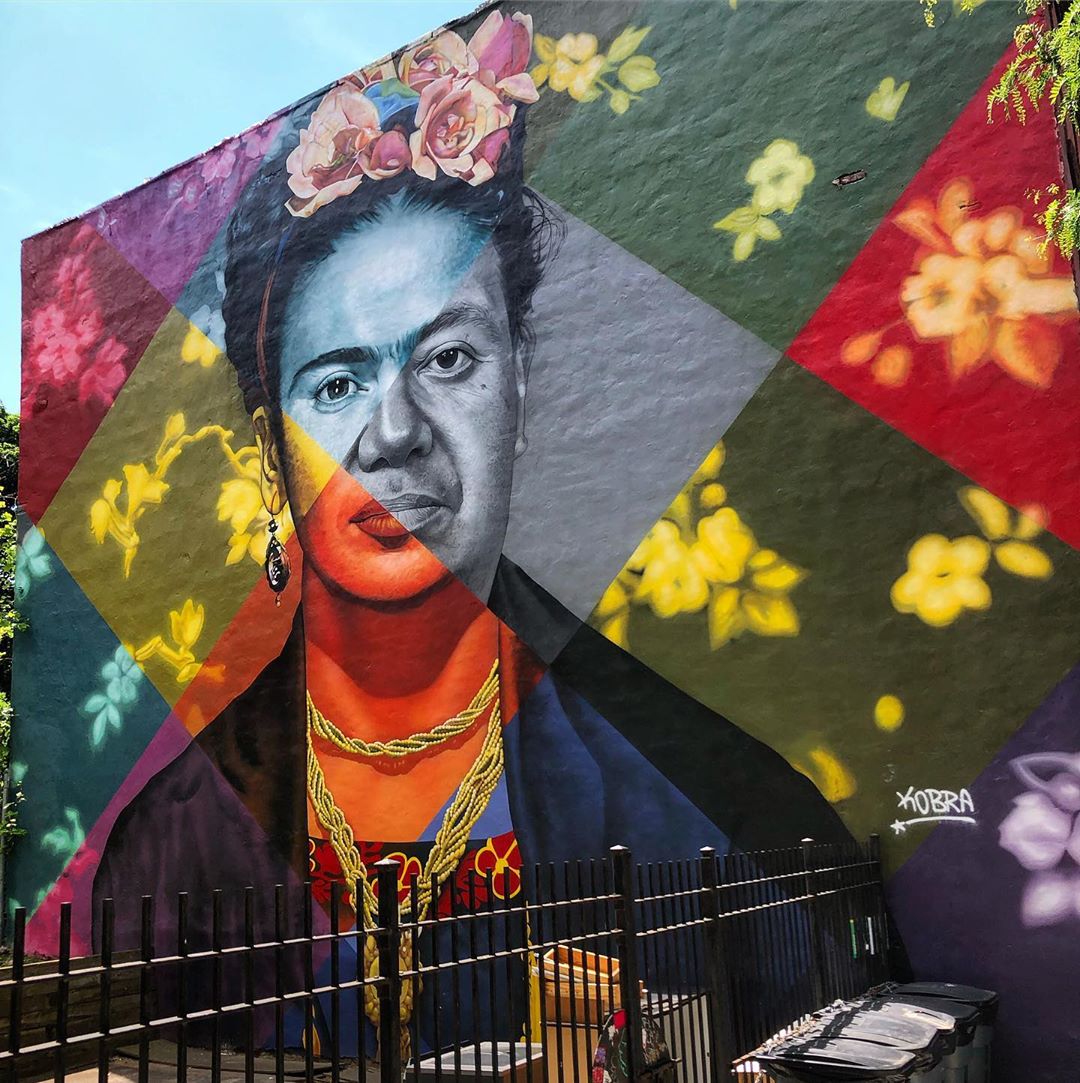 Frida and Diego were lovers and colleagues. Diego Rivera was the one who helped Frida enter the art scene. Together, they have some of the most notable paintings in Mexican history.
33. Luis Armstrong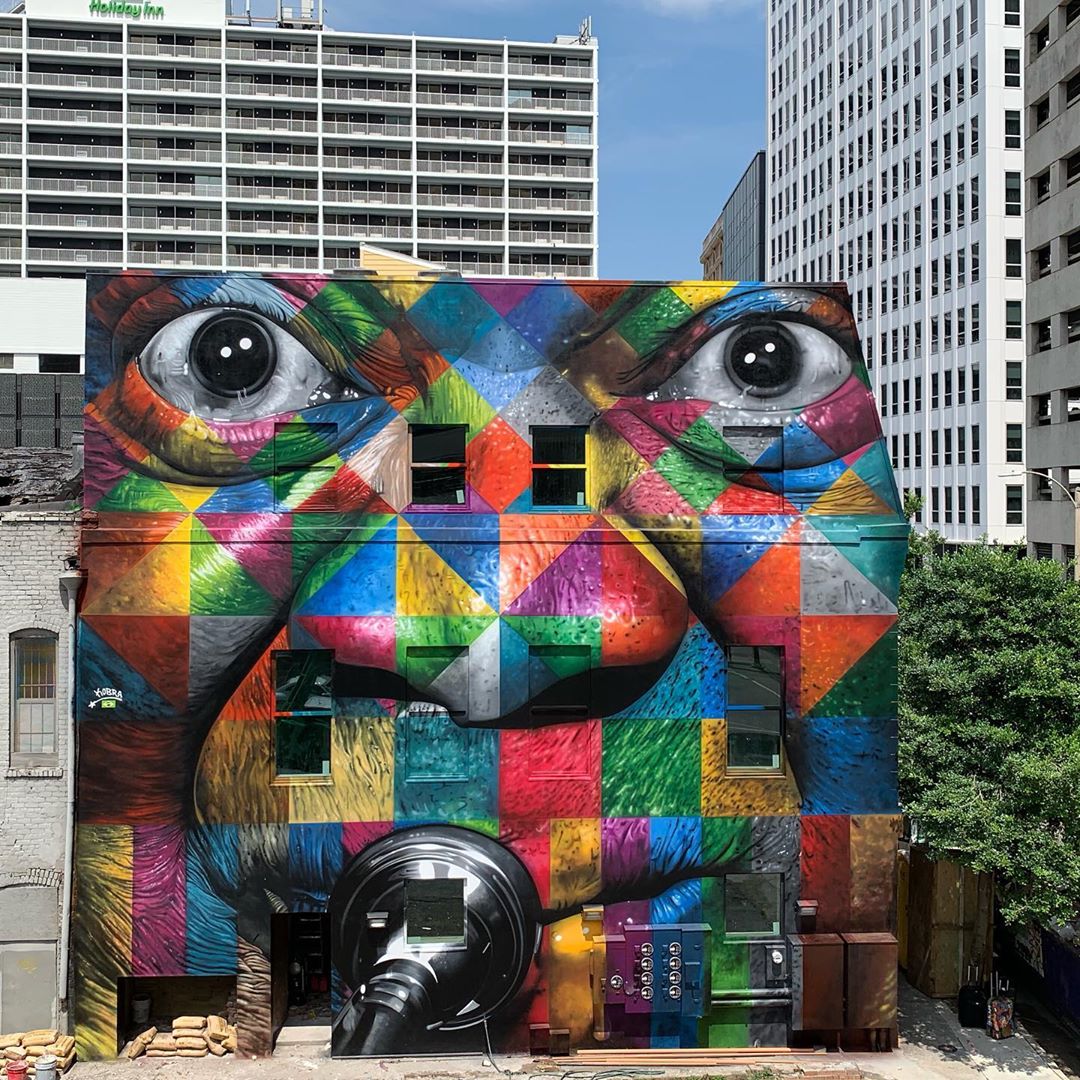 Luis Armstrong was one of the most important musicians of the 1960s. He helped pioneer the jazz music. The American trumpeter's career spanned over five decades.
34. Salvador Dali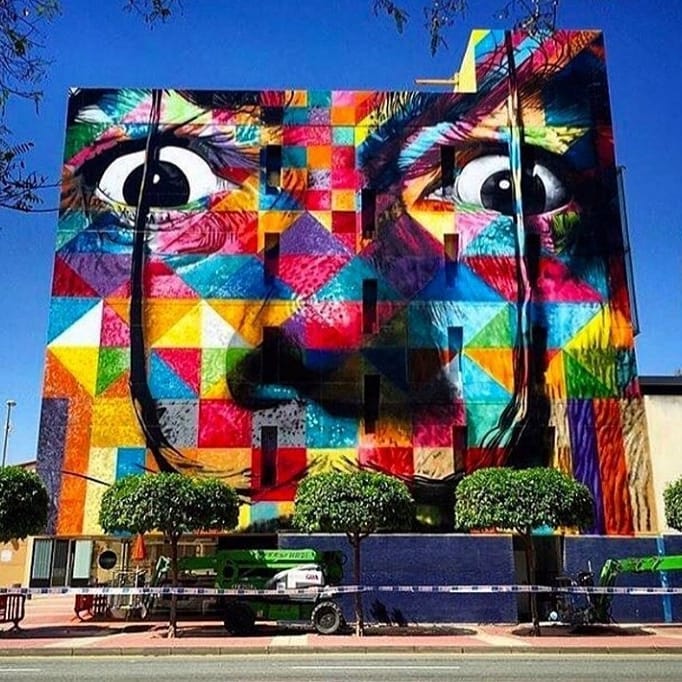 In a true surrealism fashion, Dali is painted with his signature mustaches. Kobra tries to pay tribute through his art to many influential people from different industries.
35. War Is Hell (Elvis Presley)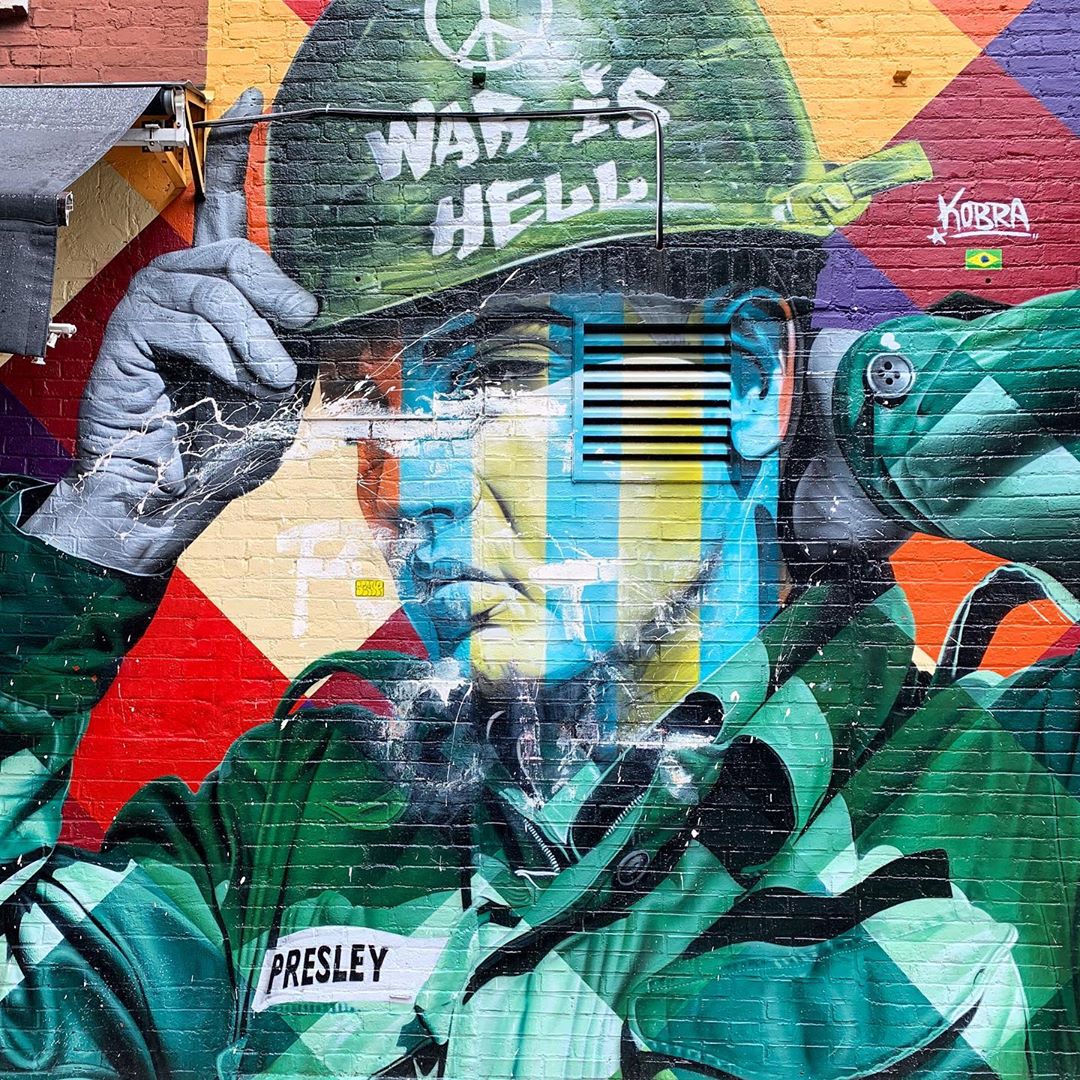 Let's finish off the list with one of his most important messages. War is definitely something we need to avoid at all cost. Even Elvis Presley sang about it.
36. Eduardo Kobra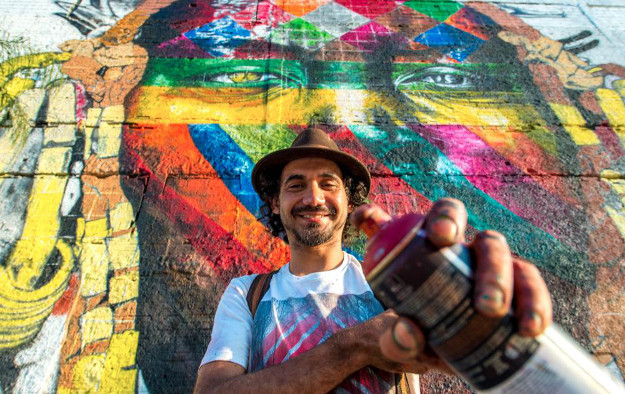 Here is a picture of the artist himself. Hopefully you loved his paintings and the message he tries to send through them.