Banksy is an anonymous England-based street artist. Some consider him to be a vandal and political activist. He has been active since the 1990s, and his satirical street art and subversive epigrams combine dark humor with graffiti.OK
Banksy is known for his use of stenciling technique. Some believe that they know his name, and that it is Robin Gunningham, born on July 1973.
However, over the yers, Banksy has tried to maintain his anonymity, because he needs to hide his real identity. In England, graffiti are considered an illegal act, which is why some people say he is a vandal.
Banksy has had issues with the cops because of his art. Primarily a street artist, he doesn't earn money from his murals. And he is also a humanitarian. When his artwork is sold, he gives the money to charity.
The artist displays his art on publicly visible surfaces like walls, self-built physical prop pieces, and more. He no longer sells photographs or reproductions of his street graffiti. However, his public installations are often resold by removing the wall they were painted on.
1. Girls With Balloon – There Is Always Hope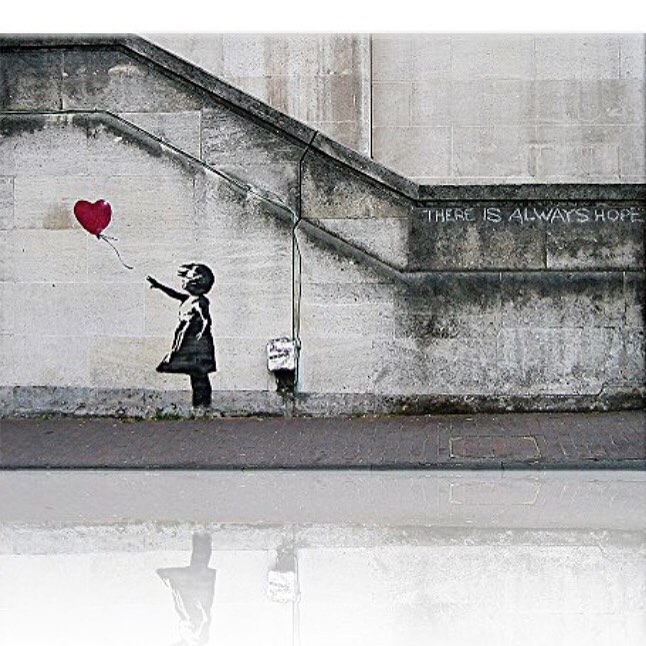 This 2002-started London series depicts a young girl with her hand extended toward a red heart shaped balloon. It is part of a series of stencil murals done in 2002. Most of the murals were around London, with the first one being on the Waterloo Bridge. Nowadays, none remain there.
2. Hang Up On Love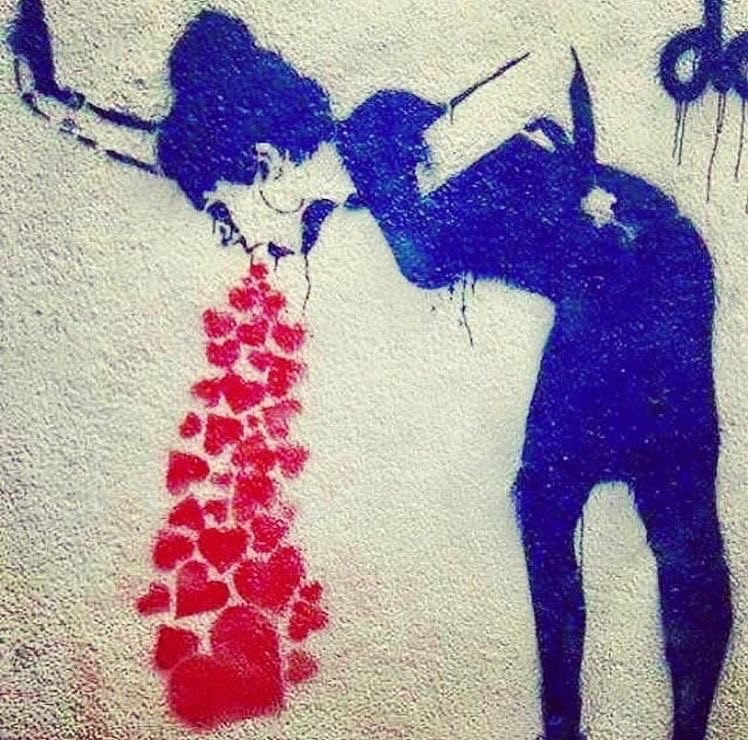 Another heart shaped and inspired street art by Banksy. It was part of the same series as the Girl with Balloon. And same as the previous one, it is no longer there.
3. Sweeping Under The Rug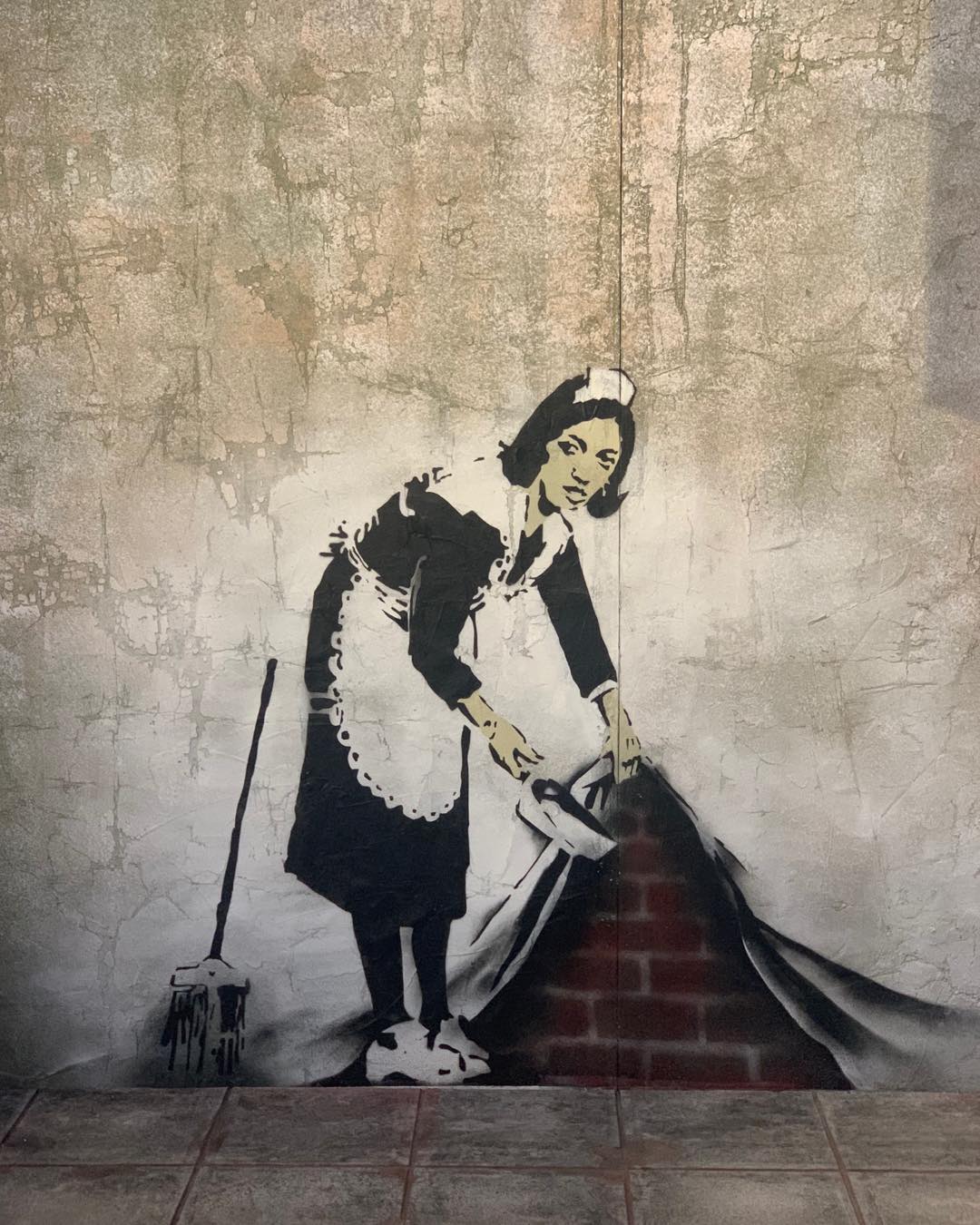 A lot of Banksy work is political and social inspired. Such is the case with this street art, which depicts the famous saying "sweep it under the rug".
4. Pulp Fiction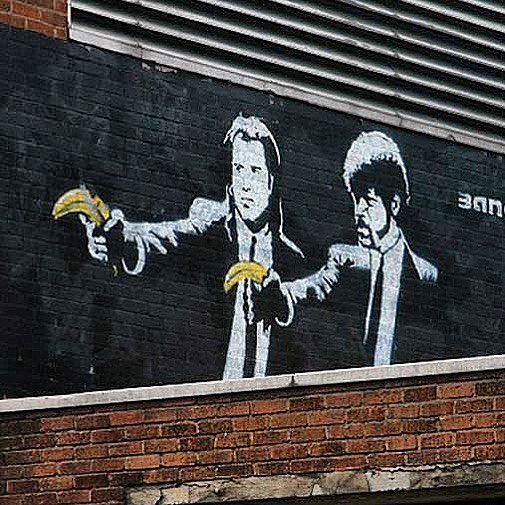 Inspired by the famous scene of the 1994 Tarantino Classic, Pulp Fiction is a series of more than 150 official prints. There are also more than 600 unsigned prints. The work depicts the iconic character where Samuel L. Jackson and John Travolta are pulling their guns. Only in this case, they are holding bananas.
5. Rage – Flower Thrower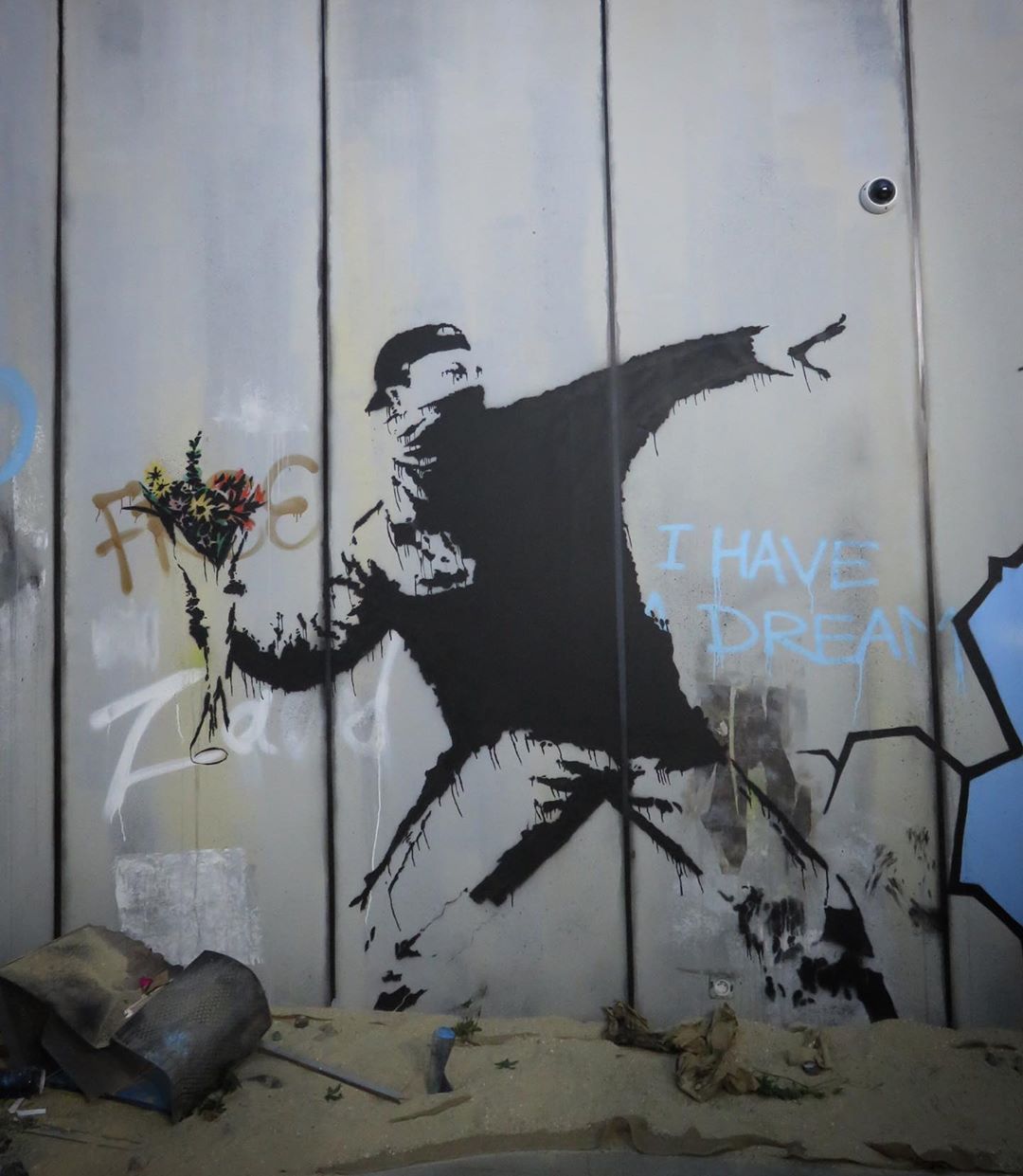 One of the more well-known and popular pieces by Banksy. It is also one of the more inspirational and influential in terms of social and political impact. He is a known activist, and the image was heavily featured in the Wall and Peace book. The image can be seen in Jerusalem, a location perfect for the meaning of the picture, which is peace.
6. Follow Your Dreams Canceled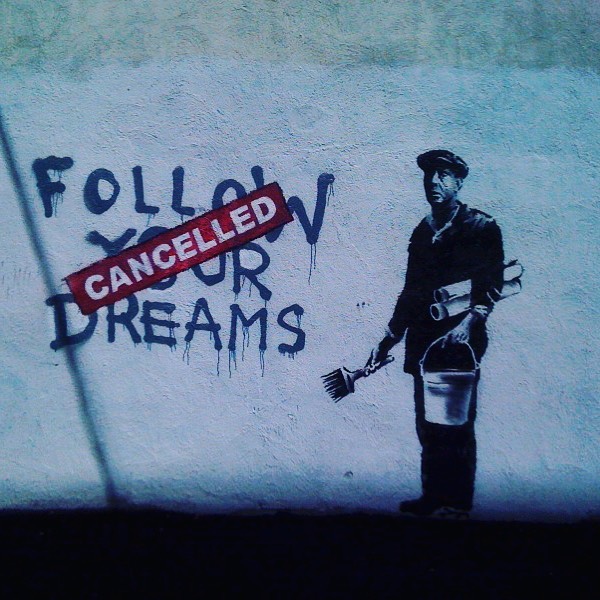 Sometimes, the simplest message can have the deepest and most profound meaning. Such is the case with this street art. We all dream for something bigger, more important, and just more meaningful in life. But some people just cannot follow their dreams because of environmental factors.
7. Dove With Bulletproof Vest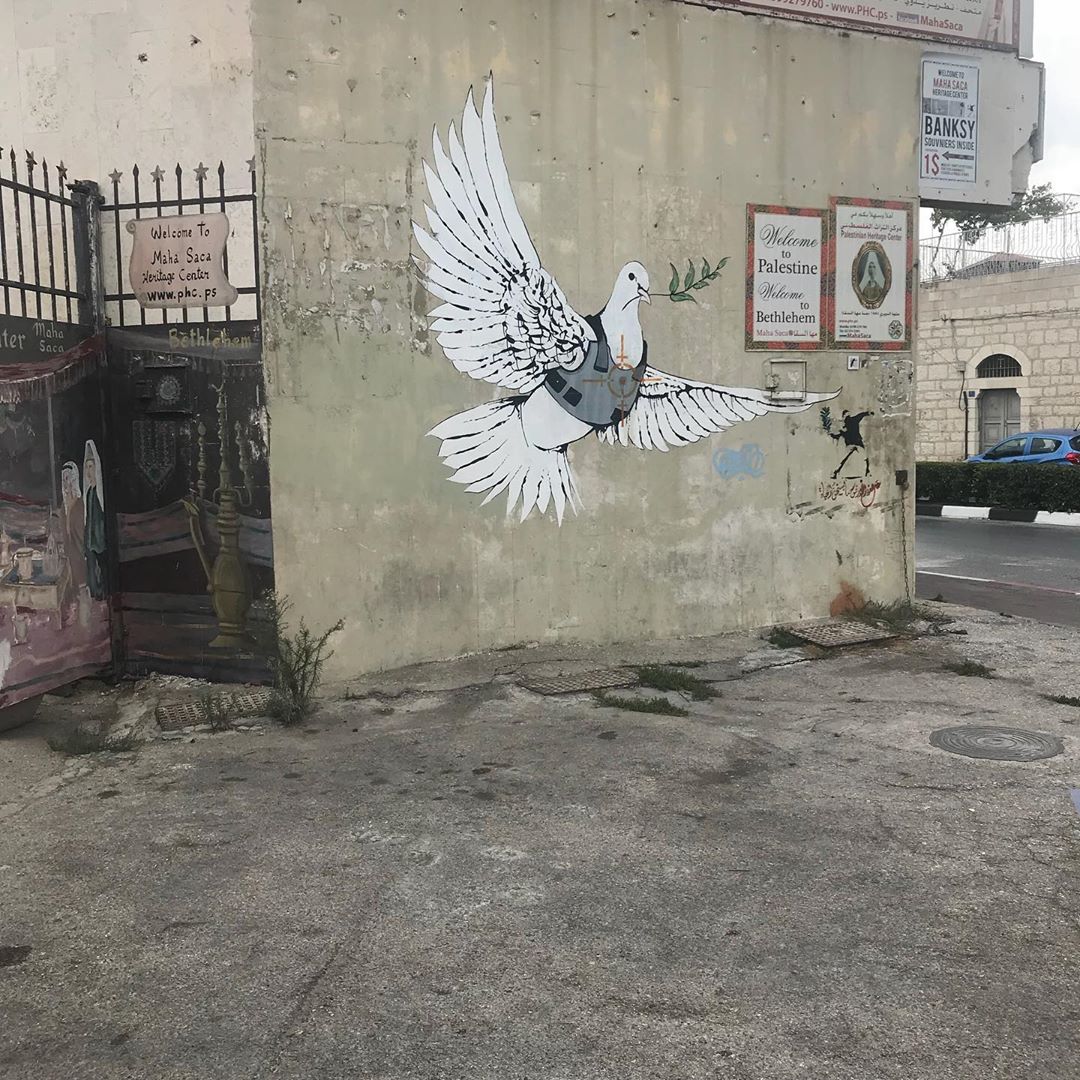 Doves are symbol of peace and prosperity. But peace is an overrated state of mind these days. Which is why Banksy draw the Dove with a bullet-proof vest. To show people that peace cannot be broken, despite our big efforts.
8. Banksy's Chimps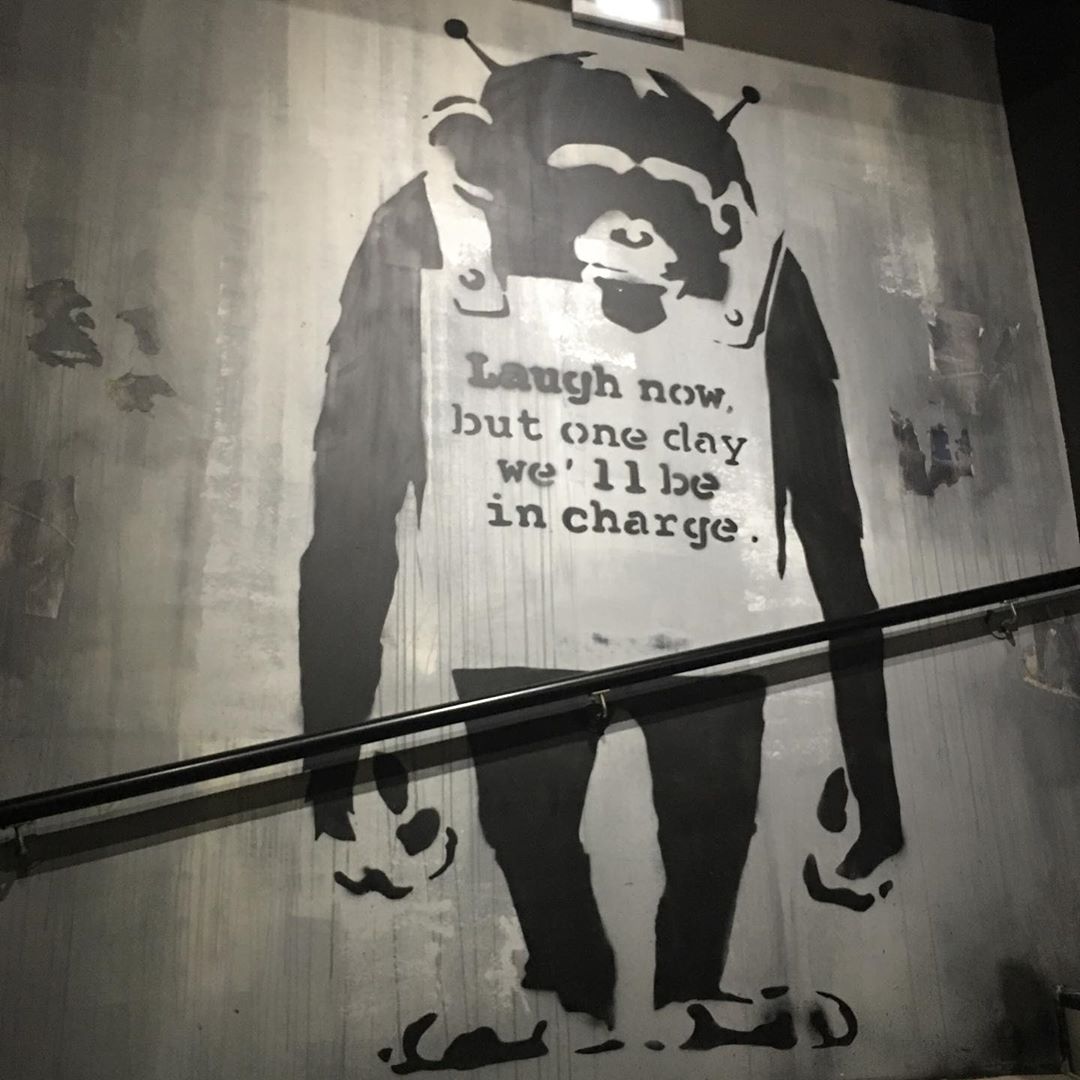 The Darwin theory is widely known, and it goes that men descended from apes. Who knows, one day, apes might be in charge again. After all, that is one of the premises of the movie Planet of the Apes.
9. Graffiti Bot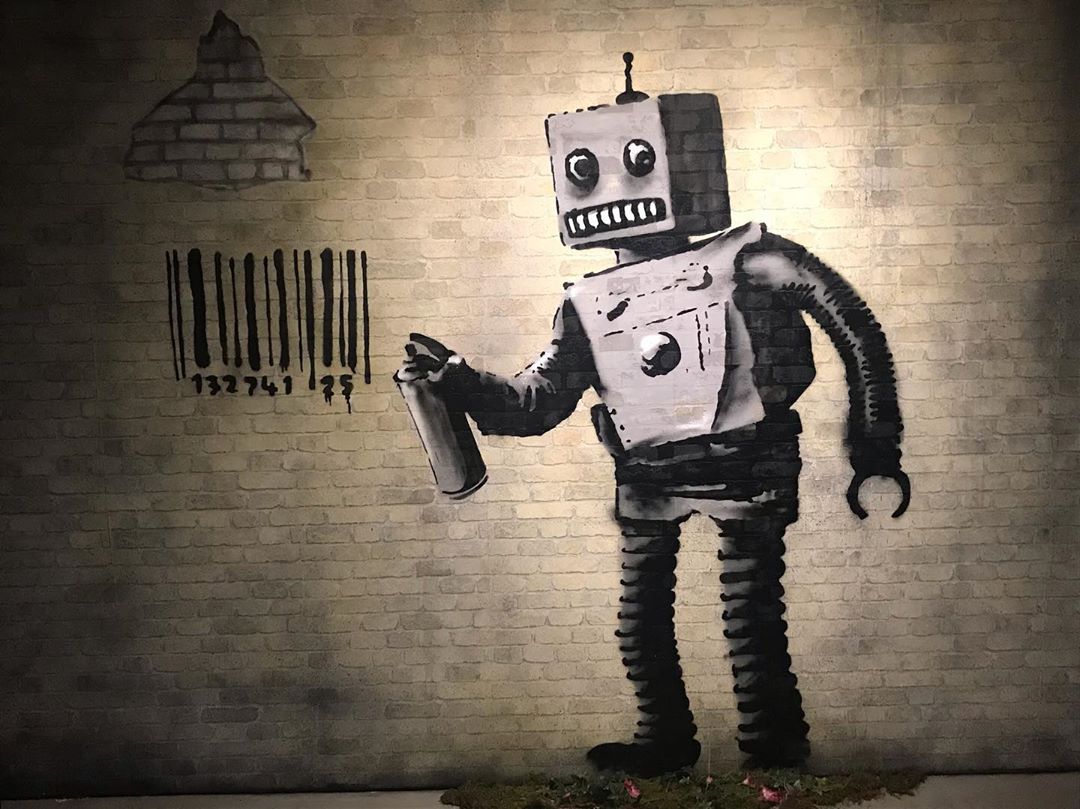 This piece shows everything graffiti is about. It is an art that is often subversive, rebellious, and politically provocative. And when the government makes graffiti illegal, the bot is there to show them you cannot ban something like graffiti.
10. Arresting Graffiti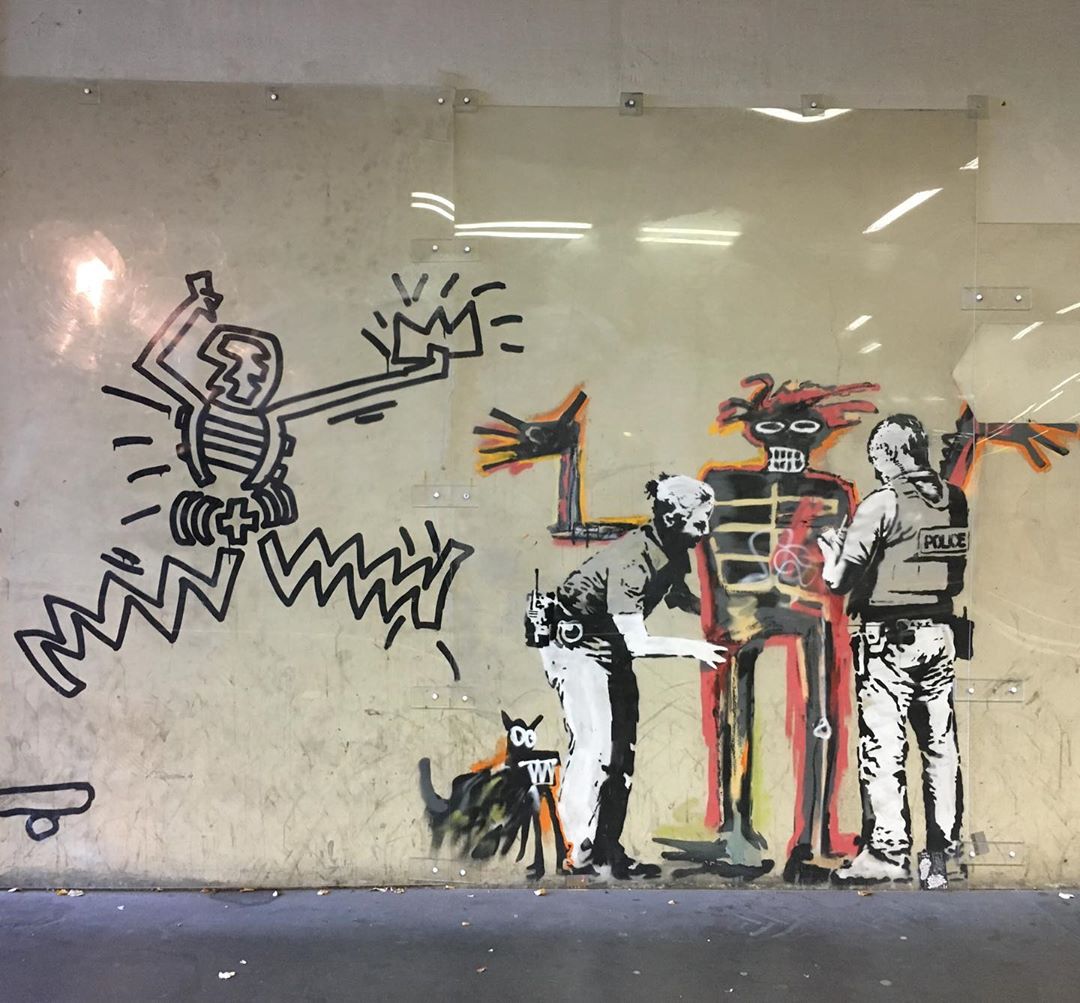 While we are on the topic of banning or arresting graffiti, Banksy had another message for the government. Simply put, you cannot arrest graffiti.
11. Bansky's Rat in New York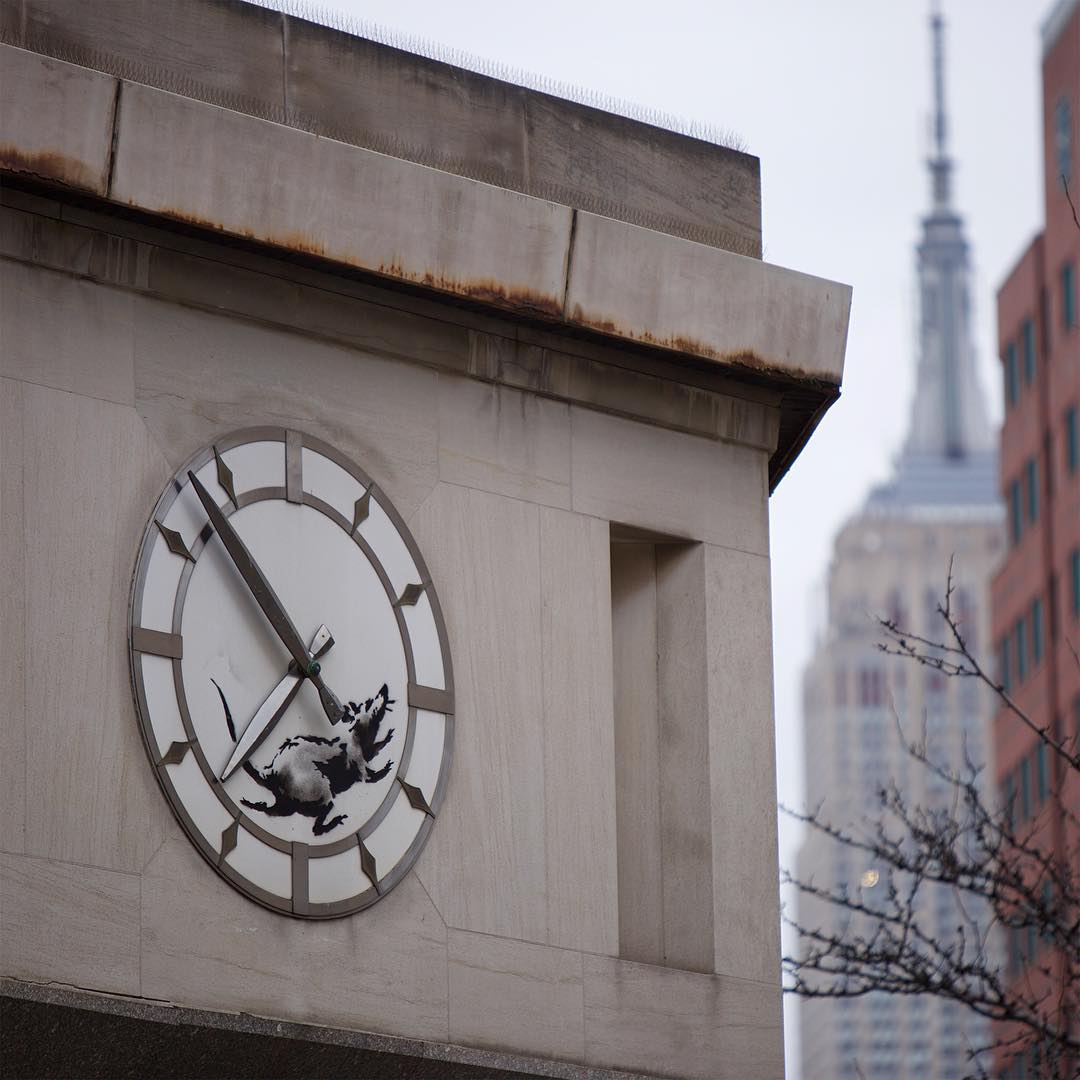 At one point, the urban legend in New York was that there are five times more rats than people. Imagine that, knowing that New York has a population of more than 8 million people. Be as it is, there are many rats in New York, especially in the subway. Banksy gives his two cents on the topic.
12.  Be Someone That Makes You Happy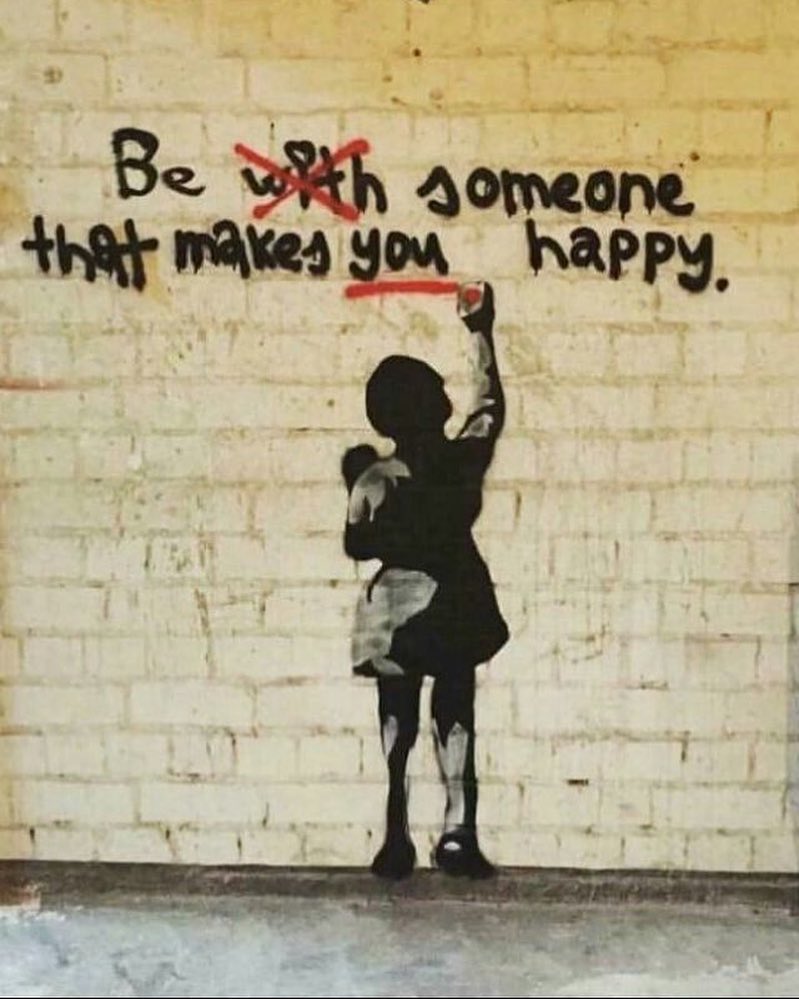 Banksy often loves to give his take on popular sayings, quotes, and meanings. And he is quite supportive of individualism. Therefore, try to make yourself happy, do not look someone else to give you happiness. If you are not happy and satisfied with yourself, you won't be with somebody else.
13. Bataclan Door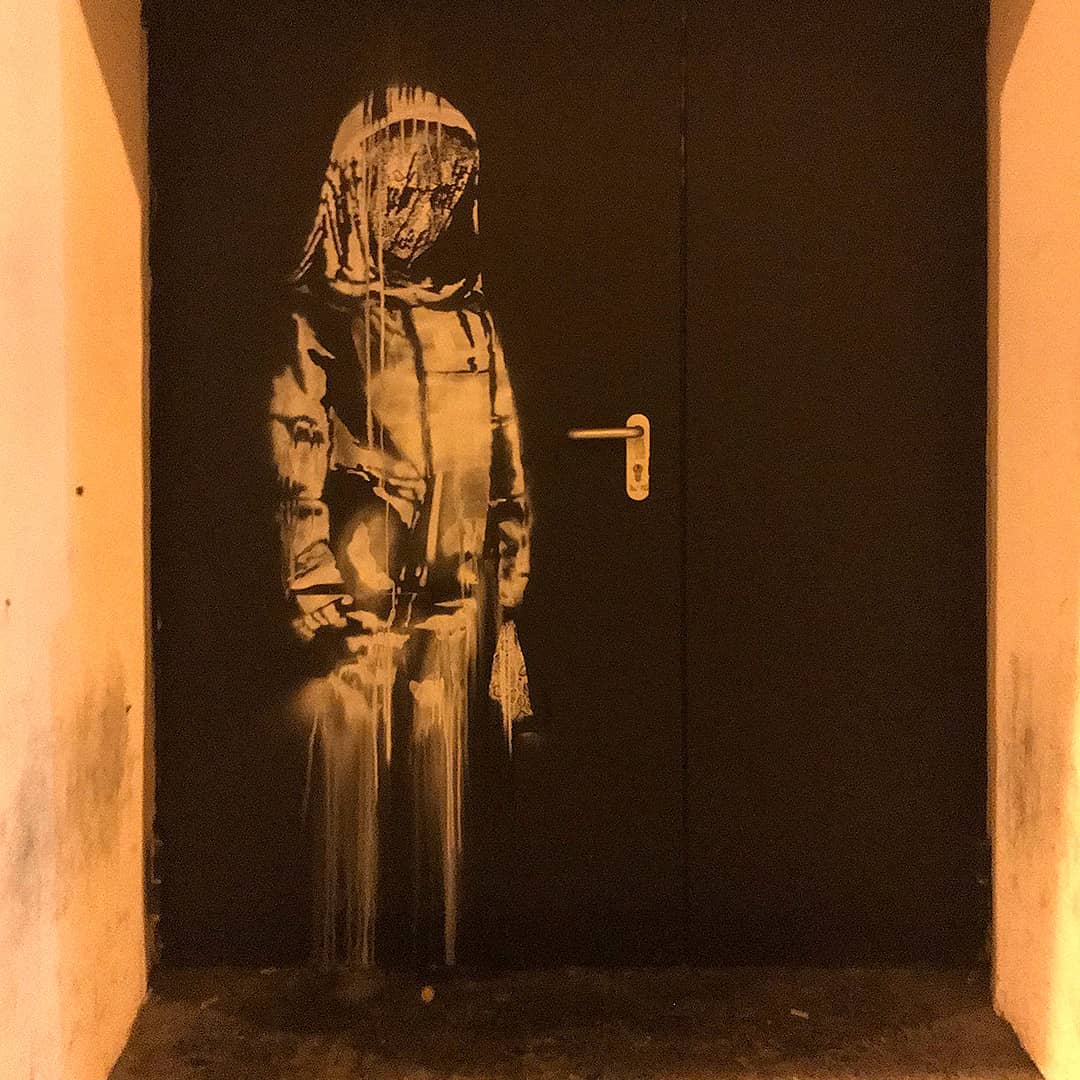 This graffiti was painted on the Bataclan theater in Paris. But it has since been destroyed and ruined.
14. Boy With Butler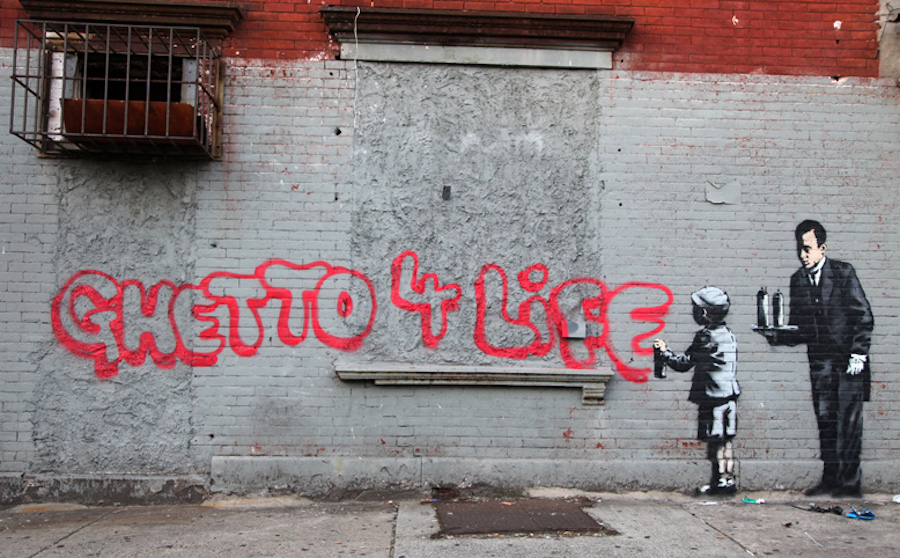 This picture was part of series depicting a boy with different subjects and objects. And the goal was to show the contradictory and contrast in society. You have a rich boy with a butler, and he is painting graffiti in this case.
15. Boy With Hammer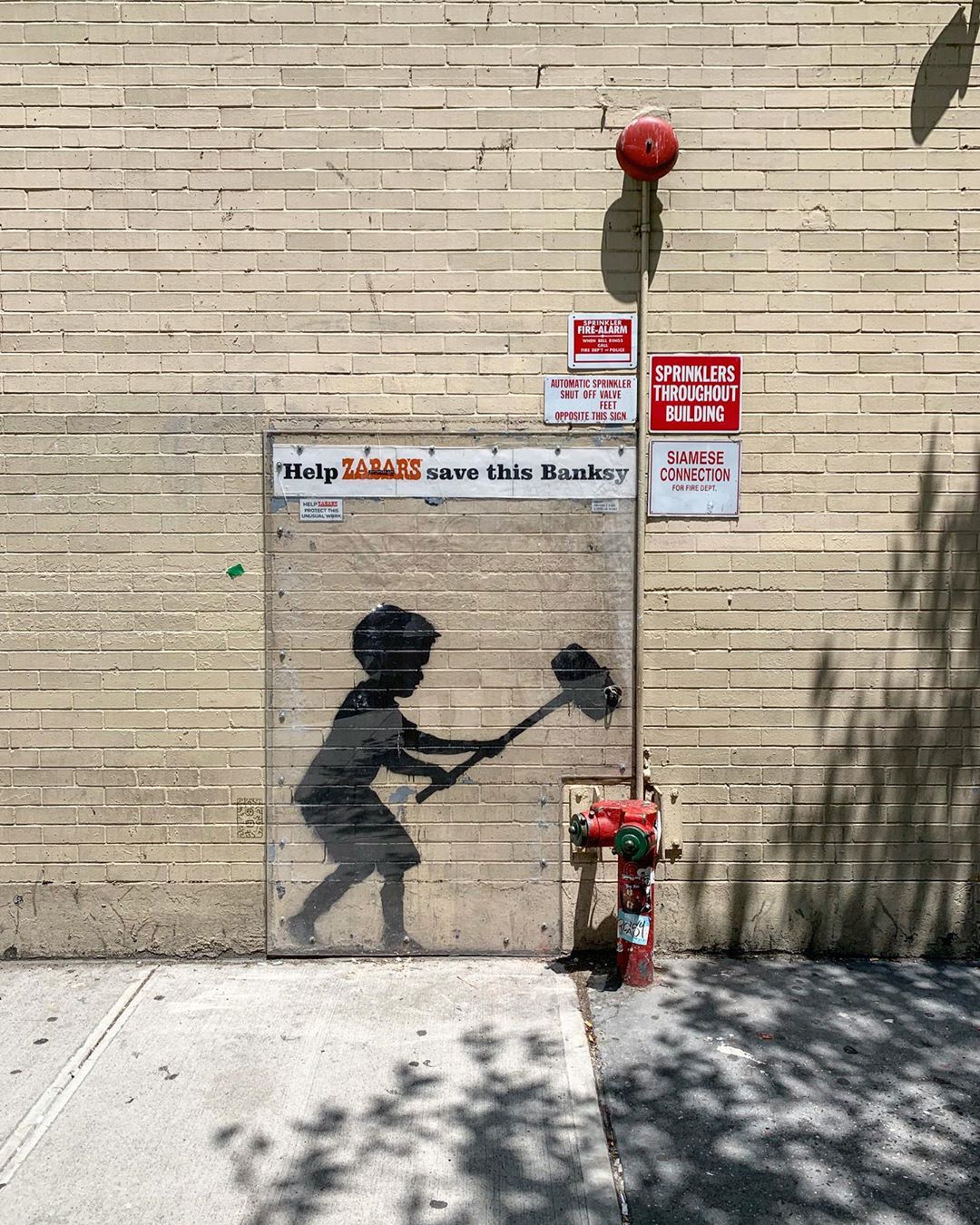 Speaking of the boy with objects, here is also the boy with hammer. It shows that if they are not taught to behave, boys can be quite destructive. It is our job as parents and society to make sure that doesn't happen.
16. Castaway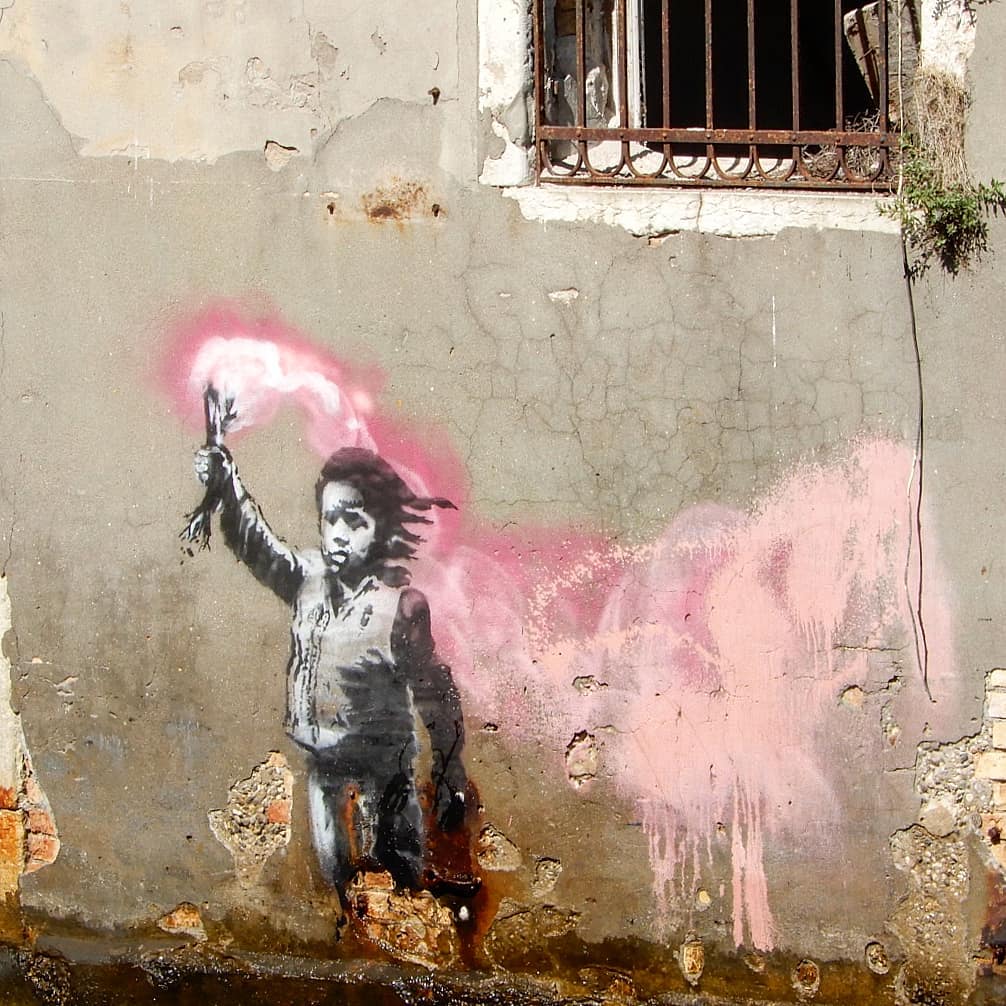 The parody here is just amazing, yet subtle. Showing a boy with a light torch, but the boy has no legs. It has so deep and profound meaning, same as many of his works.
17. Champagne And Rat On Cork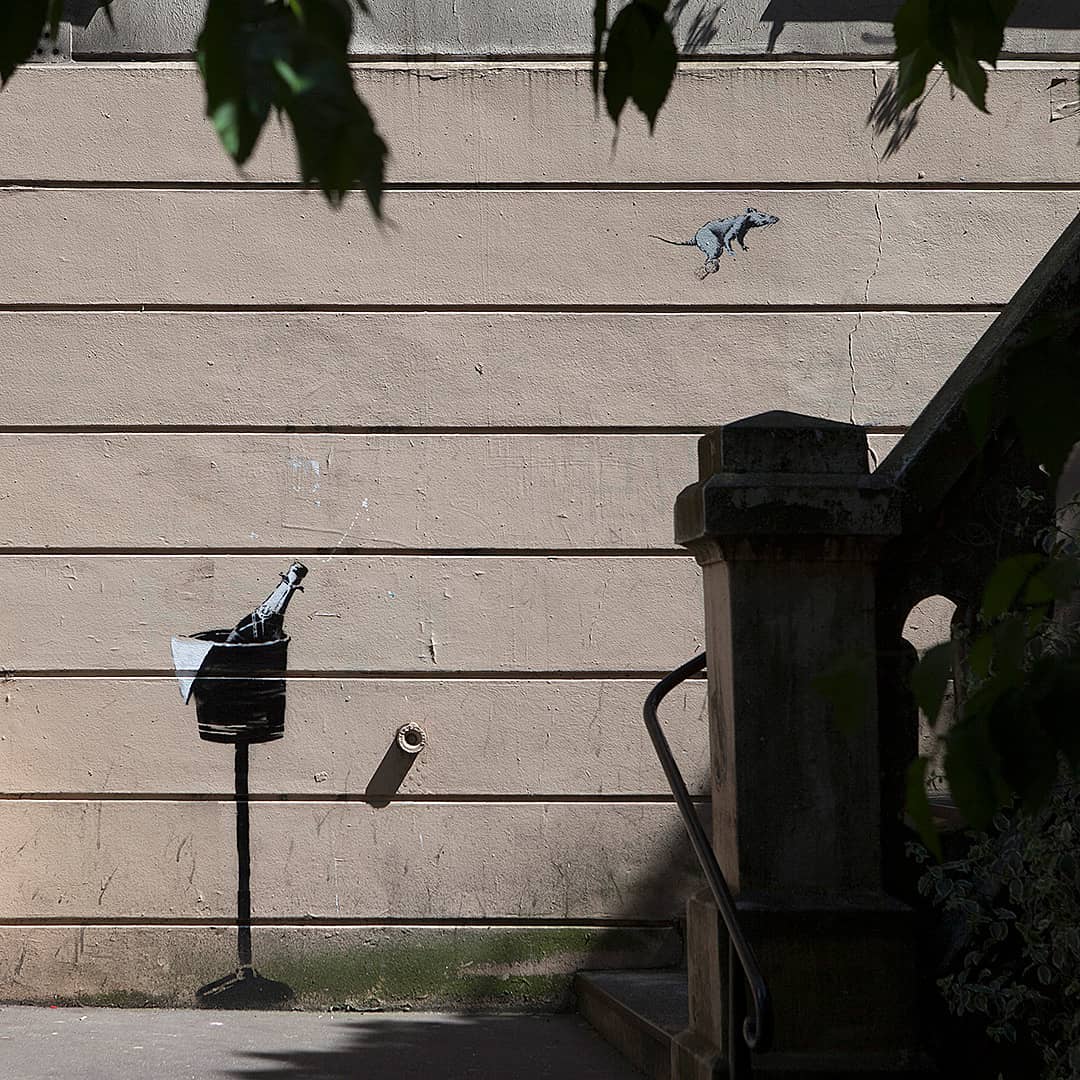 Another street art inspired by the rats in New York, with just a bit of champagne in between. It is just amazing how Banksy can capture the contrast and wide difference between two objects or concepts. In this case, that is the rich life shown by the champagne, and the miserable life of rats.
18. Girl Covering A Swastika 
Photo: Instagram.com
This is one of Banksy pieces he had to confirm it was done by him. It was painted in Paris. However, it has been covered since. This one, in particular, was found on World Refugee Day, near a center for refugees. The symbolism is left to you.
19. Girl Frisking Soldier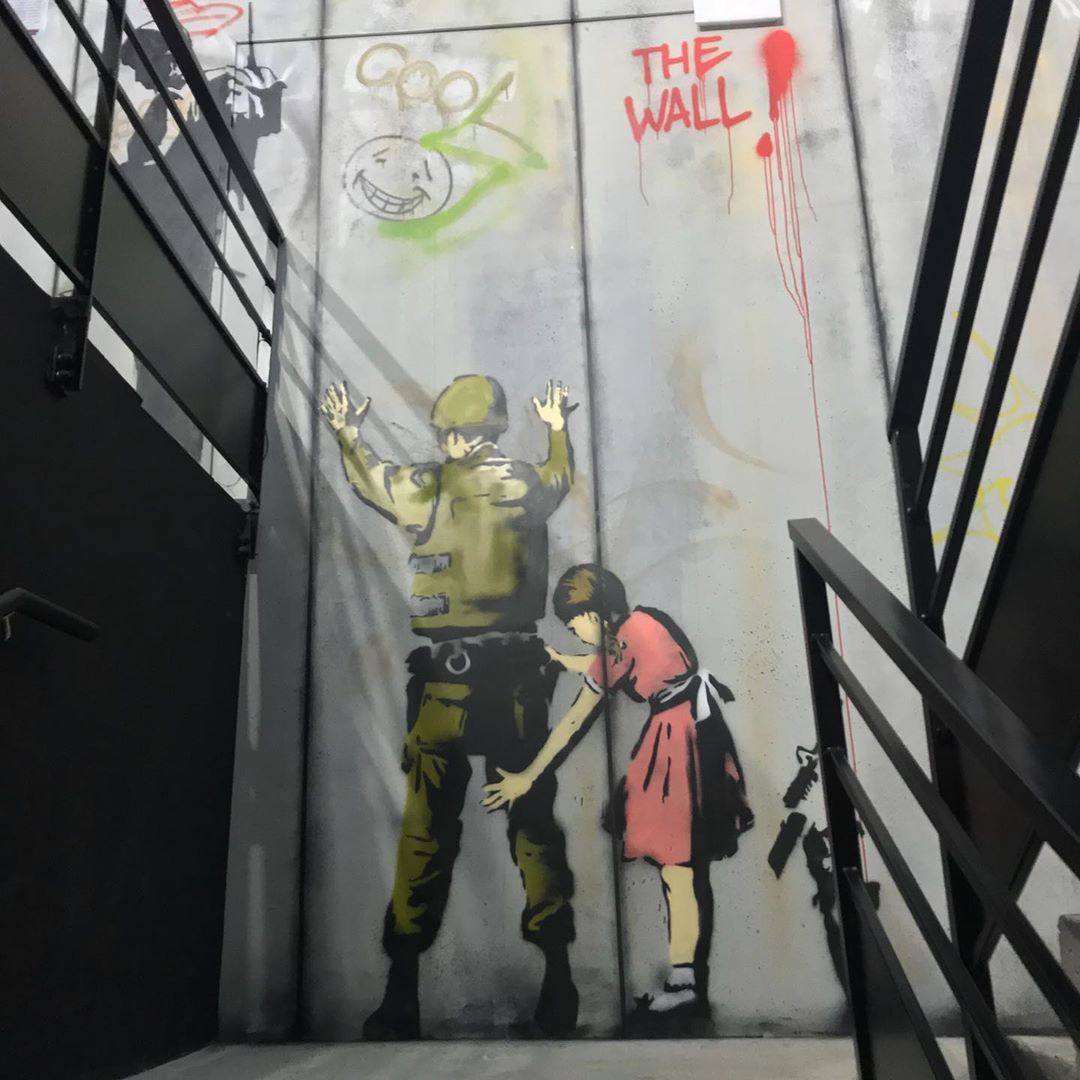 This is one of the more iconic pieces done by Banksy. It is shown in Palestine, a country where peace and prosperity are hard to find. Instead, you have army soldiers all around. Girl frisking soldiers is a way to tell that we should stop the war, and let children grow in prosperity.
20. Girl With A Pierced Eardrum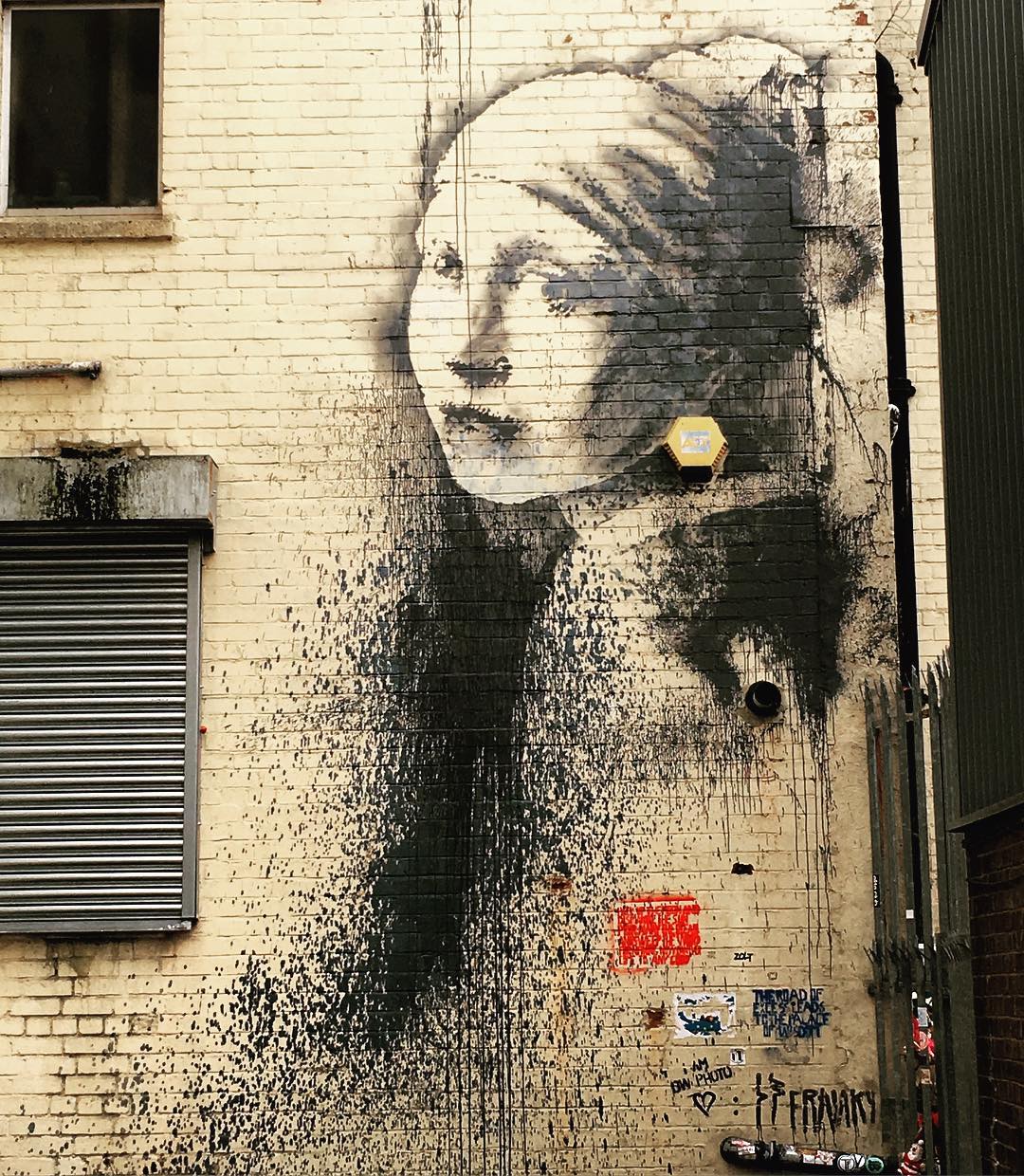 This is just an amazing take on the Girl with the pearl earring. The idea is that in many cases, the treasures we think, are often just empty, and shallow. Like this eardrum. It is just pierced, and there is no pearl earring.
21. Give A Dog A Bone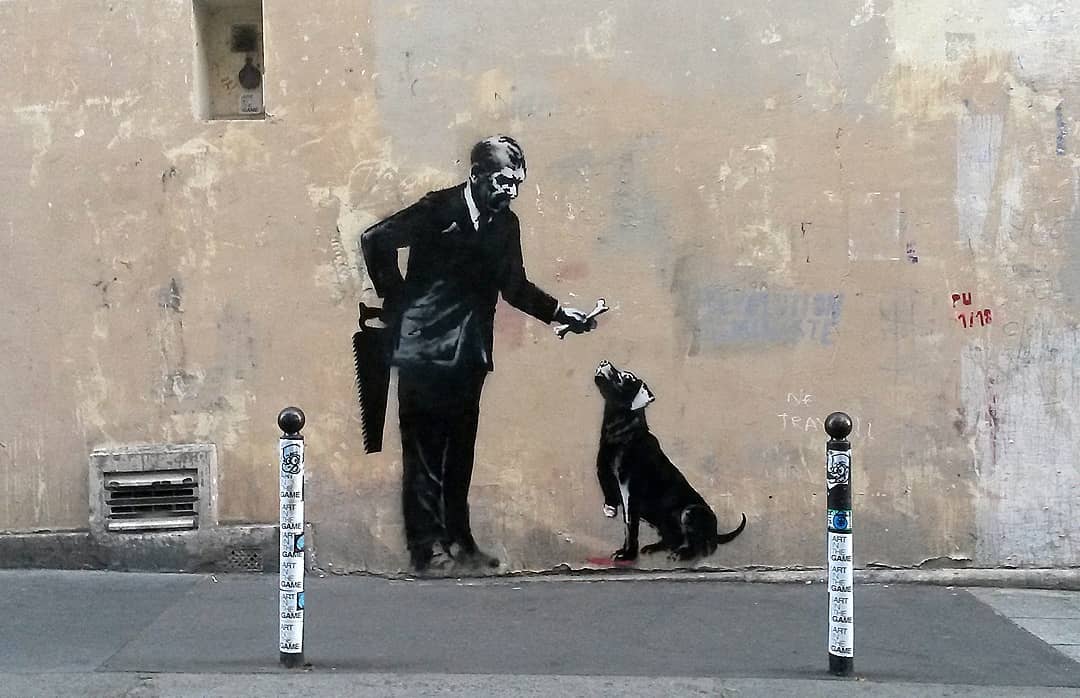 What makes Banksy so popular and famous is his ability to create simple murals, and then draw a political inspired one the next day. This one is just simple everyday life mural. But it is in these murals you see his creative genius.
22. Graffiti Area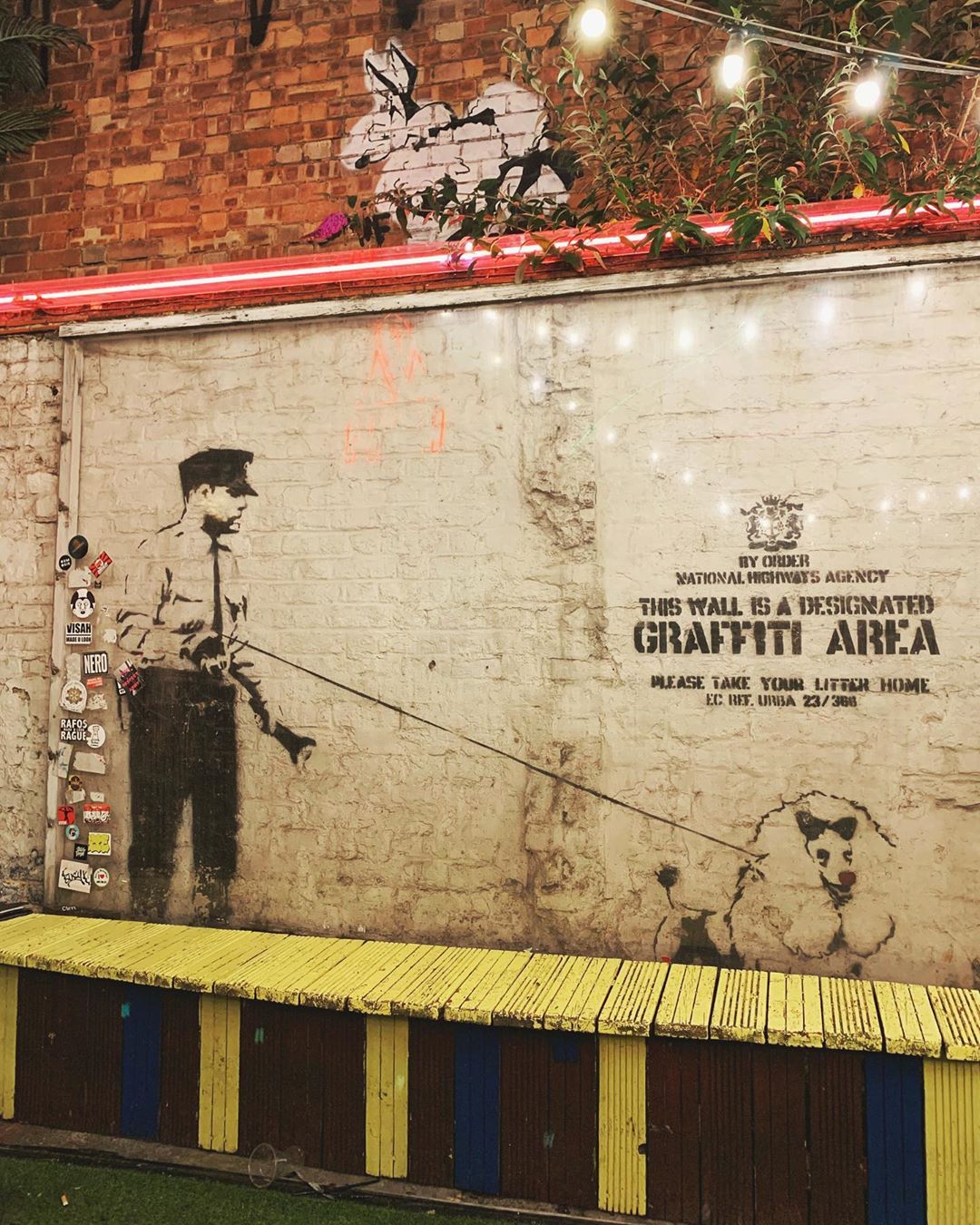 When the government doesn't give you a graffiti area, you find one yourself. Or, as Banksy did here, paint your own graffiti to be the graffiti area. Just pure amazing stuff.
23. Never too Young to Dream Big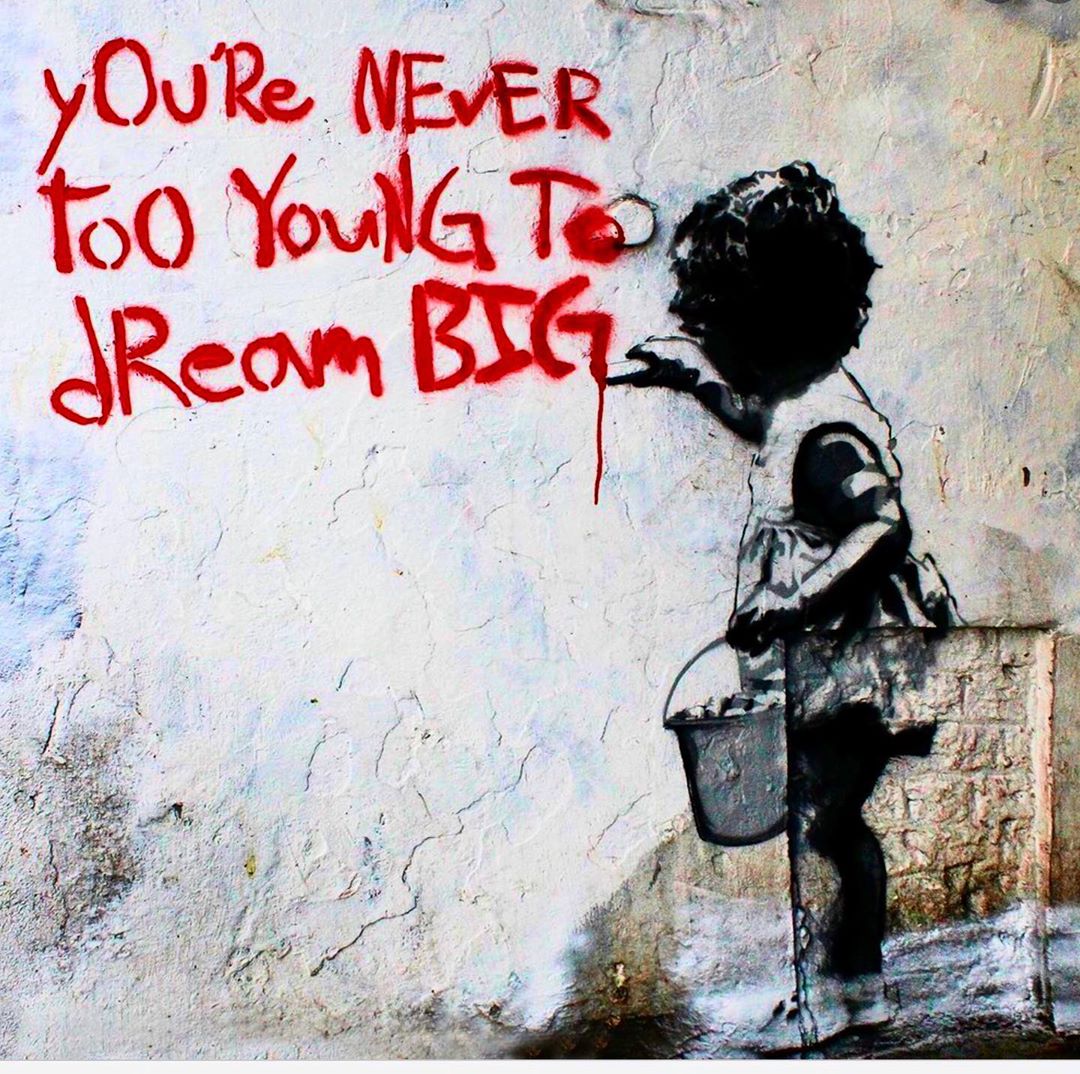 While many of his takes on popular quotes are often seen negative and contradictory, this is one of the more encouraging. Yes, it is never too late to dream, and fulfill your dreams.
24. No Ball Games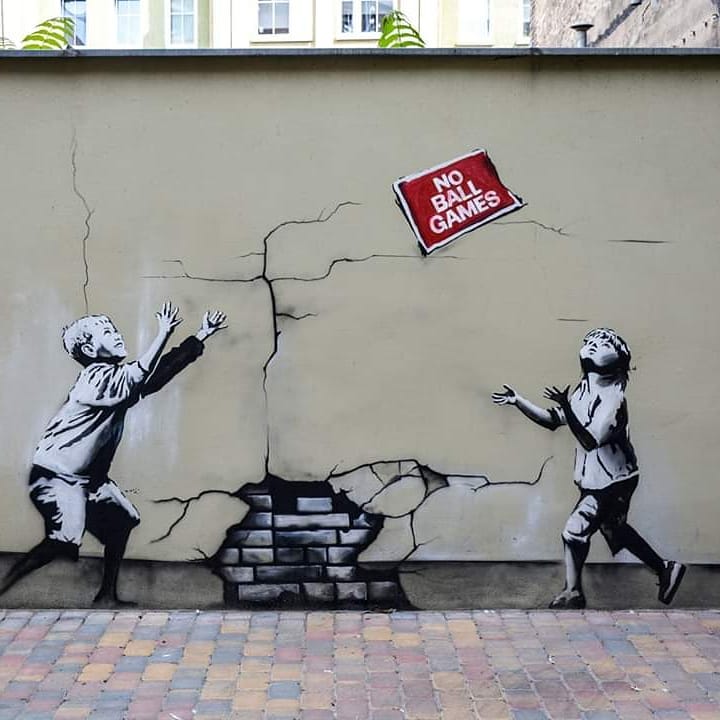 We said previously that Banksy loves to go against the rules. And when you do not allow a ball, he draws two kids playing with an imaginary ball. Direct enough for you?
25. Pissing On The Job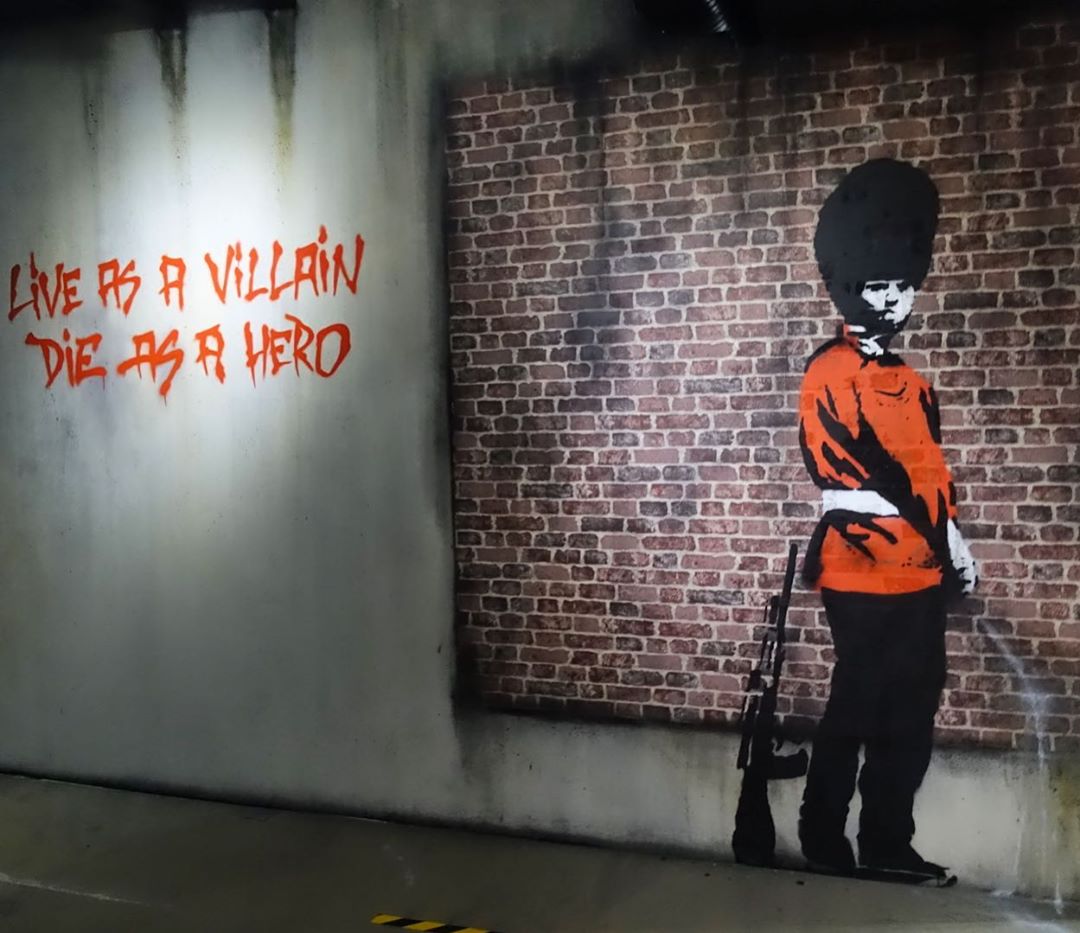 This is just vicious. The soldier pissing on the wall is just perfectly complemented by the quote on the wall next to him. So, does he go as a hero?
26. Stonks Coney Island Mural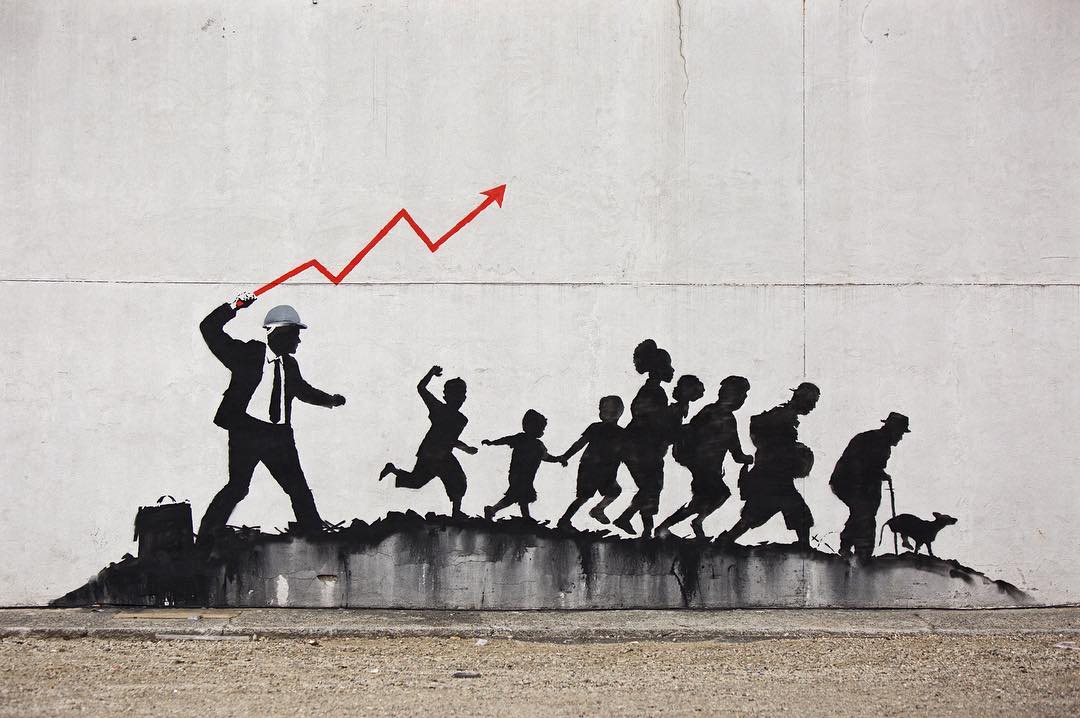 Whether it is a coincidence or not, but President Donald Trump has properties near Coney Island. This photo depicts a man whipping children with an arrow that looks exactly like the stock market arrow. Is the economy and business ruining our children? That is for you to answer.
27. Well Hung Man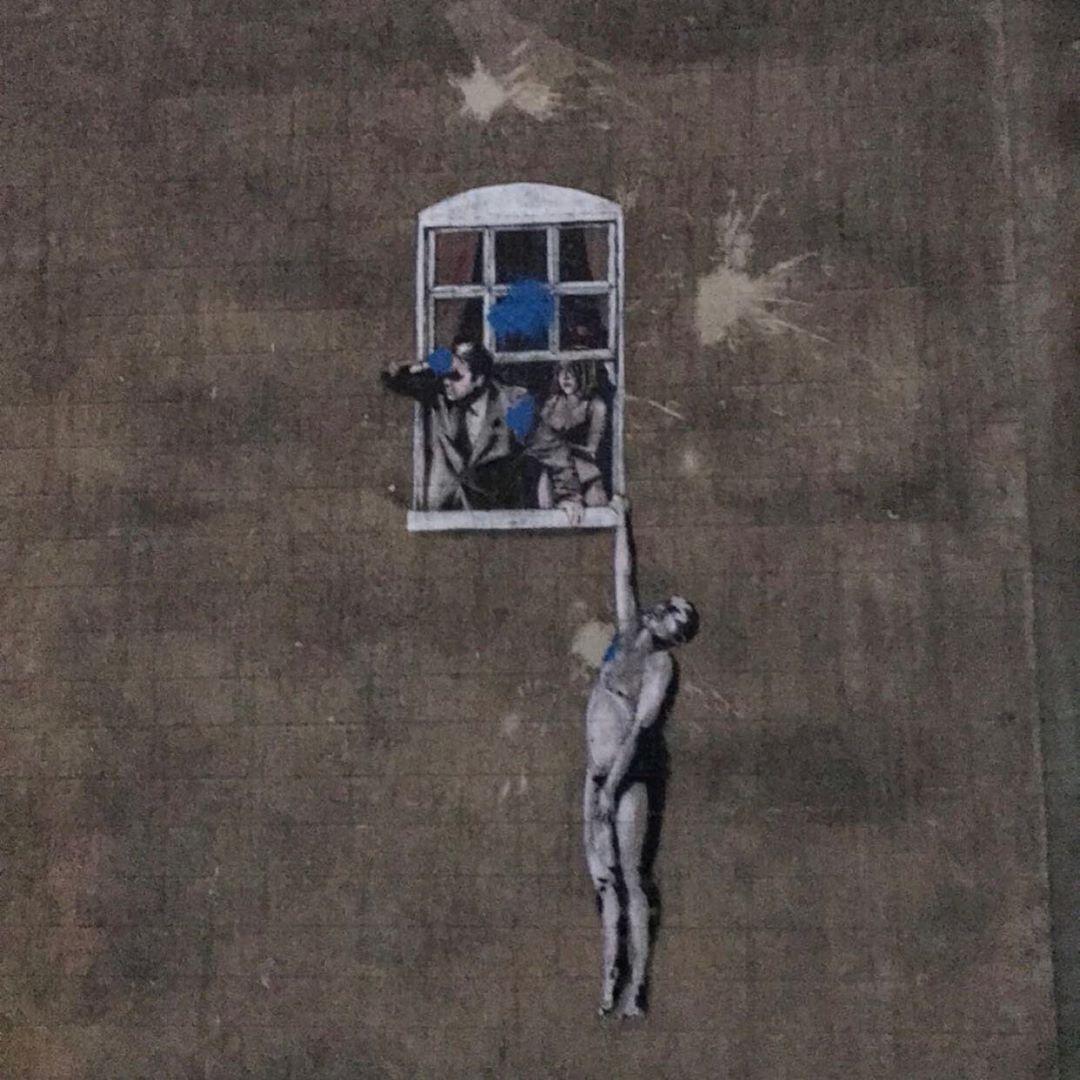 This painting is also known as the Naked man hanging from window, or simply called, Naked man. You can theorize what is the meaning. For some, the naked man is the lover of the woman in the painting, and her husband is trying to find her lover.
28. Winners,,,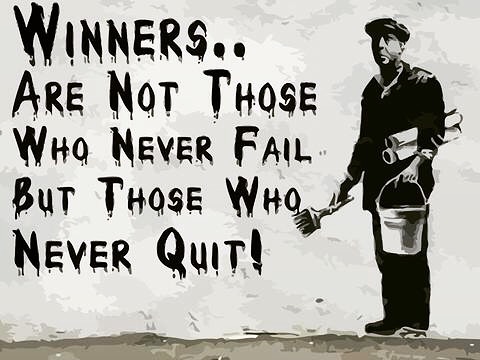 You just have to love it when a street graffiti artists tries to give you words of wisdom. And he is on point here. Try to be a winner. No matter how many times you fail, continue fighting.
29. Woe At The Strip Club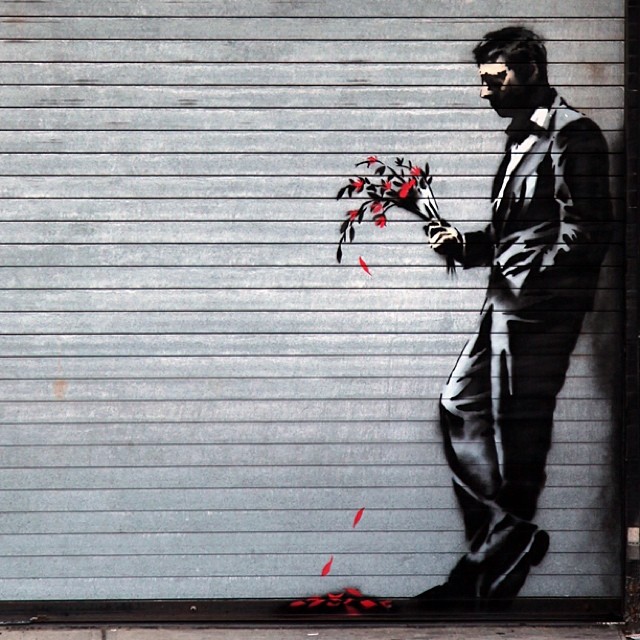 Fun fact: this graffiti was painted on the wall of the Hustler Club. It shows a man in a suit, seemingly stood up by his partner. Therefore, the flowers.
30. From This Moment Despair Ends And The Tactics Begin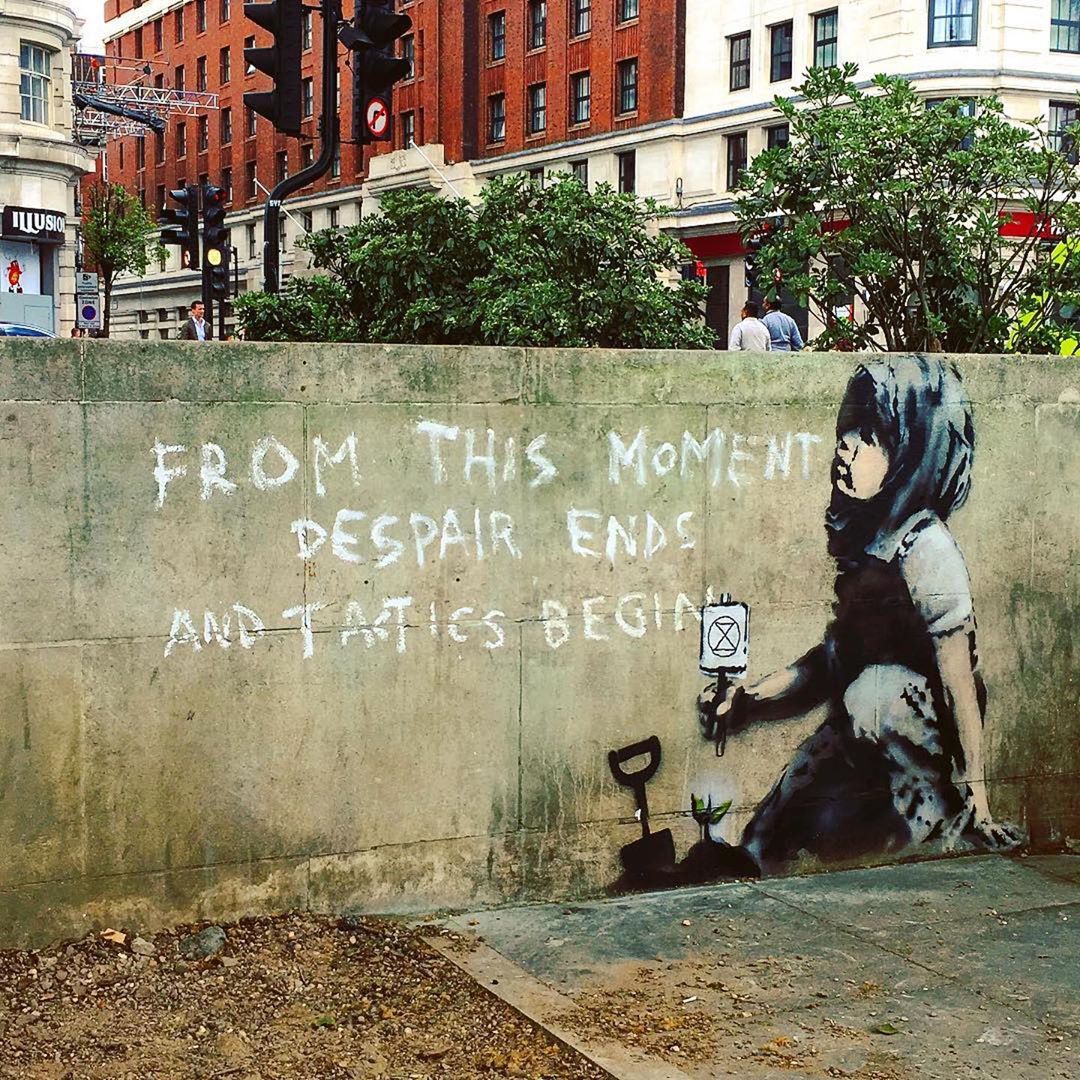 This street art was posted on a wall on a site occupied by climate activists for two weeks. He did not confirm authorship, but it is clear that it is his work. Many asked at the time, if he is becoming a climate activist? After all, he is well into political and social activism.
31. Snow Child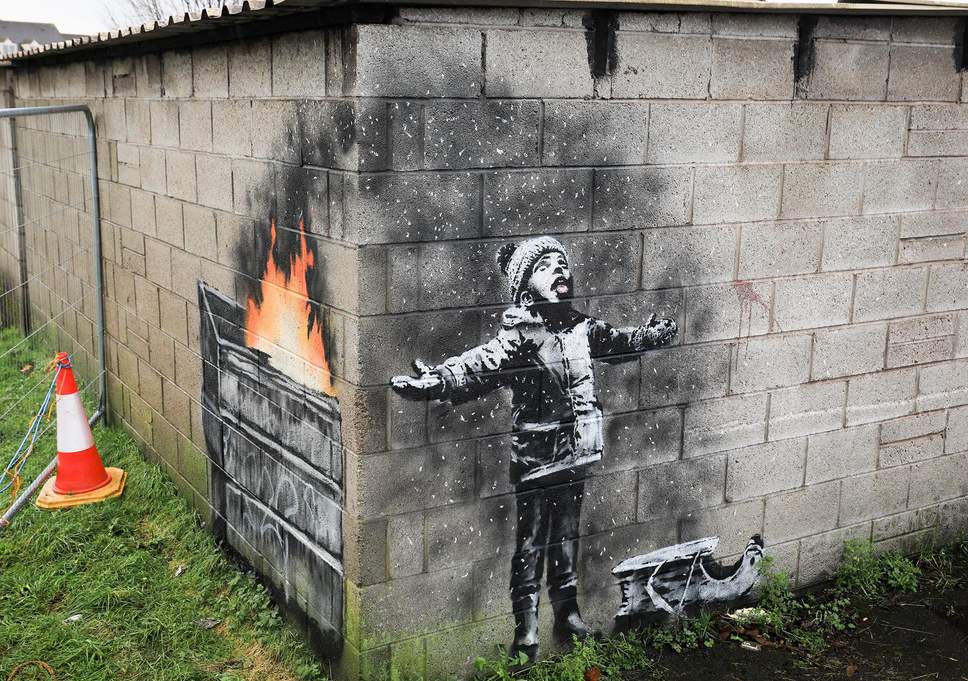 This is one of the more expensive murals sold. It reached price of $130,000, but Banksy donated most of the money to charity. It is one of his better murals showing the change of seasons.
32. Umbrella Girl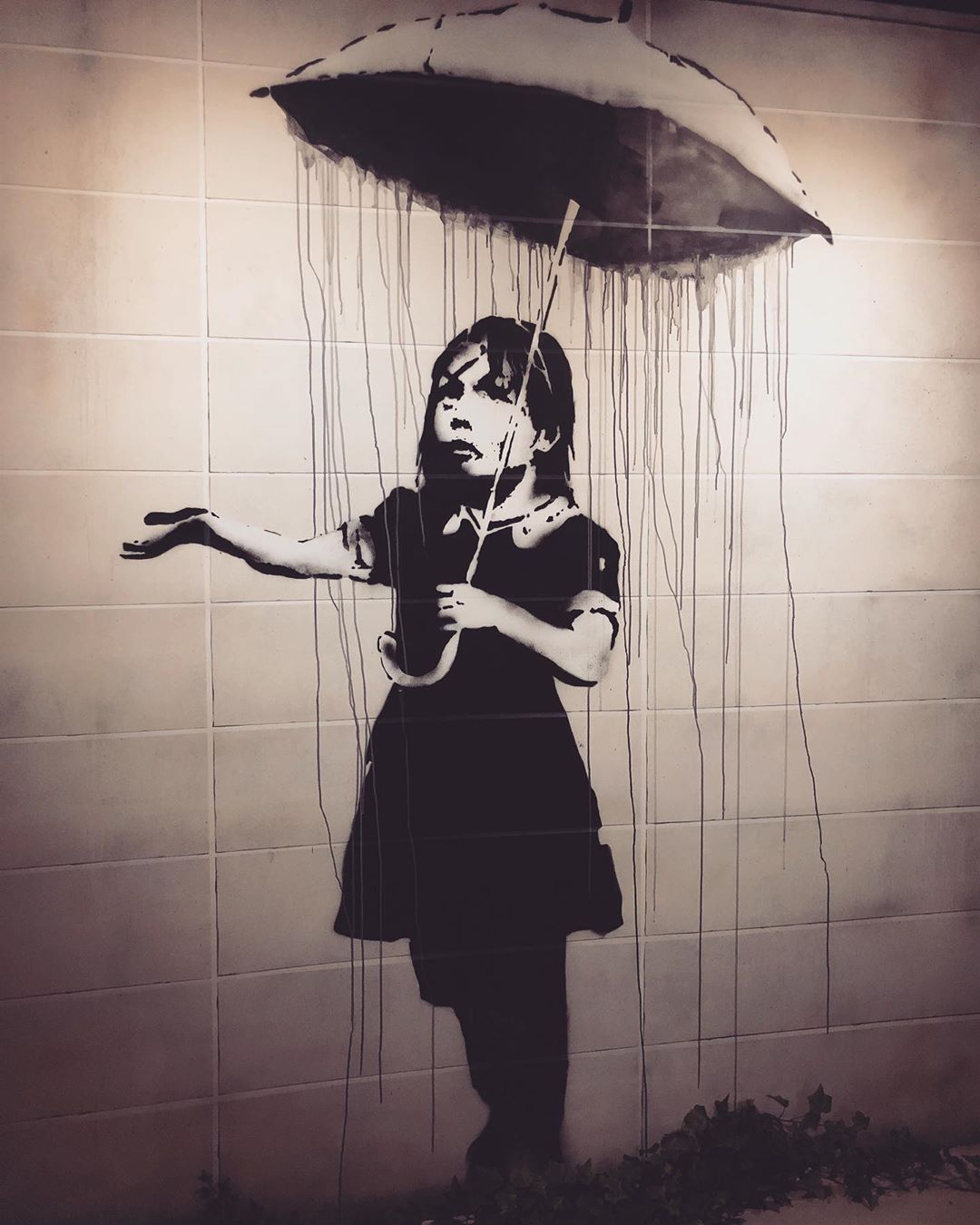 The girl is known as Nola. The graffiti was painted in New Orleans, as a response to the horrific hurricanes that destroyed the city, Katrina in 2005 and Gustav in 2008.
33. Revolution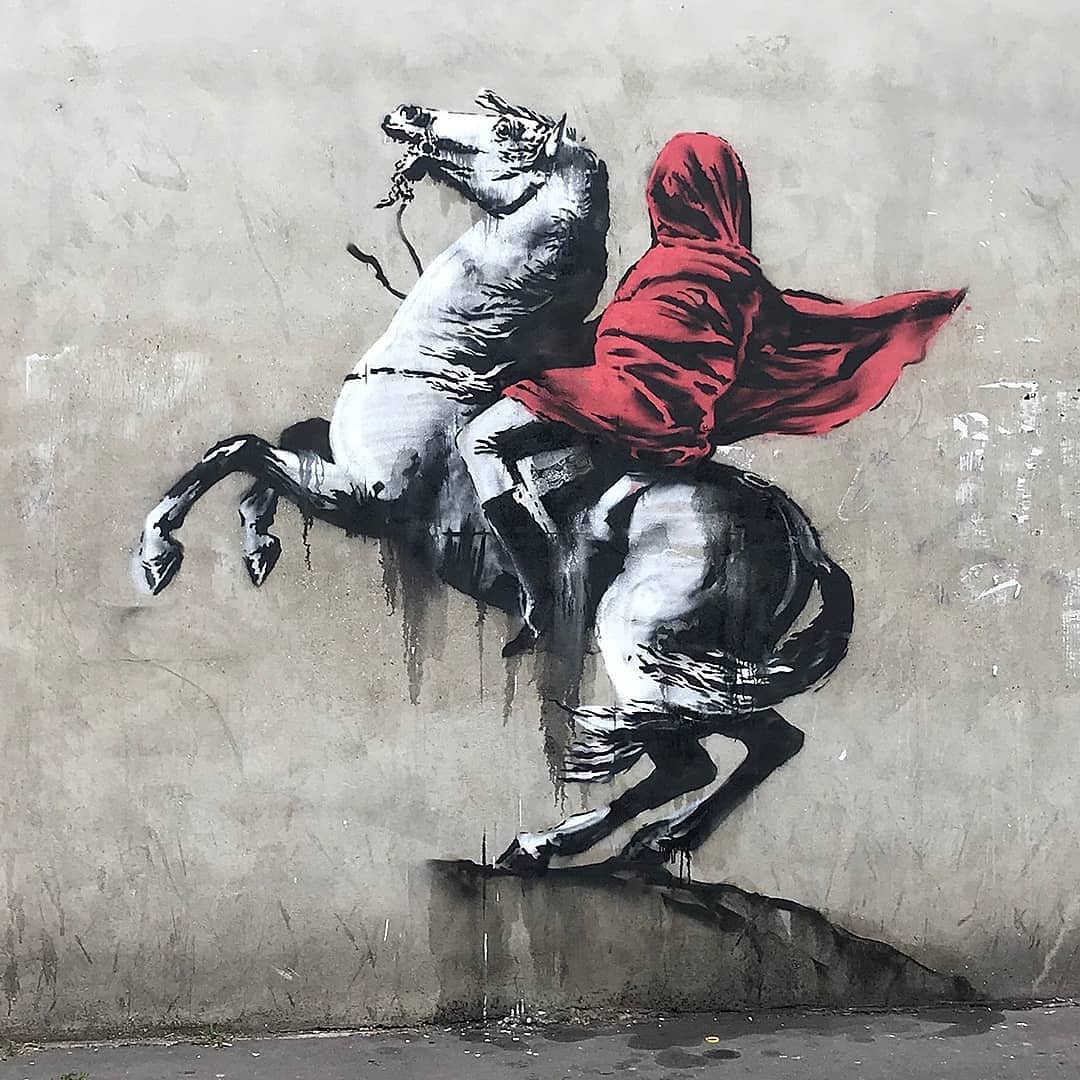 An iconic graffiti, Banksy is always supportive of revolutions that give the power back to the people. He has many satirical arts supporting revolutions, and this is one of the most iconic ones.
34. Nice When Framed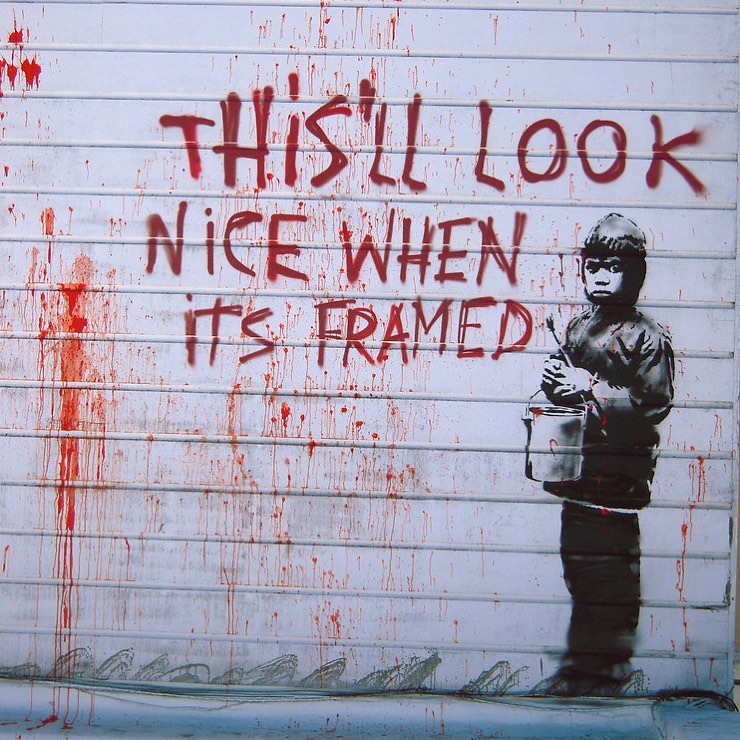 Speaking on social subjects, Banksy often shows his disappointment in how the government treats children. Pictures with children might look nice when they are framed, but that is not the reality we live in. Banksy tries to show the real life of many children, and this graffiti is encouraging of that concept.
35. Free Zehra Dogan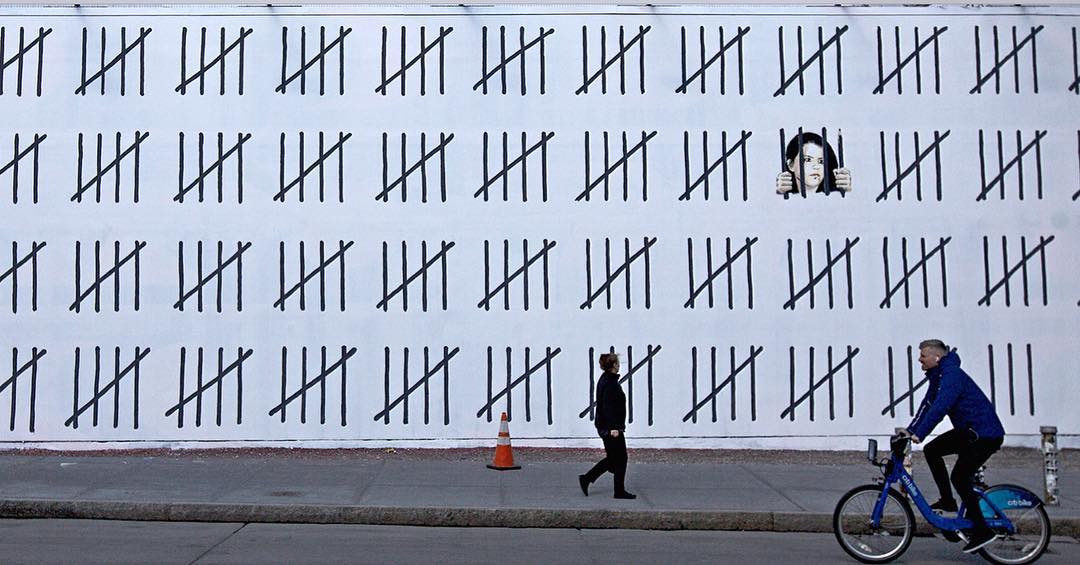 Zehra Dogan is a Kurdish artist and journalist from Turkey. She founded Jinha, a feminist Kurdish news agency. Her agency is with an all-female staff. In February 2019, she was freed after spending three years in prison.
36. Finding Banksy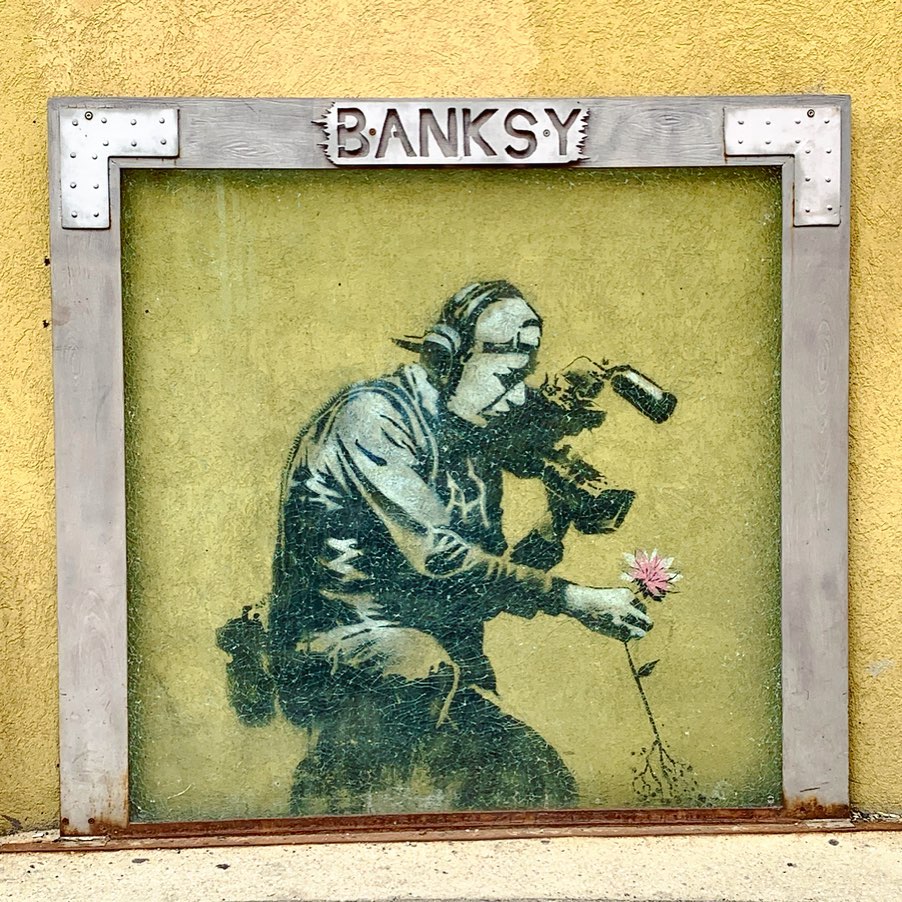 Most artists paint their self-portrait. True to his spirit and style, Banksy does something entirely different. Try to find Banksy, if you can.
37. If Graffiti Changed Anything – It Would Be Illegal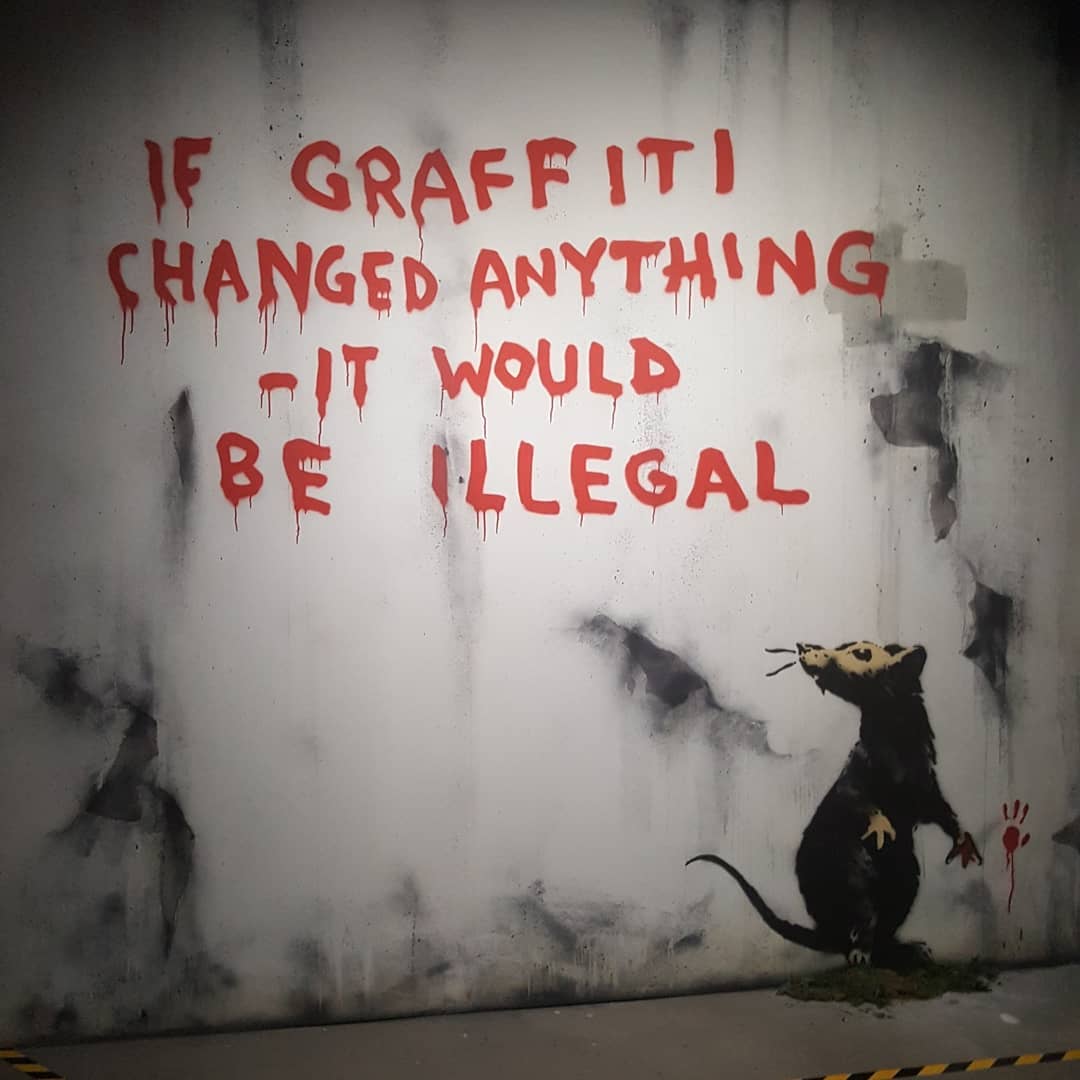 This is one of the messages Banksy wants to send to the world. Graffiti is one of the most urban forms of artistic expression, but usually without the permission and within public view.
38. Girls With Balloon Painting – Shredded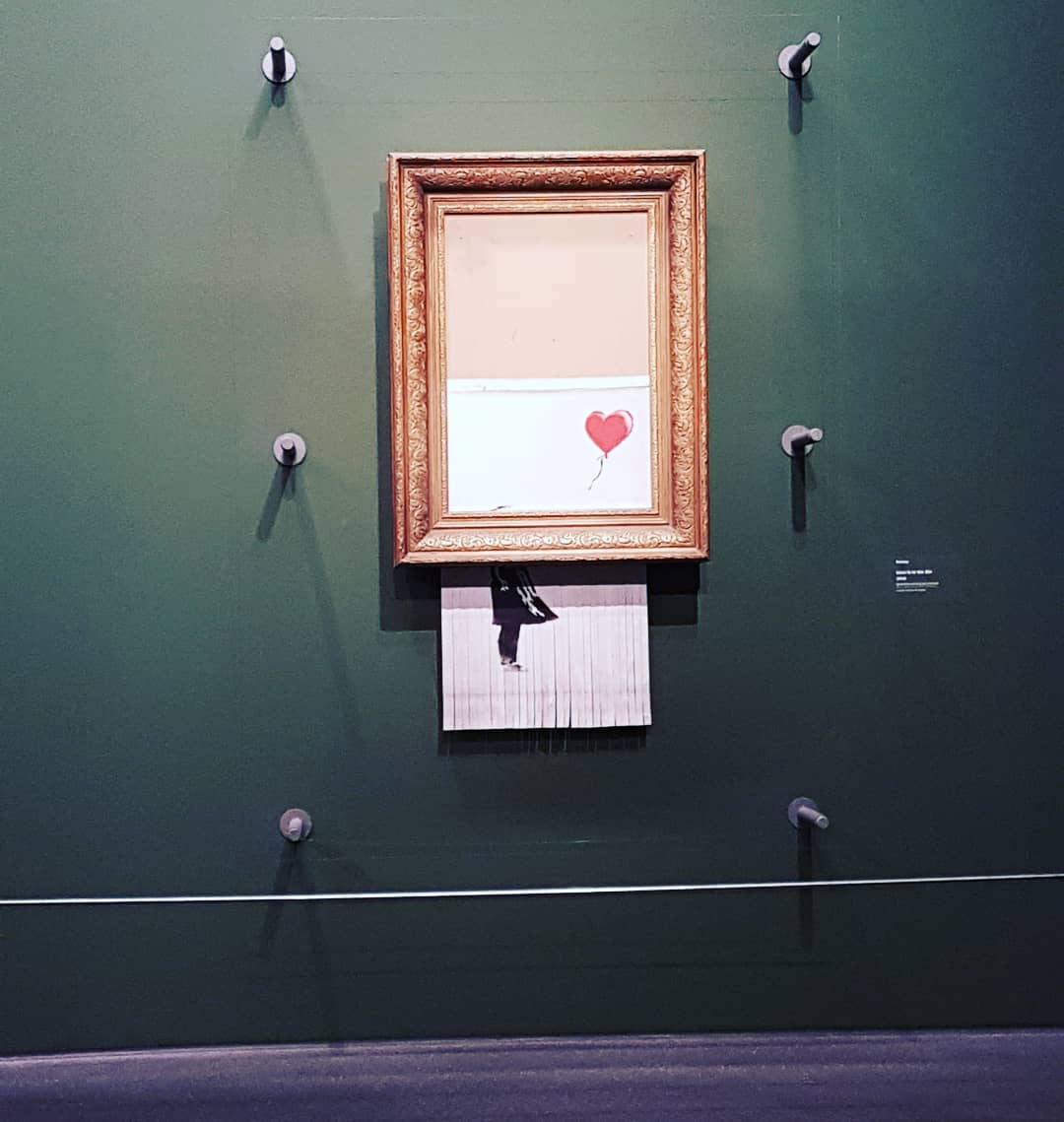 You are probably wondering why would someone shred his own painting? His own work of art? Simple, Banksy didn't want anyone to profit from his work. So, he created a custom shredding device if his work was ever sold at auction. We started the list with Girl with Balloon, and we end it with it.