Mr. Brainwash is a name used by Thierry Guetta. He is a French-born, but Los Angeles-based street artist. According to the movie Exit Through the Gift Shop, which is a movie about his beginnings, he was a proprietor of a used clothing store.
There, he began as a security guard, and amateur videographer. He became a street artist after an off-hand suggestion from Banksy.
The movie Exit Through the Gift Shop presented his rise on the street art scene. And after the movie, he became even more famous. His work began selling for phenomenal sums, like $100,000 for a Jim Morrison portrait and $50,000 for Charlie Chaplin. In this list, we share some of his best Life is Beautiful graffiti, his signature sign.
1. Life Is Beautiful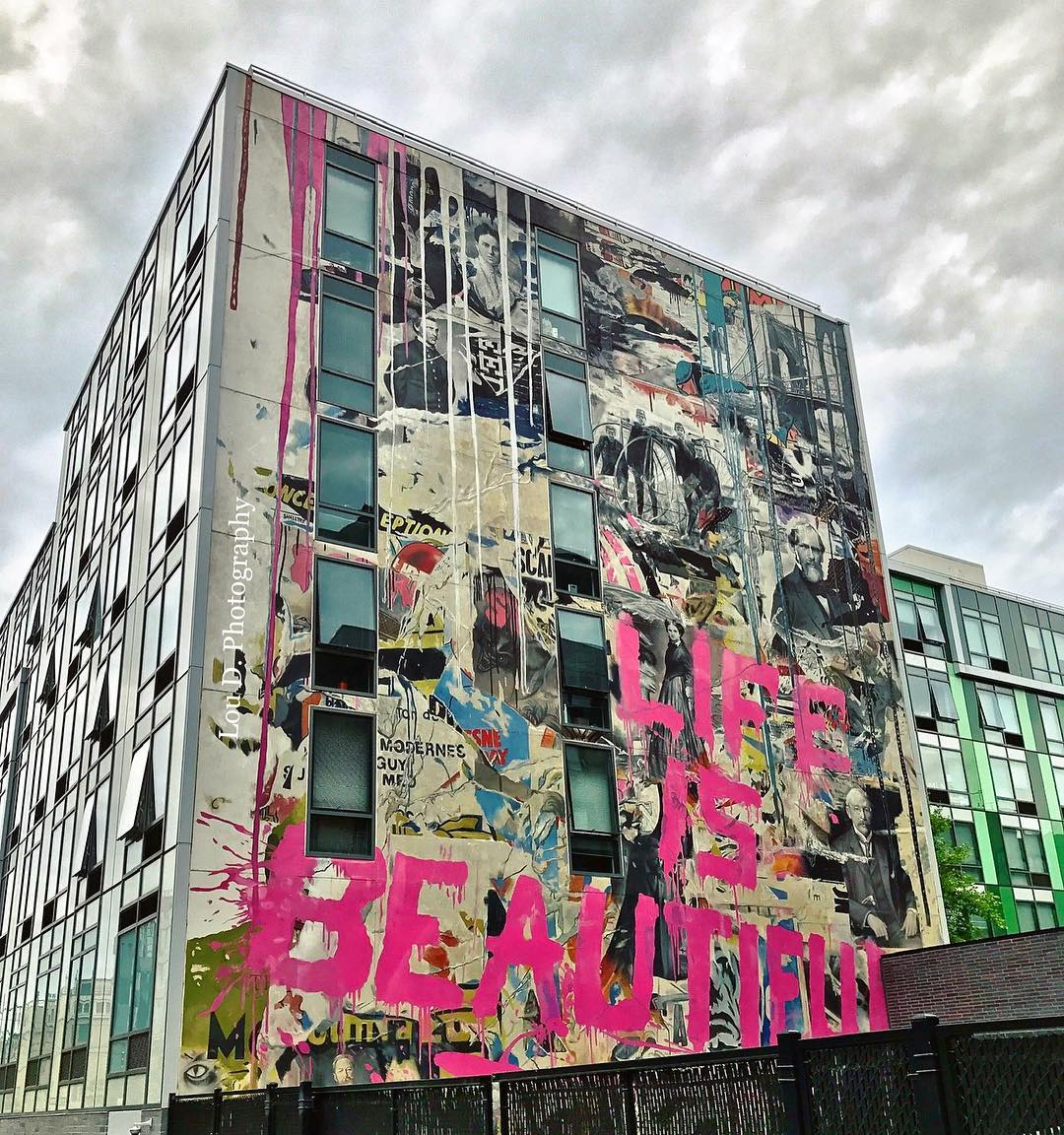 It is only fitting that we start with the famous Life is Beautiful, painted over a whole building. It looks like a headline over a piece of paper.
2. The Queen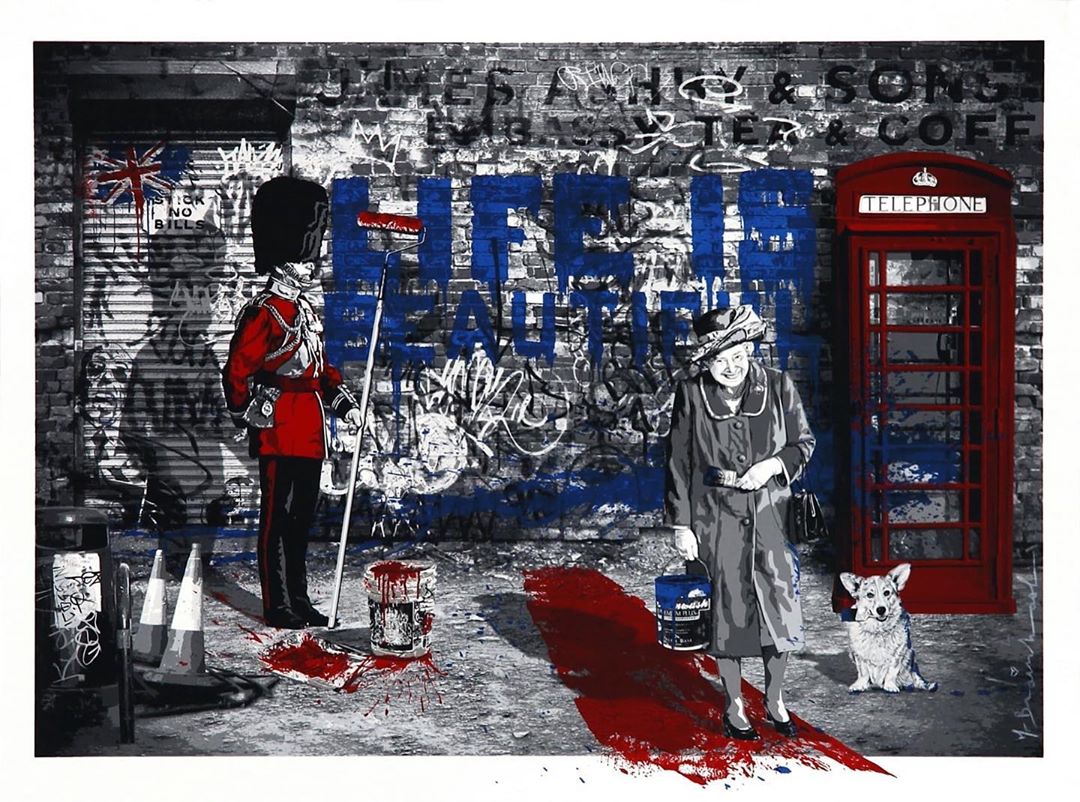 Mr. Brainwash is a French-born artist, but England and France have always been connected. So, it is not a surprise that he made a graffiti of the Queen and her famous Corgi dogs.
3. Be Your Own Hero
We all need a hero in our life. That is why we watch comic book movies, read comic books, and we are fascinated by Superman, Batman, Spider-man, and similar characters. But there is no bigger hero to you than yourself. A really powerful message.
4.  We Work Well Together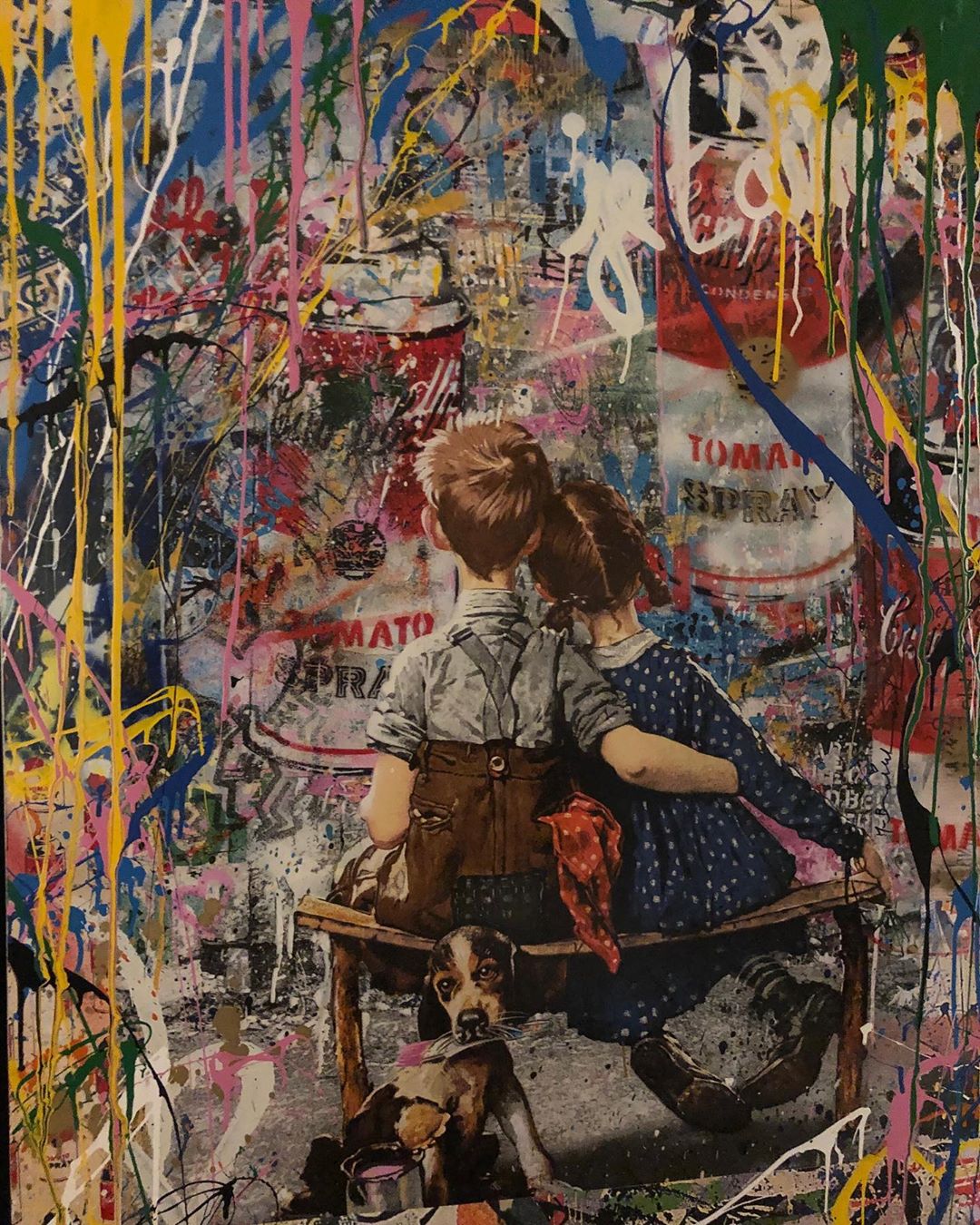 This is a lesson we all have to learn in life. You need someone to support you, encourage you, and we have to work together not only with people around us, but with other living beings. In this case, dogs and our other surroundings.
5. Sweet Doing Nothing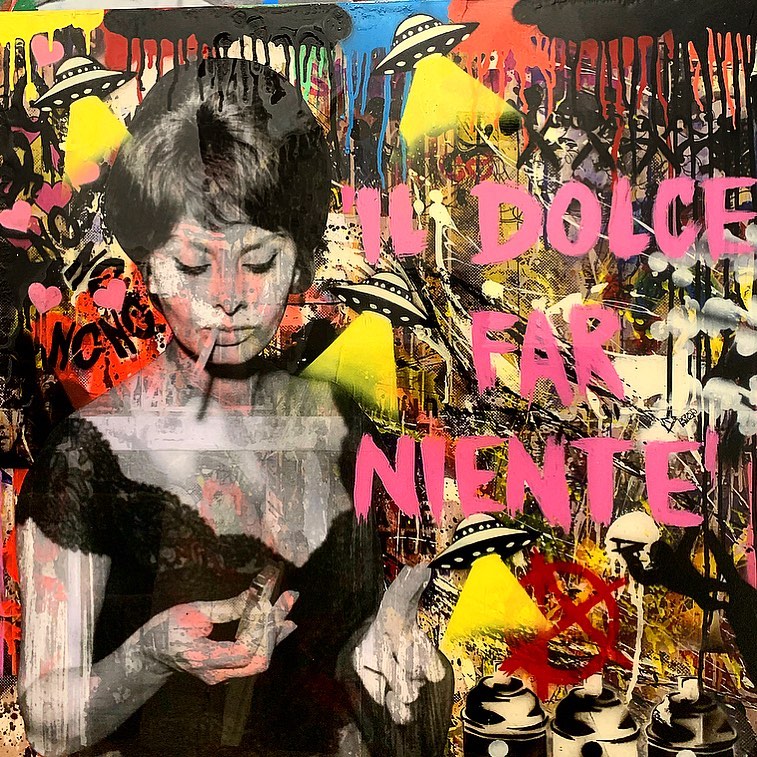 Sometimes, all you need in life is to enjoy the moment of doing nothing. Just chill and enjoy.
6. Never Give Up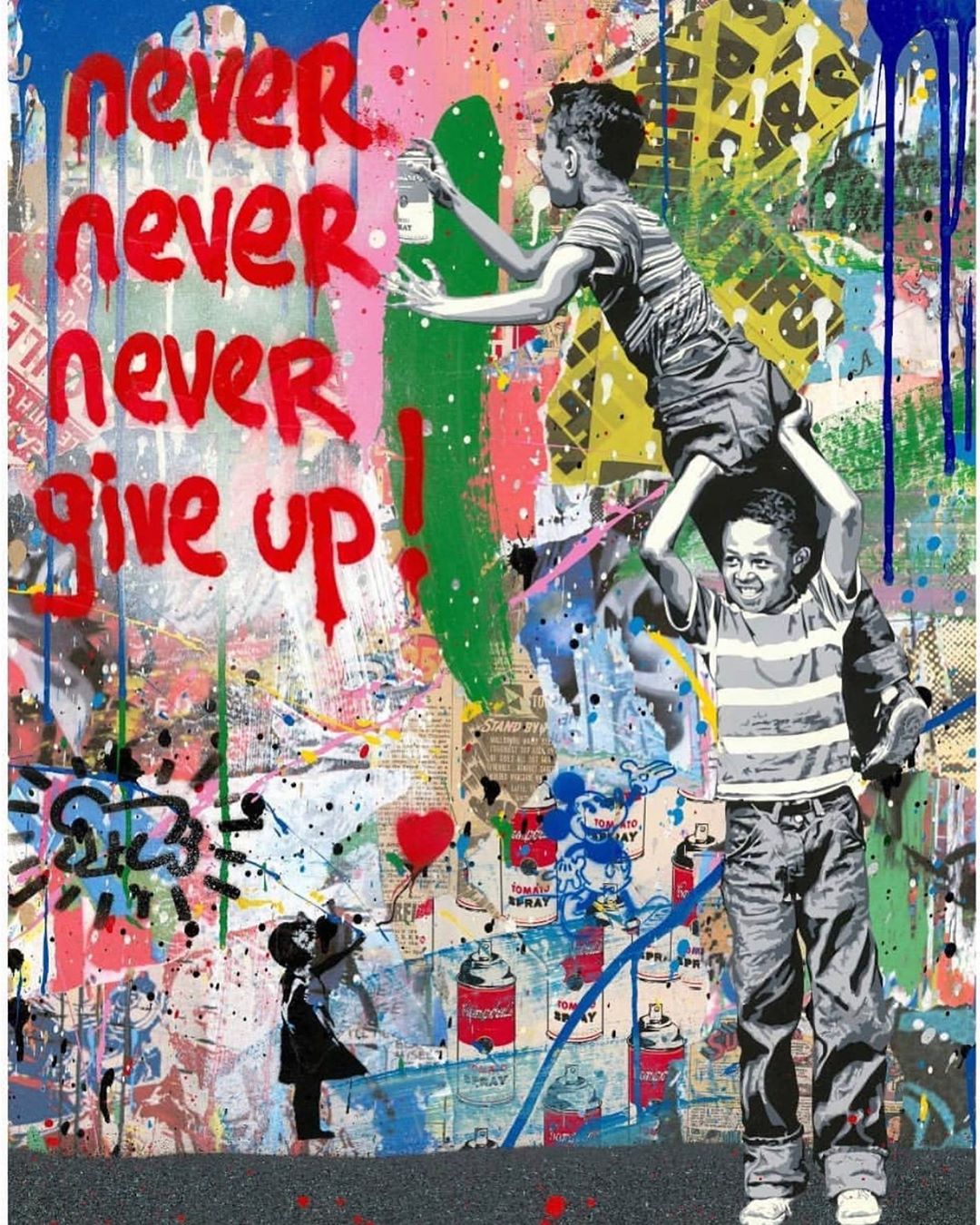 No matter what happens in life, you should always try to continue and move forward. Many people have tried to give inspirational quotes on the concept of never giving up. And here is a graffiti in that regard.
7. Jimi Hendrix
Mr. Brainwash often paints stars and celebrities from the music world. And you just cannot be a music fan without being a fan of Jimi Hendrix.
8. Follow Your Dreams Monkey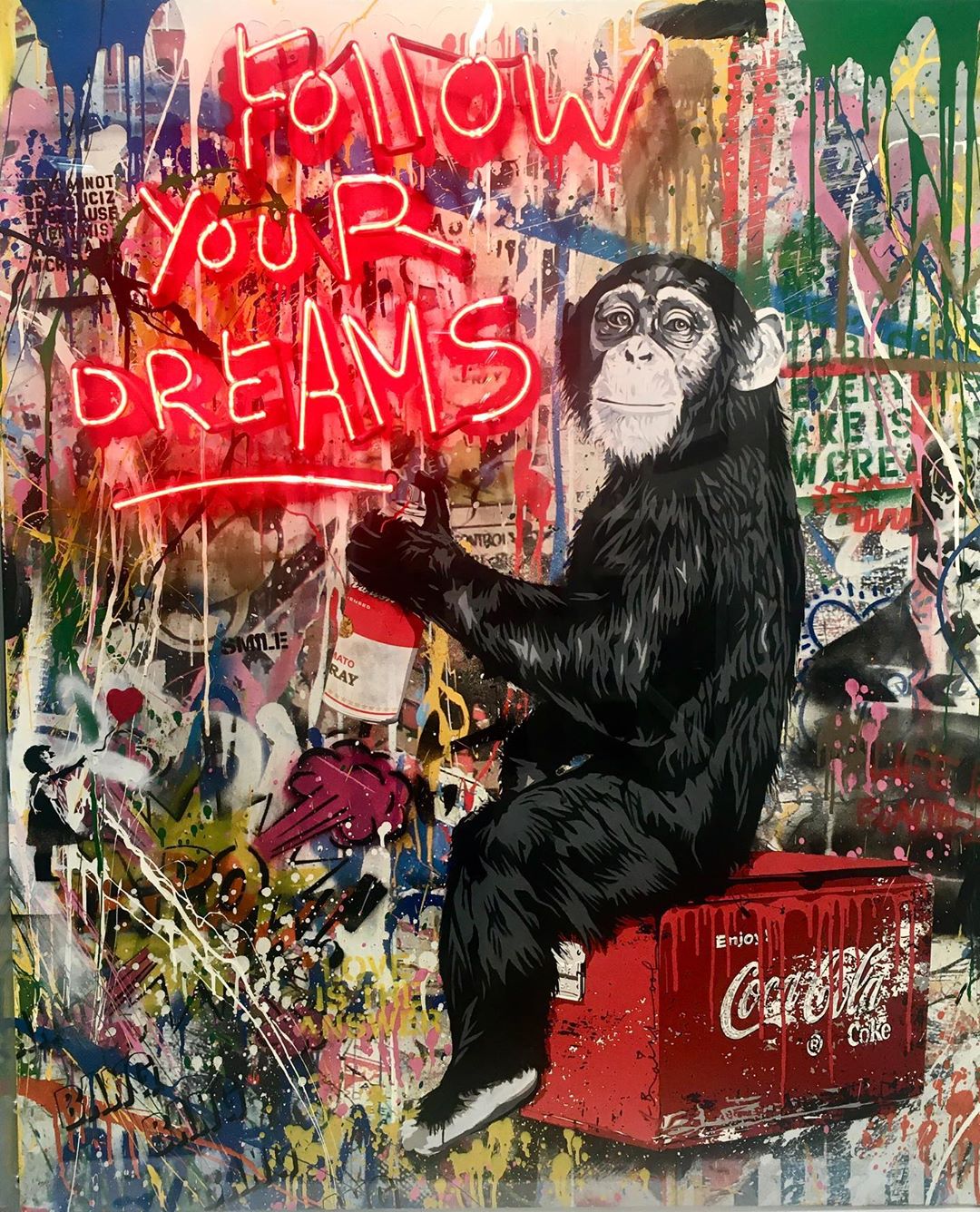 Another powerful message, it is more emphasized by the monkey and chimpanzee. Same as you should never give up, you should also follow your dreams.
9. Batman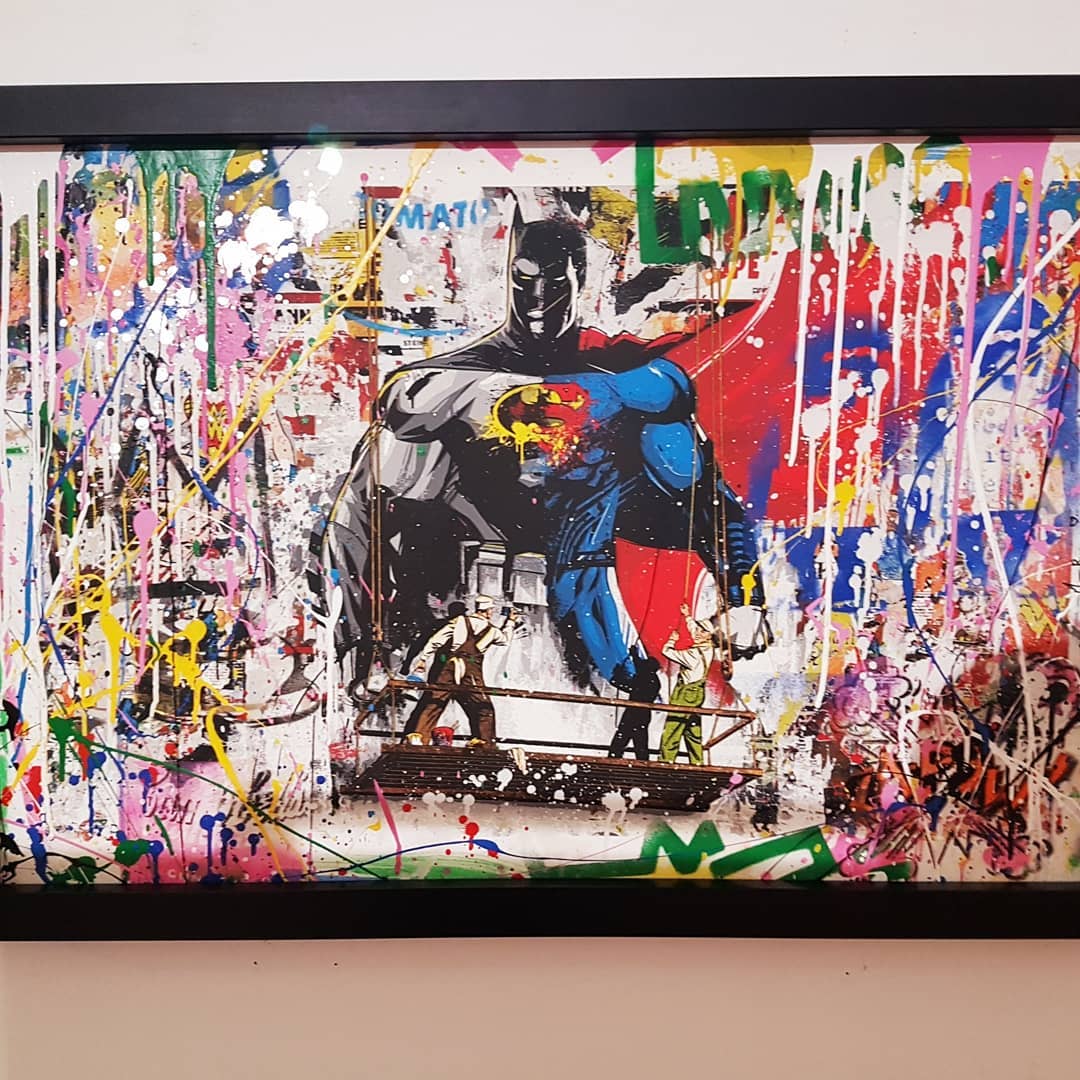 You just have to love and appreciate a good Batman graffiti. And it is even more impressive how he managed to paint it over a Superman character.
10. Tomato Spraycan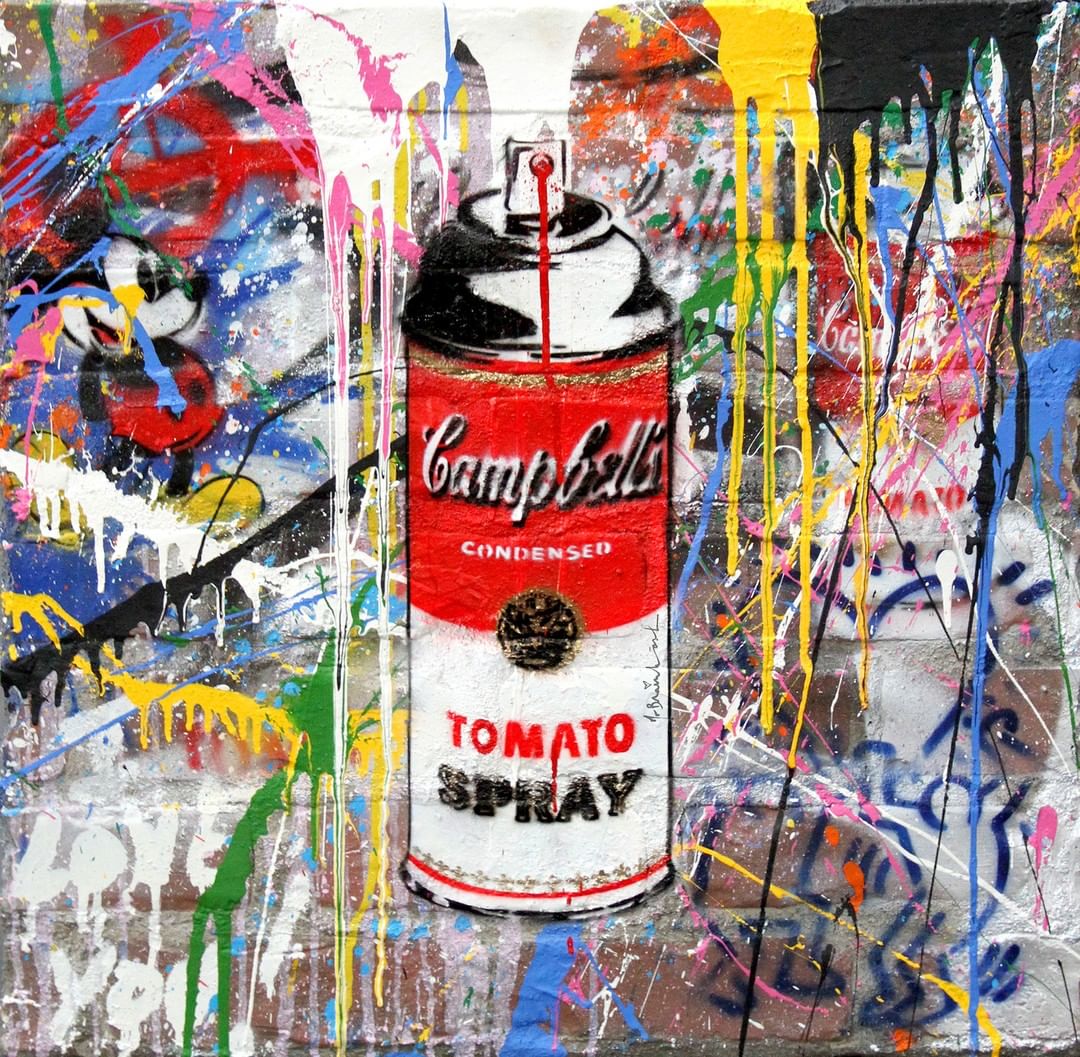 The spray can is the essential kit for graffiti artists. And Mr. Brainwash wants to pay tribute to this essential ingredient in his work.
11. Spider-man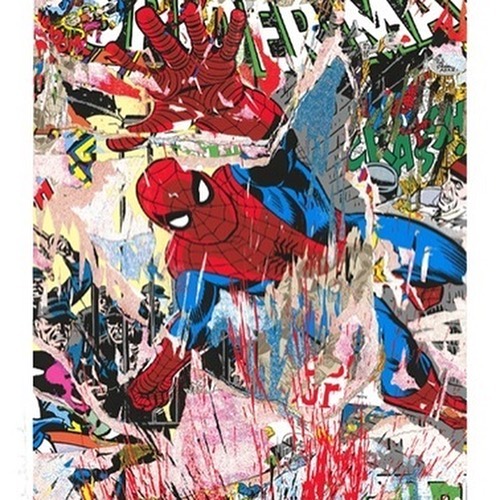 Continuing in the spirit of super heroes and comic books, here is Spider-man. This graffiti looks like it came out literally out of Marvel comics. One thing is certian, Mr. Brainwash can do comics easily.
12. Life Is Beautiful Mural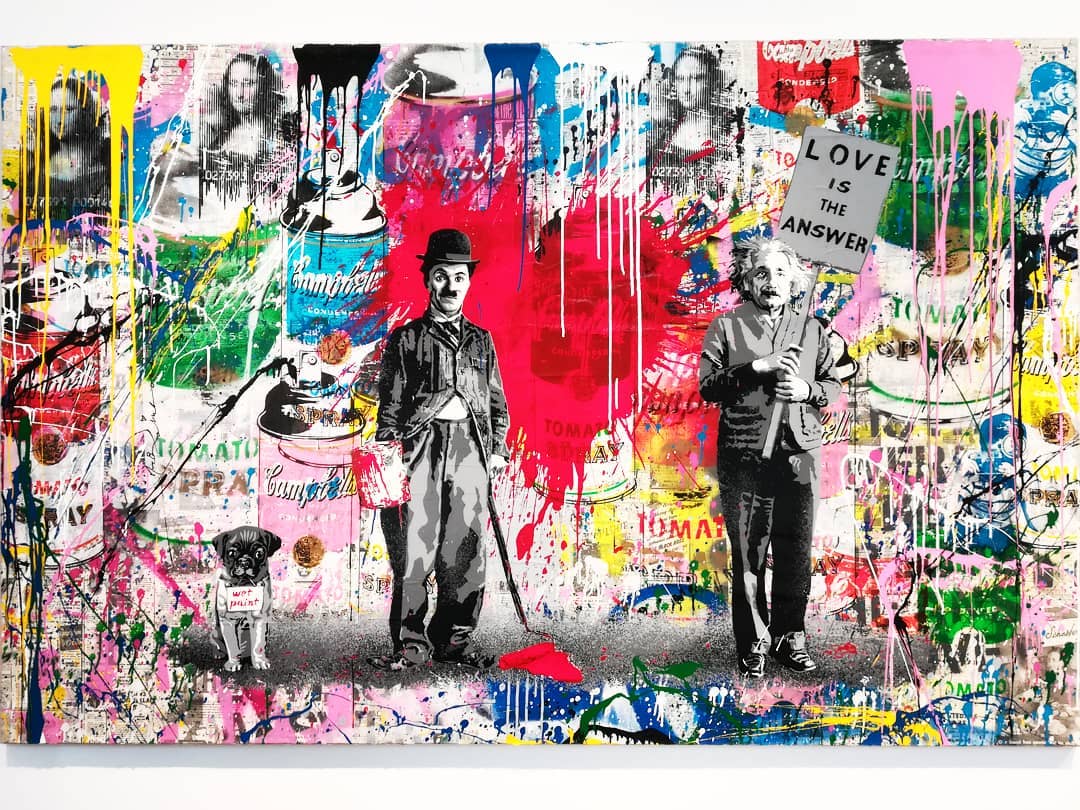 We said that Life is Beautiful is Mr. Brainwash's signature move and quote. He has done it a few times. And this mural is like an homage to his work. Spray cans, Charlie Chaplin, Albert Einstein and more make it to the graffiti.
13. Hitchcock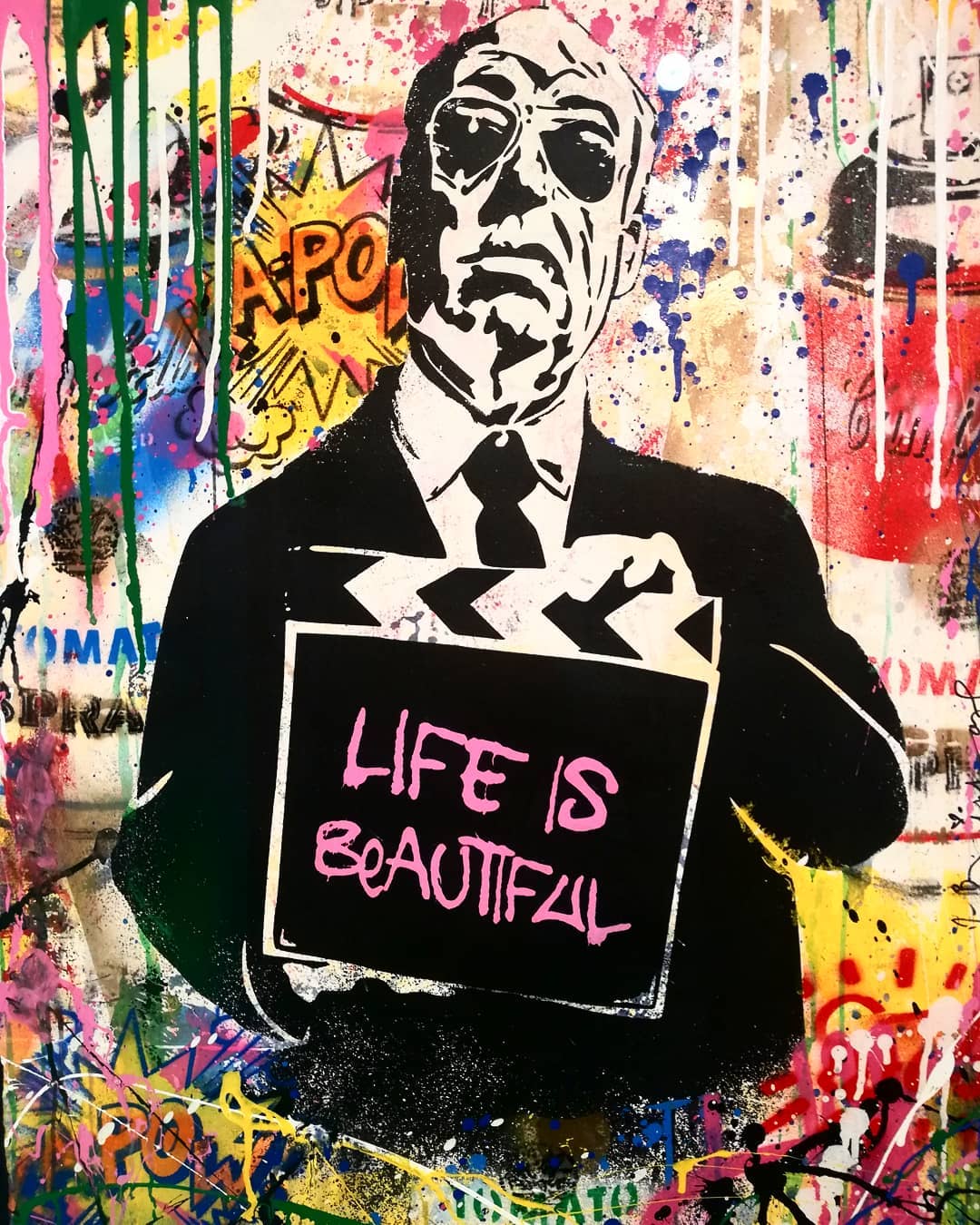 Hitchcock holding a sign Life is Beautiful is just priceless. The famous director was known as a horror and psychological movies director. And even he appreciates the beauty of life.
14. Smile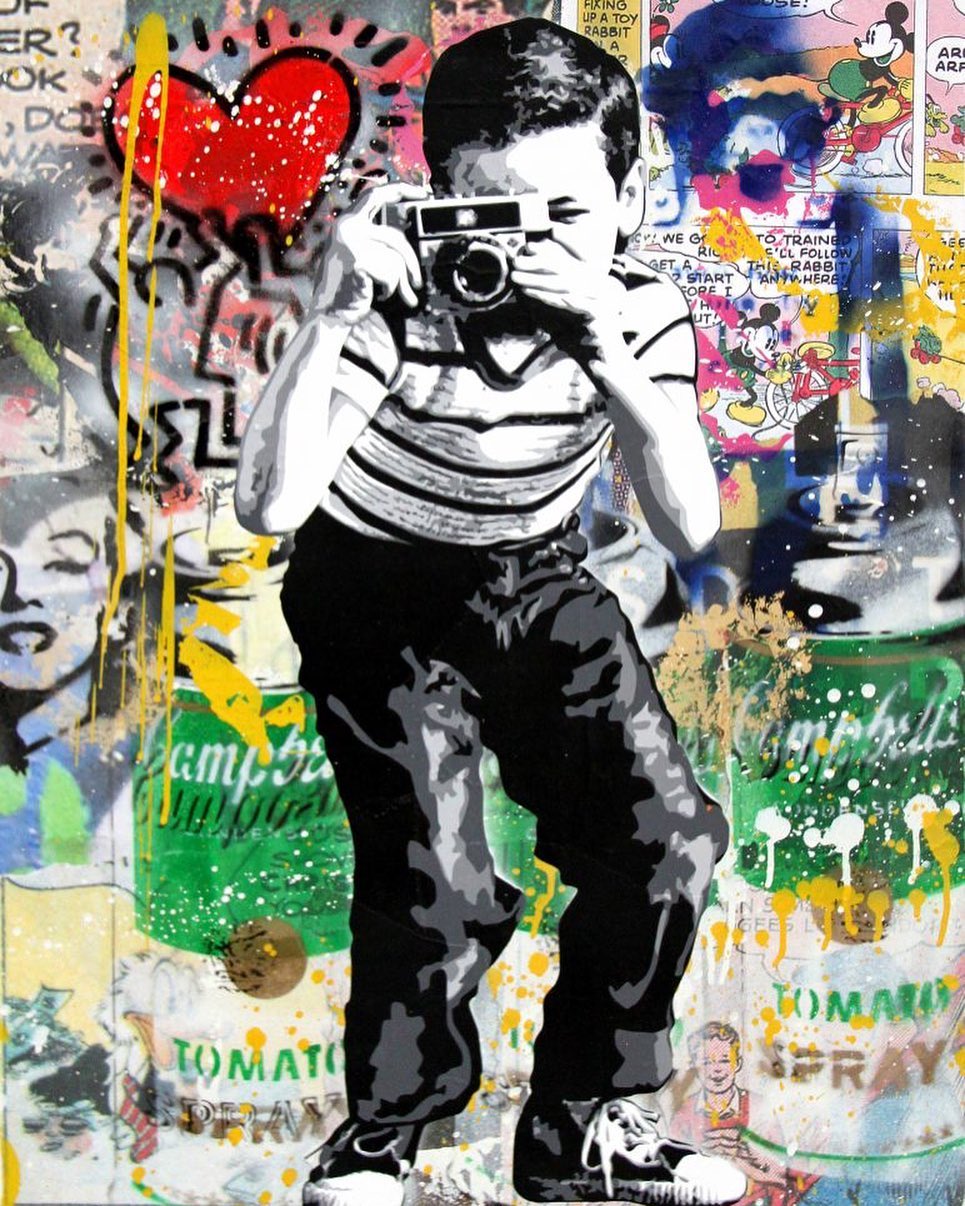 Breaking the fourth wall is a common thing in graffiti art. In this case, the artist wants to interact with people looking at his art. Smile as he was taking a picture of you.
15. Milano is Beautiful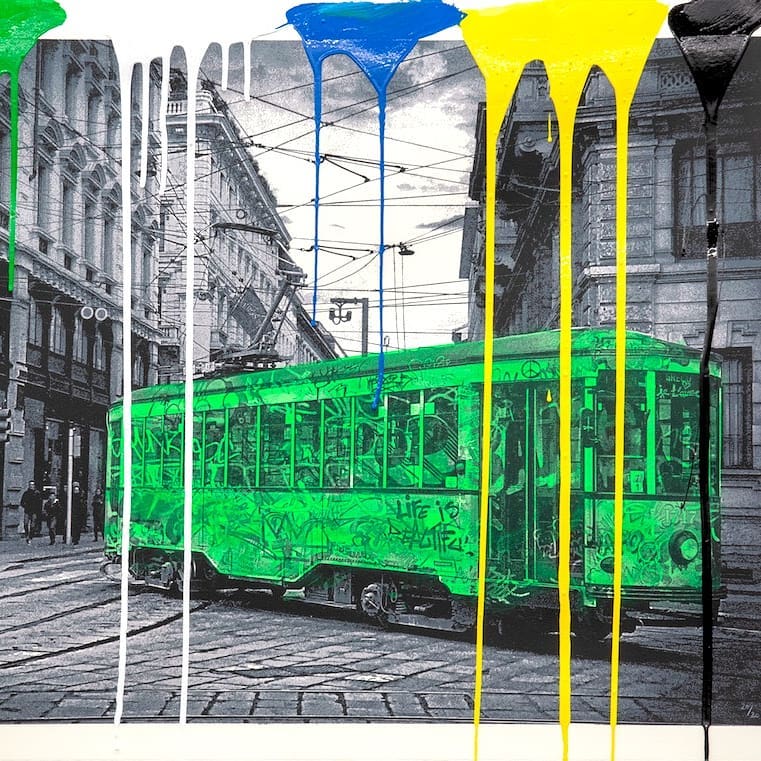 Here is a twist on the Life is Beautiful quote. Milano, one of the most beautiful cities in Italy, is also beautiful. Mr. Brainwash was impressed by the city, and decided to give it a signature move.
16. God Save The People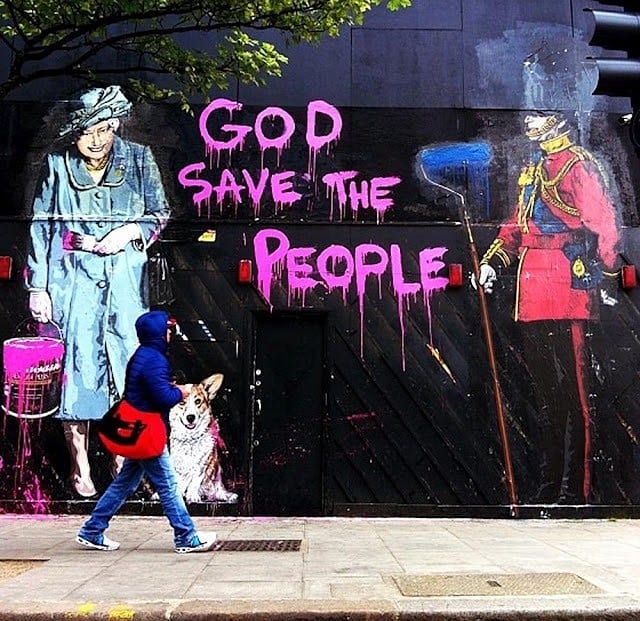 As a Frenchman, Mr. Brainwash has a lot with the Queen of England. He makes his own parody of the Queen, saying God will save the people, not the Queen.
17. Dream Big Dreams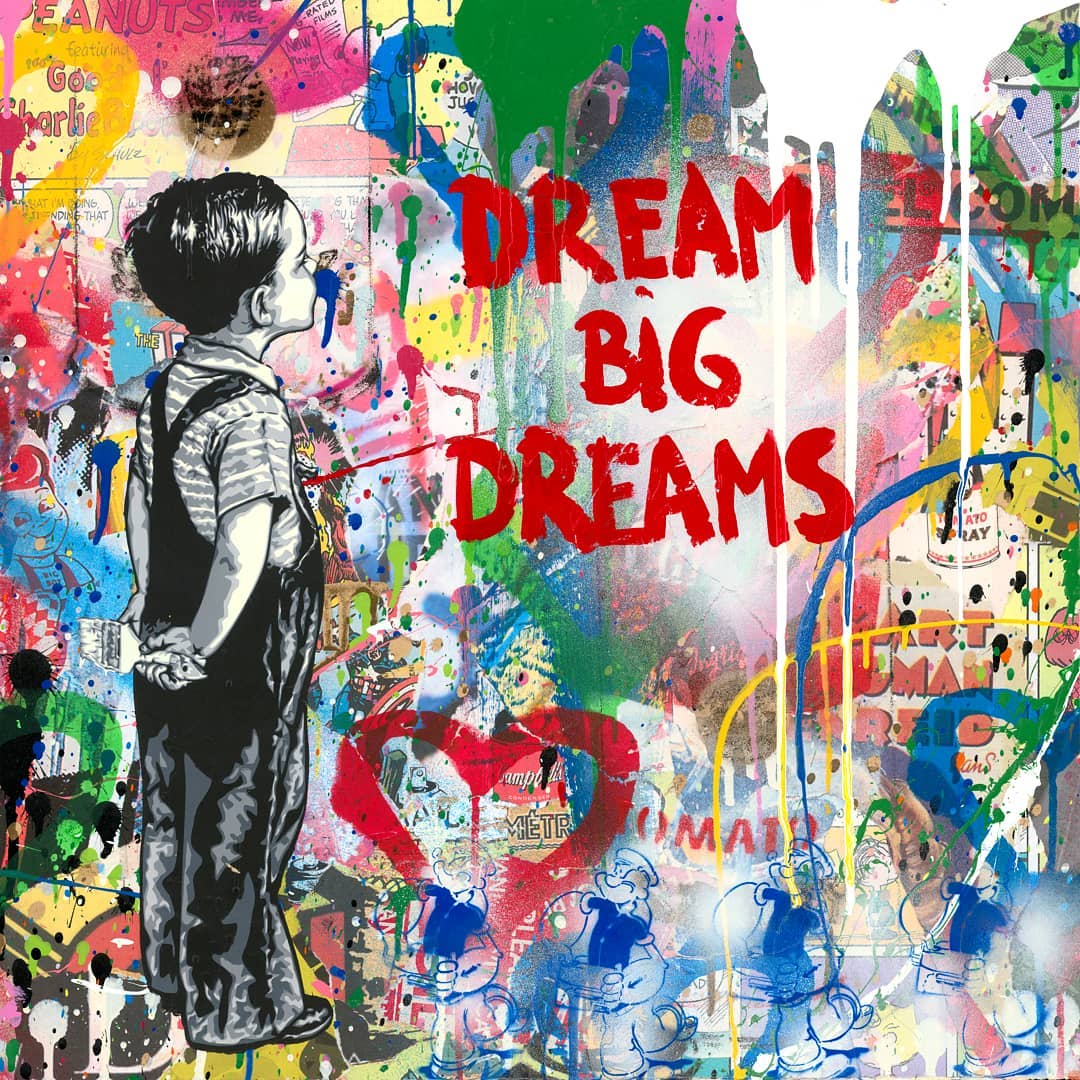 Dreams go hand in hand with Mr. Brainwash's motivational Life is Beautiful Spirit. He likes to inspire people to dream and believe in themselves. It is just nice when someone on the streets cheers you up, right?
18. Samo Is Alive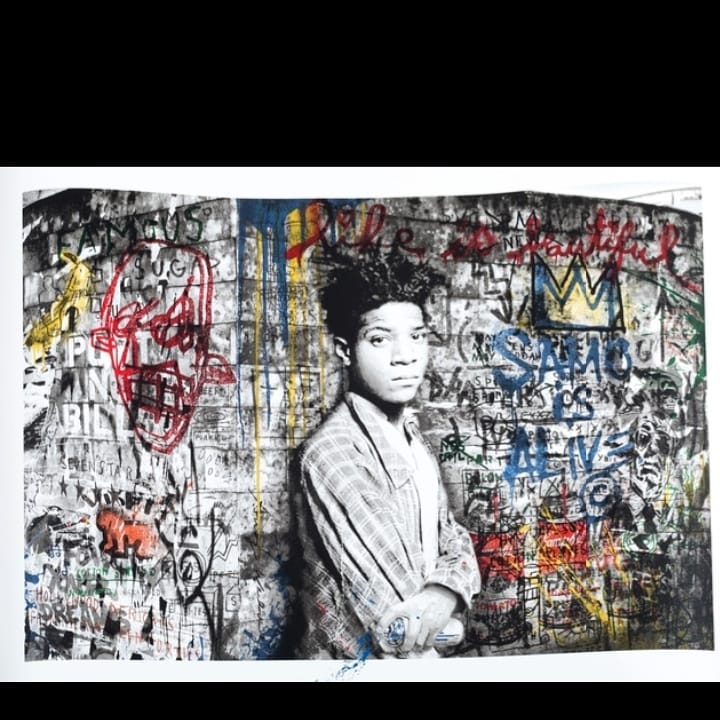 SAMO is the name of an informal graffiti duo who wrote enigmatic epigrams in New York. Jean-Michel Basquiat is the one who started the duo, and who had his biggest success as part of SAMO. He died on August 12, 1988, but Mr. Brainwash likes to believe he is still alive and living among us.
19. Mickey And Minnie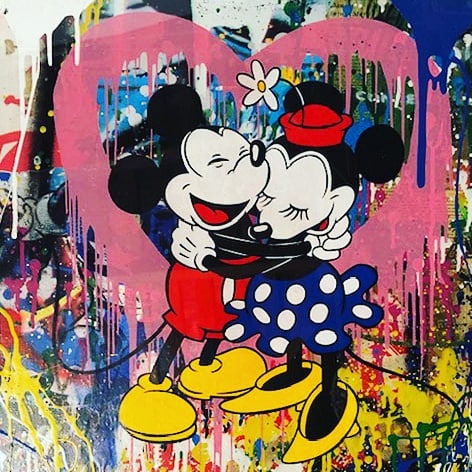 Mickey and Minnie have been two of the most iconic characters in Disney history. They have also been an inspiration for so many artists, not just in the graffiti and street art world. It is only logical that a household name like Mr. Brainwash has his own version of the famous Disney couple.
20. Liberty
Freedom is a concept not many people around the world can experience. We still live in a world where nations and civilizations are under someone's else administration and governance. The Statue of Liberty in New York might be the symbol of freedom, but we are far from it. And that is the message with this parody.
21. Ghandi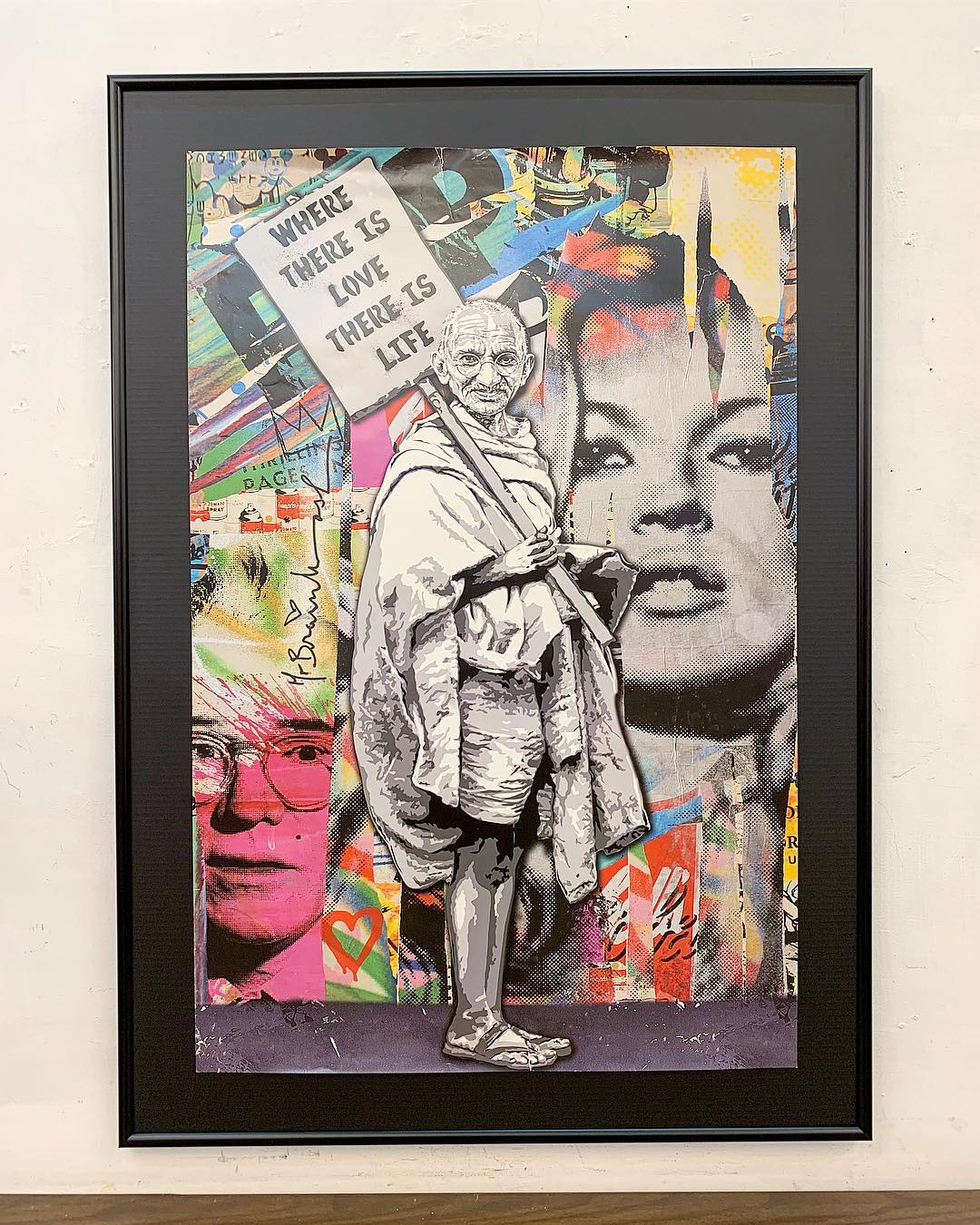 Mahatma Gandhi is one of the most influential individuals. He fought for freedom, even starved and protested by not eating for days and weeks. Whenever you are looking for inspiration, check some of his quotes, and you will be fine.
22. Charlie Chaplin And The Kid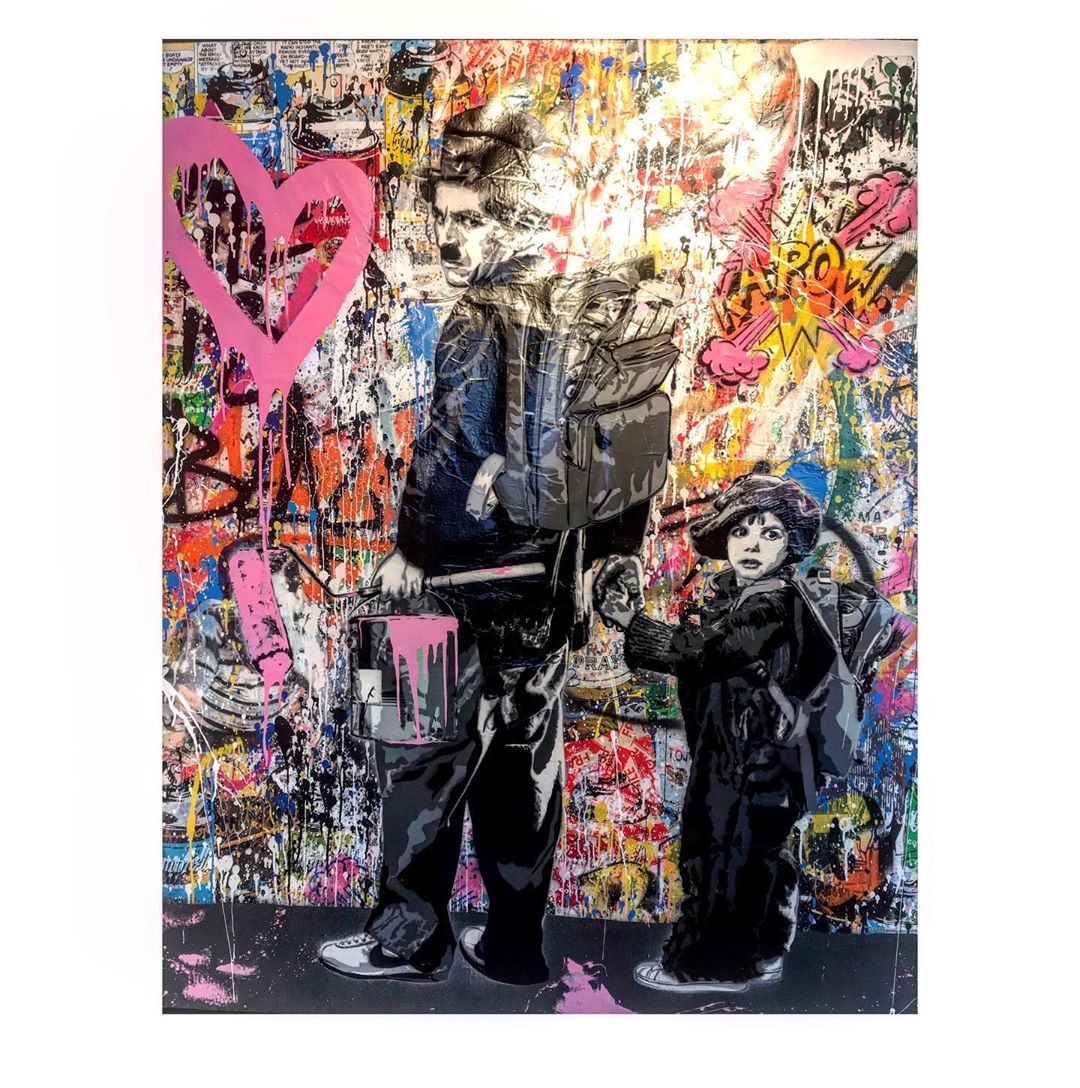 The Kid is the first full-feature movie by Charlie Chaplin. He directed, produced, and started in this iconic movie. The silent masterpiece might have been the best thing Chaplin ever did. Mr. Brainwash paid a homage to the movie. And this graffiti is one of his best selling ones, selling for $50,000.
23. Four Marilyns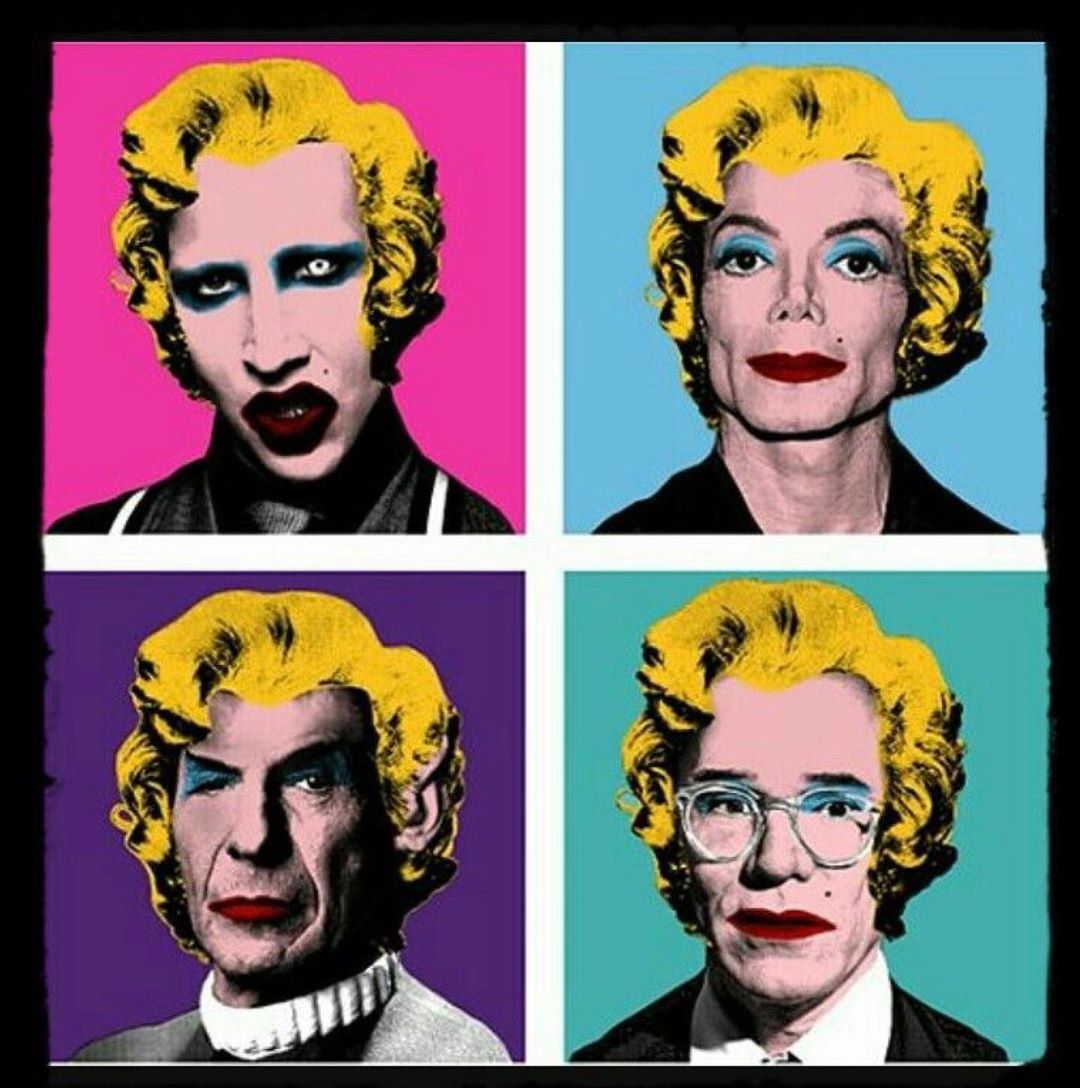 Some might say this is blasphemy, but graffiti artists have no problem "ruining" masterpieces. The Four Marylin by Andy Warhol is such an iconic masterpiece in the pop-art world. But Mr. Brainwash thought it needs some remake.
24. The Beatles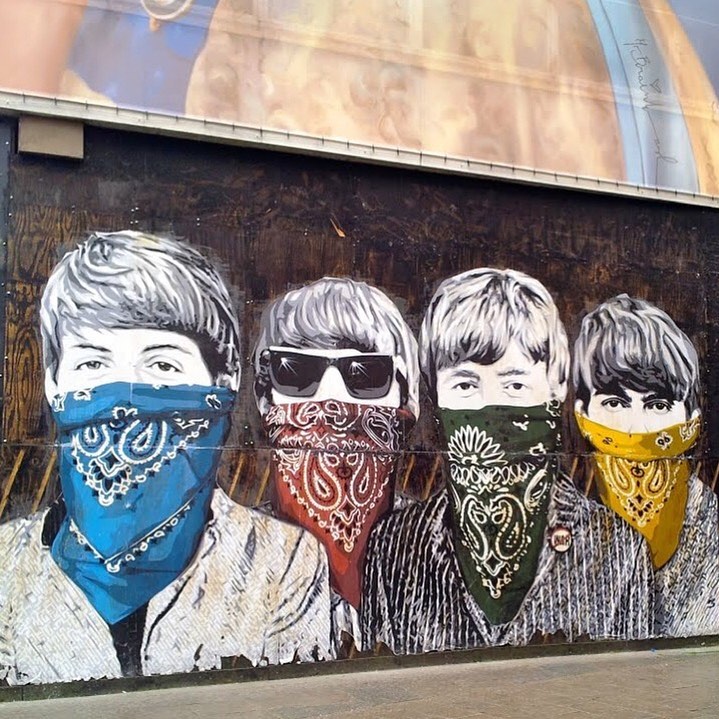 Speaking of portraying iconic people from the music world, the Beatles are right up there. You just cannot be a music fan and not be a fan of the Beatles. They look amazing in this graffiti art.
25. Meaning Of Life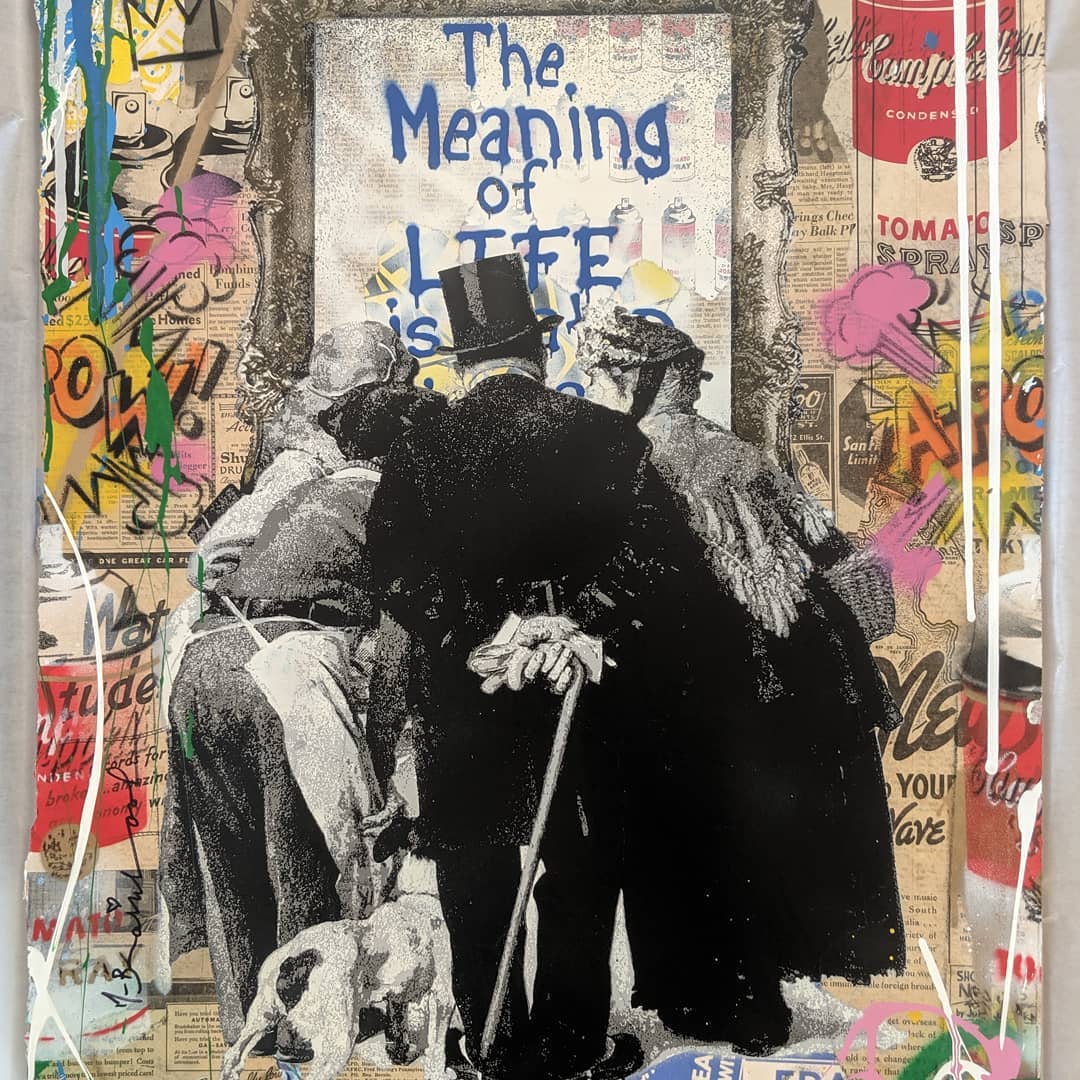 Philosophers through history have tried to find the meaning of life. There are so many theories. But at the end of the day, the meaning of life is individual. And that is what this parody tries to show you. No matter how many people try to find the meaning of life, it will always remain a mystery.
26. Kate Moss
This pop-graffiti hybrid is just amazing. It shows one of the most famous models, and serves as a great inspiration for Mr. Brainwash.
27. Obama Superman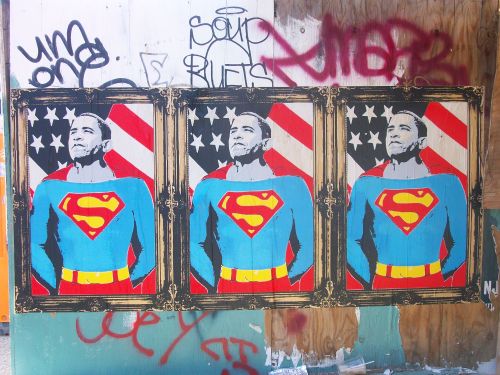 Some people praise Obama for everything he did for America. Others, despise him. For the members of the former group, Obama is really the personification of Superman.
28. Einstein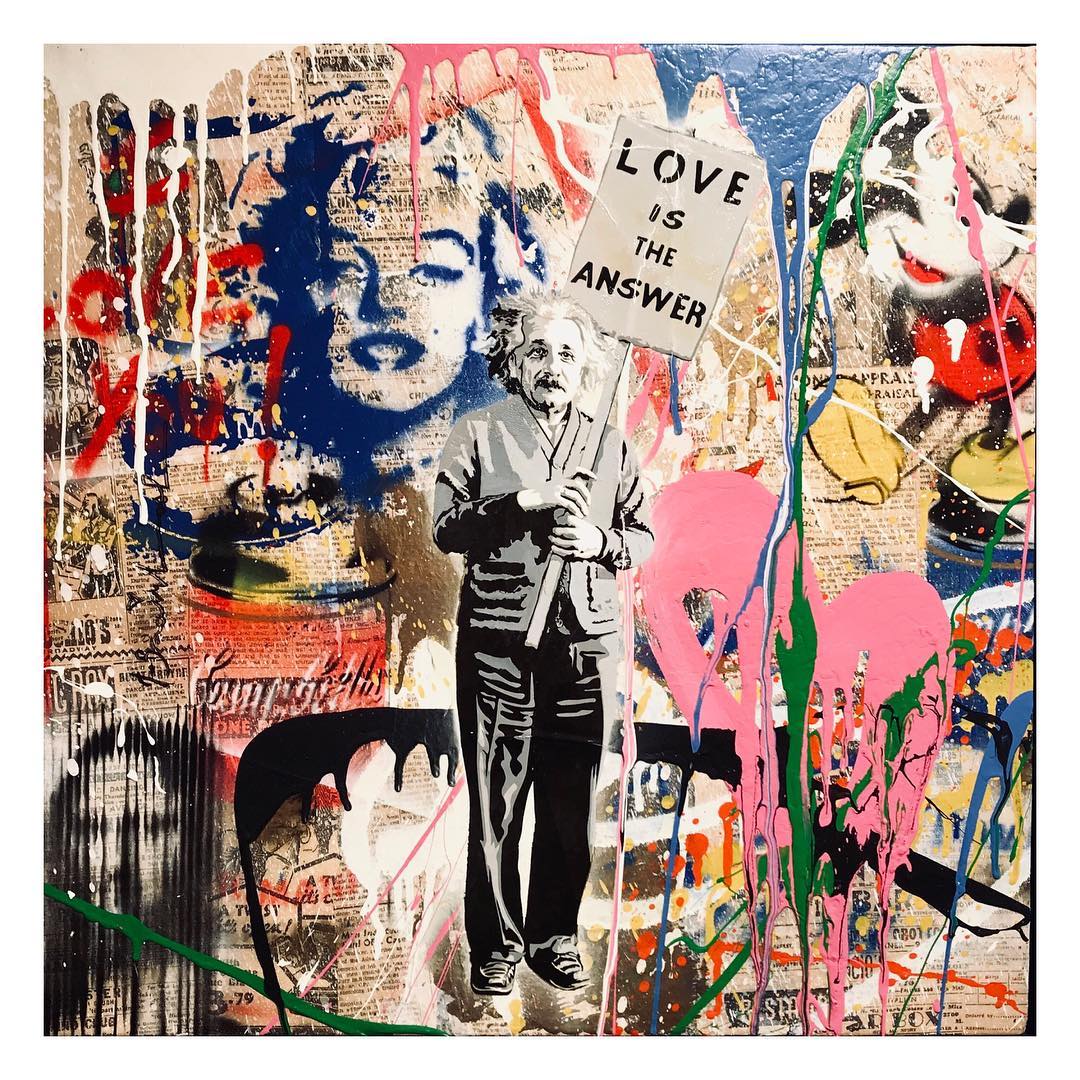 There are so many iconic characters in this graffiti, but it is Einstein at the center of it all. And it is just fitting that he holds a sign "Love is the answer".
29. Life is Beautiful (Glowing)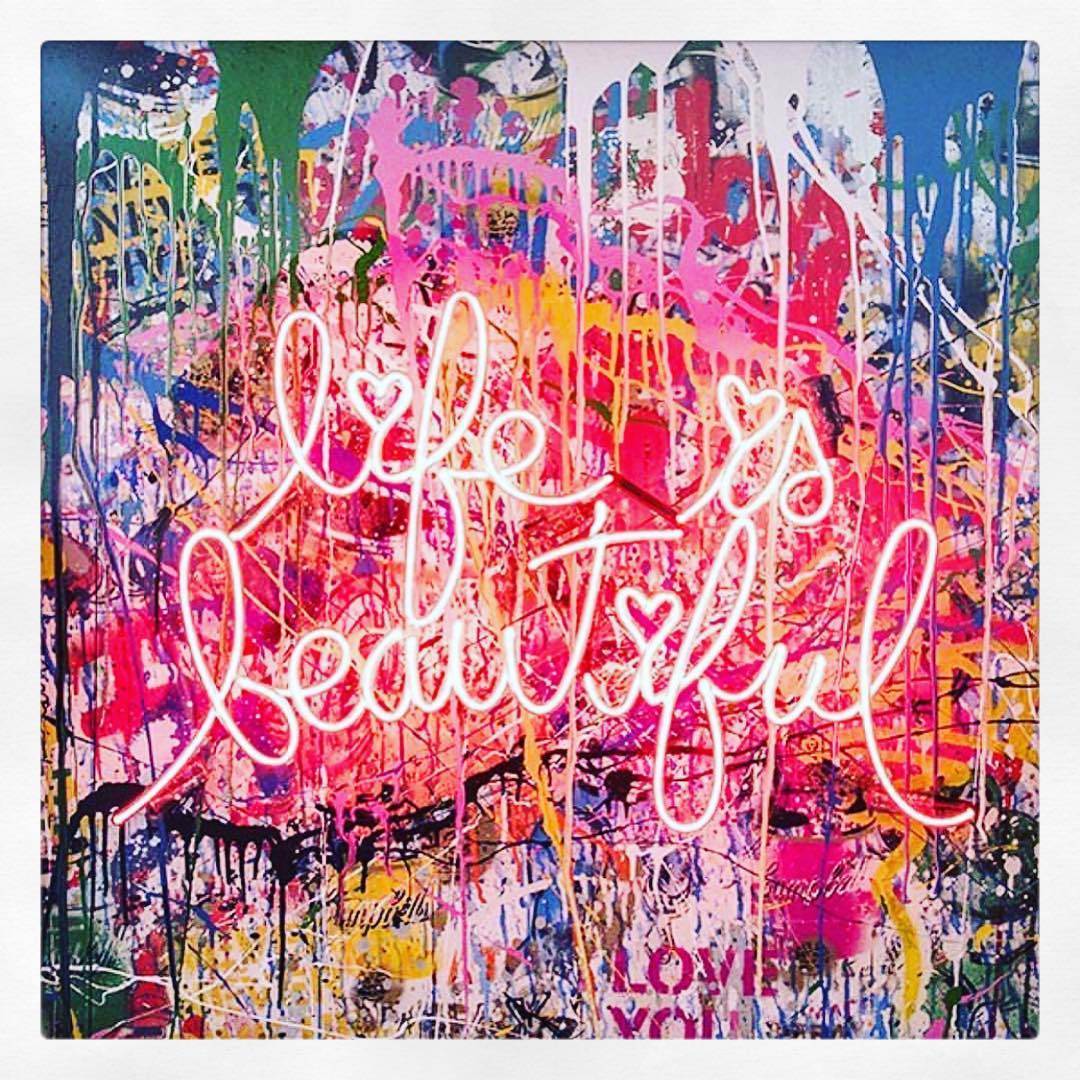 We saw a coupe of Life is Beautiful graffiti. And now we have one that is glowing, fitting even for the darkest alleys.
30. The King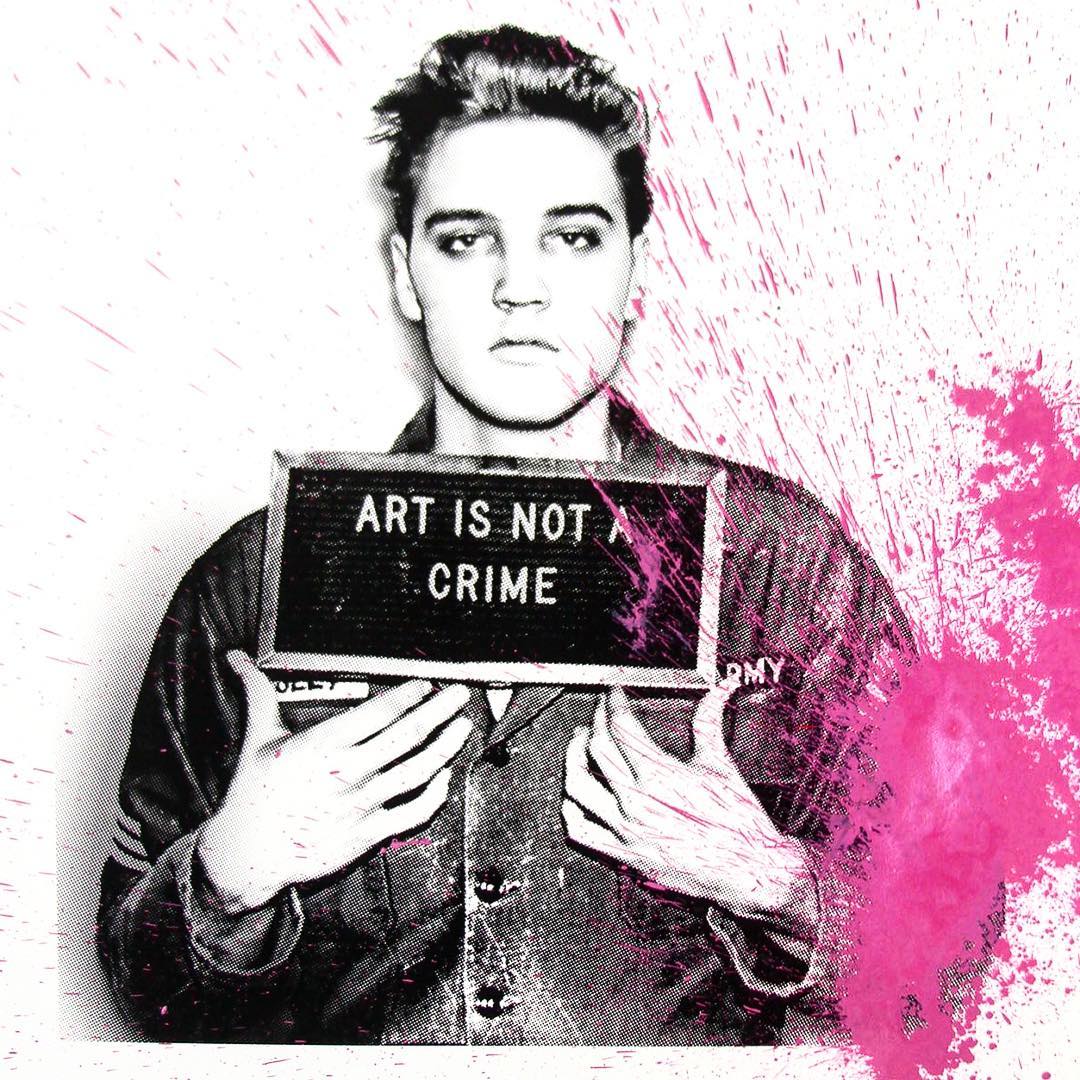 Many people view graffiti as a crime, an illegal act of ruining public space. But the message artists want to send is that graffiti and art can never be a crime. It is just a way of expressing yourself.