Jean-Michel Basquiat was an American artist of Haitian and Puerto Rican descent. He first achieved fame as part of SAMO, an informal graffiti duo that wrote enigmatic epigrams in Manhattan during the 1970s.
In the beginning, his graffiti art was influenced by rap, punk, and hip-hop music. By the 1980s, he developed his neo-expressionist style, and his paintings were exhibited in galleries and museums across the world.
In the 1980s, he became a close friend with Andy Warhol. While it was an unlikely pairing, it won the hearts of art lovers around the world. Many experts suggest that Basquiat couldn't cope well with the death of his close friend Warhol in 1987.
In 1988, Jean-Michel died of heroin overdose. His art is recognizable for the crowns he uses. He puts the crowns as a symbolic stand-in for himself or other people he admired. After his death, Keith Haring paid a tribute to his friend with the "Pile of Crowns" painting.
1. And The Day Divide the Night, 1977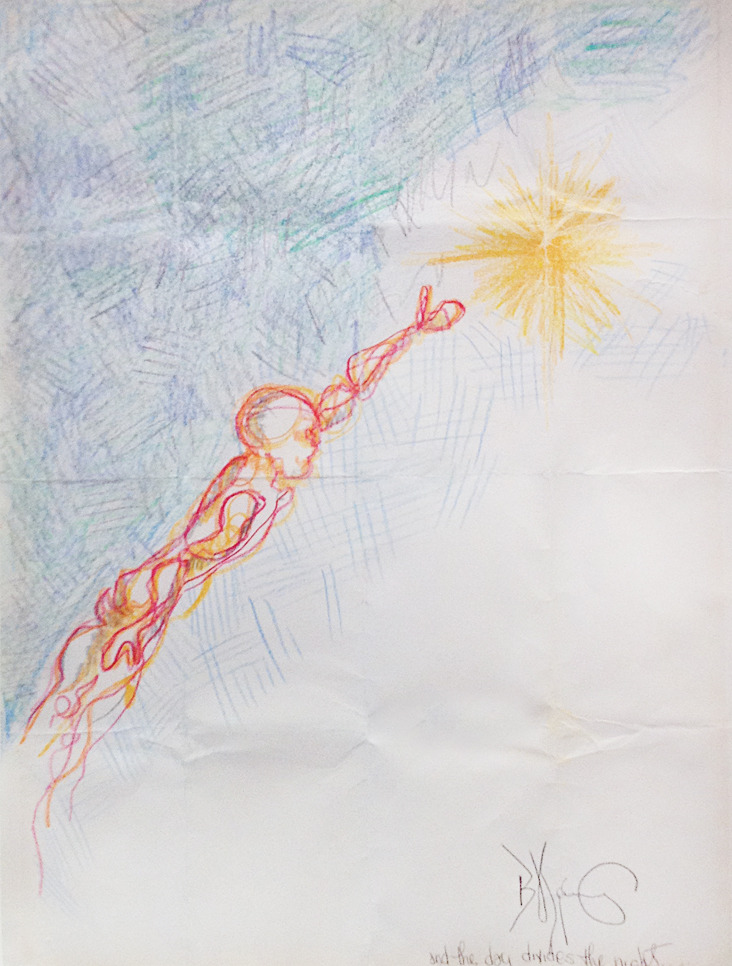 This painting is from his early days, when he used colored crayons for drawing on paper. It is also the time when his paintings were less complex and with less objects on them.
2. The Field Next to the Other Road 1981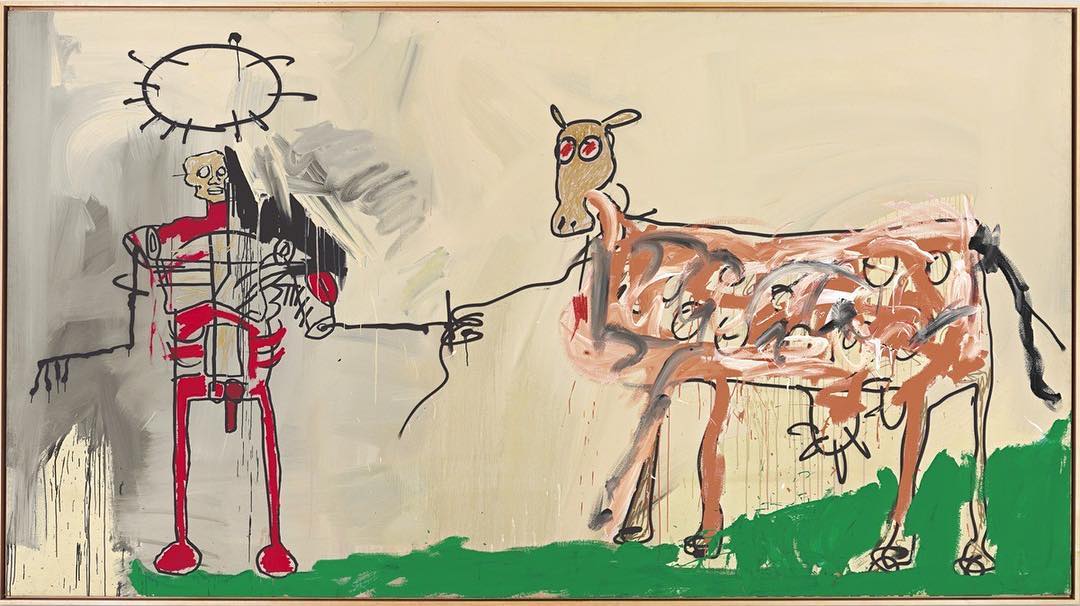 When Jean-Michel died, he was worth close to $10 million, even taking inflation into account. This painting is one of his most successful. It sold for $37 million at an auction in 2015.
3. The Ring 1981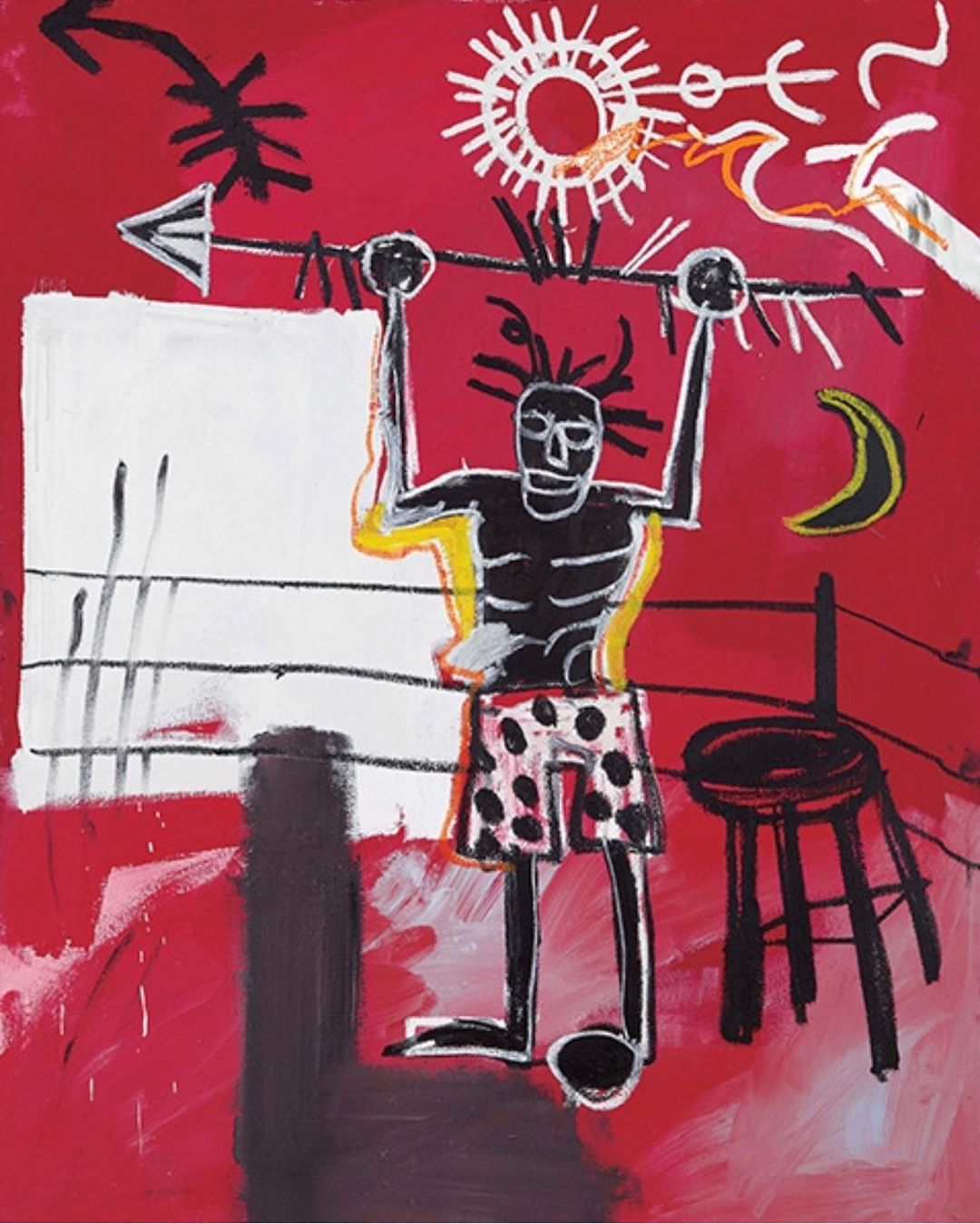 Depicting a boxer standing in the ring with his fists raised and clutching a spear, this painting shows his transition. Moving on from crayons, Jean-Michel started using acrylics for his paintings. You can see the colors are more vivid and natural.
4. Untitled (Window) ca. 1980
Speaking for his Untitled series, Jean-Michel said that they offer a window into his approach, in which he remixed references. He often liked to say that his Untitled paintings can turn museums into your classroom.
5. Untitled Black King Hands Up 1981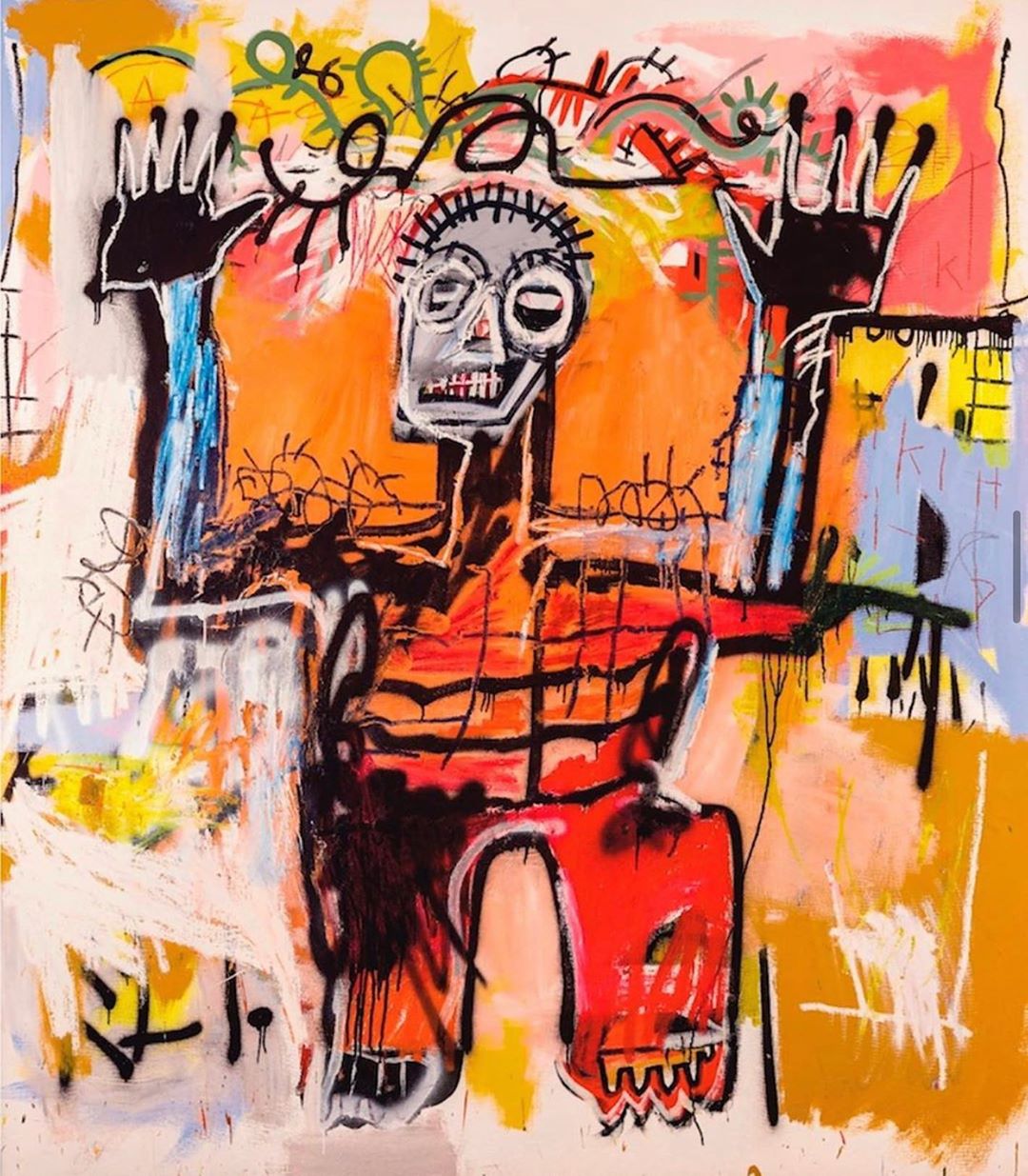 This painting is the perfect example for his raw, honest, edgy art. Basquiat loved to paint seemingly simple art, with a stunning visual impact. That is the core of his neo-expressionism and primitivism.
6. Untitled skull , 1982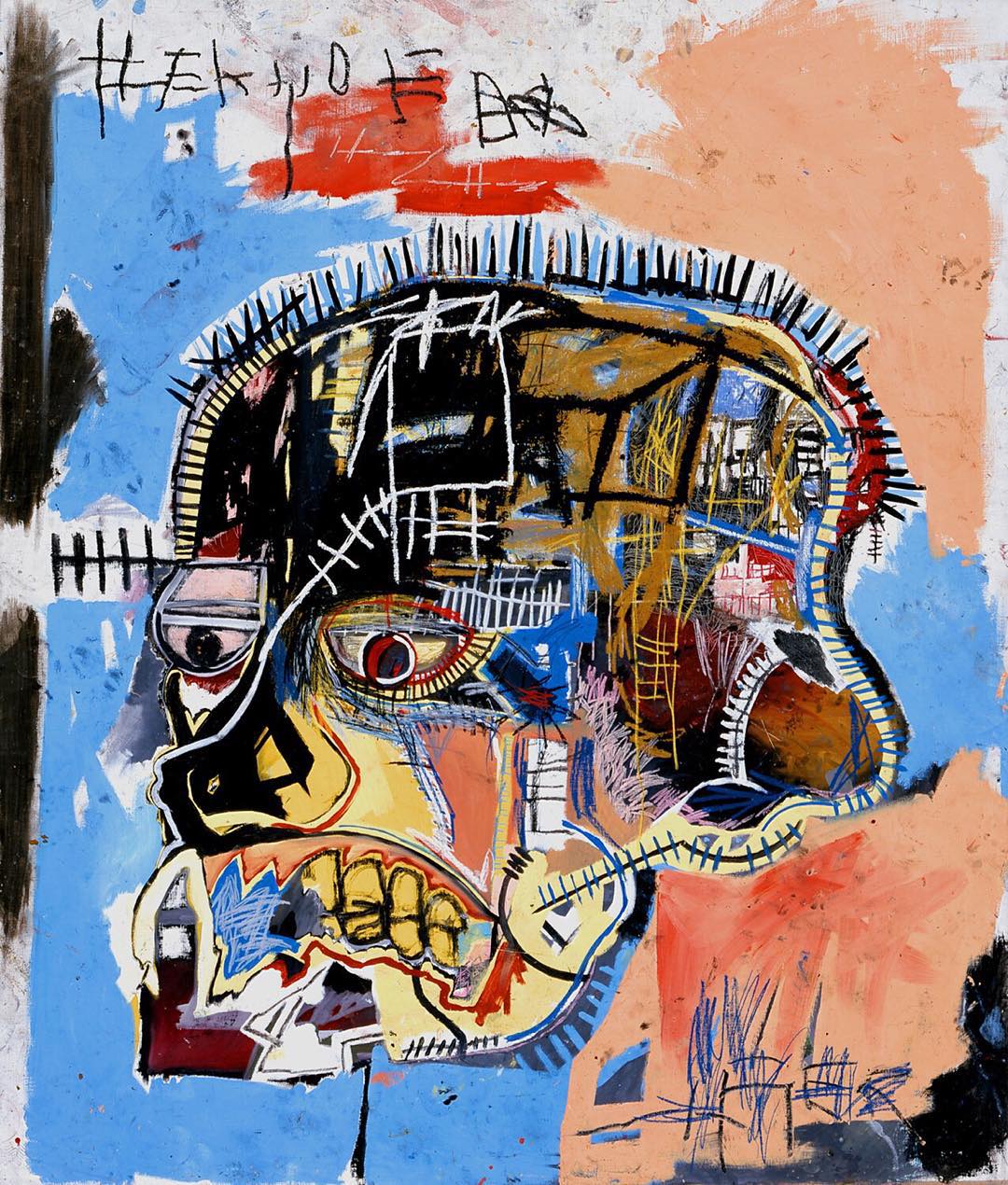 This painting is often mistaken with another titled Untitled 1982. The Skull by Jean-Michel has broken a few records when it sold for $110.5 million. However, that painting is further down the list. This one is often mistaken for the skull.
7. Boy and Dog in a Johnnypump 1982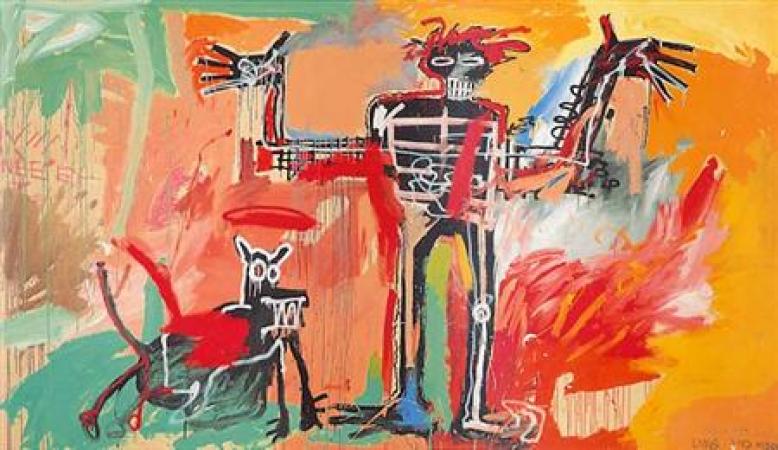 This painting doesn't appear to make much sense. However, it is an important. Both figures are self-representation of the artist. However, it is the boy torment and struggle that is often seen in Jean-Michel's paintings that attracts the eye.
8. Untitled Two Heads On Gold 1982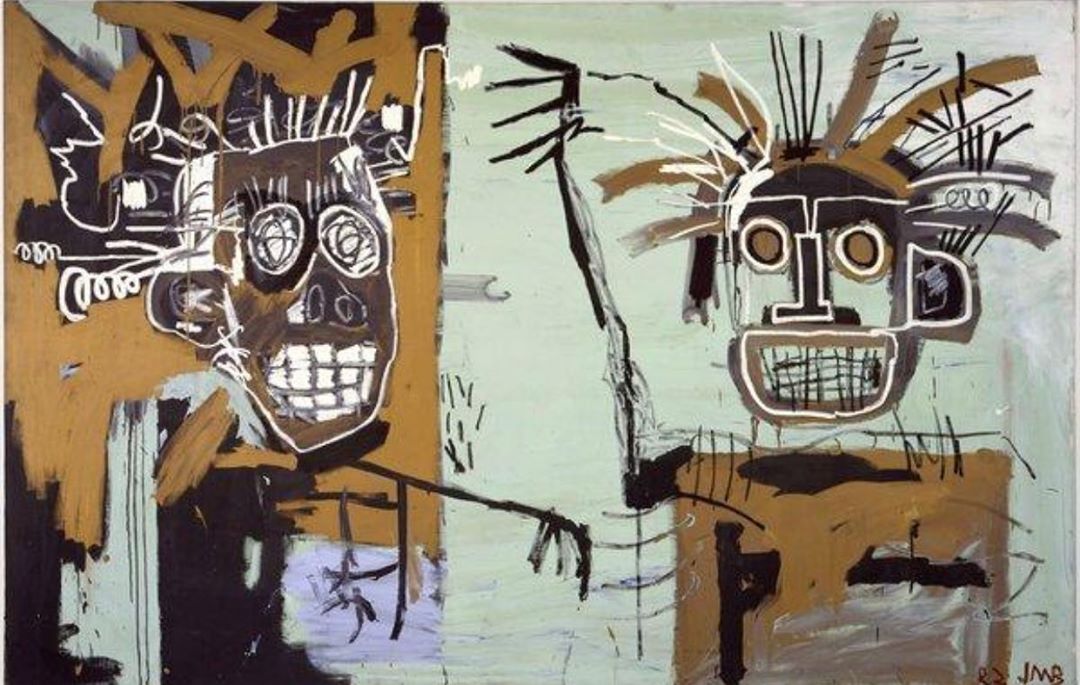 We can easily recognize his signature painting style of obsessive scribbling in this painting. Many of the paintings are self-representations of his mood and temperament at the time.
9. Untitled Julius Caesar On Gold 1981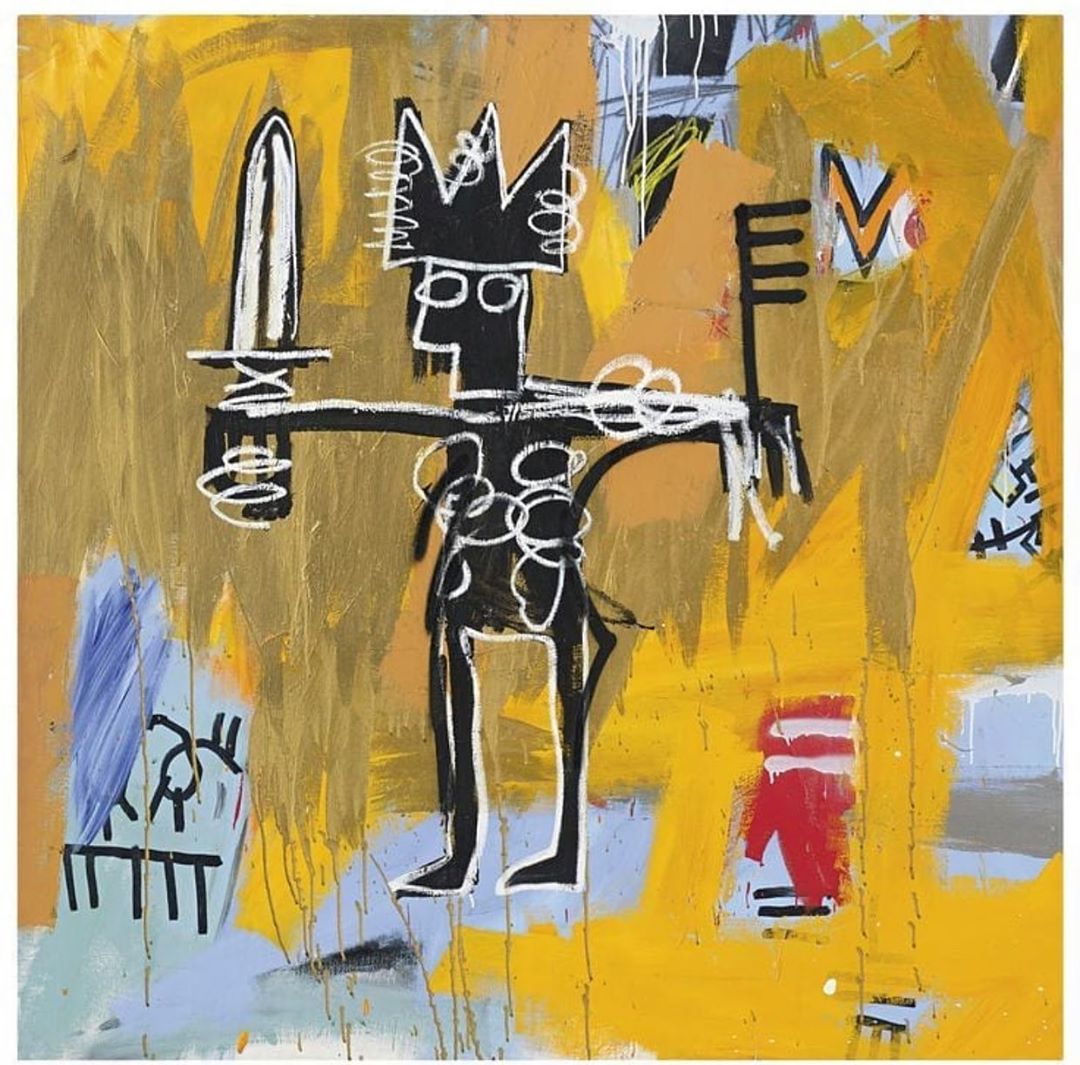 Julius Caesar is one of the most important emperors and figures in world history. Knowing Basquiat's obsession with crowns, it is easy to understand why he painted Caesar. After all, he was one of the first emperors to done a crown.
10. Untitled  Yellow Tar and Feathers 1981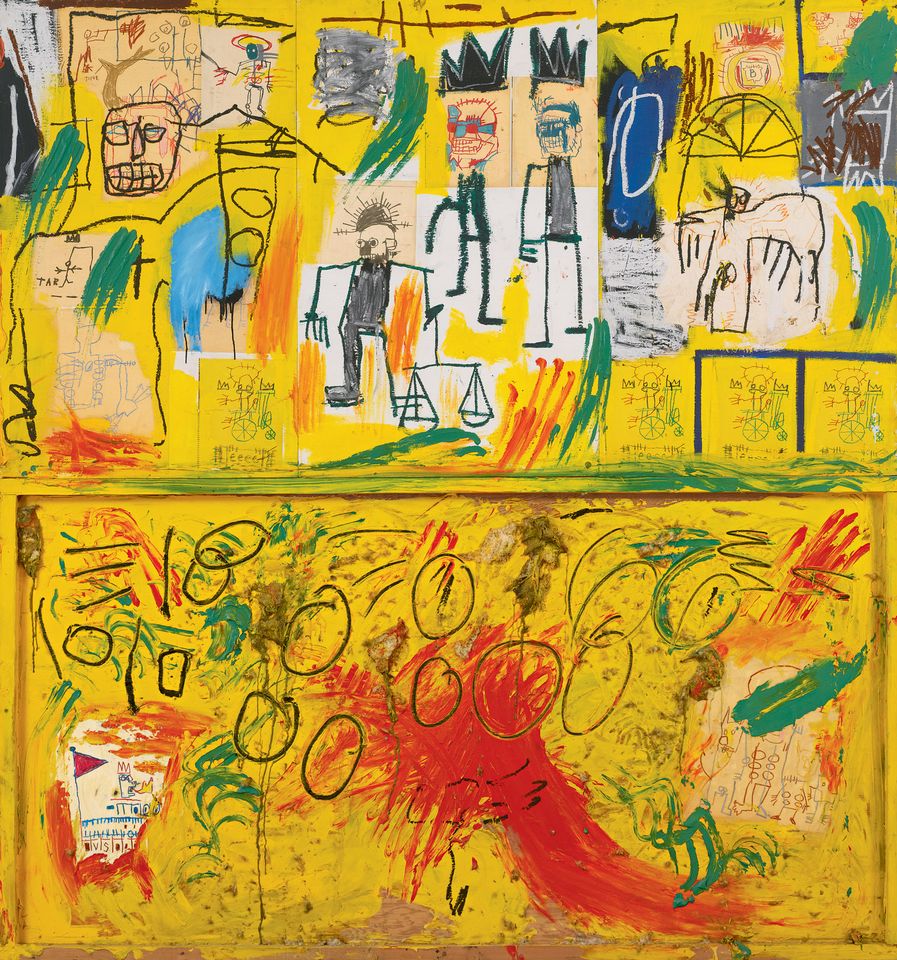 This painting is one of his first mature works. You can see how it is complex in the imagery, but also in painting techniques. Composed of joint wood panels covered in feathers, crayons, and his trademark acrylic, the painting helped Jean-Michel gain wide popularity.
11. Untitled 1982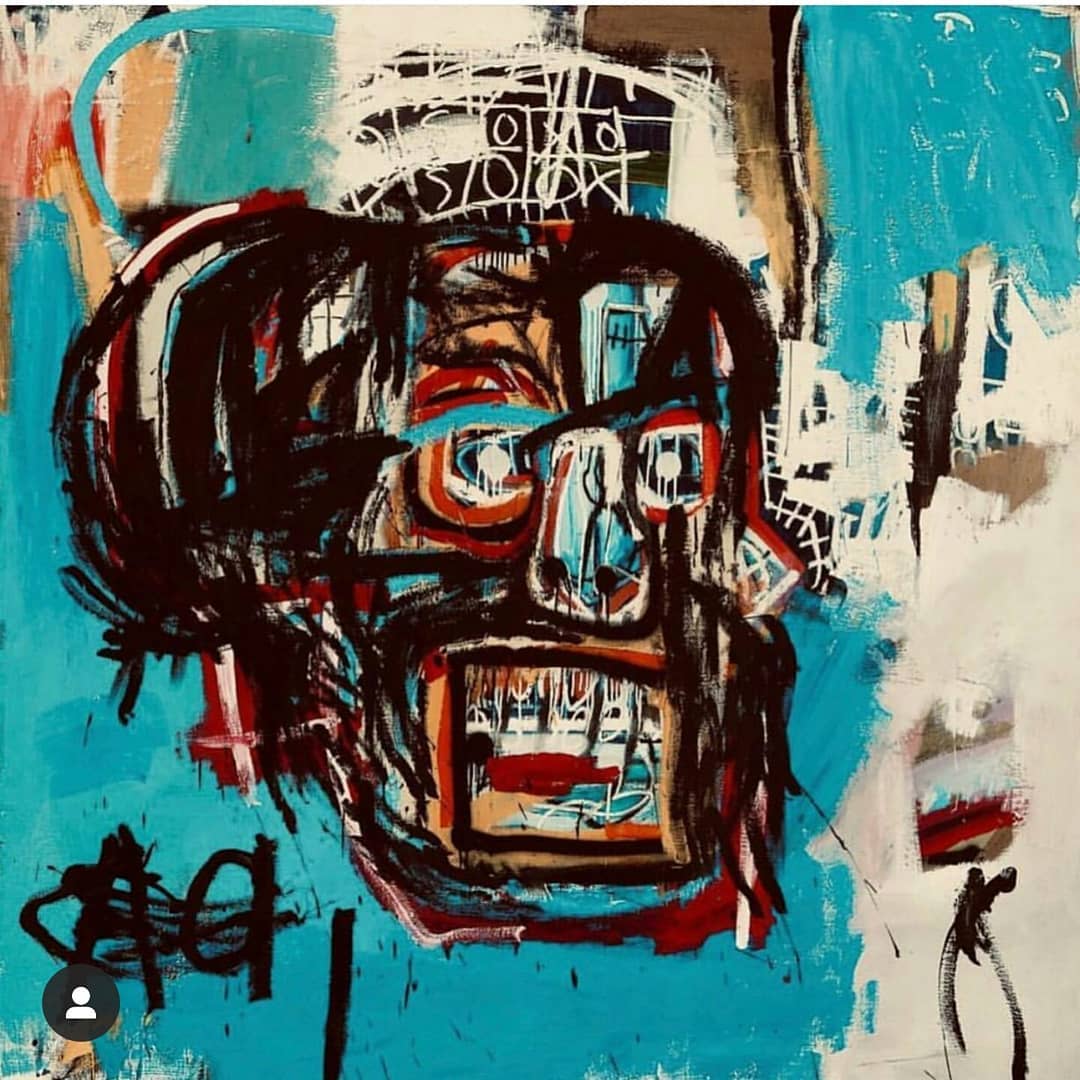 The painting bleeds history, portraying a black skull scarred with red, pitted with angry eyes, and gnashing its teeth. The skull is also positioned against a blue graffiti wall. But was that worth the price it fetch? This is the most expensive painting ever sold by Jean-Michel, and by an American artist as well. When it was first sold in 1984, it fetched only $19,000. However, in 2019, a Japanese billionaire bought the Untitled Skull painting for $110.5 million, which is the highest price for an American artist. In a way, Basquiat topped his friend Warhol.
12. Gabeza 1982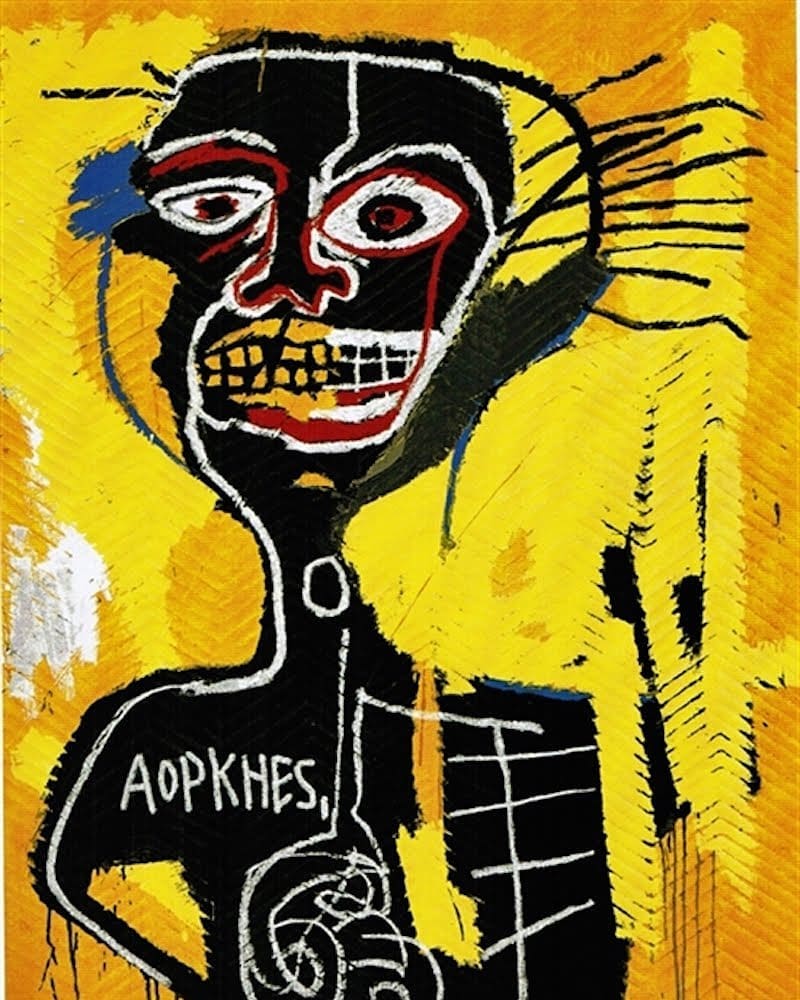 This painting is a perfect combination and balance of his early days and then more mature days. Combining crayons (from his early days), and his signature acrylic, the painting is a masterpiece of balance.
13. Fooey 1982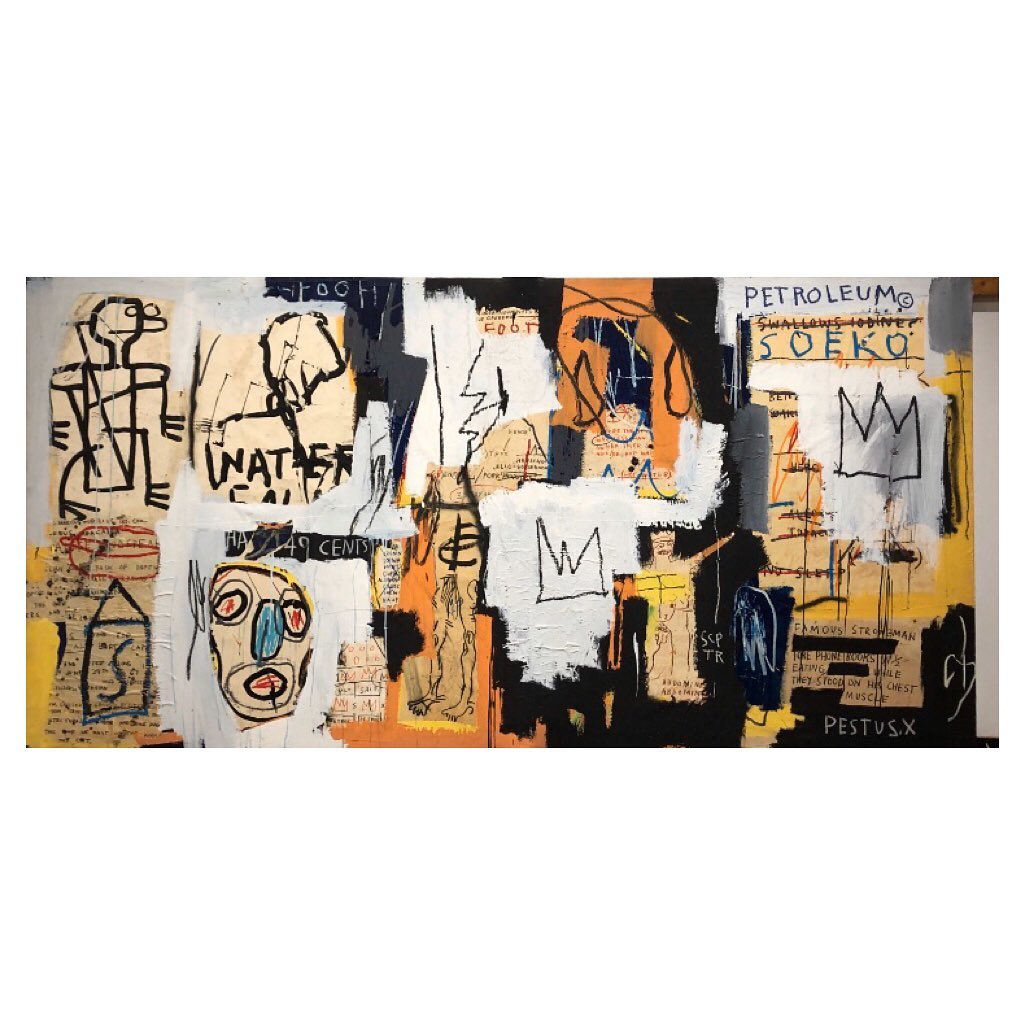 This is one of the rare paintings seen in a museum. It is quite the rarity to see his piece in a museum, mainly because these paintings fetch quite the high price. But this one can be seen in a museum in Japan.
14. The Irony Of Negro Policeman, 1981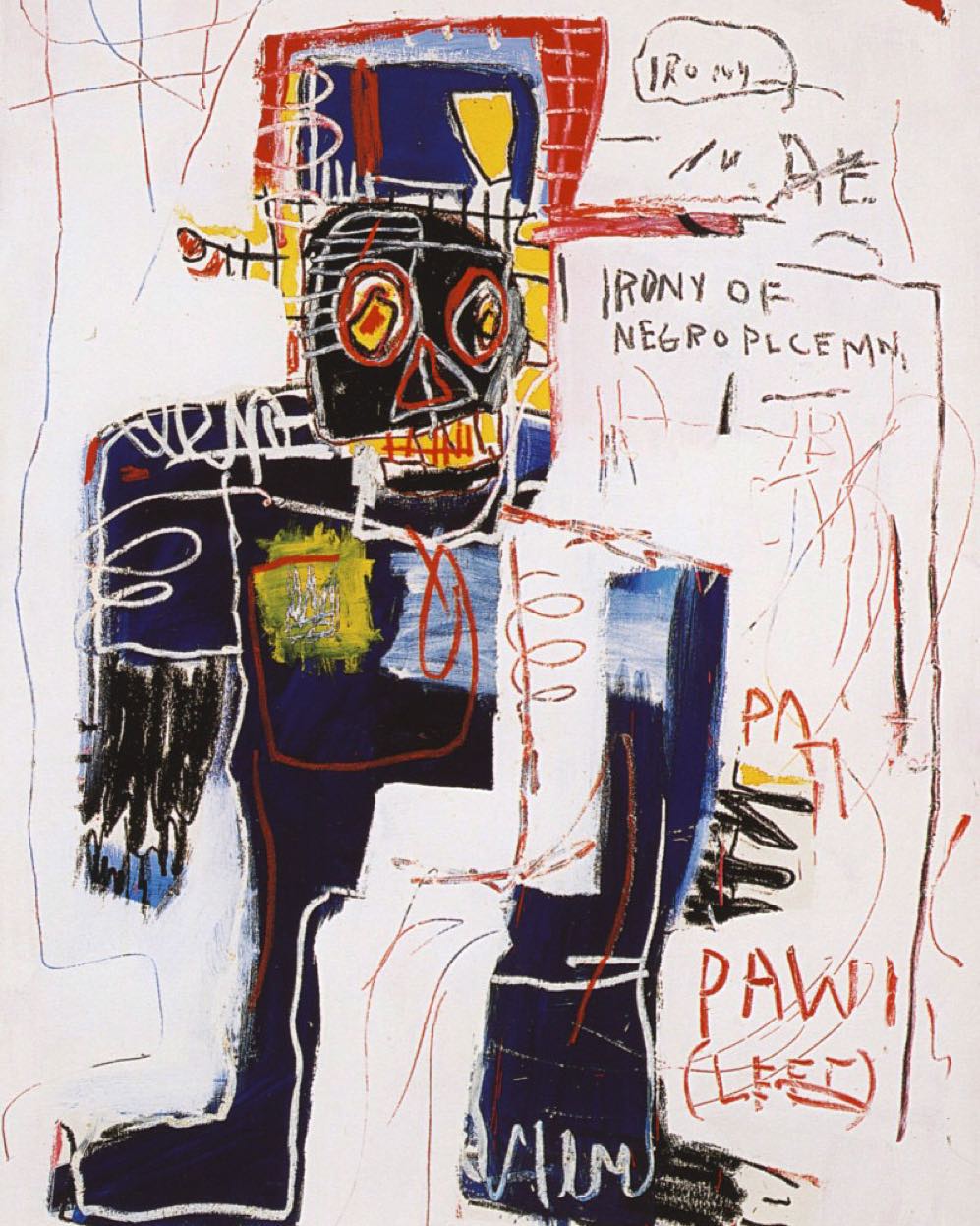 Basquiat is an African-American, and because of his Haitian descent, he is black. And he often manages to bring race into his paintings. Here, he makes a conscious effort to provide a sharp critique on members of his own race.
15. Dos Cabezas, 1982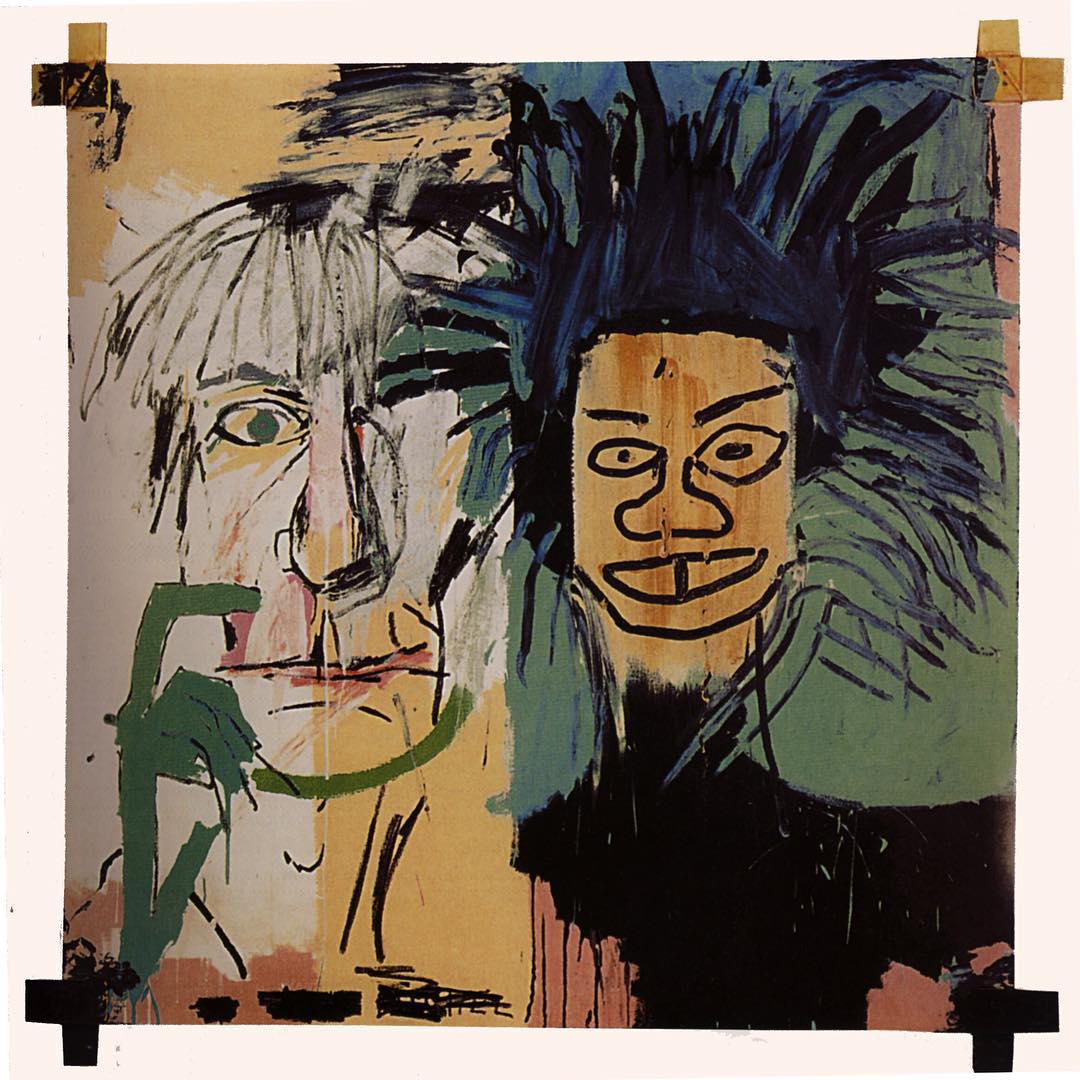 We said Jean-Michel and Andy Warhol were close friends. They also worked together. This painting is actually a self-portrait of the famous friendship.
16. Bird On Money 1981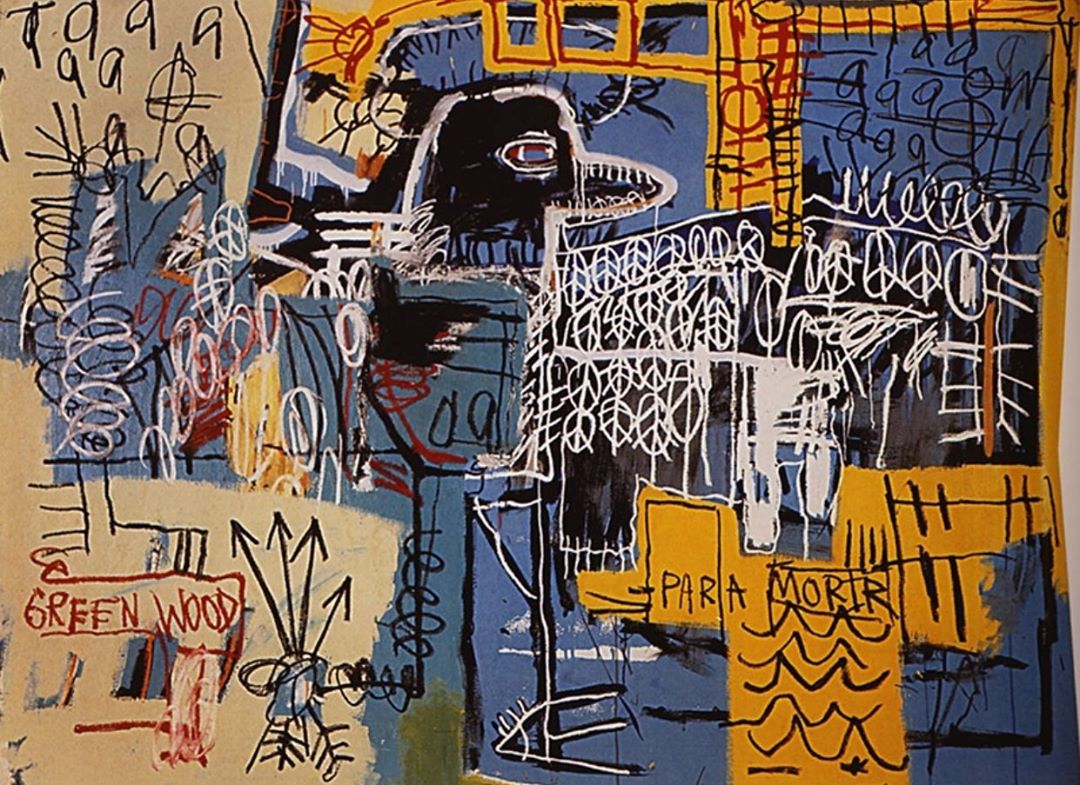 Artists often use their medium to pay homage to friends and idols. This one is a homage to Jazz saxman Charlie Parker, who was an idol of Basquiat. Charlie was nicknamed Yardbird or Bird.
17. Crowns (Peso Neto), 1981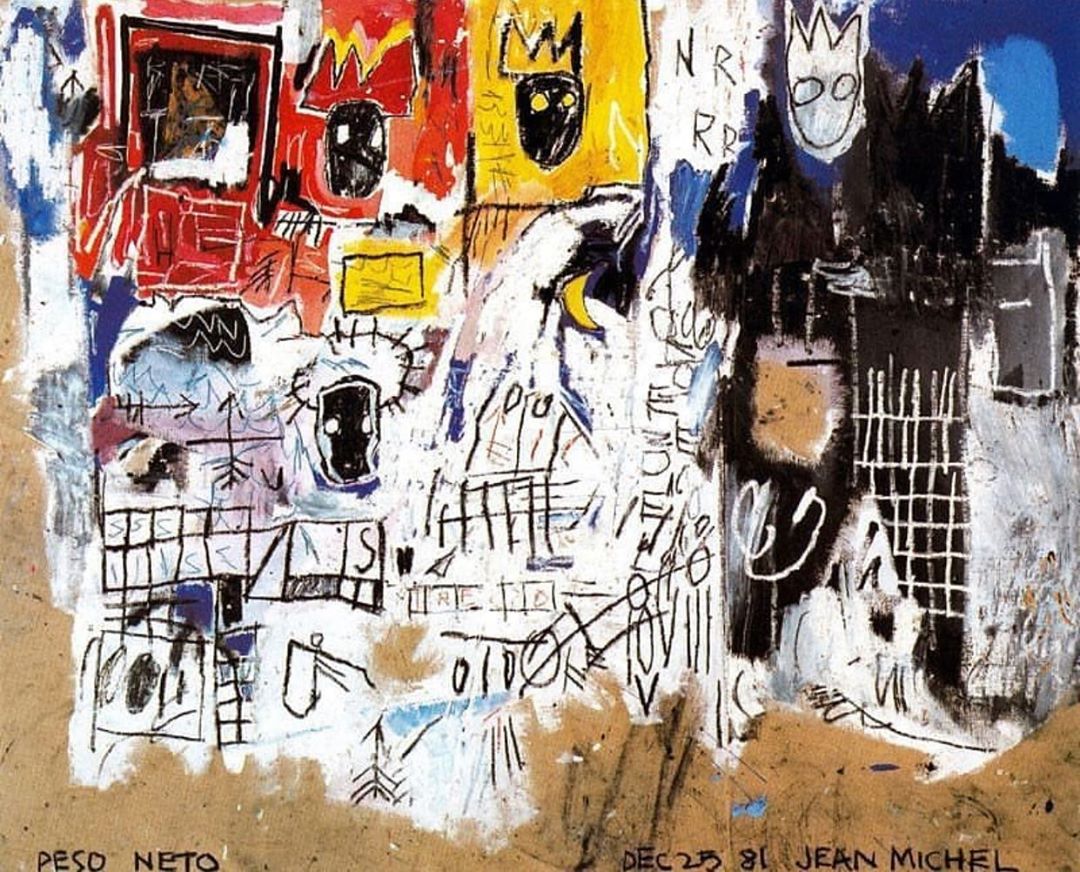 We said Baquiat was obsessed with crowns. They are a symbolic stand in for himself. Well, this is how much he loved crowns.
18. Dog 1982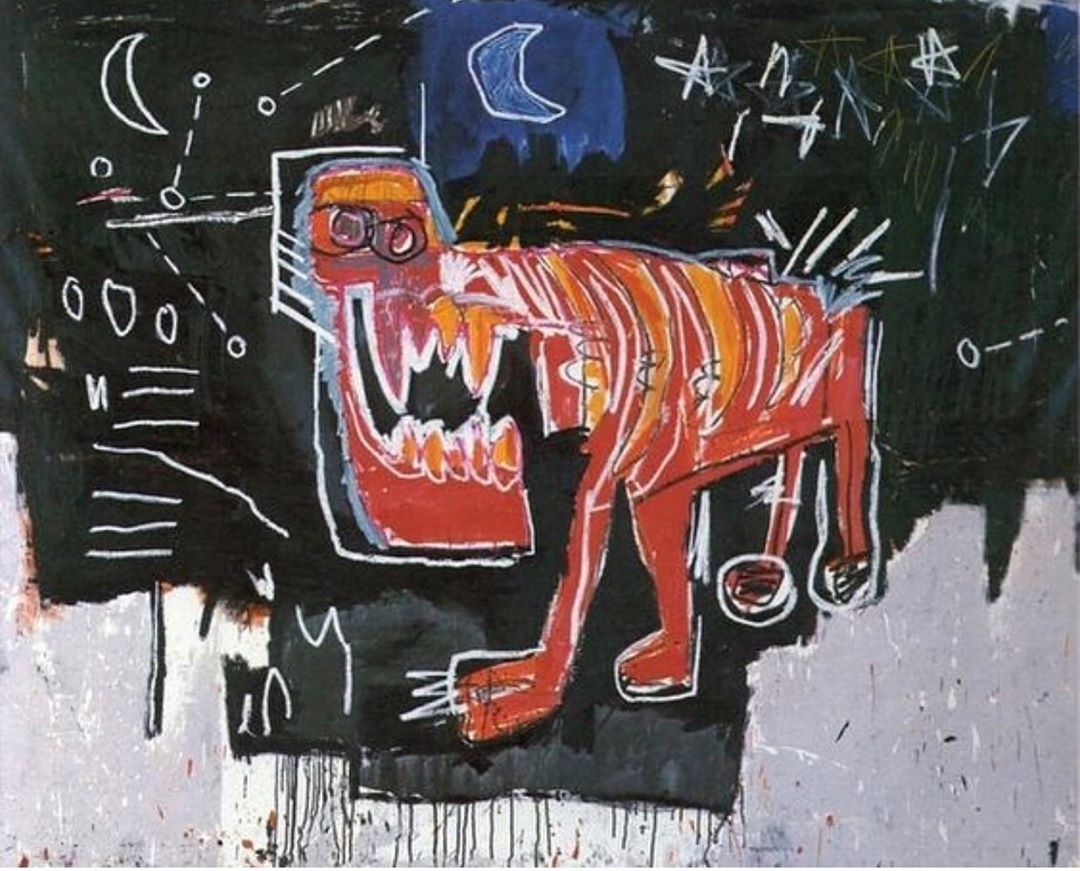 We saw how Jean-Michel used a dog as a self-representation in the Boy and Dog painting. Well, here, he shows only the dog, but the same torment and rage in his eyes. The painting is a perfect example of how we treat animals in our society.
19. Philistines 1982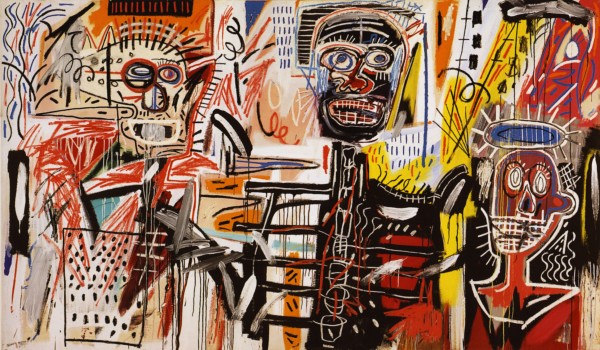 This painting is quite important in the oeuvre of Jean-Michel. He created it for a show in 1982 at the Fun Factory. What is the catch? Prices were set deliberately low as a protest against the exploration of his work. The painting was sold for just $570, and he received no money from the sales.
20. Self-Portrait, 1982
The artist made a couple of self-portraits. One might say all of his paintings feature a self-portrait. But this one is quite special, showing the rage against society.
21. Untitled 1982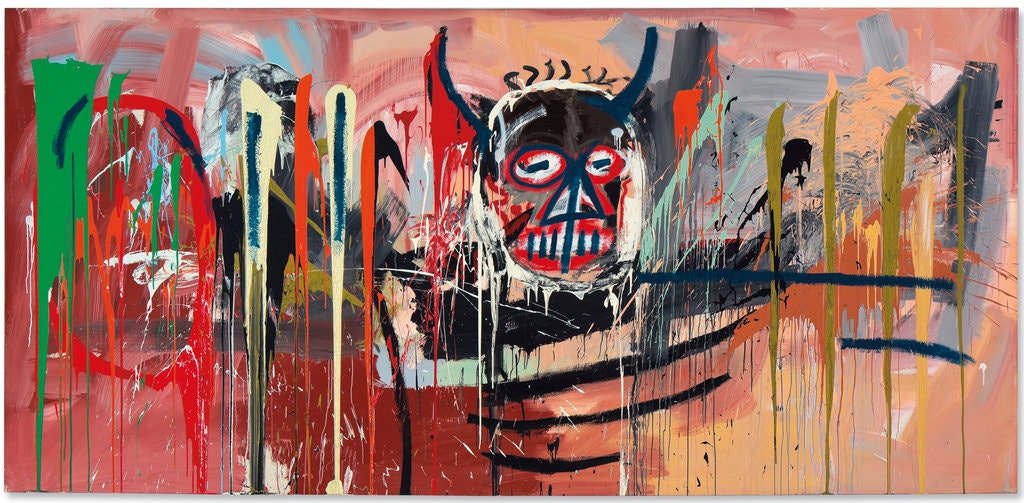 This painting was also sold for a huge price during the Sotheby's auction in May 2015. The skull was sold for $110.5 million, and this one, Devil Black Head, fetched $57.3 million. Both of the paintings were put on display at the museum in Chiba, Japan.
22. Untitled Boxer 1982
This boxer, same as the one at the beginning, are two examples of the torment of the soul. They show the exact emotions Basquiat was going through.
23. Untitled Stardust 1983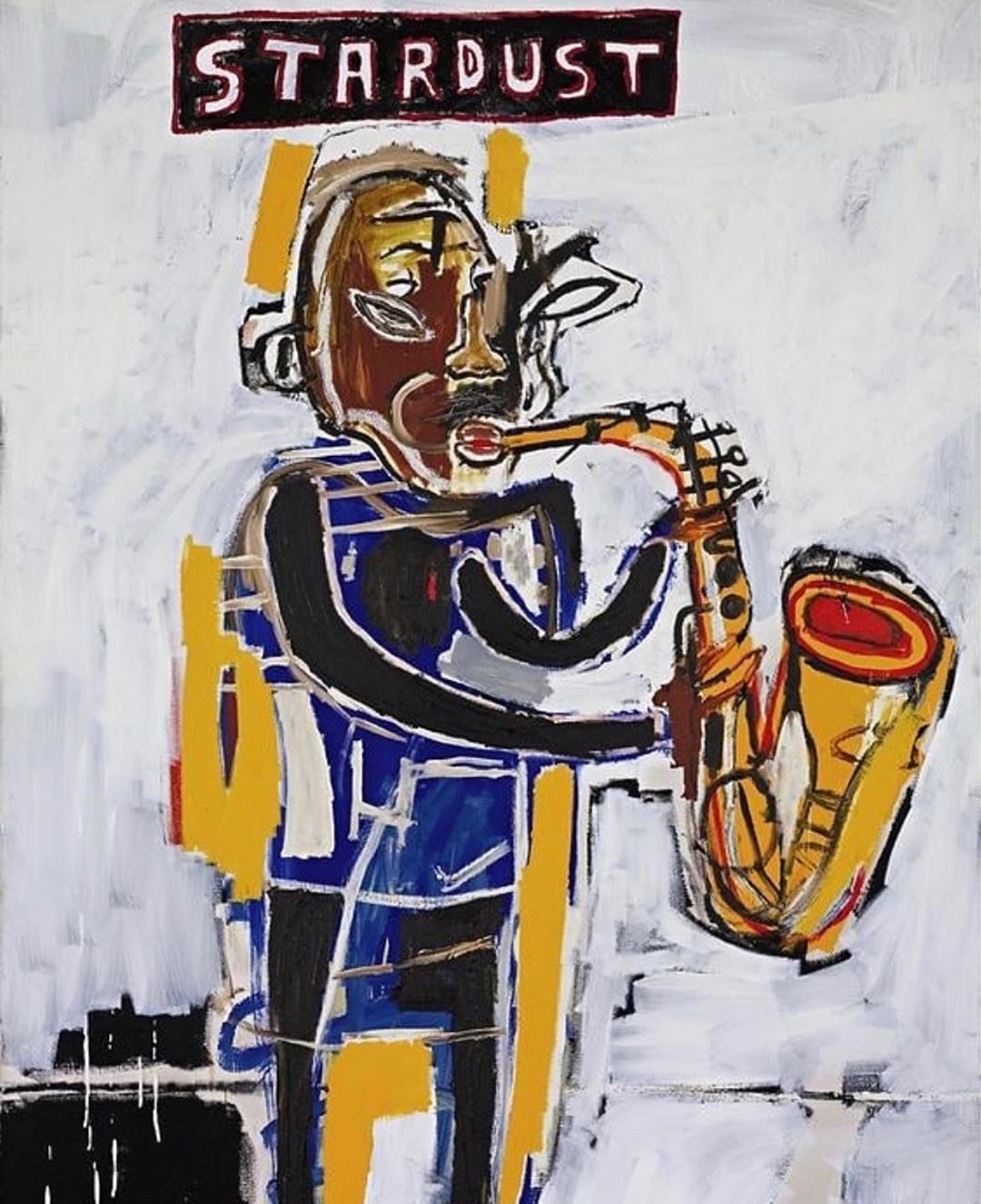 We mentioned previously Jean-Michel was a huge fan of Jazz music. So, he paid another homage to it, showing a classic Jazz player on a sax.
24. Undiscovered Genius of the Mississippi Delta 1983
As the name suggests, this painting is actually an undiscovered genius. But not of the Mississippi Delta, but of Jean-Michel's genius. At first glance, there are only random bits of symbolism. You see a crude face of cow, sketch, and some other objects. However, they are all smudged and chaotic before your eyes, and that is where the magic happens.
25. Flexible 1984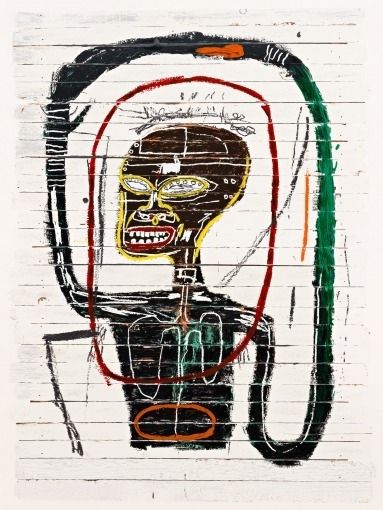 This painting is based on a panel painting he created in Venice, California studio in 1984. The painting portrays the griot, a storyteller, purveyor of oral history from West African culture. It is another example of how he supports his race.
26. Big Shoes 1983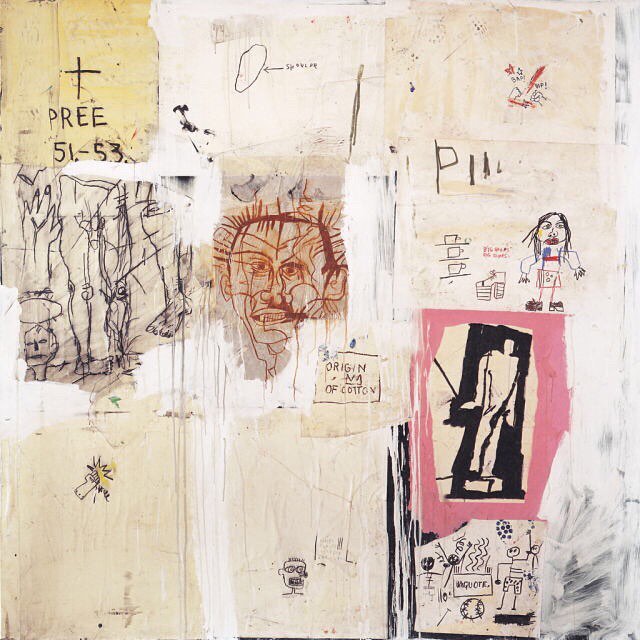 This painting is another example of how he effectively introduced the unique African-American and Latino experience to the elite world of art. A museum quality painting, it looks simple and scrambled, but there is so much symbolism behind it.
27. Pez Dispenser 1984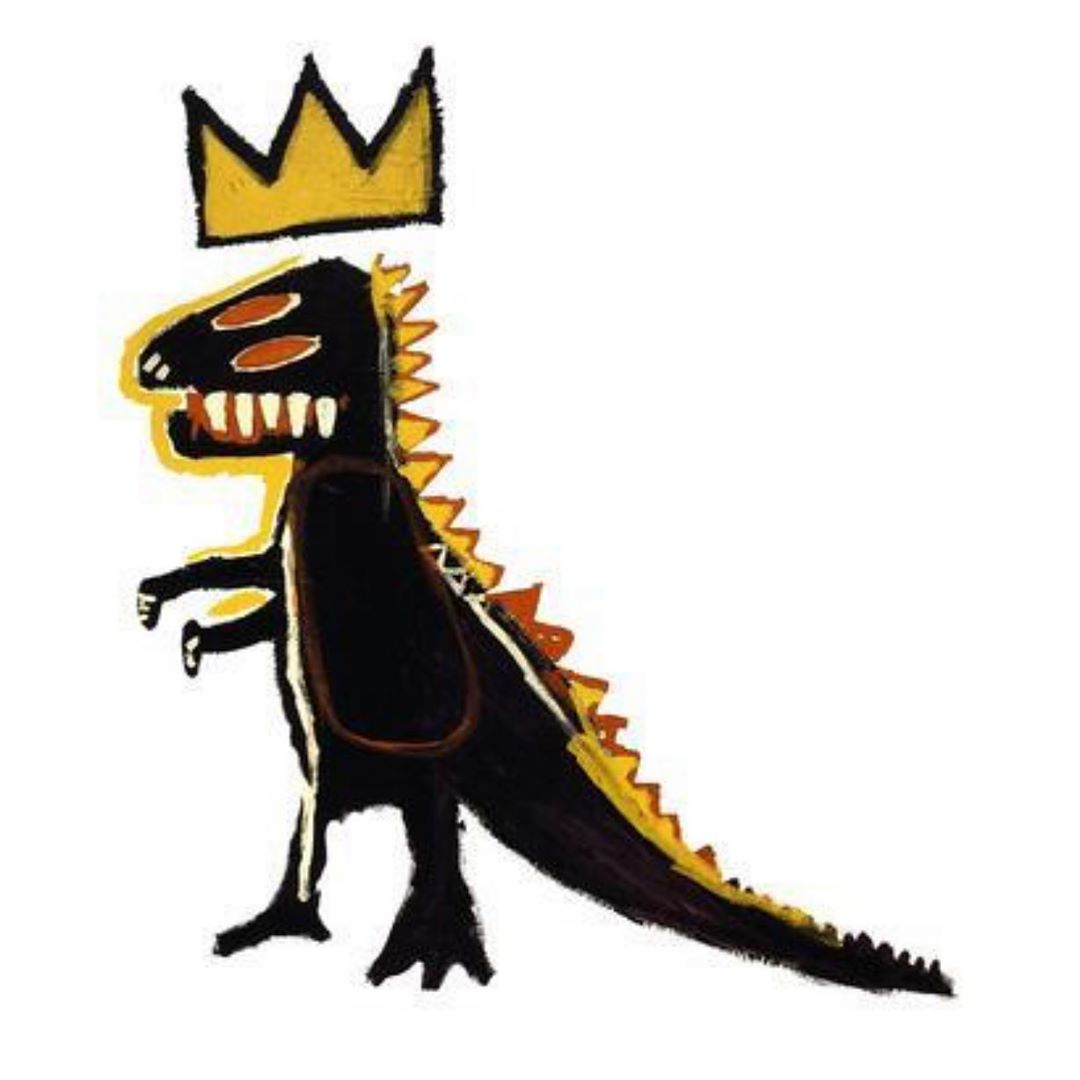 Pez is the brand name of an Austrian candy, and associated with manual candy dispensers. These were quite popular in the 1980s. It was invented in Austria, and then exported worldwide. Basquiat gives it his own treatment with the crown and everything else.
28. Carbon/Oxygen, 1984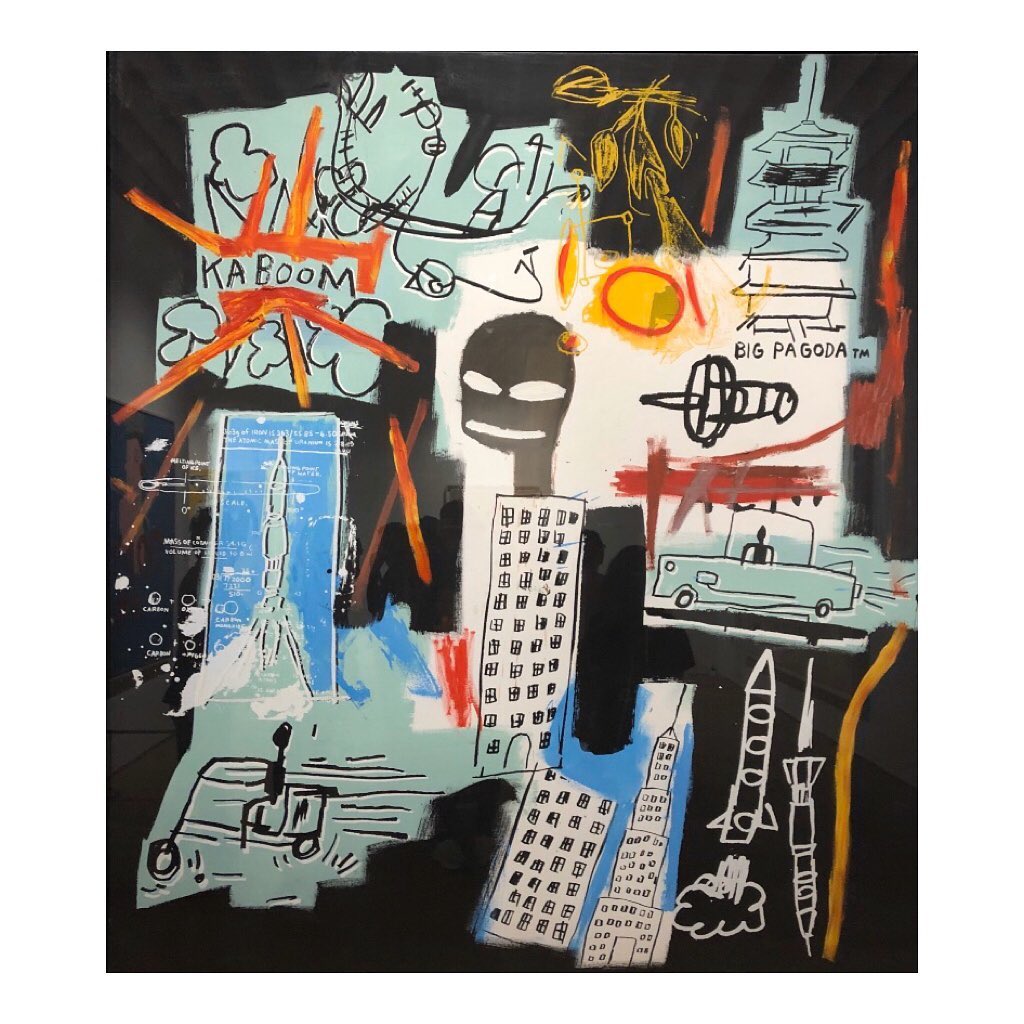 We live in a world where the air is quite polluted. We are scrambling for oxygen, and all we get is CO2. Jean-Michel only wanted to show the reality we live in on a painting.
29. Pyro 1984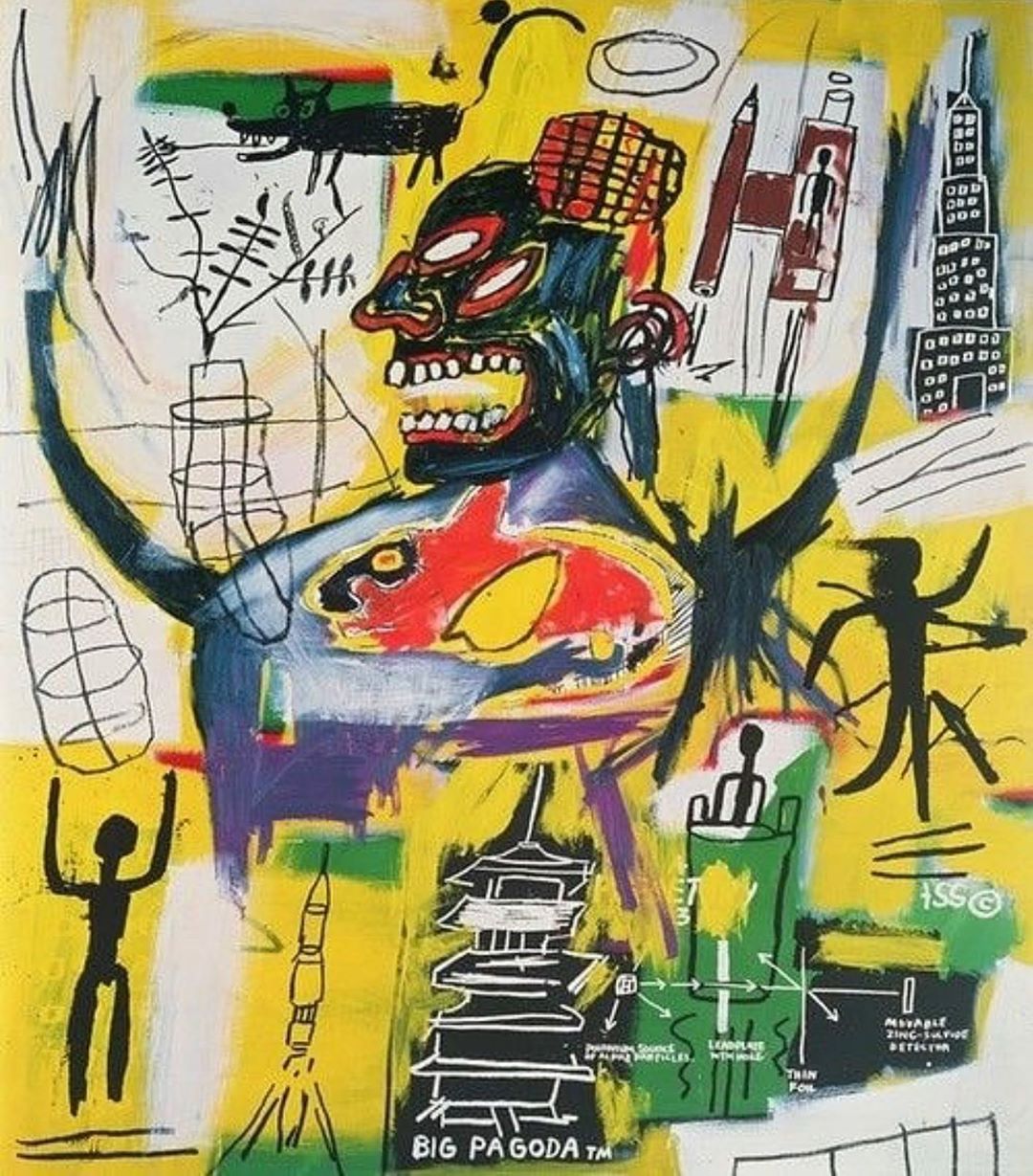 This painting is the latest shown at the Sotheby's Contemporary Art Evening Auction. It took place on October 3, 2019.
30. Pink Devil 1984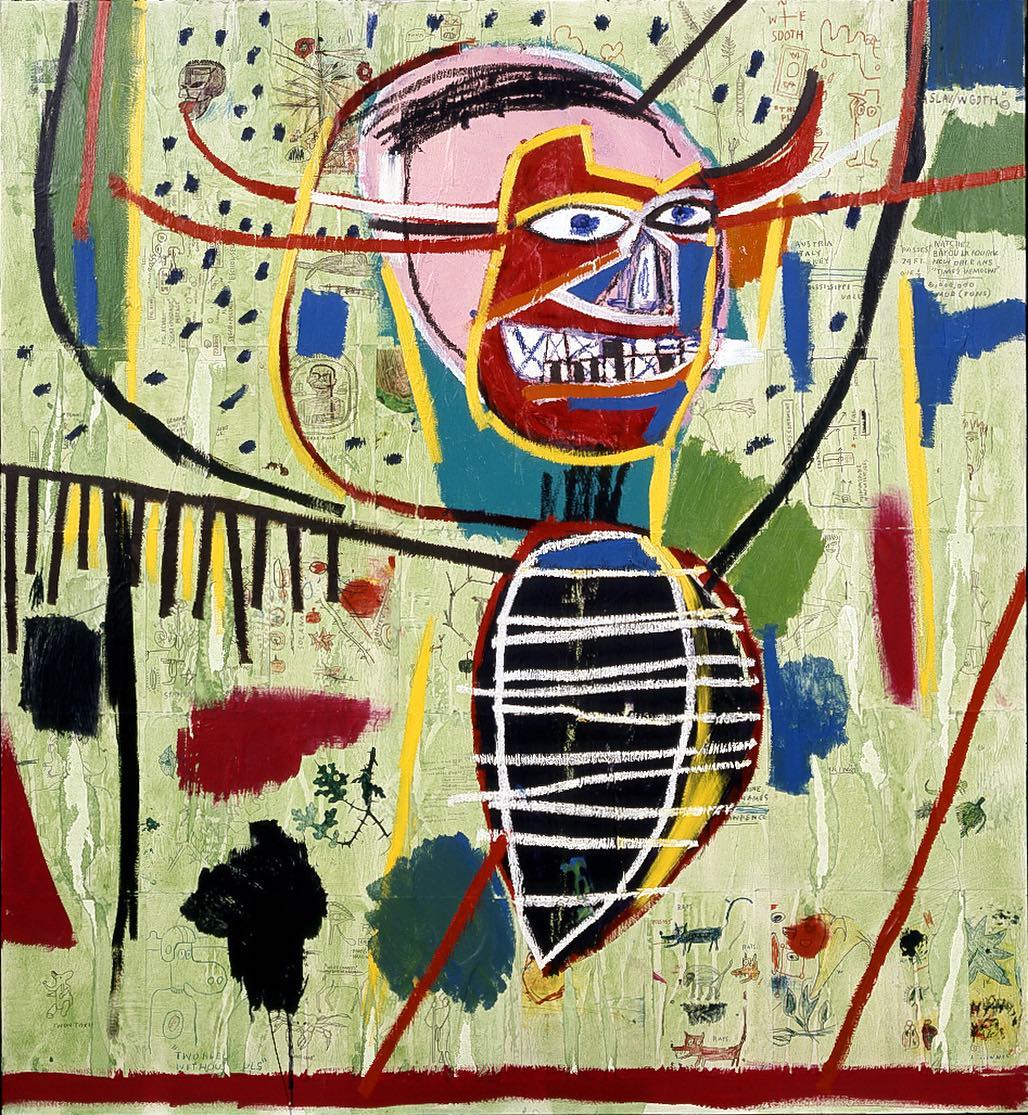 In his devil painting, the artist refers to the evil within us all. The figure is hidden behind colors, or in this case, represented as pink, something cute and adorable. But evil is always masked by the surroundings.
31. Self-Portrait 1984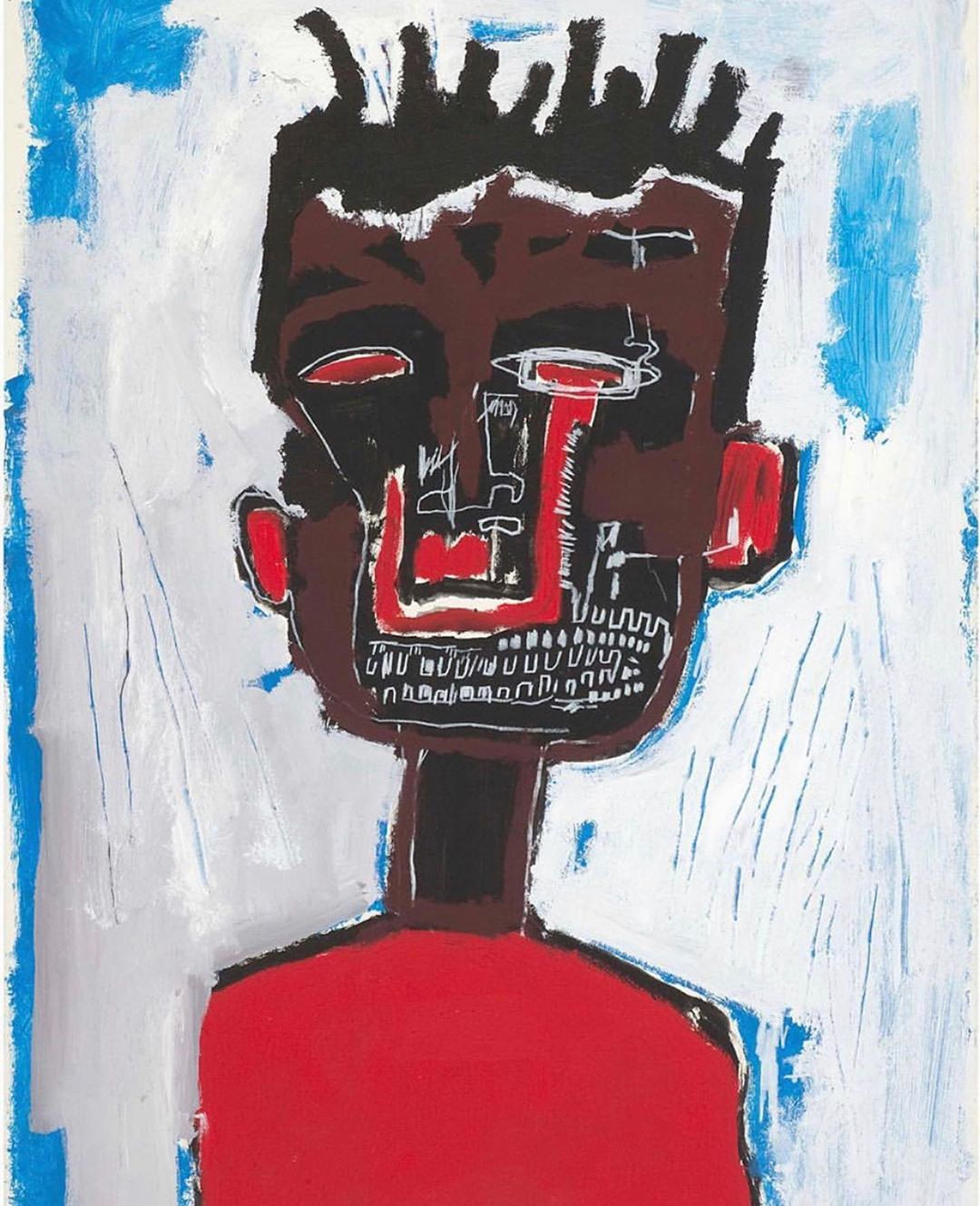 Jean-Michel used self-portraits to depict certain issues in the society through painting. And you can say he was quite successful at it.
32. ISBN 1985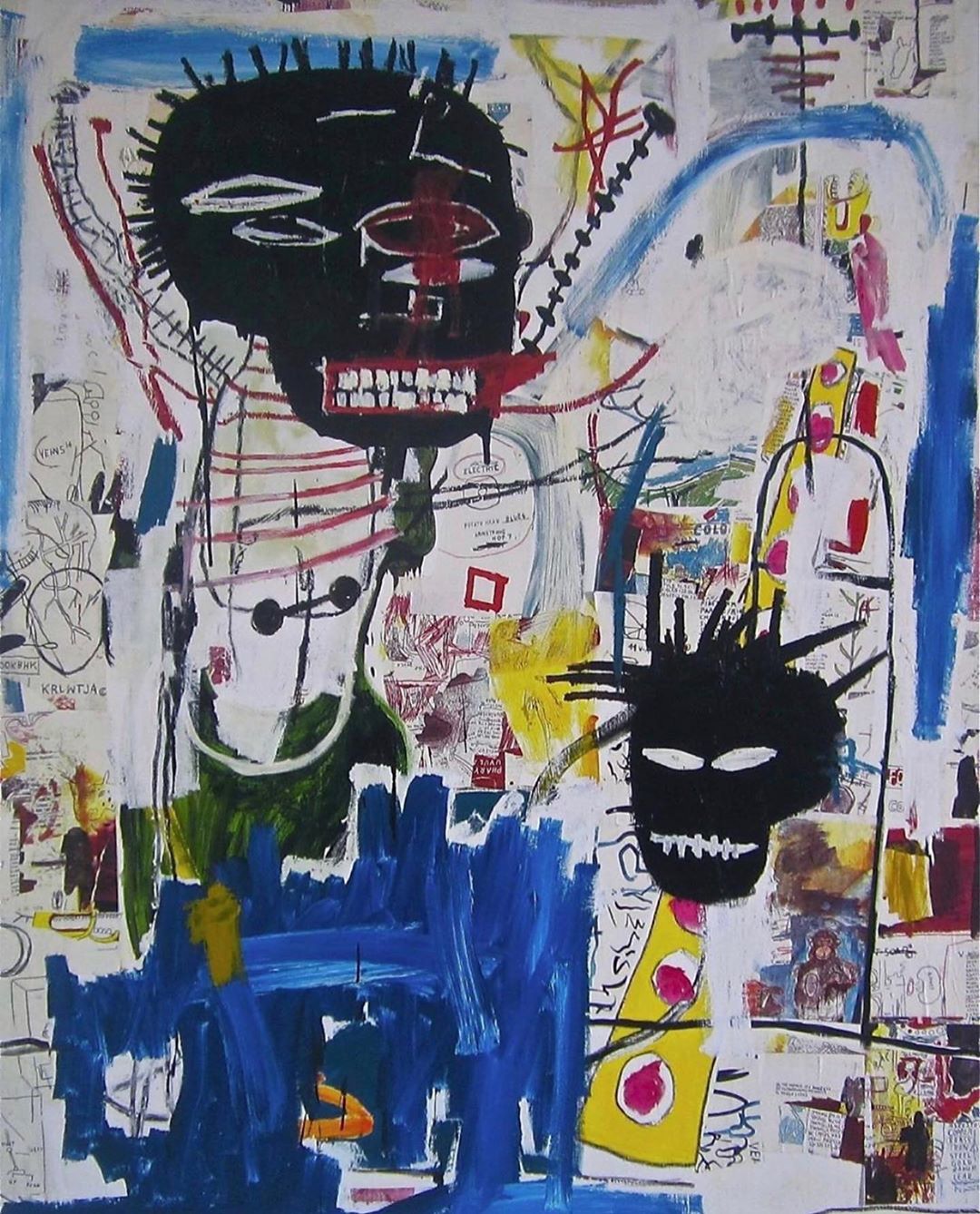 The genius of Jean-Michel was he could take a simple concept, and turn it into art. Like ISBN, the International Standard Book Number, a numeric commercial book identifier.
33.  Riding With Death 1988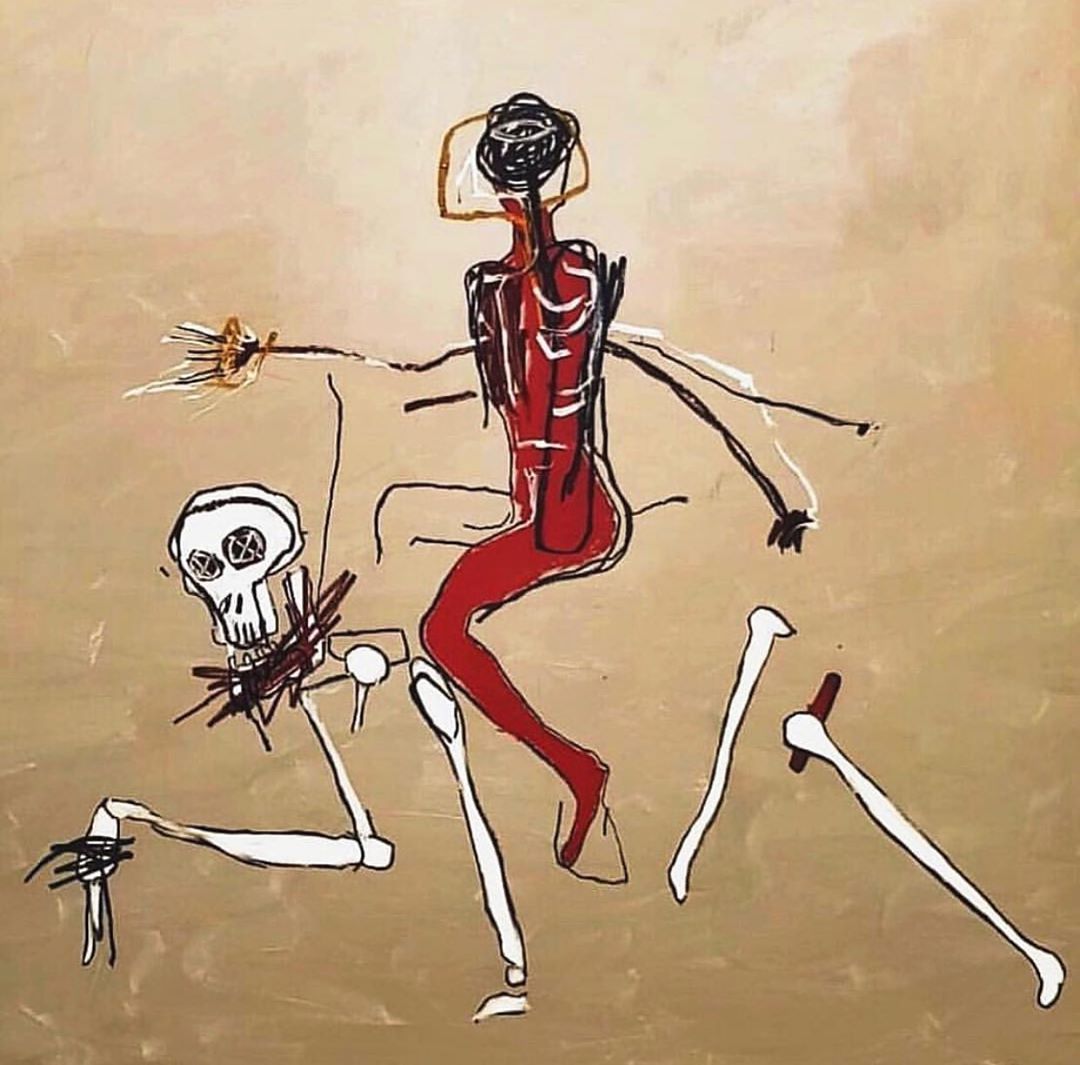 Painted during his last years, or in his last year to be exact. It is characteristic for that period of his work, when there is no intricate text in the painting. Only subjects.
34. Jean-Michel Basquiat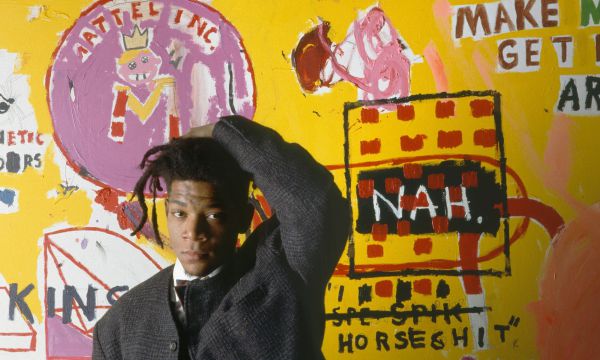 Hopefully, you liked our choice for his best paintings. There are many more paintings done by Jean-Michel Basquiat, but we hope that we picked the best of the best.