Today, there might not be a person in the United States that hasn't heard of Andy Warhol. The American artist, director, and producer, was a leading figure in the visual art movement known as pop art. He might not have been the founder of pop art, but he was the one to bring it to new heights.
Warhol was born on August 6, 1928 in Pittsburgh, and worked as a successful magazine and ad illustrator. His mediums were painting, screen printing, photography, and printmaking.
His paintings are some of the most influential and well-known pieces of art of the 20th century. Some of his most famous are the coke paintings, brillo boxes, his series of Marilyn Monroe and more.
He is known for his drawing and repetition, using a single object multiple times in a painting. That is how his Coke painting was born, and his style became unique. Many of his drawing used a "blotted line technique", which was a basic form of printmaking.
His works were not only influential, but also expensive. His most expensive painting, "car crash", famous macabre painting, sold for $105.4 million in 2013, making in the second-most expensive piece of art ever auctioned at Sotheby's. Some of his other expensive paintings include Eight Elvises for $100 million, Triple Elvis for $81.9 million, and Turquoise Marilyn for $80 million.
1. Soup Cans Painting 1962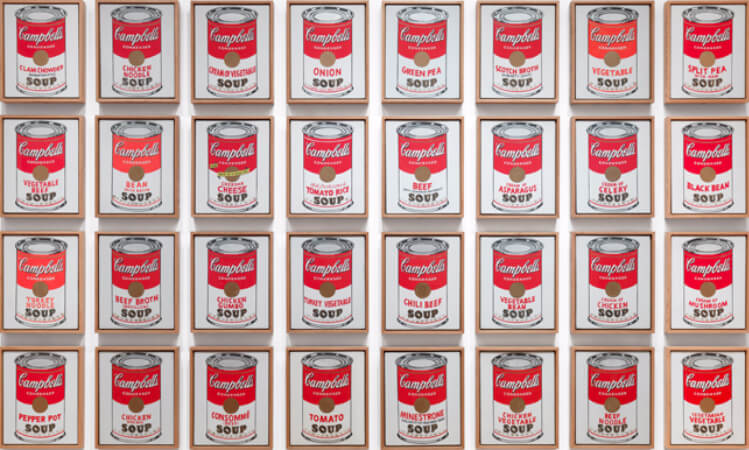 When Warhol showed this painting at an exhibition in 1962, it was the debut of West Coast pop art. Before that, the pop art movement gained popularity only on the East Coast of America. Andy produced a wide variety of works depicting Campbell's Soup cans during three distinct phases of his career. But the 1962 is the most important one.
And the reason he painted soup cans is simple, he liked soup, and thought they composed a daily dietary staple.
2. Marilyn Diptych', Andy Warhol, 1962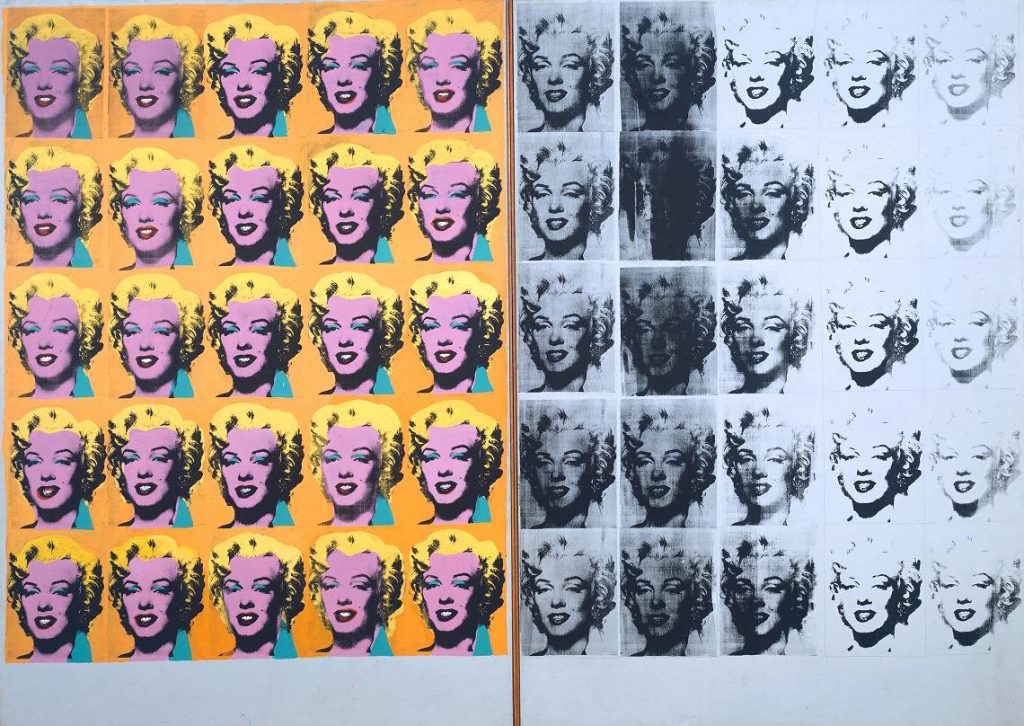 Considered to be one of his most noted works, the piece of art is in the collection of the Tate. The silkscreen painting depicts Marilyn Monroe, arguably the most important Hollywood figure at the time. Fun fact: Marilyn died the same year.
3. Elvis Painting 1963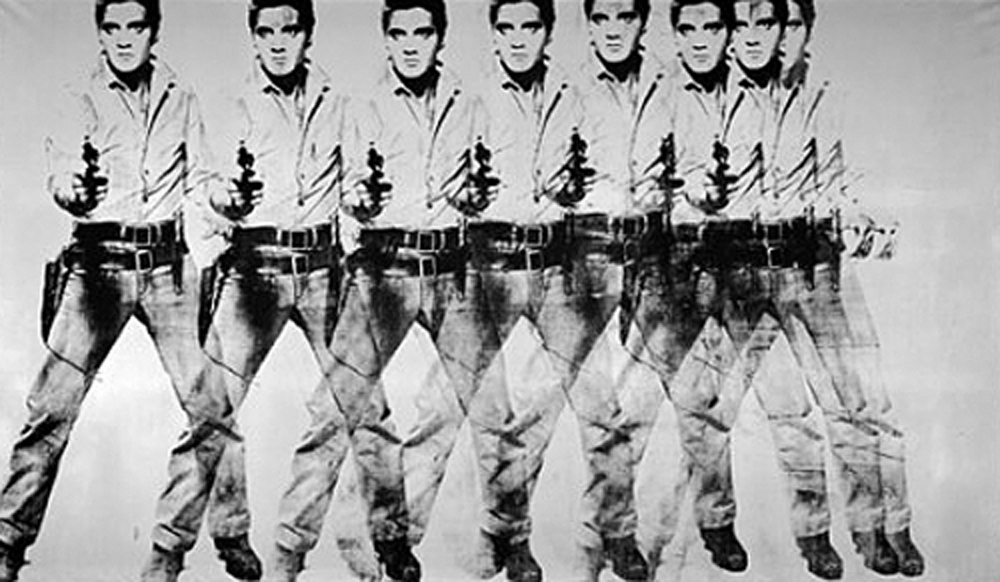 Warhol was also obsessed with Elvis, another culture icon during his lifetime. Elvis was the King of Rock and Roll, so it was only logical for Andy to dedicate him a painting. In fact, he made two Elvis paintings, one of Eight Elvises, and one of Triple Elvis. The former was the most valuable work by Andy when it sold for $100 million in 2008.
4. Cow Painting 1966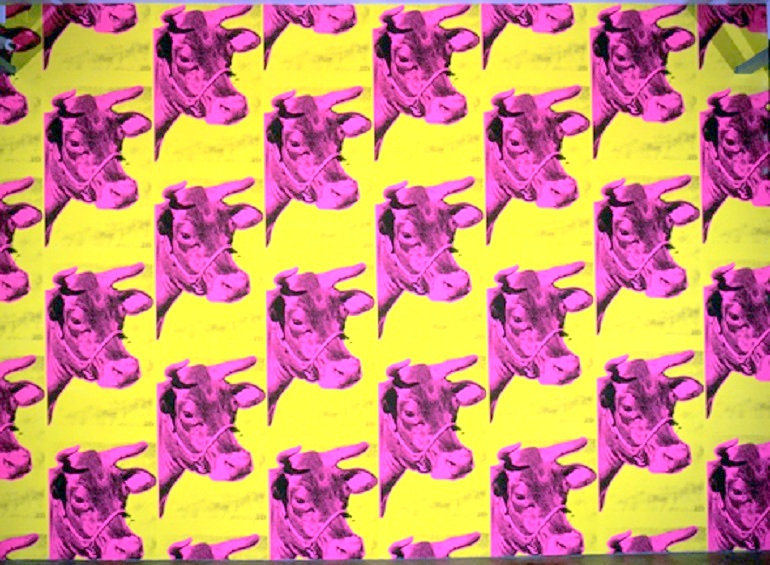 In 1966, Warhol deliberately took a stand against traditional painting. Therefore, a cow. However, what is fun about this painting is that it was originally intended to cover the walls of his exhibition. But it then turned out to be a series of wallpaper designs that he sold as prints.
5. Banana 1966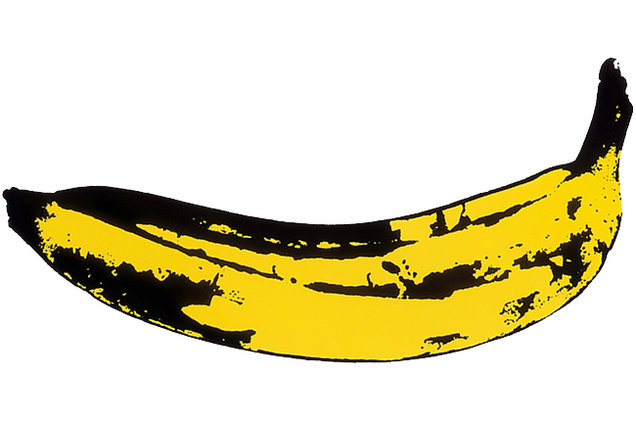 In 1967, Warhol served as the manager for the Velvet Underground. He even introduced the German vocalist Nico to the group. Andy was responsible to design the cover for their debut album, which wound up to be one of the most iconic album covers of all time. It featured a simple yellow banana, and the early editions even featured removable stickers. Fans could peel the banana's yellow skin to reveal a pink fruit underneath.
6.  Marilyn Monroe (Marilyn) 1967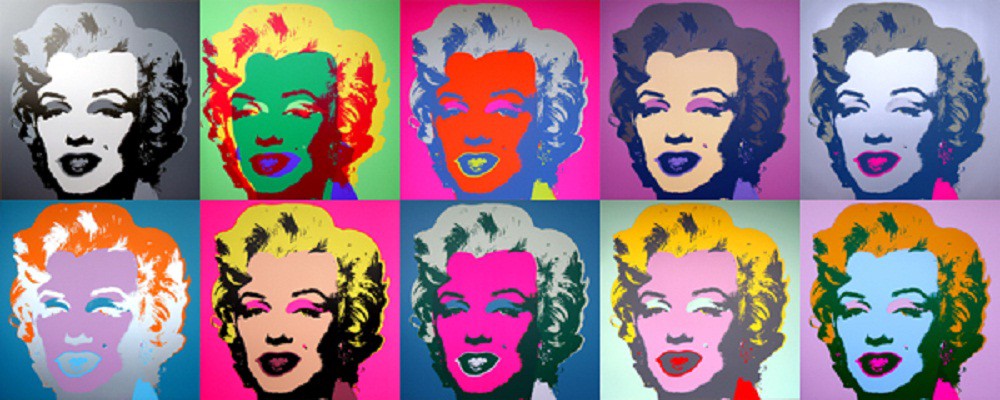 Warhol actually made a couple of prints of Marilyn. She was his muse for a while, painting her in different colors. He made one in 1962, 1964, and 1967.
7. Che Guevara, 1968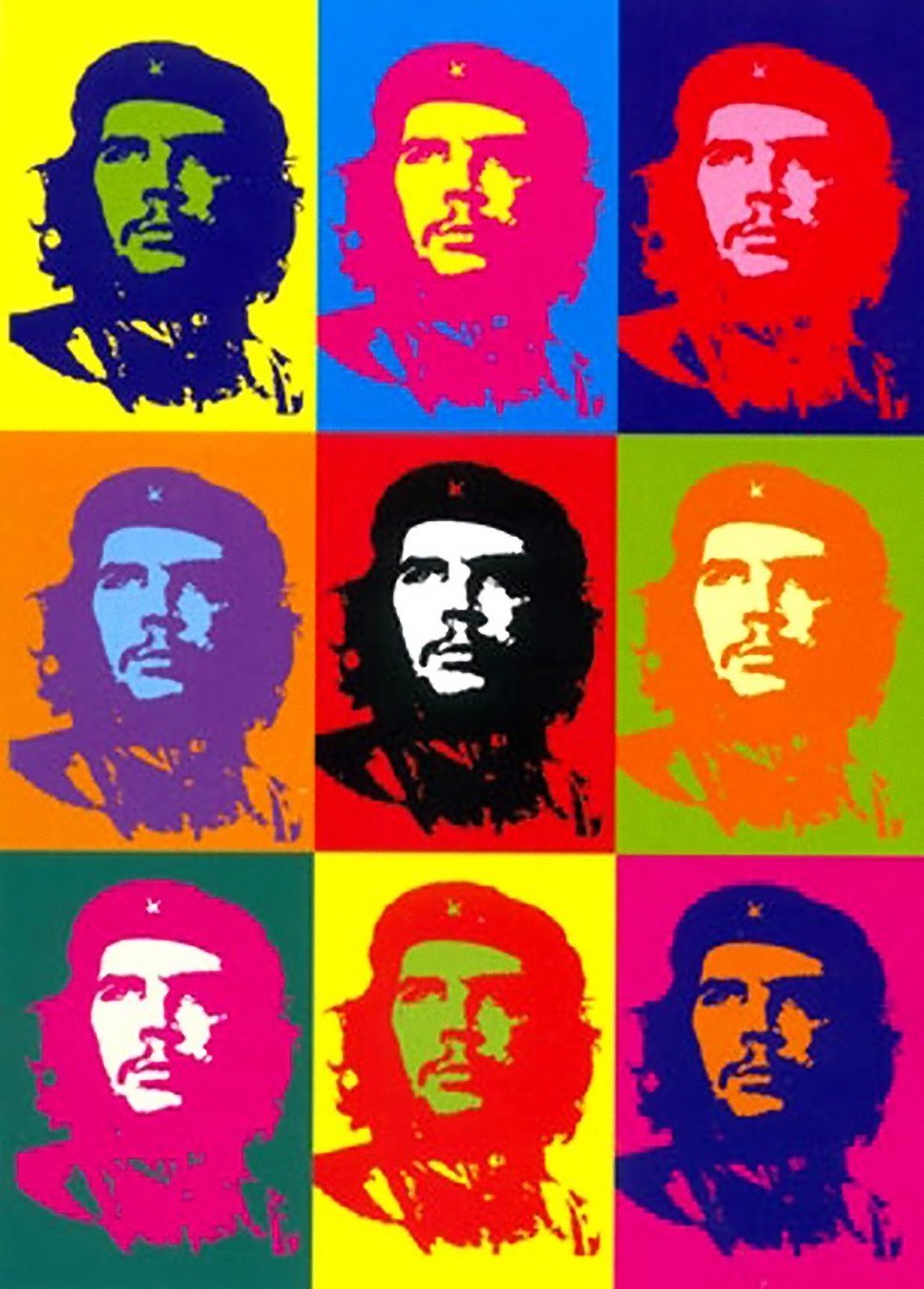 Nowadays, you can find this iconic print on many T-shirts.
Fun fact: this painting was actually a forgery created by Gerard Malanga, who sold it to a gallery in Rome for money. Once Warhol heard of the fraud, he authenticated the fake, so all of the money from sales went to him. He made millions thanks to that simple move.
8. Flowers Series, 1970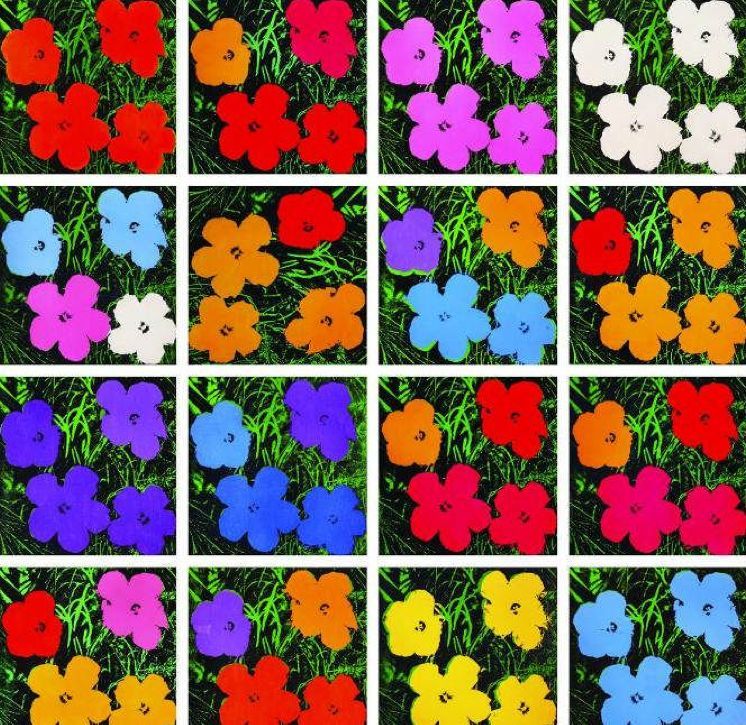 The flowers series depicts 10 screen prints of colorful and vibrant flowers. For the author, they represented purity, but also the assassination of President Kennedy. He did not observe flowers in nature, but found his botanical inspiration elsewhere.
9. Mao 1972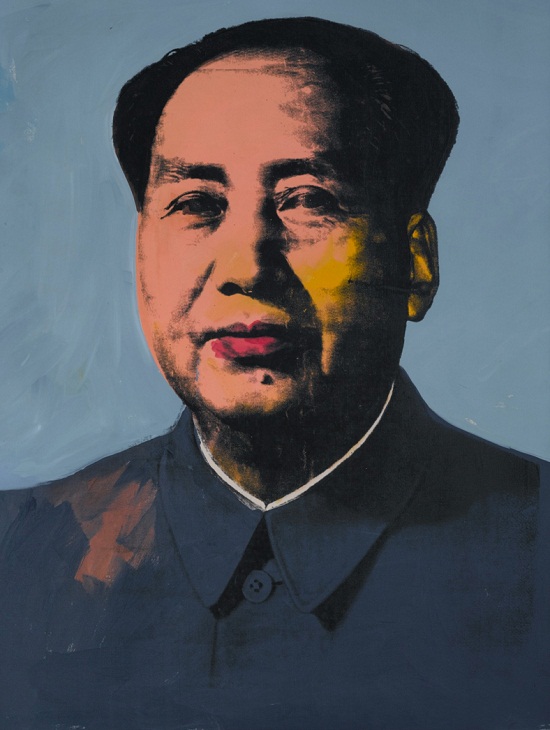 As you can see, many of his Warhol's subject matter paid tribute to people that were famous in the public. Whether they were famous for being a celebrity, or a political leader, it didn't matter. As long as you were famous, you could be on an Andy Warhol painting. This silk-screen portrait was made in many versions.
10. Mick Jagger 143, 1975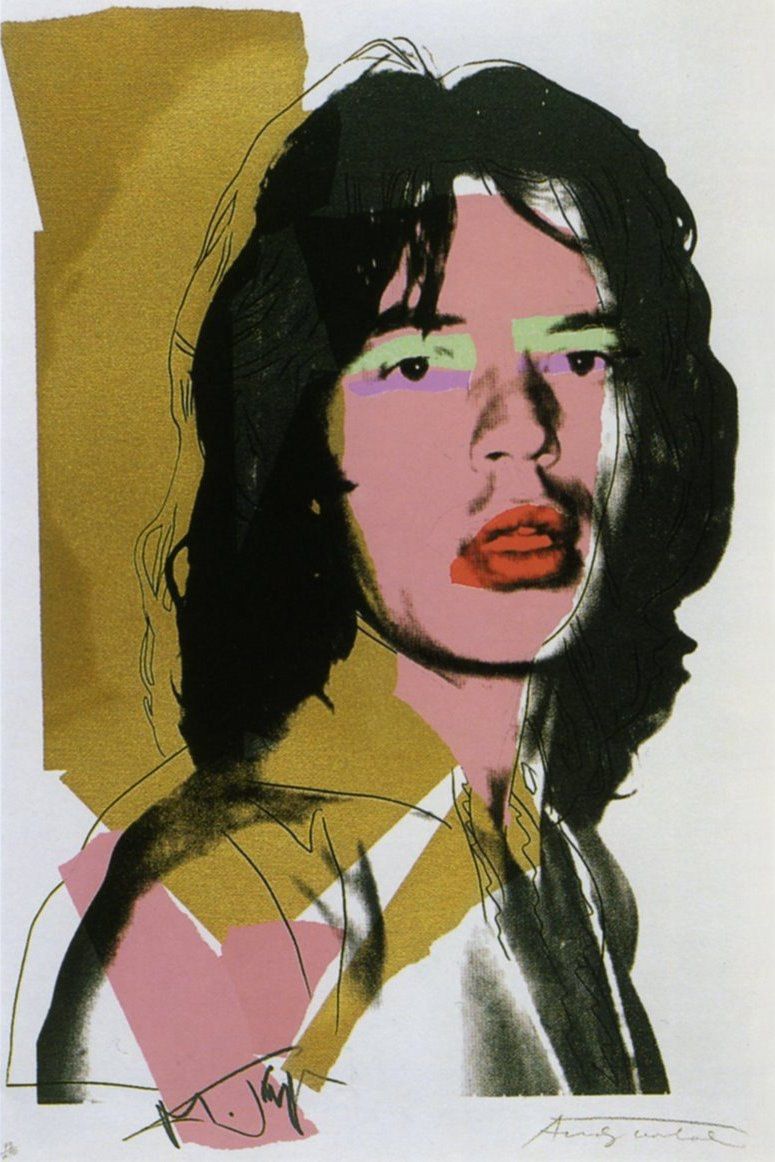 Warhol's obsession with celebrity icons this time took shape in the infamous Mick Jagger series. He made 10 portraits for the band member of the Rolling Stones.
11. Urine Painting 1978
Warhol actually made this painting as part of an experiment. Some call it the oxidation painting. Andy and his students peed on the painting, to see how pee caused copper paint to turn color. They might not have understood chemistry completely, but the result was unique painting.
12. Mickey Mouse, 1981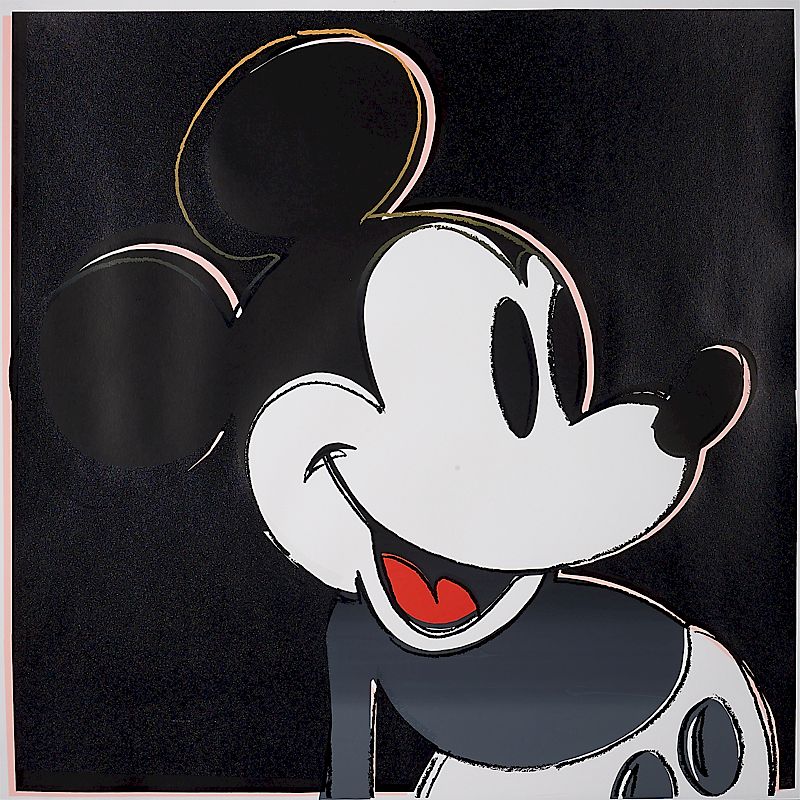 We said that Warhol usually draw prints of celebrities. But he took a turn away from it, deciding to paint some fictional characters. And is there a more popular fictional character than Mickey Mouse?
13. Dollar Sign 1981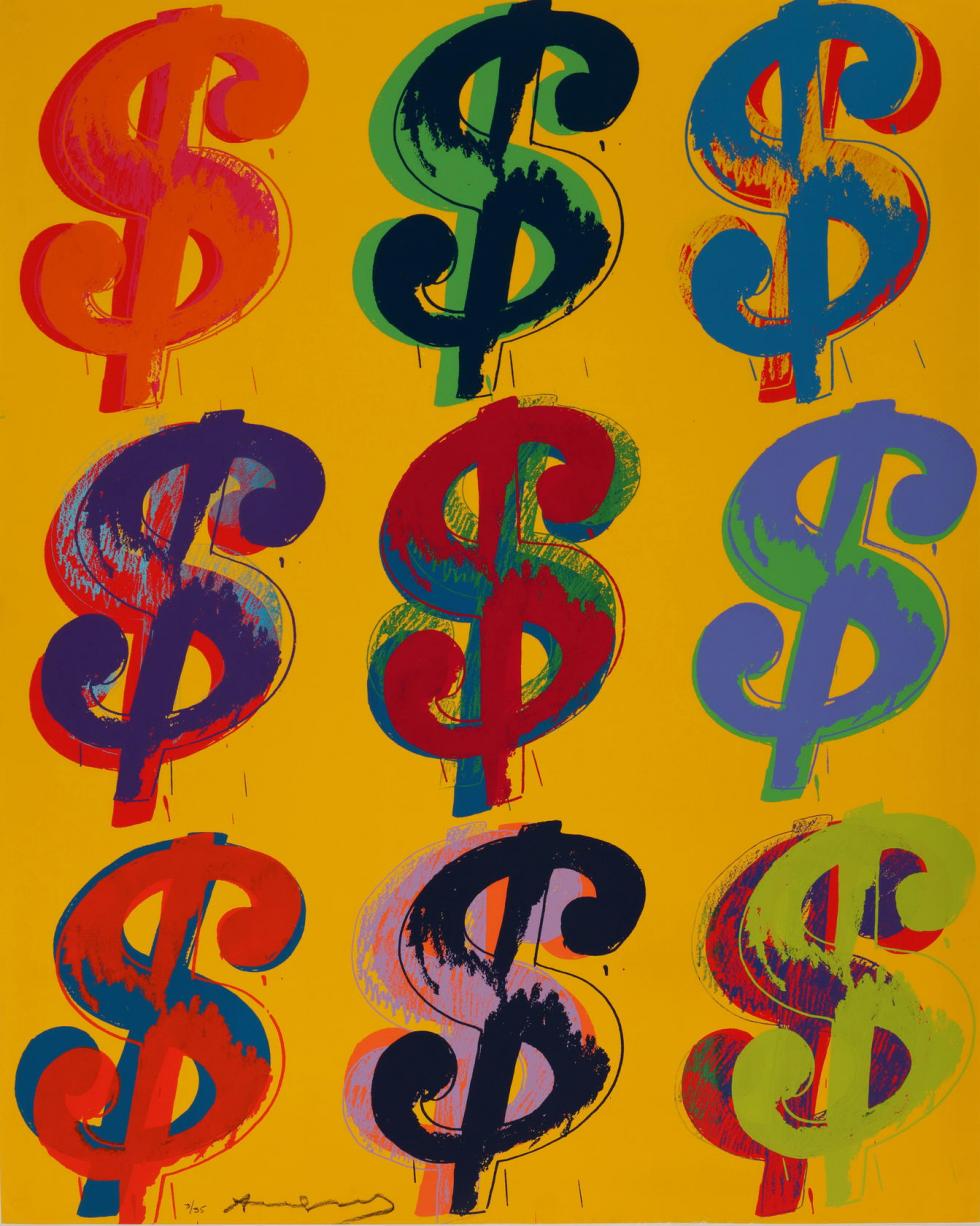 Warhol was famous for his telling that art costs money. And that "big time art is big time money". In his brutal self, he printed the sign for money as the sign for art. Brutal, but truthful.
14. Shoes, 1981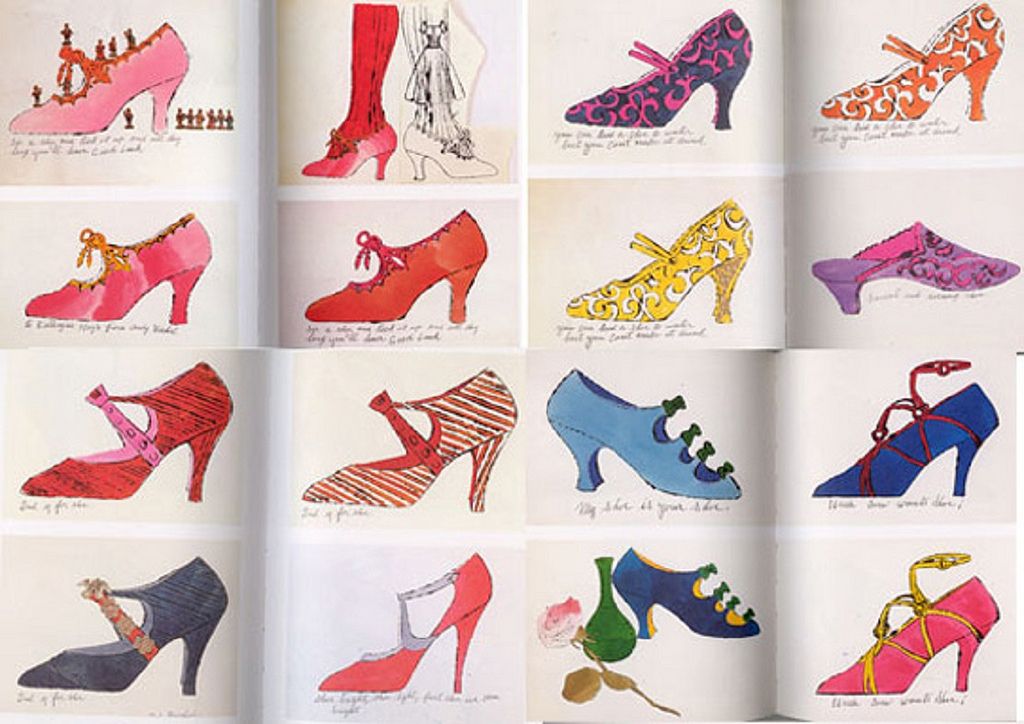 In the 1950s, Warhol worked as a young commercial fashion illustrator in New York. Later in his life, he draw inspiration from those times to draw one of his more iconic painting. Truth be told, he loved to draw shoes, be it high heels, or any other form of shoes.
15. GREVY's ZEBRA from Endangered Species Portfolio, 1983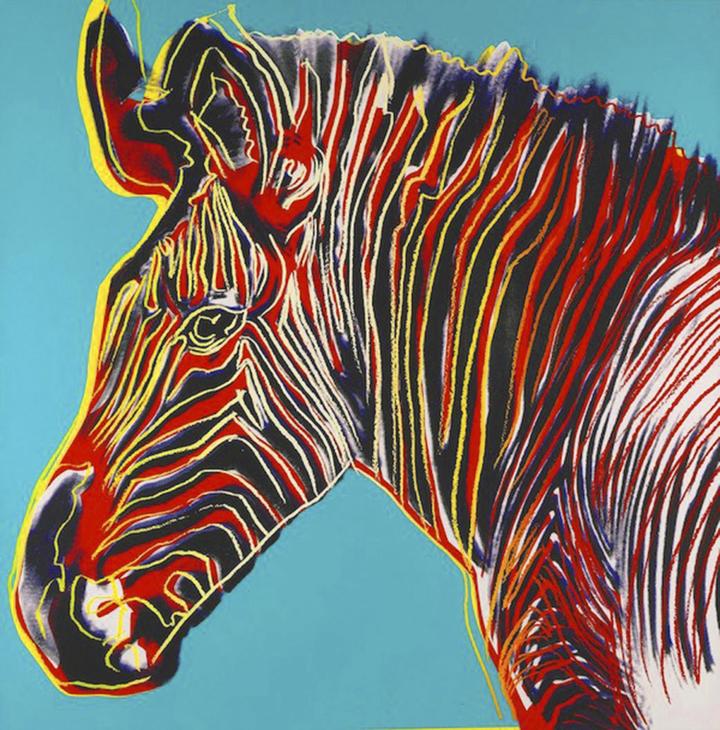 Not only he was the one responsible for popularizing pop art, Warhol also was a vocal celebrity. He raised his for voice for a number of troubles, including endangered animals. His zebra painting is one of the 10 he made for a select group of endangered species.
16. Ingrid With Hat 1983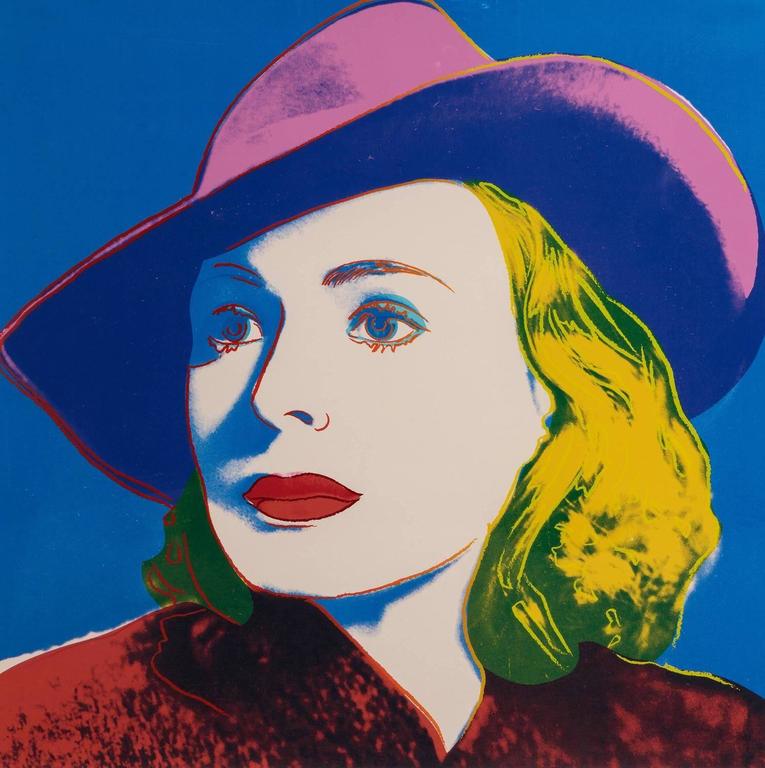 Ingrid Bergman is another popular celebrity that Warhol was obsessed with. This stunning portrait features his signature stylized manner and vibrant colors. The Ingrid Bergman series is made up of three types of screen prints.
17. Rebel Without a Cause (James Dean) 1985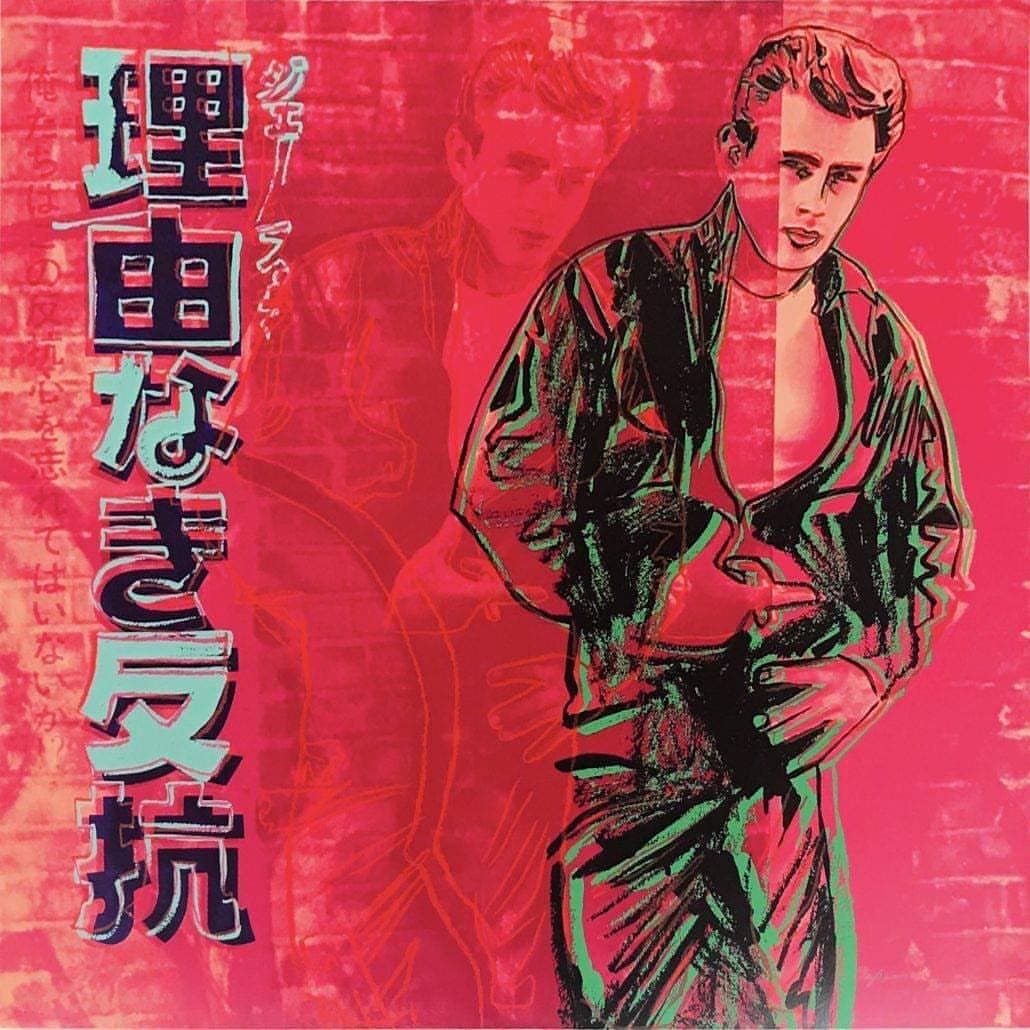 Warhol somehow managed to use even Japanese movie poster for inspiration. But when you have James Dean as model, you can do anything. This print was inspired by the massively successful Rebel Without a Cause movie poster.
18. Michael Jackson 1984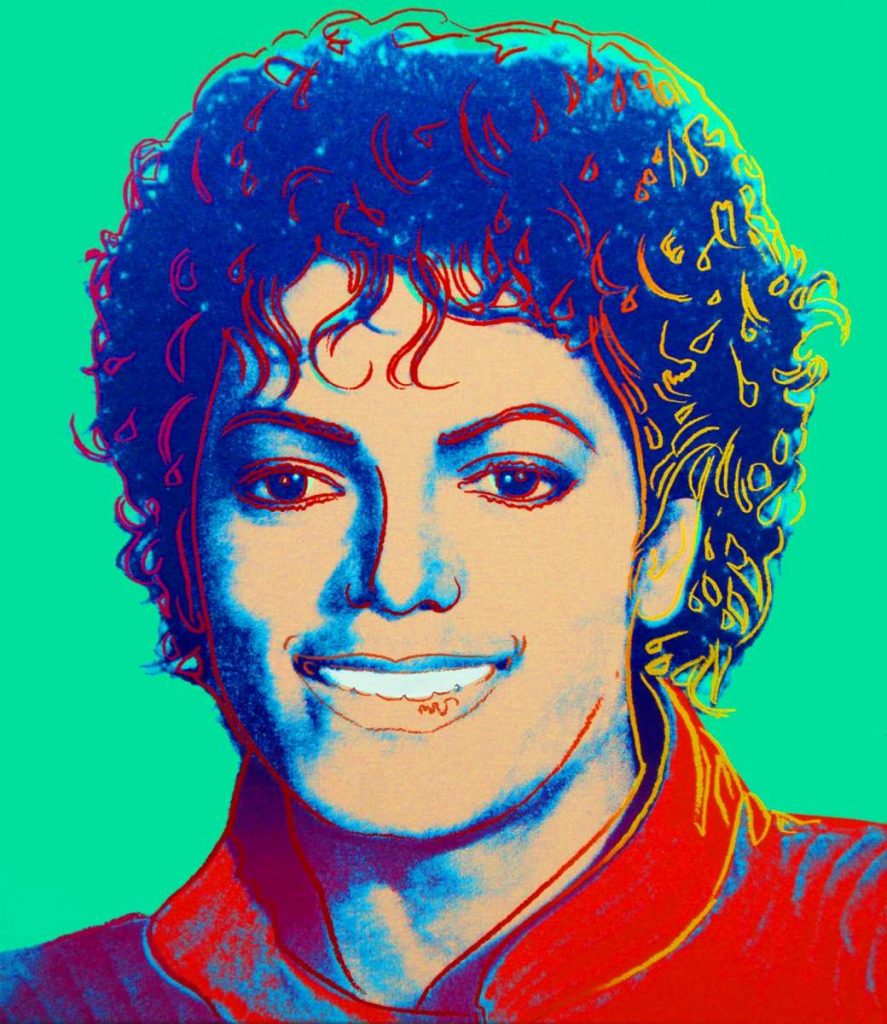 This portrait actually was the cover for the March 19, 1984 edition of Time magazine. Michael Jackson was on the cover, and Warhol was responsible for commissioning the portrait.
19. Letter to the World (The Kick) (Unique) 1986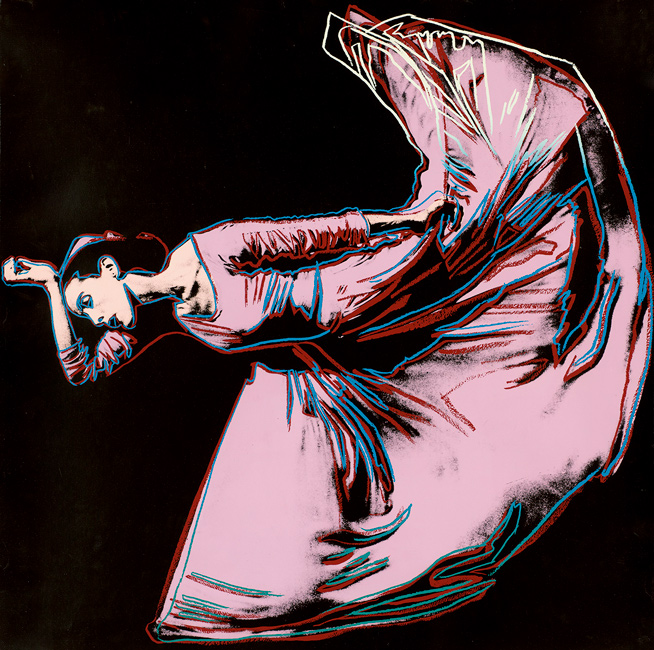 In this painting, Warhol depicts Martha Graham, the mother of modern dance. She is performing a fluent kick, part of her dramatic dance called Letter to the World. This painting was made to commemorate the 16th anniversary of the Martha Graham Center of Contemporary Dance.
20. Annie Oakley 1986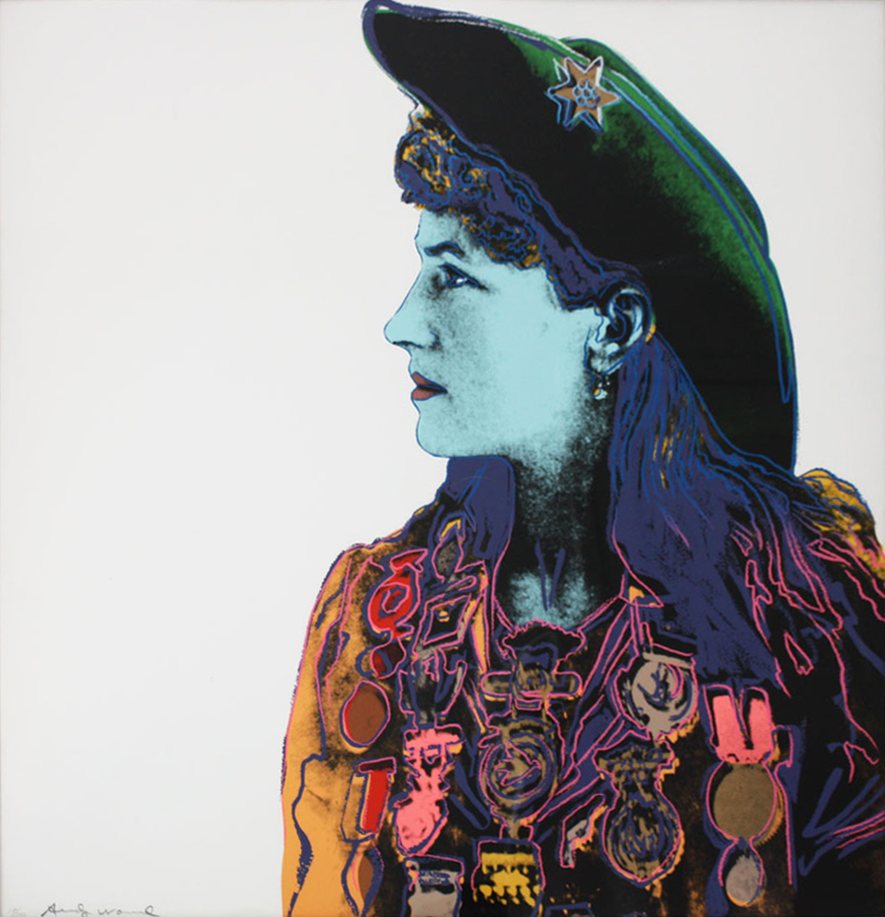 Warhol was not obsessed only with Hollywood celebrities. He also loved the part of the American Western history. In this painting, he depicts Annie Oakley, who became an American female superstar by starring in the Wild West Show in 1885.
21. Self-Portrait 1986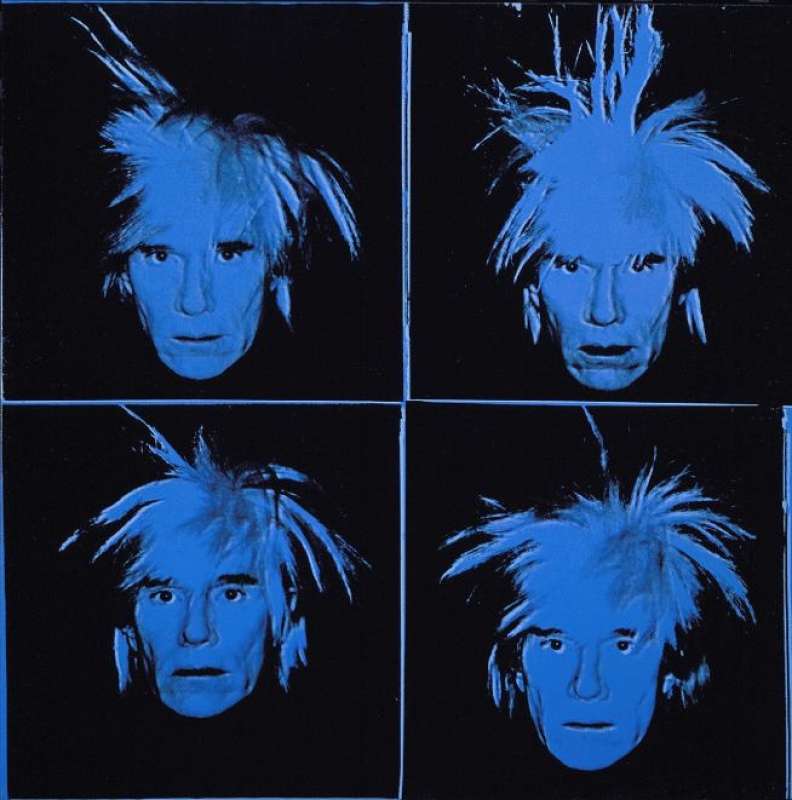 Warhol actually made a couple of self-portraits. He also has one with red hair. His self-portraits helped announce his signature style, a grid of bright, and repeated silkscreen portraits.
22. Moonwalk, 1987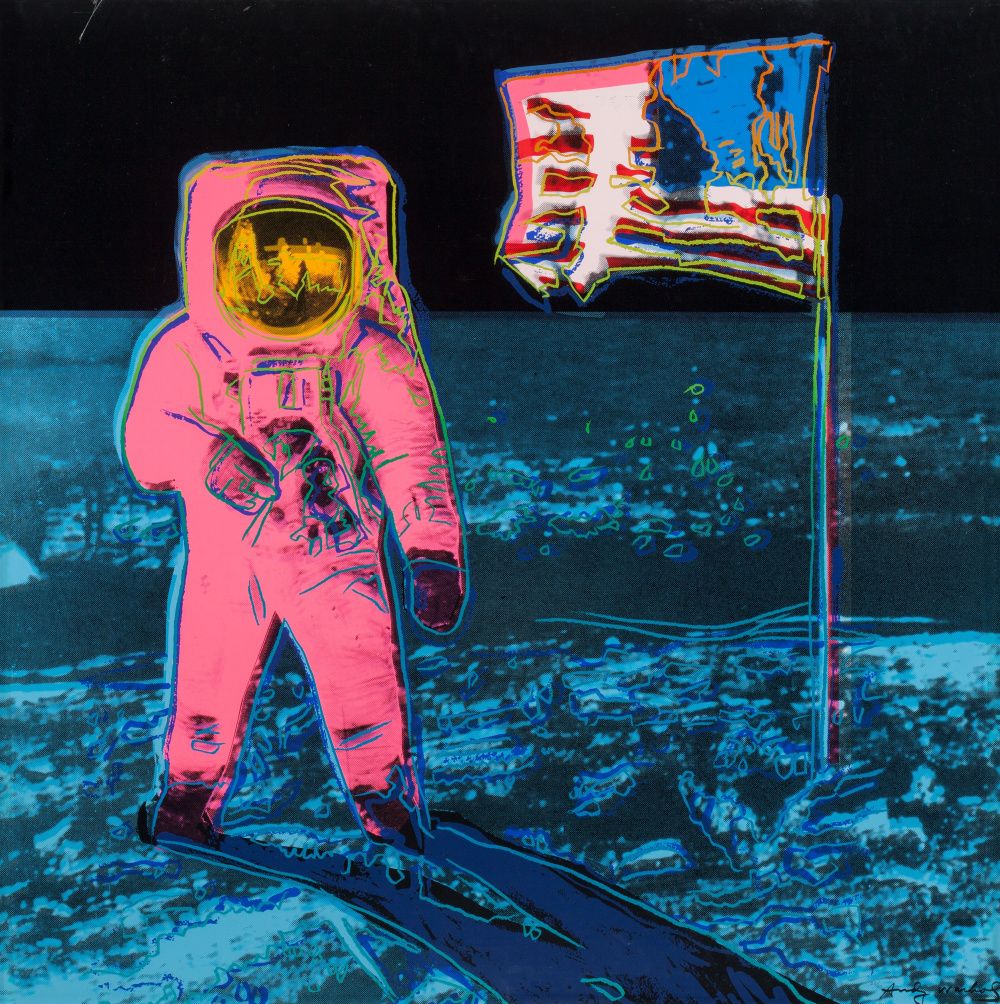 This painting was one of the last works he made before his untimely death. It depicts Neil Armstrong's photograph of Edwin Buzz ALdrin walking on the moon during the 1969 Apollo mission.
23. Superman Painting 1981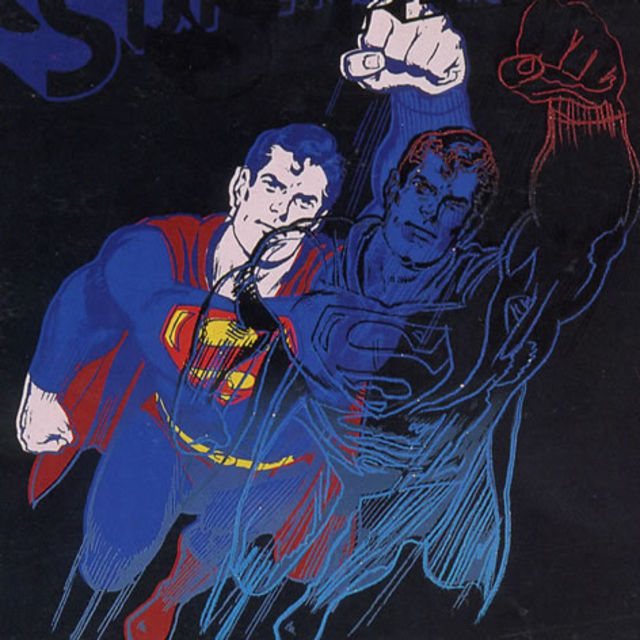 Superman was one of the most iconic fictional characters in the 1980s. In fact, Superman II with Christopher Reeves was released in 1980. The Reeves Superman movies are still considered some of the best, if not the best portrayal of the man of steel.
24. Birth of Venus 316, 1984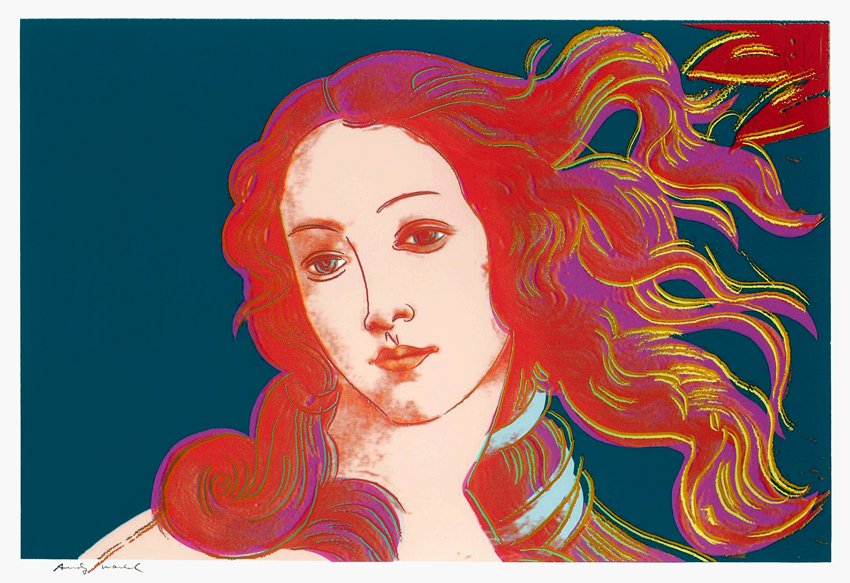 In 1963, the famous Mona Lisa by Leonardo da Vinci was exhibited in New York for the first time. Warhol wanted to make his own version of the historical painting, repeating her smile.
25. Cologne Cathedral Series, 1985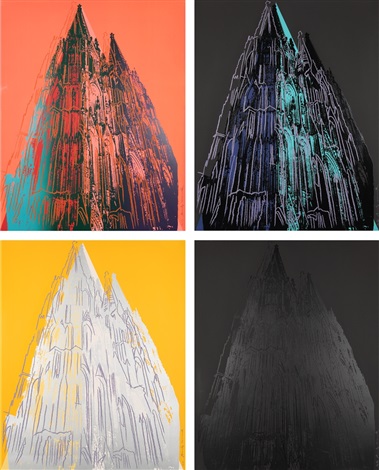 This Roman Catholic Church is the most visited landmark in Germany. According to some legends, it houses the reliquary of the Three Kings. Warhol made a series of four screen prints of the famous church.
26. Red Lenin 1987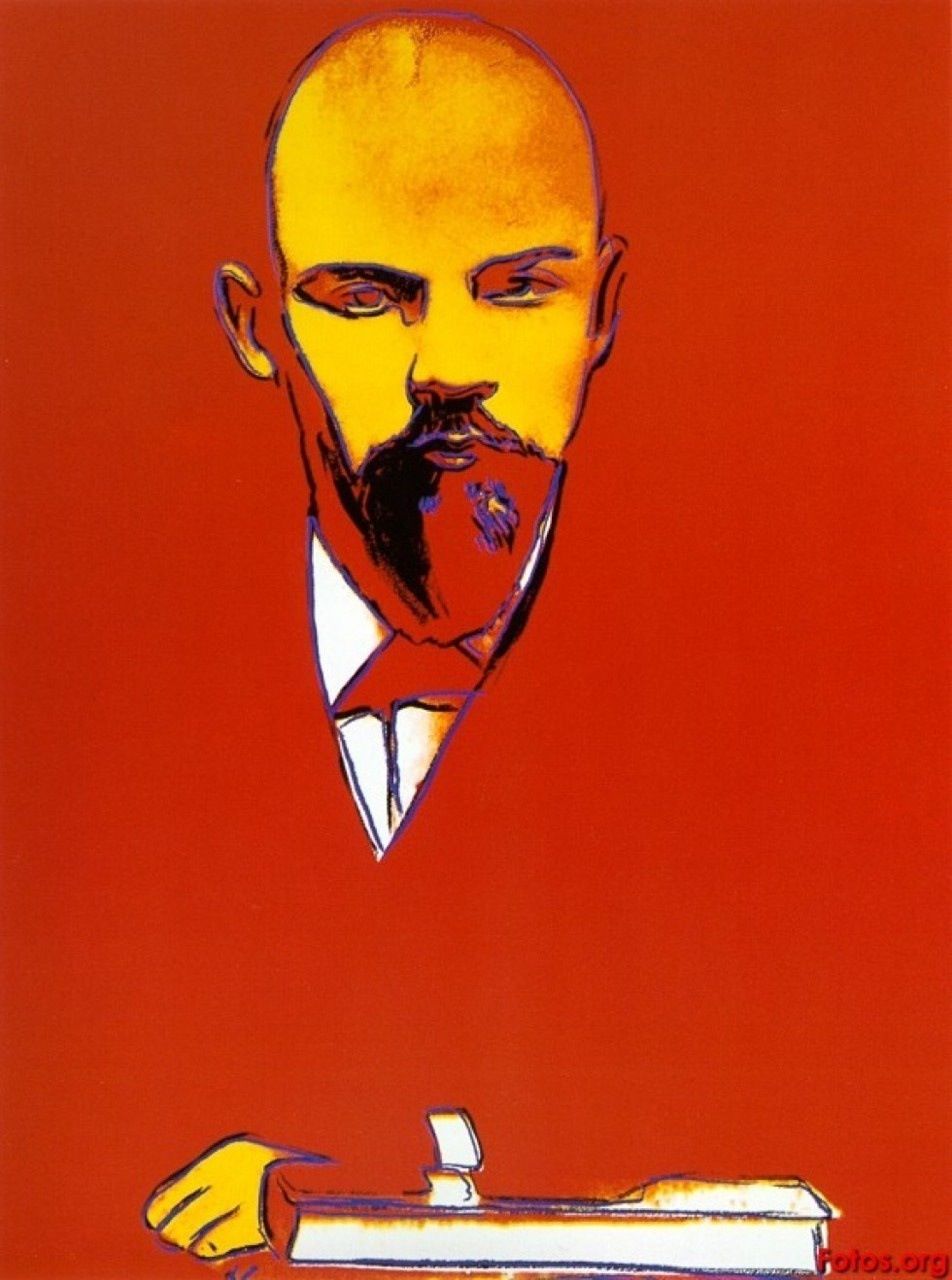 There are actually two screen prints on paper of Lenin. But the Red Lenin is considered by many experts to be the more iconic image. Red Lenin actually illustrates the diversity of Warhol.
27. Self-Portrait with Skull 1978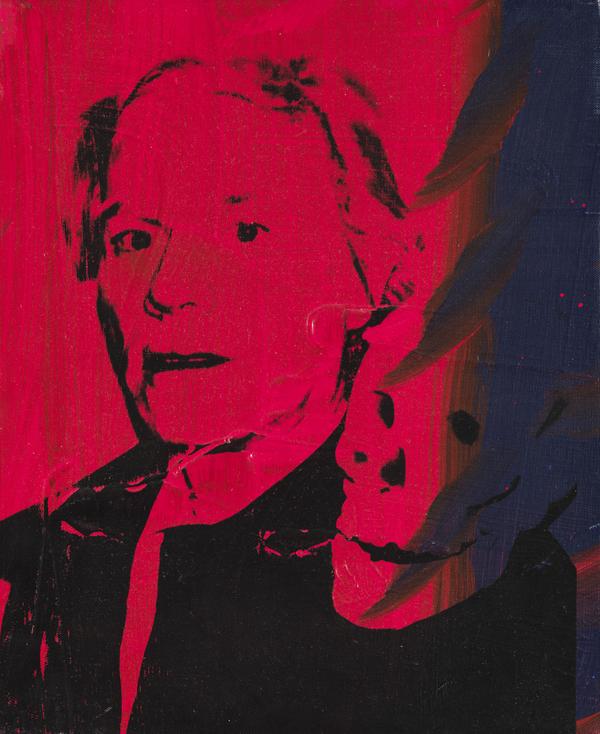 In this painting, Warhol wanted to put more emphasize on the tension between him and the real world. Hence, the skull. In the painting, the blood-red background is broken up by the violent and black brush strokes.