Jeffrey Koons is a widely known American Artist, recognized for his work dealing with popular culture. His sculptures are famous for depicting everyday objects, like balloon animals, and so on. They are produced in stainless steel with mirror-finish surfaces.
He is one of the most famous contemporary artists. His work is influenced by many artists, including Salvador Dali, Marcel Duchamp, and Ed Paschke.
Born in Pennsylvania, he has become one of the most recognizable figures in contemporary art. What makes him unique is his large-scale works that play with familiar objects and symbols.
And he is charging his work a lot. For example, one of his earliest work, Rabbit, was sold for more than $91 million in May this year. He has other works that have sold for more than $40 and $50 million.
1. Rabbit 1986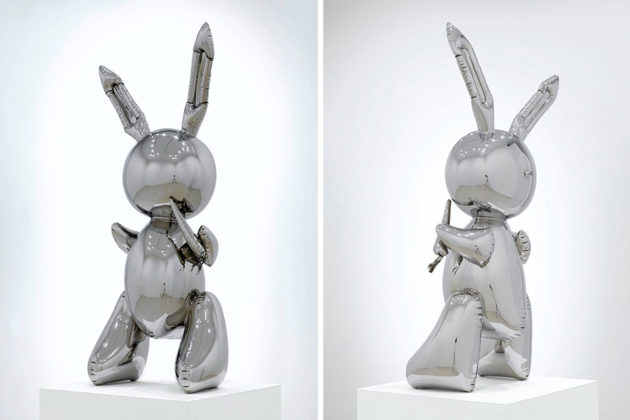 Speaking of the Rabbit, this object was made from a readymade inflatable rabbit, and then cast in highly polished stainless steel. The result is the most famous artwork by Koons. And by selling for more than $91 million, it set a record for a living artist. The 3-foot tail stainless steel sculpture was made 33 years ago.
2. Ushering in Banality 1988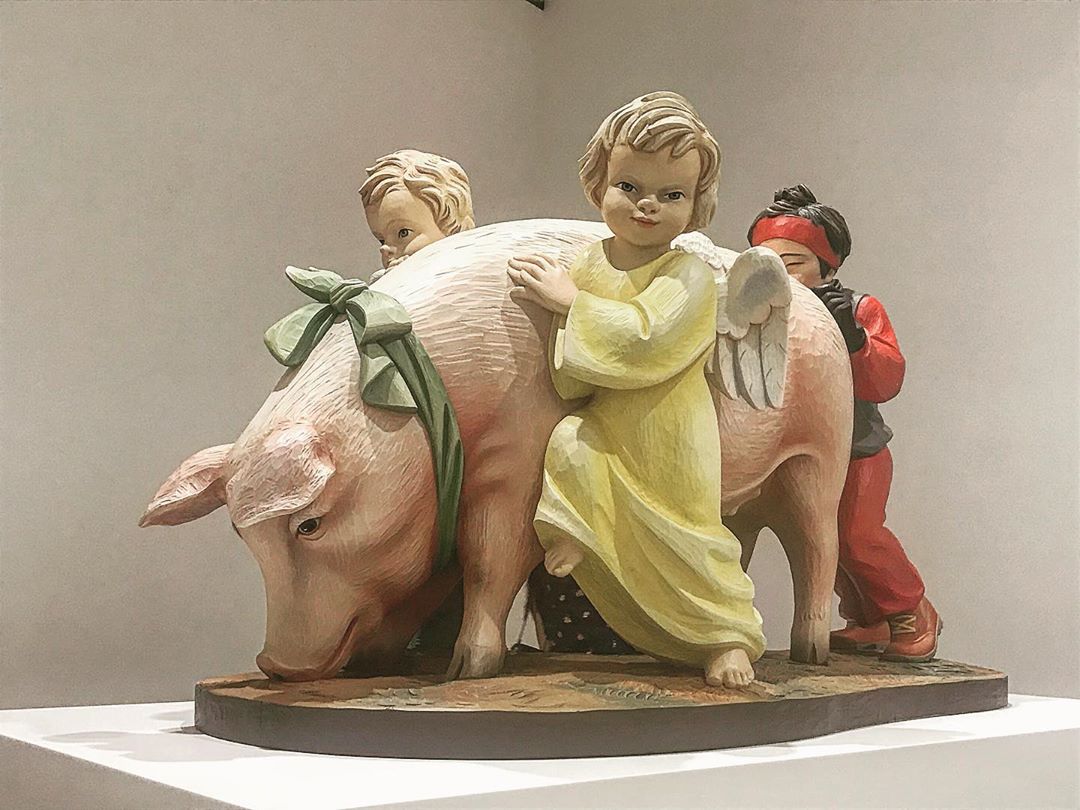 Banality was a series of sculptures by Koons. Ushering in Banality was ruled to have deliberately and exactly copied a photograph. Basically, it is an enlarged figuring, differing little from the small statuettes on the original photograph.
3. String of Puppies 1988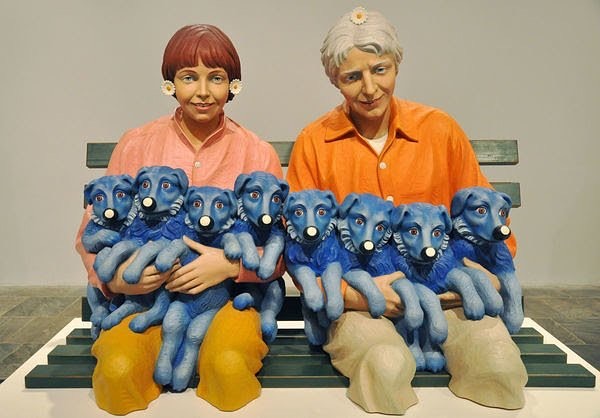 Made of polychromed wood, this sculpture is quite similar to his Wild Boy and Puppy. Koons shows his love for animals in this sculpture.
4. Michael Jackson and Bubbles 1988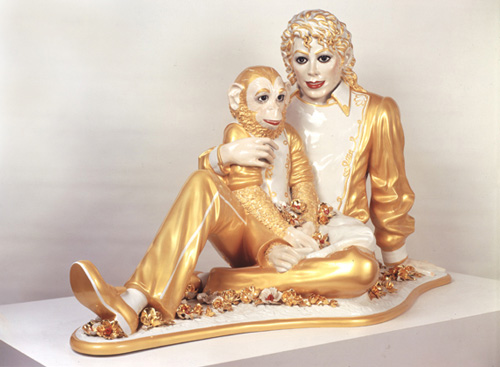 This is one of the most controversial sculptures done by Koons. It shows Michael Jackson and his pet chimpanzee. Created in 1988 within the Banality series. It shows the singer and his pet in a porcelain sculpture, in what many view it as a larger-than-life sculpture.
5. Kiepenkerl 1987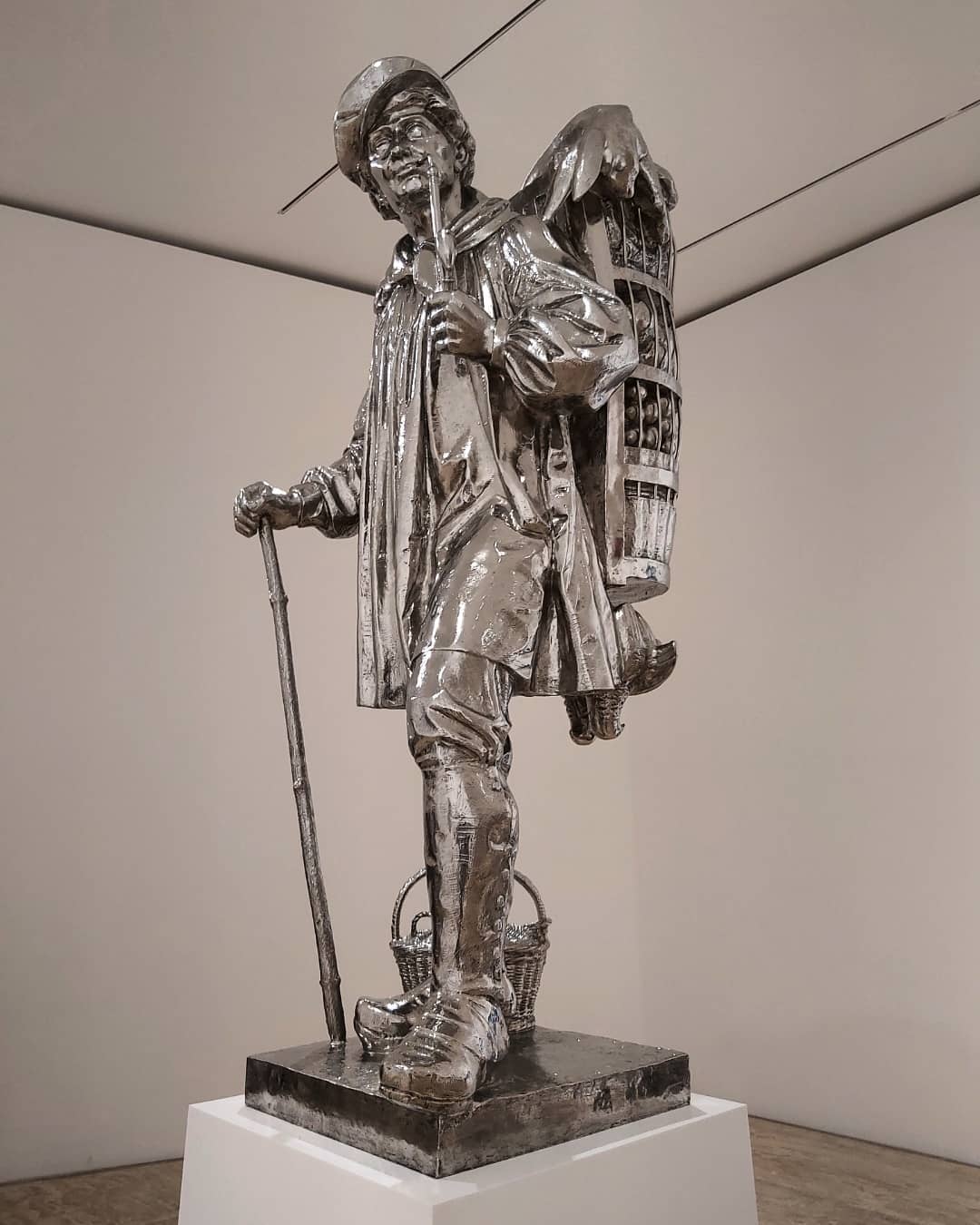 This sculpture shows the basic idea of Koons art. He takes an object, and makes it better. The Kiepenkerl statue, for example, was originally done by a German Artist in 1896. It was a sandstone statue of a traveling merchant. Destroyed during World War II, it was then recreated in 1953, and then Koons made his own version of it.
6. Bear and Policeman 1988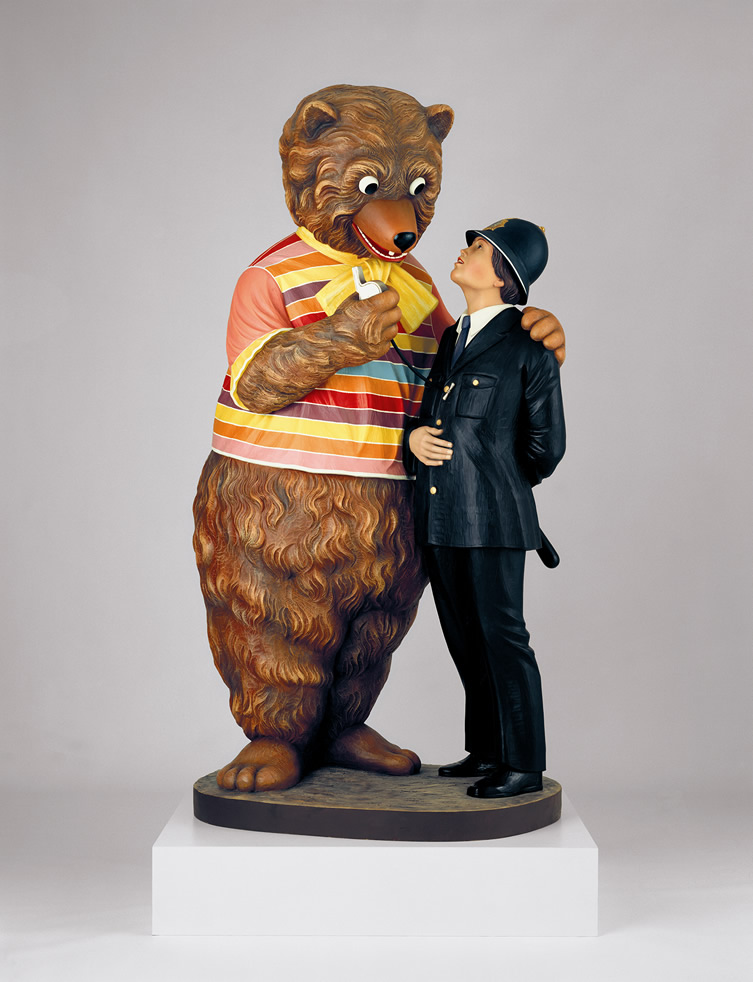 This is another piece of his Banality series. Arguably, it is the most successful and prolific series by Koons. On this sculpture, you can see the policeman looking helplessly up at the bear. And his expression is priceless. That temporary suspension is what you enjoy in Koons work.
7. Poodle 1991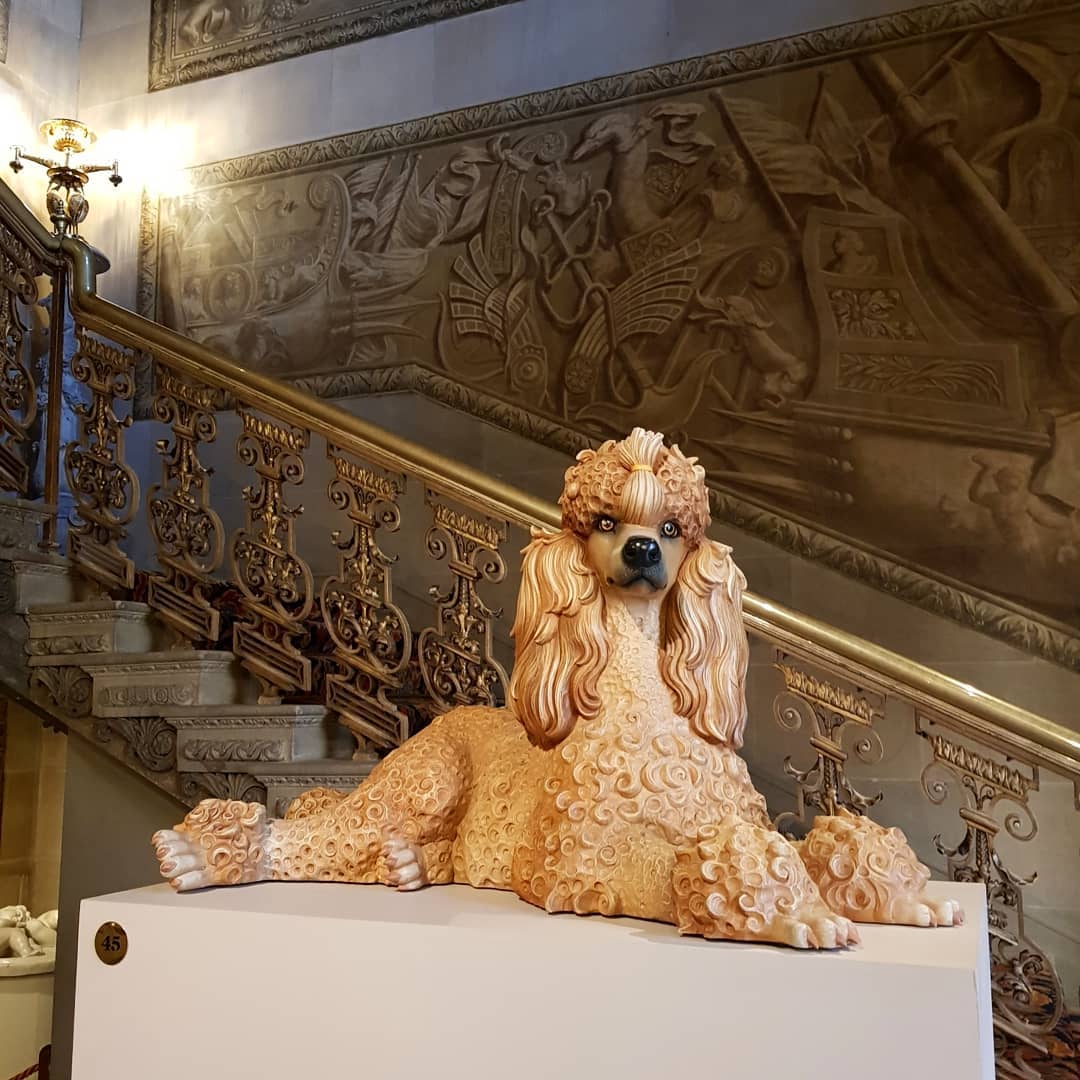 In one interview, Koons described his reasoning for using dogs, or in this case, Poodle for his sculpture. He said that dog sculptures are a symbol of us. Given that the Poodle is one of the most widely known and recognizable puppies, it is logical he used it for his sculpture.
8. Total Equilibrium Three Balls 50 50 1985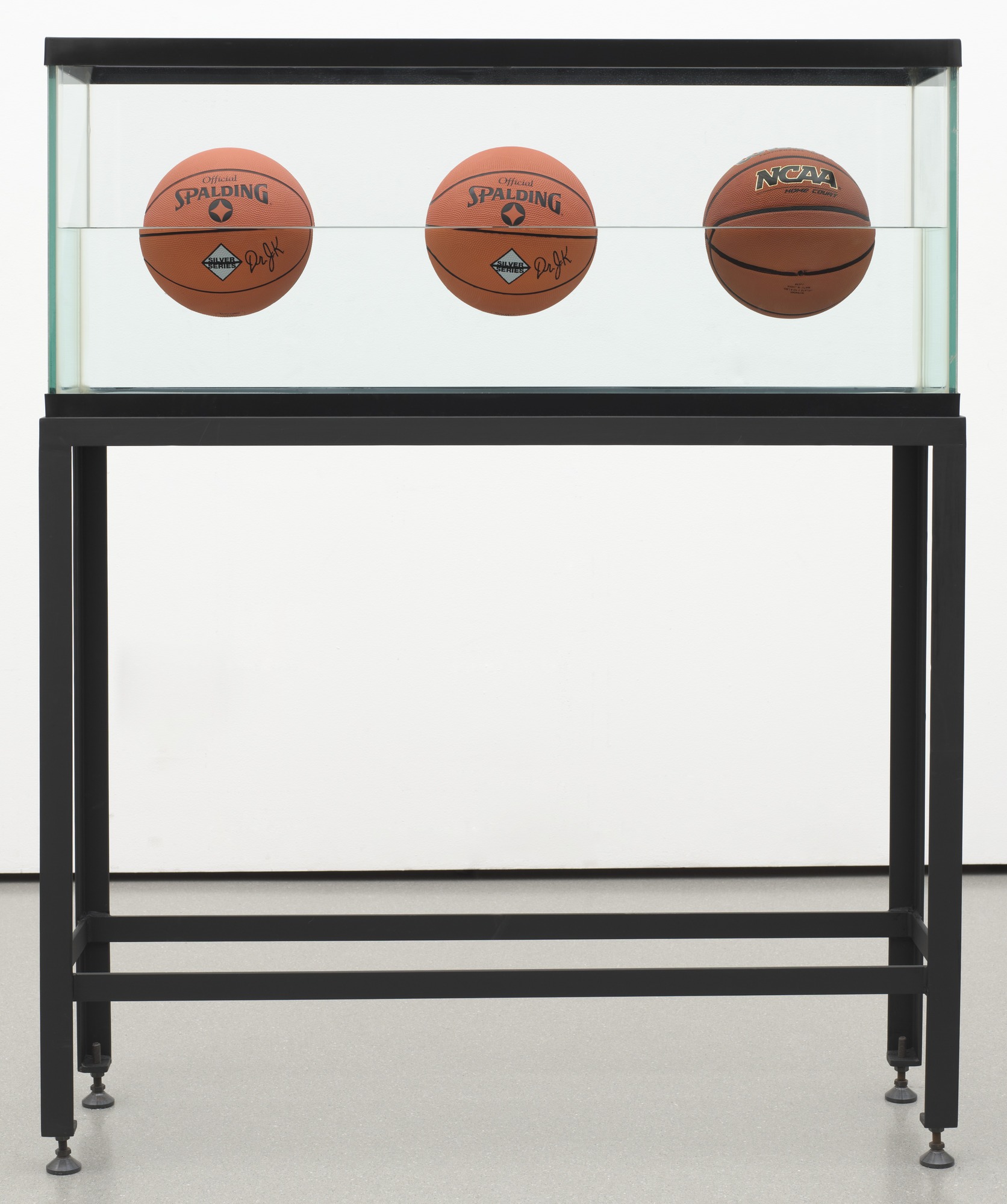 This is one of his most enigmatic sculptures. Many experts have tried to decode it and find the meaning behind it. But who knows, maybe he is just a fan of basketball?
9. Puppy 1992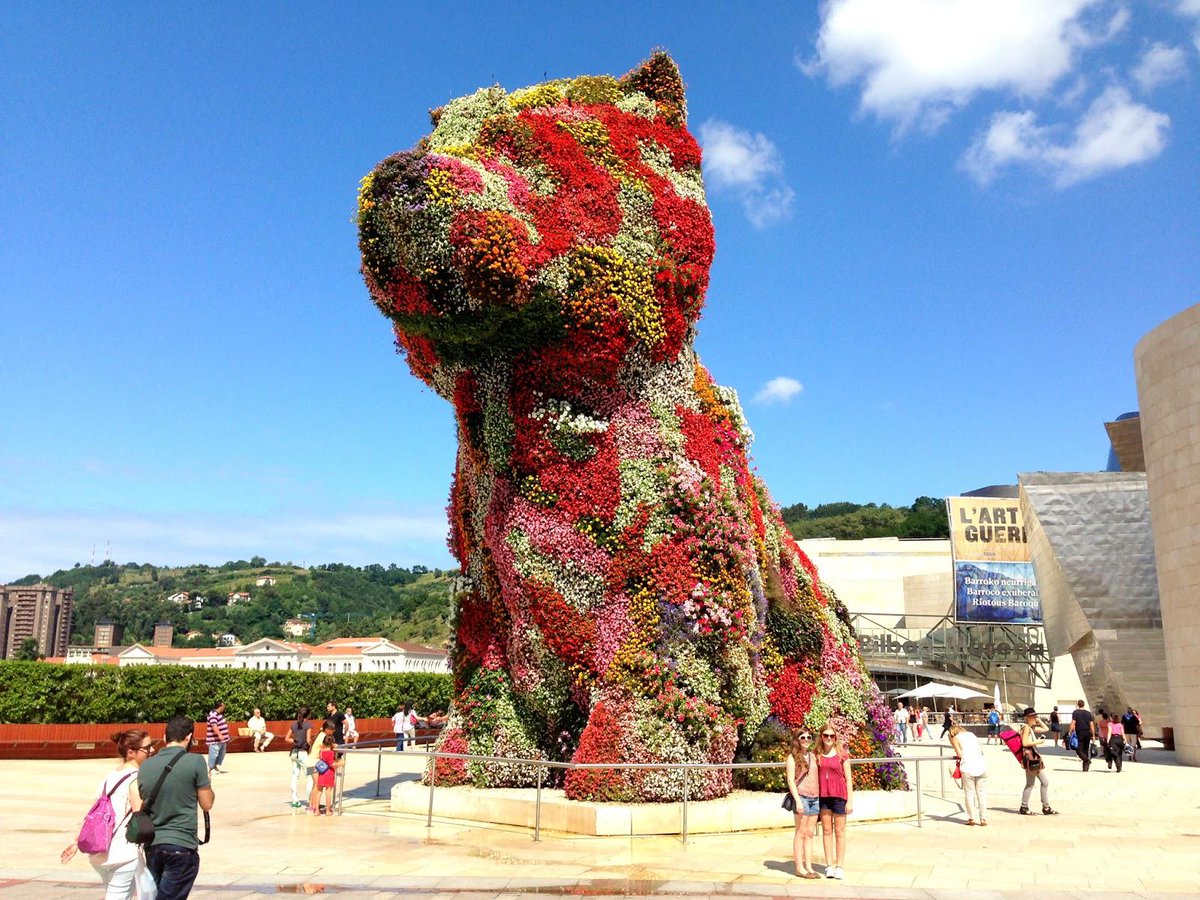 For this puppy sculpture, Jeff choose a terrier dog breed, particularly the West Highland White Terrier. He chose the dog because he believed it would be disarming and non-threatening despite its size and largeness. In another interview, he also stated that the sculpture is a symbol of warmth, love, and happiness.
10. Play-doh 1994-2014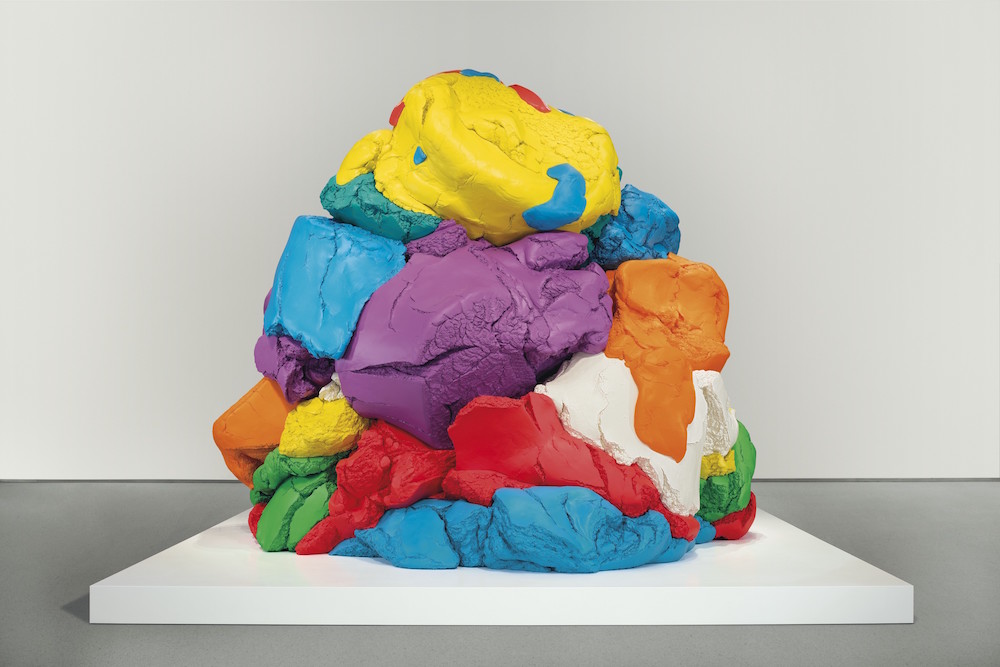 There are five copies of this sculpture. It is basically a painted aluminum sculpture. It is one of his largest and most complex works. One of them was auctioned for $20 million.
11. Bourgeois Bust – Jeff and Ilona from his Made In Heaven series 1990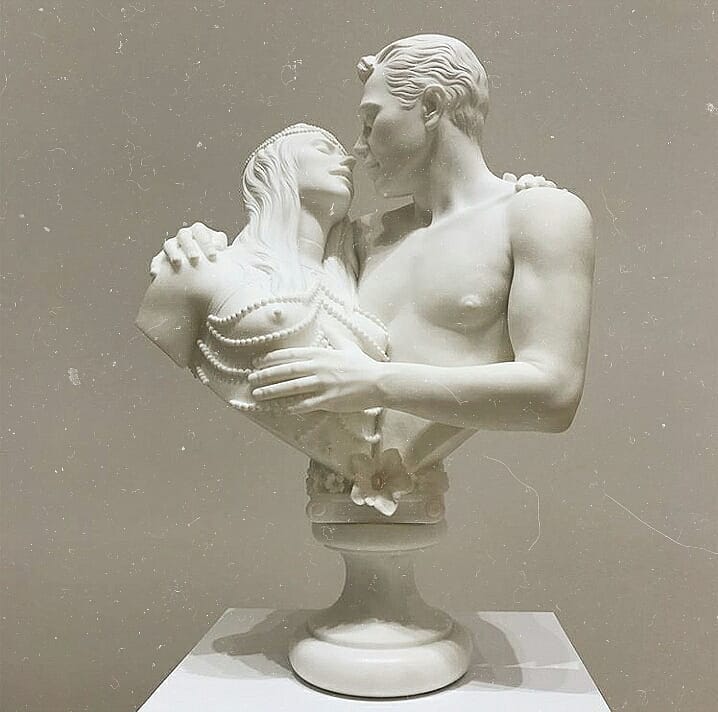 While painters have their own self-portraits, Jeff made his own self-sculpture, if you can put it that way. This sculpture was created for the Made in Heaven exhibition. The artist explores the concept of love in relation to his own marriage.
12. Balloon Dog 1993-2013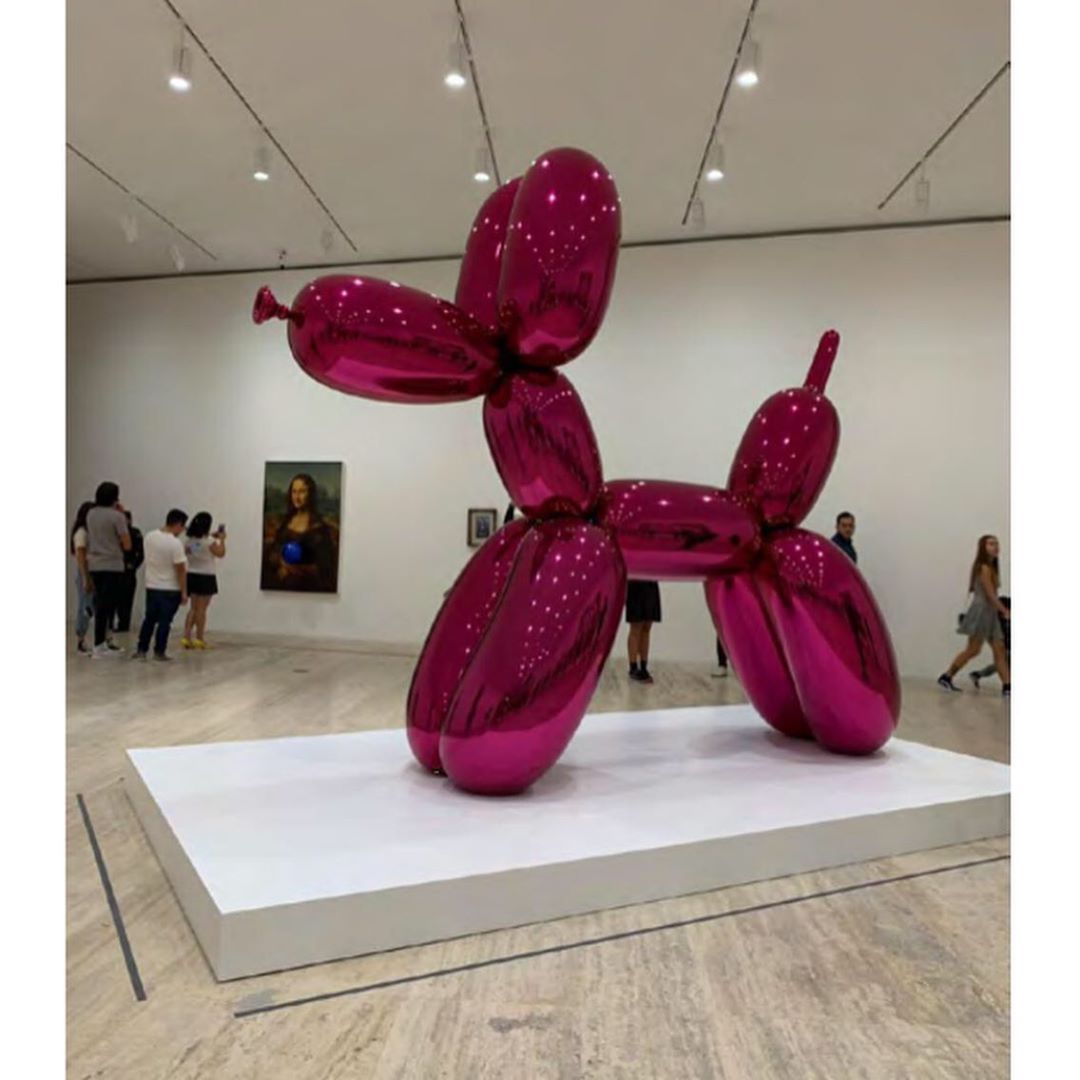 When this piece was offered at an auction in 2013, it became the most expensive piece for a living artist. Then Jeff sold Rabbit for even more in 2019. Balloon Dog was sold for more than $58 million in 2013. According to the artist, the balloon dog references the act of inhaling and exhaling, which is a symbol of the human condition.
13. Gorilla 2007-2011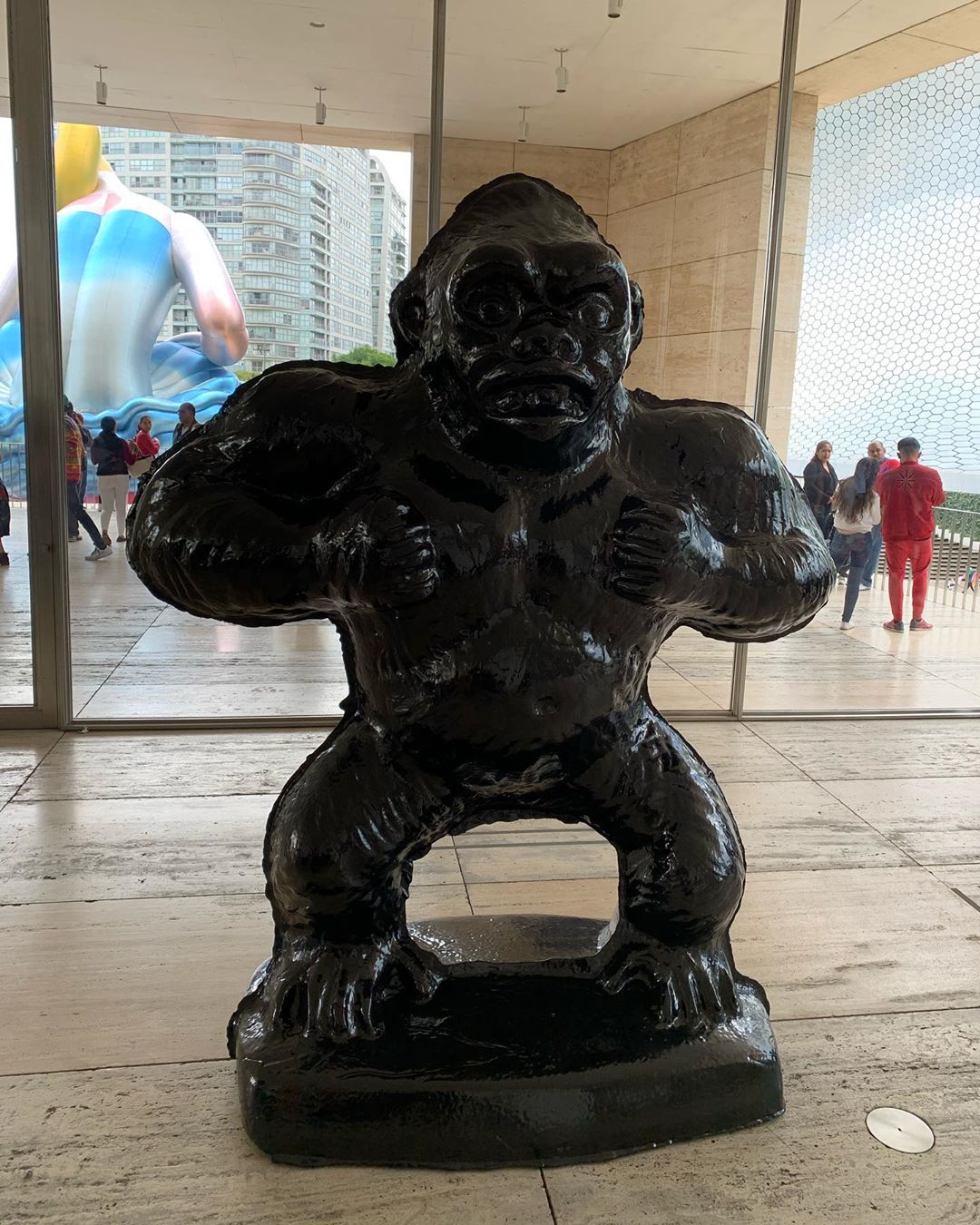 Jeff's connection with animals is deep. He loves animals, and he portrays them in daily and regular activities. While many would think of a Gorilla as a scary ape, Jeff doesn't view it in that way.
14. Coloring Book 1997-2005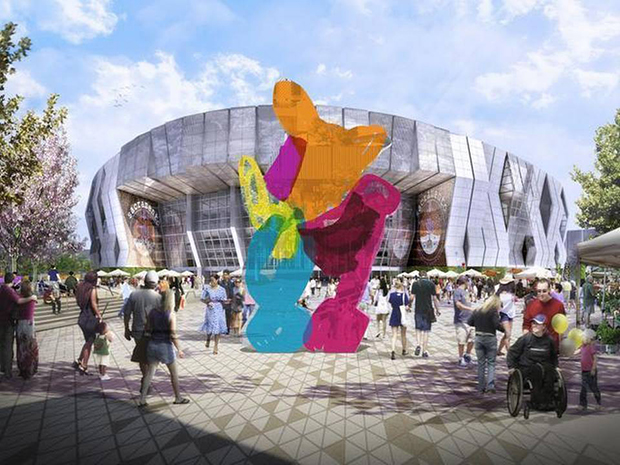 This controversial sculpture was unveiled by the Sacramento Kings, an NBA team that ordered it from Jeff Koons. The sculpture is a piglet made from colorful and mirror-polished stainless steel.
15. Hanging Heart 1994-2001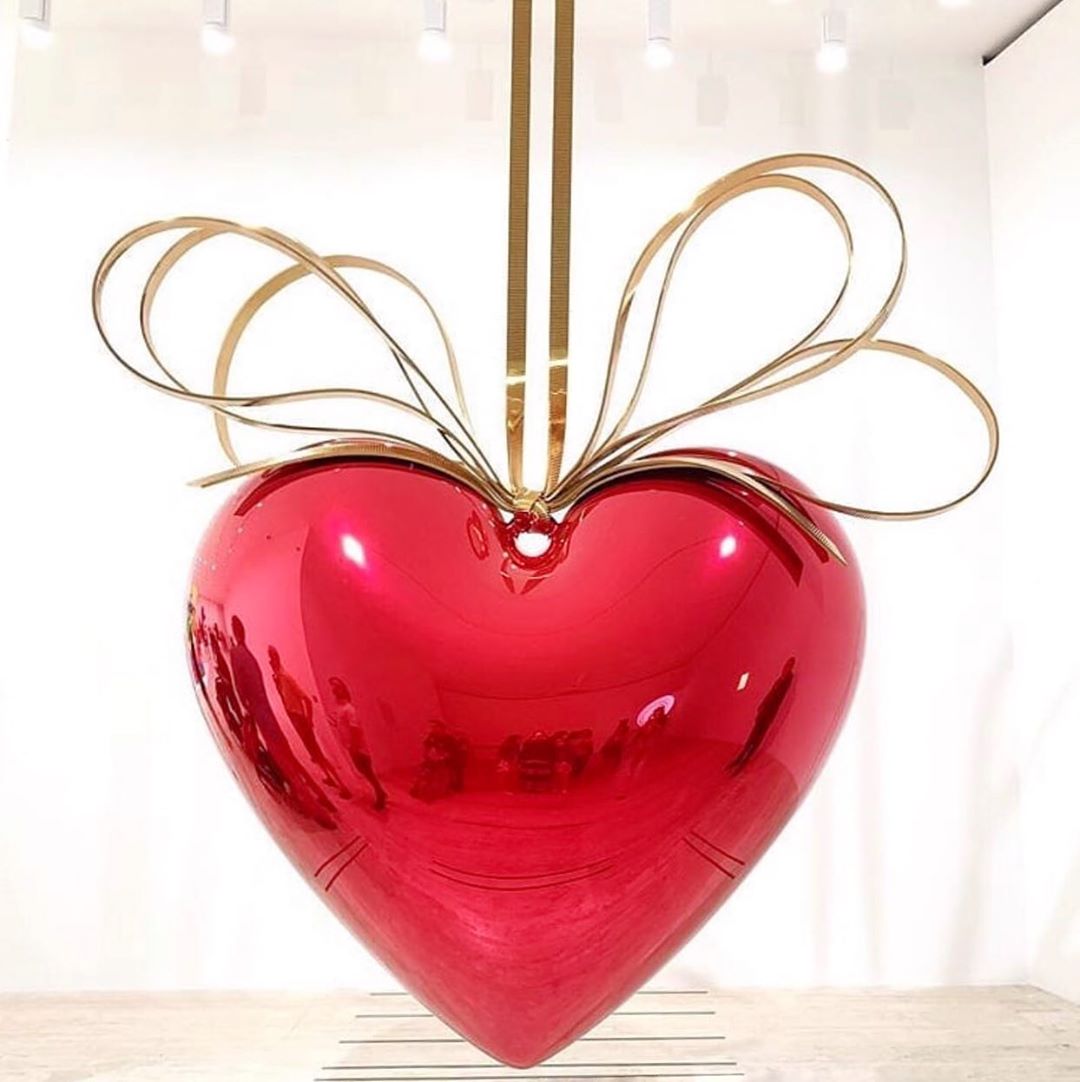 This sculpture is another record-setting by Jeff Koons. It sold in 2007 for more than $20 million, which at the time, was a record for a living artist. As you can see, Jeff has a lot of record-setting sculptures, and they all fetch high price.
16. Large Vase of Flowers 1991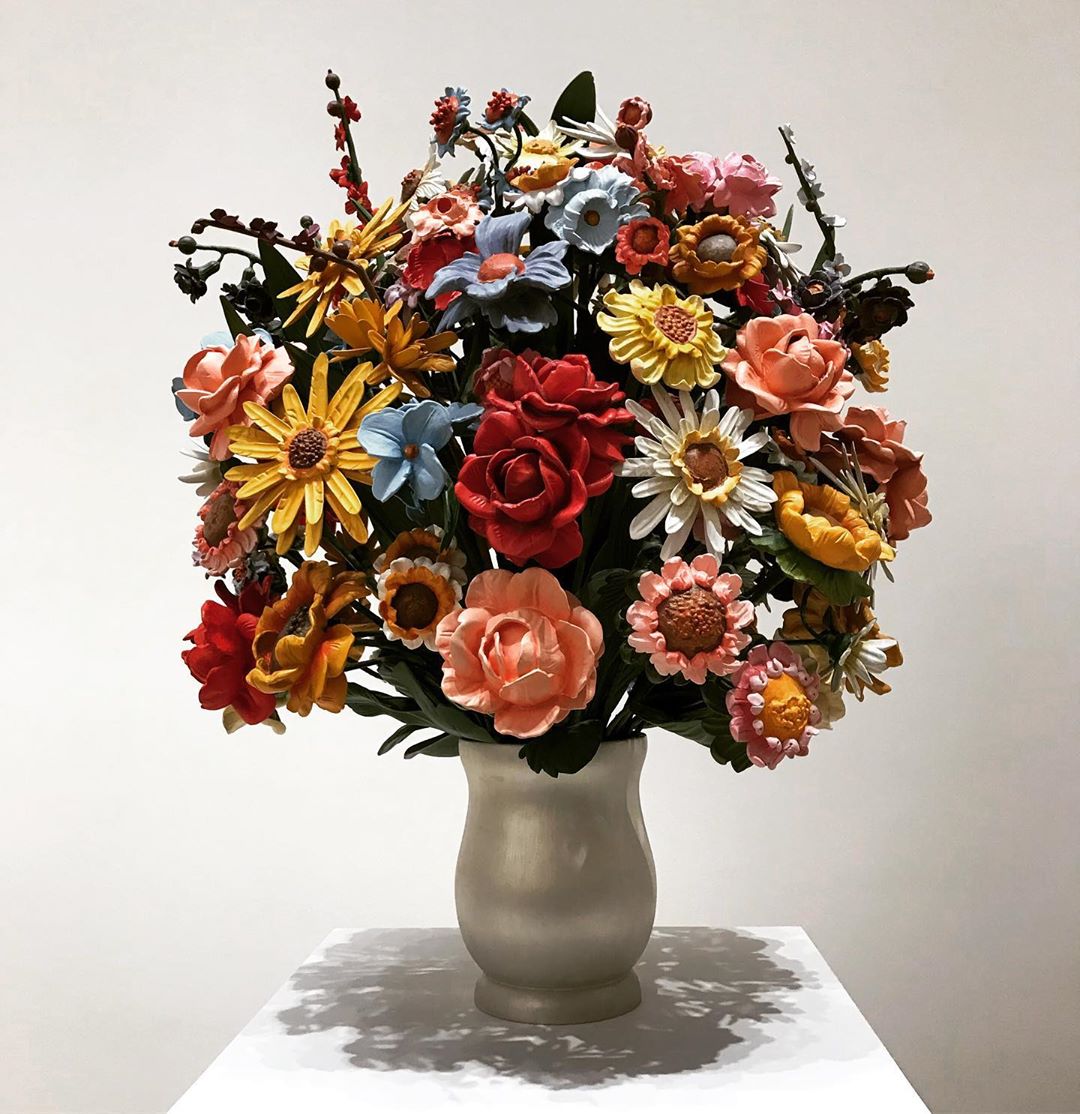 Flowers are cheerful, colorful, and just beautiful. For painters, flowers are part of the still art paintings. For sculptors, they are something similar.
17. Balloon Flower Red 1995-1999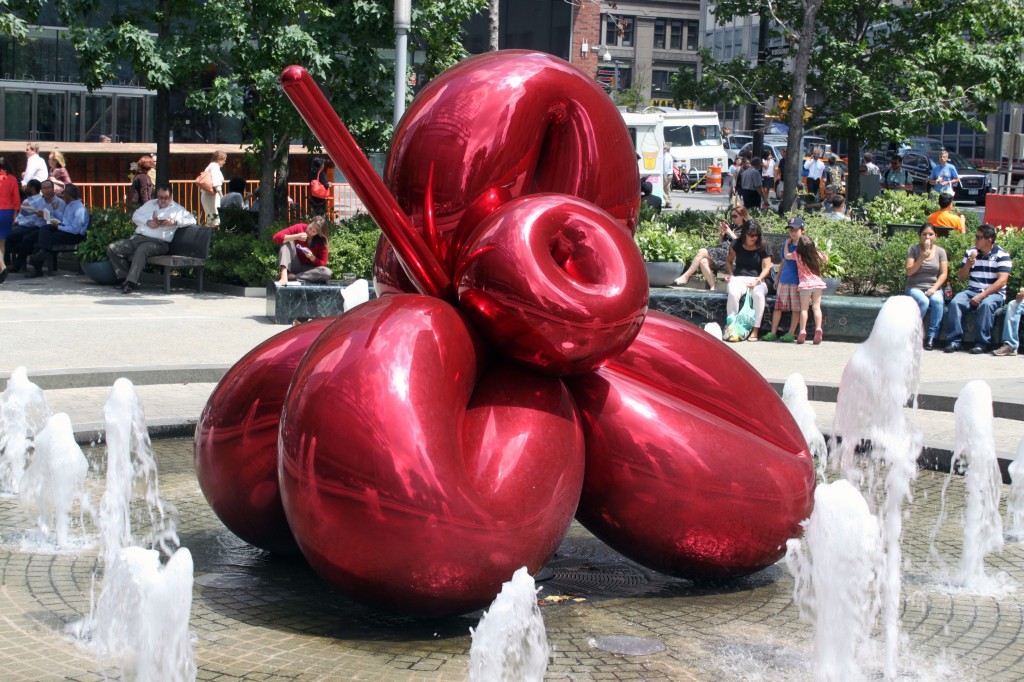 Located at the new World Trade Center, the sculpture sits in the central fountain of the large park outside the center. It consists of seven elements. There are six large blossoms, or as some say, balloon-like shapes of various sizes. And then, there is the one bar that many view it as the flower stem.
18. Lobster 2003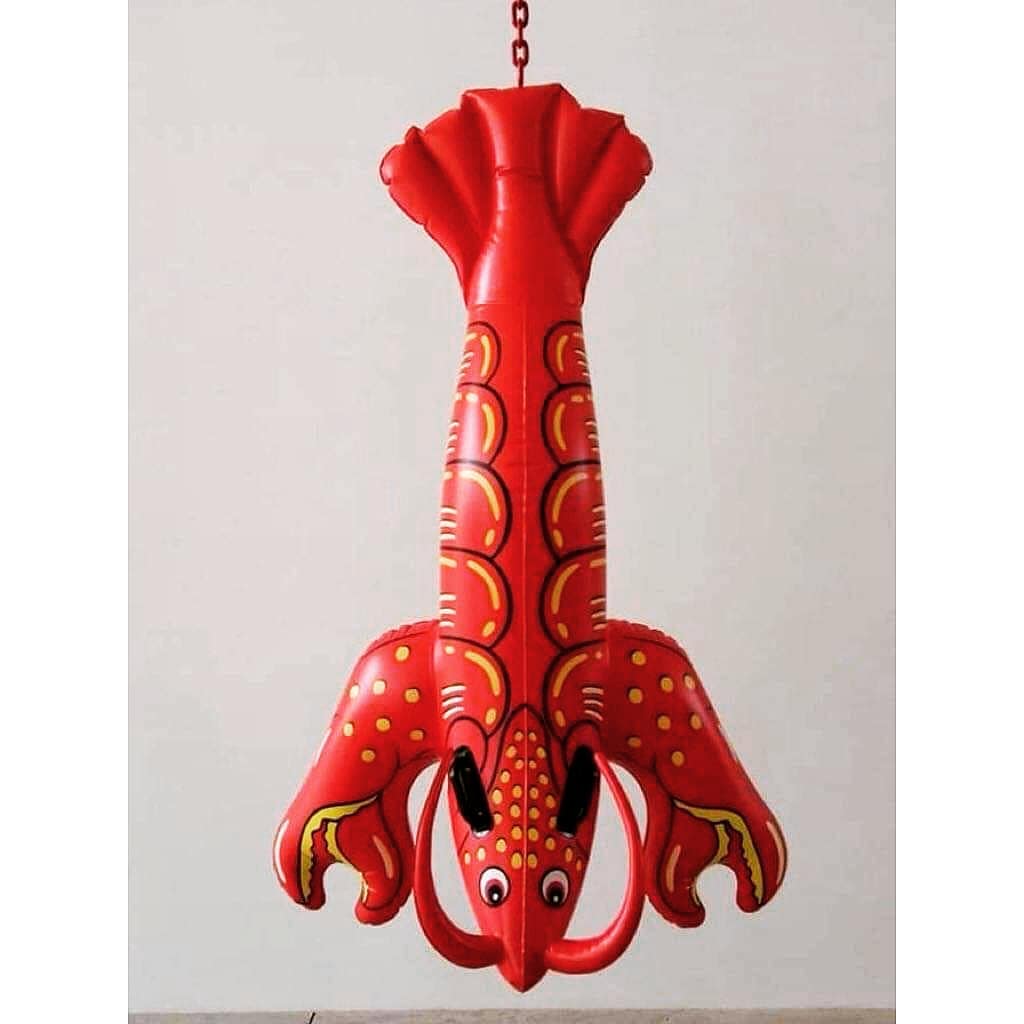 While this sculpture might look big, it is actually quite small. And it is one of the few and rare sculptures by Jeff that are small. You can even carry it in your hands, as the author is seen on one picture.
19. Inflated Seated Ballerina 2017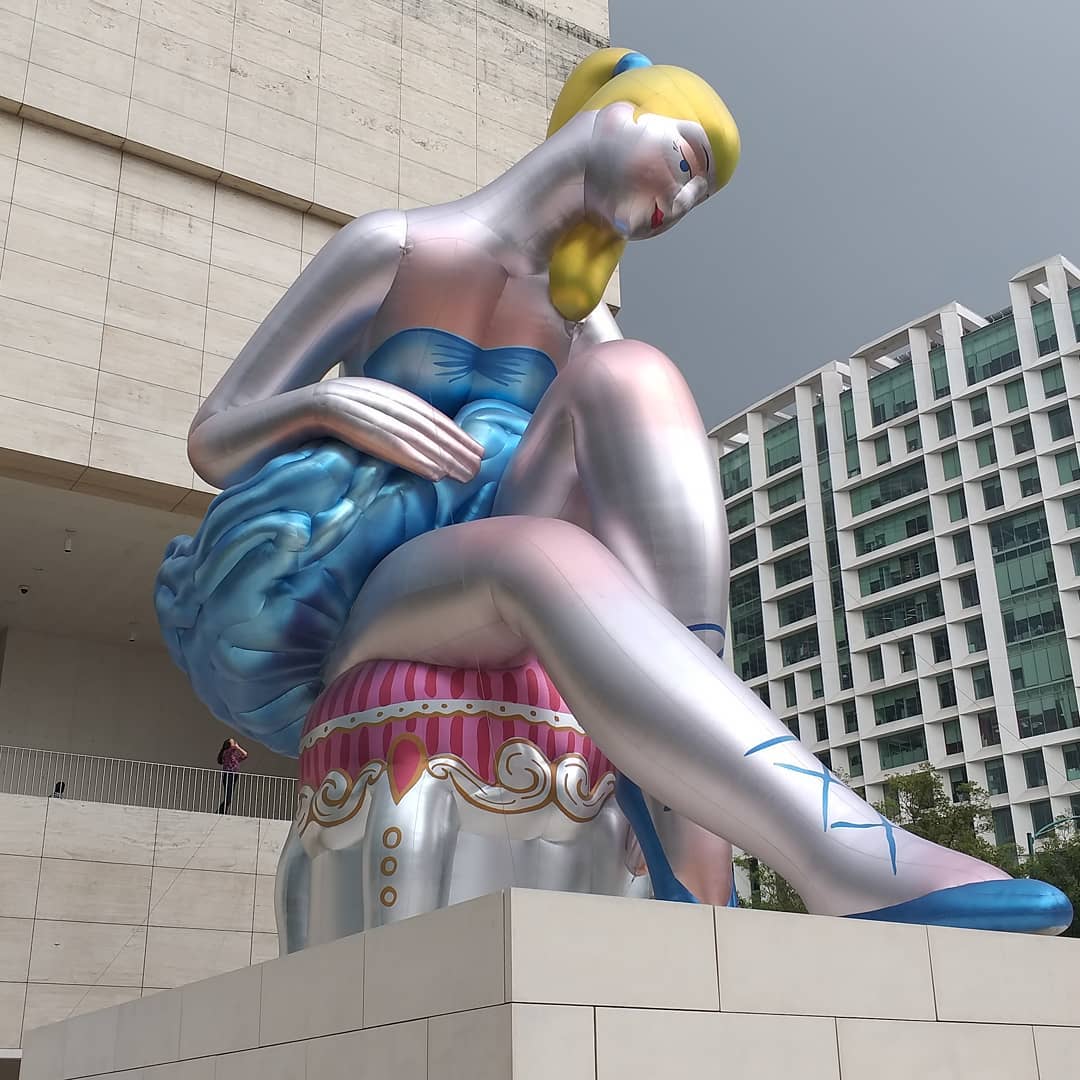 Jeff is known for his large sculptures. This is larger-than-life seated ballerina installed in the middle of the Rockefeller center. The 45-foot high inflatable nylon sculpture towers above visitors to the iconic New York City Plaza.
20. Tulips 2013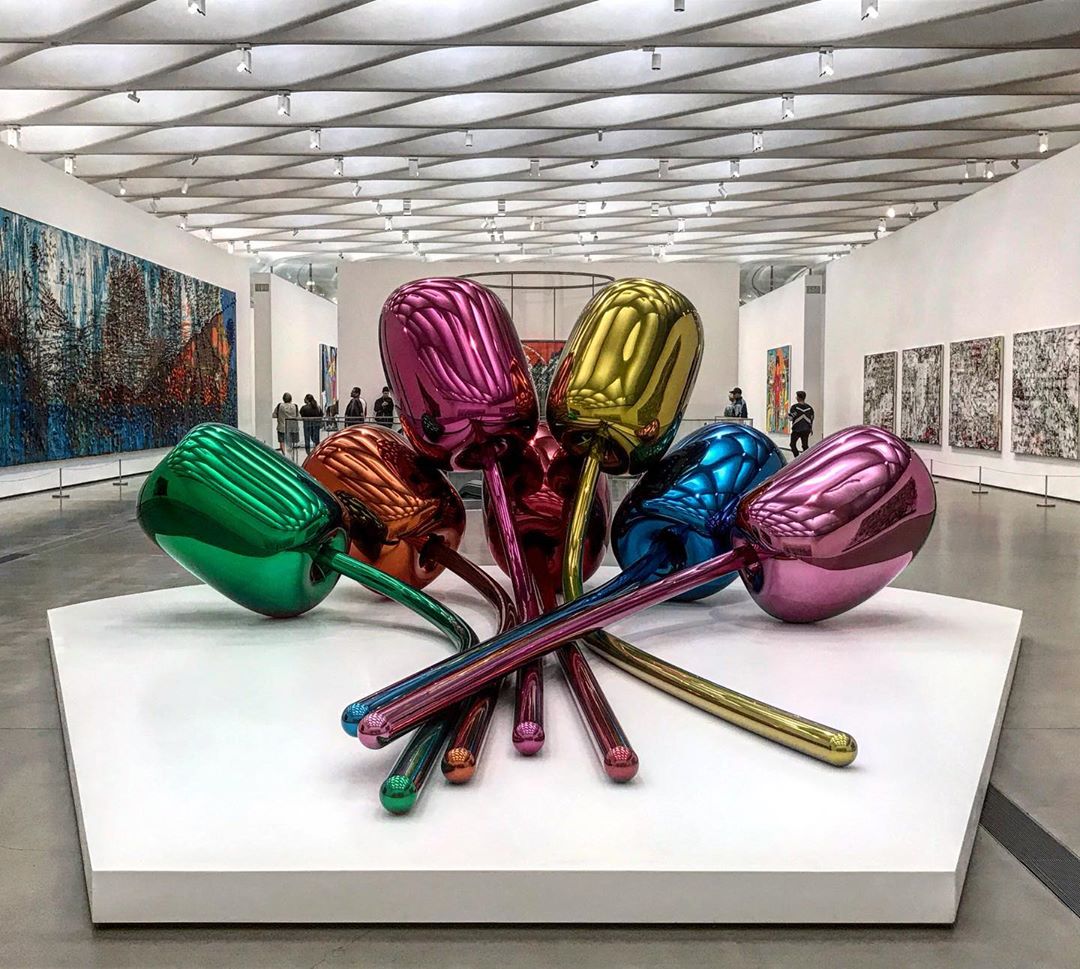 You would be surprised by the price this piece fetched. It was sold for more than $33 million. But hey, some people just love unique flowers.
21. Woman Reclining 2010-2014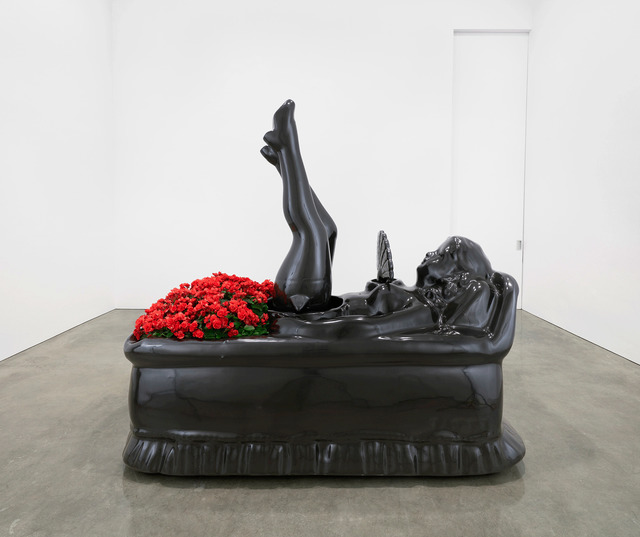 This is a unique sculpture done by Koons, in a way that it shows nudity. Jeff is not one to use nudity as an element in his sculptures. But in this case, he depicted a female nude acting out a crude sexual joke in the bathtub.
22. Hulk Friends 2004 -2013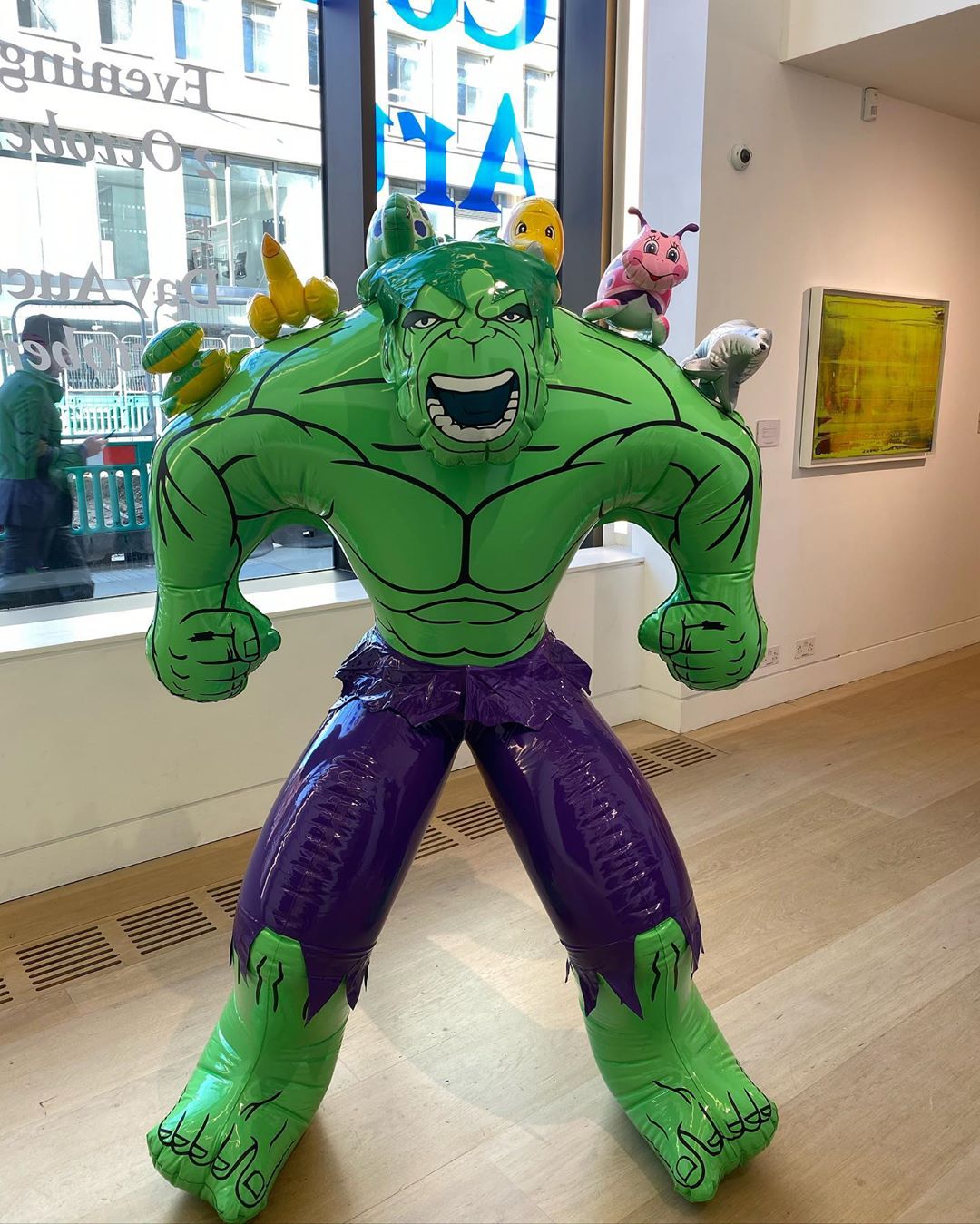 Jeff loves to play with ideas of taste, commerce, pleasure, and celebrity. And in that regards, the Hulk is definitely one of the most popular comic book characters. Koons believes in advertisement and media, and the Hulk definitely brings media attention.
23.  Bataclan Tribute Bouquet of tulips 2019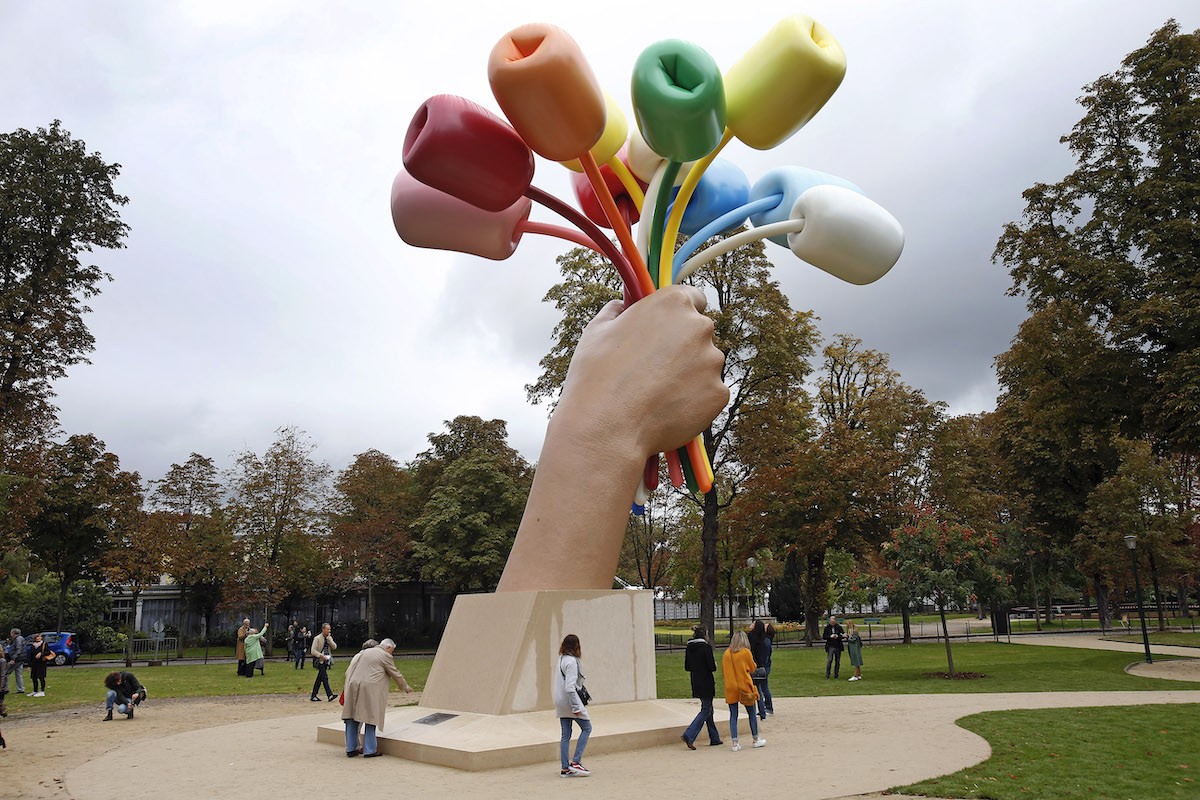 This large scale sculpture was unveiled in Paris. It shows the vitality of the human spirit. The giant sculpture was made to commemorate the victims of terror attacks happening in France in 2015 and 2016.
24. Metallic Venus 2010-2012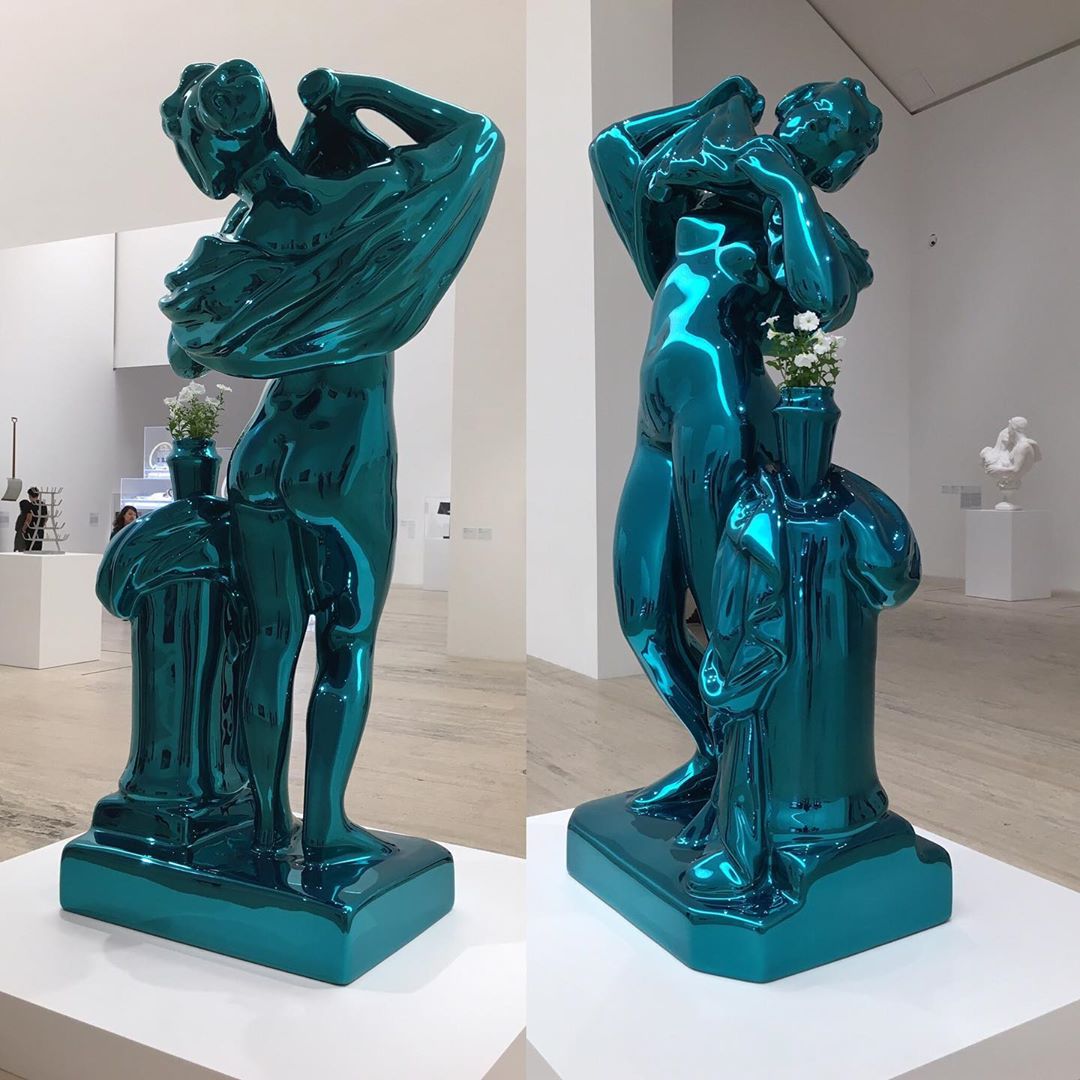 Venus, the Goddess of Love has been an inspiration for many artists over the years. Some of the most unique and priceless masterpieces feature Venus. In this case, Koons transformed the ancient statue into an unmistakably contemporary object.
25. Gazing Ball da Vinci Mona Lisa 2015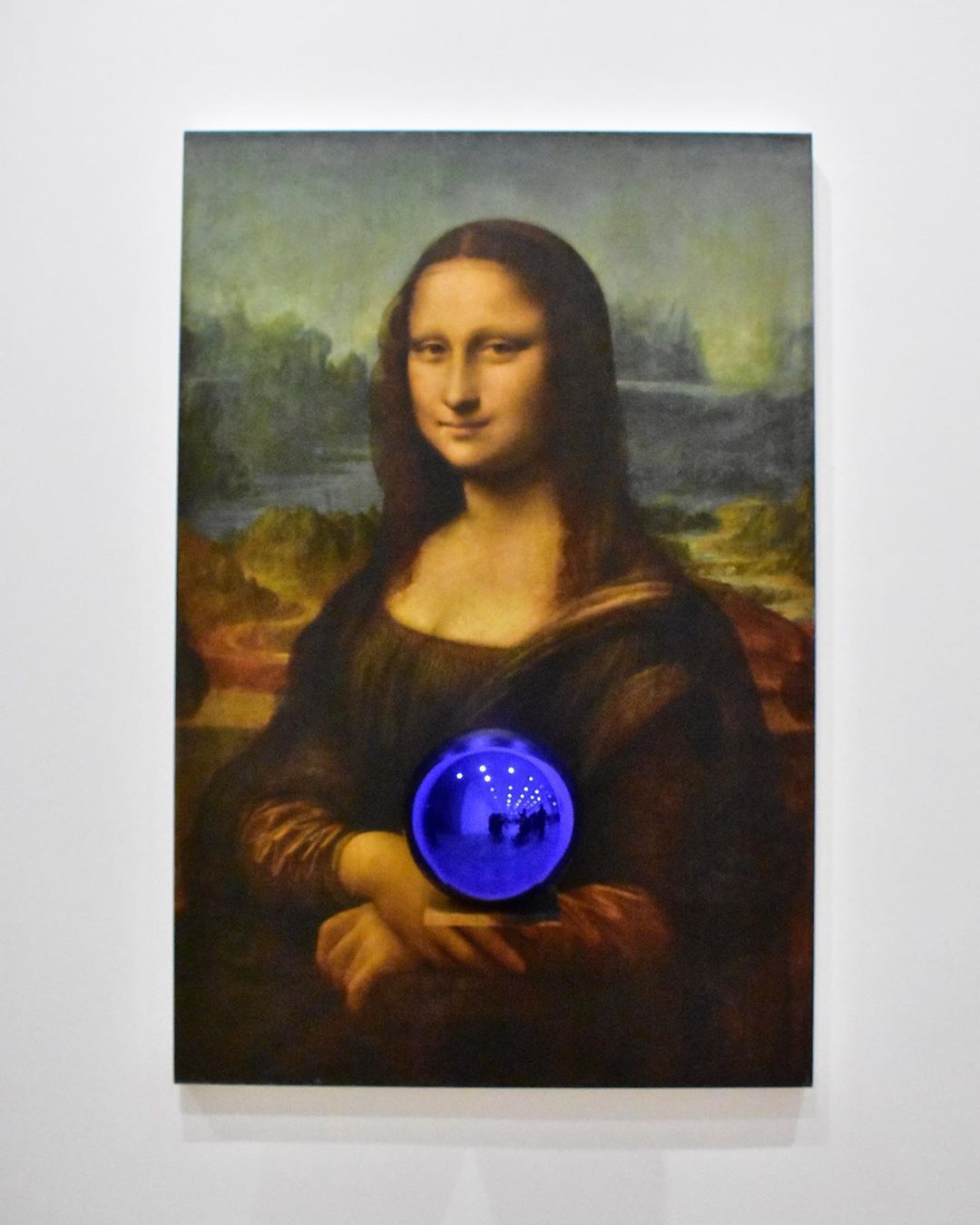 Speaking of transforming classic pieces of art, Jeff also positioned a glazing ball in front of Mona Lisa for one of his exhibitions. His explanation was that he wants to participate and be involved in the classic art.
26. Balloon Swan Rabbit And Monkey-2019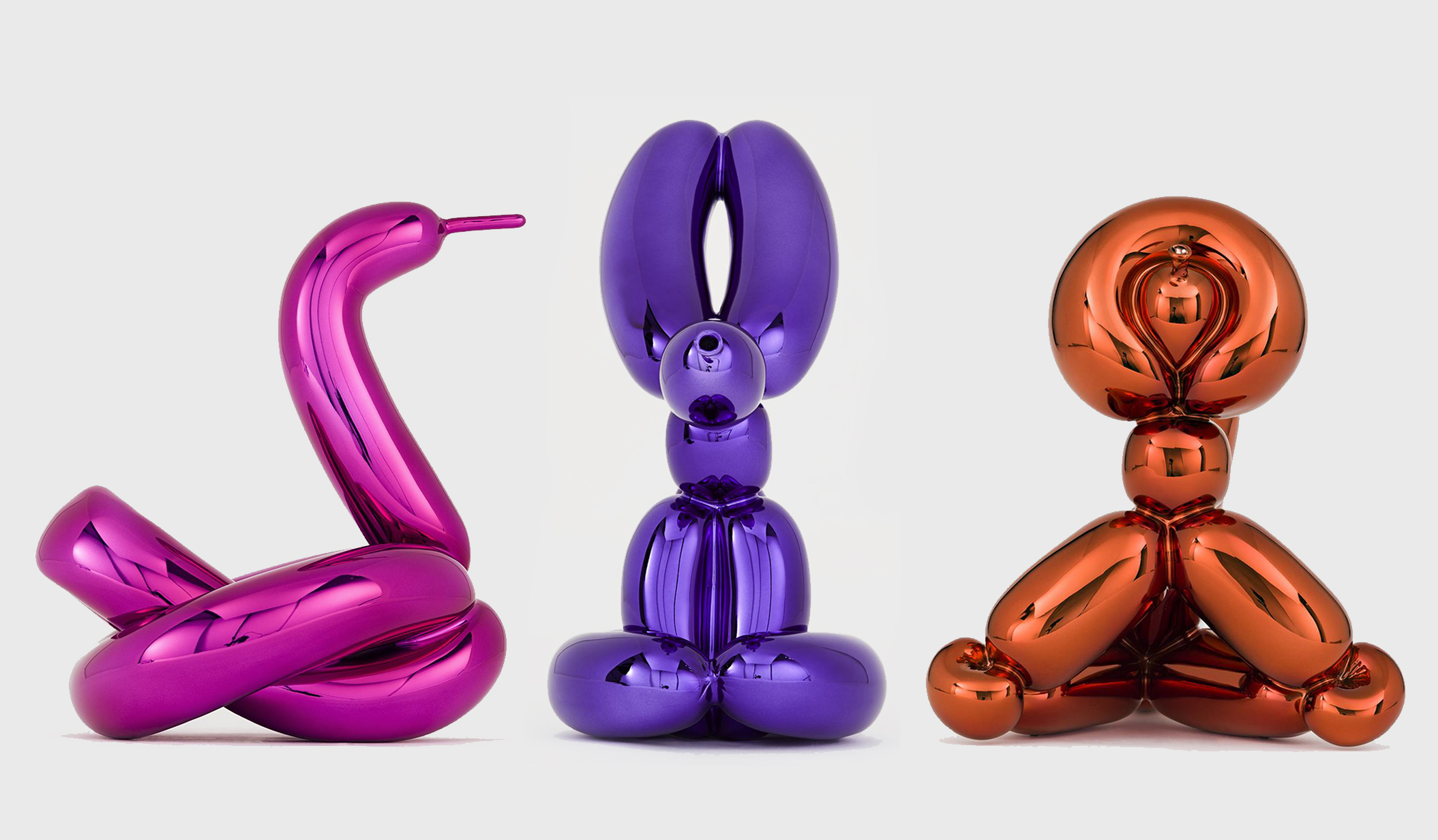 This is the latest set of Jeff Koons. The limited editions include three animals made of balloon, and then covered in mirror-reflecting material.