Damien Hirst was born in Bristol, England, on June 7, 1965. He is an artist, entrepreneur, and art collector, emerging as a leading figure during the Young British Artists movement in the late 1980s and 1990s.
He is considered to be the wealthiest living artist in the United Kingdom, with his net worth an estimated $300 million. And he made that thanks to his controversial paintings and sculptures.
His works include dead animal displays and spin-art paintings, selling for very high prices. His art often depicts image of death, but he is still one of the most commercially successful artists.
For example, his diamond skull sold for $100 million in 2007. It was a diamond-encrusted platinum skull, sold to an investment group.
1. Row 1988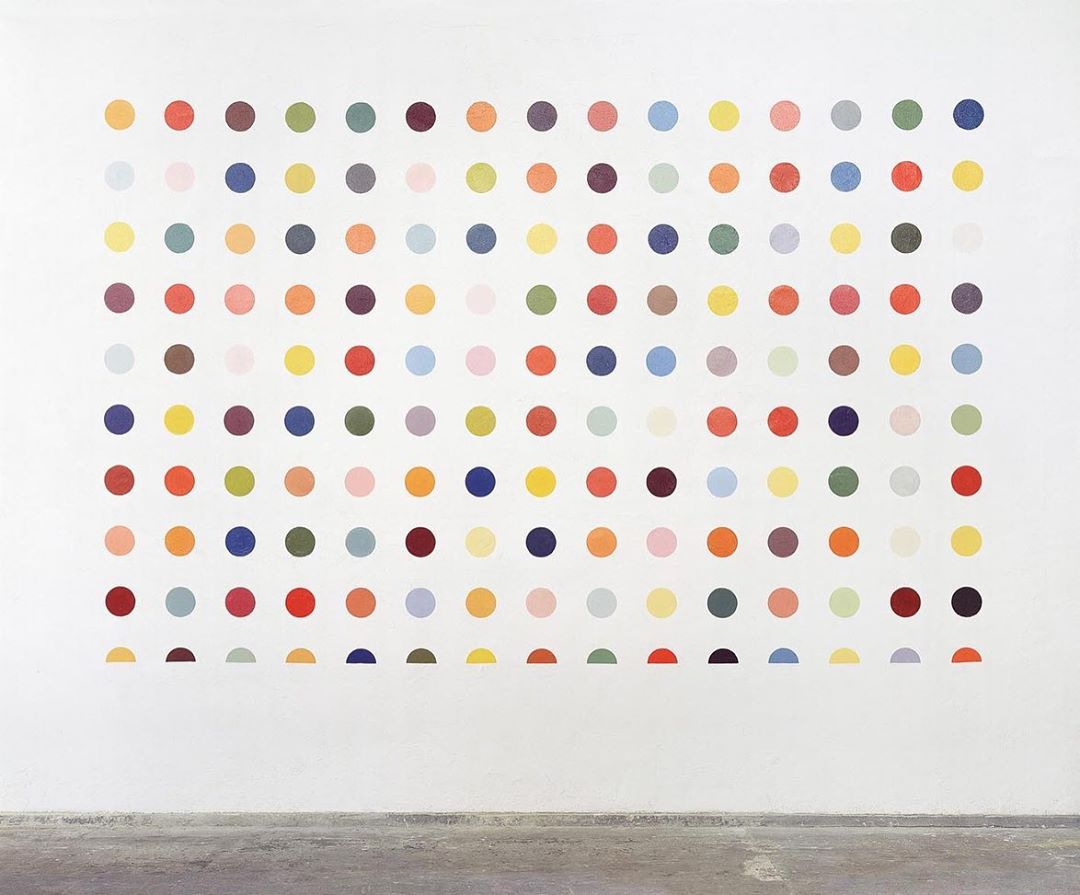 This is one of his most iconic paintings. It looks simple at first glance, but maybe that is what people look for. Hirst has managed to commercialize this painting, for example, teaming up with Ashley Olsen for a range of luxury backpacks.
2. The Physical Impossibility of Death in the Mind of Someone Living 1991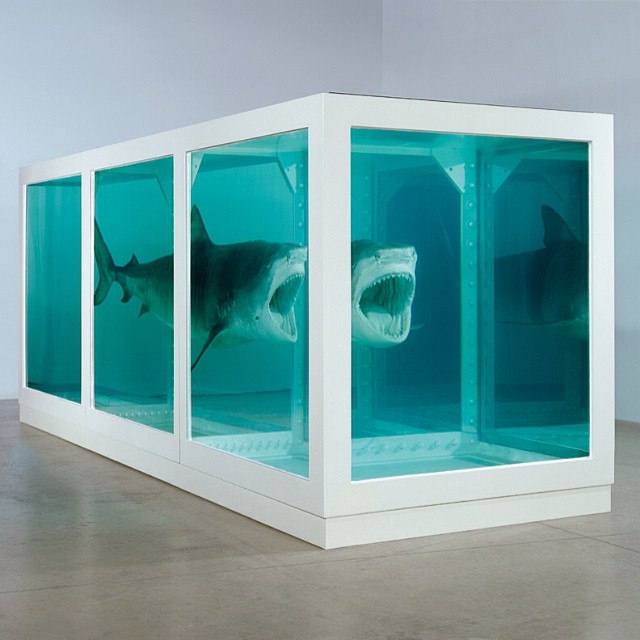 Not many artists would dare to use a shark at the Met in New York. But Damien Hirst did that in 1991, by putting a tiger shark preserved in formaldehyde in a vitrine. Probably this is how Damien imagines death.
3. Super Happy Happy Dabby', 1993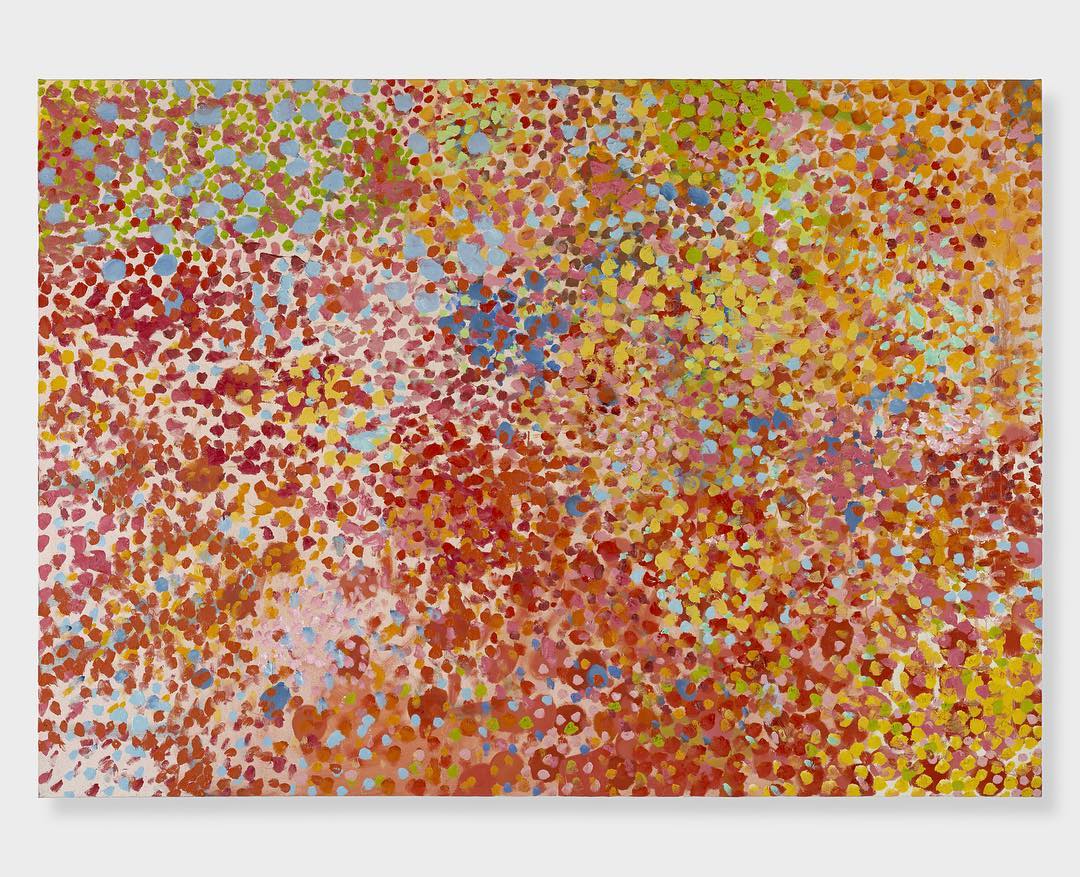 When looking at Hirst art, you can notice two distinct concepts and ideas. One is death, and the other is the joyful coloring of life. This falls into the latter group.
4. This Little Piggy Went to Market, This Little Piggy Stayed at Home 1996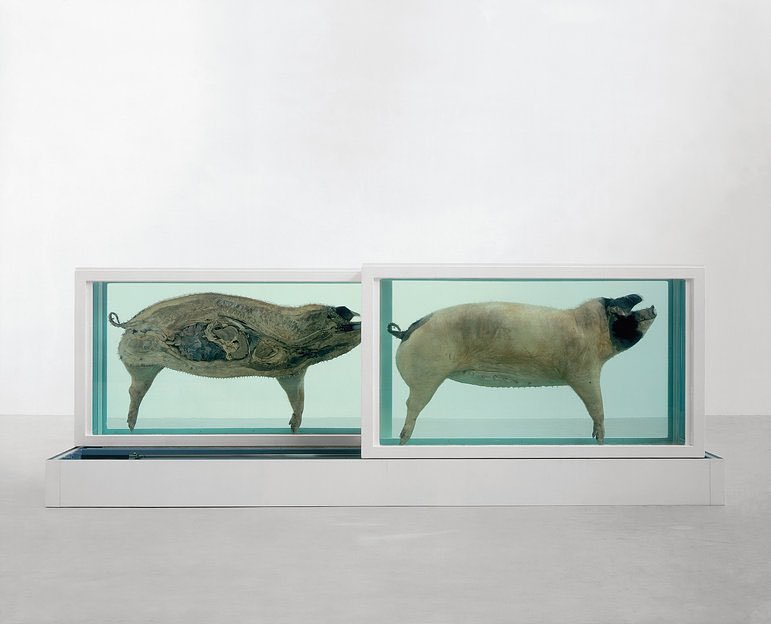 Like in many of his other works, Damien uses formal elements to highlight the main subject matter. In this case, that is the pig, but it enhances the shock value. You can say he wants to play with public controversy and always expects some form of social commentary on his work.
5. Beautiful, kiss my fucking ass painting 1996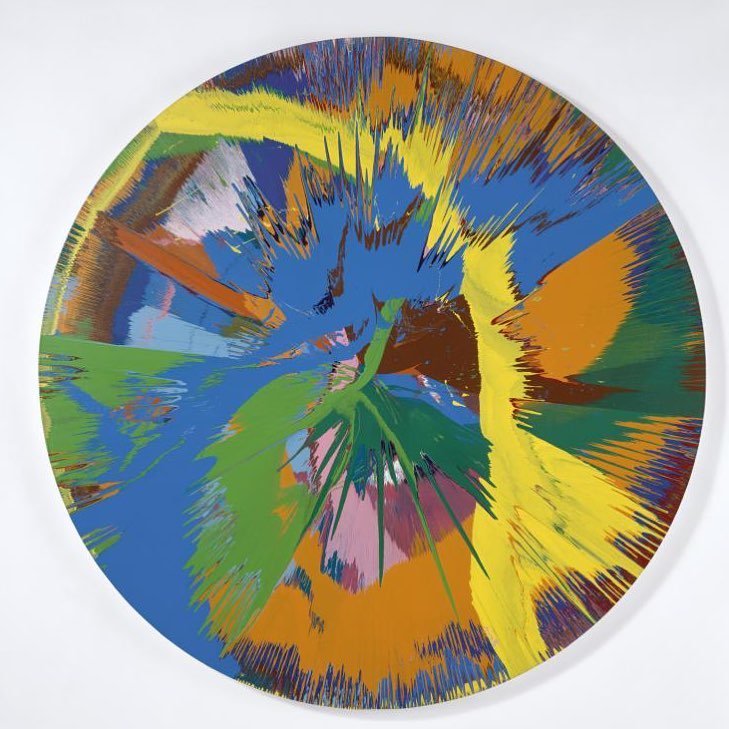 When one is as confident in his work as Damien is, he can easily tell the world to go "fuck themselves". Hirst is often praised for expressing his opinion on the matter, and not giving a rats ass what anyone thinks of it.
6. Charity 2002-2003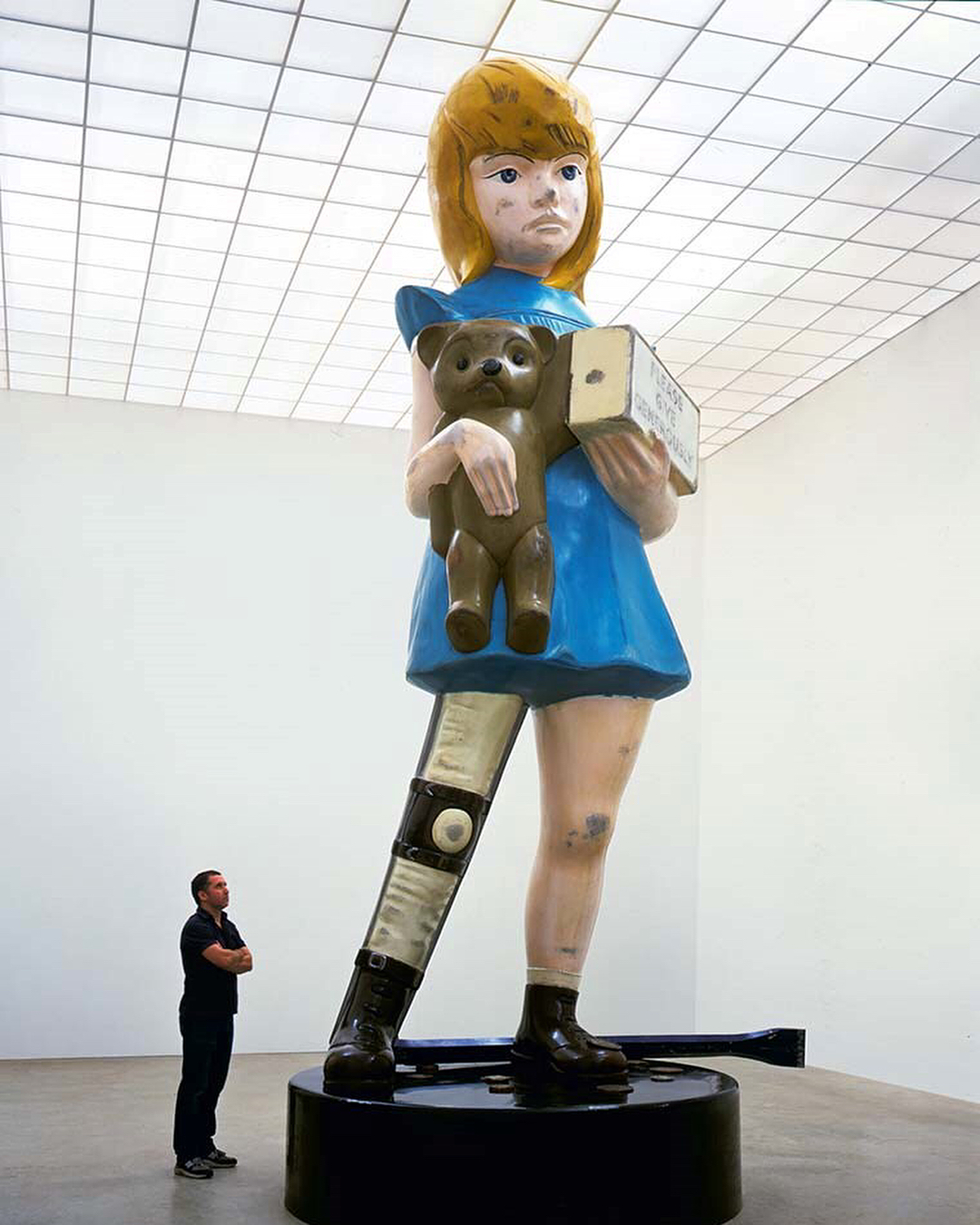 Charity, as a concept, has often been depicted as a single female figure. Hirst continues that tradition with a monumental sculpture. He made this one as a tribute to Scope, a charity that helps and improves the lives of disabled people in the UK.
7. Virgin Mother 2005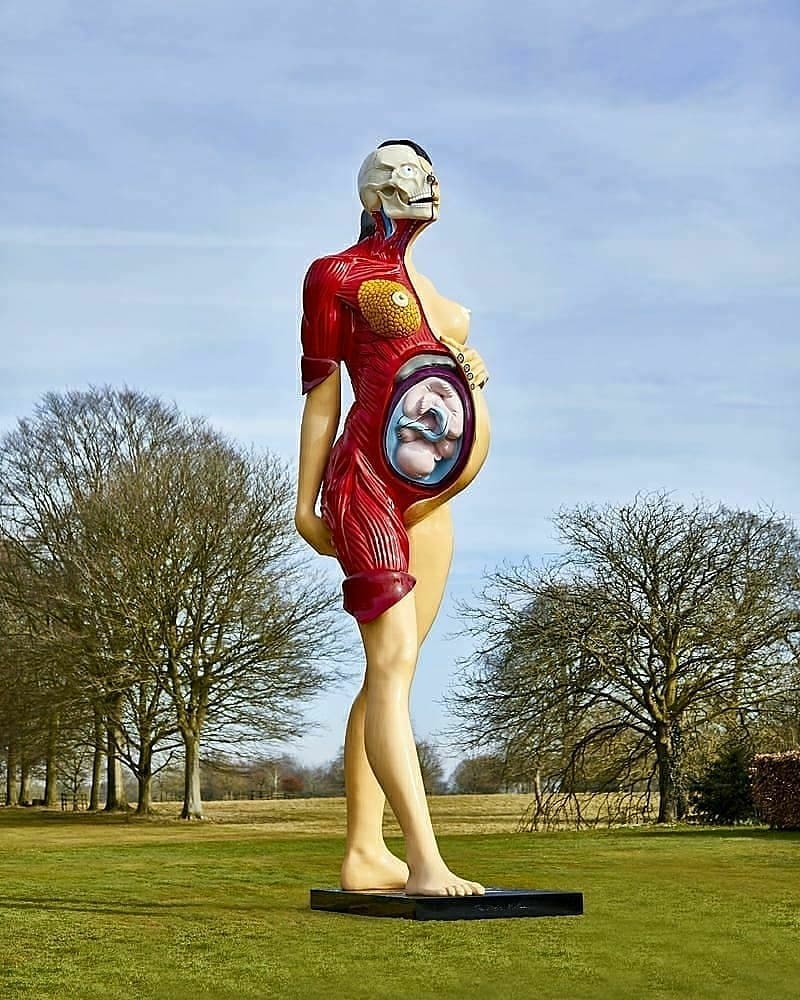 Hirst has shown interest in maternity and the human body several times in his sculptures. This is one of his later works. The outdoor sculpture was installed in the courtyard of Level House, New York. In this sculpture, he presented a 35 foot tall pregnant woman in cast and painted bronze.
8. I Am Become Death, Shatterer of Worlds 2006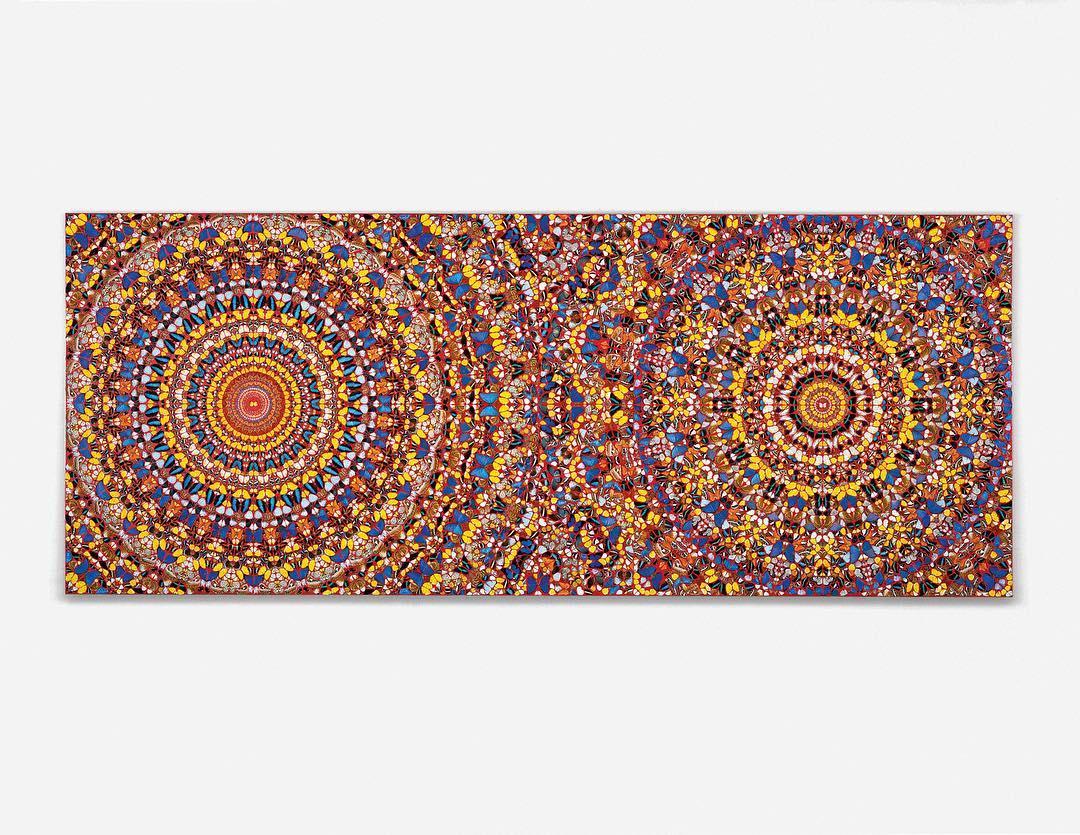 We mentioned that Damien plays with the concept of death a lot in his work. This is how he imagines when death comes for all of us.
9. For the Love of God 2007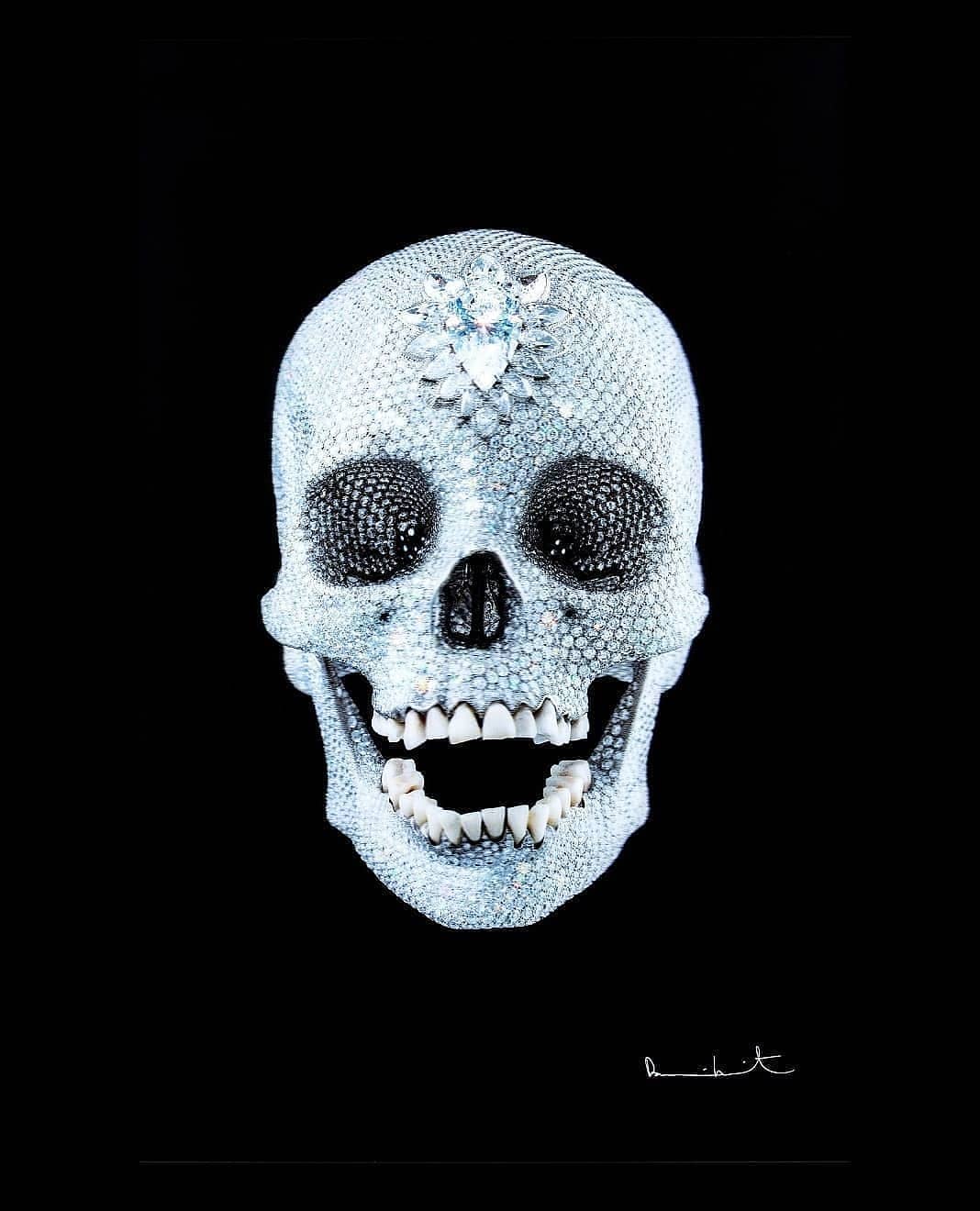 You rarely see someone depict God as a skull. But that is what Hirst did. This is his most expensive work, which we said sold for $100 million. It consists of a platinum cast of an 18th-century human skull, encrusted with 8,601 diamonds. And that last one is the pear-shaped pink diamond you see in the forehead. That diamond is known as the Skull Star Diamond.
10. St Anthony 2008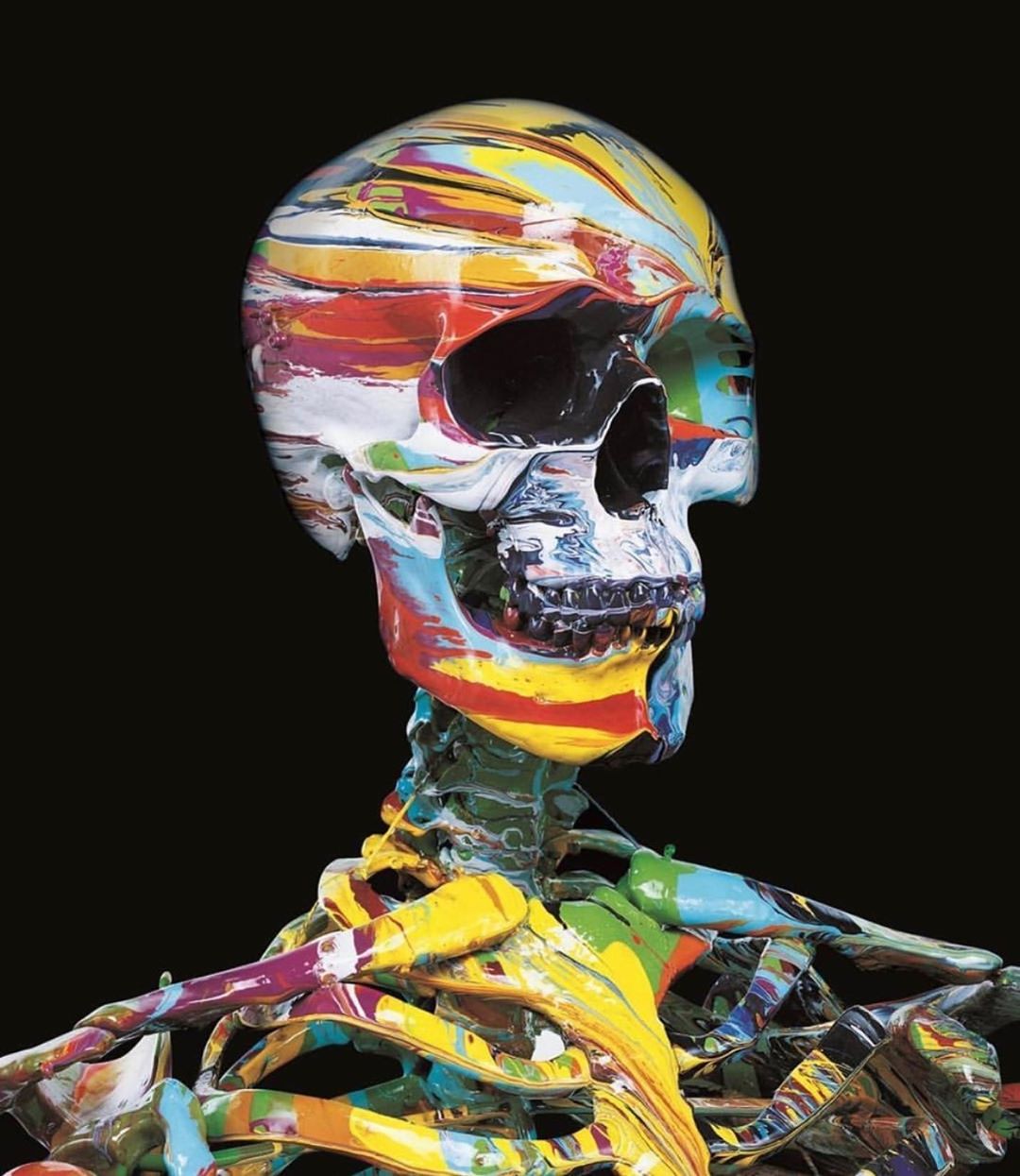 This is why many people consider Damien to be a controversial artist. He mixed religion with death and skulls, naming some of his work by priests and religious people.
11. Rescuer – Victim 2008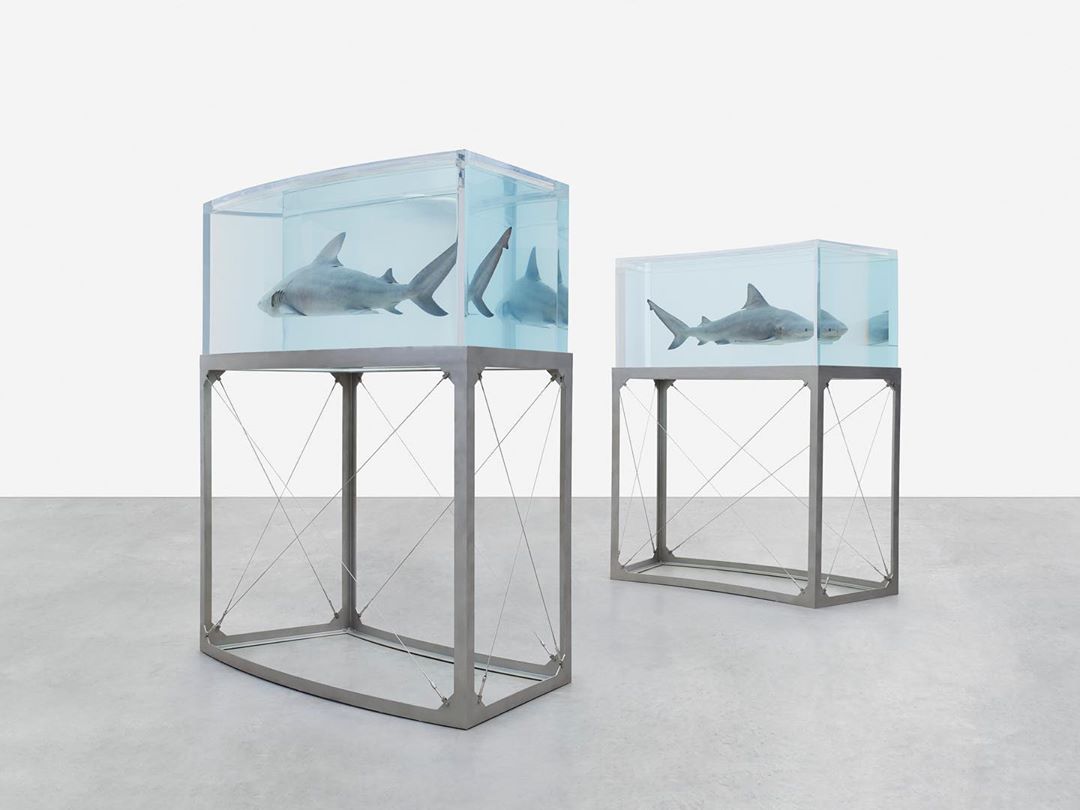 You saw the installation before with just one shark. This is another with two sharks, and Damien also had an installation with three sharks, with the one missing here being the Prosecutor.
12. Togetherness 2008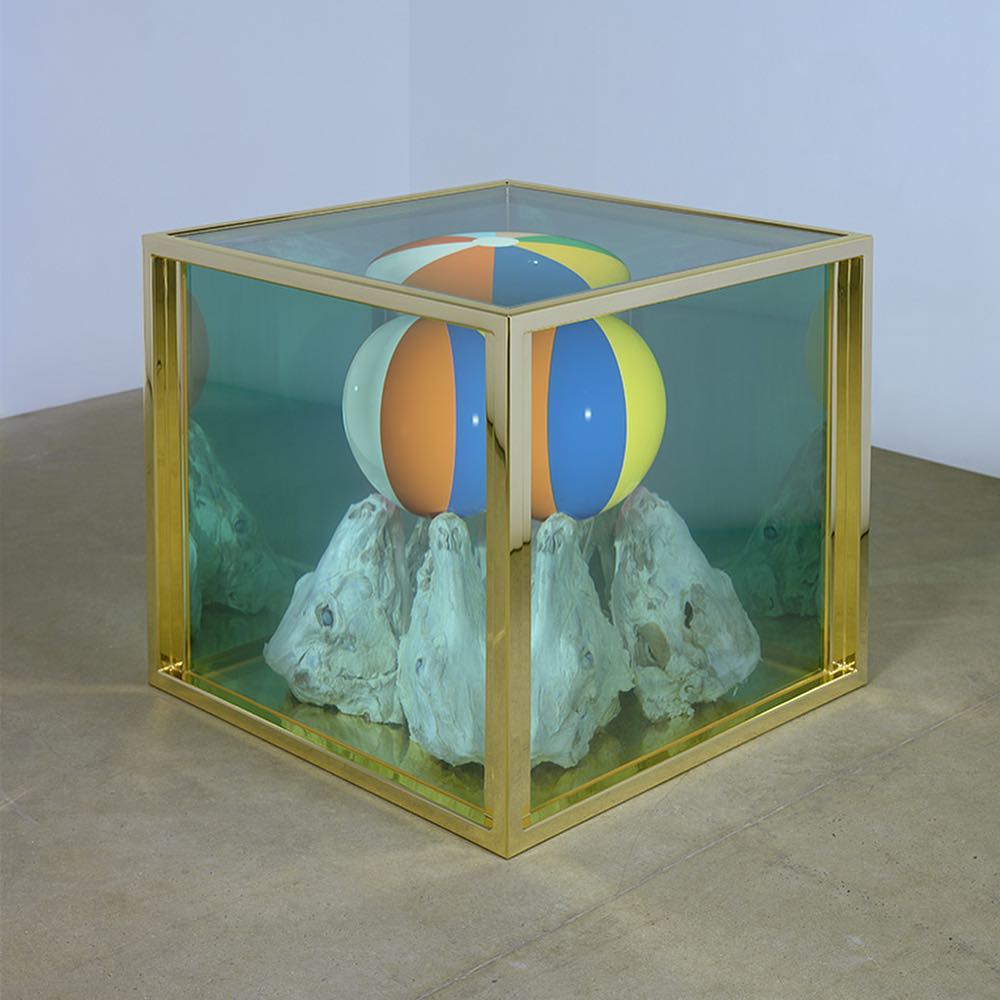 At first glance, this is just a combination of two seemingly not connected objects. But that is where his genius comes into play. He consolidated the core themes of his installation into a single object.
13.  Green Half Skull 2009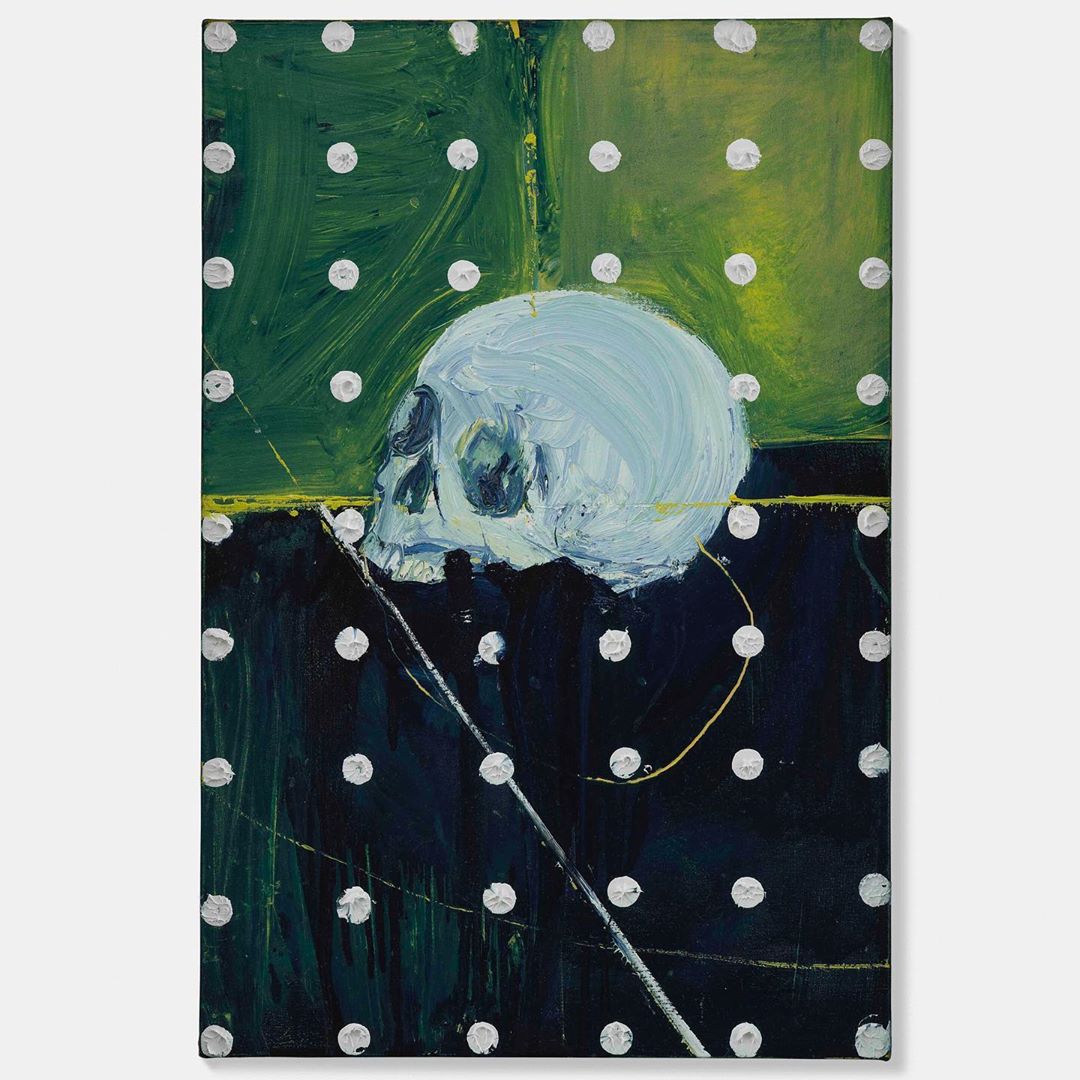 Continuing on his skull obsession, he also made a green one. There are just too many skull paintings and installations by Damien to count.
14. The Dream 2008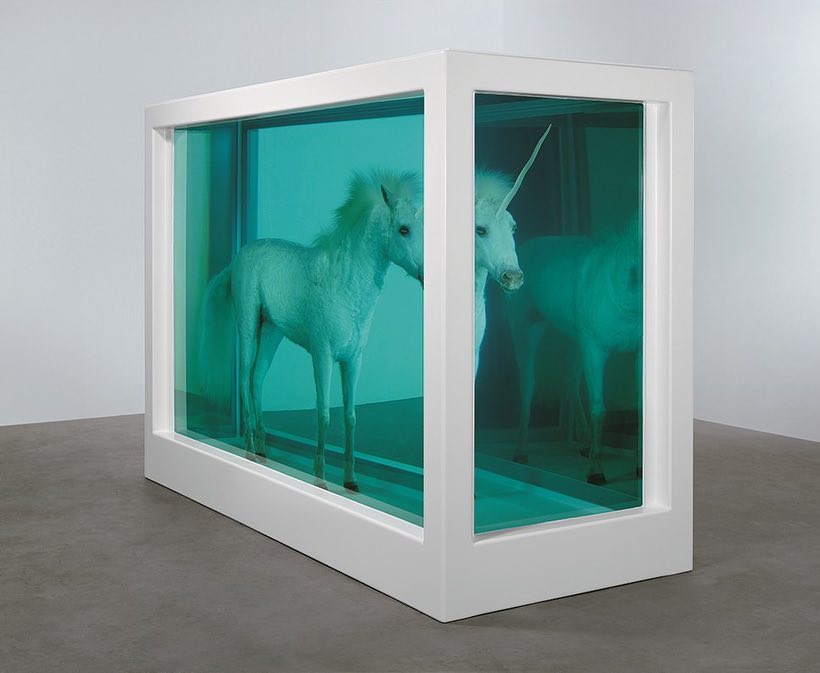 A lot of people think of unicorns when they think of some beautiful and magical world. We are dreaming. And Damien captured that dream and put it in a formaldehyde vitrine to show it to us.
15.  Suffering 2008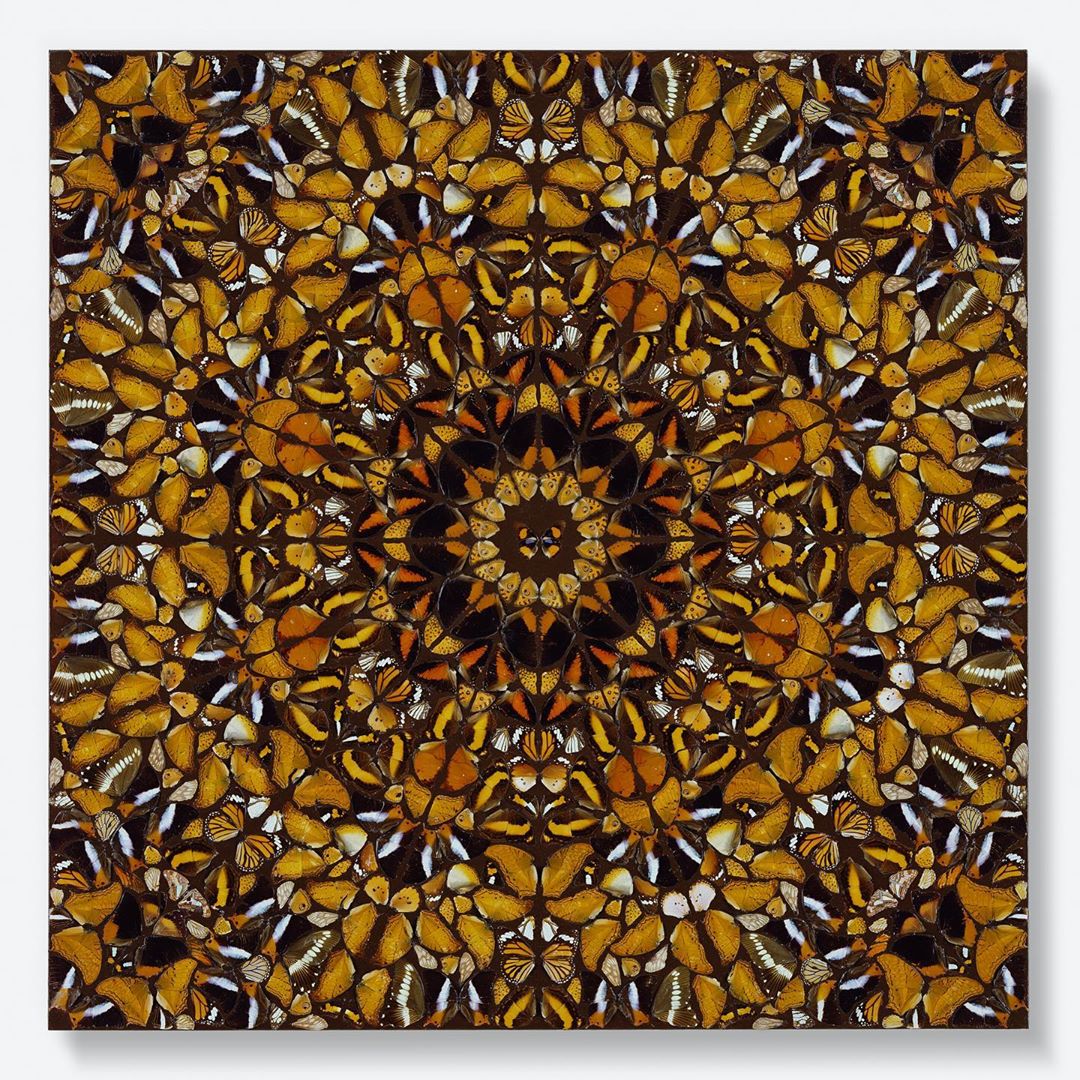 One thing you can say for Damien, he would have been a great psy trance decorator. Many of his paintings look quite psychedelic. This is probably how he imagines suffering.
16. Papilio Ulysses 2008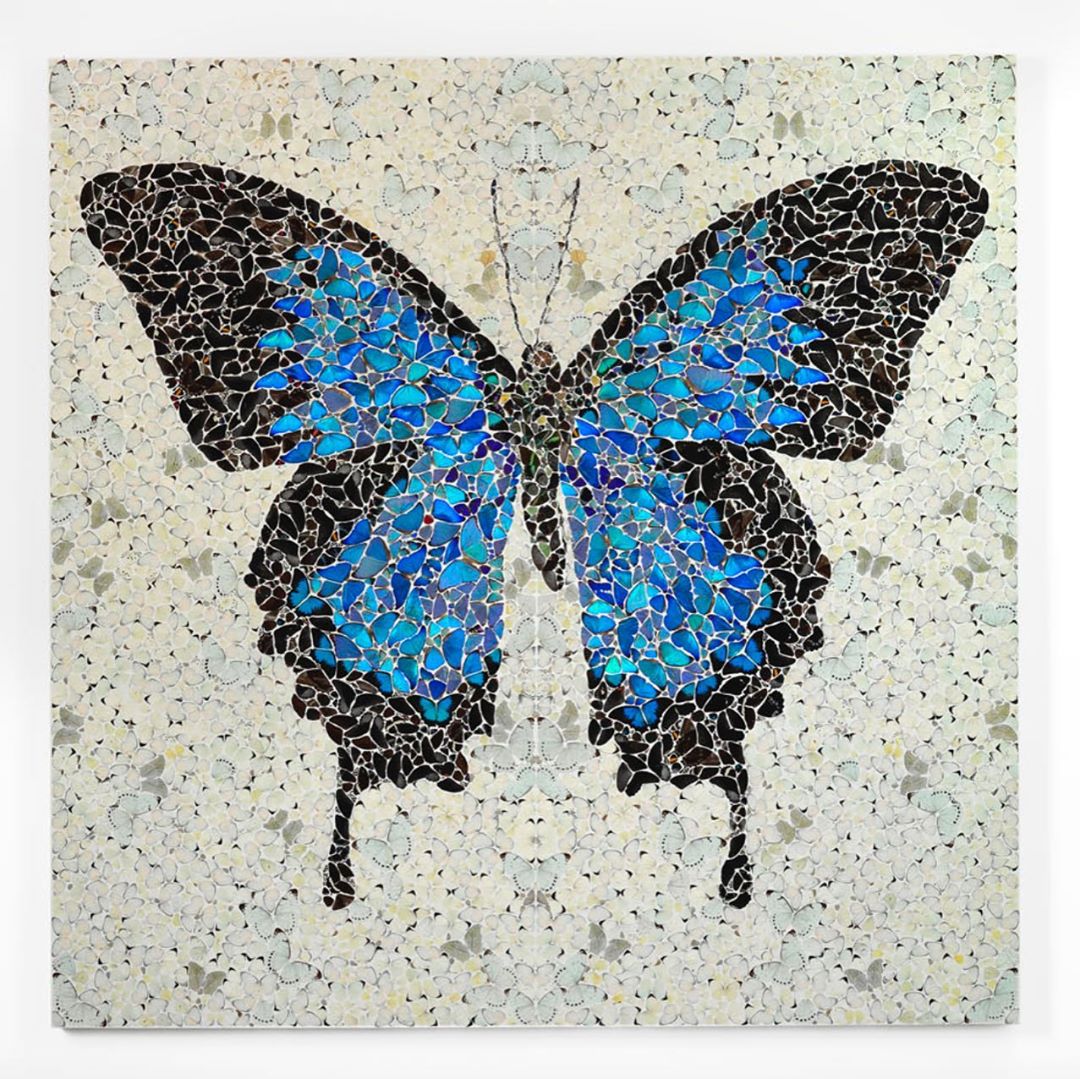 The remarkable aspect of this installation is how he pieced all of those little things together. He is also a great at making mosaics.
17. Mickey Mouse 2012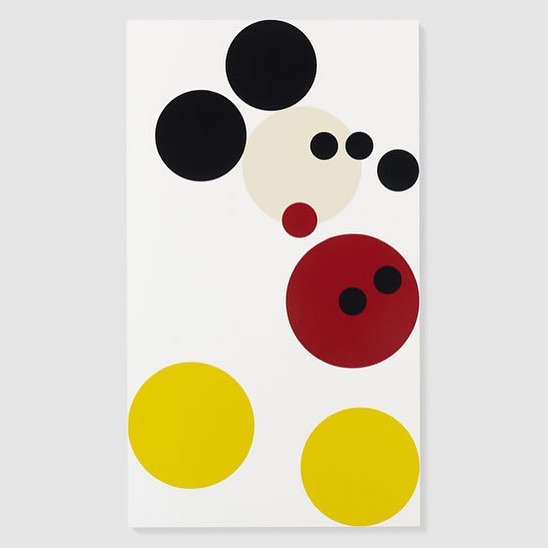 Hirst was actually invited by Disney to create his own version inspired by Mickey Mouse. This is the result of that. It is probably the most unique and unconventional Mickey's drawing you have seen.
18. London 2014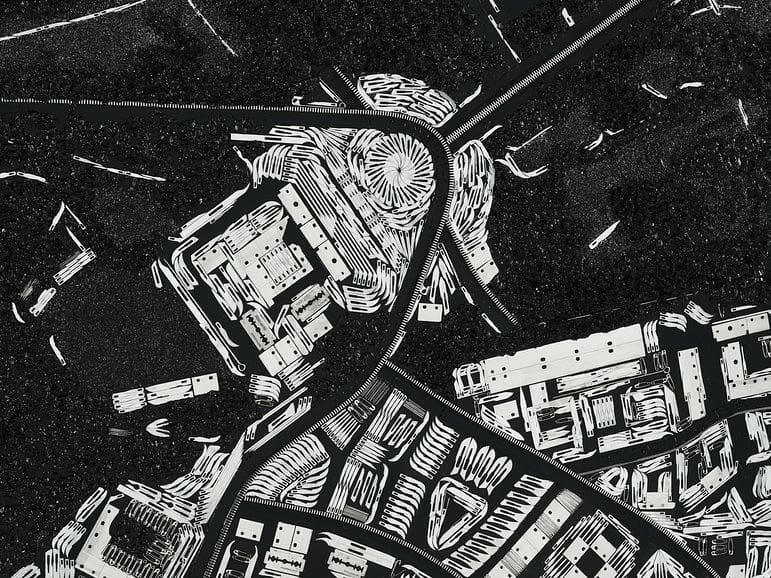 This painting is part of his 2014 series, called Black Scalpel Cityscapes. He described the collection as portraits of living cities. They are made of vast numbers of surgical instruments combining to create a bird's eye view of the urban area.
19. Vatican Rome 2014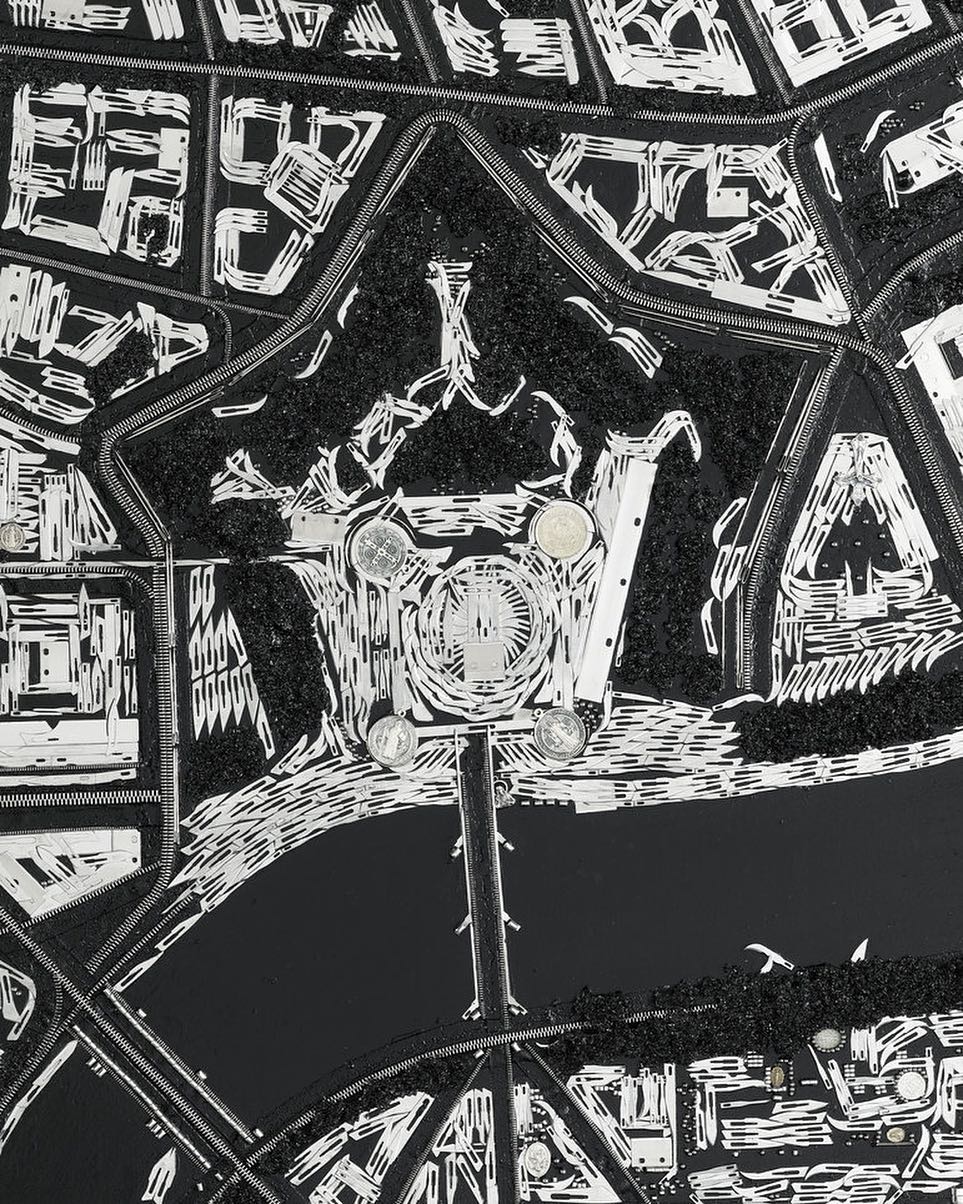 Rome and Vatican hold a special place in Hirst work. As we said before, he often wanted to mix religion with death. In this case, he made sure Rome and Vatican were part of his Black Scalpel Cityscape collection.
20. Black Scalpel Cityscape 2014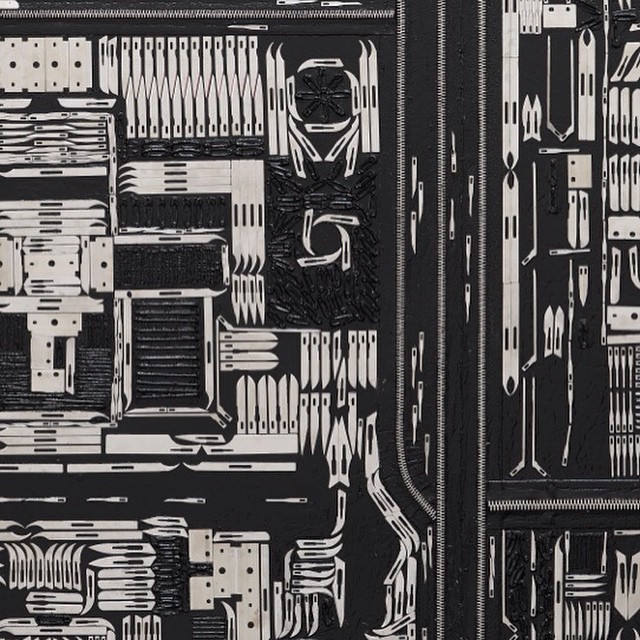 One of the main selling points of this collection is that Hirst wanted to investigate the sometimes-disquieting reality of modern life. And that is surveillance and globalization. Of course, the virtual nature of conflict as well.
21. Eternal Sleep 2015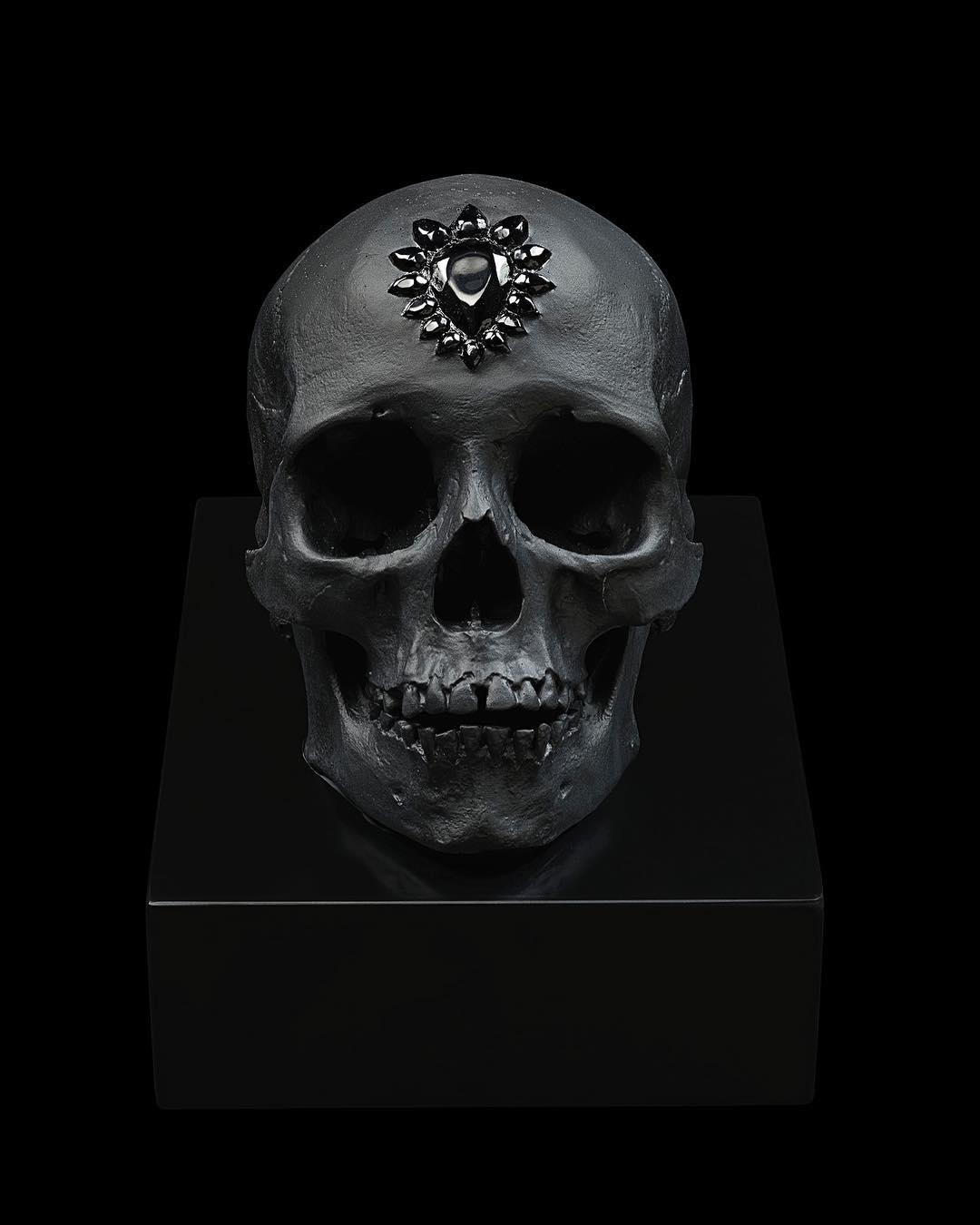 In the Eternal Collection, Hirst wanted to present a series of motifs that you can say are the cycle of life. Everything must come to an end, even life. Eternal Sleep depicts a human skull, showing the end of the cycle of life.
22. Hope In Heaven 2015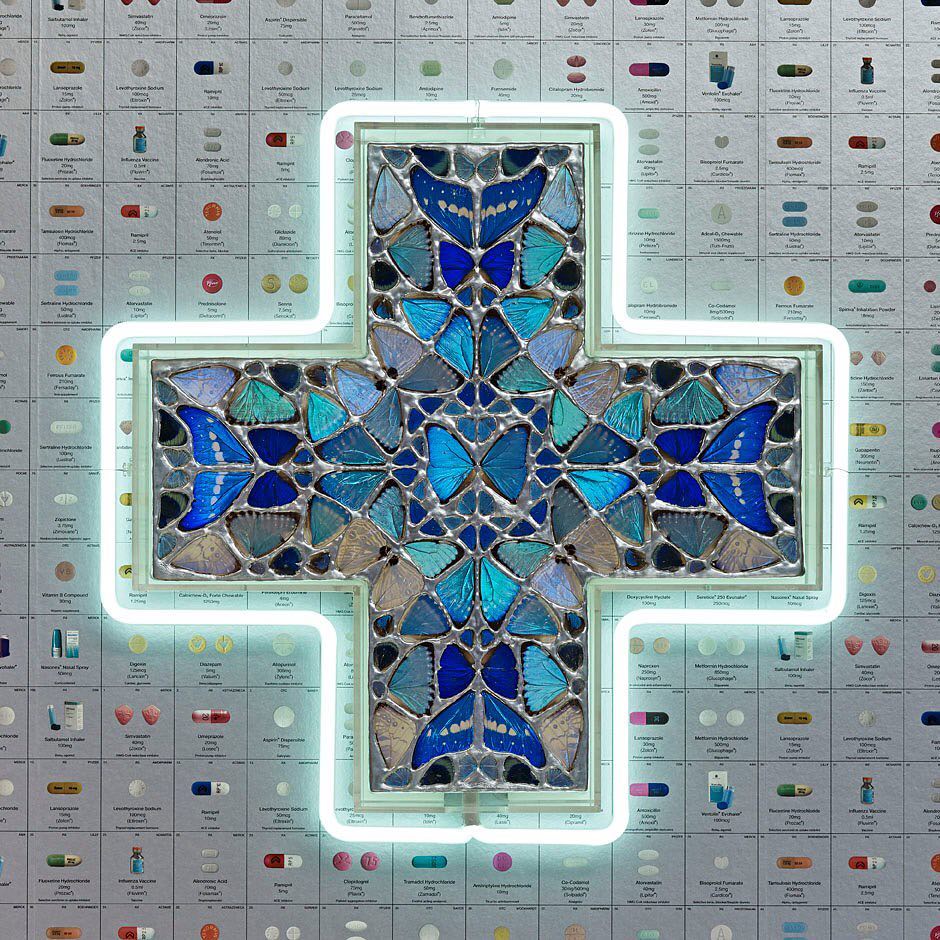 There is just so much symbolism in this piece of art. The Christianity cross, over a list of many drugs and pills that the pharmaceutical industry is selling us. People do not know what to believe anymore, in God or in medicine. Be your own judge.
23. Veil Of Love Everlasting 2015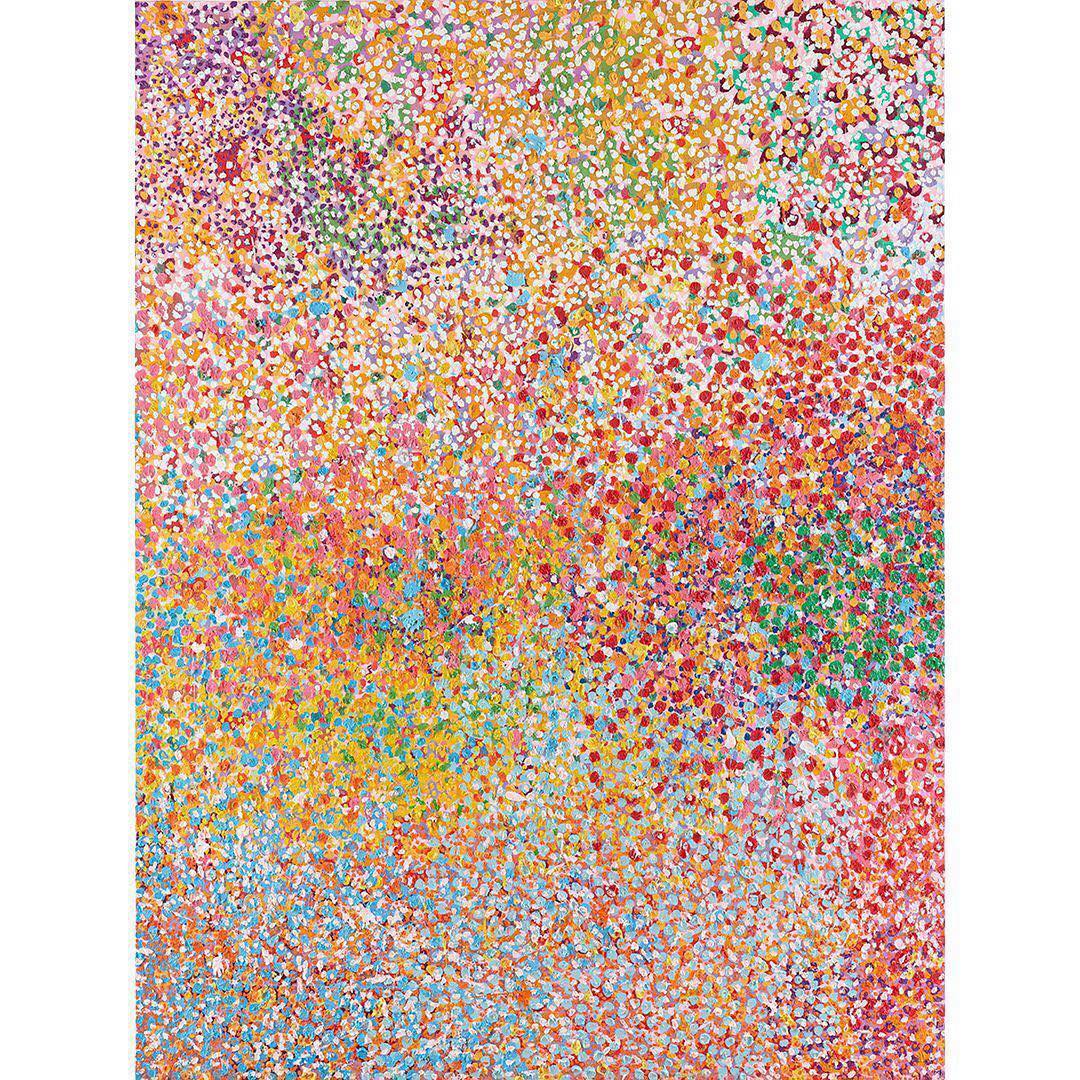 It is a rarity to see a positive and colorful painting by Damien. Appreciate those. Some say that this work is a lot similar to paintings done by female artists in recent years. But that doesn't matter.
24. Ashley 2016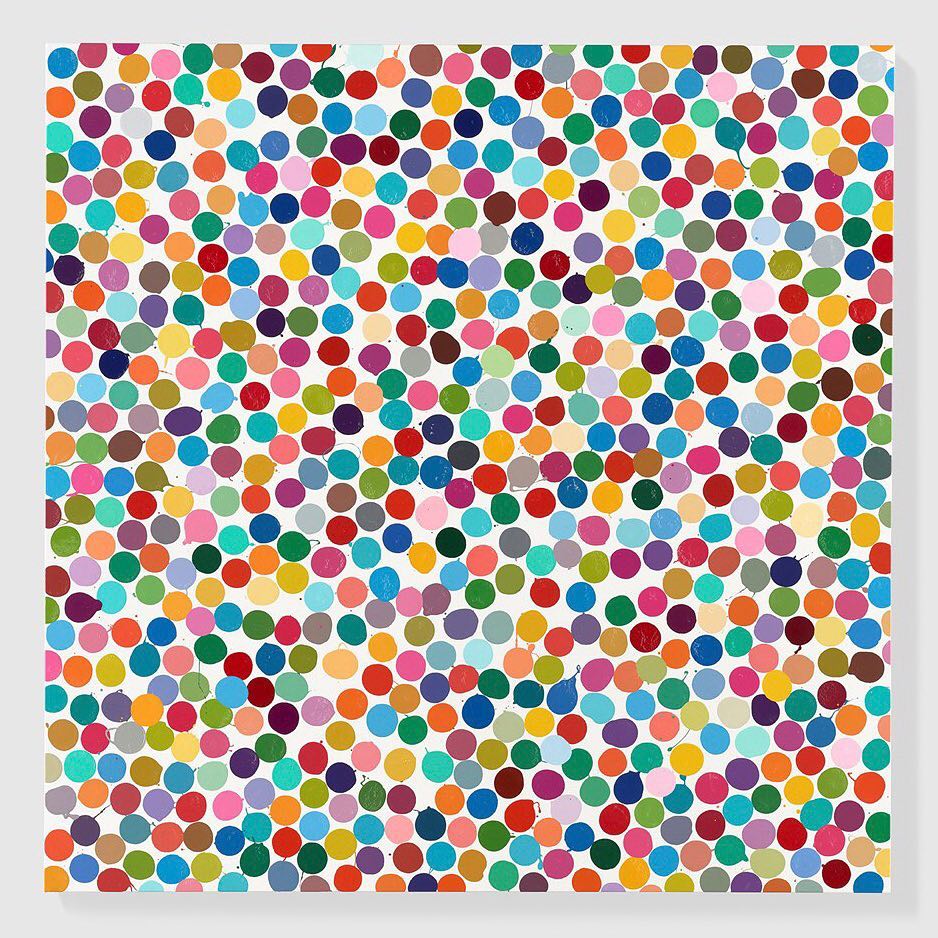 In this painting, Damien wanted to pay tribute to his friend, Ashley Bickerton. He is associated with the early 1980s movement Neo-Geo.
25. Veil Of Fate 2017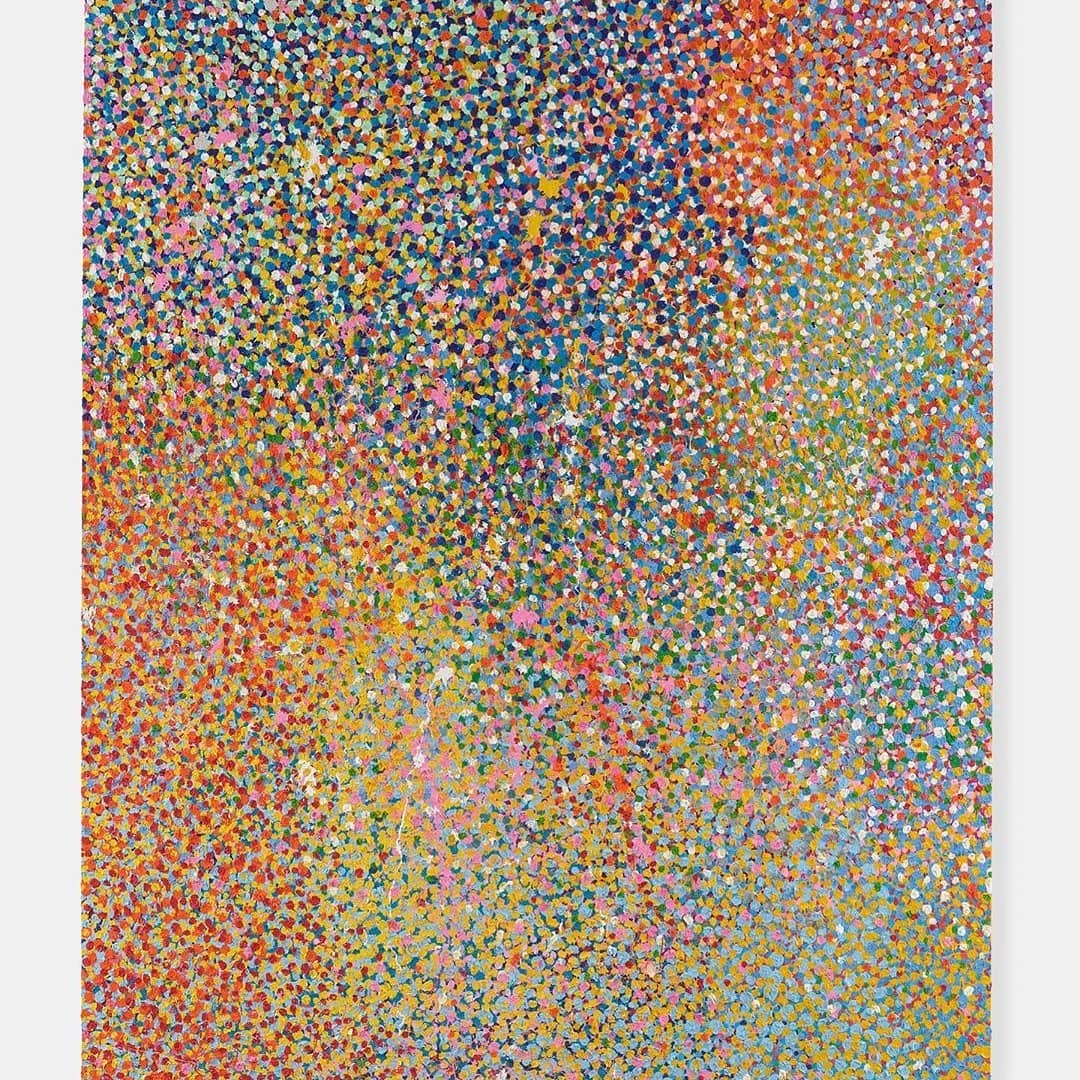 The Veil paintings were inspired by the post-impressionist paintings of Pierre Bonnard. In them, Damien explores and examines color and its effect on the eye. In these paintings, color is given a free reign, and the result is joyful and cheerful painting.
26. Obscuritas 2018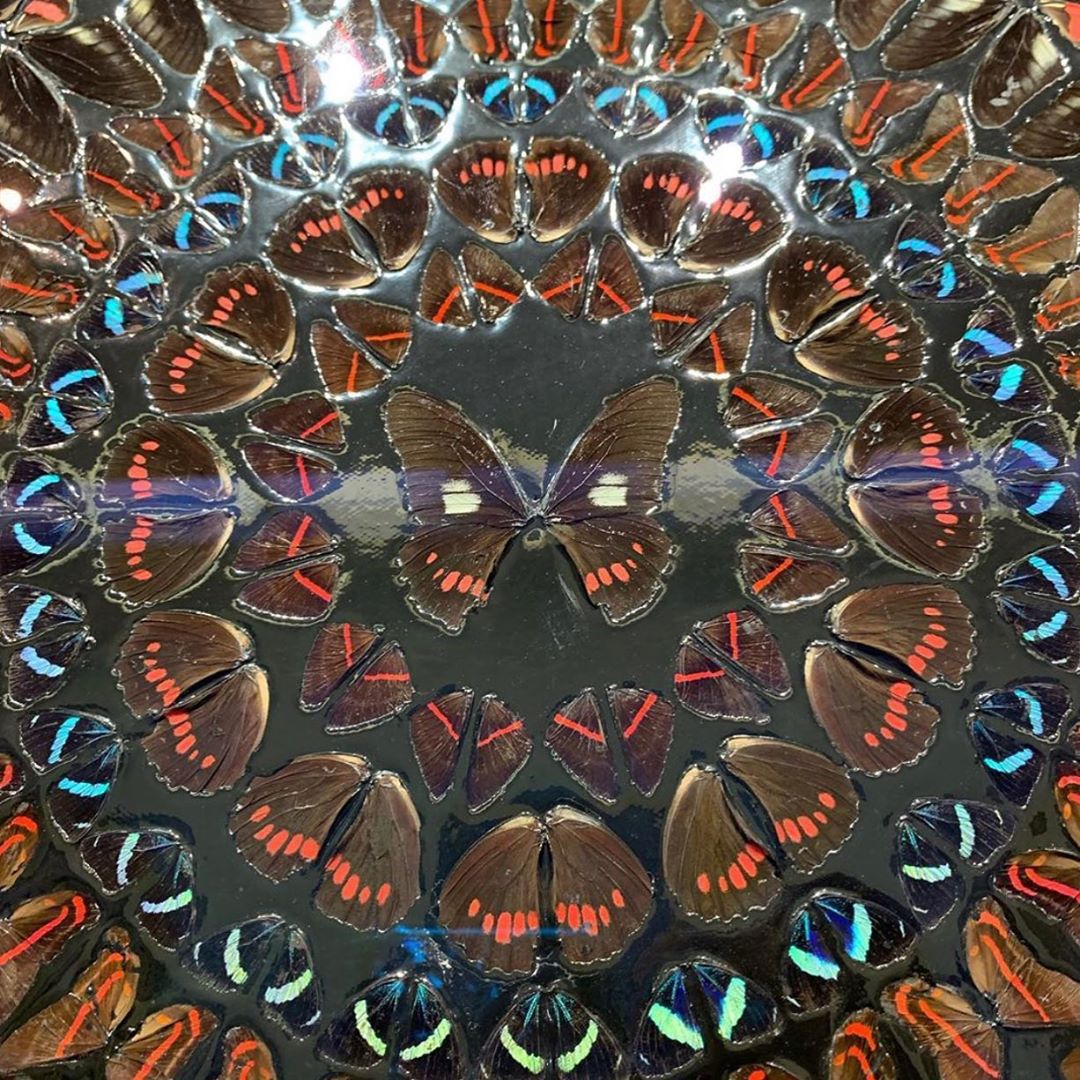 This painting is the centerpiece of his last solo exhibition in London. It was his first solo exhibition in London in several years. The large-scale concentric butterfly is part of the Mandalas Hirst used for this exhibition.
27. Expulsion 2018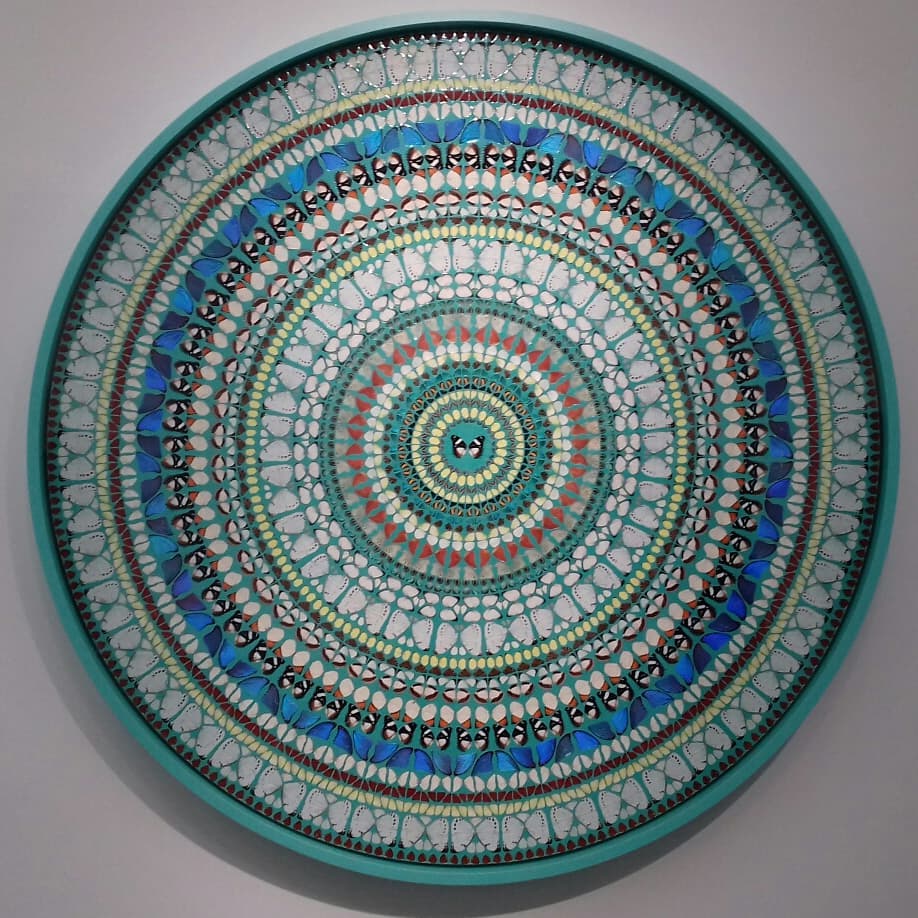 This painting is also part of that 2018 London exhibition. Again, you can see the use of mandalas, spiritual and ritual geometric configuration of symbols found in religions like Hinduism and Buddhism.
28. Painting The Cherry Blossoms 2018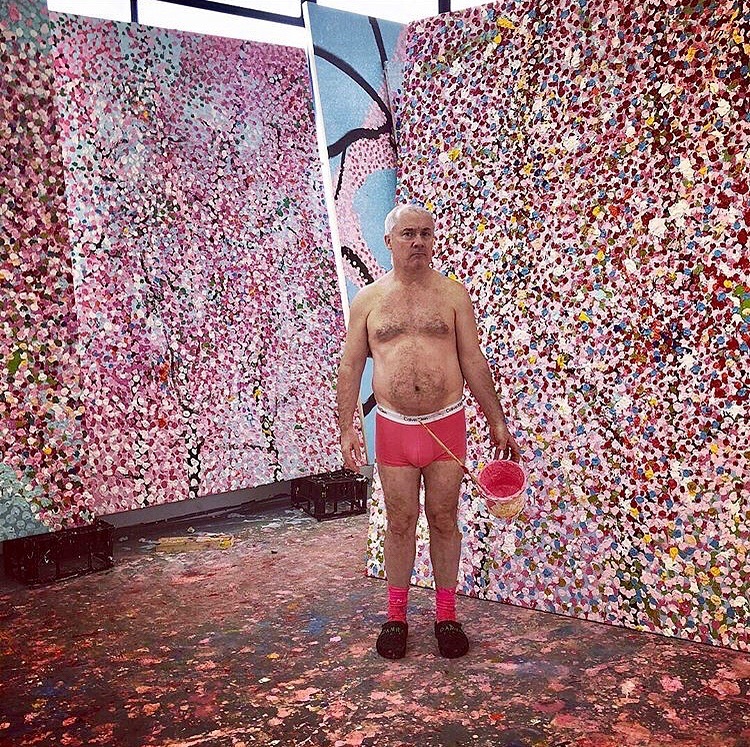 This is the last painting Damien is working on. He spent 18 months painting cherry blossoms. It is only fitting that we finish this list with his last piece of work.