Takashi Murakami is a Japanese contemporary artist, who uses painting and sculptures as his way to express his art. He works in fine media arts, but also commercial media. One of his signature moves is blurring the line between high and low arts.
Takashi first gained recognition as a sculptor during the early 1990s, when he explored otaku, a Japanese term for an obsession with anime and cartoons. Back then, he was recognizable for his contradiction between contemporary Japanese society and American culture.
His works have inspired both admiration and confusion. Murakami is primarily inspired by anime and manga, as well as Japanese comics. His art features bright, and candy-colored images of cartoon-like characters.
His work is not as expensive as some other artists, but still some of his paintings fetch between $2 and $4 million.
1. Tan Tan Bo, 2001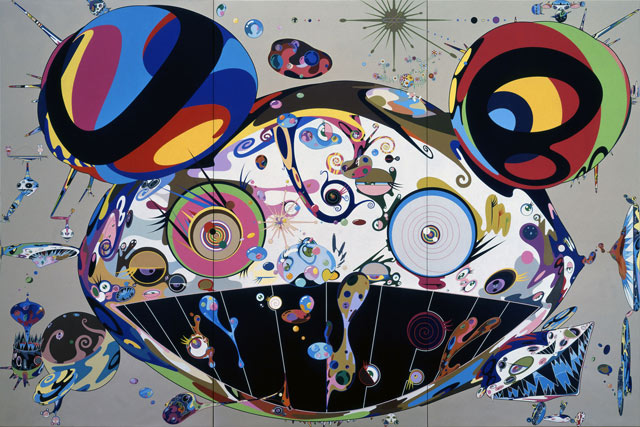 In this painting, Murakami has reincarnated the iconic figure Mr. DOB in a kaleidoscope of color. By mixing geometric and biomorphic forms, he has managed to deliver comic summation of the modernist abstraction.
2. Tan Tan Bo Puking – a.k.a. Gero Tan 2002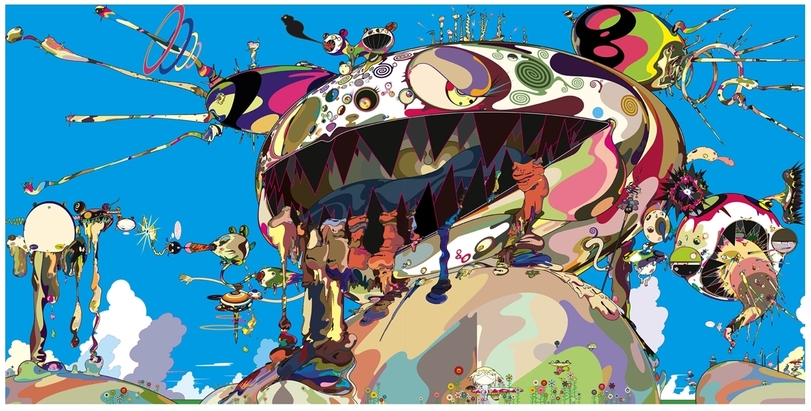 Another similar painting that has made a huge impression on the contemporary art. Again using the same character, Takashi links otaku cultures and characters with Japanese art.
3. 727-272, 2007
Takashi also has a couple of offset lithographs in color, made on wove paper. They are signed in silver ink.
4. Godzilla VS Evangelion 2005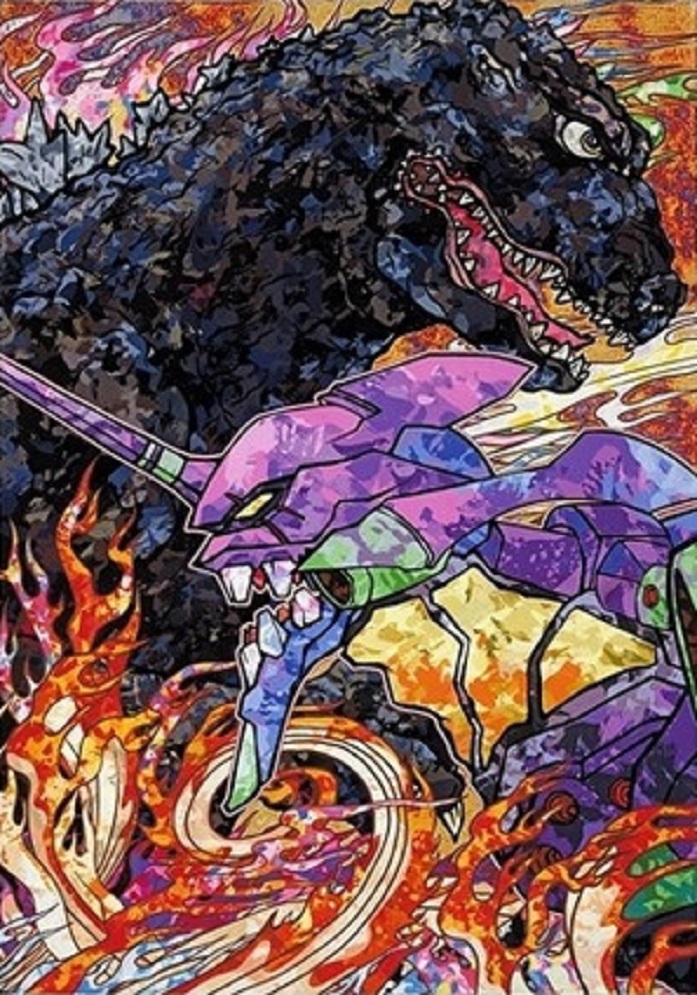 Godzilla is an iconic character not only in Japanese history and culture, but in American as well. The movie was a success, and it has delivered a couple of sequels. This painting is a poster made by Takashi for the Evangelion vs Godzilla merch that was widely promoted.
5. Flowers Flowers Flowers 2010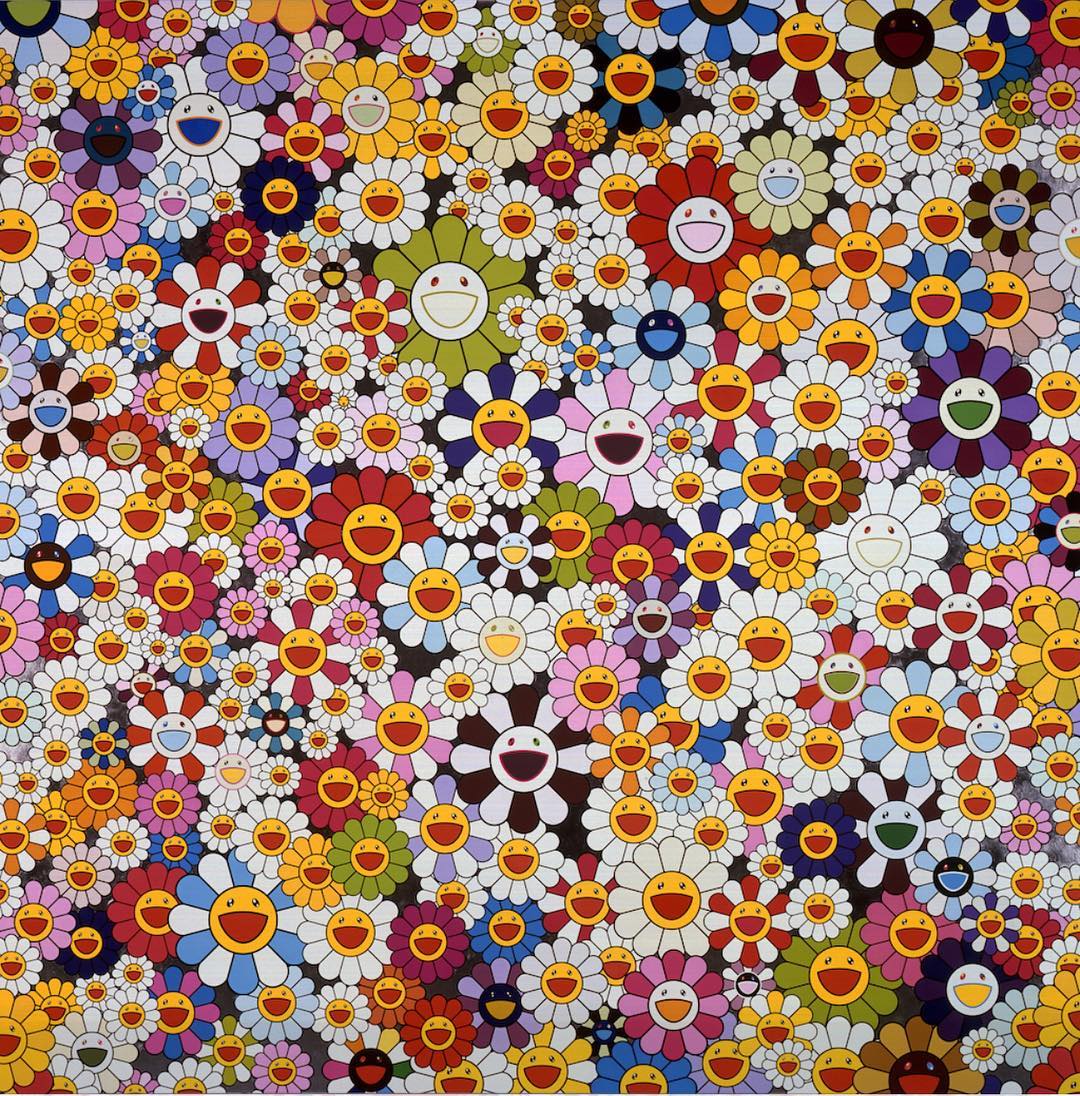 It is a rarity to see "normal" objects in Takashi's work. But that is exactly what these flowers represent. In any case, they are still in his anime and comic book spirit.
6. The 500 Arhats 2012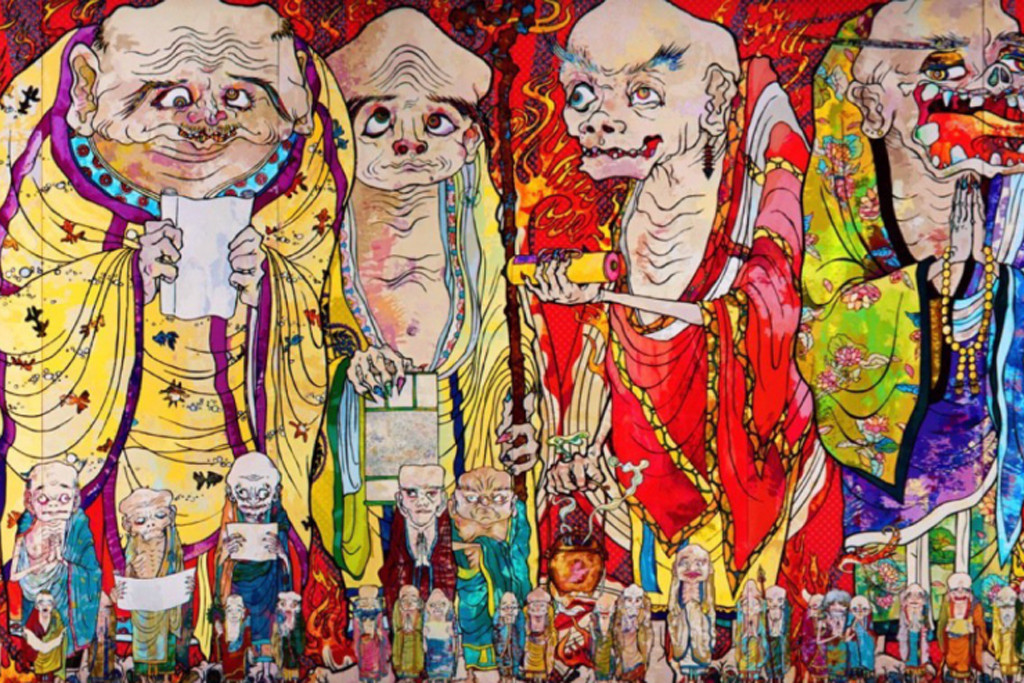 This painting was the centerpiece of his solo exhibition in Japan in 2016. It was his first major solo exhibition in Japan in 14 years. He used it to address the disjunction in his work.
7. Mr. Dob 2005-2015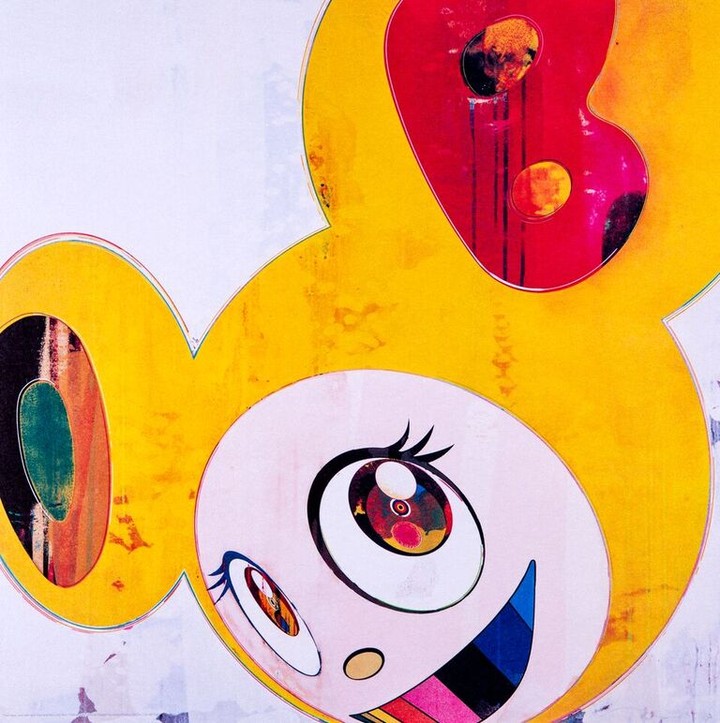 There is a lot of history behind the Mr. Dob character. According to many experts, he is the "rival" to Mickey Mouse by Disney. And that is why Murakami uses him a lot in his paintings.
8. Shangri La Shangri La Shangri La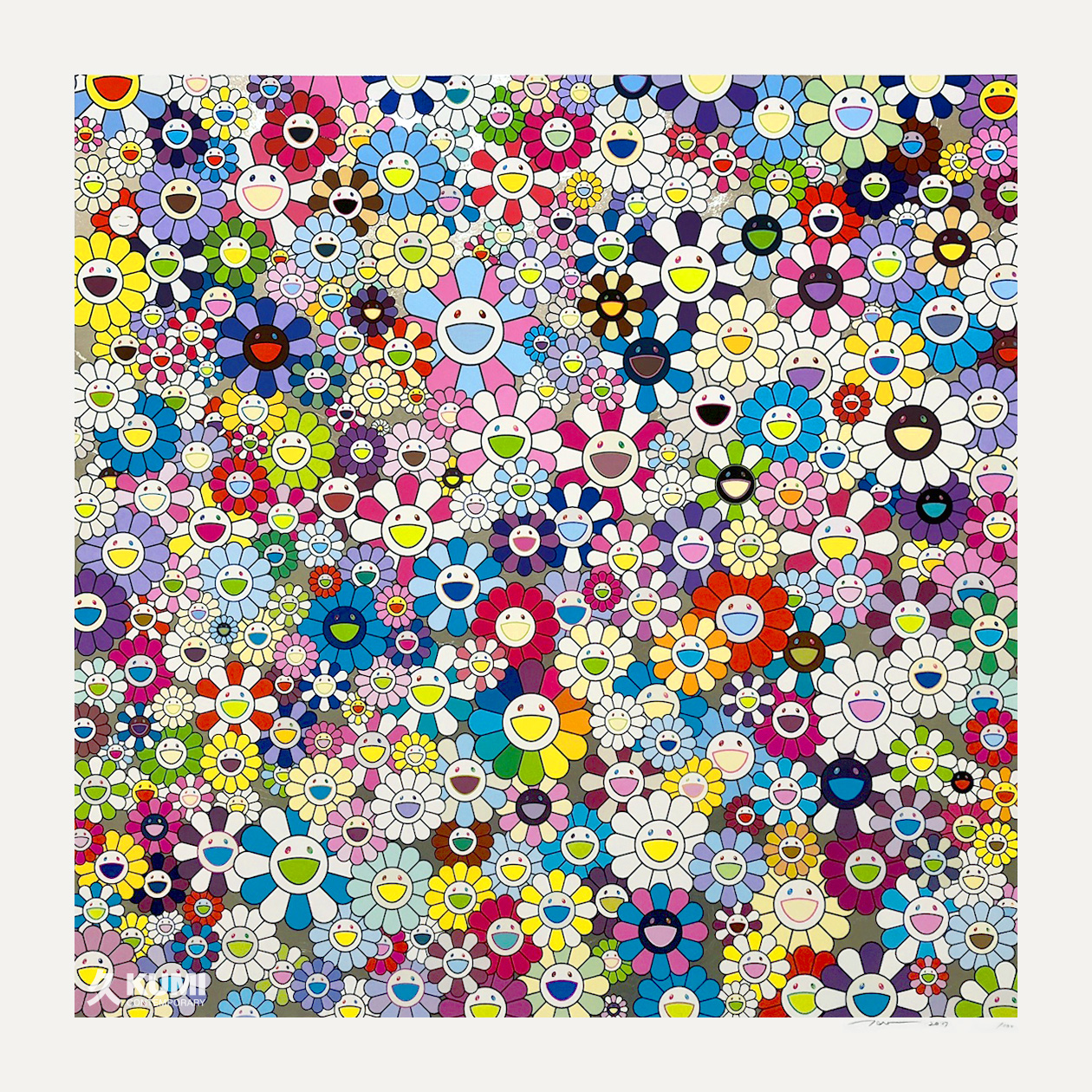 This offset lithograph with cold foil stamp and high gloss varnishing on UV paper is another representation of flowers in the anime world. Just look at the colors, the animatic aspect of the flowers, and how they all fit together. It is wonderful.
9. Stepping on the tail of a rainbow 2014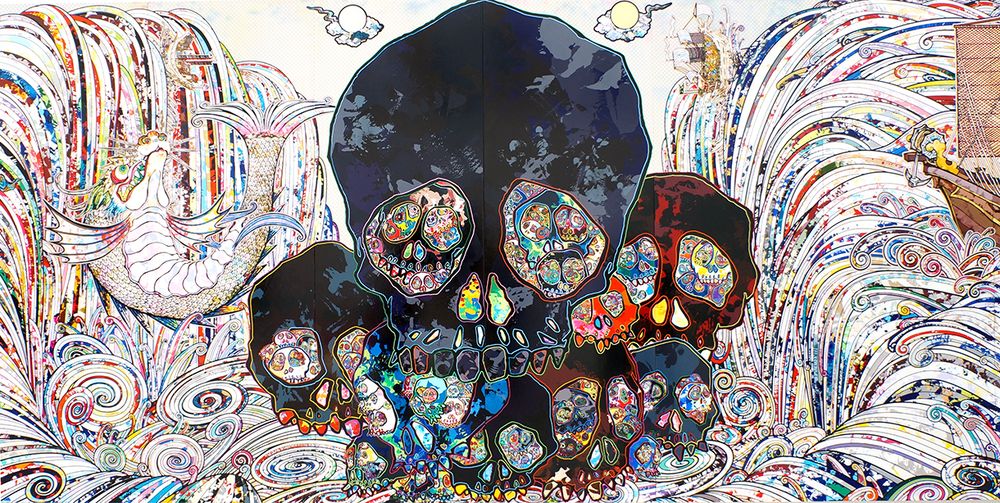 This is one of his largest paintings. It is an 82 foot long painting, reflecting on the 2011 Tohoku Earthquake and the subsequent tsunami in Japan.
10. Francis Bacon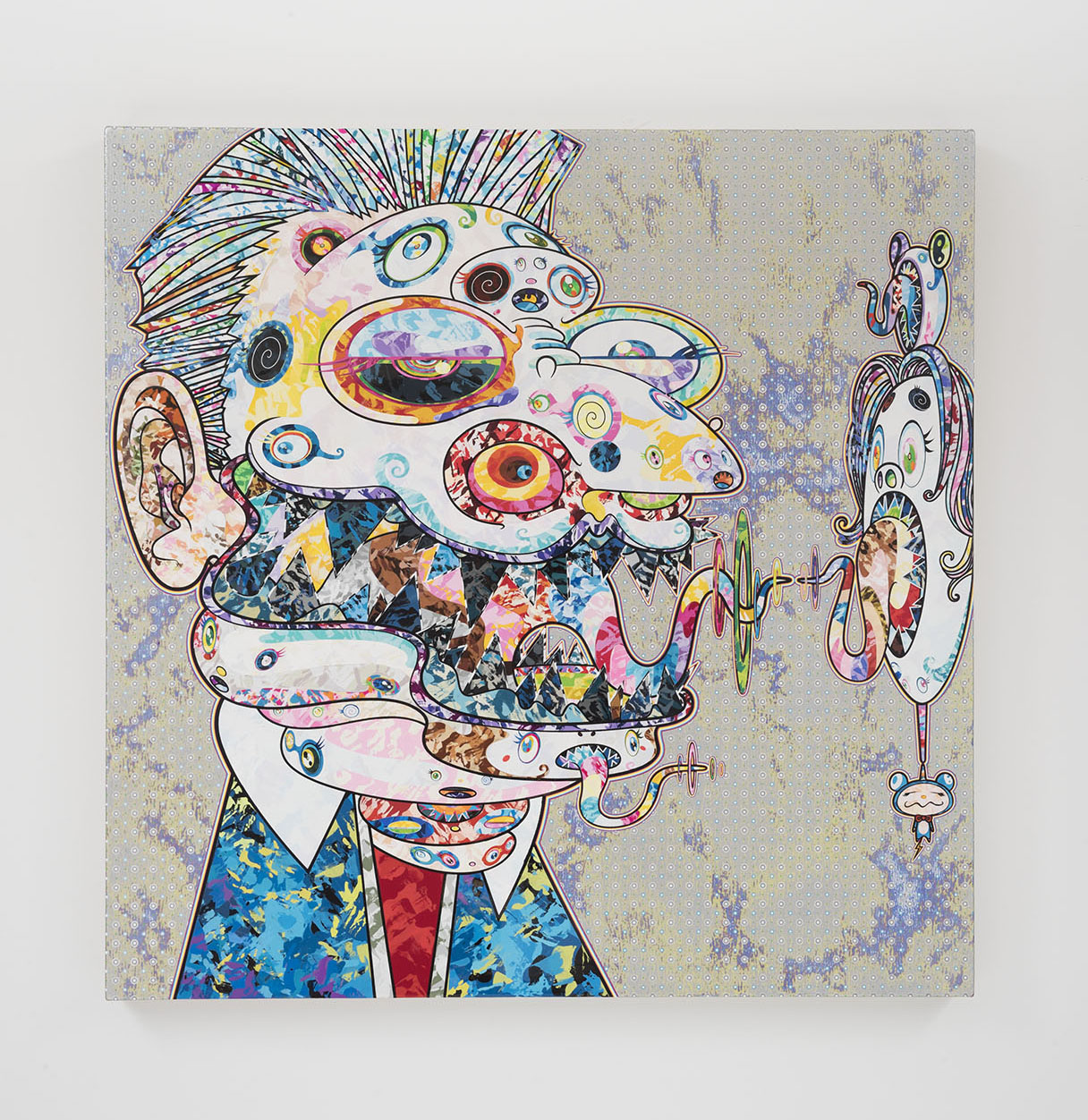 Takashi is a huge fan of Francis Bacon and his theory. Bacon is the one responsible for the birth of empiricism, a a theory suggesting all knowledge is based on experience. Because he doesn't do portraits, Takashi did something even more remarkable.
11. Black Hole 2015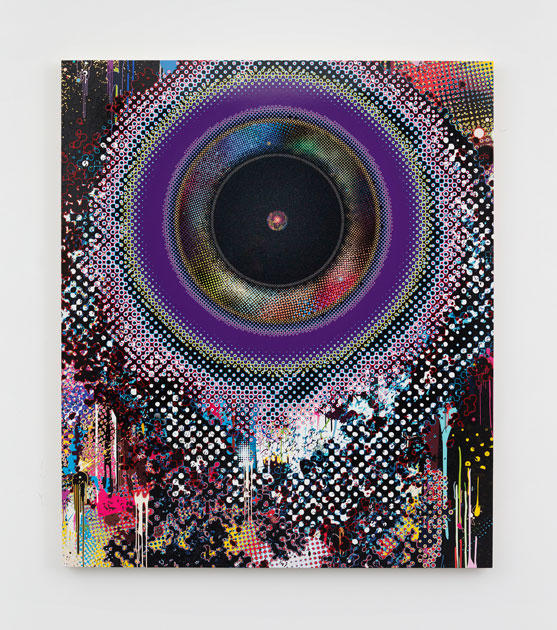 Black holes are still a mystery in the world of science. They are basically a region of spacetime exhibiting gravitational acceleration so strong that nothing can escape from it. This is how Murakami imagines black holes.
12. The World Of Sphere 2003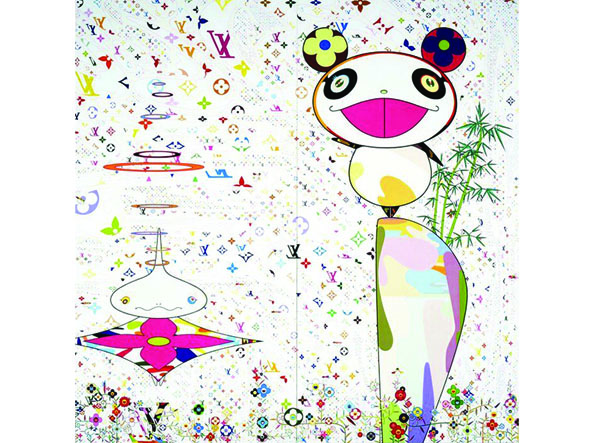 The World of Sphere is one of his most expensive paintings. He created it in 2003, and it is also one of his more popular pieces of art.
13. Me And Mr Dob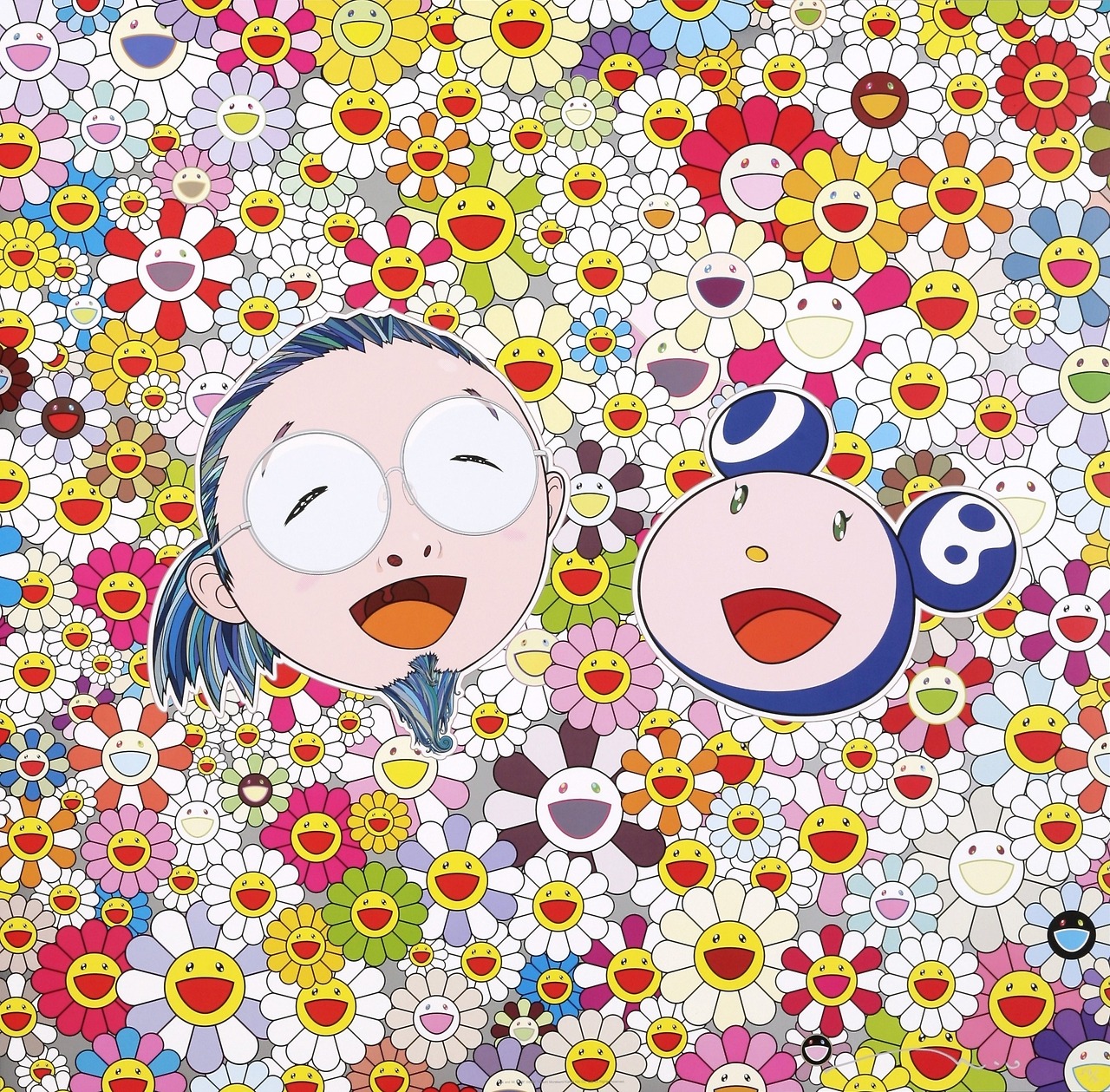 It is just logical that Takashi would create something of this magnitude. We saw how impressed was he by Mr. Dob, so he wanted a "picture" with the character. This one against feature his iconic flowers.
14. Spiral 2016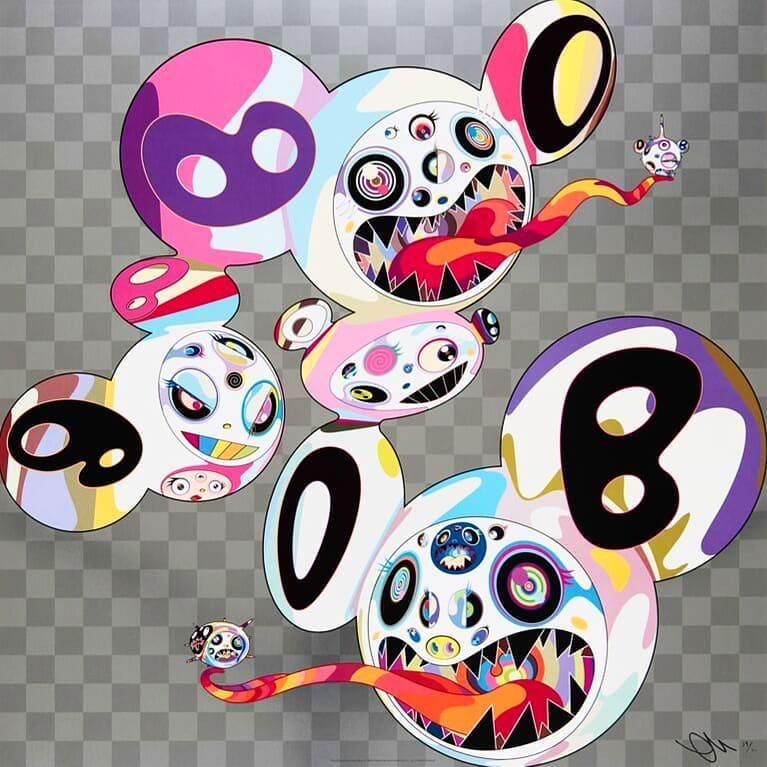 Spiral is a combination of several Mr. Dob and similar characters. Taking his admiration to the next level.
15. Korin Pure White 2015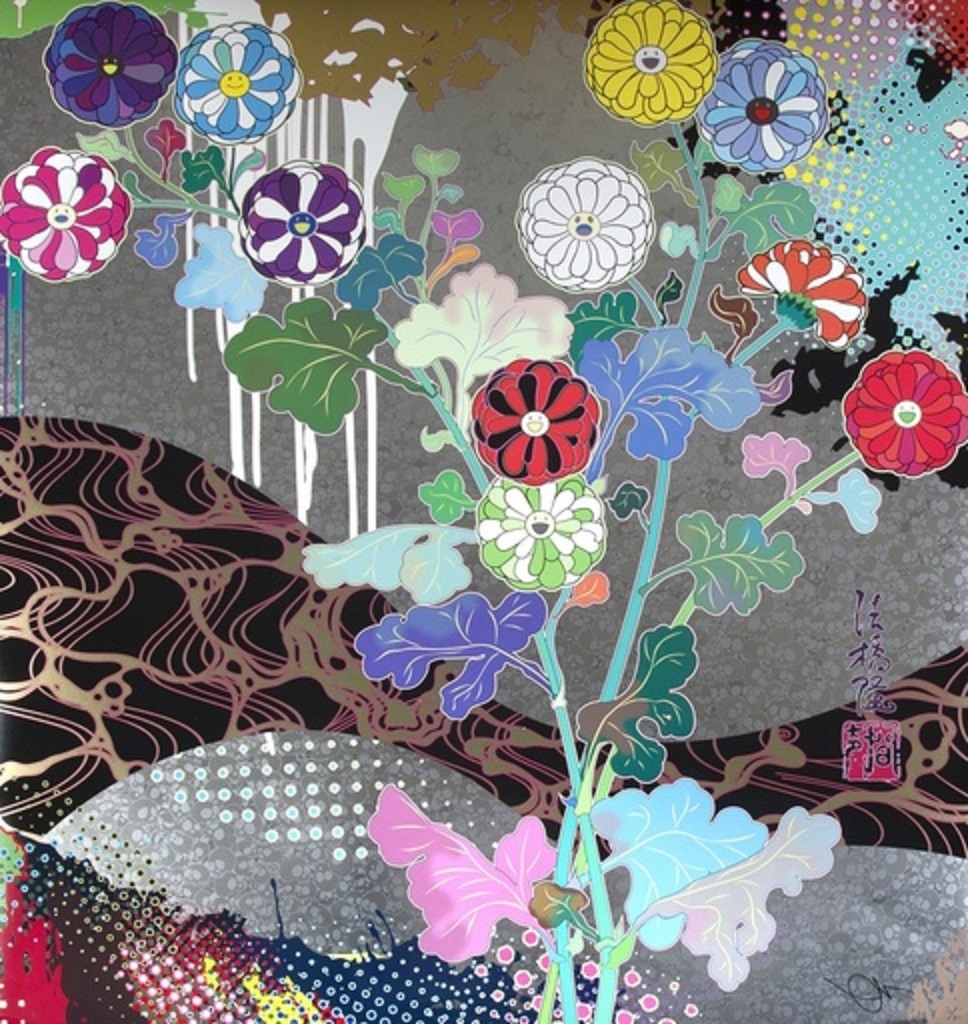 Takashi can paint flowers in different ways. While the previous flowers we saw were more of a children anime nature, these are more deep and artistic.
16. The Lion of the Kingdom that Transcends Death  2012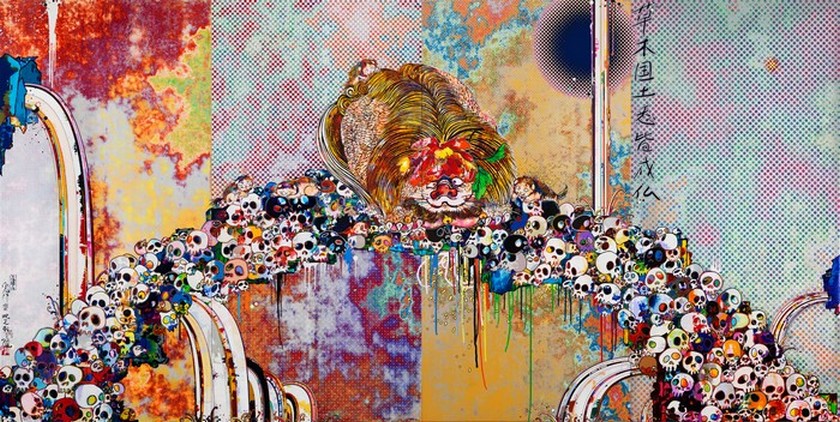 The Lion is the king of the Jungle, and while many depict him in a jungle, Takashi has another thing in mind. He depicts the lion over a series of skulls, making him look like an immortal being that transcends death.
17. Skulls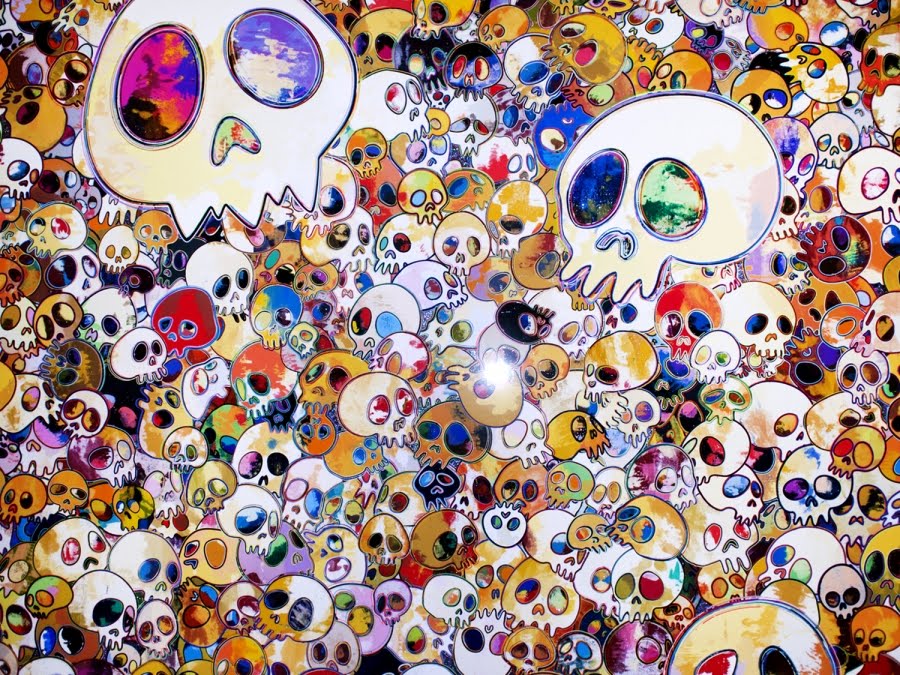 Skulls explores one of the central dichotomies of Takashi's art, and that is between joy and terror. Skulls are combined with flower to show his optimistic view as an artist, and the pessimistic perspective of postwar Japan.
18. Amitabha Buddha Descends Looking Over His Shoulder 2015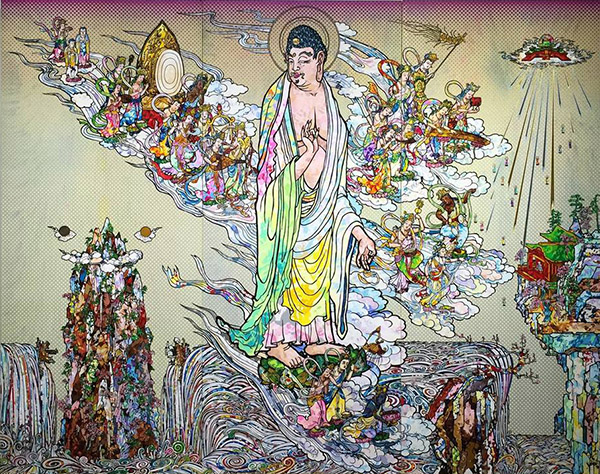 Buddha is the central figure in the Buddhism, a widely-spread Indian religion. The Celestial figure also makes his way into Murakami's paintings.
19. I've Left My Love Far Behind. Their Smell, Every Memento, 2010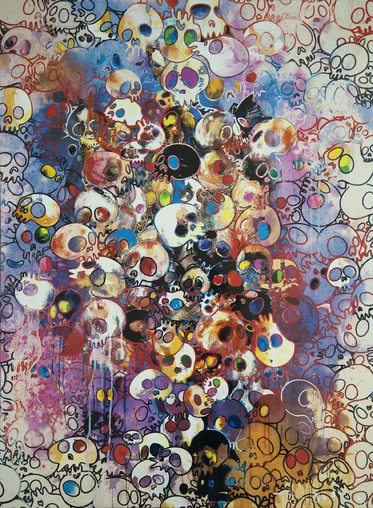 Another painting of the skulls vs flowers collection. Again, you can see his optimistic and pessimistic contrast. The two worlds battle inside the artist's soul.
20. Stepping Tan Tan Bo a.k.a Gerotan Scorched by the Blaze in the Purgatory of Knowledge 2018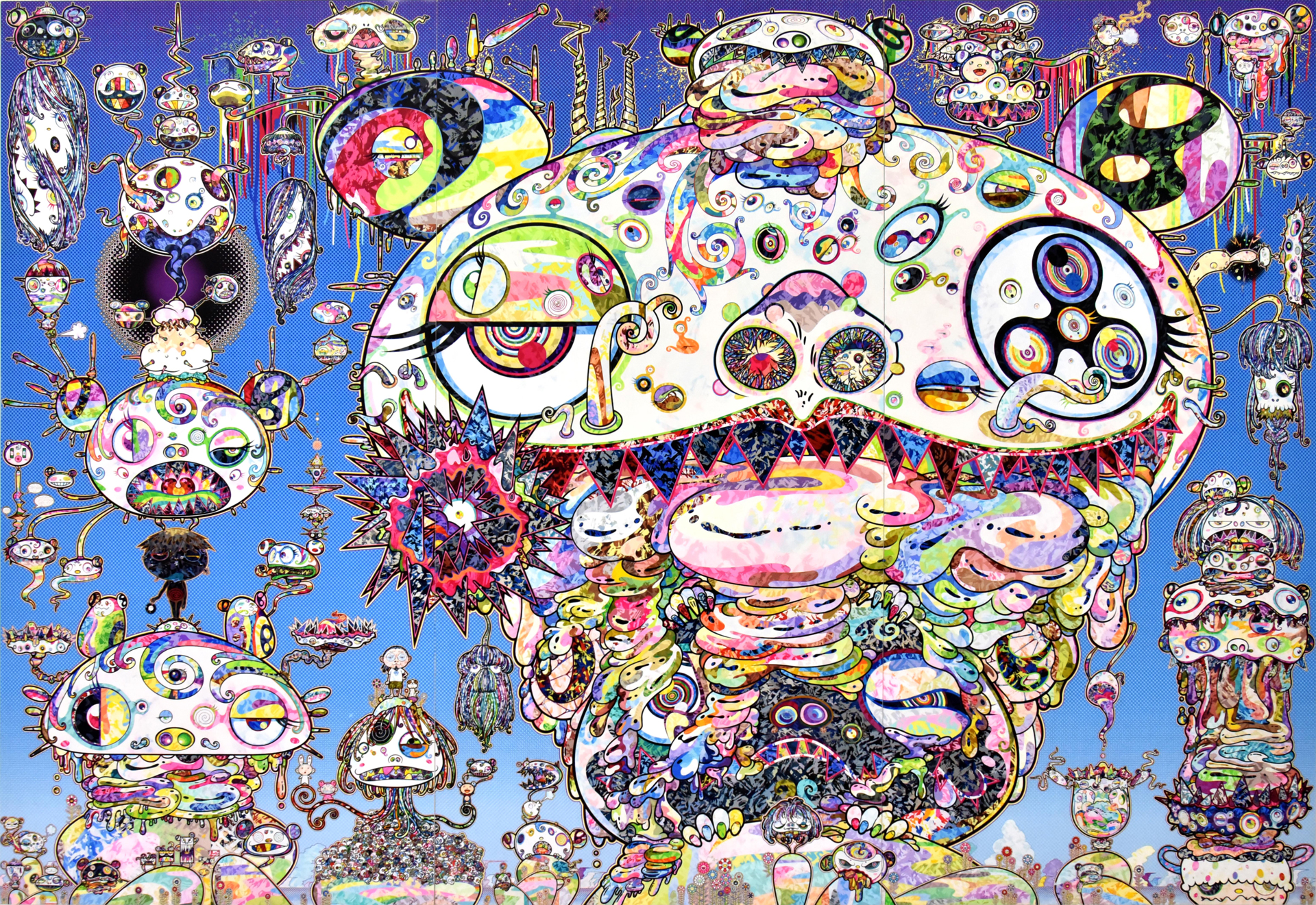 Purgatory a condition, or a process in Christianity in which a person goes between life and death. You can see the artist playing with the middle ground again.
21. Isle Of The Dead 2014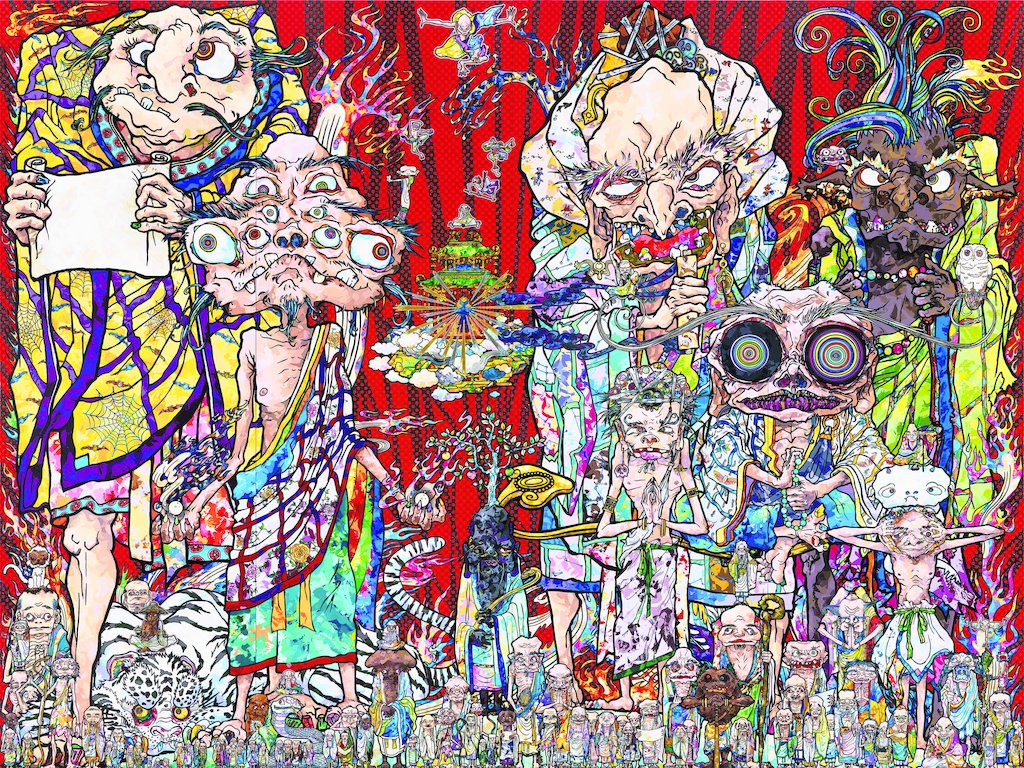 Land of Dead was a major exhibition by Takashi. Most of it was dedicated to the devastating earthquake in Japan in 2011.
22. Blue Flowers 2012
Coming back to the anime children flowers, these are just too joyful and cheerful to ignore. It is a perfect example of how happy he felt at times.
23. The Future Will Be Full of Smile! For Sure!, 2012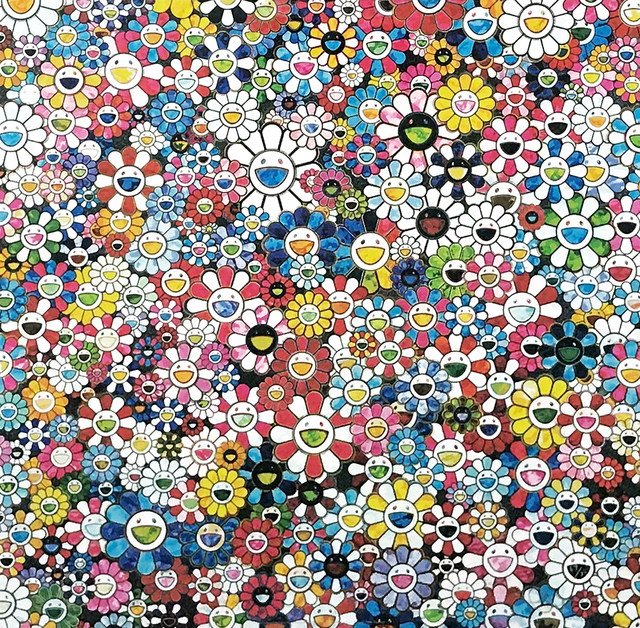 Showing smiley flowers, Takashi wants to believe that the future is bright. But you can easily notice the doubt as well, thanks to the black smiles here and there.
24. Panda Family Happiness 2016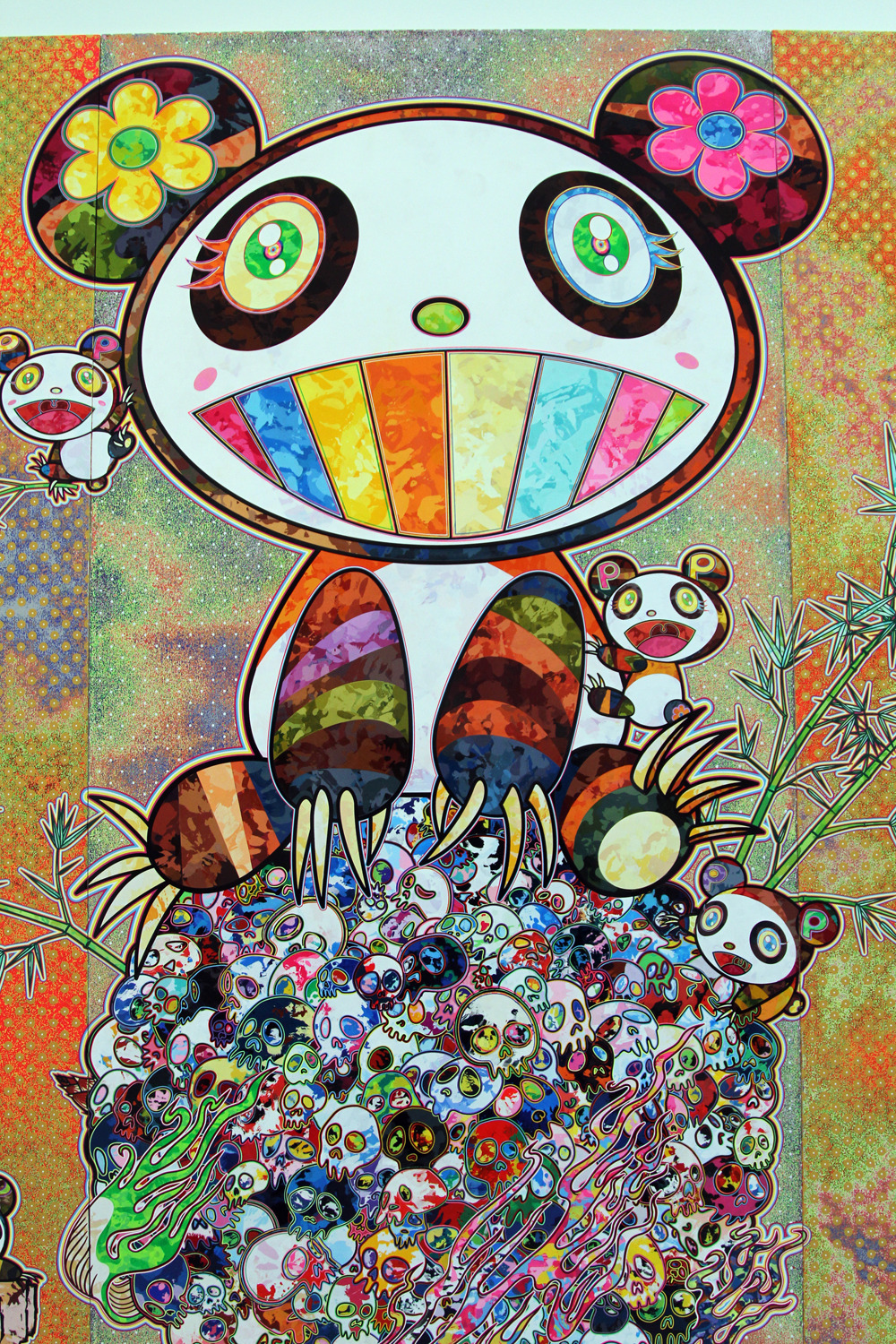 Pandas are iconic characters in anime, manga, and Japan and China in general. It is no surprise that Takashi uses this animal for one of his paintings. And as you can see, the Panda is full with skulls and flowers.
25. An Homage to Yves Klein, Multicolor C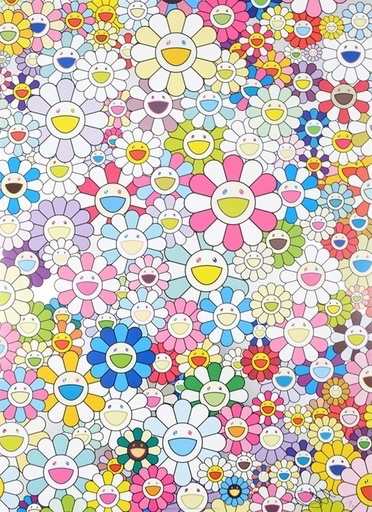 Yves Klein was a French artist, who was one of the more important figures in post-war European art. You can say he is the European version of Takashi, but with more normal paintings, and less anime. Klein was a leading member of the movement Nouveau realisme. Murakami wanted to pay tribute to the artist with this painting.
26. Kaikai Kiki And Me 2013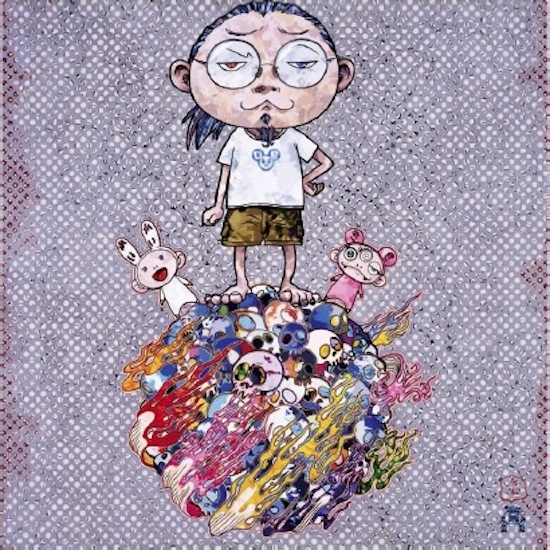 KaiKai Kiki is an art production and artist management company founded by Murakami. The logo is the flower you see in many of the paintings above.
27. Doraemon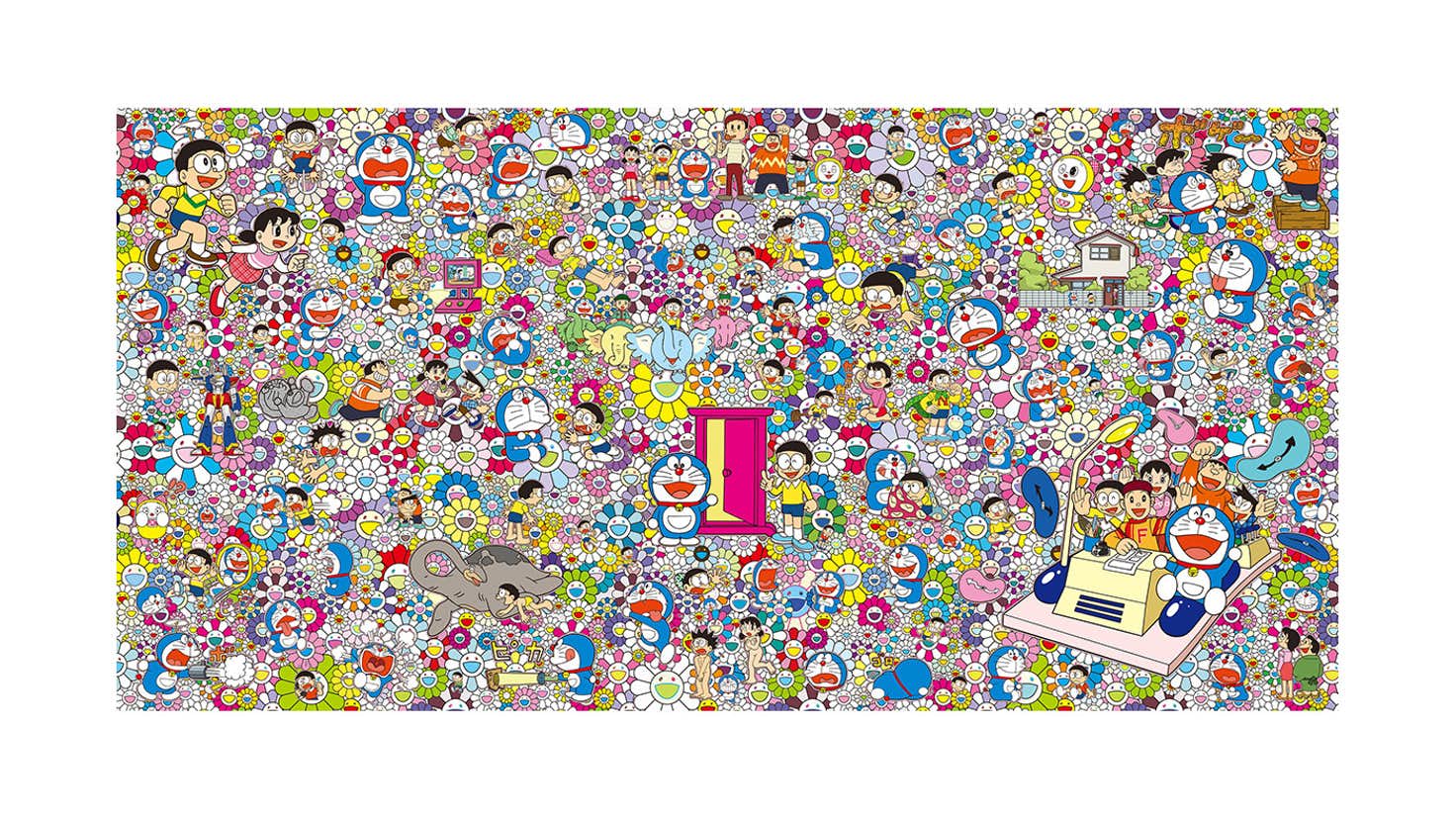 We said that Takashi draws inspiration from anime and manga. So, it is only logical that we finish off the list with Doraemon, an iconic Japanese manga series that was turned and adapted into anime and media franchise.