KAWS is an artist that took the art world by storm. He started out as a graffiti artist, and now his sculptures and designs have appeared on Thanksgiving Parades. His characters feature on T-shirts, and his paintings sell for seven-figure sums at auctions.
His really name is Brian Donnely, but is professionally known as KAWS. He is an American artist and designer, with his work including repeated use of figurative characters and motifs. Some of them date back to the beginning of his career in the 1990s.
Some of his work was painted in 2D, and then later transformed into 3D. His iconic XX signature appears on his paintings, and it is a tribute to his roots and beginnings as a street artist.
His sculptures can range in size from a few inches, up to several feet tall. They can also be made from various materials like fiberglass, wood, bronze, aluminum, and inflatables.
1. In The Woods 2002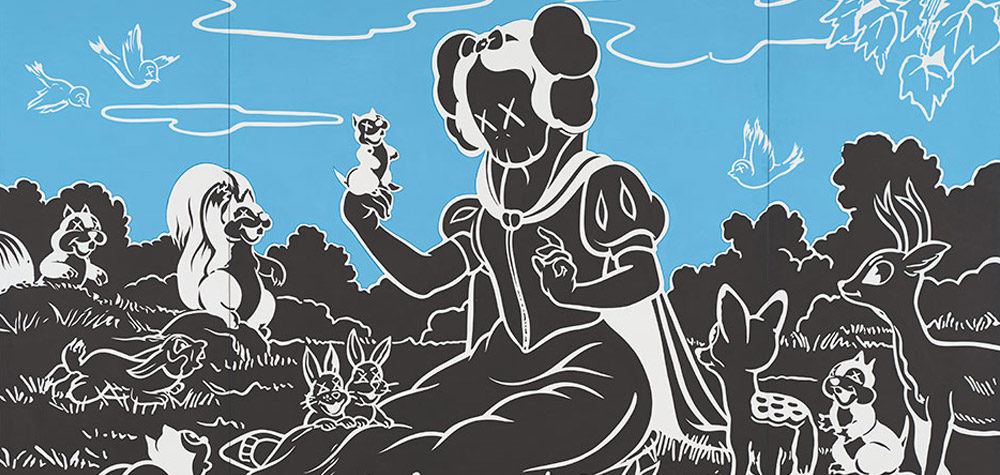 On first glance, you might not recognize the scene. But take a deeper look, and it is actually a scene from Snow White, but in black and white. Paintings like this one is why people have started taking him more seriously.
2. Untitled Fatal Group 2004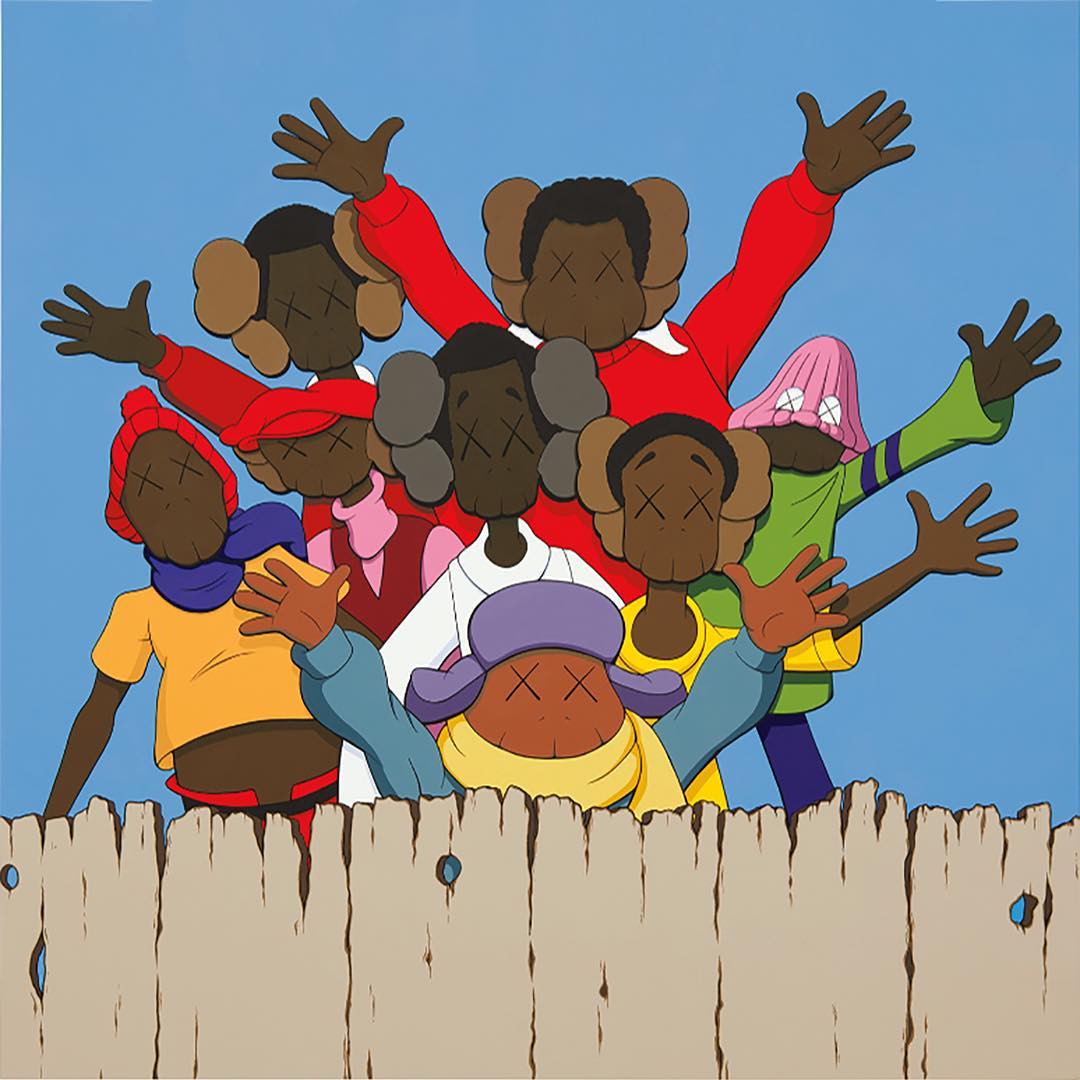 You can say this painting shows how technically accomplished KAWS is. He has carefully balanced colors, shapes, designs, and sizes. Again, he draws inspiration from cartoons, but due to copyright, he doesn't draw the faces of the characters.
3. Kaws Album 2005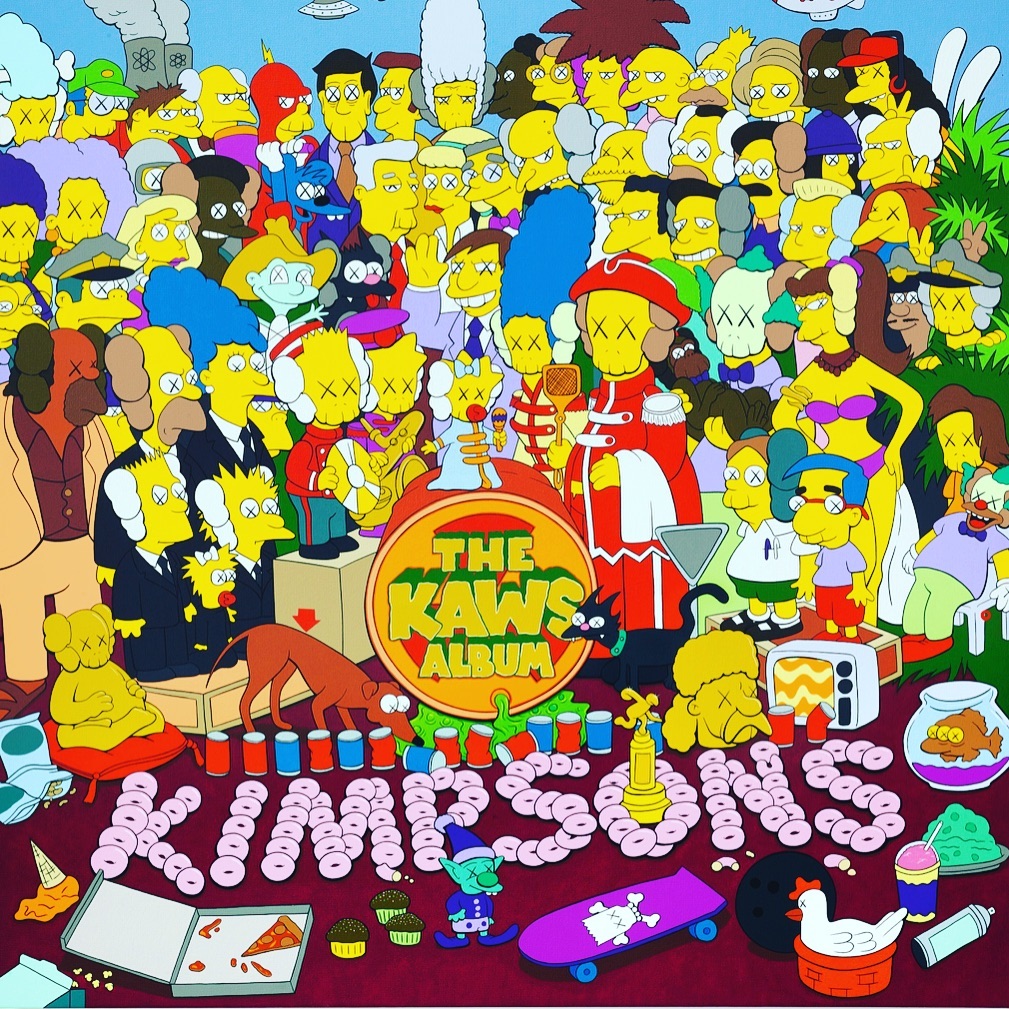 Earlier this year, this painting sold for $14.8 million at Sotheby's Hong Kong. It set a new record for the artist. As you can easily recognize, it is his take on the Simpsons family and all other characters appearing in the famous TV show.
4. The Dissected Crew 2006-2016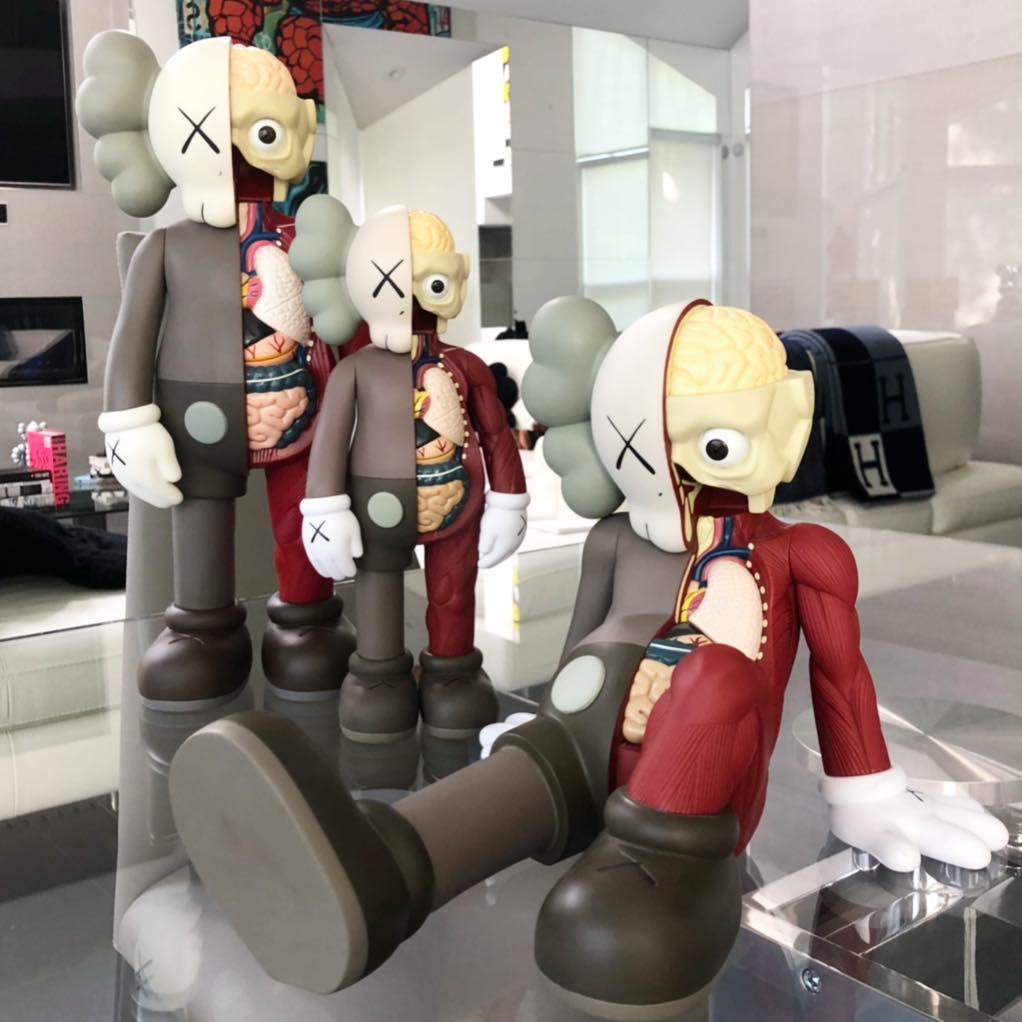 This painting is a tribute to his roots in the skateboard and graffiti crews of New York City. The sculpture has been turned into toys.
5. Kimson Classic 2003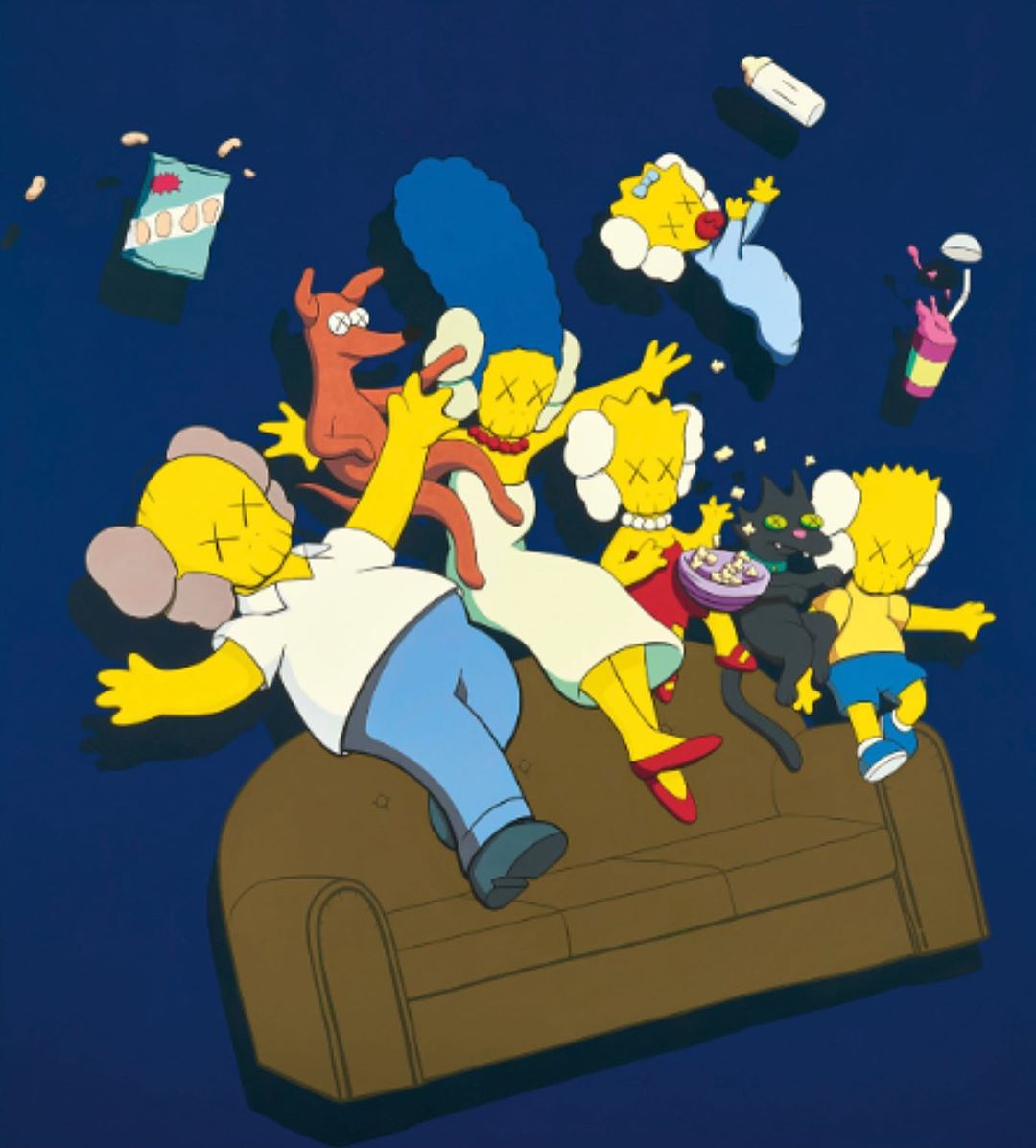 We mentioned KAWS takes inspiration from fictional characters. Nowadays, almost any street artist has his own take on the Simpson family. Or in this case, the Kimson family.
6. Kurfs (Tangled) 2009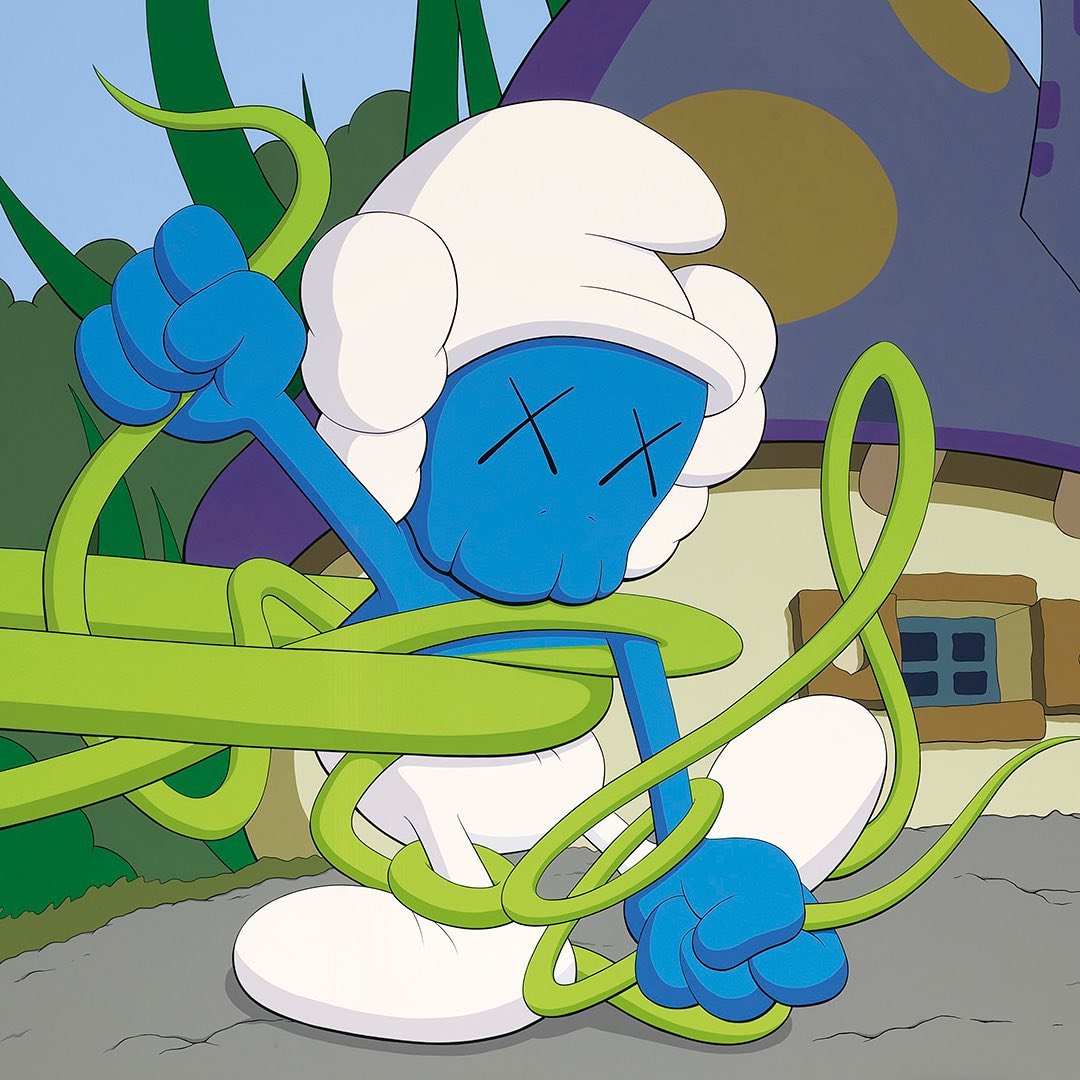 KAWS is a former Disney illustrator. Now, while the Smurfs are not produced by Disney, the fact of the matter is that KAWS is just in love with cartoon characters. Here, he shows a tangled Smurf, and how he is struggling to escape. You can easily make the parallel with real life problems and issues.
7. Kurfs (Hotdog)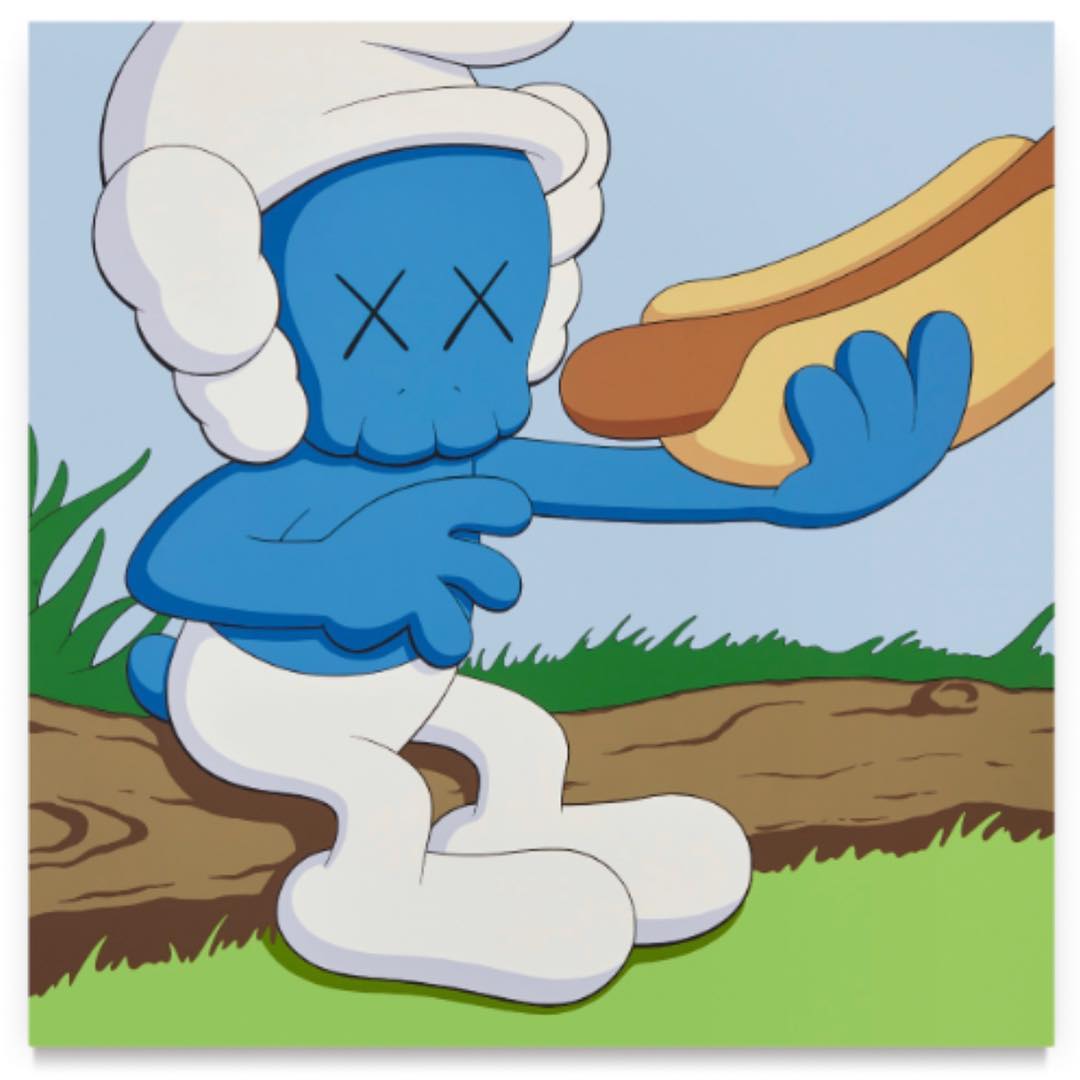 On another note, this is a more cheerful version of the Kurfs. KAWS loves to show fictional characters in every day situations. This is one of those.
8. Accomplice 2010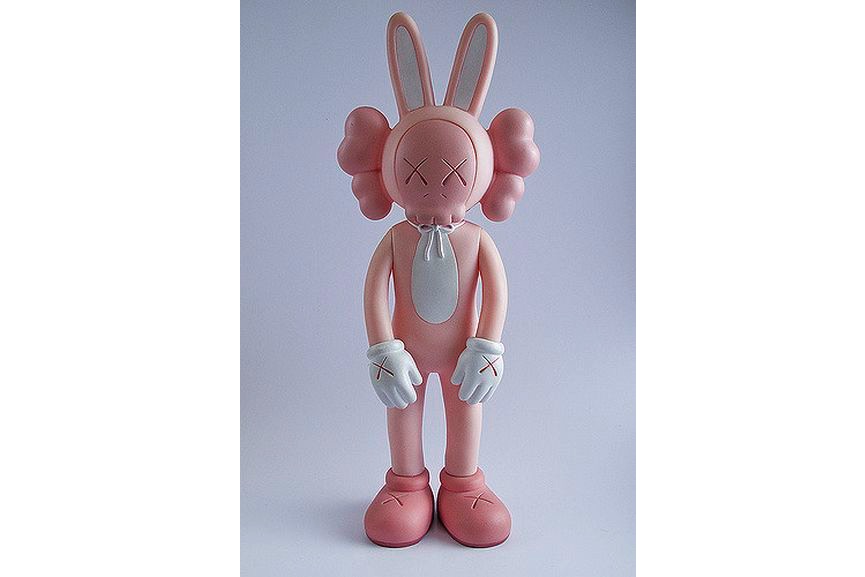 This figurine is the result of a collaboration between KAWS and the toy company Medicon. There are actually two figurines. They come in a set, one is black and the other is pink. We said that many of his sculptures are produced as toys, and this one is exactly that.
9. Silent City 2011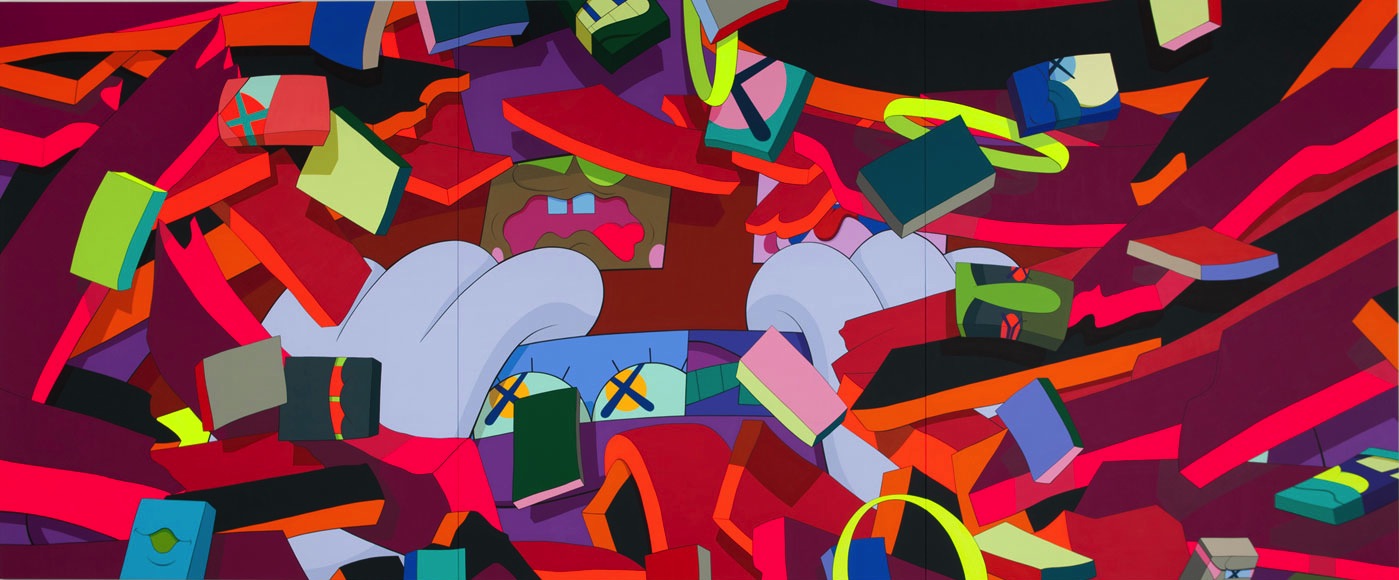 In this painting, KAWS shows the chaotic frenzy of shattered form of a big city. And it is far from silent. The painting was installed from a 40ft rafter.
10. New Morning 2012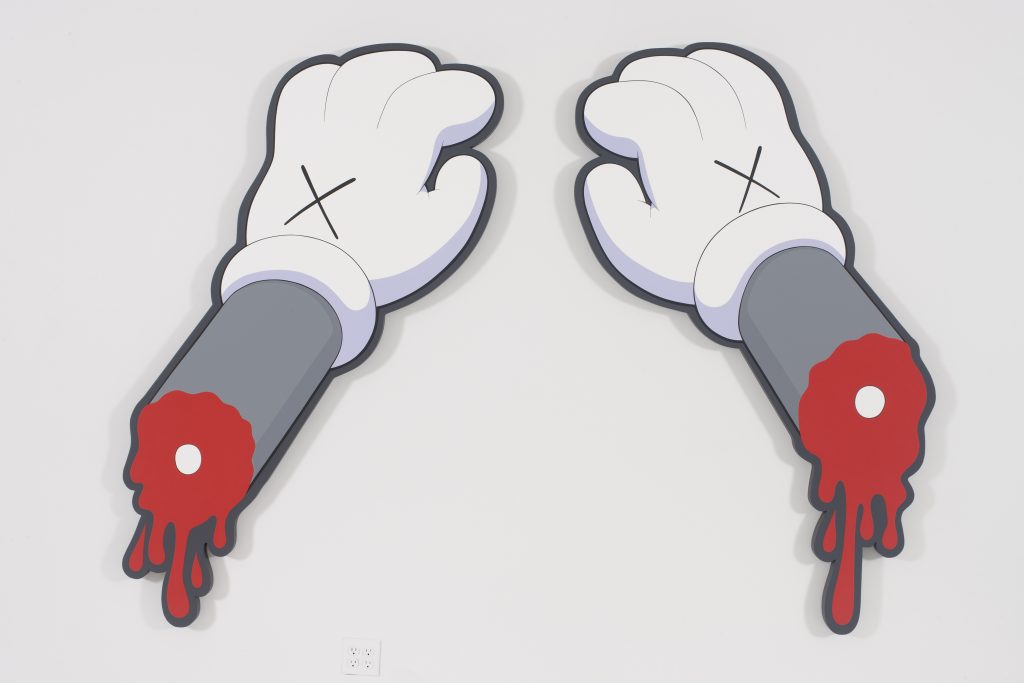 You might notice the hands as being of some Disney characters. The idea, however, is something else. In this case, the artist mixes his previous skateboard experience, and shows the injuries that might happen on fictional character hands.
11. The Walk Home 2012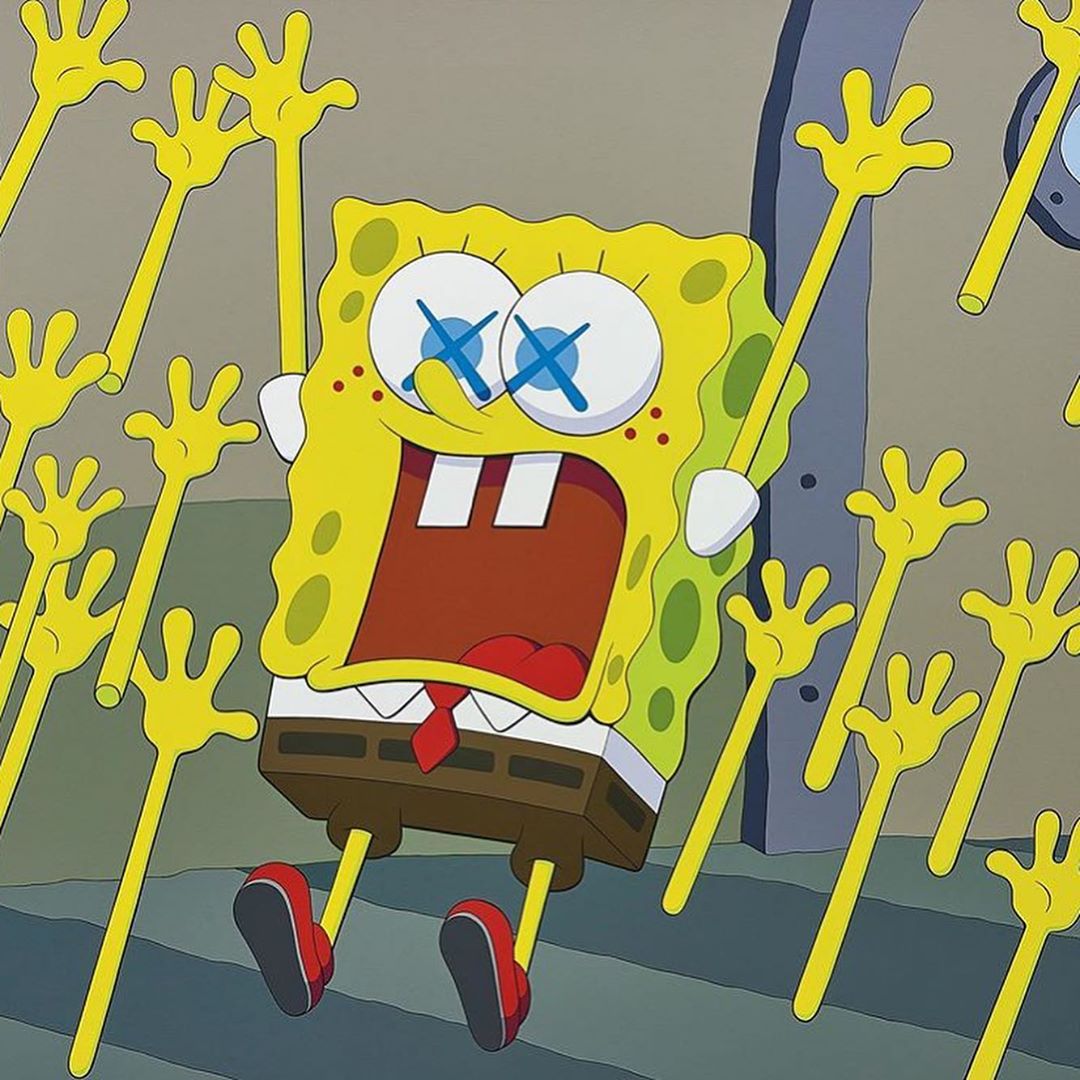 Arguably one of the most widely recognizable SpongeBob poses. And he is also one of the most popular internet characters. Instead of turning him into a meme like most people, KAWS turned him into a remarkable art.
12. Ups and Downs 2013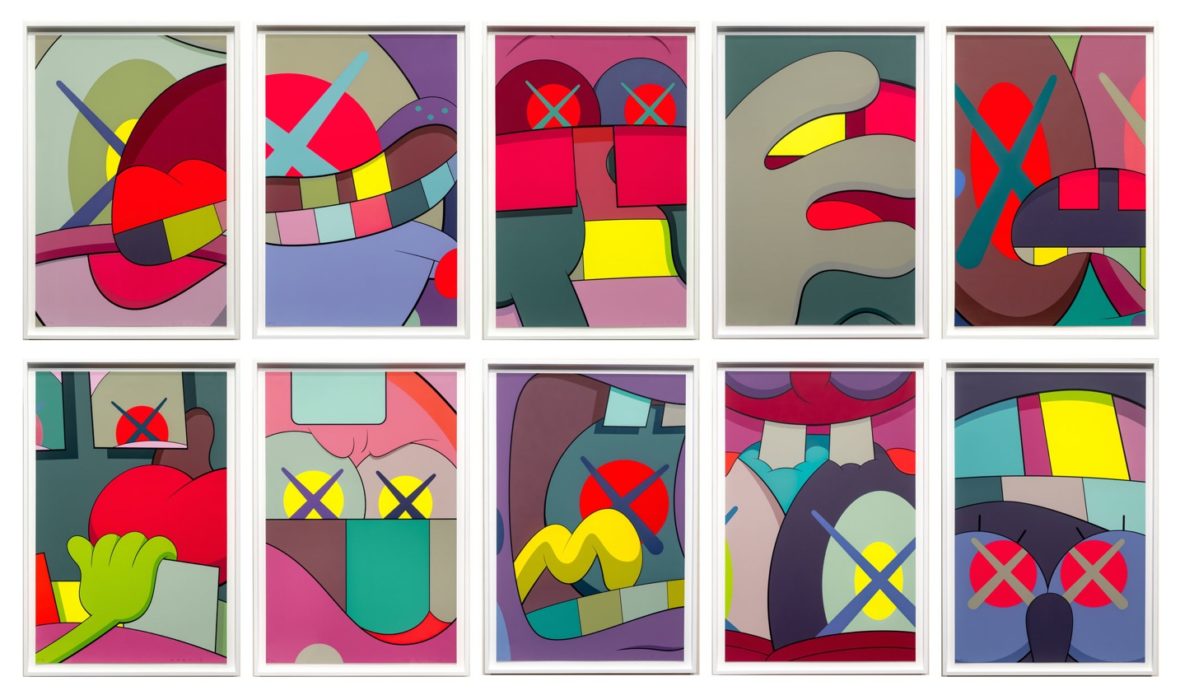 This print is part of his 100 Plus 20 APs prints made in 2013. This one is number 55. They all contain title page, and are made to detail his particular handling and graphic illustration. And of course, they are made in a limited edition portfolio.
13. Presenting The Past 2014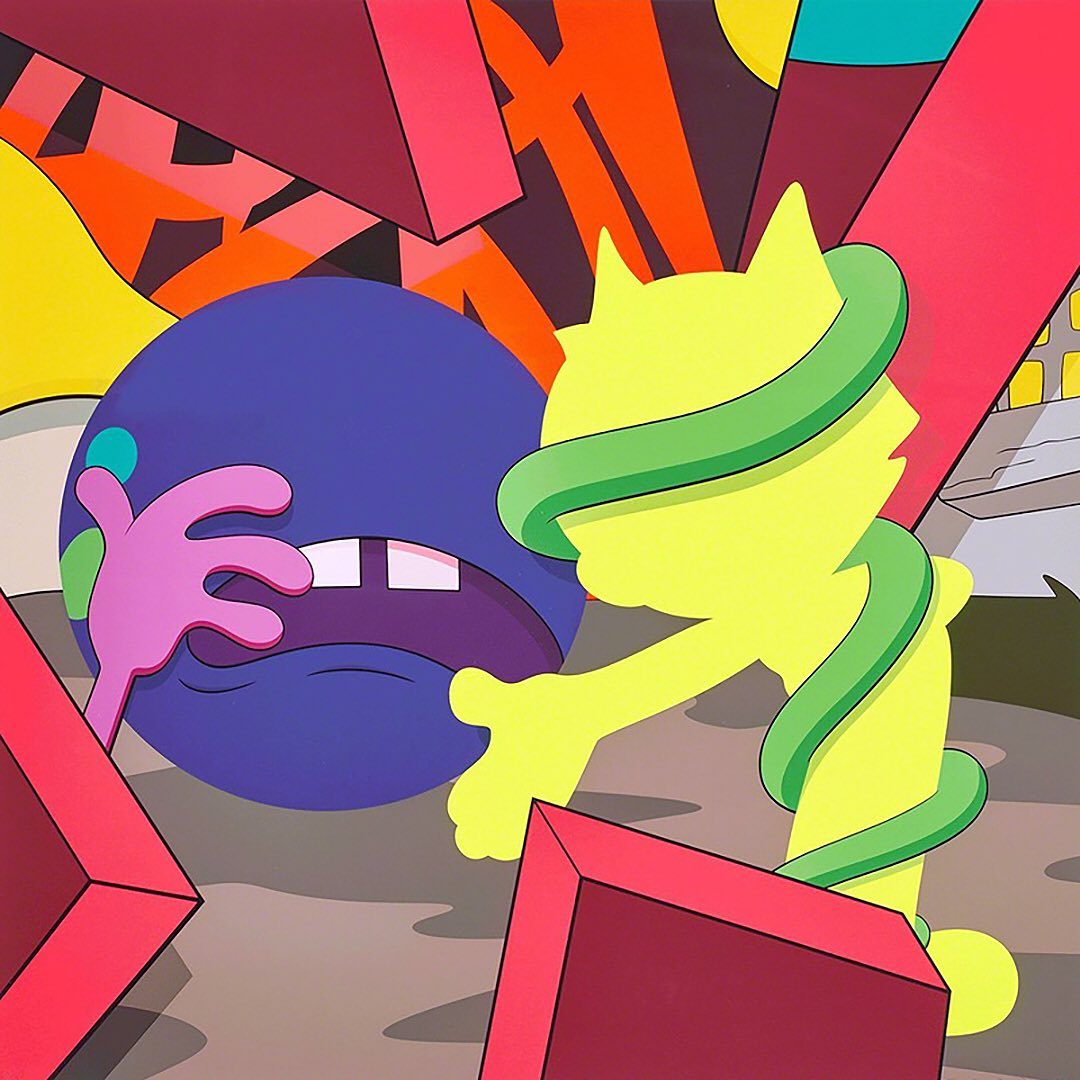 This painting might be the epitome of KAWS art. Through his life, he has worked across limited edition vinyl toys, clothing bottles, and paintings and sculptures. And this one has everything, showing how he blurs the line between mass-production and fine art.
14. Blame Game 2015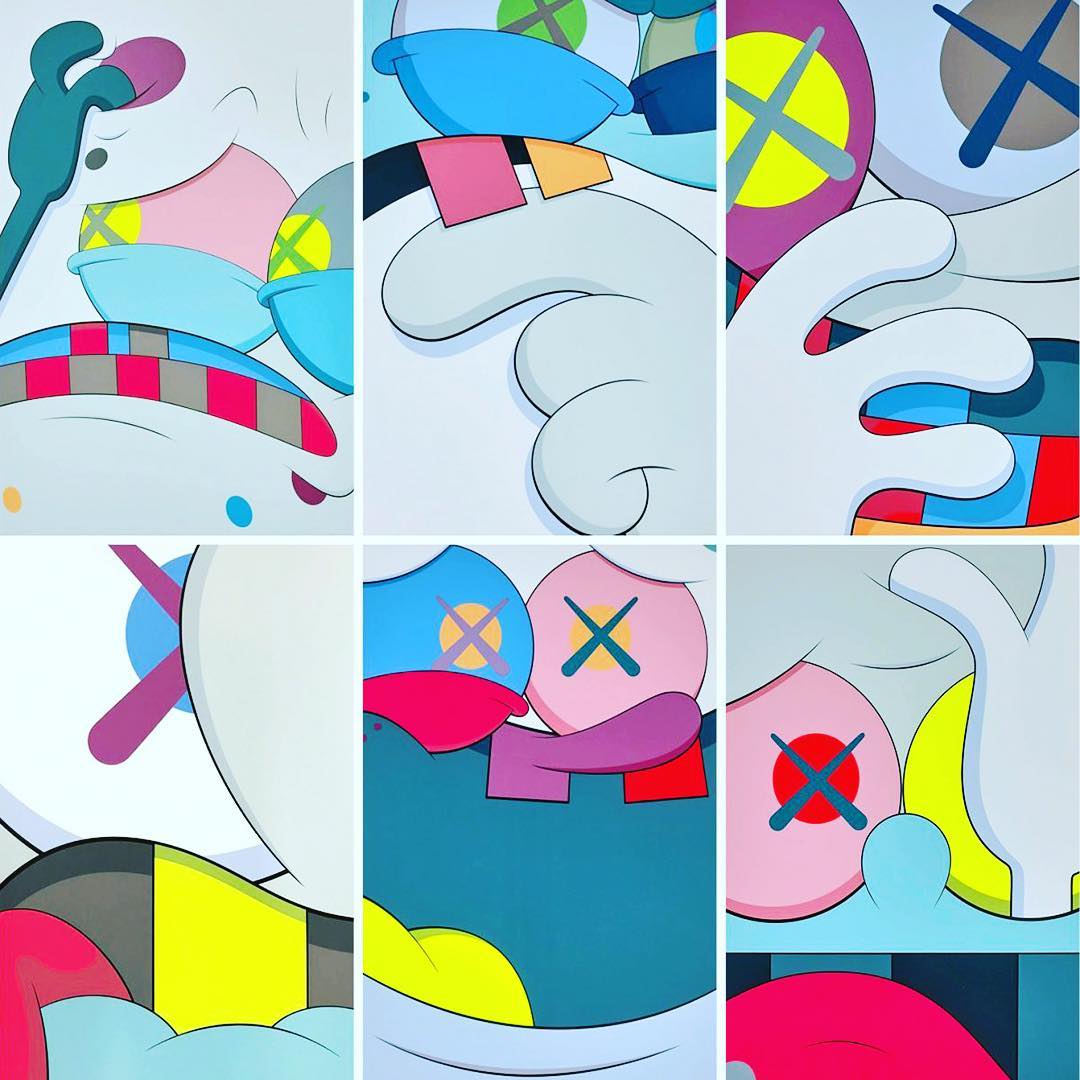 We all play the blame game every now and then. KAWS only shows it how it looks using fictional characters. Pretty childish, right? Think about the next time you get into a blame game.
15. Chum 2012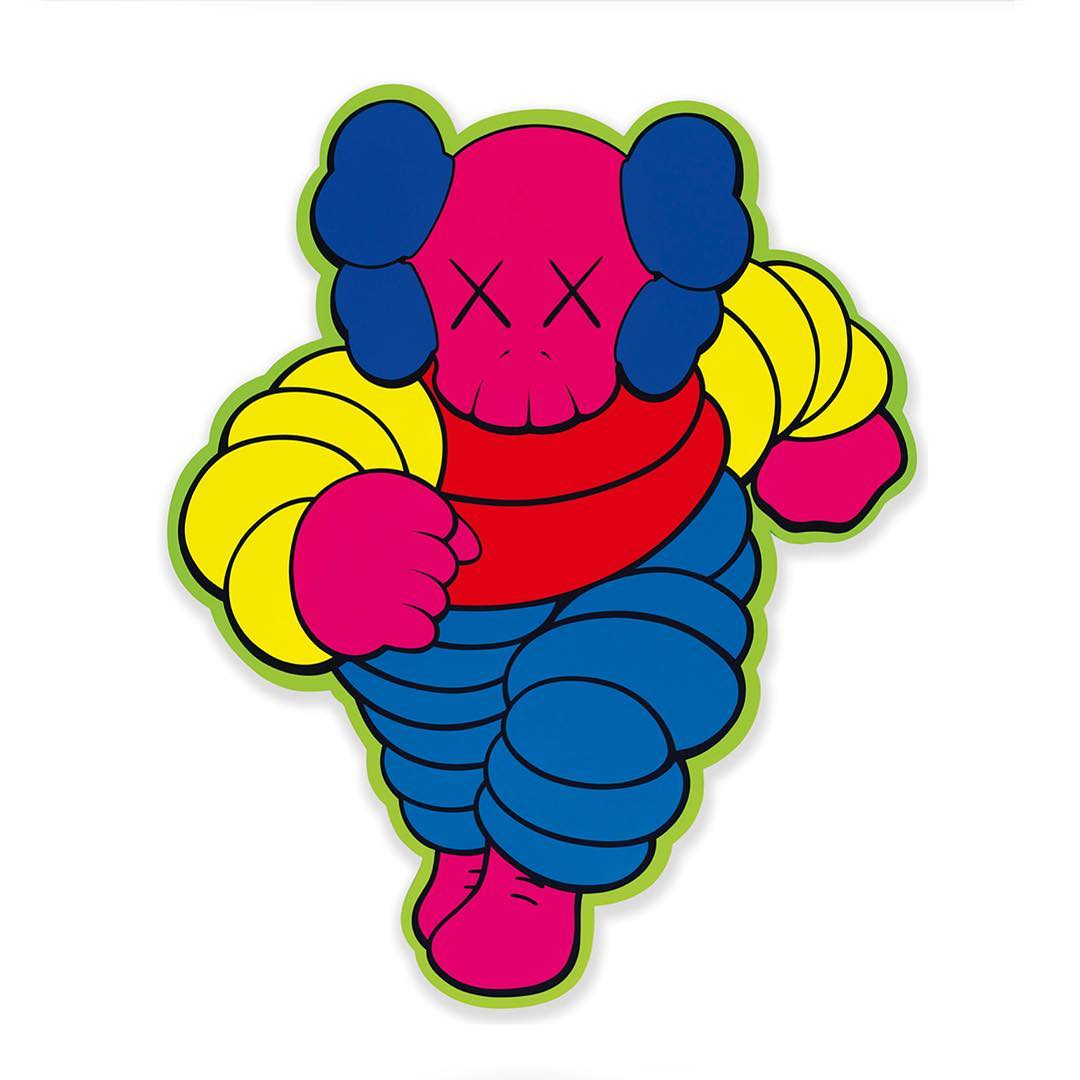 You might recognize this particular character. It is the same as the one used by Michelin for their tyres. The only difference is this one comes in color. And without eyes, which is his signature XX sign.
16. MTV Moonman 2013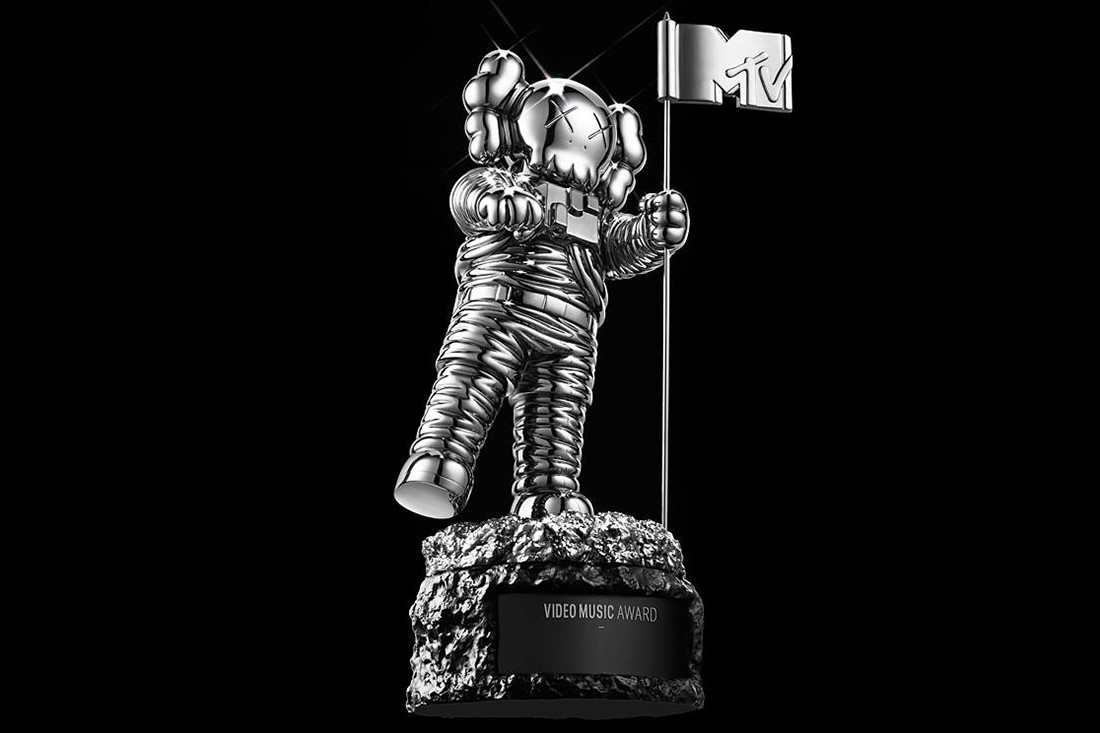 In 2013, KAWS was tasked to change the design of the MTV video music awards trophy. It was the first redesign in its 30 year history. MTV executives thought the shift was appropriate way to mark the change in venue for the show. He also designed the stage for the show.
17. No One's Home, Stay Steady, The Thing That Comforts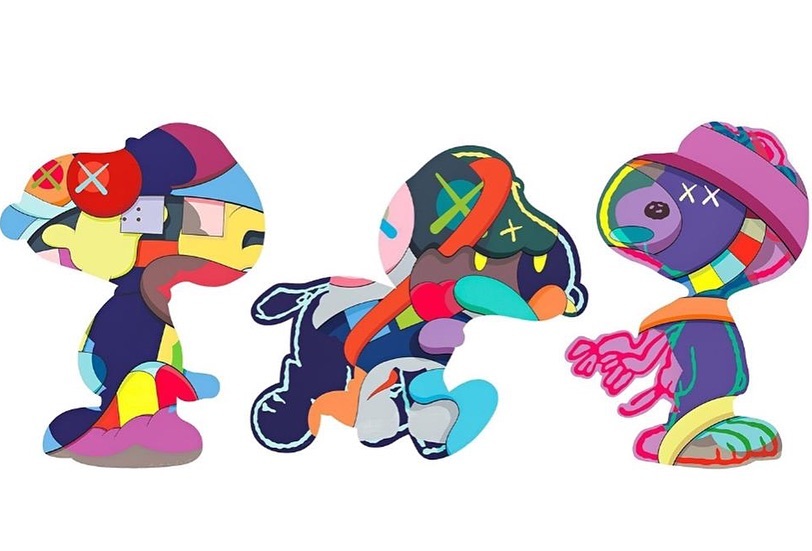 Another painting that shows every detail KAWS usually puts in his art. Using three distinctive perspectives of the Snoopy motif, he fills them with inspiration from his art.
18. The Companion Hong Kong's Victoria Harbour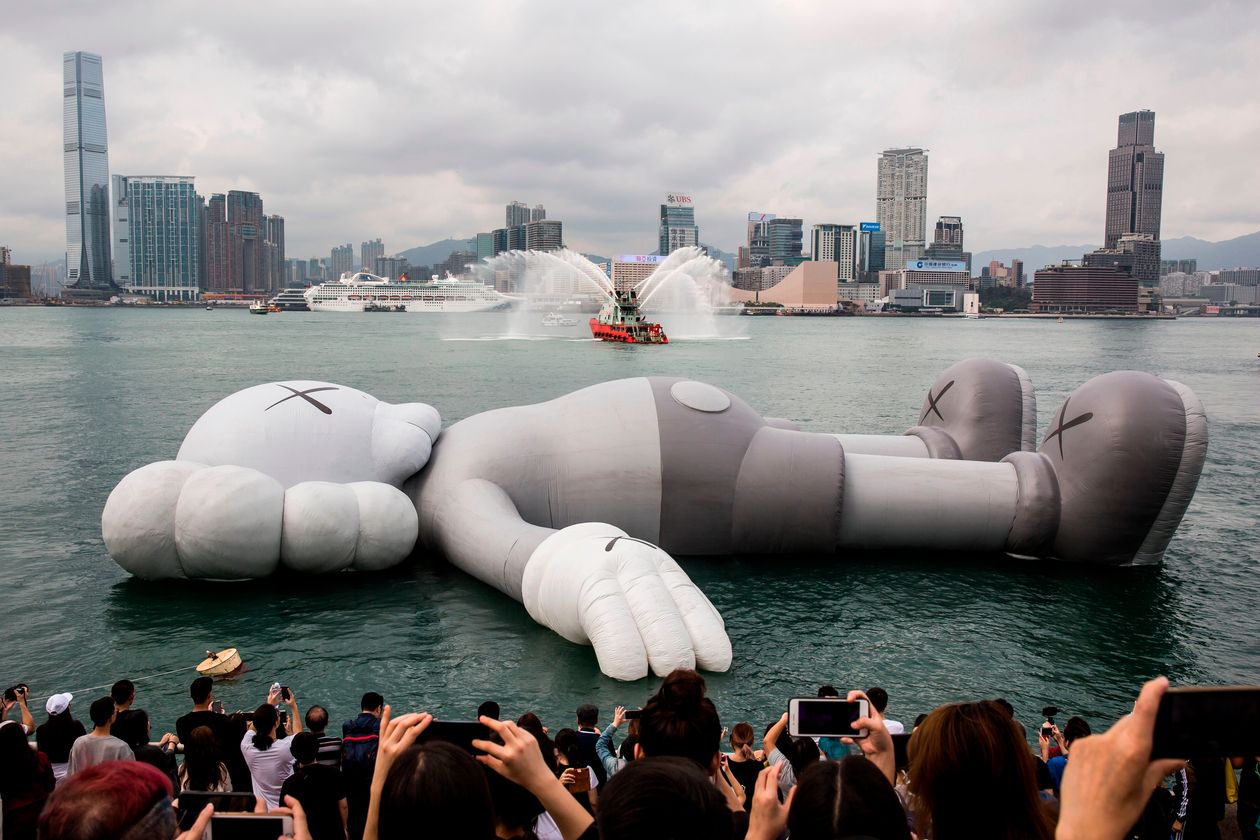 Earlier this year, KAWS launched a 121-foot long inflatable sculpture at the Victoria Harbor in Hong Kong. It was a remarkable event, one rarely seen. And it was quite fitting for the audience.
19. Ankle Bracelet 2017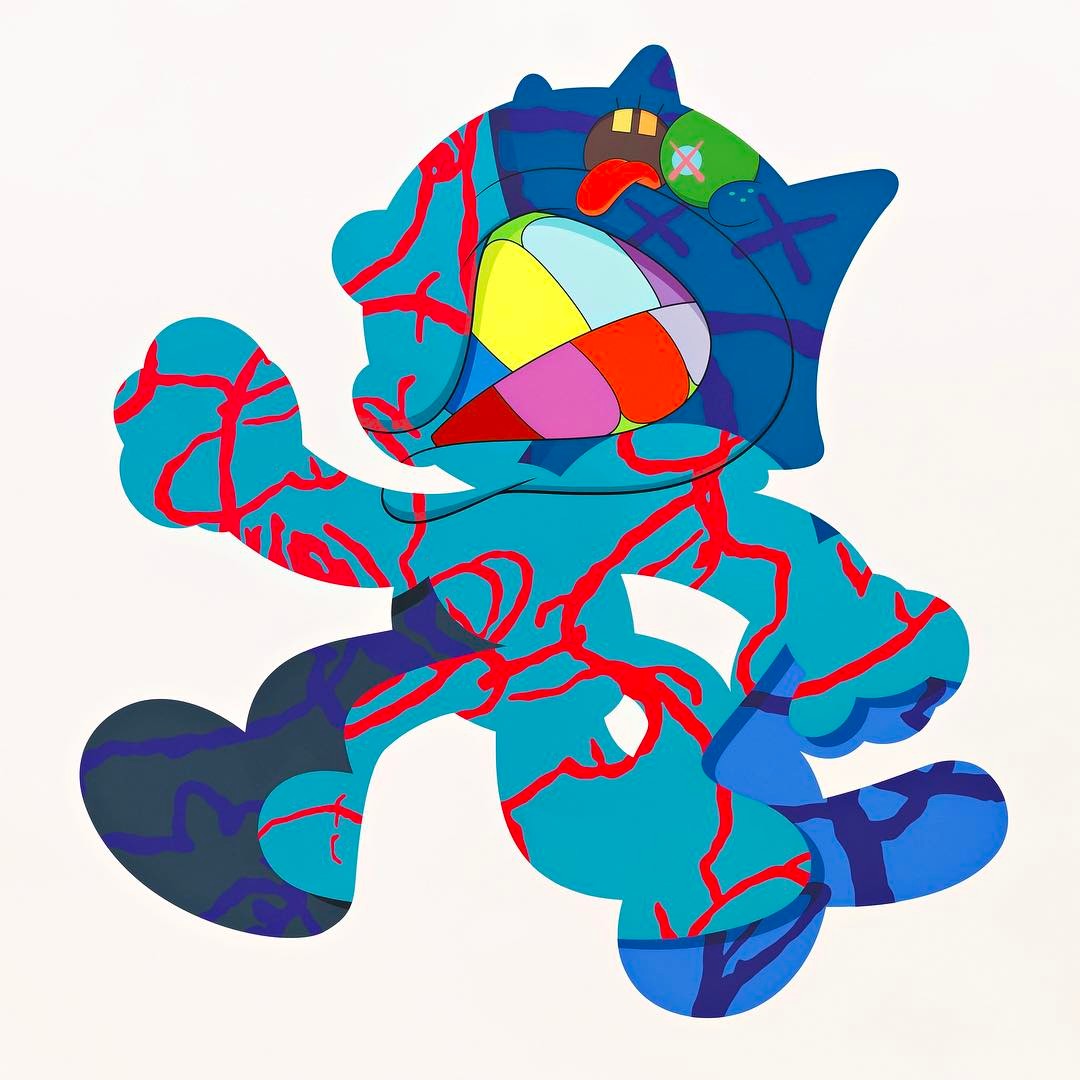 This Ankle Bracelet takes on a familiar character in the world of cartoons. It is more in the spirit of Japanese anime, which is different than his usual Disney characters.
20. Piranhas When You're Sleeping 2013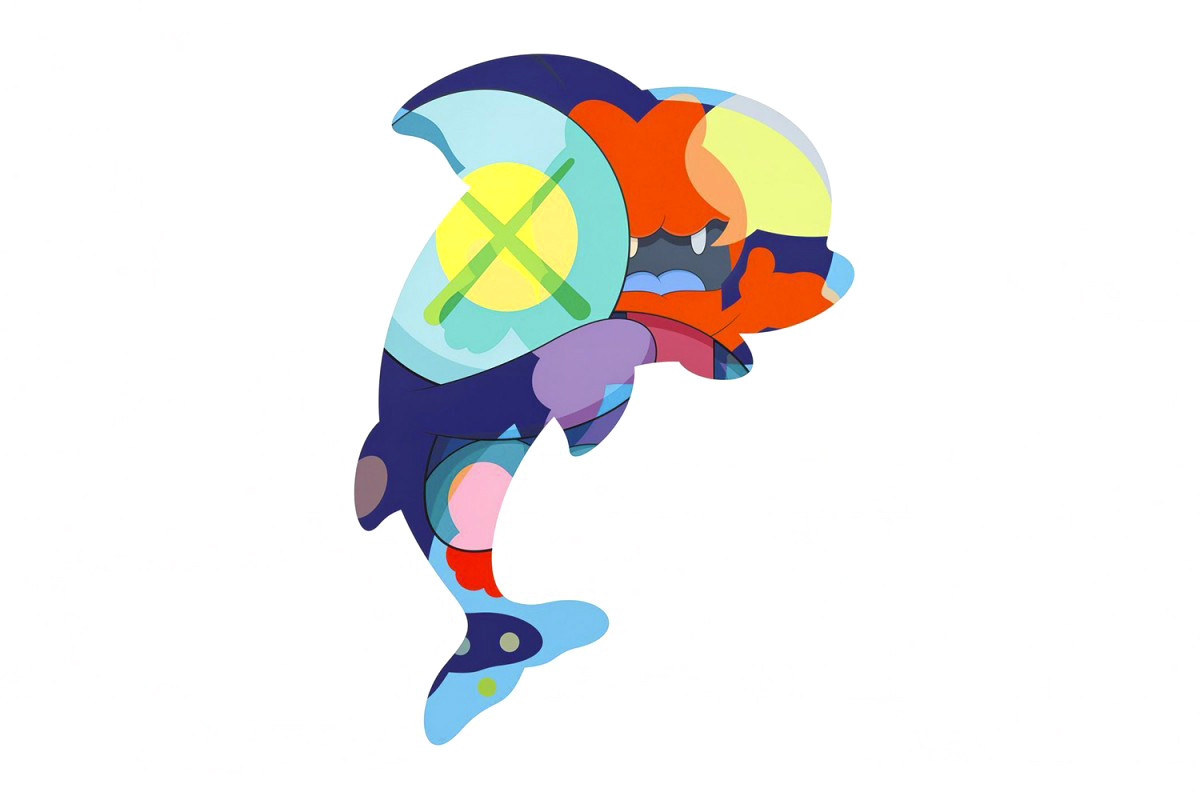 Piranhas are some of the most dangerous fishes. The fish has powerful jaw and sharp teeth. It is a predator fish, but will eat other fish, not humans. They can, however, bite humans, or anything else when they are hungry.
21. Companion Camping At Mount Fiji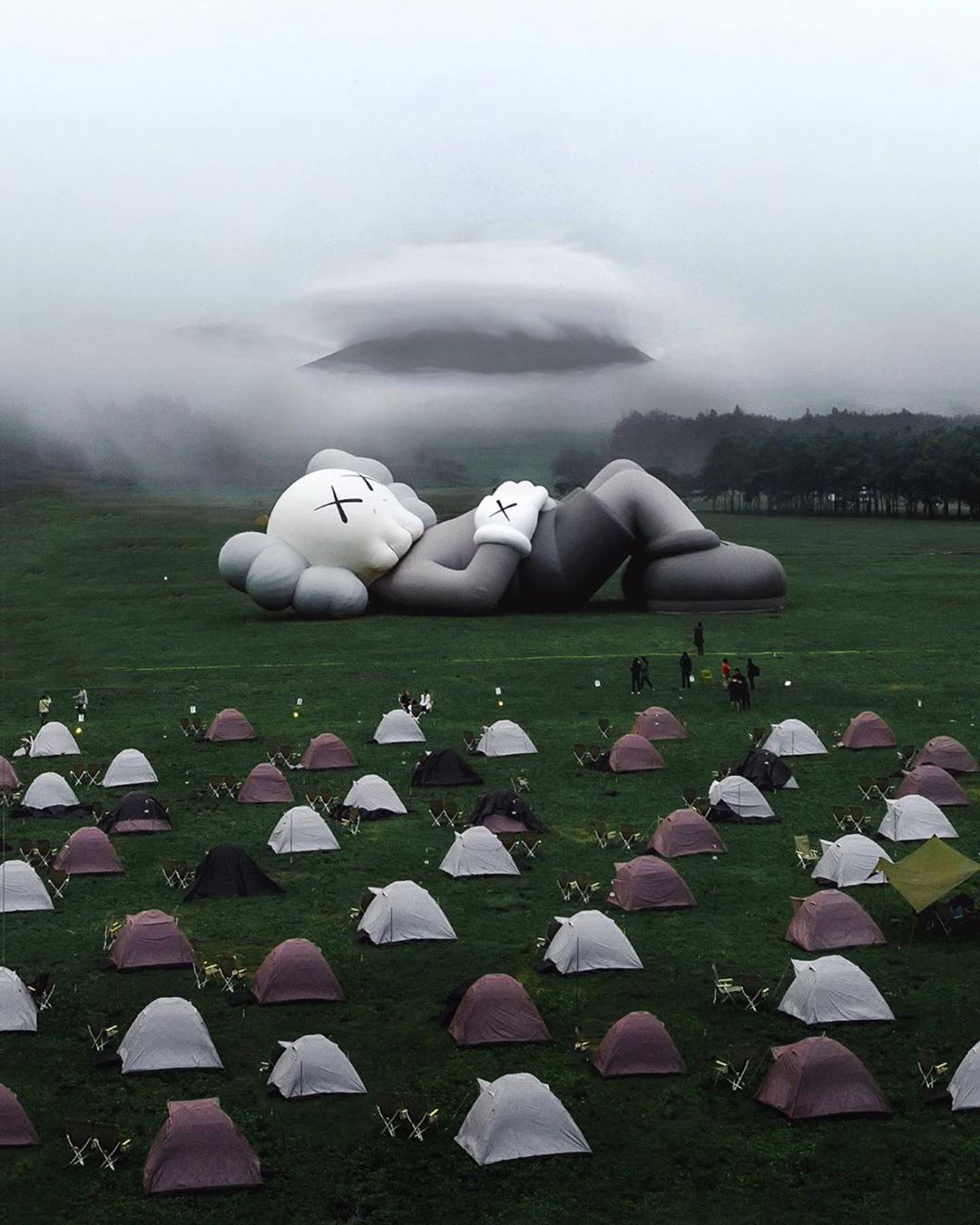 KAWS's Companion has become one of the most recognizable and collectible figures around. He has installed the 121-foot long inflamed sculpture at many parts of the world. However, some still view it as just a plastic toy and not real art.
22. Alone Again 2018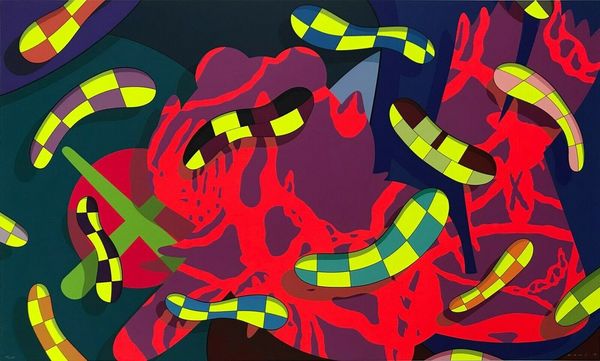 Alone Again was actually a name for a solo exhibition by KAWS. He presented life-sized sculptures and vivid paintings at the Museum of Contemporary Art in Detroit.
23. The Bluff 2019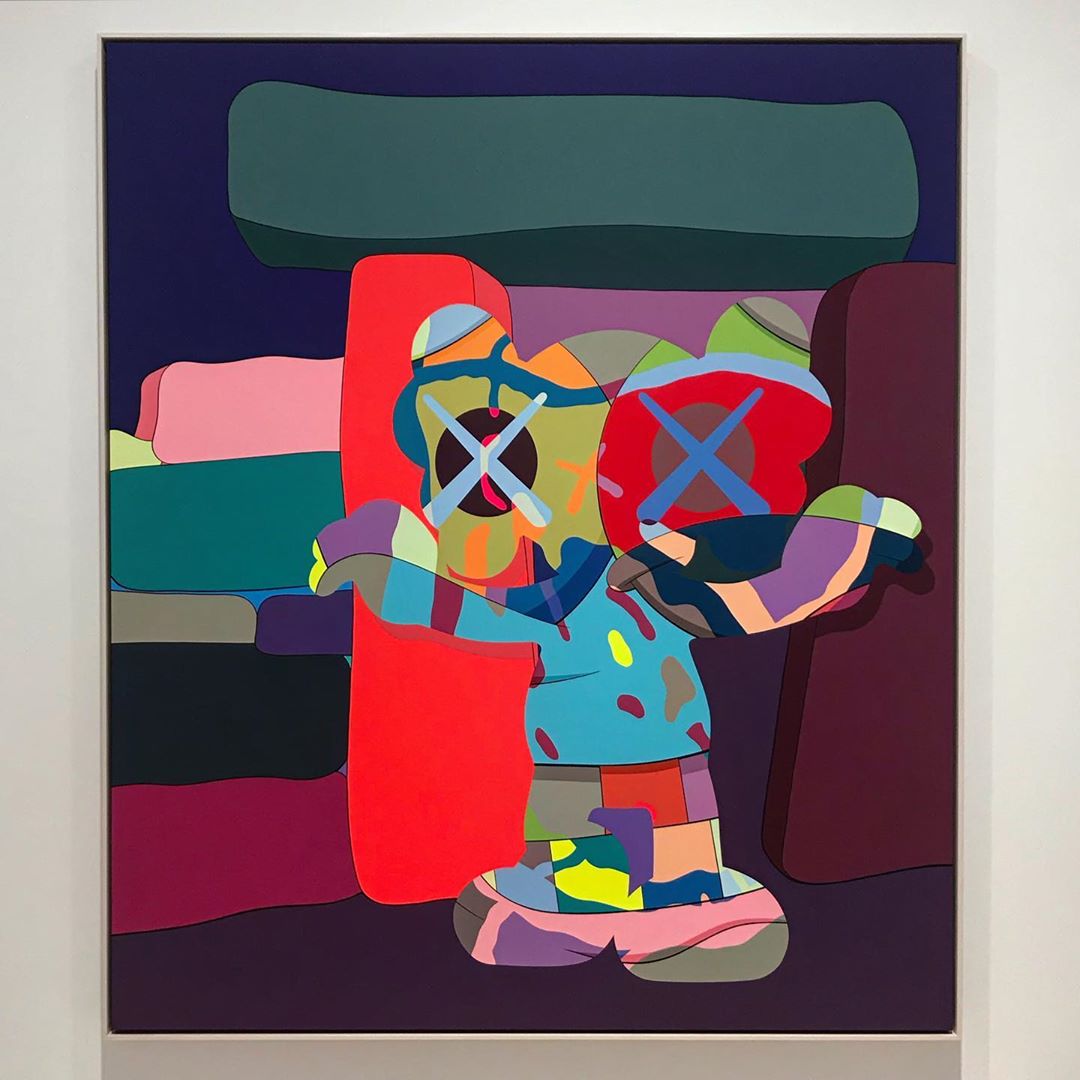 This painting was part of his KAWS Blackout Exhibition earlier this year. The illustration is packed with vivid colors, and inspirations from different everyday objects.
24. Blackout Series 2019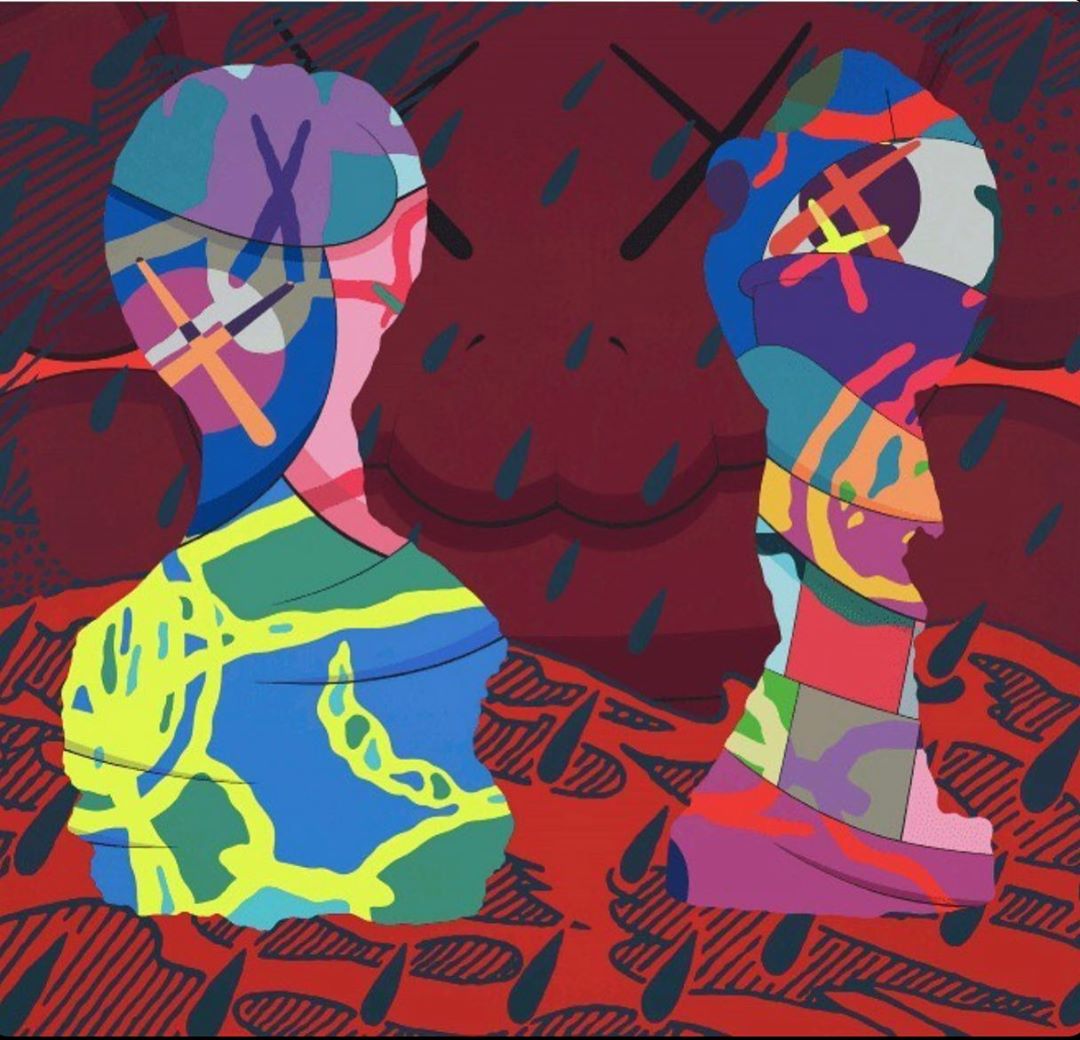 Blackout was the first London solo exhibition by KAWS. It featured a series of ten new abstract paintings and two new sculptures.
25. Blackout Series Summer 2019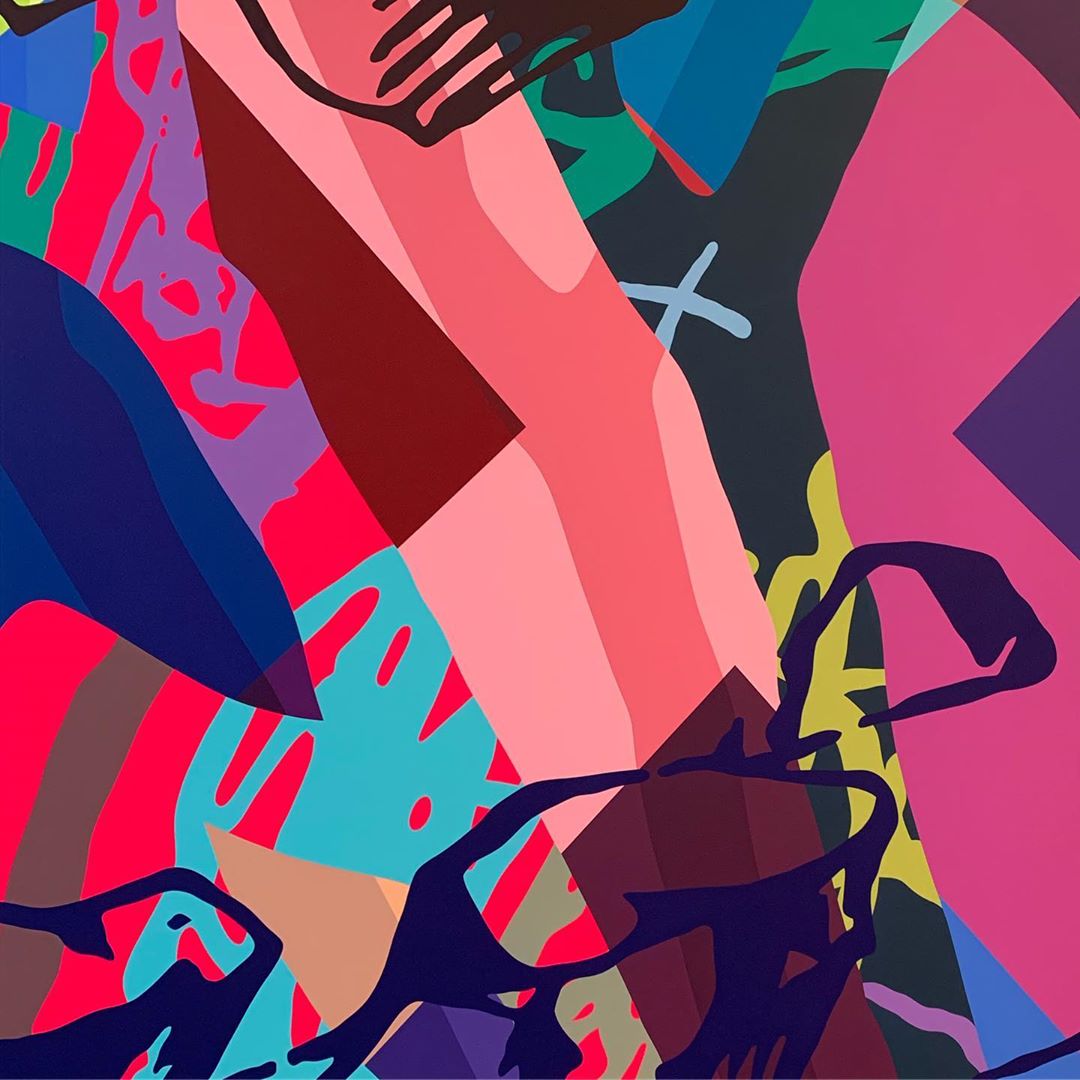 Some of the Blackout paintings might look like they came from the surreal era. But that is exactly the idea, to show abstract objects and shapes.
26. Gone 2018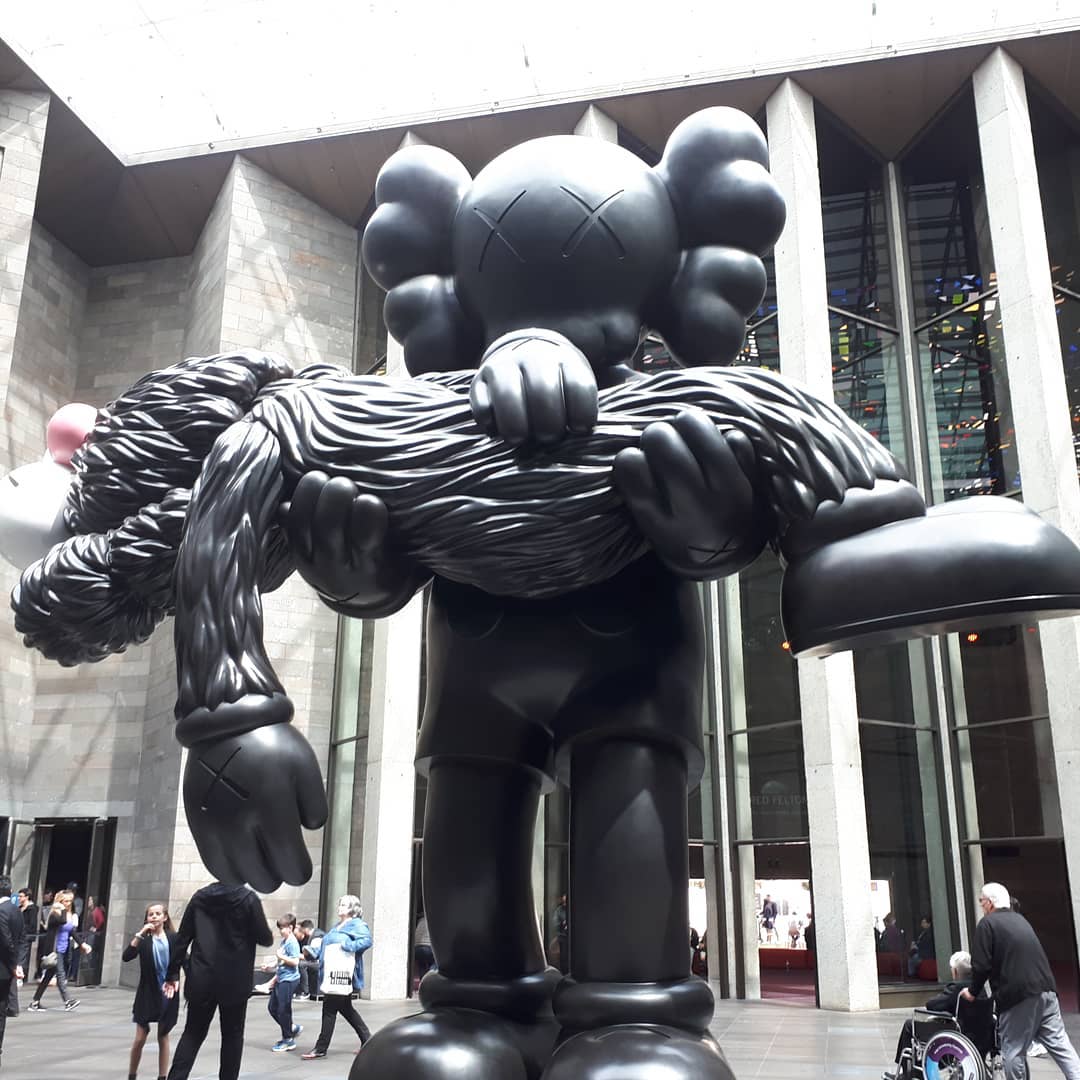 The Gone Figure is a subtle tweak on his companion figurine. It is available in several colors, including brown, pink, and blue.
27. Companion and BFF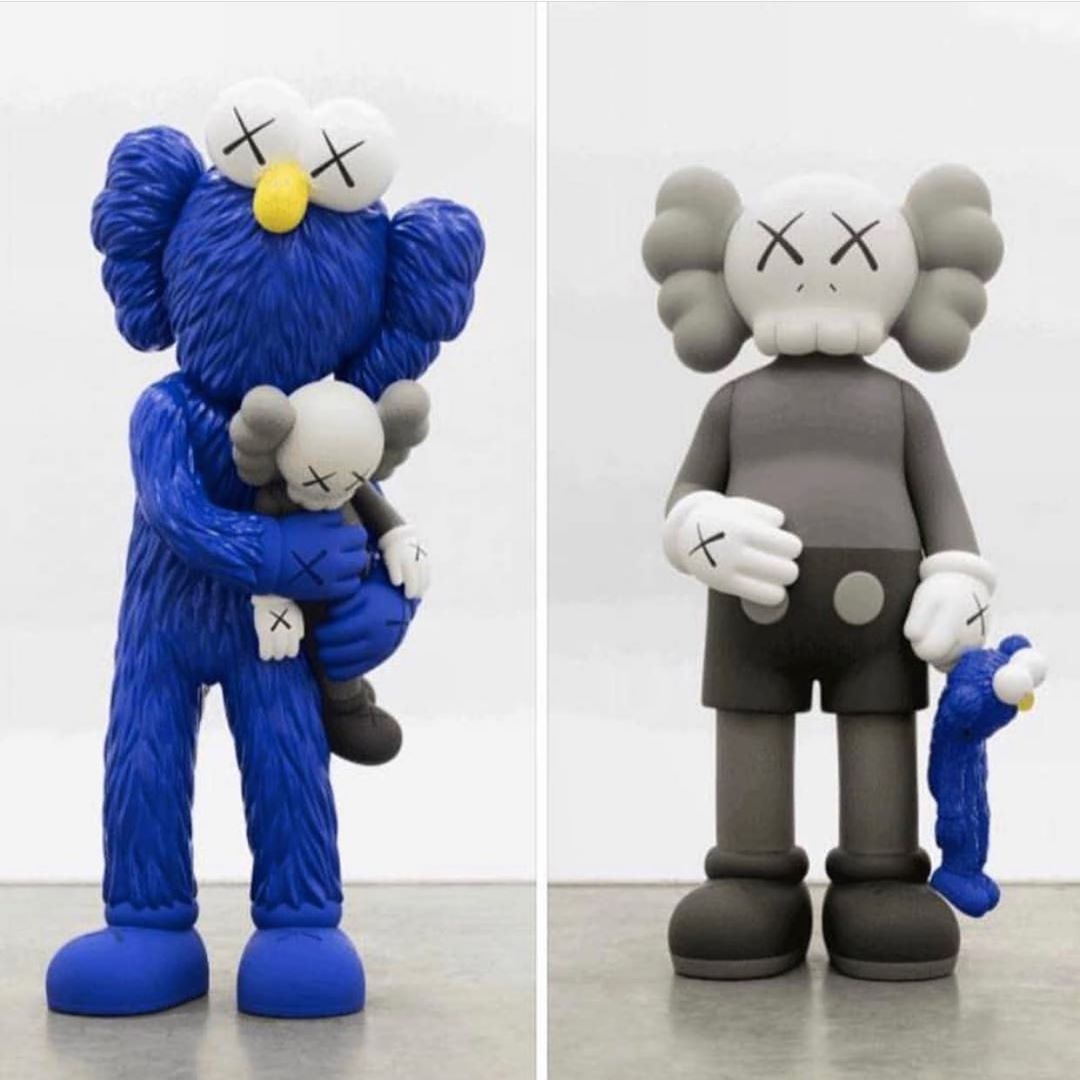 BFF is almost identical like KAWS's Companion figurine. Both have crossed-out eyes, gloved hands, and oversized ears. The difference is BFF has furry exterior. In this piece of art, we see both of them hanging together.
28. Kaws And His BFF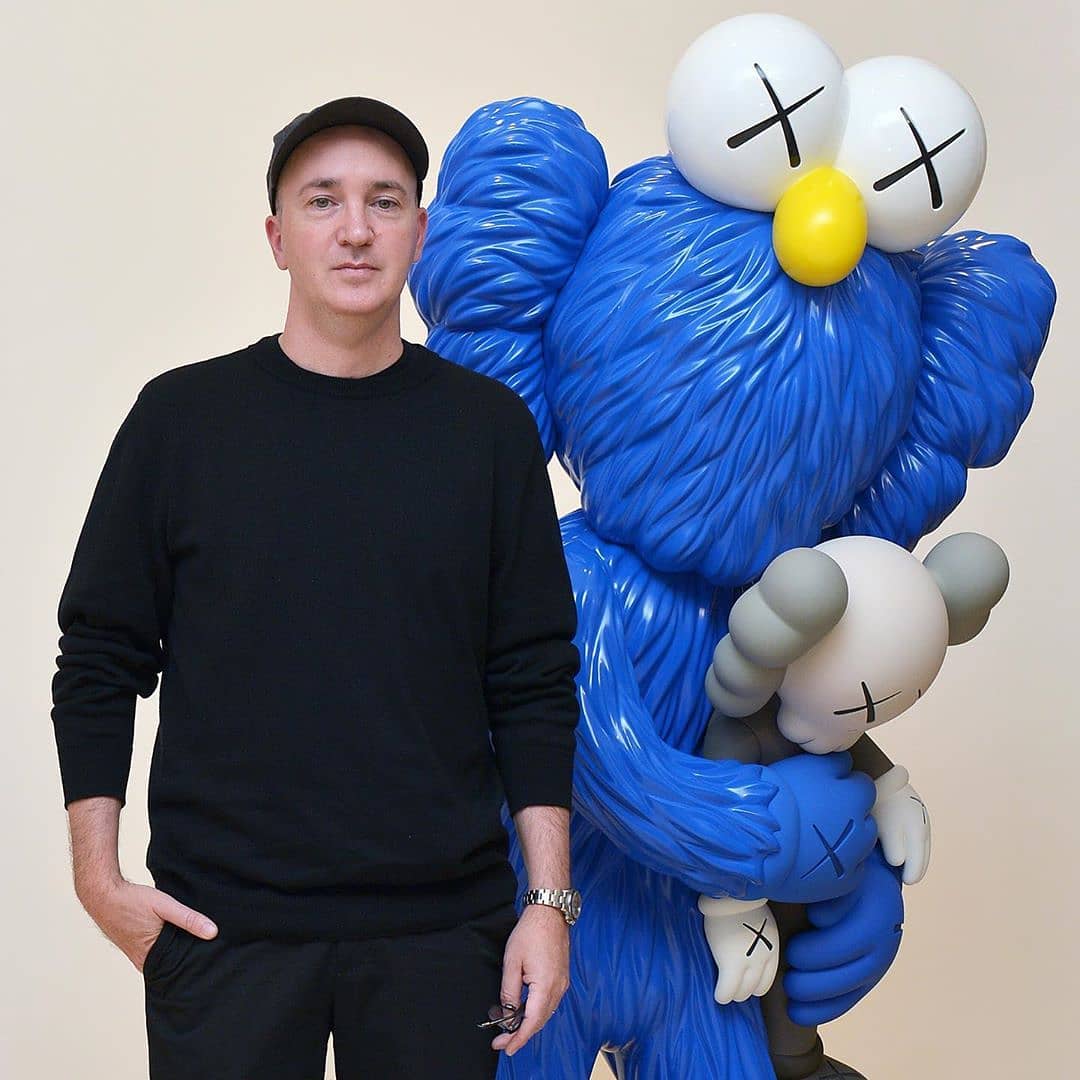 It is only fitting that we finish off this list with a "self-portrait". KAWS is pictured here with one of his signature figurines.