Claude Monet was a French painter, founder of French Impressionist movement. He is the most consistent and prolific practitioner of the movement's philosophy of expressing one's perceptions before nature.
Impressionists often turned to nature for inspiration. Monet also turned to nature. In fact, the movement was named after one of his Monet impression, Sunrise, painted in 1872.
His works can be seen in museums all around the world. And they are not cheap. The most expensive Monet painting was sold for $110.7 million to an unidentified buyer at Sotheby's in New York. The 1890 painting was part of his Haystack series. It is also the most expensive impressionist artwork ever sold at an auction.
He used the painting technique fundamental to impressionism. It is one of broken color, which is supposed to achieve the actual sensation of light itself in a painting. He worked in oil paint mostly, but sometimes, he also used pastels.
One of his signature moves was painting series. And, in each series, Monet painted the same site repeatedly, recording how the appearance changed as the light shifted.
1. Self Portrait With A Barret 1886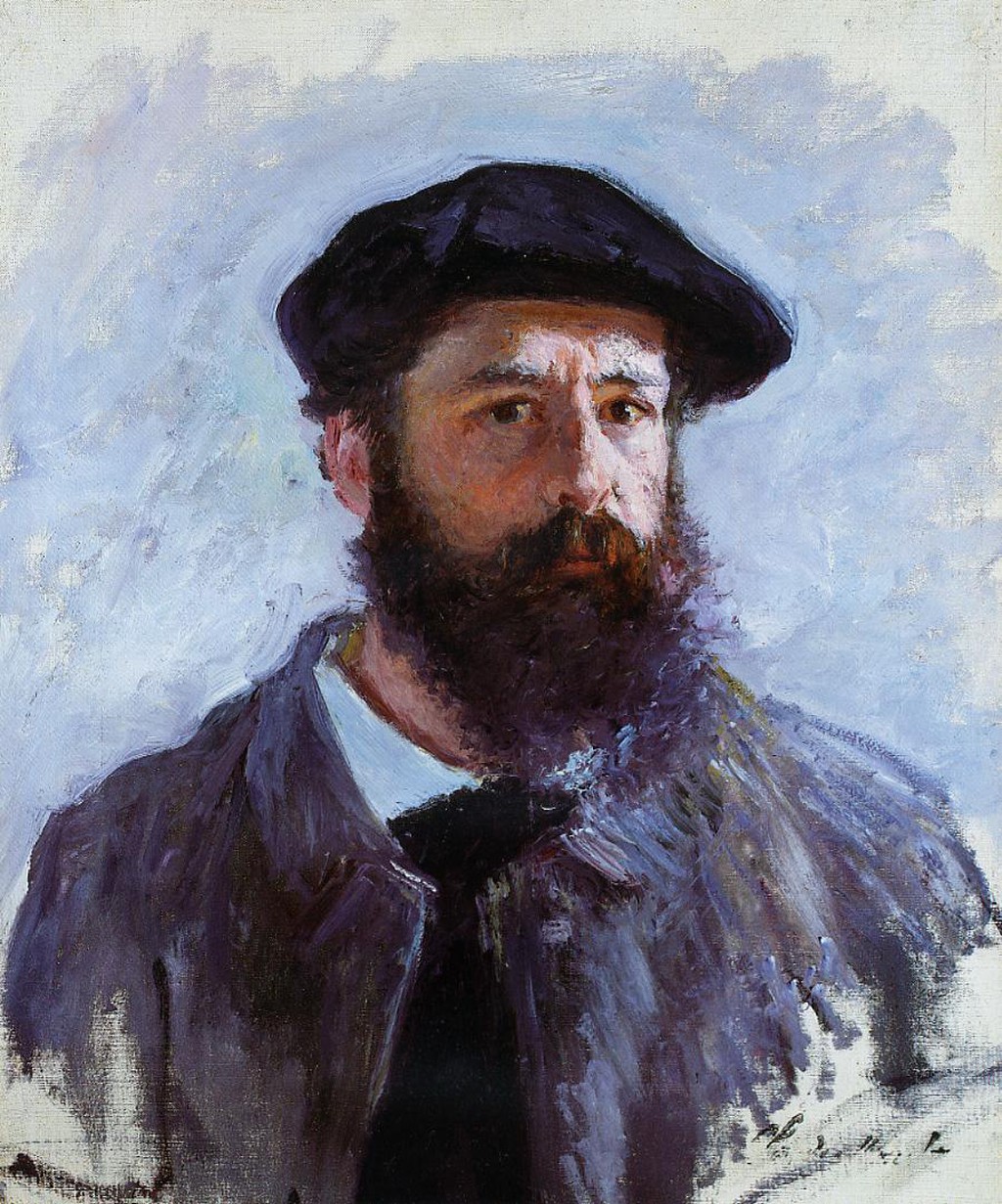 Let's start with a painting that is just perfect example of his technique. Monet used colors that were so alive, it seemed like the painting is alive. In this picture, you can see a serious mature man, and the paints are so alive, it seems like a living artist is watching you.
2. The Magpie 1869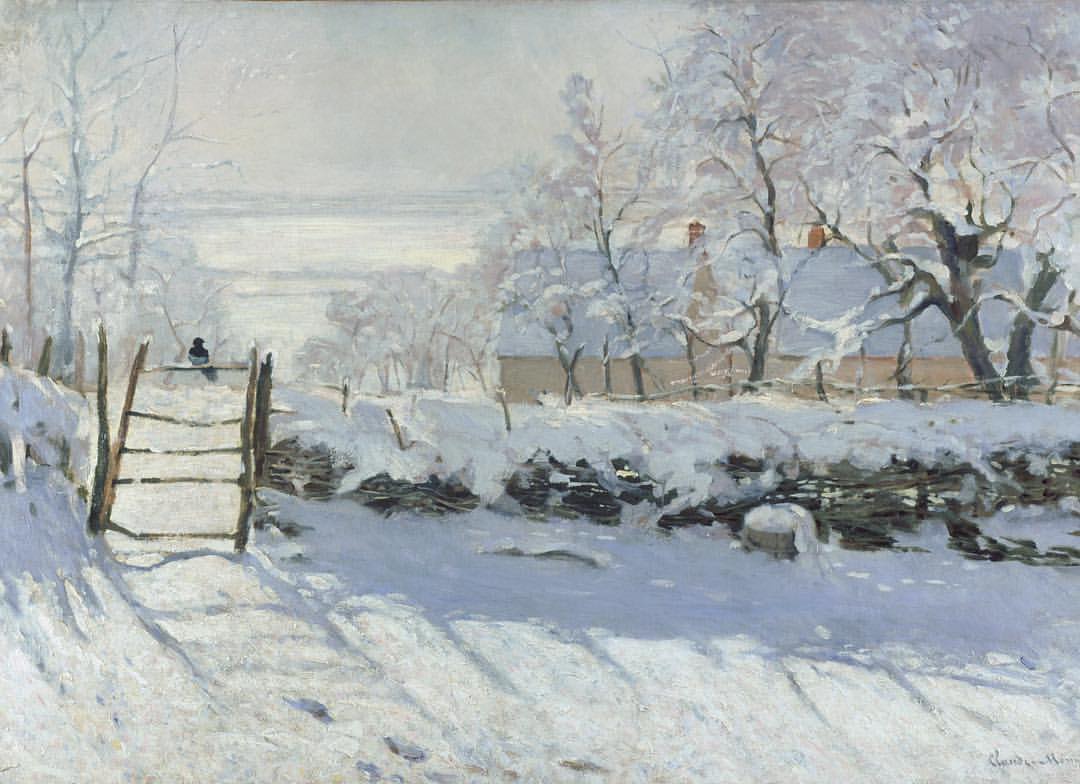 This one is one of his most popular early paintings. He turned his interest in color on the blank canvass of the snow. Painted in the winter of 1968-69 near the commune of Etretat in Normandy.
3. Waterloo Bridge 1902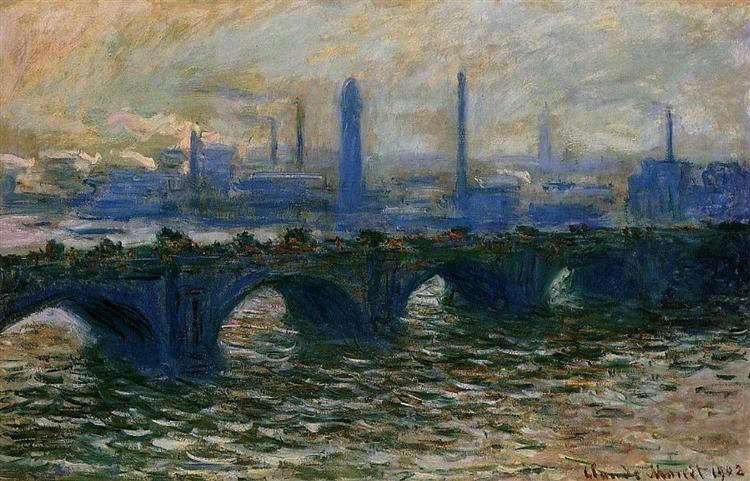 There are actually two Waterloo Bridge paintings. They are dated 1900 and 1903. At the time, Monet stayed at the Savog hotel on the fifth floor. His view overlooked the Thames. As such, he was impressed by the Waterloo bridges, and decided to paint them.
4. The Pink Skiff, Boating on the Ept 1887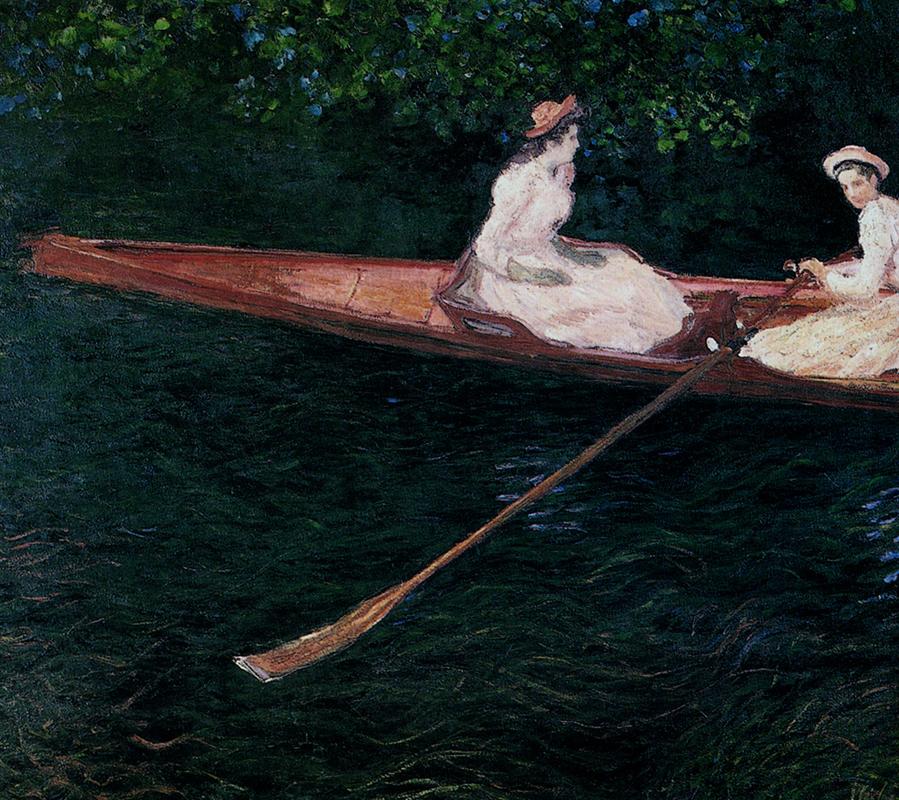 This painting is so popular, it has received a digital treatment. The digital artwork is available for purchase for different purposes.
5. Rouen Cathedral, Study of the Portal 1892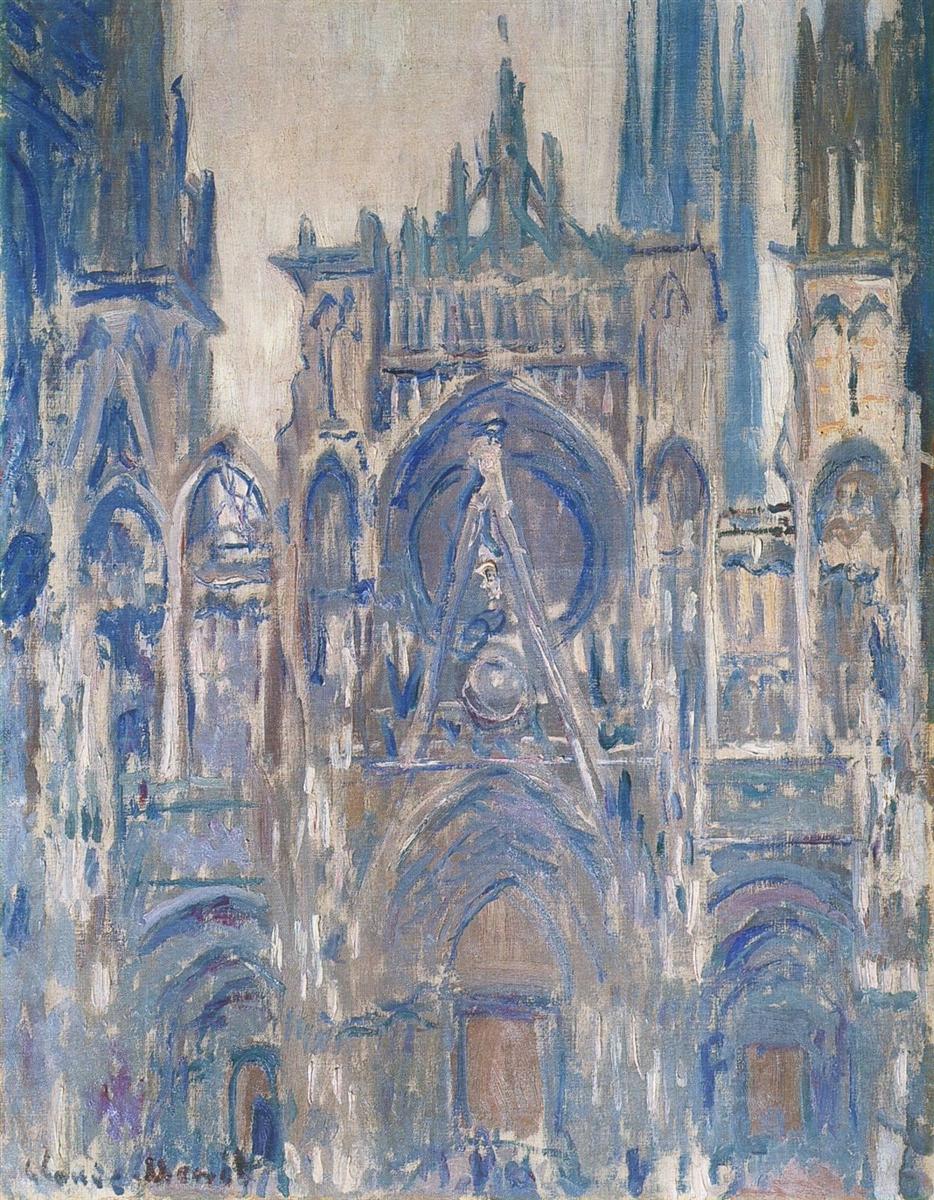 You can see how determined Monet was to paint a perfect picture. He spent six months painting the Rouen Cathedral. He wanted to capture the way light played across the Gothic structure. Sometimes, he painted on 10 canvases at a time. There are more than 30 paintings of the Cathedral made in 1892 and 1893.
6. Houses of Parliament, Fog Effect 1903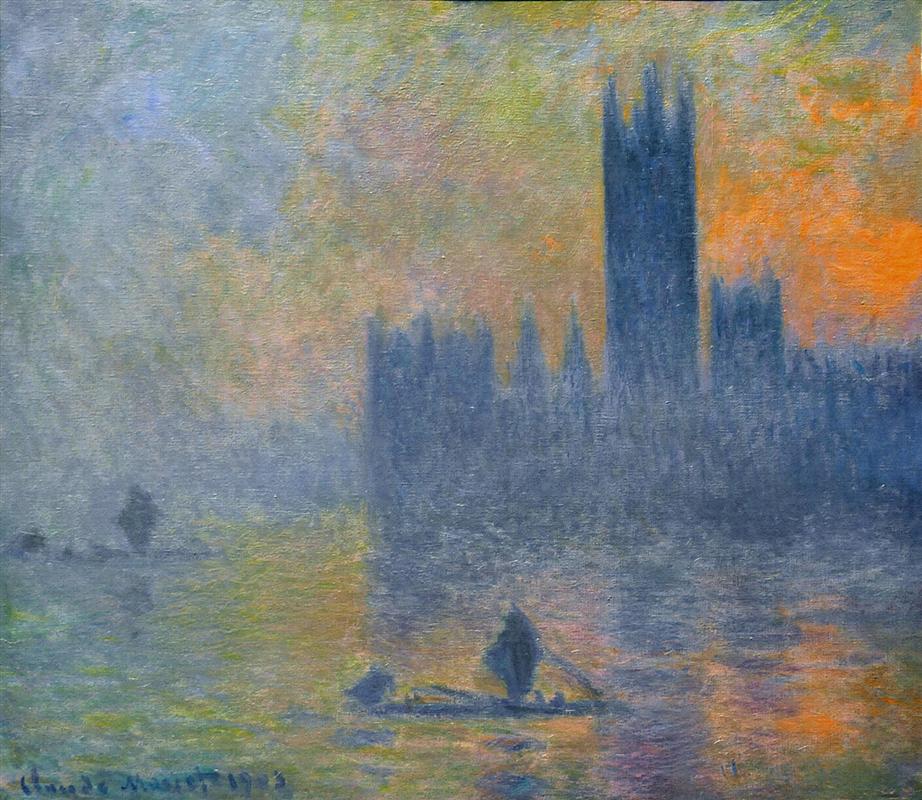 During his stay in London in the fall of 1899 and the early months of 1900 Monet painted a series of paintings of the Palace of Westminster, home of the British Parliament. He produced nearly a hundred views of the Thames River in London, among the many, the Houses of Parliament.
7. Haystacks – White Frost, Sunrise 1890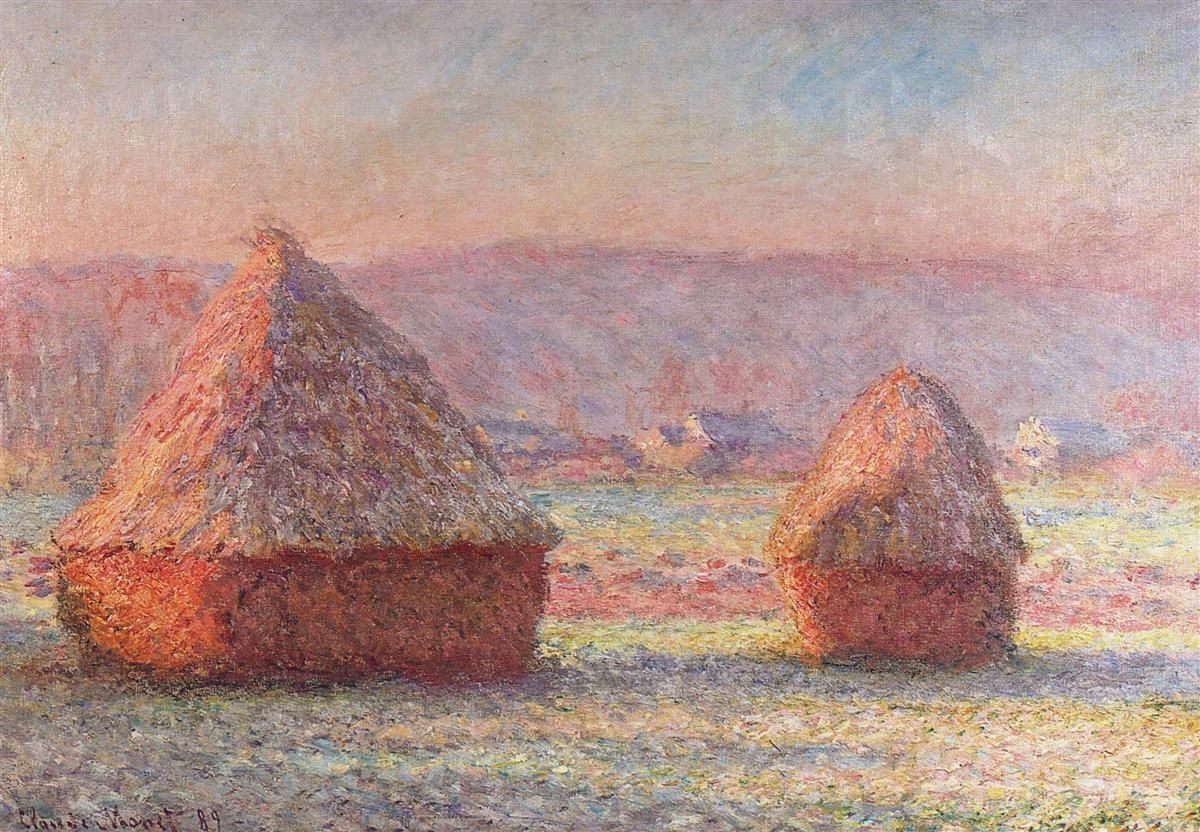 The Haystack series is considered his most notable work. All of the paintings contain a stack of hay in the field after the harvest season. One of the haystack series paintings is the most expensive impressionist artwork ever sold.
8. Women In The Garden 1866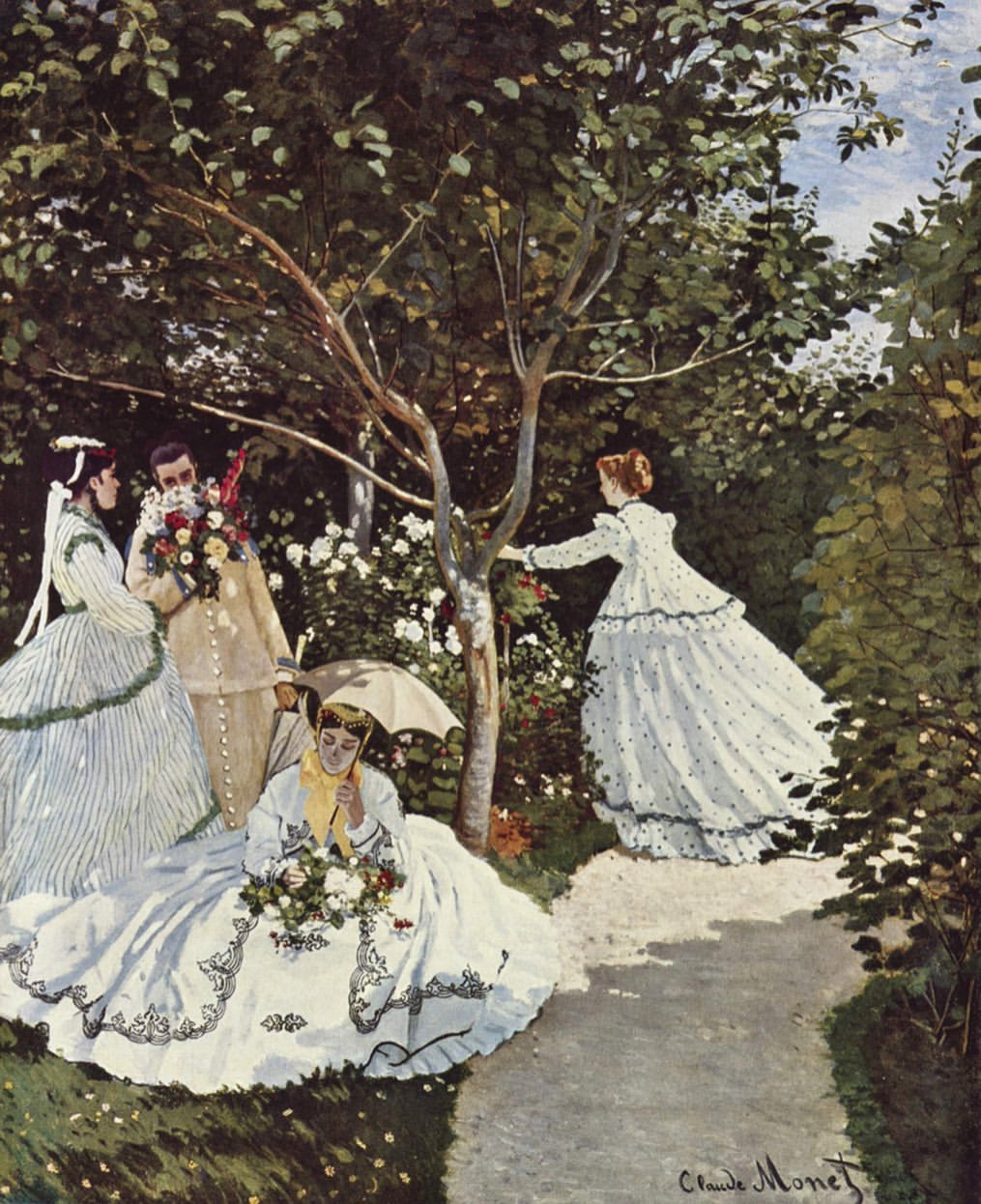 This painting is generally considered first of his works to capture his primary career theme: interplay of light and atmosphere. He painted this one when he was just 26 years old. Fun fact: it is also one of the first paintings he made outdoors, painting in the backyard. Or as the French like to call it, plein air.
9. The Artist's Garden at Giverny 1900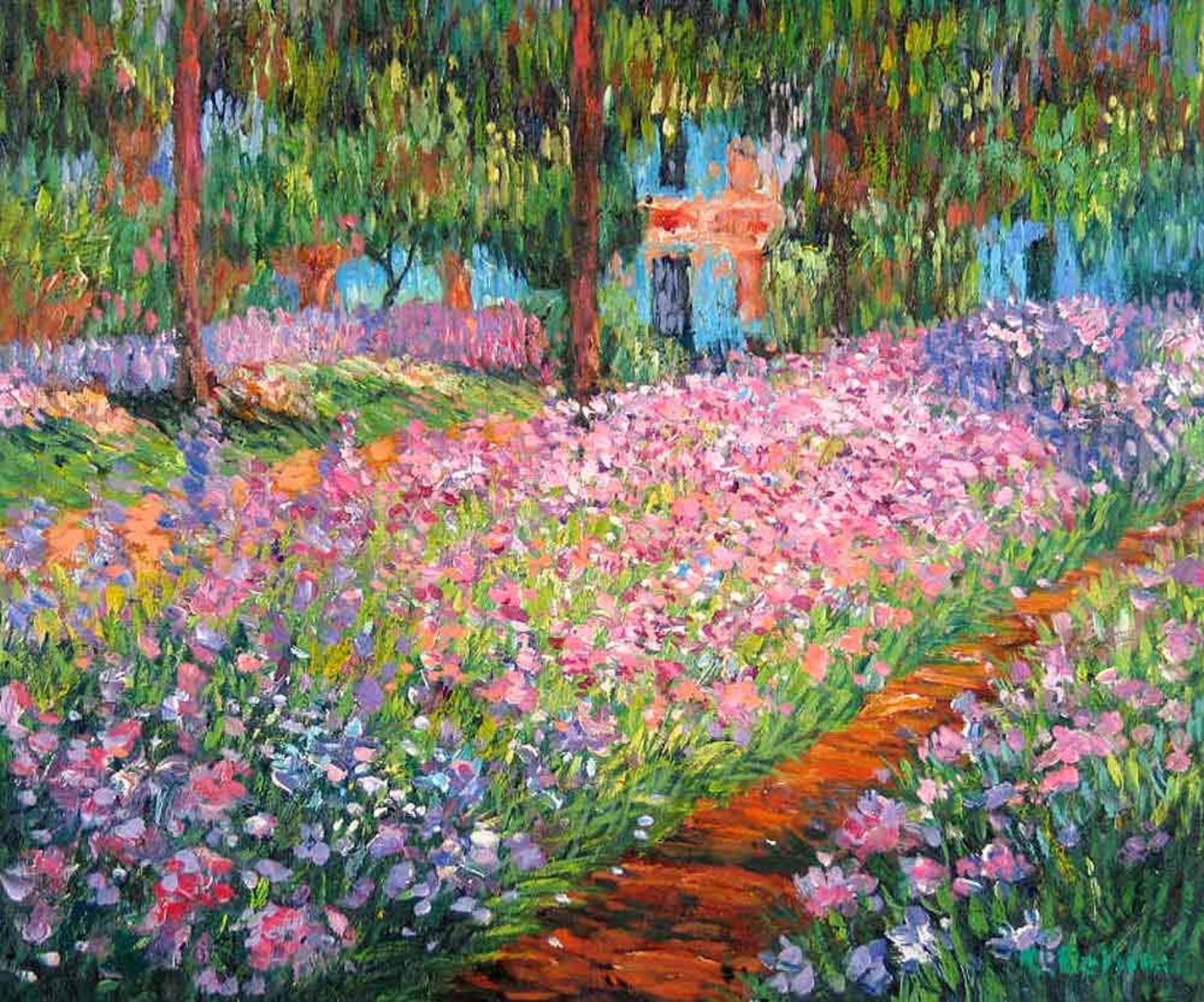 For more than 30 years, Monet painted his garden at Giverny. This one, in particular, was one of the early works. He loved to sit in his garden and paint it. The masterpiece sits in the Musee d'Orsay, Paris.
10. Portrait of Eugenie Graff (Madame Paul) 1882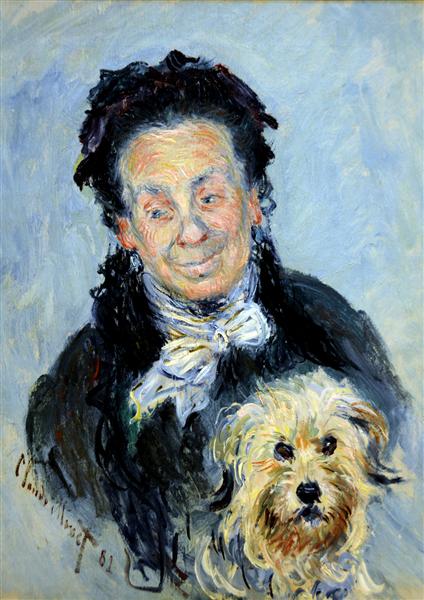 Monet did not paint portraits often. He did those only for his closest associates. This one is a portrait Eugenie Graff. He was one of the inn's proprietors in Pourville, a small fishing village in Normandy where he lived for two months.
11. Cliff Near Fecamp 1881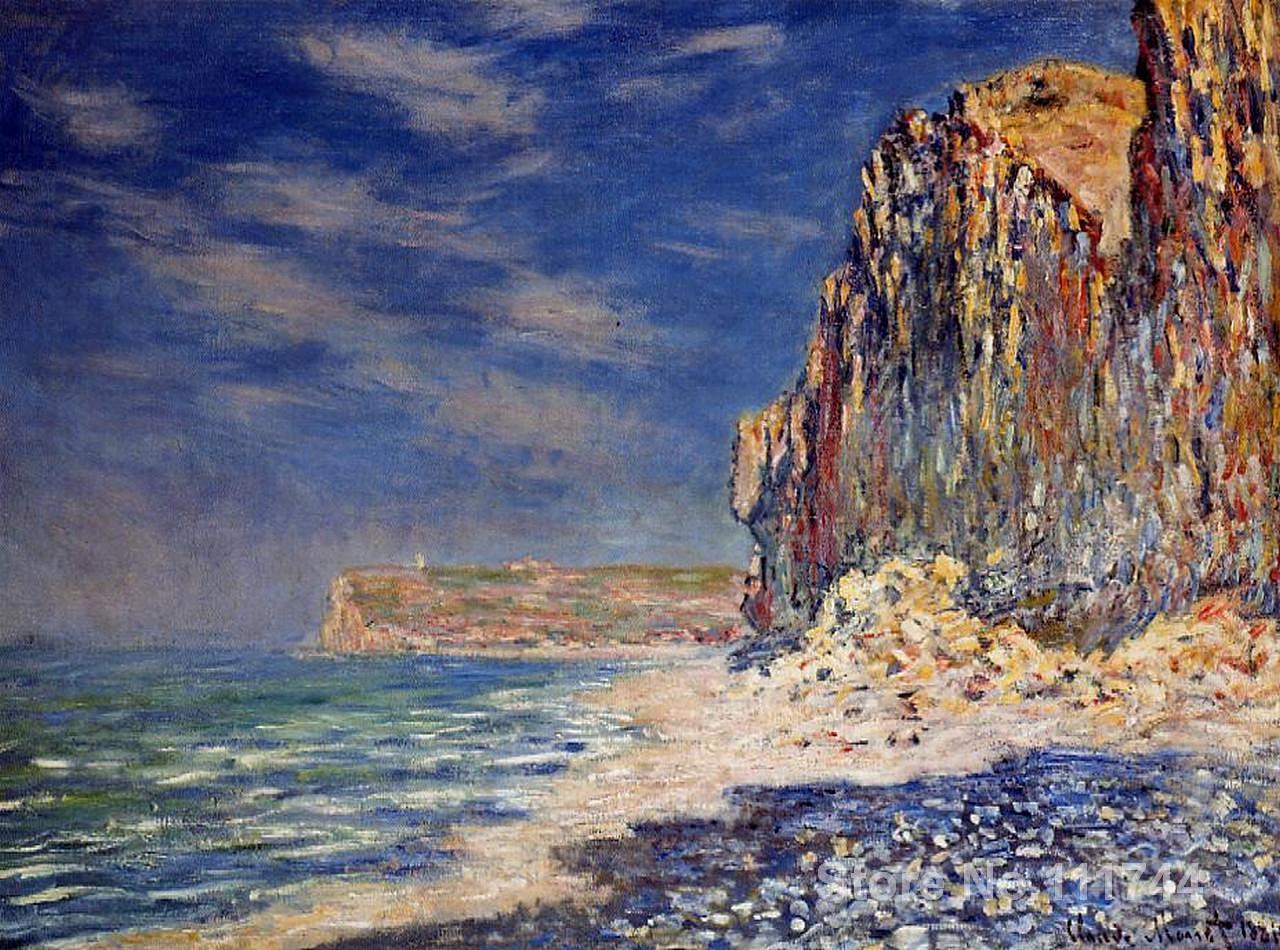 When Monet met Eugene-Louis Boudin, he began with landscape painting. He loved the Normandy coastline. He returned to this part of France for many times for his paintings. This one, in particular, is an early example of his cliff paintings. Now, it sits in a private collection.
12. Fishing Boats at Honfleur 1868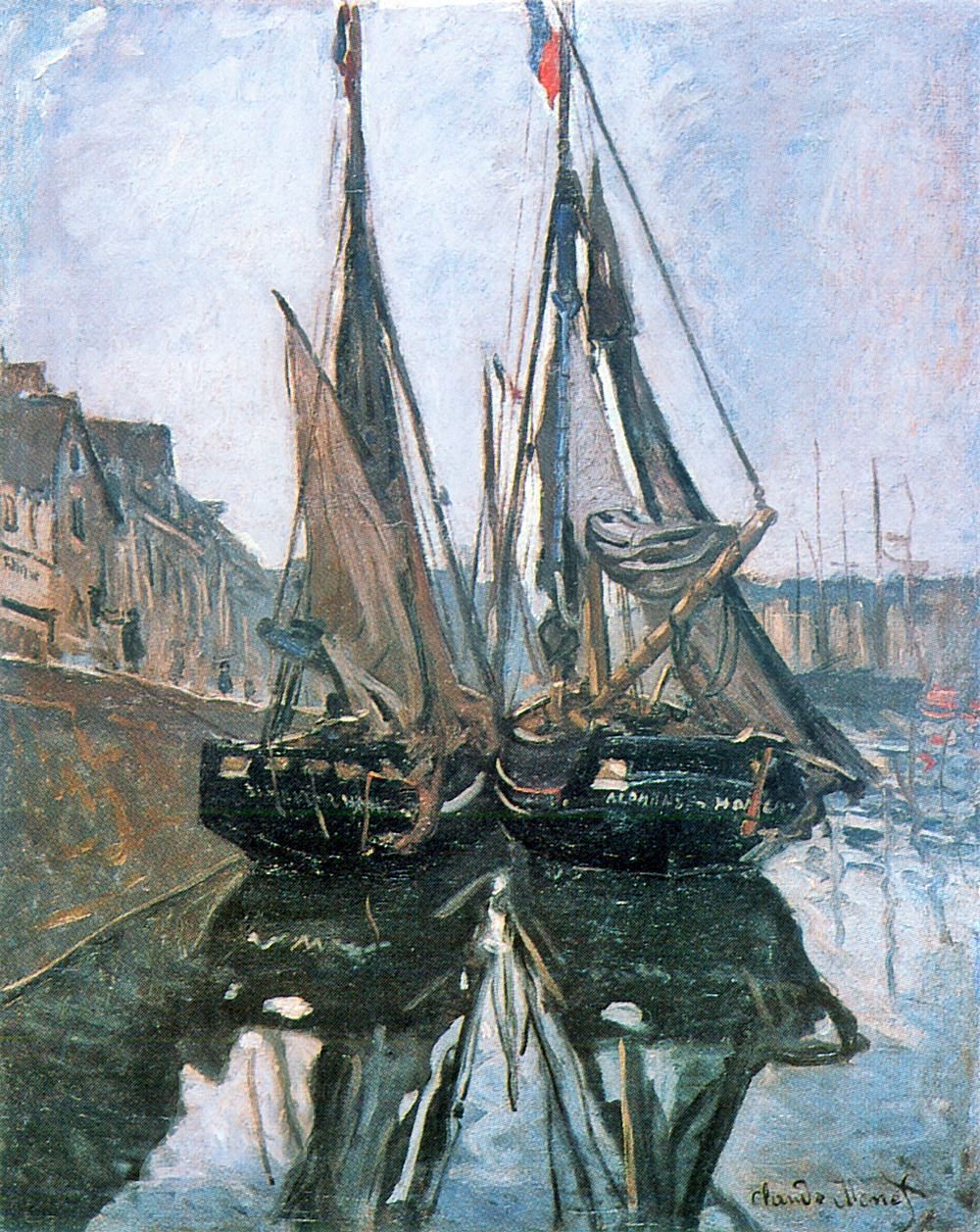 Monet was a master of colors. Here, he shows how beautiful the sunrise can be when done with the proper colors.
13. Water Lilies and Japanese Bridge, 1899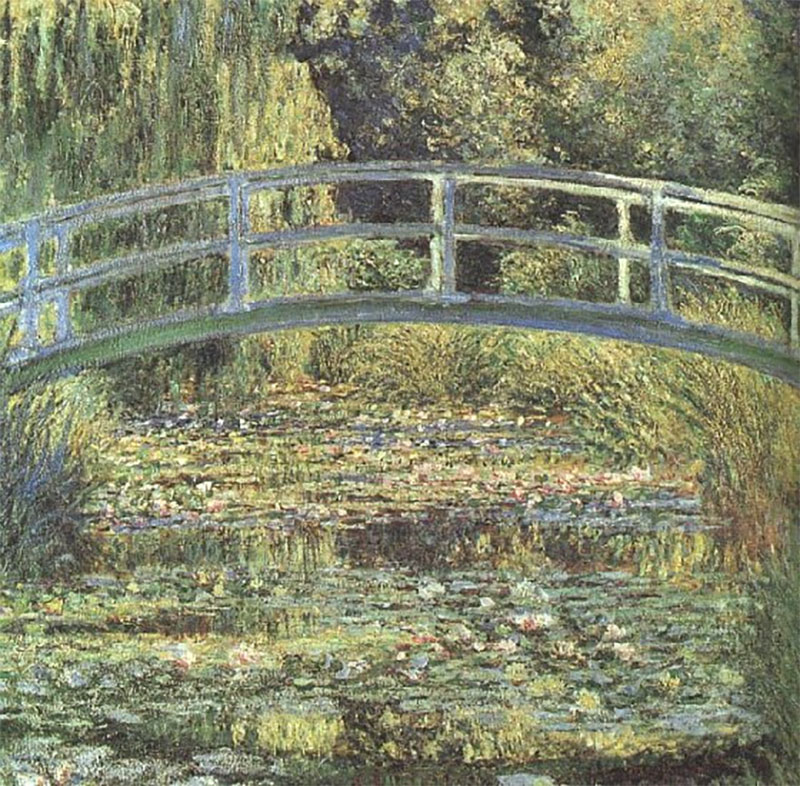 This painting represents two of his greatest achievements. His gardens, and the paintings they inspired. In 1893, Monet purchased land with a pond near his property in Giverny. He wanted to build something for the pleasure of the eye. As a result, he made the water-lily garden, which was then immortalized on a painting.
14. Le Grand Canal 1907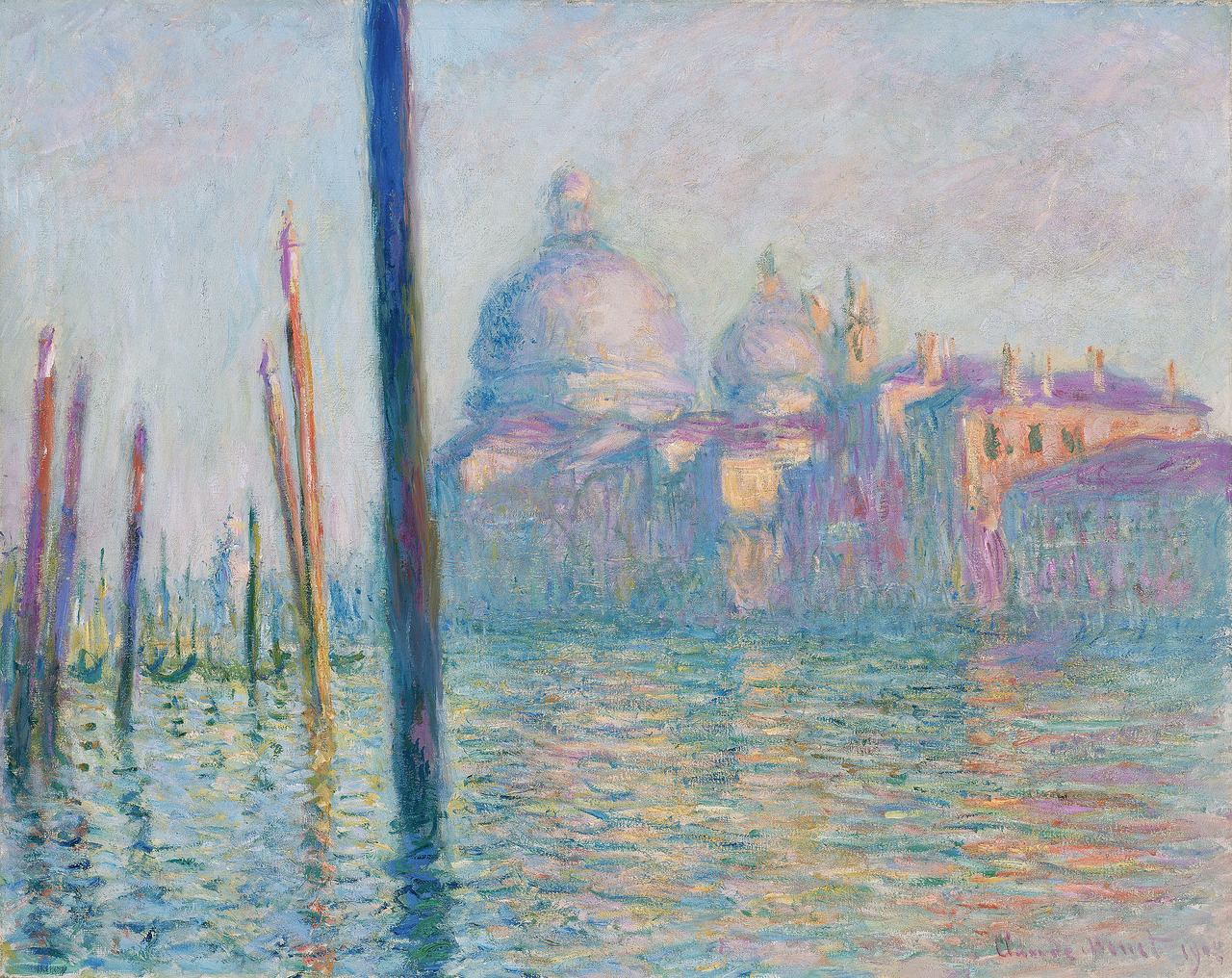 Monet was in Venice only once during his life. But that lone visit inspired a series of paintings. He made six paintings looking down the Grand Canal towards the Salute church.
15. Autumn on the Seine at Argenteuil 1873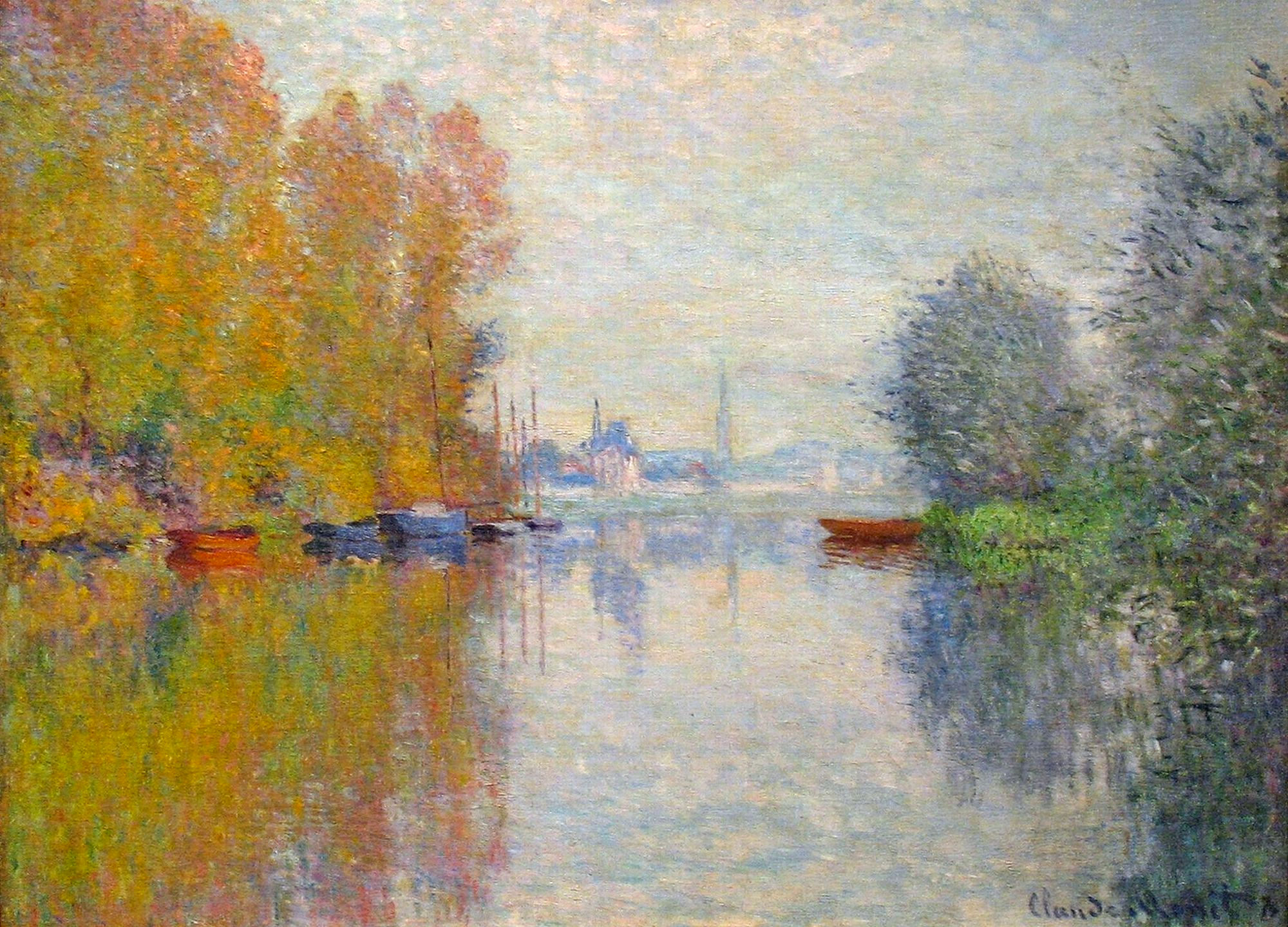 Every city Monet visited, he tried to make a painting of it. In 1871, he moved back to France from London, and settled in the town of Argenteuil. The city is just north of Paris. There, he painted a picture of the river Seine.
16. Woman Sitting under the Willows 1880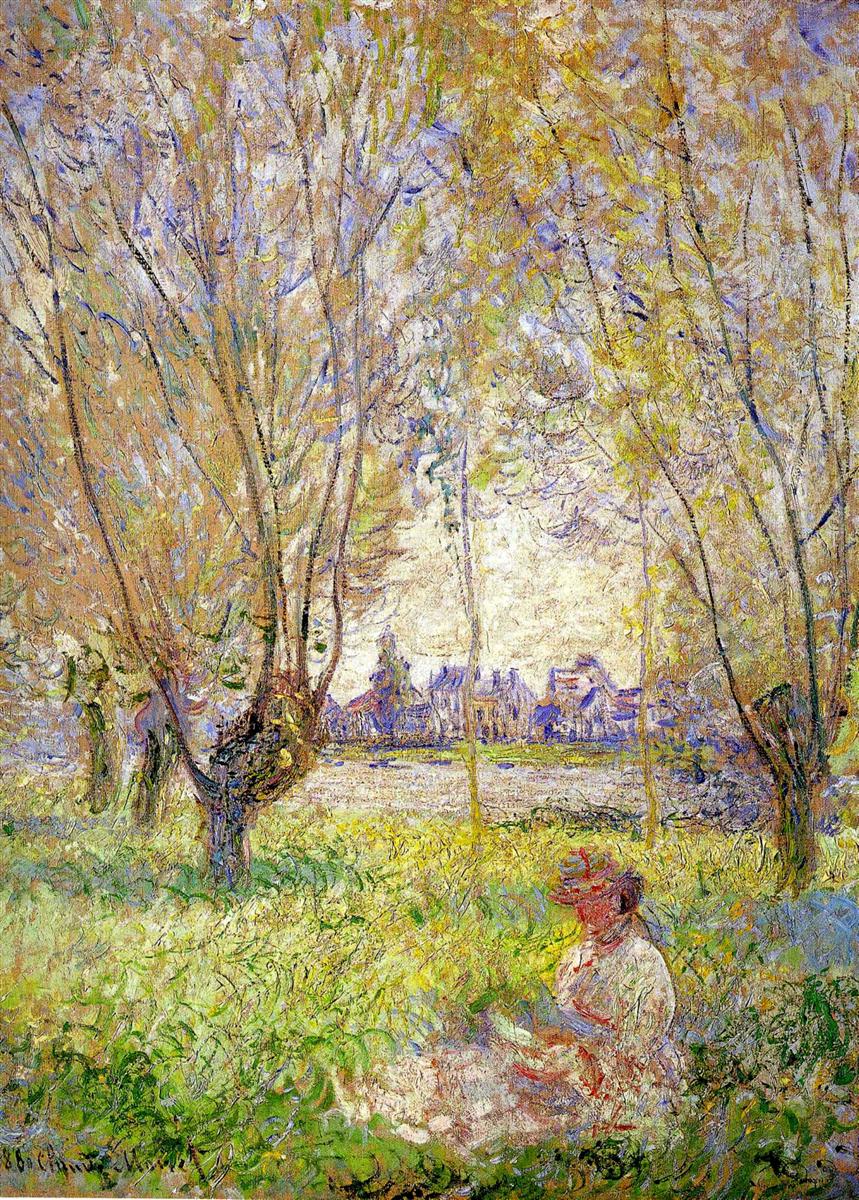 This painting shows Monet interest in direct observation and perceptual study. He often depicts effects of light and shadow on color. And the colors, and how they mix and match, is just amazing.
17. Three Trees in Grey Weather 1891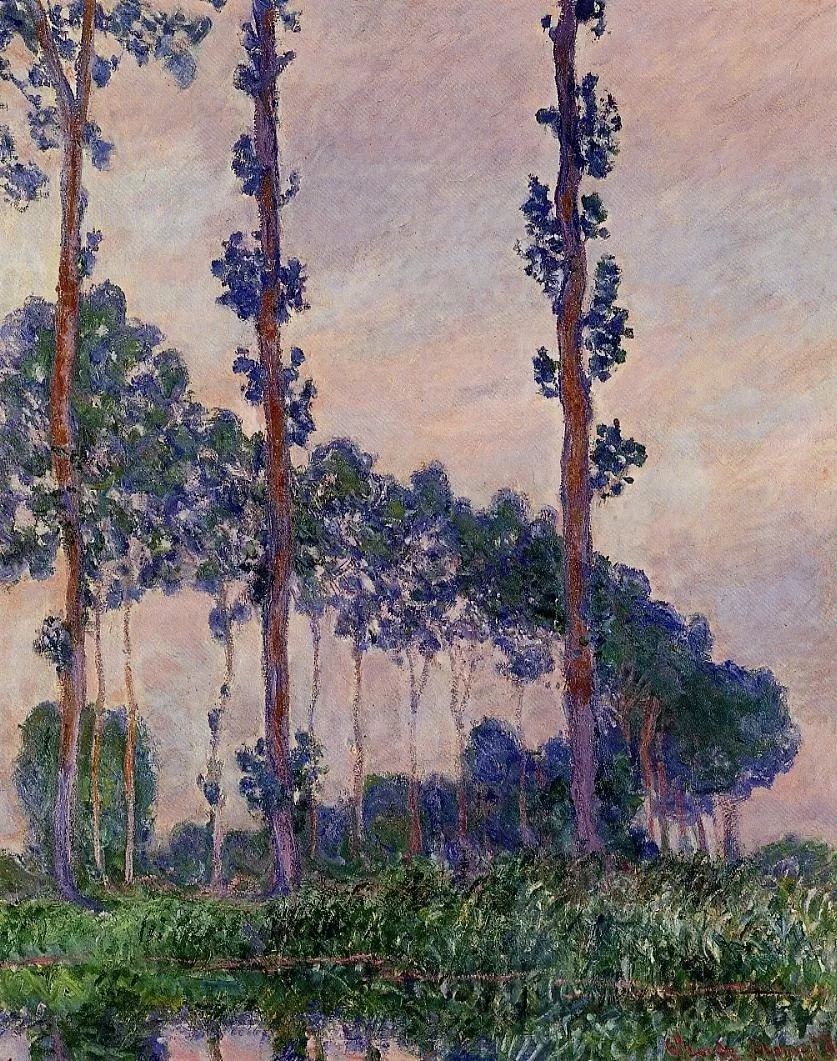 Painted in 1891, this painting is one of his most famous impressionist oil paintings. Just look how the vibrant color contrast the pale grey.
18. San Giorgio Maggiore at Dusk 1908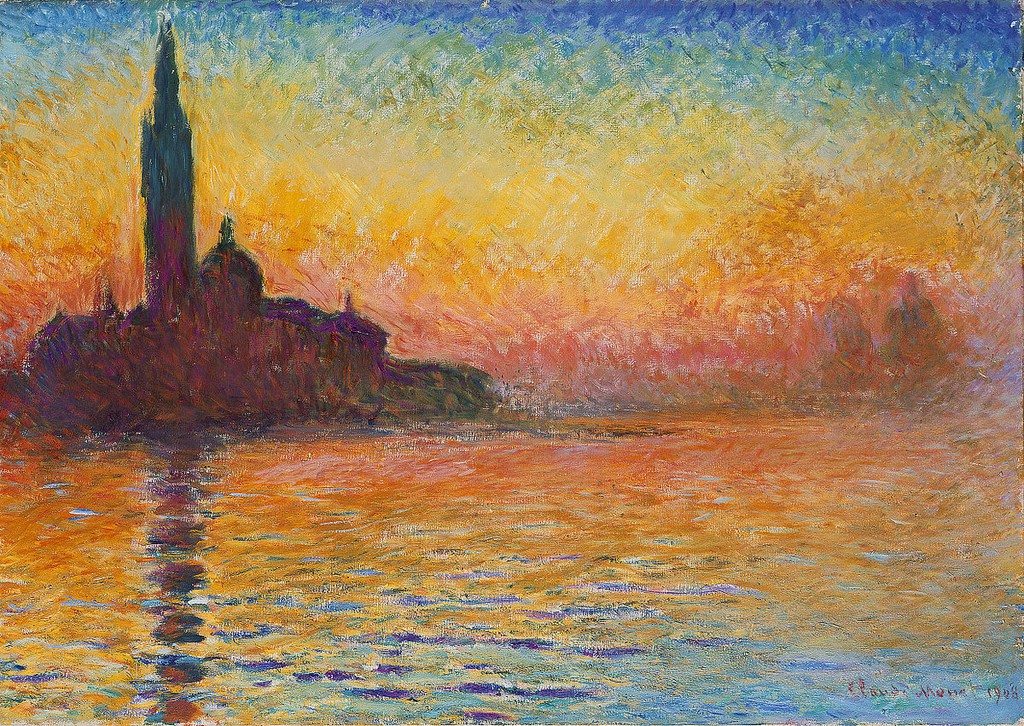 This painting exists in more than one version. It is part of a series of views of the monastery-island of San Giorgio Maggiore. The painting is also part of the Venice series, as the island is one of Venice's islands.
19. Irises and Water-Lilies 1914-1917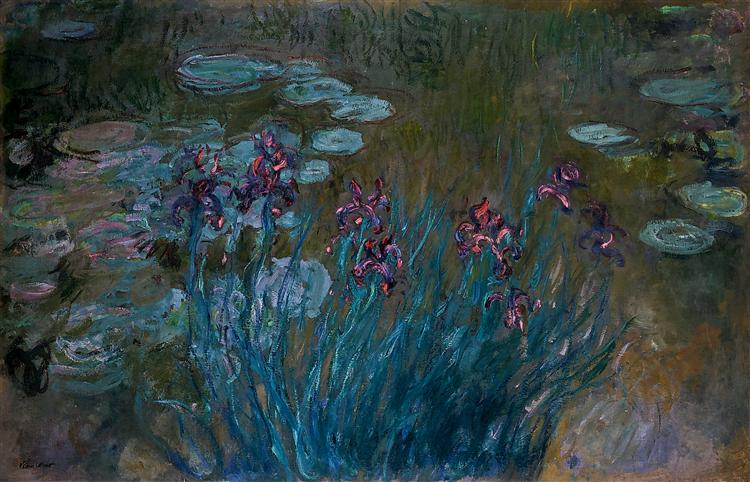 We mentioned before that Monet loved to paint his lilies. There are more than 250 oil paintings of his water lilies.
20. The Rue Montorgueil in Paris 1878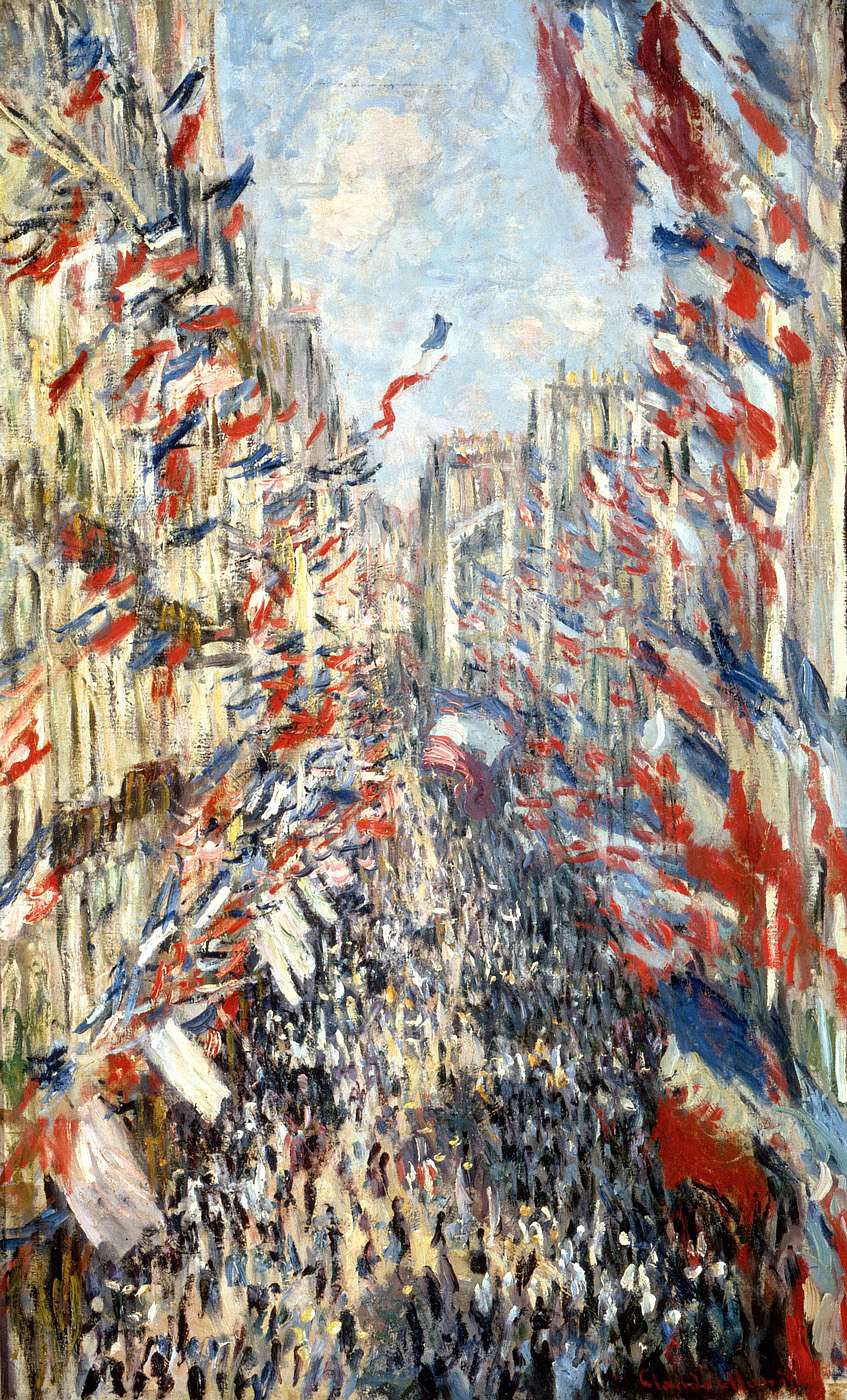 This painting symbolizes France's recovery following defeat in 1870. Like its twin painting The Rue Saint-Denis, the painting shows a government festival of peace and work. The urban landscape is extremely busy with its flags expressing patriotism.
21. Windmills near Zaandam 1871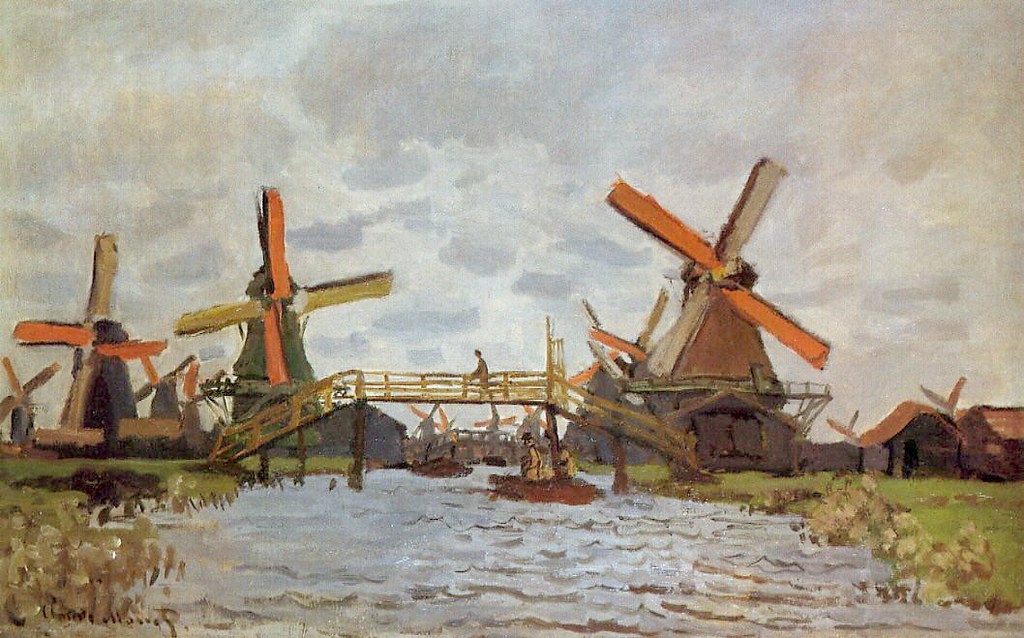 This painting is one of the best examples of his looser and experimental style. He developed the style during the 1870s. What is so special about the windmills? He painted from a boat, and recorded the silhouettes in an extremely direct style. He used broad brush strokes to suggest small waves on the water.
22. The Terrace at Sainte-Adresse 1866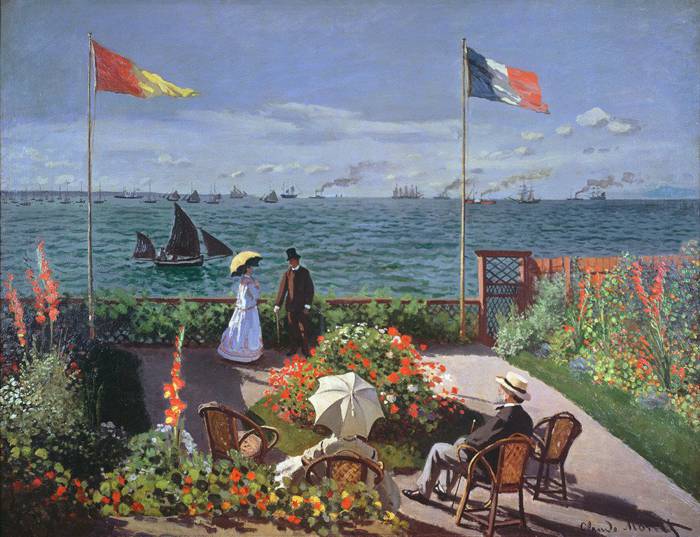 Photo: editart.club
In the summer of 1867, Monet spent time at a seaside resort just north of Le Havre. He captured that moment in his painting. In 1967, the Metropolitan Museum of art acquired the painting at an auction.
23. Saint-Lazare train station in Paris 1877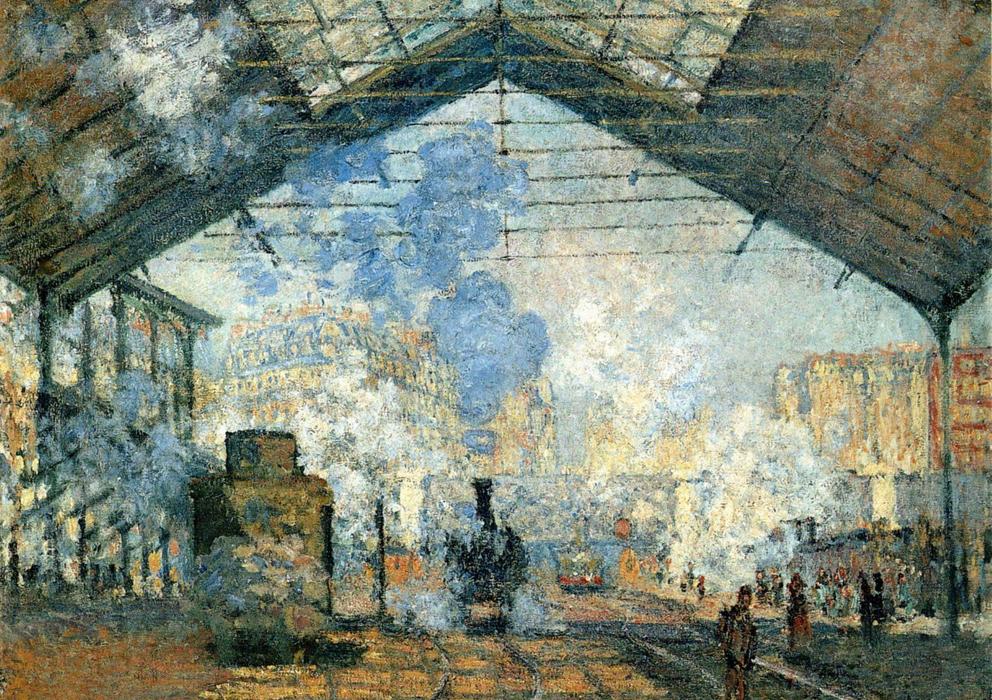 The architecture of the train station impressed Monet. This is one of his most famous series. And it is a great example of his plein-air landscape painting.
24. Impression Sunrise 1872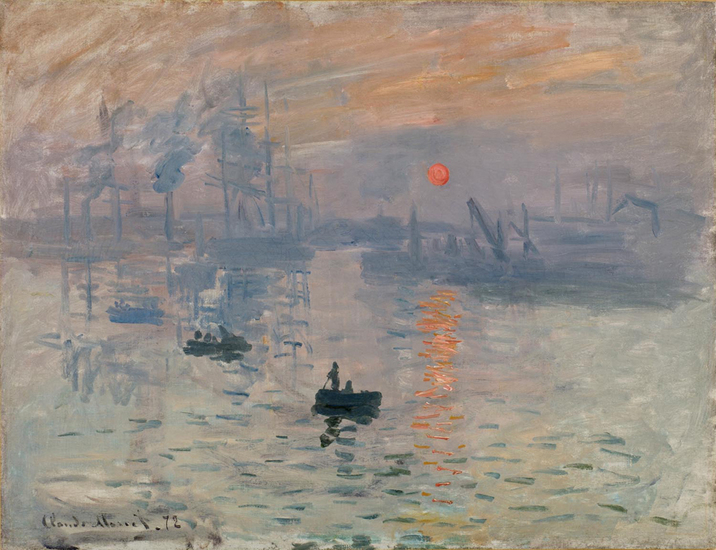 The painting depicts the port of Le Havre, the hometown of the artist. It was first shown at what would later be known as "the Exhibition of the Impressionists" in Paris, April 1874. This painting is credited for starting the impressionist movement, as well as inspiring the name of the movement.
25. Still Life with Melon, 1872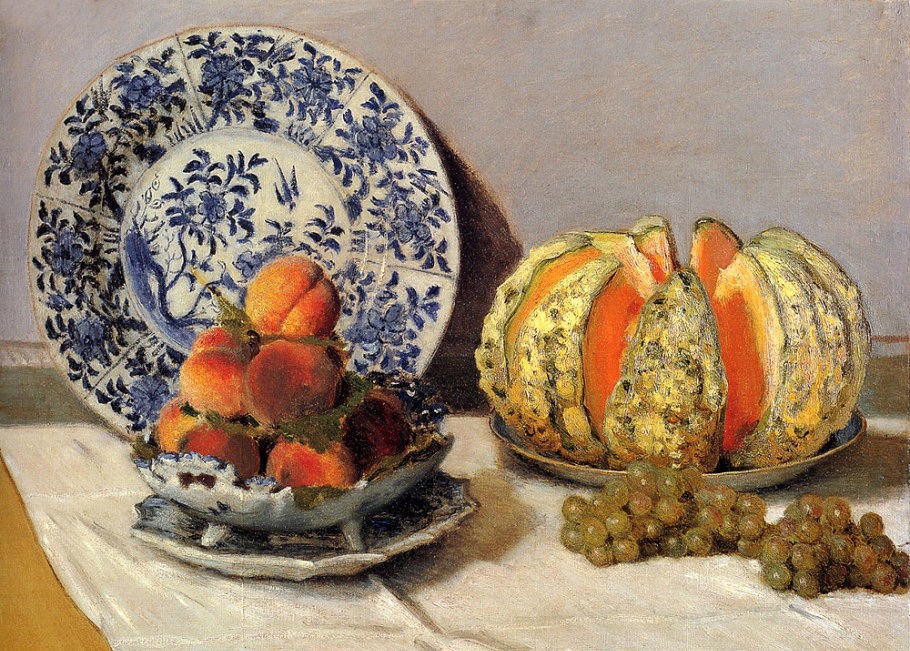 Painted in the same year as the famous Impression, the work is a bit different. It is more in the spirit of the classical tradition. But Monet still managed to use an innovative approach to the theme.
26. Woman with a Parasol – Madame Monet and Her Son 1875
Originally, Monet painted his wife Camille Monet and their son Jean Monet. The painting is made in Argenteuil, a city where they lived from 1871 to 1877. It captures a moment on a stroll on a windy summer's day. Ten years later, Monet returned to a similar subject, painting scenes of his second wife's daughter, Suzanne Monet in 1886.
27. Water Lillies 1916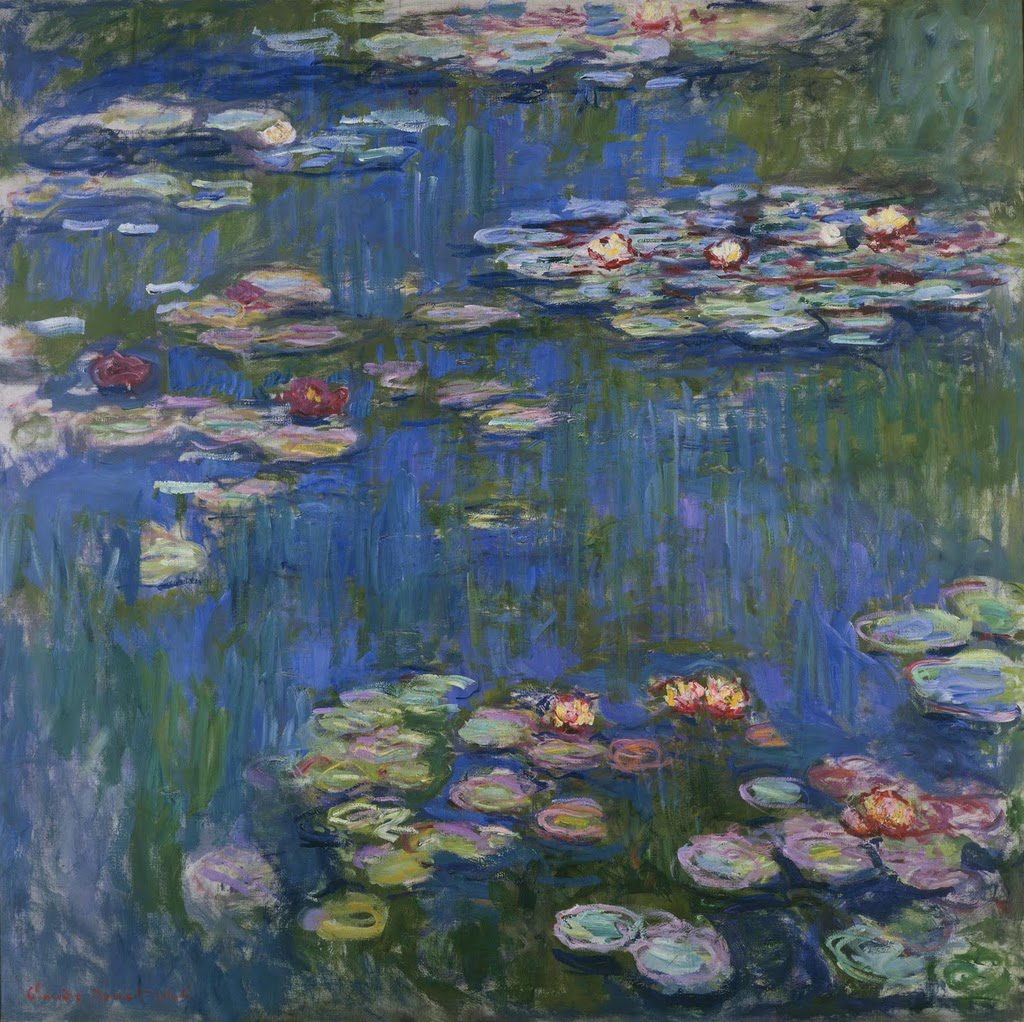 Given how important lilies were to Monet, it is only fitting that we finish off the list with some of his most famous work. As mentioned previously, there are more than 250 paintings of his garden and lilies.