Edgar Degas was a French artist famous for his paintings, but also for his sculptures, drawings, and prints. Identified with the subject of dance, more than half of his works include ballerinas and dancers.
Degas is regarded as one of the founders of Impressionism. However, he rejected the term, and preferred to be called a realist. And his works can be put in both categories, realism, and impressionism, as well as modern art.
Degas looked for novel ways to show the human form, especially in movement. He believed ballerinas made superb models, and he used them for sketching and painting.
He is most famous for his spirit of experimentation. Edgar used all sorts of techniques, and while some were traditional, others were his own invention.
Degas even used pastels on top of oil paint sometimes. He used fixative and steam for his pastel work, so that he could apply many different layers of color.
Nowadays, he is acknowledged as one of the finest draftsmen of his age.
1. Self-portrait , 1855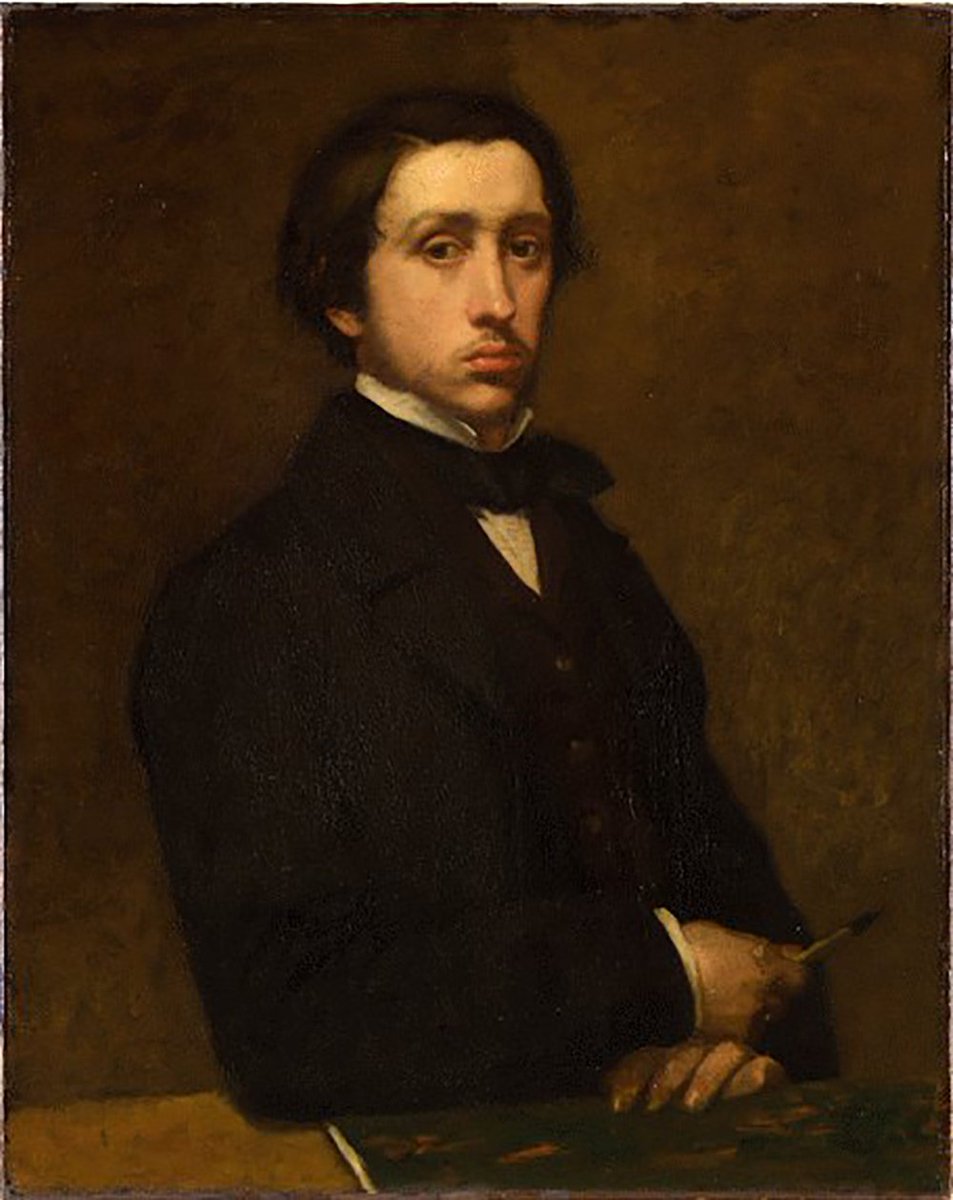 When he was beginning his career, Degas was more into self-portraits. He produced more than 40 self-portraits in various media at the time. That period was between 1855 and 1857, when he quit his formal education.
2. Young Spartans Exercising 1860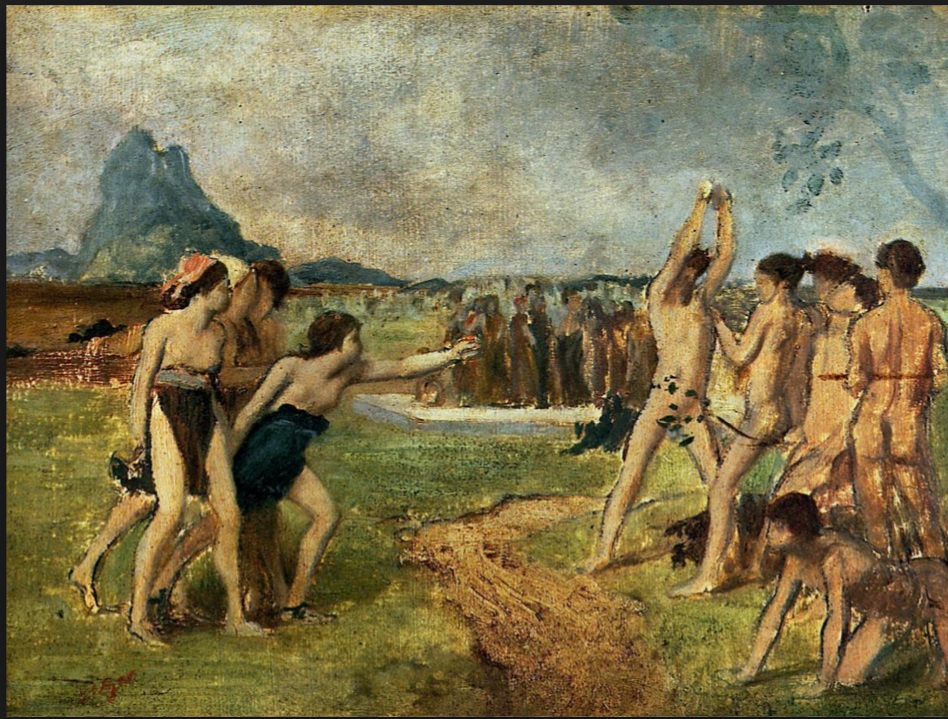 You can see even from his early works that Degas was about to break the norms and standards. There are no Spartan girls or Spartan women at the field of battle in Greek history. But Degas wanted to show both male and female Spartan youths exercising and challenging each other.
3. The Bellelli Family, 1867
Considered a masterpiece by many, it is one of his early masterpieces. The Family portrait depicts his aunt, her husband, and their two young daughters.
4. Still Life with Lizard, c1858 – 1860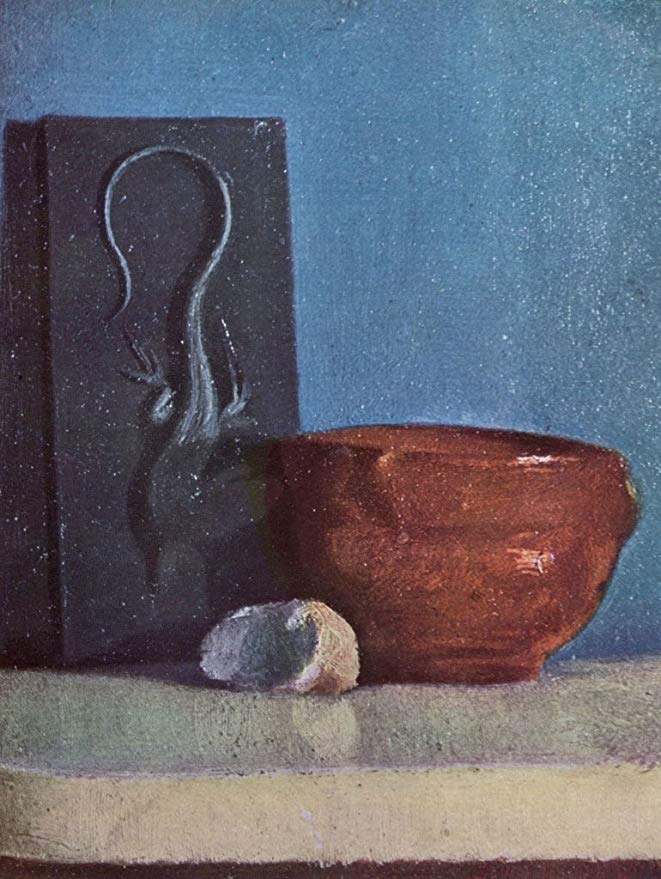 Photo: kunstbilder-galerie.de
We mentioned at the beginning that Edgar showed his skills in various media. This painting, for example, was made so that it can be used for prints and similar media sources.
5.  A Roman Beggar Woman, 1857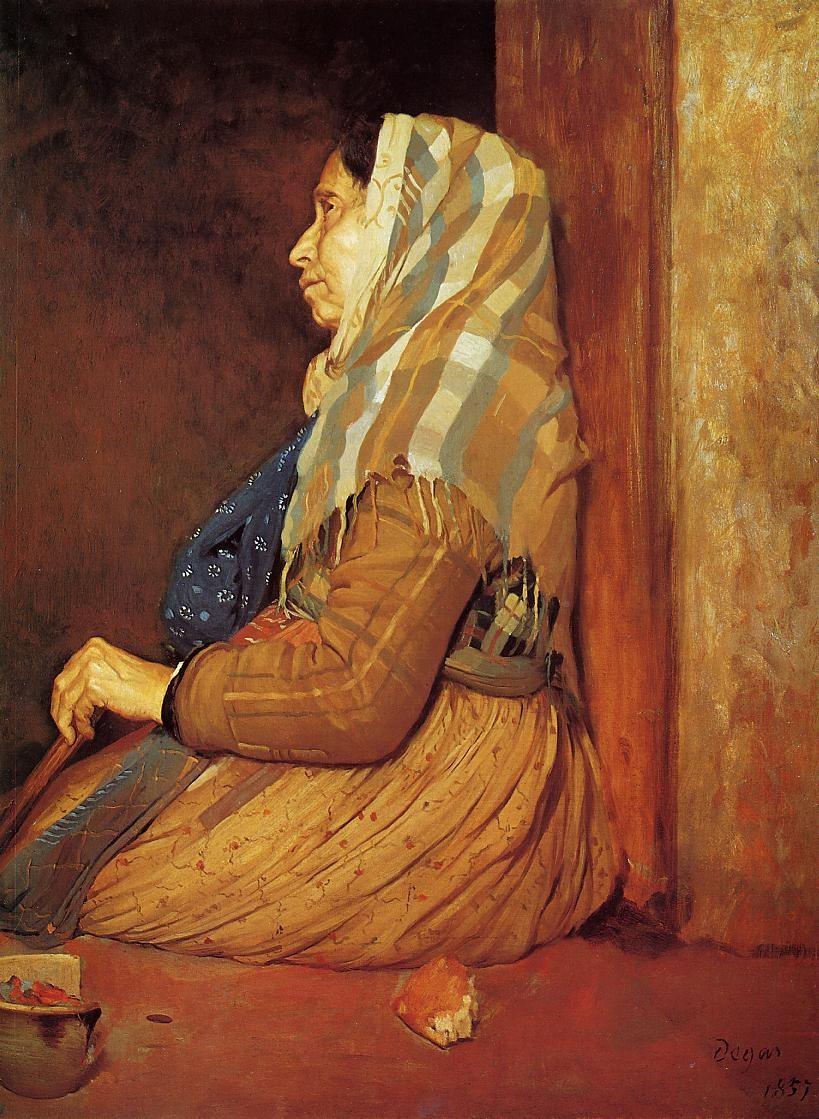 Degas was just 23 years old when he painted this masterpiece. His skills were evident even at young age. At the time, he visited Rome, where he studied art in school. The painter was impressed by Rome, but not just by the luxury, but by the real things happening on the street.
6. Woman with Chrysanthemums, 1865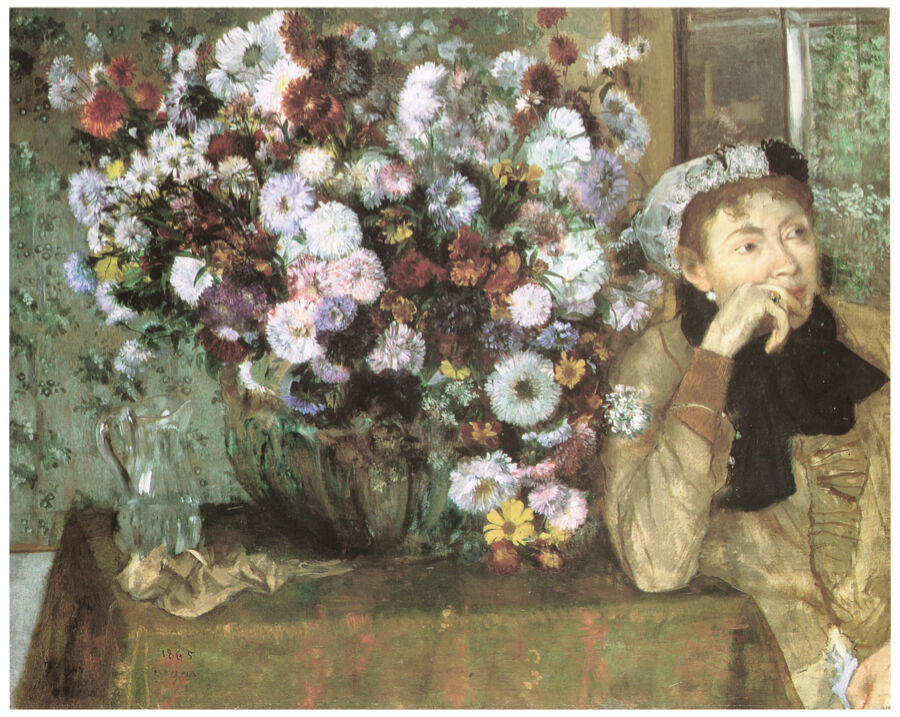 One of the primary features of Degas's work is that he put individuals in seemingly casual events. Such is the case here, as he painted a woman in front of a prominent bouquet. The trick is that she an off-center figure.
7. The Crucifixion (after Mantegna), 1861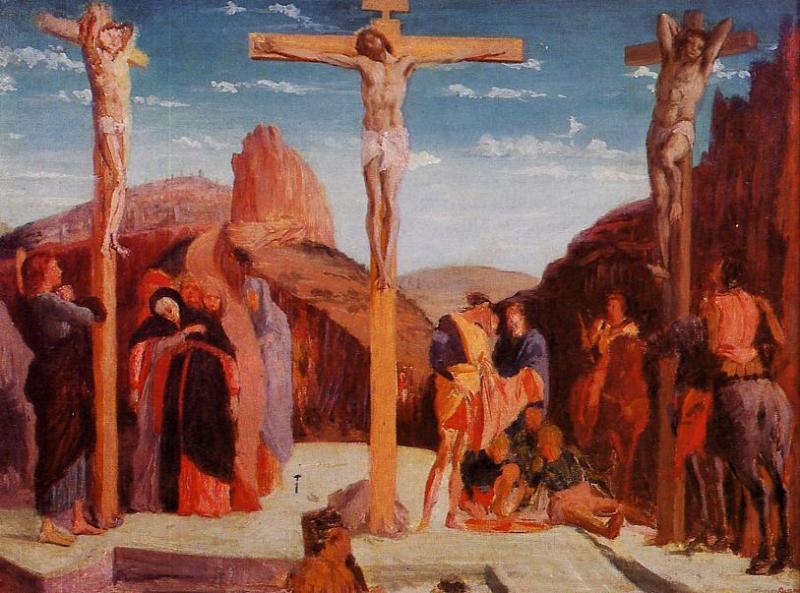 Many painters during the period used the Crucifixion as an inspiration. It was a period when the Christianity and the Catholic Church were flourishing. Degas also tried to paint his own version of the event.
8. The Orchestra at the Opera 1869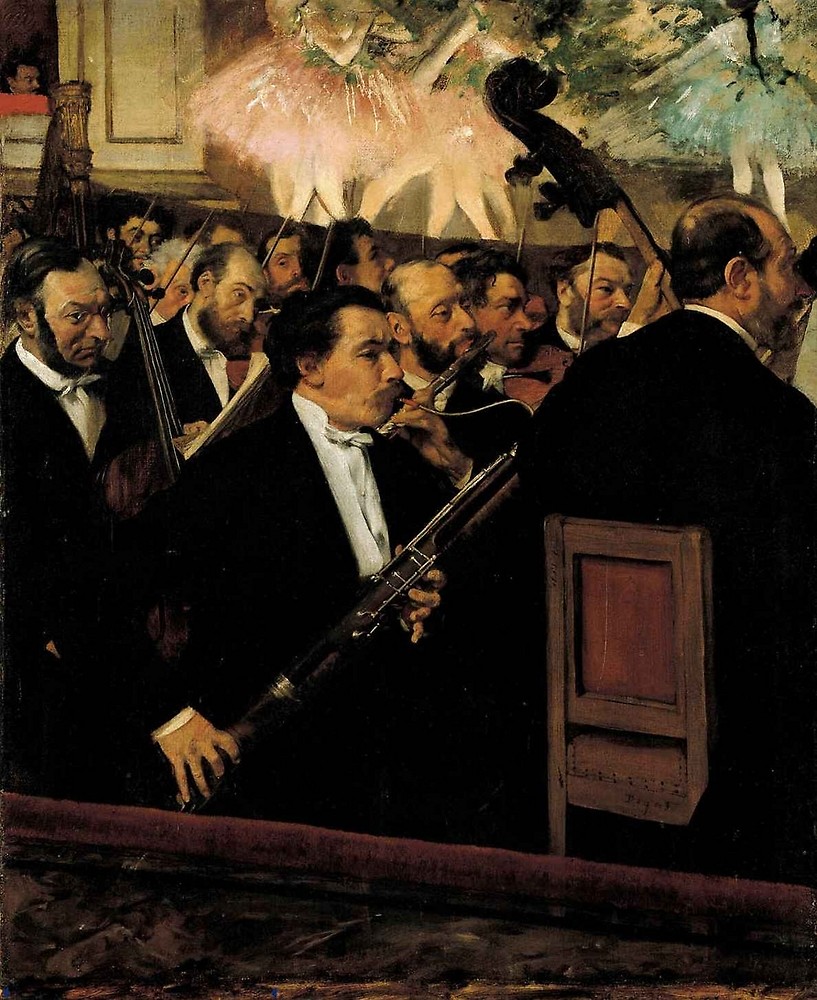 The theme of the dance was important in Degas's work. The Orchestra of the Opera is the first of his depictions of the Opera. Many experts say that it marks the final break with his history paintings of the early 1860s. And even at the Opera, he managed to capture movement, as you can see the musicians are playing.
9. The Song Rehearsal  c.1872-1873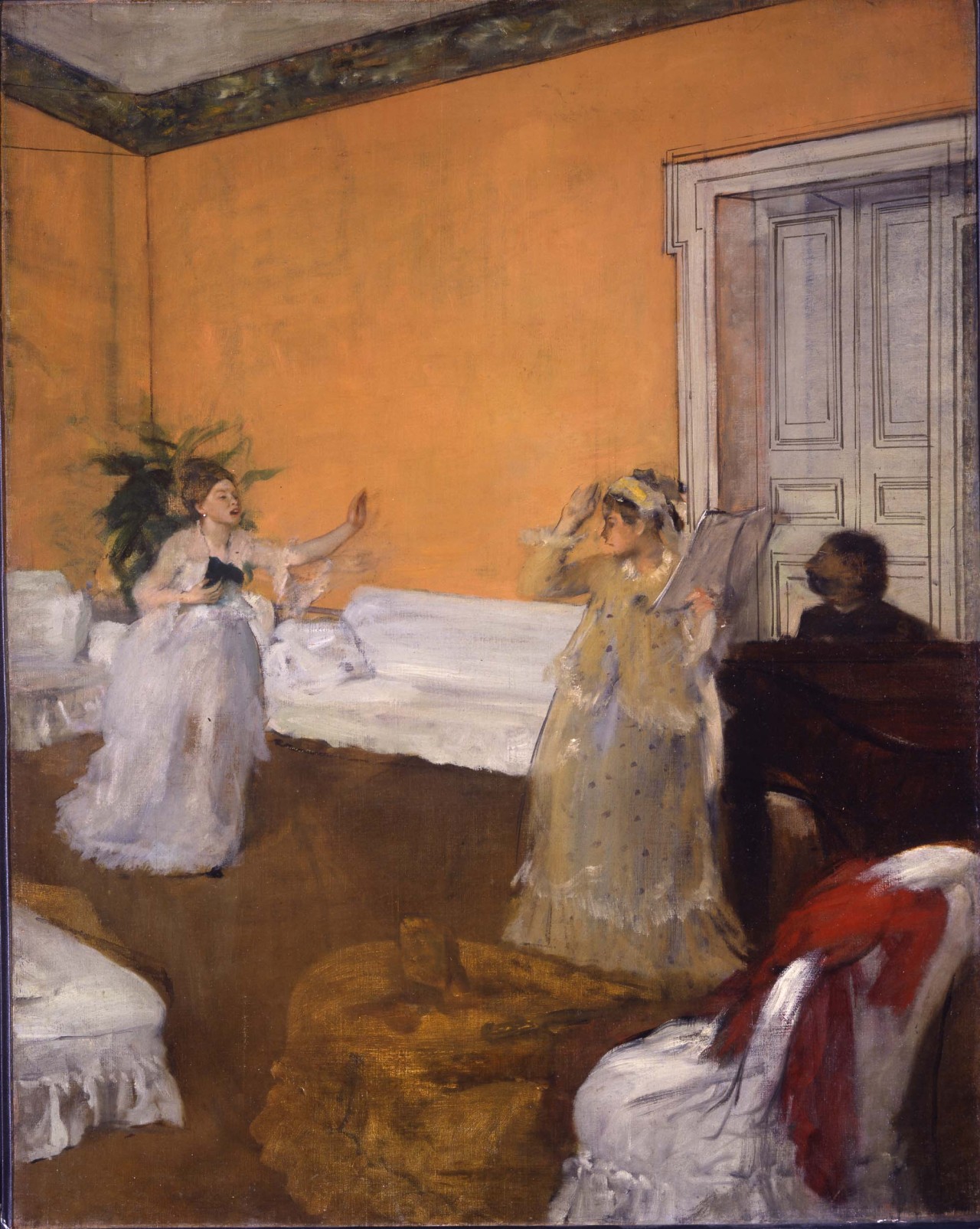 From 1869 up to 1876, Degas was occupied with paintings of the opera. But he wanted to show events happening behind the scene as well as those on the scene. Few people would paint song rehearsal, but that is what made Edgar special.
10. Place de la Concorde 1875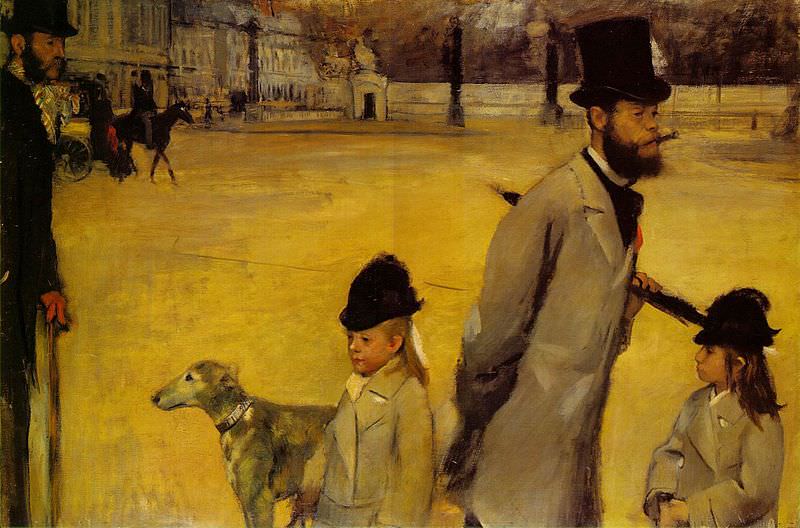 The painting depicts Ludovic-Napoleon Lepic, who was Degas friend, and patron of the arts. He is shown with his two daughters and his dog crossing the Place de la Concorde. The painting is significant because it is one of the few non-dancing paintings that display movement.
11. Degas Father Listening to Pagans, 1869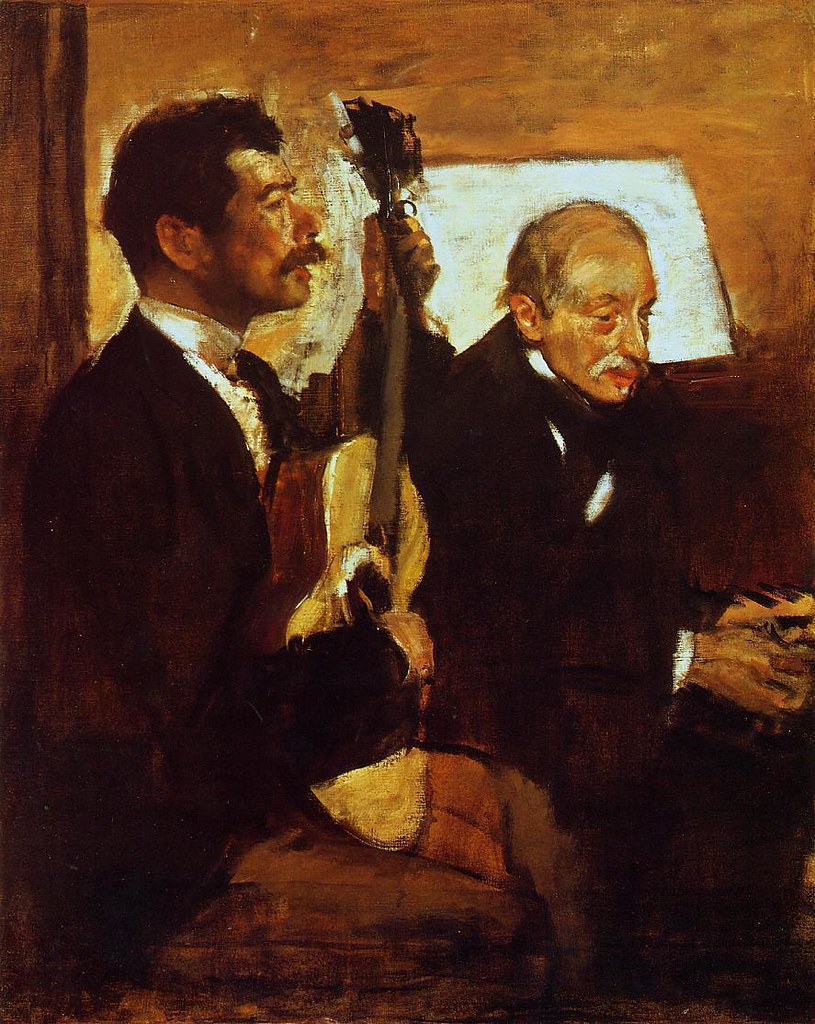 Edgar found inspiration for his paintings in everything around him. He even painted his father, listening to the great Lorenzo Pagans, Spanish singer who was celebrated in Paris. Auguste De Gas, father of Edgar, was also a successful amateur musician, and he even accompanied Lorenzo on his concerts. Degas's father was a big fan of Italian music.
12. Beach Scene, 1877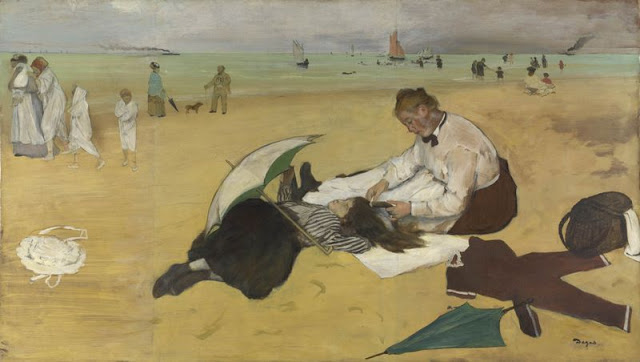 Degas was a fan of painting women combing their hair. Or in some cases, having their hair combed for them. In this painting, the nursemaid does the job. The painting has been dated about 1876, but it might have been painted in the late 1860s.
13. At the Races. the Start, 1861 – 1862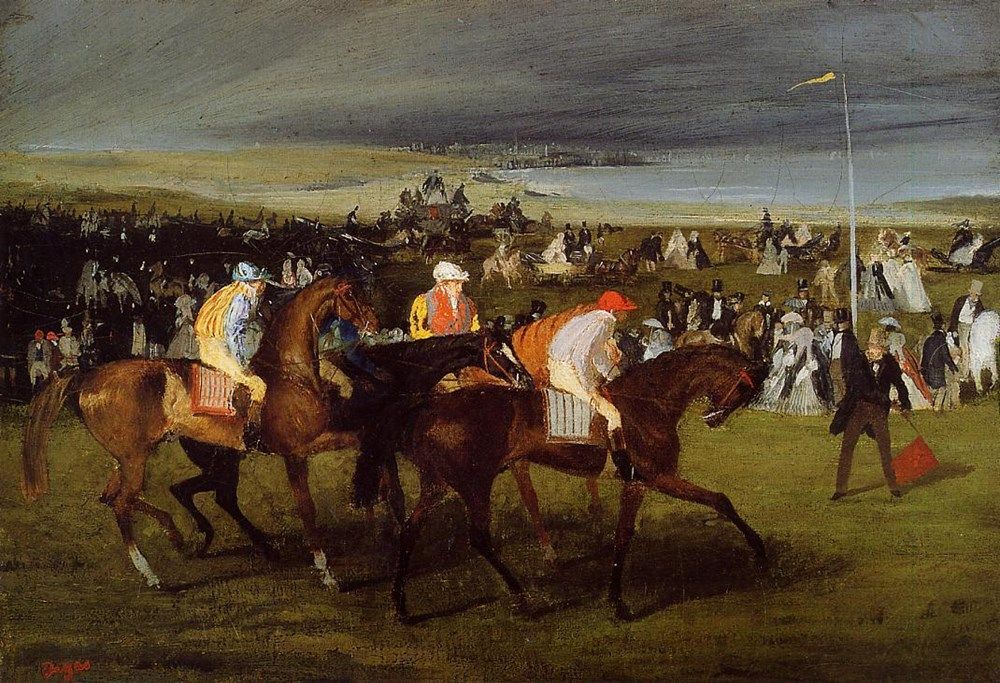 What better way to show movement than with a race painting? Degas managed to show movement in different forms, shapes, and ways, not just by using ballerinas.
14. Interior (the rape ) 1869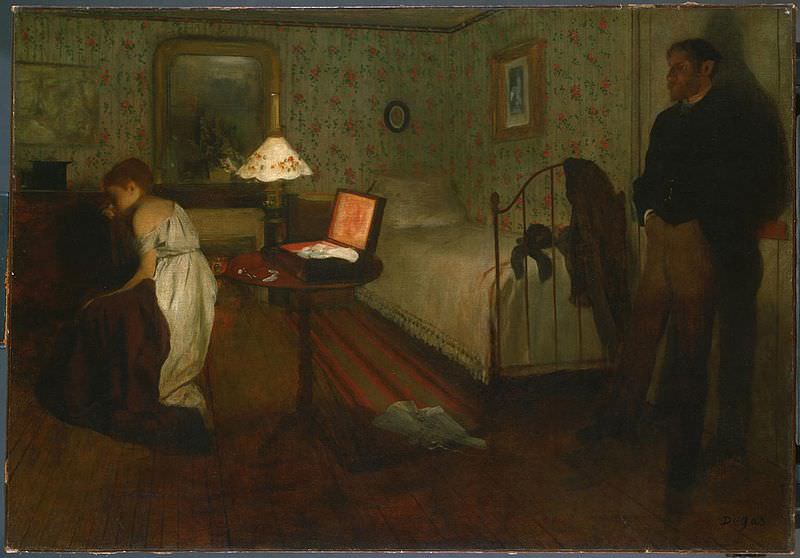 This painting is known as one of his most puzzling pieces of art. Depicting a tense confrontation by lamplight between a man and an undressed woman, many believe it is about a rape. That is why most historians known the painting as the Rape. But is it really a rape? Or is it about something entirely different?
15. Portrait of Mary Cassatt c1880-1884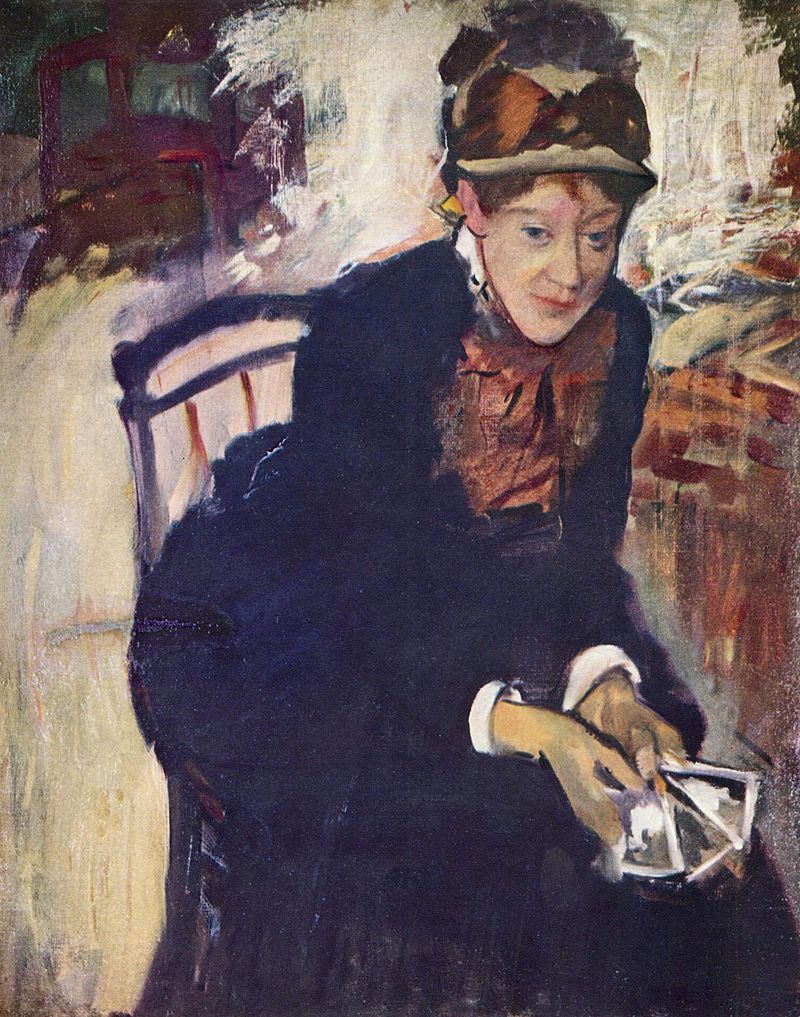 The friendship between Cassatt and Degas lasted for more than 40 years. His strokes are even visible on some of her paintings. Cassatt regards her posing for portraits as a turning point in her artistic life. She modeled for him on several other occasions as well.
16. The Dance Class 1874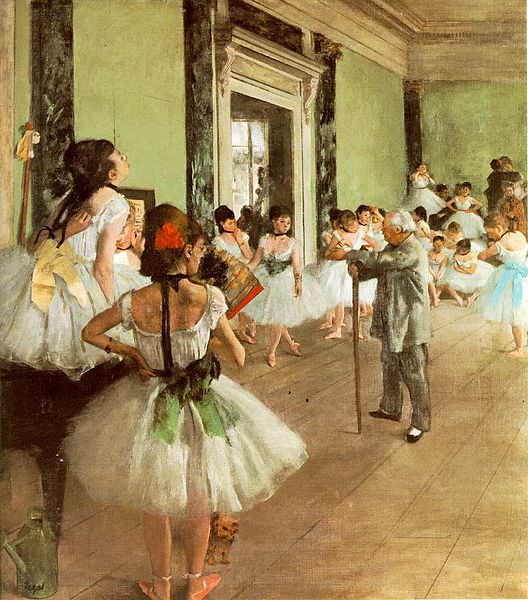 One of the most ambitious work by Degas on the theme of ballet, it is also a critical in his oeuvre. We said before that Degas was a master of showing movement. And his favorite subject were ballerinas.
17. The Millinery Shop 1886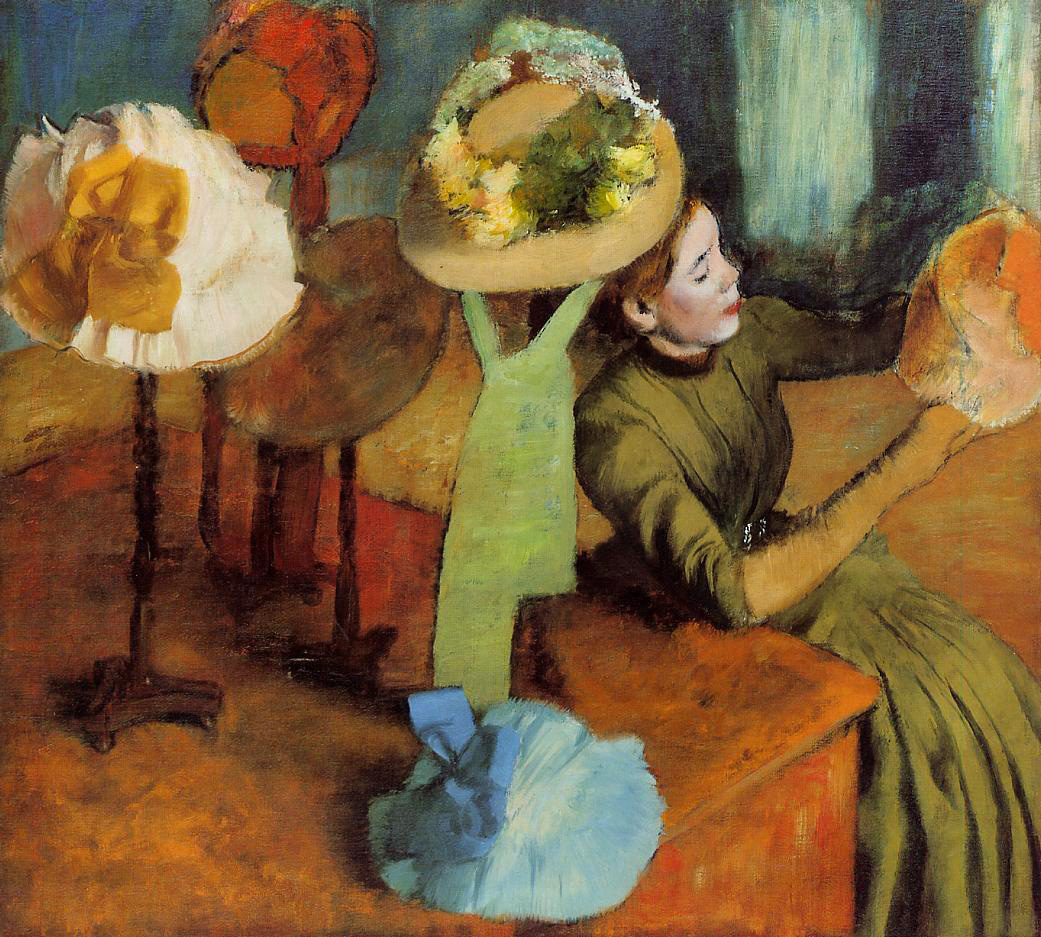 What is so special about this painting? It is all about the angle. The view of the scene is at angle from above, which makes it unique. Another unique feature is that it was his largest museum scale work.
18. The Star, 1878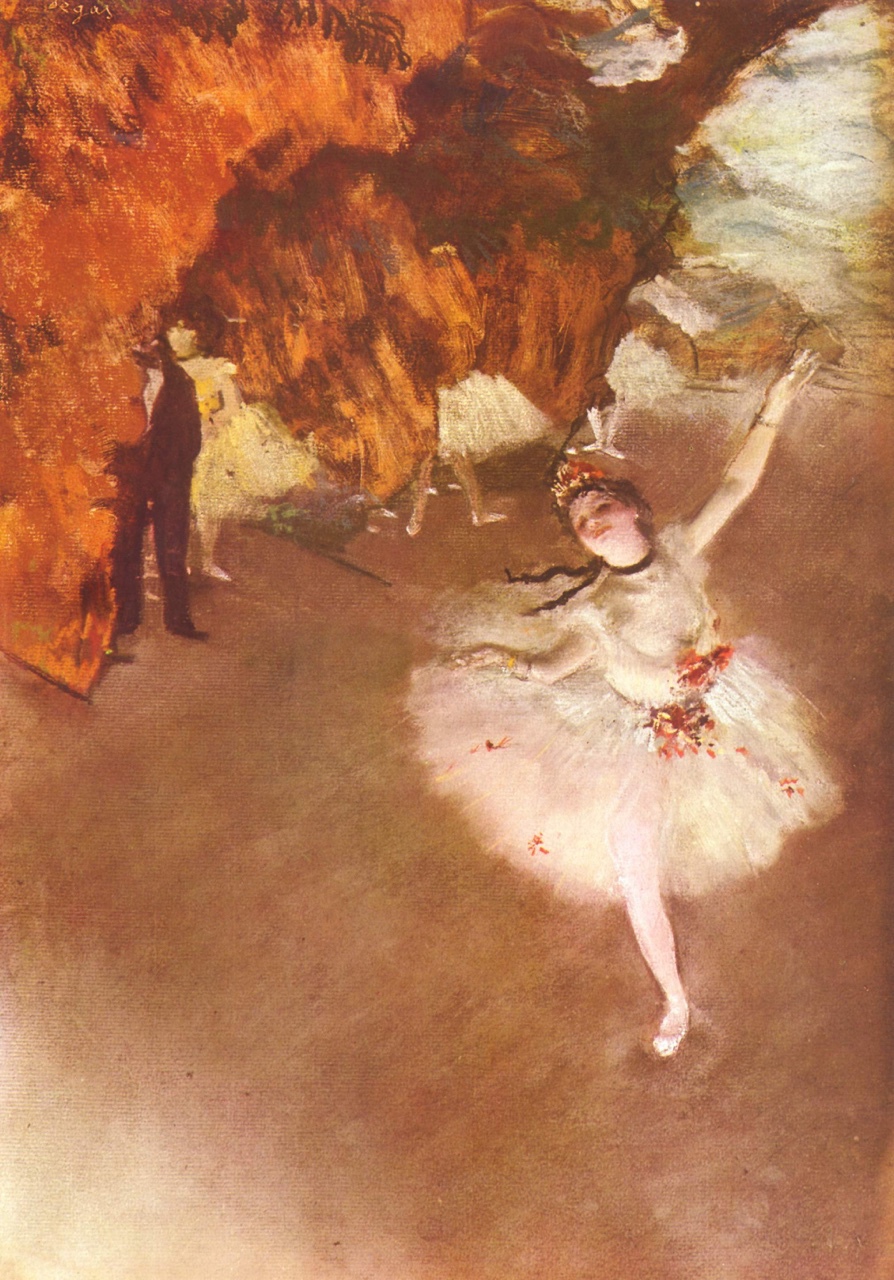 This is one of the first ballerina paintings where Degas used pastel. He has used pastel before, but it was at this point that it became his favorite medium. The painting is also known as Dancer on Stage, as it depicts a ballerina balancing gracefully on one leg and maintaining her majestic pose.
19. Two Dancers on Stage 1877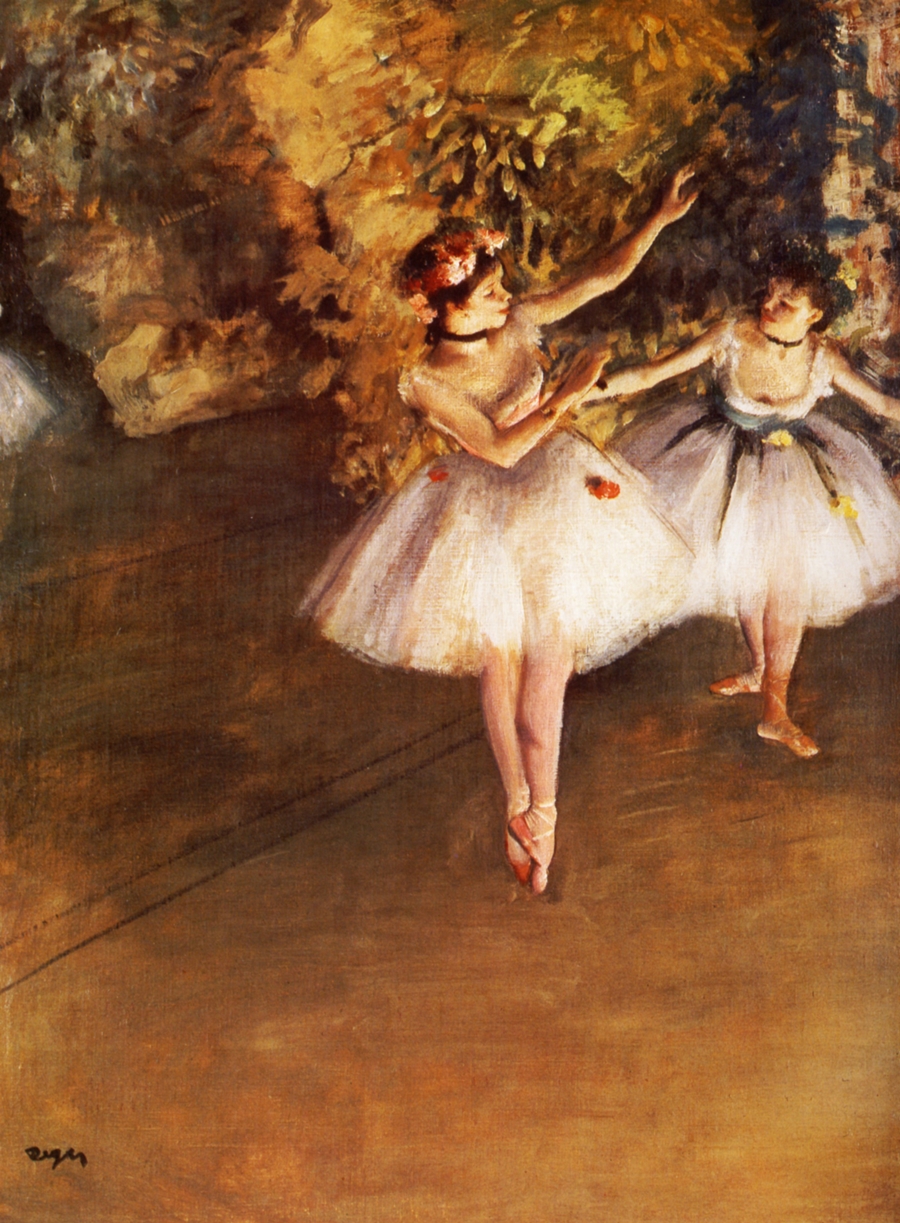 Nowadays, we often say that the only thing better than one perfection (any subject of perfection) is two perfections. Well, Degas might have thought that as well.
20. Singer with a Glove, 1878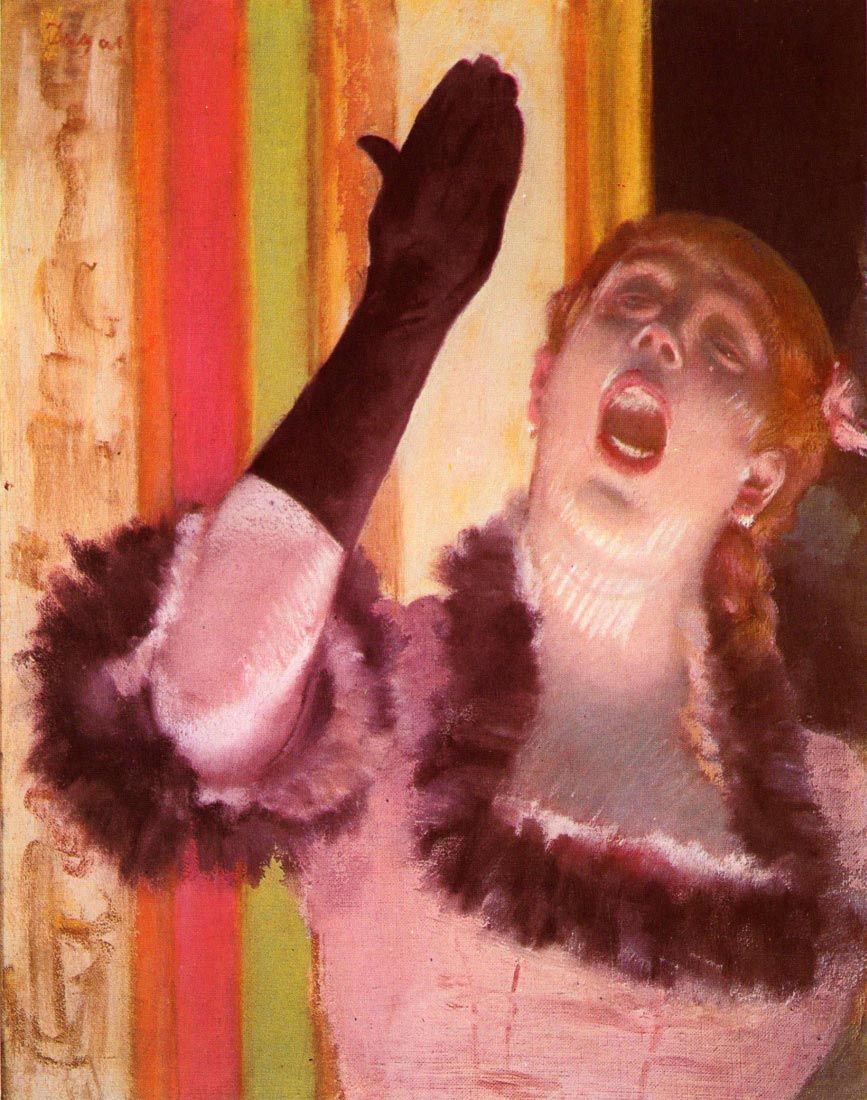 The use of pastels is more and more evident in these paintings. As mentioned previously, once Degas started using pastel, it became his favorite medium. This painting is staying at the Harvard museum of Arts.
21. Café-Concert at Les Ambassadeurs 1877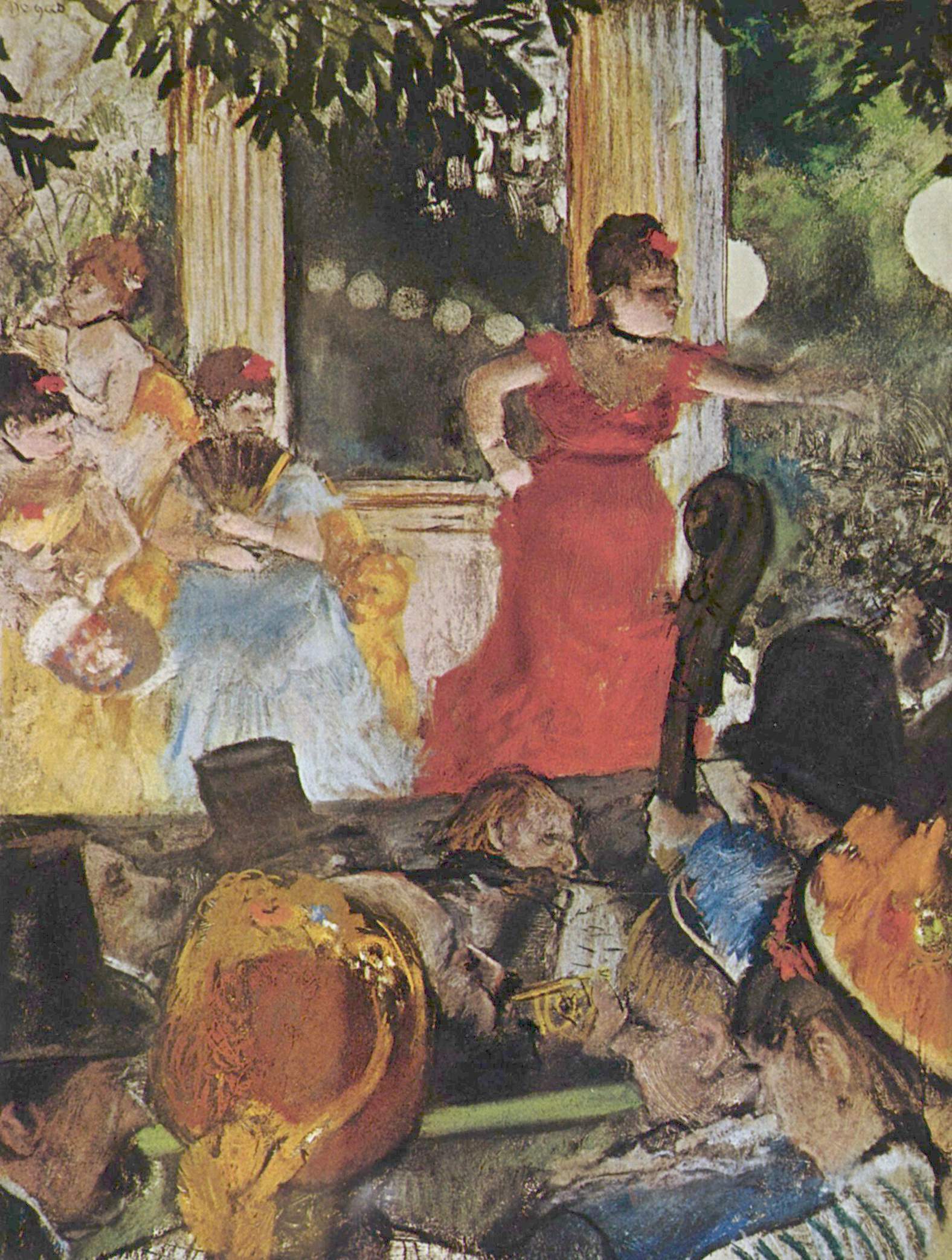 This painting is one of his most well-known pastels. It was first exhibited in 1877 as a monotype pastel, and then later in 1885 as a non-monotype version.
22. A Cotton Office in New Orleans 1873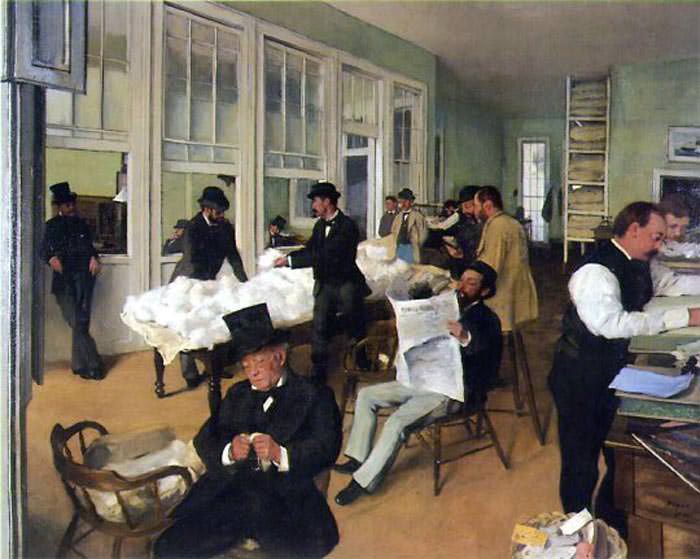 We said before that Degas often used his friends and family members as models. In this painting, he depicts his uncle Michel Musson, and his cotton brokerage business. His uncle is seen examining raw cotton. Even his brother Rene is in the painting, reading the Daily Picayune.
23. Ballet Rehearsal on Stage 1874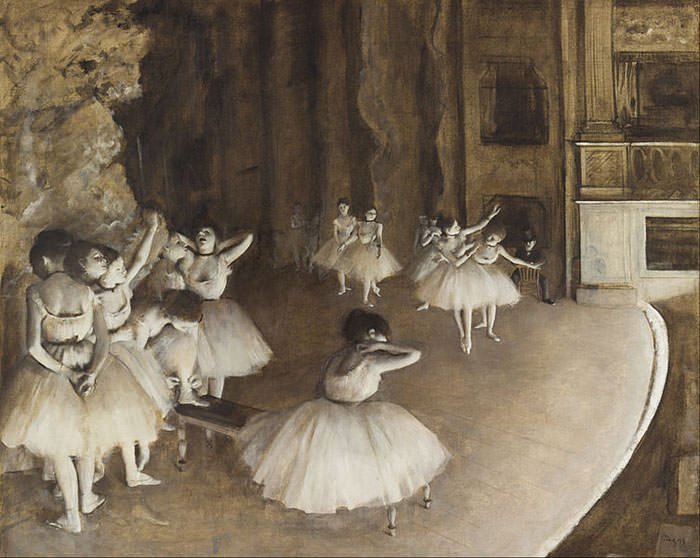 Again, Edgar chose a viewpoint slightly from above. What is this painting special about is the use of color. This is not a typical impressionist painting. Lack of color is seen as anti-impressionism, and a way of Degas to say to everyone that he is more of a realist than impressionist.
24. Ballet Rehearsal on Stage 1874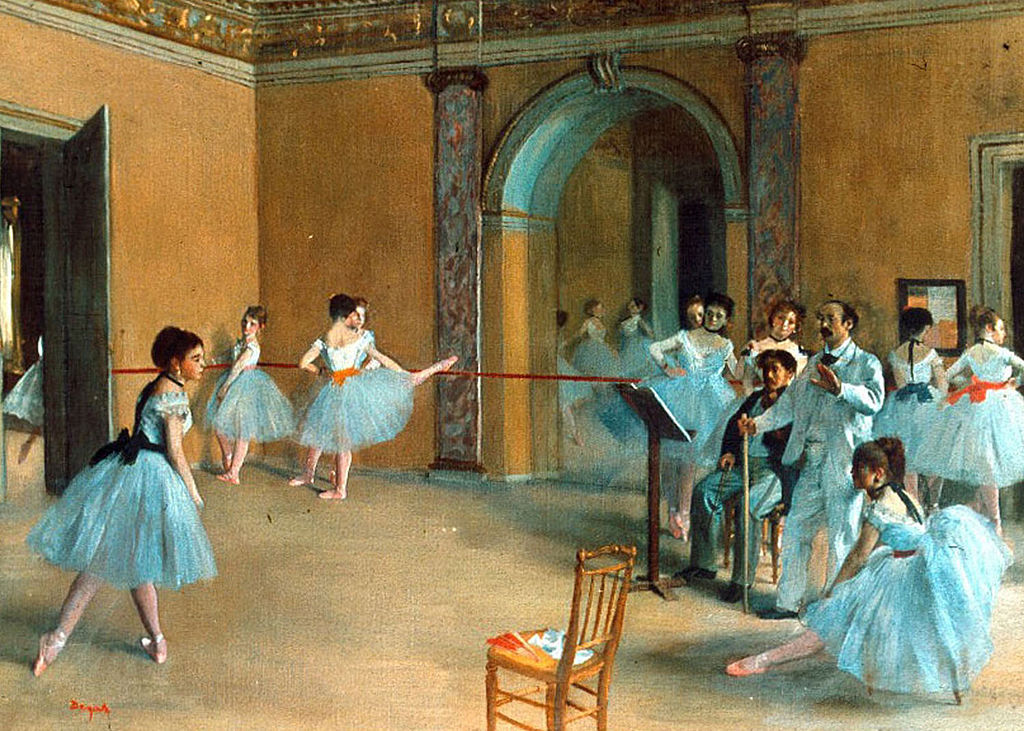 Degas draw two paintings of the same theme and inspiration. And while the first one lacks color, the second one does have. And the viewpoint is different. You can see as the same topic, but from different styles of painting.
25. The Absinthe Drinker 1876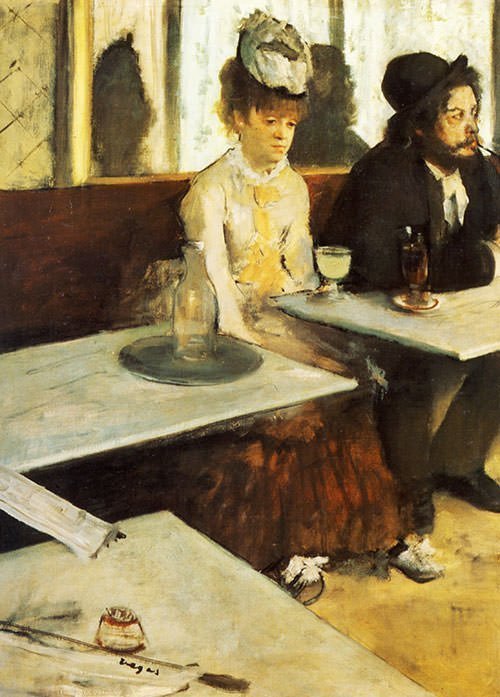 What is so special about this painting is the name. Or, the many names. It is known as Dans un Café originally. Other names include A sketch of a French Café and Figures at café. The painting shows a coupl seated side by side, looking worse for wear after a long night.
26. Rehearsal 1879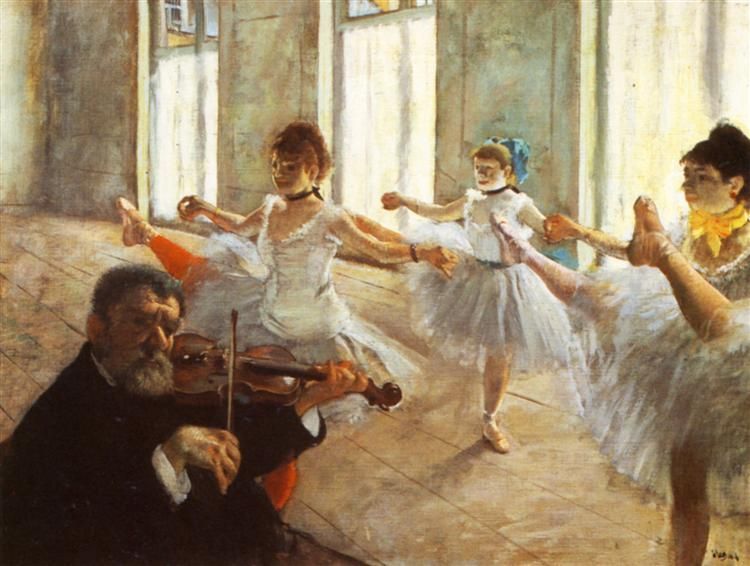 While Degas rejected to be known as part of the impressionism movement, this painting shows he had more similarities than he wanted to accept.
27. Portrait of Diego Martelli 1879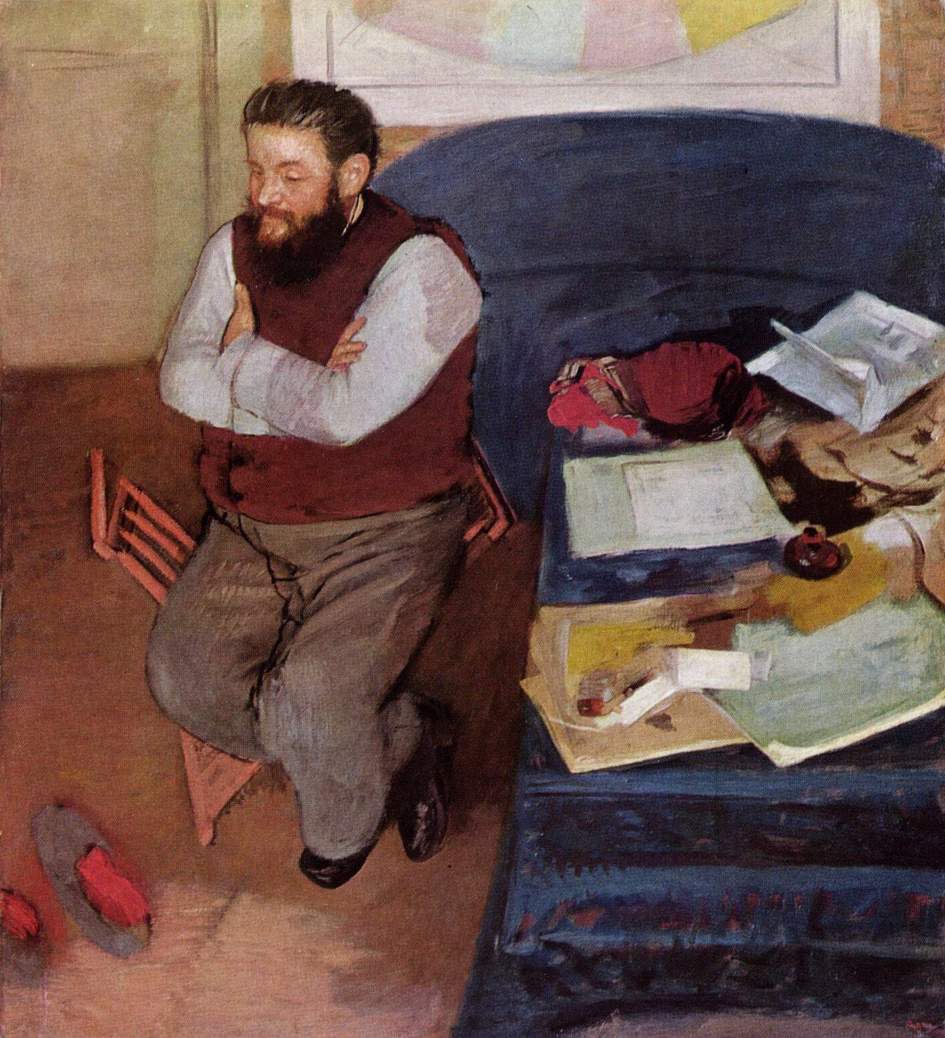 Diego Martelli was an Italian art critic, and a close friend of Edgar. The painter depicted his good friend from an unconventional viewpoint. The point was to emphasize his bulky size.
28. After the Bath- Woman Drying her feet 1886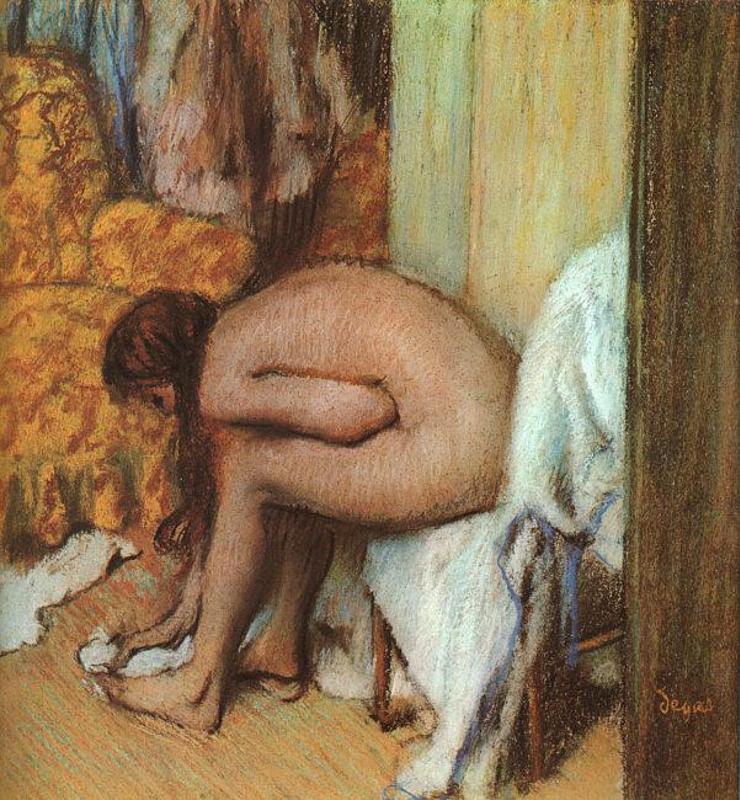 Degas made nine paintings of women at their bath. They were exhibited by Theo Van Gogh at Galerie Boussod. All of them are pastel drawings.
29. Miss La La at the Cirque Fernando 1879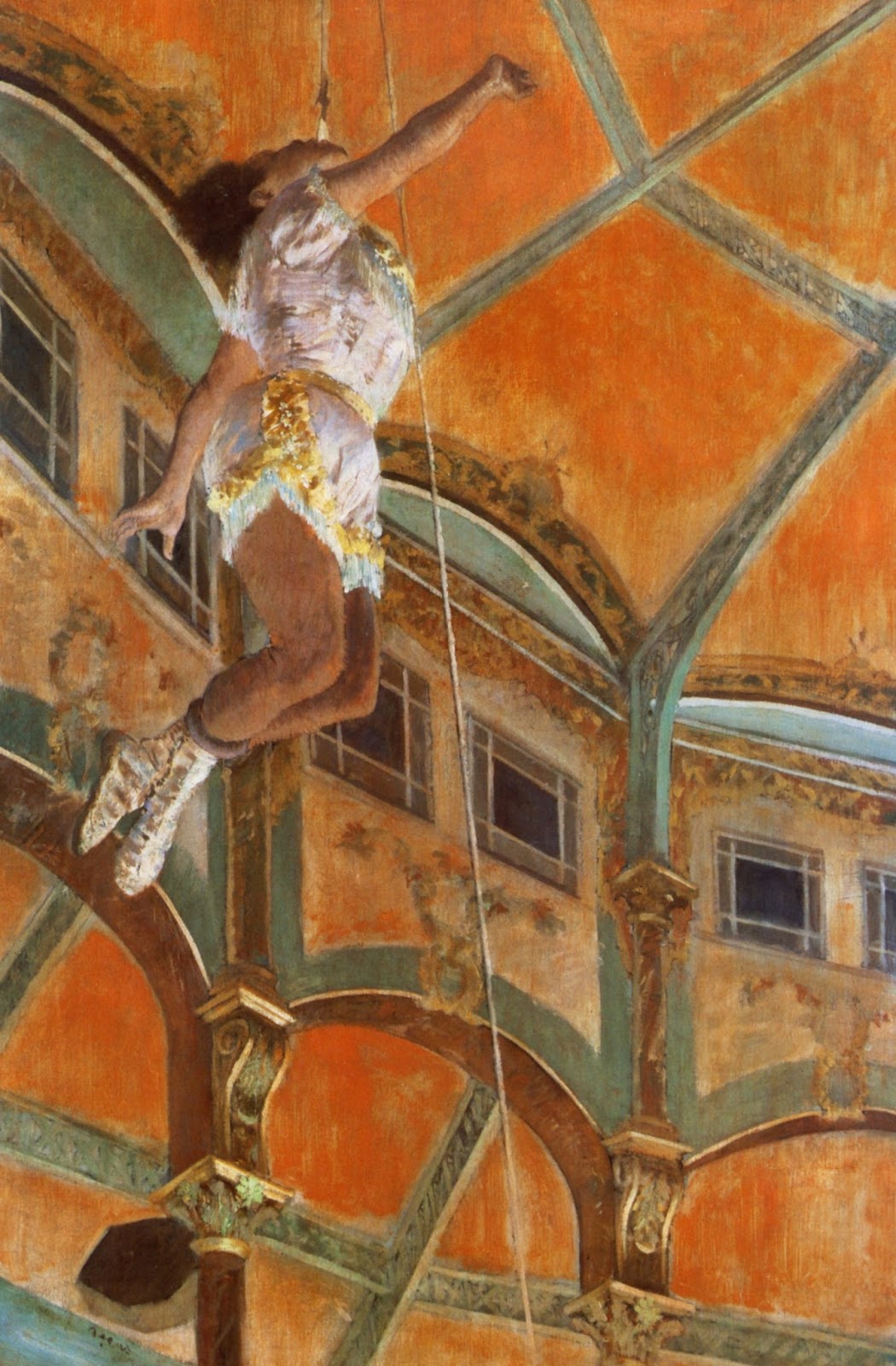 Degas biographer called this painting one of his most surprising canvases. The painting shows an acrobat, hanging on a rope by her teeth at the Cirque Fernando in Montmartre, Paris.
30. Dancers in Blue 1895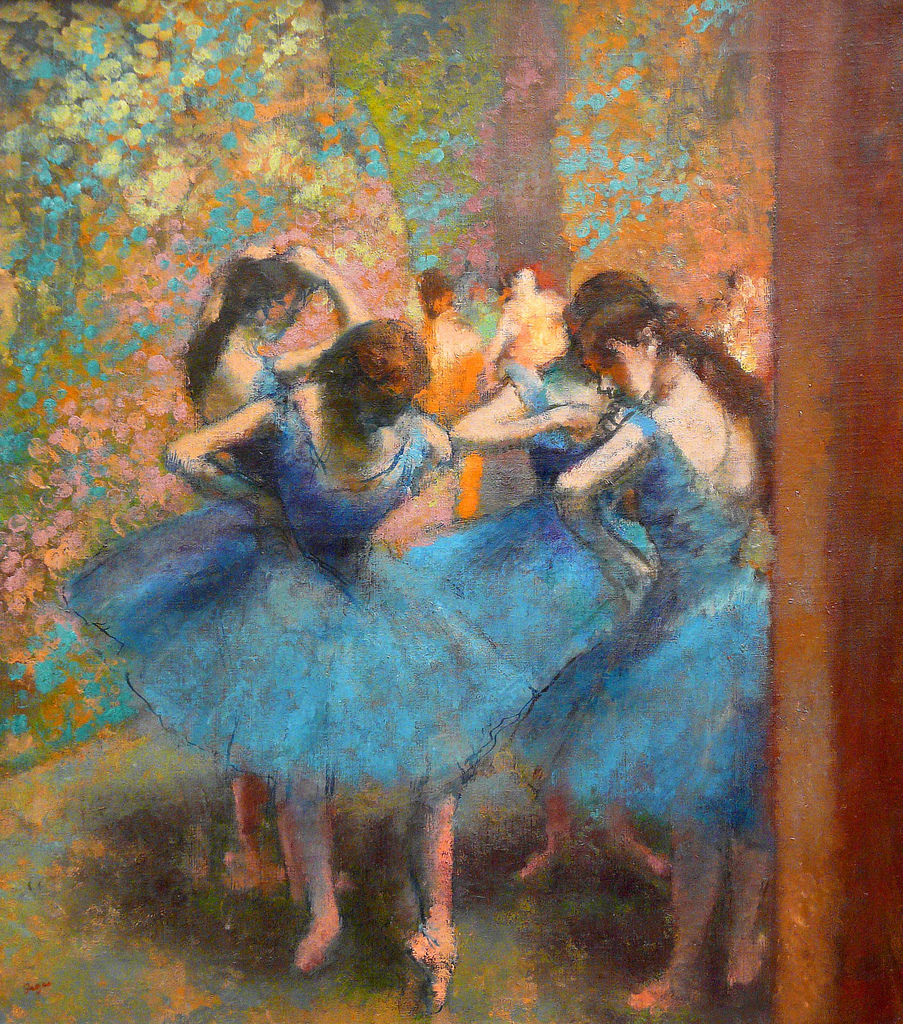 While Degas was famous for painting ballerinas, he still managed to create paintings in different styles of ballet and show movement. It was all a way to keep the audience interested. Blue Dancers is one of 200 oil on canvas paintings that show different styles of ballet.
31. Dancer with Tambourine, c.1882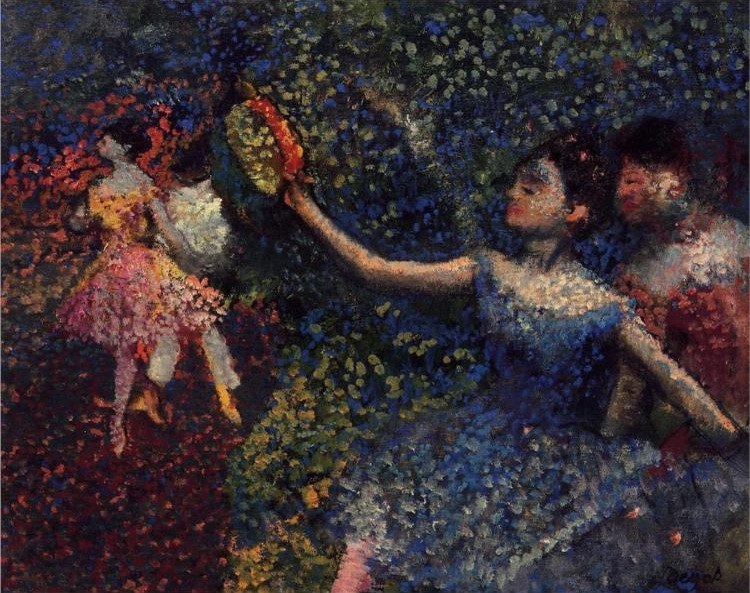 Not only he showed dancers, but Degas wanted to pay tribute to the music world by incorporating instruments as well. Tambourine is definitely an underrated instrument, and that is why Degas used it.
32. After the Bath, Woman Drying her Nape 1898
We saw woman drying her feet before. This is another of the nine paintings made at the bath. And yes, most of them show woman drying her body. Think of it as a way of showing movement from one section to another. Just like cartoons were created back in the day.
33. Two Dancers on a Bench c1900-1905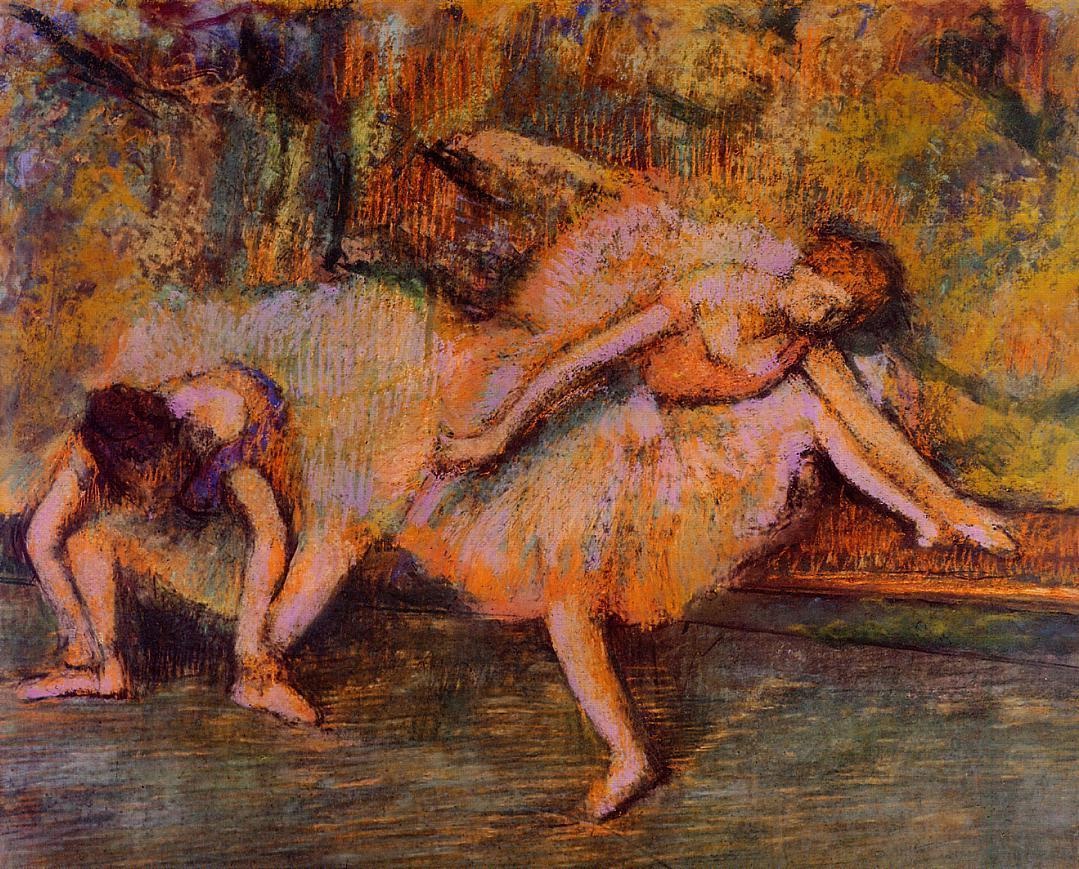 We finish off the list with one of the more mysterious paintings by Degas, two dancers on a beach. There is no set date when this painting was done. Some speculate he worked on it for several years.