William Thomas Kinkade was an American painter of popular realistic, pastoral, and idyllic subjects. He is also one of the most controversial artists, and he even said so in an interview in 2001. The reason is simple, he reached his highest success by mass marketing his work as printed reproductions.
Artists and critics criticize him for the commercialization of art, but he did not care. If you ask Kinkade, he would describe himself as a "Painter of Light". He even protected the phrase through trademark.
Some of the recognizable features in his paintings are the glowing highlights, pastel colors, idealistic values of American scene painting, and portray of bucolic and idyllic settings, including gardens, lighthouses, and stone cottages. His biggest inspiration is his hometown of Placerville.
He loved to say that he was placing emphasis on the value of simple pleasures. He believed he gained his inspiration from his religious beliefs, and that his work was supposed to contain a larger moral dimension.
All of that meant more controversy and criticism. He was criticized mostly for the extent in which he had commercialized his art, selling prints on home shopping networks. Which is why his paintings are not that expensive. You can get an original Kinkade published painting for a price of $60,000 up to $100,000.
1. Afternoon Light, Dogwood 1985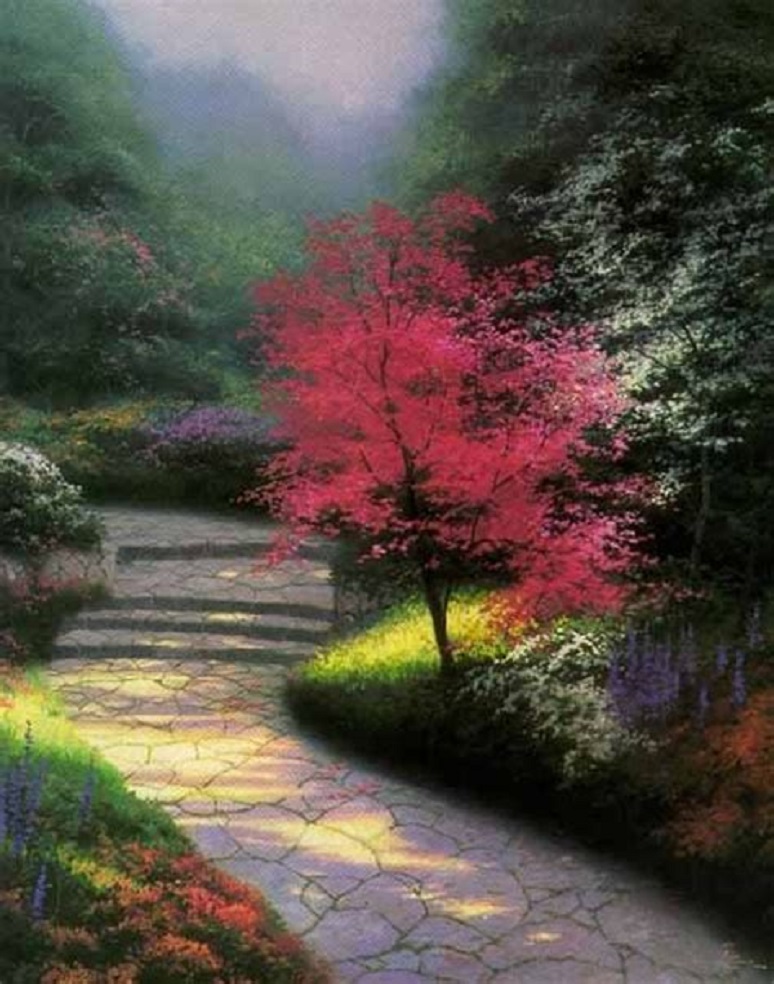 Let's start off with a classic Kinkade painting. As you can see, light was always a huge part of his work. He found a way to implement light in idyllic paintings like no painter before him.
2. Town Square 1986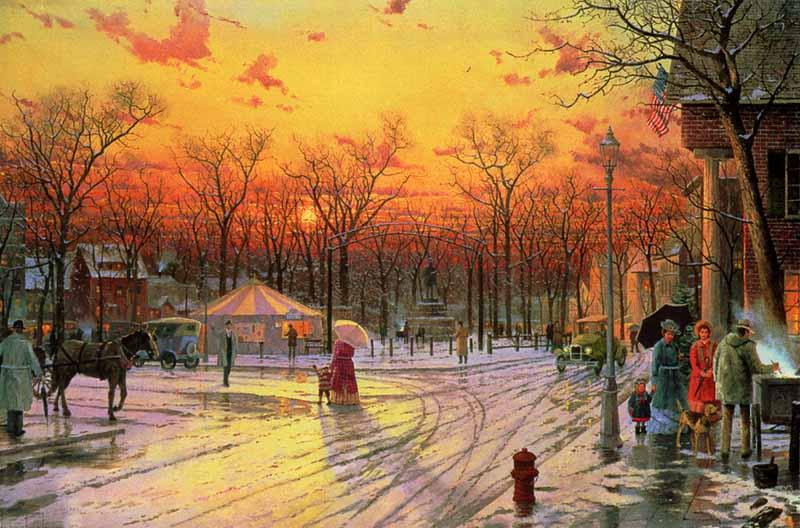 Kinkade used his hometown as inspiration for many of his paintings. And he wanted to show how we live our lives in the company of friends and neighbors. The town square is where we meet with people we care about.
3. The Garden of Promise 1993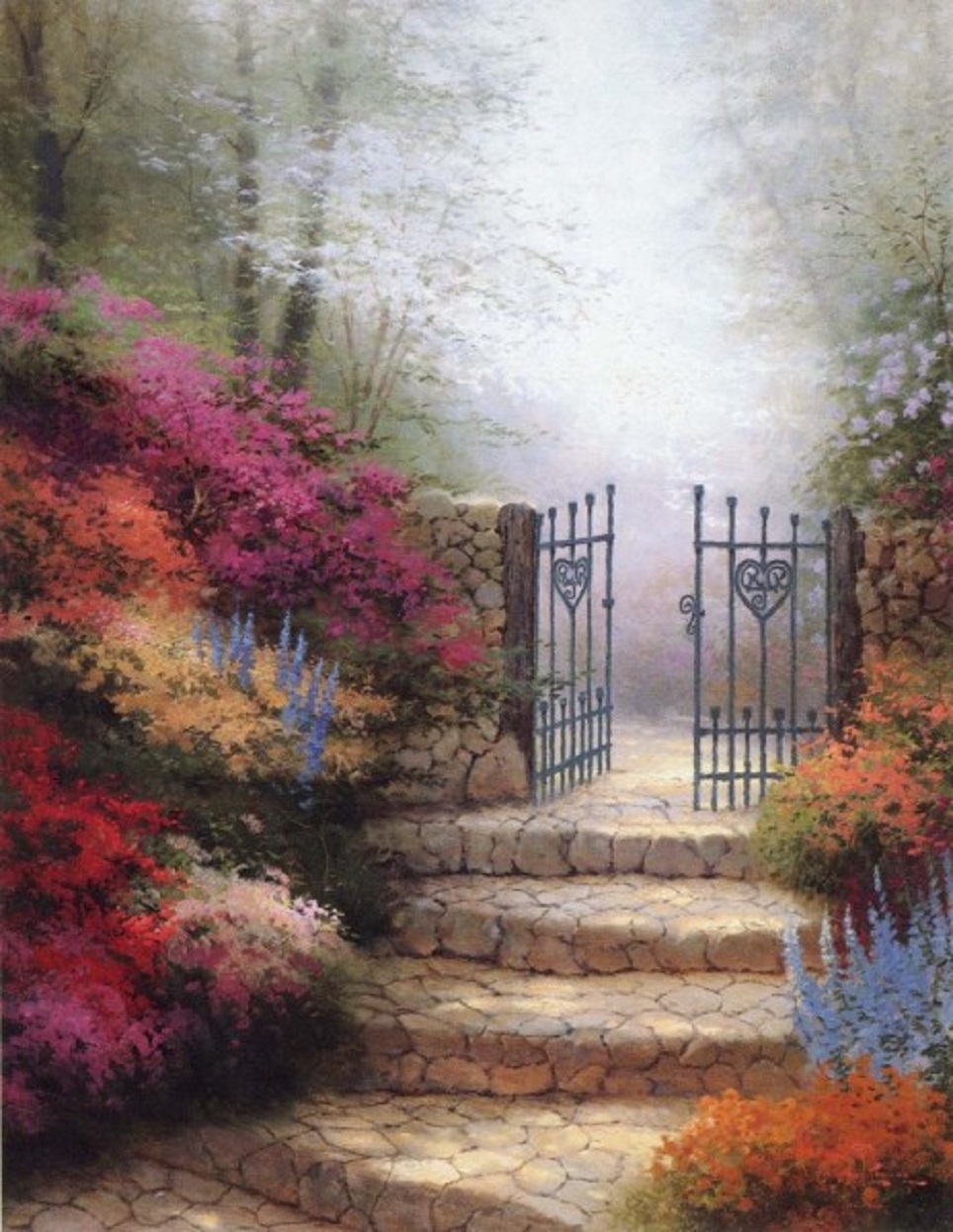 The artist said that loss of close ones was the inspiration for this art. He was amazed to see the serenity and peace filling the heart of a close friend who has just loves loved ones.
4. Lamplight Lane 1993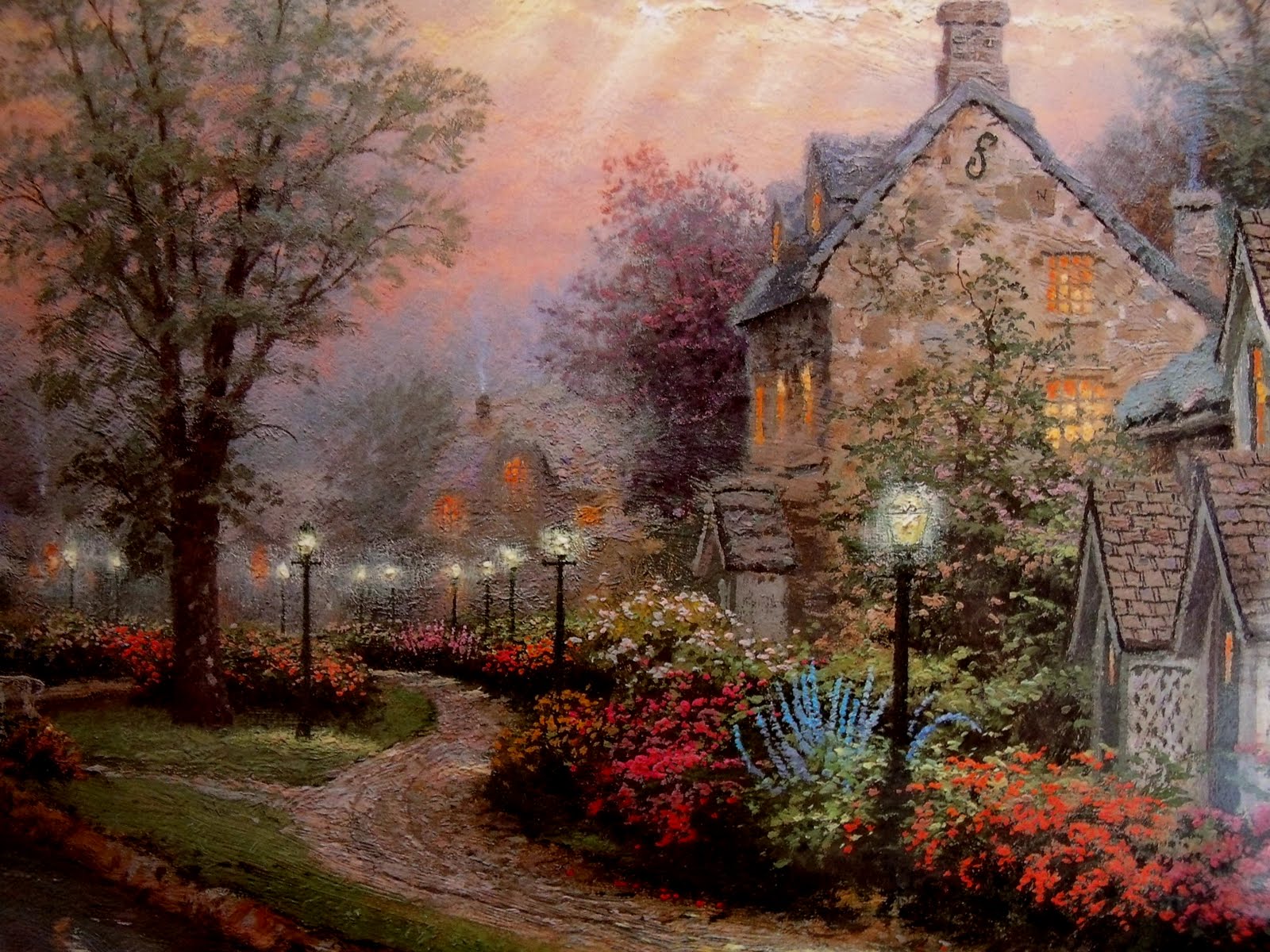 With so much emphasis on light, it is only logical that you get a lamplight painting by Kinkade. This path can be anywhere in the world, and that is what makes it special. The artist helped people identify with his paintings.
5. Beside Still Water 1992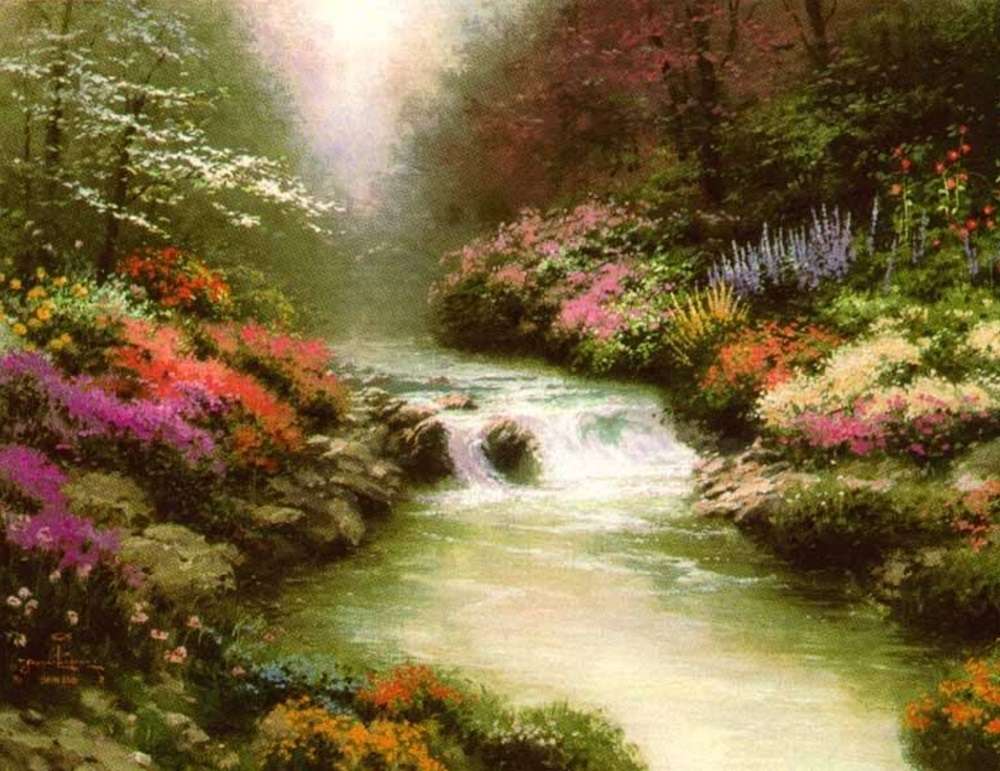 Kinkade said that his paintings represent a wonderful hideaway he visits only in his art. He wants that hideaway to be full with flowers and silvery light. And let's be honest, who wouldn't love to run to this place for a moment of peace and quiet?
6. Guardian Castle 1994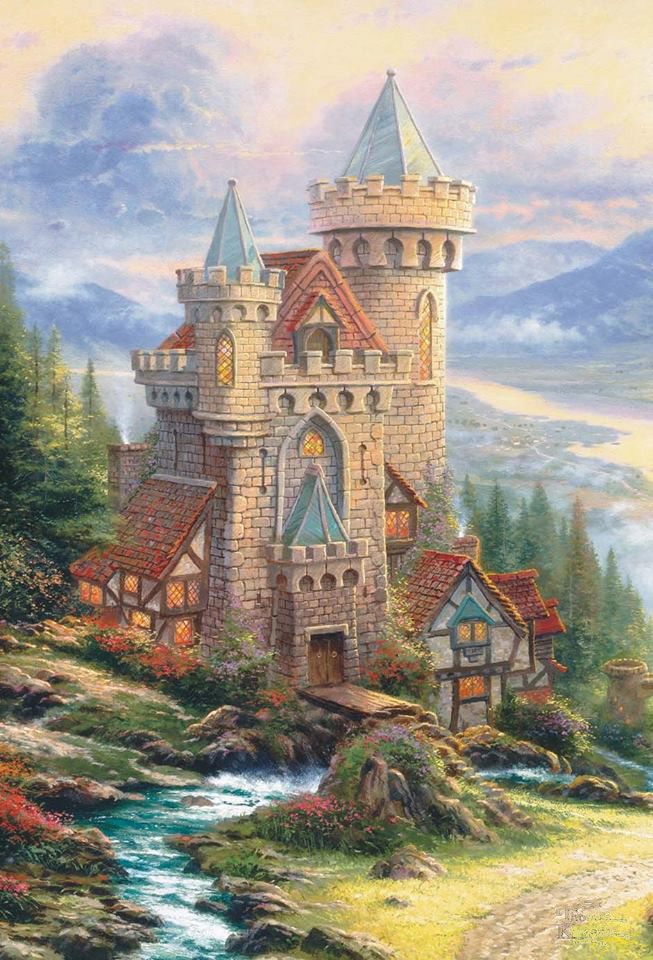 This painting is special because it was the first time Thomas worked with another artist. For this piece of art, he collaborated with the brilliant miniaturist David Winter. Even Disney might want to get their hands on this castle. It is that beautiful.
7. Beacon of Hope, 1994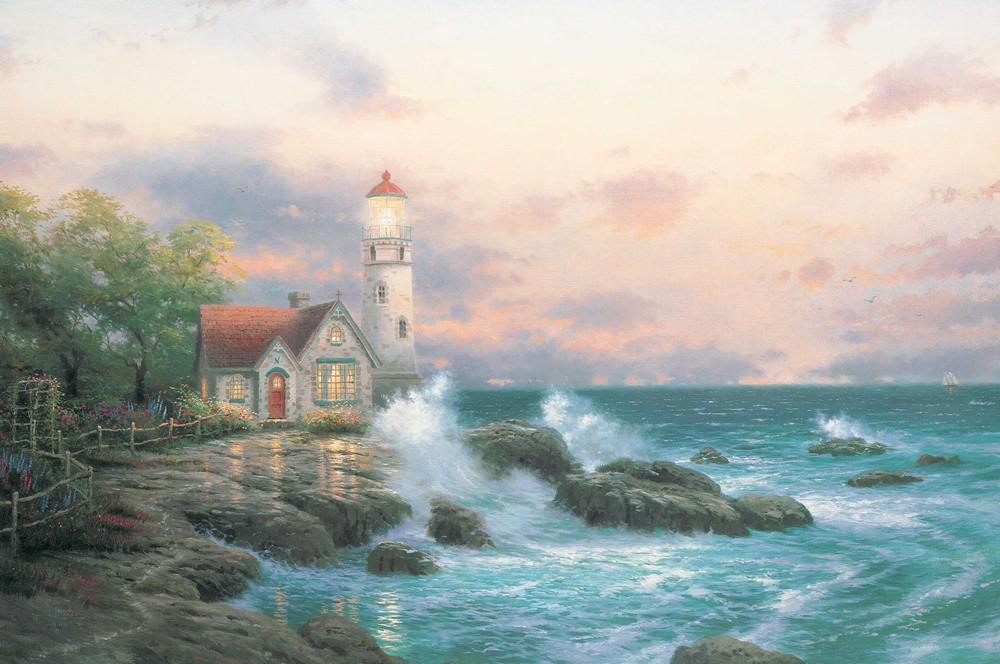 Beacon of Hope is one of his early lighthouse paintings. It is a fan-favorite by collectors. It is a product of imagination and an allegory of faith. As we said, religion was a huge part of his work. And hope is an essential part of any religion.
8. Morning Dogwood 1995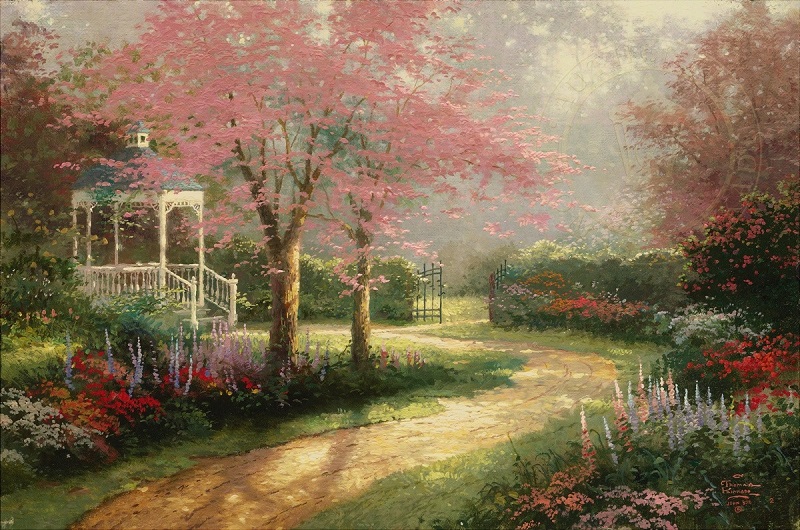 This painting was reproduced and hand-retouched by skilled artisans. And the result is almost as close as the original. It is also one of the many in which he used dogwoods as inspiration. The dogwood tree is intrinsically linked to Christianity.
9. A View from Cannery Row, Monterey, 1996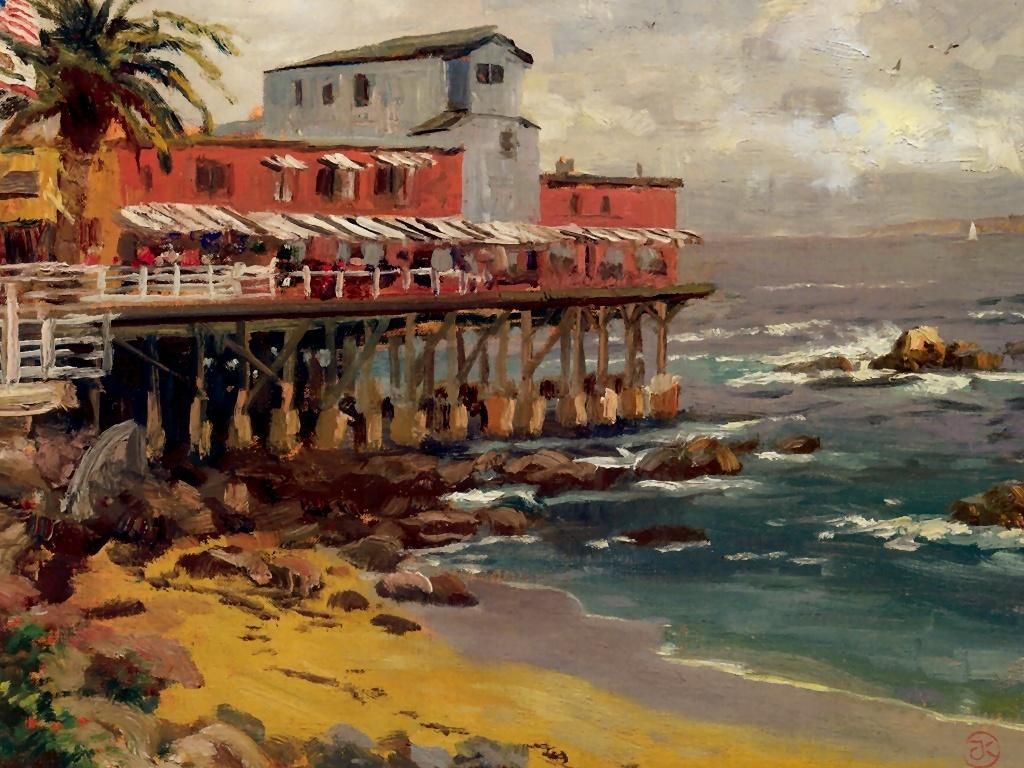 Monterey is a city on California's rugged central coast, immortalized by novelist John Steinbeck. But it was also an inspiration for one of Thomas famous paintings.
10. Stairway to Paradise 1998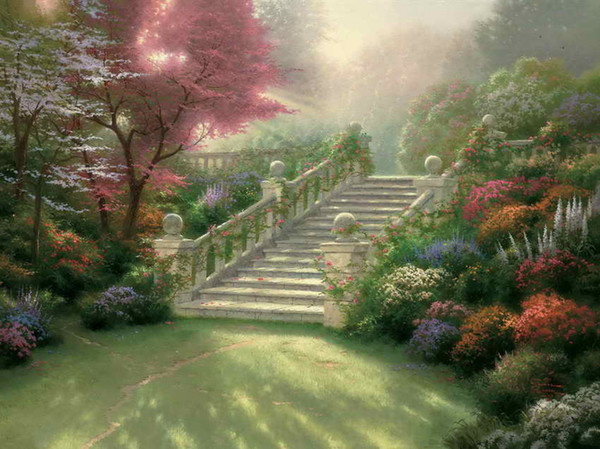 Definitely one of the most famous and popular Christian-themed painting. How does the stairway to Heaven looks like in your eyes? Is it similar to the one painted by Thomas. And do we all get to go to heaven?
11. A Christmas Welcome 1997
Christmas is one of the most important holidays in American history. And it is one linked with the birth of Jesus Christ, the most important person in Christianity. As such, the holiday is tailor made for a Thomas Kinkade painting.
12. San Francisco, Market Street, 1994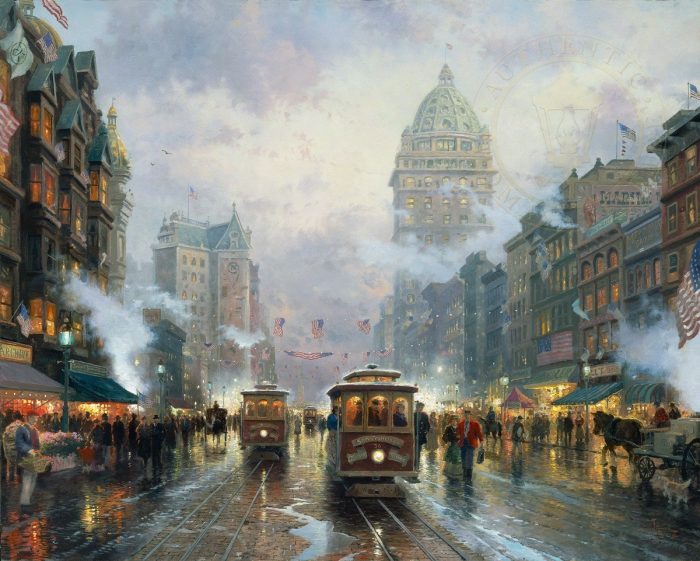 Kinkade often loved to paint the simple scenery images. He is a painter of the everyday life. When he was not doing idyllic paintings, he was doing everyday city paintings.
13. The Light of Peace 1996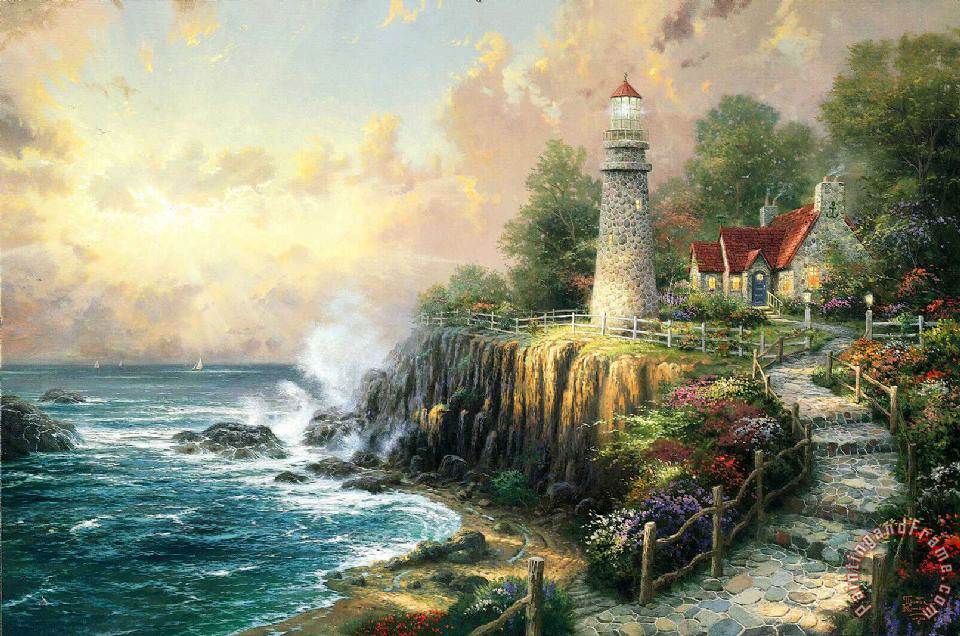 We mentioned before that Kinkade had a number of lighthouse paintings. The reason is simple. A lighthouse symbolizes our way forward, navigating through rough waters. Basically, finding a way to go through life despite all of the adversity surrounding us.
14. Cobblestone Bridge 2000 webneel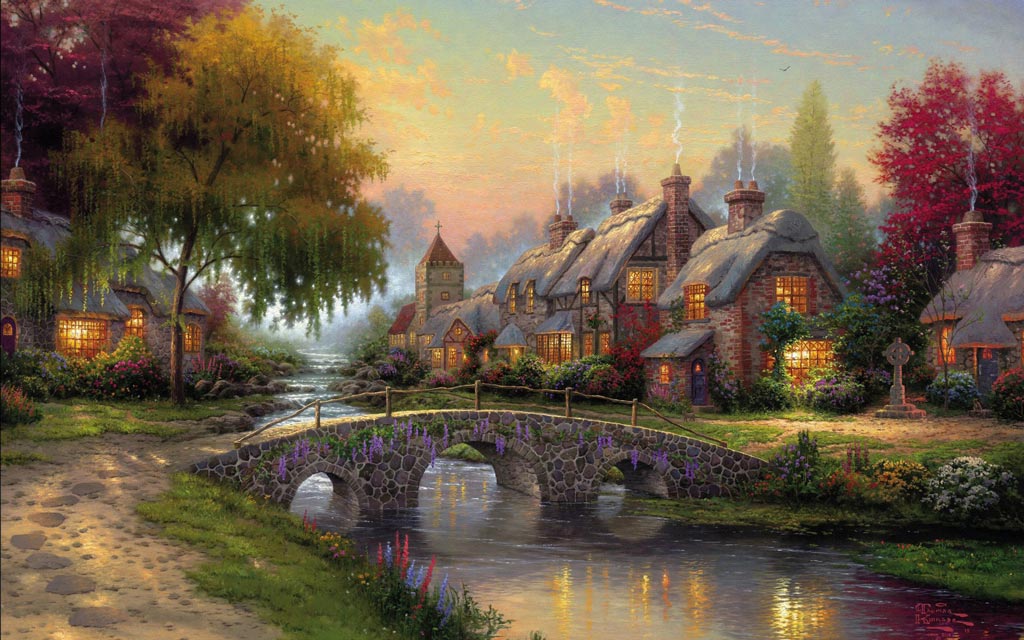 Kinkade made this painting when he was exploring the Hampshire region in southwest England. And he knew it instantly it was going to be a great piece. Therefore, he saved it for December, a period in which people buy presents for Christmas.
15. The Village Lighthouse 2002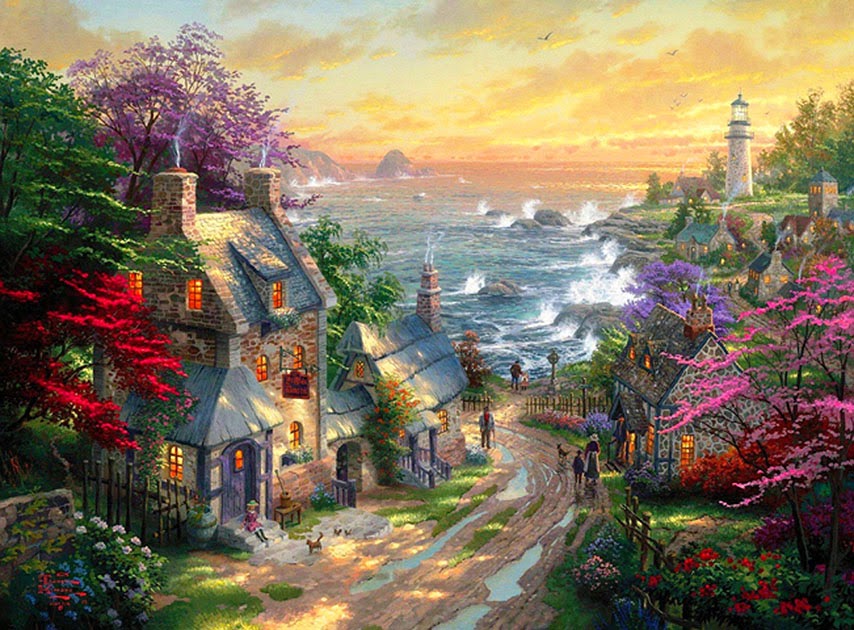 You can say his lighthouse paintings are very similar. There is always a path to the lighthouse, and flowers all around it. That is a way of saying that despite the rough times, there is something good and beautiful happening in your life.
16. The Old Fishin' Hole 2003
This is one of his older paintings, when he was already under huge scrutiny. At this point, Kinkade has already mastered the way of creating paintings for prints.
17. Streams of Living Water 2000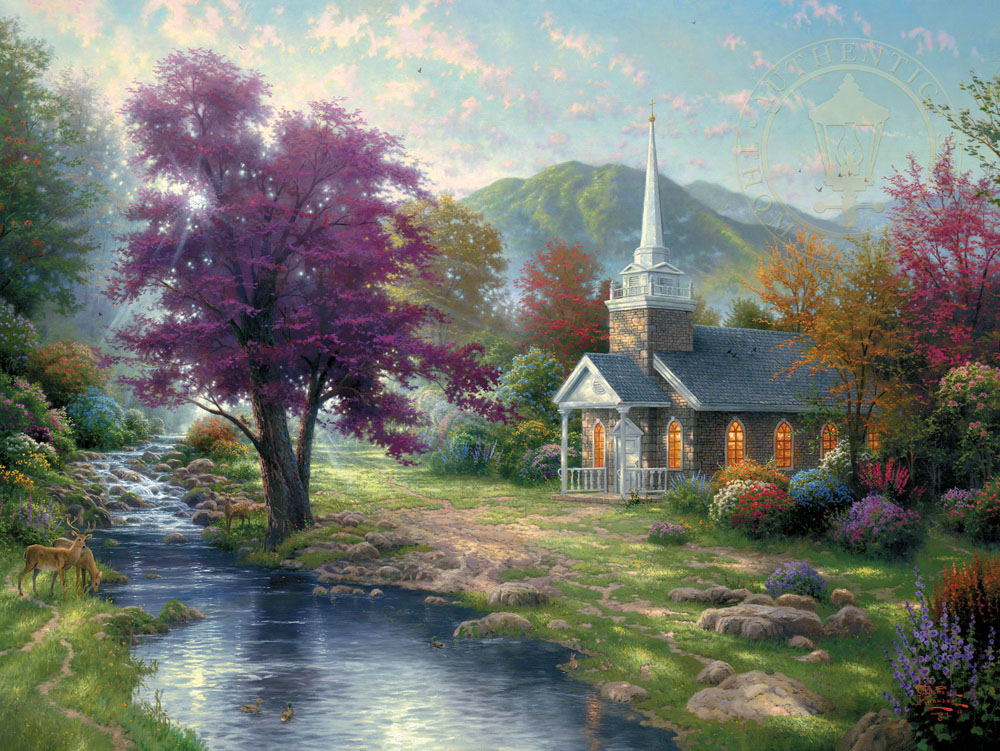 It is all about the pristine waters. Or as some would say it, the water from the heaven itself.
18. Sweetheart Gazebo 2002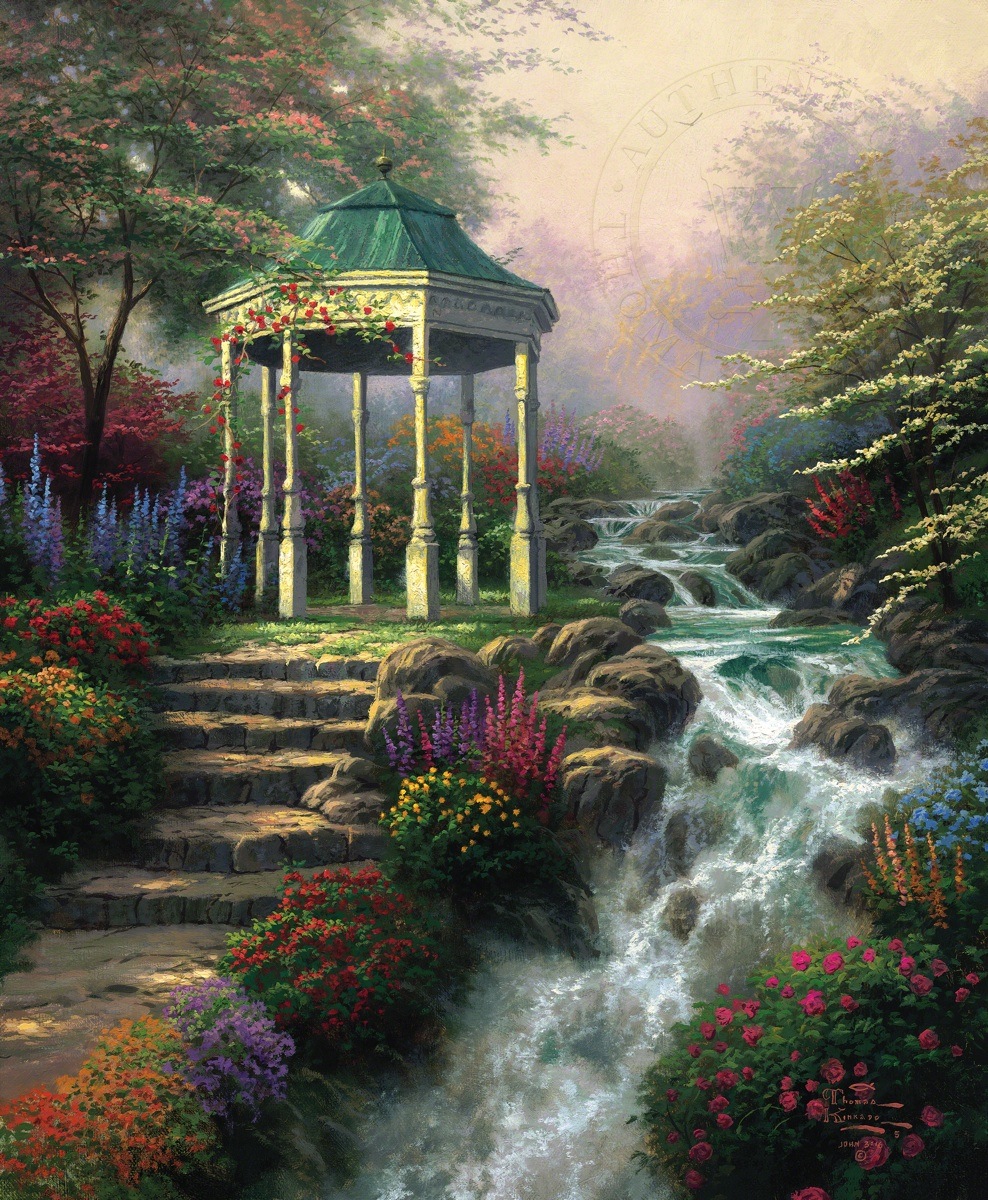 The Gazebo is a modest palace of love. Private and open at the same time, it is a great romantic shelter for partners. And again, you see water flowing, as a way to show that life goes on always.
19.  Still water Cottage 2005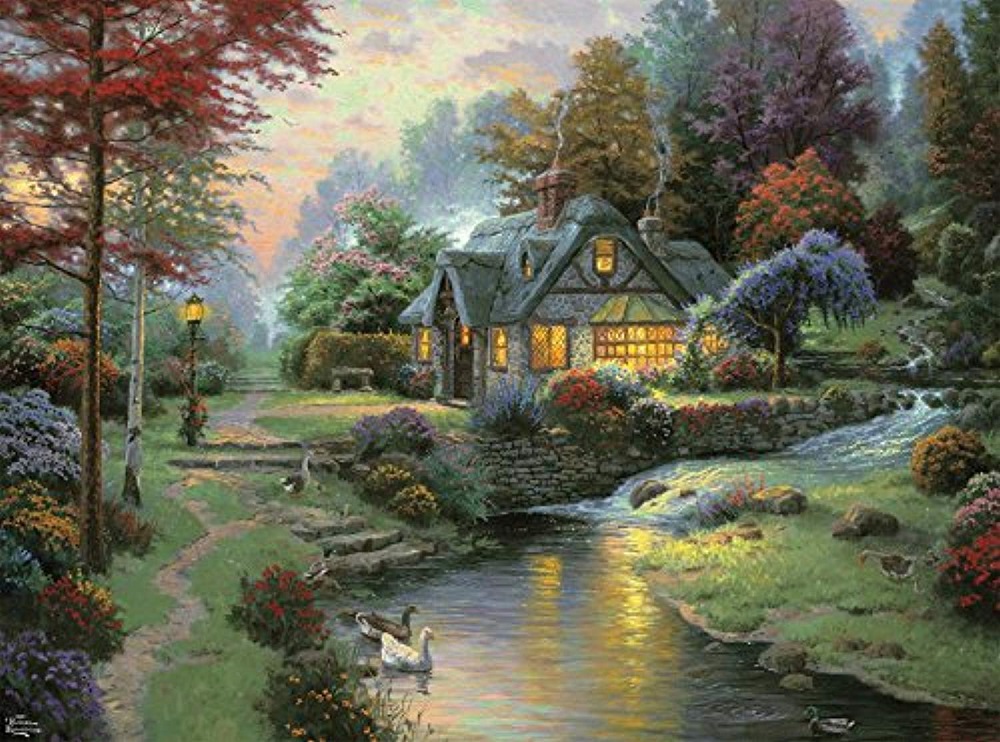 There are times in life when it is rough, and then there are times when the weather is calm. This is one of the few paintings where you will find still water in Kinkade's art. He often wanted to show flowing water.
20. A Peaceful Retreat 2002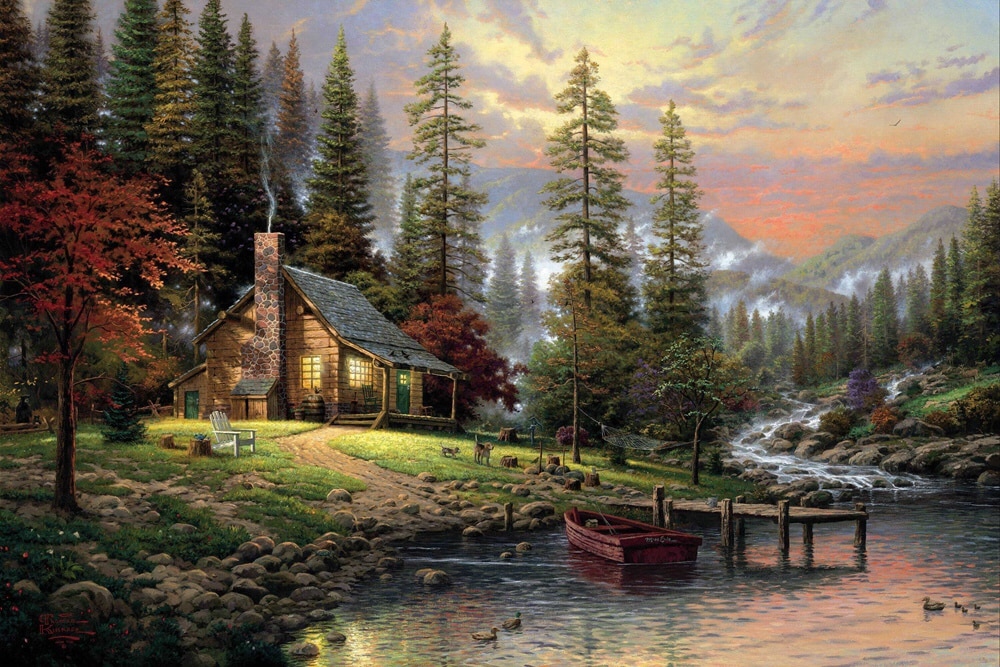 This might be the place where Kinkade wanted to retreat. He often said that his paintings are his hideaway from reality. And he loves to visit these places in his dreams.
21. Disneyland's 50th Anniversary 2005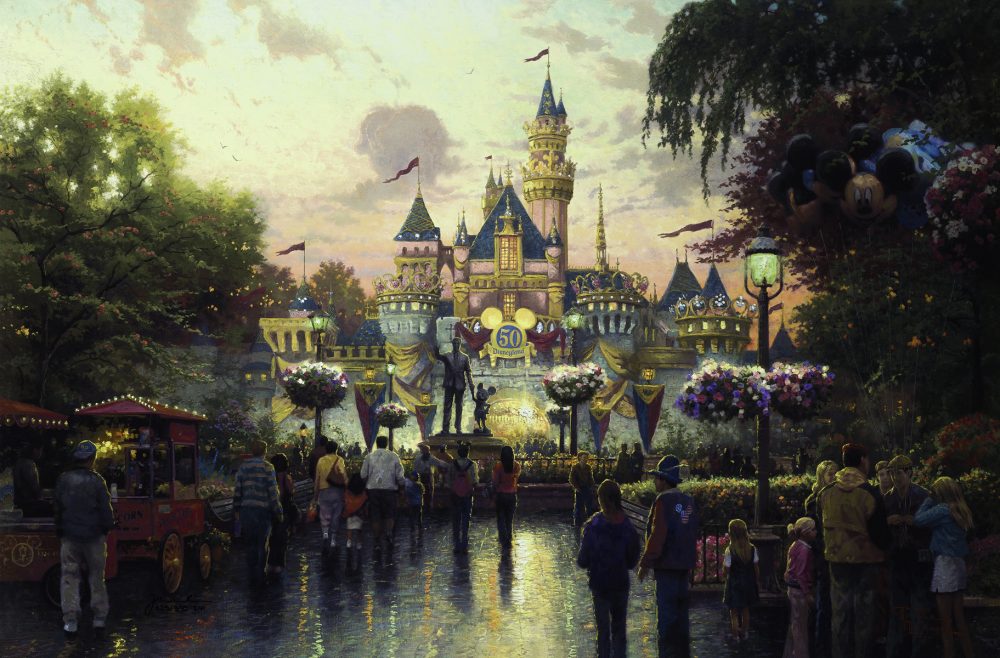 When the Disneyland 50th Anniversary gala was announced, Kinkade jumped at the opportunity to paint the place. He wanted to show all of the golden memories of Disney.
22. Christmas Evening 2005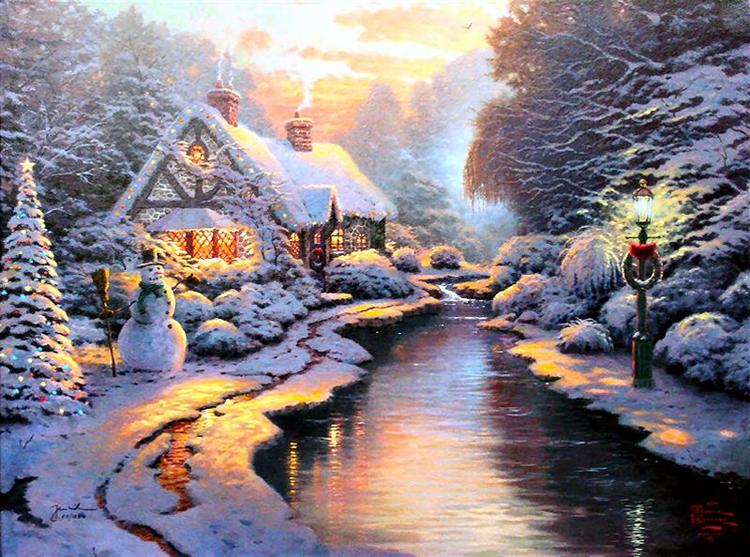 We said before that Christmas was a huge topic and theme in his paintings. And he often painted the morning of the holiday. Now, we see how he imagined the Christmas evening. As always, there is water on the painting.
23. NASCAR Thunder 2008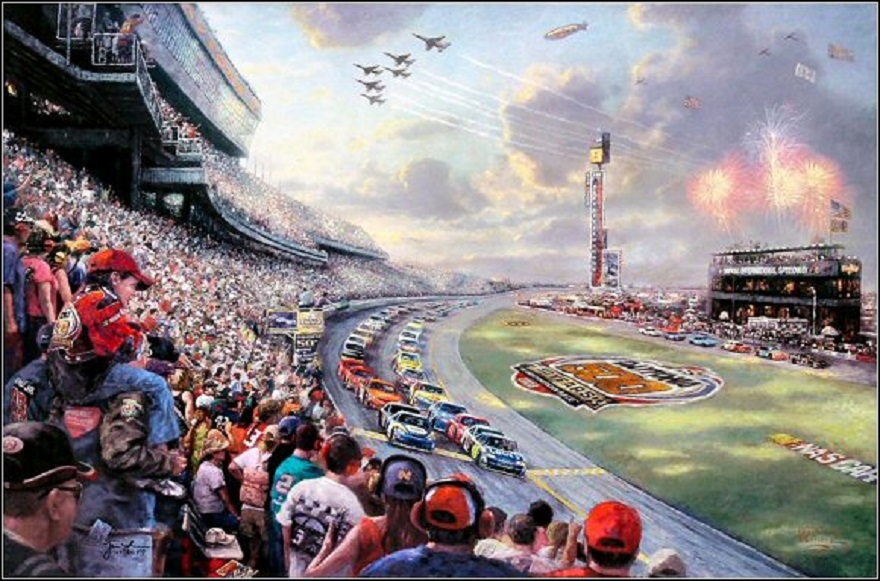 If there is one sports event that is embedded in American history, that is the NASCAR racing. And given how Thomas wanted to show scenes from everyday life, it is only logical he paints this print.
24. Snow White Discovers the Cottage 2008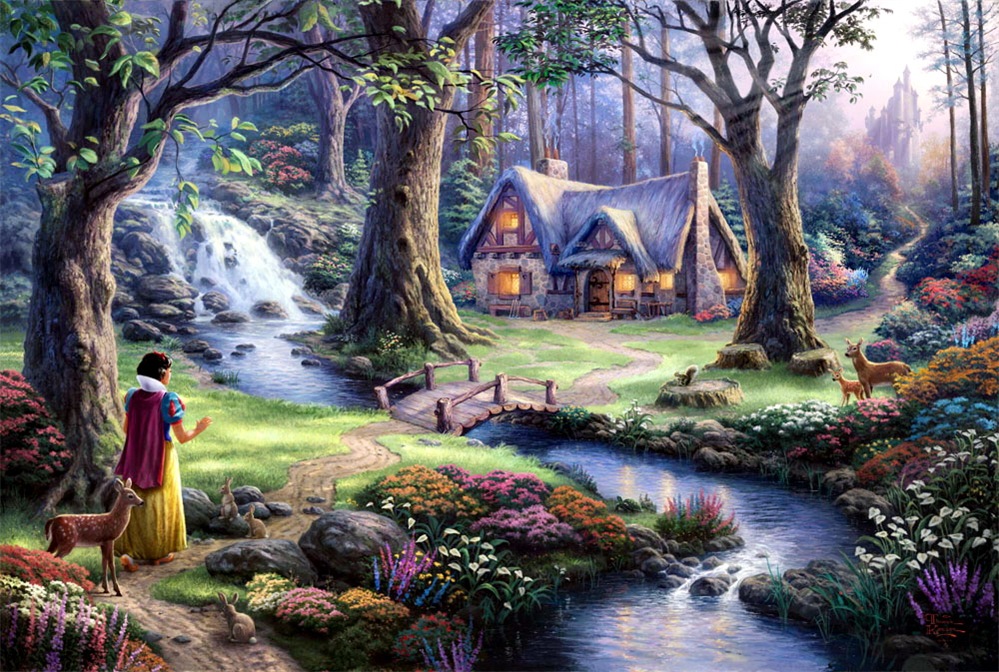 The Thomas Kinkade studios captured the timeless magic of classic Disney stories. The idea was to use the style of narrative panoramas. Each painting tells the entire story of a Disney film in just one image. Safe to say, Kinkade was a master of doing this.
25. Savannah Romance, 2009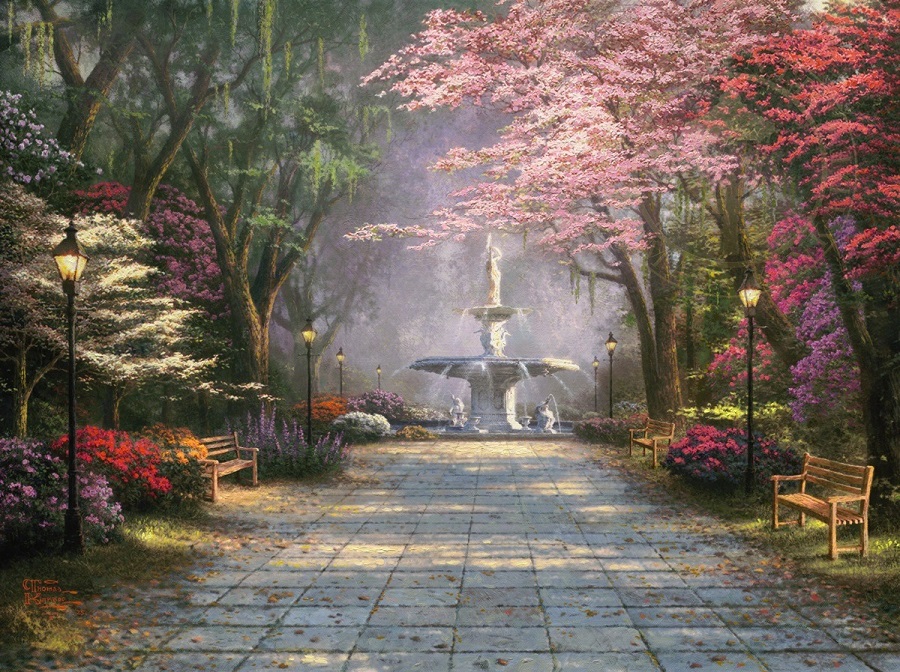 Thomas was a bit of a romantic. And Savannah in Georgia has always been a city for romantics. Therefore, he wanted to paint this crown jewel, epitomizing everything about the Old South.
26. Rosebud Cottage 2011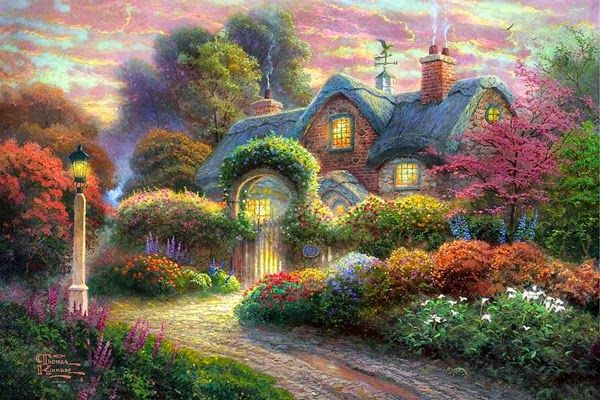 This is one of his last paintings. The last painting by Kinkade was actually "Away from it All". But we wanted to end the list of his paintings on a positive note. After all, this painting is light and cheerful. Away from it all has a darker and more negative vibe.