Norman Rockwell was an American author, painter, and illustrator. His works have been credited to showing a reflection of the American culture. He is most famous for the cover illustrations of everyday life he created for the Saturday Evening Post magazine for more than five decades.
He also made many patriotic depictions during World War II. One of those World War II paintings includes the Four Freedoms, a painting series inspired by Franklin Roosevelt and his address to Congress.
During his lifetime, he was a prolific artist, producing more than 4,000 original works. Some of his works are extremely valuable. His "Saying Grace" was sold for $46 million at an auction at Sotheby in 2013. That makes it the most American painting ever.
1. Norman Rockwell painting the Soda Jerk 1953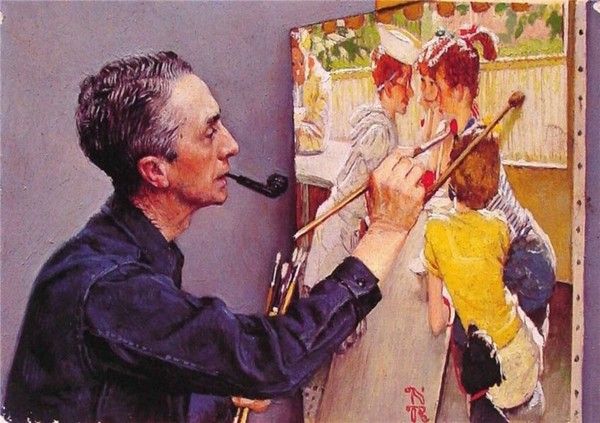 This is one of the 322 total paintings published on the cover of the Saturday Evening Post. It was the 271st overall. The painting shows a teacher, soda jerk, and a United States president.
2. No Swimming 1921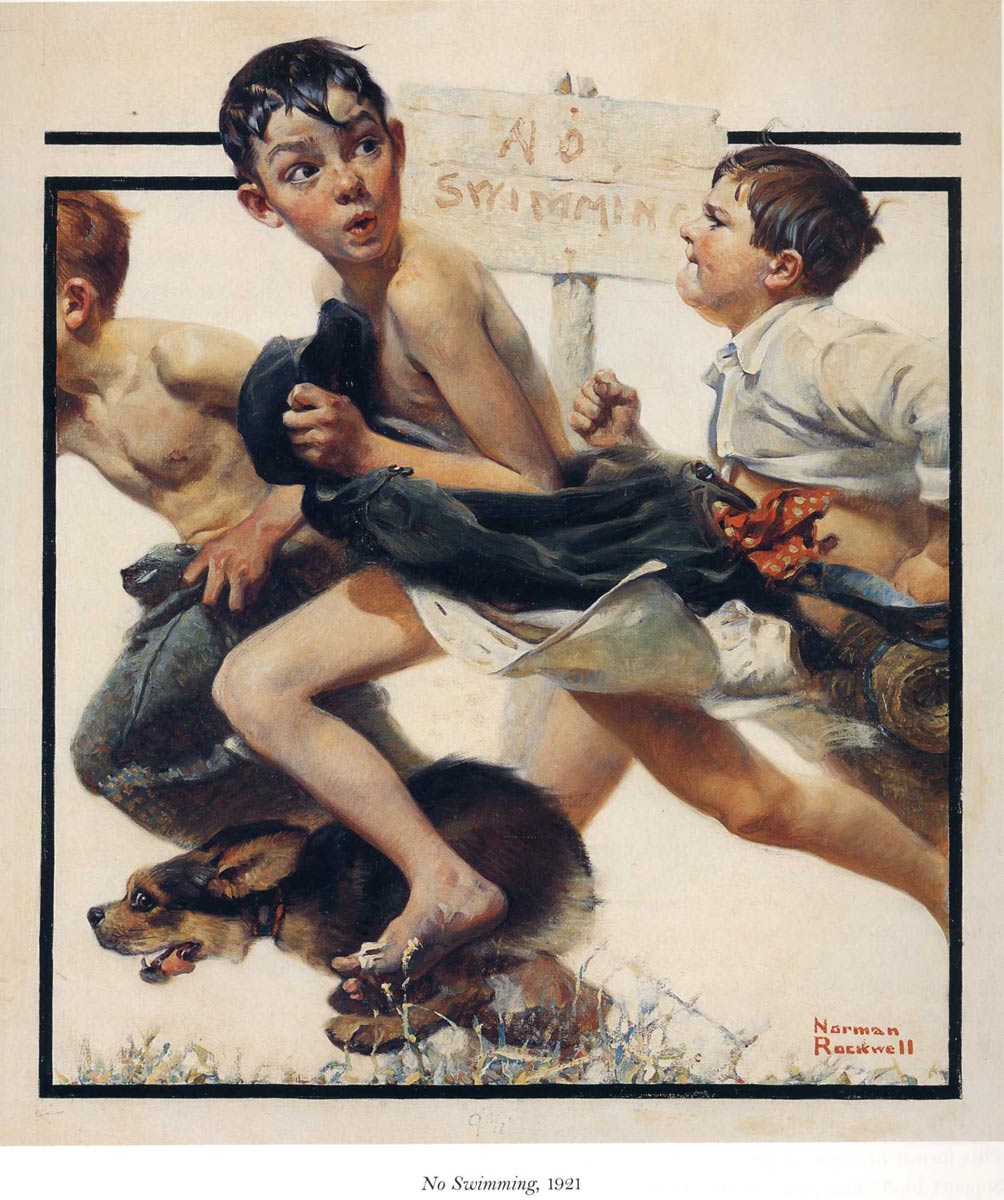 Photo: geofotoput.ru
This is a fan favorite cover, and it remains one of his classic images up to this day. It is a classic Rockwell, and his name comes to mind immediately after looking at the picture.
3. Family home from Vacation, 1930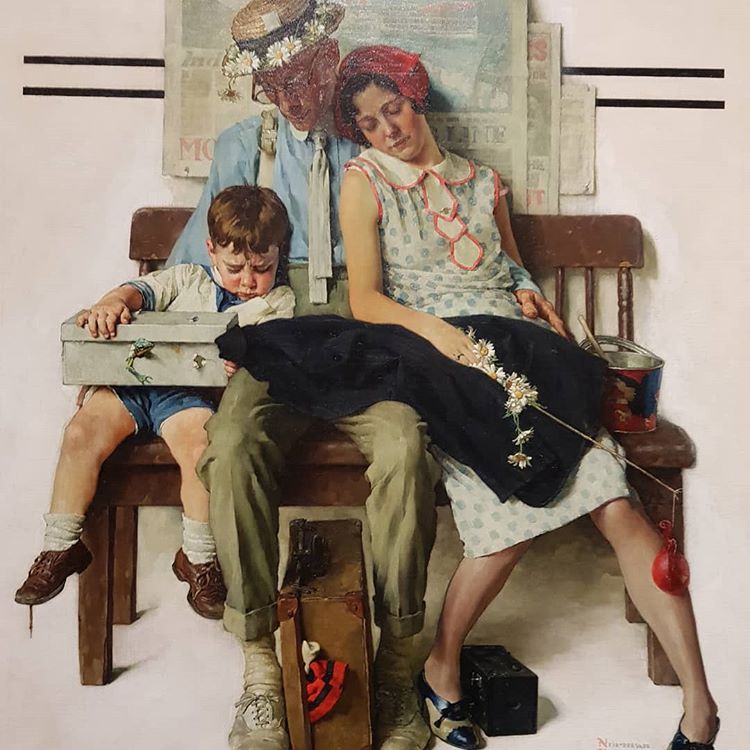 One of the common American traditions is going for a family vacation during the summer. And it is perfectly captured on this Rockwell print. As mentioned previously, he was famous for showing everyday life on prints.
4. Checkers, 1928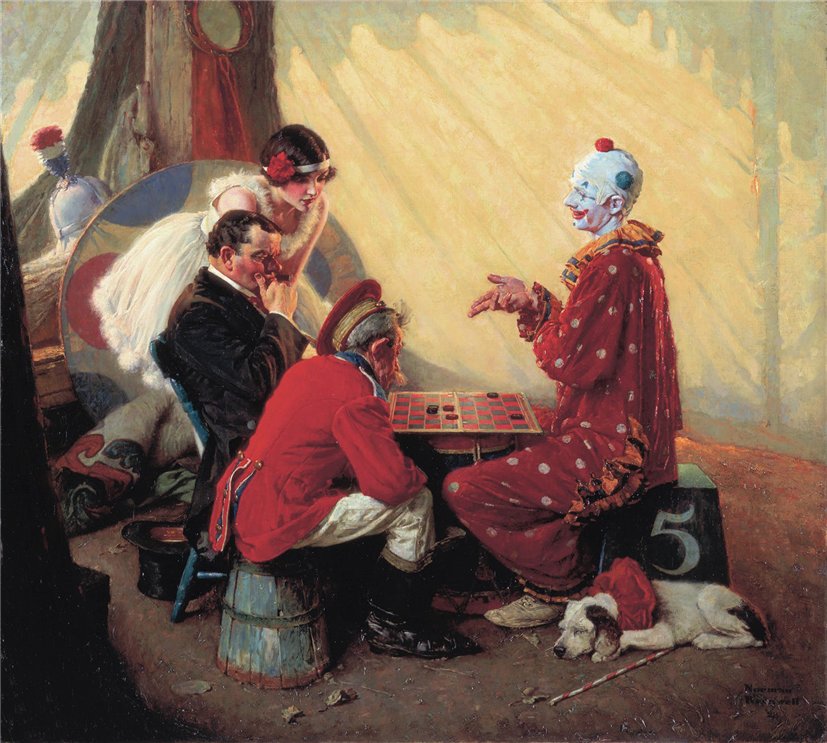 Checkers is a popular board game played in America. The strategy involves diagonal moves of uniform game pieces and mandatory captures by jumping over opponent. Two players are needed. On this picture, Rockwell depicts circus clown playing the classic American workers game.
5. Black Sheep In A Red Dress 1936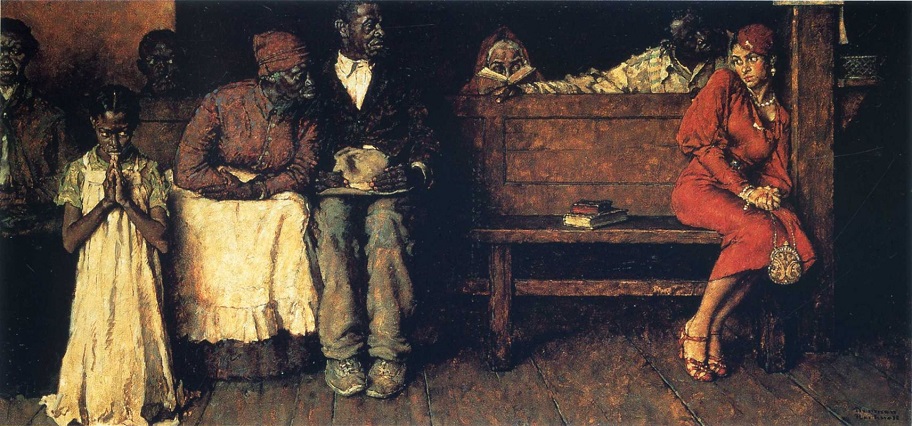 Women were not as emancipated and as free at the time Rockwell was alive. He was a supporter of woman's rights, and often tried to show how the society perceives women.
6. Dewey vs Truman. Election day 1948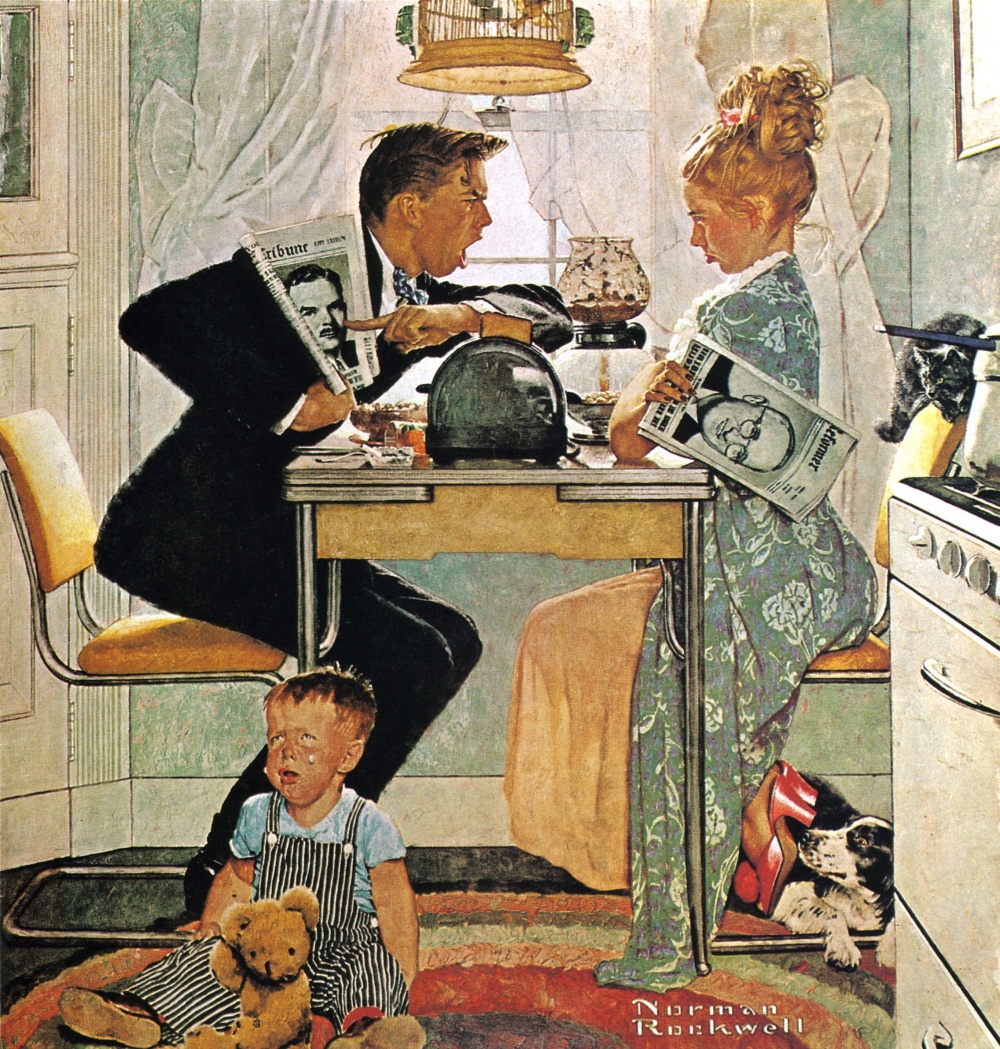 Thomas Edmund Dewey was Roosevelt's opponent at the 1944 presidential elections. He was the closest opponent in four of the presidential elections won by Roosevelt. This painting shows the bitterly divided election day.
7. The Runaway 1958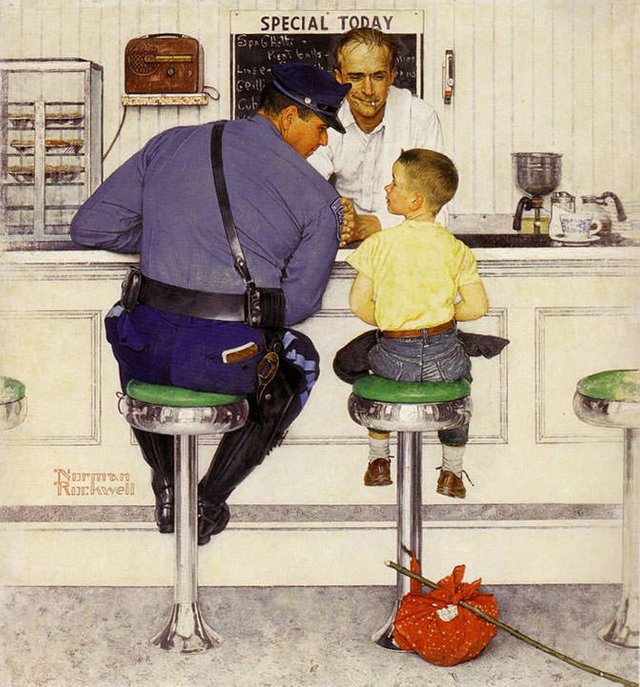 In addition to depicting regular people and everyday life, Rockwell also used regular people as models in his prints. This one shows Richard Clemens, who poses as the police officer in the iconic The Runaway painting.
8. Saying Grace 1951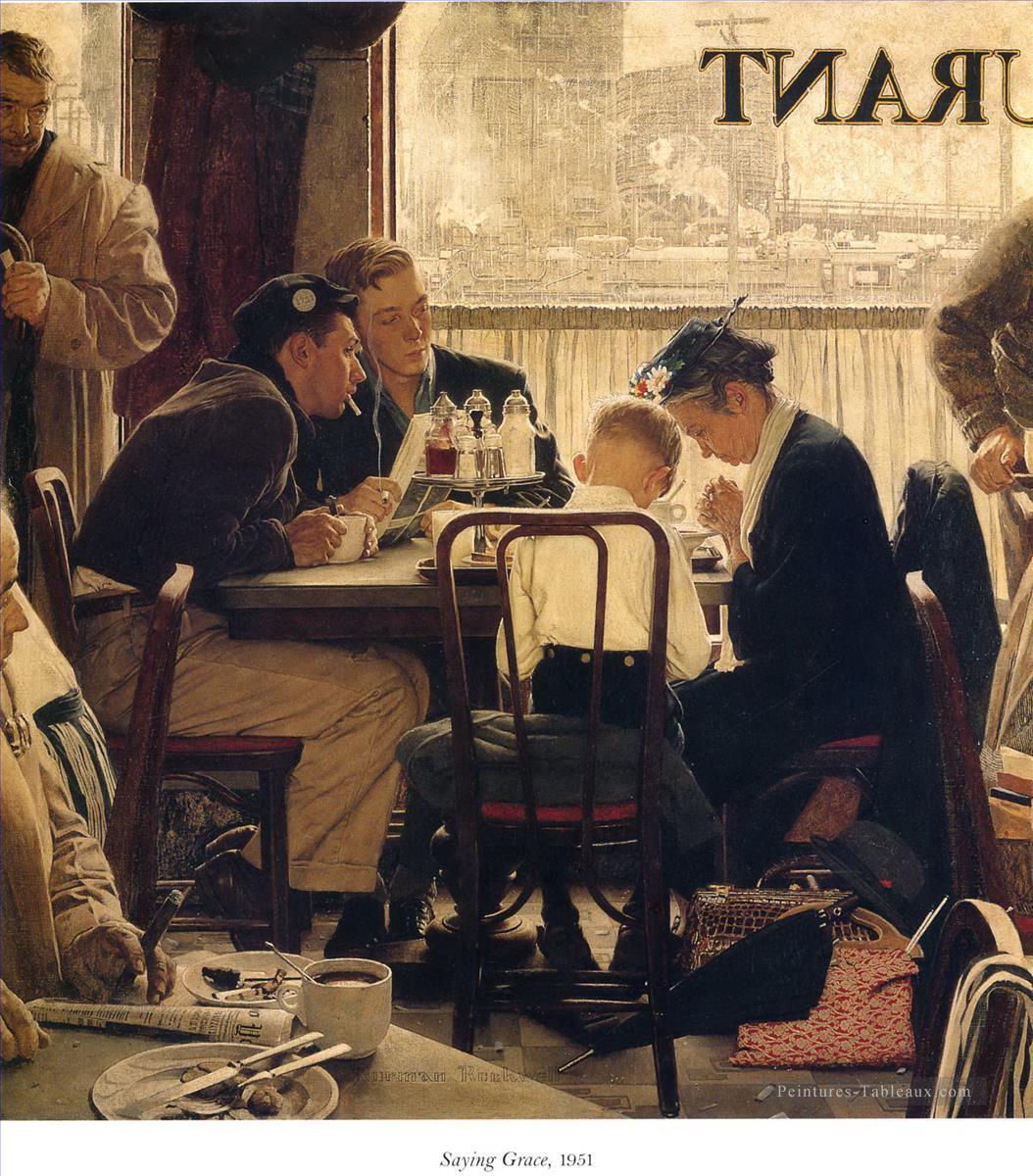 As mentioned at the beginning, this is the most expensive painting ever sold by an American painter. IT was painted for the cover of the Saturday Evening Post's November 24, 1951, the Thanksgiving issue. In the spirit of Thanksgiving, it shows a woman and a young boy saying grace in a crowded restaurant.
9. Girl Reading the Post 1941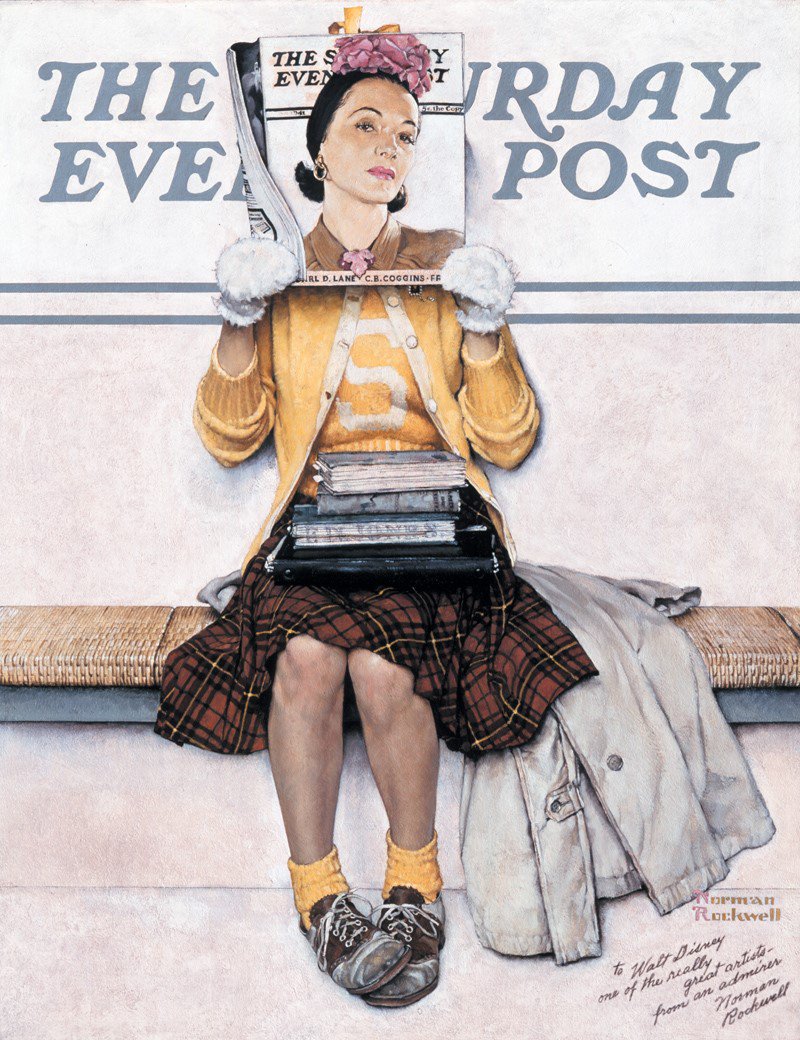 Rockwell sometimes wanted to play with perceptions and imaginary. The Post was a popular newspaper during his lifetime, and had quite a number of readers. It was by people of all ages.
10. Rosie the Riveter  1943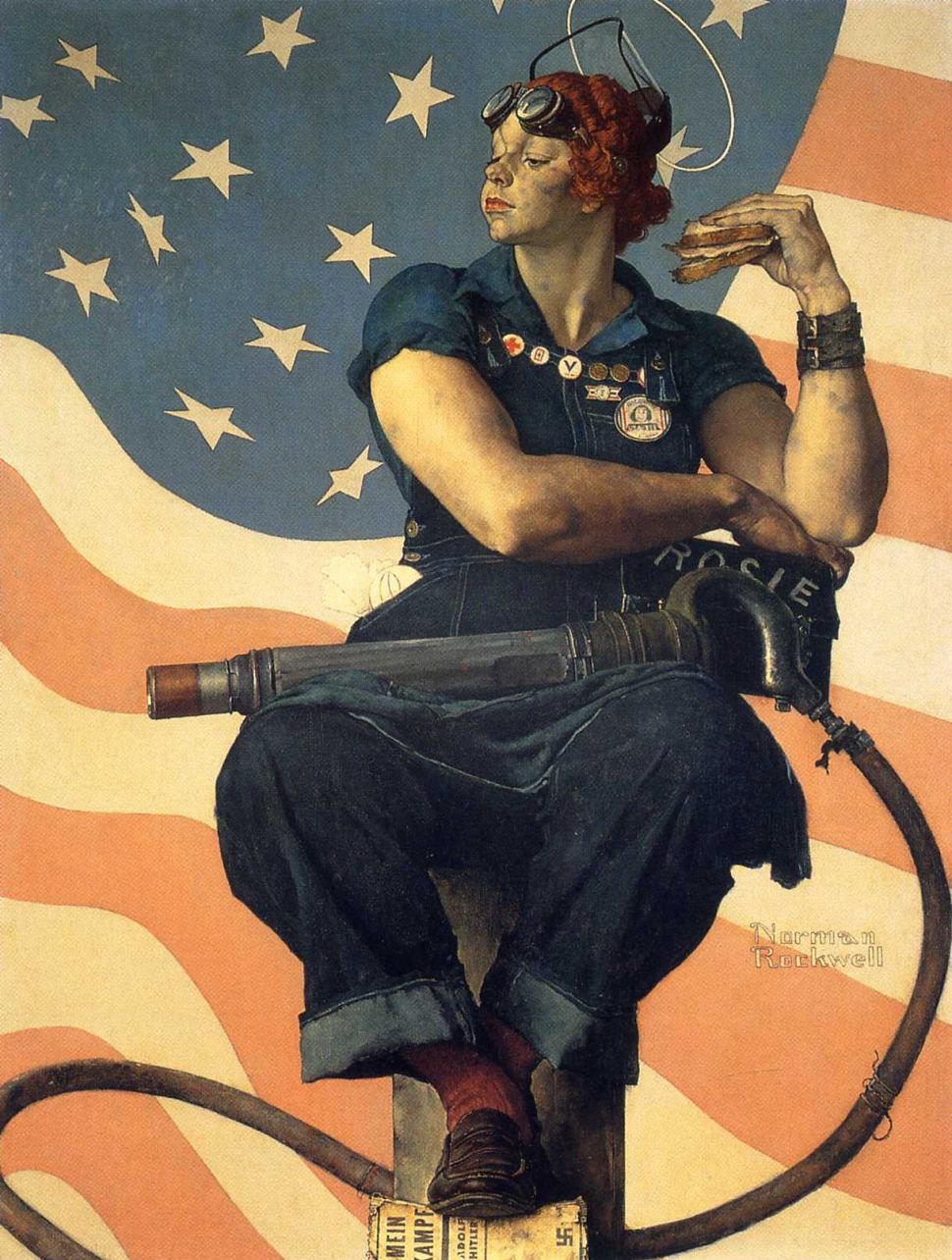 Rosie the Riveter is a cultural icon of World War II. It is a tribute to women who worked in factories during the war, producing munitions and war supplies. They took jobs replacing the male workers who joined the military. Rockwell used 19-year old Mary Doyle Keefe as a model, who worked as a telephone operator. He painter her as a larger woman, and later phoned to apologize.
11. Lunch Break with a Knight 1962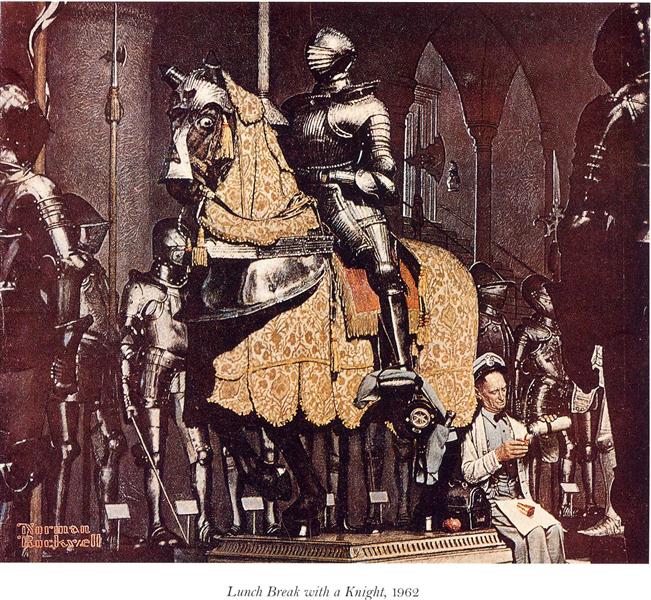 A classic for all the ages, and a timeless favorite among his fans, this is one of the later prints published by the Post. In fact, it was the 318th overall of the 322 total paintings printed.
12. Girl at Mirror, 1954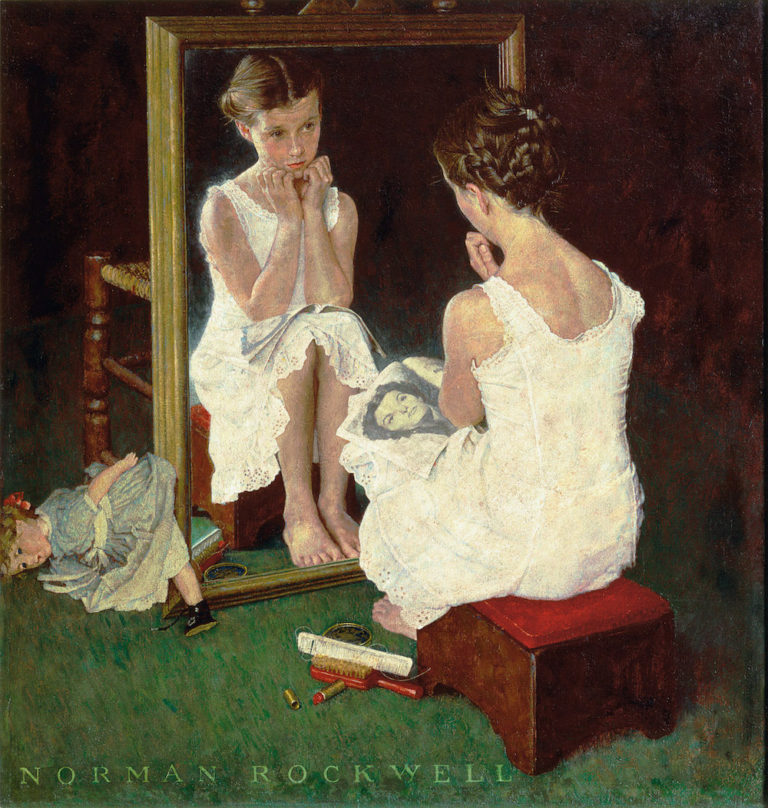 There is a long tradition by artists of picturing a woman contemplating her reflection. The Girl at Mirror is another example painted by Rockwell. He wanted to capture the poignancy of growing up. The model, or the girl, had no idea what he was talking when he painted her.
13. Christmas Santa Reading Mail 1935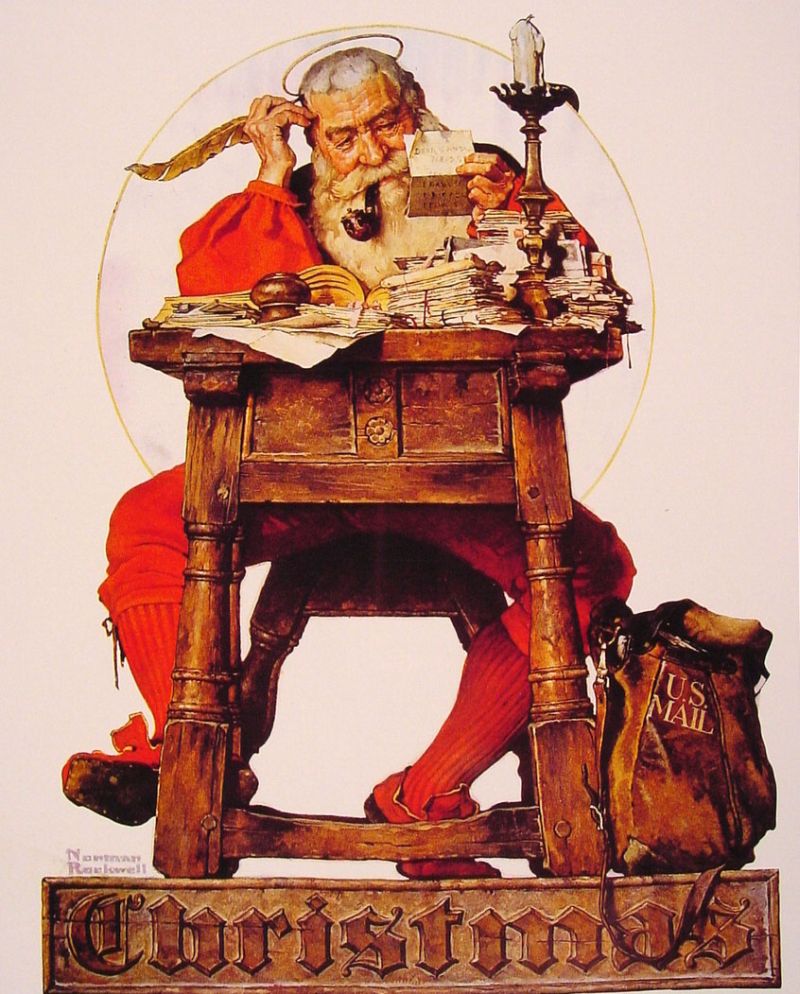 One of the most famous traditions in American history is sending letters to Santa. What are your wishes, and what you want Santa to bring to you. Nowadays, grownups know Santa is not real. But the tradition is still alive. And Rockwell wanted to show how Santa might look when reading the mail.
14. A Scout is Helpful, 1939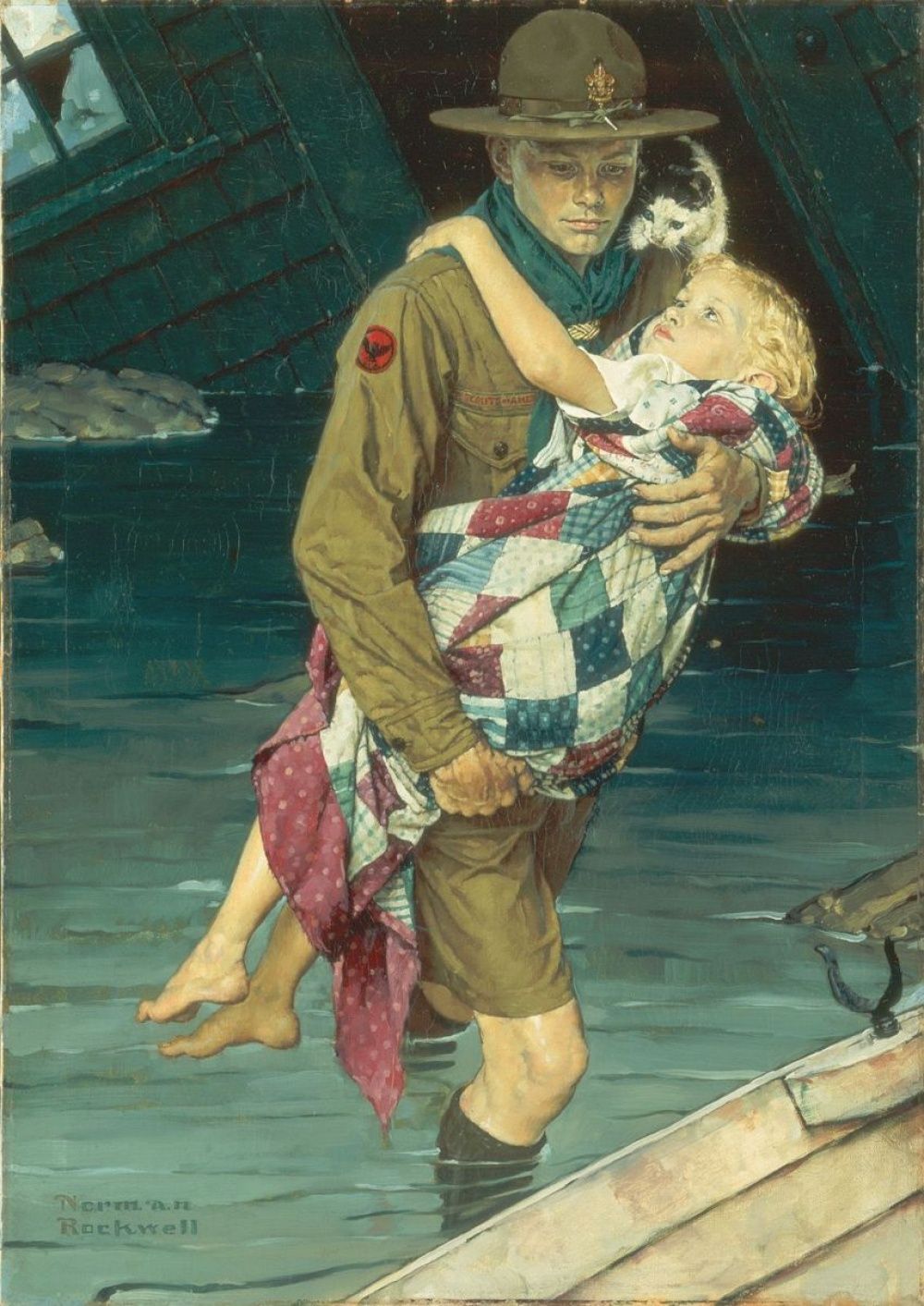 A classic print, made before the World War II became a thing. Rockwell probably knew all the horrors the war will bring. And he wanted to warn people about the things to come.
15. Breaking Home Ties 1954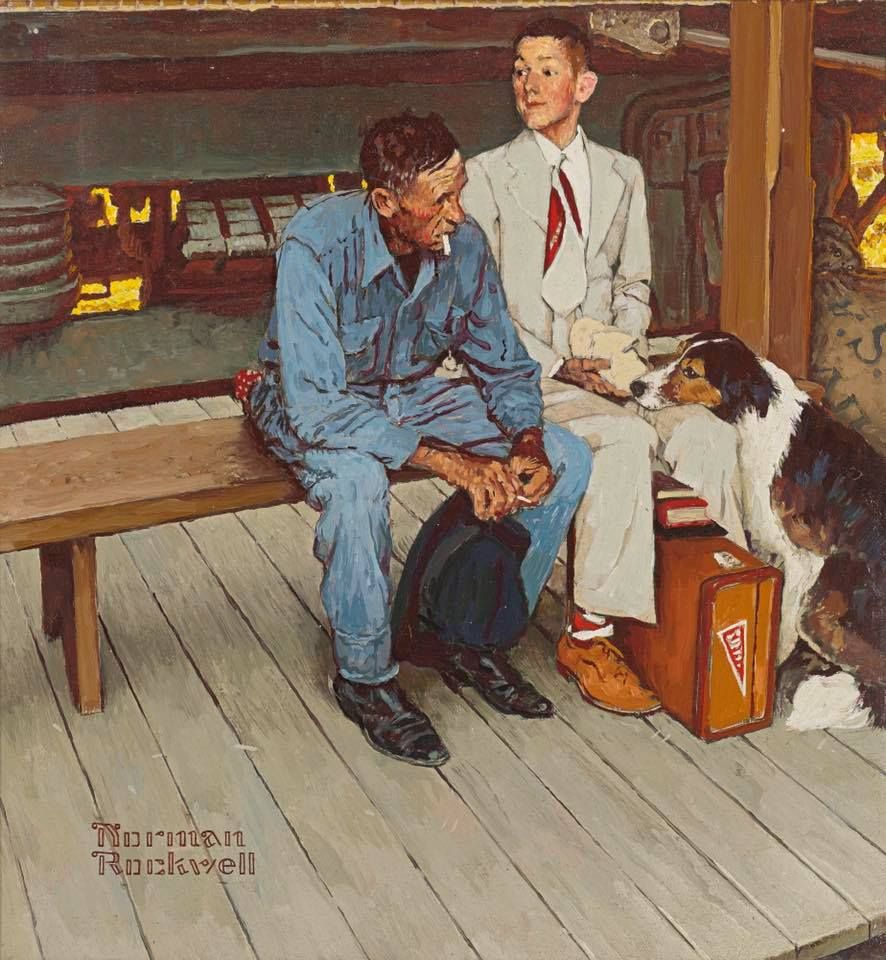 Young men leave home to go college, university, school. And when they embark on that journey, they usually leave the home and never come back again. It is a long tradition, and it is never easy for parents and children to take their different paths in life. The father and the son in this picture are waiting for the train, but it will take them in different directions.
16. Christmas Homecoming, 1948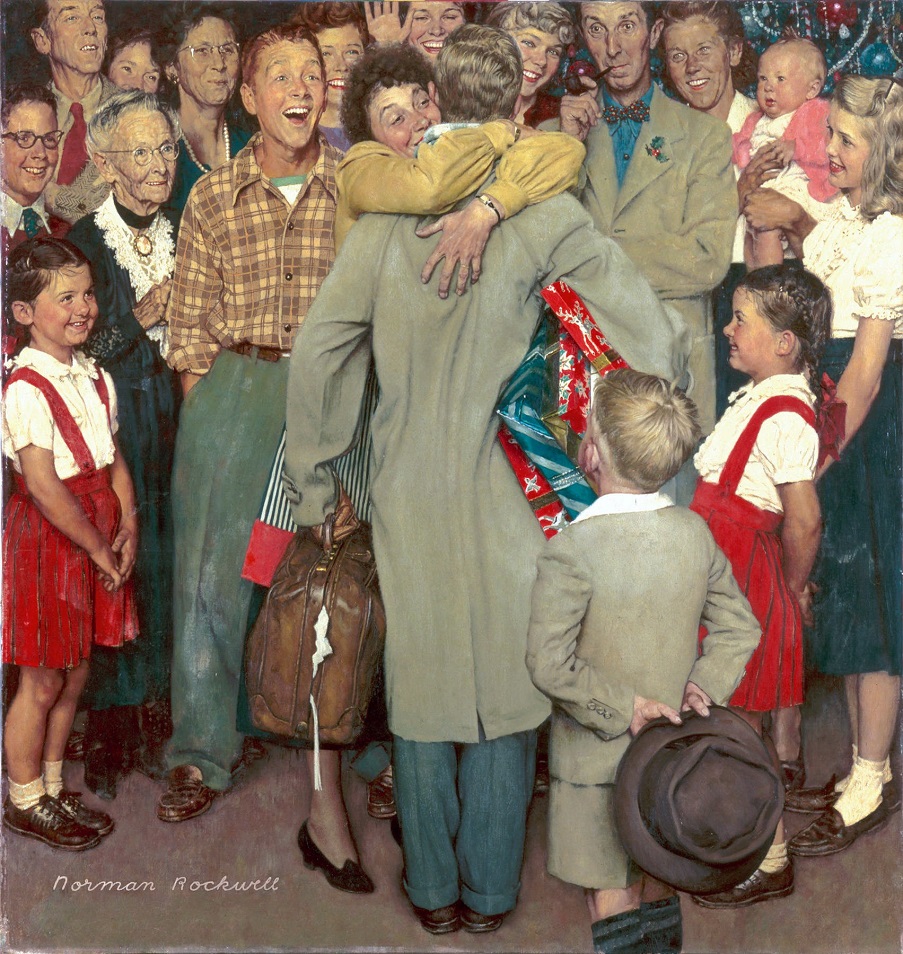 Photo: evemuseografia.com
Coming home for Christmas is one of the best and most famous Christmas songs. Capturing the emotions when a person comes back for Christmas is not easy. But Rockwell did a magnificent job here.
17. The Golden Rule  1961
All major religions have the Golden Rule in common. That is what Rockwell found out during his Pam Am trip. The words might not be the same, but they have the same meaning. It goes "Do unto others as you would have them do unto you". He wanted to show that rule in his painting, using native costumes and accessories, and how they were worn.
18. Girl With Black Eye 1953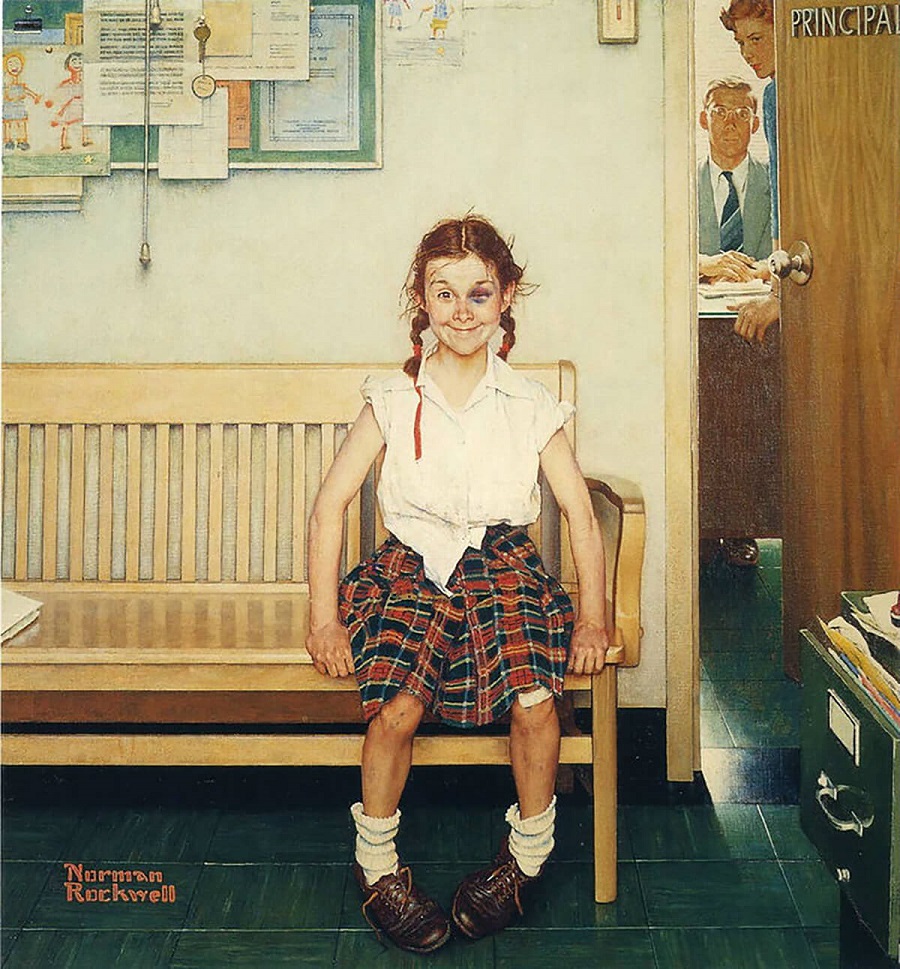 This is another timeless print by Rockwell. Fun fact: he called Mary, the small town girl he used as model, "the best model I have ever had".
19. Freedom of Worship 1943
Freedom of Worship is the second in the series Four Freedoms. The series was inspired by Roosevelt's address to Congress in 1943. The four freedoms are freedom of conscience and religion, freedom of thought, belief freedom of peaceful assembly, and freedom of association.
20. Freedom of Speech  1943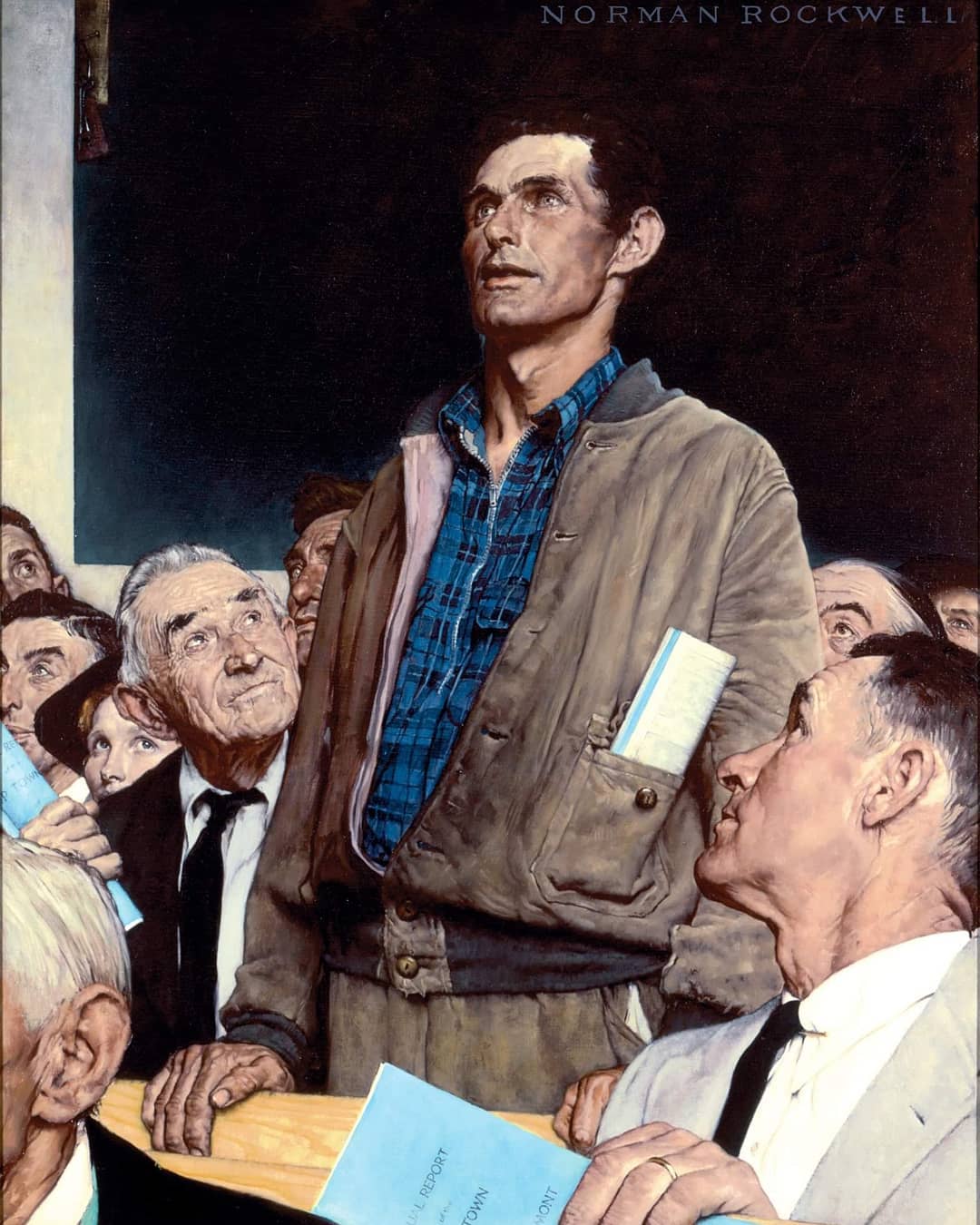 Rockwell, same as Roosevelt, strongly believed in freedom of speech. That included freedom of the press, media, and any other media of communication. It is one of the fundamental rights and freedoms we have nowadays.
21. Freedom from Want  1943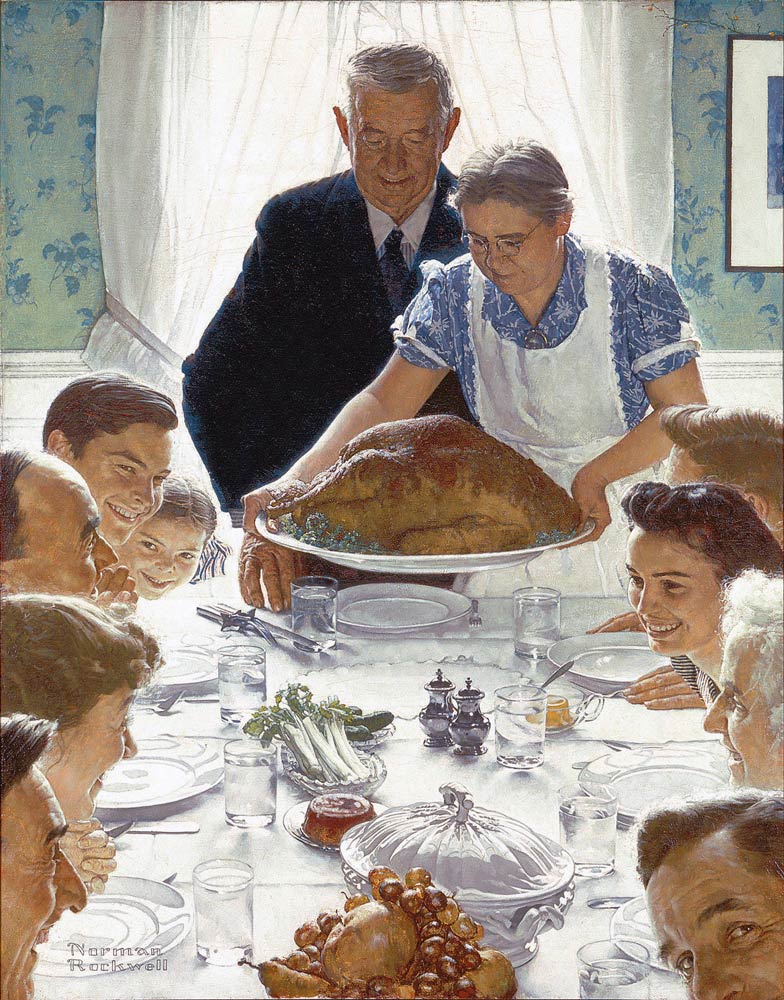 Freedom from Want is also known as the Thanksgiving Picture or "I'll be Home for Christmas". It is the third of the four freedoms series.
22. Freedom from Fear, 1943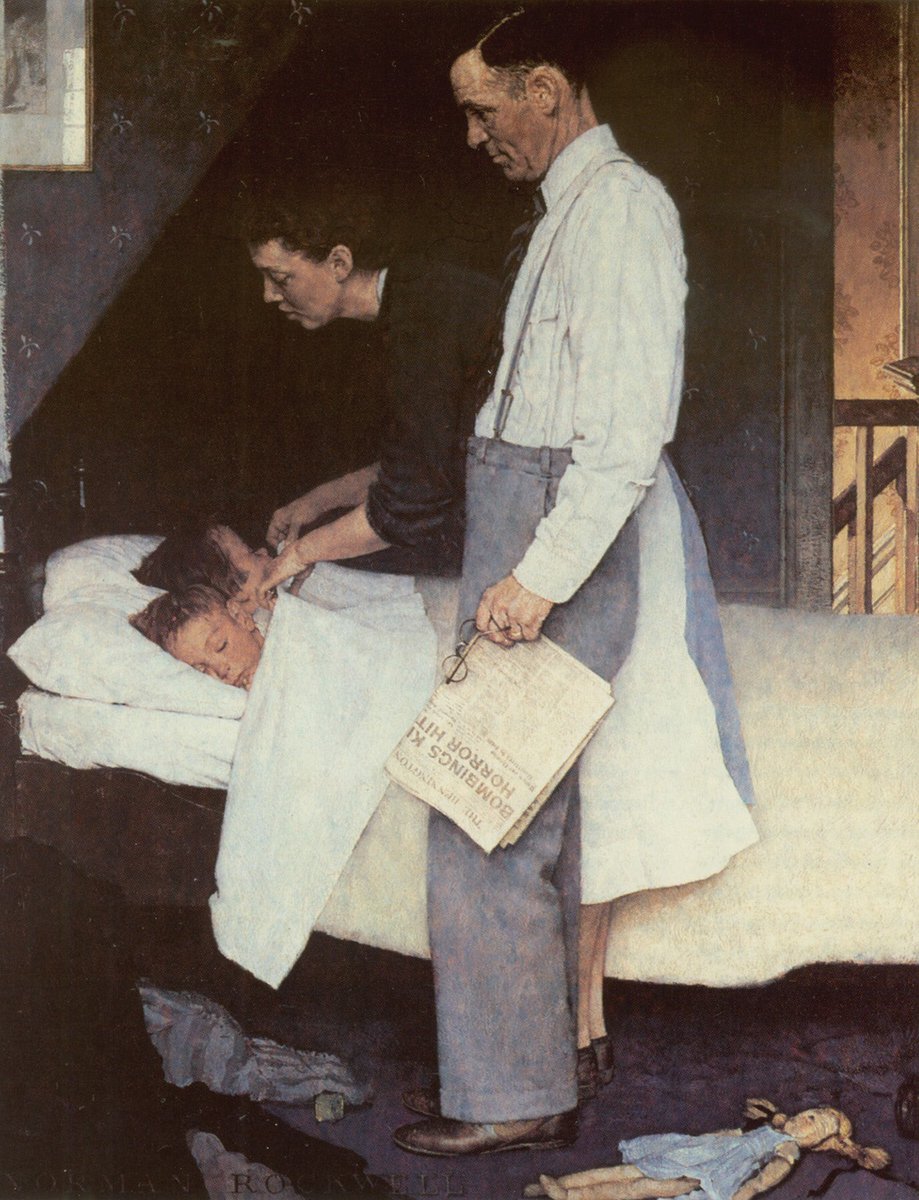 Based on the four goals which were enunciated by President Franklin D. Roosevelt, Freedom from Fear is the last known oil paintings in the four freedom series.
23. The Art Critic, 1955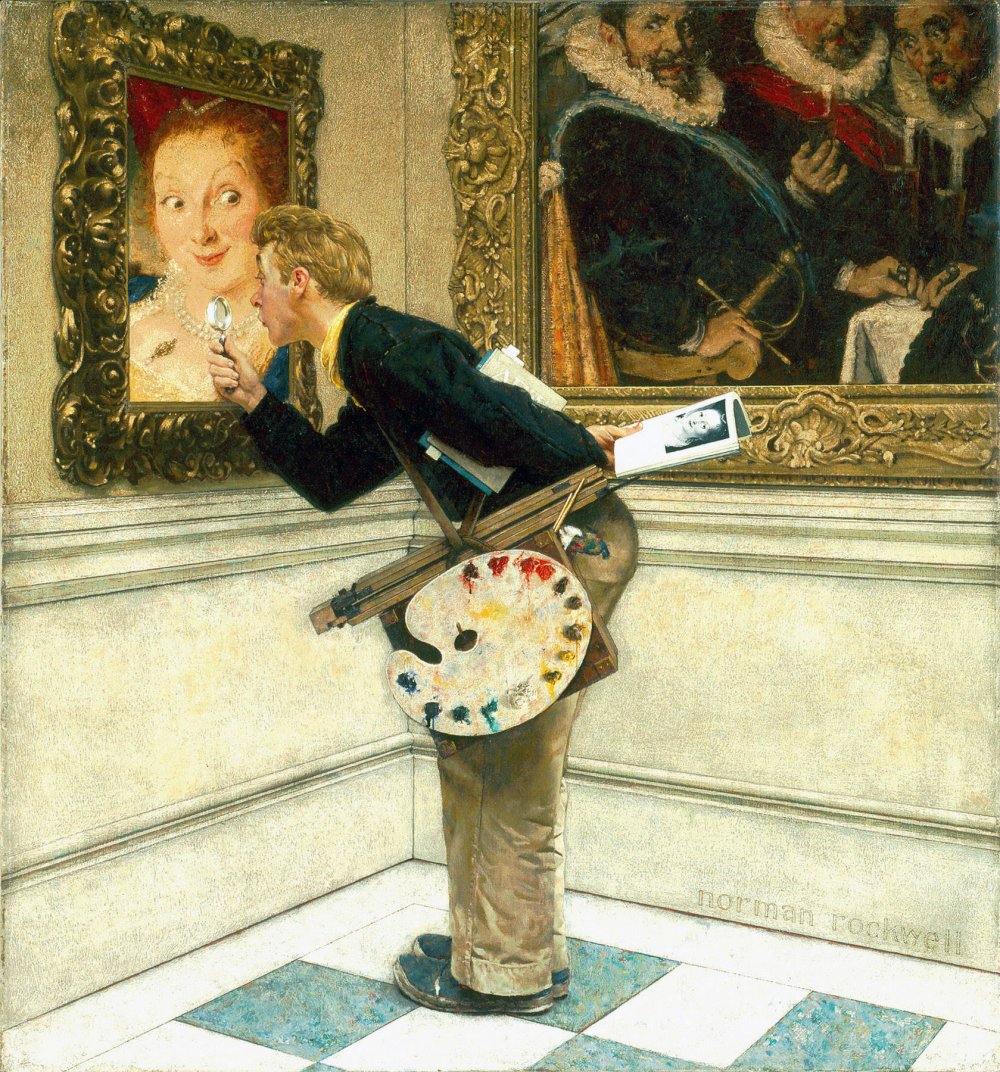 Artists are subject to critics. While some might refuse that concept Rockwell accepted criticism gladly. Of course, as long as it was justified. He saw himself as a more analytical artist, one that would examine and analyze other paintings.
24. Americans At War 1942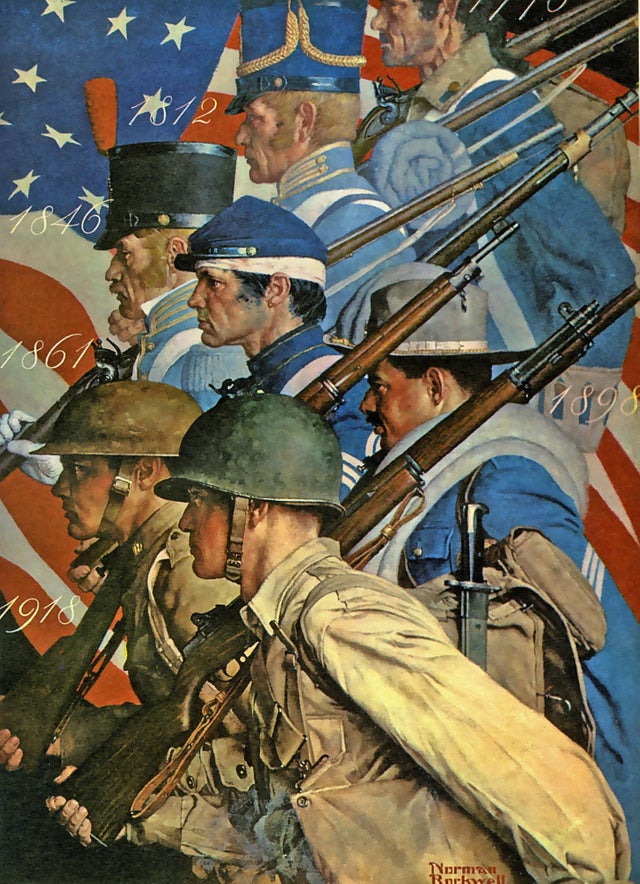 America joined World War II later than its allies. For some time, America was staying put, and playing neutral. But after Pearl Harbor, they joined the War, and what followed was a horror and deaths all around.
25. Murder in Mississippi (Southern Justice), 1965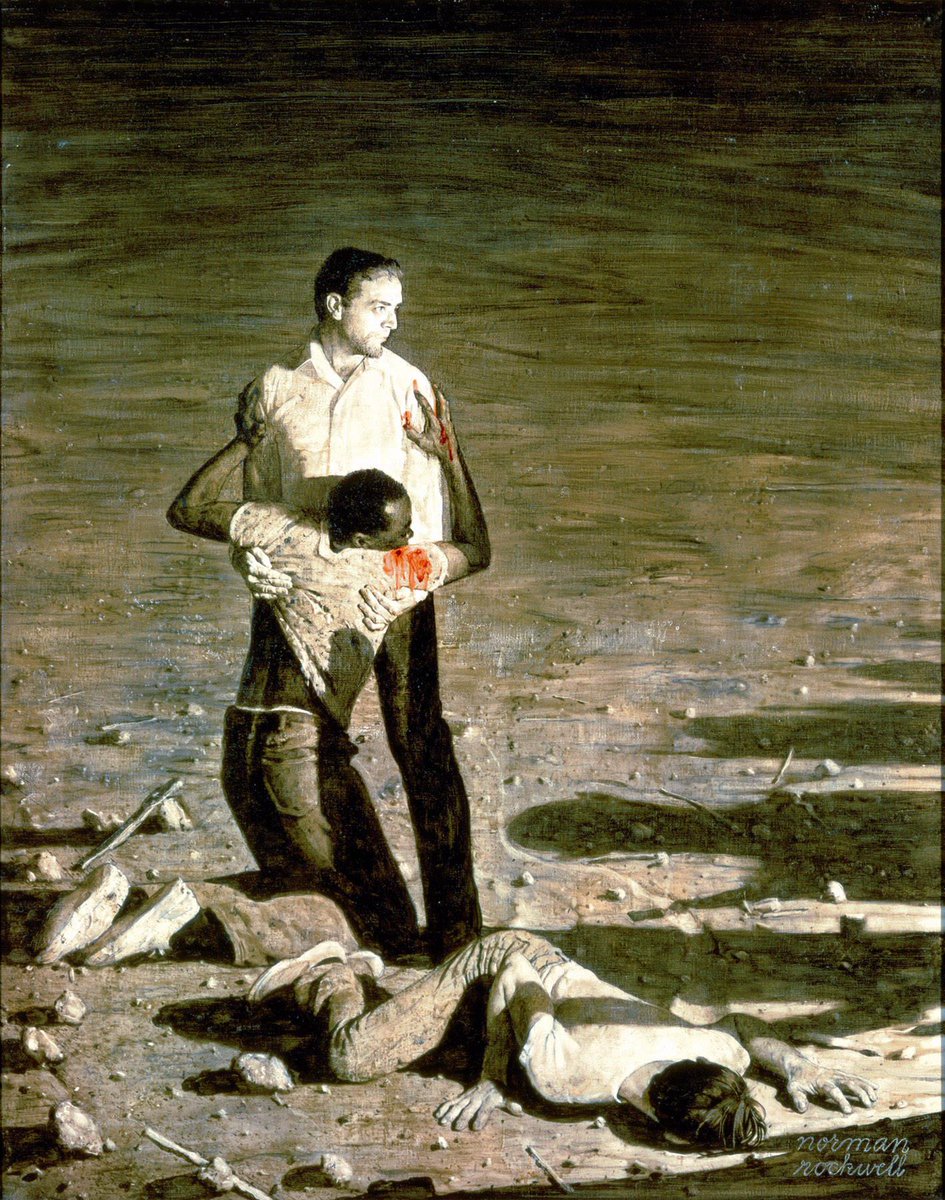 On June 21, 1964, three young civil rights activists were murdered in Philadelphia. They were brutally murdered, and Rockwell wanted a painting depicting the same events. The painting is also known as Southern Justice.
26. Spring Flowers 1969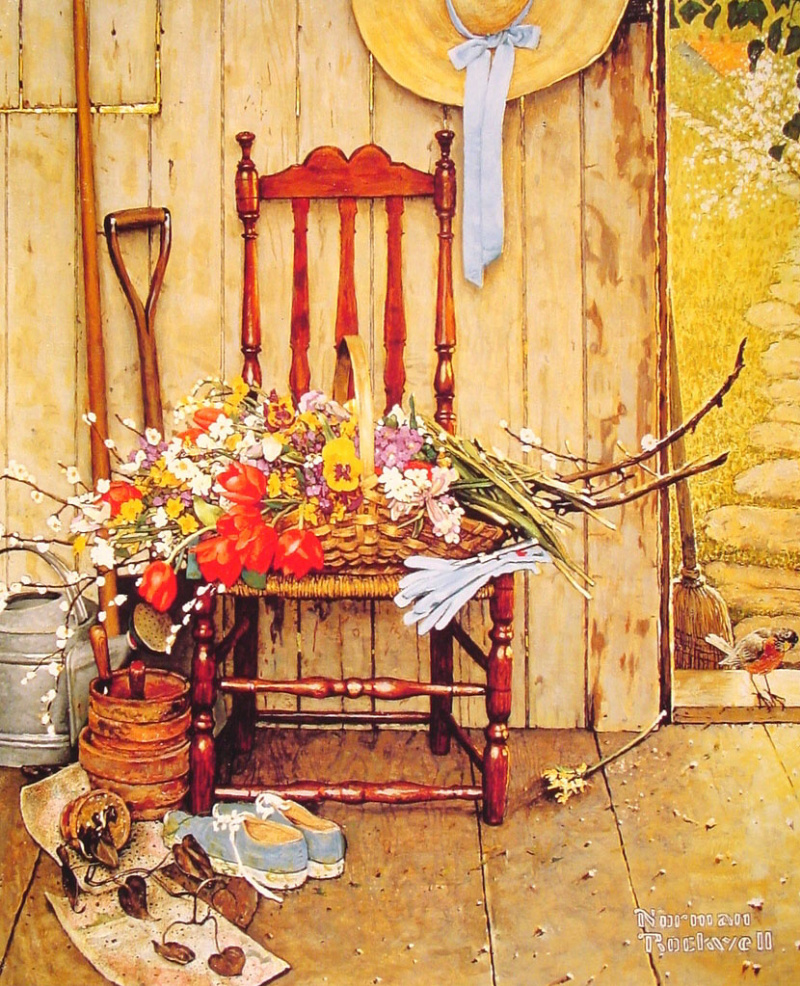 In 1969, Rockwell was commissioned to paint a series of pictures of seasonal flowers. However, he completed only the first.
27. The Problem We All Live With 1964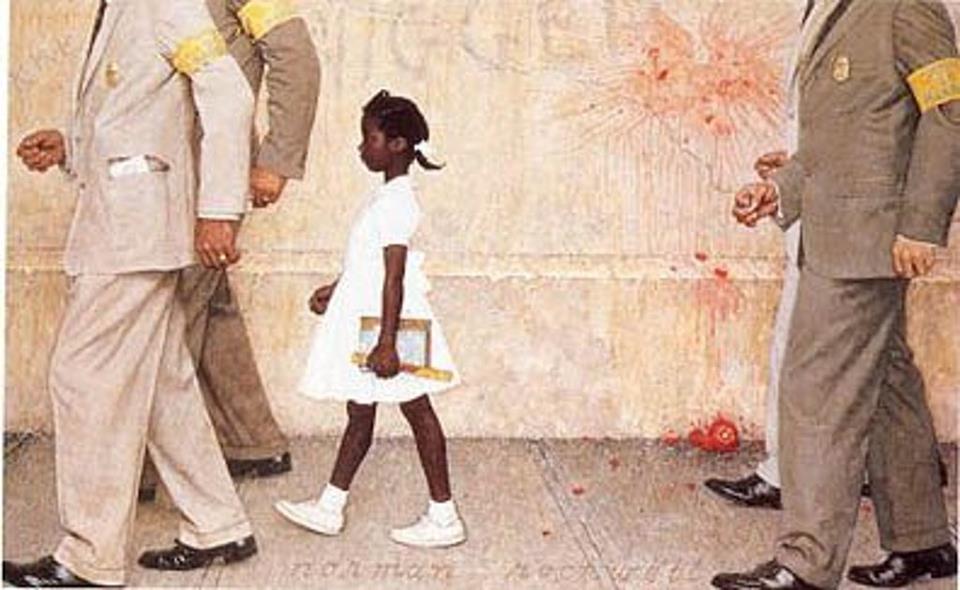 One of the most iconic paintings by Rockwell. As always, he was always involved in the world and environment around him. This 1964 illustration is an iconic image of the Civil Rights Movement in the United States.
28. Man on the Moon 1967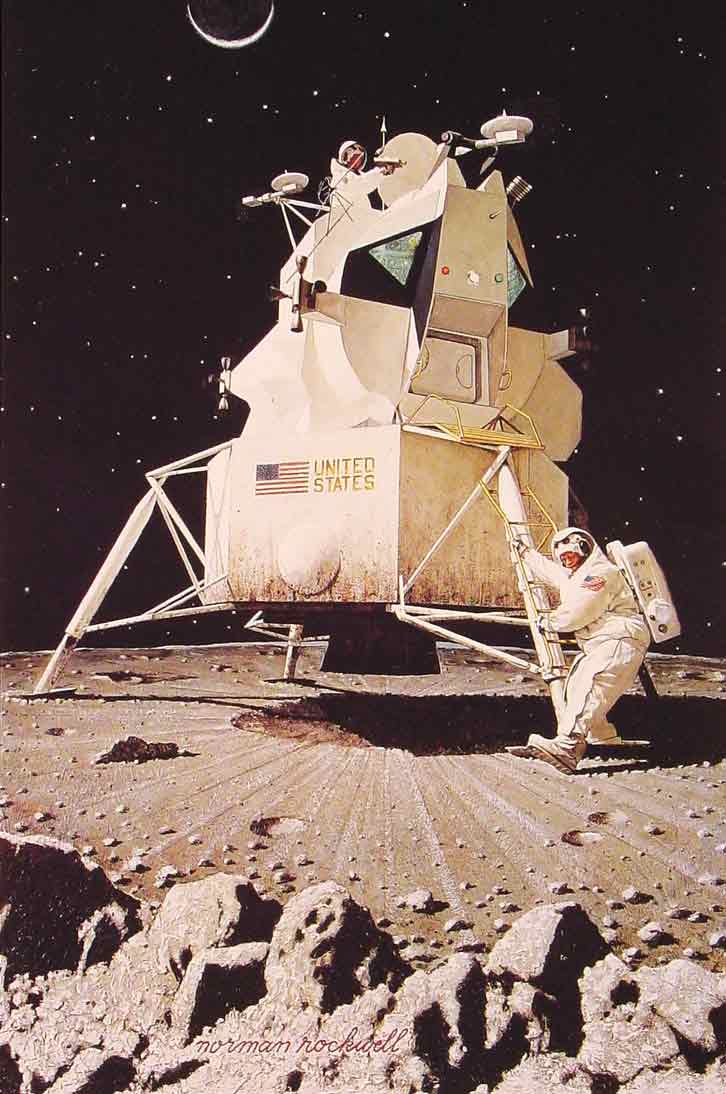 Rockwell might have been able to predict the future. Just two years after this illustration, Apollo 11 was the first ship to land on the moon. Commander Neil Armstrong and lunar module pilot Buzz Aldrin led the crew that landed on Moon on July 20, 1969.
29.  Christmas Eve in Bethlehem 1970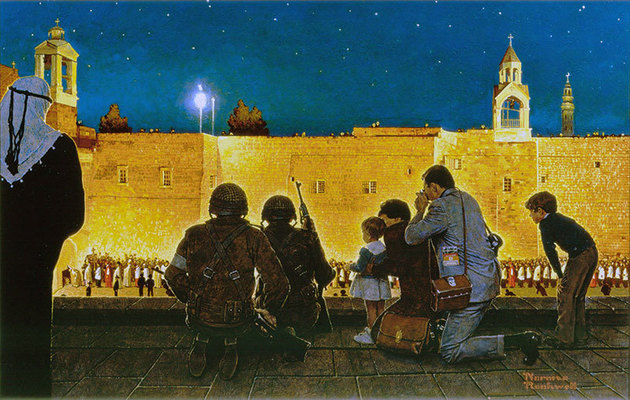 In 1969, Rockwell went to Bethlehem to paint a Christmas scene. This is where the Basilica of the Nativity, the place where Jesus was born stands. Two weeks later, he flew to Jerusalem.
30. Triple Self-Portrait  1960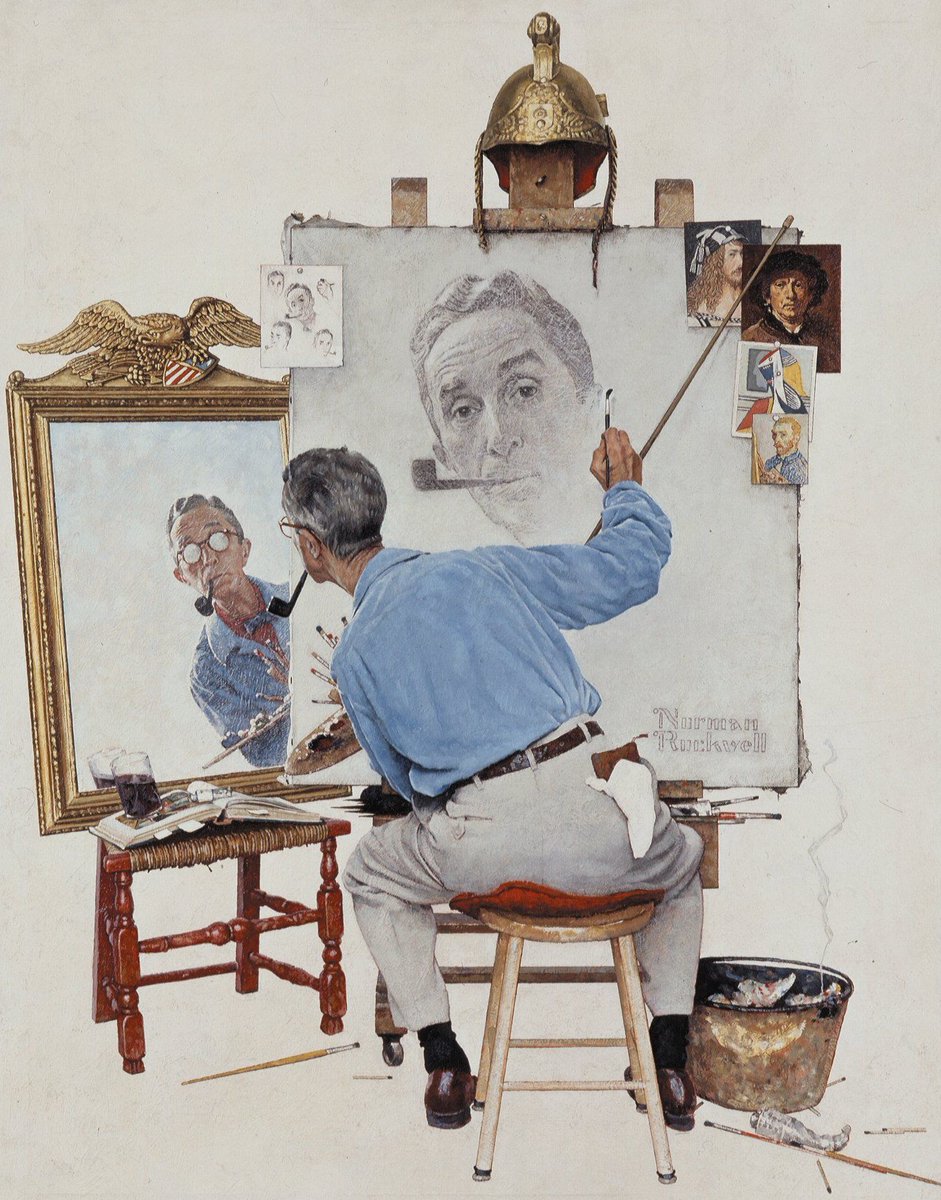 In 1960, he was asked to produce a self-portrait. And he had some reservations about making himself the subject of a cover. Humor and humility were essential aspects of his work and character. So, with that in mind, he made the best he could do.