Which countries do you think of when you think of art? Spain? Italy? France? How about Mexico? The country gave us one of the most renowned artists of the 21st century, Frida Kahlo. Mexico has given birth to hundreds of great artists, sculptors, muralists, and painters. Who are the most famous Mexican artists? Do you know their signature masterpiece?
Before the Spanish colonization, people used the term Mesoamerica for Mexico. And the Mesoamerican art incorporated a lot of nature, gods, and political reality. But after the colonization, Mexican art focused on Christian subjects propagating colonial interests.
The country gained its independence in 1821, and the artists quickly shifted again. This time, they used art to praise the heroes of the war for independence. Using satirical acuteness and social engagement, Mexican art saw great development.
Following the Mexican Revolution from 1910 to 1920, Mexican artists shifted to murals. The three biggest artists of that period, Diego Rivera, Jose Clemente Orozco, and David Siqueiros, brought murals into the mainstream. And Frida Kahlo made sure women made an impact as well. With that in mind, here are the top 10 famous Mexican artists.
All of these artists are celebrated during Hispanic heritage month. It is an annual event celebrating Mexican history and Latin America history.
Dr. Atl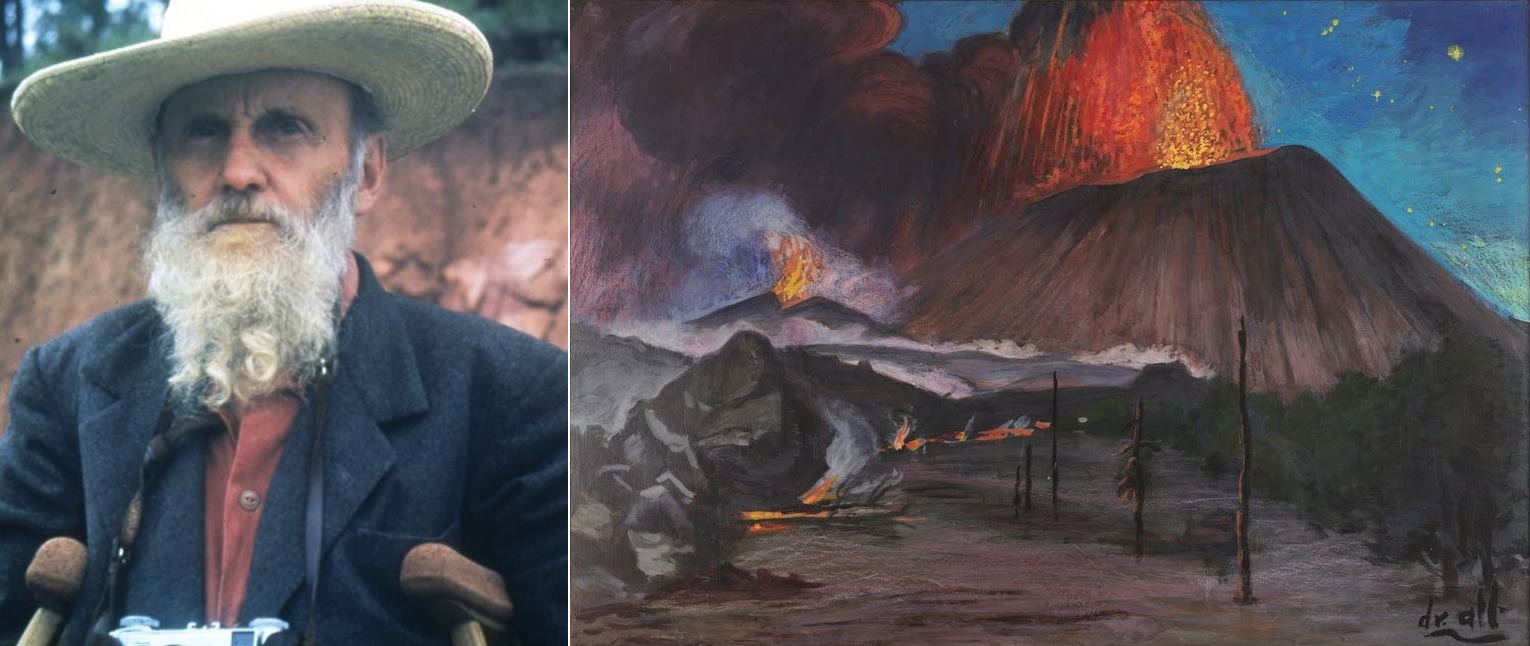 Born as Gerardo Murillo Cornado, he is one of the pioneers of the Mexican movement for artistic nationalism. He established the Mexican identity following the revolution. His Aztec name, Dr. Atl, is a word for "water".
Gerardo adopted the name as a rejection of the Spanish heritage. He also wanted to show his proud Mexican Indian ancestors and culture.
Native art of Mexico dominates his art. He painted Mexican landscape, mostly the Valley of Mexico.
Masterpiece: Climatic Eruption, 1960
You can see his full love of the outdoors and the active nature in this painting. He studied volcanoes, and spend a lot of time visiting Popocatepetl and Iztaccihuatl. Cornado witnessed the eruption of Paricutin in 1943, and put that observation on a canvas.
Besides painting, he also showed interest in studying volcanoes. Many consider him an expert volcanologist, and his papers brought value to understanding volcanoes.
Fanny Rabel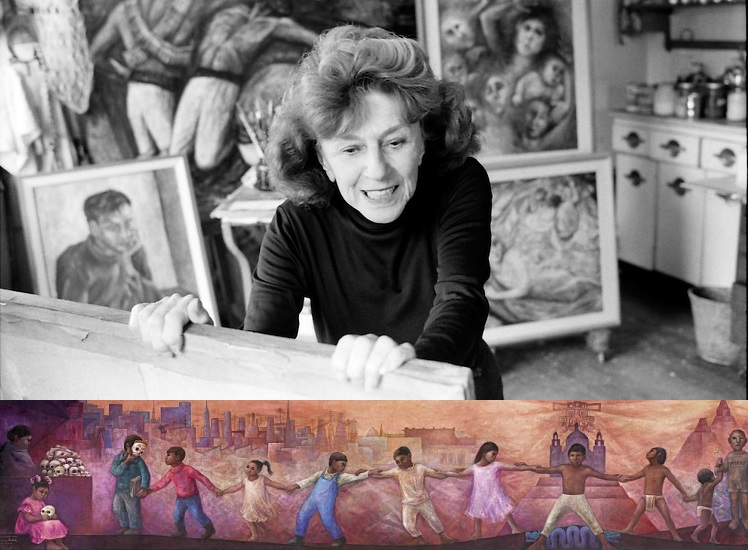 Born in Poland, she later moved to Mexico City. Many consider her the first modern female muralist a pioneer of Mexican muralism.
She moved to Mexico in 1938 with her family from Europe. Fanny studied art, and she met Frida Kahlo at the university. The two started hanging out. Rabel was the only female member of the Los Fridos group, a group of students under Kahlo's tutelage.
The Mexican muralist also worked as an assistant and apprentice to Diego Rivera and David Alfaro Siqueiros, painting a couple of murals during her career.
In her paintings, she wanted to depict mankind's pain, not happiness. As with other Mexican artists, she shared her concern about social injustice. In her work, she often includes children with Mexican faces, often with expressions that differ from laughter to tears. Fanny depicted poor children, trying to show the socioeconomically marginalized population in the country.
Masterpiece: Ronda en el tiempo
This is her most significant mural, hanging at the Museo Nacional de Antropologia in Mexico City. She created canvases and other works, but this mural remains her best. It features children holding hands, with destruction in the background.
Frida Kahlo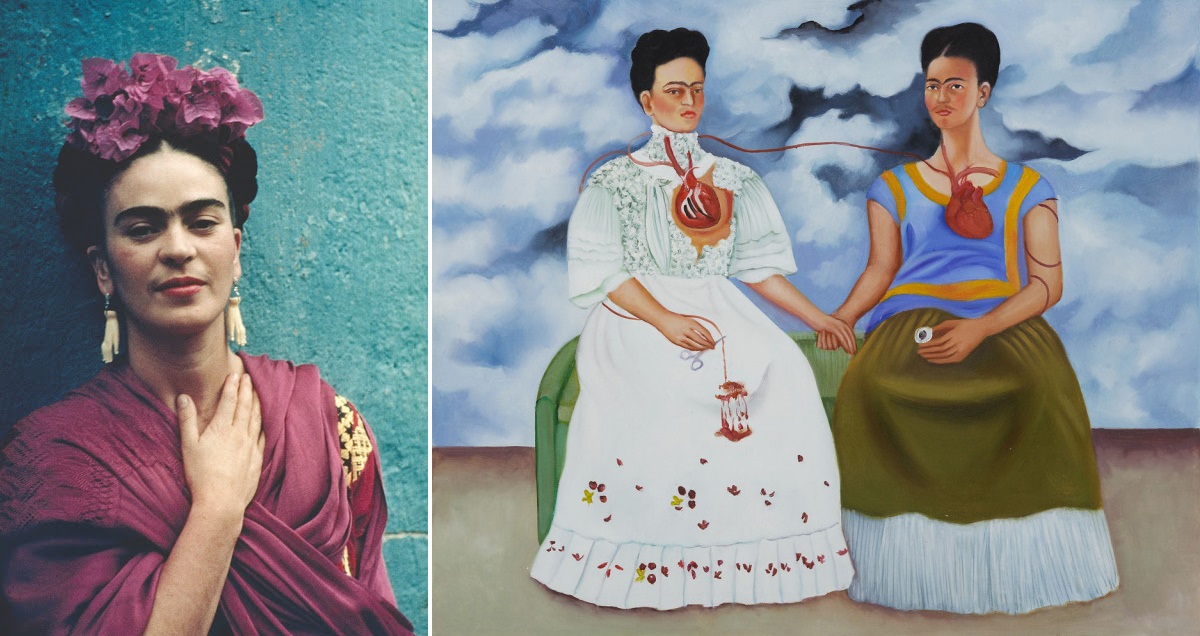 We cannot make a list of famous Mexican artists without Frida Kahlo. Many consider her the most influential and most popular Mexican artist.
The iconic artist has more than 150 surviving pieces of art, most of them self-portraits. Unlike other Mexican artists of her time, Frida didn't paint murals. She focused more on her self-portraits.
Her paintings subtly express her tragic life, but also the social standards in Mexico. Often, she battled with a dilemma whether to stay true to her Mexican culture or try to blend in with the European culture.
Her interest in politics made her join the Mexican Communist Party in 1927. There, the famous artist met Diego Rivera and later married him. The two spent the majority of the 1920s and 1930s traveling and painting. Diego helped her develop her artistic style, drawing inspiration from Mexican folk culture.
Fun fact: her work remained relatively unknown until the late 1970s. At that time, art historians and political activists rediscovered her work. And by the 1990s, Kahlo rose to the status of an iconic figure in history and for the Chicanos. The feminism movement and the LGBTQ community view her as an icon.
Masterpiece: The Two Fridas
This oil painting and self-portrait is the best example of her struggle between her Mexican descent and European culture. Kahlo made this large-scale work trying to show the world she struggled with choosing between her Mexican heritage and desire to blend in with modern European women.
The two Frida hold hands, with one wearing a modern European dress, and the other Mexican folk clothes. She said that she made the painting to cope with the desperation and loneliness after separation from Diego.
Gabriel Orozco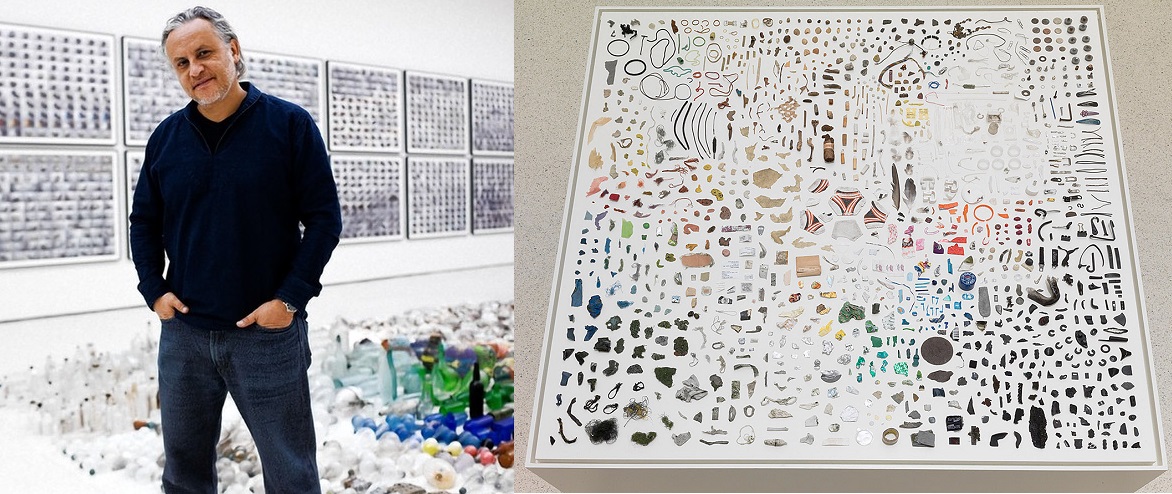 Born in an artistic family, Gabriel worked with his father during his teenage years. His father, Mario Orozco Rivera, also worked as a mural painter and art professor. Gabriel helped him during his teenage years, with the sole purpose to earn money and buy a car. But after educating himself as an artist, Gabriel developed an interest in murals as well.
This Mexican artist preferred a nomadic way of living, and that influenced his art. Unlike other artists, Gabriel didn't work in an isolated studio. Instead, he embraced the surrounding environment.
Orozco managed to force the viewer to focus on unseen and overlooked features in the environment through his paintings. Another fun feature: he used games in his artworks.
Masterpiece: Astroturf Constellation
This painting invokes several of his recurring motifs, including traces of erosion, mundane materials, tension between nature and culture, and poetic encounters. Created as part of a commission for the Deutsche Guggenheim, Berlin, it comprises a collection of small particles and minuscule forms of debris left behind by athletes. There are nearly 1,200 items on the painting, organized in different grids.
Many people assumed Gabriel was a descendant of one of the greatest Mexican muralists, José Clemente Orozco. But his father was in no way related to José Clemente Orozco.
Diego Rivera

Diego and Frida Kahlo are one and two in the Mexican hierarchy of artists. Some consider them equal, some think Diego made a bigger influence on the world, and others go with Frida. Nevertheless, Diego and his large frescoes helped establish the mural movement in Mexican and international art.
Between 1922 and 1953, he painted murals in Mexico City, San Francisco, New York City, Detroit, Chapingo, and many more places.
The Mexican painter had numerous marriages and children during his life. Frida was his fourth wife. Due to the importance to the art history in the country, the Mexican government declared his work as "monumentos historicos".
He holds the record for the highest price at an auction by a Latin American Artist. His painting The Rivals, sold for $9.76 million.
Considered one of the best Mexican muralists, Diego was an atheist, and you could see it in his paintings. In one mural, for example, a man holds a sign "God Does Not Exist". Despite controversies, he refused to remove the inscription. The painting didn't see the light of the day for nine years until he accepted to remove the inscription.
Masterpiece: Man at the Crossroads
Originally commissioned to grace the lobby of 30 Rockefeller Plaza, the mural first appeared at the Rockefeller Center in New York City. The modern art painting shows the contrast between capitalism and communism. But because the mural shows Lenin, the Rockefeller family later asked him to remove it.
Diego refused it, and after the Rockefeller destroyed the mural, he painted it in Mexico. Only black and white photos remain of the original mural, and he used them to paint the mural, this time under the name "Man, Controller of the Universe".
The Rockefellers loved his work, but they couldn't go past the controversy of his communist ideals in the mural.
Francisco Toledo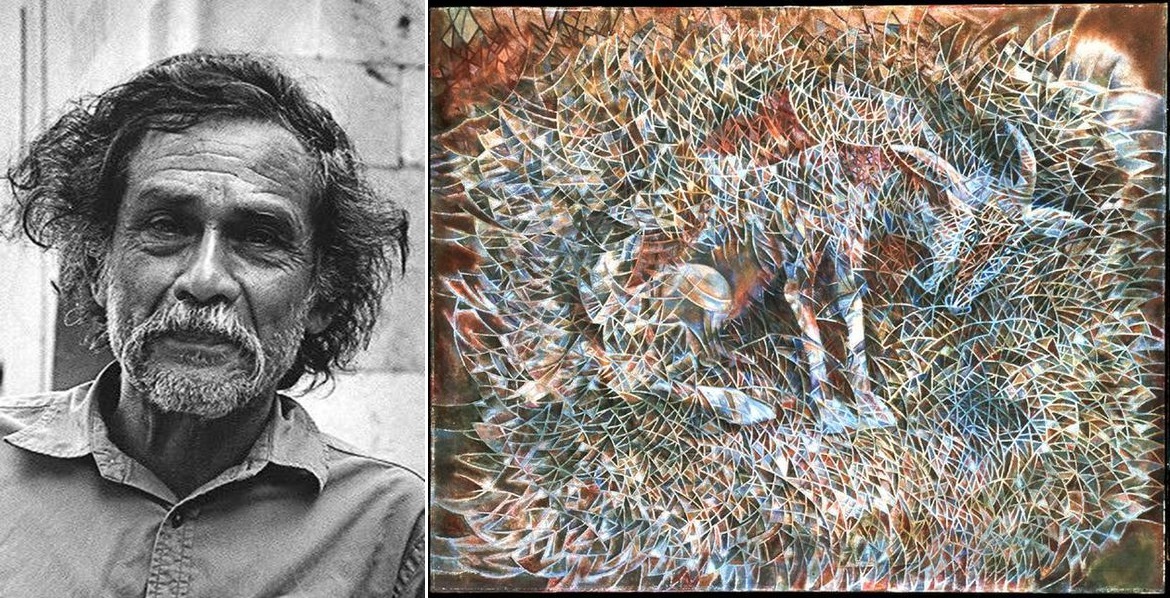 Francisco was a Mexican Zapotec painter, sculptor, and graphic artist. His career spanned for more than seven decades, producing thousands of works of art. Today, many consider him one of the most important contemporary artists in Mexico. He was an artist and activist, actively promoting the heritage of his home state of Oaxaca.
He worked in various media, including weaving, graphic arts, painting, pottery, and sculpture. He first gained international attention at the age of 19 with his solo exhibition in Texas. He got featured at the Venice Biennale in 1997.
Masterpiece: Chivo
His work falls into different categories, and this one is part of the Surrealism category. That is why many call him Mexican Surrealist painter. He made a couple of animal paintings. You might have a hard time recognizing the animal in the painting. Look deeply and spend a bit more time focusing.
Leonora Carrington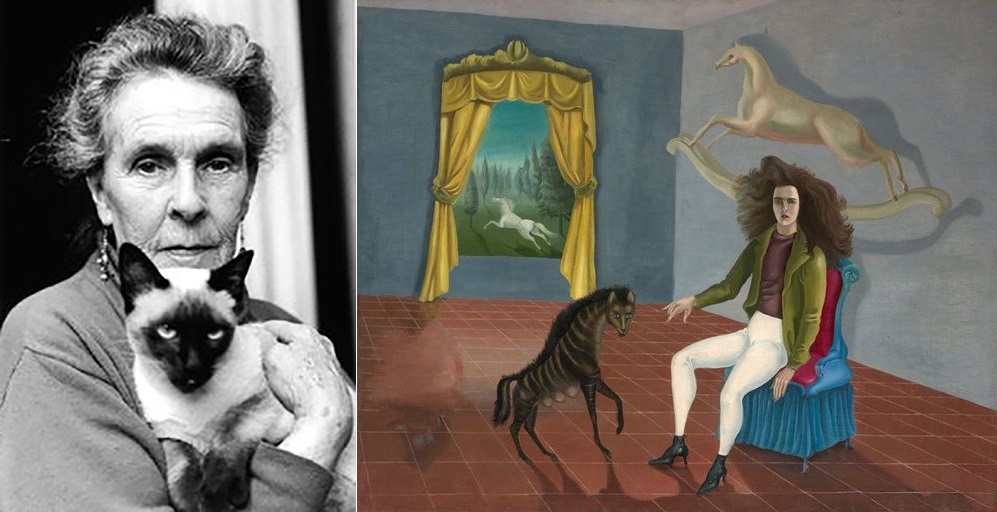 Leonora is the most famous female Surrealist artist. Born in England, she spent most of her adult life in Mexico. Carrington got romantically involved with Max Ernst, a leading Surrealist artist. For her first work, she made a portrait of Ernst as her tribute to the relationship.
What makes her different than most Surrealist artists is her ignorance of Sigmund Freud. She did not show any interest in his writings. Instead, she focused on haunting, autobiographical paintings incorporating images of sorcery, alchemy, and the occult.
She got famous for her art expressing female sexuality in a distinctively different way than male Surrealists. She stated, "I painted for myself, never believing anyone would exhibit or buy my work". Carrington used small brushstroke techniques that build up layers in a meticulous manner. This created rich imagery in her paintings.
Masterpiece: Self-Portrait: The Inn of the Dawn Horse
The painting is her first "truly Surrealist work". There are a lot of symbols and interpretations of the painting. Horses appeared frequently in her early work, representing an aspect of her animal self. For Leonora, horses represented freedom and liberty.
She also included elements from Celtic mythology in her paintings, in this case, the Goddess Epona. And the inclusion of the hyena suggests an intrusion of the wild into a domestic space.
Jose Clemente Orozco
Jose Clemente is one of the three greats of Mexican muralism. He differed from the others with his open criticism of the Mexican revolution and the post-revolution government.
The famous artist had a great ability to convey dark themes. Critics consider his art politically motivated. As for his art style, it is complex and contains elements like modernist abstraction, Renaissance-style composition and modeling, and much more.
Clemente painted less realistic murals and showed a bigger interest in machines. Influenced by Symbolism, many consider him a genre painter and lithographer. He has murals in Mexico City, Hanover, New Hampshire, Jalisco, New York City, Claremont, California, and many more.
Masterpiece: The Epic of American Civilization
Located in the basement reading room of the Baker Memorial Library on the campus of Dartmouth College in Hanover, New Hampshire, the mural consists of a series of 24 fresco panels. Each panel has a theme from indigenous Native Americans, European colonization of North America, and the impact of war.
Unlike Rivera, he got full political freedom to paint his mural. He worked on this one while Rivera worked on the Man at Crossroads mural for the Rockefeller Center in New York. In 2013, the mural got recognized as a National Historic Landmark. The two themes of the murals are arranged in separate wings of the reading room. The themes in the west wing contain panels of the Native Americans theme.
David Alfaro Siqueiros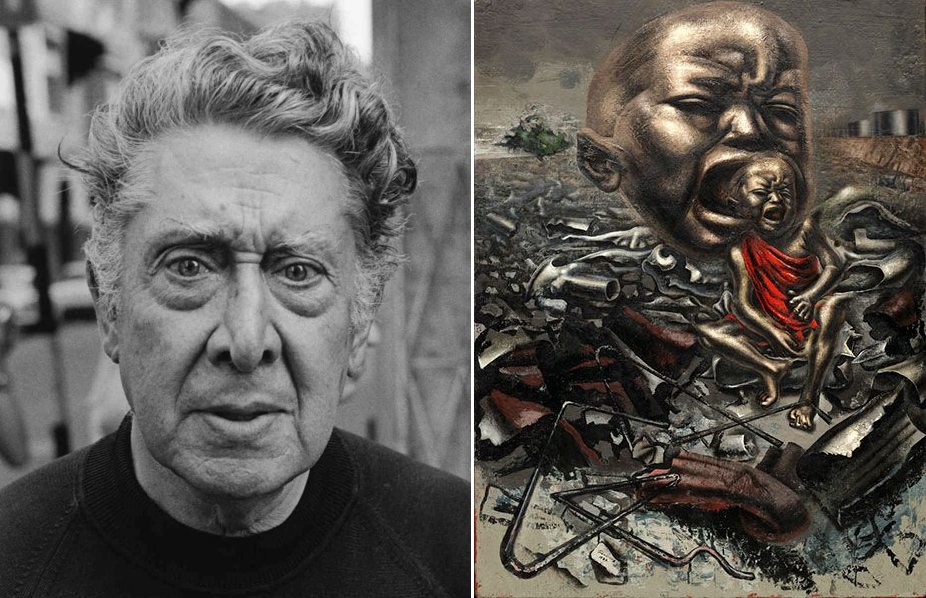 Among the three great muralists of Mexico, David showed the most radicalism. Critics consider him the most radical in his technique, composition, and political ideology. His art reflects the Marxist ideology and portrays social, political, and industrial changes through a leftist perspective.
David refused any commission that conflicted with his political views. He created many large murals for government buildings in Mexico. Apart from the size, these murals amaze viewers with their great dynamism and vigor, as well as dramatic effects of light and shadow.
Masterpiece: Echo of a Scream
He conceived the iconic painting in 1937 before working against Francisco Franco's fascist dictatorship. The event in the painting shows the aftermath of war and the trauma of human loss. It is one of the most memorable paintings with the Spanish Civil War as the theme.
Rufino Tamayo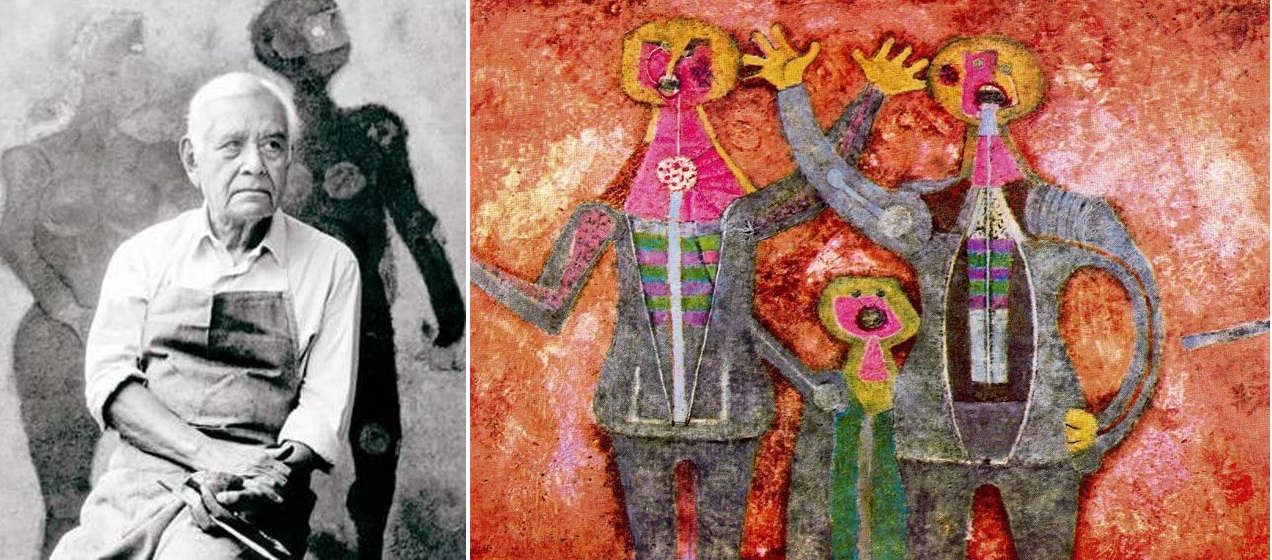 Rufino worked in a variety of media, including lithographs, etchings, woodcuts, and many more. He invented a new medium, Mixografia. It is a technique unique to a fine art printing process allowing for the production of prints with three-dimensional texture. Tamayo produced more than 80 mixographs during his life.
He managed to combine European painting style, including Cubism and Surrealism, with Mexican folk themes. He favored using only a few colors instead of many. Tamayo believed that fewer colors give art greater force and meaning.
Masterpiece: Tres Personajes Pendejos (Three Characters)
This brightly colored painting is the best example of his mature style. It is an abstract depiction of a man, a woman, and an androgynous figure in a rich palette of purple, orange, and yellow. You can also notice his signature rough surface texture. In this case, made of sand and ground marble dust mixed into the paint.