Every man needs his man cave. Although the concept of "man cave" is a bit cliche, having your own sanctuary in your home that is designed for your passions is something that we all deserve and need to embrace. Men are taking traditionally male-only spaces and enhancing them with improvements and masculine aesthetic choices, according to the general architectural and design trend. Depending on their hobbies and preferences, man caves can be outfitted with items such as giant TVs, pool tables, and musical instruments.
But what comes to your mind when you think of a man cave? Sports memorabilia on the walls or black leather sofas that take up half the room? While these style-deficient clichés are all too familiar, they aren't required for obtaining that classic look. There are plenty of ways to make your home-base retreat both cool and stylish if you keep the broad norms of a man cave in mind. While there are no specific requirements for man cave designs, there are a few things that can be found in almost all of them. With the following man cave basics, you can relax, unwind, and enjoy yourself: comfortable chairs, booze and snacks area, entertainment equipment, and everything in between.
We are here to change that so check out these stylish versions of the man cave concept that are welcoming to people of all genders. However, this room, as a man's sanctuary, can be anything he wants it to be, so we included various options for you.
All In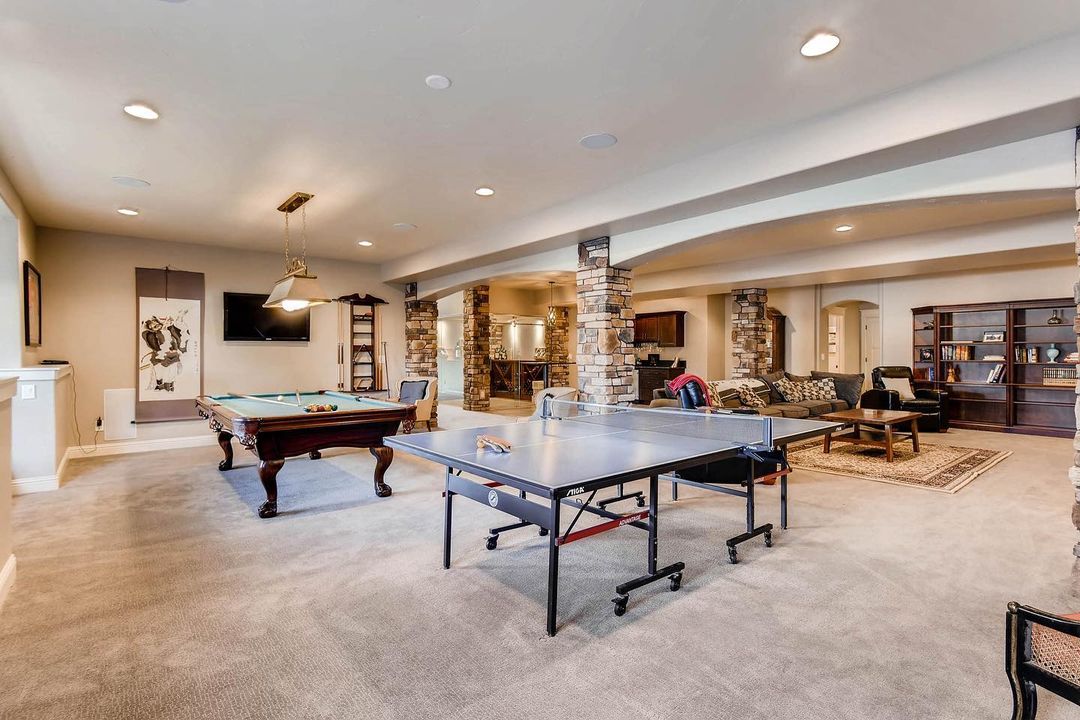 Let's start with the "All In" concept. This concept means that the room does not have a particular concept, but it has everything in one place: a comfy place for mini weather, a minibar, pool and ping-pong table, poker table, dedicated sports area, etc. This is for guys who are interested in various things, so they want to do everything. Regarding the design, let's avoid dark "masculine" design, and open up the space with bright colors and a design mix of contemporary and traditional style.
Gamer's Garden of Eden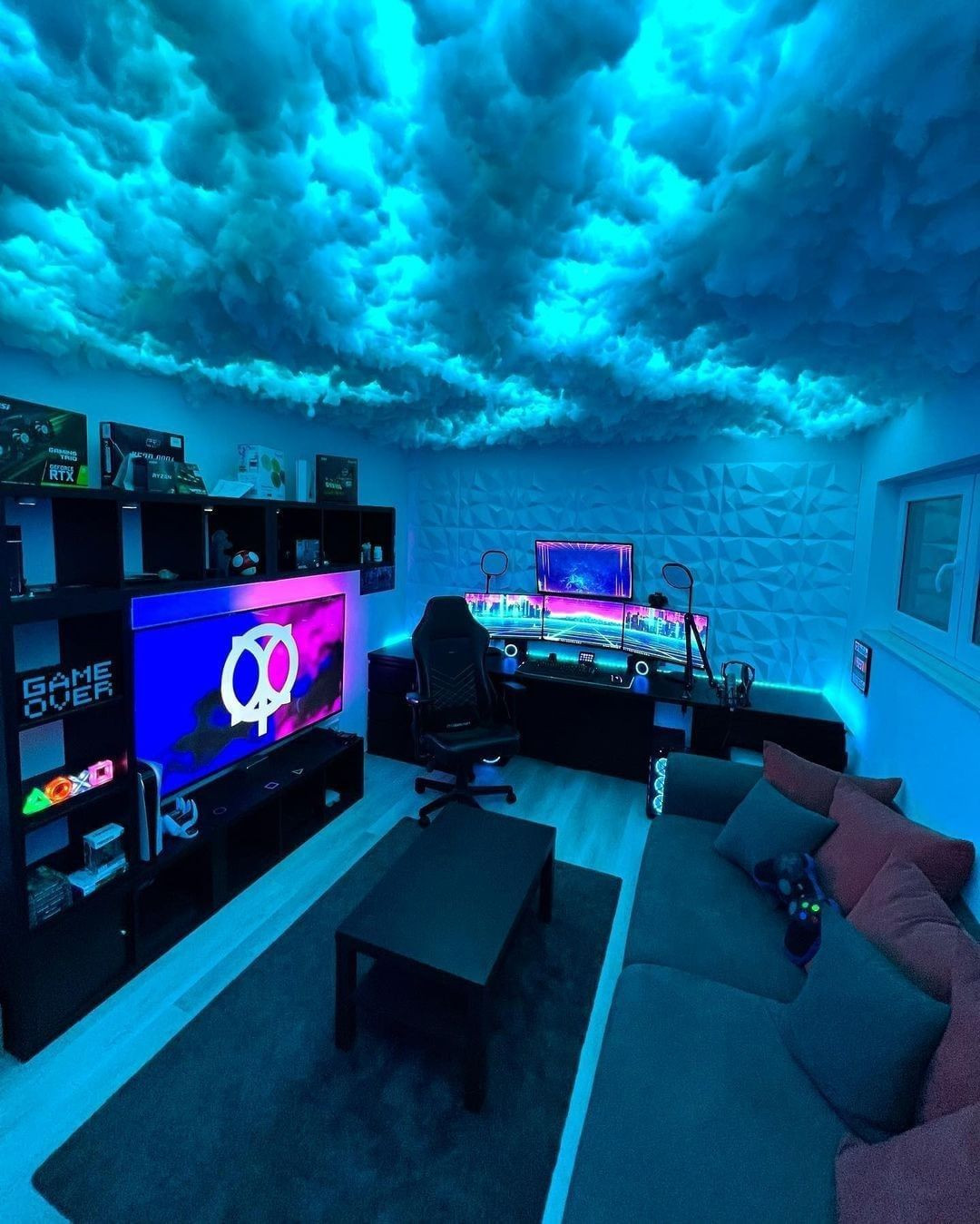 You don't need much space for a cool game room, depending on your gaming setup. However, you will require the greatest gaming display, a high-quality sound system, and a comfortable but elegant gaming chair regardless of whether you have a console or a computer. Furthermore, to brighten up your gaming hideaway, you'll need some gaming-inspired décor and vibrant neon lights.
Hunter's Lodge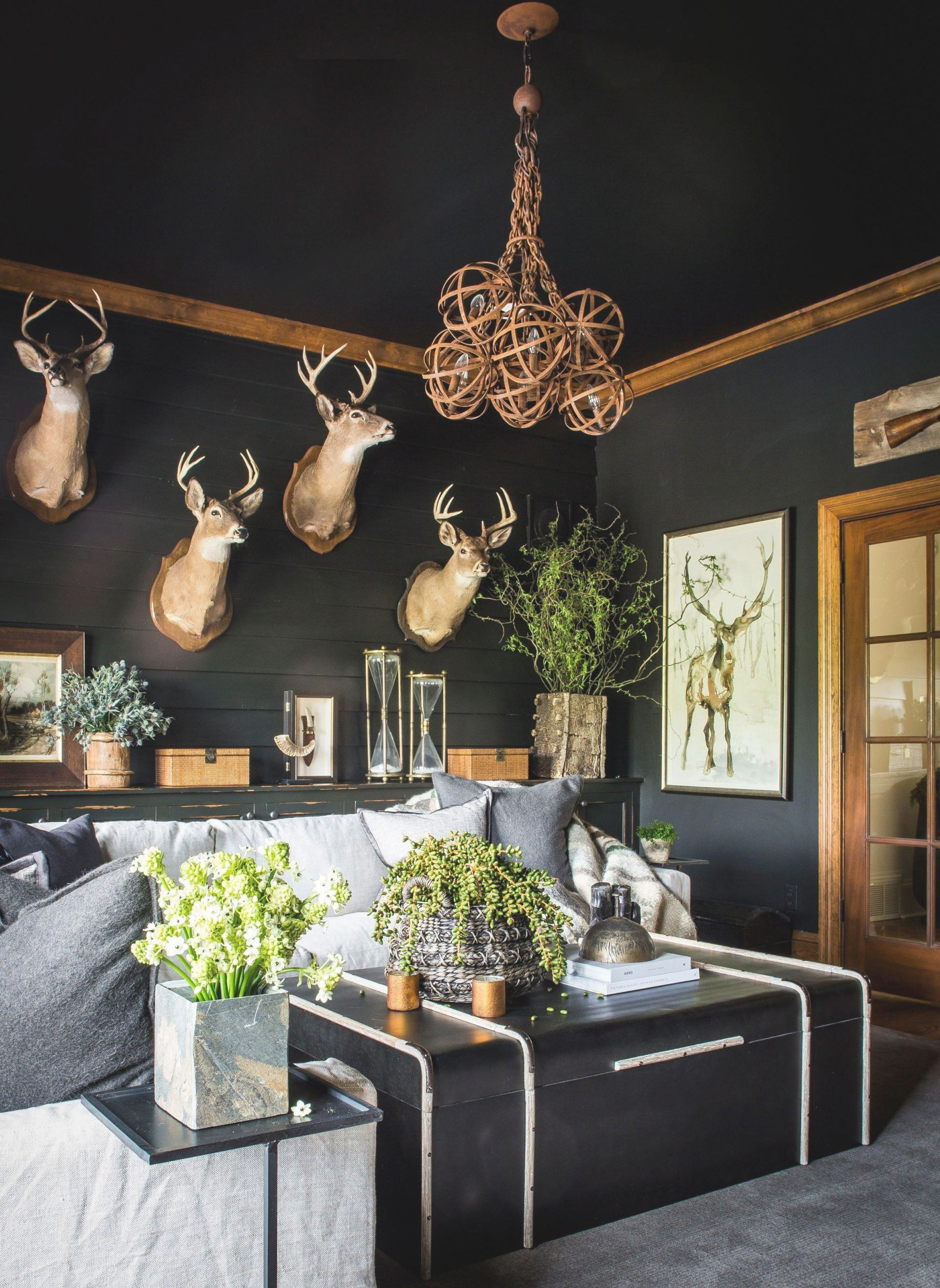 If you are actively hunting, you can create a hunting lodge vibe in your shed by using a natural color palette. While brown wood tones are the obvious choice for rustic man cave ideas, deep reds, greens, and blues can also be used to enhance the warmth of any timbered structure. Hang your trophies in your dedicated hunter's lodge and enjoy.
The Classic One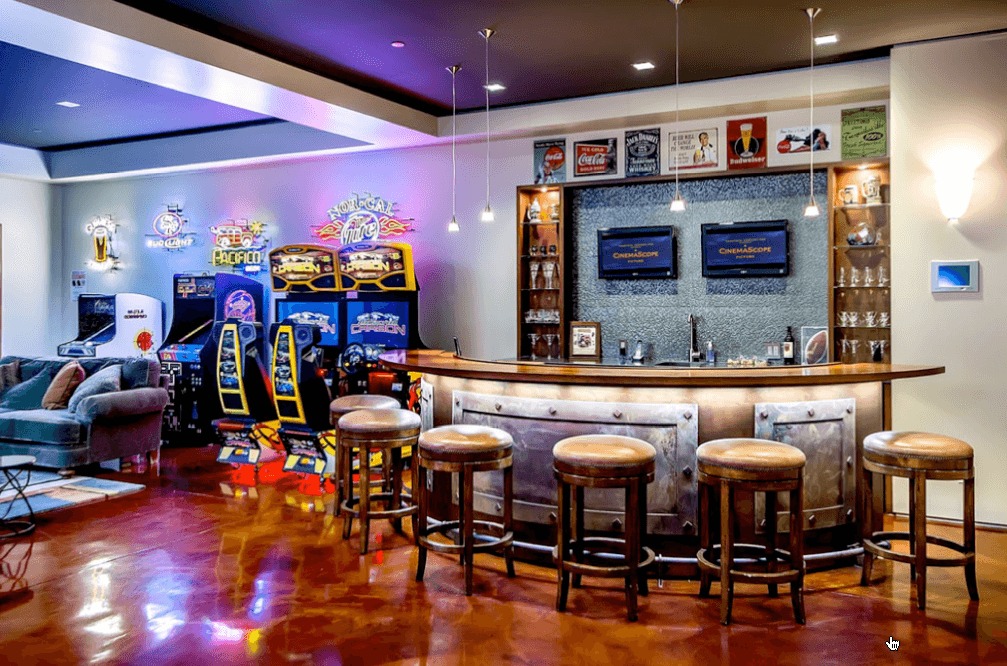 The classic man cave is the one that has various entertainment equipment like pinball machines, pool table, minibar, sony PlayStation or x-box, foosball table, you name it. This type of man cave is supposed to be all about hanging out with the guys.
Vintage Feel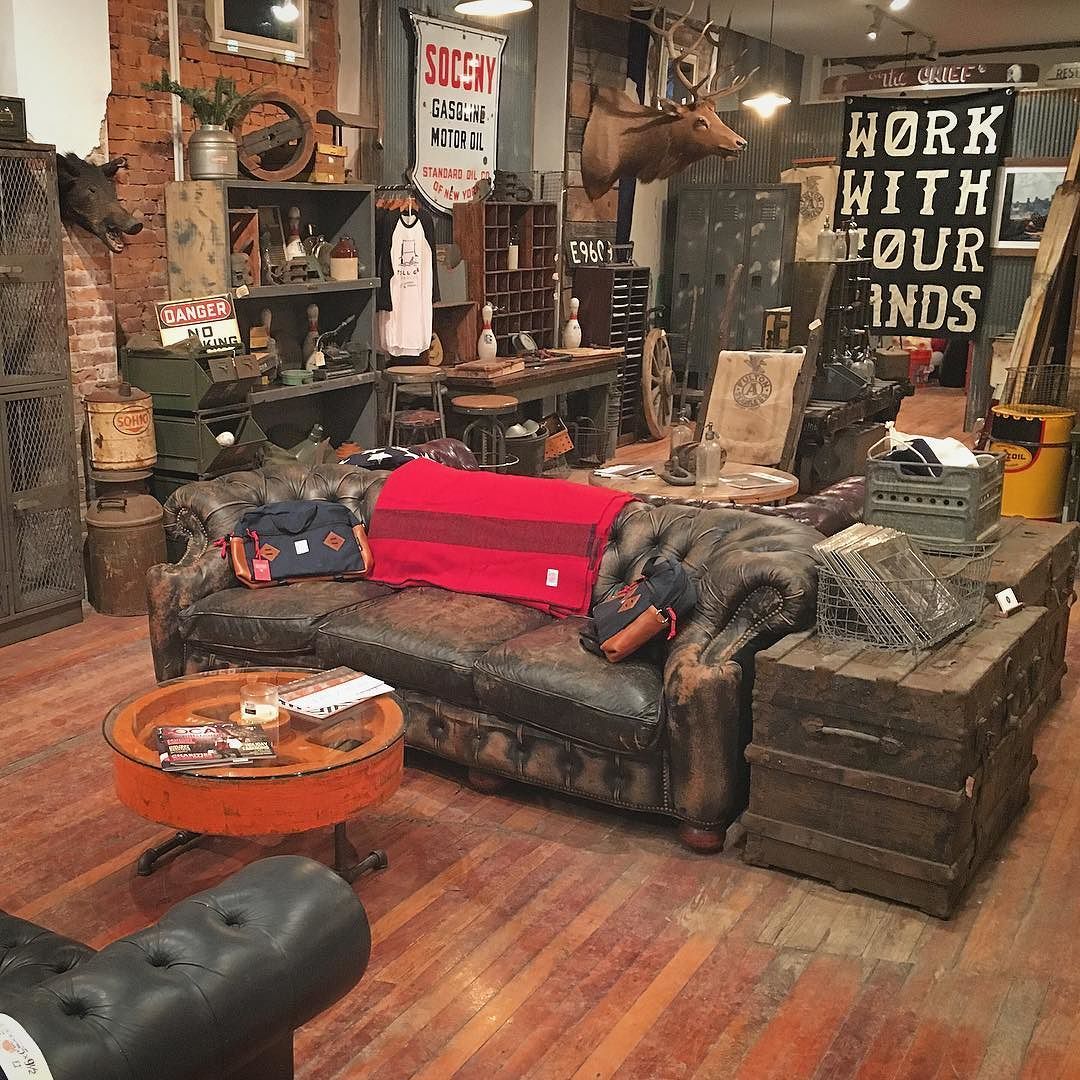 If you are someone who likes the vintage style of decoration, you can decorate your man cave by using antiquities that you can find on the flea market or repurposed objects. Let your man cave be your DIY project where you can decorate it without buying anything new but second-hand stuff and decorate it according to your taste. Your man cave shouldn't have a particular purpose, let it be a place for relaxing.
Private Cinema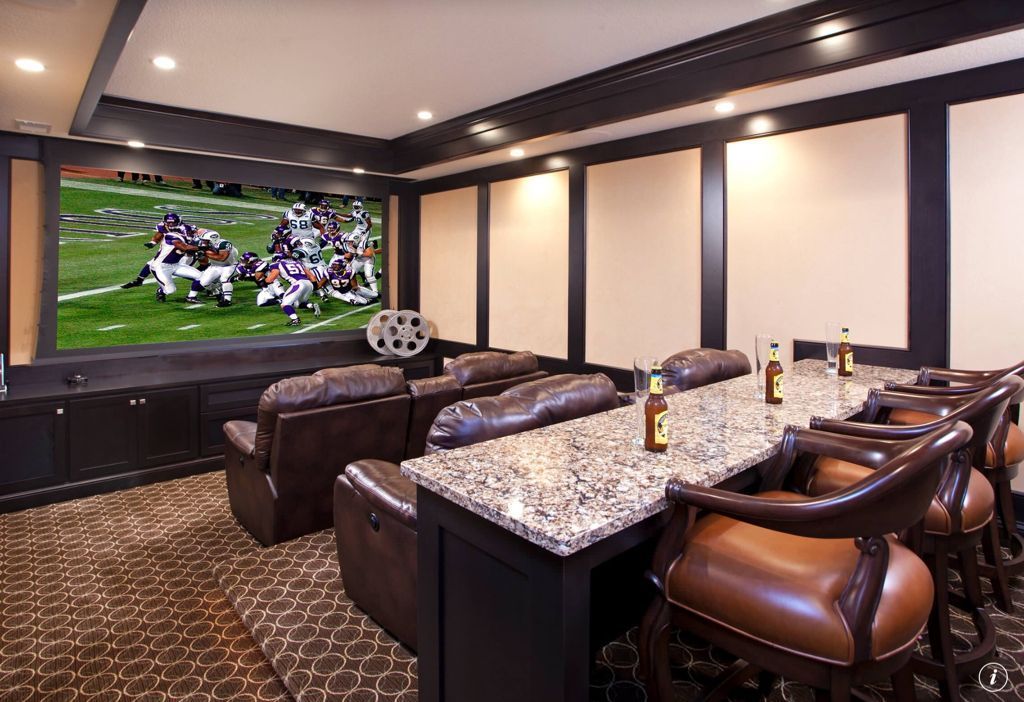 If you are a cinema geek, then build one at your home, completely custom-made according to your taste. It could also be a place where you can enjoy watching films with your family and friends and have the full theatre experience. There's no better way of watching a movie than having your cinema at your home. Regarding the design, the furniture should be extra comfy and of darker color, because the lights will most often be turned off. Have a minibar close to you so you can grab a drink or a snack quickly
Home Office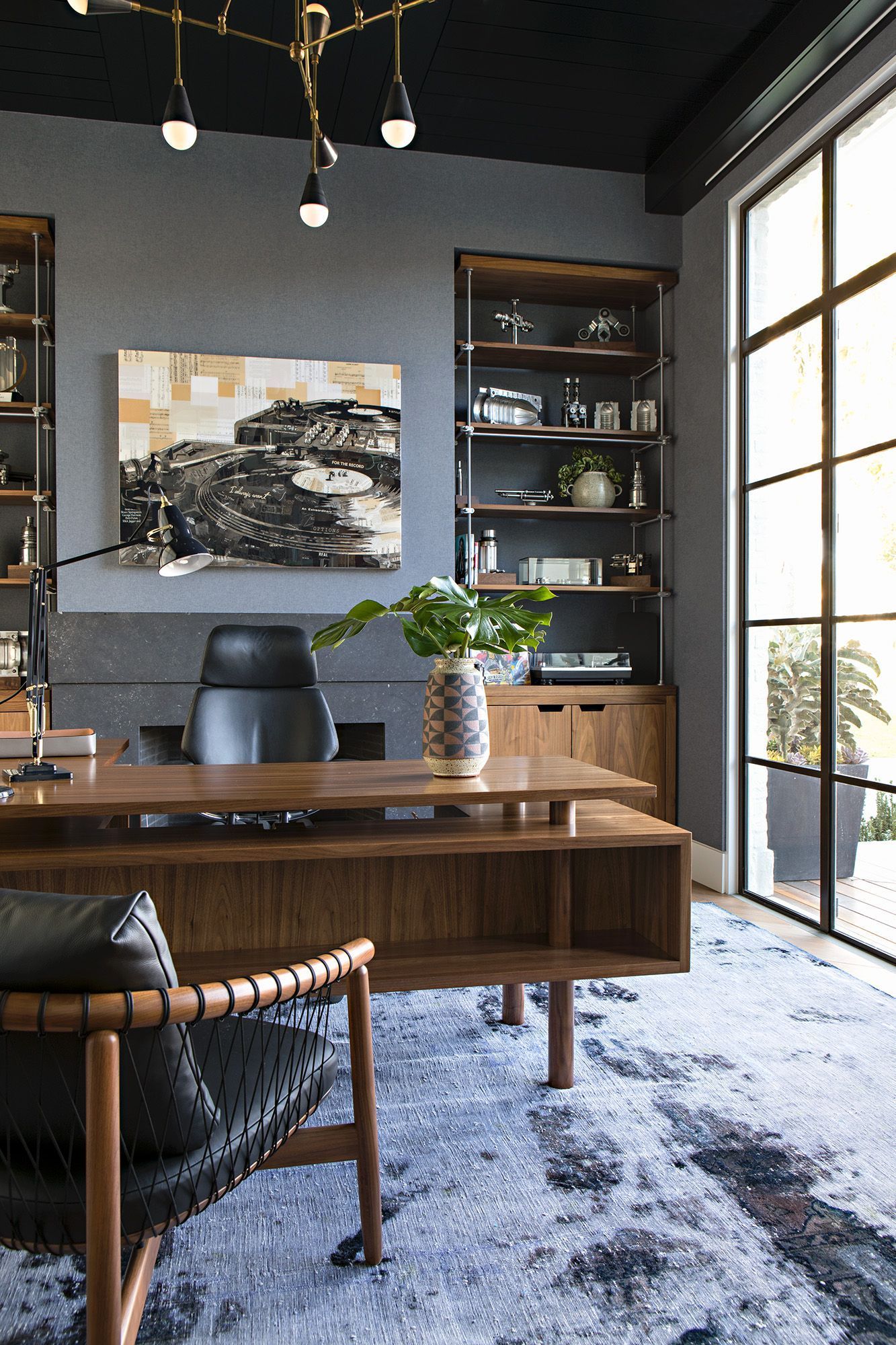 We shouldn't leave out the workaholics too. As the number of remote employment positions grows because of the Covid 19 pandemic, more people are setting up home offices. Make yours unique by converting it into a guy cave. You have to have a private office room where they can sit down and do some serious work, instead of sitting in your bed with your laptop on your lap. For a home office, I recommend it to be as elegant as possible and in neutral tones. You should have a table made of quality wood and a comfortable leather chair. Make sure you have enough natural light, but if you don't have that choice, put on some ambient lights.
Man Cave For The Sports Enthusiast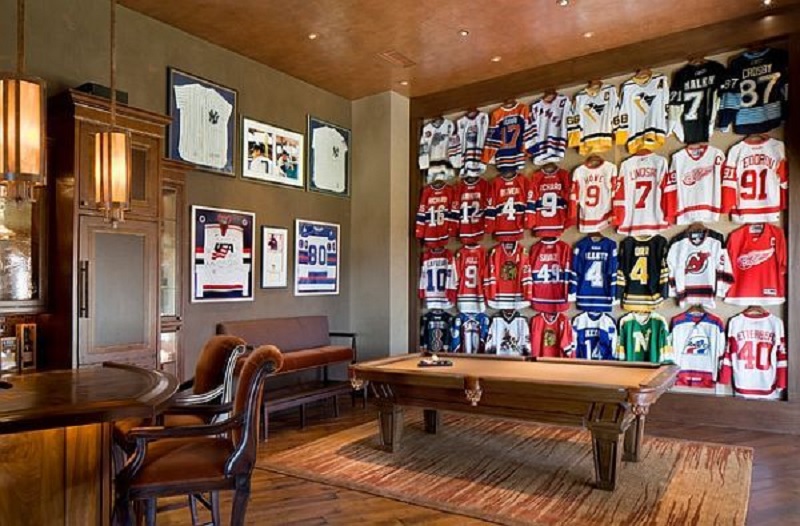 If you are passionate about sports, make your man cave sports themed. You can't go wrong with framed sports jerseys, baseball hats, trophy cases, and other sports memorabilia on the walls. Also, probably the most important thing is to add a giant televisor so you can enjoy your sporting tournaments.
Workshop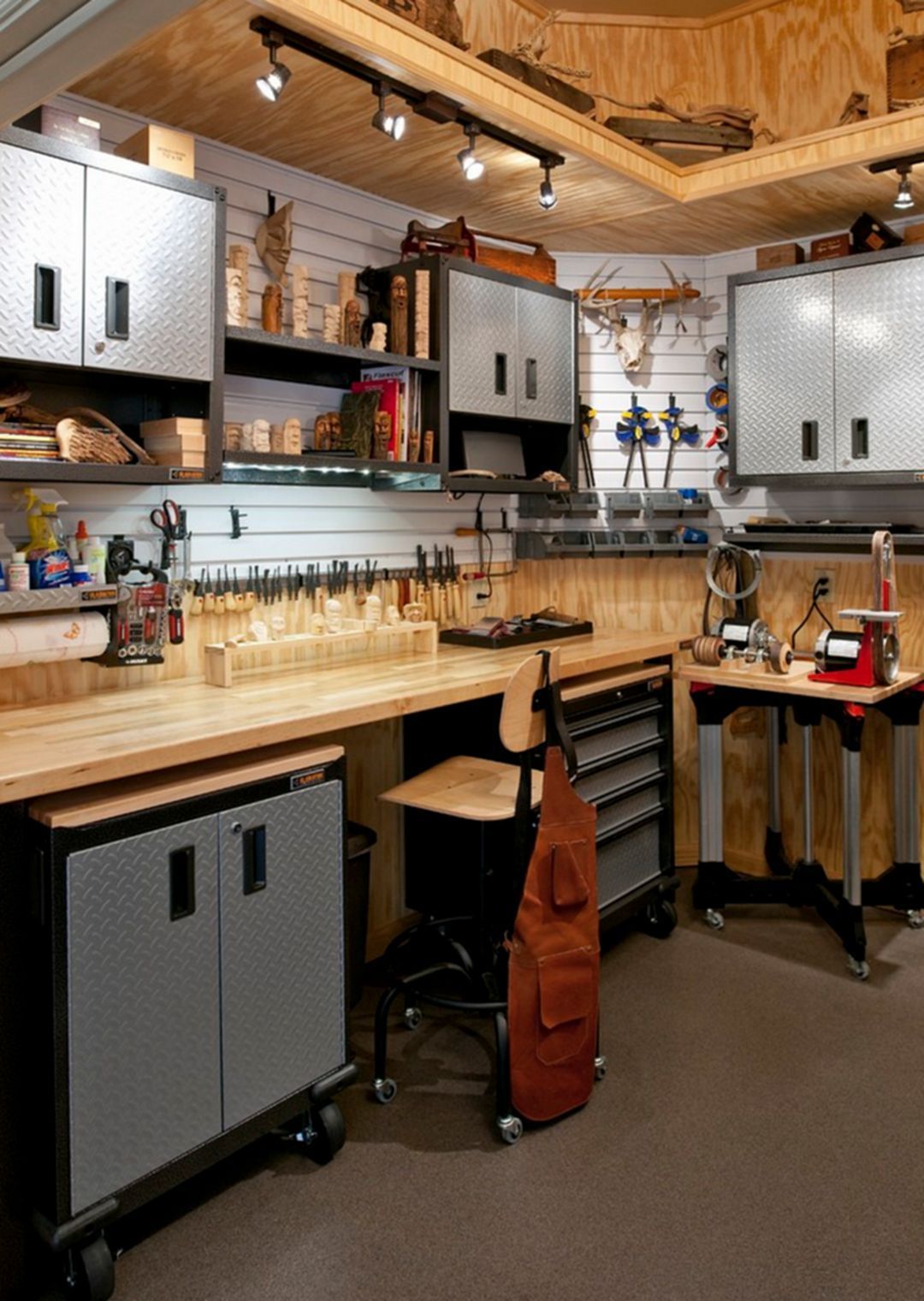 If you consider yourself a craftsman, why not make a workroom for yourself if you enjoy making things? Every man should know his way around a toolbox, and you should have a specific location to practice your profession. If you're into woodworking, you can even make the equipment you'll need for your workshop man cave.
Recording Studio
There are several key things that you have to take into consideration when designing your own recording studio. Choose a big room, avoid noise by isolating your room, and arrange your equipment carefully. The design should be a combination of an office room, so a bit formal, and a relaxation room so definitely earthly colors for the walls and wooden furnishing.
Private Casino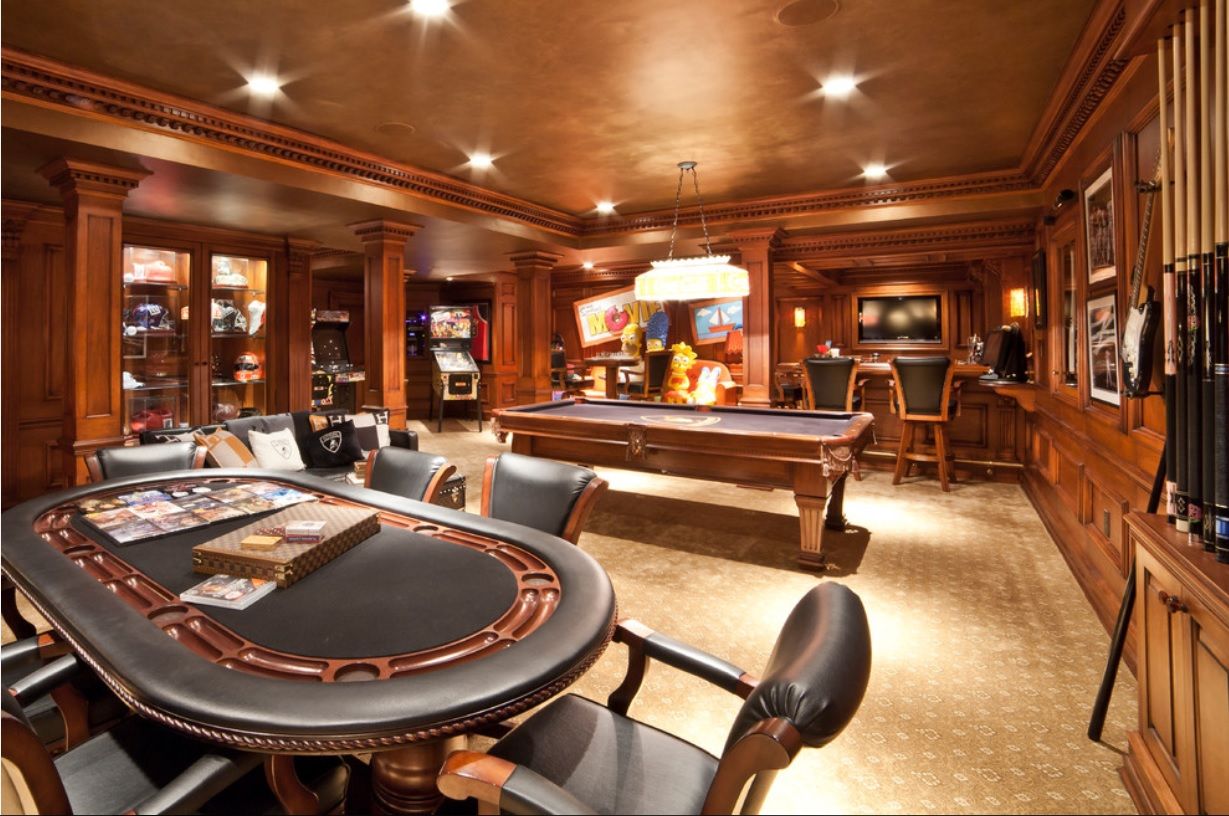 You don't have to go to Las Vegas to have a good time at a casino. One of the most entertaining modern man cave ideas for your basement is to create a casino-themed environment for you and your poker mates. A poker table, blackjack, and roulette table are a must. Make it luxurious with a vintage feel and invest in ambient lighting to achieve the casino atmosphere to the fullest.
Private Bar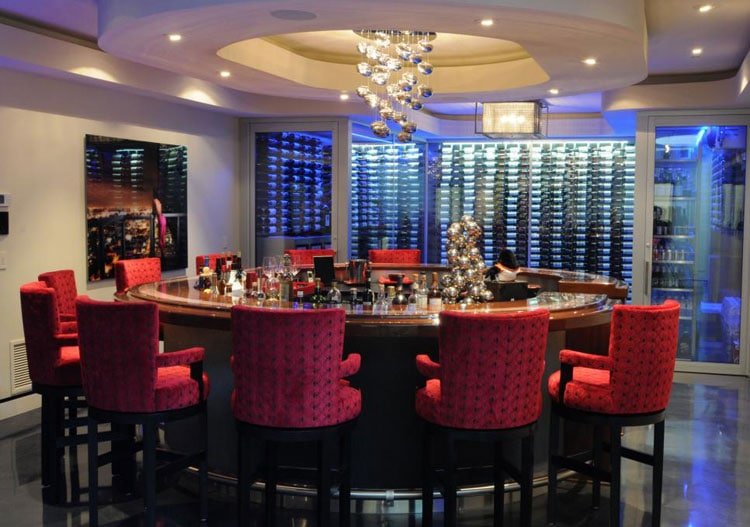 If you enjoy making drinks and cocktails, if that is your passion then it is worth investing in your private bar where you will invite your guests and enjoy your drinks together. The bar needs to be sophisticated. This means that the bar should be the center of attention in the room and should be made of quality stone or wood. Also, the chairs should be high and nicely made as well as a place where you will store drinks.
Private Gym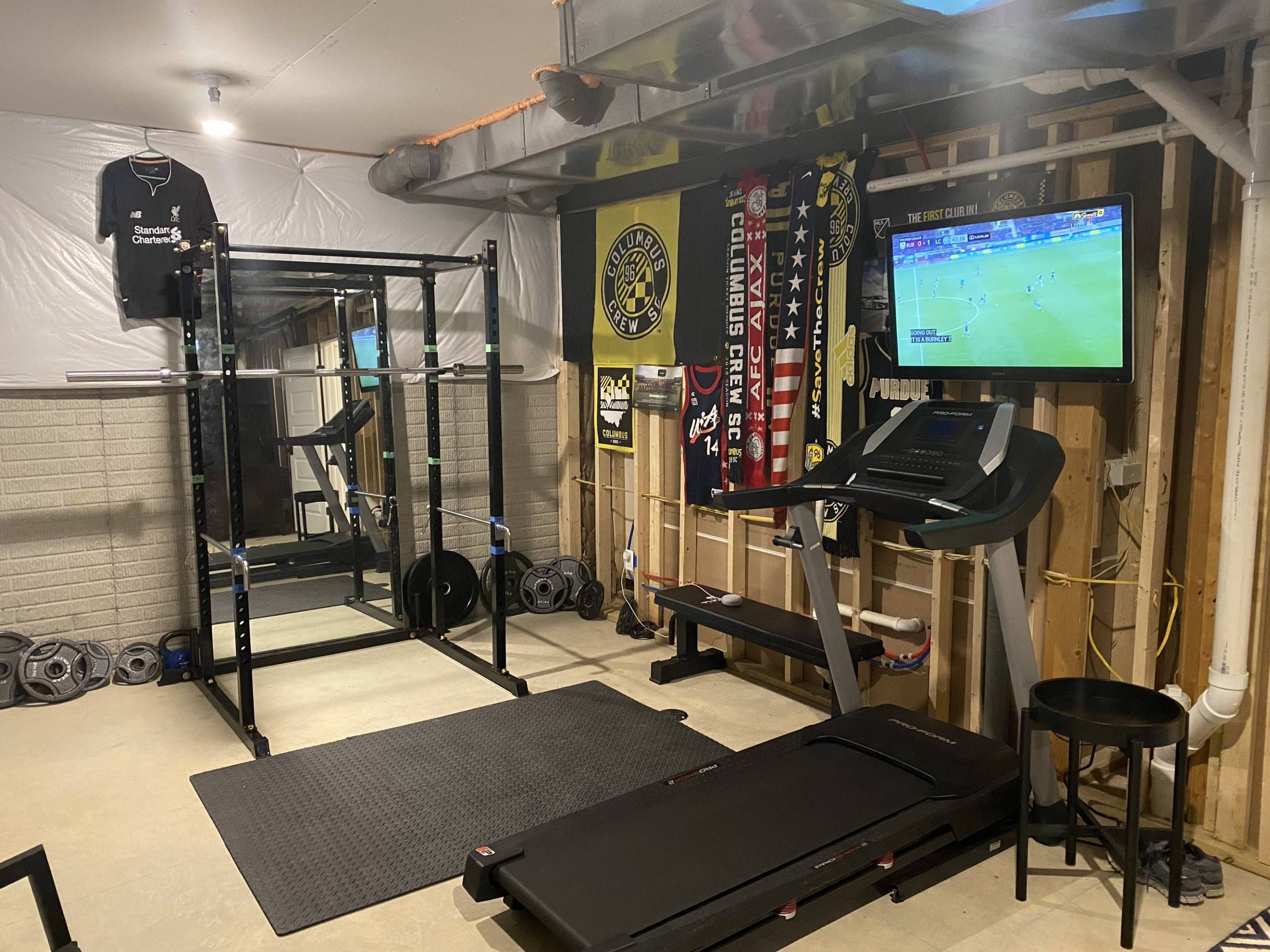 When you turn your garage into your private gym, you can say goodbye to gym memberships. By constructing a home gym as your man cave, you will not only be investing in your health, but you will also be relieving stress. When it comes to this type of man cave design, it's more important to focus on the flooring and ventilation than on the décor.
Mountain Cabin Theme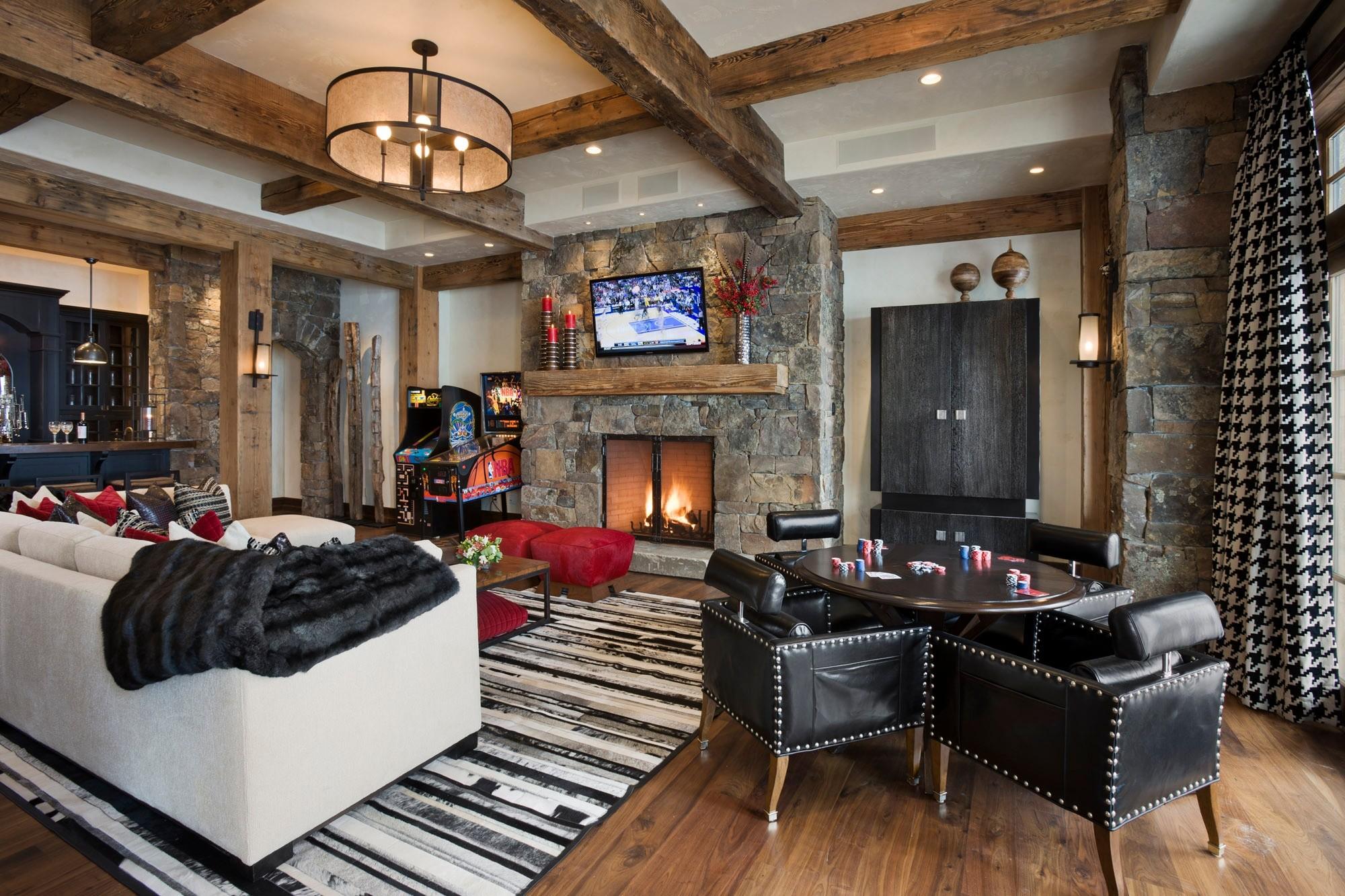 You don't have to have a cabin in the mountains to enjoy the cozy fireplace atmosphere. The interior decor of a log cabin has a particular rustic feel to it. Even so, you can still show off your personal style. So add modern design elements, or mid-century will fit as well. However, don't overdo it. It's possible that having too many design styles will make you feel cluttered.
Irish Pub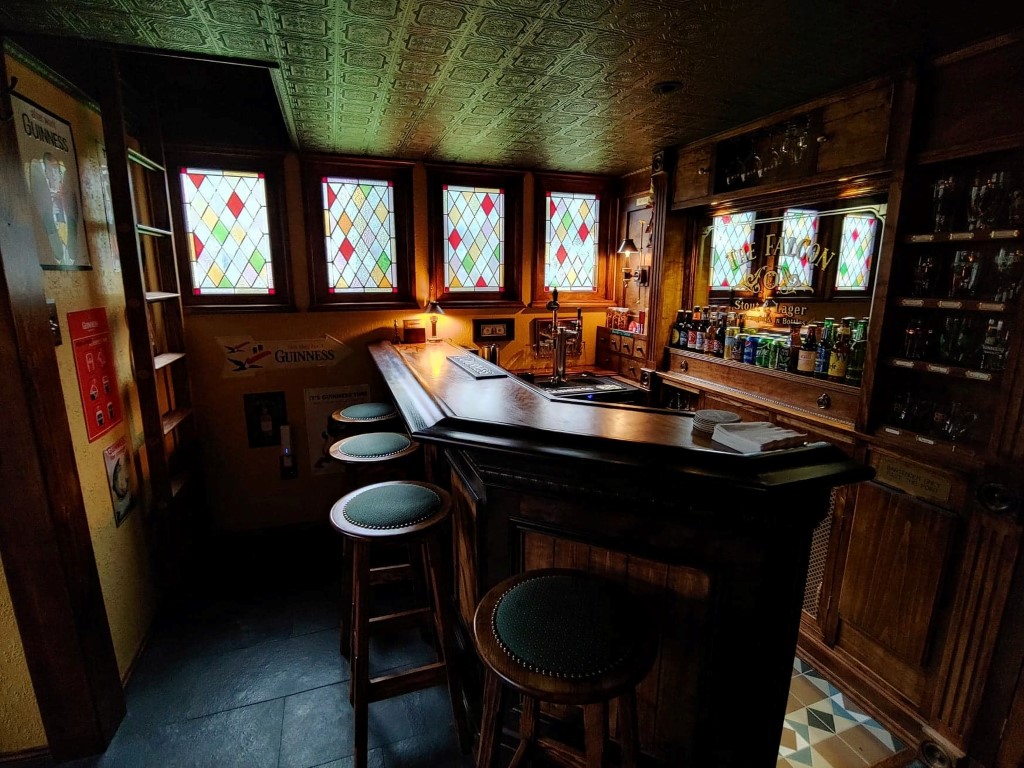 It's a fashionable trend to turn your man cave into an Irish pub. It's important to have lots of wooden elements, the chairs, the bar, the shelves, etc. In addition, old vintage items are frequently hung on the walls of Irish bars. Lastly, you'll need some green in your Irish pub, of course. The color green has a deeper meaning for the Irish than the color of the drinks served on St. Patrick's Day.
Space Ship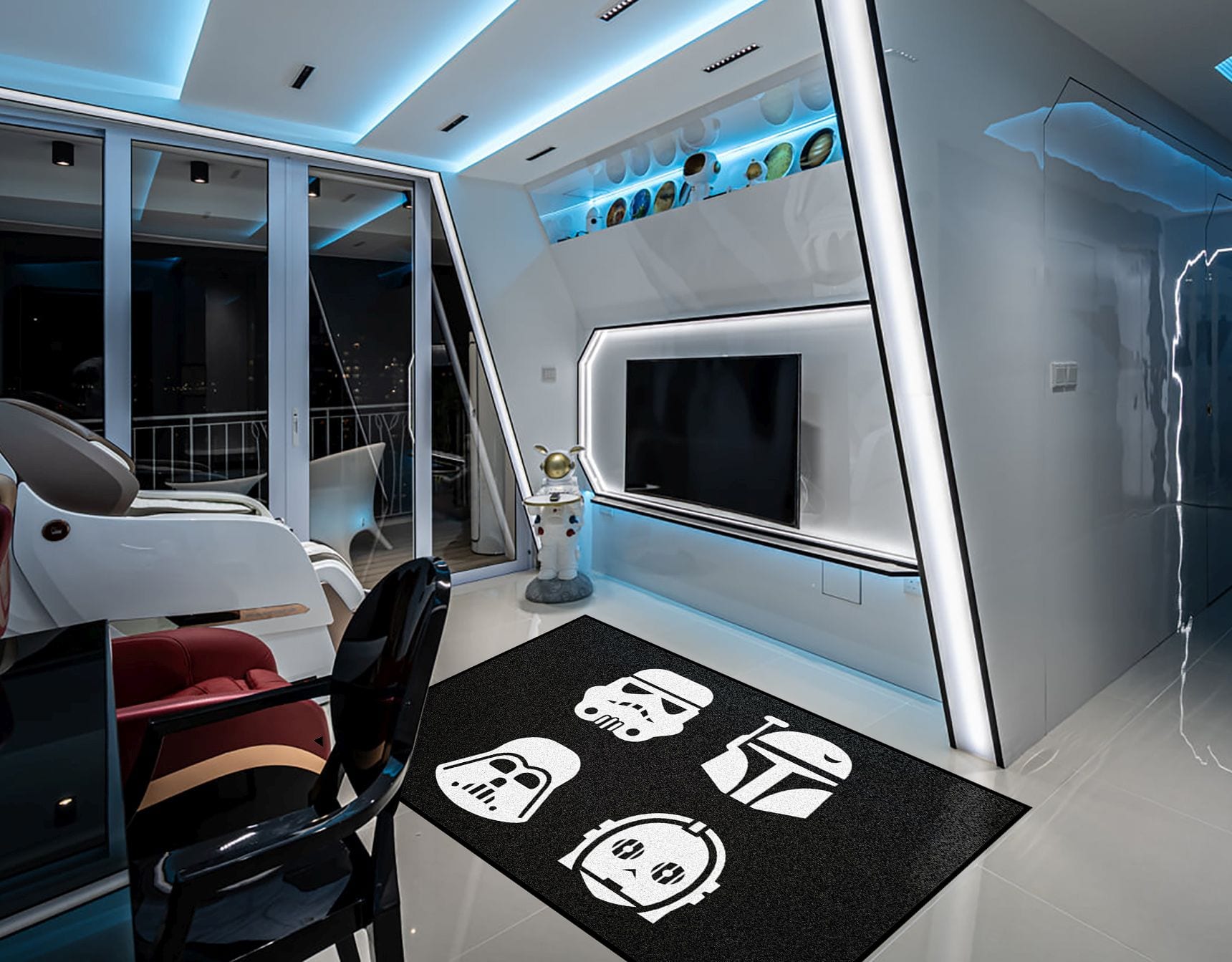 Only a real Star Wars enthusiast would dedicate an entire man cave for this movie.
For the Marvel Fan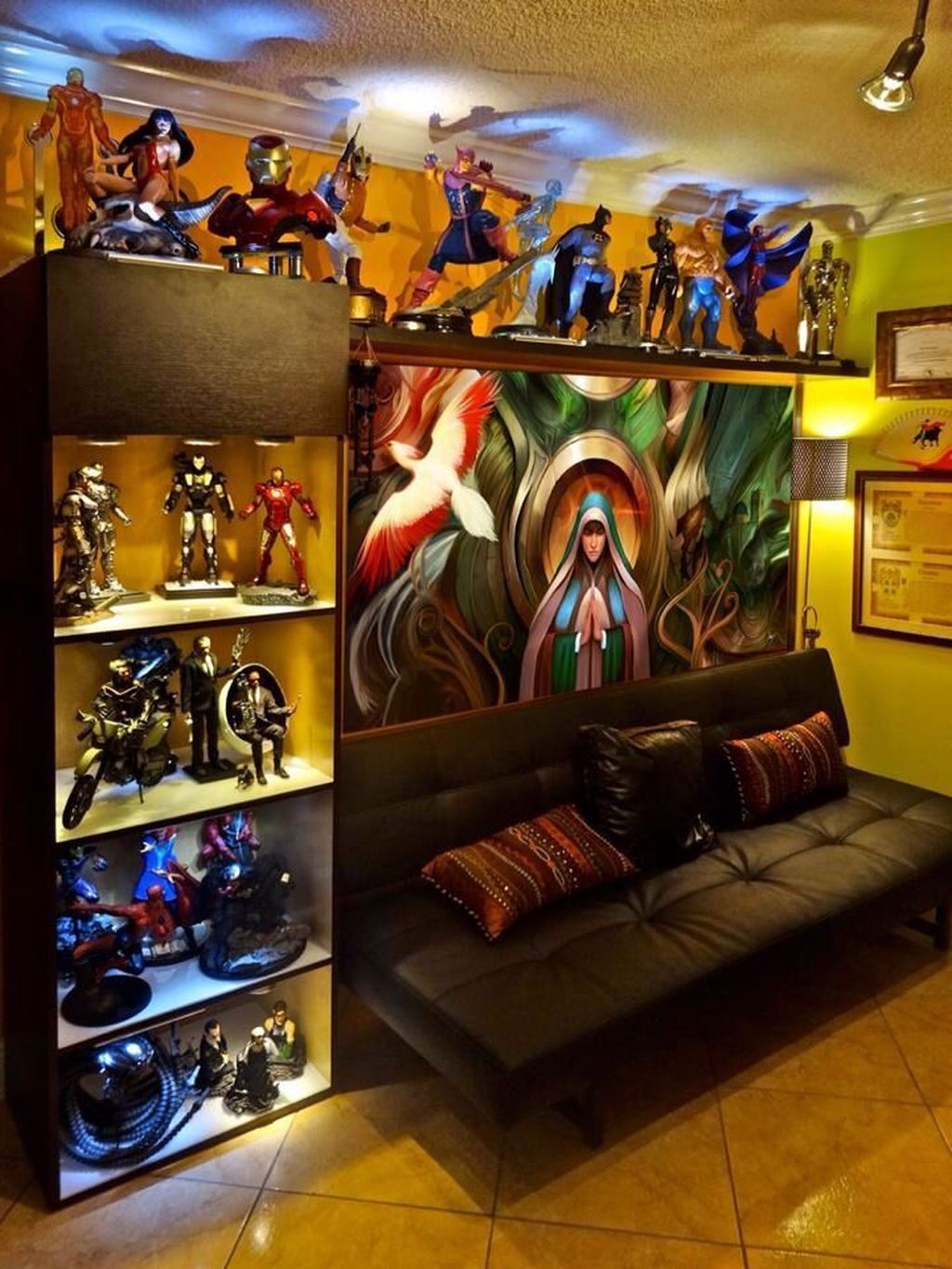 Superheroes are one of those pop culture obsessions that no one outgrows. Even if you don't want to go all out with superhero decor in your living room, create a man cave dedicated to your Marvel fandom. Every Marvel Fan deserves a superhero man cave for his Marvel memorabilia.
Private Library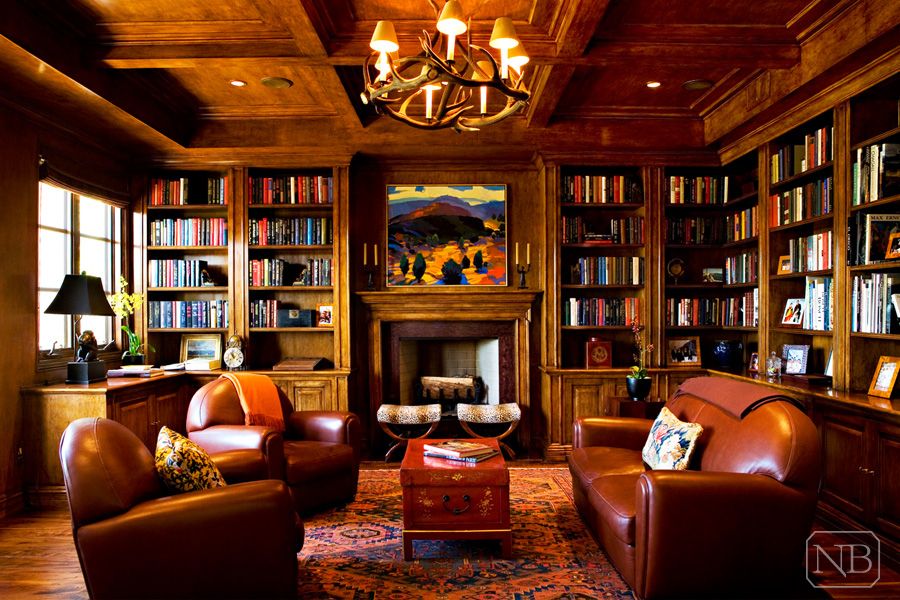 They say private libraries are for gentlemen. The library can also be combined with a study. This room should be a place where a man can relax after a long day. It should definitely have a vintage design with shades of brown.
Making your personal at-home retreat allows you to indulge in your favorite hobbies and guilty pleasures. It also gives you a place to go where you can get away from the stresses of regular life. Now that you have the best man cave ideas at your disposal, you can turn any area into a relaxing and rejuvenating setting.