A bathroom does not need to be large for it to be stylish and functional. When it comes to storage and design, a limited space presents a fun challenge regardless of whether you have a little bathroom or want to organize the cabinets in your spacious bathroom, or still live out your retro or bohemian bathroom design fantasies. With so many wonderful storage solutions to copy, even your towels can stay perfectly organized.
When trying to arrange and create additional storage in a bathroom, ask yourself how can you use space that is now unused? Most likely, your bathroom's vertical space isn't being utilized to it has the best potential, especially if you have high ceilings.
To keep extra towels, toilet paper, and bath soaps, consider adding a shelf above the door. Install shelves and hooks on the wall over the toilet or in the shower stall above the tile. Install hooks in the ceiling to hang baskets containing goods that aren't being utilized or aren't used frequently. Maybe you have a small nook in the bathroom that isn't being used?
Use that to store toilet paper, hairdryers, curling irons, and extra hairbrushes add a mobile cart with storage units. Wall cabinets are essential for any small bathroom since they can be installed even on small wall spaces and are available in a variety of sizes and depths. Choose a cabinet with mirrored sliding doors to save room while opening them and to provide the sense of greater space thanks to the mirror.
Now let's check out some fun ideas.
Storage Bins Under The Sink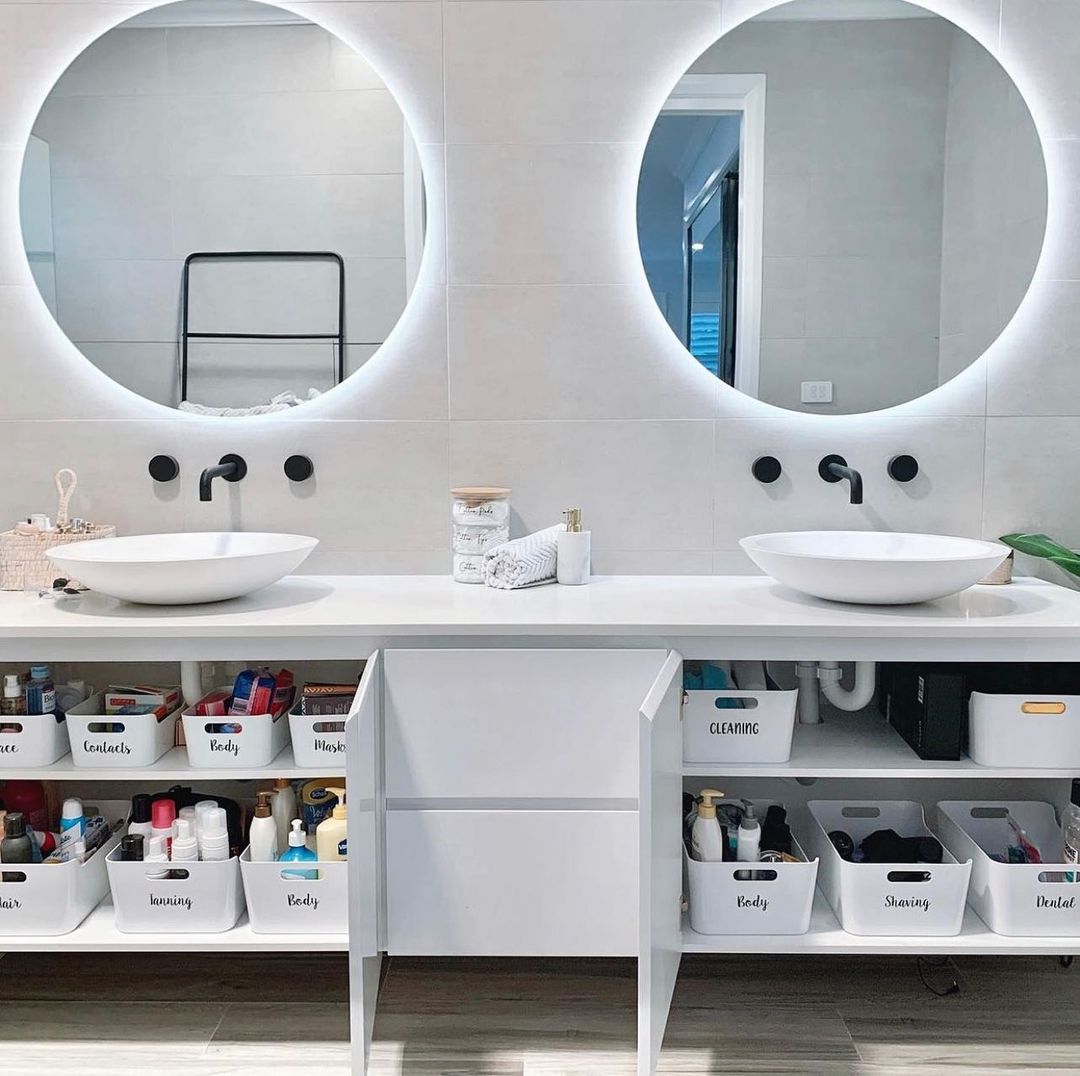 Finding the correct bathroom cabinet storage or under-the-sink storage organizer is essential for keeping your bathroom neat and utilize the space efficiently. Everything kept under the sink is easily accessible while also helping to keep your counter space clean and tidy. Your bathroom will appear cleaner and tidier with more storage under the sink. Don't forget to label it all.
Jars And Bins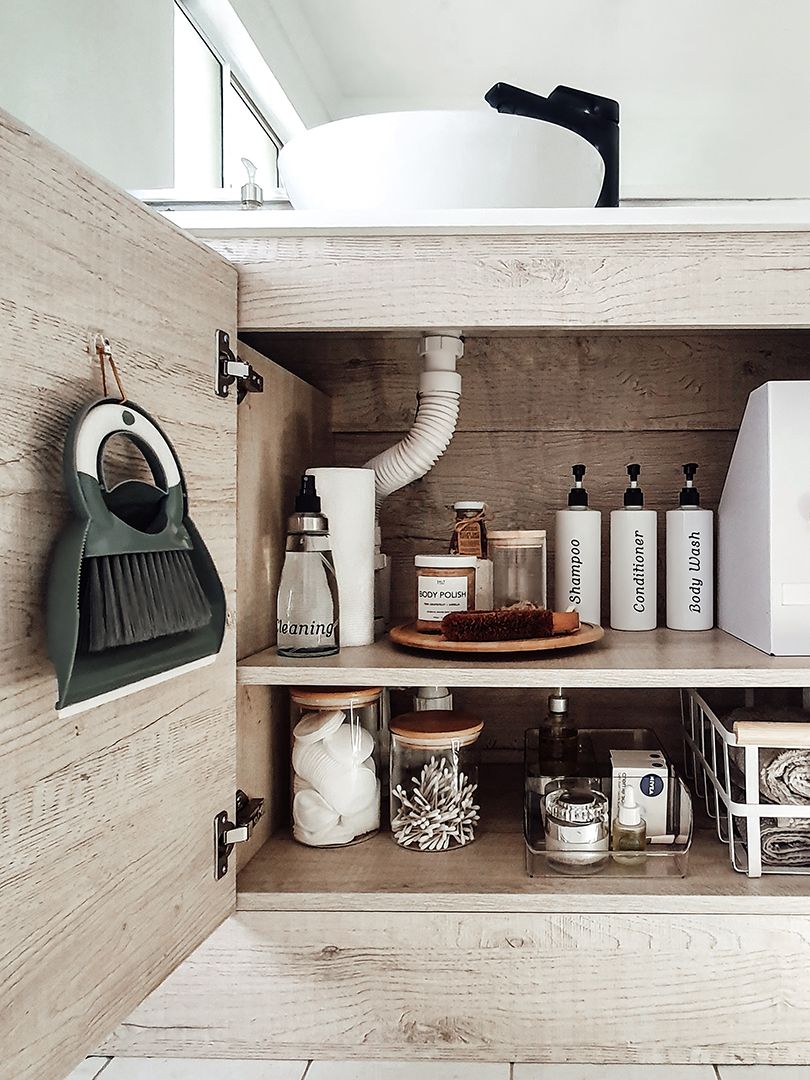 Sometimes your bins or jars don't need to be all the same. Make categories and use bottles for liquids, jars for soaps or Q-tips, even a lazy Suzan for things you use every day. Mix the materials, shapes, and sizes and create a very organized space.
Bathroom Ladder Shelf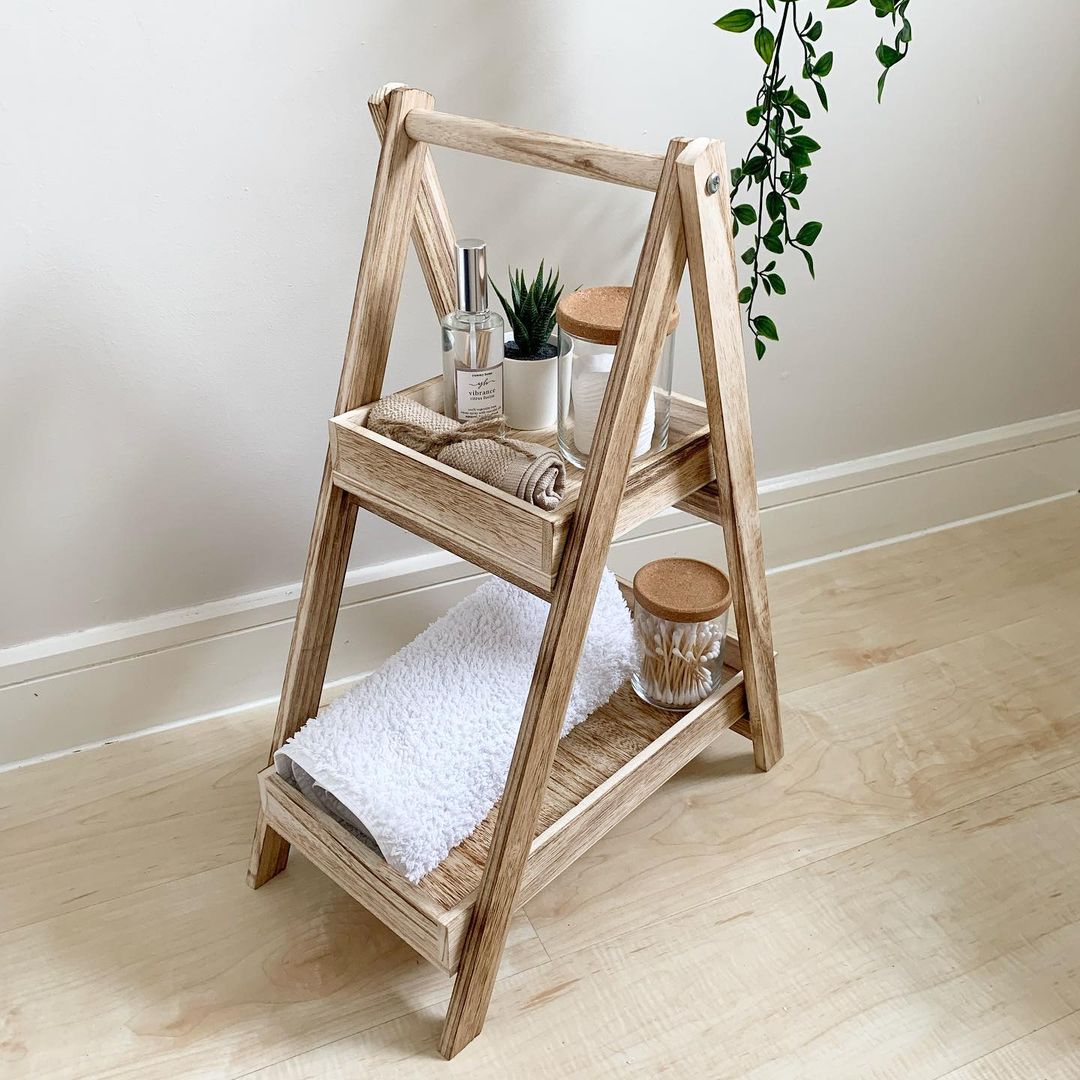 This bathroom ladder shelf is pure perfection. Simple, yet so elegant and, of course, useful. You can use it for fresh towels in the guest bedroom, or for toilet paper, or just for essentials like Q-tips, cotton balls, candles. And don't forget to put some kind of greenery to make the entire look complete.
Drawer Separators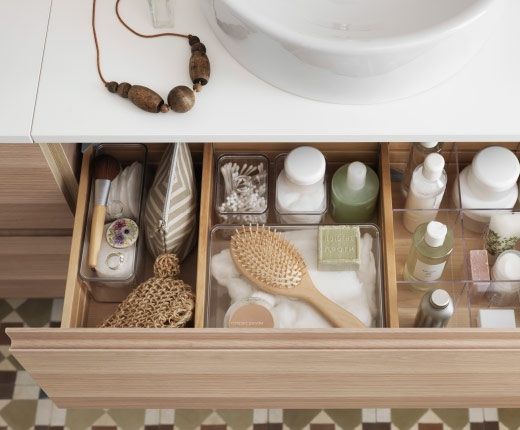 Sometimes drawers can get a bit messy, but if you need simple steps to an impeccably organized drawer, I got you covered. All you need are a couple of drawer separators. Make sure they fit your drawer and put in there products you use on daily basis. That way you won't have the chance to make a mess, everything will have its place.
Bathtub Tray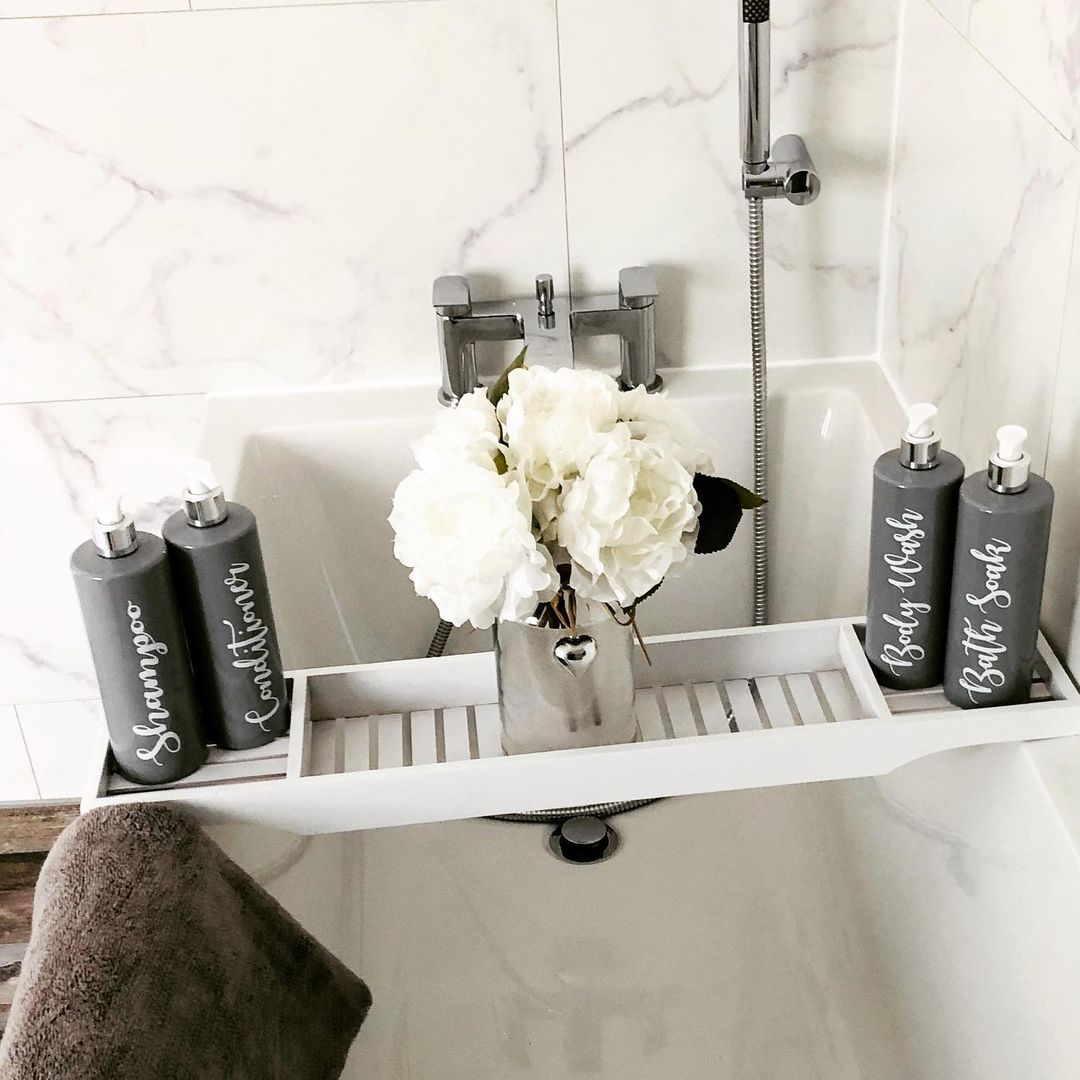 For all my ladies who like to enjoy a long hot bath and have everything you need around you, this is just for you. First of all, pick the right bathtub tray and then find bottles for the products you use. You can make your labels or maybe buy ones that you like. The flowers are optional, but you can sure take a drunk that you enjoy while listening to a podcast, reading a book, or just simply closing your eyes and relaxing.
Portable Organizer Cart
A portable organizer cart can have a lot of uses. This one will fit perfectly in a guest bedroom or even in the main bathroom. Each level can be used for something different. Let's say you use the first level for your makeup or perfumes. Maybe add a flower to make things warmer and homier. The second level can be a place to store your brushes or hair products, maybe put some organizers and put fill them with whatever it needs to be close to the makeup. And for the last one, feel free to put some toilet paper, wipes.
Wood Drawer Organizer Boxes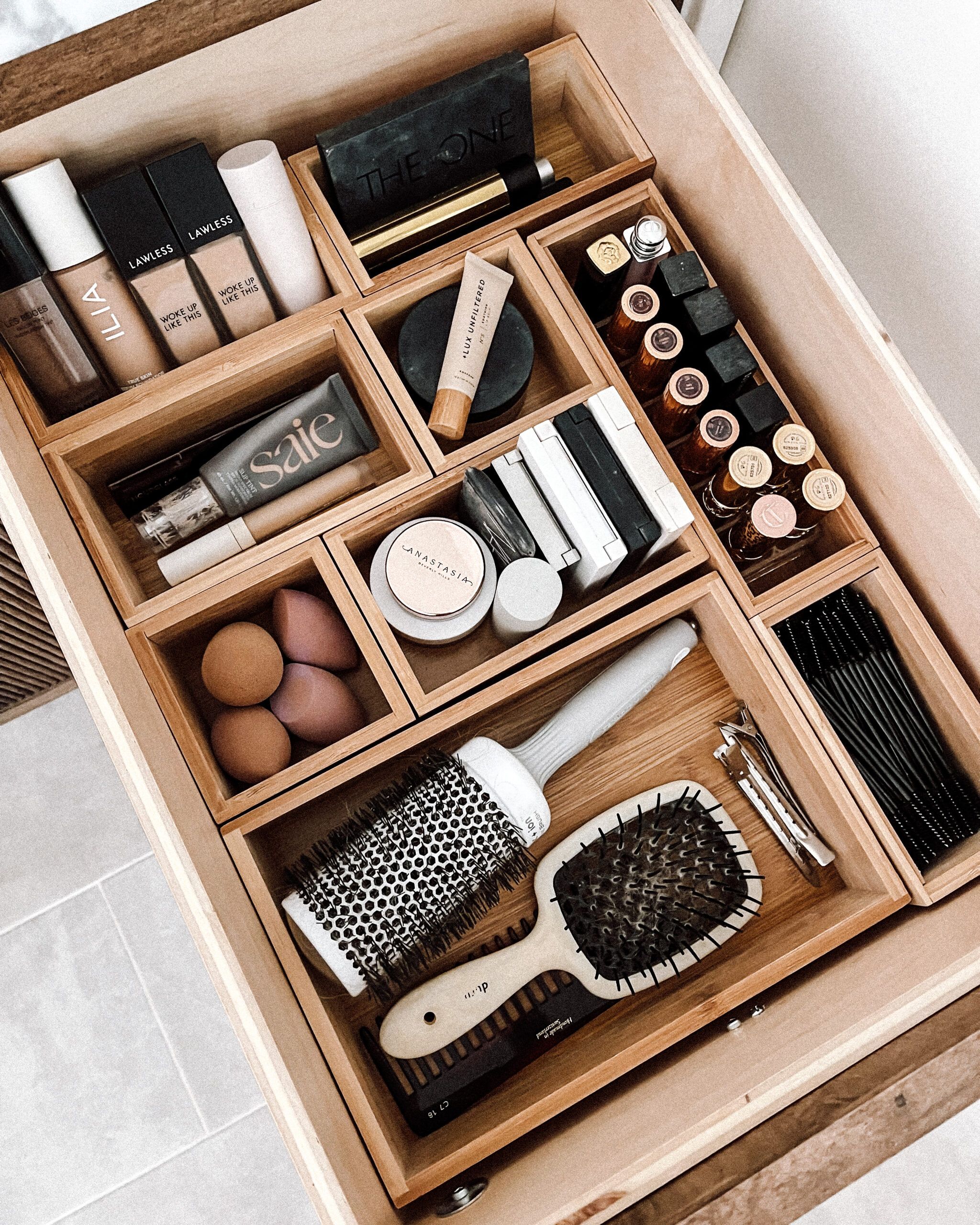 Do you need a beauty drawer? If you didn't have one by now, here's an idea. Measure your drawer and buy a few wood drawer organizer boxes. Then take all your makeup and divide it into categories: lipsticks, foundations, palets, beauty blenders, and so on.  And there you have it, your beauty hub.
Marble Tray Countertop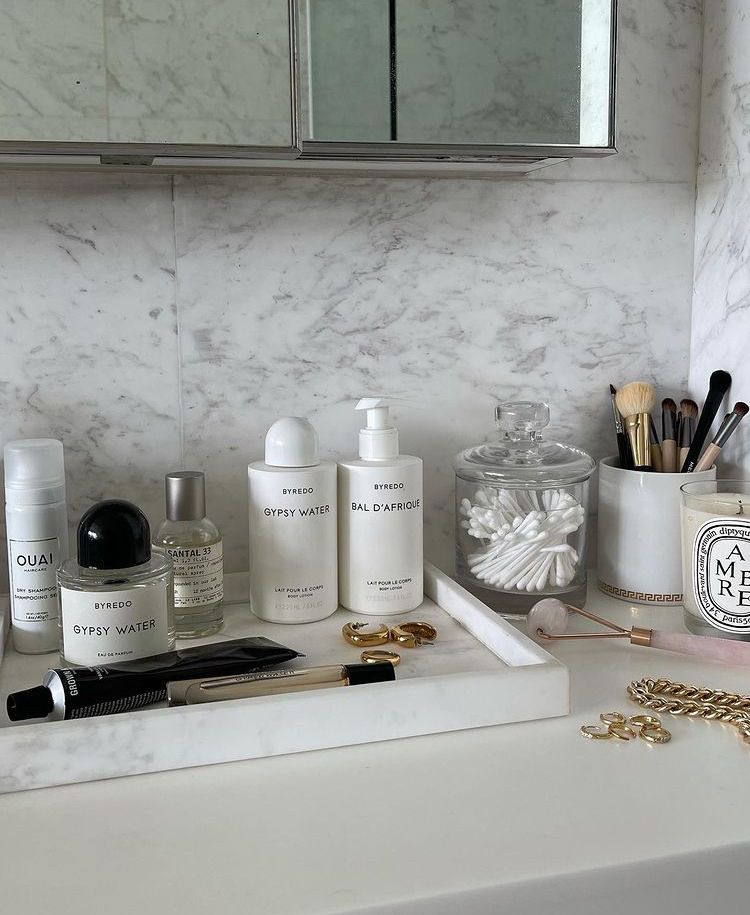 I love using marble trays for so many things. One of them is it as a beauty tray and store all my perfumes, and sometimes even my jewelry. It looks so elegant and clean and it's very useful as well.
Metal Bins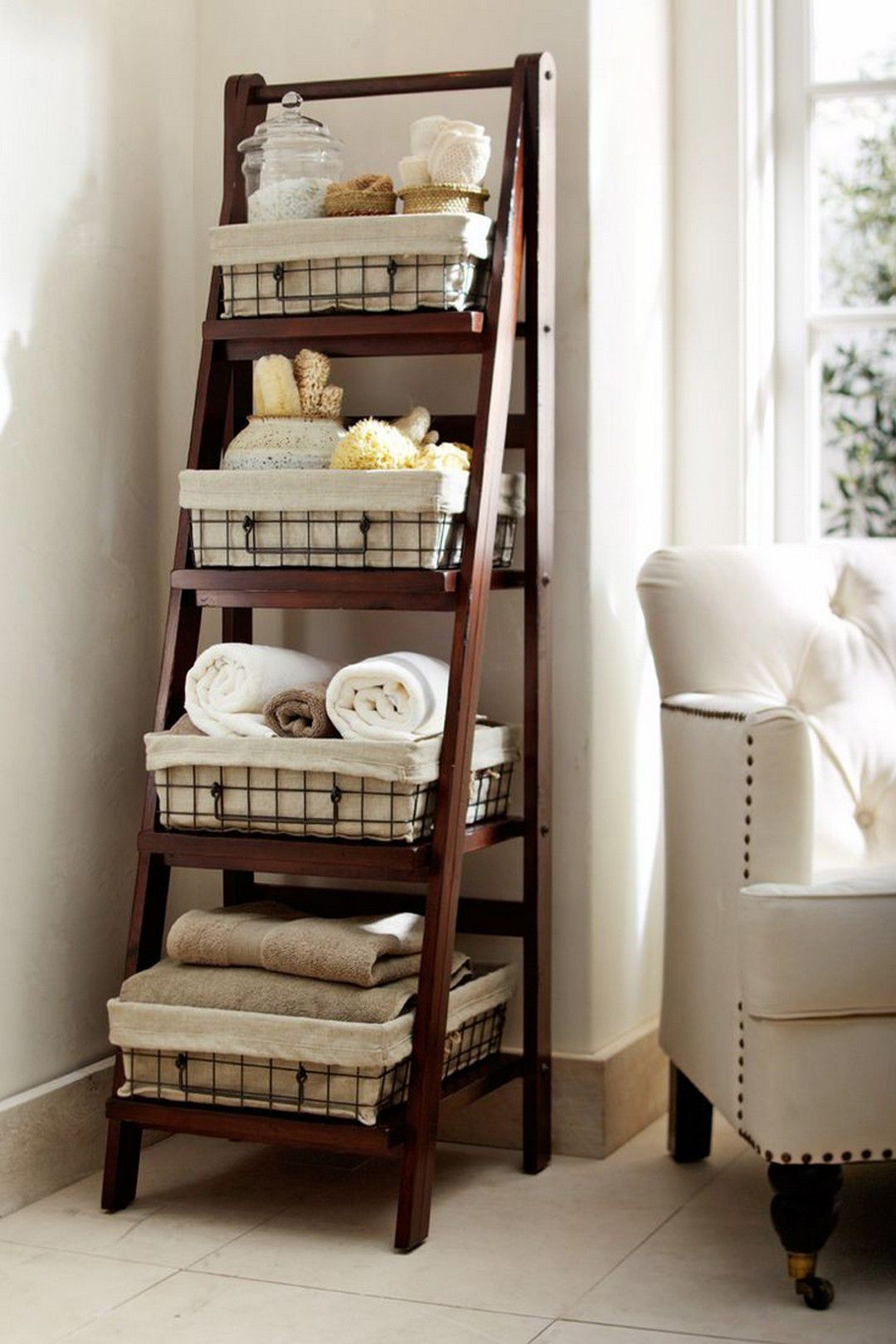 These metal bins on a wooden ladder can be useful for so many things. In this bathroom, they are used on a wooden ladder. As you can see you can store bathroom towels, sponges, luffas, and other bathroom supplies.
Essential Glass Conteiners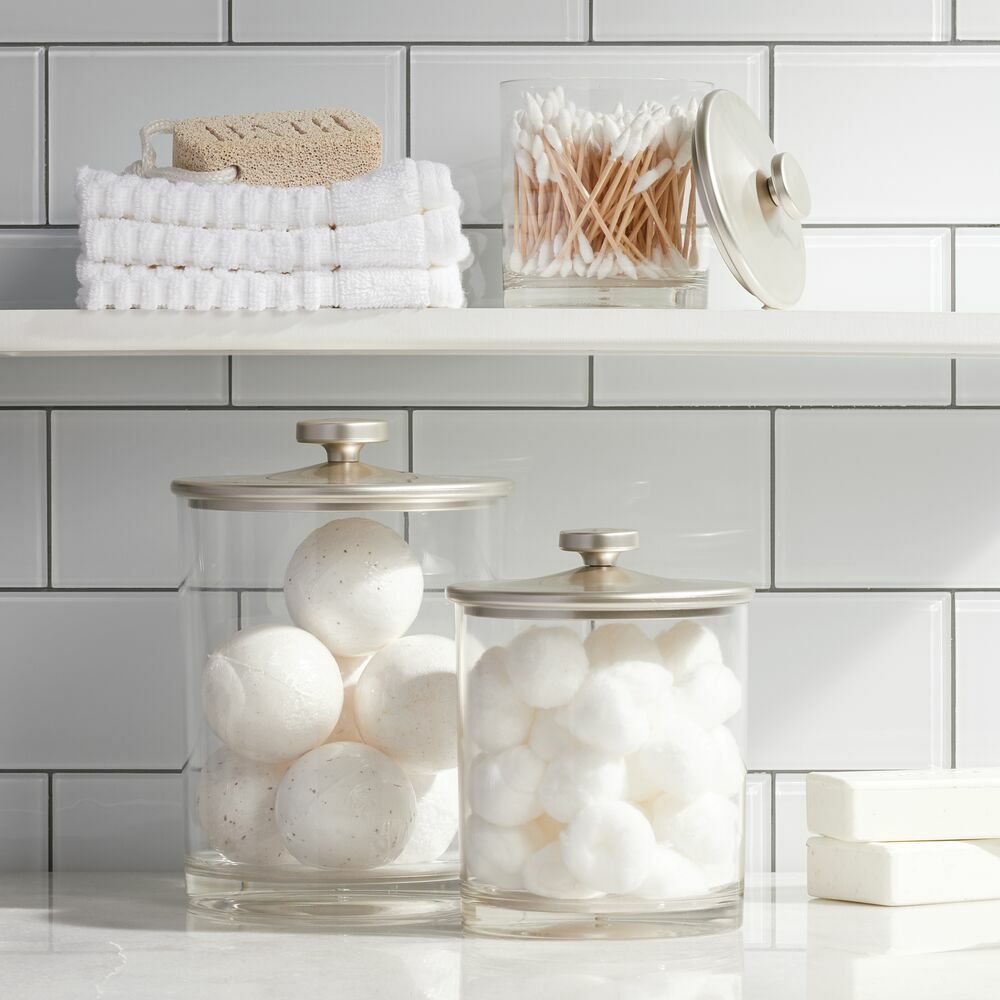 Glass containers come in different shapes and sizes so if you want to keep your Q-tips or cotton balls you can use the smaller ones. But if you want to use them for soap bars or dryer balls, you're going to need the bigger ones.
Layered Tray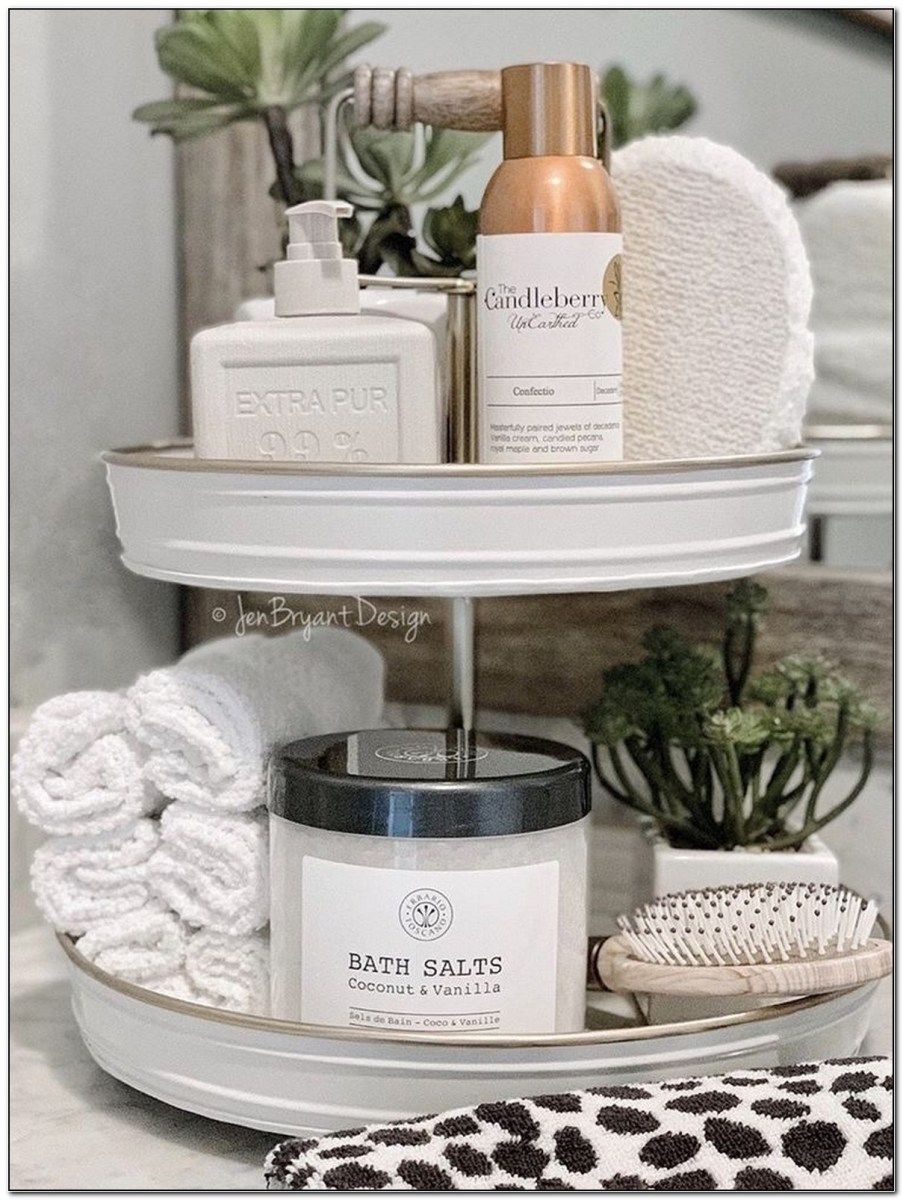 Layered trays are mostly used in the kitchen, but this is a great idea to make a statement piece in your bathroom as well. You can store your face towels, baths salts, brushes, oils, and lotions. It's going to look amazing, and you're gonna have everything you need in one place.
DIY Shelves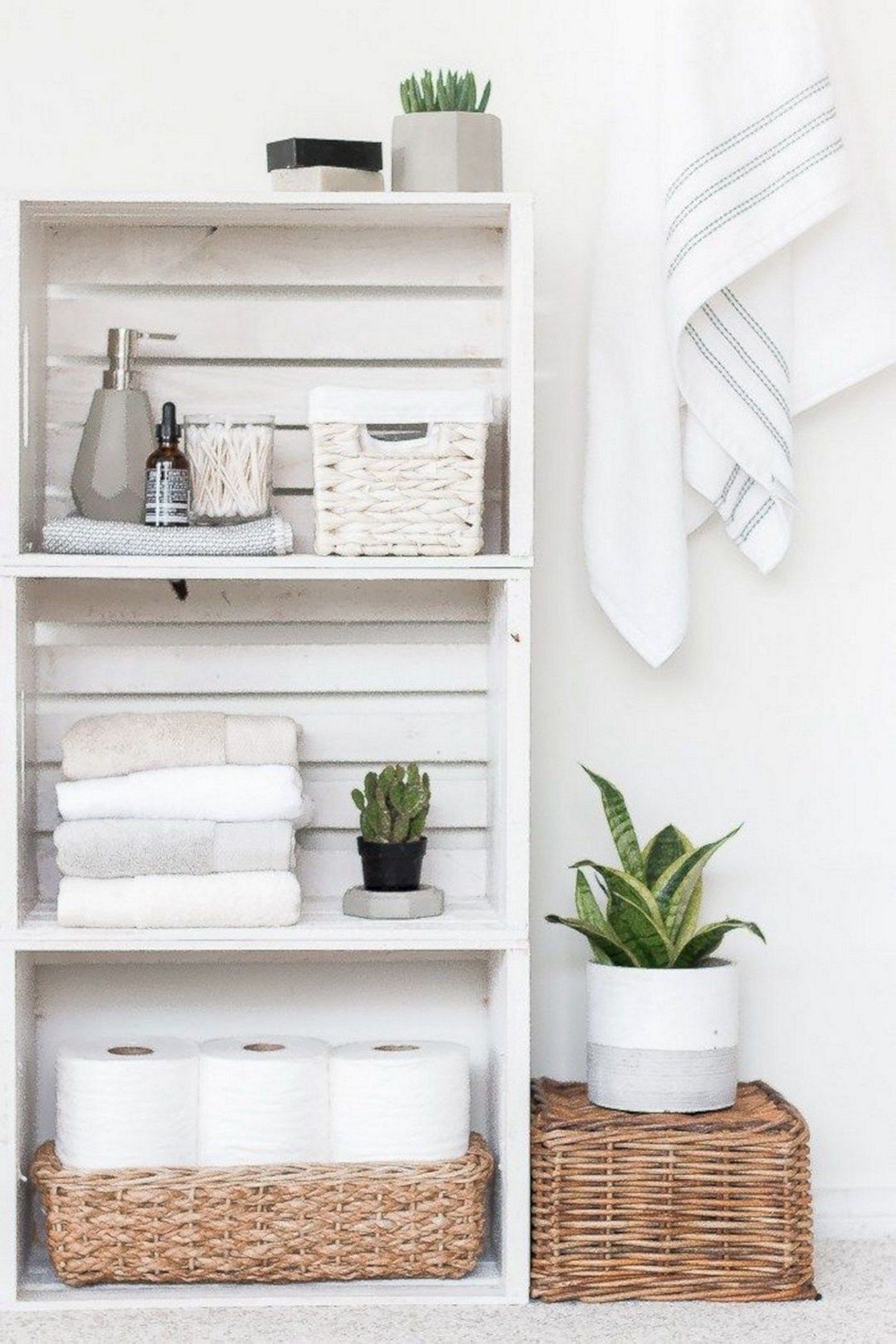 These DIY shelves are perfect for a smaller bathroom. If you want you can add some woven baskets and fill them with toilet paper or towels, or whatever you need in that space. Of course, you can add extra things in there as well, and feel free to put some flowers there too.
Use Every Space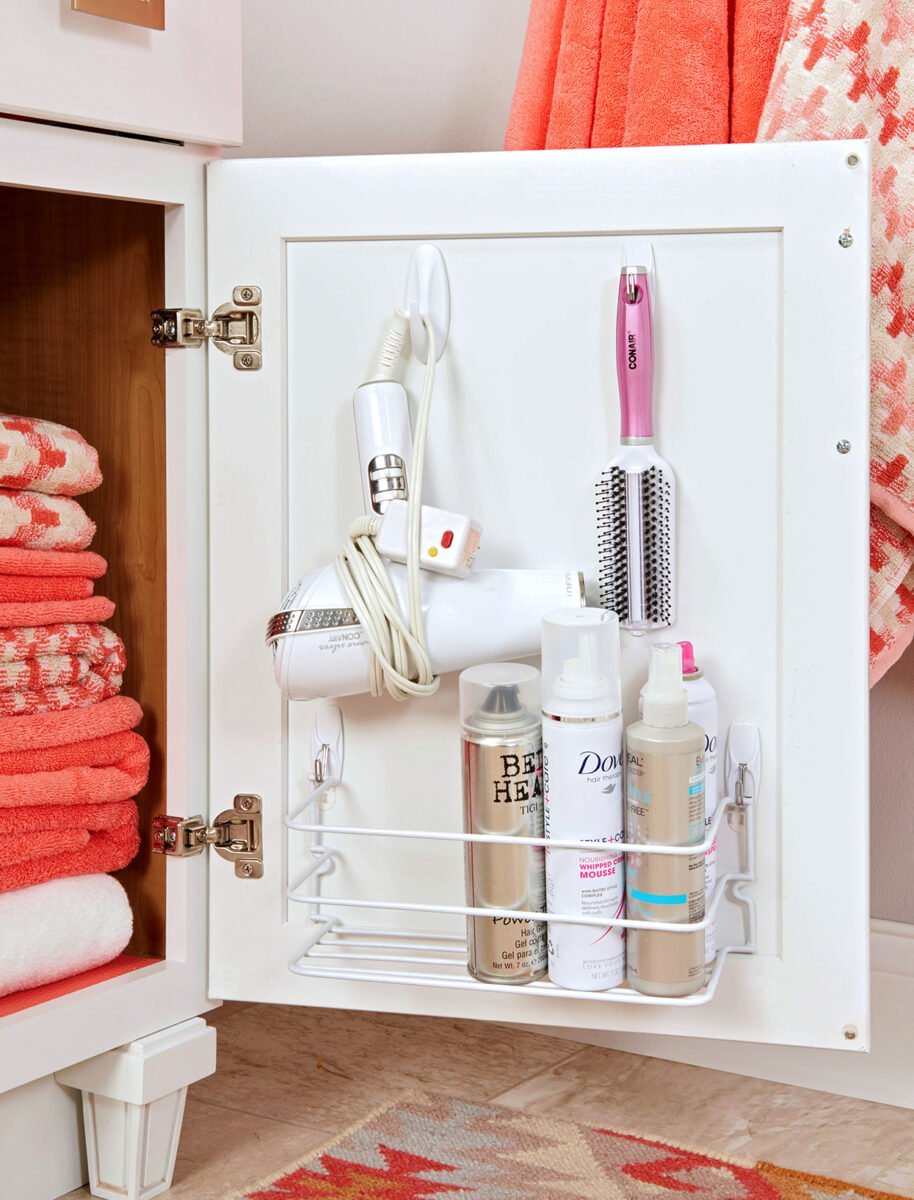 If you're struggling with space and have a smaller bathroom, you can use your cabinet doors as storage. You'll need a couple of stick-on hooks and a rack, and you can put all your hair products there, hang your hairdryer and your hairbrush.
Acrylic Bins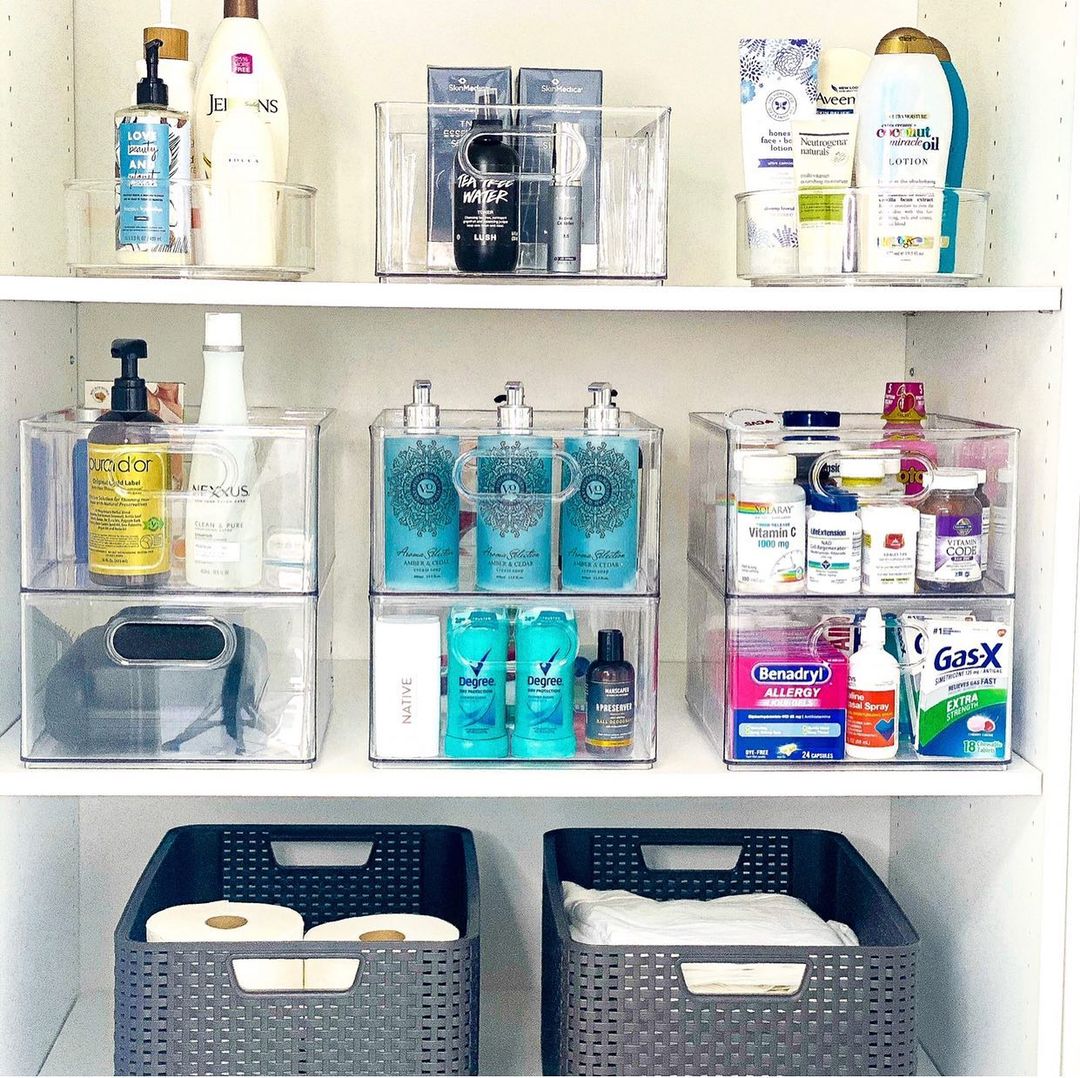 These acrylic bins are amazing. If you like to see where everything is and how many things are in store, you can use them for whatever you need to. Maybe use one for all your medicine, one for your kid's supplements. Other for all your men's care, one for hygiene products, deodorants, perfumes, lotions, etc.
Custom Made Cabinet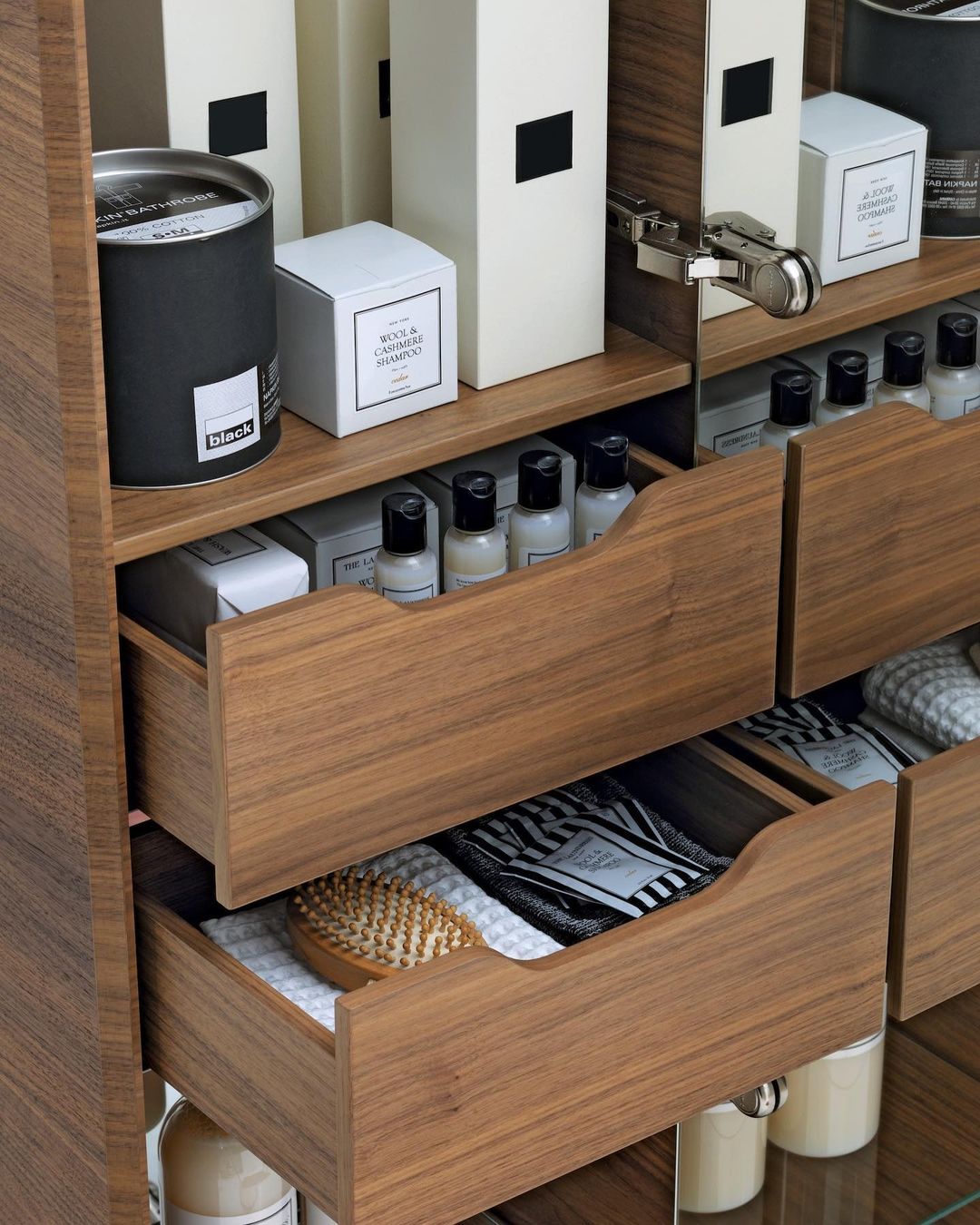 If you're a fan of a more luxury lifestyle, you can have your custom-made bathroom cabinet, made with separate drawers and spaces. You can have a beauty drawer, filled with face and body care products. I'm sure one will be needed for all your hair products, dryers brushes, and everything else. If you love using essential oils, there's an idea and use some space for them as well.
I hope you liked all of the ideas I've compiled for you in this article. There are lots more on the internet, I'm sure, but I hope we've helped you narrow down your options, and maybe gave you some ideas on how to storage your products, no matter if's a smaller or bigger space. Please like this article and share it with your friends, leave a comment down below, or maybe some of your ideas. Till next time, enjoy and have fun organizing!