What's the first thought that pops in your mind when you think about Greece? The sun, the sea, Mediterranean food… Wishing you were on a vacation in Greece right now, right? Then we are here to bring Greece to you. You don't have to live in Greece, or nearby a sea or ocean to embrace this beautiful aesthetic. If you want your home to be lively and fresh-looking all year round, then this style is definitely for you and we will teach you how to embrace this style.
The greek aesthetic is a perfect illustration of "less is more". It is chromatically influenced by nature and anchored in simplicity and openness. When creating a classic Greek-inspired home décor design, it's important to use natural color palettes and materials while keeping in mind the style's primary qualities. There should be symmetrical balance through design, pattern, texture, and color, harmony to produce a sense of comfort and restfulness, emphasis predominantly through nature-inspired proportion and scale.
Also, there's another greek inspired style that we are going to include that you might also like, and that is the Greek Revival. This style is inspired by the same things mentioned above, but there's a difference. The symmetry, proportion, simplicity, and grace of ancient Greek temples from the 5th century B.C. is what influenced the Greek Revival style. This style is all about graceful proportions
Without further ado, have selected for you the 15 best ideas that will help anyone master the Greek aesthetic and create the perfect Mediterranean look.
Mediterranean Kitchen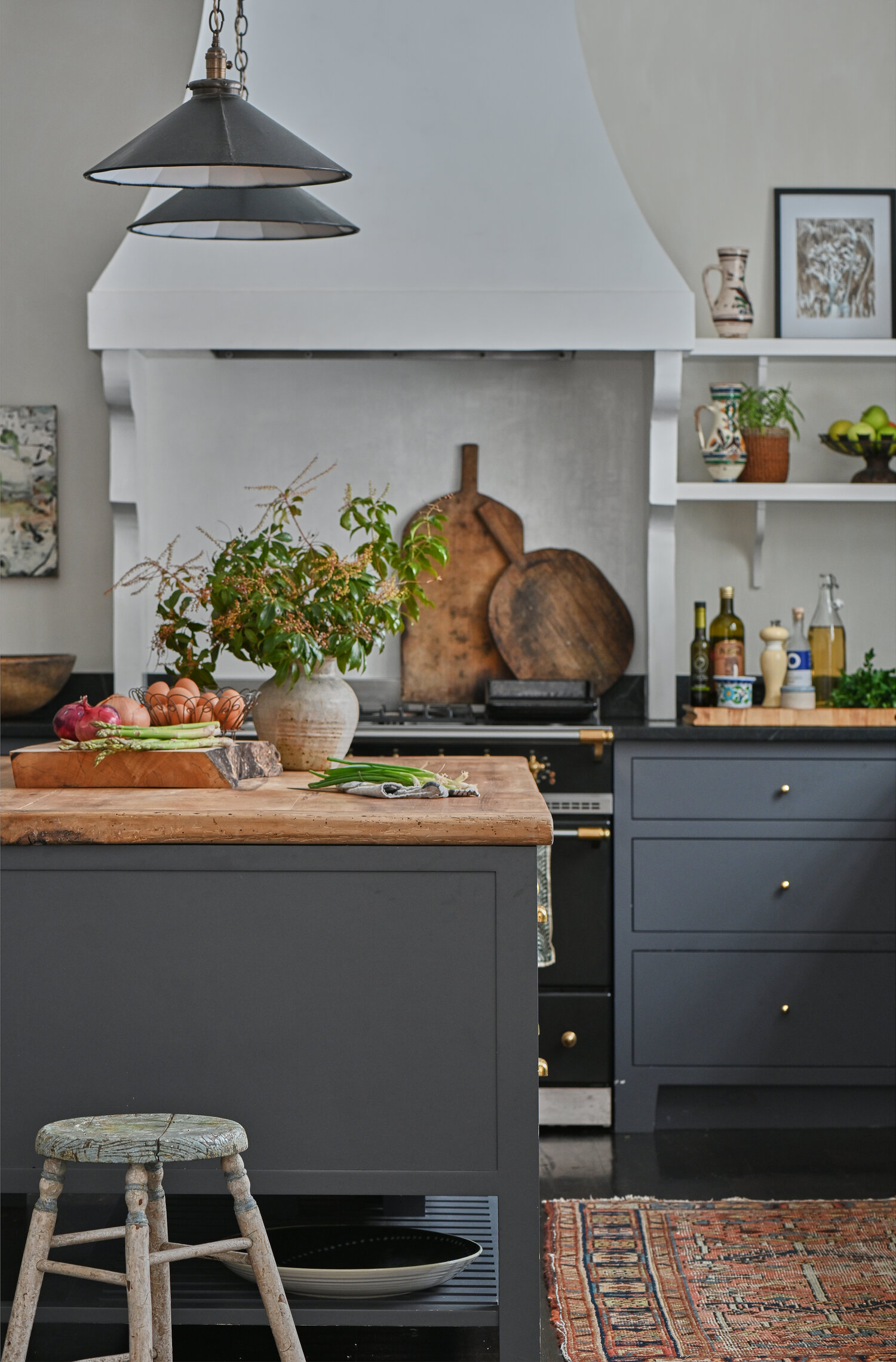 This is a great example of a Greek Revival kitchen style. Almost everything is made of natural materials and the style seems to be reminiscent of the 19th century when the Greek Revival style originated. All colors are according to the Greek style of design.
Traditional Interior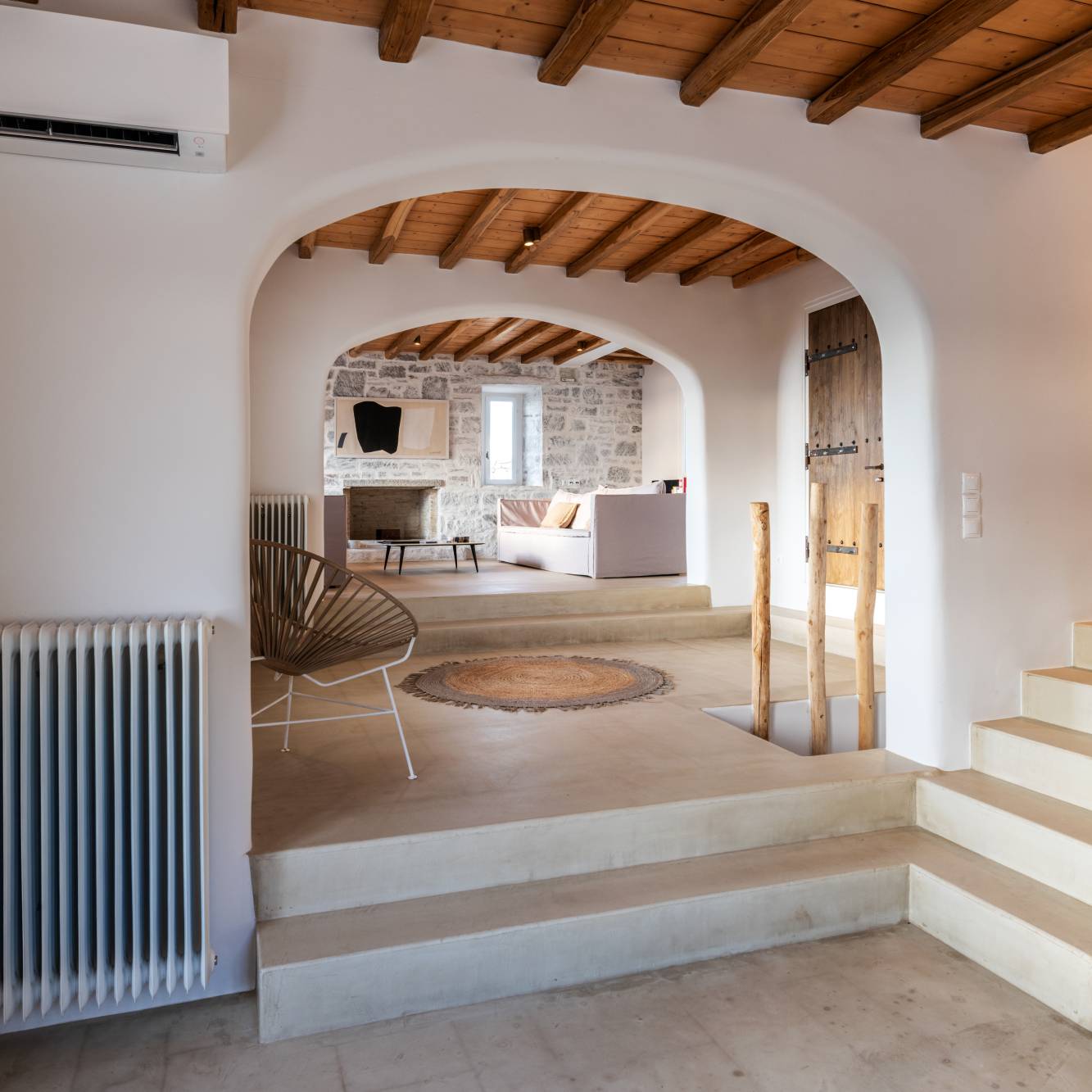 If you want to go traditional all the way, here's what you need to know. Whitewashed walls with lovely brilliant blue painted timber windows are typical of Greek homes. To create a sense of nature in the home, Greek flooring is covered with natural stone such as marble or limestone.
Coastal Bedroom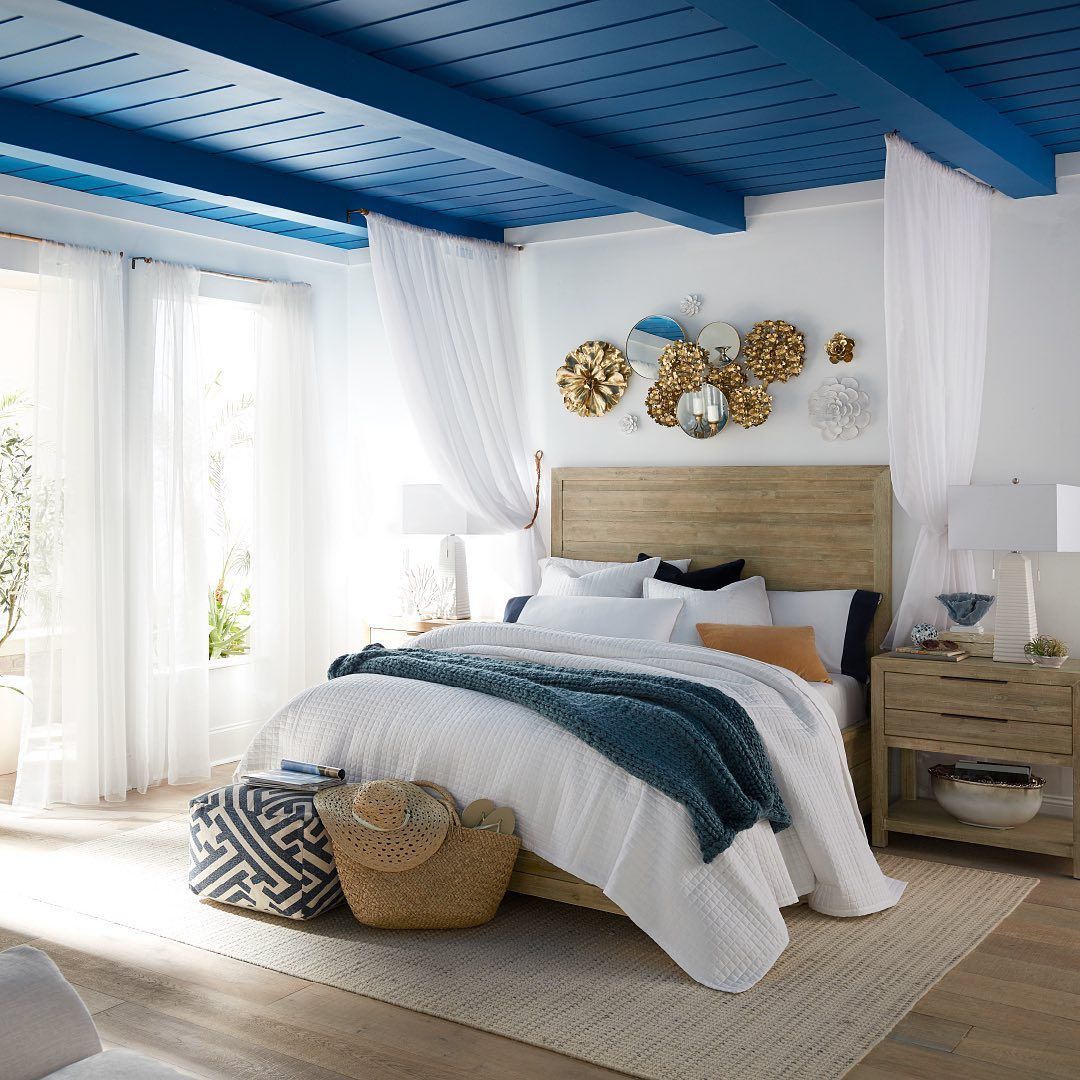 Your Greek-themed bedding should be based on coastal colors. Choose bedding that embodies all you imagine about seaside life when you have white walls. The above-mentioned coastal colors are ideal for use in your bedding. Blues, ranging from turquoise to sky blue, deep or navy blue, and a faint azure, are all lovely accent colors for your bedding and are the most usually used in a Greek theme.
Rustic Traditional Kitchen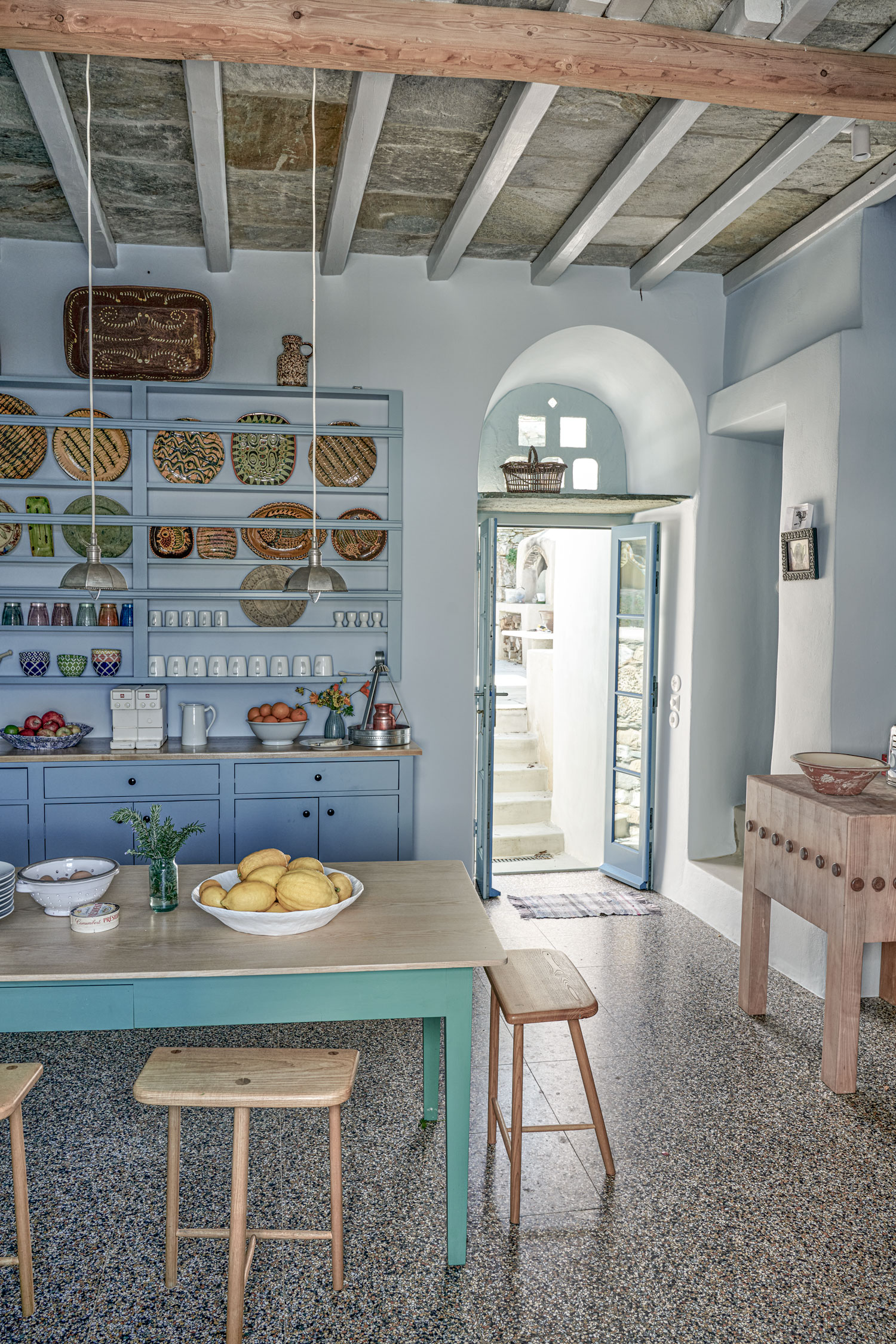 Greek cuisine is delicious. Greek kitchens could be even more so. The interior design is inspired by the scorching sun, idyllic beaches, and the endless blue sky. It's no surprise that today's Greek-style kitchens are growing increasingly popular and appealing.
Greek Patterns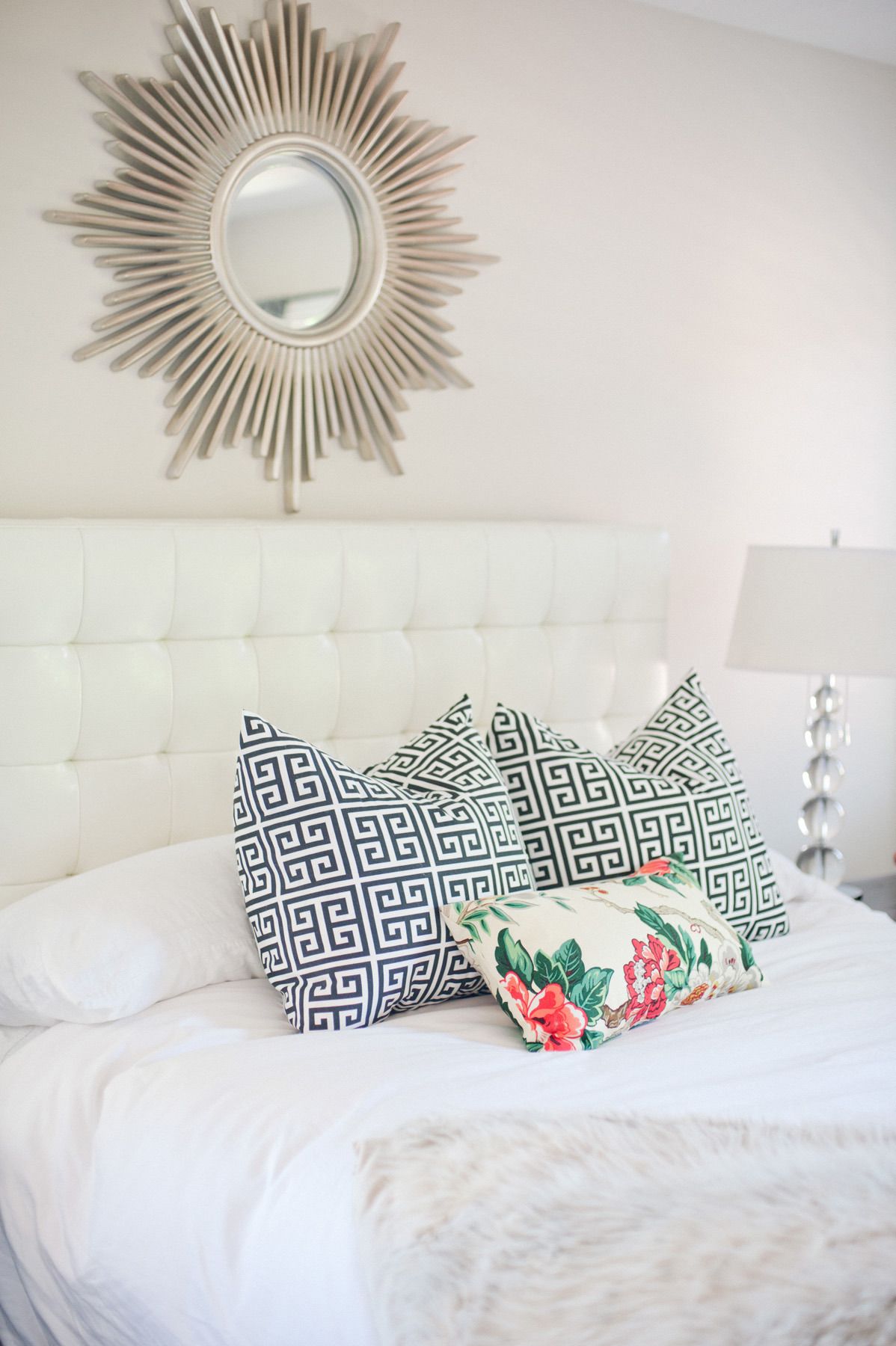 The white elements in the interior of the house can produce a strong Greek Mediterranean feel when combined with traditional greek patterns. Keep the walls plain white for the greek patterns to stand out.
Contemporary And Traditional Blend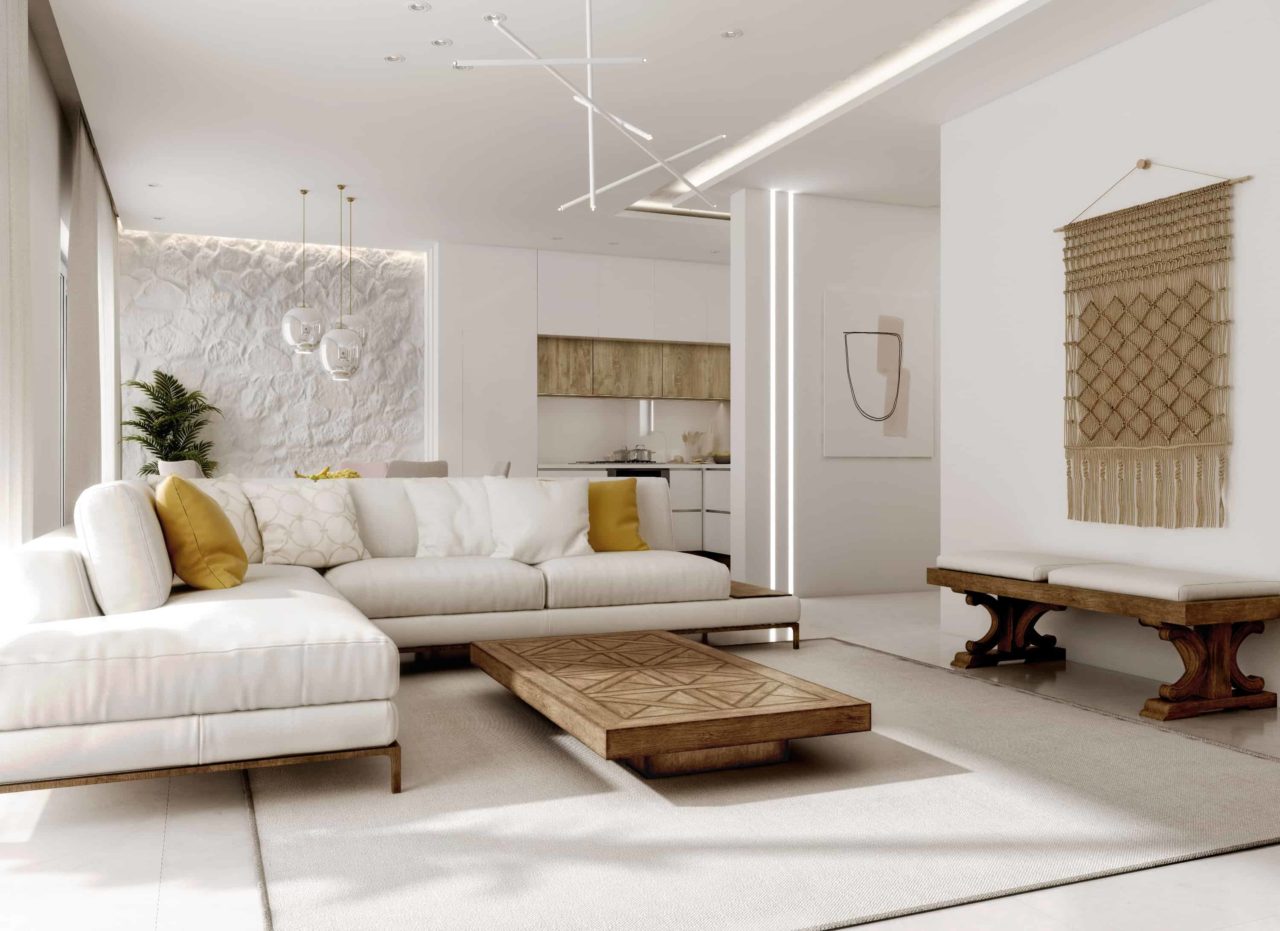 A key element when mixing greek style with contemporary is to create a true oasis of relaxation. We don't have the typical greek blue color here, but it still resembles a greek coastal look with the low coffee table and plain white plaster walls.
Natural Elements in the Bathroom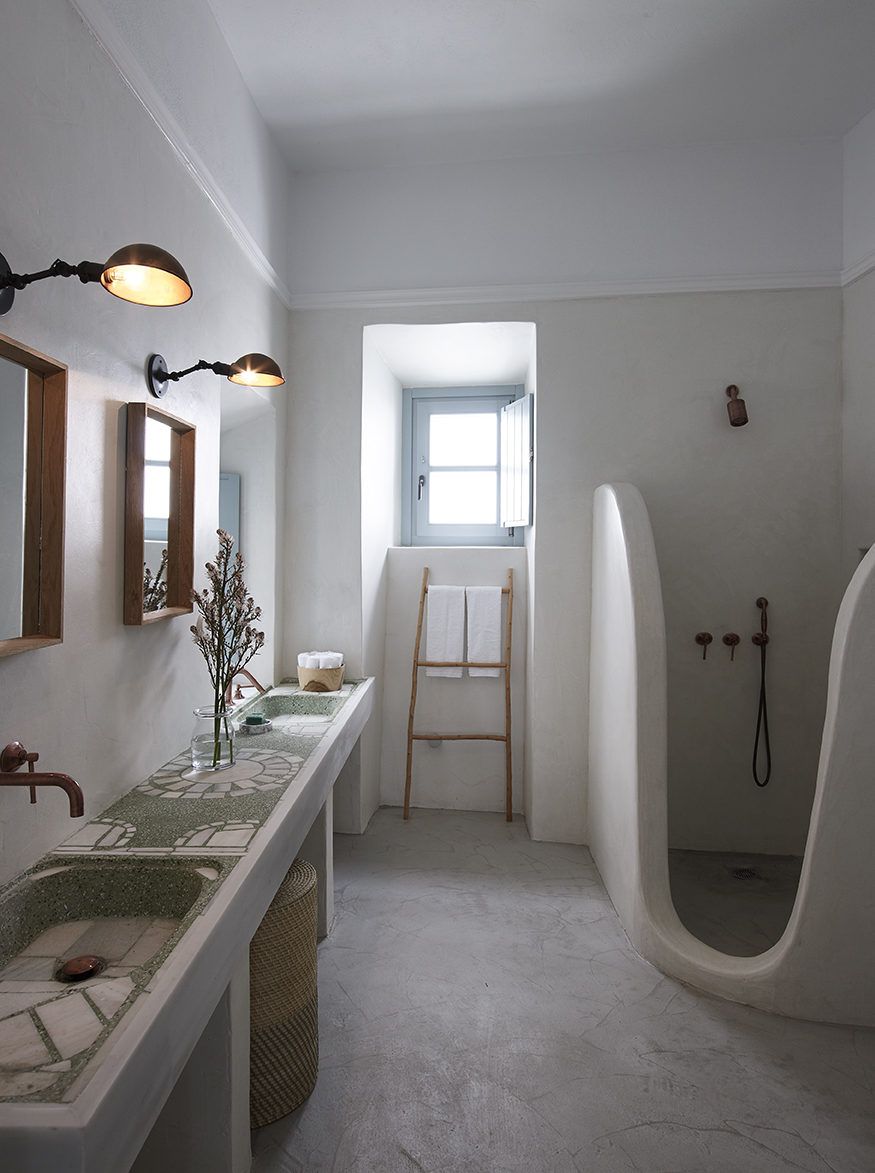 When it comes to the bathroom, it has to be designed from natural elements. Natural stone flooring, particularly marble or limestone, is used in traditional Greek interior decor to produce a warm, natural effect. What's eye-catching is the sink which is made of stone and the wooden mirror frames and elements. The whole design is very clean and minimalistic.
Mediterranean Dining Room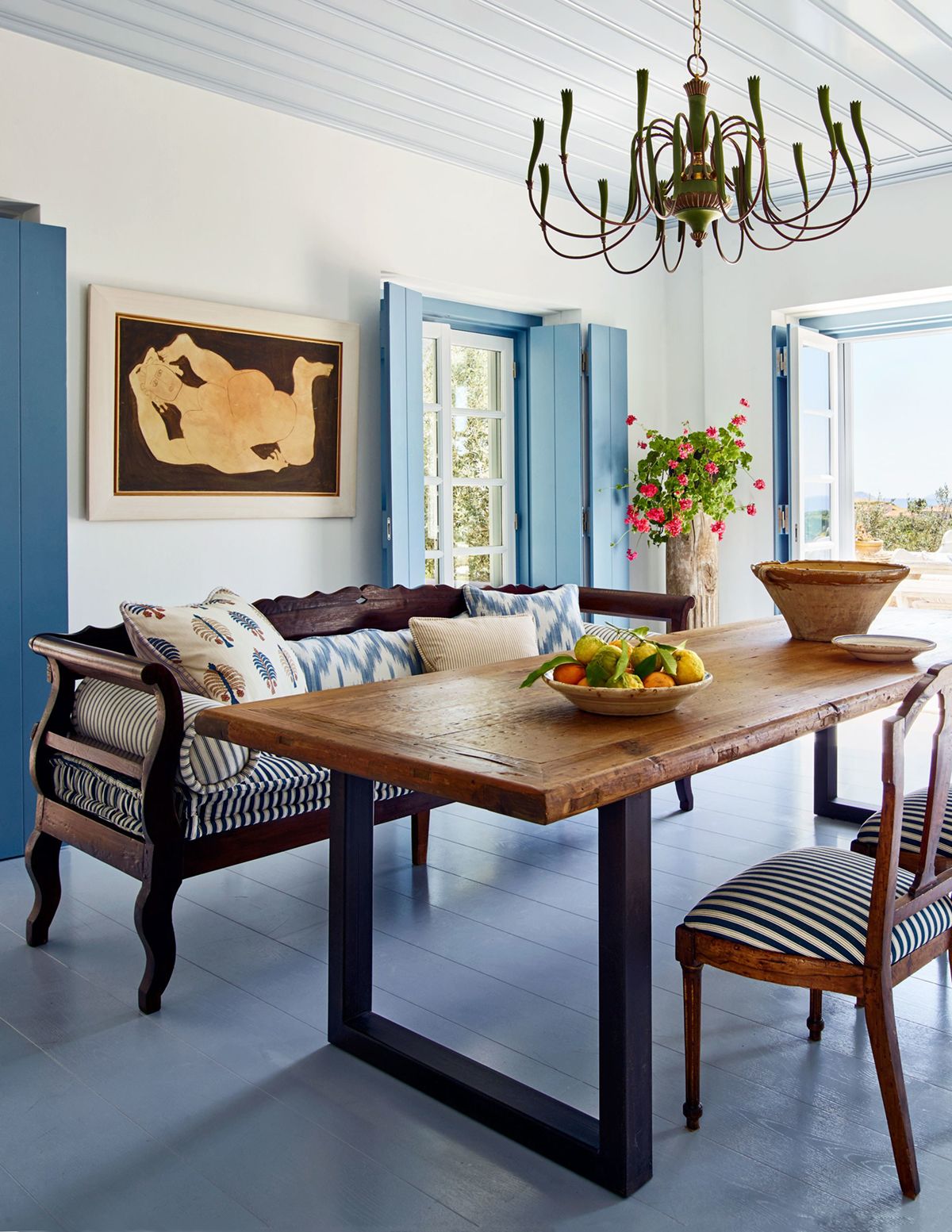 The white and blue combination here is present, but there is a darker note to contrast that. That is the wooden table and chairs. Since they're made from natural materials, it fits perfectly. The floor is wooden as well but painted in blue that perfectly fits with the rest of the room.
Coastal Balcony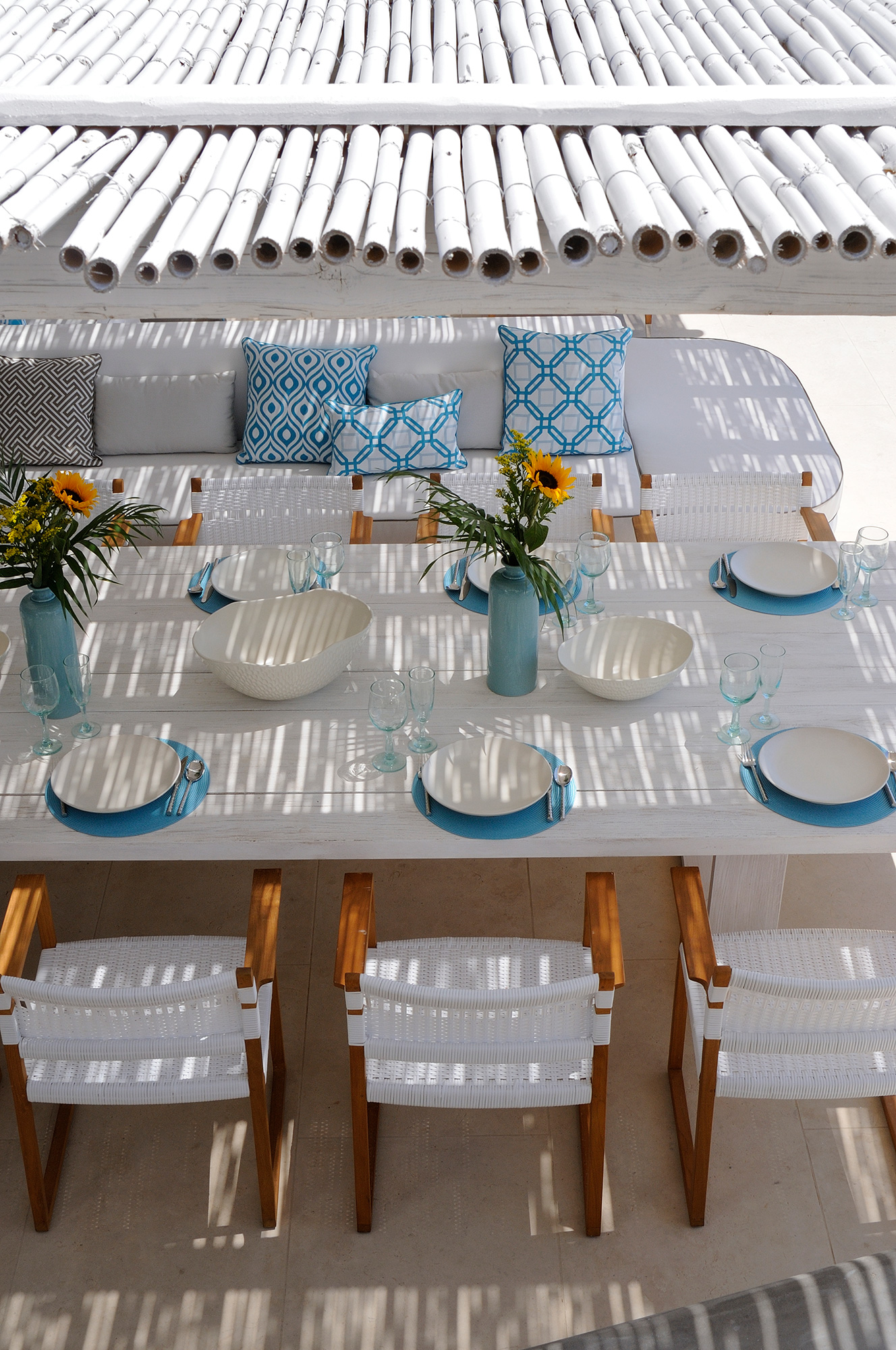 Since we talk about the Greek style of interior, we must include the balcony as well because the balcony is a must for every traditional Greek house. You have to enjoy the landscape. With a few tweaks and updates, you can easily bring the ambiance of the Greek islands into your home. This isn't just about blue and white. Let's broaden our color palette because Greece is a bright, colorful country. Choose brightly colored chairs and tables, such as orange or red, to make a strong statement.
Stairway To Mediterranean Paradise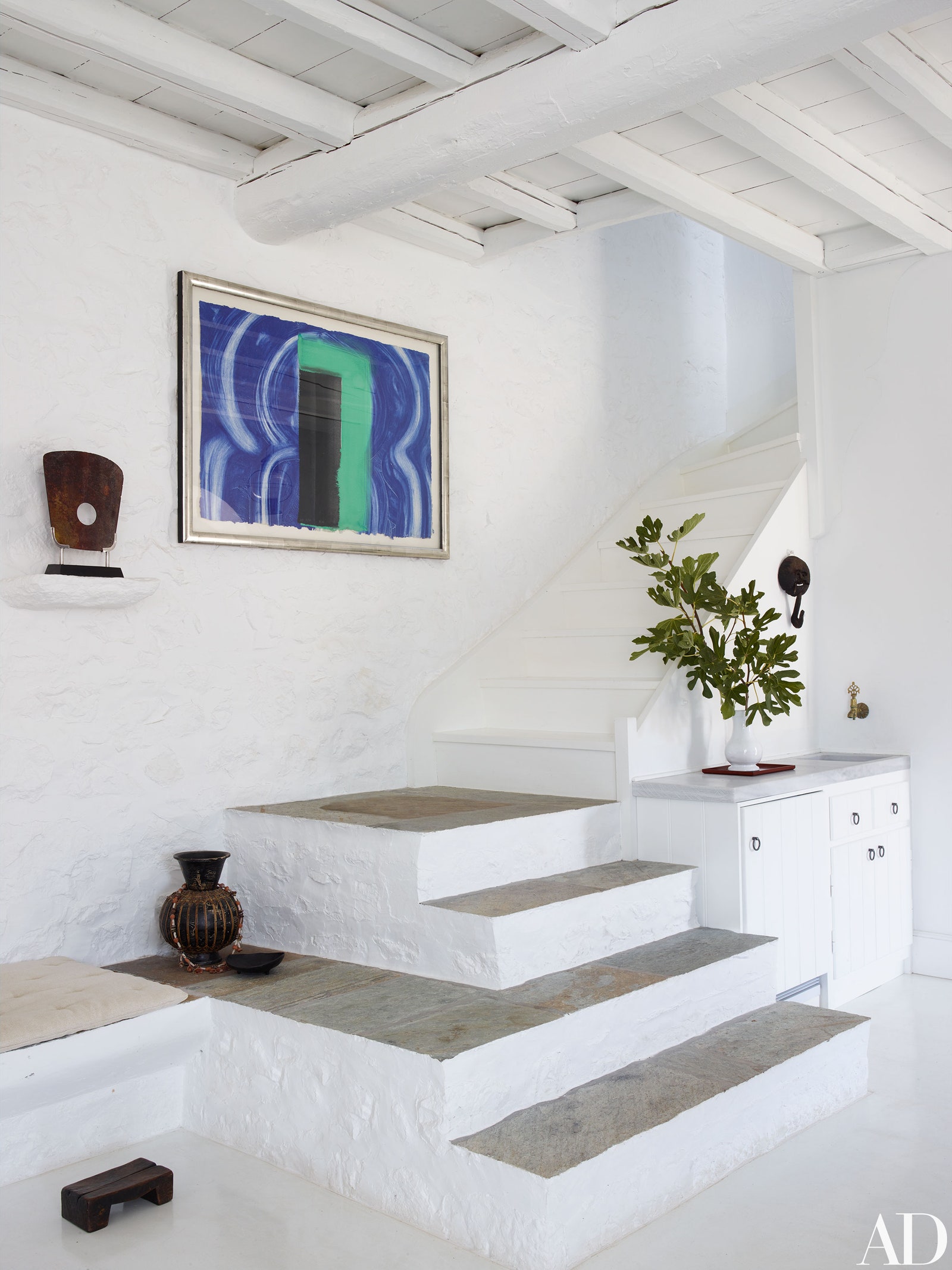 We shouldn't leave out the stairs too. Why are stairs important? Staircases were an important part of the Greek temples. They were carved out of larger blocks. Stairs illustrate the power of the physical connection with the upper world. They were present in every temple in Greece, even the smallest of them. Greek staircases were beautiful and functional, so it's important to incorporate these two components into your home. But it's easier than it sounds, keep them plain white and simple.
Subtle Greek Style Features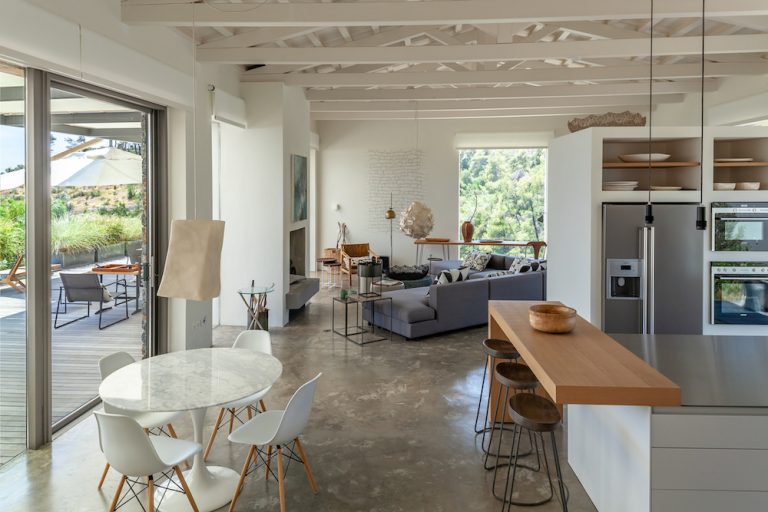 If you don't want your home to scream Greek interior, what you need is to subtly incorporate Greek interior style features. This design is a perfect example of that. At first glance, you can feel the warm Mediterranean atmosphere, but it's not so obvious why. The plain white walls are here, as well as the beamed ceiling. There's natural stone flooring, in this case, marble, which is used extensively in Greek design. However, the rest of the interior, the furnishings, for example, are modern but fit perfectly with the rest.
Greek Revival Bathroom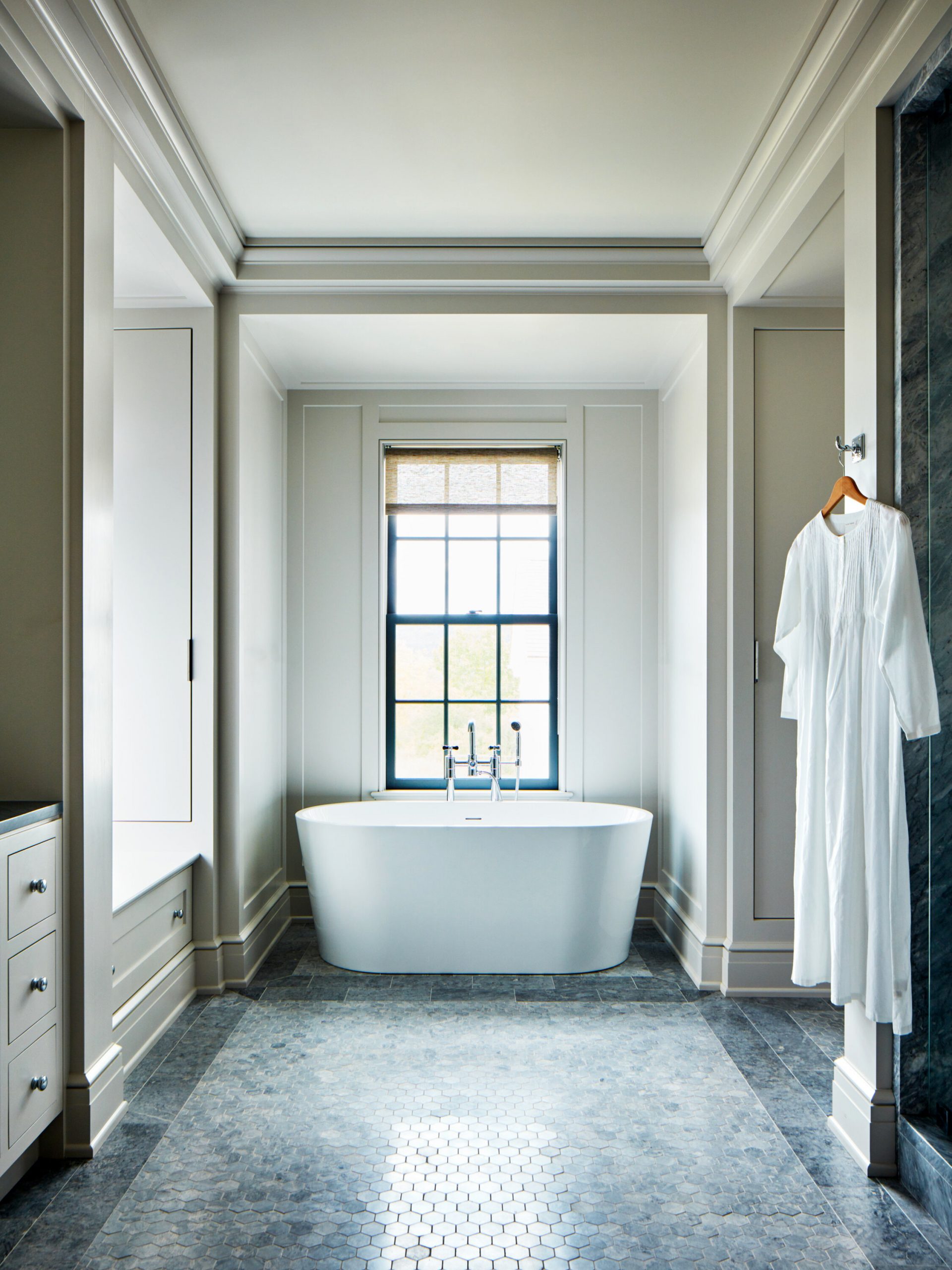 Let's get back to the Greek Revival. Greek Revival is a great style for those who live in places with colder weather, so the summery look of Greece interior is not that suitable all the time. We included the classic greek bathroom and now we have a bathroom in the Greek Revival style. The floor is made of octagon tiles in a mosaic style that looks like marble. The walls resemble the temple walls patterns. The colors still resemble the greek style interior, white and blue.
Greek Revival Bedroom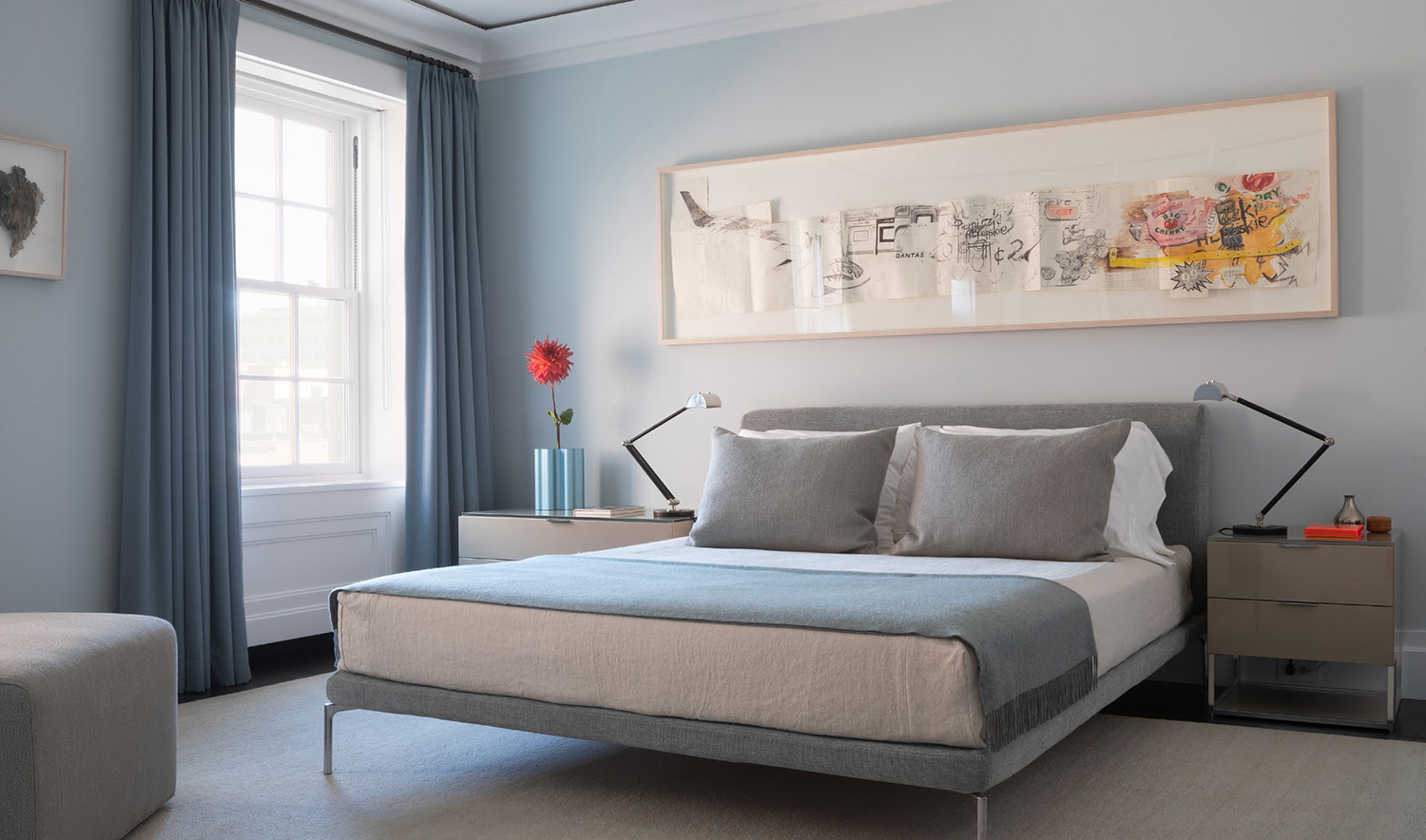 This is a perfect combination of Greek Revival and modern. The warm colors of Greece are present, there's freshness in the room, yet we have the Greek revival elements: enormous windows and draperies, enormous king-size bed, and moldings.
Luxury Greek Revival Living Room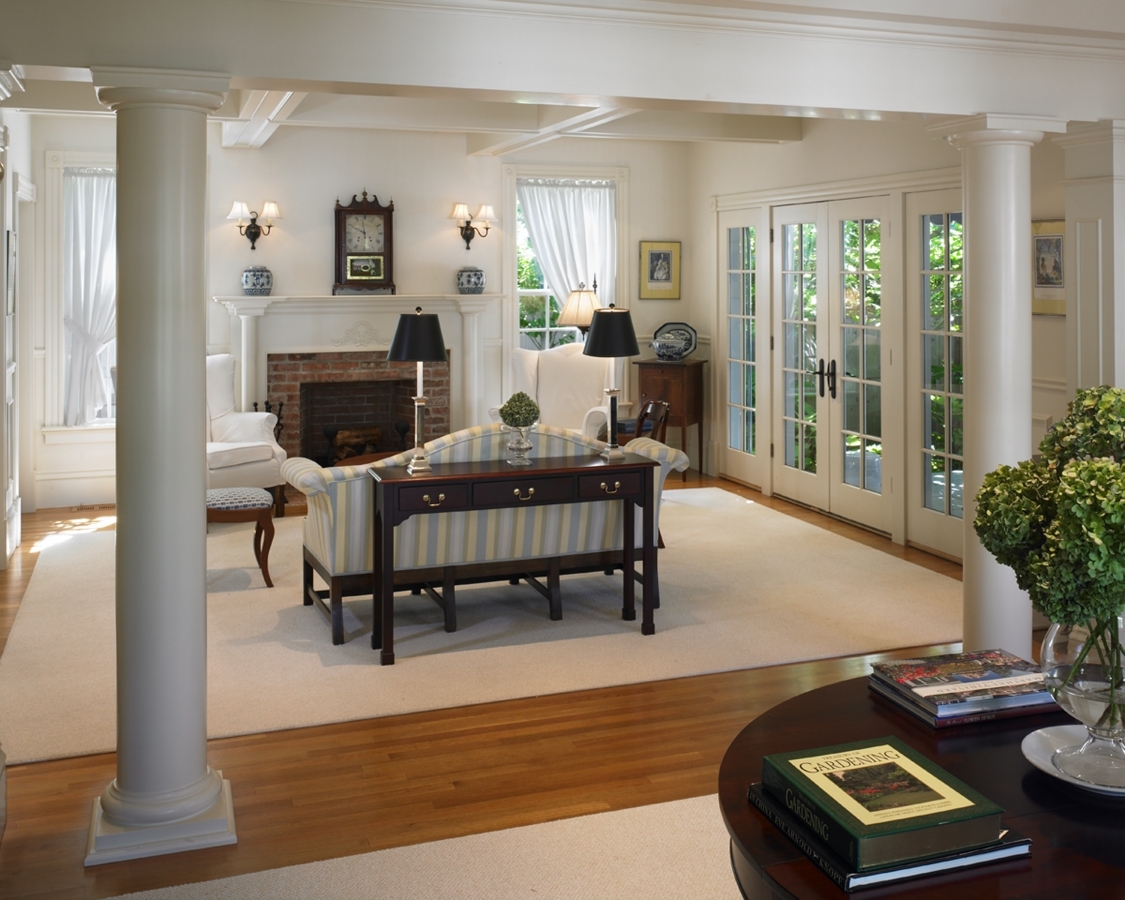 In Greek Revival much is about luxury and since this style originates from the Victorian 19 century where people were all about lavish and highly decorated homes, this is more or less present here as well. However, it's all about balance and overdoing it so it will look modern as well.
Historic Greek Revival Kitchen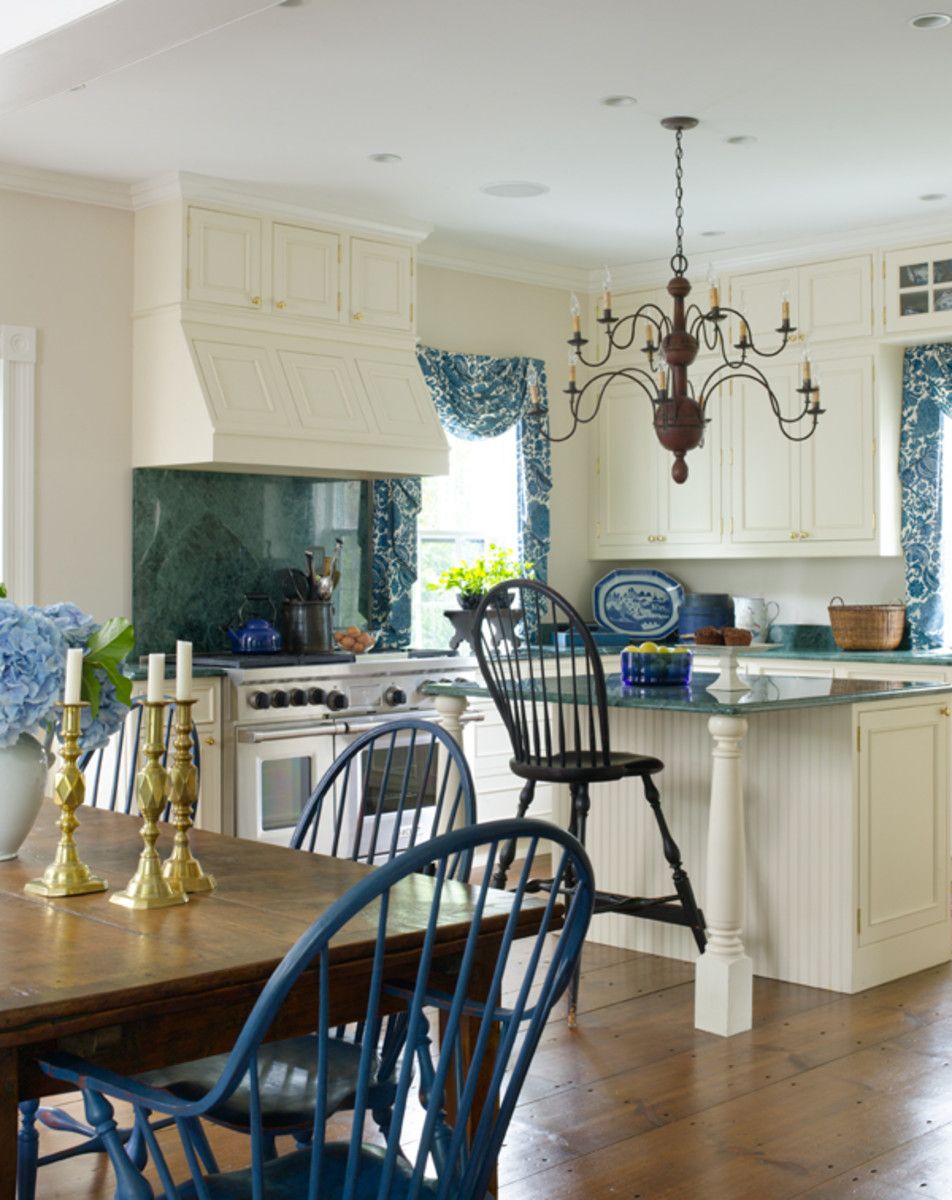 Here's a typical Greek revival style kitchen that is reminiscent of the farmhouse style, because still, this Greek revival style used to be favored by people from the suburbs and rural areas. It's lavish, with simple colors, yet the patterns and structures are elaborate.
Whether you like the warm summer colors of Greece in your home or favor the American Greek Revival style, we have covered all the basics you need for starting these interior design styles. I hope you enjoyed it and are inspired to start designing and decorating. Feel free to share your thoughts and ideas and tell us which style you chose.