What comes to mind when you hear about coastal design? Something connected with the sea and the beach maybe? Then, what about nautical design and beachy design? Pretty much the same, right? Well, you're not completely wrong. All three designs draw inspiration from the surf, sand, and sky, often getting mixed up or thinking that they are the same. This comes as no surprise since there is a thin line of differences between them, but once you figure out what those are, you'll easily be able to distinguish each design style.
The coastal design is meant to simulate the airy, breezy feeling of the beach and ocean inside your home, utilizing color hues from the sand and surf, meaning sandy browns and orange, hues of blue, green, and gray. The key is to bring that feeling of peace and fun from the coast to your home and keep it there all year round. The coastal design is not as blatantly obvious as decorating with seashells, driftwood, jute rope, sailing motives, or anything along those lines. The coastal style is more subtle than that, bringing the beach to your home via using different textures and materials, and subtle colors.
To achieve the coastal design in your home, always keep in mind that the area should invoke the feeling of airy and open space of the beach and ocean. You don't want to clutter the room with a lot of furniture or decor pieces, rather, use different materials and colors to decorate and achieve the desired effect. We already mentioned the color scheme you need to use, and as for the most often used materials in coastal designs, look for rattan, light oak, weathered wood, jute, seagrass, and simple, non-shiny fabrics.
With that in mind, let's start with some coastal design examples for decorating every room in your home.
Serene Aqua Living Room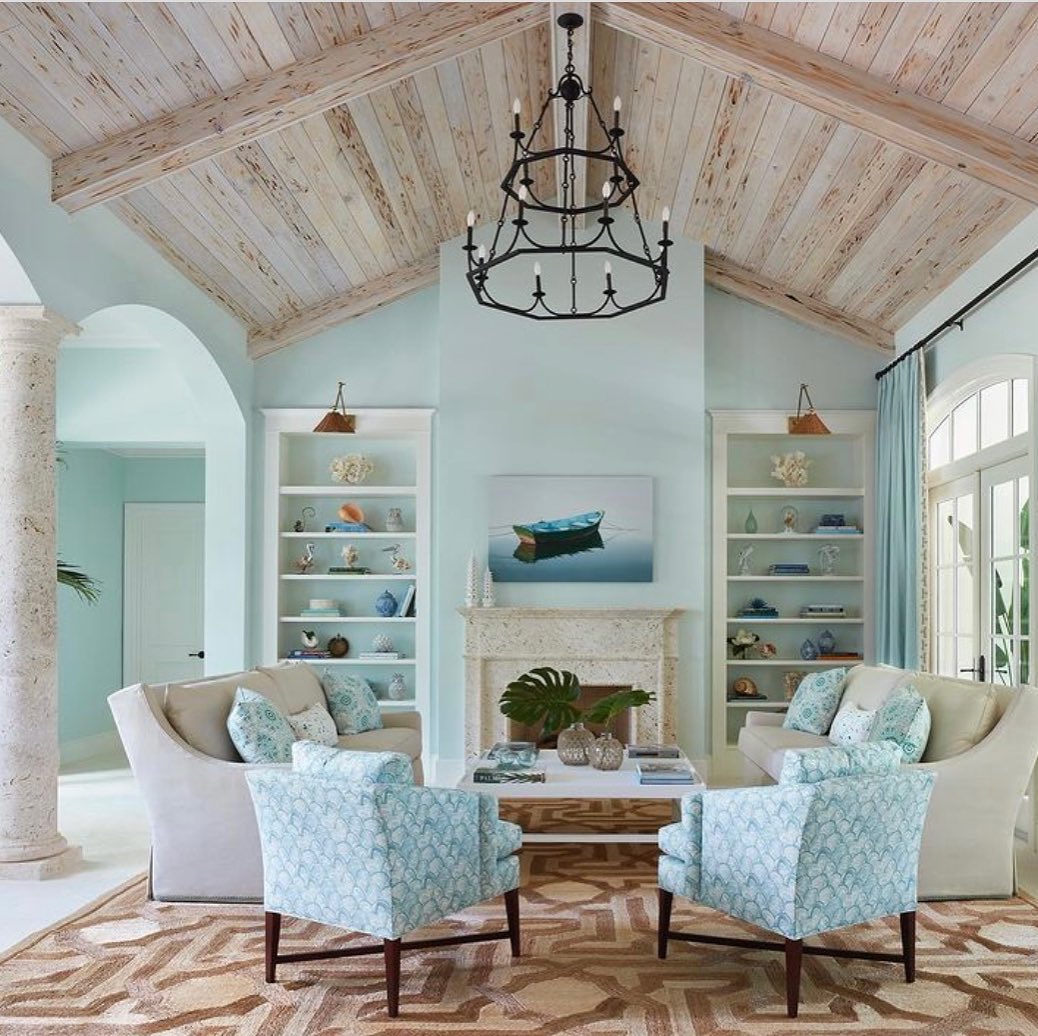 Soft beige colors on the sofas, with darker browns on the rug that represent the sand and patterns of turquoise and aquamarine on the furniture, with a pale aqua on the walls and curtains for the ocean. You can feel serenity through the picture, and that is exactly what the coastal design is all about.
Dark Blues And White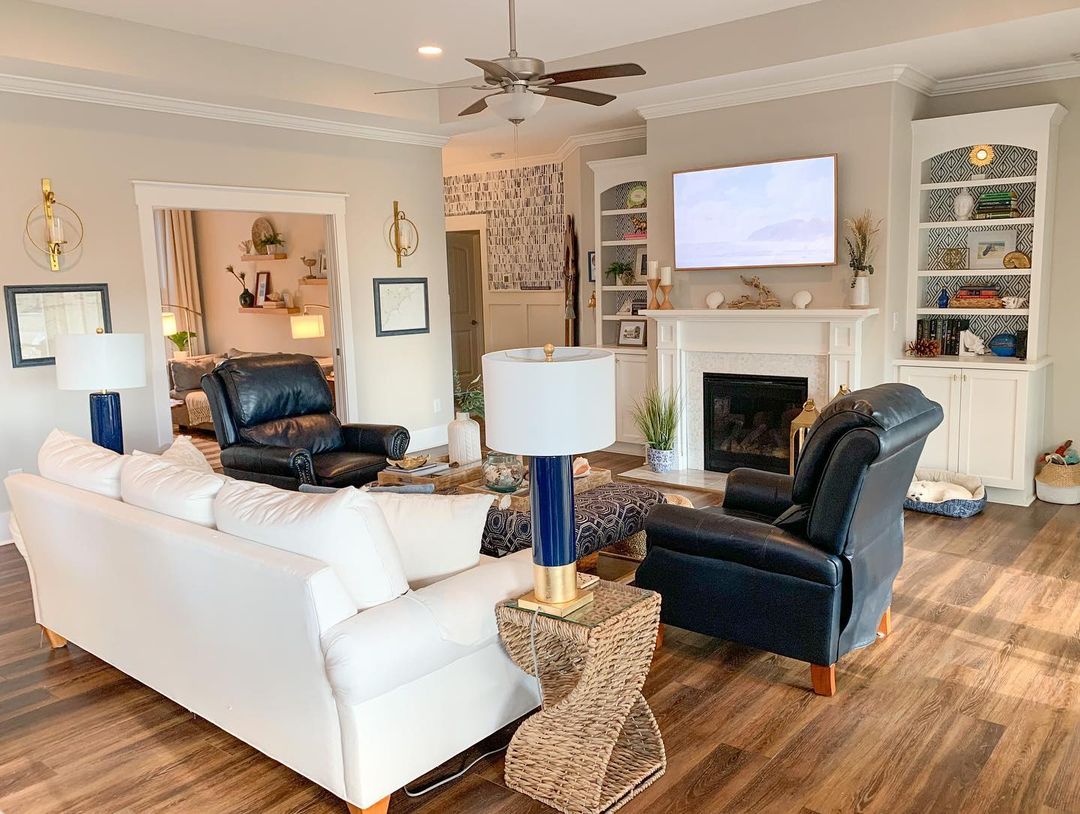 Keeping an airy feel to the home is something to pay attention to if you decide on using darker colors. Always keep that balance. Navy blue armchairs and ottoman, with similar pattern behind the shelves, get balanced out with the space of the room, the white sofa and white walls, as well as the nice wicker end table.
Cozy Dining Booth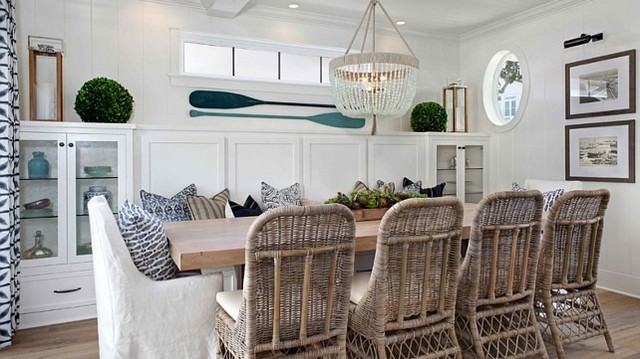 It is important to keep the free flow of the space, and dining boots might seem to crowd for some to fit into this criteria. Think ships or beach bars. See the connection? You can use rattan chairs and light colors to make the space feel more open.
Blue Bathroom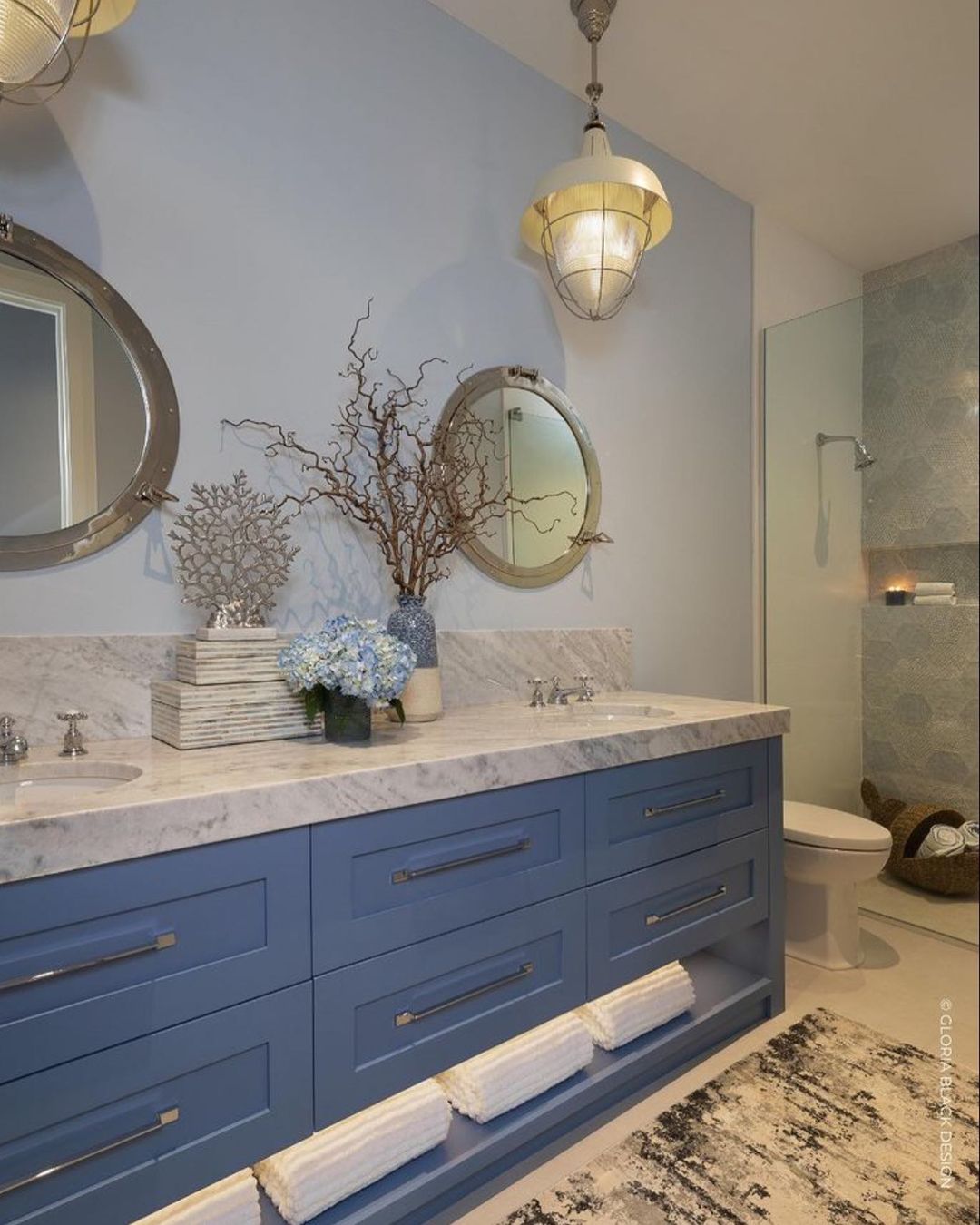 Just designing the bathroom in blue colors won't necessarily make it coastal decor. The dark blue drawers remind you of the sea while the marble countertops are like the seafoam hitting the beach, while the baby blue walls are the sky on the horizon. That's the beauty of the coastal subtleties.
Bluish-Gray Kitchen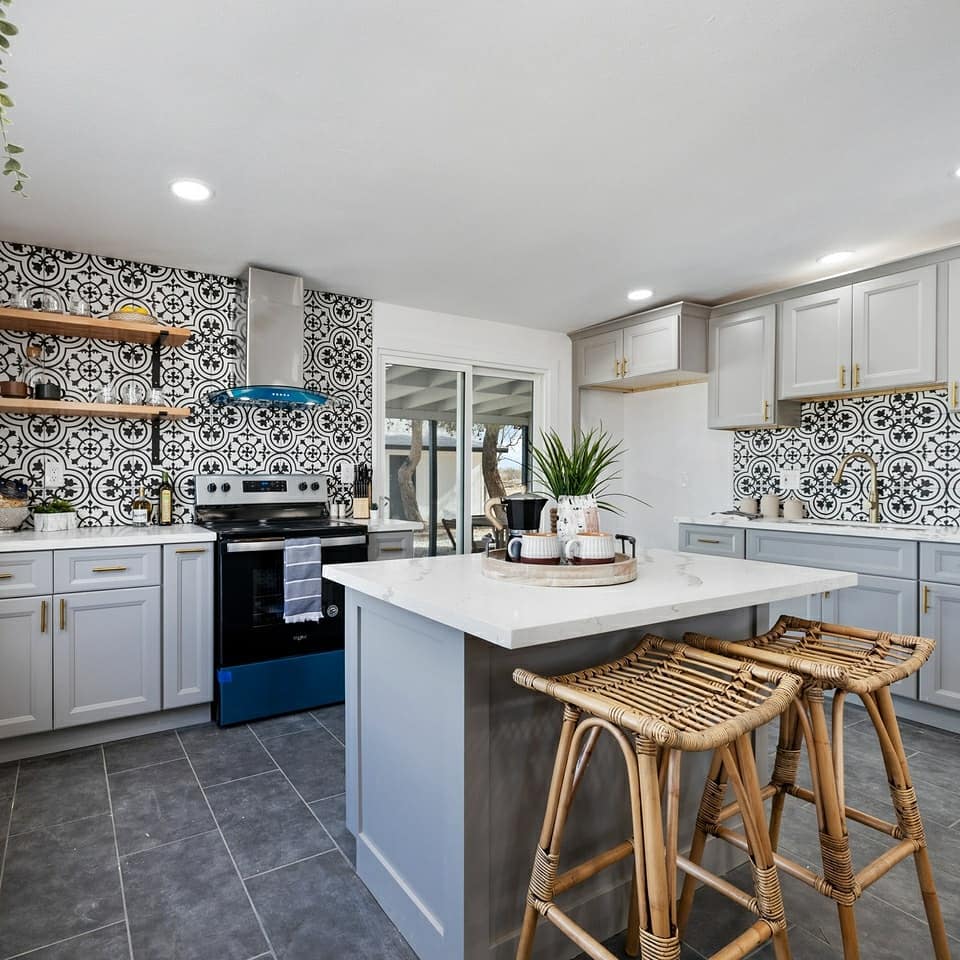 The beach is not always clear skies and calm waters, but there's still beauty in the beach even if there are some gray clouds around. So shades of gray are an acceptable choice in the coastal design color palette, and it does feel like an appropriate color choice for the hustle and bustle of the kitchen. White countertops, rattan chairs, and some pretty patterned tiles complete the coastal look.
Little Nook of the Ocean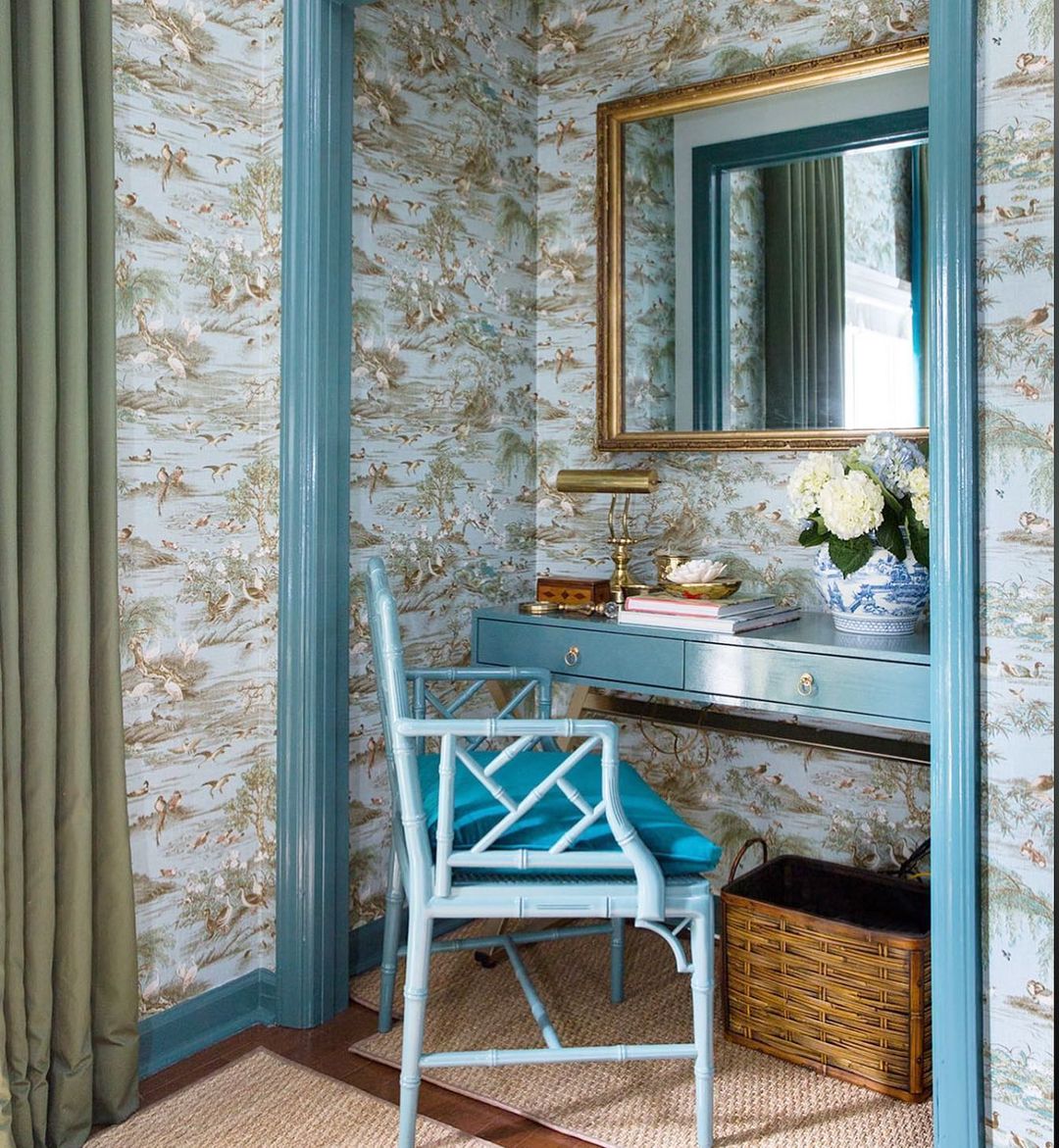 Your private nook or home office should be a place where you feel most at ease, o you can either relax or get more productive. A coastal decor for this area can be done, with a nice, painted bamboo or rattan chair, a small wooden desk with drawers, painted or natural, and some nice wallpaper that will bring out some positive vibes. And for separating your little piece of the coastal feel from the rest of the home, a nice, soft green curtain will do the trick.
Snug Relaxing Daybed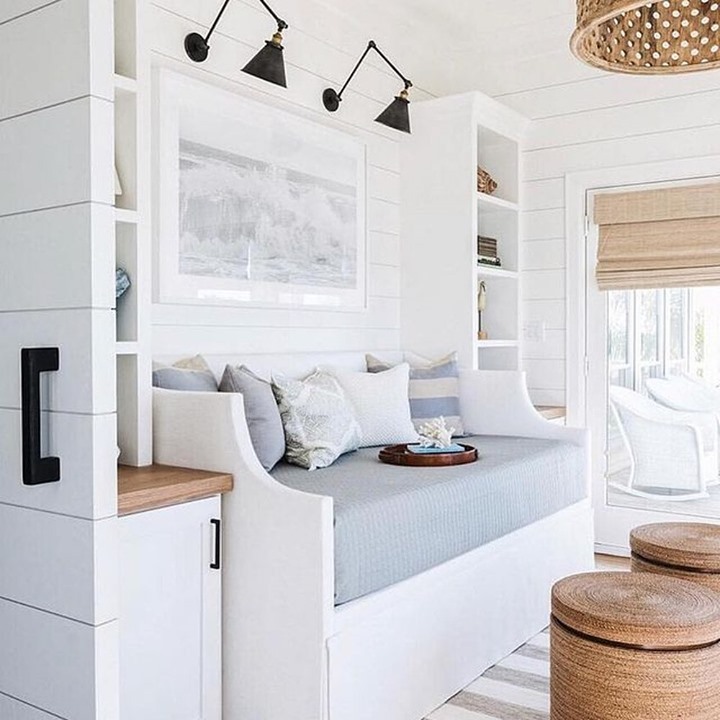 Coastal decor is perfect for creating a relaxing nook in your home. The soft, crisp tones add a calming feature to the small space, created by a comfortable daybed with shelving units on the sides and some jute footstools to stretch out your legs.
Coastal Bunk Beds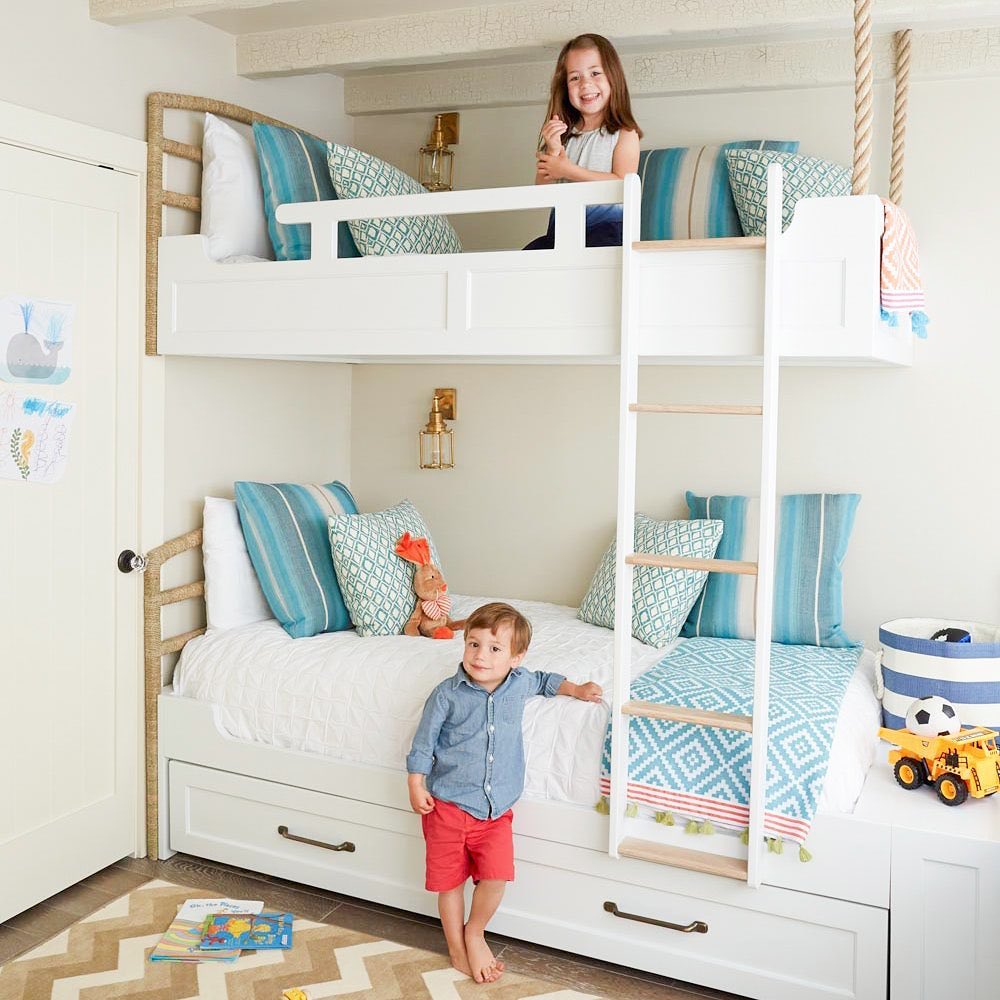 Give your children a place where they can dream of adventuring across the seven seas with an adorable coastal kid's room decor. They'll feel cheerful in a light, airy room, with soft, calming colors, and what child wouldn't want to slip on a ships' bunk bed. Small details like some jute rope, small vintage lanterns, and decorative pillows can turn your ordinary bunk beds into perfect sleeping quarters in a ship.
Beach-like Living Room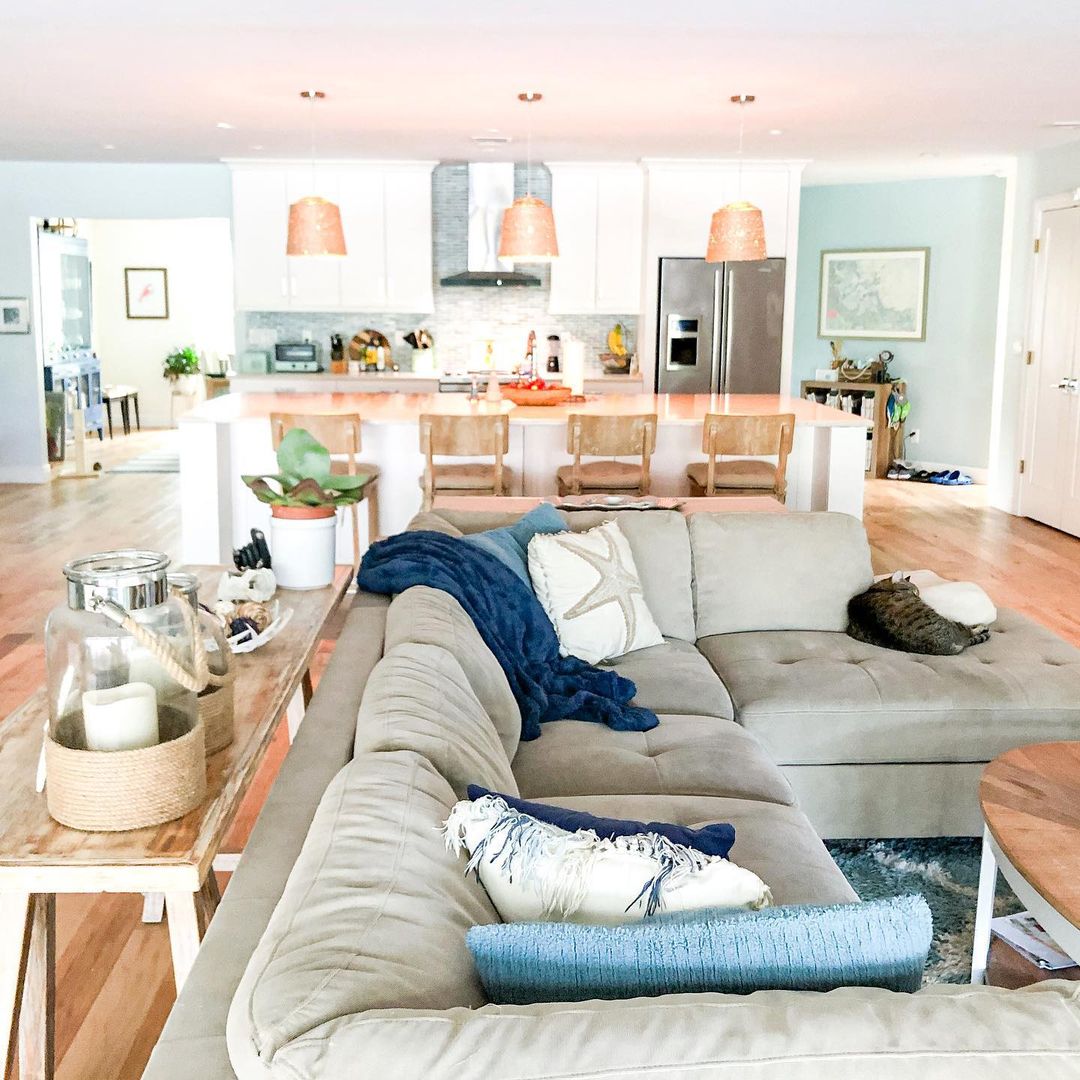 Talking about a perfect example of coastal decor, this would be it. It incorporates all the elements, from materials, colors, and texture, expanding throughout the entire level of the home, from the living room to the kitchen and dining room.
Warm Wooden And Dark Cyan Island Kitchen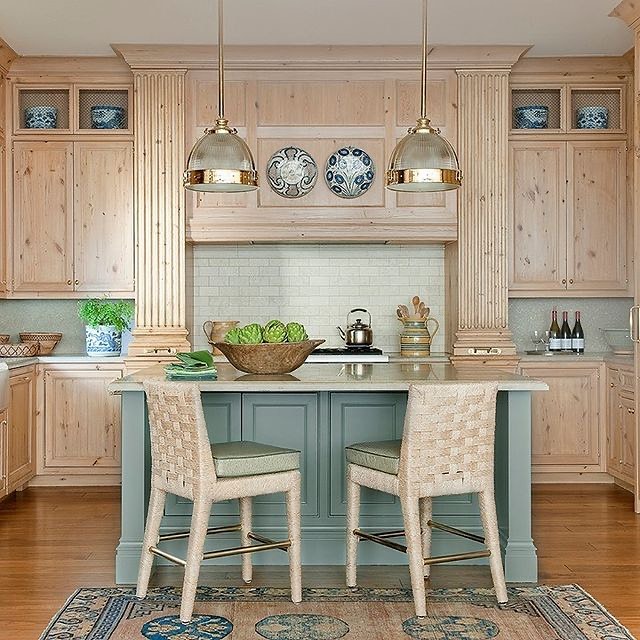 Cyan evokes a calming, relaxing feeling, like swimming in a tropical lagoon, making it a perfect choice for coastal decor. The soft bluish-green color represents the ocean and flora of the coast, while the wooden cabinets and rattan chairs are reminiscent of the beach sand.
Small Bungalow Bathroom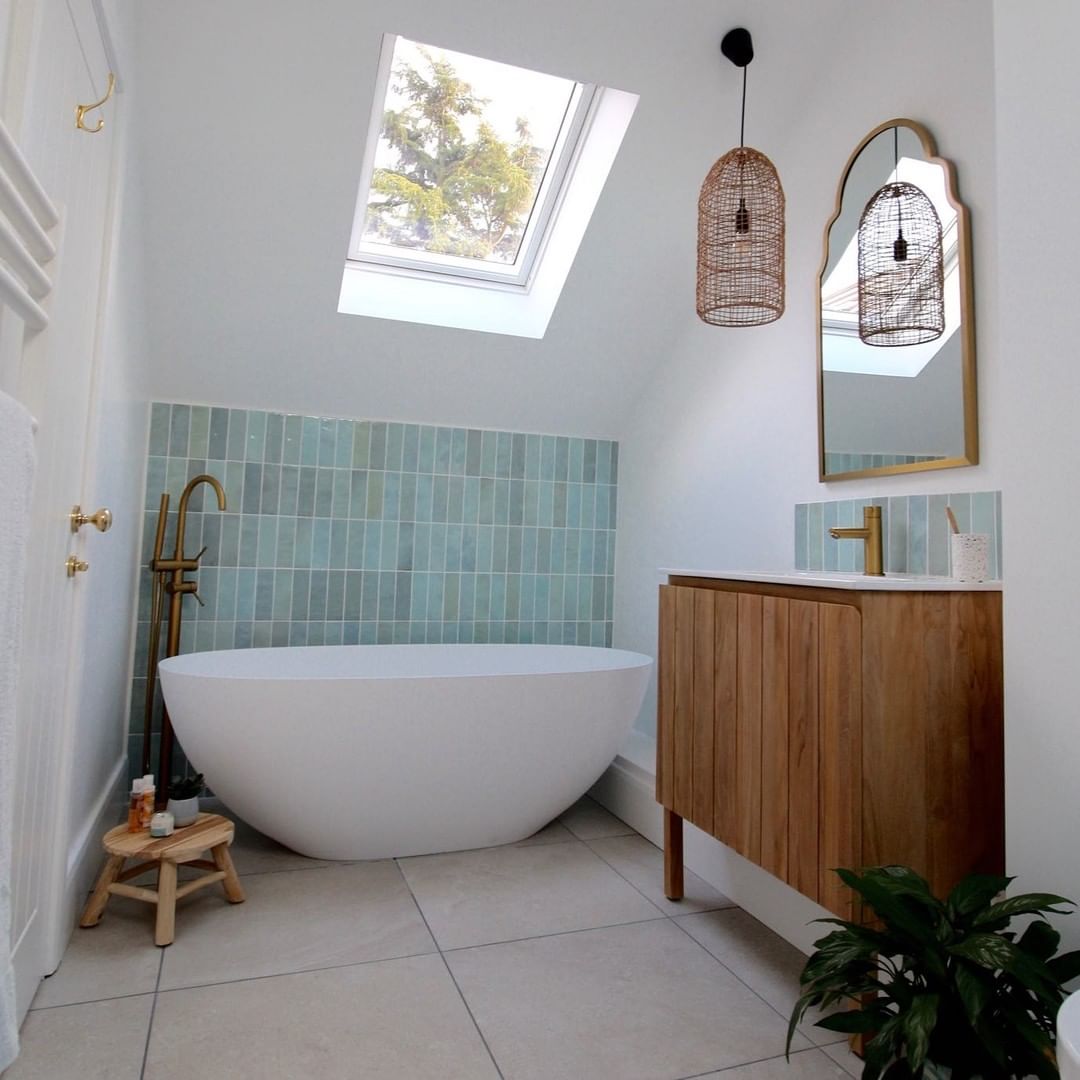 You don't always have to have a large open space to achieve the feeling of the coastal design. With the right pieces, even small bathrooms can feel like you're on the beach. Oval tub to keep that flowing feeling of the sea, some natural wood cabinet, and mosaic of greenish-blue tiles to tie the design together.
Small Touches, Big Difference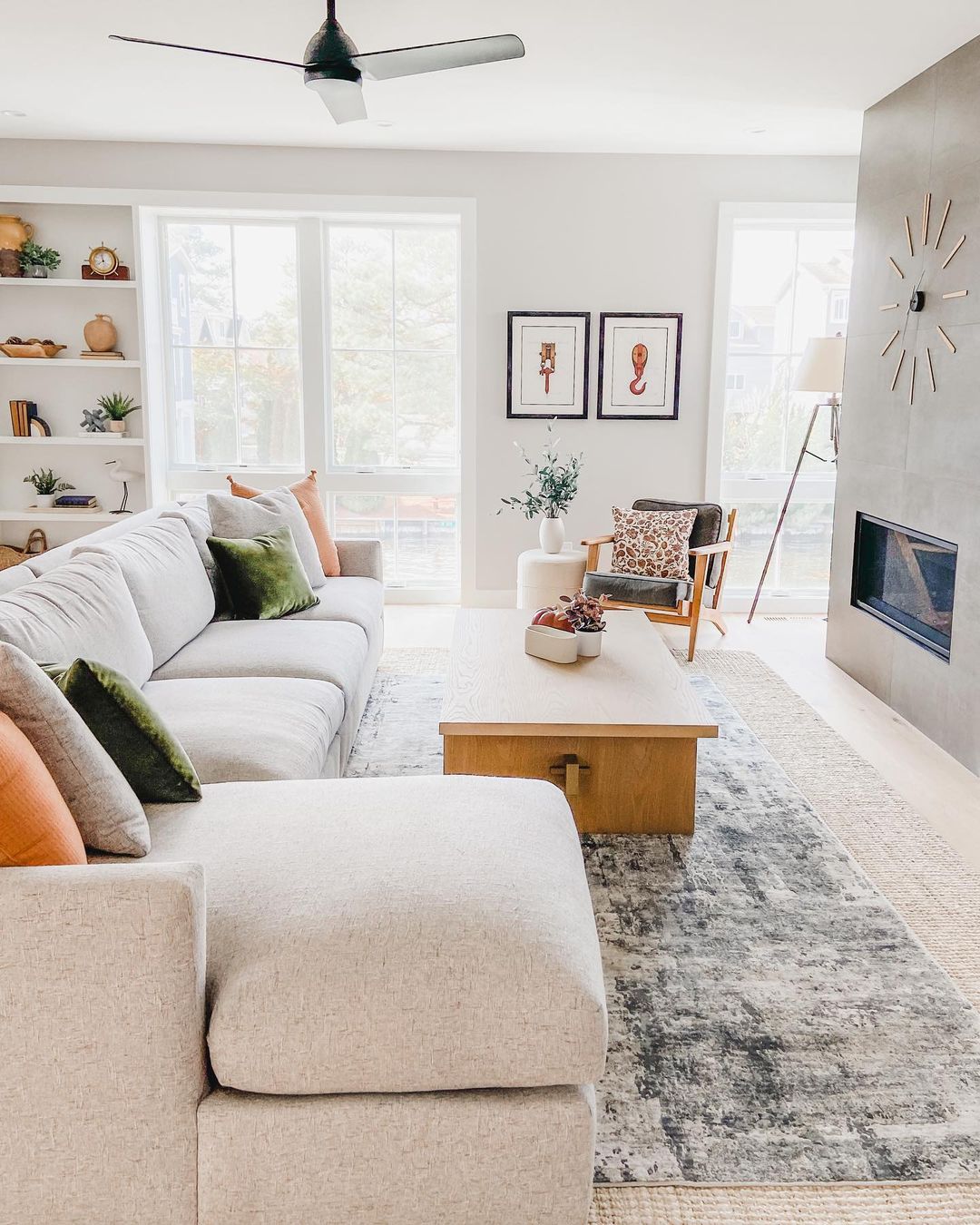 you don't have to change your entire furniture for creating a coastal look in your home. A few key pieces will do just fine. Some green, brown, and orange throw pillows, some rattan decor pieces maybe, and a cute rug, like this one with a blue and white splatter pattern that looks a lot like waves crashing on the coats.
Breezy Blue And White Bedroom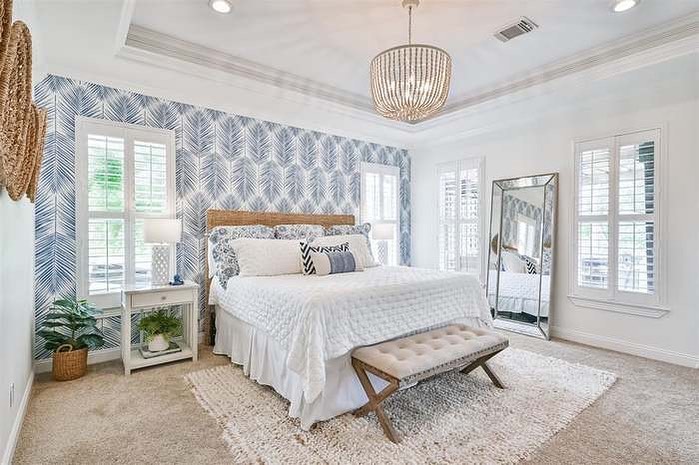 Less is more is a fine principle to use when decorating the bedroom as well. You don't need many decor pieces in here. A rustic end-of-bed bench perhaps, a full-length mirror to open up the space, some lovely white bedding with decorative blue throw pillows, a sandy shaggy rug, and some pretty decor on the walls, like this feathery blue pattern.
Surf And Sky Living Room And Kitchen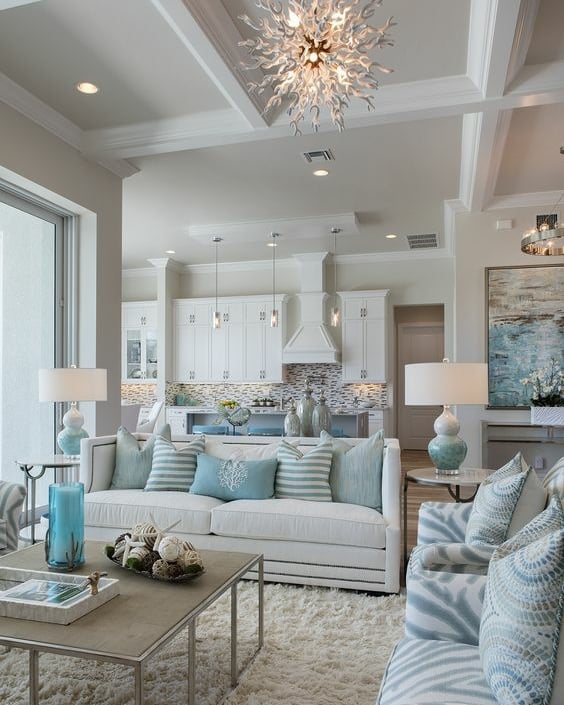 You're not forbidden to use marine or beach elements like seashells, corals, or even anchors to accentuate your coastal decor. After all, these design styles are inspired by the same theme. You also don't need to add all the elements we mentioned so far, as long as you achieve the freeing feeling of the beach. Choosing pieces in shades of blue with small touches of cream or woo is still in line with the coastal decor.
Calming Sitting Area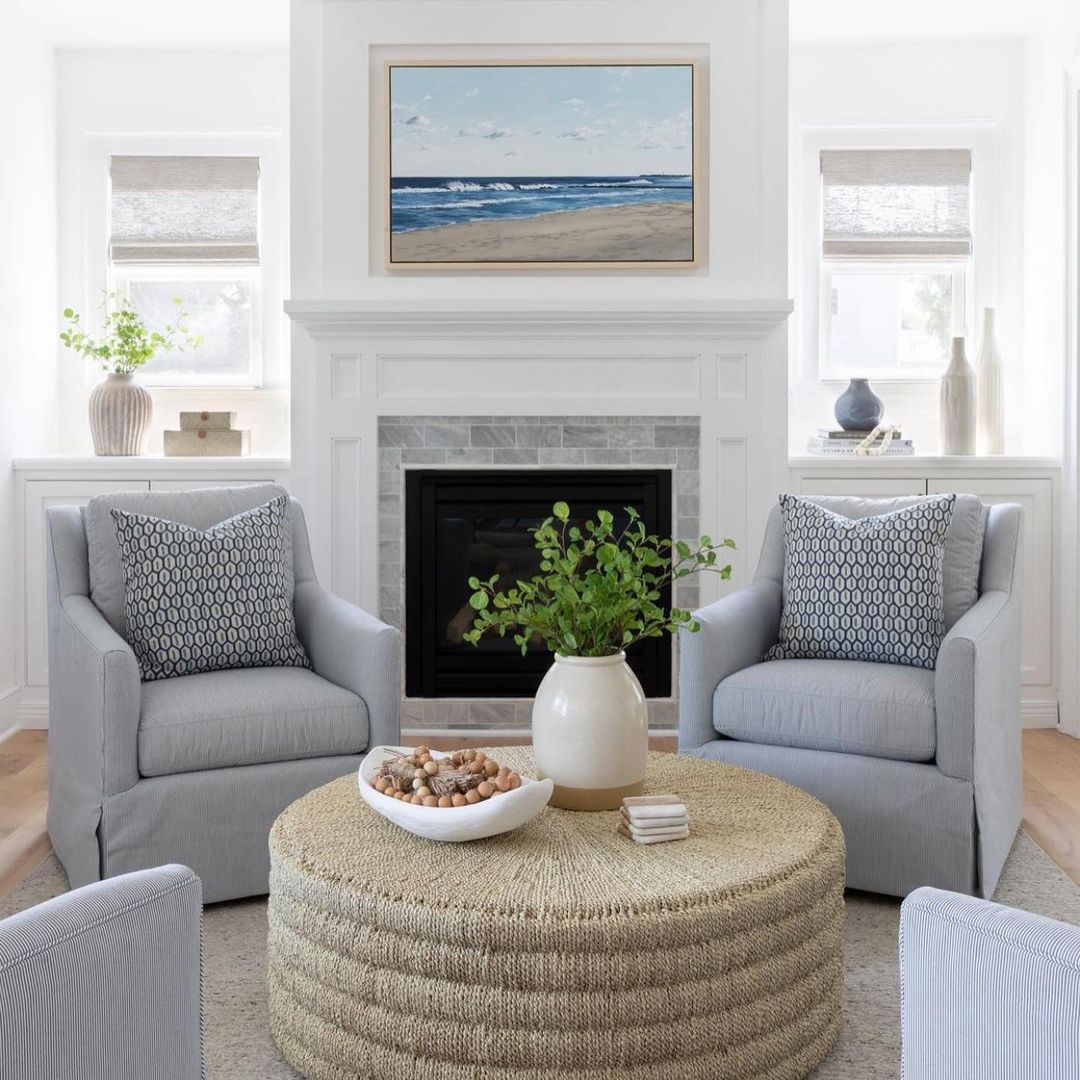 When staying on the beach at night, a bonfire is a must. While you can't light a fire at home, you can consider making a little coastal area around a fireplace, if you have one. Enjoying some downtime in some comfortable striped armchairs and a jute ottoman table next to a crackling fireplace is just as good, if not better than the beach bonfire.
All Aboard The Dining Area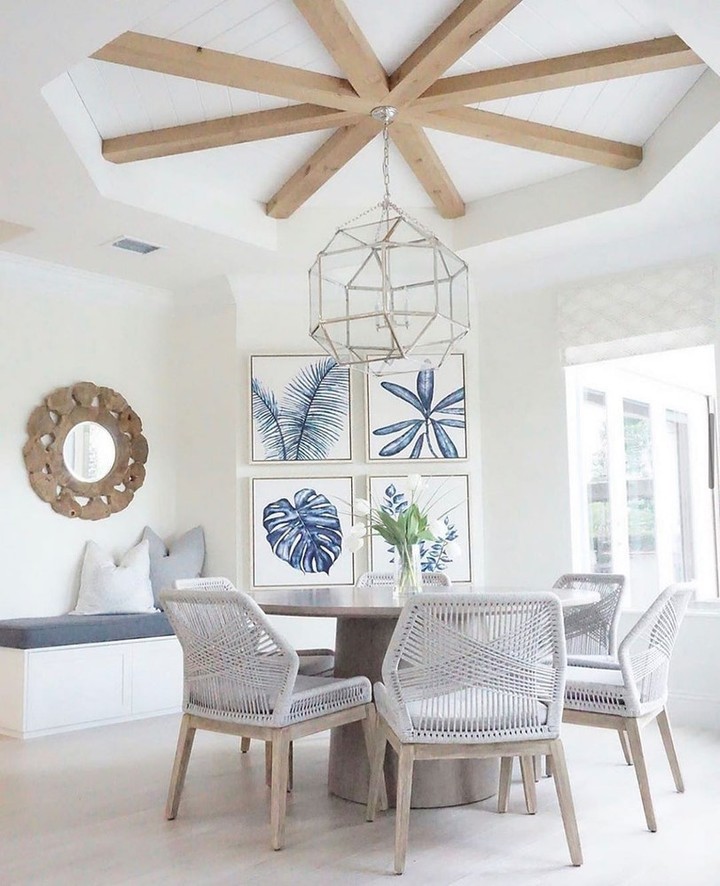 Ships and boats are a part of the sea, so you can find elements of them in some of these coastal decor designs. Like this lovely dining room, with a ceiling niche adorned with crisscrossed beams from reclaimed wood, towering above a delightful modern table with light gray chairs with wicker backrests. It is an eye-catching design that can become the centerpiece of your home.
The Beach Bar Experience At Home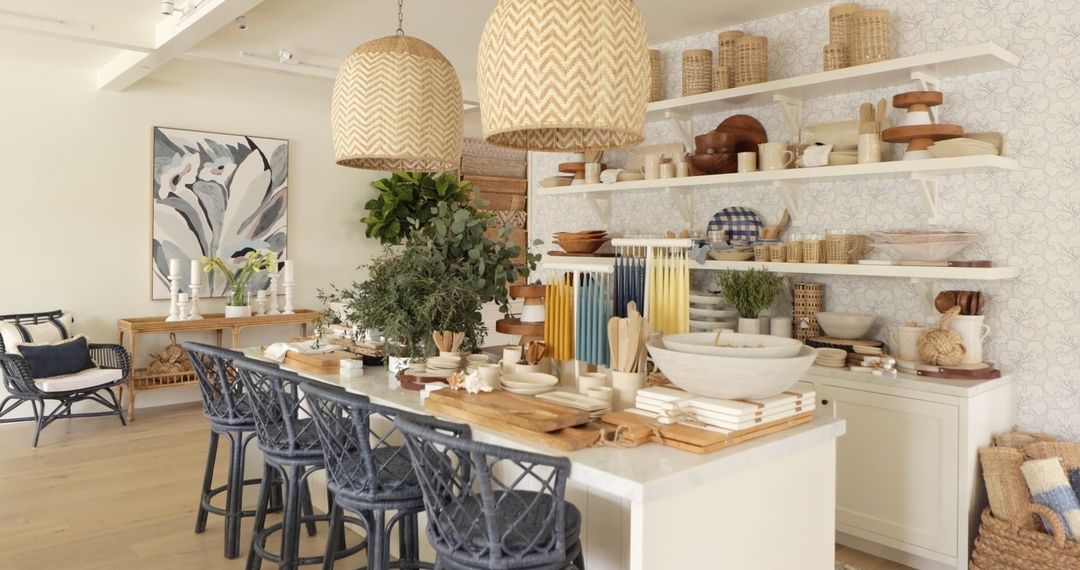 For beach-themed decor, you can't overlook the fun that comes from a beach bar. While you don't have to go all out and make a replica of it at home, you can bring in the feeling of the beach party in your kitchen or a kitchen island, with some white or cream shelves and cabinets to keep the space open and airy, then add some fun wicker lampshades, and dark beachy barstools to add some contrast to the design.
Above and Below Coastal Bedroom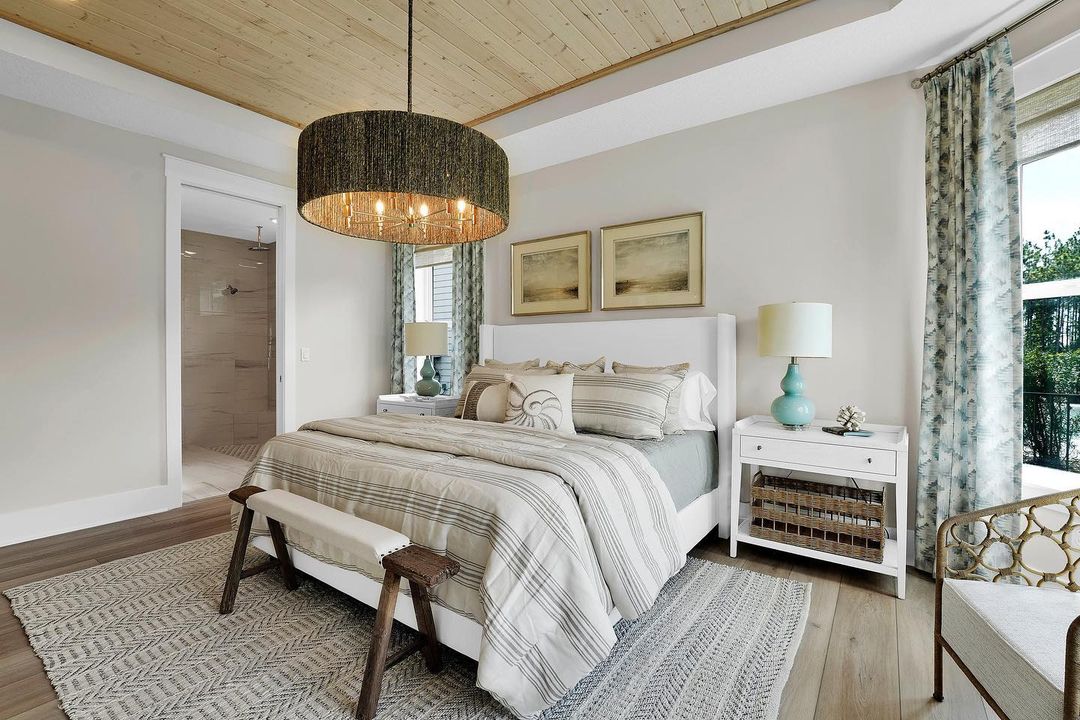 When using wood paneling for any decor, it is usually utilized on the walls, adding texture and warmth, but it does close off the space, which we don't want when striving for coastal design. This bedroom has most of the coastal decor elements of blue, brown, and grayish-green, but the most stunning part is the wood paneling on the ceiling, which almost makes you feel like you're in the water looking up at the coast.
Aquamarine Kitchen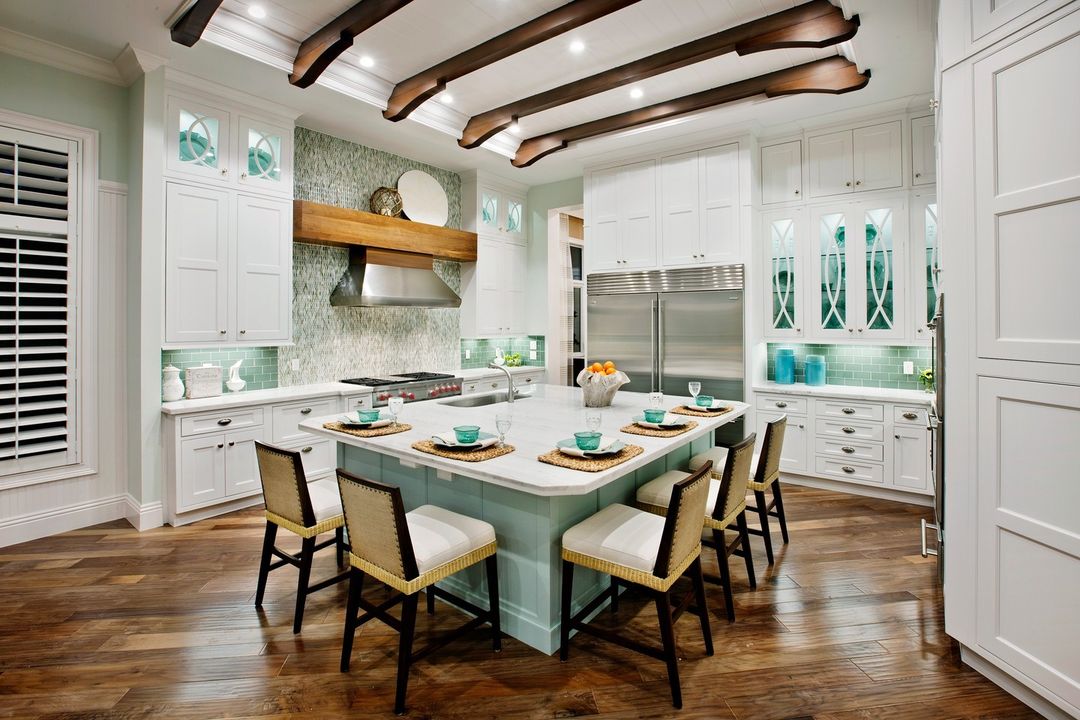 Looking at this amazing kitchen, it becomes clear just how underrated the green color is in home decor. Pale turquoise island with white countertop, surrounded by lovely cushioned chairs with cream, dark brown, and gold elements, exudes that feeling of cheer, fun, and peace, while the elegant wooden beams and wood elements on the kitchen hood in front of a watery mosaic allow for that coastal feel to sink in.
Luxurious Coastal Bathroom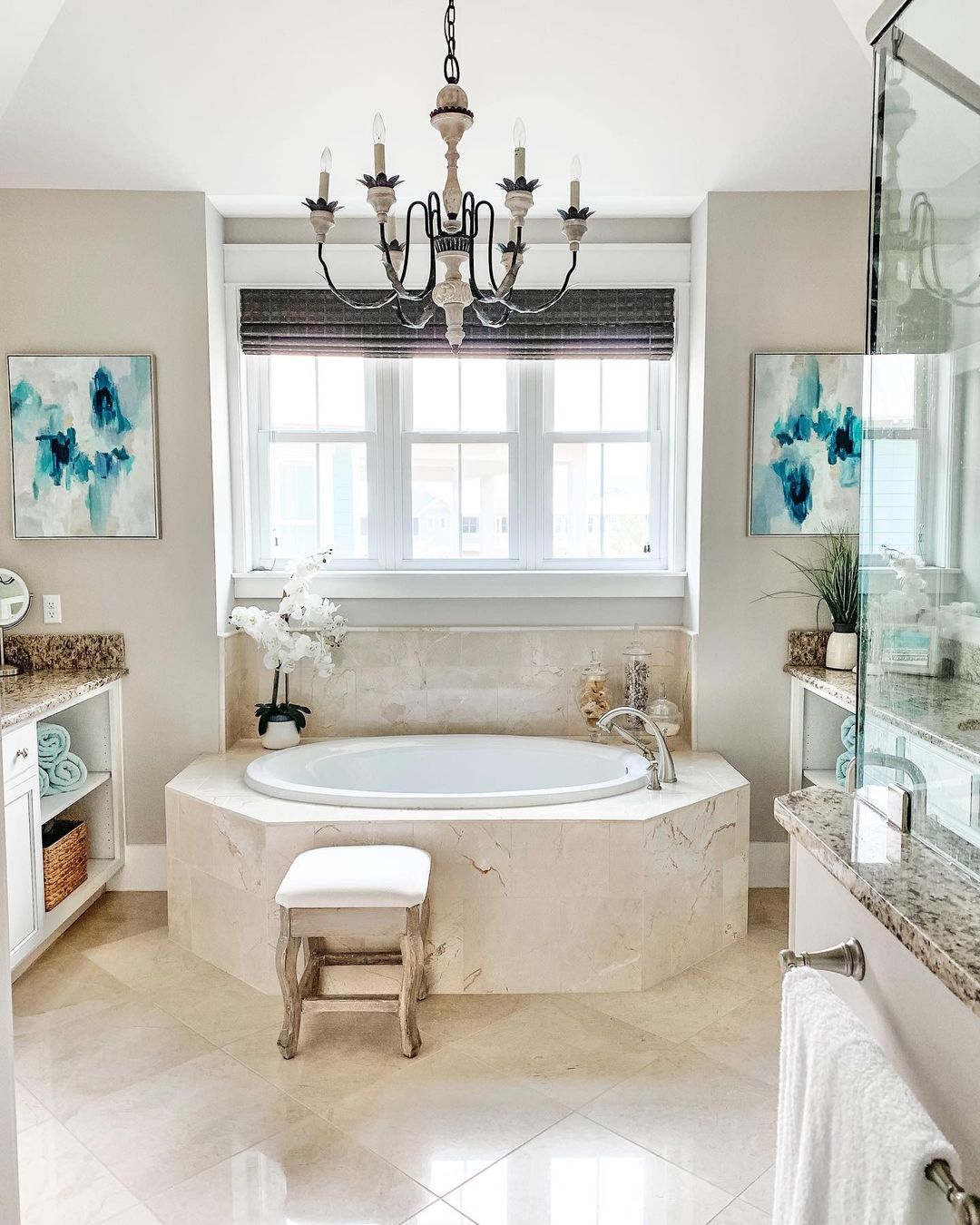 When imagining coastal or beach decor, we think of sand, surf, calm and fun, but we rarely think luxury. Yet, it can be achieved and this high-end bathroom is a true example of it. Creamy marble floor tiles and built-in hot tub, with darker wood elements in the countertops and light fixtures, tied together with some aquamarine touches.
Marine Pops Of Color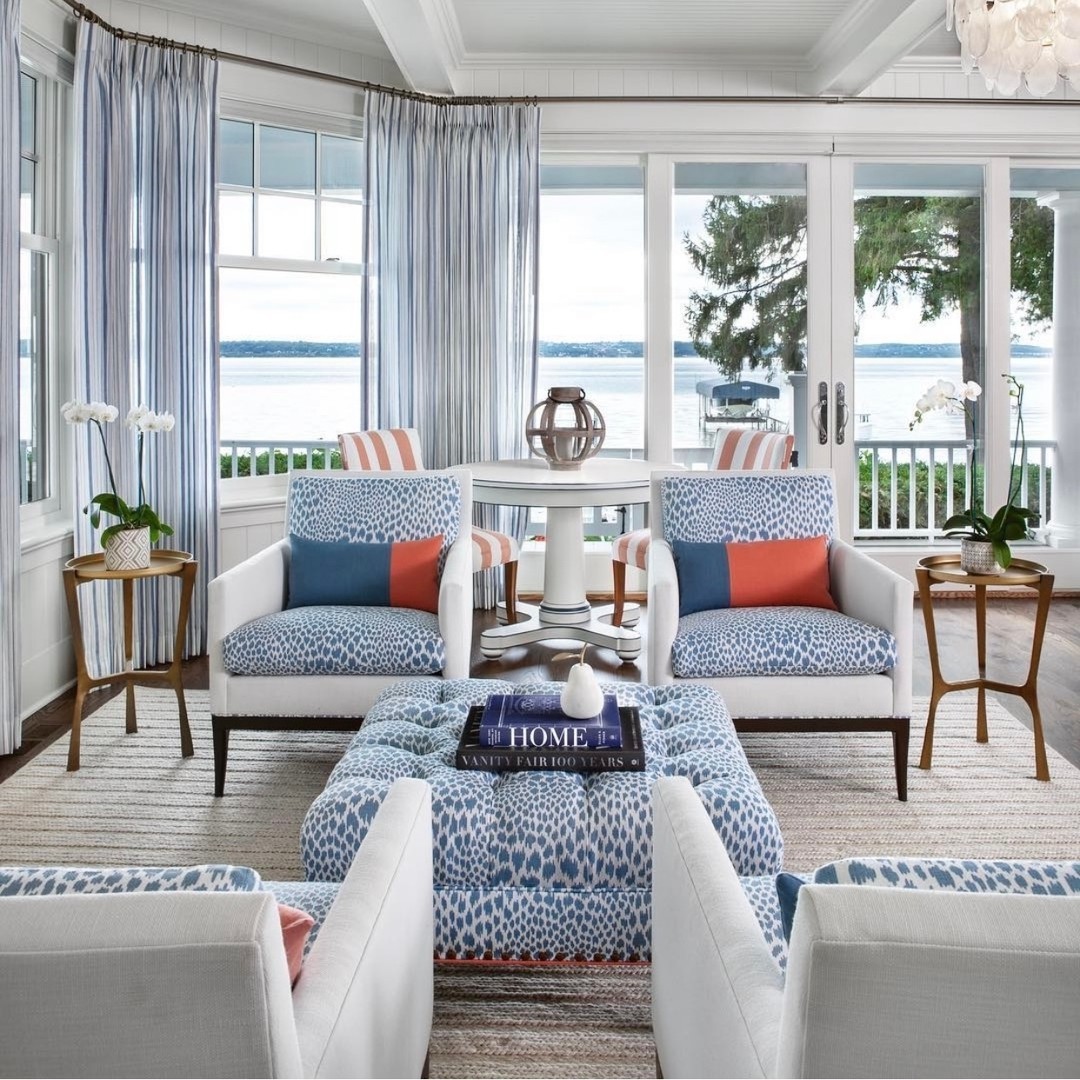 If you start straying from the classic coastal decor design and get closer to one of its related designs, don't worry, you can do that. Pops of colors and patterns aren't forbidden in the coastal decor, since in the end, what matters is recreating the beach atmosphere for you. If that means more nay blue, and touches of coral red, go for it.
Hanging Basket Chair For The Patio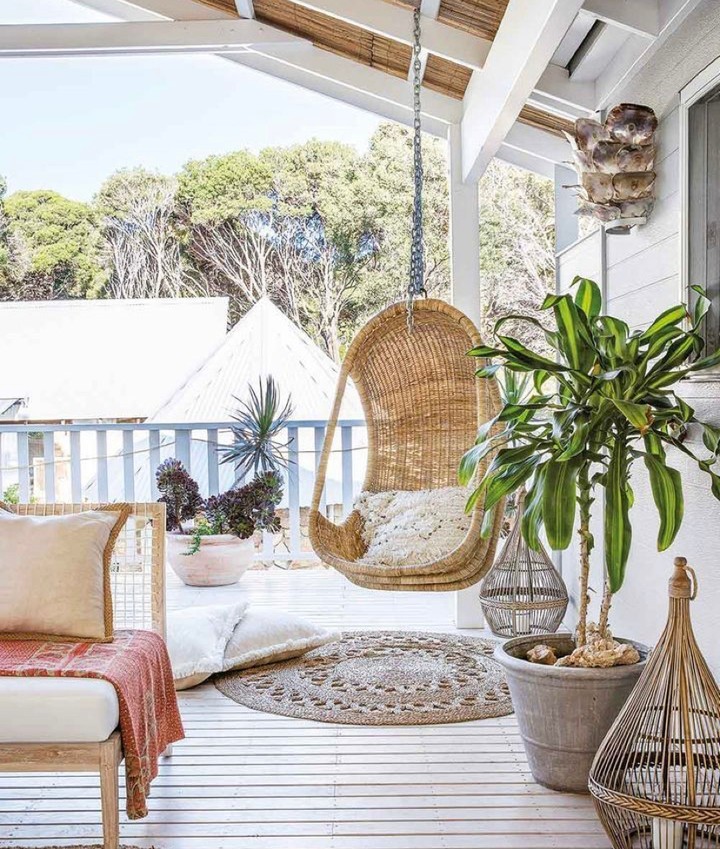 Last but not least, nothing gives you that breezy beach feeling like swaying in the wind, comfortably tucked in a hanging basket chair, in your porch, or your room. So if you have the chance to add this amazing piece of furniture to your coastal decor, do it immediately.
Do you want to have that seaside feeling inside your home all year round? We hope our list cleared up some confusion about these beautiful, but similar decor styles and that now you'll have an easier time deciding on what you want your home style to be. Make sure to share your thoughts and ideas in the comment section below.