Minimalism, as the word itself suggests, is a lifestyle that focuses on less – fewer things, less clutter, fewer decorations, etc. As an interior design style, it emerged in the 20th century as a reaction to the overly accessorized styles in the past. It has many similarities with modern architecture and Bauhaus architecture, but it is a style with its own features. The motto of the minimalist style is, of course, "less is more". In recent years, it has become very popular for many reasons. Minimalists believe that our modern lifestyle is not very productive and they place their focus on decluttering our homes in order to simplify our lives.
Some might describe minimalism as boring and unimaginative, but it is very vivid and expressive. It involves using the bare essentials in a space. In today's consumer culture, people strive for more every day, thinking that it is always better to buy new things. The minimalist design includes quite the opposite. Its main principle is that we only need the essential things in our home. Focusing on natural materials, such as wood and marble, minimalism can also be considered an eco-friendly and sustainable design style. The main characteristics of the minimalist design are functionality, clean lines, simple design, structural forms, statement pieces, monochromatic look, open concept, natural light, harmonious color palette, pops of color, artistic pieces in the interior, etc. The goal is to maximize the space with minimal elements. Every piece should have a purpose. The materials should be well chosen, such as wood, marble, glass, and steel. There shouldn't be any clutter and overcrowding. It takes a bit of work to incorporate the minimalist style in a home, but it is very much worth it.
We hope that the following ideas will give you an insight into the minimalist style and you'll get inspired to incorporate this concept into your home.
Functional Bedroom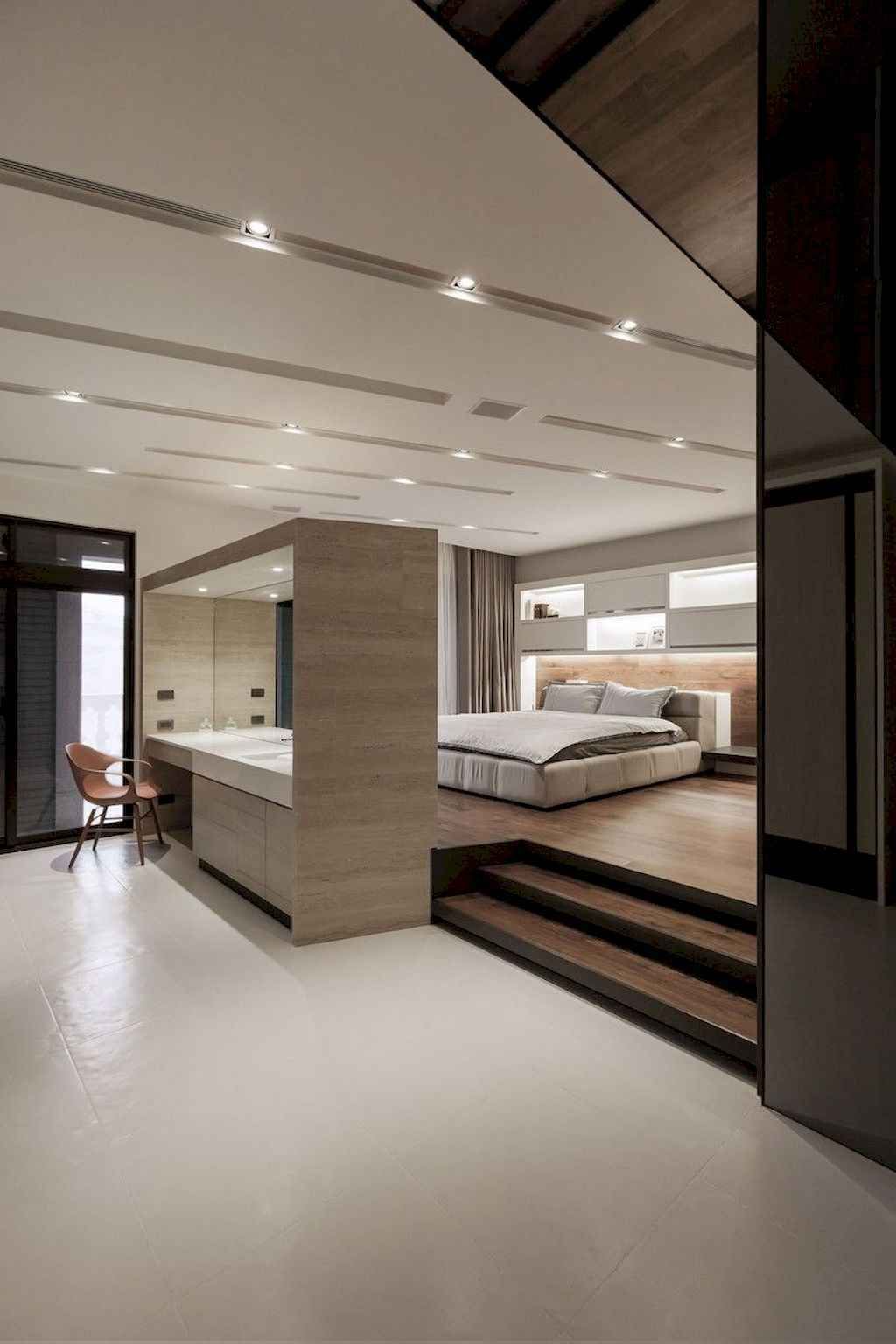 This is a great example of a functional room where everything has its own place and purpose. The space is used to the maximum and it still looks simple and elegant.
Minimal Dining Room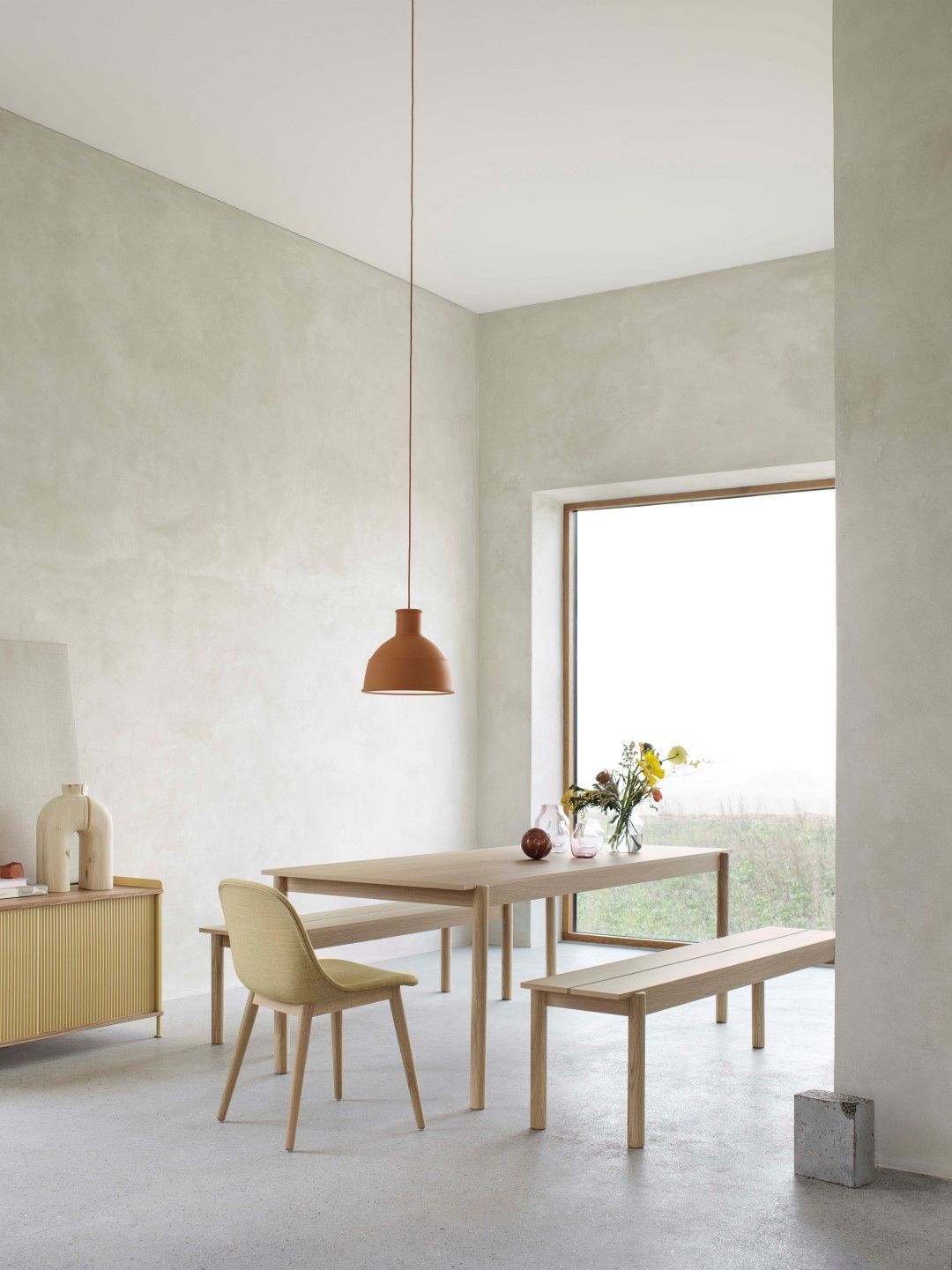 When it comes to dining rooms, there is no need to overcrowd the space. A simple wooden table combined with chairs or benches serves the purpose of the dining room well. Here, less is definitely more.
Natural Light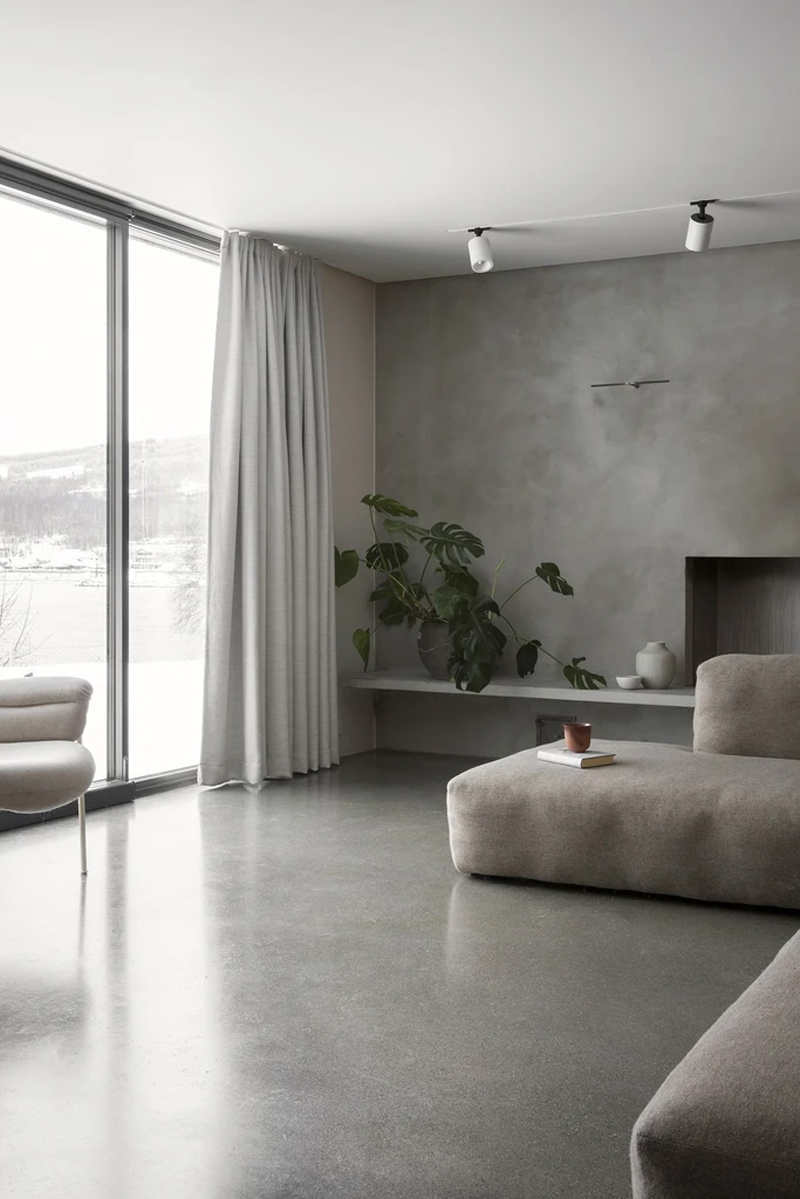 Natural light is one of the most important things for a positive atmosphere in a home. The apartments or houses that have natural light are the most sought-after on the market. The minimalist design suggests the use of natural light as much as possible.
Minimal Kitchen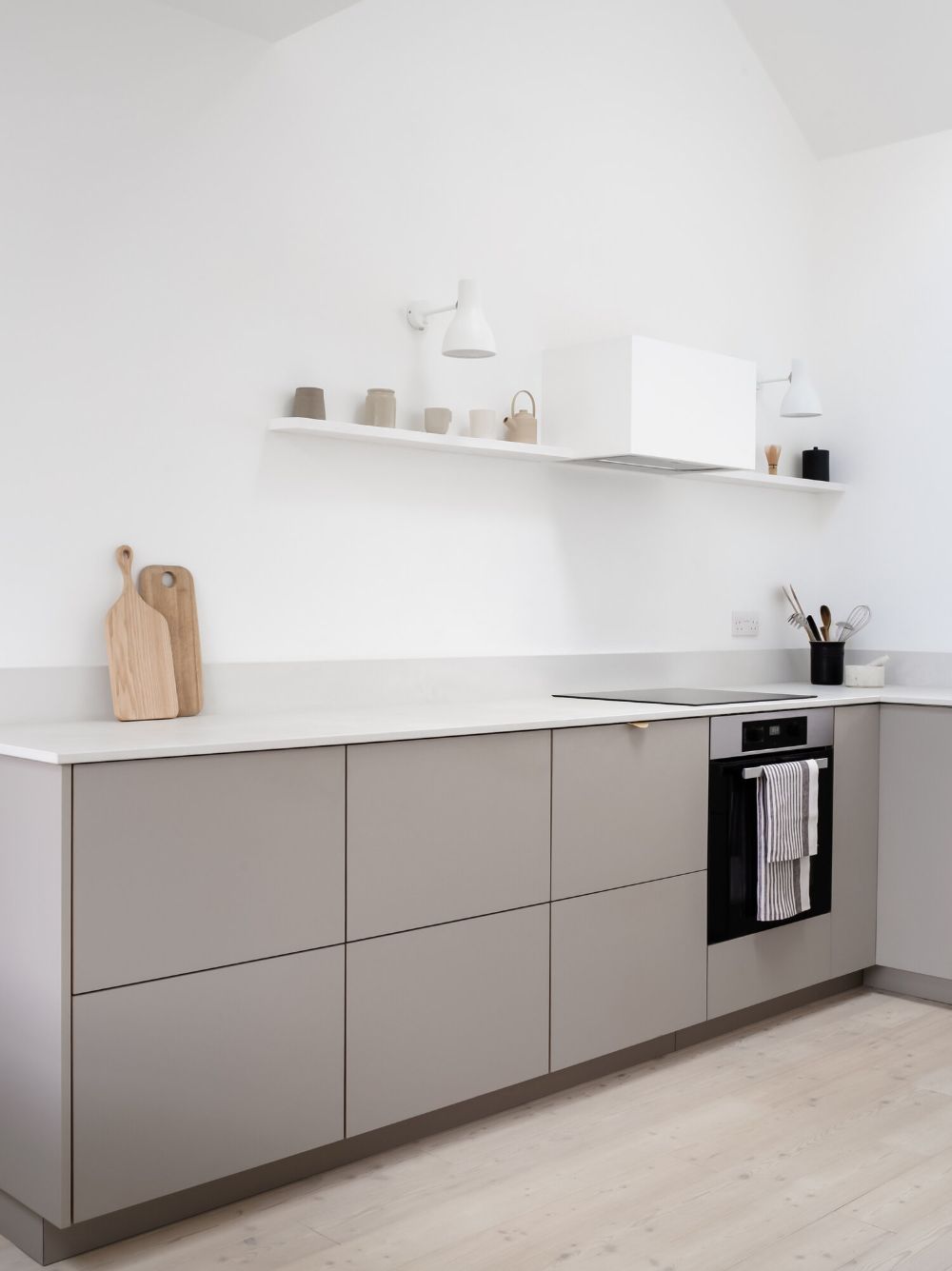 The kitchen is maybe the trickiest place to incorporate the minimalist style. It often gets cluttered and overcrowded, so that's why the kitchen needs to be functional, with many storage spaces, just like this one.
Accent Wall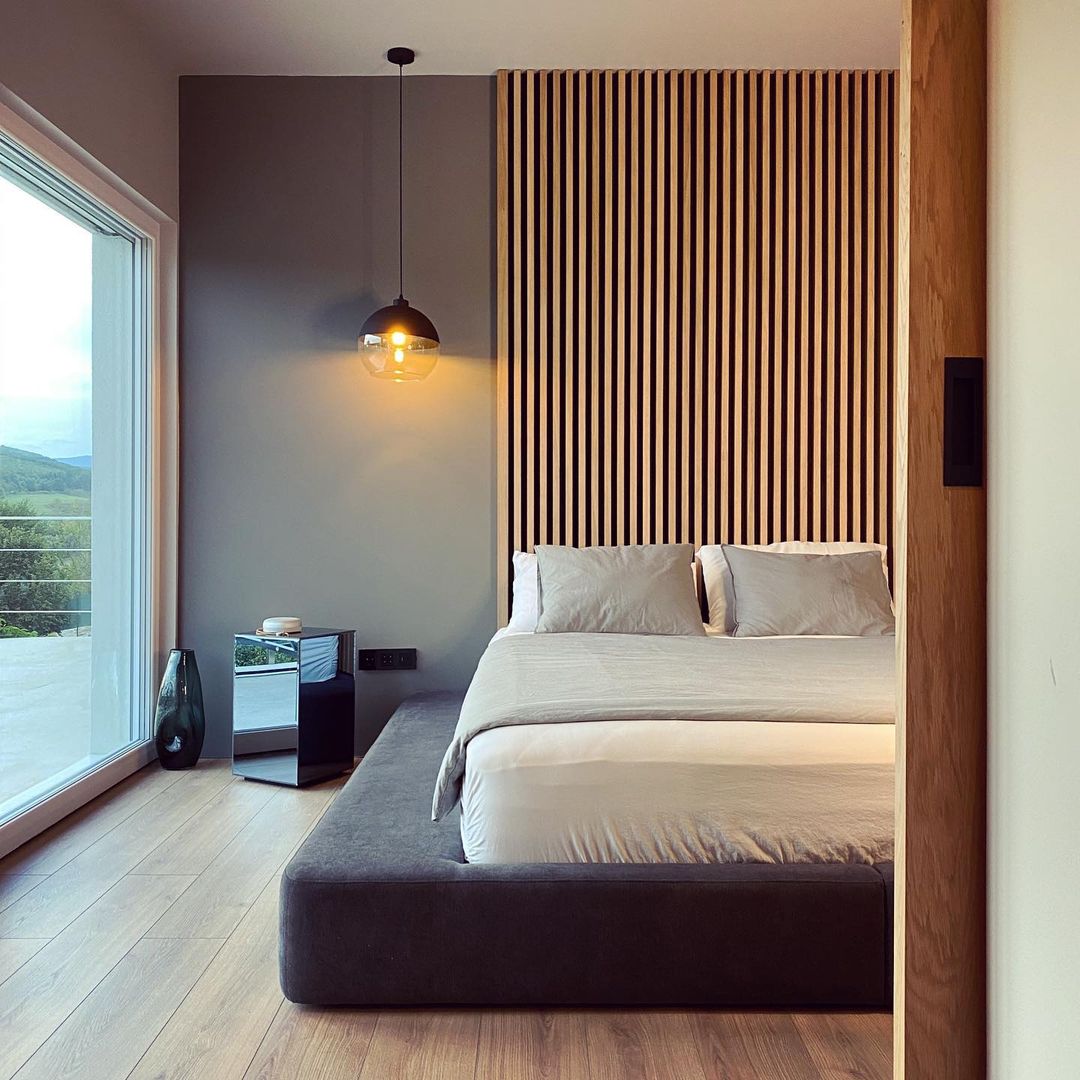 If the style of a room is minimal, it is always a good idea to include a statement piece. Here, the accent is put on the wall with wooden slats. The room is simple enough and the wall is the only decoration that makes it colorful.
Two In One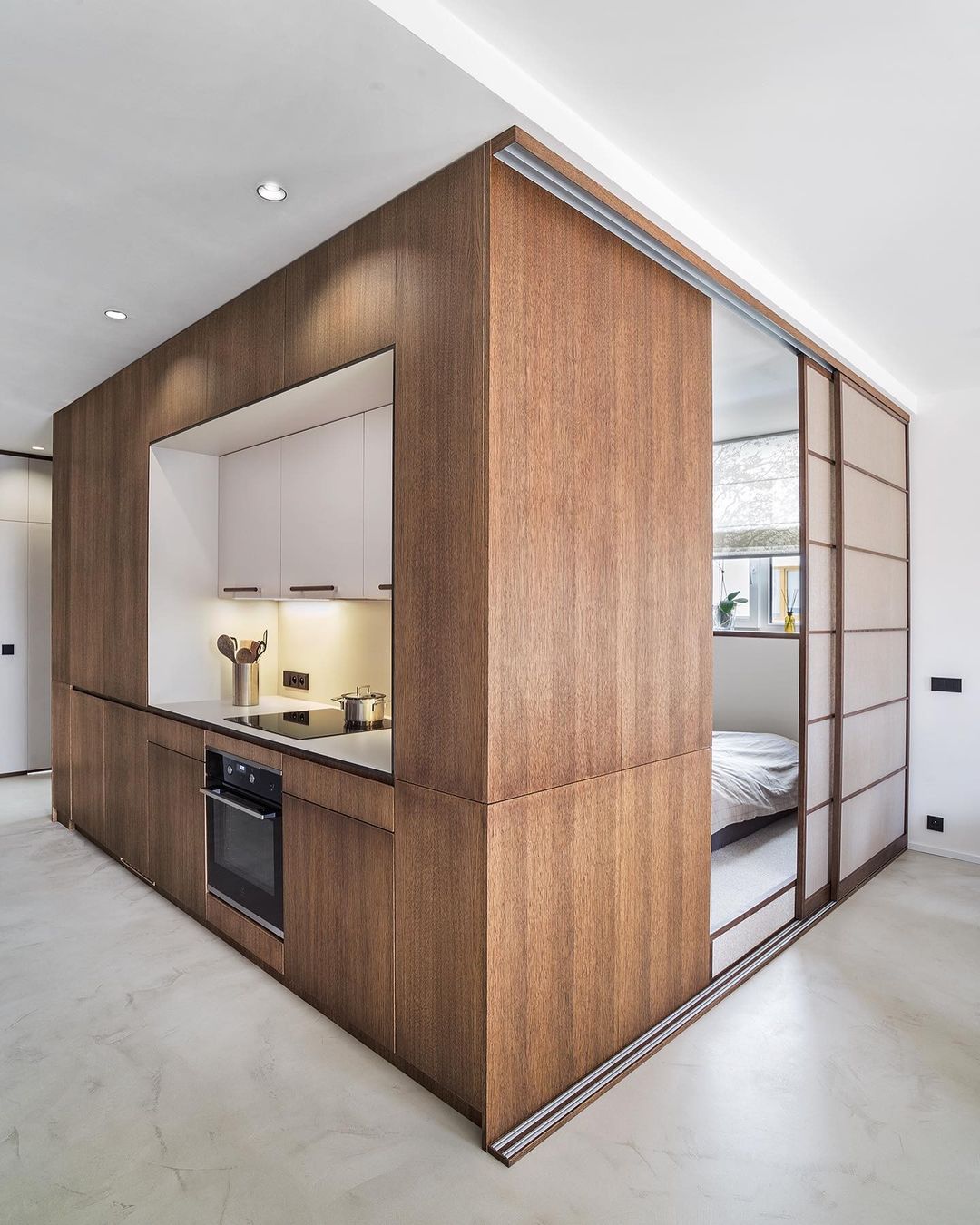 Functionality over everything is one of the key principles of minimalist design. This "square" nicely combines the kitchen with the bedroom and it serves as a two-in-one room. Maximum use of space that everyone can incorporate into their home.
Pops Of Color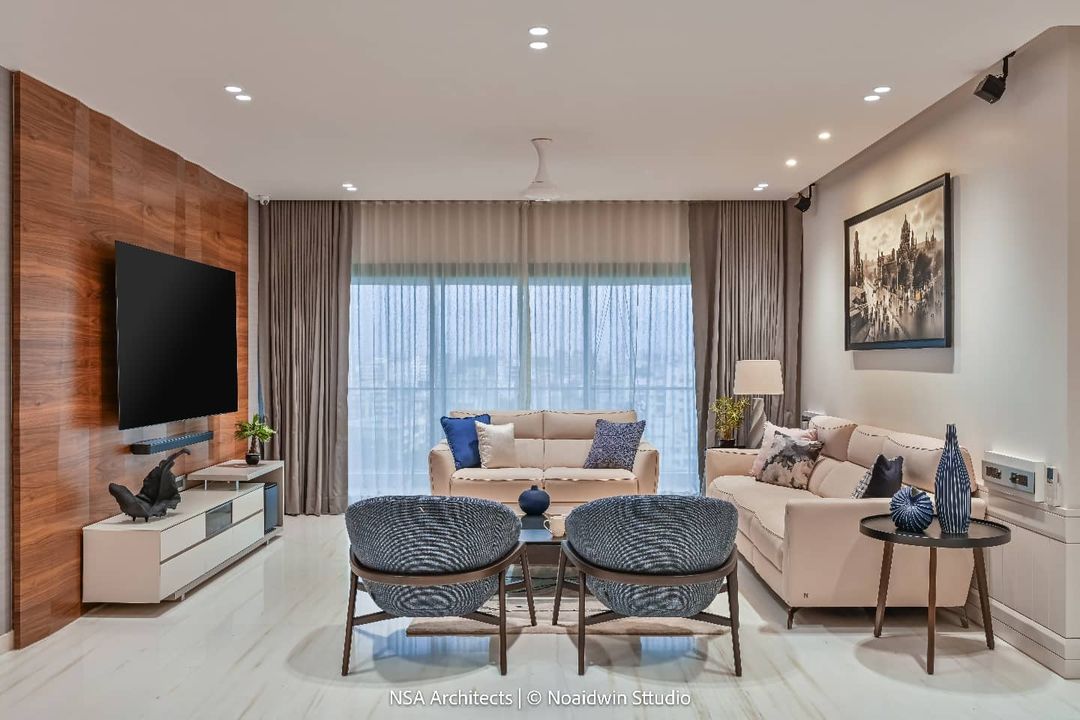 The monochromatic look is not for everyone, so it's always a good idea to add pops of color. The blue armchairs and decorations are enough to accentuate the overall look of the room.
Concrete Wall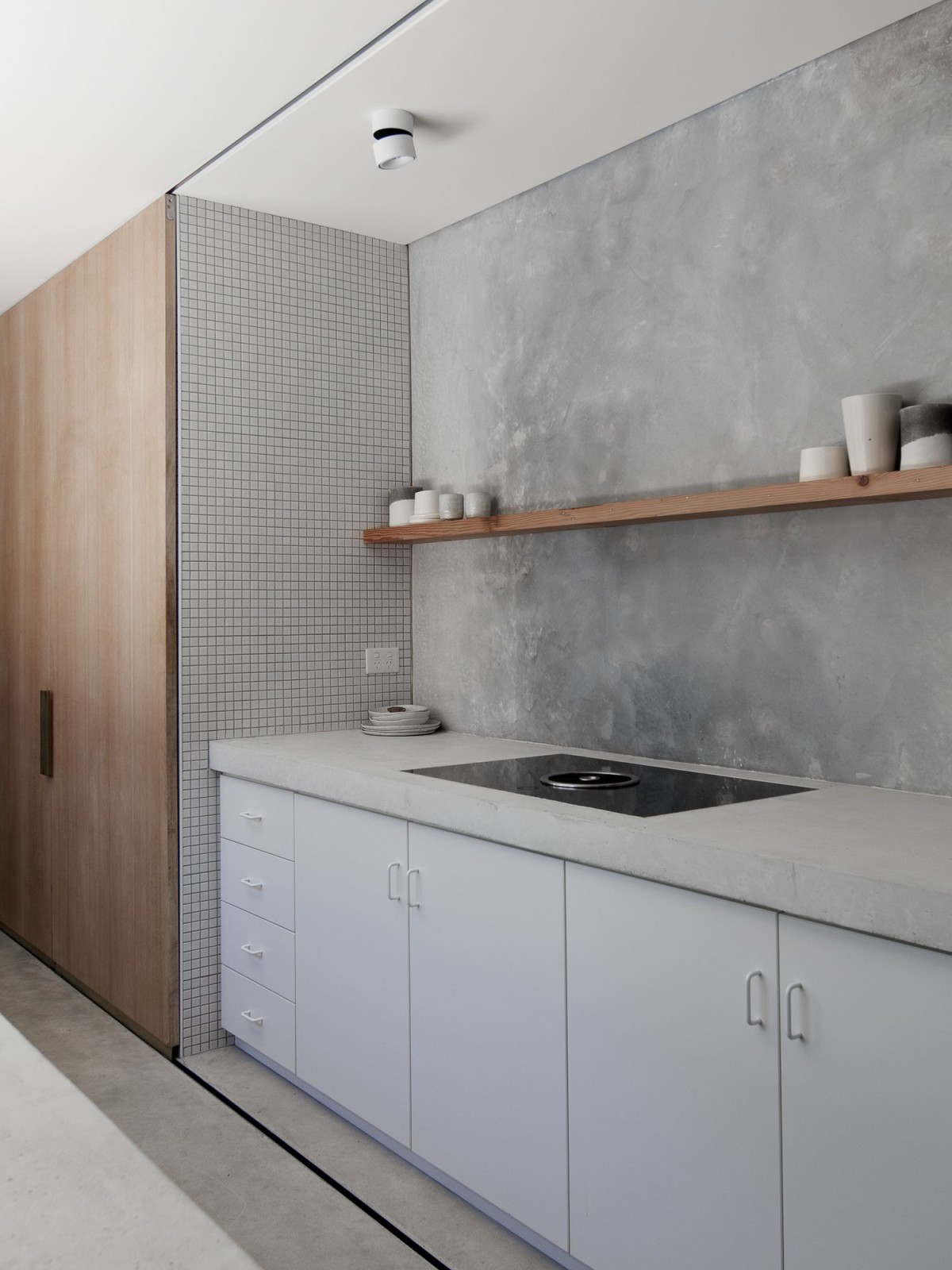 Not only is concrete a natural material, but also it's 100% recyclable. That makes this room eco-friendly and sustainable and it looks great in a kitchen. This is a perfect example of a minimalist kitchen design.
Harmonious Color Palette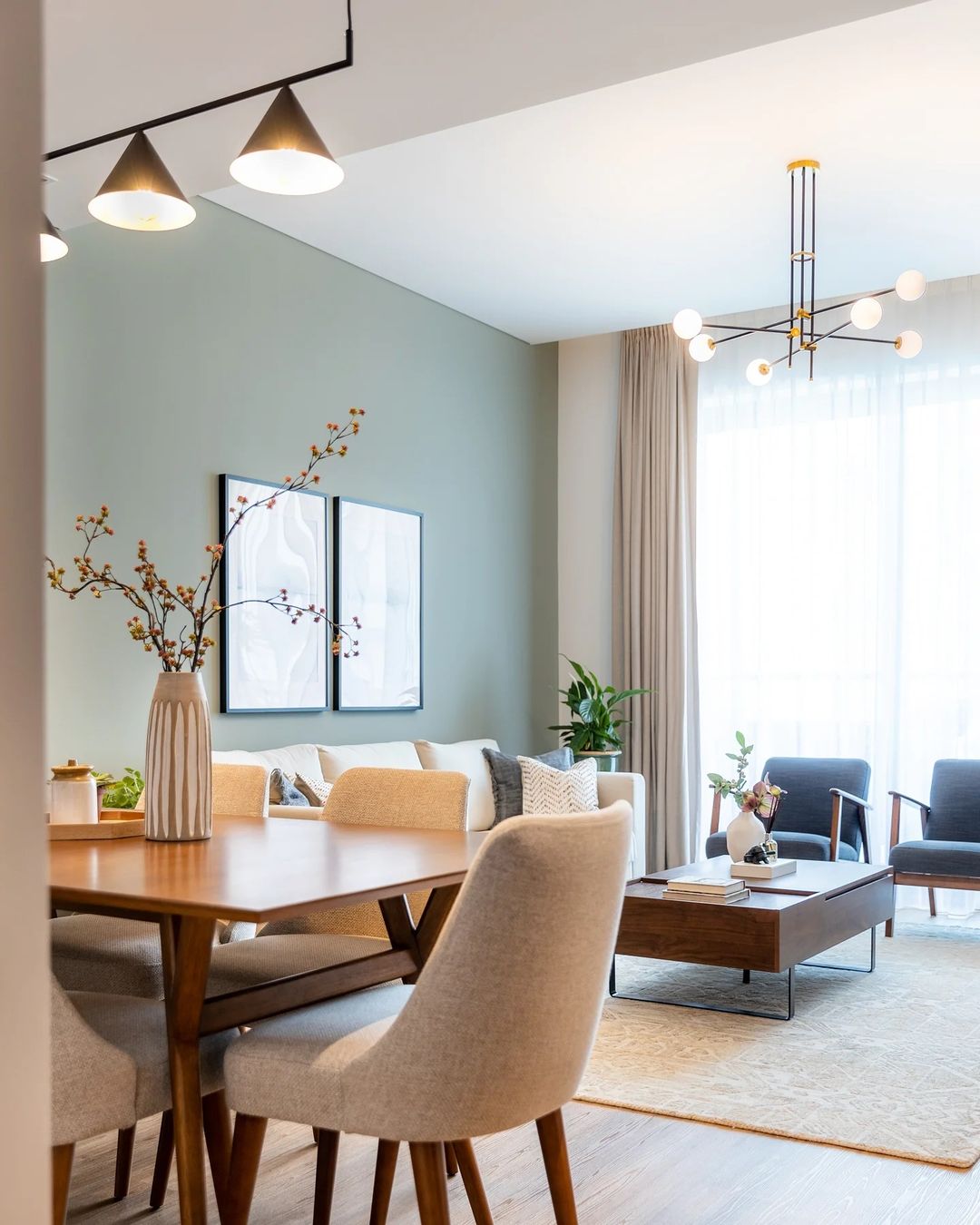 Minimalist design is not always about a monochromatic look, but it often includes a palette with harmonious colors like in this example. The shades of brown, green, and blue make a perfect, eye-pleasing combination.
Woodwork On Point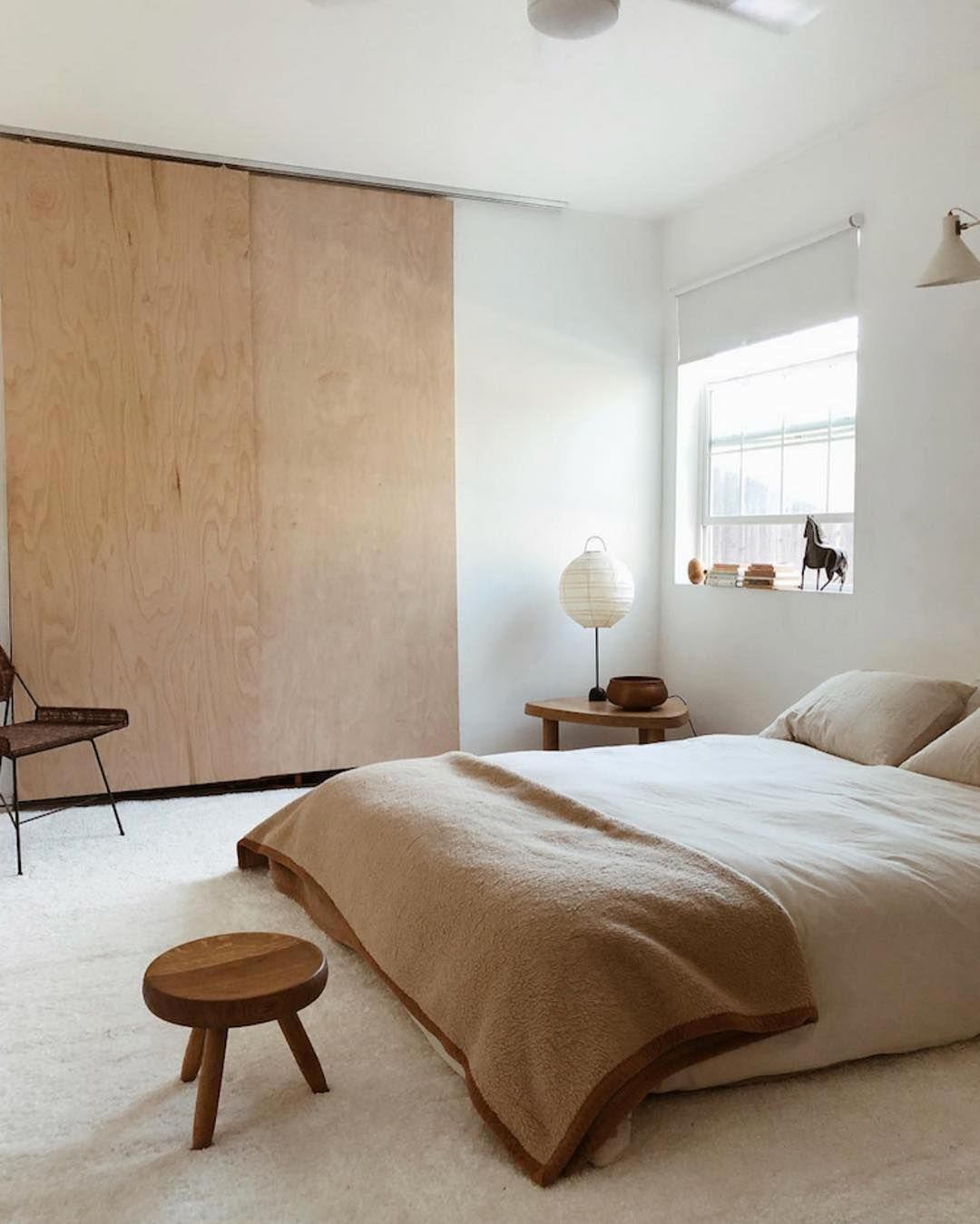 Minimalism in a home also focuses on craftsmanship. This wooden wardrobe, the little chair, and the bedside table are wonderfully crafted and they fit in the room perfectly. The combination of white and brown complements the whole look nicely.
Sculptural Forms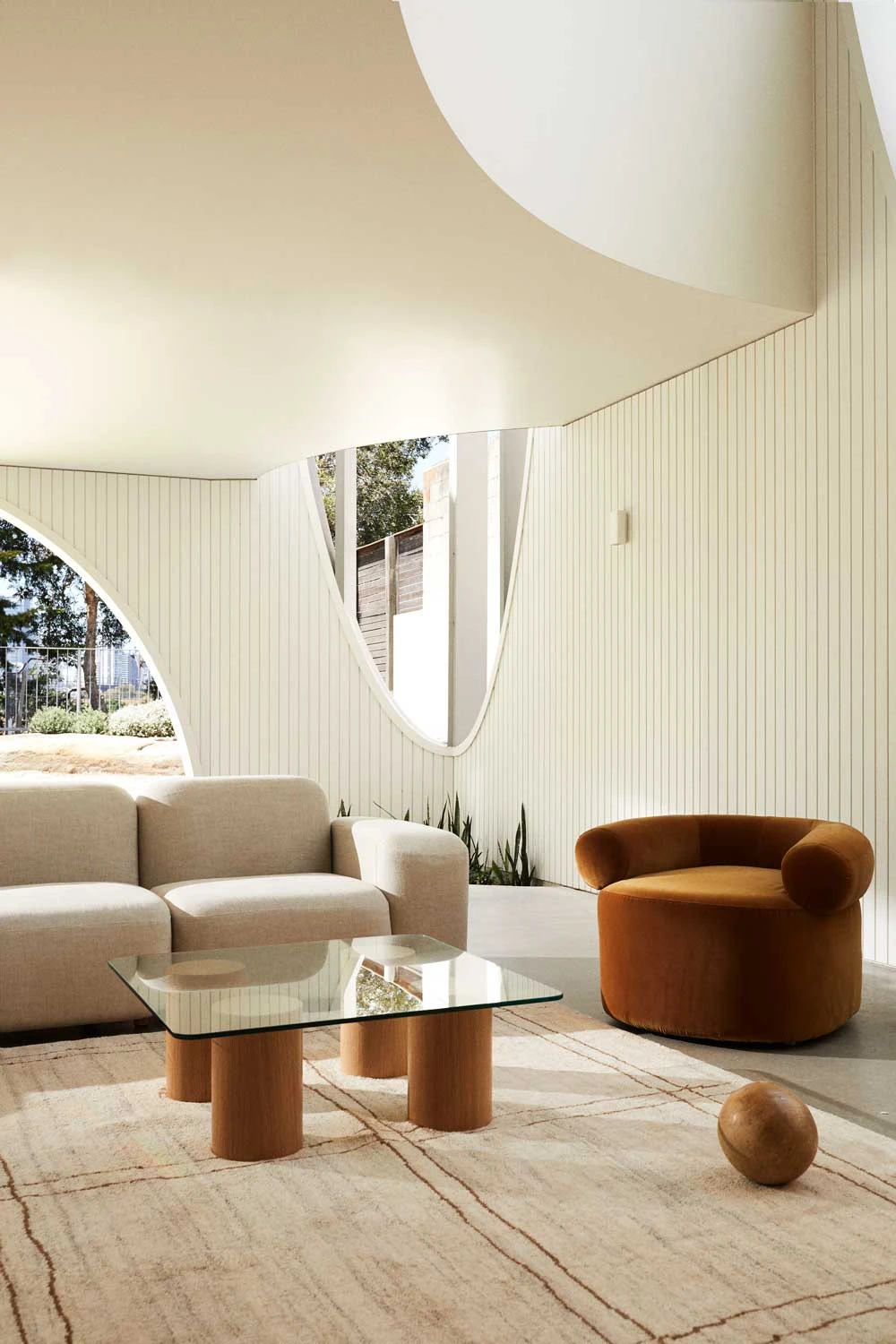 One of the great things about minimalist design is that it celebrates the artistic expression of architecture. This is a great example of a design with excellent sculptural forms: the legs on the table, the armchair, the walls, and the ceiling – all of them look like little masterpieces.
Marbled Floor
Minimalist design focuses on the use of natural materials, such as marble. Marble might not be the first choice for a kitchen floor, but we can all agree that it looks excellent and since it's a natural material, it lasts long and it's sustainable.
All About The Glass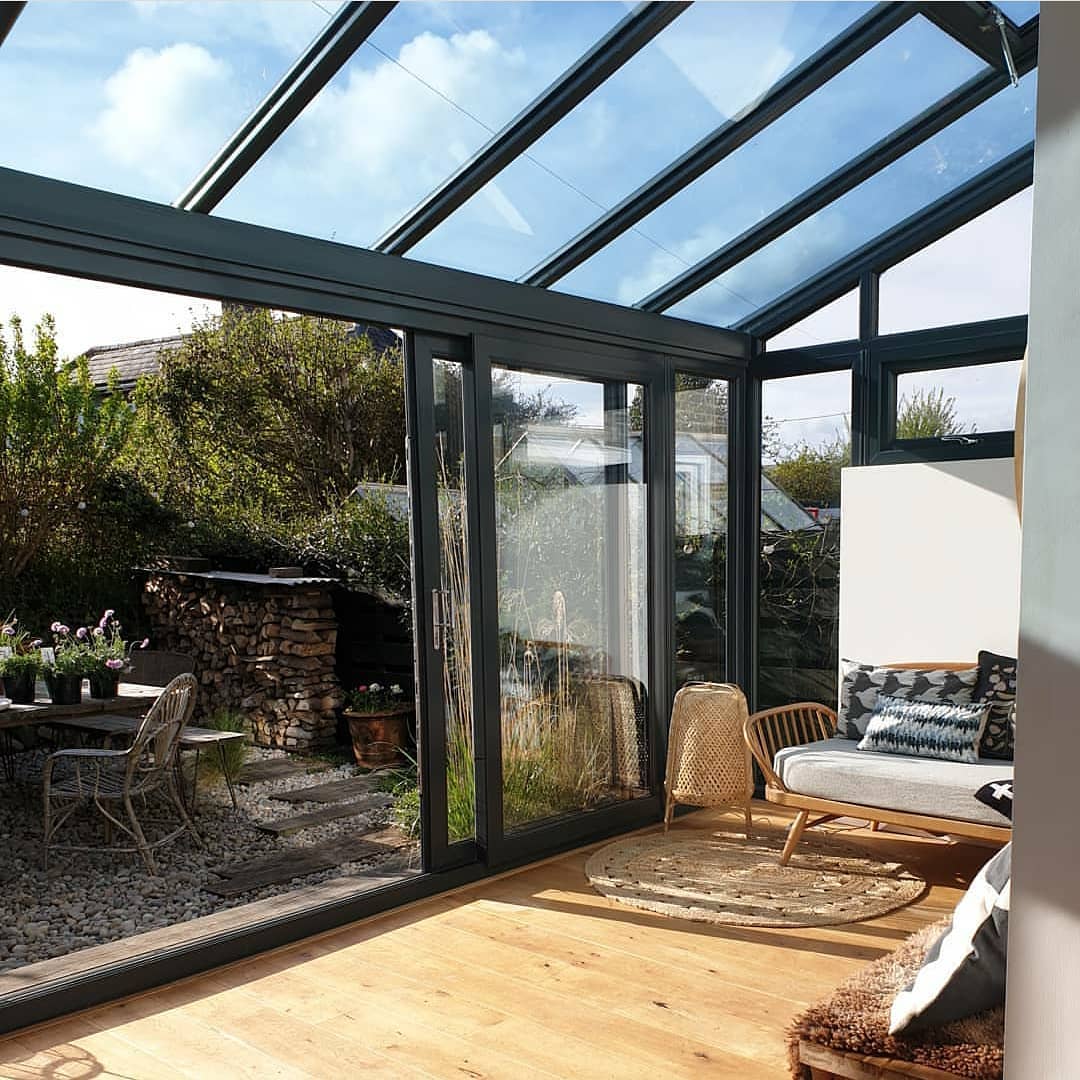 Who wouldn't want to live in this house? There's tons of natural light entering through the glass. It feels as if you're one with nature. Also, this is another example of a minimalist home decorated with just the right amount of decorations.
Open Concept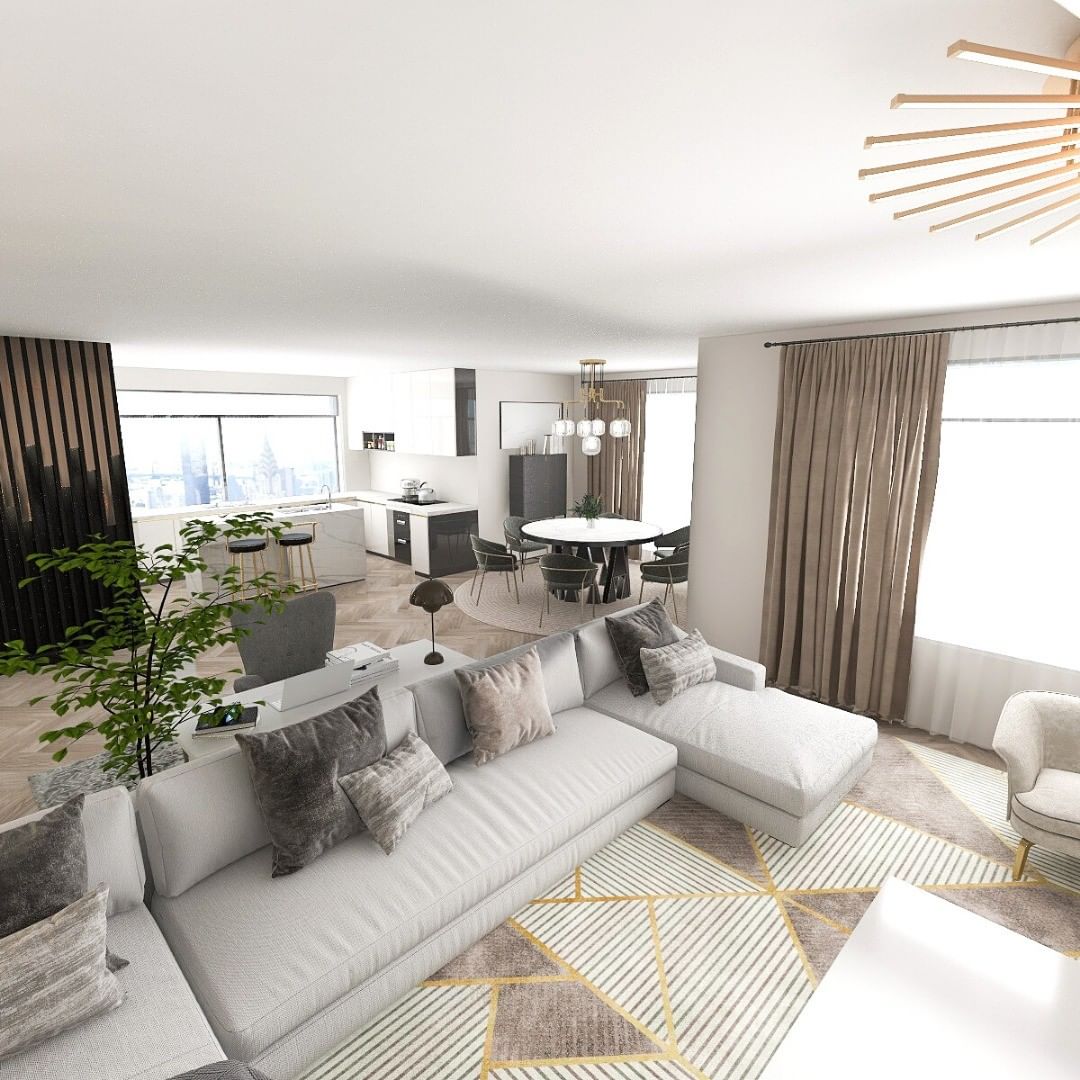 The open-concept or open plan of the interior is another characteristic of the minimalist design. This means that the rooms are not separated by walls, but replaced by open spaces. This concept has become very popular in recent years and it's easy to see why.
Black And White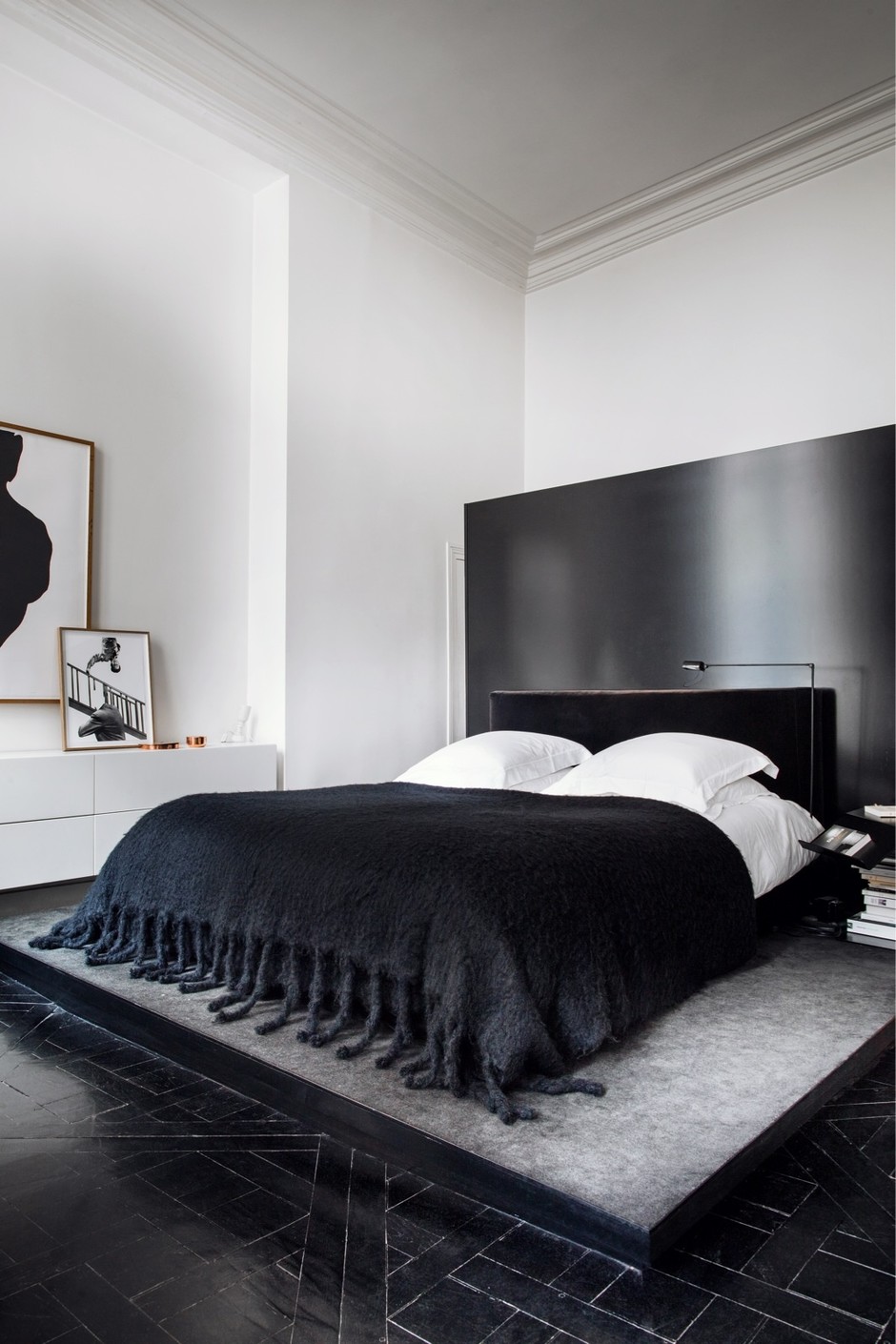 Black and white in the interior is a timeless classic that never goes out of style. It is a simple, yet powerful combination that makes a statement, so it's definitely a part of the minimalist design style.
Artistic Expression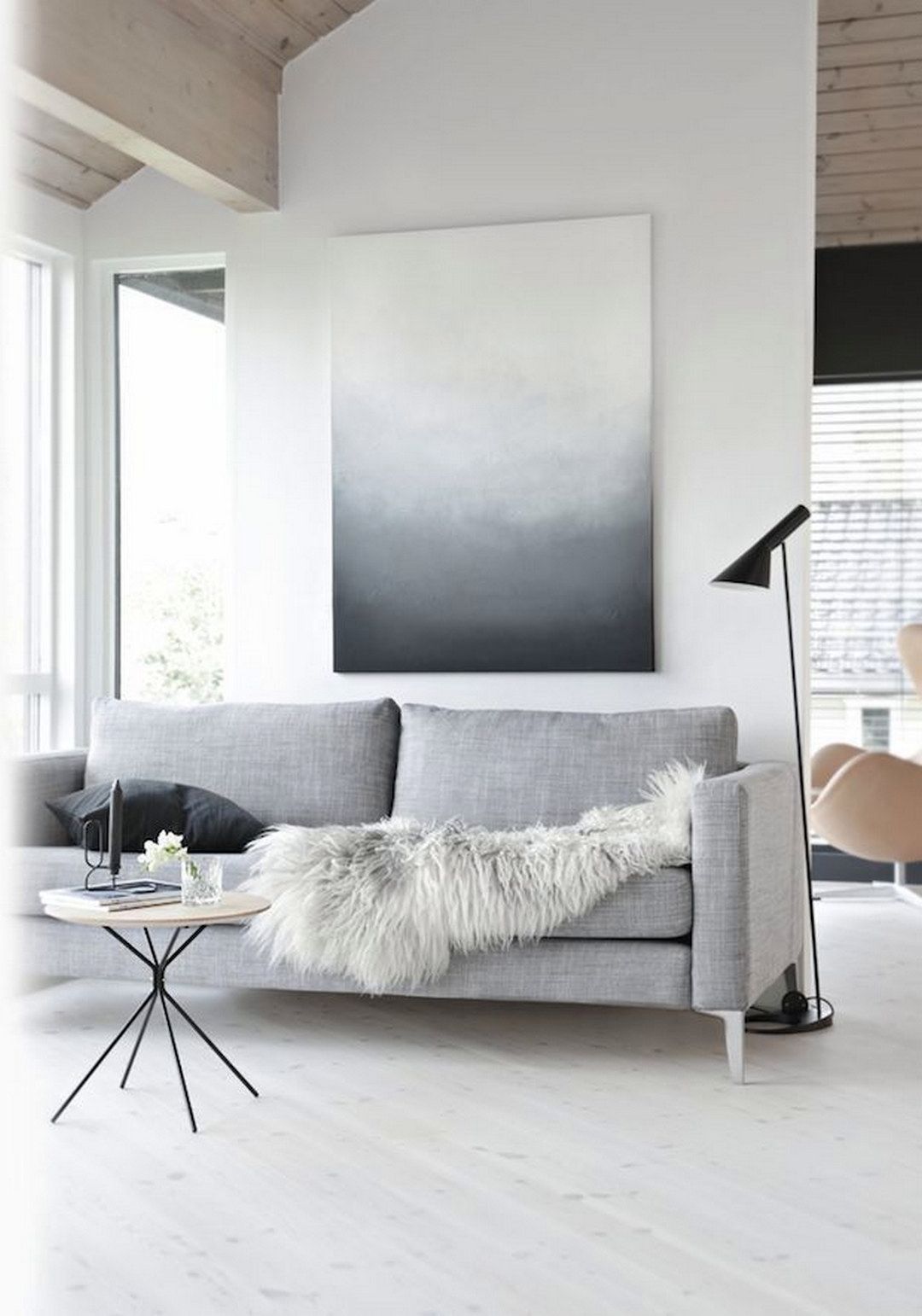 One artwork is enough to make a statement and change the look of a room. Instead of gallery walls, posters, and photographs, the minimalist design suggests placing one large piece of artwork that will be the center of attention in the room.
50 Shades Of White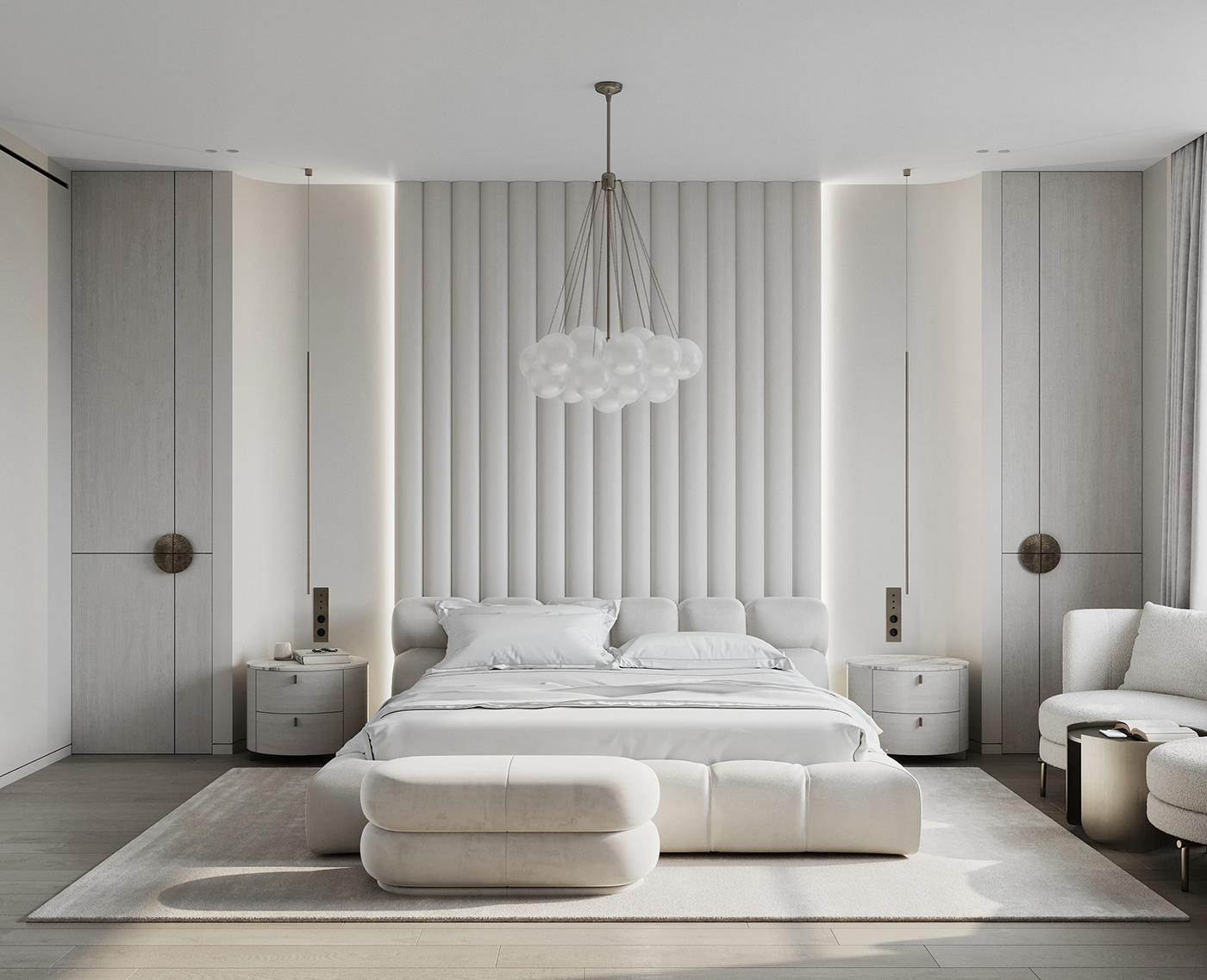 An all-white interior might seem dull and sterile, but we can all agree that these adjectives do not describe this bedroom. The combination of many shades of white makes this room vivid, bright, and aesthetically pleasing.
It's safe to say that there is something wonderful about the minimalist design. It is a brilliant and sustainable concept and the philosophy behind it is very smart. We hope we gave you great ideas to use in your home. If you have something to add, share it in the comments.