With its clean lines and eminent vibrations, the modern style of the middle of the last century is gaining popularity again during the last decade. This comfortable and stylish design can be incorporated in a slightly more relaxed way in today's living because it is a style that symbolizes revival and freshness.
The mid-century modern design style has references to the developmental forms of design from the end of the Second World War, which are represented in the field of architecture, furniture, materials, and technologies, popular after this period. It was a period of revival where people just wanted to put the war years behind them and embrace the modern. The demand for utilitarian, minimalist furniture and design in homes was even a rebellion against the stuffed traditional design of previous decades.
Designers mostly accept the period from 1945 to 1969 as the main modern style from the middle of the last century, which is also claimed to have its roots in the German Bauhaus. Thanks to migration from Europe after World War II, German designers introduced this type of interior to the United States, where it became the most popular and remains to this day.
Natural Light And Brown Furnishing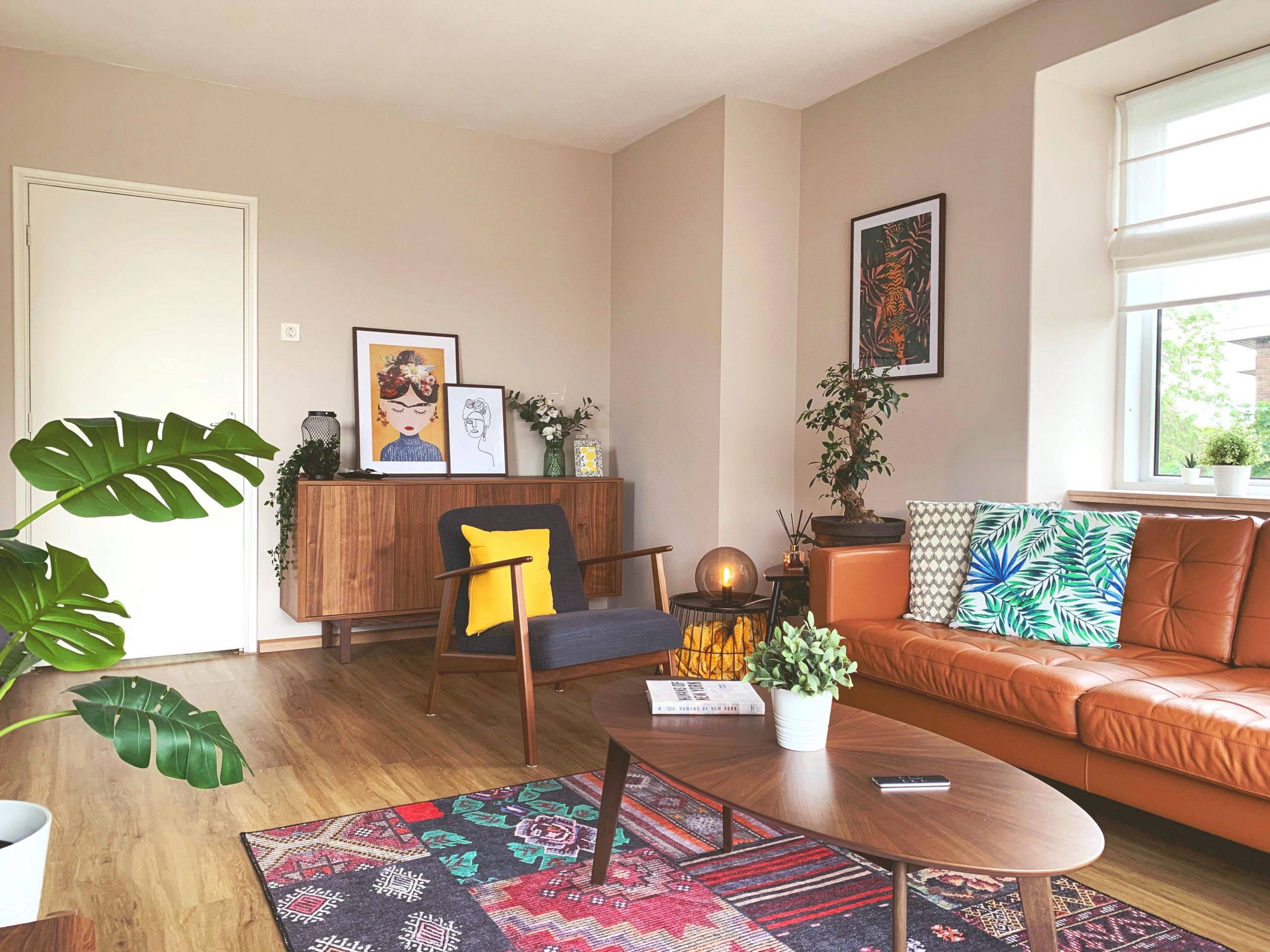 The key thing is to make it look effortless and clean or in other words, to make the perfect balance between minimalistic and cozy. Natural light is something that mid-century really pay attention to because brightening up the space will enhance the futuristic beauty of the furniture made of natural wood and leather. As you will see throughout the whole article, another key ingredient is to create a forest-like atmosphere. This means lots of greens and browns.
A Pop Of Color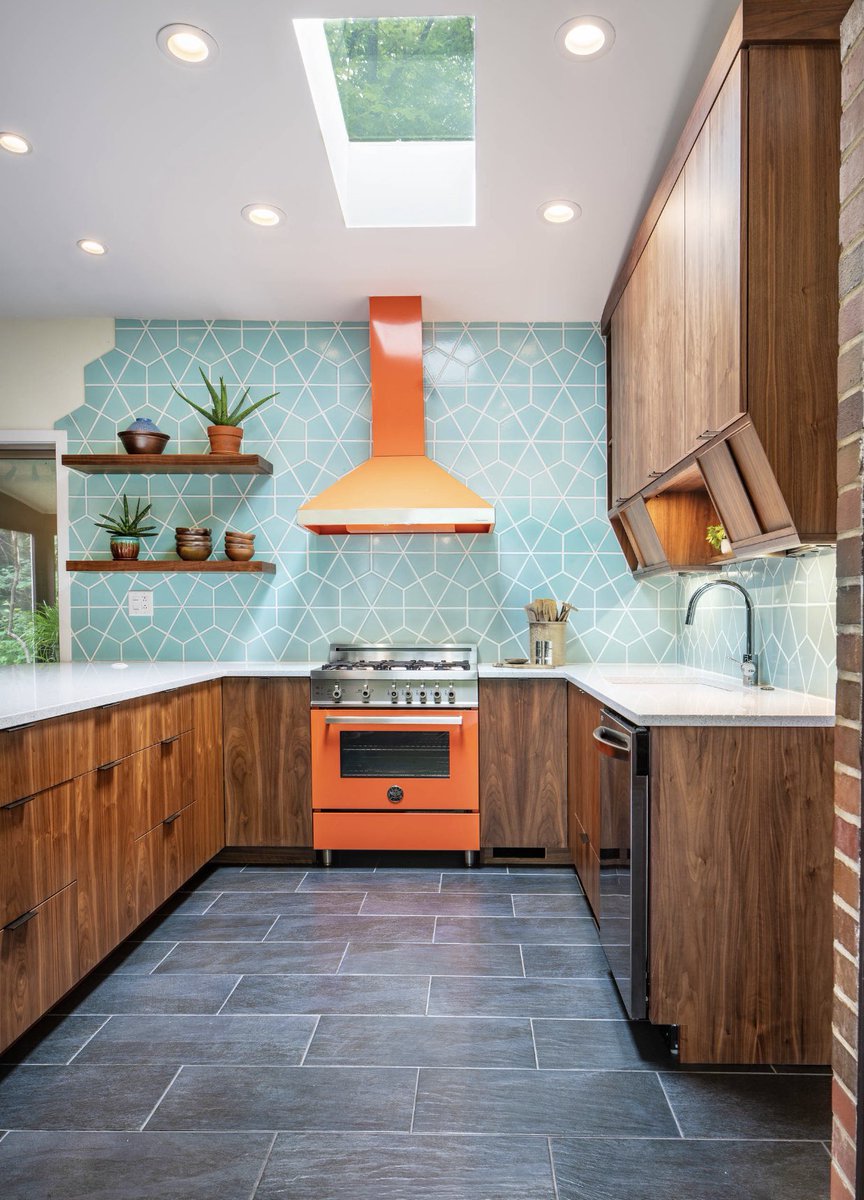 Pops of color and symmetry go hand in hand in mid-century design. Again, natural woods are key, especially when designing a kitchen. This example of a kitchen with brown elements and bright blue geometric tiles and orange elements is a perfect example for mid-century modern pops of color.
Statement Furniture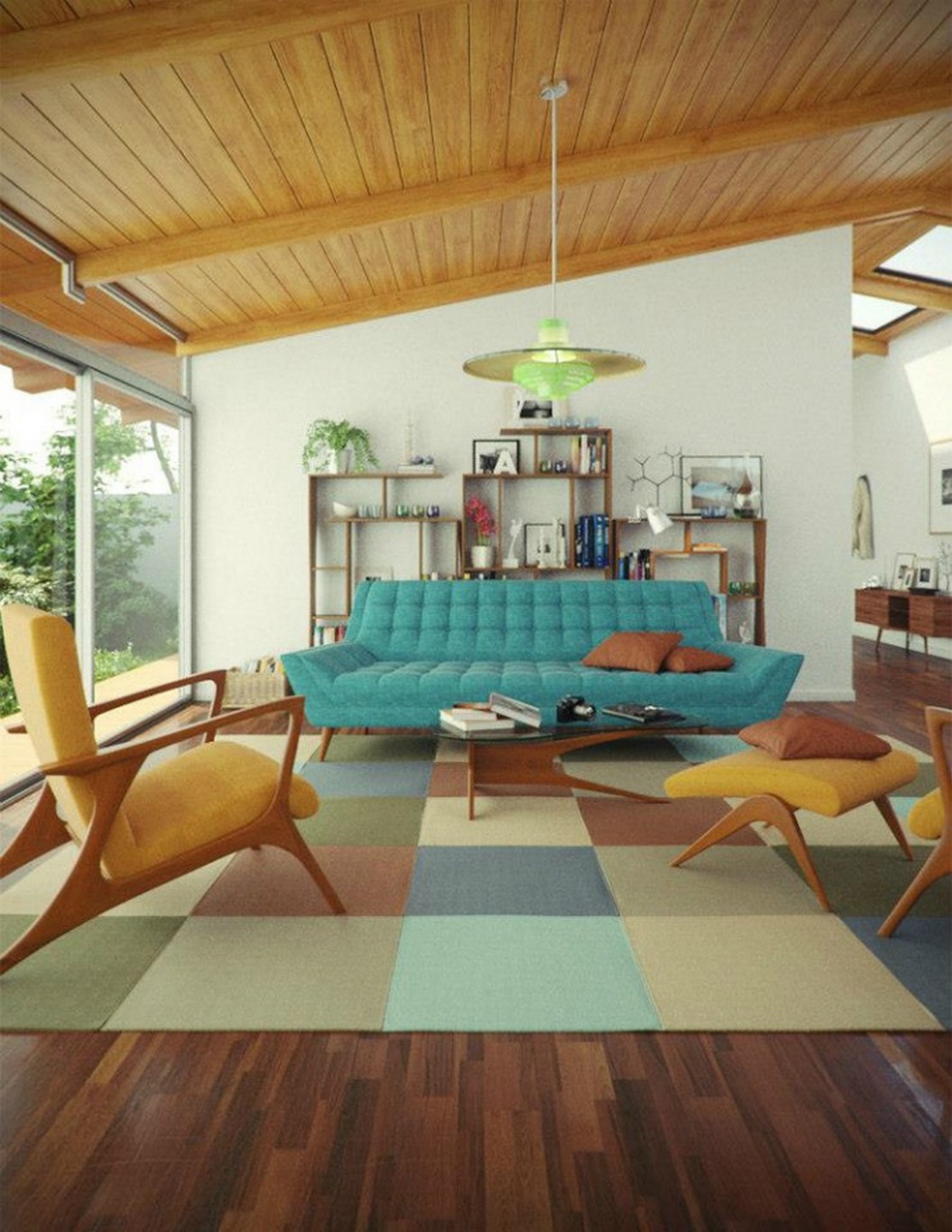 By statement furniture, we mean massive furniture, a post-modern, futuristic design with fine lines and of course, colorful. You will often find the blue and yellow combination in mid-century living room furnishing. The look is timeless.
Sunken Living Room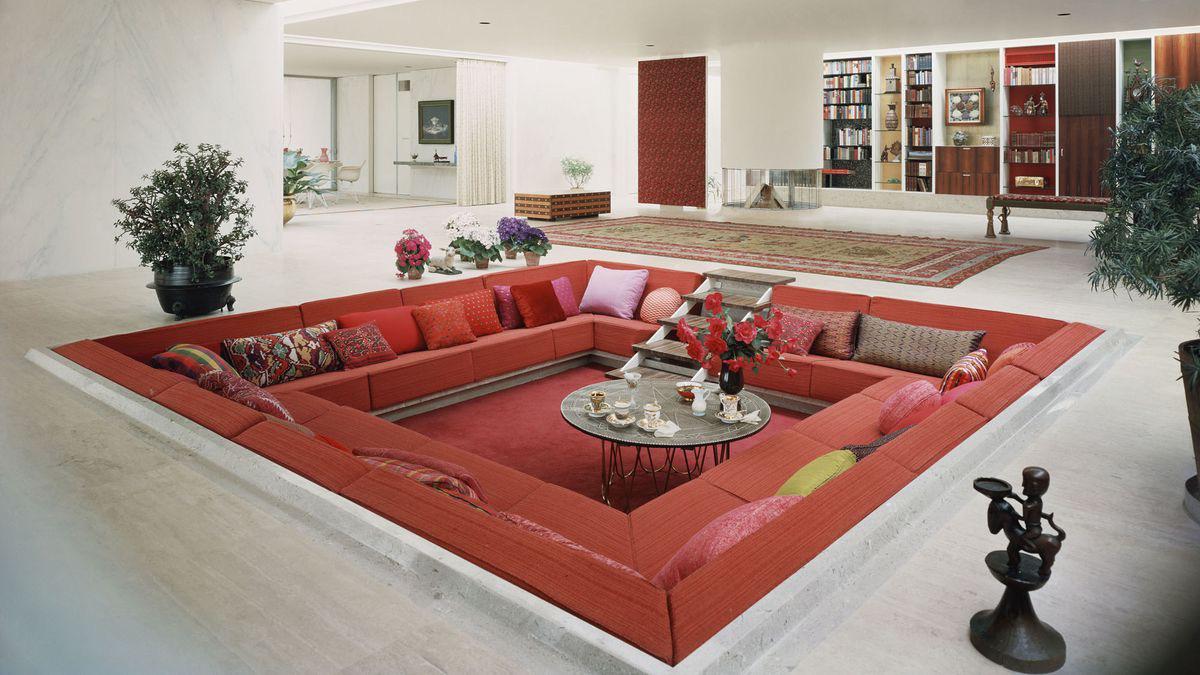 Sunken living rooms, which are a few steps below the rest of the house, have been around since the 1920s. Then again, it wasn't until the swinging 1960s that the style became popular. The goal with the sunken living room was to create a room within a room, i.e. the fluid and closed space concept of the mid-century modern design has produced a smaller "room" within the open living area, compact and inviting, with seating capacity for four 15-foot sofas.
High Ceilings And Clean Lines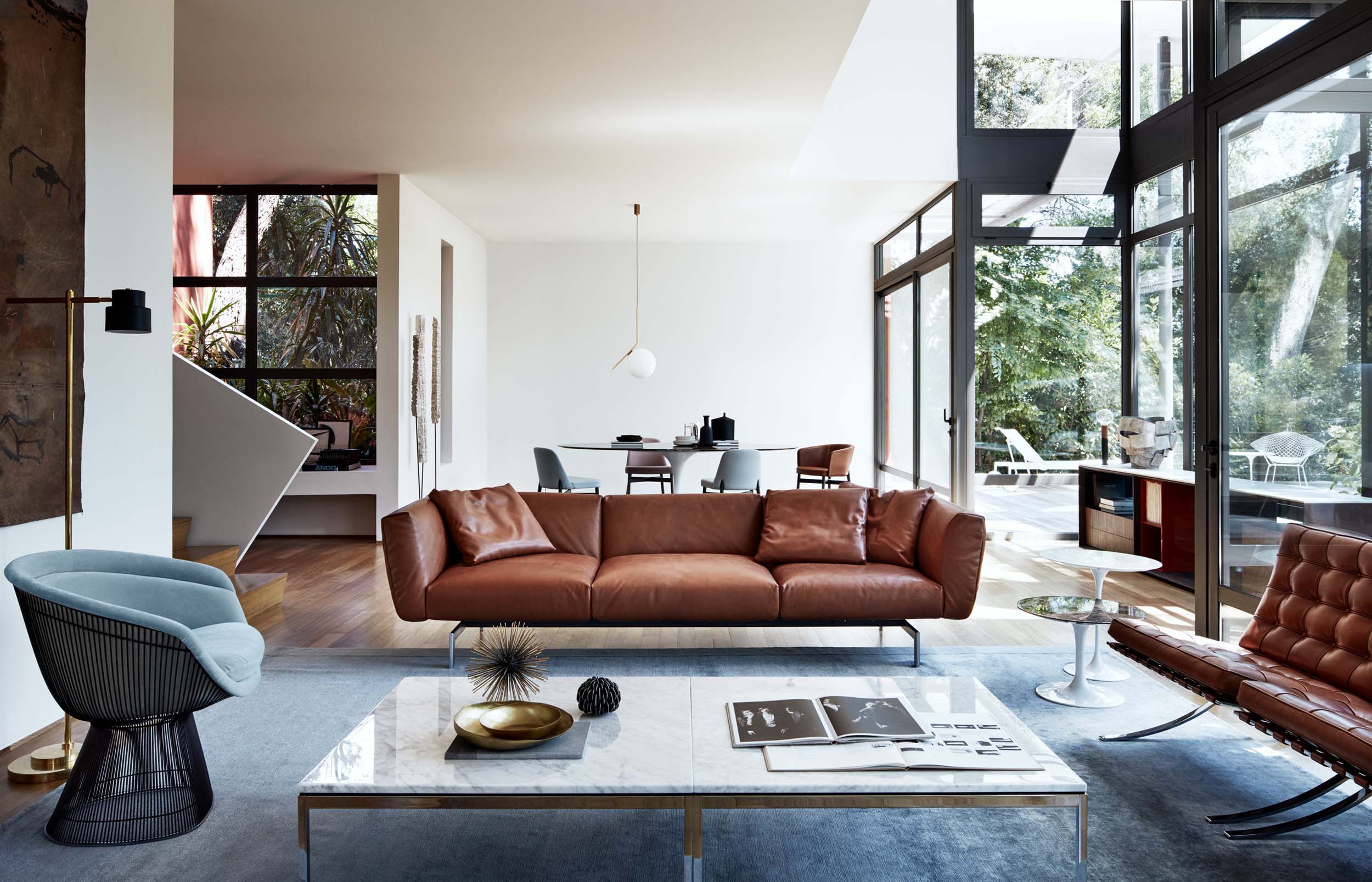 High ceilings open up space. Since mid-century furniture is pretty massive, the high ceiling will balance the massiveness.
Geometric Tiles And Wooden Cabinets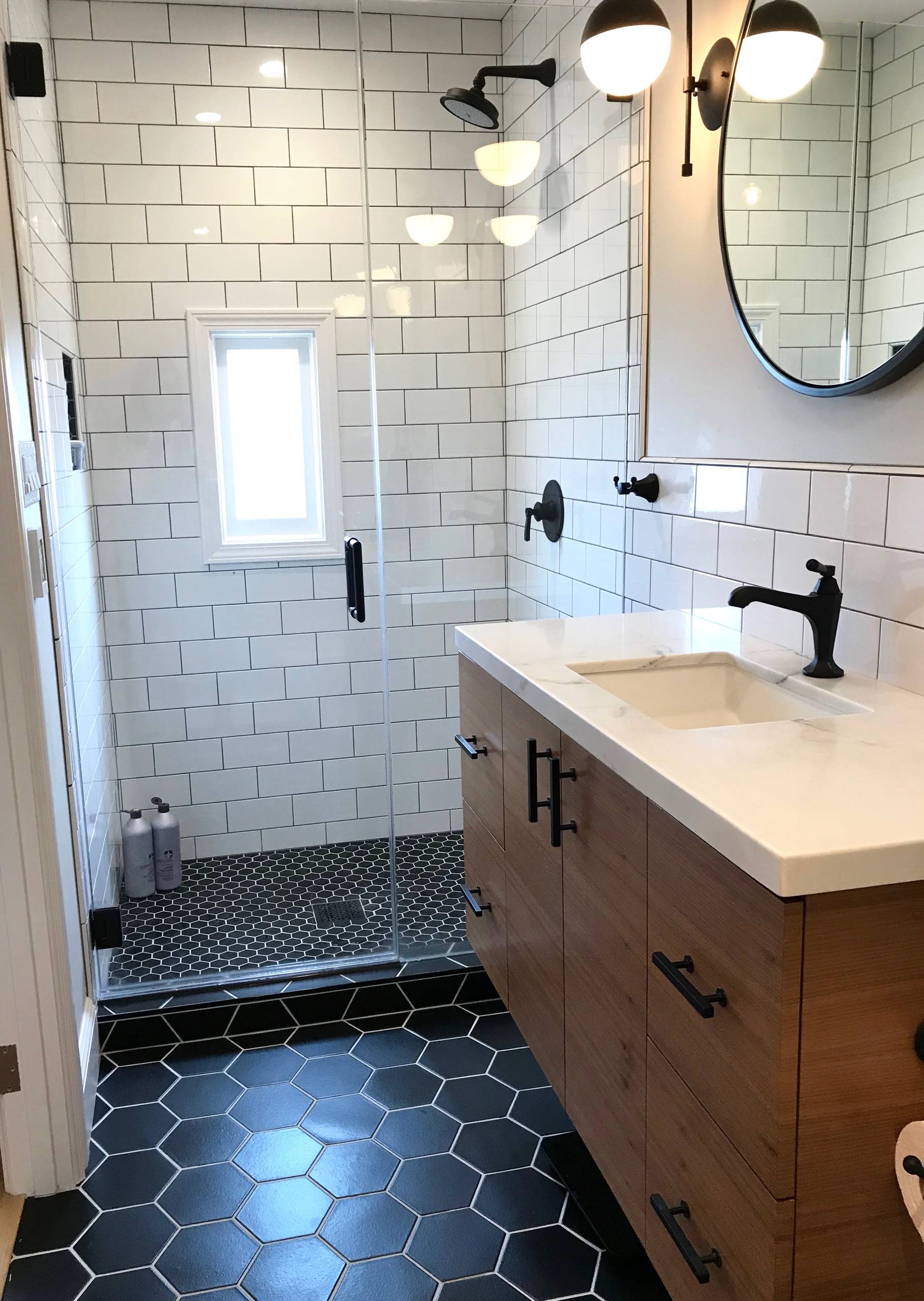 Geometric shapes such as hexagons, cubic, triangular, and pentagons are common in mid-century modern tiles. Mid-century tiles are frequently done in vintage colors such as teal or mustard yellow. For grout, you could go with classic white or go bold with color. Don't forget the wooden cabinets!
Wood Paneled Walls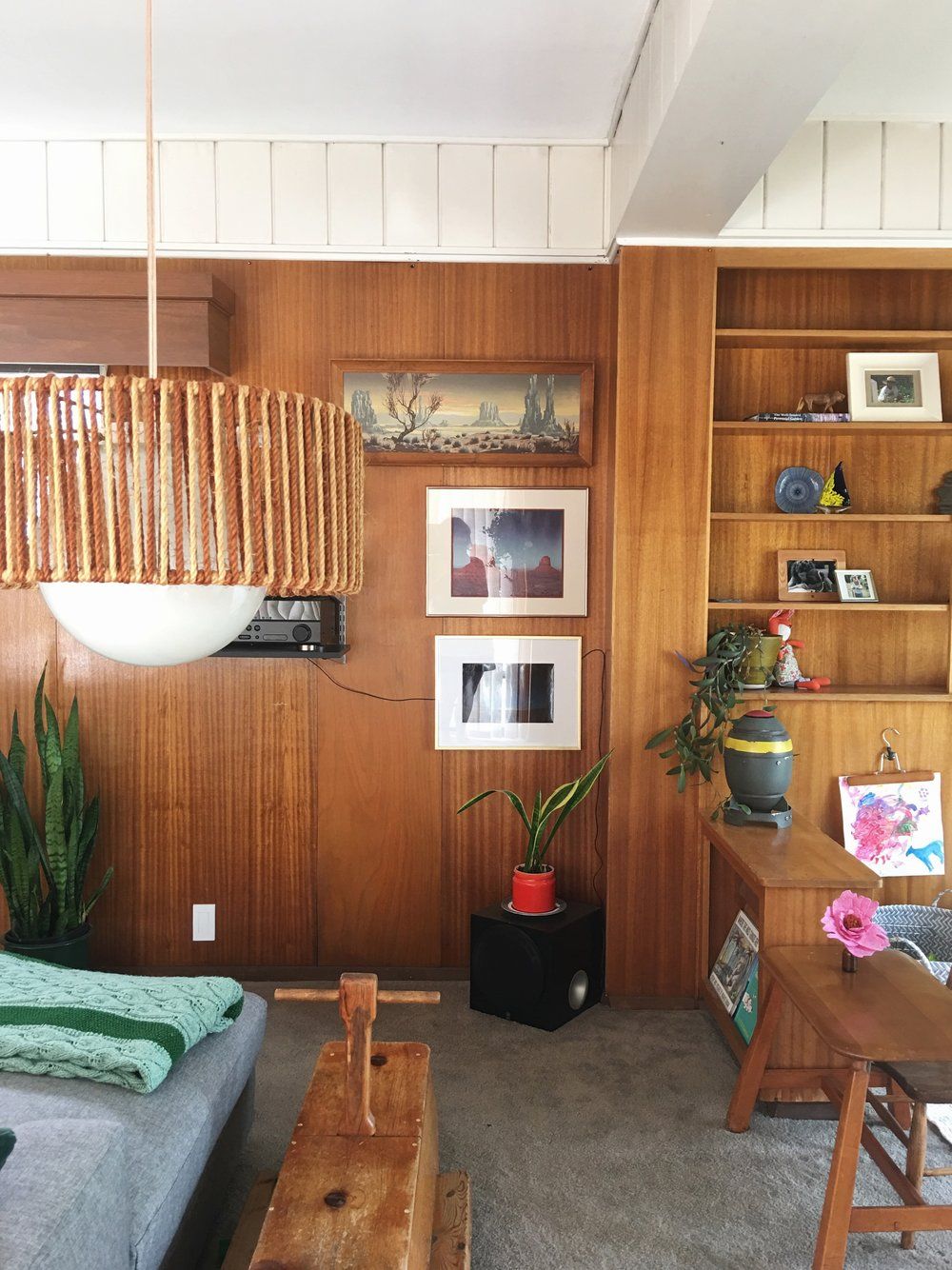 Built-in wooden furniture with paneled walls gives that post-modern retro feel to your home.  In the mid-twentieth century, wood paneling was all the rage before falling out of favor for decades. But now it's back because you can easily fit it in modern spaces.
Nursery
Many of the items in this nursery feel like they belong in a modern home, but they still have a nostalgic vibe that is popular right now. Choose a mid-century modern design if you want to create that look.
Colorful Girl's Room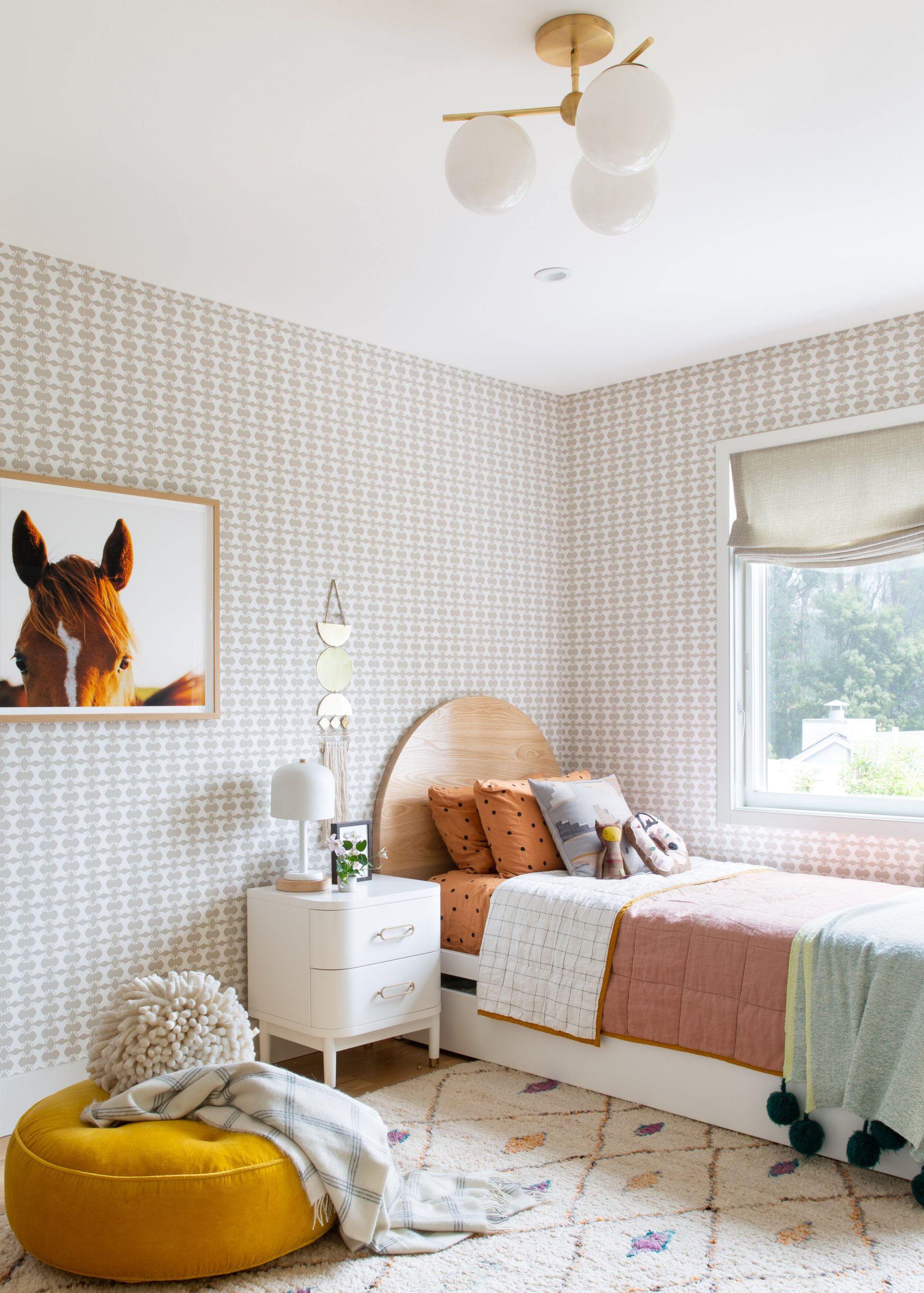 The girls' room should always be a place of fun and enjoyment for your kiddo, but it should also be kept neat and tidy. That is one of the reasons why designing a girls' room that fits the overall design style of the house while still being a place where the kids can have fun is so tough. If you decided to design your home in mid-century modern style, then you shouldn't leave out the girls' room. Here's an example of a cute mid-century modern girls' room.
Boy's Room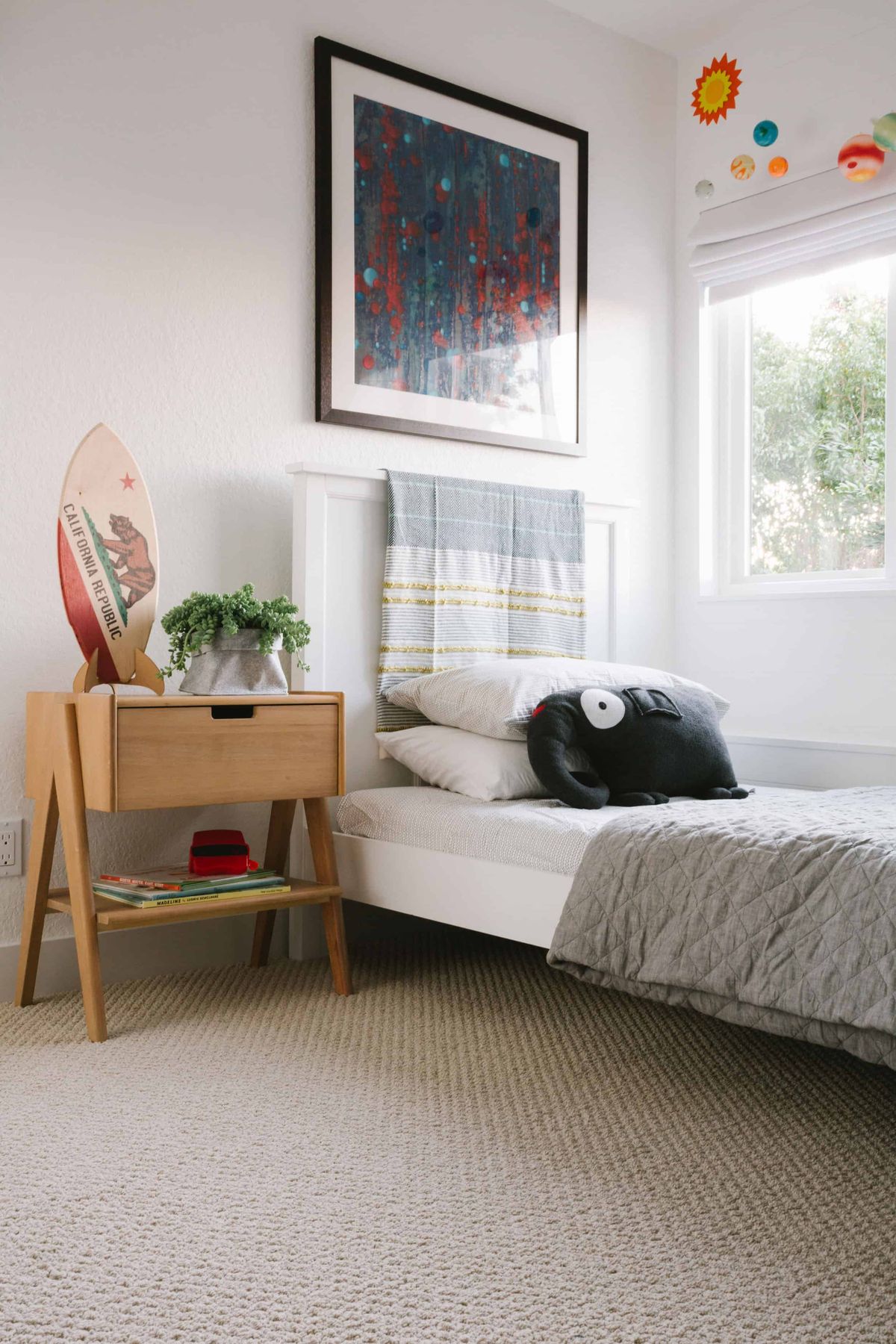 Well, you shouldn't leave out the boys' room, too. The key thing is a wooden bedside table, wooden bed, and lots of natural light.
Built-in Bookcase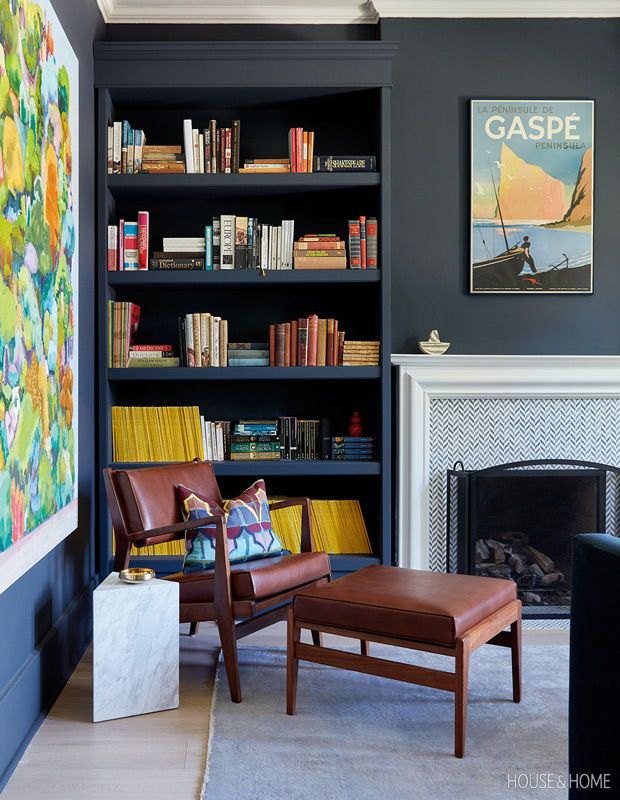 If you already have high ceilings, then a built-in library is a great idea for your mid-century home look. As we said, embedded wooden elements were very trendy in the last century, and are back in trend now.
Invest In Plants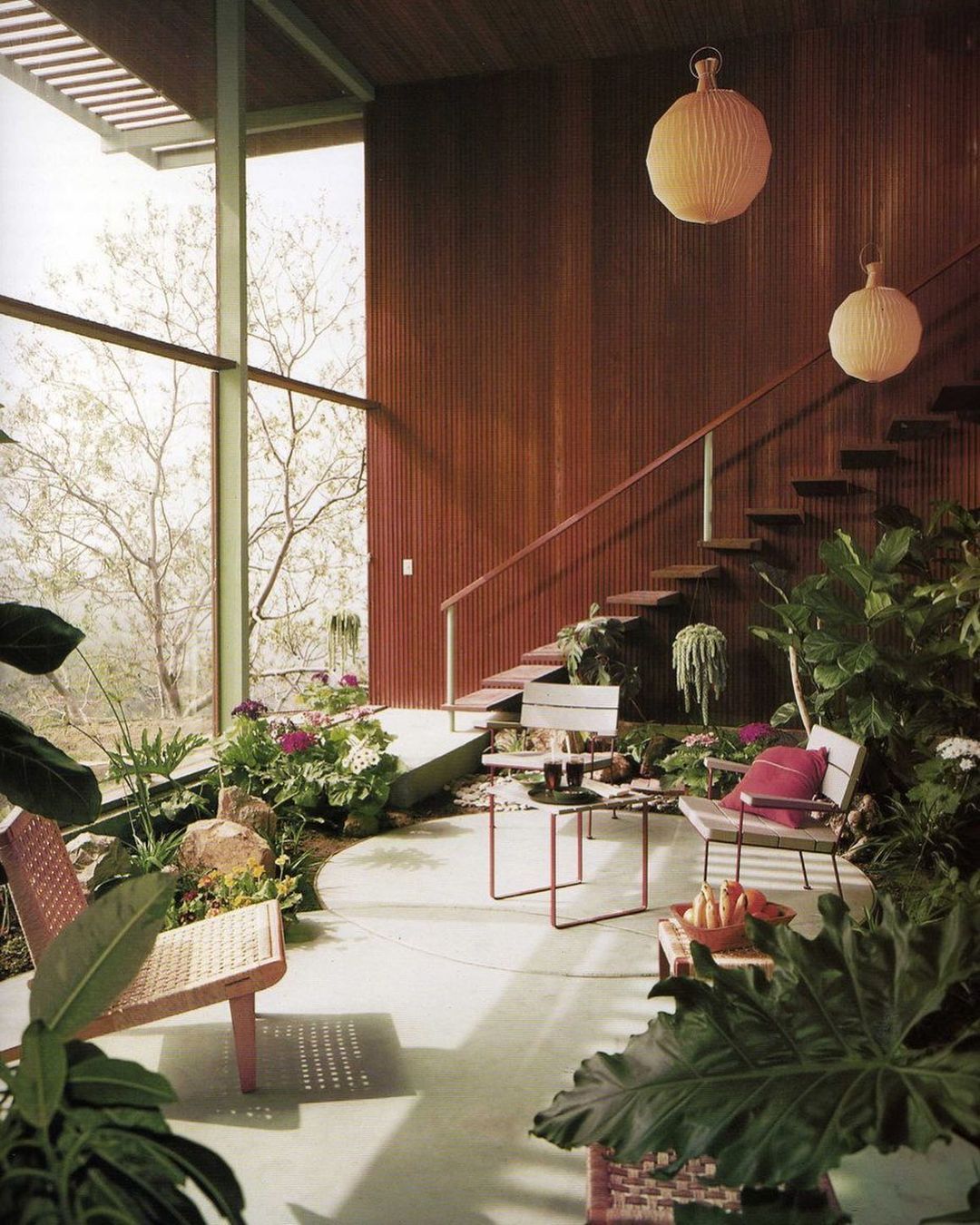 in this design, the appearance of the forest was very dominant. That is why natural wood materials are combined with many plants in the interior and that forest look is obtained. You can incorporate this into your anteroom, living room, or even bathroom.
Invest In Artwork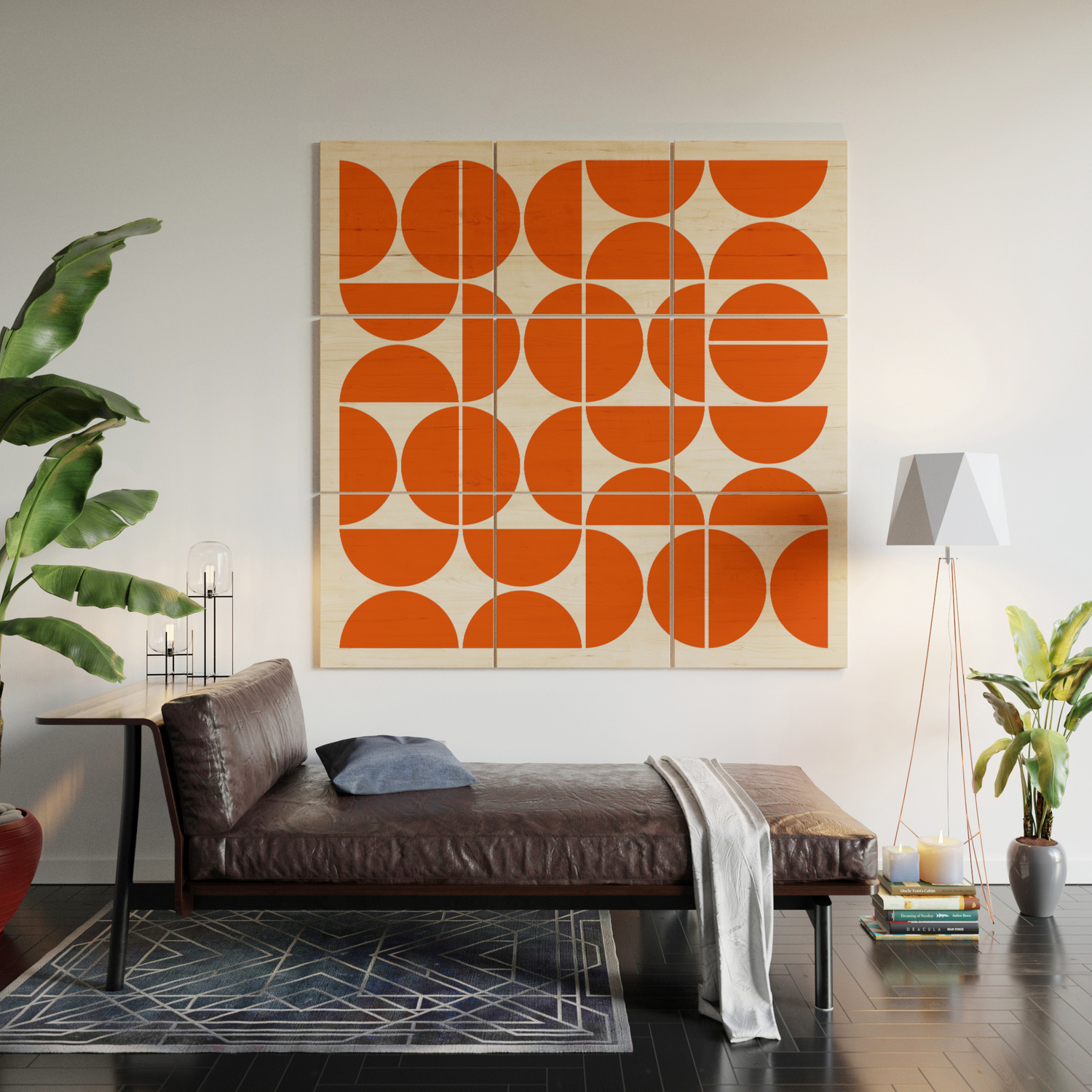 If you are missing the geocentricity in your room, then add a geometric artwork, which was prevalent in the mid-century modern design. Also, during this period pop art and abstract art were also famous and are something worth considering too.
Invest In Rugs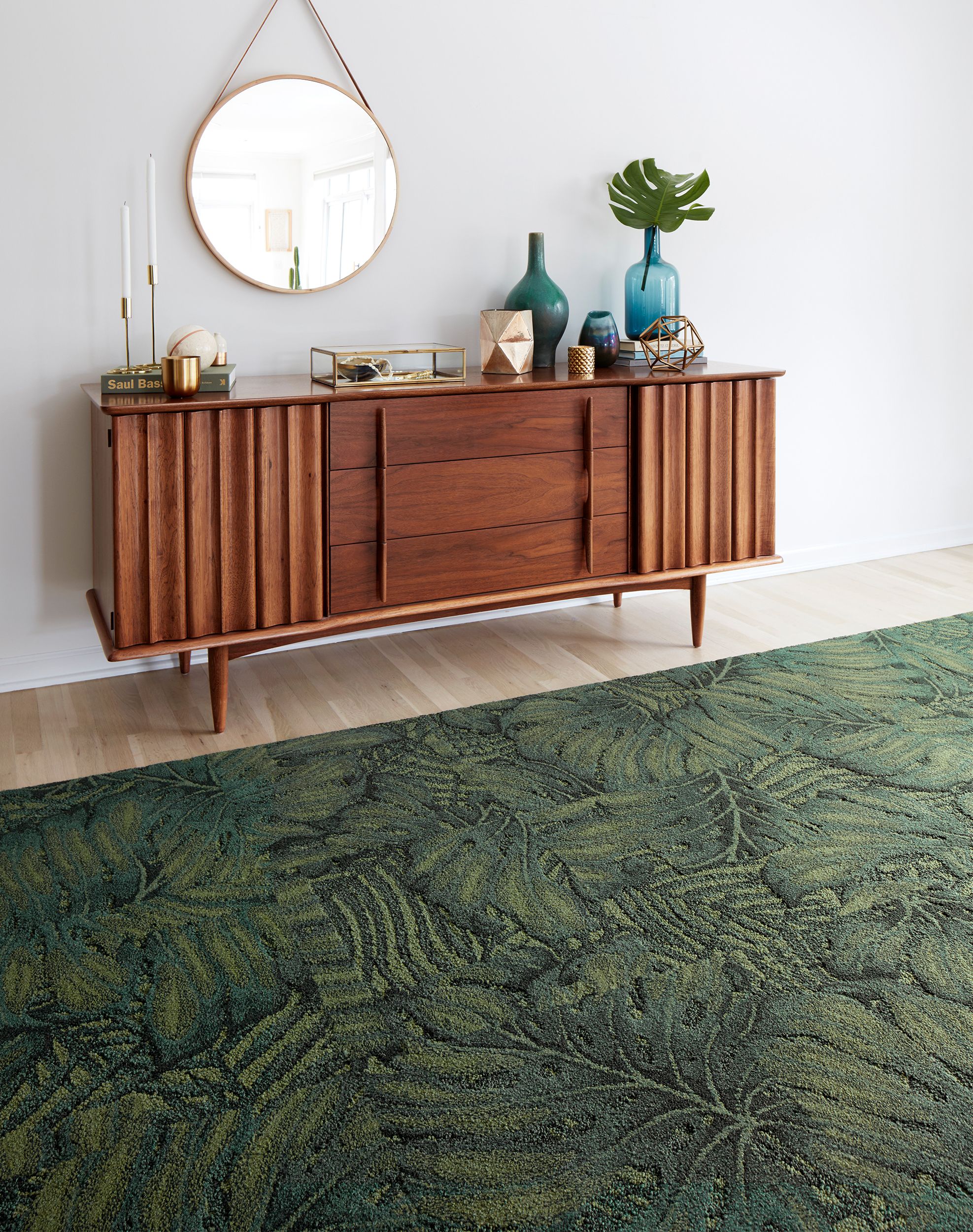 Carpets are just as good a tool to get that forest look in your home. Combine dark green carpet with plant patterns and wooden mid-century elements such as wooden cabinets. Even if you're not attempting to channel those classic, antique vibes, mid-century modern rugs are popular in many houses. Mid-century design is sometimes connected with a minimalist aesthetic.
Proper Lighting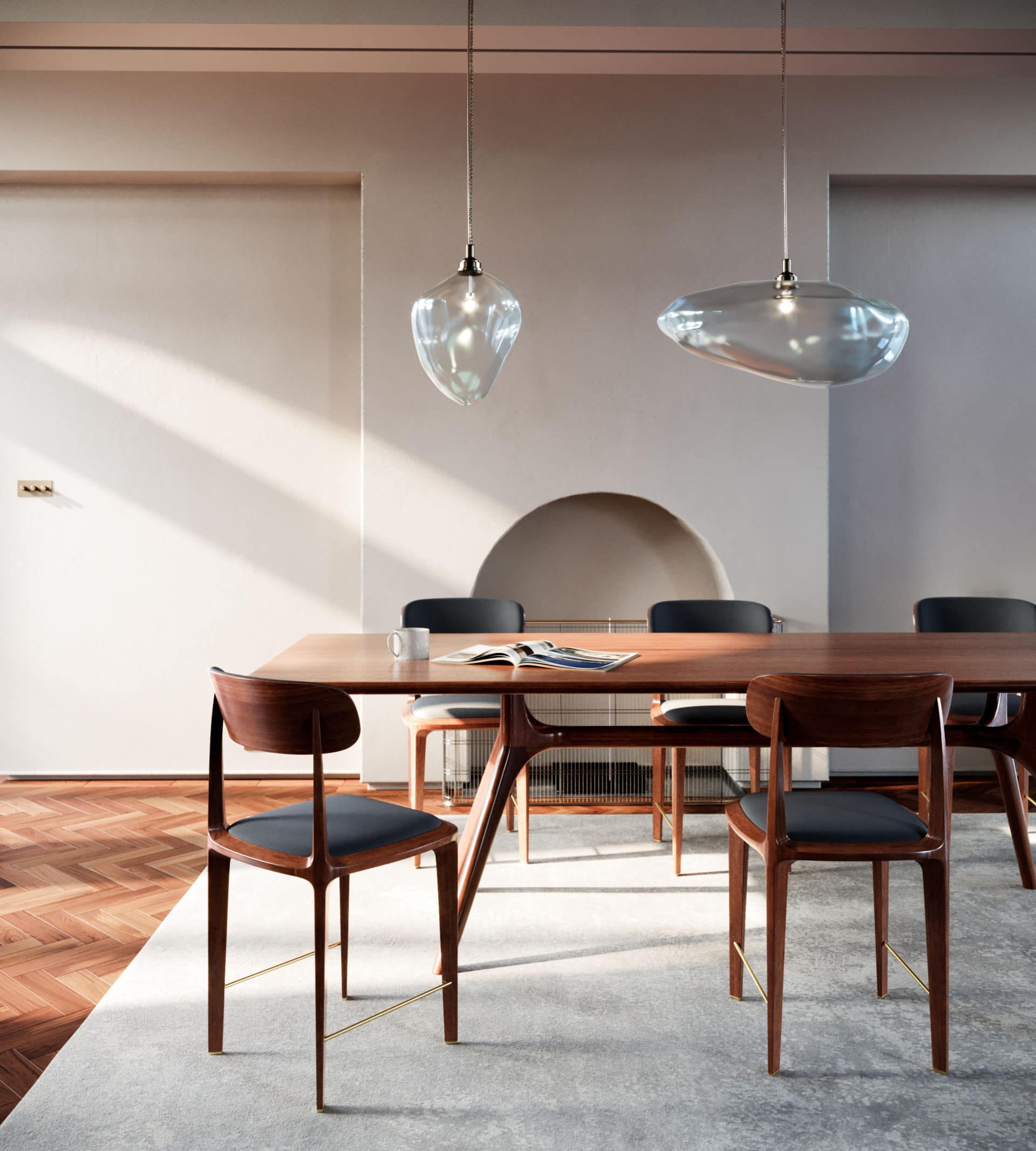 Mid-century modern chandeliers and lights are very minimalistic and modernistic focused and add a sense of sophistication to your home. They were also inspired by the scientific discoveries of the time, such as the first space flights. That's why they usually have a futuristic design.
Statement Wallpaper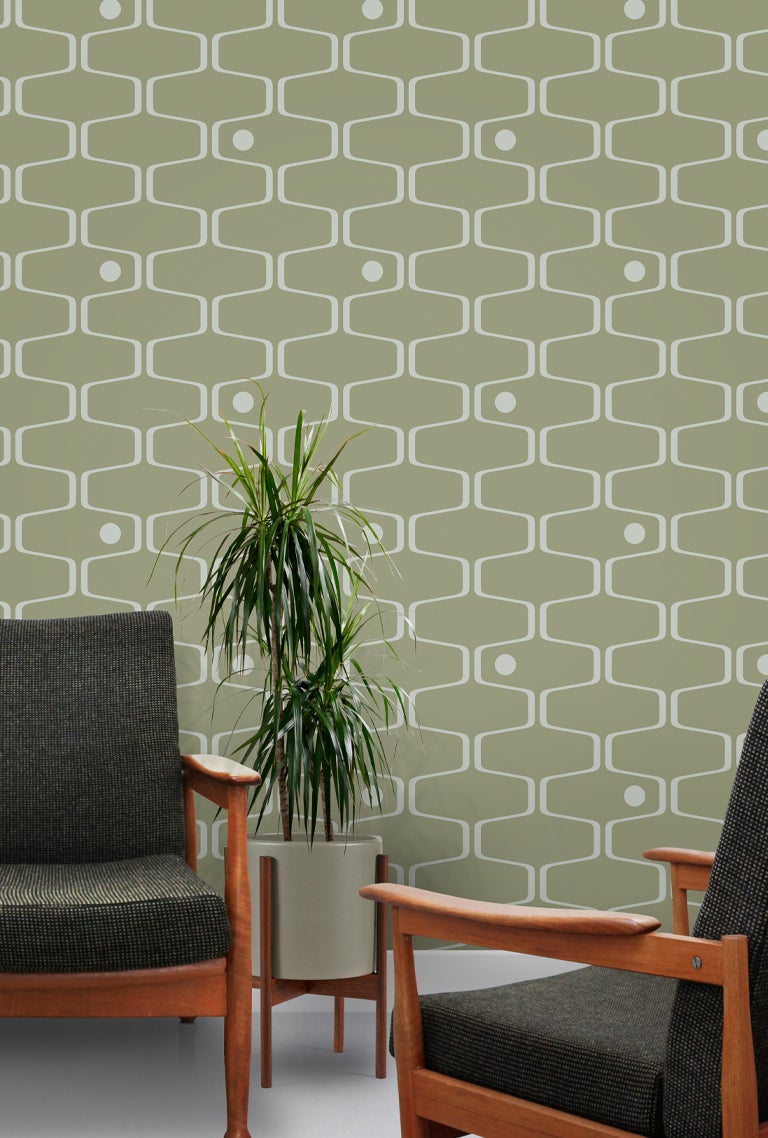 Again, everything is about geometrics, symmetry, and forest feel. Opt for the brown-green combination, but you can also add a pop of color.
Room Divider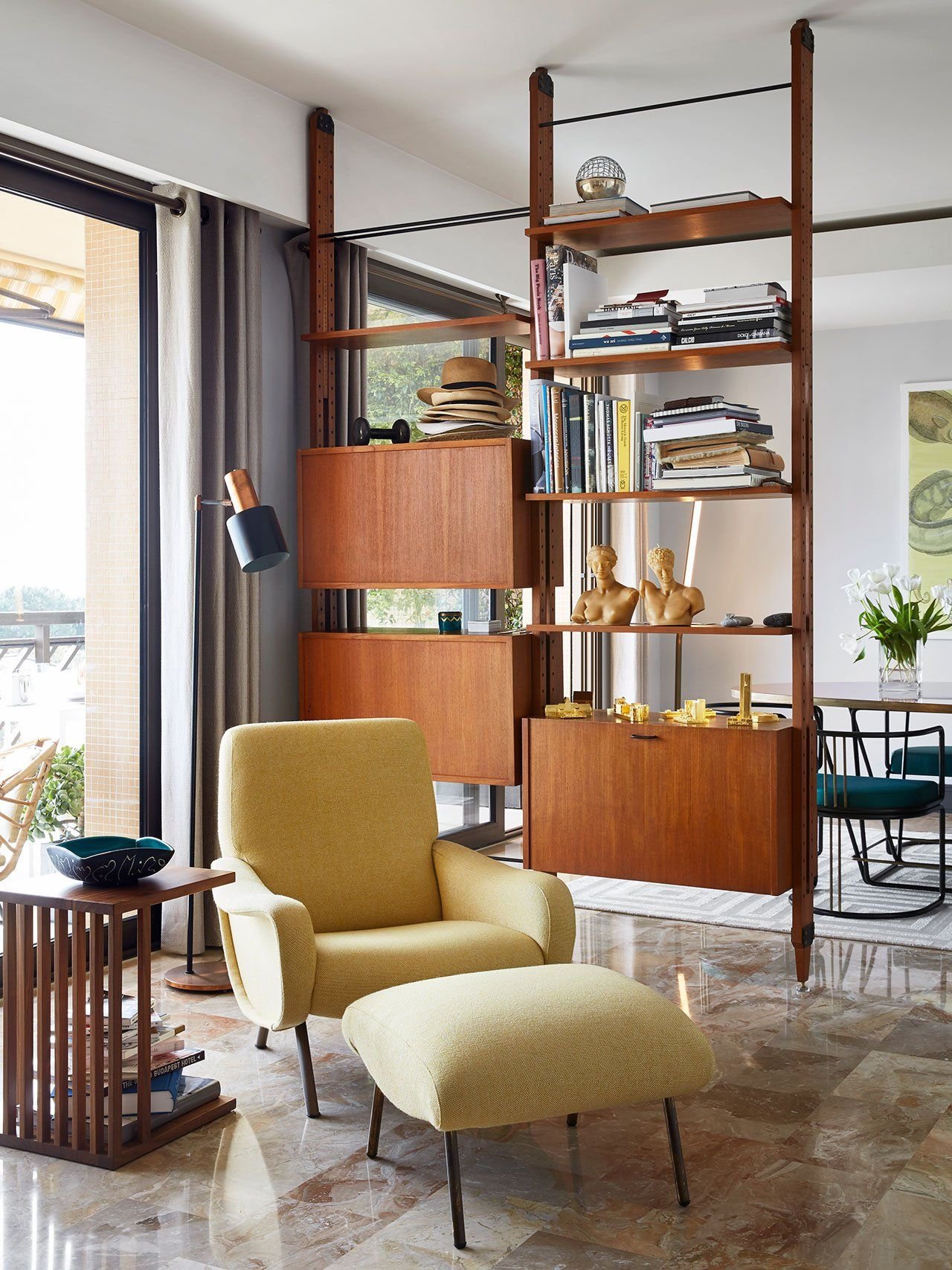 Room dividers were also super popular back in the day, and now are coming back! They are super useful for purposing your living space and using them as bookshelves or for your wine collection, whatever you wish. Yes, they have to be made of natural wood.
I hope I have inspired you to go back to the golden age of modern design and redesign your home into something timeless. Please do share your thoughts and ideas about what are your ideas when it comes to mid-century modern design and what's your favorite part of it.