The advantage of having a spacious living room is that you can use that space for whatever you want. You can experiment with different decorations and furniture styles and you can even make a special cozy reading corner. But, have you ever thought of bringing renovations to the next level, or should we say the lower level? Yes, we're talking about sunken living rooms.
Sunken living rooms, also known as conversation pits, were very popular in the 70s, but you can still find them in modern houses. They're perfect because they make your home unique and add an extra layer of coziness when you have guests over or decide to enjoy them in solitude. Not to mention that they're great inspiration and conversation strikers. They're a great conversational ice breaker for anyone meeting new people. Hence, the name 'conversation pit'.
Another great thing is that sunken living rooms have plenty of design ideas, so you can decide to make them beside a fireplace, in your home library, or home movie theater if you have one; and in case you have a cabin in the woods or mountain, sunken living rooms are the way to go if you're considering a renovation. They go with any home design, whether you have a modern home, vintage furniture from the 70s, or even the most unusual of spaces, so you can never go wrong. What you'd probably need right now are some ideas. This is where we step in.
Having everyone's taste and home style in mind, we've prepared 20 sunken living room ideas that you can choose from. We guarantee that they're everything but ordinary.
Read on and enjoy.
Evenings by the Fire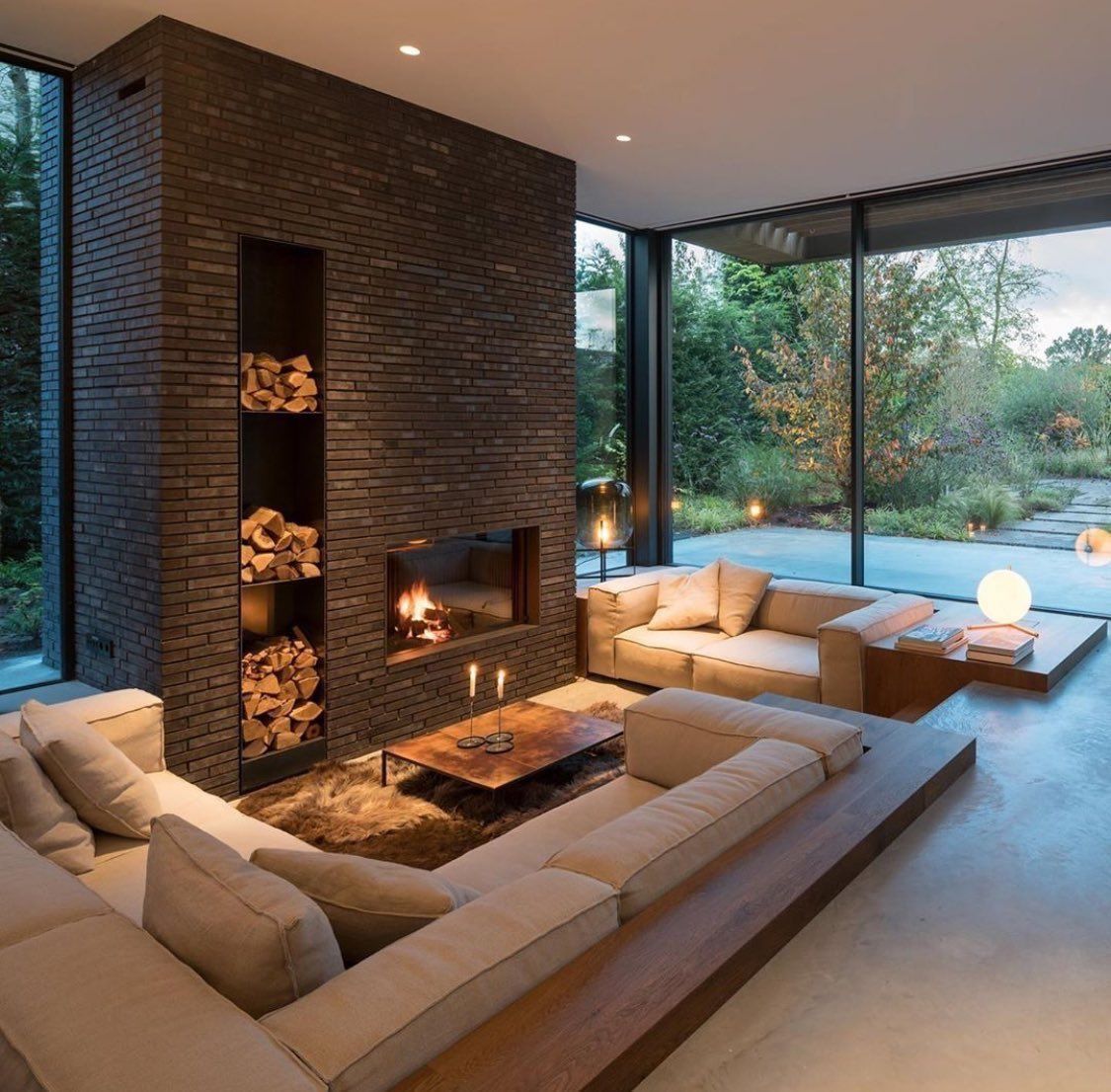 Other than providing literal warmth, fireplaces have always been responsible for adding a bit of warmth to the soul as well. Add some wood logs, candles, dim light bulbs, and a warm carper. And if you pair that with a cozy sunken living room, you get a welcoming corner for guests or an unforgettable romantic experience with a special someone.
Where the Present meets the Past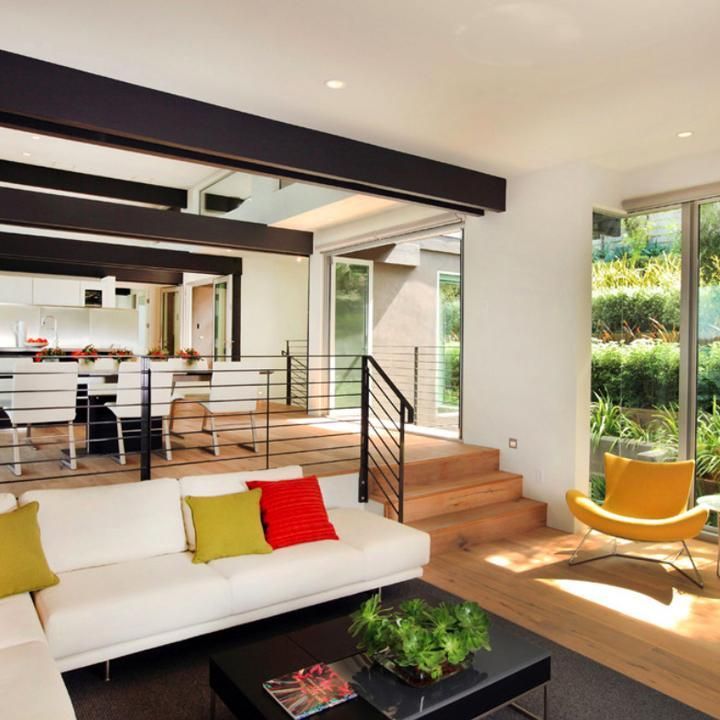 Earlier we said that sunken living rooms can be incorporated regardless of the home design. All you need is a spacious lounge space that can be semi-divided with a railing when you decide to make a conversation pit. An interesting thing you can do here is to combine your modern-day furniture with an old-fashioned piece that would serve as a reminder of the era these sunken living rooms were all the rage.
Minimalistic Sunken Lounge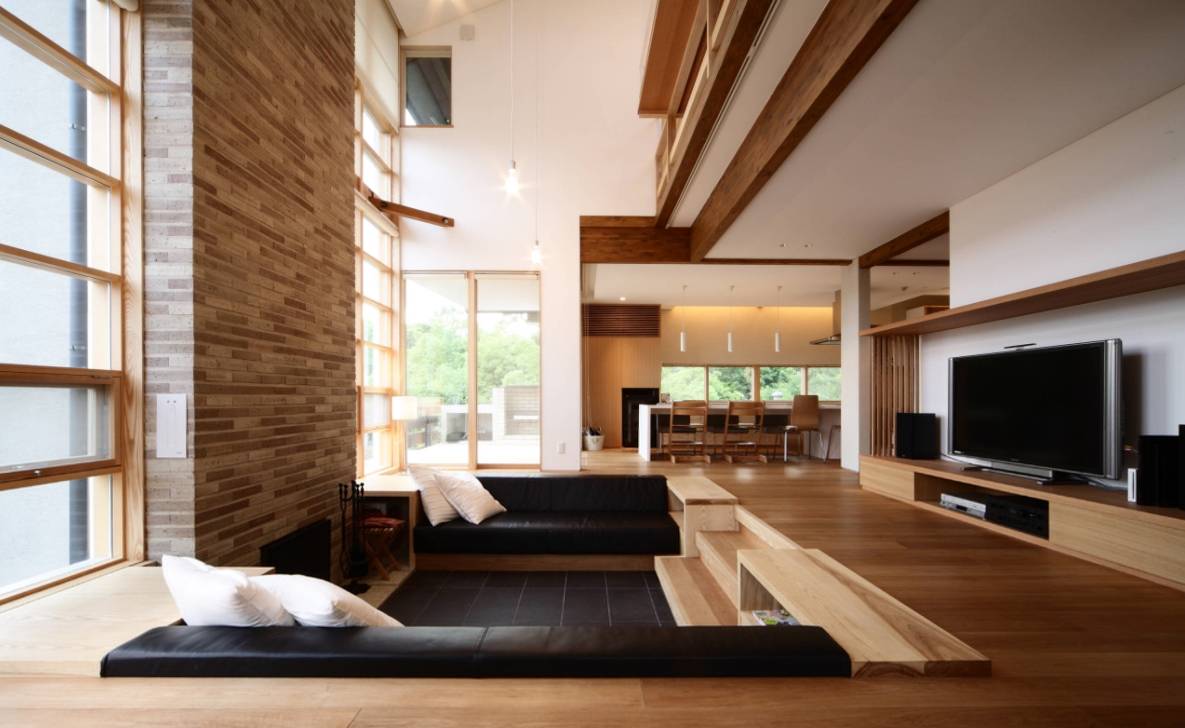 If minimalism is dominant in your home, you can breathe some life into it by making sunken sofas with a couple of side shelves in front of the TV. This way you will make your TV experience much more enjoyable and comfortable. It would be like a private movie theater, and who wouldn't want that?
Dove White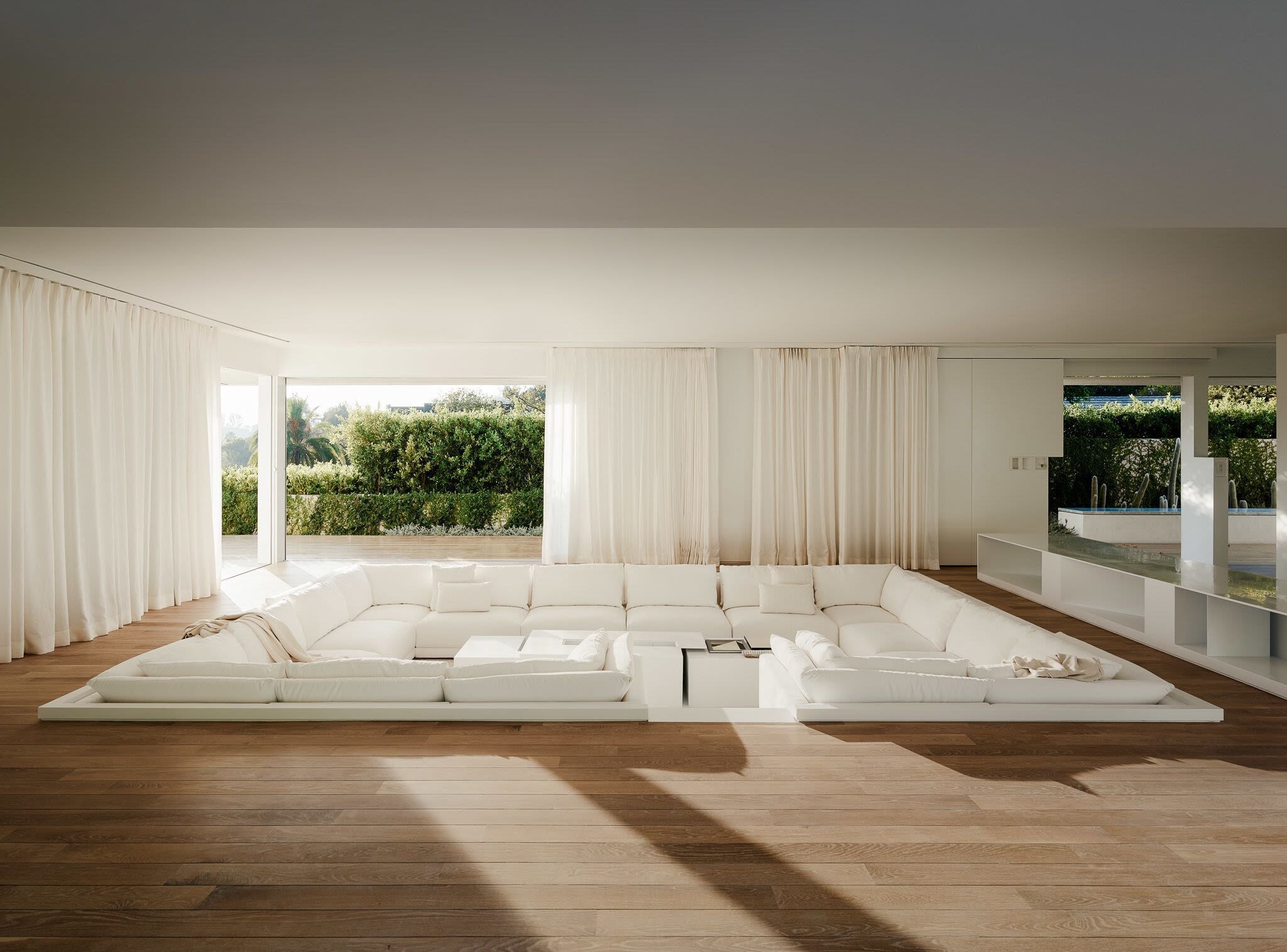 Feeling bridal or just wanting to add more brightness into your home. We suggest going with all-white sunken joint sofas that would be perfect if you enjoy long talks and cuddles with your new spouse or hosting parties for a large group of friends. They're a perfect mood booster because, unlike them, you will never be sunken. See what we did there?
Sunken Den in the Cabin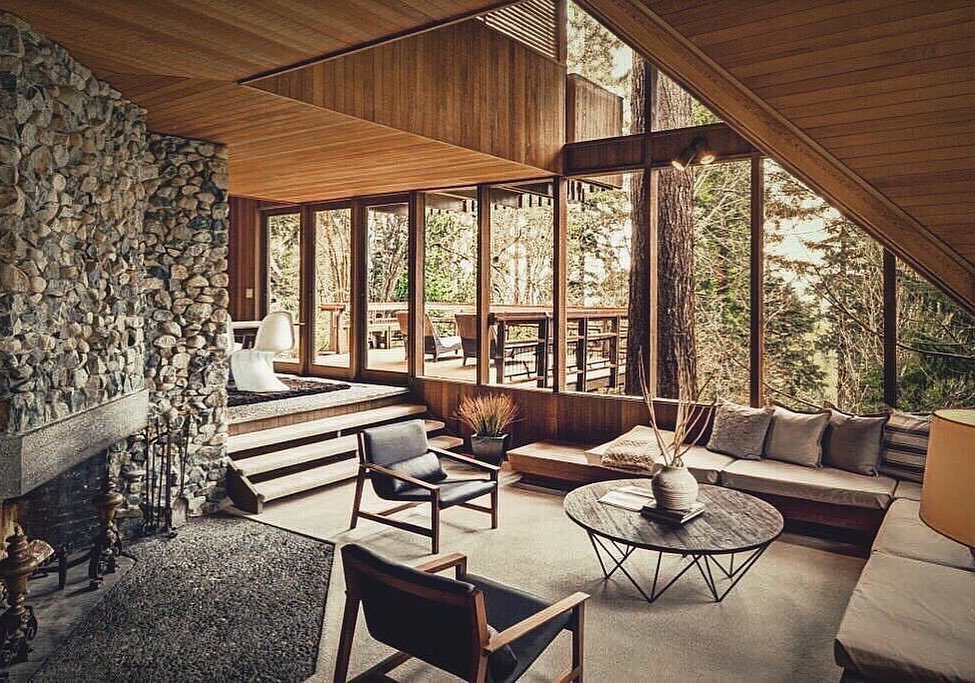 Where are our cabin lovers at? As far as sunken living rooms go, they work best in rural homes because they make them cozier. So if you have a farmhouse or cabin somewhere and you want to make some changes in the living room, this is a very good idea for it.
Vintage Sunken Living Room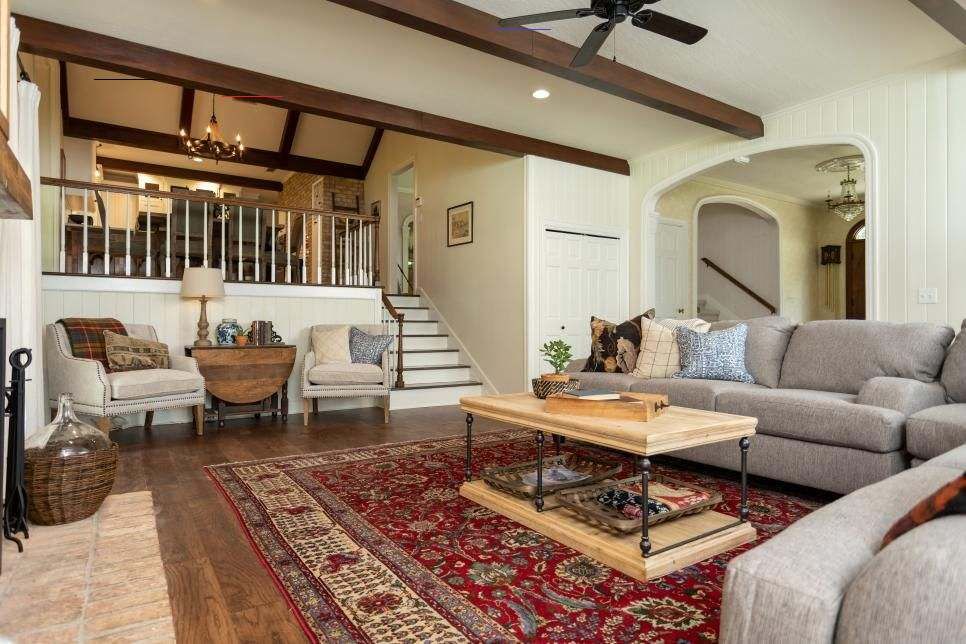 The fun thing about sunken living rooms is that you can play around with the level and make it as sunken as you want it to be. You can even make it a split-level and divide it from the rest of your house with a raised wall railing. This works best if you have vintage or rustic furniture.
Indoor Nature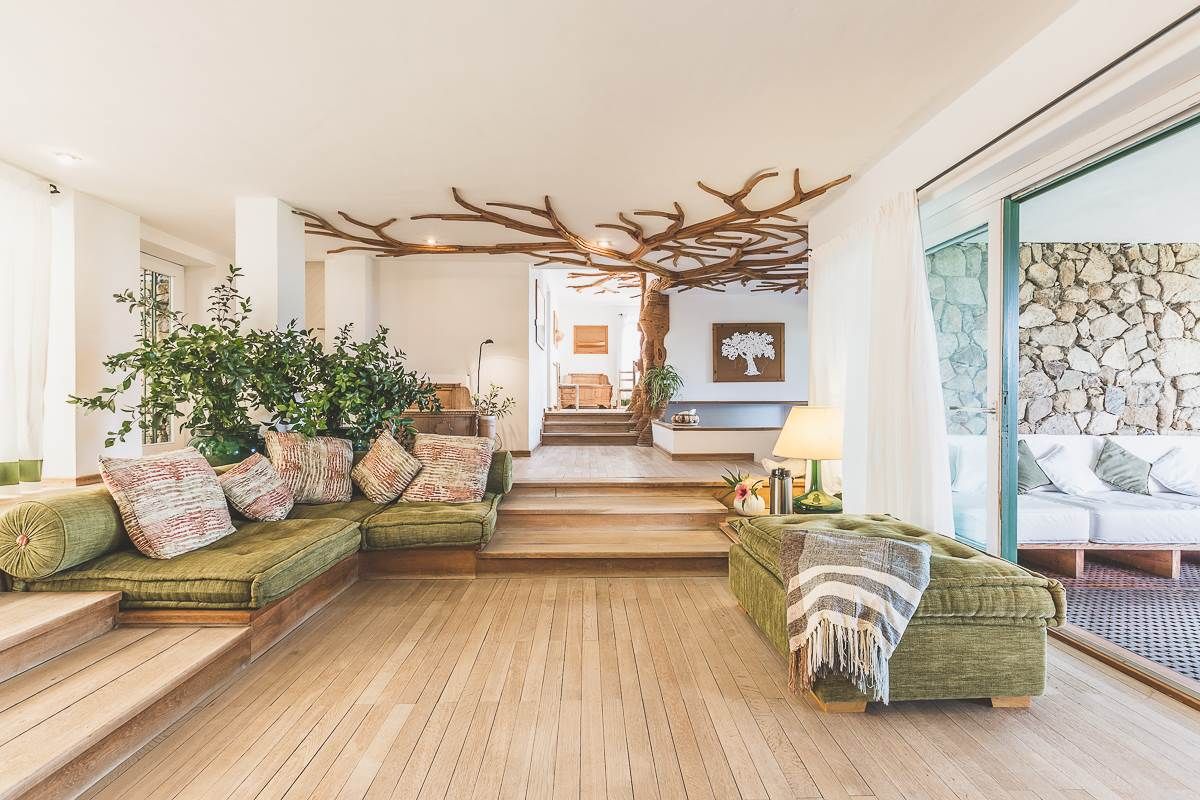 Nature lovers tend to bring a small part of nature wherever they go. But if you want to go crazy and bring the entire forest into your living room, we see no reason why you can't do that. You can choose from a number of large potted plants, nature art, or even forest wall art like the one you see in the photo. The forest is the limit.
Morning Coffee in the Forest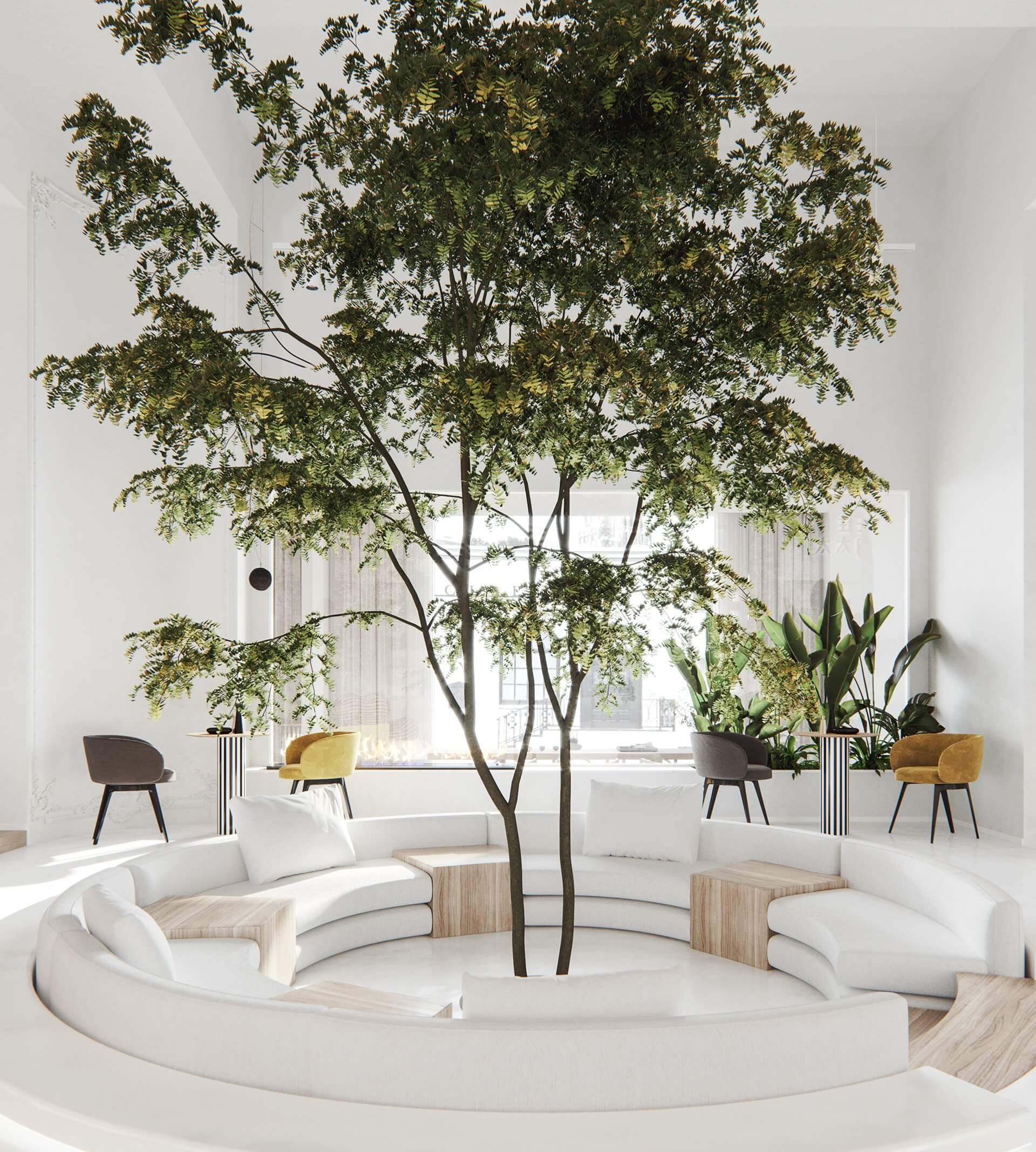 Speaking of indoor nature here's another idea you can use to achieve the idea of having a greener home. Take this coffee shop-inspired sunken lounge into consideration and you will feel like you're having your morning coffee in the forest nearby.
Playing Corner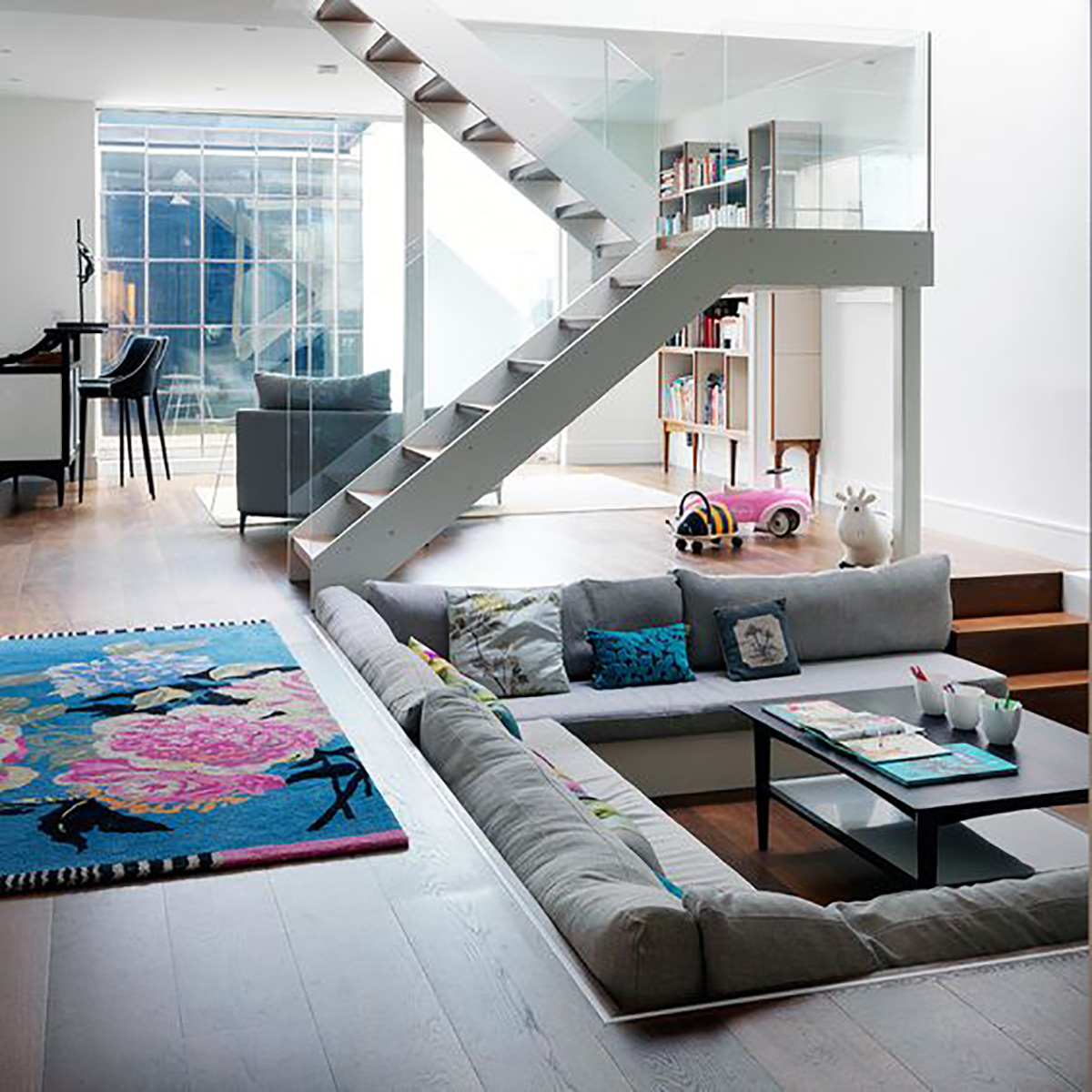 Sunken living rooms find another playful use for the younger generations. Aside from serving as a place where you sit and watch TV, it can also serve as a safe place where you can make some beautiful memories playing with your child.
A Colorful Embrace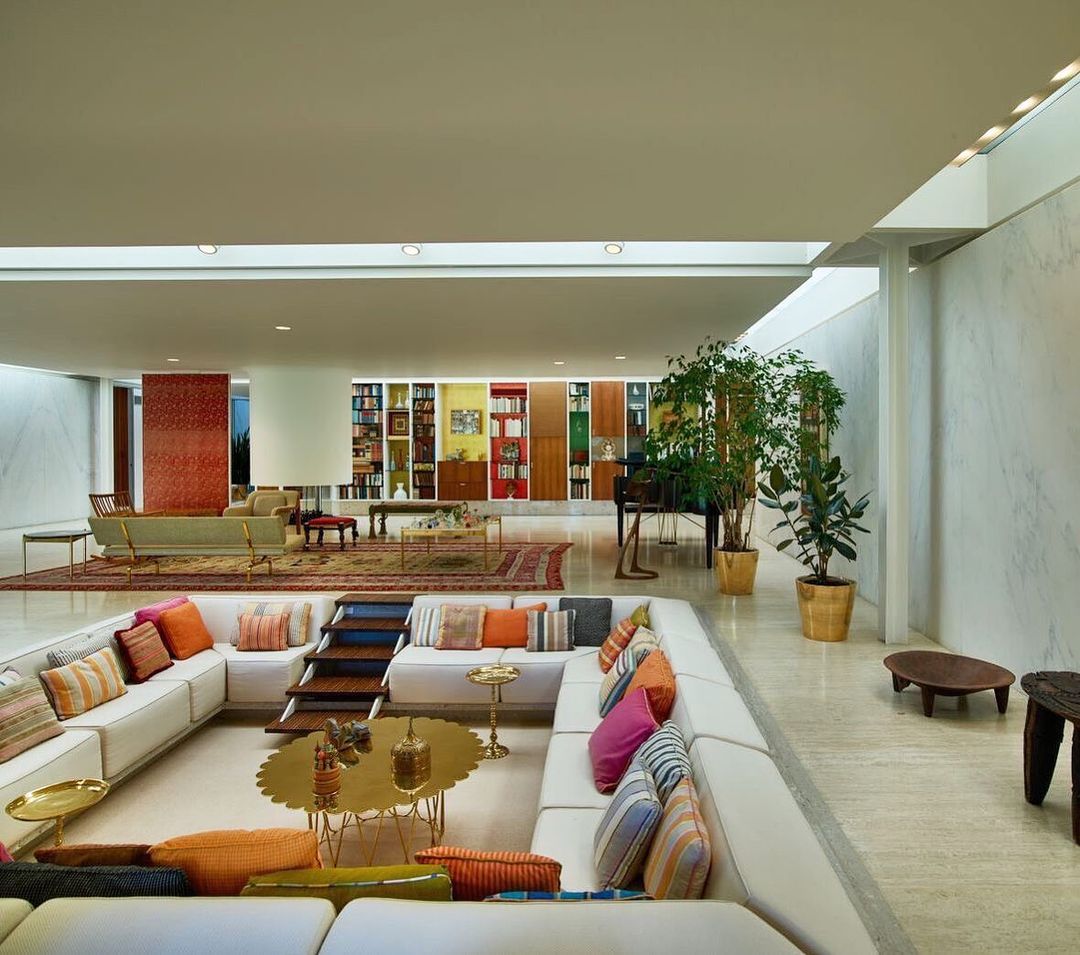 We saw what a minimalistic sunken living room with neutral colors looks like. Now it's time to see if an abundance of colors is our cup of tea. If you're just as intrigued by this idea as we are, we encourage you to try it out.
Sunken Home Movie Theater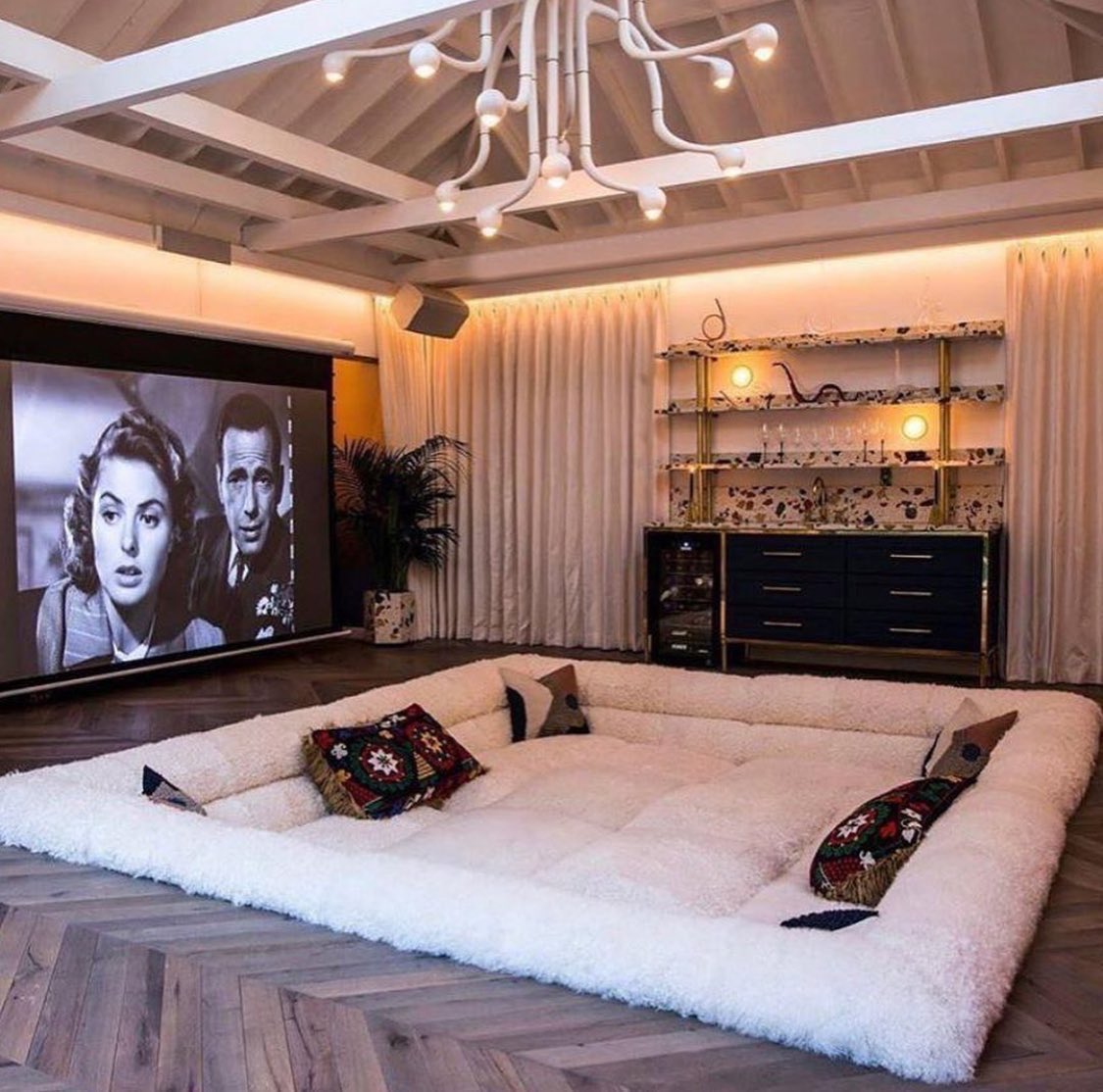 Since this 2-year long pandemic made it almost impossible for us to enjoy a good movie without being constantly worried we might get sick with the virus, a lot of people decided to convert the guest rooms into home movie theaters. If you have an extra space in your house, you can do it too. And to make the movie-watching experience at home more enjoyable, we suggest making a sunken sitting/lying area instead of regular theater seats, similar to the one in the photo.
Sunken Living Room/Home Library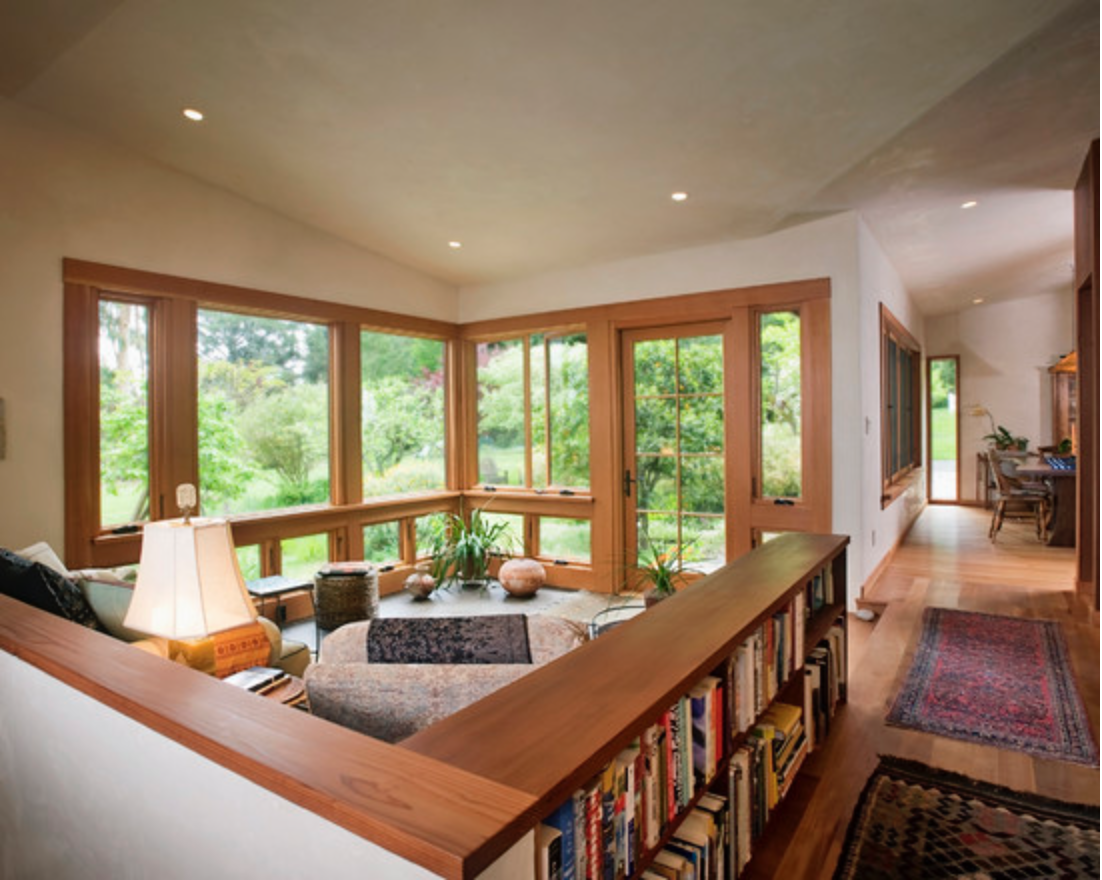 Another way to incorporate the option of a sunken lounge in your home is to make in-built outer-side bookshelves where you can store all your books. Situate it in front of an all-wall window that offers you a breathtaking view of your garden and you get a reading experience like never before.
The Luxurious 70s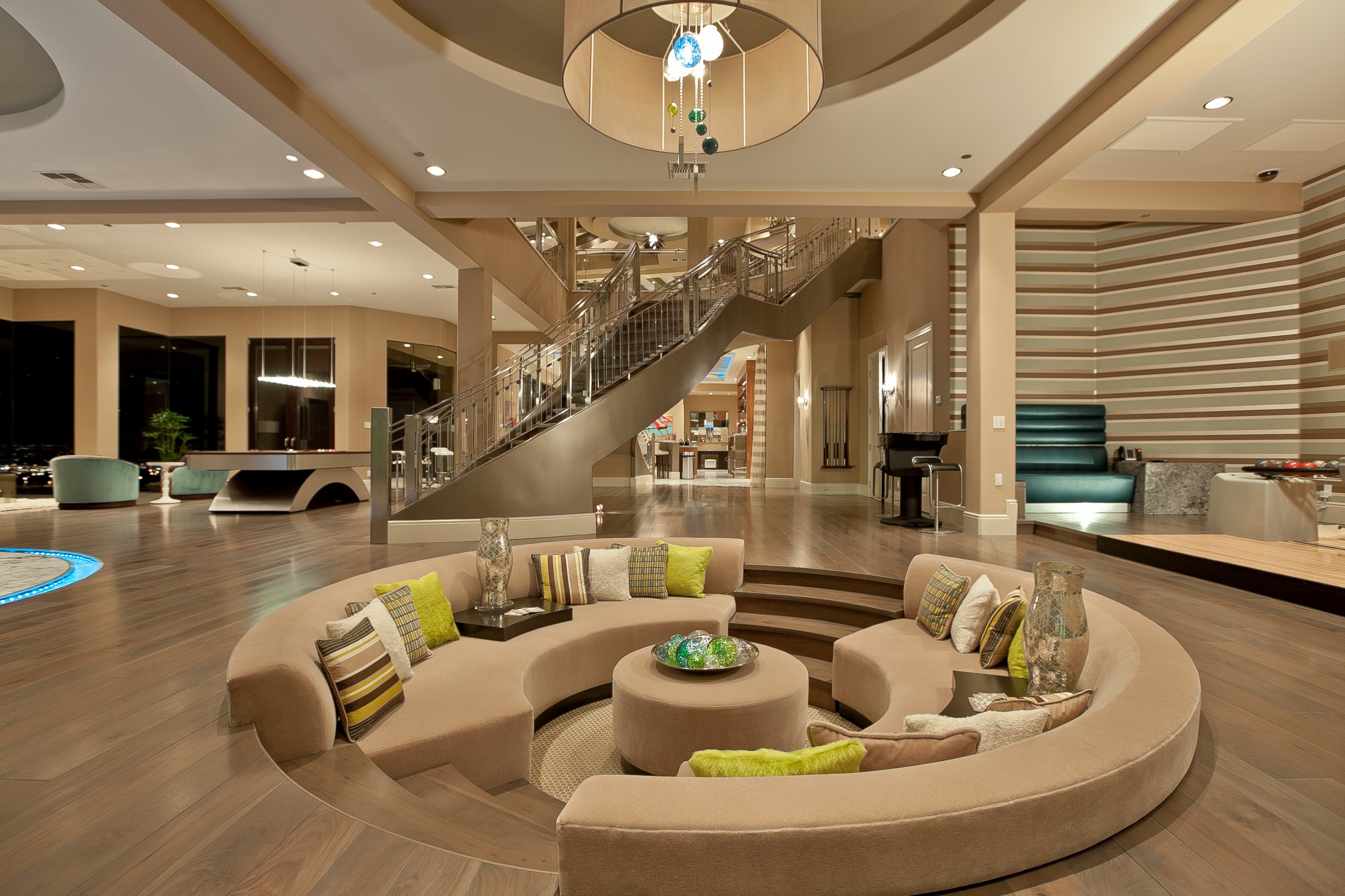 Ever dreamed of living out the 70s luxuriously? This is a great idea if you want to make that dream come true and if you already have a mansion with an appropriate exterior and interior. And if you find this sunken living room design appealing, dedicate a small space for a sunken sitting area for you and your friends to enjoy.
Living Room by the Pool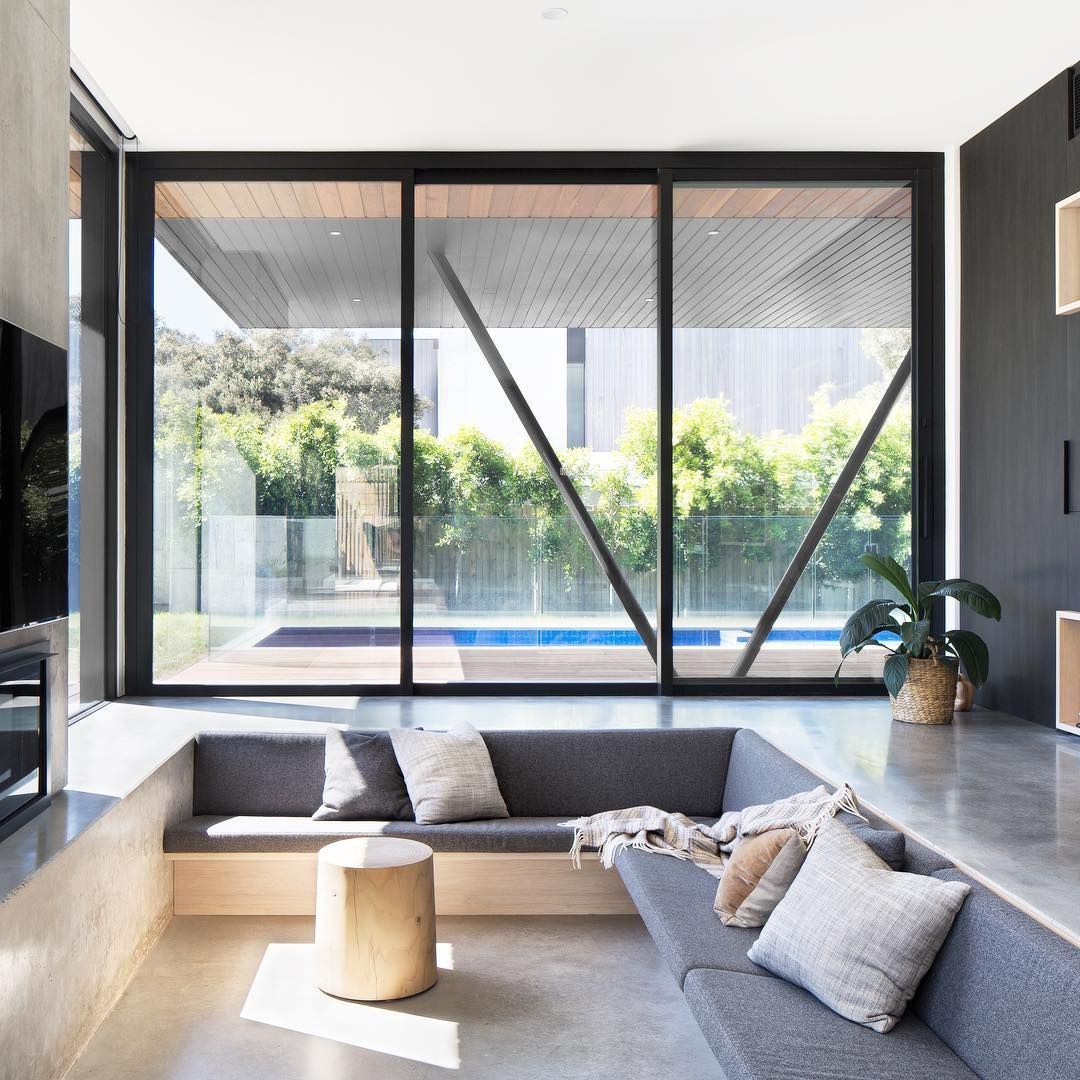 Yet another aesthetically pleasing way to bring sunken conversation pits into your home. This design is super easy to achieve as you will only need some cushions and throw pillows to make your space more interesting. Plus, being on the same level as the water from the pool in front of you has got to be cool, right?
Living Room on the Pool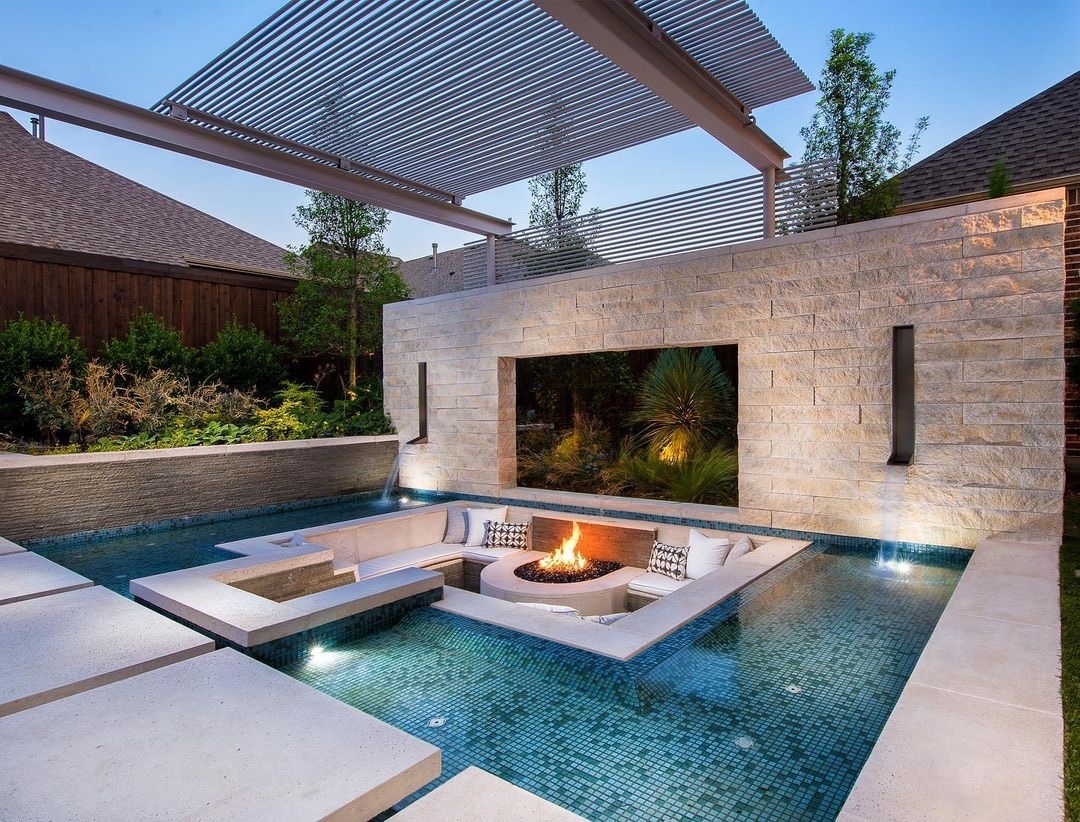 Because why not? If you were intrigued by the previous idea but want to be even more unique, no one's stopping you from making your sunken lounge outdoors, right in the middle of your swimming pool. And if it gets chilly at night, you can even make a small firepit inside it.
It's Peace Time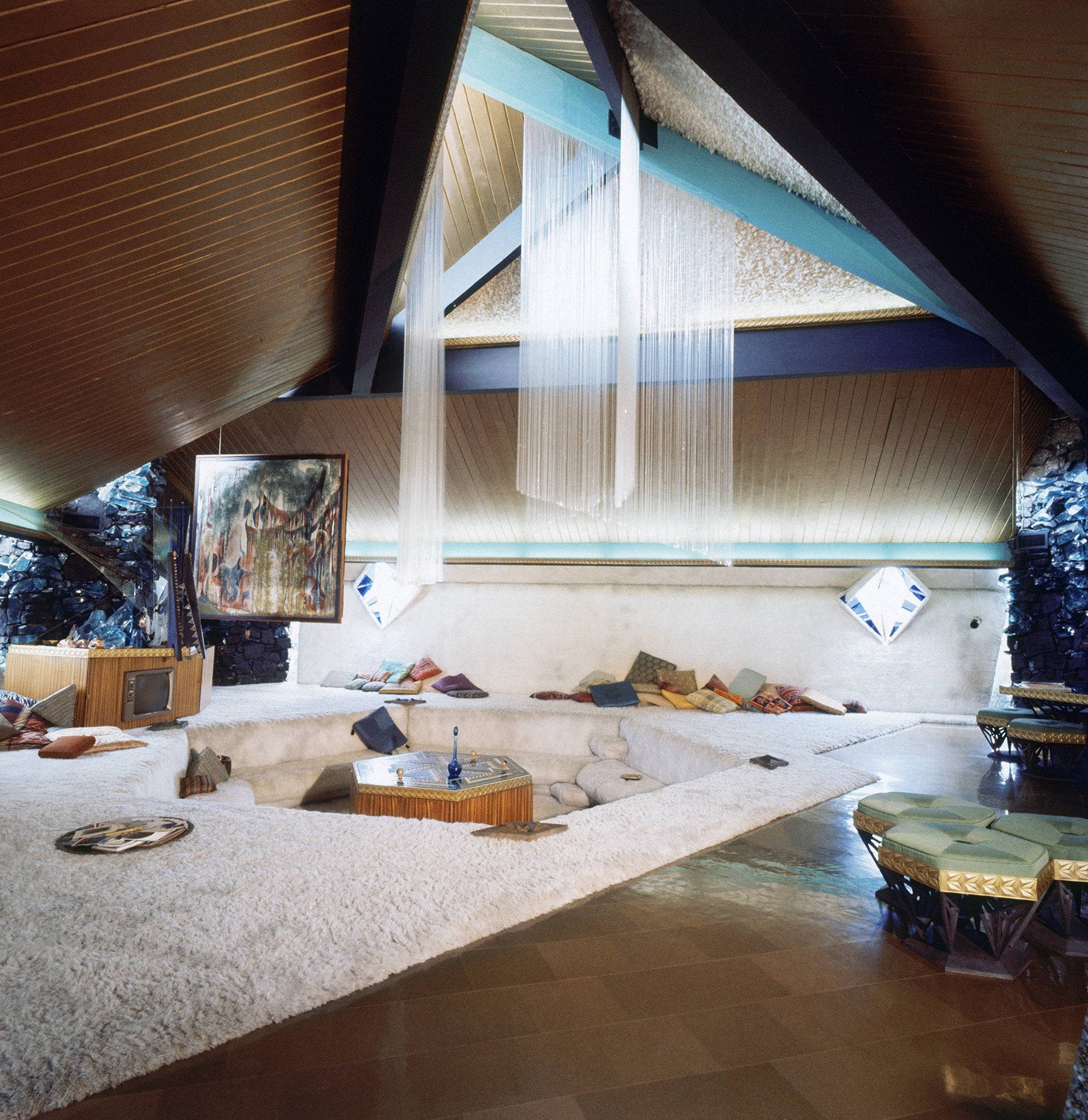 If you've always been fascinated by the 70s home designs and way of life, this is a great idea. You can make a huge plush 70s themed sunken sitting area in your living room or attic with colorful pillows, small box TV, and furniture and decor from that era.
Pillow Talks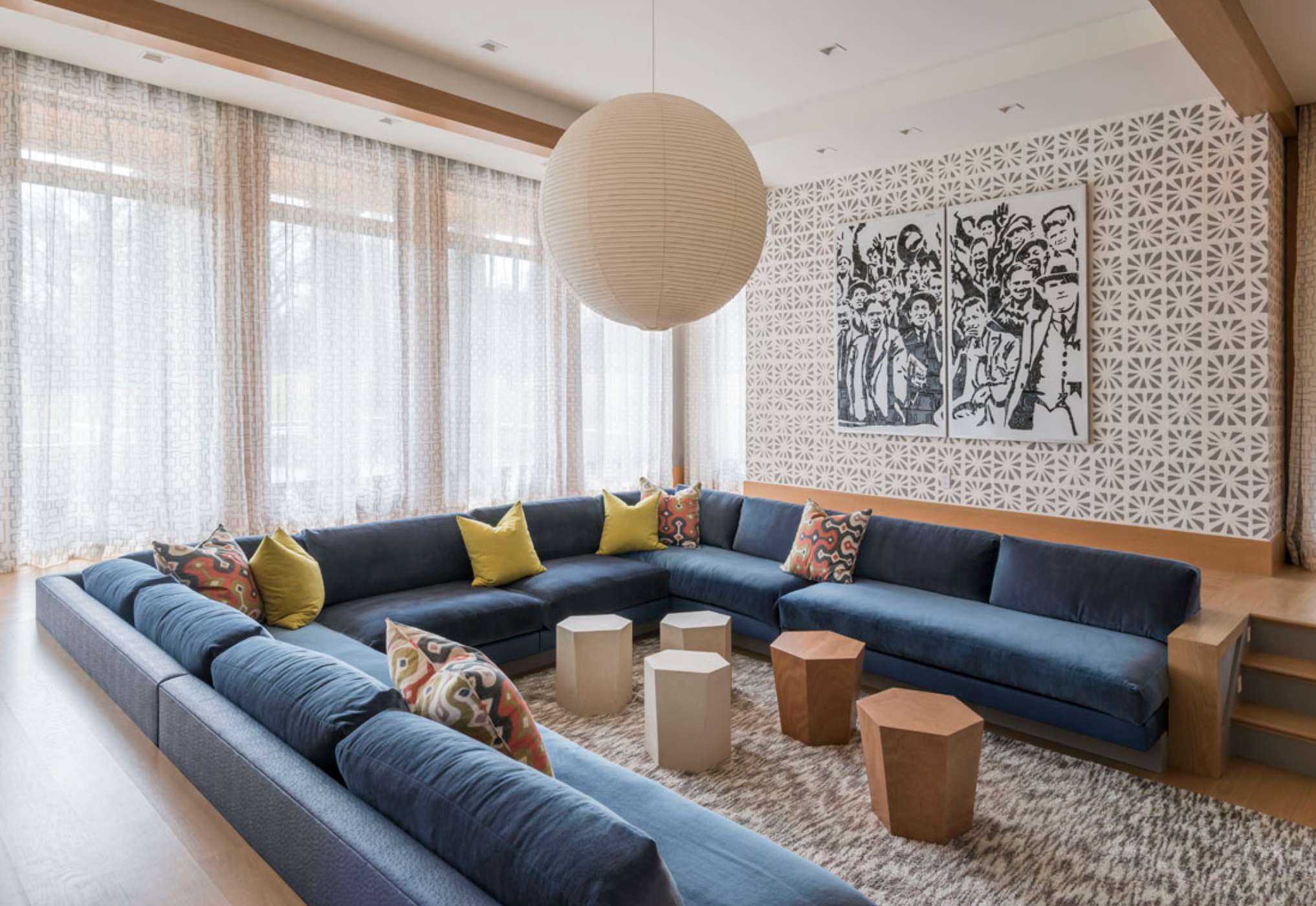 Talk about a great conversation starter pit. This place is created for long talks with your friends as it has cheerful colors and so many sitting spots that you can even start a debate or reading club right in your living room.
Sunken Living Room with Chairs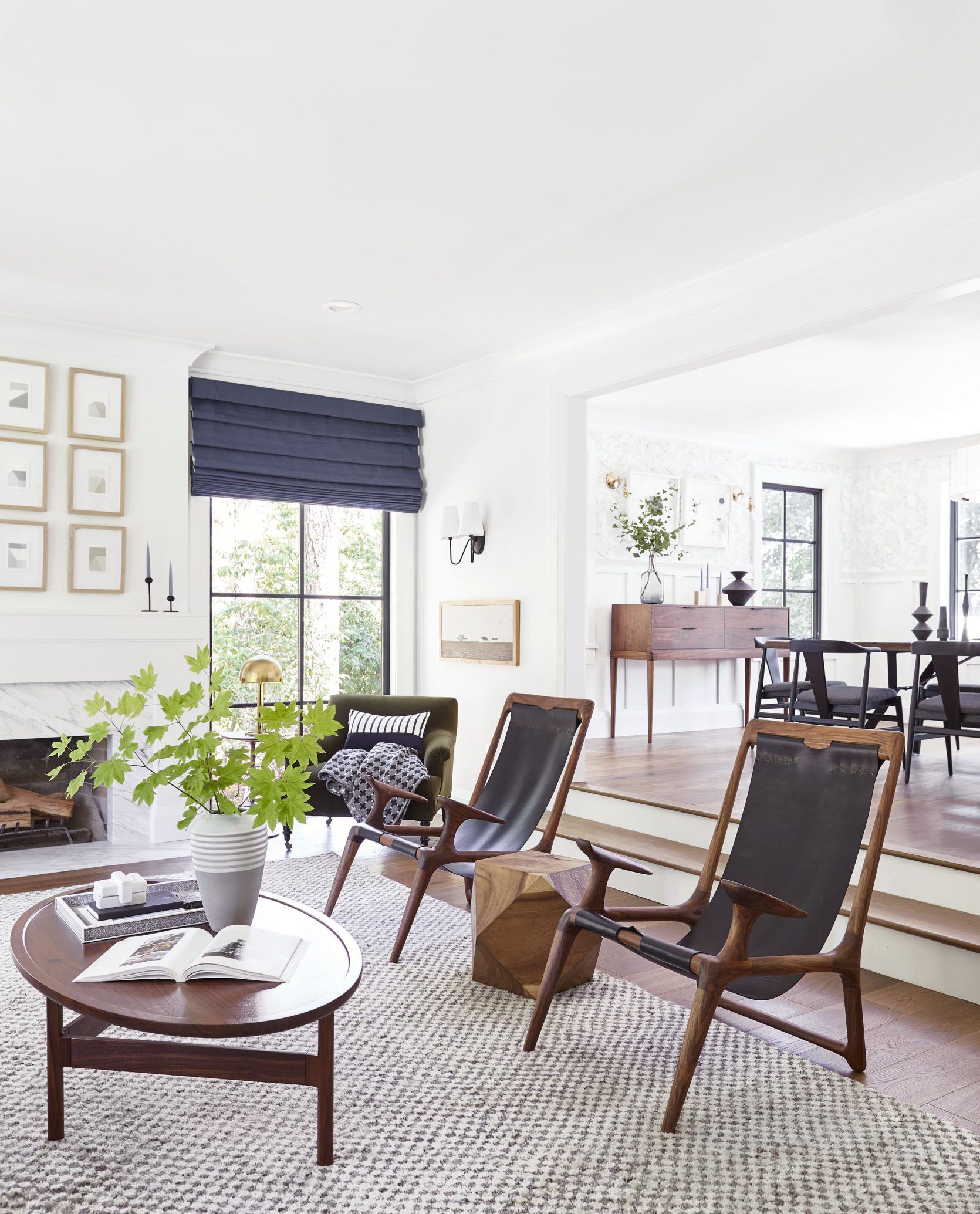 Sunken living room areas don't always have to include sofas. They also work if you're more of a chair person. We suggest combining them with a long carpet and a fireplace to get that cozy cabin vibe if that's what you're going for.
Conversations in Dreamland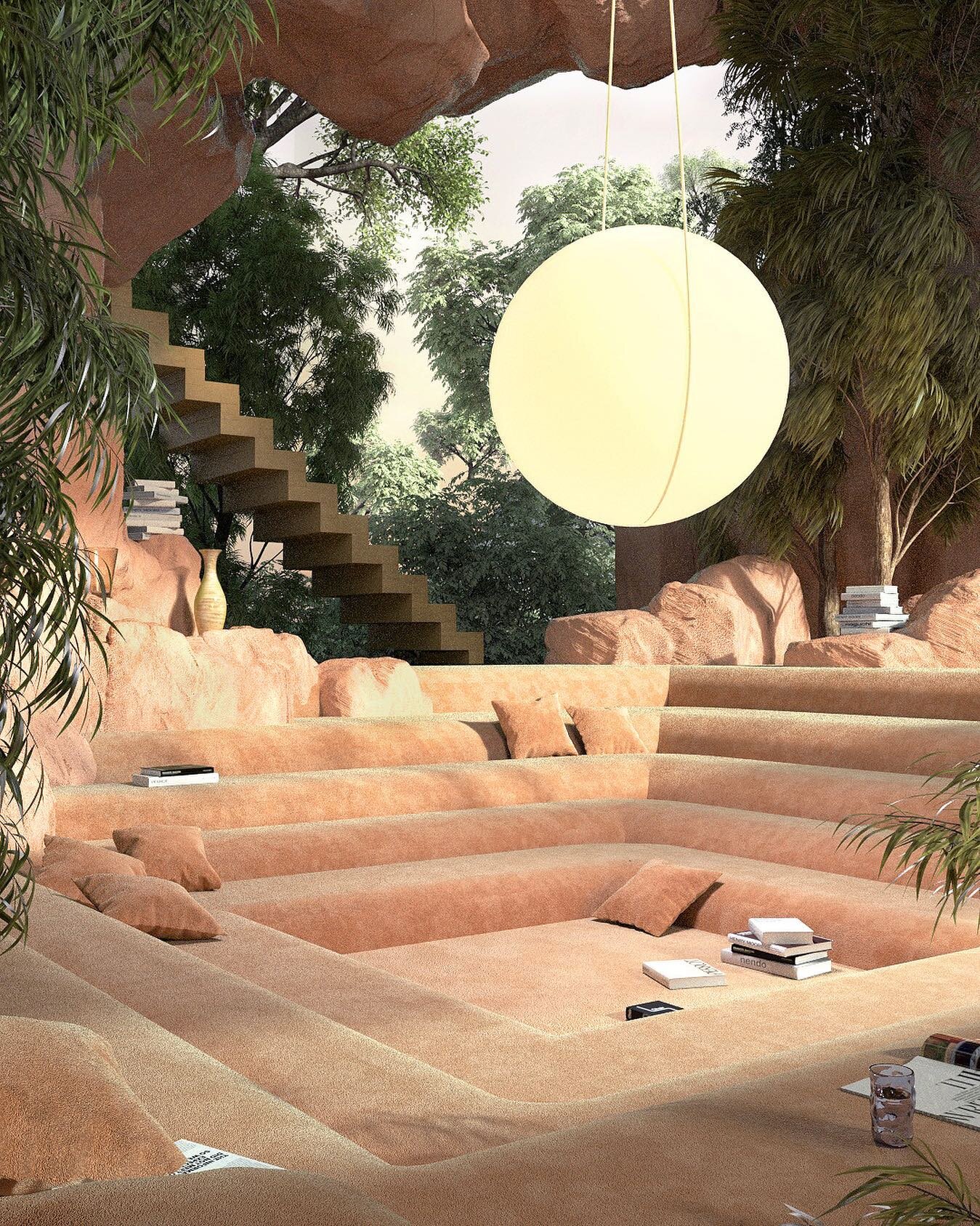 Remember when we said that these ideas will be nothing short of extraordinary and unusual? This is the particular idea we had in mind. If you're someone who dares to go to extreme lengths to create outdoor sunken living rooms such as this one, well, we will be here cheering you on!
Bright Mornings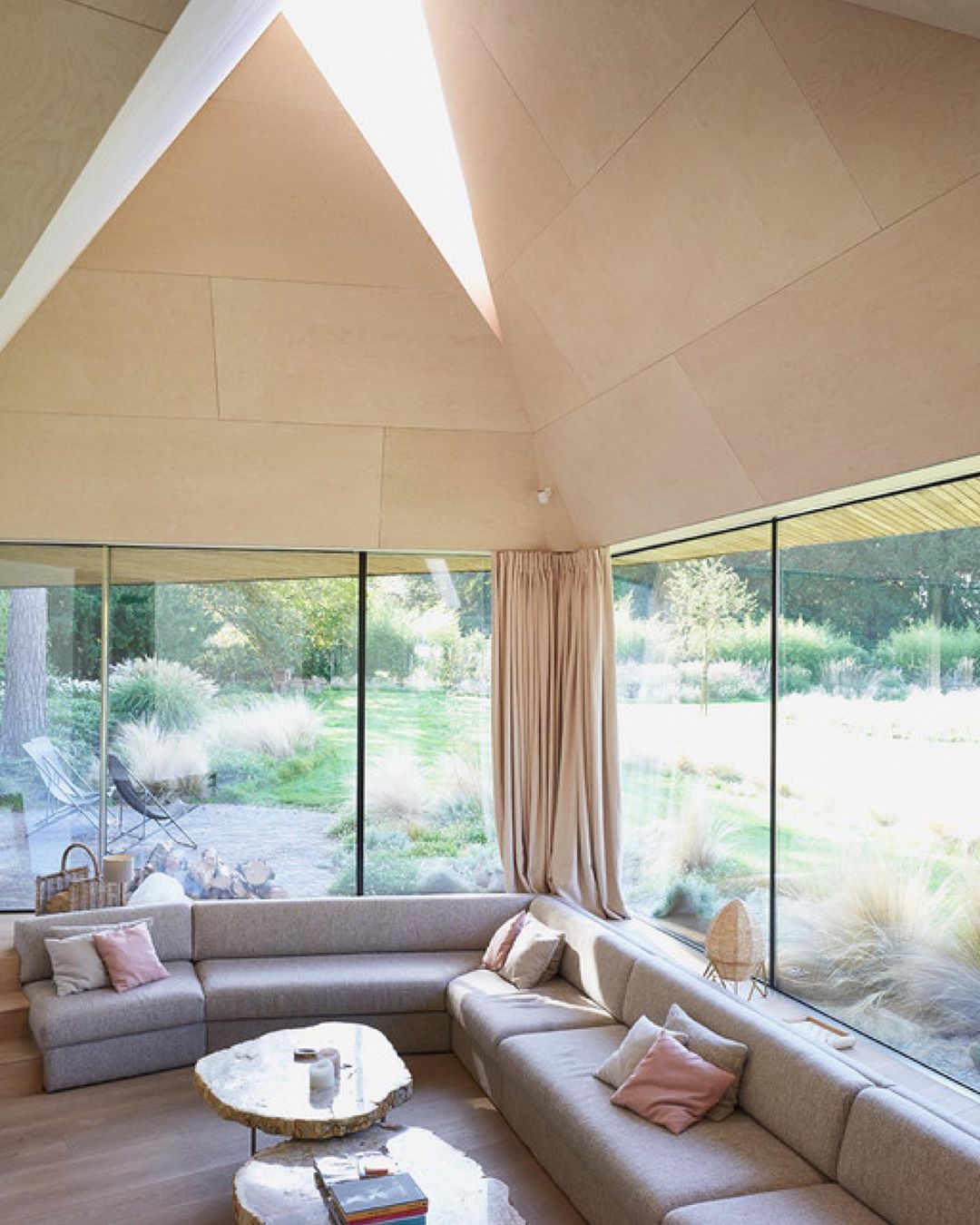 And finally, something for those who want nothing more than to wake up to this sight on weekend mornings. A cup of coffee, the sounds of nature, and a morning of utter bliss. What more could we wish for? Of course, other than a sunken living room such as this one.
That was all for today's article on extraordinary sunken living room ideas. Although there are plenty more ideas on the Internet, we hope we've helped you narrow down your choices by picking out only 20. Don't forget to share your thoughts in the comments below and we will happily read them… hopefully sitting in a new sunken lounge.