Book enthusiasts and avid book readers know something most non-book readers don't: there's more to a book than the cover. As cheesy as it may sound, when you open up a book and get emersed into a story, you truly feel like you've entered a new world, joining the characters throughout the story and sharing their feelings as they go along. It is a magical feeling to behold, no matter the age or the type of books you like to read. Another thing that's neat about reading books is that you don't need anything except the book to do it. You can do it absolutely anywhere at any time, sitting or standing, or even while soaking in the tub with a nice glass of wine. Even so, we still want to have that little special place in the house, that little portal that will transport us into the world between the pages of our favorite book. our own little reading nook.
What do you need to create your personal reading nook? Just like the book, the reading nook can be as big or as small as you can have it. It can be a beanbag in the corner next to the window or that additional room in the attic, complete with your mini-library. But, in short, what you'll be looking for is a place that has plenty of natural light, and space enough for your most comfortable chair or a sitting area, and a small end table, and a shelf or two or another storage for the books would be nice as well. The rest is up to you.
Today, we'll give you some ideas on where and how you can make a reading nook at home. Once you've decided on the placement, the decor and little details you'd add or remove from the reading nook are absolutely up to you. Now, let's take a look at some glorious reading nooks.
Boho Corner With A Bean Bag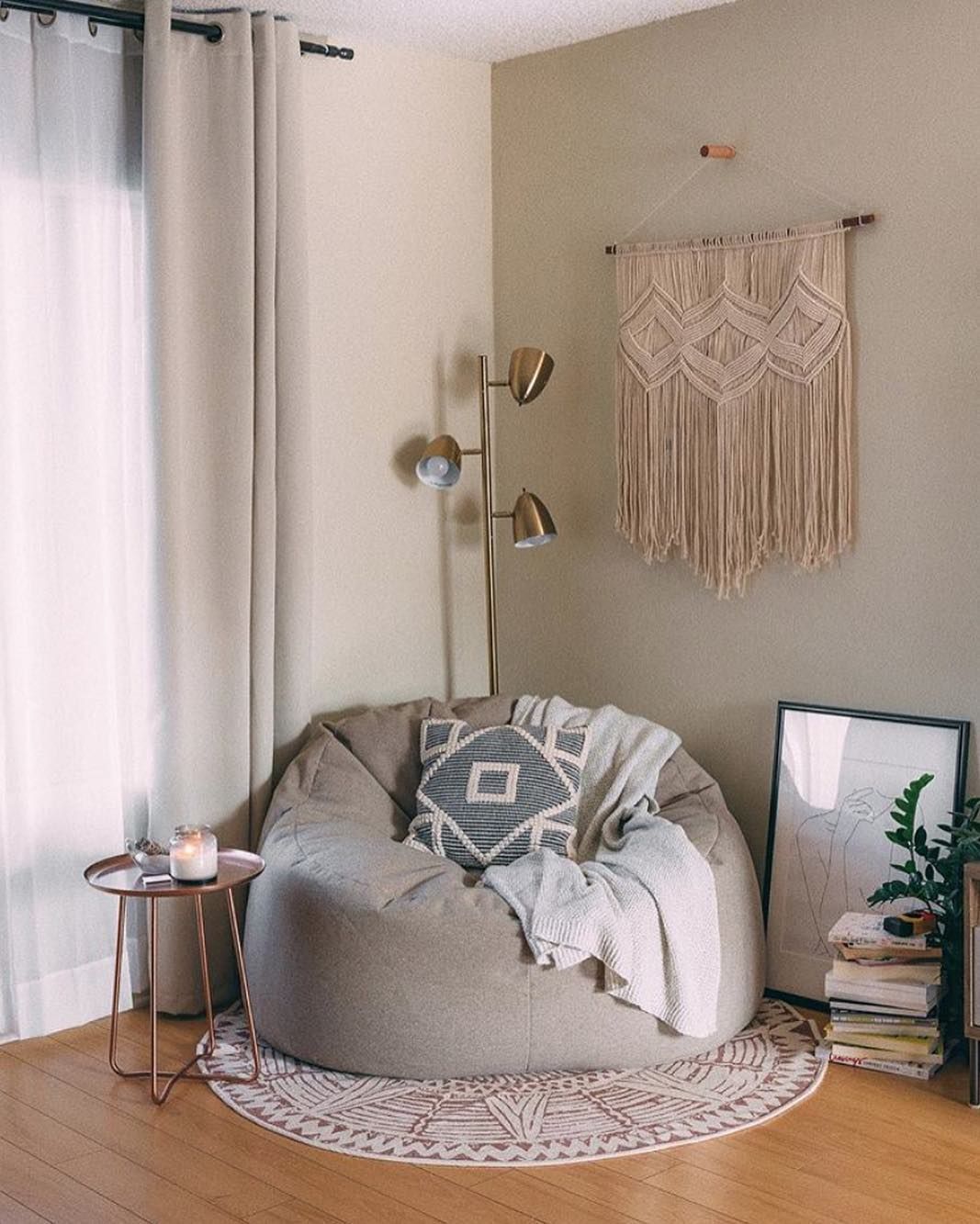 Starting with the bare necessities. Even if you're not a fan of the beanbag, it is quite comfortable for sitting and lounging and allows you to change into a comfortable position easily. Aendtable next to it, to put your drink or book down, and a tall lamp in the corner that gives out soft lighting. A macrame wall art and a nice patterned rung to add that boho feel.
Sunroom Reading Room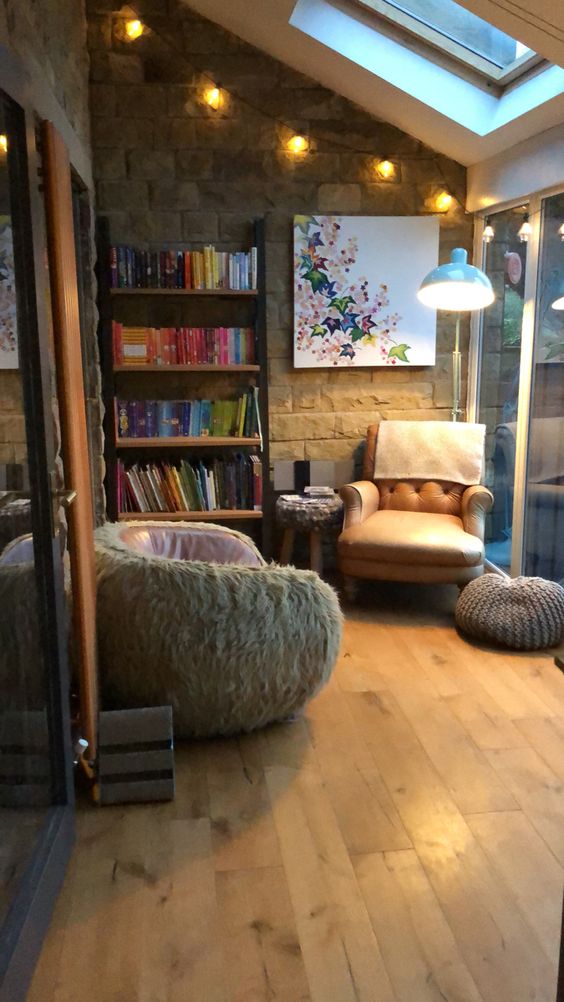 You want as much natural light coming in at your reading nook, making the sunroom a perfect choice for one. A nice shelving unit for all your books, a comfortable armchair and you can even add another, to share some quiet moments with your loved one. The string lights add an even warmer touch to the space.
Shelving Unit Reading Nook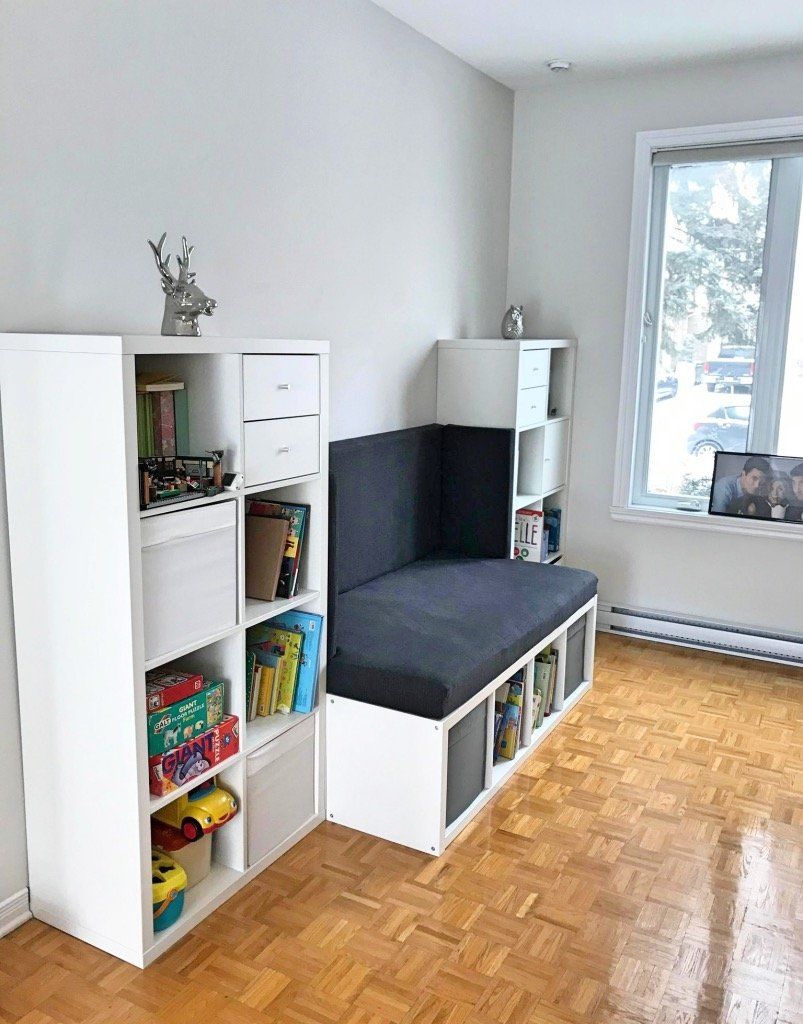 Benches can cost up to twice as much as a shelving unit. So why get one for the reading nook, when you can make an amazing little reading bench for the entire family complete with storage space just from shelving units? Simply put one unit horizontally and put some cushions on it. It's that simple.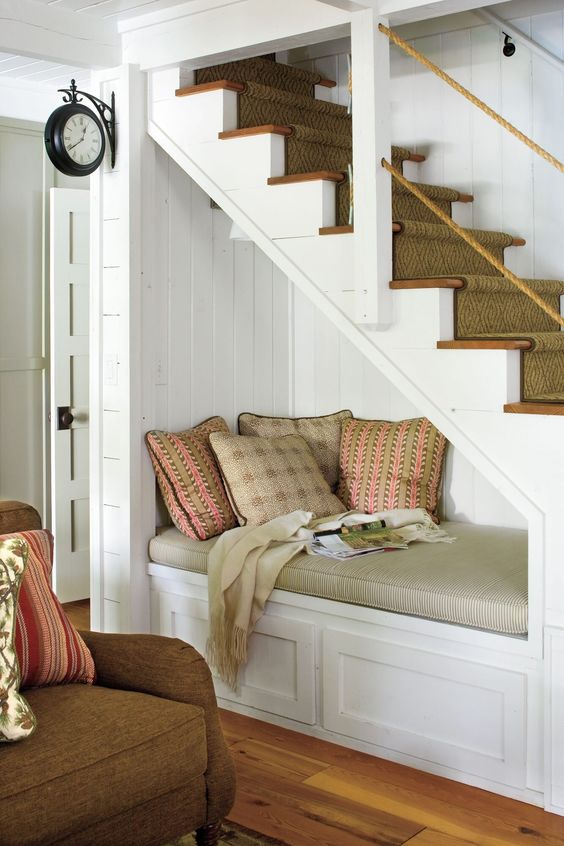 Even when you live in a house, you might be short on space. Time to look under the stairs. The space under them is the most neglected, yet very useful dead space in a home, and now it's time to open it up and turn it into a reading nook with a bench.
Useless Closet To A Neat Reading Nook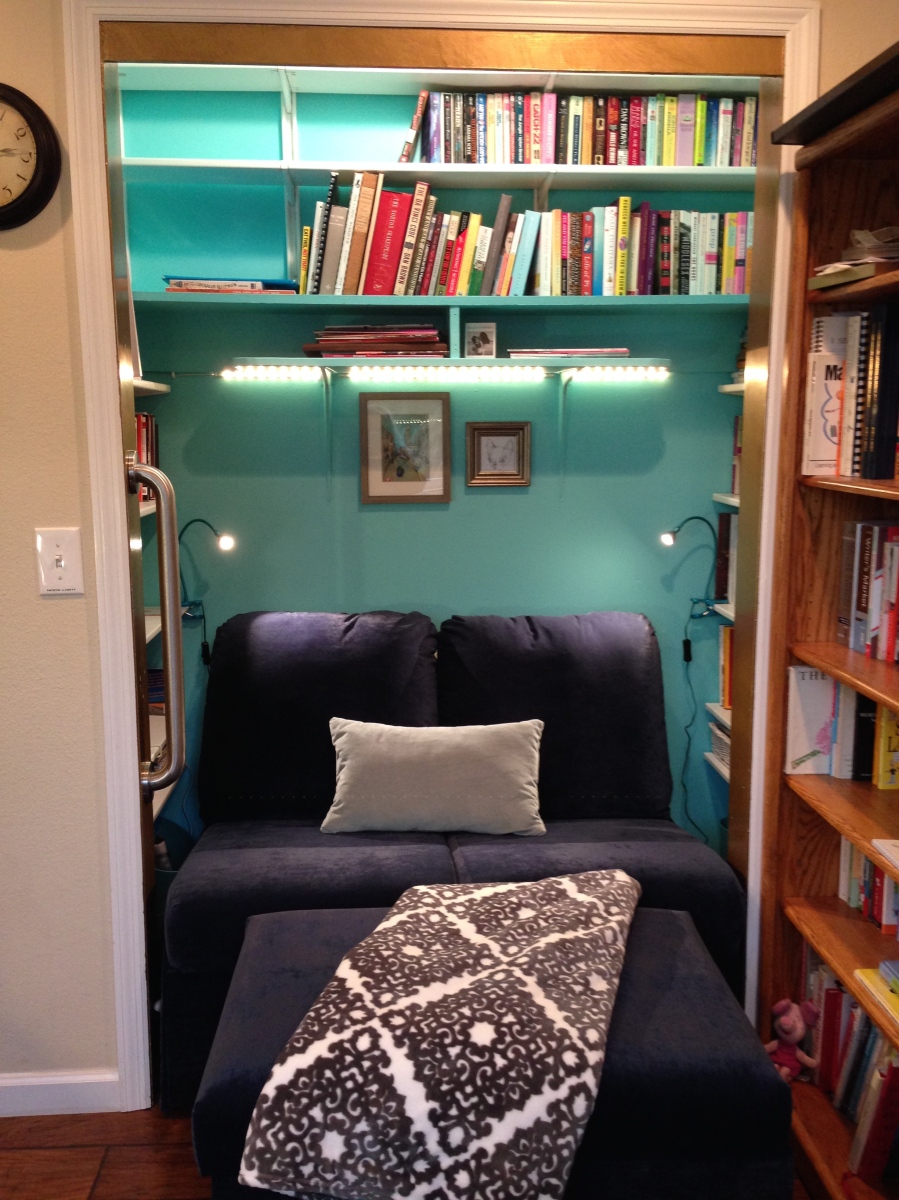 Sometimes you need just a little bit of extra space in your room, and your closet isn't of that much use. Time to add some floor to ceiling shelving on the sides and a loveseat in the middle, add don't forget to add some nice colors inside.
Vaulted Ceiling Reading Nook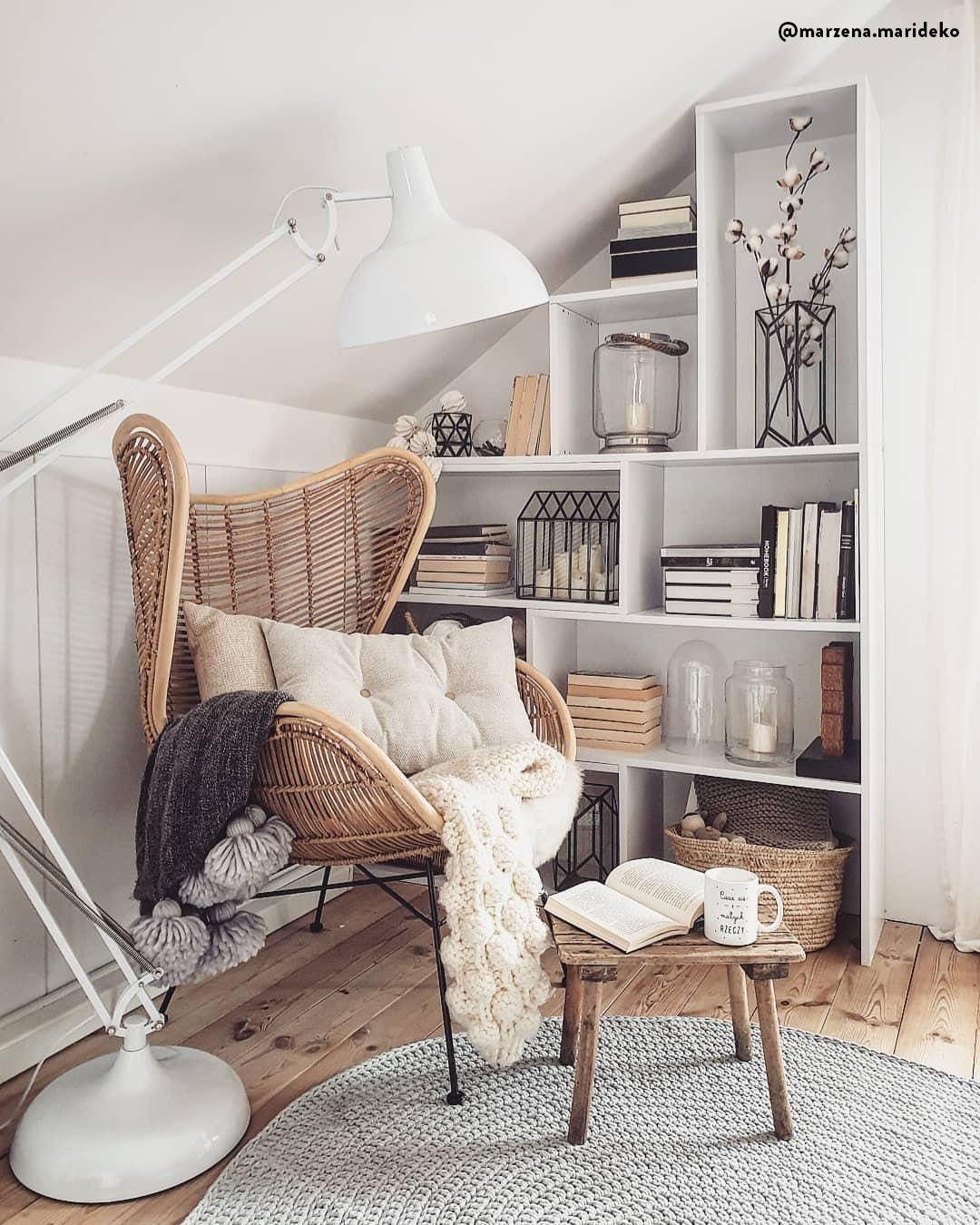 If you have a vaulted ceiling in your home and don't already have a reading nook there, then it's time to fill it with a wicker chair and some shelves. There is a certain charm to being snuggled into a small space without being completely closed off, and the vaulted ceiling offers that perfectly.
Nautical Reading Nook
Small window niches are another perfect place for a reading nook, and you can even deck it out in a certain theme, like a nautical theme. White panels on the sides and some chains connecting the ceiling to the bench will make you feel like you're in a ship's cabin.
Full Corner Reading Nook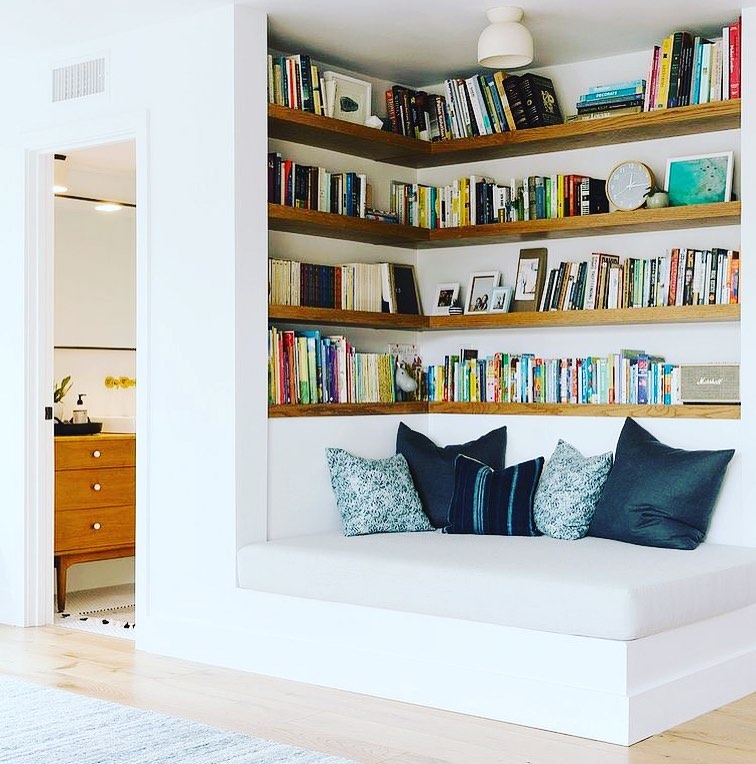 A lot of older homes have strange corners in their floor plan and cut-off, empty spaces. The reading nook is a perfect way to make use of them. Here is a nice small white corner bed with wood shelves stretching on both walls, to make enough room for all your favorite books.
Landing Reading Nook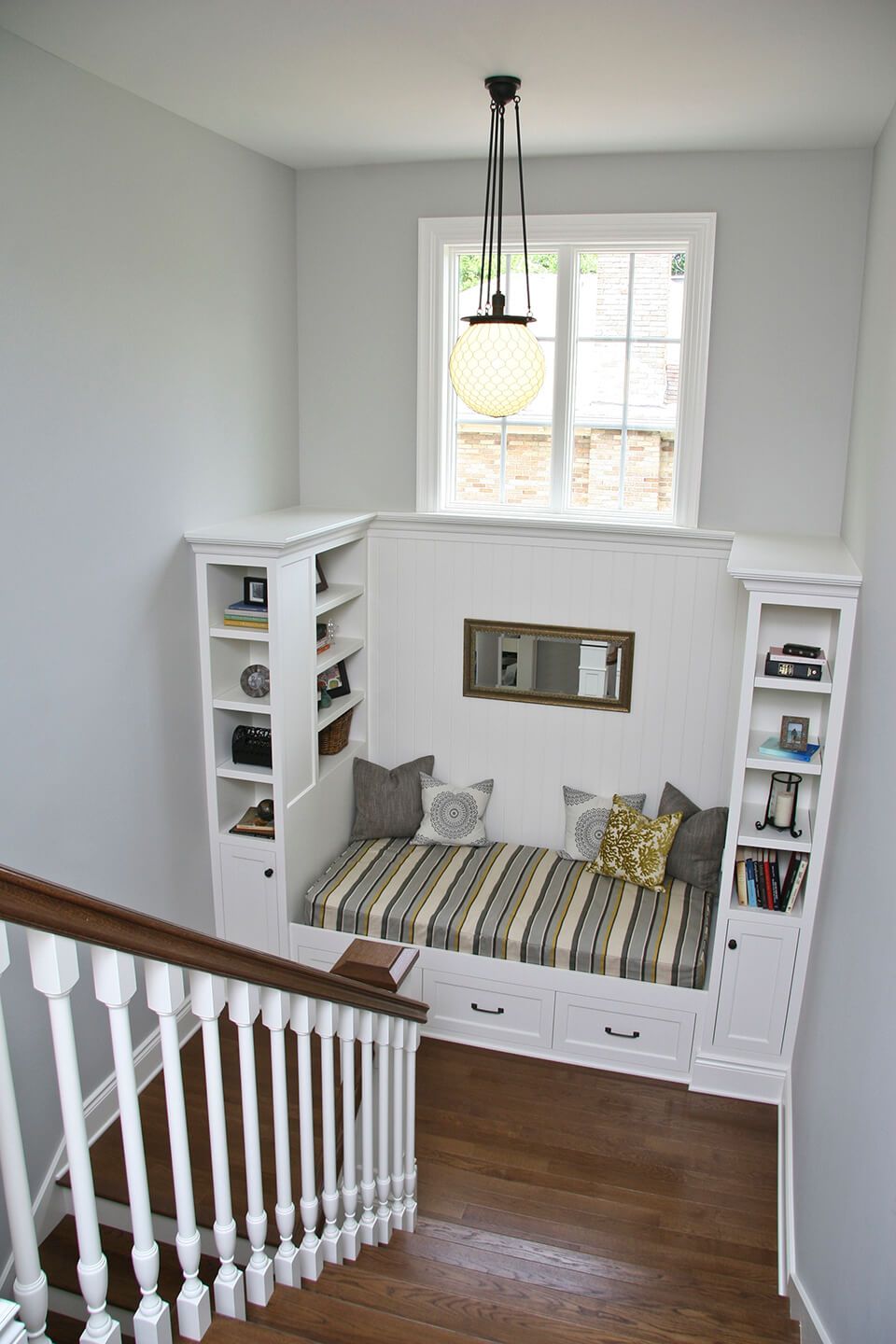 The stair landing serves no purpose but to connect two stairways. And sometimes, these landings can be quite spacious. Here is finally a good way to utilize them for more than just going up or down the stairs. It might not be the quietest place in the home for the reading nook, but at least you'll see all the comings and goings.
Hammock Chair Reading Nook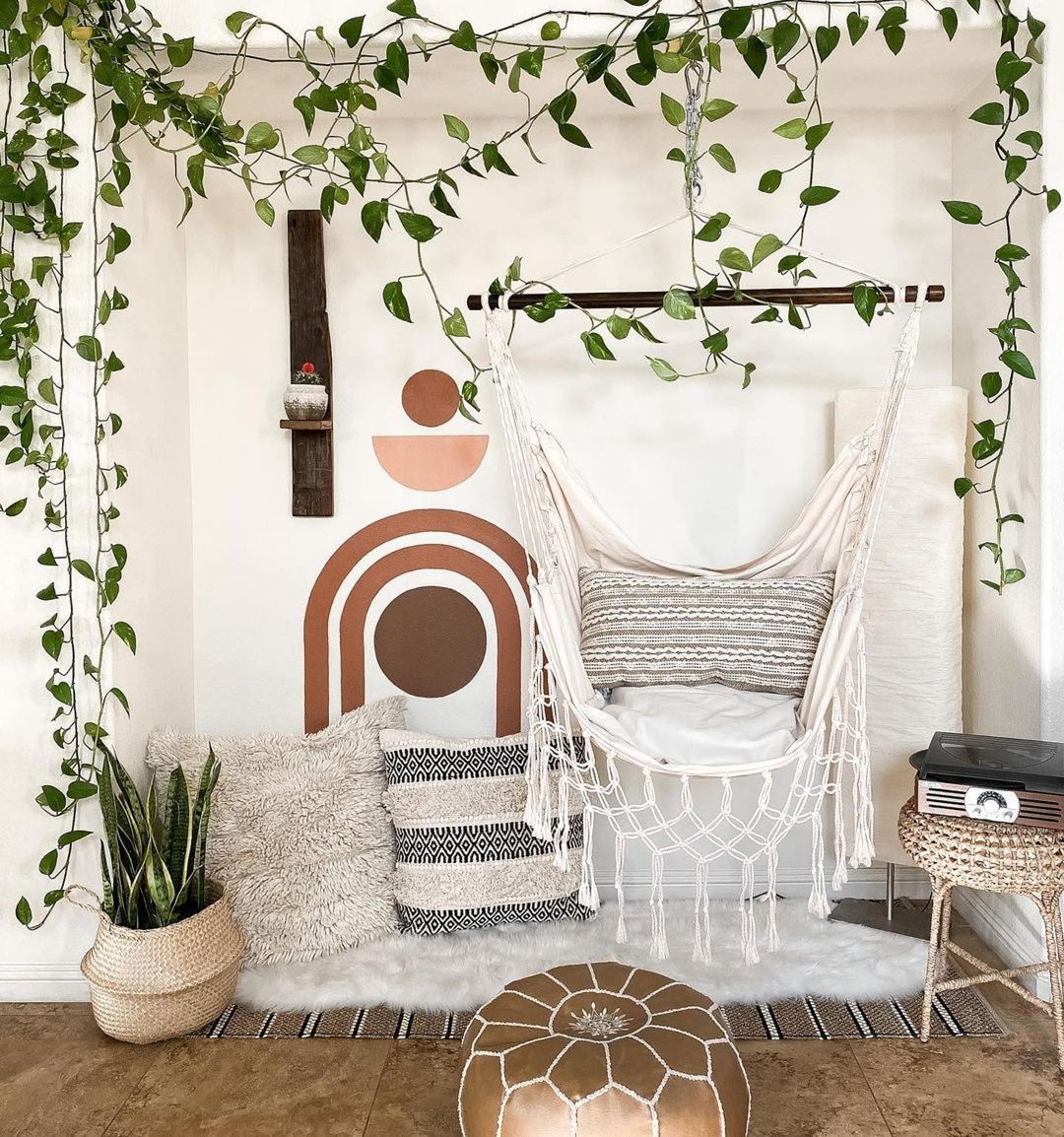 When you read a book you want to feel comfortable. And nothing more comfortable than the feeling of floating in the air, which is exactly how you feel when you sit in a hammock chair. Add some soft faux fur rug, some wines, and textured pieces around from natural materials, and you'll feel like you're up in the clouds.
Window Bench Reading Nook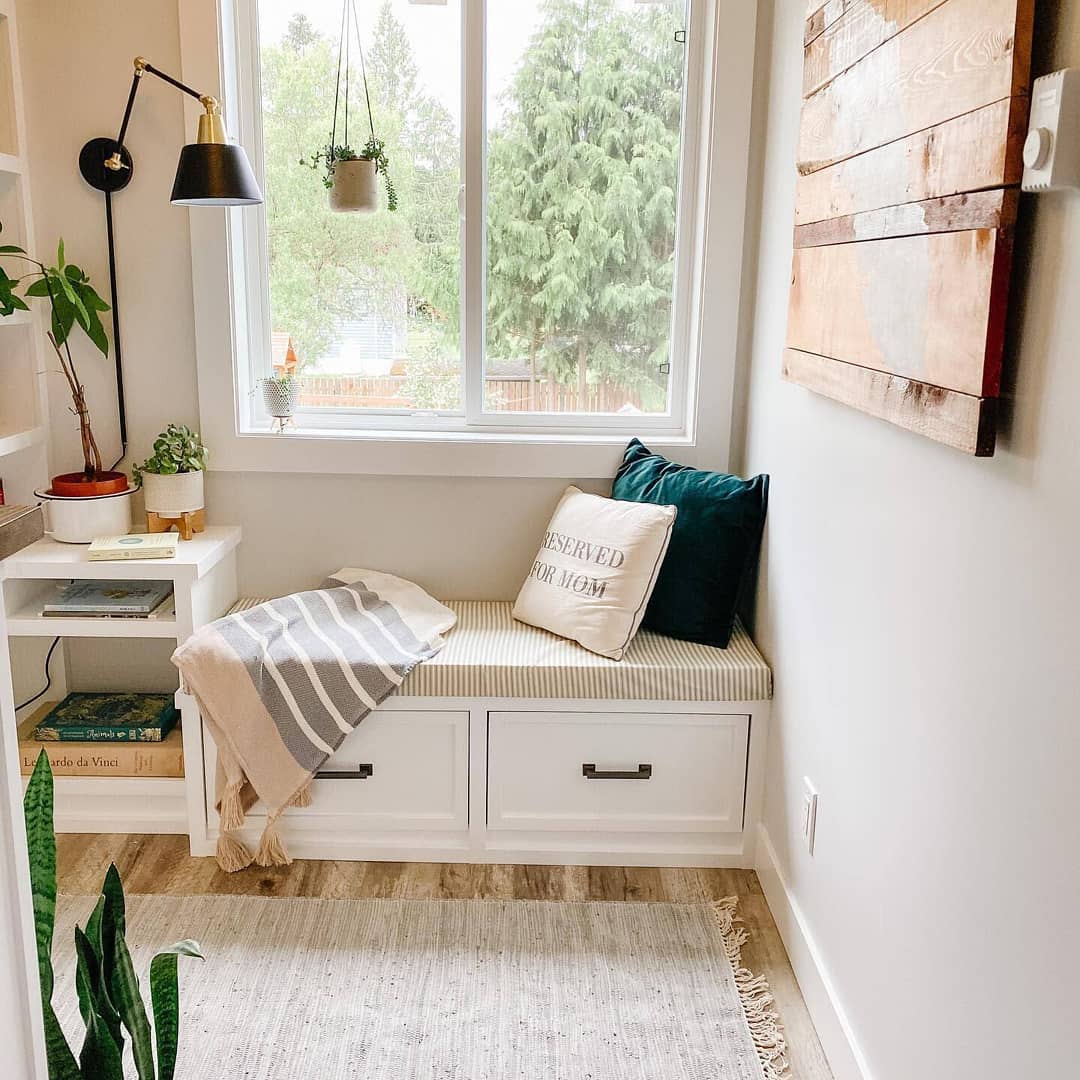 Your house might have a great view from a window, yet there's not enough space to put a sofa or a chair there to sit on and gaze outside. A small cushioned bench with a small bedstand at the end is enough for a small comfy reading nook with a nice view.
Hidden Reading Nook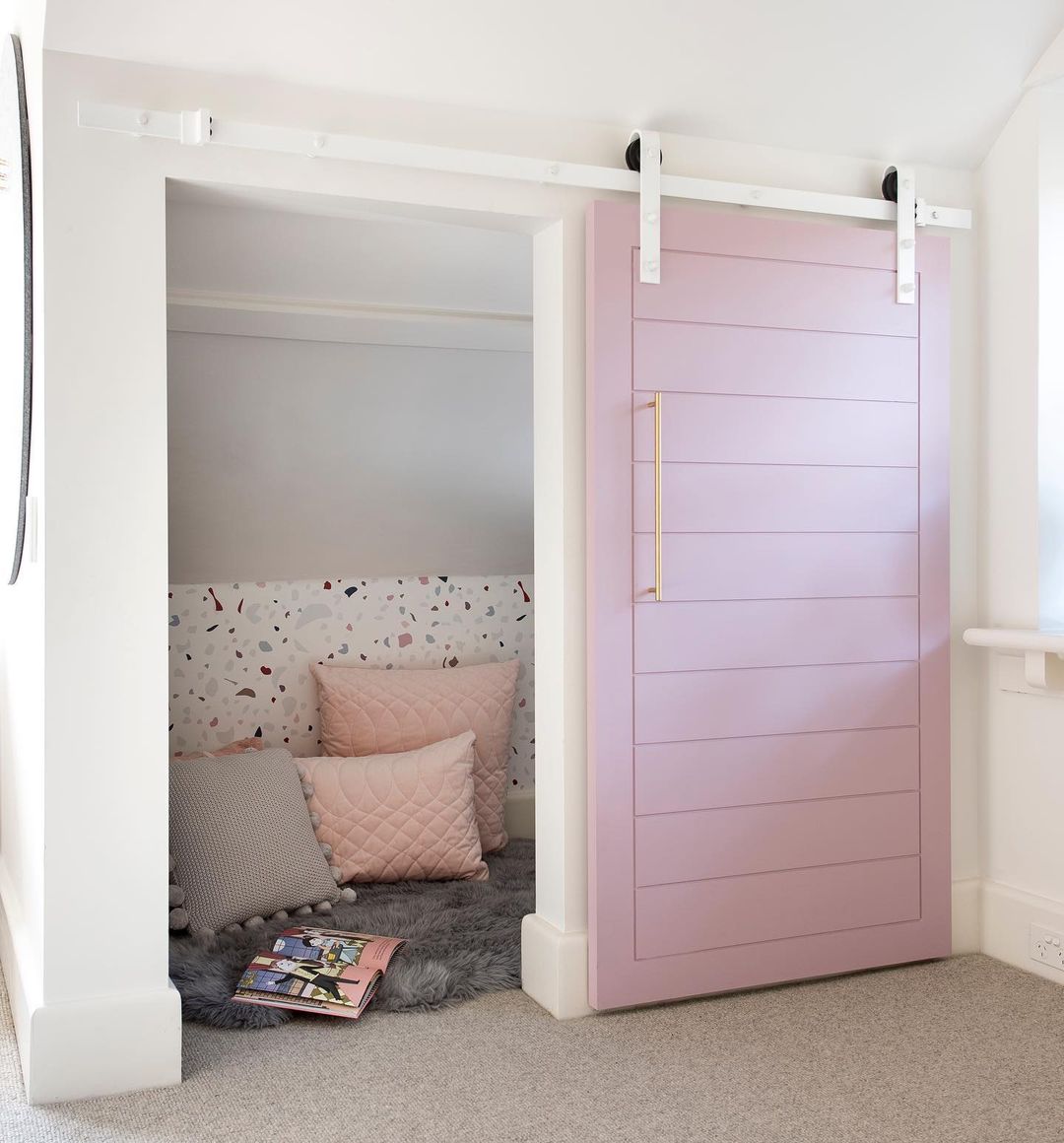 Build-in closets make great reading nooks for children and adults alike. Place a sliding barnyard door if a regular door doesn't fit so you can shut the door on the outside world and enjoy your favorite book in complete peace and quiet.
Closed-Off Reading Nook By The Window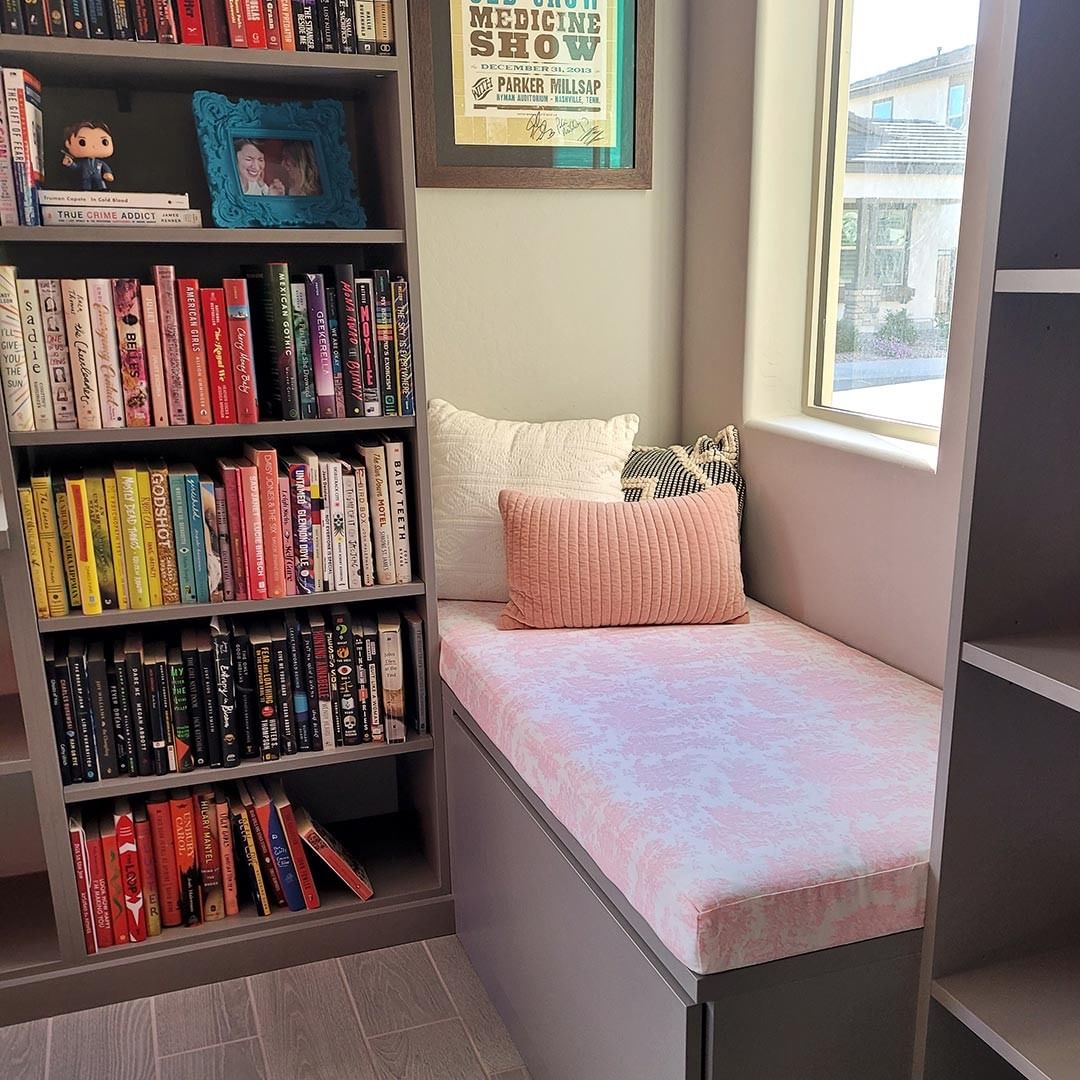 A place where you feel snug and detached from the world, yet still part of it is the best place and feeling you can have while reading. This nook is very snug and cozy, with a small bench right next to the window for plenty of natural light, and the bookcases on the end create that small private space, without feeling completely cut off.
Bedroom Reading Nook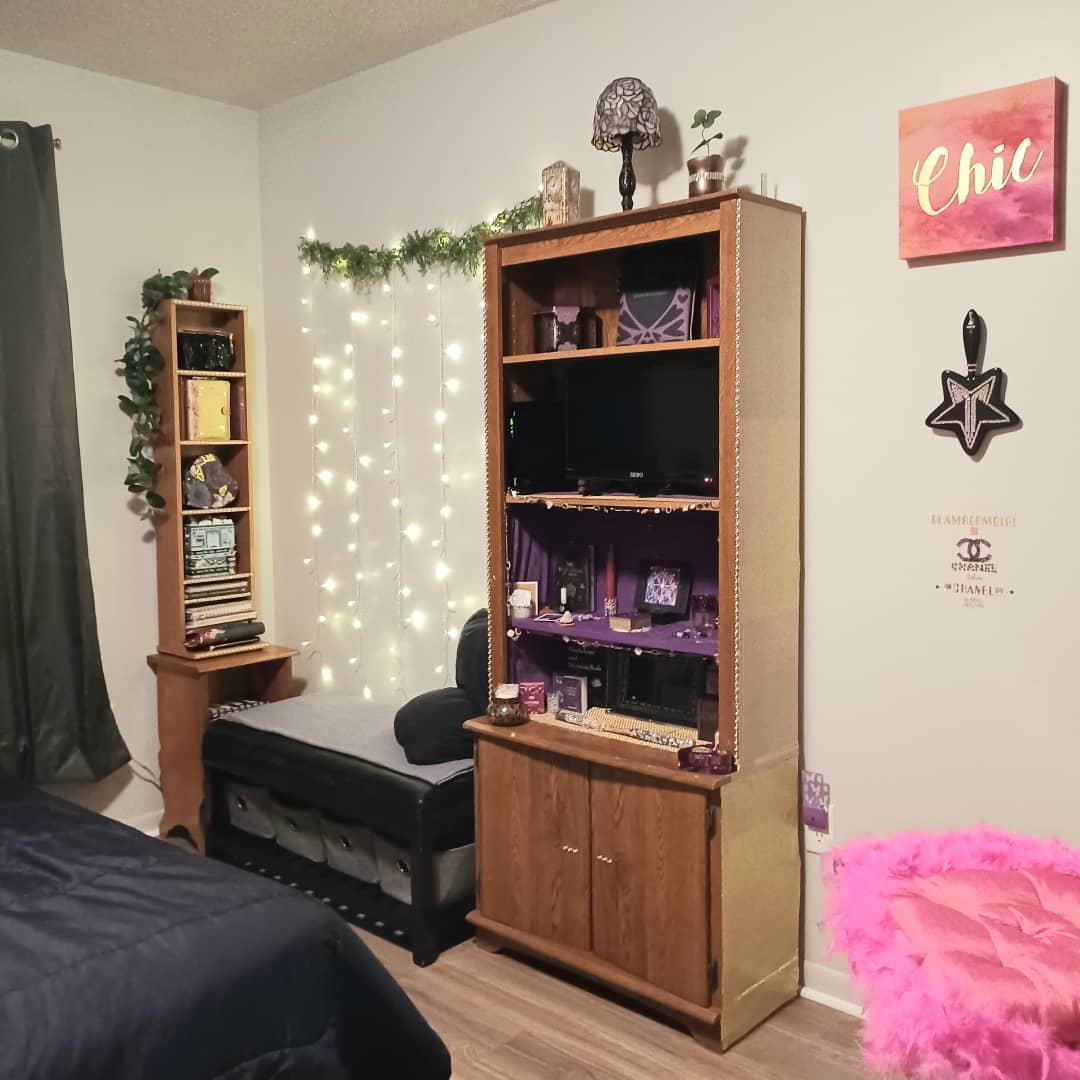 You'd think that there's no need for a reading nook in the bedroom, yet here it is. A nice storage cabinet bookshelf, a nice little sitting area, and string lights on the wall for a soothing ambiance, and you can claim your own little private space reading away without disturbing the one you share your bed with.
Fireplace Reading Nook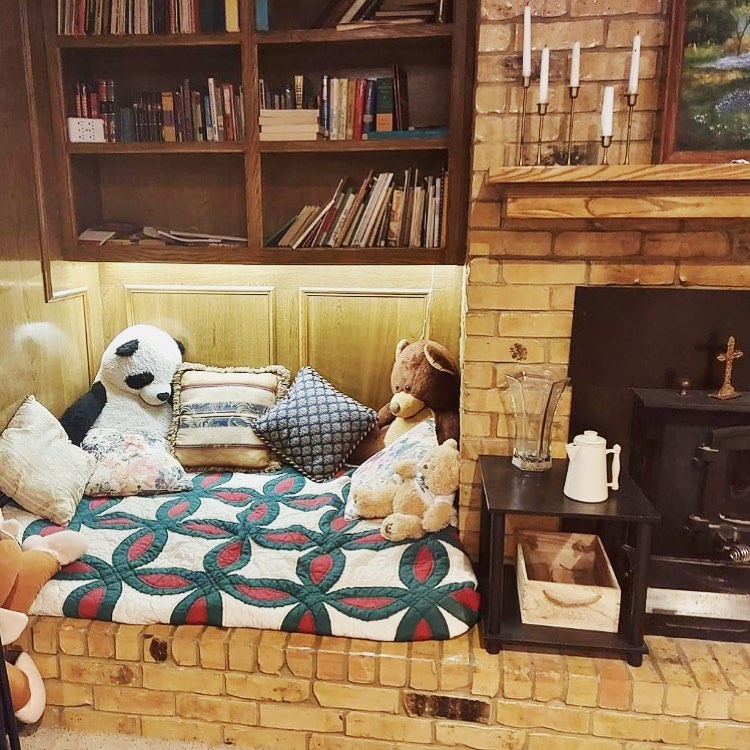 Who doesn't want to nestle up with a good book next to a crackling fireplace on a chilly day? When you have a nice fireplace and some space on the side of it, then it's time to turn that space into a heavenly reading nook where you can chill and rewind.
Switchback Staircase Reading Nook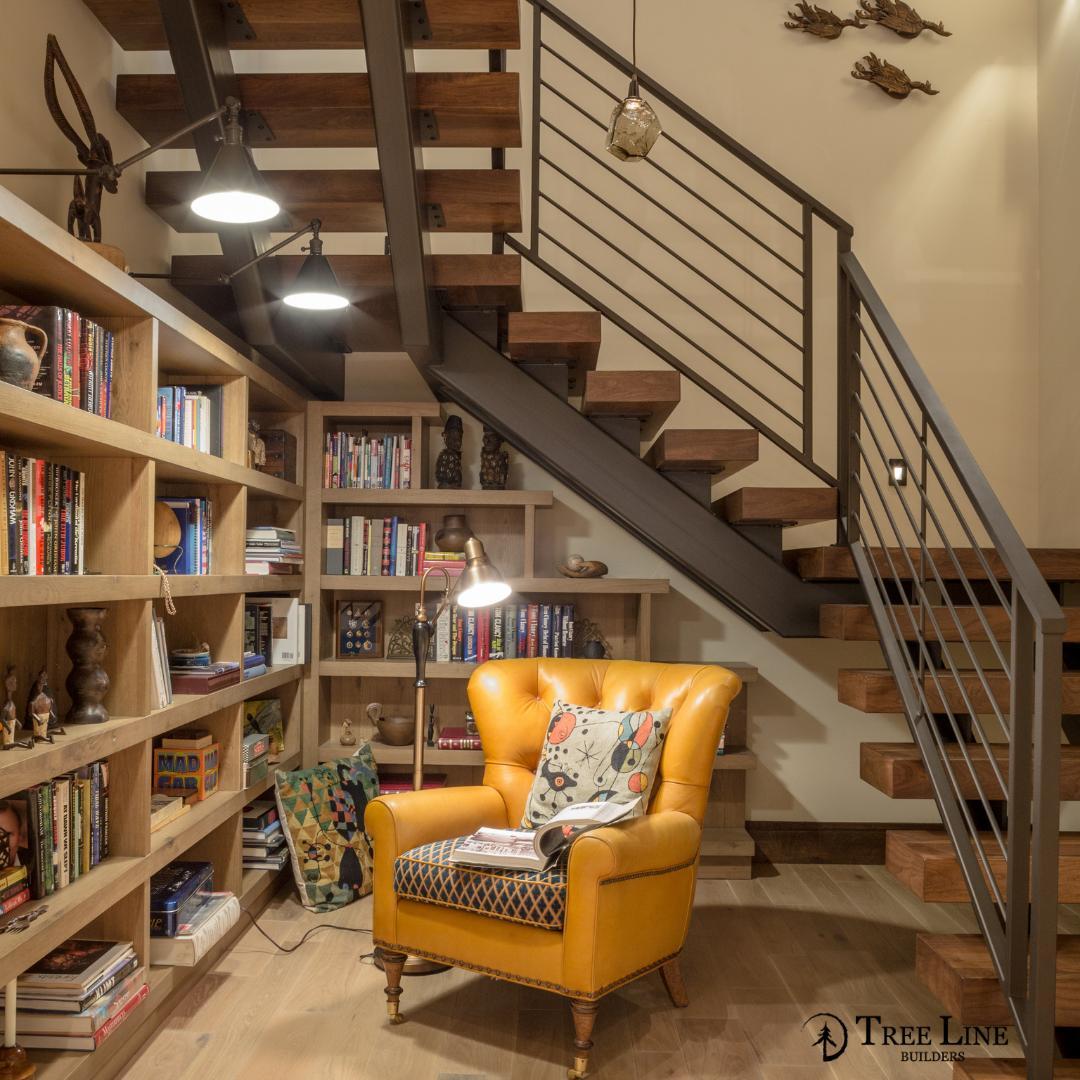 Most houses would have some sort of switchback staircase leading to the basement, which is yet another place people often don't know how to utilize properly. Even if you don't have wooden floating stairs, which look very modern and bring warmth without clutter, you can still enjoy the restful space they create beneath them. Add some shelves or shelving units for your books, a lamp, and your coziest armchair and you have the best place to read that thriller you wanted.
Rustic-Modern Reading Nook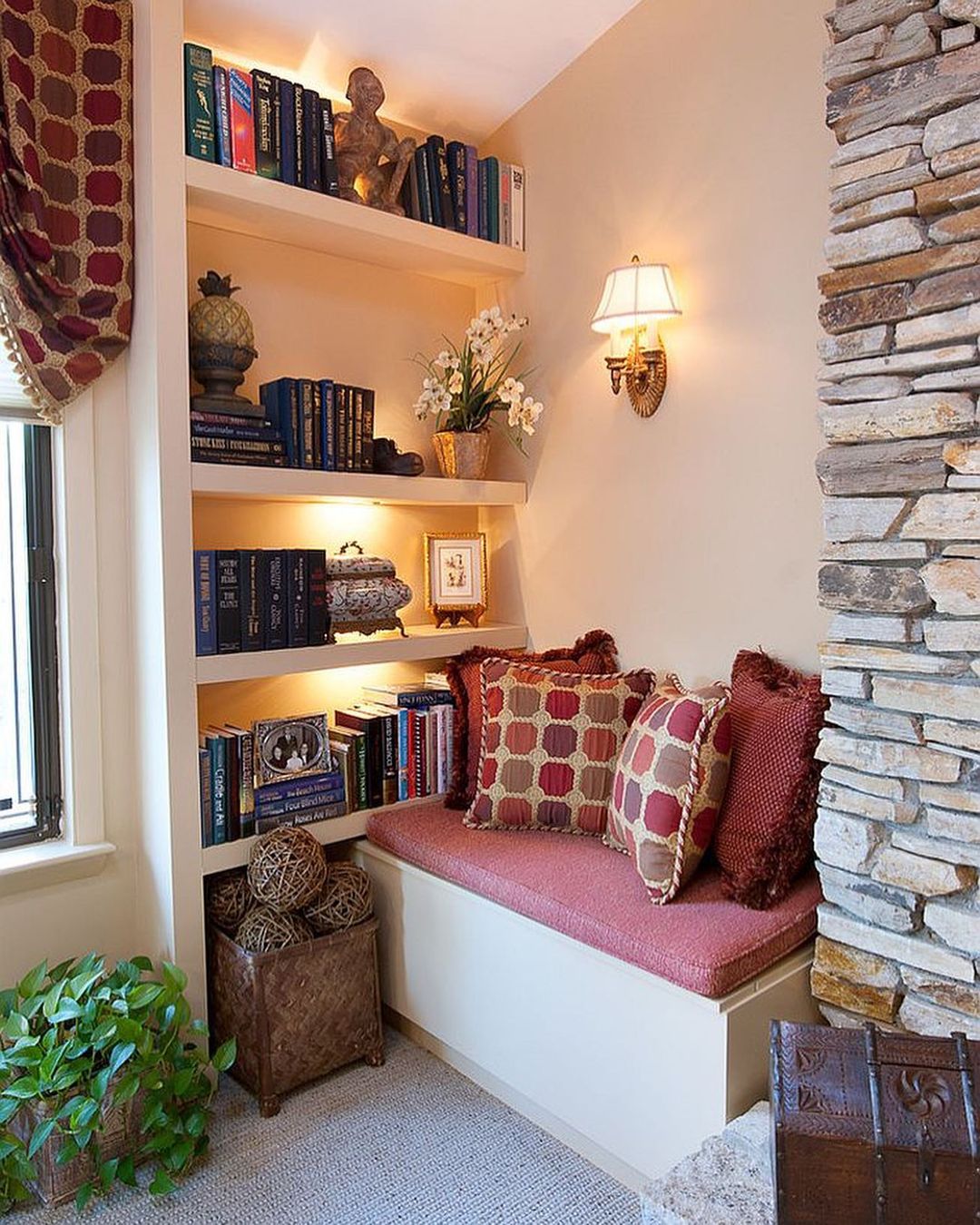 Most homes today are decorated in a more modern look, yet you wish for a more rural, old-timey feel for your special little reading space. There are ways to add rustic elements to your modern home, without creating a big clash in stiles. Like this reading nook, with backlit modern shelves contrasted with the rustic feel provided by the stone slab pillar opposite from them, or you can cover just a section of the wall with it, since bridge the gap between the modern and rustic designs.
Oversized Armchair Reading Nook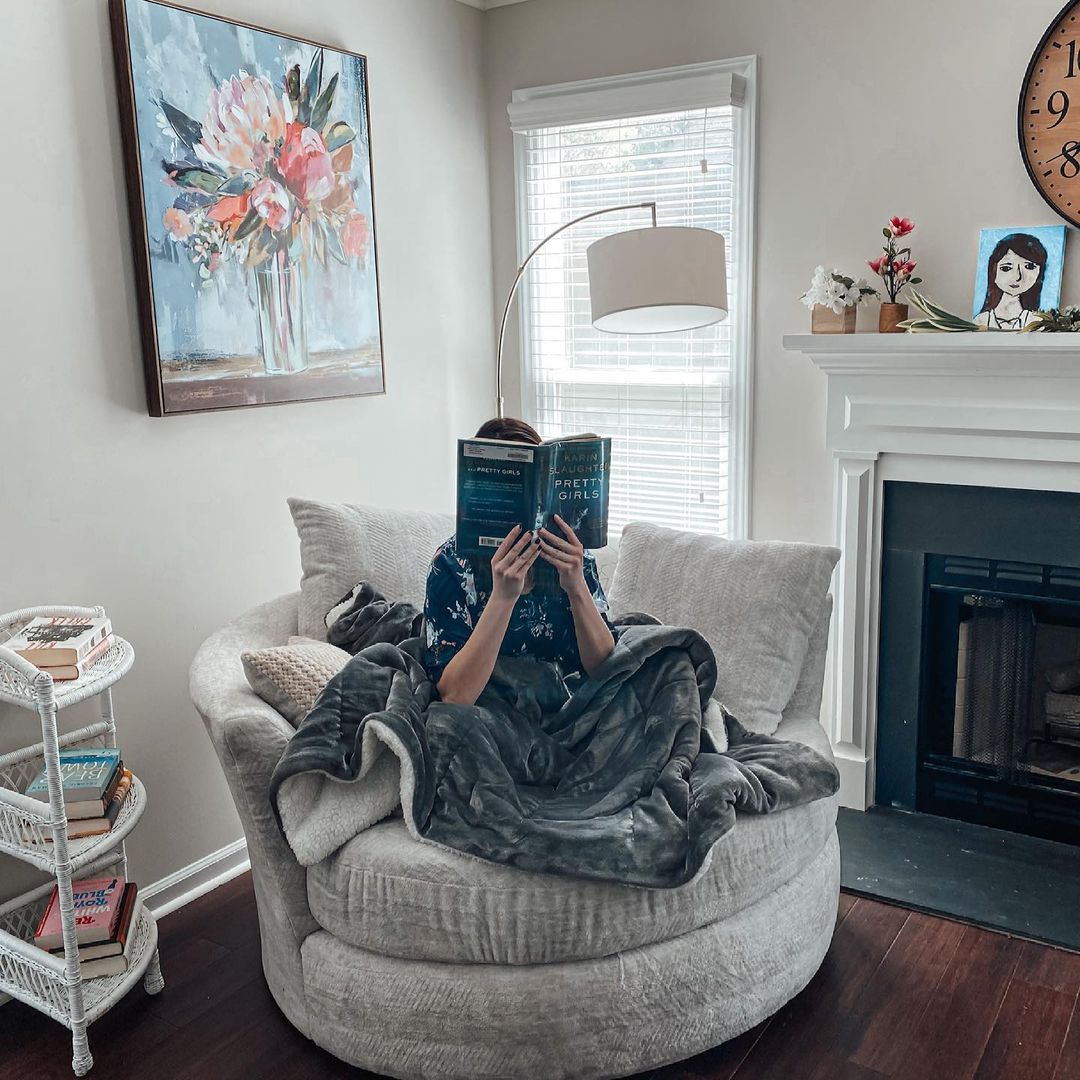 Oval living room furniture is not everyone's favorite choice since they tend to take up more space and are a bit awkward for guests when they sit on them. But, if you stumble upon a large oval armchair or any other oversized armchair, then you should definitely consider getting it for your reading nook. These armchairs are super comfortable and spacious, perfect for sitting in all the weird positions you end up in when entranced in a book.
Jungle Reading Nook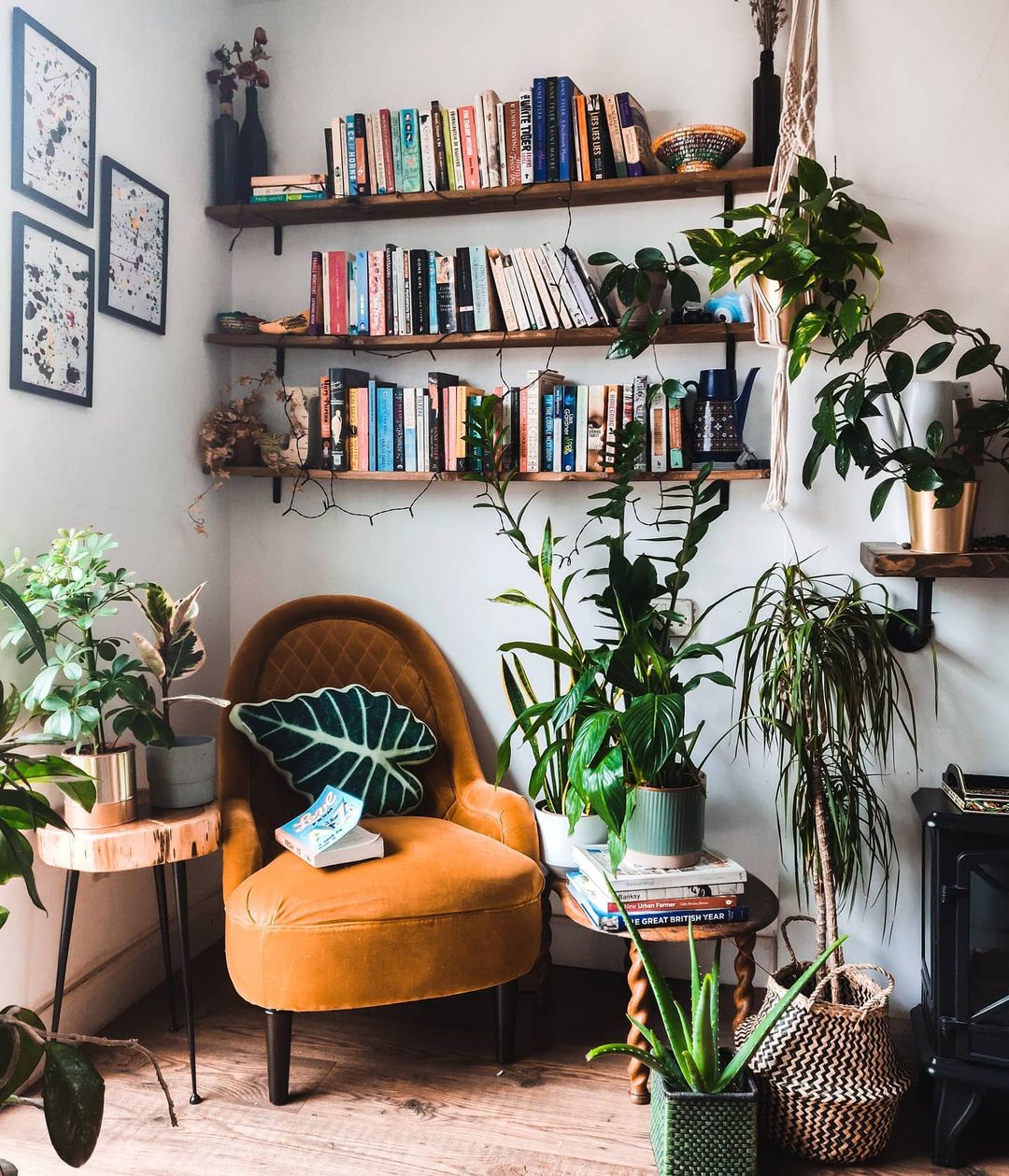 When creating your nook, you could also consider what type of books you read and try to recreate that feeling with your decor as close as you can. For example a bright uncluttered space for romance, a dark snug place for thrillers and horrors, or something with a lot of plants and woodland vibes for adventure or fantasy. Doesn't this reading nook make you feel like you're a jungle explorer?
Top Landing Reading Nook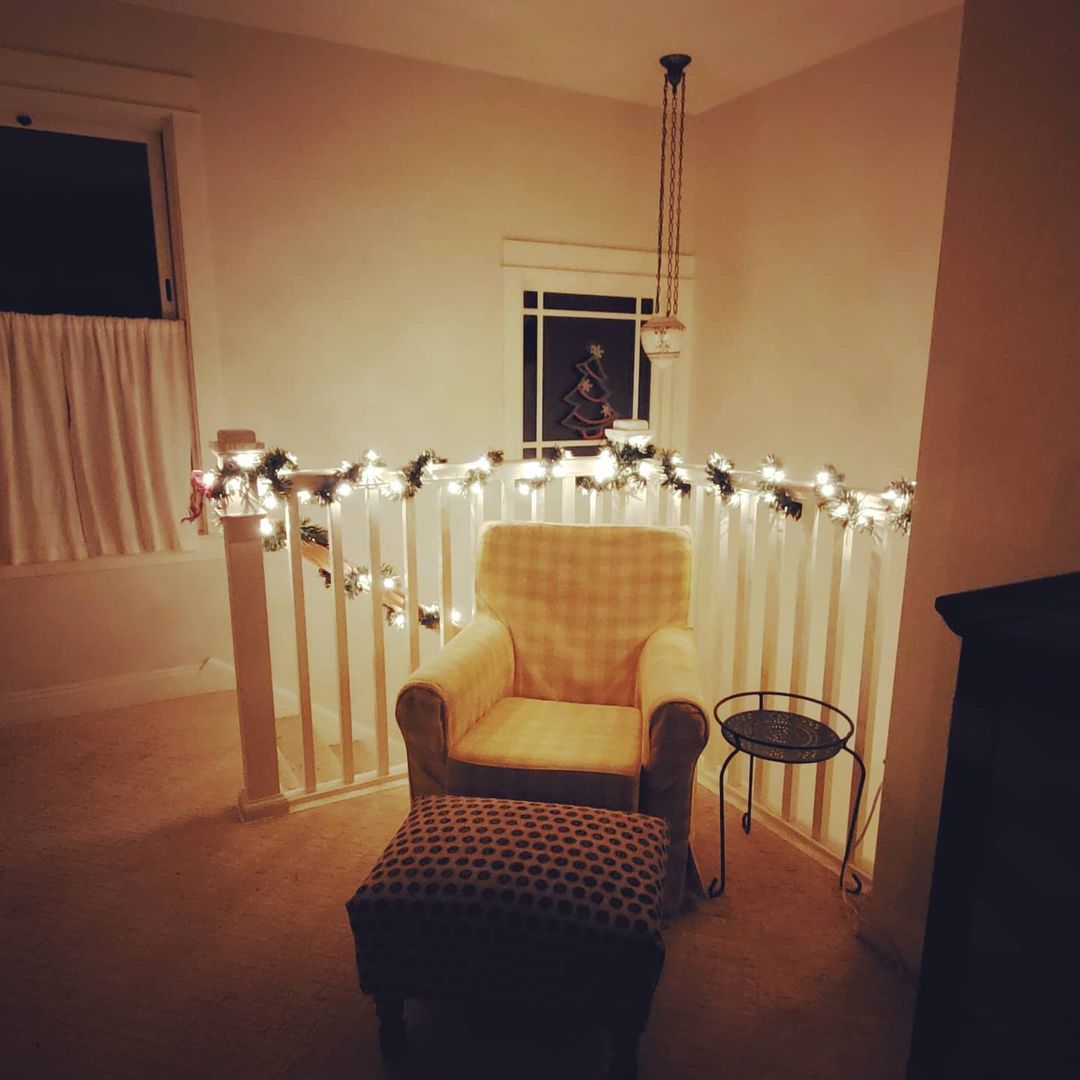 It's safe to say that we covered all the empty spaces on or around the staircase for making a reading nook, so we had made a complete list, by adding this reading nook at the top of the stairs. It would be the perfect place if the top floor is rarely frequented and you get a good vantage point for keeping an eye on everyone in the house, while you have your "alone time".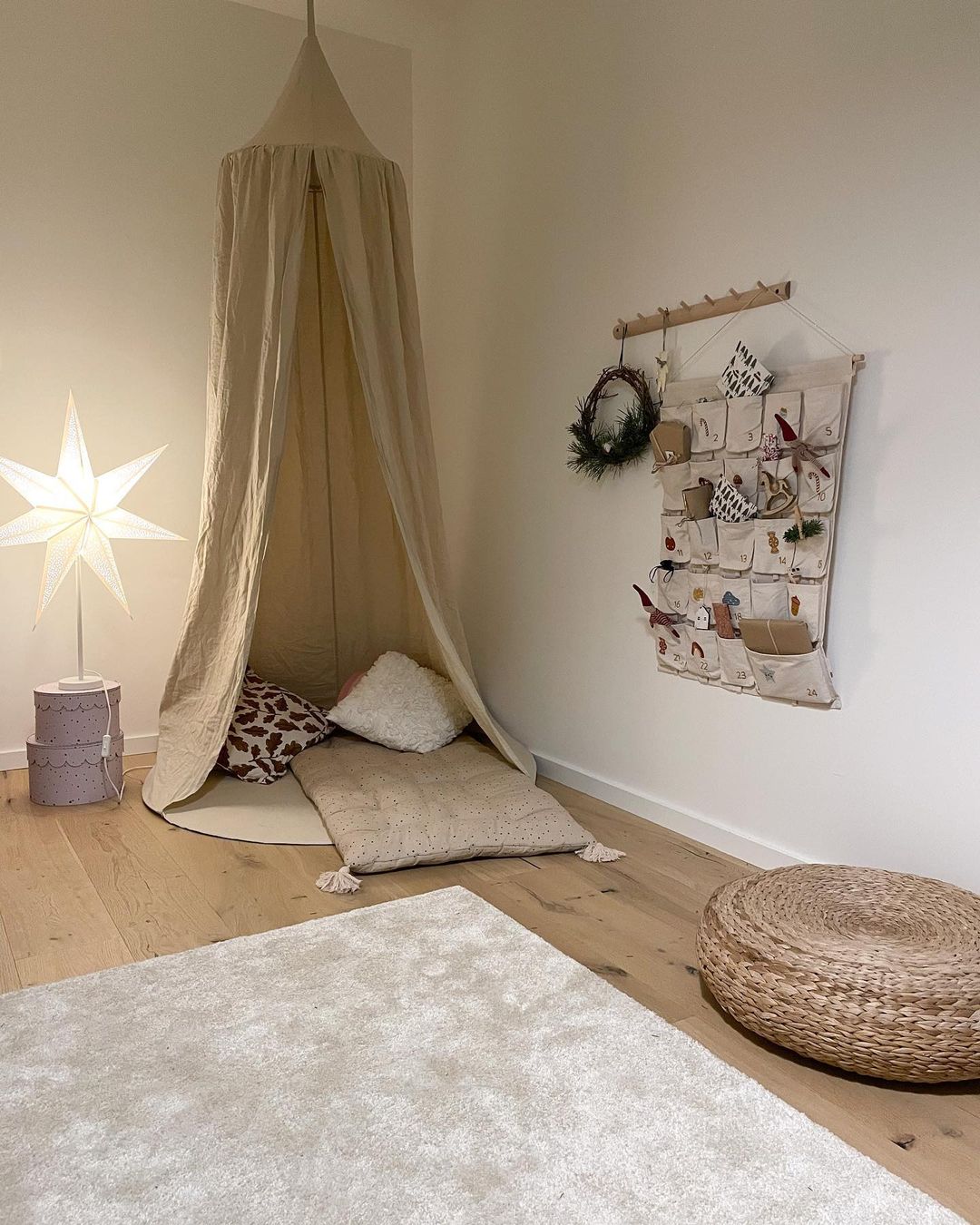 Earthy tones are the best choice for creating a soothing environment, especially for someone who's usually full of energy, like your children. This reading nook is simple and fun, decluttered from distractions, safe and interesting, giving the little one a good place to wind down and discover the joys of reading. Ano the canopy is a nice addition, that not only kids, but grown-ups would enjoy as well.
Hanging Wicker Pod Chair Reading Nook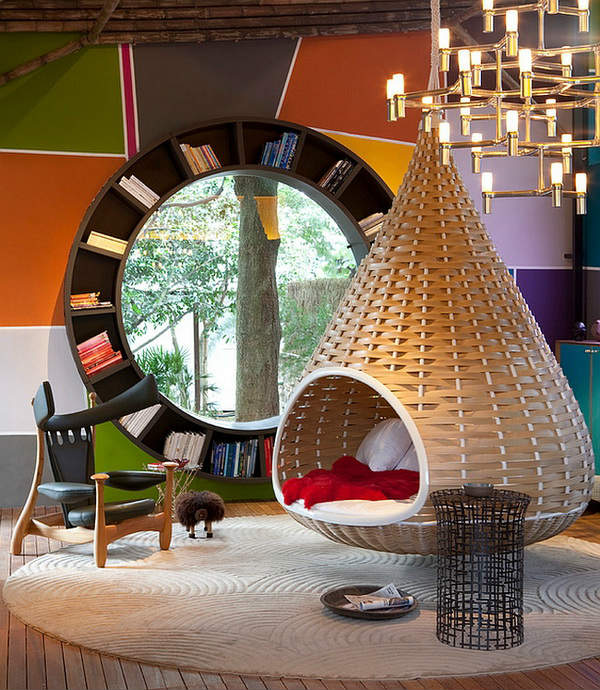 There's something about hanging chair pods or cacoons that a lot of people find appealing and soothing, and once you curl yourself into one, you'll understand exactly what that is. You can certainly consider getting one for your reading nook. And even better, that entire chair can be your reading nook and you can move it to whatever its the quietest place in the house at the moment.
Greenhouse Reading Nook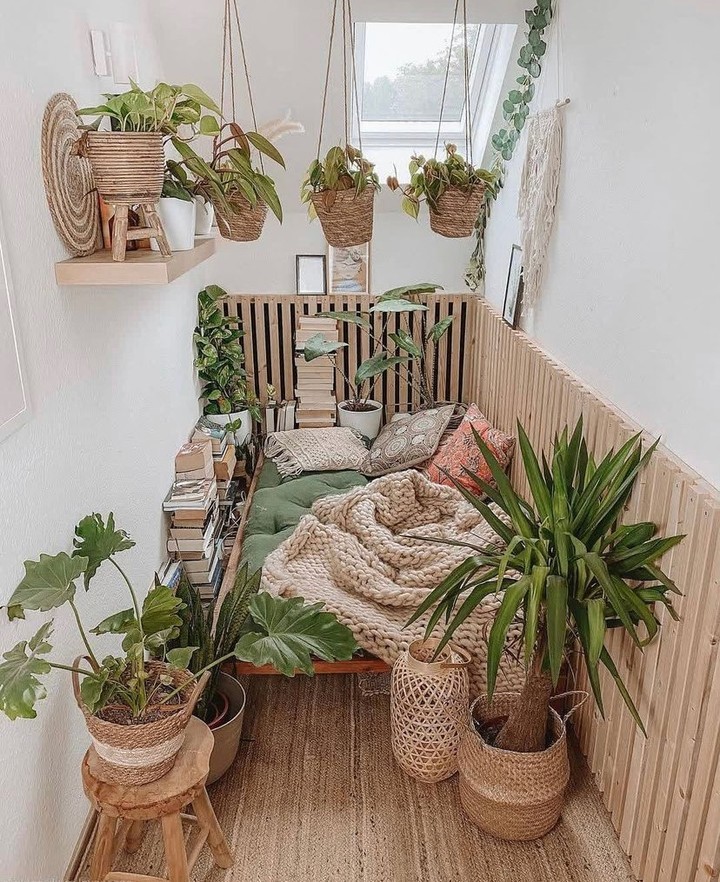 Here's another idea for creating a green reading oasis, perfect if you have a closed-off balcony or a sunroom. With wooden paneling on the walls and plants in wicker baskets, you can turn a narrow space into a comfy den with a dessert island beach house feel.
Industrial Masculine Reading Nook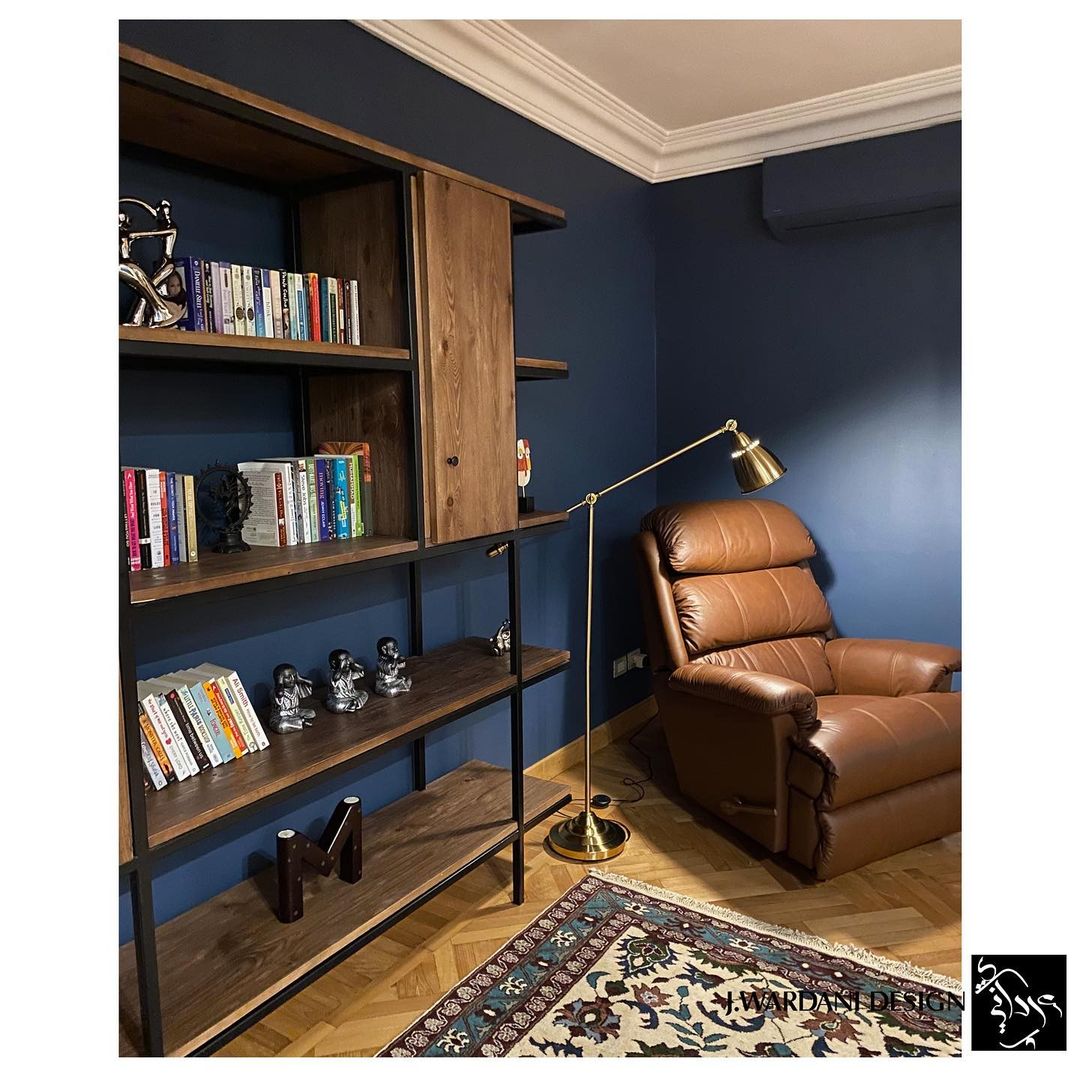 Most of the reading nooks we've shown you so far might be considered more feminine, but men can also be avid readers who desire a quiet place of their own. A leather La-Z-boy and an industrial-style shelving unit with a dark-blue backdrop is a space where any reader would gladly enjoy spending their time.
Patterened Wall Reading Nook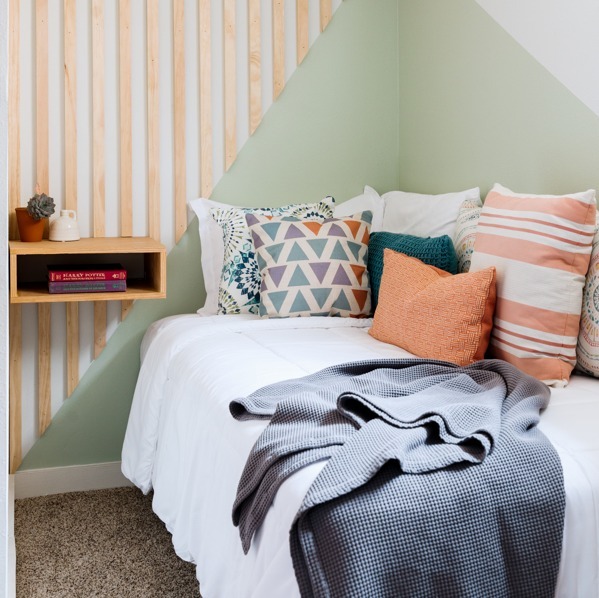 You don't always need furniture or room separators to make one area of the room separate and different from the rest of the area. That can sometimes be achieved with the wall itself, simply by painting it, paneling it, or adding different textures to it to distinguish that space as the reading nook.
Rocking Chair Reading Nook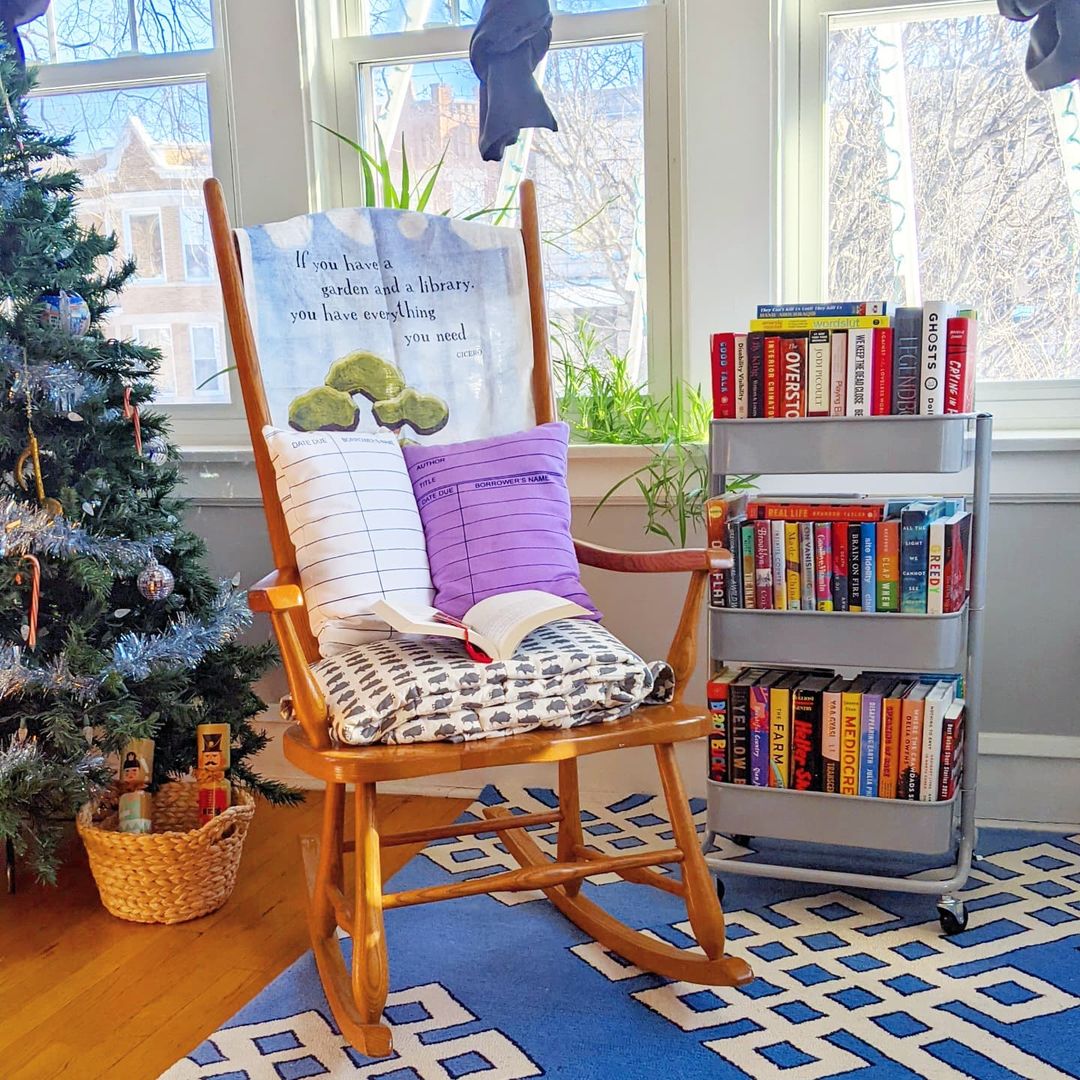 Reading nooks don't have to be stationary or a permanent feature in your home. You can make it a mobile unit, so to speak. A rocking chair and a little serving trolly for the books and you can rock and read anywhere you want in your home.
Wood Cabin-Like Reading Nook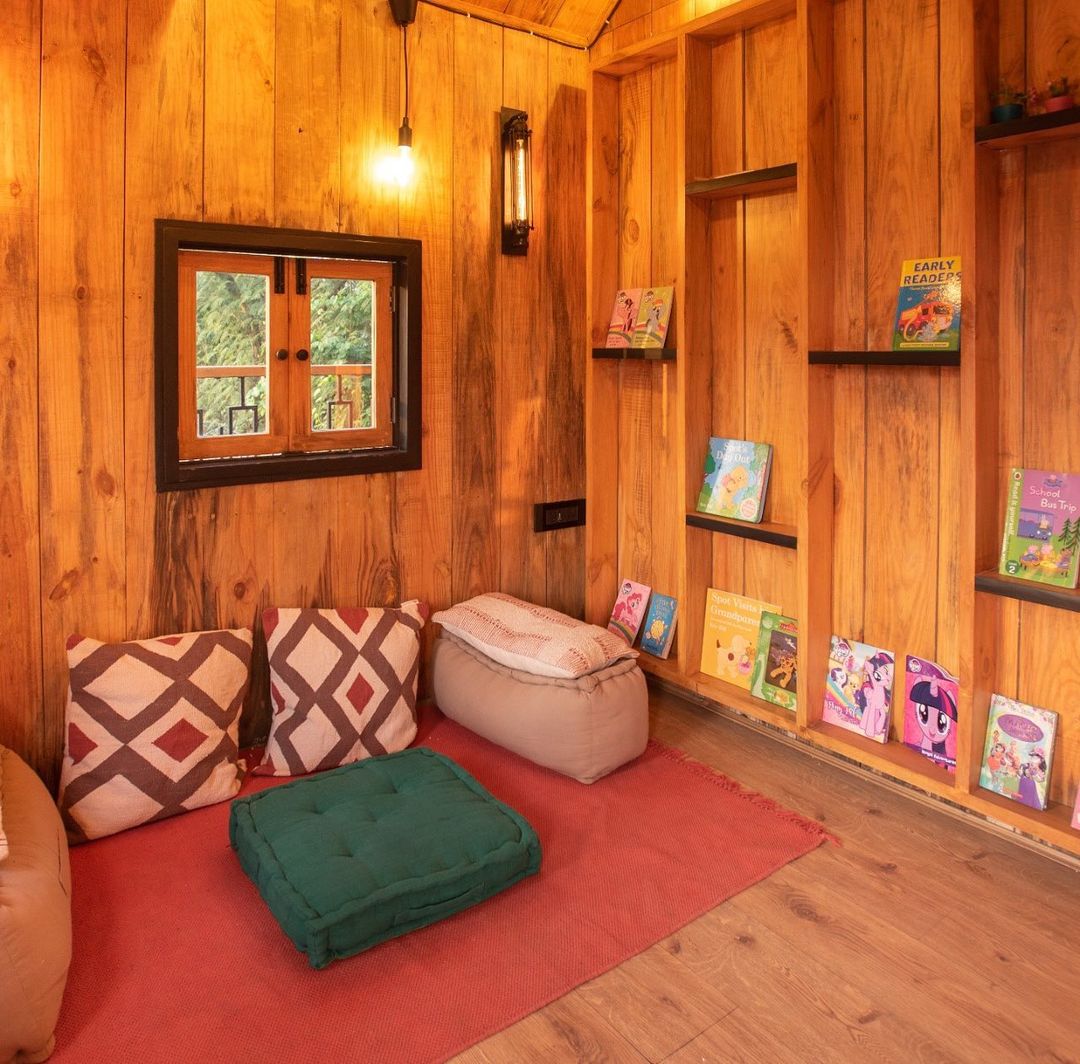 For people who love to vacation in peaceful places, there's nothing better than a cabin in the woods. There's a certain type of serenity that a wood cabin gives out, and part of it probably comes from the fact that you're surrounded by wooden logs and pannels. If you crave that cabin calmness to your reading nook, covering each wall of the designated space in wood panelings is a good start. Then you can design and decorate it according to your needs.
Reading Alcove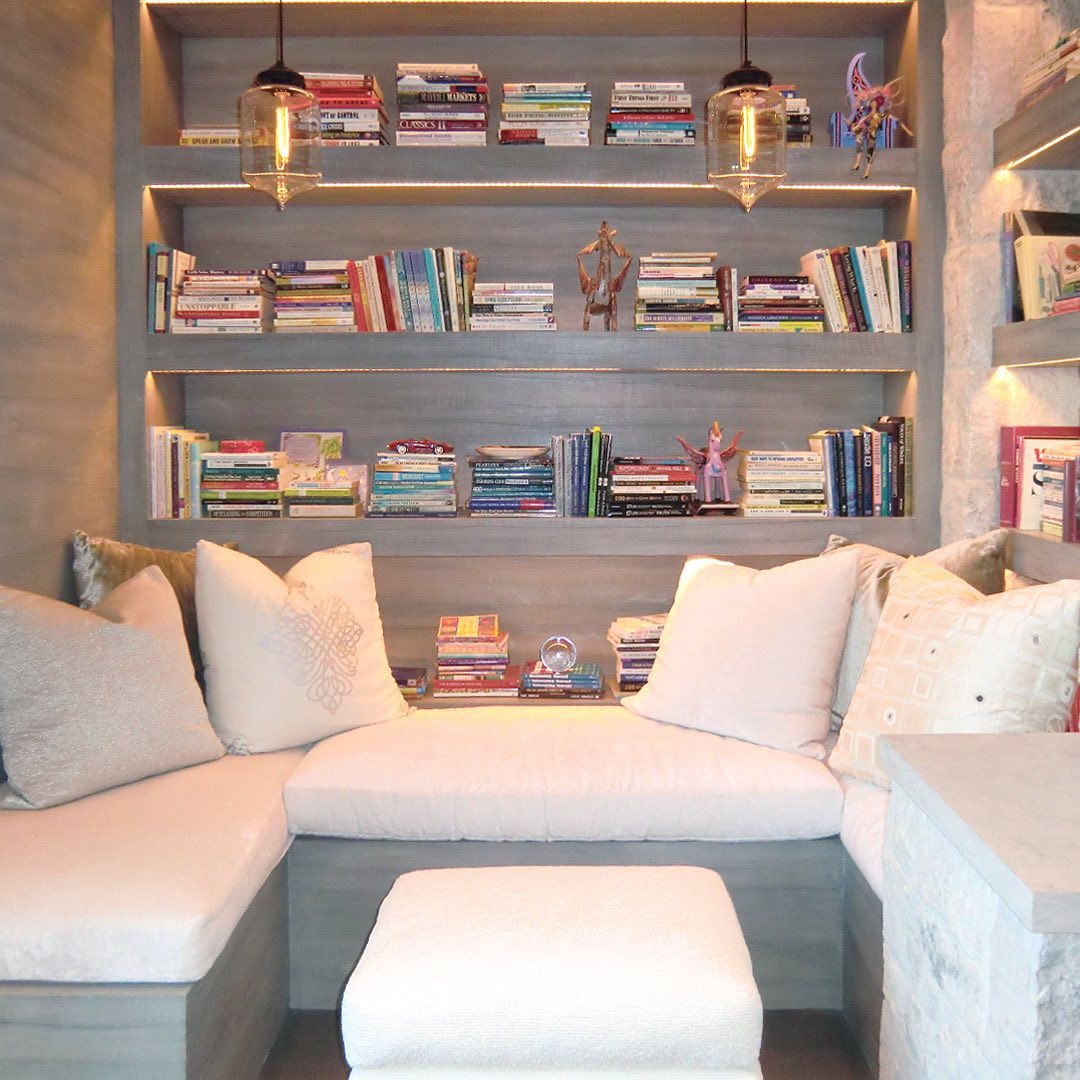 Not many houses have alcoves in the walls, but there have been amazing designs in modern homes with alcoves created with drywall. And alcoves can be utilized for many things, but a reading nook is probably one of the top choices. As mentioned, you can use drywall to create and design the interior part of the alcove and add some cool modern features along the way, like build-in shelves, hidden lights, and even built-in benches.
Narrow Balcony Reading Nook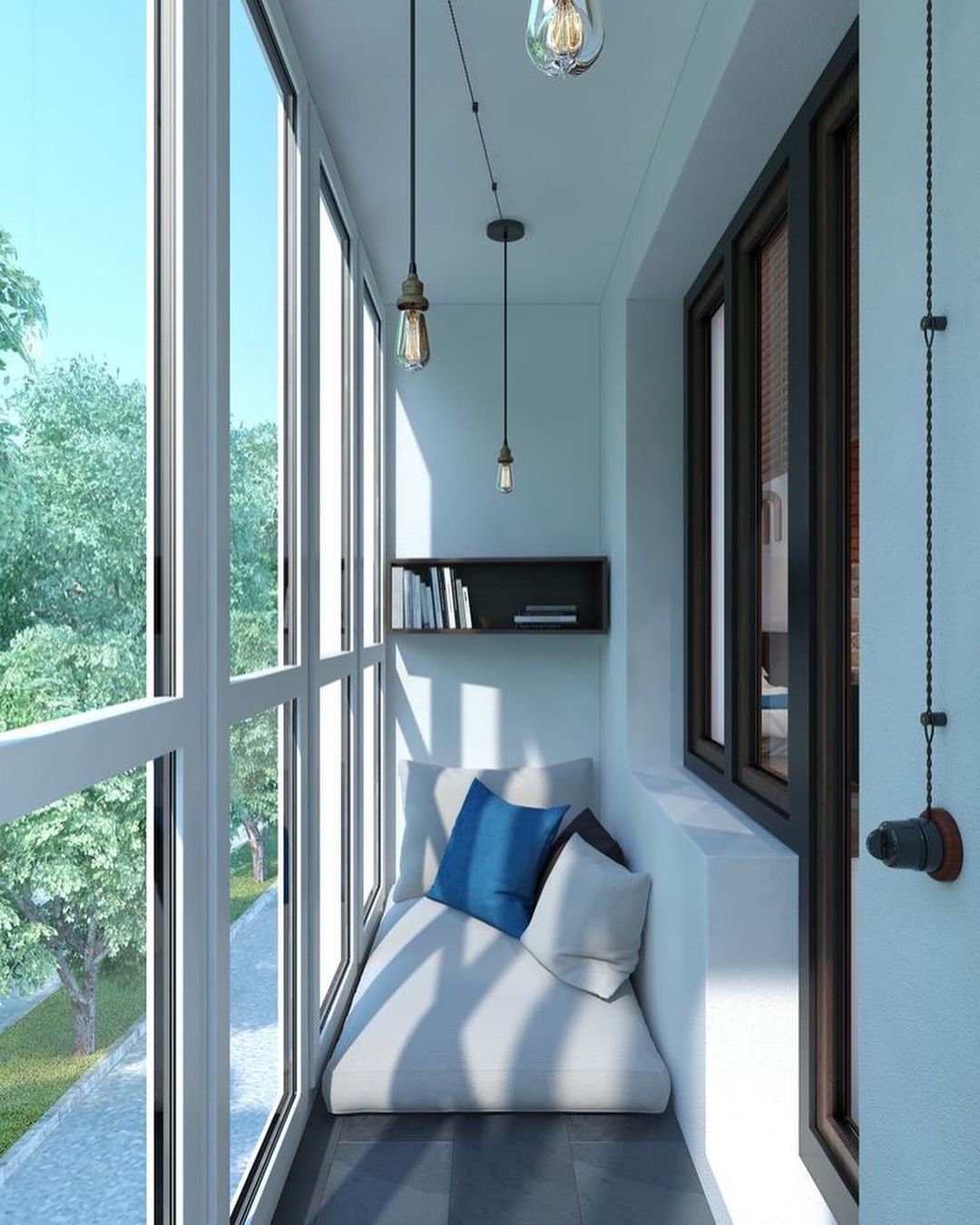 Balconies are a valuable feature for an apartment, but not all of them are big enough to comfortably place a table and a few chairs on it and enjoy a morning coffee. Some are quite narrow, and if you have one of those, here is an idea on how to finally make good use of it. You can sloe it off completely or partially, place some cushioning on the floor, some pillows, and a shelf and you have a very nice and open outdoorsy reading nook.
Classic Bay Window Reading Cook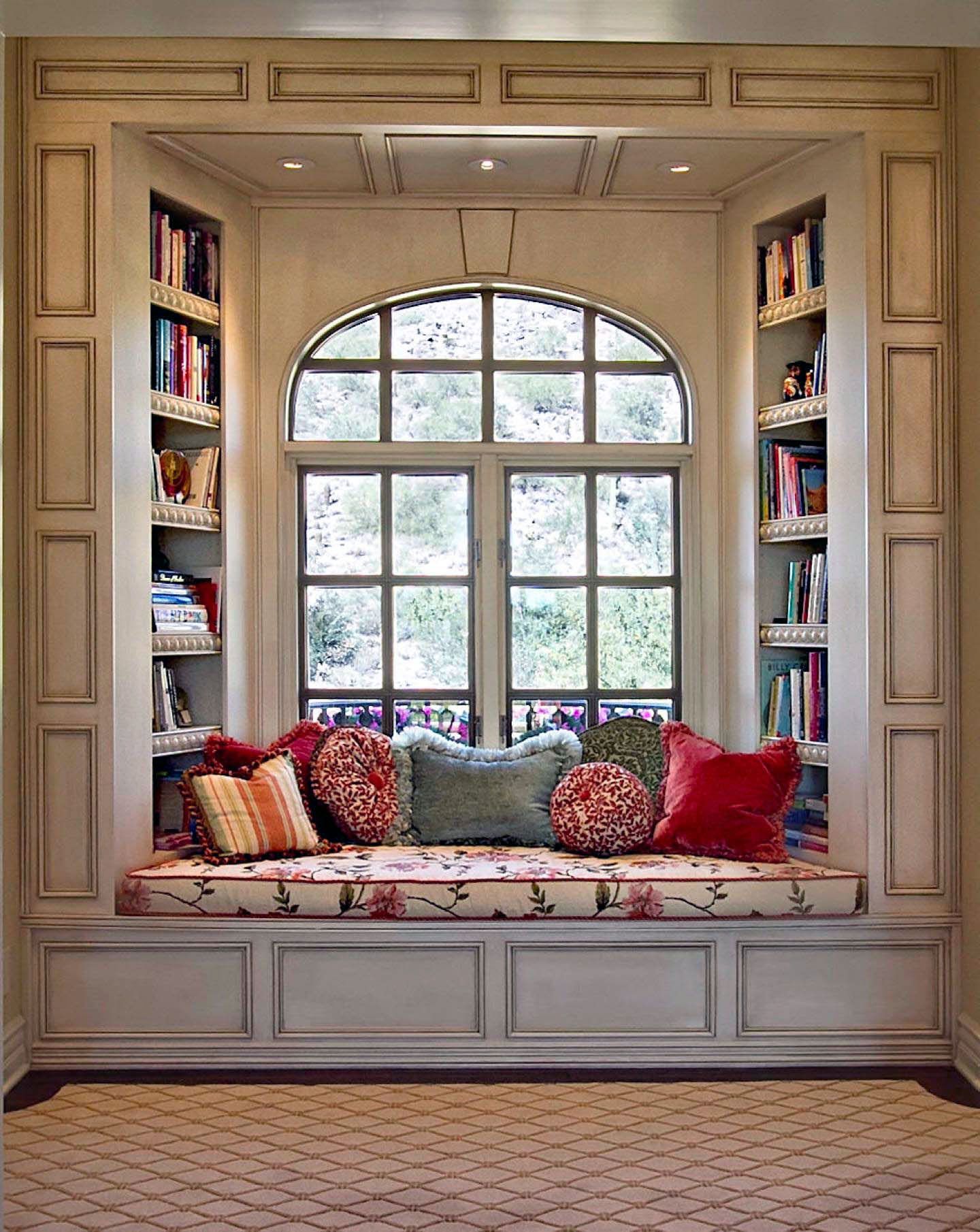 If there was any design where reading was taken into its creation, that would be a bay window. They are just a perfect spot for a reading nook, and today you have can easily decorate it in any decor style you'd like, from classic to modern. This one is a gorgeous mid-century design with block panels around it and incorporated bookshelves, with calming gray and beige tones. It will transport you to the period of the classic works for sure.
That's all the ideas we have for you for now. We hope these helped with creating your own special space in your home where you can take a break from everyday life and just revel in a good book. What is your favorite place at home for reading books? What would your perfect reading nook look like? Share and comment in the section below.