Have you ever fantasized about having your own wine cellar? If you're a wine connoisseur or simply like a good bottle of wine, you're undoubtedly wondering how to keep it fresh at home. Do you think you don't have enough space for a wine cellar or storage cabinet in your closet? There are various methods to add wine storage to your home, whether you have a large basement ready to be converted into a cellar or a small underused area in your kitchen.
You can construct a wine cellar in your kitchen if you don't have enough space for a full-fledged wine cellar. Enjoy your wine tasting trips with the people you care about, and to make it easier for you, buy or construct additional wine cases so you can keep wine almost everywhere. Bottles can be stored on various shelves and wine cupboards in the kitchen or dining area. Use your kitchen island, store under the stairs, and carefully position the bottles to hide them, as light is harmful to wine. Do you have a small basement or a limited budget? Instead, put small wine racks and a small fridge for cooled wines in a basement nook or wall.
Use floor-to-ceiling wine racks, cabinetry, or storage hutches to maximize vertical space. To create the illusion of a subterranean wine cellar, choose darker paint colors. Install drapes to keep the light out of your collection. Also, make sure you have sturdy flooring that can withstand the weight of the wine bottles. Integrated-in storage units save room on the floor and can be built into cabinets, shelves, or even the floor, wall, or between cabinets and refrigerators. If you're using a cabinet, your storage unit may be any size and form you want, and if you're using a troublesome nook between some furniture, a vertical storage piece is a way to go.
To help you out with ideas, or to get you inspired for some future projects, we have carefully selected some ideas for you. Take a look at them below, before you start organizing and planning your new work.
Barrel Wine Storage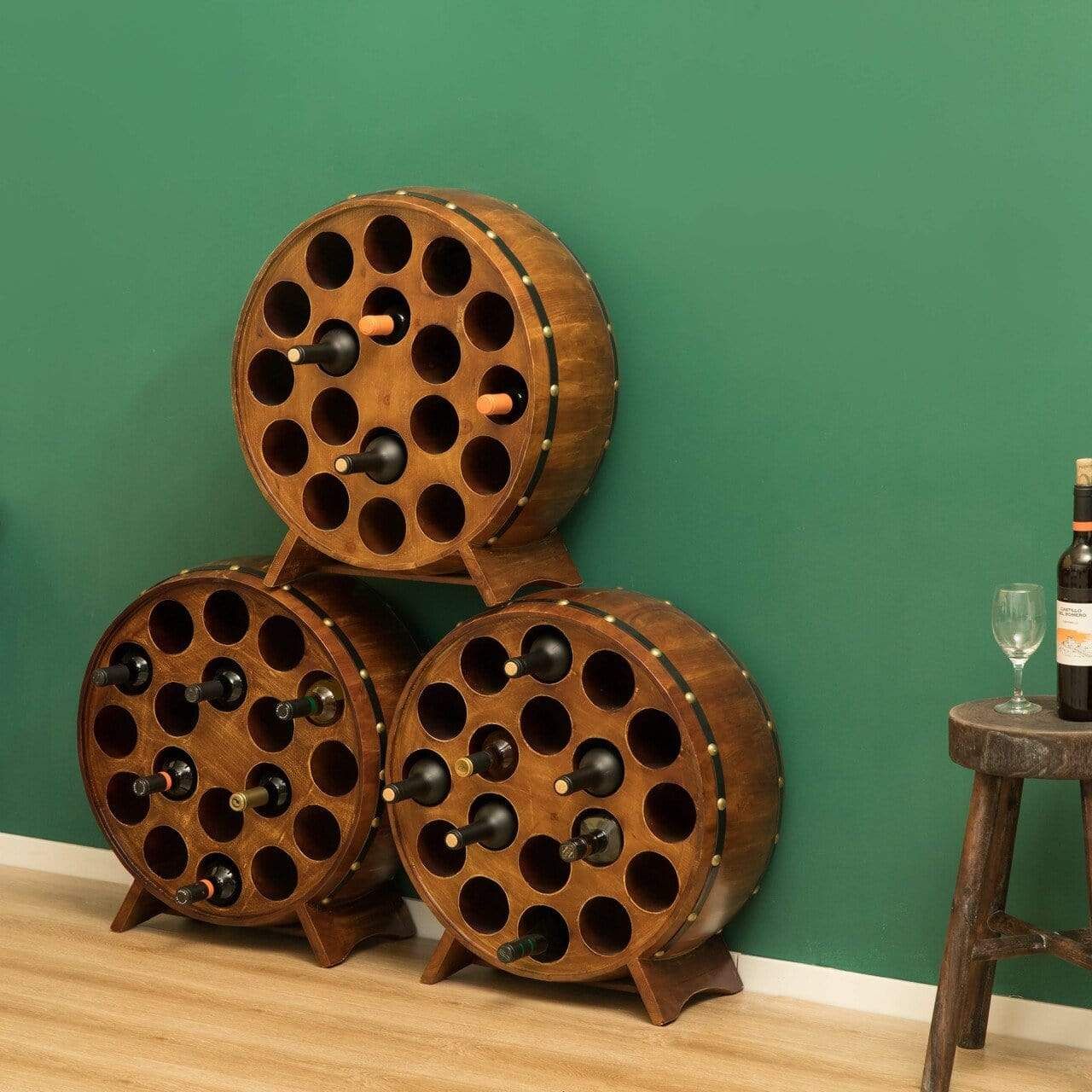 This massive wine storage in the shape of a barrel will complete the aesthetic of your space. This rustic wooden design is made of robust fir wood and holds up to 18 bottles. The robust fir wood structure with a stunning finish ensures that the wine comes into contact with the cork when the bottles are positioned horizontally, protecting the wine's quality and age.
Square Shelf Boxes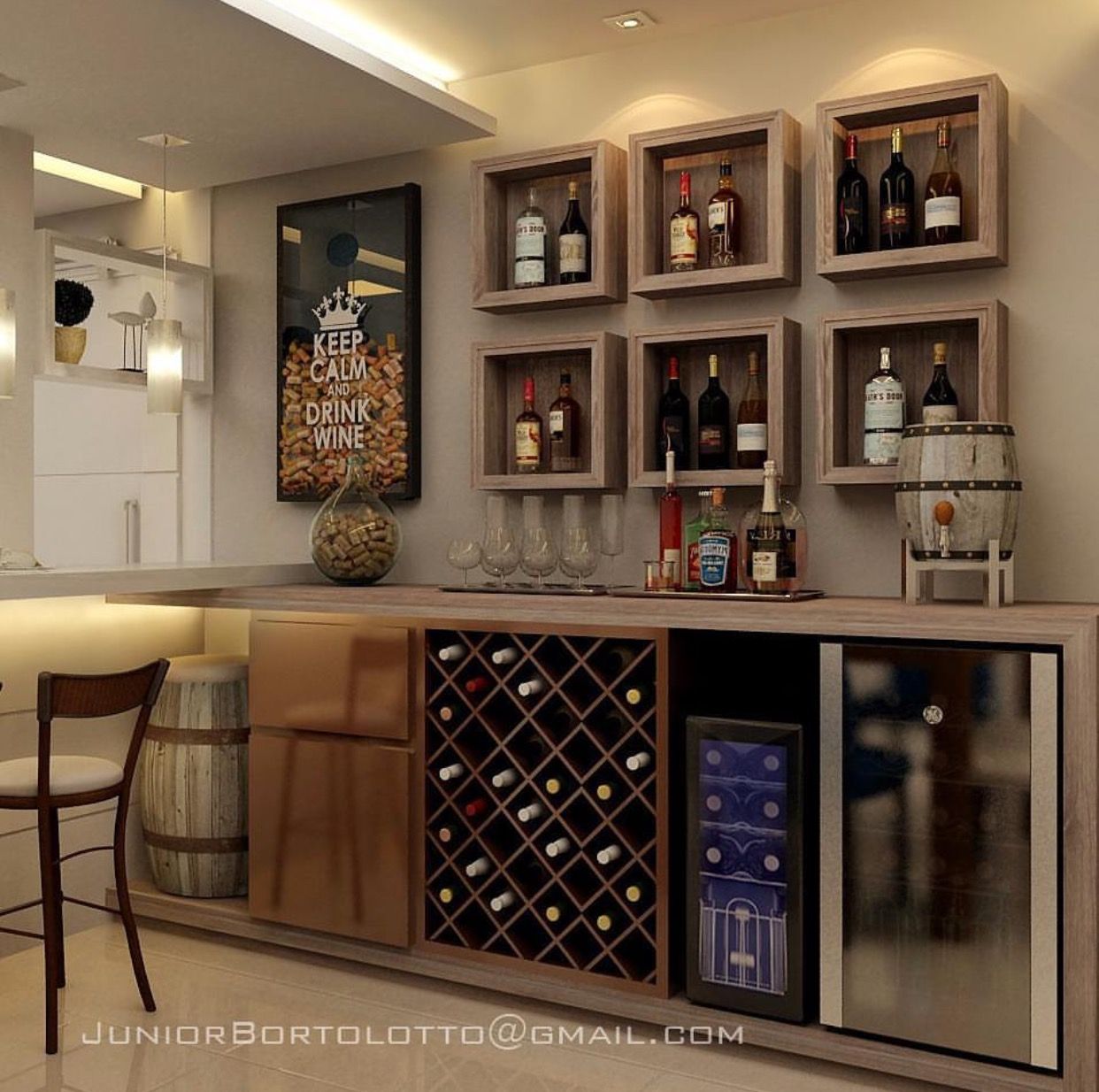 If you live in a small apartment, and still want to have a wine storage space, you can use one of the walls in the kitchen. Combine the cupboards with wine shelves, and add some square shelves over the top of the cupboard to give yourself more storage space for some special wines you want to show off. An old barrel will only add a final touch to the kitchen.
Industrial Wine Shelf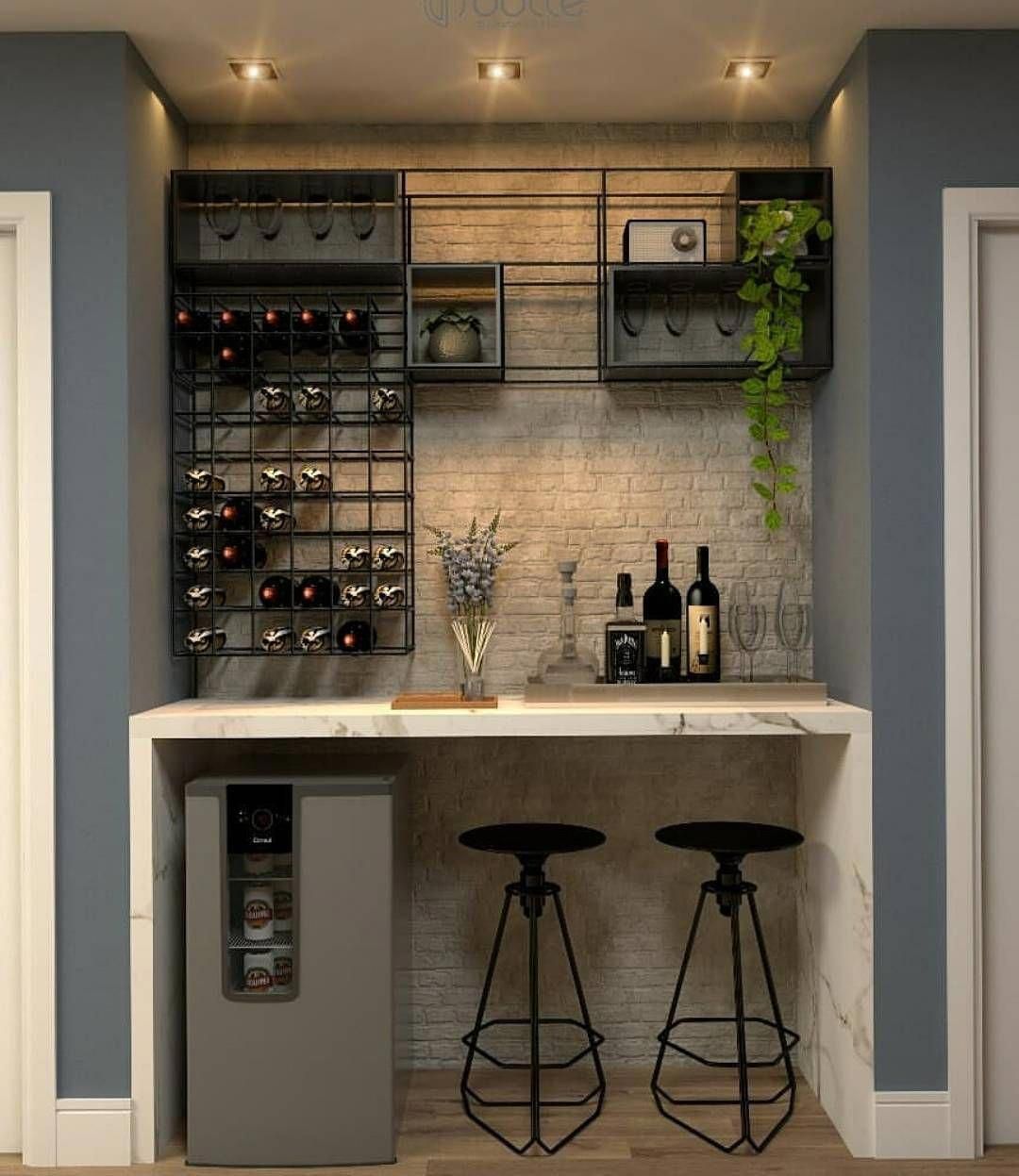 Industrial style design is very popular lately. If you want to add some industrial touch to your home, and you have a small nook with nothing in it, transform it into a cozy wine cellar space by adding some metal shelves where you can horizontally store wine bottles. It's easy to do, it's practical and you can make it in the size you want and place it wherever it's most appropriate for you.
Diagonal Storage Board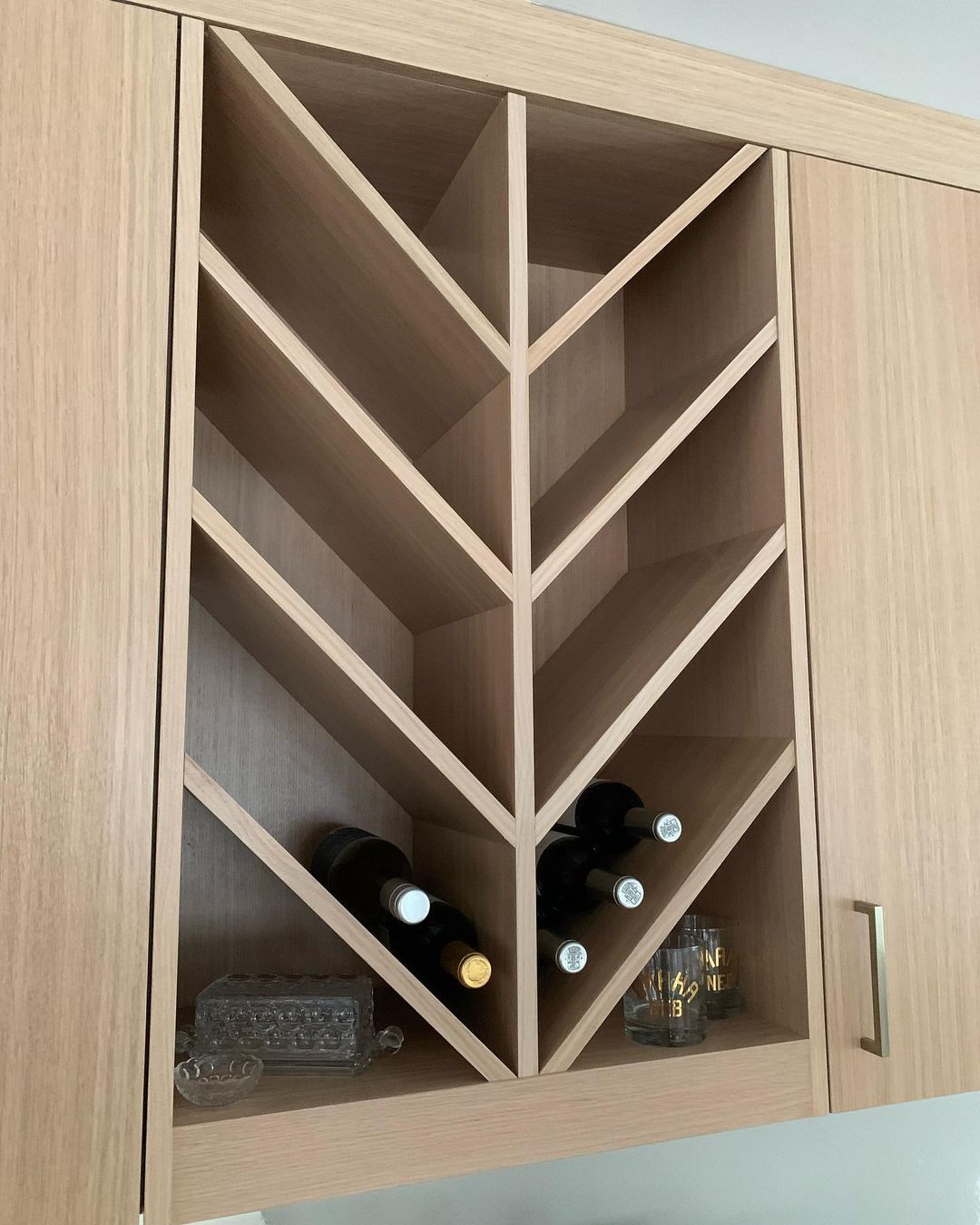 Use the space between two cupboards and create a lovely wine cellar for you. Place one long vertical board and add smaller ones, but place them diagonally to make the space look more interesting, fun, and cute. It will give your kitchen a new look, and solve your problem of storing wine bottles that you really love.
Under the Stairs Cellar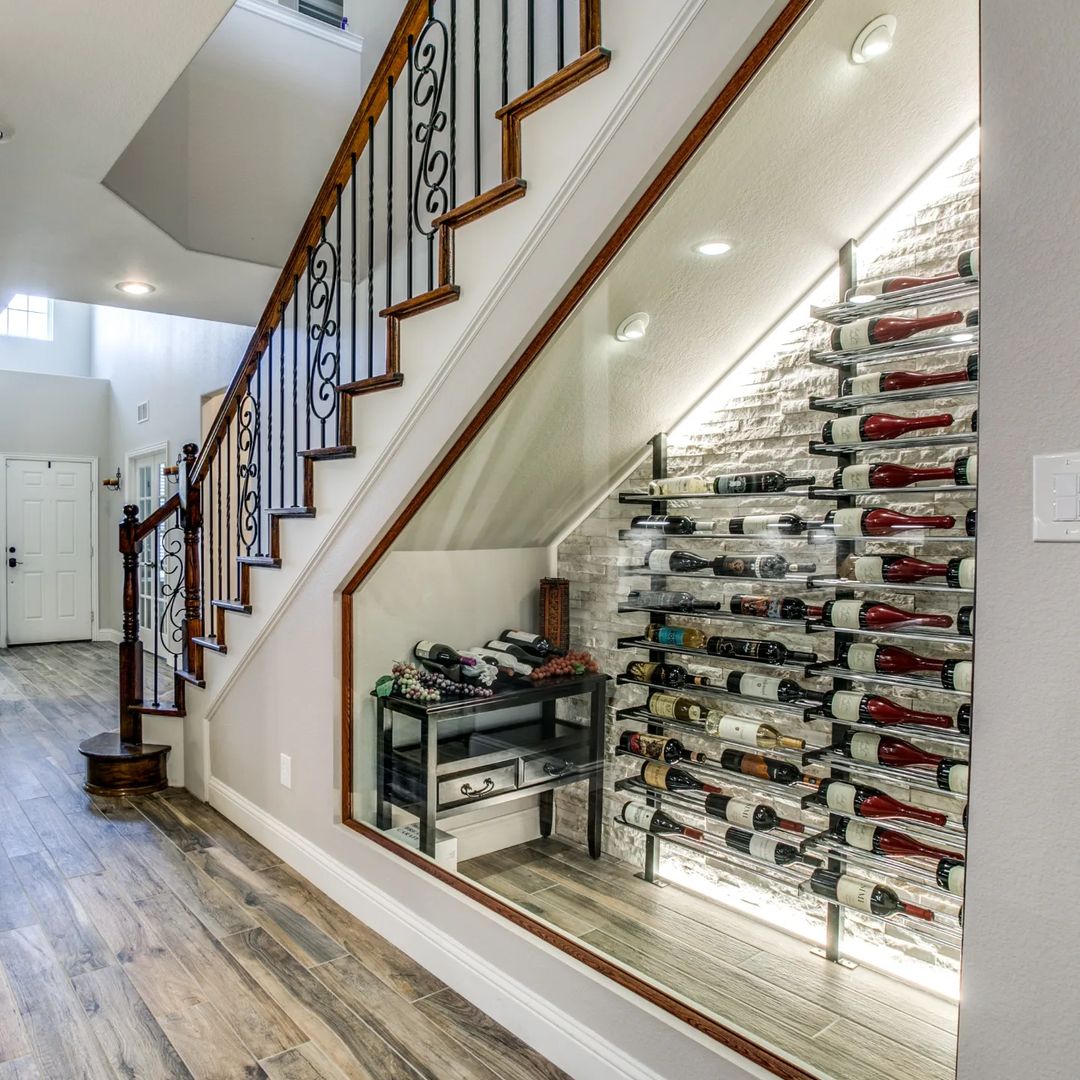 Some houses have large space under the stairs, which is usually used for storage. This idea will give you a different perspective on how to use this space. Instead of making it storage for tools or cleaning products, surprise your family and friends with a modern and glamourous wine cellar. There's enough space to play around with bottles and glasses, and the glass door will only add to the glamour of the space.
Modernistic Wine Shelf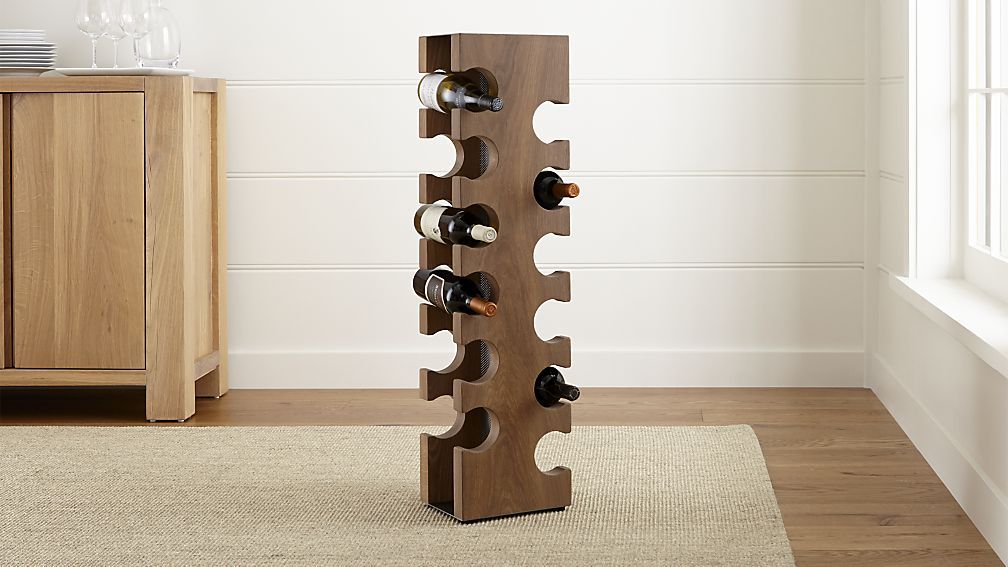 This modern wine stand is very practical to move around, especially if you have a small space. It can be placed wherever you need it, you can use it at parties, and family gatherings, and the shape that it has will immediately turn it into a lovely decoration to complete the look of the space.
Wavey Shelves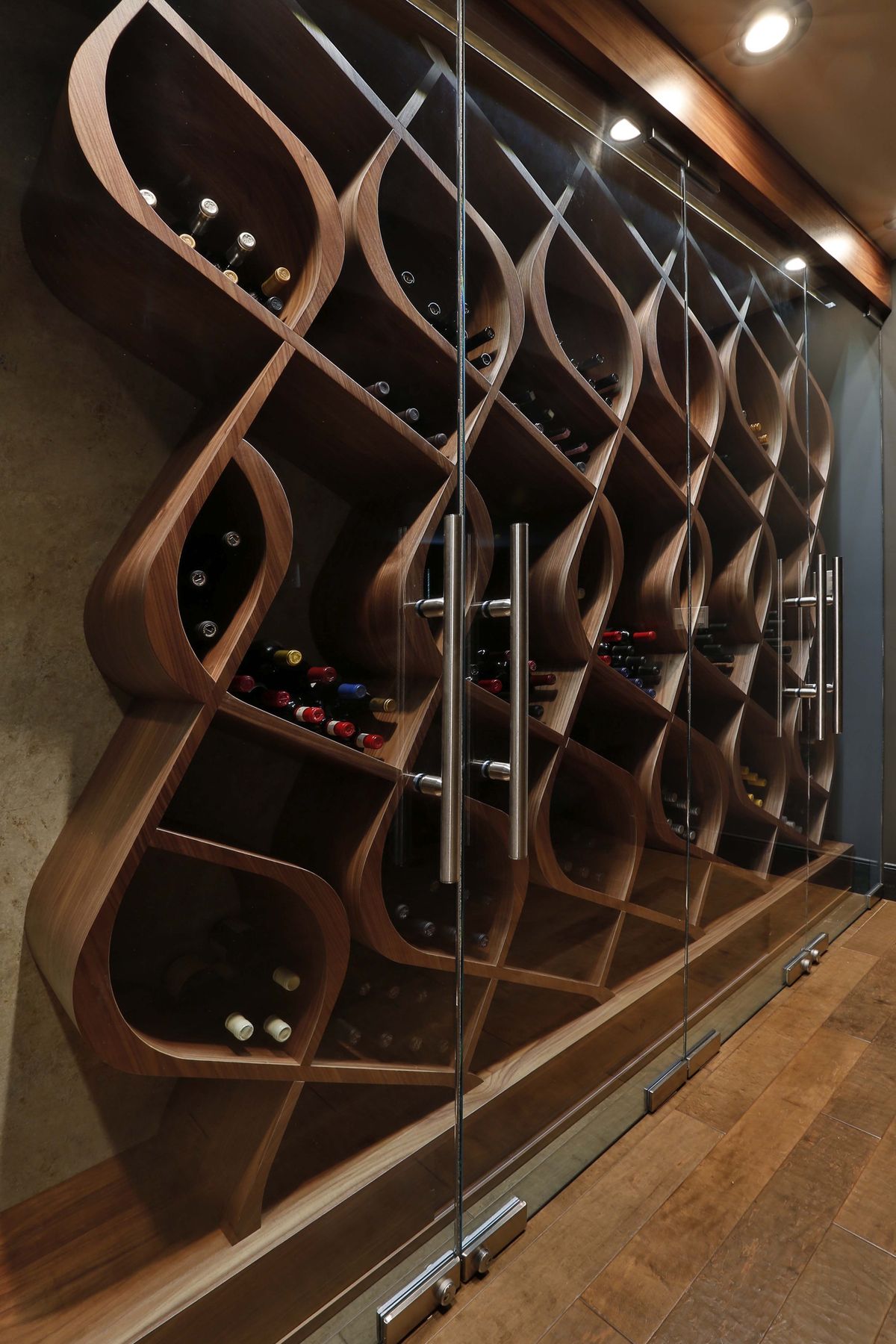 This idea is great for the more extravagant people. You can make an accentuated wall with this perfect wine cellar wall. It will give the space a great modern look and a cozy homey feeling. The glass doors will protect the wines from dust, and the shape of the shelves will keep them in the dark to preserve their taste.
Vertical Individual Shelves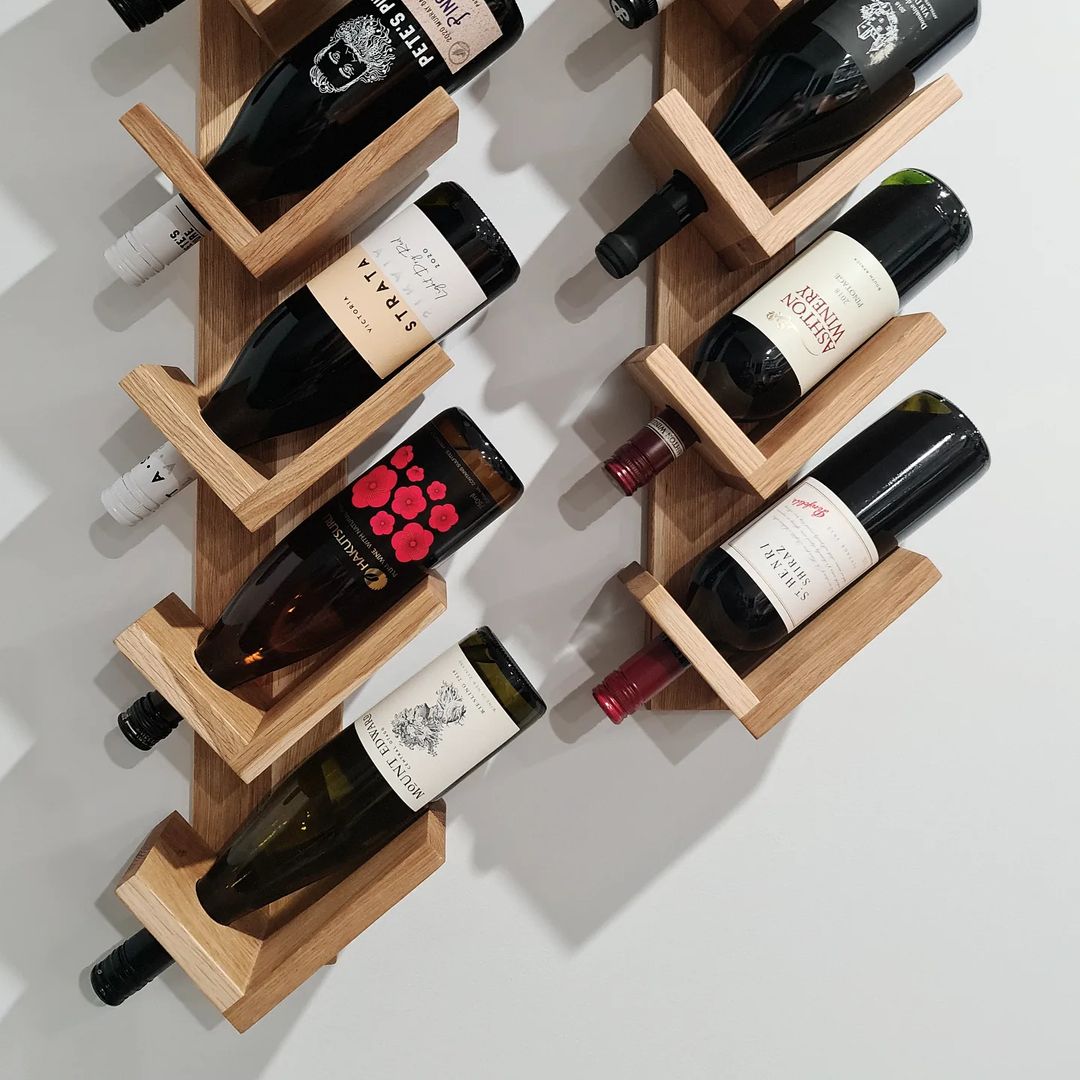 For a long time, it was considered that certain wines have to be stored on their sides with a slight tilting towards the neck to prevent the cork from drying out which would damage the seal and spoil the wine. Some don't believe that and like to store their wine bottles so that the label can be seen. With these slick individual vertical L-shaped shelves, you can display your bottles with the labels visible while being on their sides. And the best part is that they don't take up much space.
Wine Barrel Cell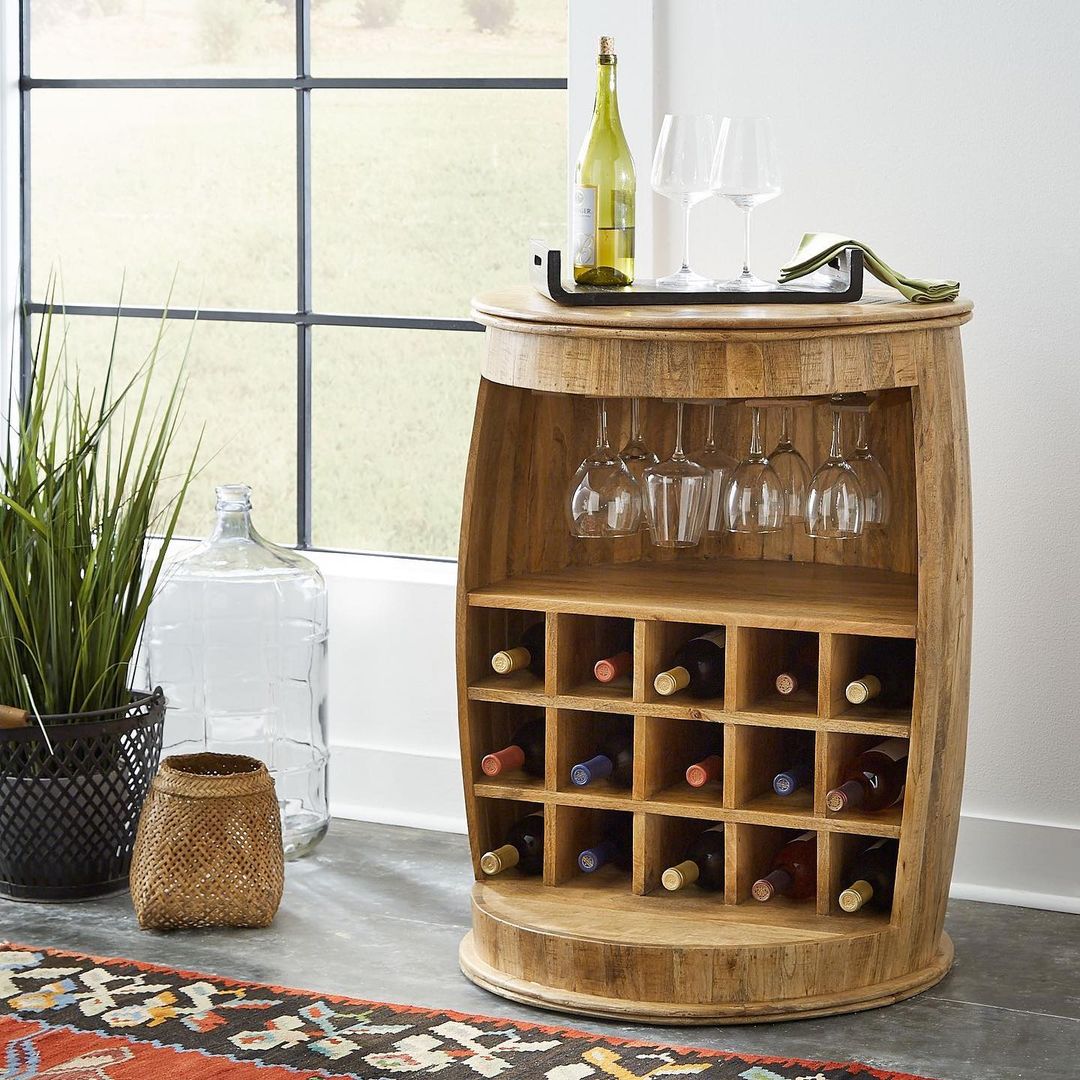 New wine barrels can be very expensive, but you might get lucky and find some unusable, damaged old ones at a cheaper price. And since you probably won't be able to make and keep the wine in them, you can certainly transform them to store your wine bottles there. With a few sections inside, and maybe some glass holders, you can have a very authentic wine rack in a wine barrel.
Cloth Shelves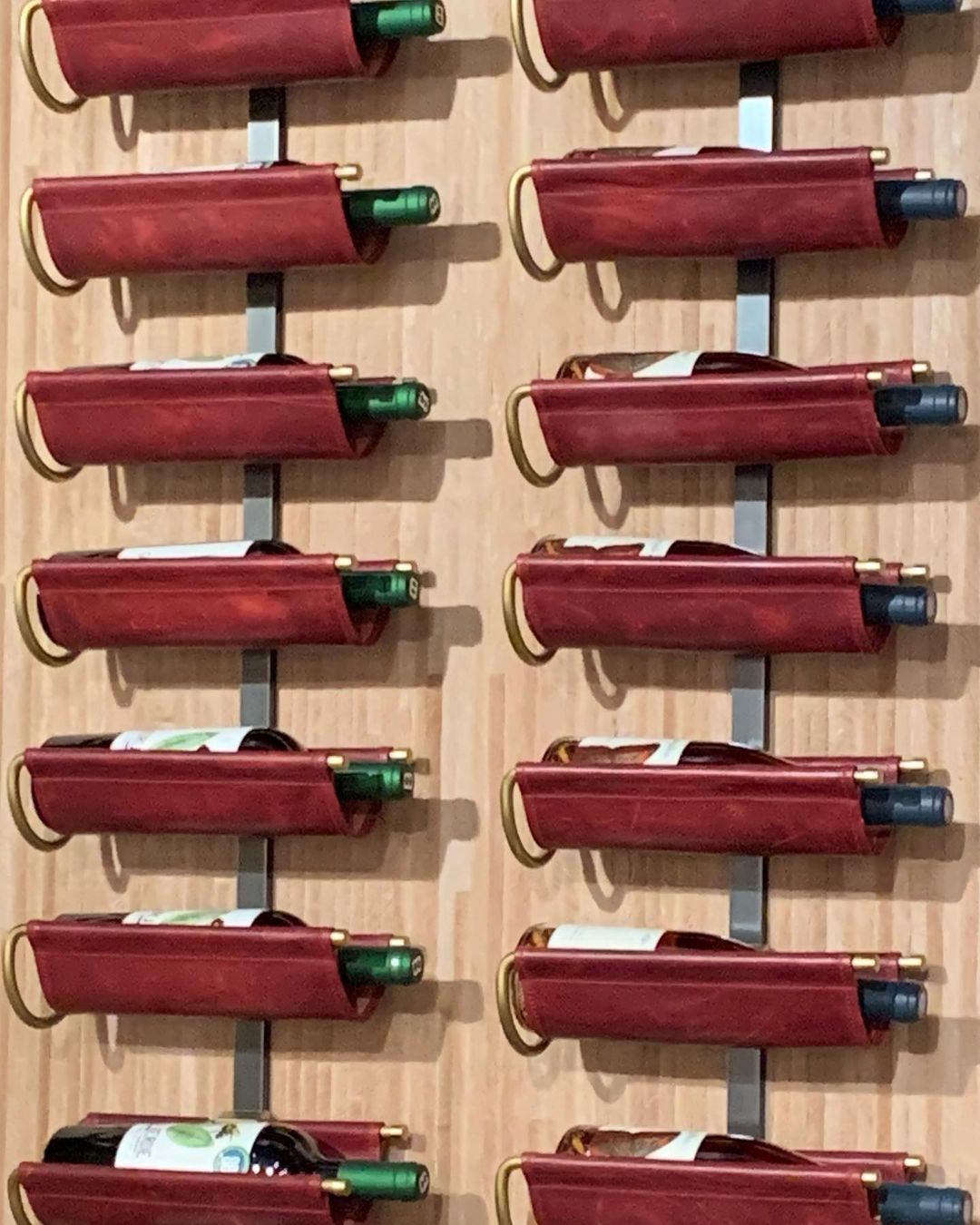 A good vintage wine needs to be handled with great care, to preserve that smooth taste. While paddings in wine storage are not necessary, you can find a lot of wine rack designs that use leather or some kind of material. This one is a simple, yet elegant design with each bottle cradled in a velvet cloth held together with gilded metal rods. It definitely gives that look of rick elegance.
Modern Black Shelf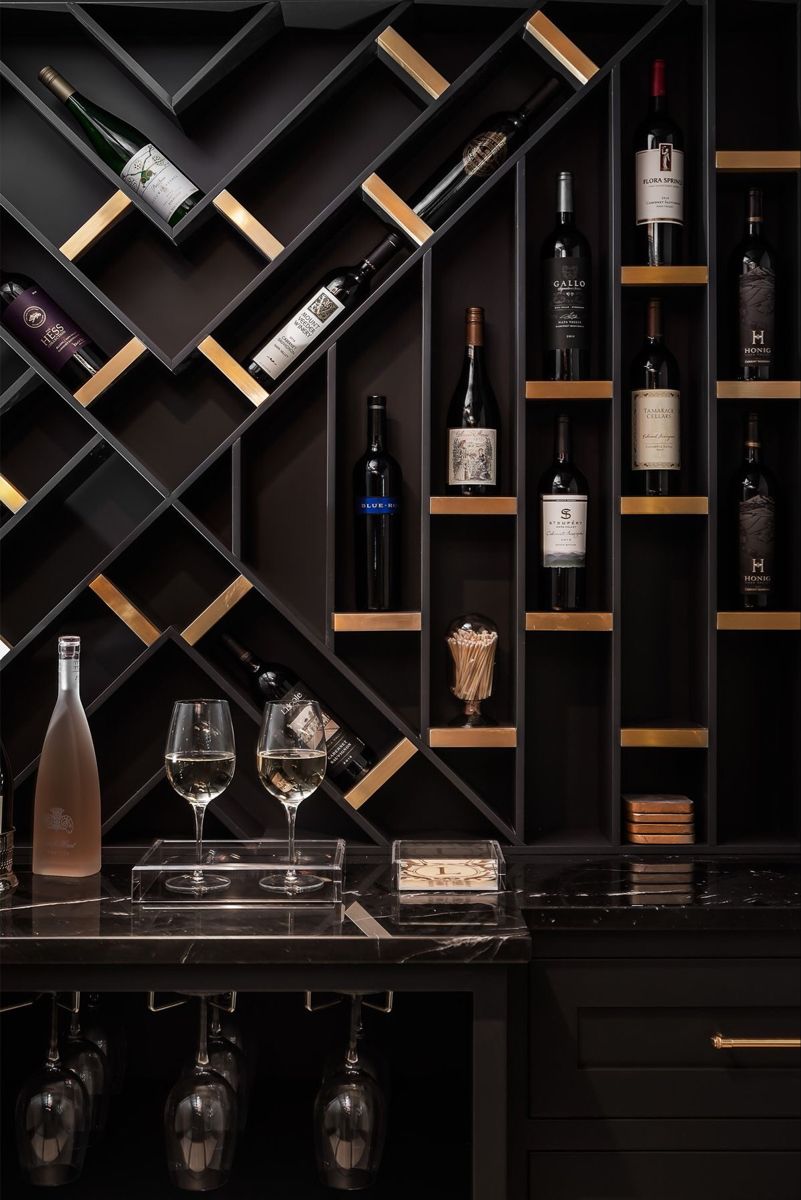 Speaking of rich elegance, this one oozes wealth and sophistication. Black and gold have always been an enticing combination, and this wine rack is no different. Black marbled countertops, with black wooden straight and diagonal shelving, with touches of gold on the shelf liner. It creates a very ornate and rich look, made even more extravagant a display of expensive bottles of wine.
Tube Wine Cellar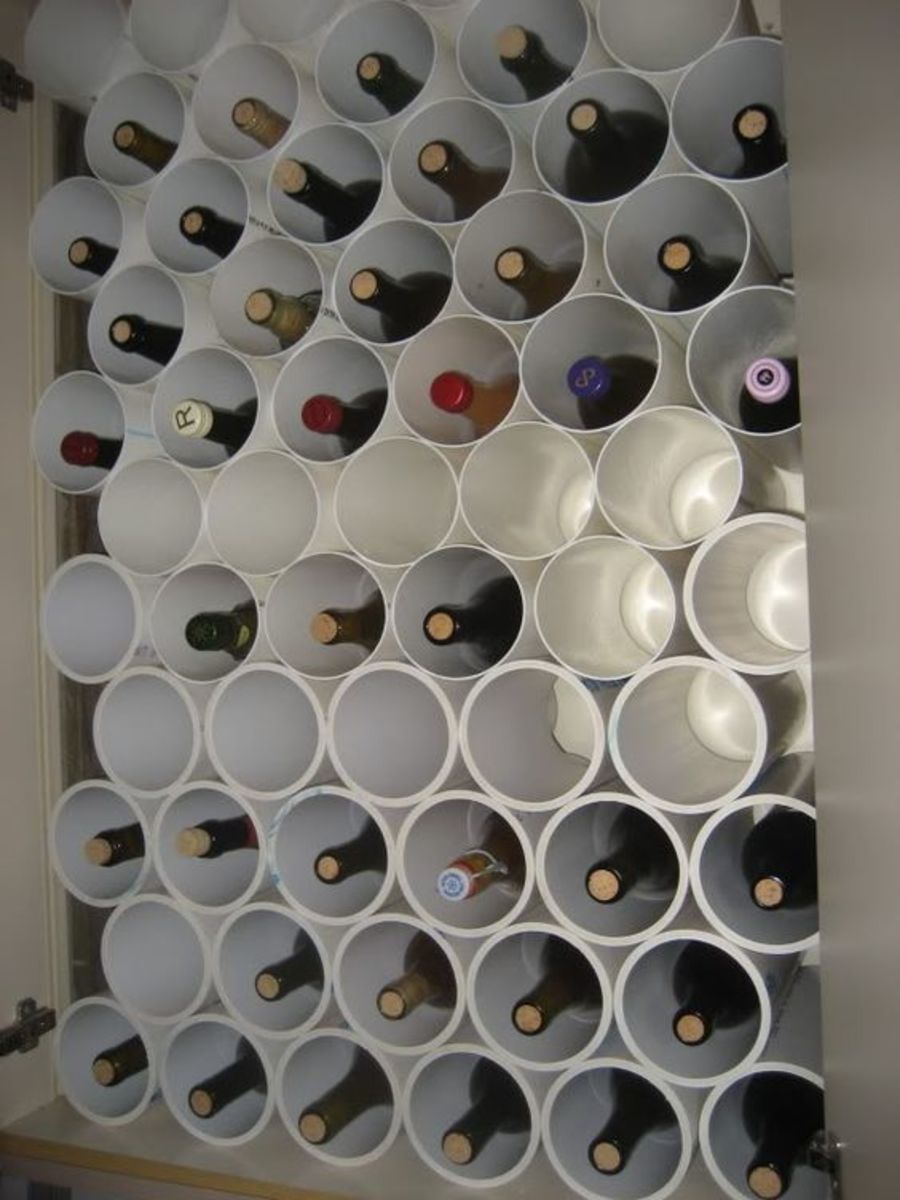 There are a variety of ways you can make some modern decent looking wine racks without breaking your budget. Wide PVC pipes are easy to cut and connect as needed, and even beginners can work with them. Arrange them in rows in a shape of a rectangle, a triangle, or any other shape you can manage to get e very chic and modern-looking wine storage.
Built-in Shelf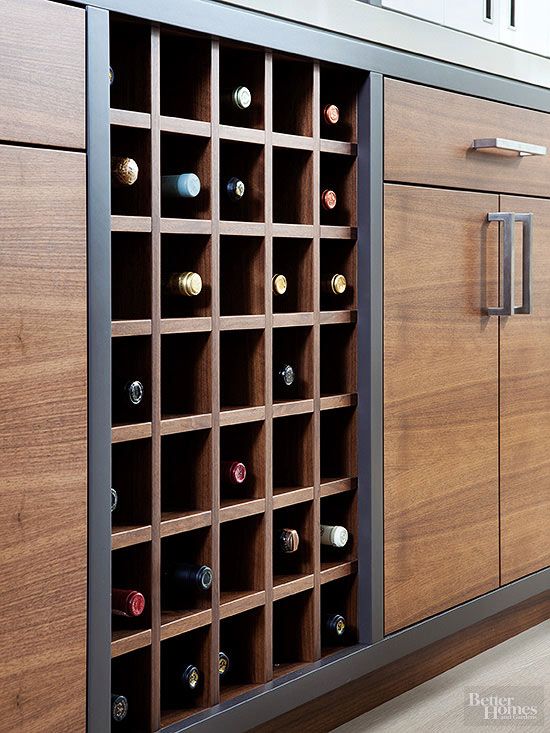 This simple wine rack would be a great addition to have in mind if you're designing a new kitchen or a way to replace one of the less used kitchen cabinets with very stylish wine storage with squares. The design is simple, without much flashiness but with enough storage to suit the needs of a large home gathering.
Shelf With Side Opening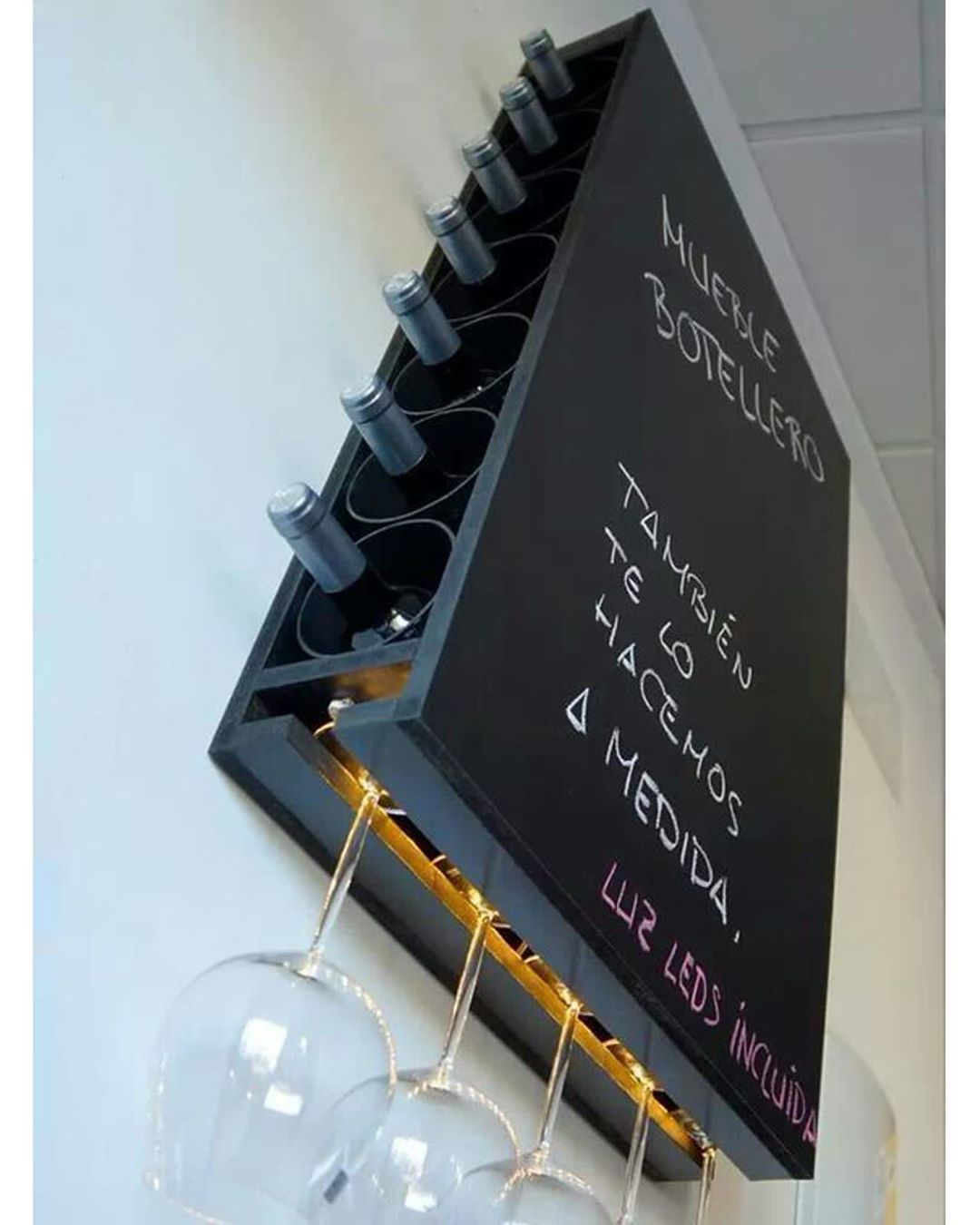 People always appreciate a design that is different and unusual, yet practical, much like this one. Instead of having the shelving unit opening facing you and the room, this one looks more like a wall-mounted box, with the storage coming in from the side. It can additionally serve as a minibar with the stemware rack at the bottom.
Pegs And Plusses Wine Storage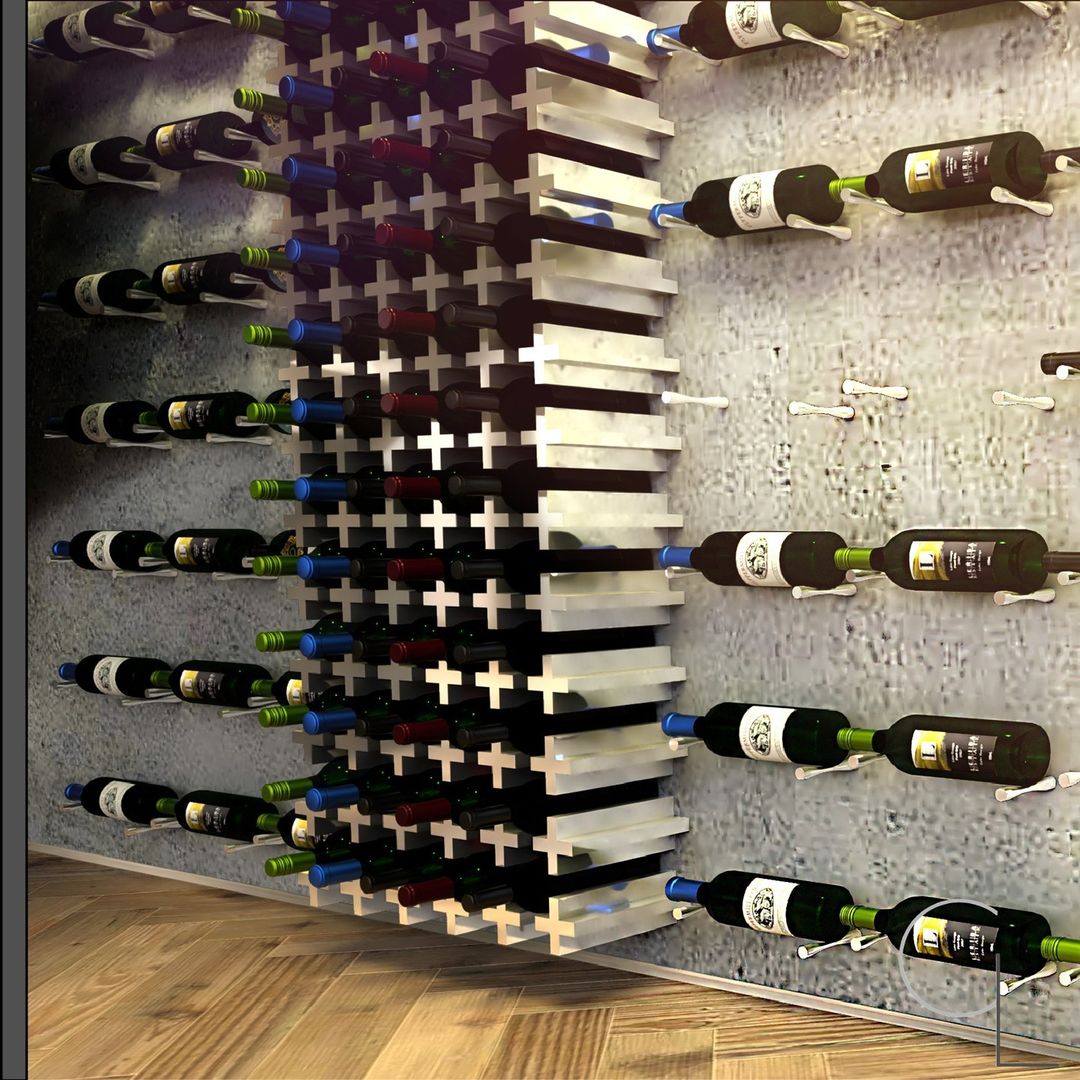 When you like multiple designs of some styles, don't be afraid to use them both, if they are compatible, of course. These wall-mounted wine pegs work perfectly together, the plus-shaped ones, and the single wine bottle pegs. The first one creates almost an illusion for a semi-visible shelf, while the latter makes the wine bottles appear almost as if they're stuck to the wall.
Brick Wine Shelf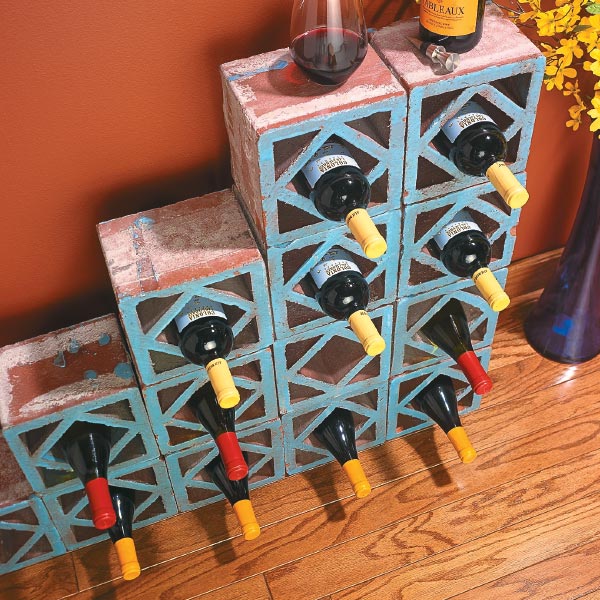 There are different materials to use for making easy, affordable, and cool wine racks. Much like the PVC pipe project, this sturdier version is as straightforward as it gets. Stack some brick blocks in a certain design, pant them if you so desire and you're basically done.
Wall-Shelf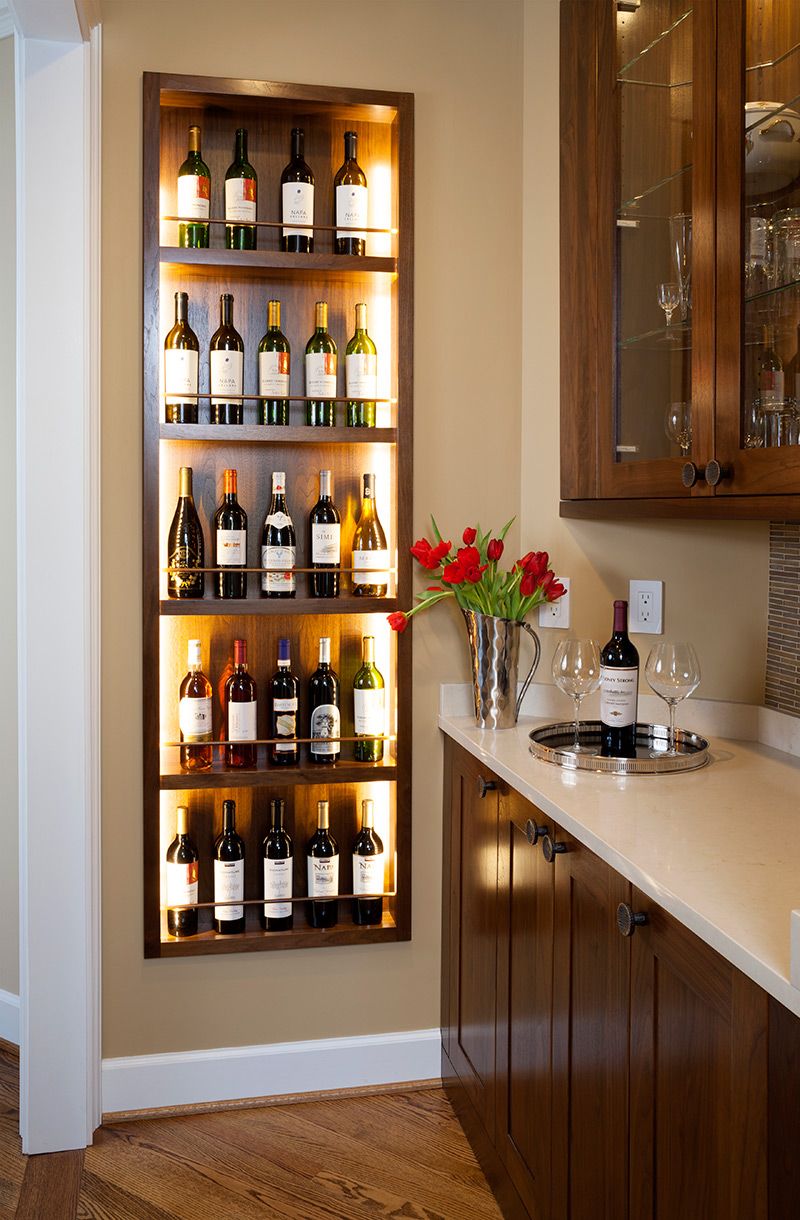 The aesthetic and convenience, not to mention the space-saving benefits of having a box niche in your home is certainly worth all the effort of creating one. A wooden shelving unit snuggly inserted into the niche with a backlight is certainly an eye-catcher of modern decor.
Metal Shelf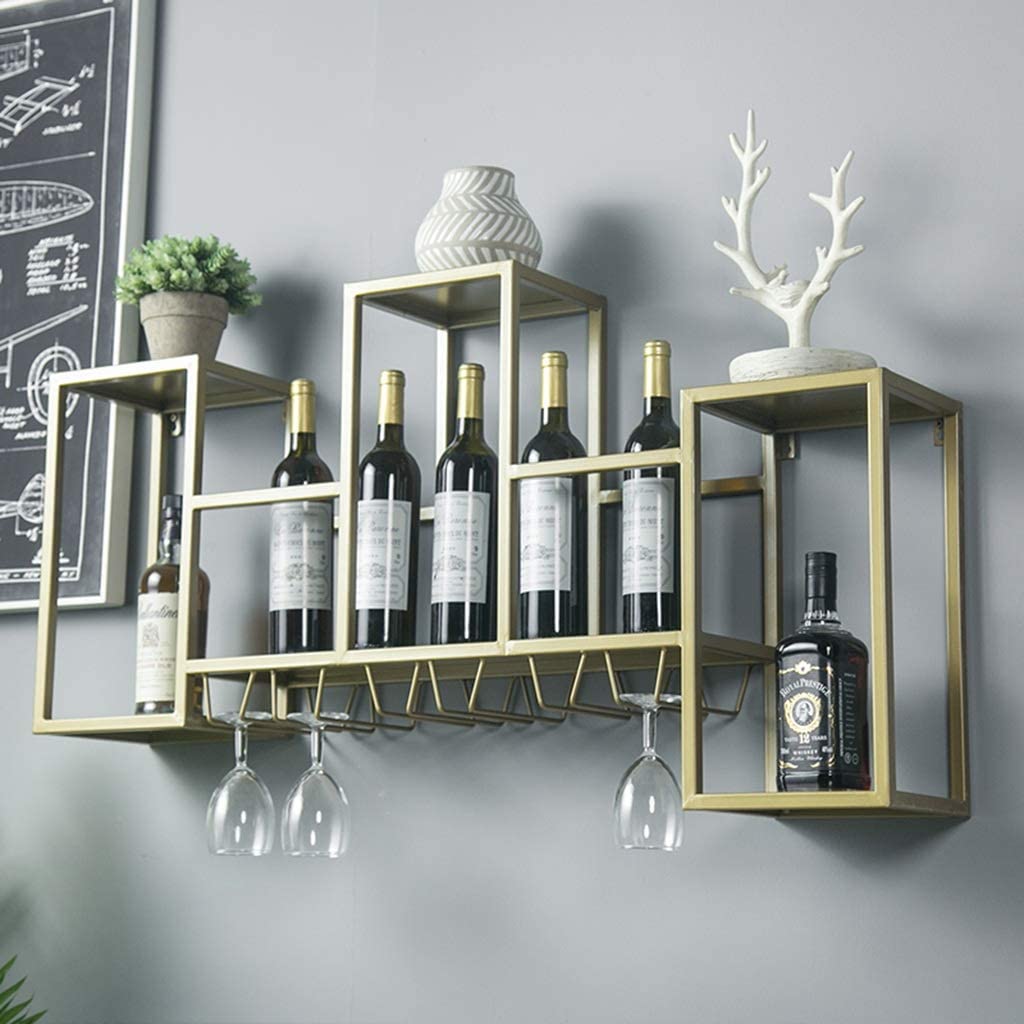 The appeal of the minimalist design is apparent to many. Cluttered with items and information, it is nice to have the home as open and airy as possible. Hence the metal frame wine rack, where you only have the necessary space for holding the wines and glasses while the holes and empty areas add to the illusion of more free space. And the geometrical shape and gilded pant certainly add to the charm.
Over the Bar Shelf
If there is one place that is the most convenient for wine storage, it would be around the bar. Having the wine storage above the bar might seem unnecessary and obstructive, not to mention that the wine would be exposed to the elements this way, you have to admit that it does look quite refined, especially since it's done in the industrial style, and it does serve as a makeshift room separator or bar separator in this case. Just make sure you do this in a basement level room.
Narrow and Practical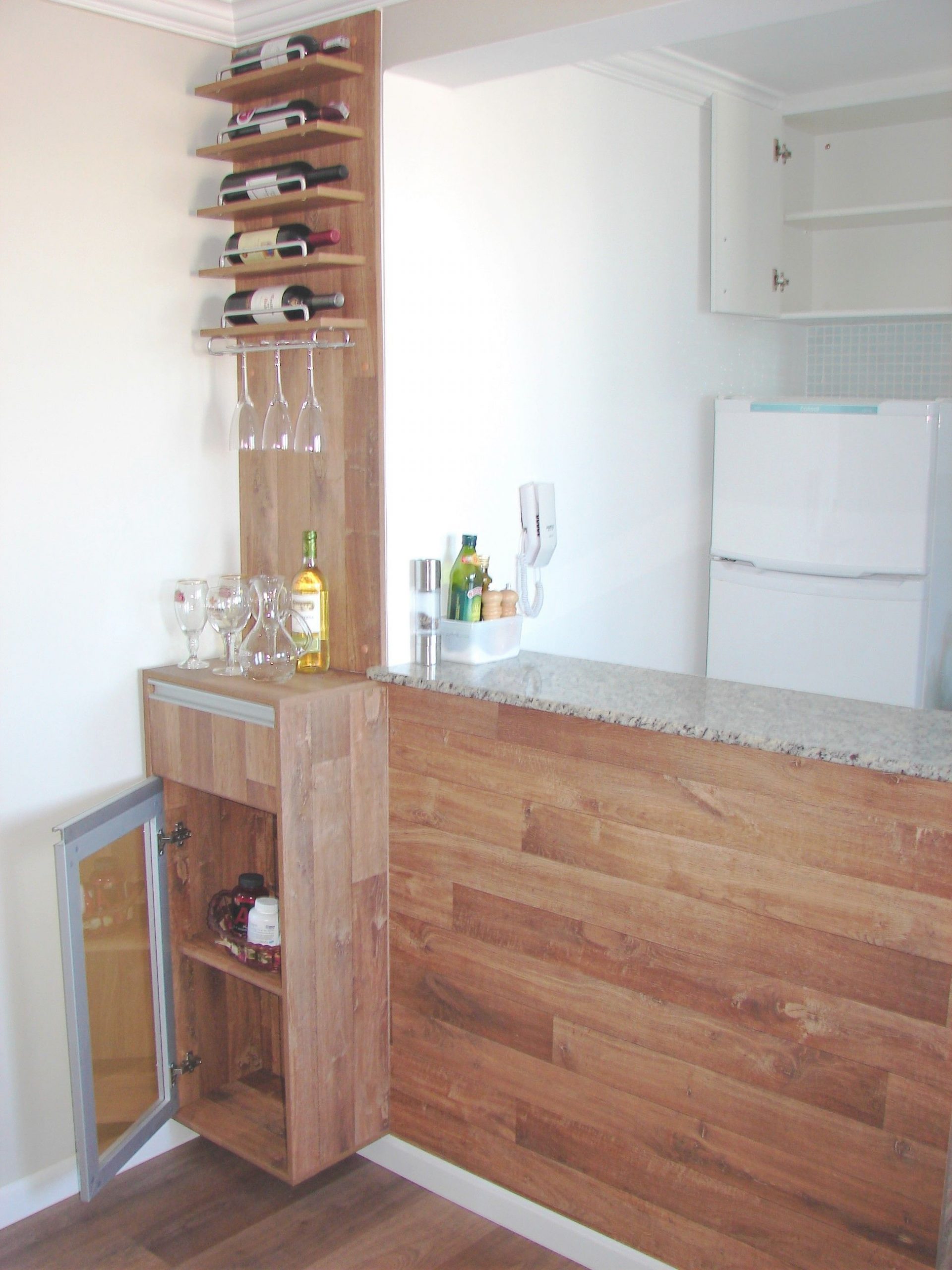 Sometimes you have to make the best use of the space you have to work with, even if it is only a foot or two. You can still make it work by extending the bar area upwards, making a narrow rack for the wine and stemware hangers, with a small countertop with storage below.
Glass Shelf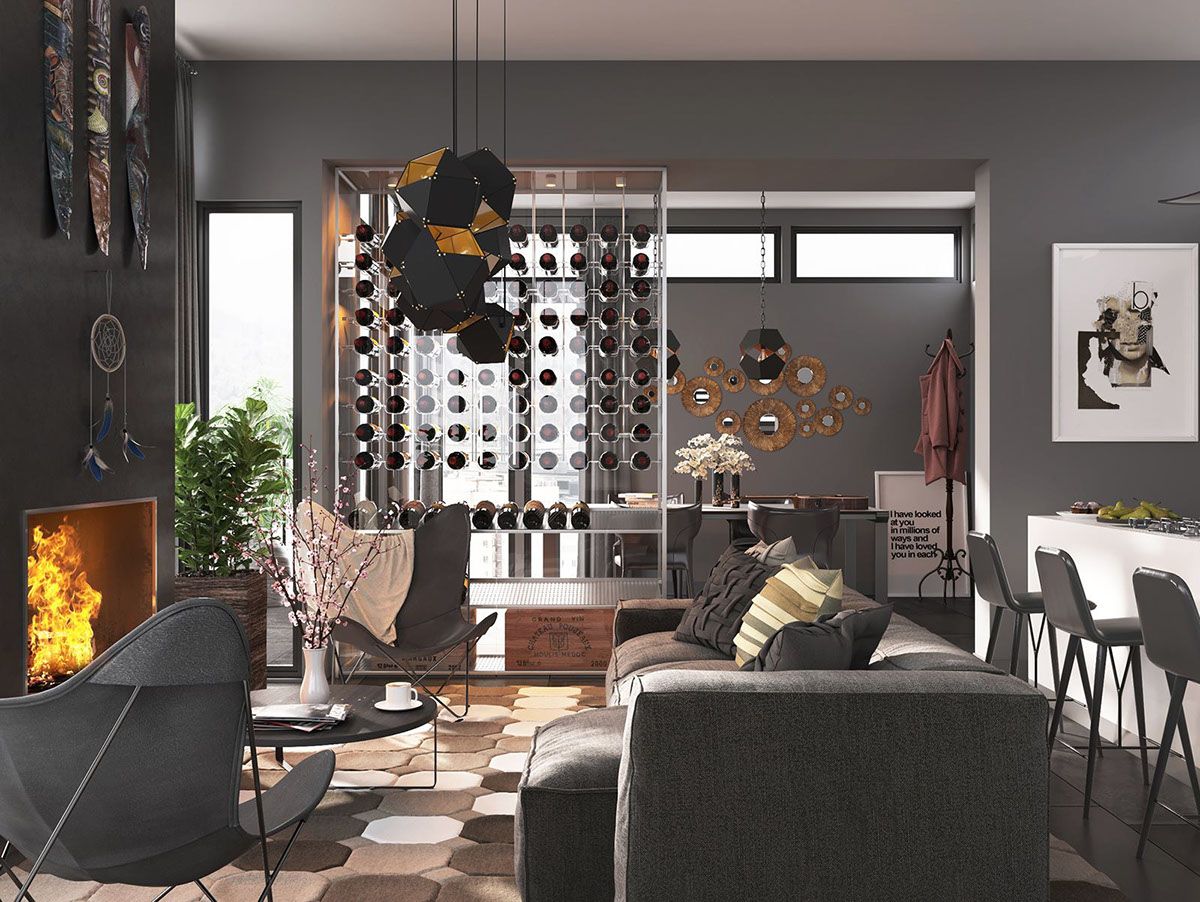 Minimalist design and invisible floating design are being mentioned quite often in the world of design these past few years. This gorgeous wine storage unit made entirely of glass allows the space to be filled with natural light while adding an artistic effect to the room that wouldn't have been possible if the wine rack was made from any other material.
Mobile Shelves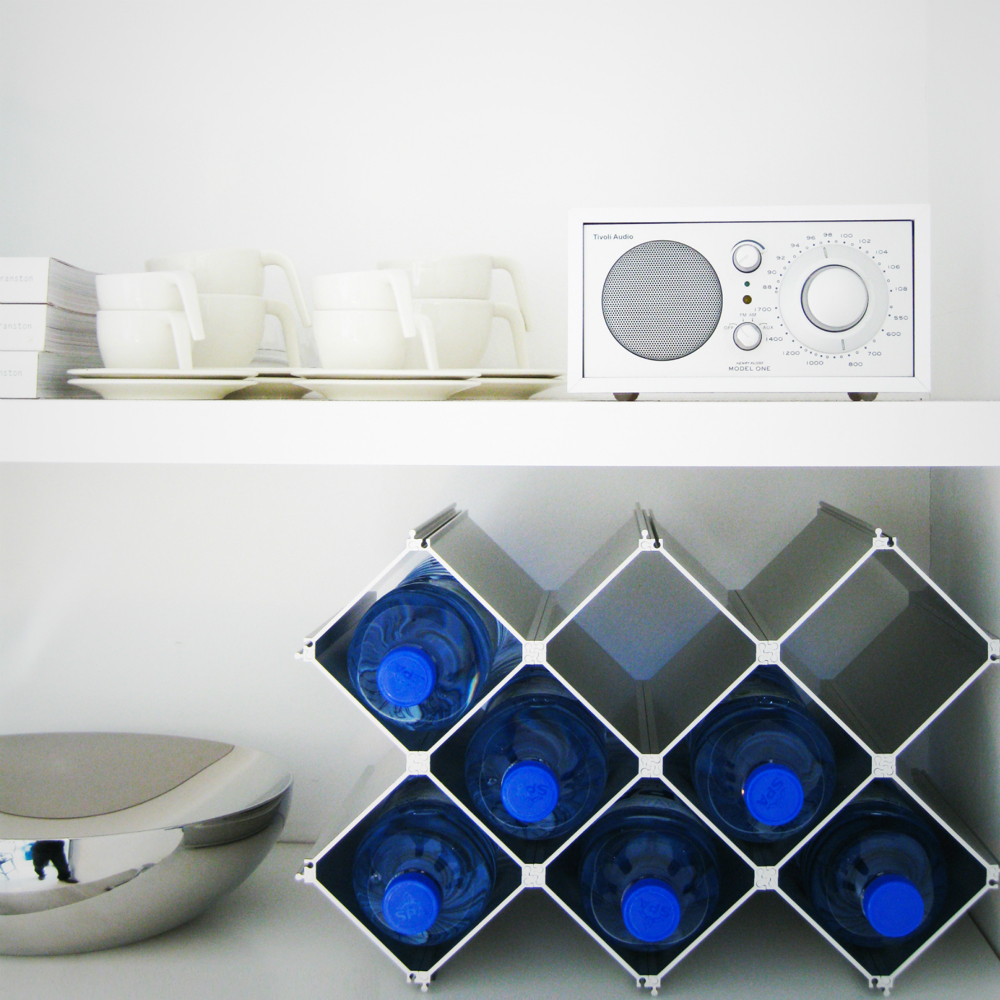 Wine racks aren't only for wine enthusiasts and connoisseurs. Regular people can have the need for wine racks or wine storage as well, only they might not use them as often. n that case you can get a portable mobile wine rack unit. This diamond-sectioned square-shaped rack can hold up to eight bottles of wine or any other bottles and can easily be folded and put aside when you don't need it.
Living Room Shelf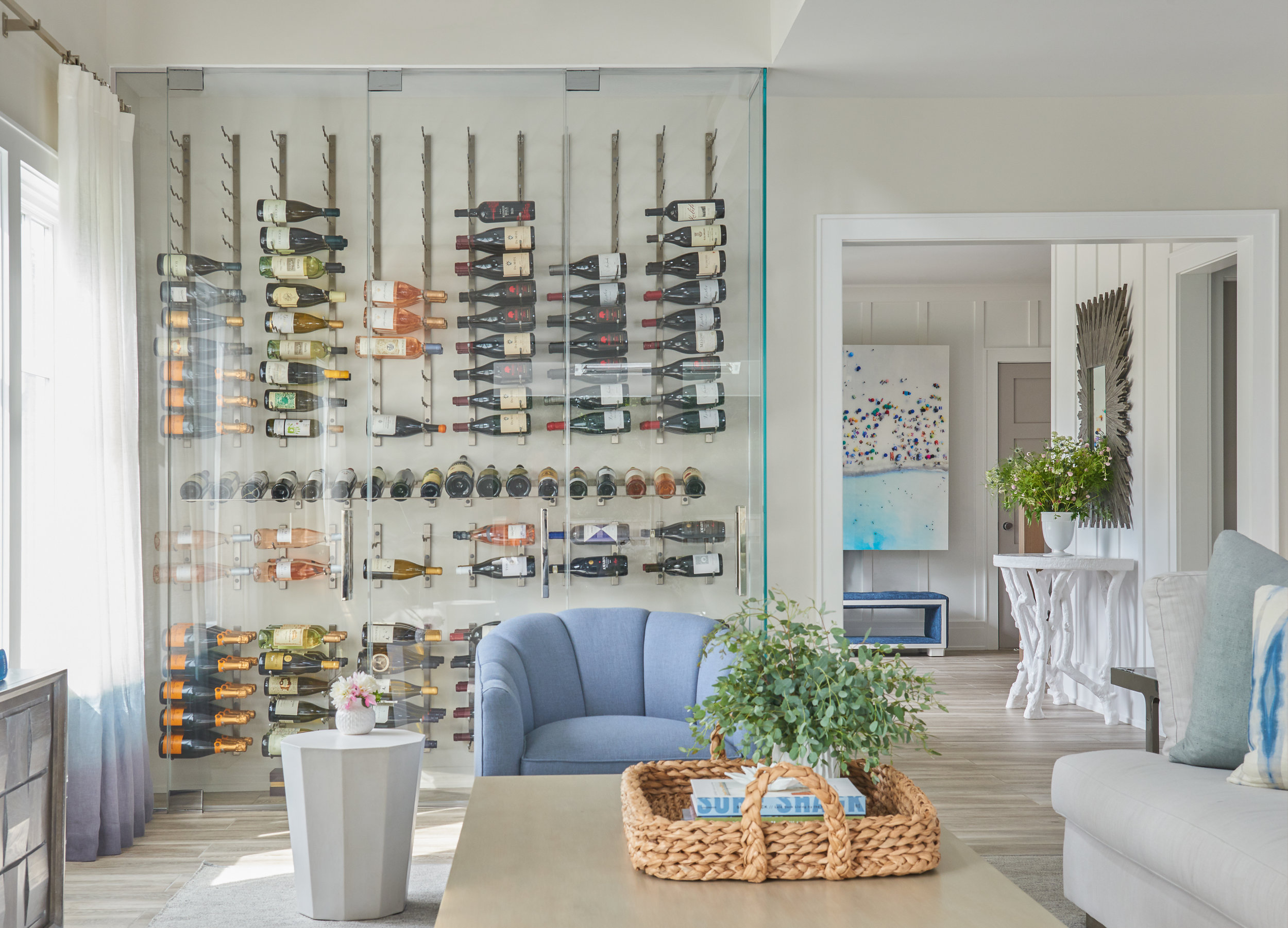 Do you enjoy wine so much, that you wouldn't mind gazing at it every day? How about creating an accent piece in the living room, by turning one entire wall into a wine display? It certainly makes a statement and you'll wow everyone that comes to your home.
Bottom Drawer Wine Storage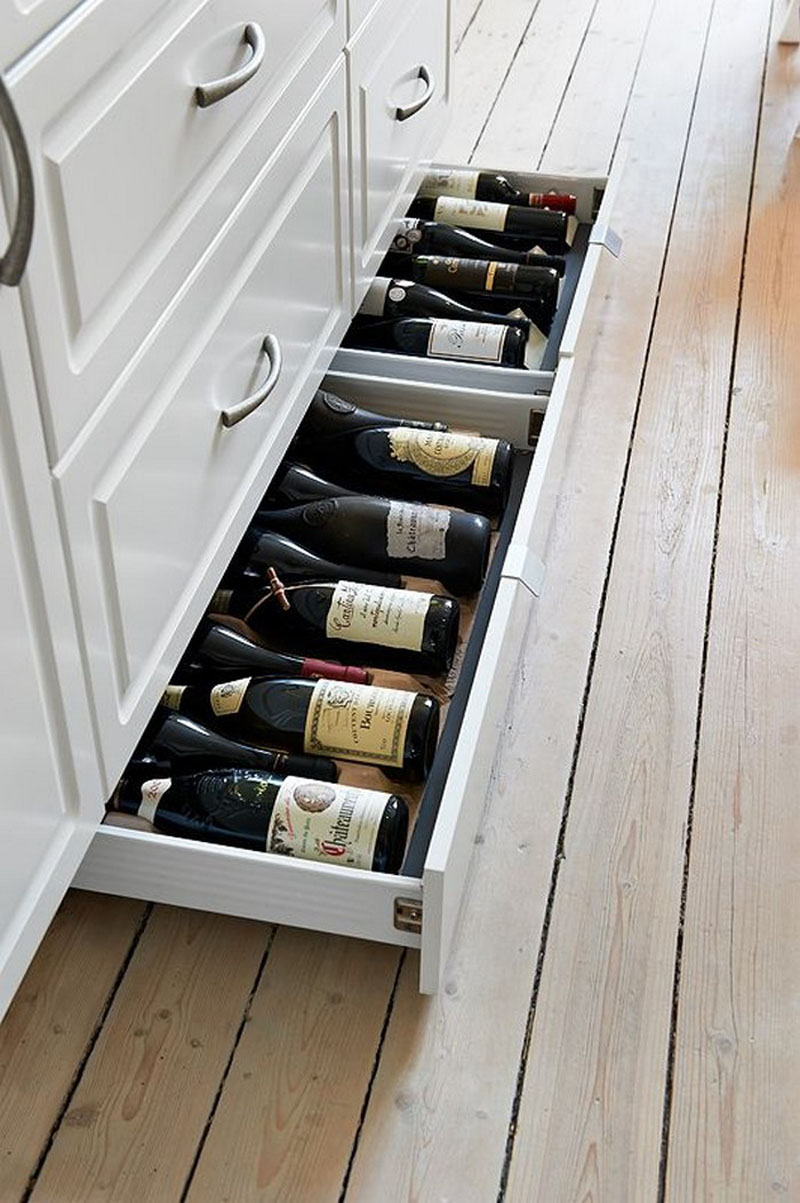 So, your kitchen is too small for any additions and there's simply no room that's not being already utilized. Have you looked under the lower cabinets? Is there enough space there to hold a bottle? Then it is time to order a very shallow and long drawer on wheels and put it under the cabinets. It will keep the bottles safe, in good condition, and most important, out of the way, yet always at hand.
Now that you've seen our ideas, get creative and get inspired by them all to make your perfect wine storage right there in your home. And don't forget to share your creations in the comments below.