Consider yourself one of the extremely lucky ones if your home comes with a basement. It is a large area with basically the square footage of your entire house sans the walls. Most people avoid turning the basement into something more than just a storage space for less frequently used items or maybe as a laundry room. An empty open space basement holds so much potential. It can be transformed into a space that can be used by all the members of the family, like a playroom or just for the grownups, like a bar.
It's nice to have a place where you can chill out and have a drink or two. Bars are such places, but sometimes you just want to have your drink in peace alone or with a couple of friends, in the comfort of your own home. It is something we all need from time to time. While you can socialize and relax in the dining room or living room, or even the kitchen, these rooms are missing that little something, that feeling of closeness and privacy that sitting and chatting at the bar offer.
Basement bars have been popular for a long time, but we can safely say that during the COVID-19 pandemic, they've become the most coveted room to have in the house. Designing the bar can also be quite a challenge with how much space from the basement you wish to dedicate to the bar and which materials to use based on how much humidity there is in the basement and considering other factors as well.
With that said, let's see some interesting basement bar designs in a variety of colors, shapes, and sizes.
Rustic Barnyard Home Cinema Bar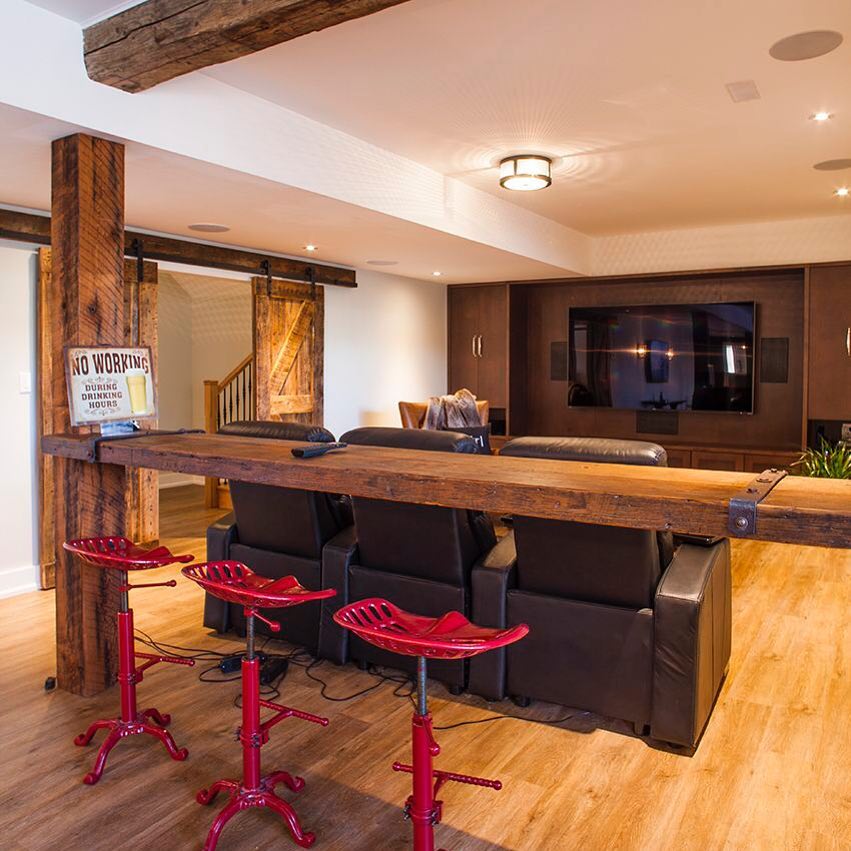 Most regular bars have a TV so that visitors can watch a game while drinking their drinks. It is a feature we'll be seeing a lot in our list, and this one is very convenient since the bar counter is facing towards the home-cinema area, instead of the usual way, towards the bar. This bartop is without a bottom, like a shelf, giving more legroom and opening up the smaller space, and it's made from a single slab of lumber, like a wood beam, same as those placed on the ceiling, to complete that rustic feel.
Black Wood And Marble Countertops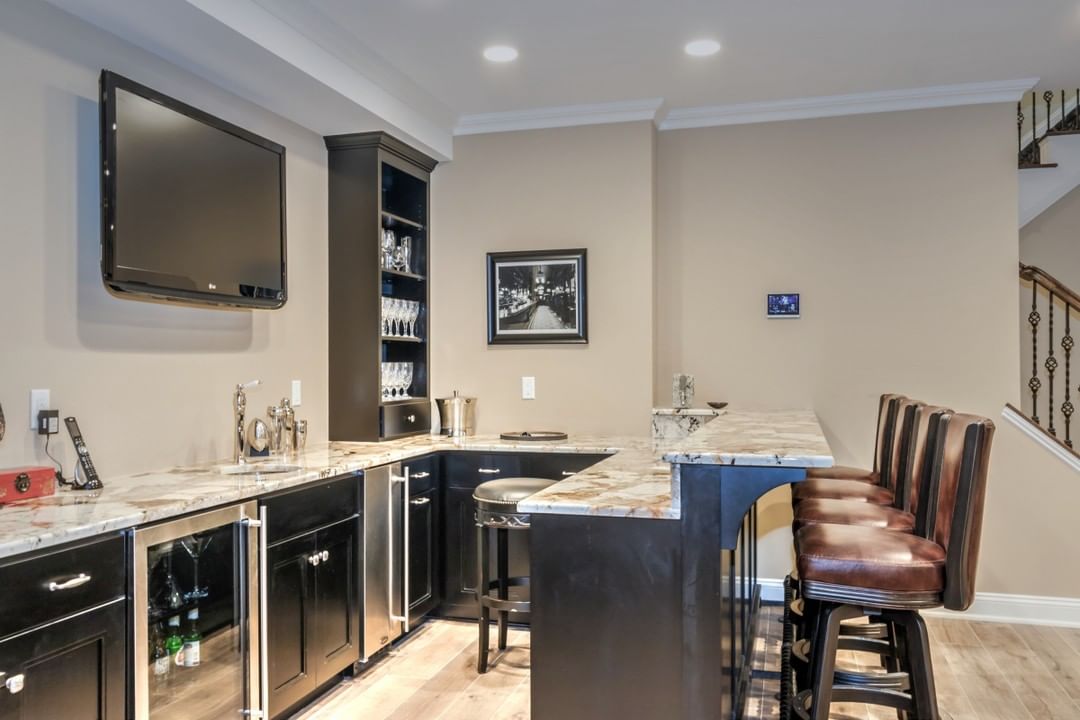 Black cabinets with block panel doors are a classic look that goes well with marble countertops, which are easy to maintain and last forever. This bar has a U-shape area with double countertops for the barstools and a lot of storage space for all the glasses and drinks. The TV this time is inside the bar, mounted on the wall for a better watching experience.
Green Tufted Bar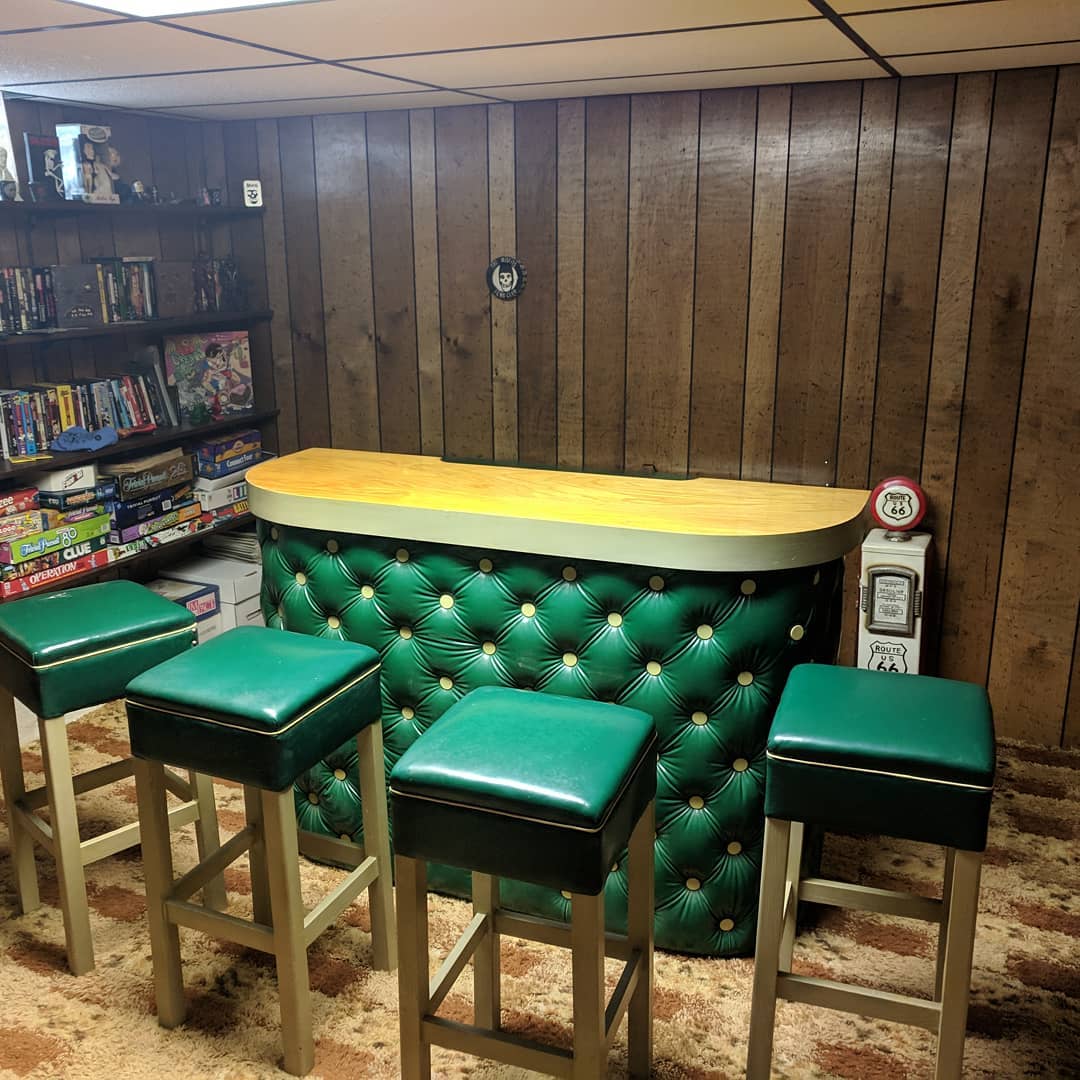 This is a design you don't see very often, both in materials and color, but it is an awesome idea if your looking for a vintage, yet unusual look for your basement bar. Small tufted upholstered green bar in a crescent shape with matching upholstered chairs may not be fancy or elegant, but it sure is eye-catching.
Three-Tiered Curved Bar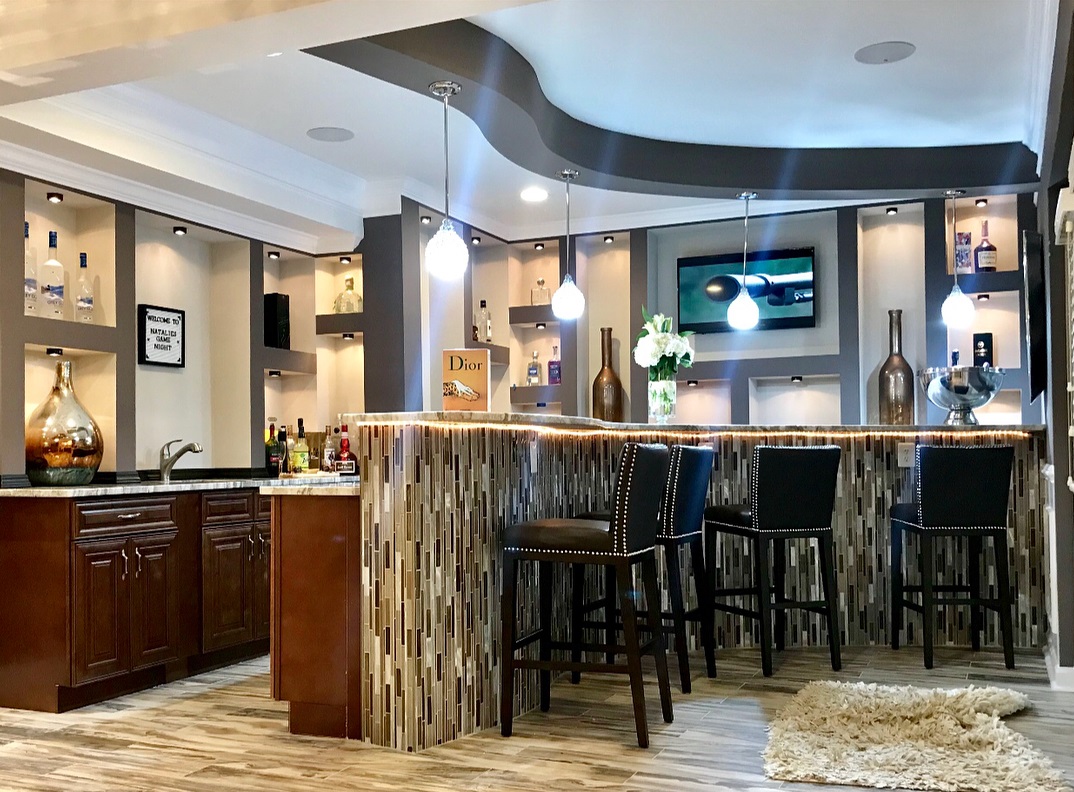 This is certainly one of the more luxurious designs you can find. A curved bar with mosaic brown-toned stone and marble countertop on all three levels, with rope light illuminating the outer edge. The studded leather bar stools are also an excellent touch, that goes well with the gray shelved walls, contrasting the dark brown cabinets.
Under The Sea Bar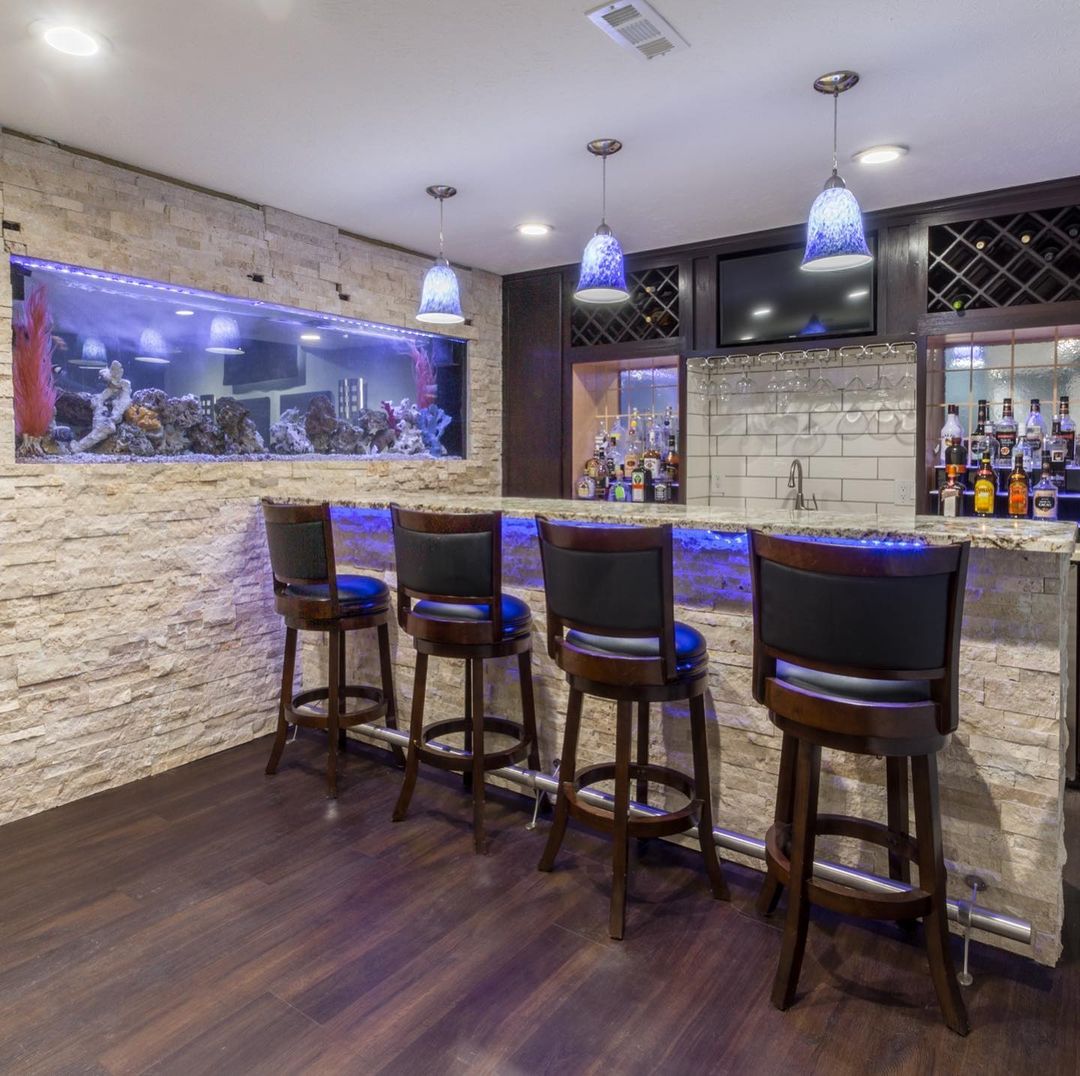 Sea and waves give you calmness and peace. So, if you want to feel calm and relaxed whenever you enter your basement, this is a great idea to look at. The under-the-sea design and a built-in aquarium paired with water-blue lights can give you the most loving seaside impression. It's also a great idea for those of you that enjoy snorkeling and diving into deep blue waters. Why not enjoy it right there at your home?
Mini Kitchen Bar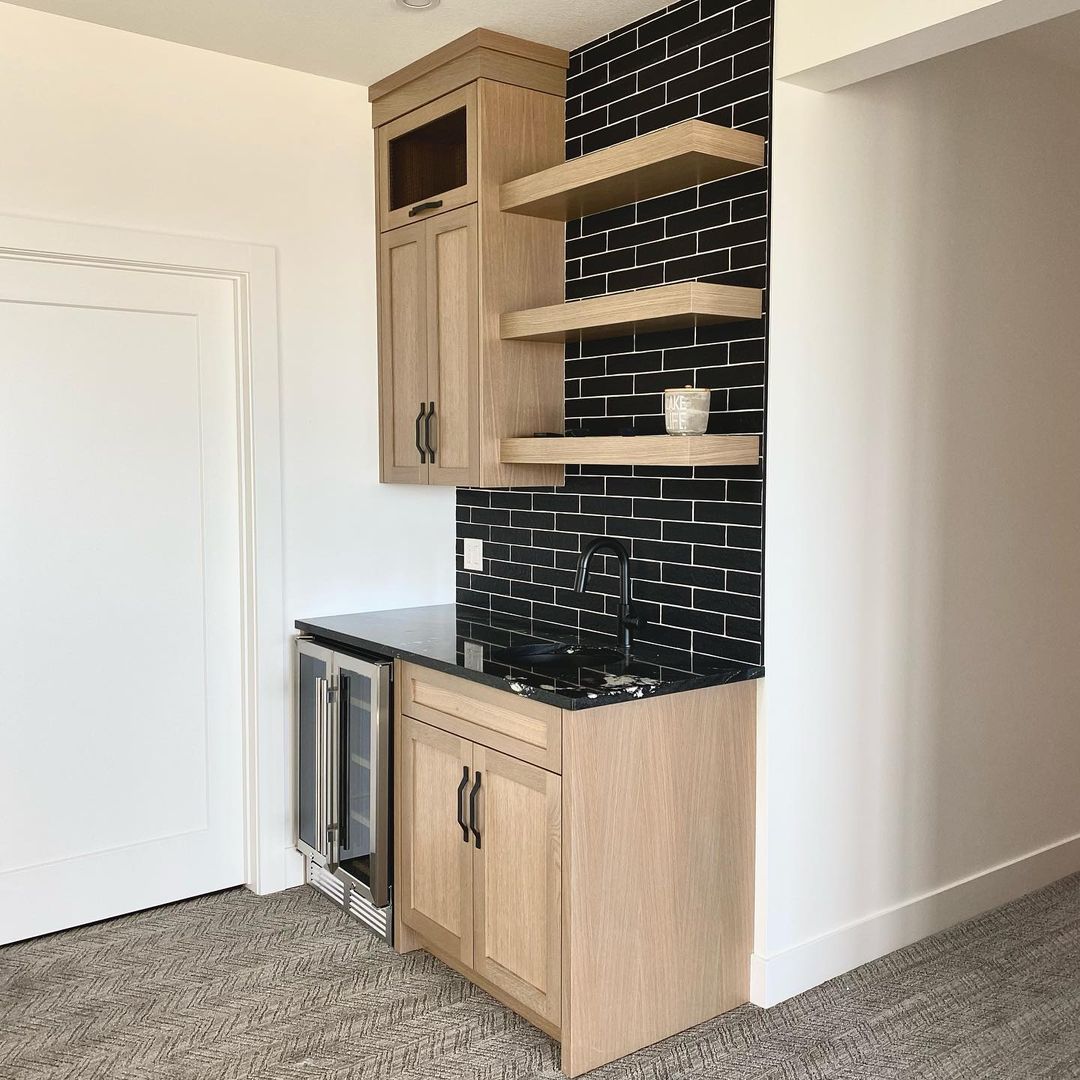 If you have this small corner wall right next to your basement door, and you don't know how to make it more beautiful, why not use it wisely? You'll however need a cooking/drinking/dining area in your new basement. Install a mini kitchen bar right on this wall and make it the most used space in the house.
Stone Wall Bar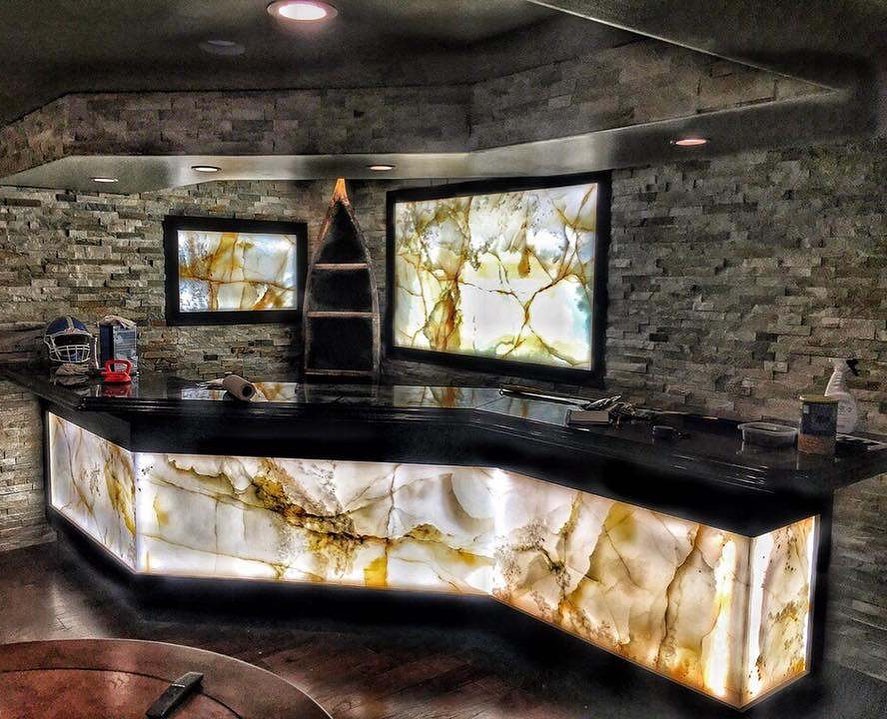 This stone wall bar is inspired by the marble in its very own natural existence. Combined with a solid granite countertop and white marble imaging at the front and in the background, this idea is great for those of you that really miss the natural beauty of the rocks during winter times.
Luxury Lightning Bar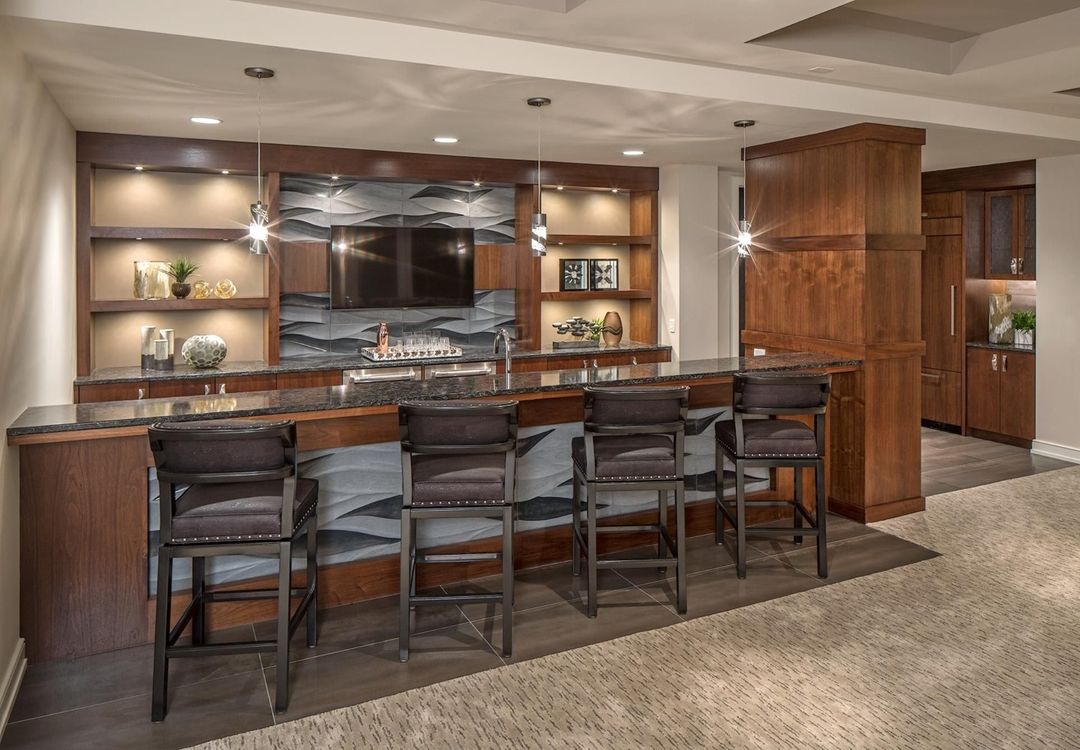 We all know that basements can be dark sometimes, or all the time. If you want to light up the space, but don't like those ordinary lights, take a look at this. This bar is equipped with the most extraordinary, amazing lights ever. They are modern, they are built-in, they are cool. All you have to do is let your imagination fly and do the best it can do.
Special Wine Bar
Hey, you, wine lovers, look up here! This is a special wine bar just for you. It's full of corks, the color is just like the color of the corks, and the shelves are full of wine holders and glasses. Here, you can arrange all the different wines you have in your storage and let them shine as they deserve.
Hemmingway's Bar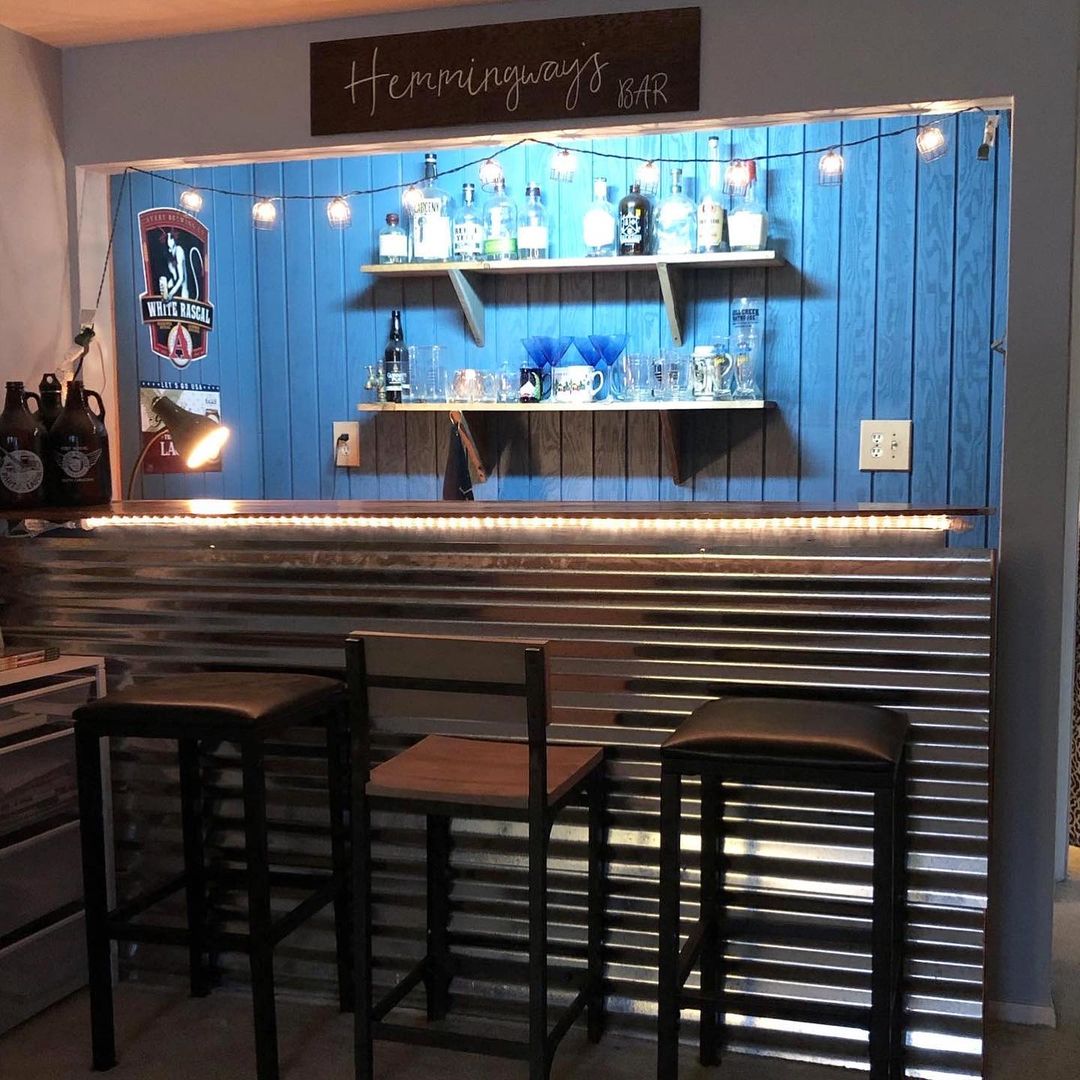 Hemmingway loved ships, and he loved bars as well. This one is a true inspiration from him as a writer and as a person. It represents his life, his work and his legacy. Looking just like an olf ship decorated with light-bulbs and equipped with some simple shelves, and a few bottles. It's all you need to have fun: sea, ship and booze.
Posh Black And White Bar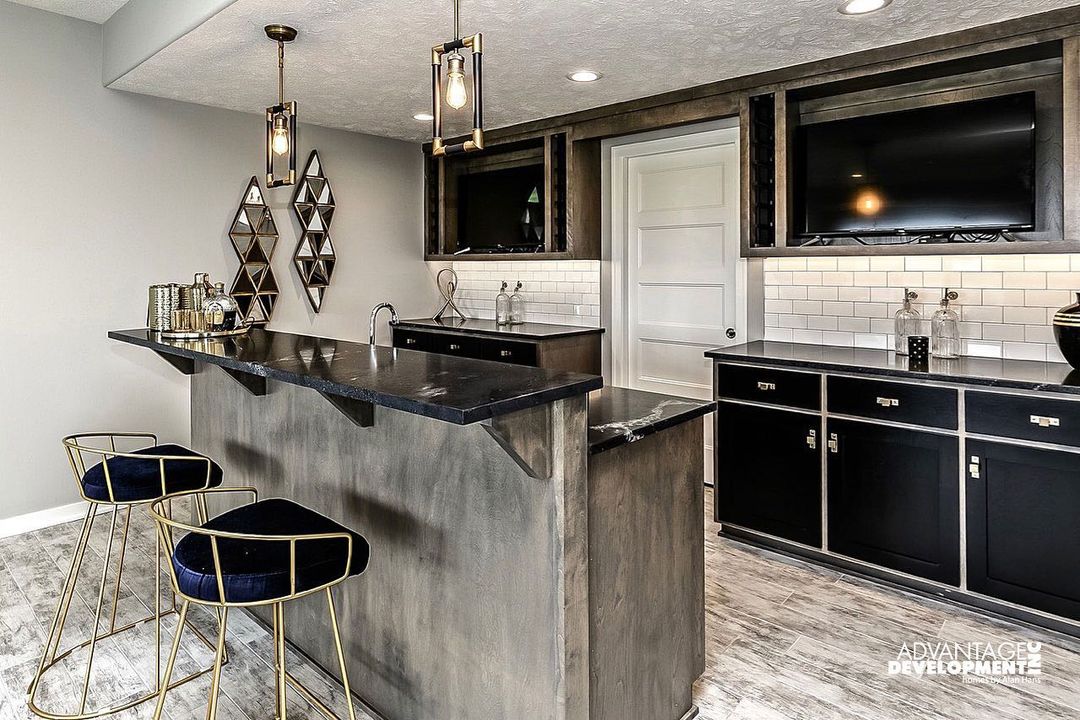 This is what you need if you want a posh, yet elegant and minimalistic bar. Shiny black and white combination. Let the elements be black, the walls be white, and the rest be grey. The contrast it makes is complete when paired with elegant geometrical shapes on the walls. As for the chairs, make sure they pop up in shiny golden color to stand out even more.
Rustic Wood Bar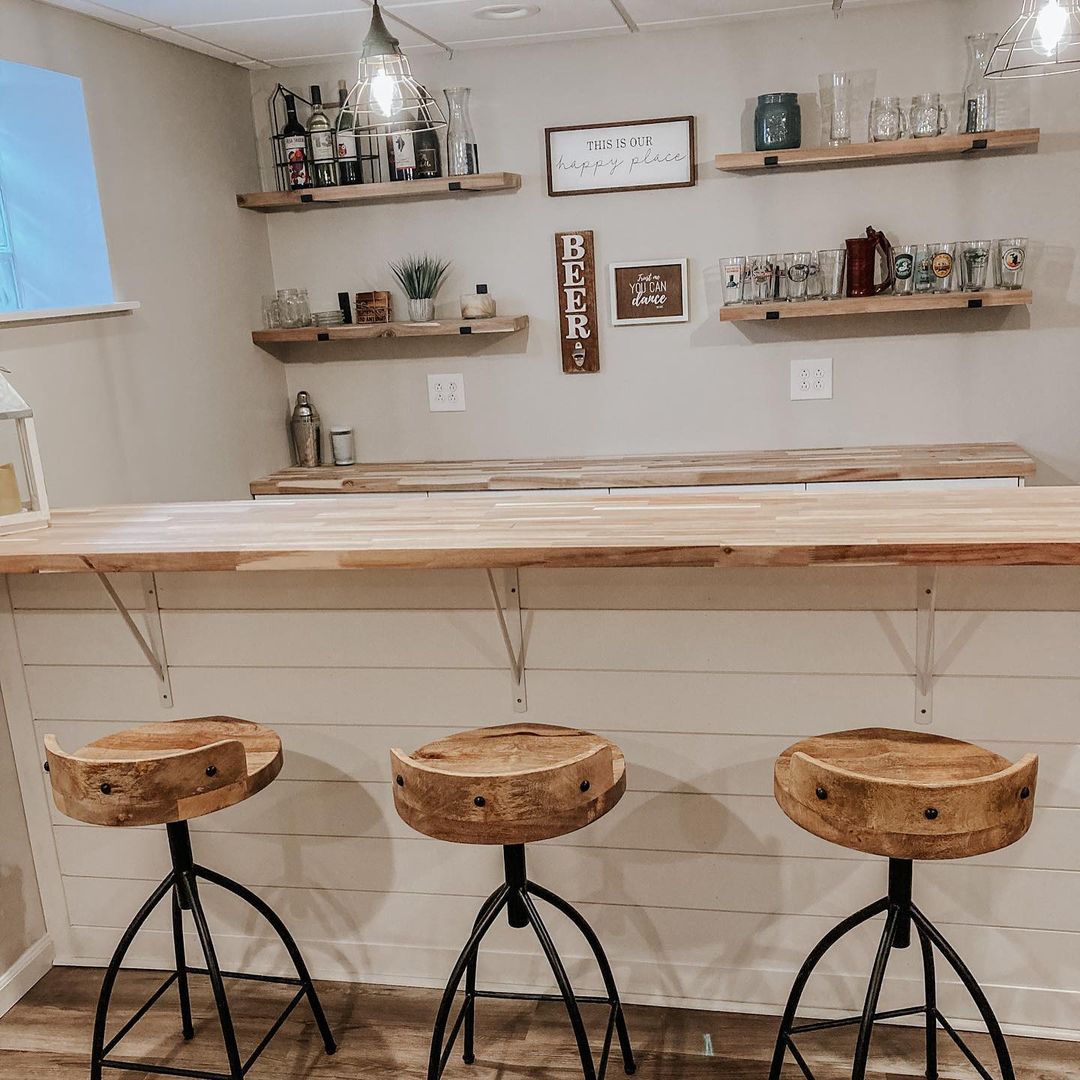 Natural wood always brings out the best from any space and material you combine it with. This lovely basement bar made of natural unrefined wood is the perfect example of how you can light up the room with only natural materials and colors. The combination of the beige walls and white counters only emphasizes the look.
White Balls Bar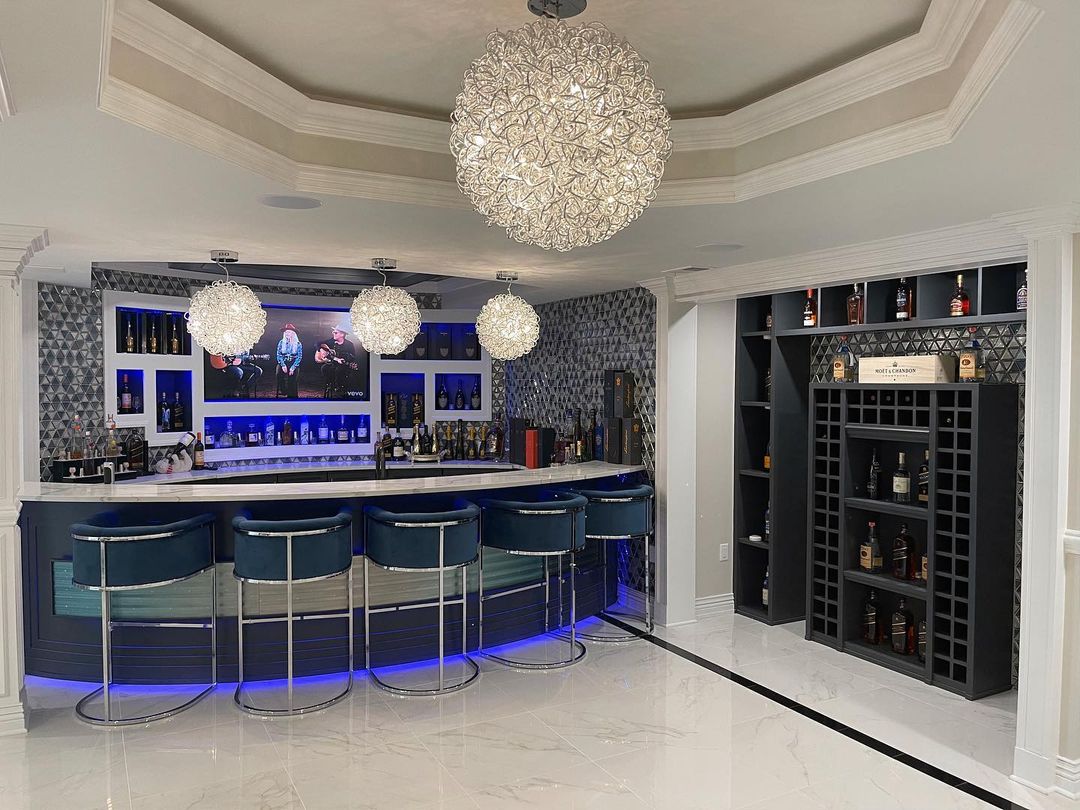 Get away from those boring simple lights with something like this. A combination of blue sub-light and bright white snowball-shaped lamps will give your bar the poshness and elegance it lacks. Paired with white countertops and dark chairs and elements, all in the same tone as the sub-light gives this room the contrast and the pop it deserves.
Golden Tones Bar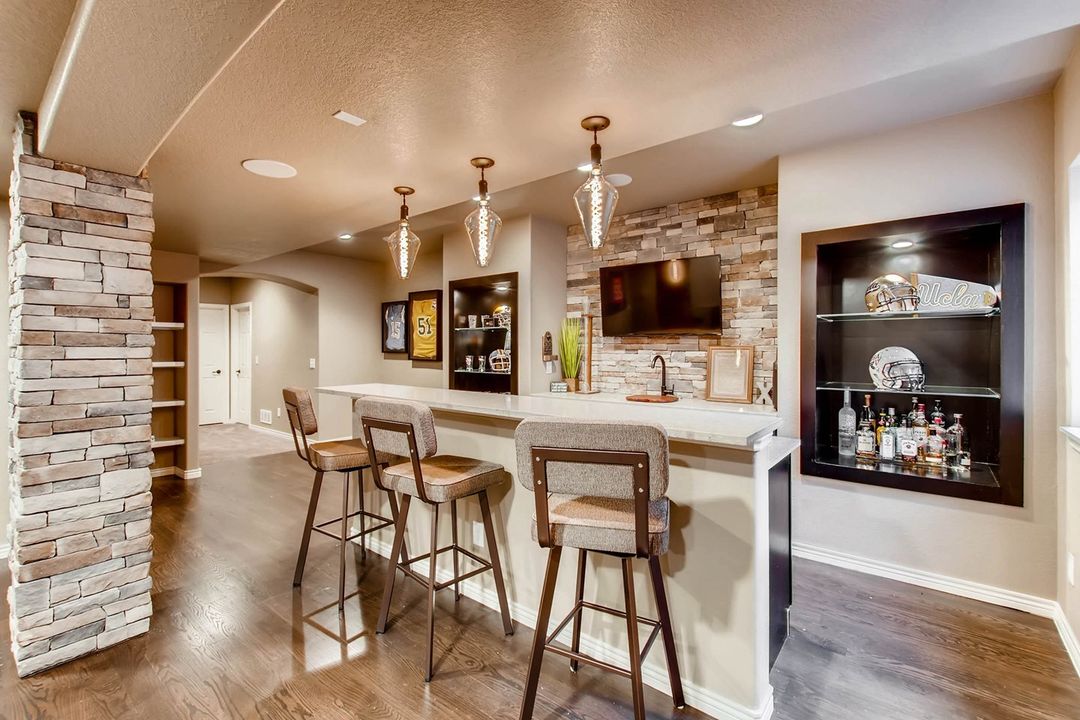 Everyone loves gold. Someone on their clothes, someone on their jewels, and someone in the basement bar. So, for all of you gold lovers, here is an idea of how to turn your basement bar golden. Play with the lights and with the tones of gold, rose gold, and bronze to get the perfect look and the perfect golden feel whenever you enter this special place.
Corner Bar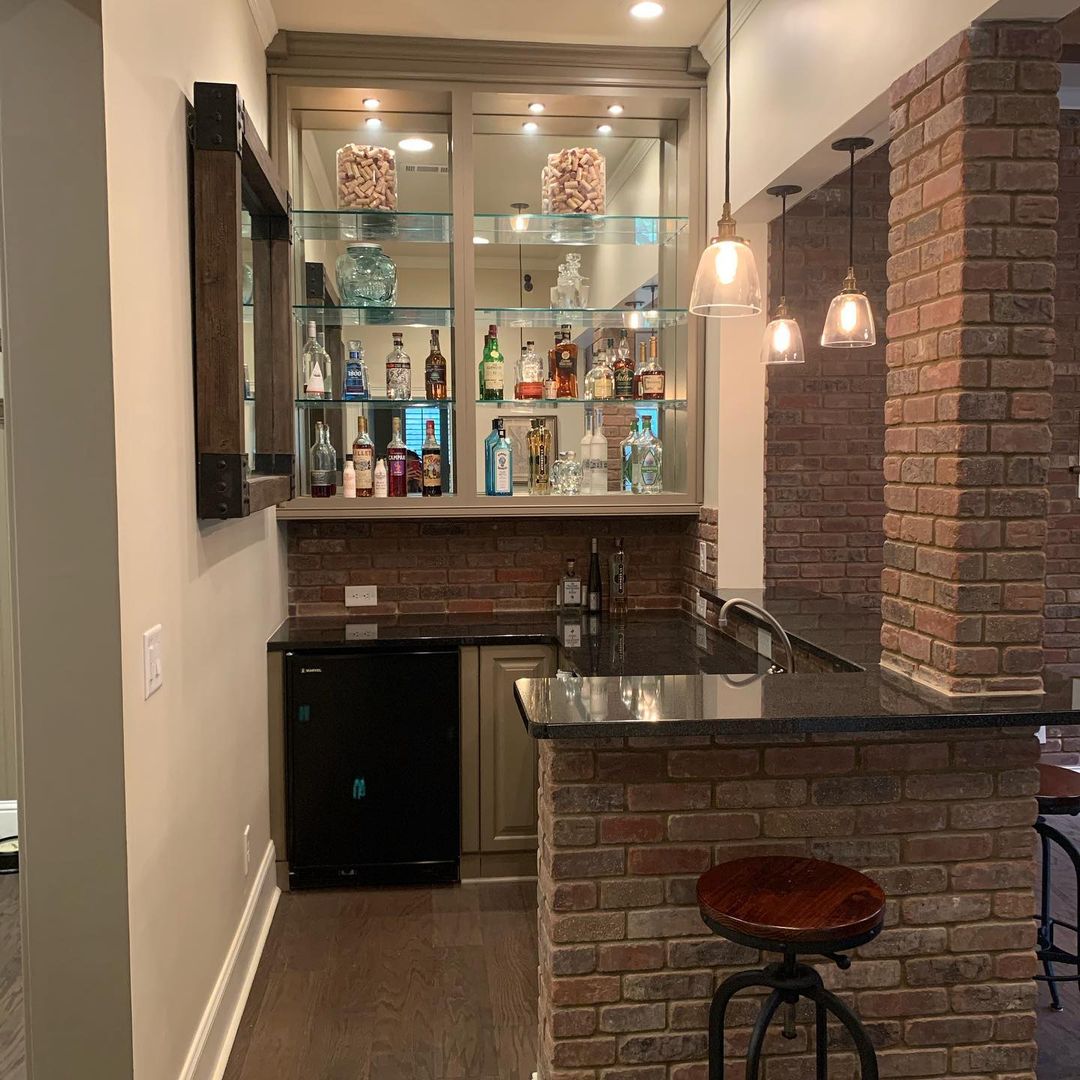 Basements are full of hidden corners and areas that are not really easy to use completely. So, why not build a small cozy bar in one of these corners? You can fit in a small sink, a tiny dishwasher, and some shelves. The bar stool can be put on both sides of the corner to create more room for sitting around and not stealing your space to make cocktails and poor some beer to your friends.
All Shades of Grey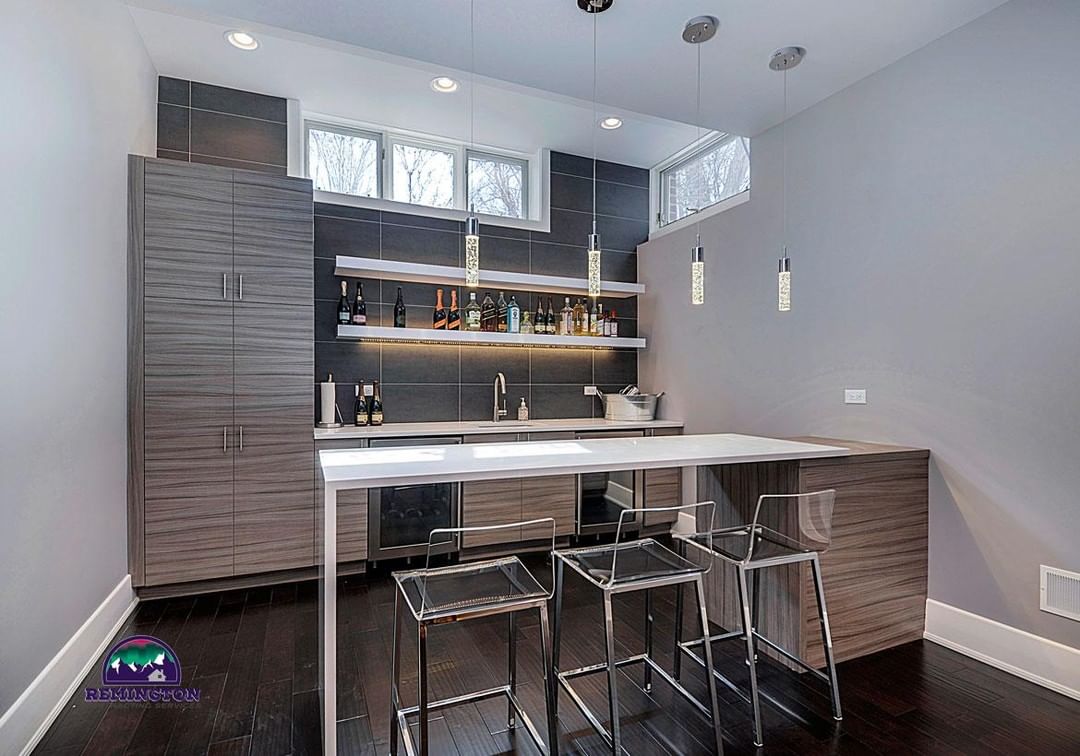 Grey is a really versatile color. It can vary from dark beige grey to shiny silver tones. And if you wisely combine them all together, you can get a perfectly light and bright basement bar. The colors will brighten up the space and the booze will make you feel wonderful.
Big Island Bar
Bars are usually famous for the big bars. But, maybe a big bar is not suitable for your basement. So, why not replace it with a higher kitchen island that can fit bar stools around and make a room for sitting for all your friends to enjoy. A white countertop will only make the room bigger and brighter.
World Down-Under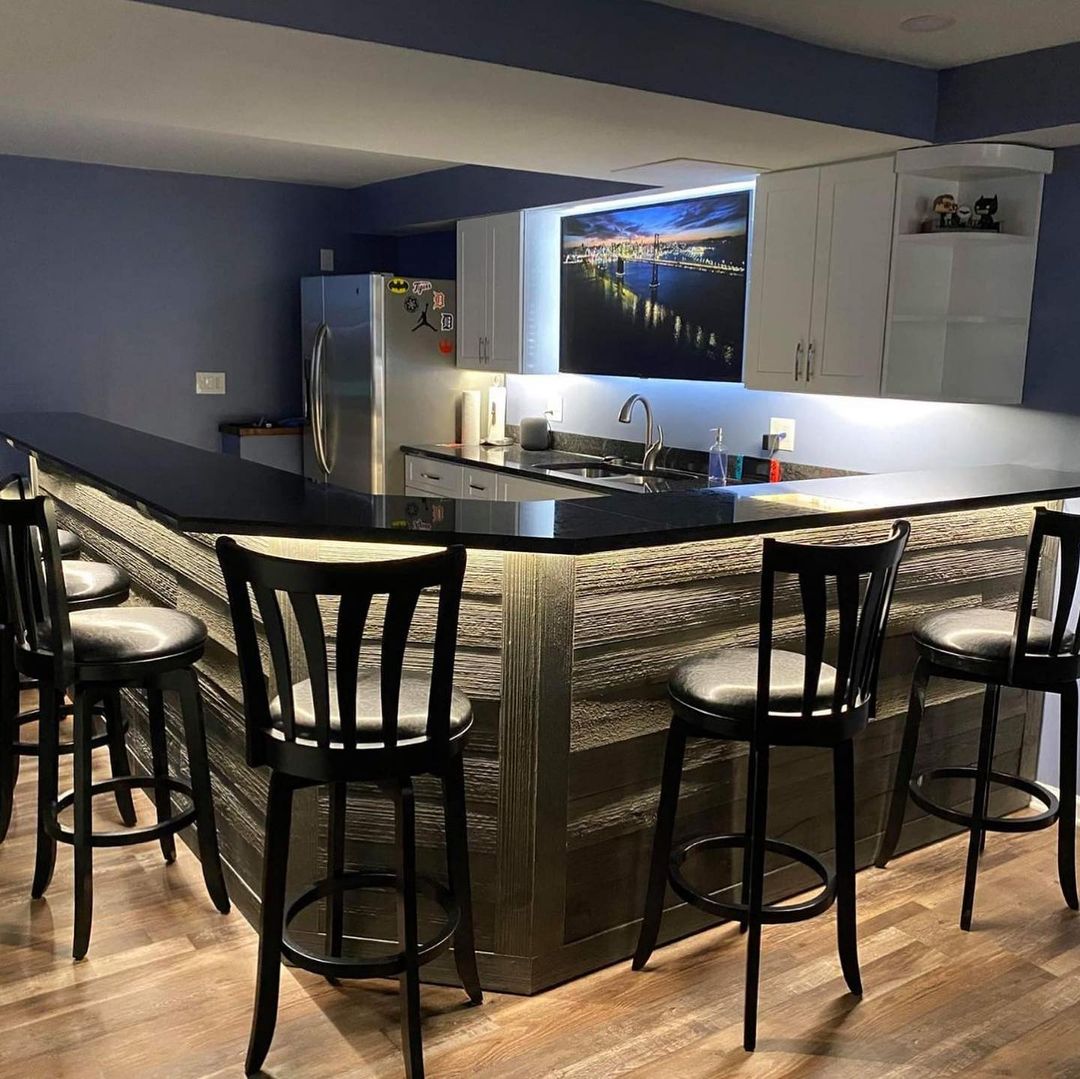 Surprise your friends with a different story in the basement then your house. If you have a white bright house, full of family comfort and coziness, have a bar that will be a completely different story. Make it completely different, adding different styles, colors, and materials, and feel like you're entering a whole new world every time you step in it.
Country Style Vintage Bar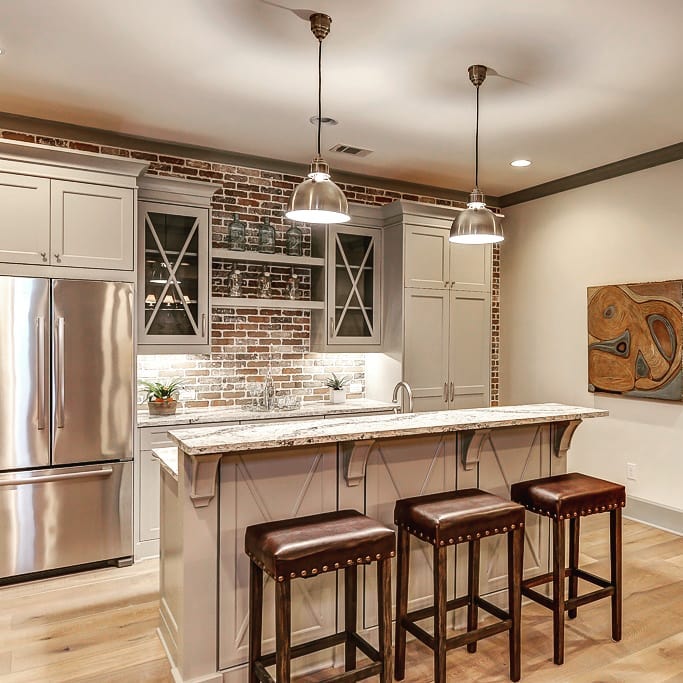 Miss that old grump's house? Bring it to your basement with this wonderful idea of a vintage country-style bar. Create the elements in shabby white and add some modern elements, like a super-sized inox fridge, and some cowboy stools to complete the look. The granite countertops will only add to the style.
Pool Bar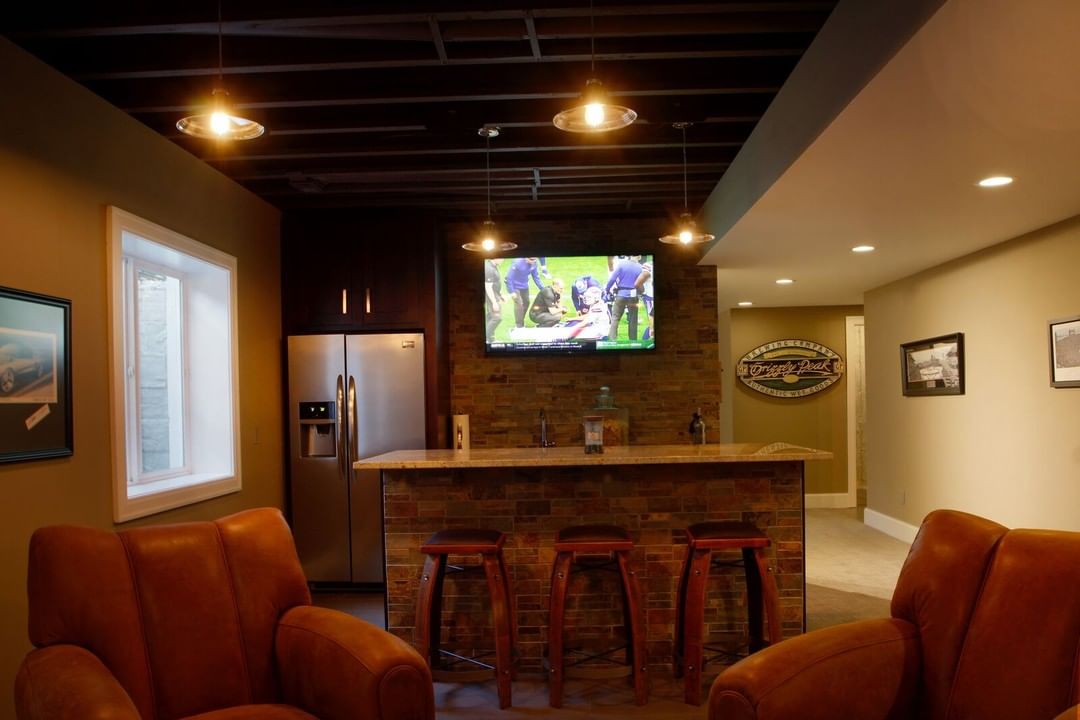 If you love playing pool and hanging around pool bars, this can be a great inspiration to decorate your basement. Choose the most suitable pool bar that fits your space and pair it with some big armchairs and red bar stools. Opt for a tiled backsplash and lighter countertop, and complete the look with an old electric sign you can find in a thrift shop.
Basement Beach Bar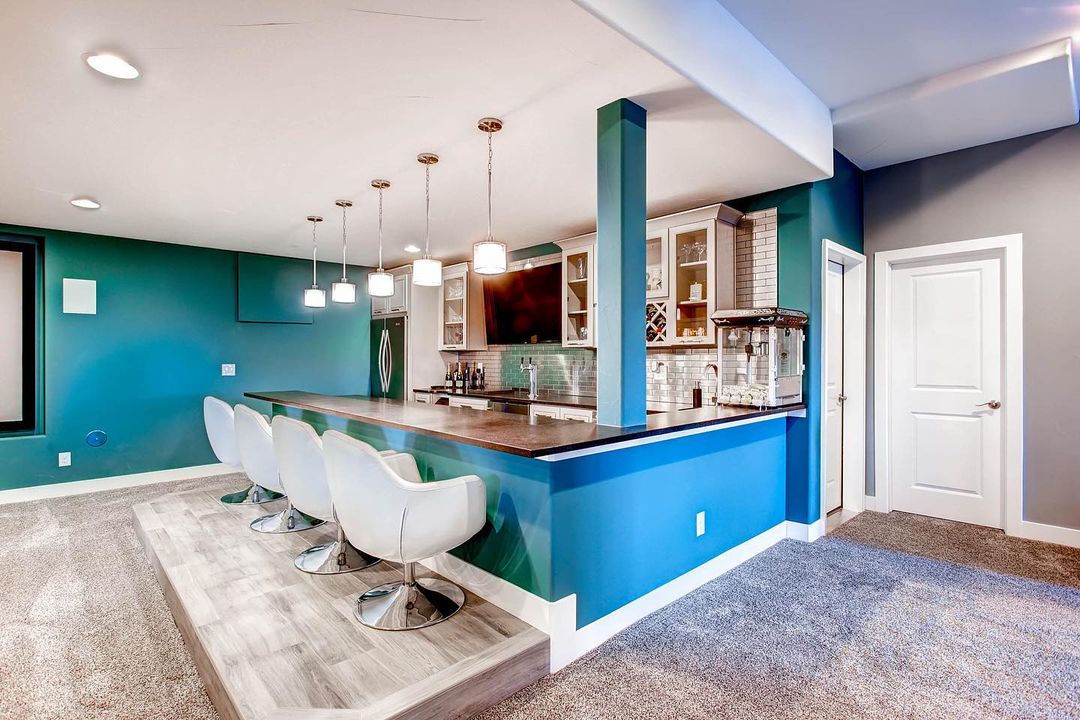 Do you have plans for a New Year's Eve bash? These one-of-a-kind bars are ready to party! For a successful event, a well-stocked bar and delicious appetizers are required. We recommend having enough ice on hand as well as a selection of glassware, purchasing local spirits from local bars and restaurants, and putting up a cocktail for a special occasion. And it's all backed up in your fantastic basement beach bar.
Guitar Bar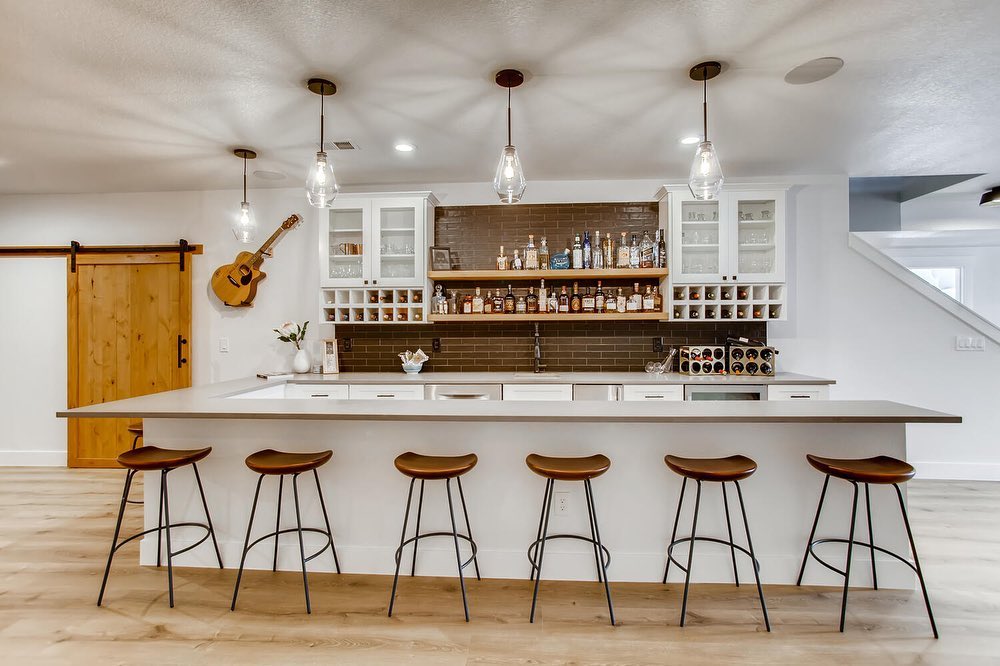 Take advantage of a ready-to-entertain basement. It's crucial to have a room that can do it all, whether it's watching the game, displaying your sports memorabilia collection, having a movie night, or catching up with friends.
Modernistic Concrete Bar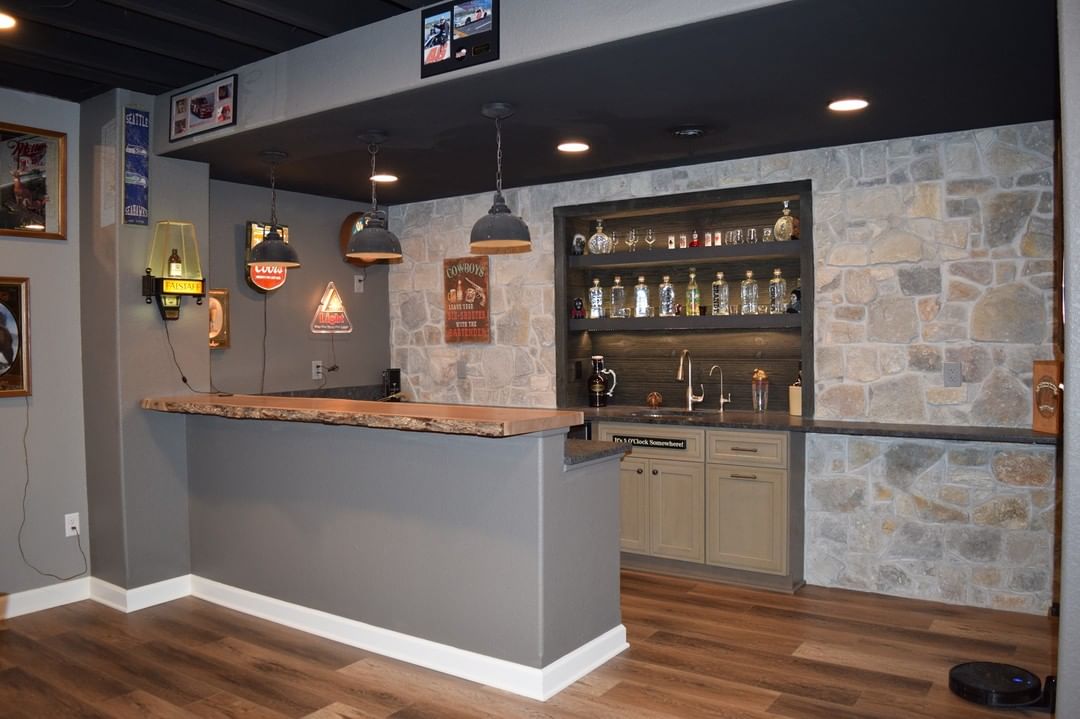 Maybe it's not all concrete, but it sure looks like it. The stone-tiled wall and the wooden countertop only complete the coziness of this lovely basement bar. It's fully equipped, has the right amount of lights and really gives the place the most wonderful modern feeling.
Green Bar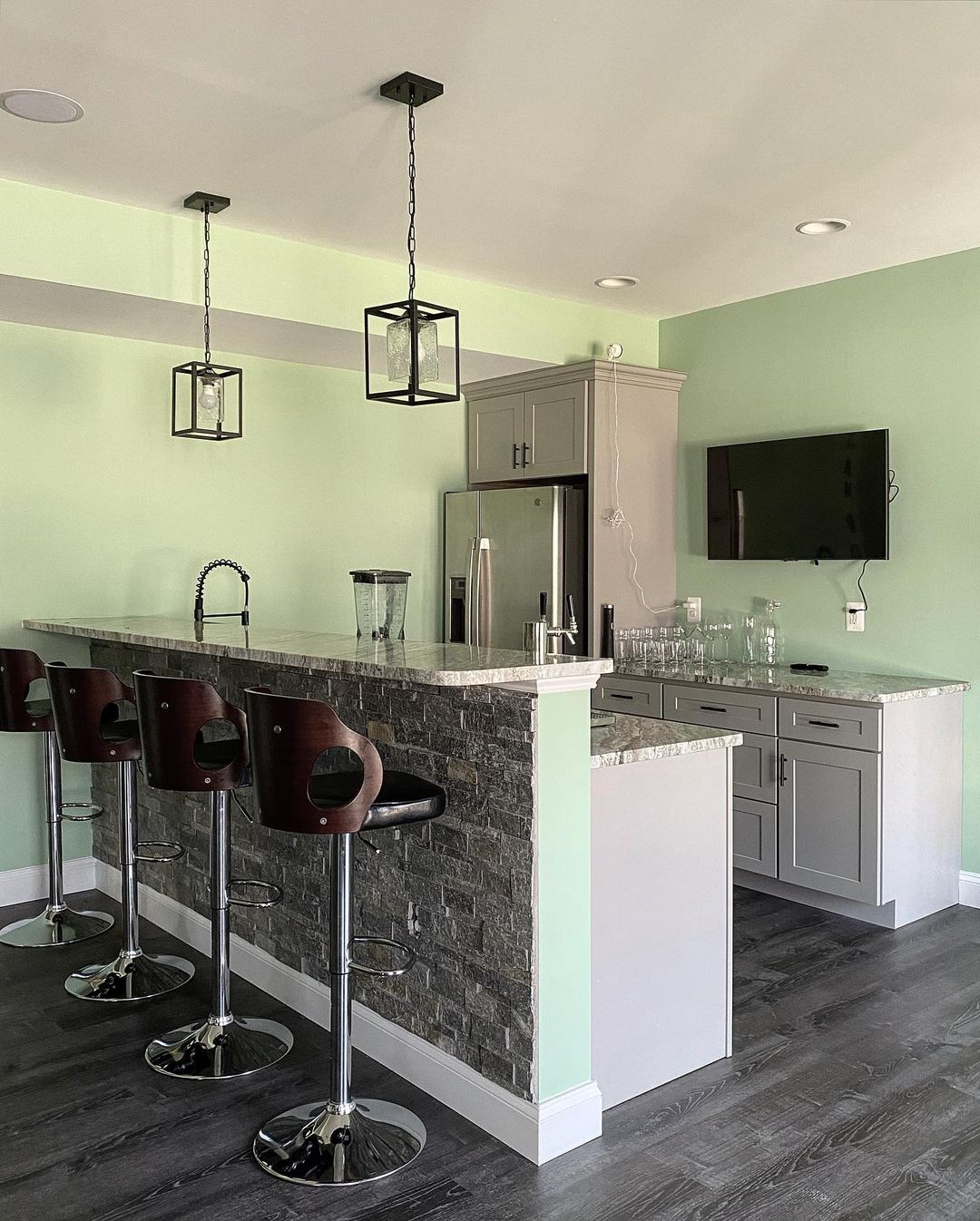 Green brings life. Green brings light. Green is the color of the uprising. Enjoy it in your new basement bar together with your friends and family you love. The combination of grey and white will only make the contrast even better, and make the room shine.
Luxury Glass Bar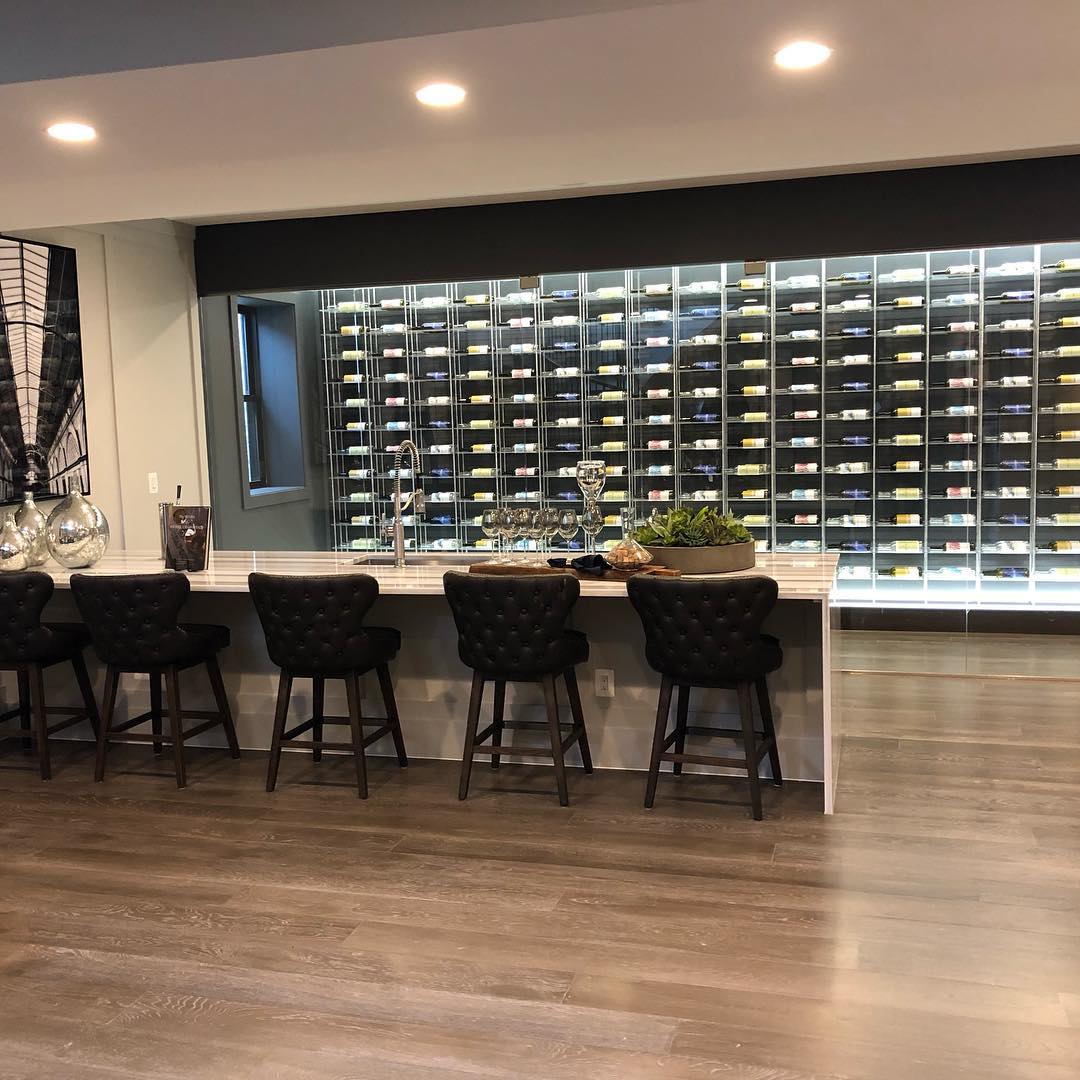 If you are fed up with all those bottles hanging above the bar, this is a new way to organize them. Have glass shelves specially designed for your basement bar to fit the rare wall, and decorate them with special built-in lights. Put the bottles laying down on the shelf and let the labels do the magic.
Now that you've seen our ideas, get inspired and finally finish that basement bar you've always been dreaming of. And don't forget to share it with us in the comments below.