If you're renovating your bathroom and you want to have a shower bench, no matter if you have a big or small shower, make it a place to relax when you're in there. Shower benches can be a floating shelf, practical shower bench, or simply a water-resistant seat that blends effortlessly into your shower décor. Shower benches aren't just for showering; they can also be used to sit on when drying off or to store products and towels while the shower isn't in use. And what is the biggest win? They instantly give your bathroom ideas a luxurious spa feel.
When considering walk-in shower designs, you might be thinking about tiles, screens, and hardware. What you might've failed to realize is that shower benches can give your bathroom a spa feel. These shower bench ideas can help you turn your shower into a calming space, and you'll wonder how you ever got by without one. Seating in the shower, whether it's a built-in bench or a basic stool, may make a shower more functional.
Take inspiration from these walk-in showers with attractive seats that enable bathers to relax.
Marble
A walk-in shower bench that treads softly into view reduces visual clutter. The brilliant grey block inlaid on the top of the bench takes precedence over this marble-tile bench, which is conveniently placed beneath a pair of toiletry niches. The bench is distinguished from the similar-color tiled backdrop by a solid marble side.
Wood Stand-In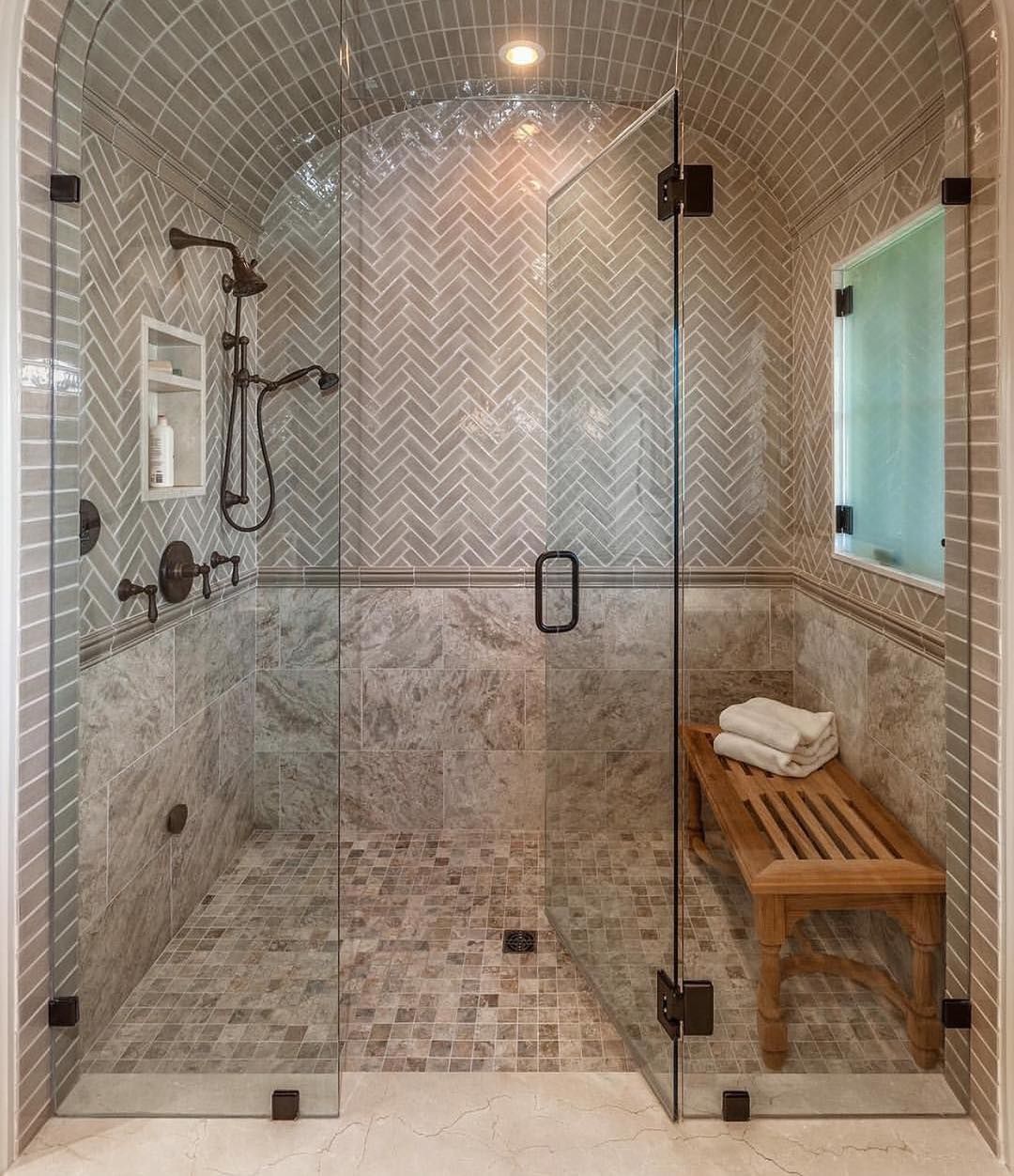 As you can see, in this shower there are different types of tiles, and they're the perfect color match from grey to brown shades. That's why this wooden bench it's perfect for this space and it's a piece that stands out while giving a warmer vibe to the whole shower.
The Perfect Piece Of Wood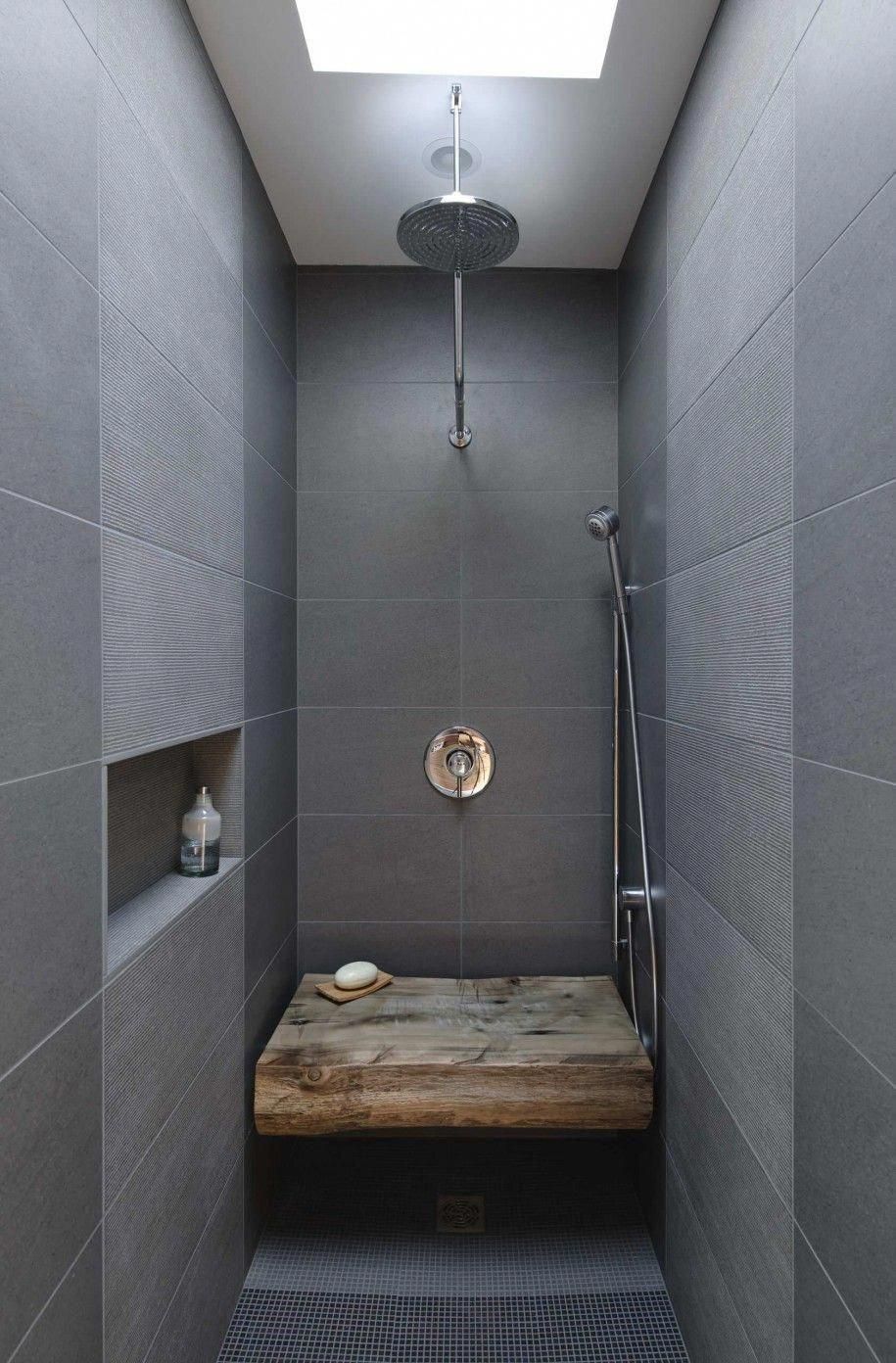 This may be one of my favorite smaller showers, and I love that all these shades of grey go amazingly with this unique piece of solid wood.
Blended Shower Bench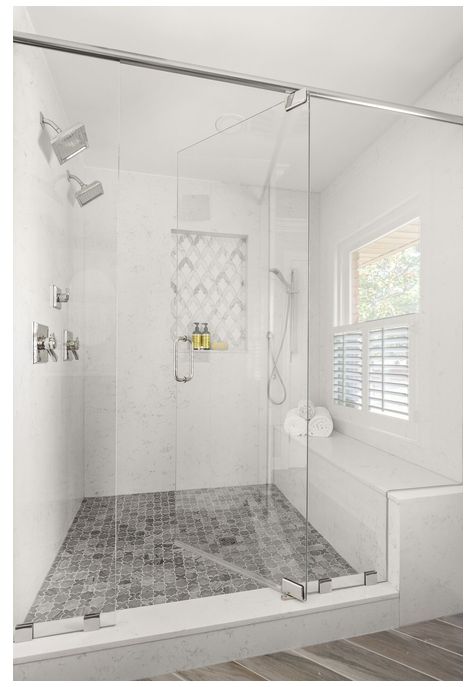 Having in mind that the whole base of this shower is white, except the grey patterned floor tiles, this blended shower bench looks great in this space.
Tile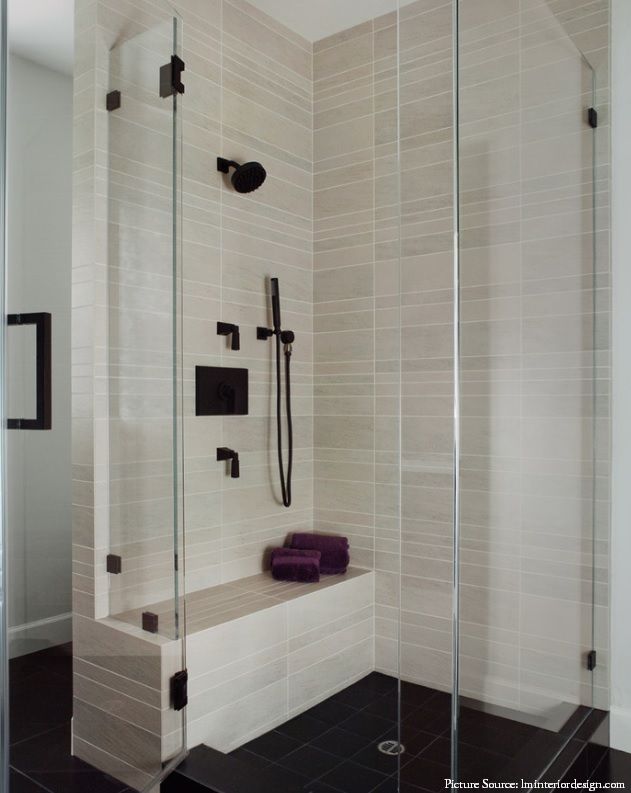 Make the most of your bathroom's relaxing properties by using walk-in shower seat designs.  To create a relaxing space, use the same tile on the walls, but make a dramatic moment with the black floor and the black bathroom fixtures.
Custom Designed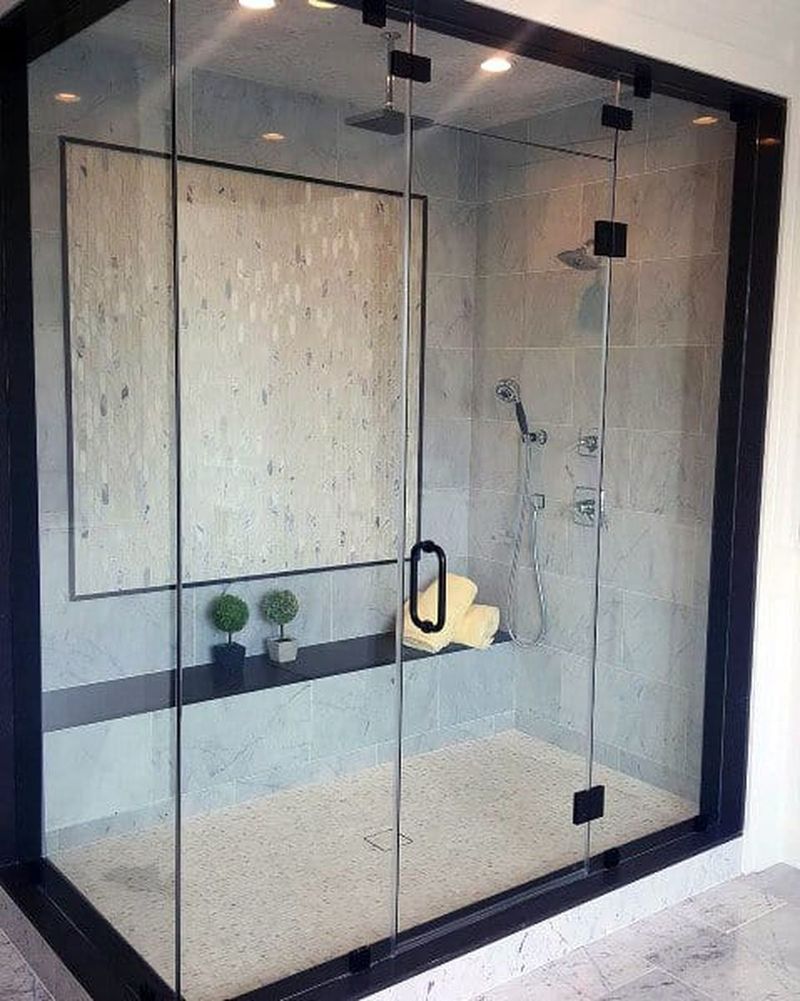 A custom-built shower bench typically consists of a waterproof membrane, backer board, and tile or other ornamental surfaces. You can see that the bench is located on the back wall, taking all the space from wall to wall. The black accent pieces match the shower frame.
Contemporary Marble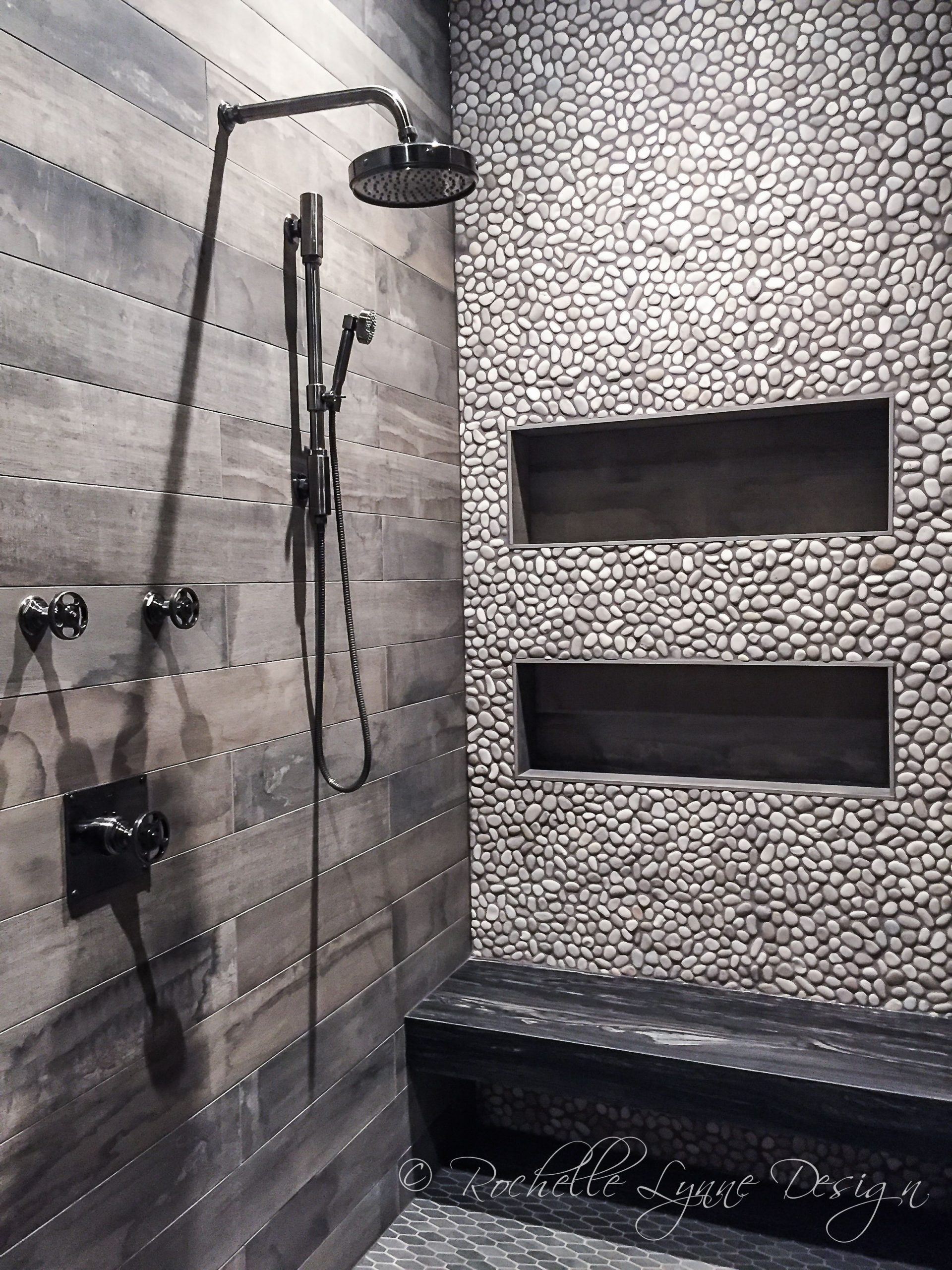 This one is really special. I love the wall with the rocks because stands out even beside the gorgeous tiles on the side and the floor. It's very dramatic, private, and unusual.
Wooden Cover Bench Seat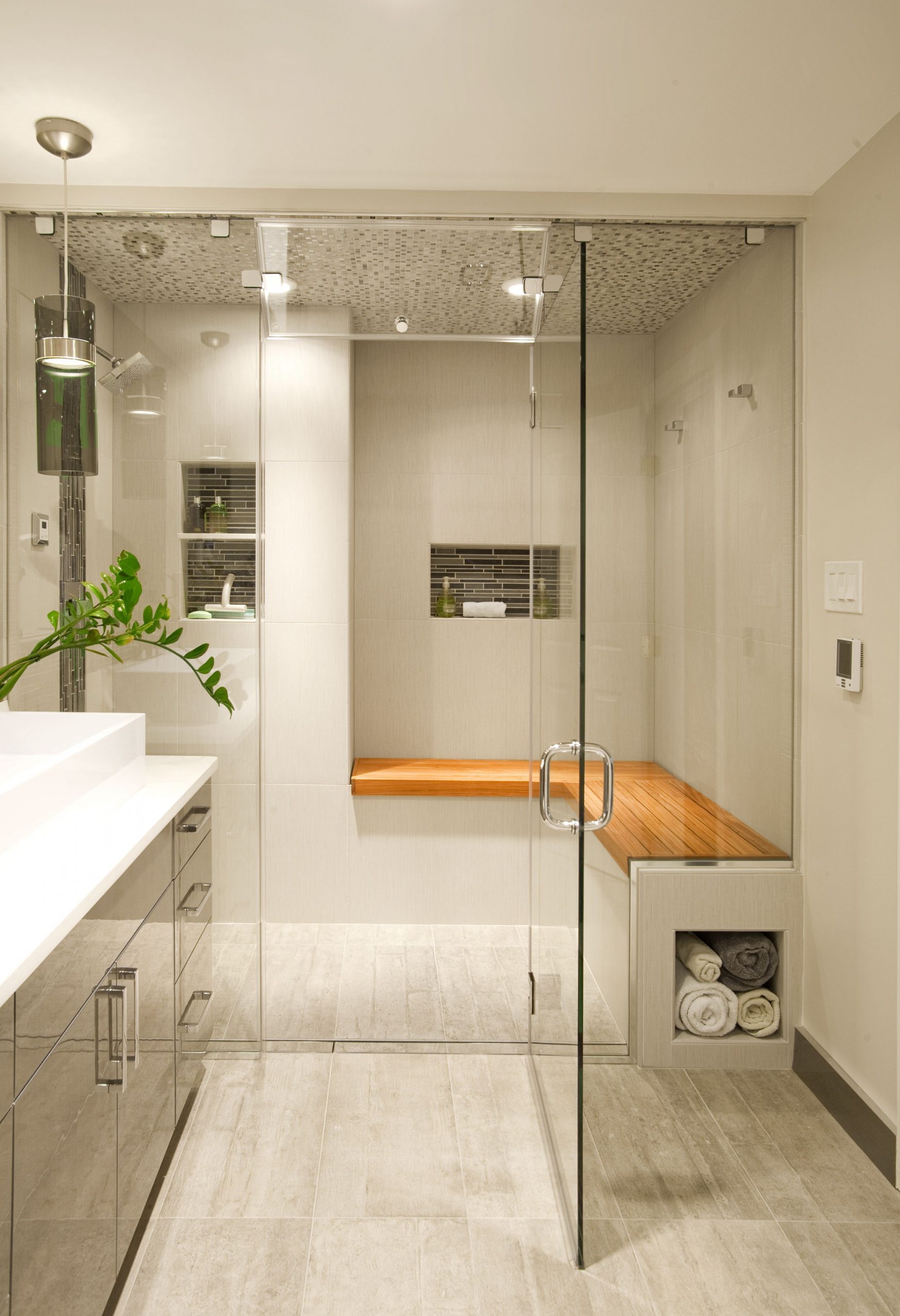 I love this corner shower wooden bench because it can be used for two people and the wood color give so much character to the whole space, making it look more inviting.
Floating Walk-In Shower Seat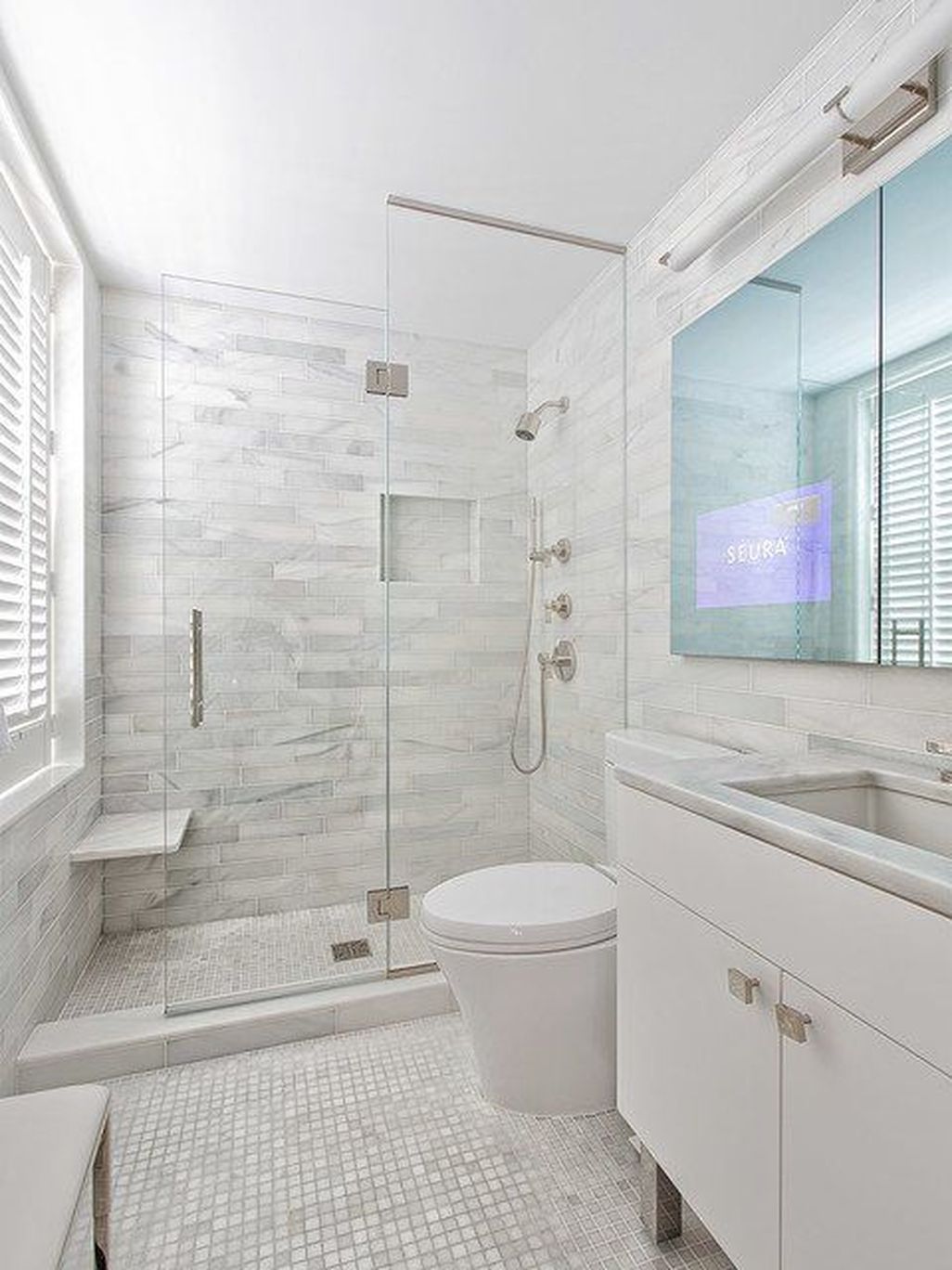 Instead of a bulky shower bench, or if you don't have a lot of space, choose a sleek floating seat that won't take up too much space in your walk-in shower. This design concept is highly effective. This broad marble ledge, which appears smoothly on the back shower wall, rests beneath the window and the toiletry space creating more room.
Contrast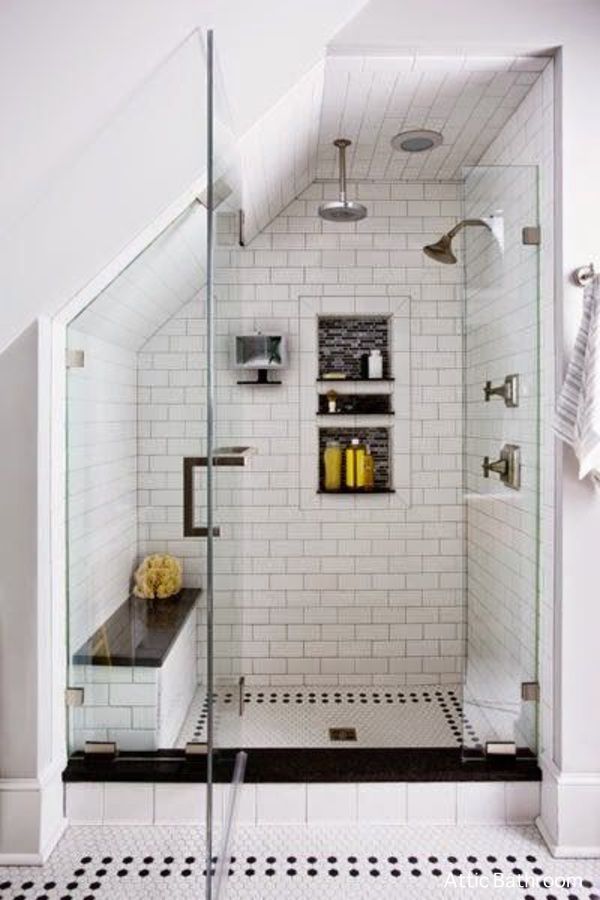 By putting a pattern to your shower, you may give it a fresh look. Playing with pattern allows you to add an eye-catching element while yet being consistent with the rest of your decor. Use white and black colors as part of the bench's backdrop to add pattern to your shower. To add a bold twist to your shower's appeal, consider utilizing a lot of contrast.
'Invisible' Bench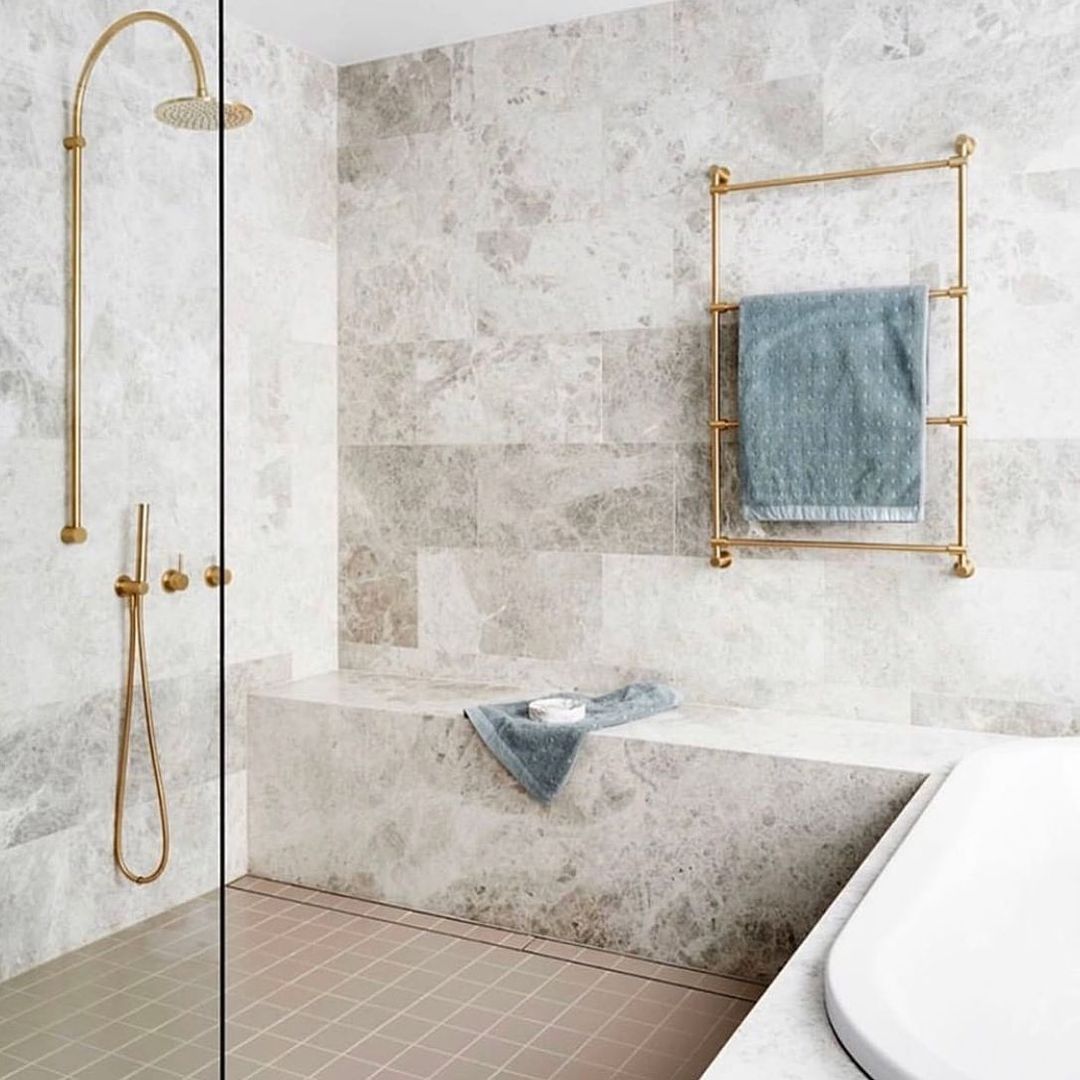 Between the showerhead and the door, a wide shower bench can be used as a transfer bench. You could also want to position yourself in different places of the shower so that you can switch between having the shower head over you and not having it over you.
Luxurious In Marble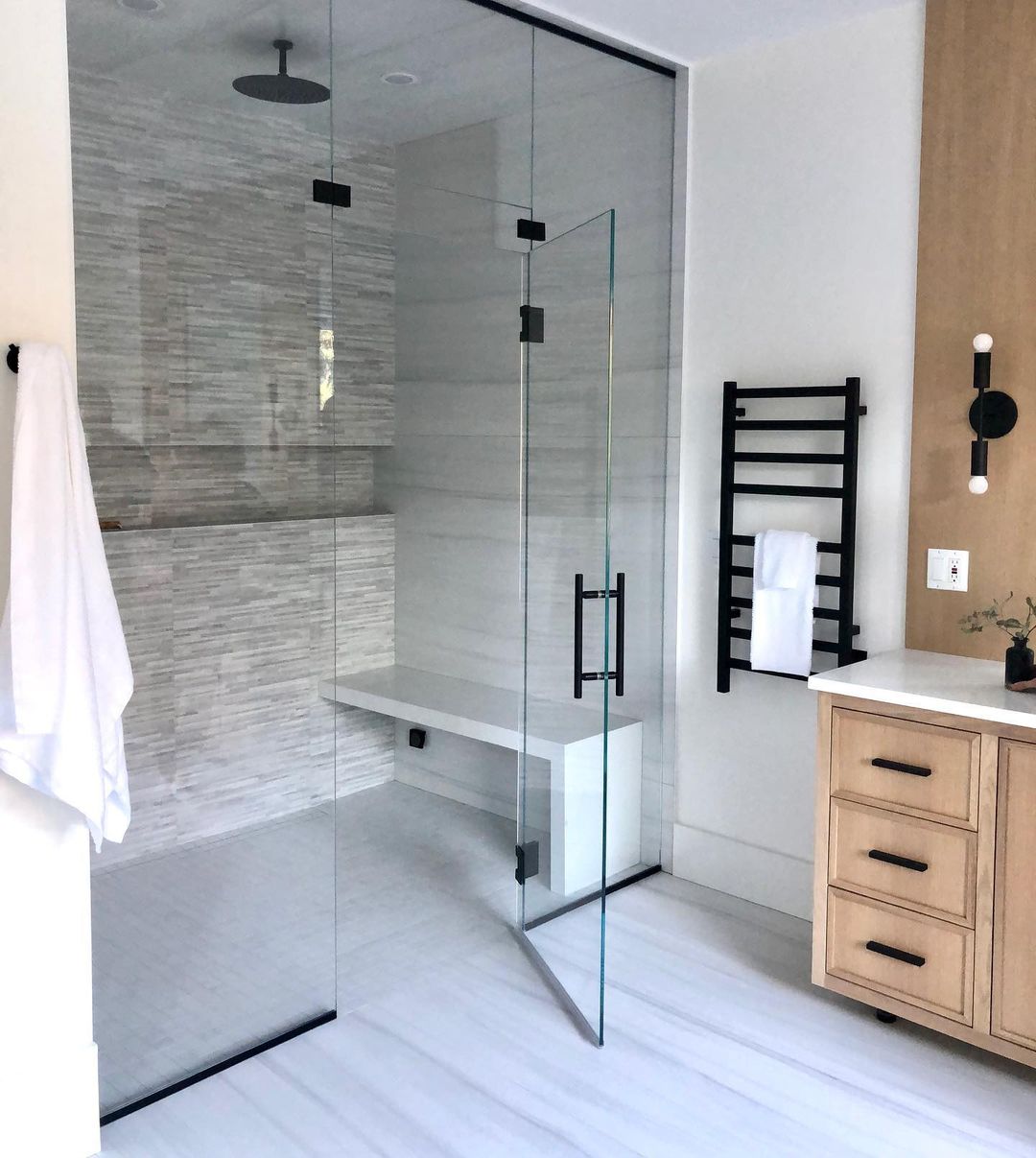 If you already have a marble bathroom and want to continue the theme, a marble seat is a great way to do it. The goal is to keep the color scheme consistent throughout your shower. Whether you choose a big or small bench, the goal is for it to blend in with the rest of your shower. The shower bench is placed to the side of the shower heads so you may use it both before and after you shower, and the entire scheme merges in with the rest of the bathroom visually.
Shower Sitting Tile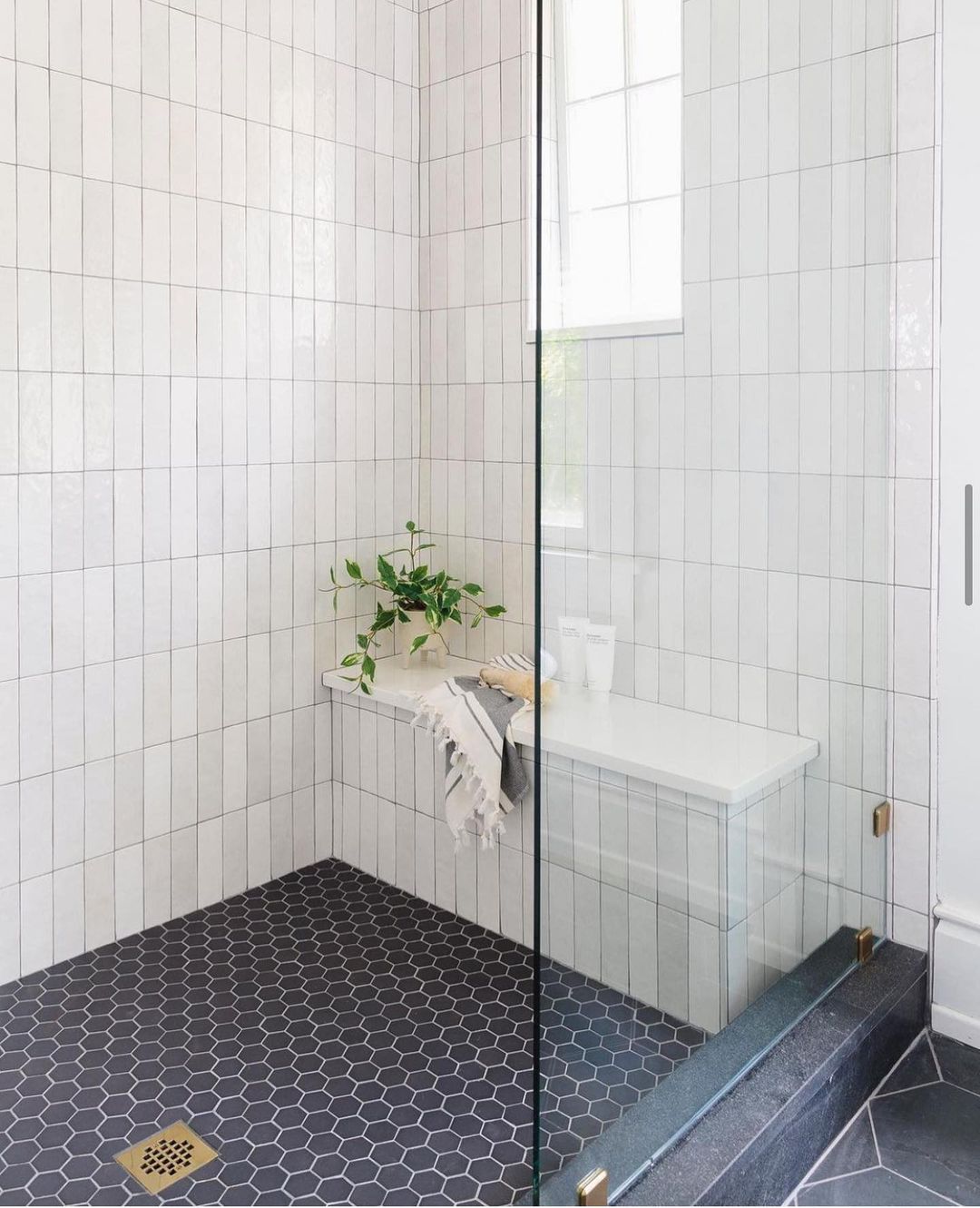 Adding a tiled approach to a seat is one of the most popular ways of doing so. The goal is for the bench to look like it belongs in the shower. Using a blended bench allows you to create an almost ottoman-like effect. Furthermore, a thicker bench allows you to use it for a wider range of purposes.
Simple Shower Seat Design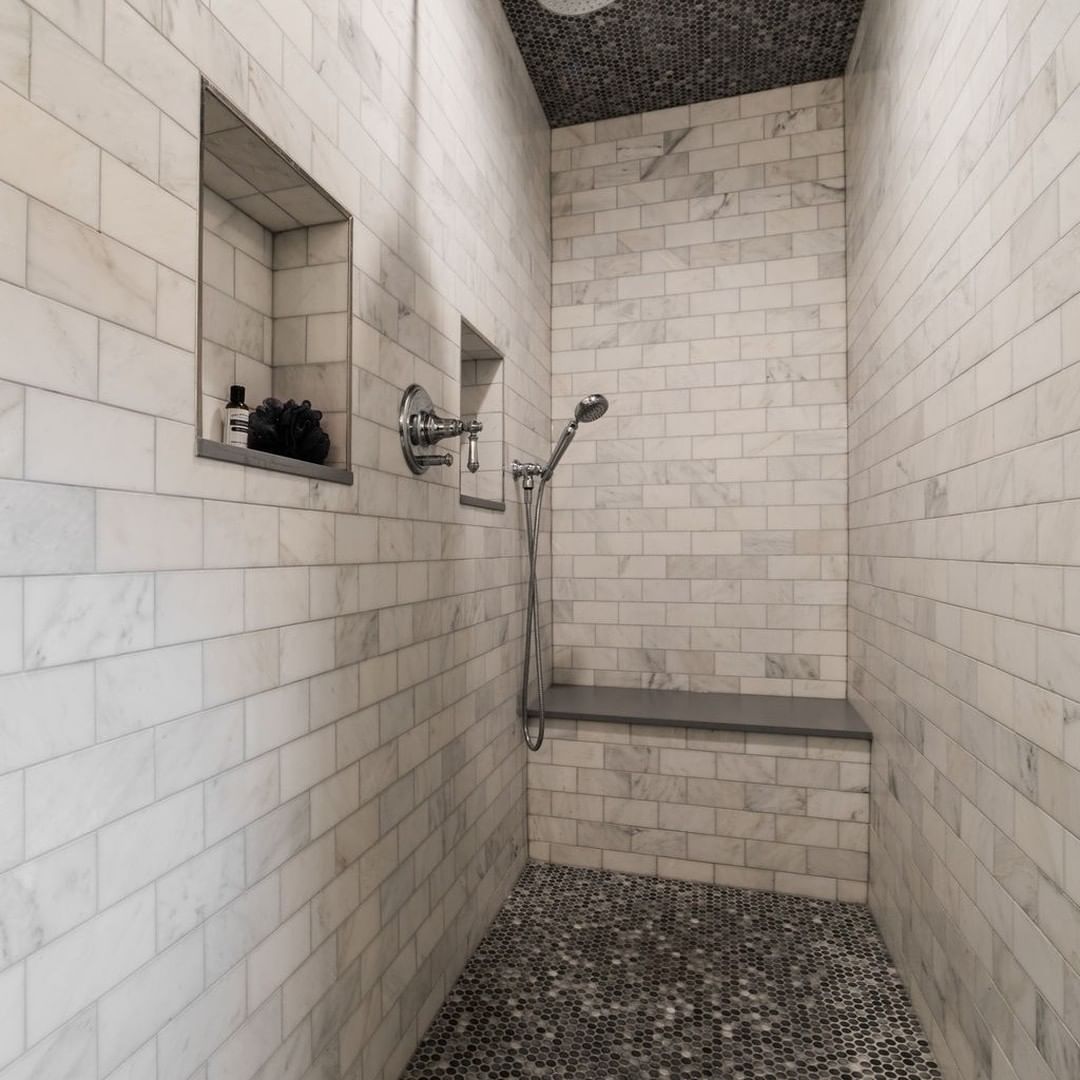 Usual people like to have their tile shower bench match the rest of the shower.  For many, having a blended style is preferred, but don't forget to add even a small detail like a different color on top of the bench. Of course, you have the option of going a different route and tiling your shower walls and seat in a different color. Tiles are quite simple to install and come in a wide range of patterns and colors.
Matching Ledges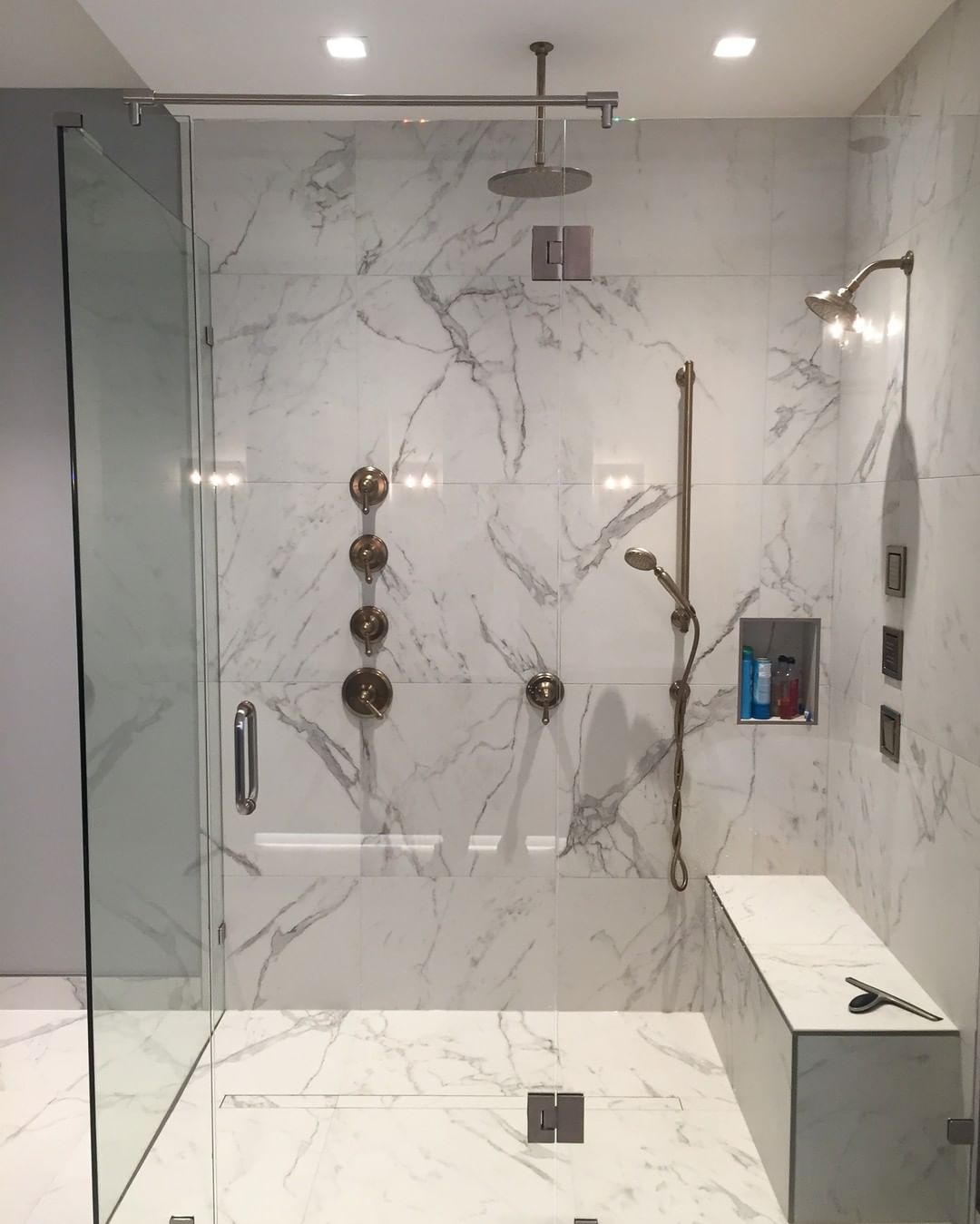 Choosing a bench that is practically imperceptible to the naked eye is something most people desire in their shower design. Made of the same tile as the rest of the shower surround, it almost blends in when it's not in use. Alternatively, you can keep the shelf's background as neutral as possible. Having a shelf in the shower is practically a requirement, but it doesn't have to be a focal point either.
Sleek Walk-In Shower Seat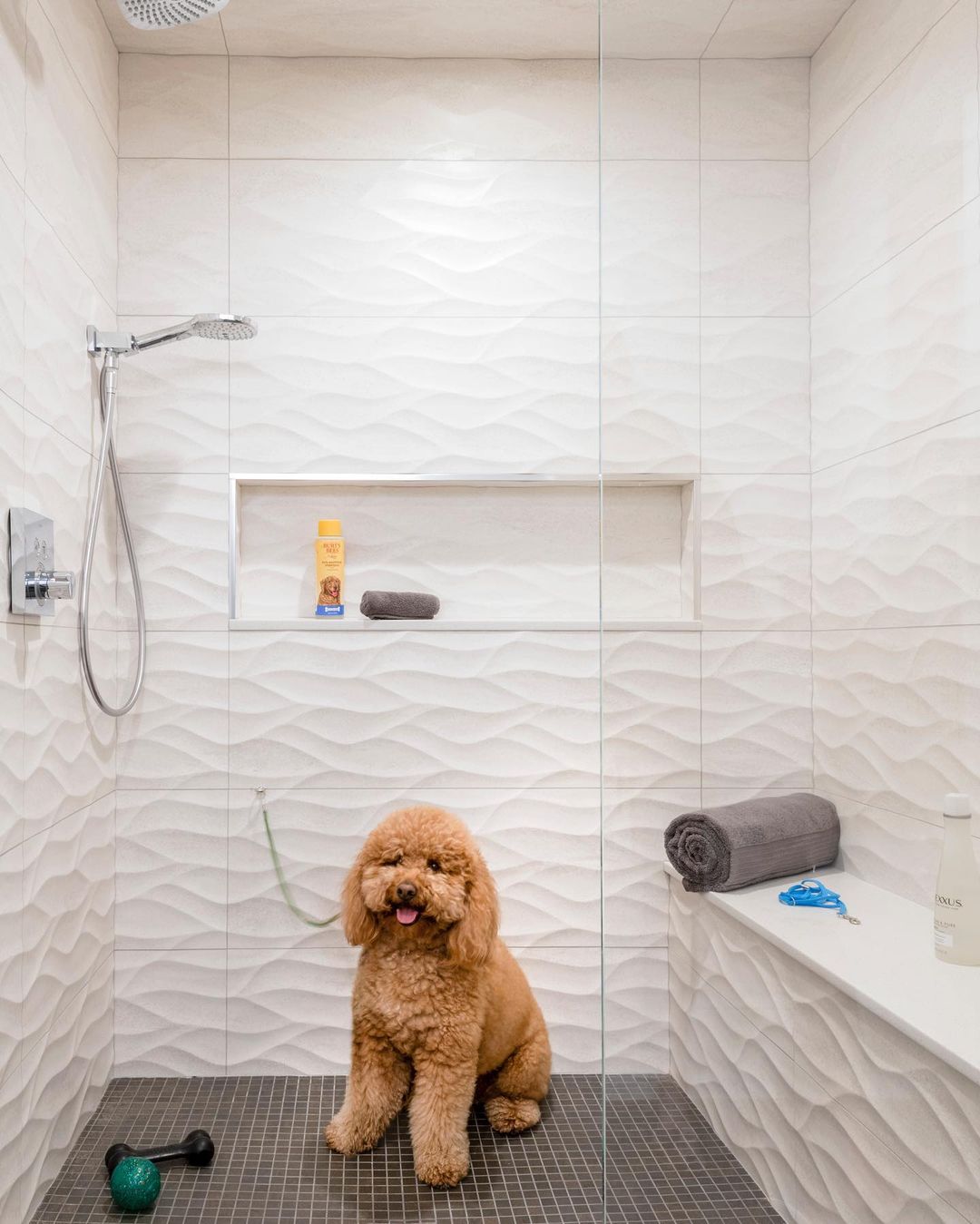 When it comes to adding a seat to your walk-in shower, think outside the box. Start with an unusual pattern of tiles, like these wavy ones. You can blend it with the bench or just make it from different types of tiles. If you choose to do this, don't forget to pick darker flor tiles just to give it a little contrast and make it more dramatic.
Practical Shower Sitting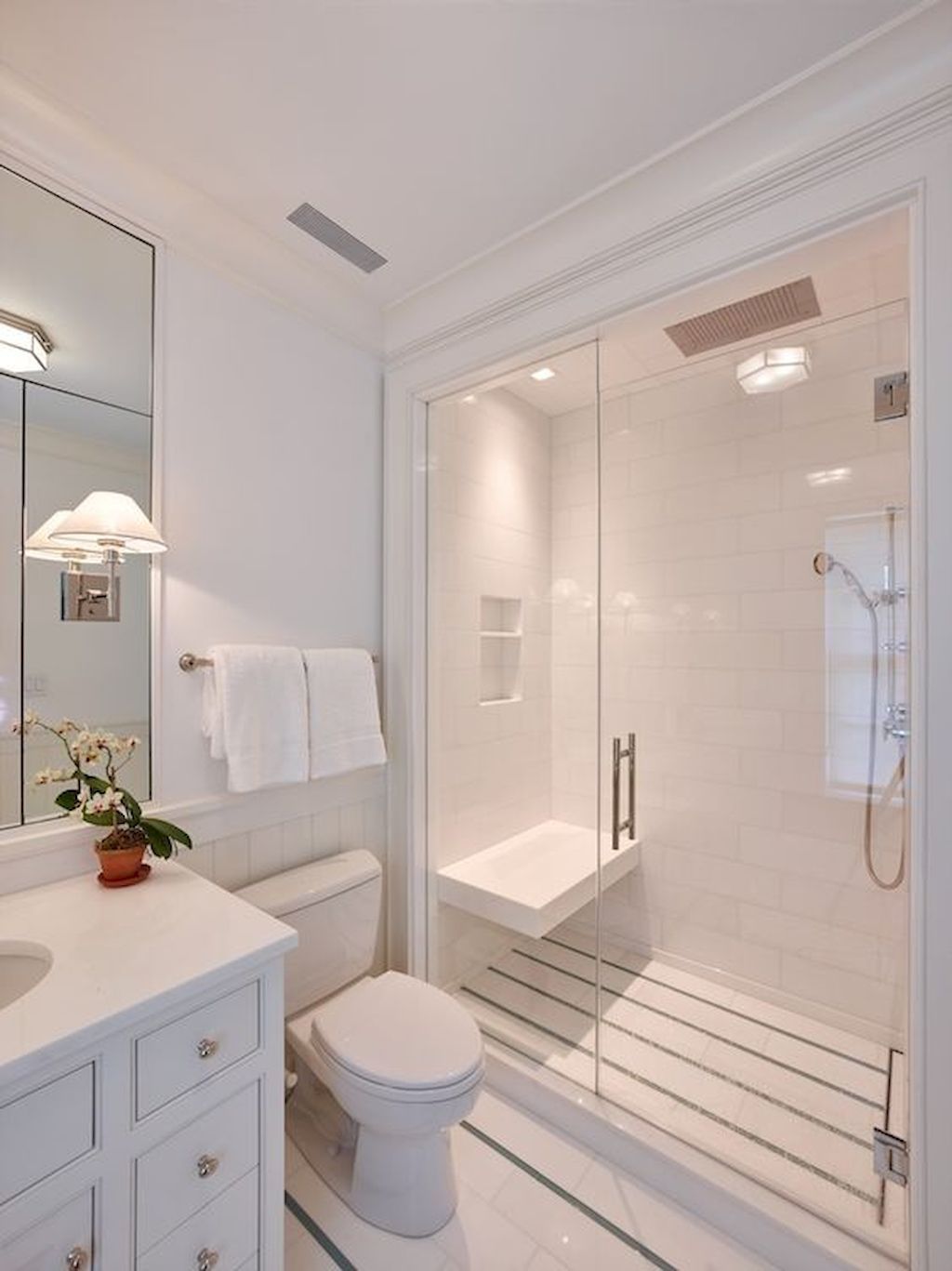 Floating benches are an excellent choice if you want your shower bench to be a focal point. They're the most eye-catching form of the bench since the lack of legs makes it look like a design marvel, and you can even put lighting underneath them. It's a much nicer alternative than a shower chair, and you can make it out of a variety of materials. It's most commonly seen with stone, but a wooden or metal floating bench might also be used. They do, without a doubt, appear to be epic.
I hope you enjoyed my ideas for these bathrooms bench ideas and maybe incorporate some in your bathroom. Feel free to like, share these ideas with your friends and leave a comment down below.