Household chores are an inseparable part of adulting and living alone, or with your own family. The things to do around the home seem neverending, like cleaning, cooking, and perhaps most tedious of all, doing the laundry. For most of us, it seems like we're stuck in a neverending cycle of washing, during, and ironing clothes. As soon as you are done with one pile of laundry, another one is already waiting to go through the same process.
Living in an apartment in a big city, you might not even have a laundry machine and dryer in the unit or you might share a laundry room, and if not, there's always the laundromat. A laundry room is a feature you'll find in houses and perhaps in some bigger apartments, and since its a space where we perform the most dreary and endless household chores, most of us don't pay much attention to how it looks, instead of on focusing on how functional it is in accordance to our needs.
Decorating and designing the laundry room, however, can make a big difference in the boring laundry experience. When you're stuck in that room with piles of clothes, having enough space for everything and everything you need at hand, the chore becomes much more pleasant. So, if you're interested in transforming your laundry room and making it a more delightful part of your home, we have some amazing laundry design and decor ideas to share with you today.
Soft Gray and Wood Laundry Room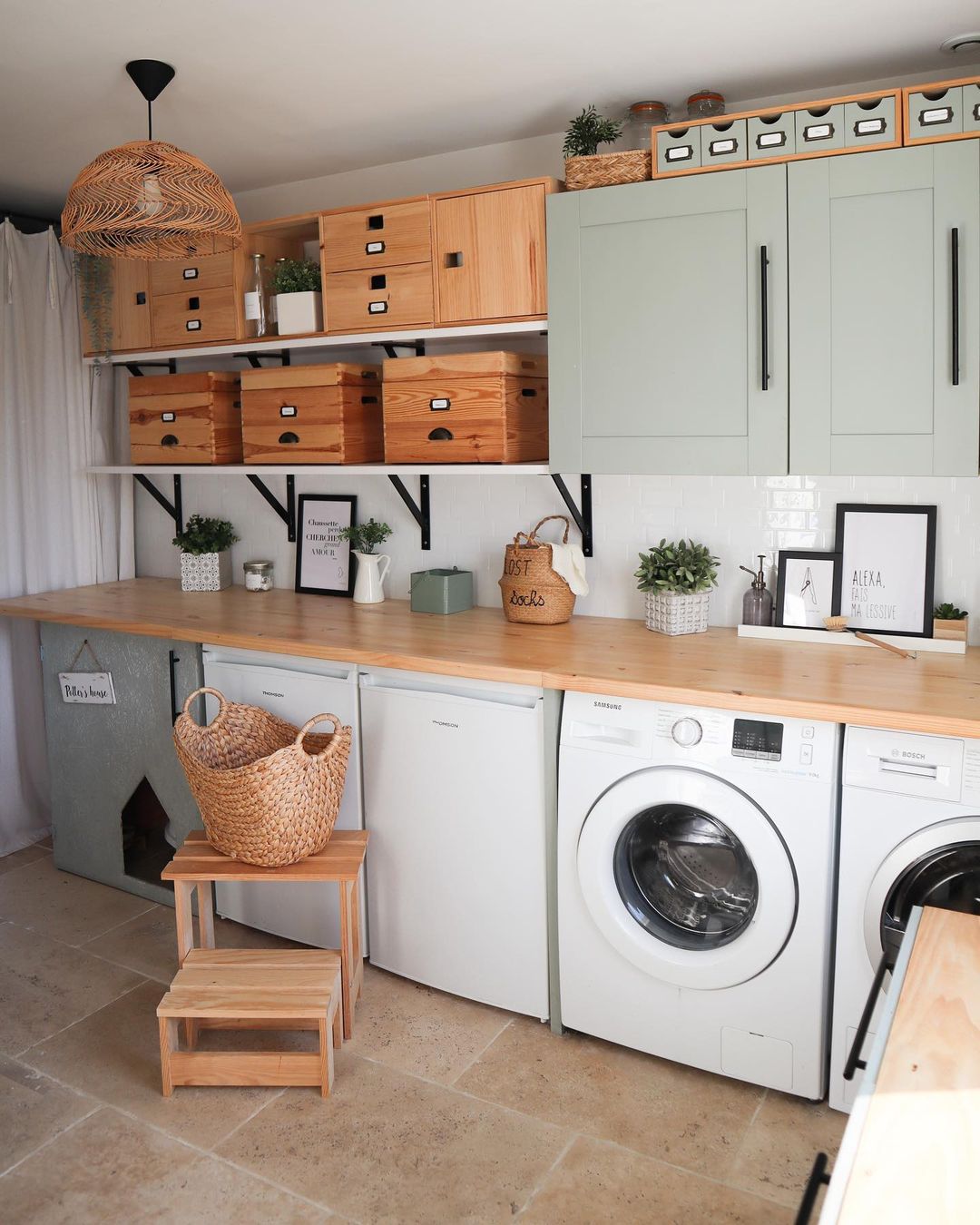 Colors play a big role in setting the tone and mood of the room. You want soft pastel colors for a room where you want to feel comfortable. Gray may not be the most cheerful color out there, but in a lighter hue combined with the warm color of wood, you get the feeling of a room that is warm, yet means business. As you will see, it is a very common color combo for the laundry. Here we have classic block panel cabinets for storage, large countertops, and some shelves with wooden crates or drawers of matching wood, to complete that classic retro design.
Dark Walls And Cool Hangers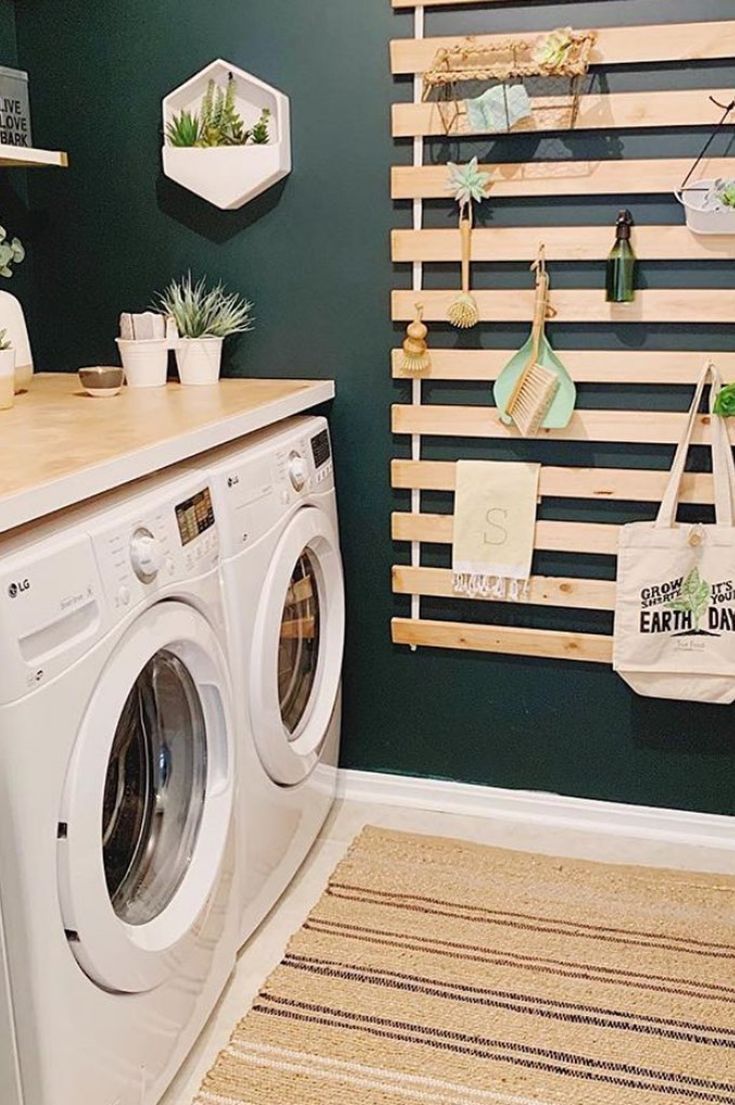 Darker colors are often associated with dreary, moody feelings, but they can also bring calm, almost a balance to the white appliances. Dark green or navy blue is a good choice if you want to go for dark walls to complement the other white or wooden elements in the room. Hooks are also often needed in a laundry room, but instead of classical hooks, you can arrange some planks that provide a lot more storage and versatility.
White With Rustic Wood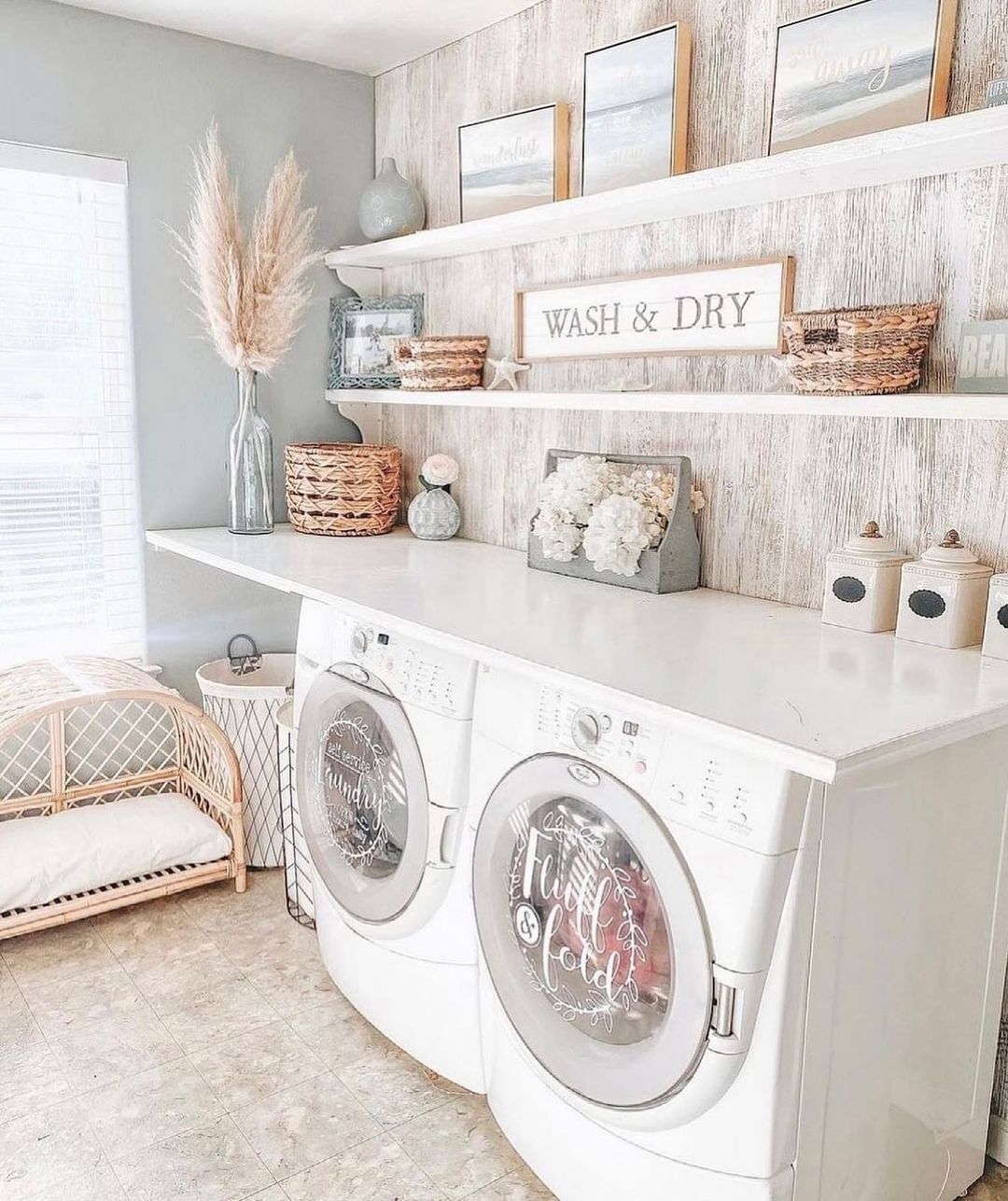 Laundry rooms are usually lacking unnatural sunlight. That's the reason why most people go for the classic white color, which can be quite drab and boring. Spruce it up with some subtle white wooden patterns, real wood or wallpaper, and add some wicker baskets and even a sign to make the place more charming.
Rustic White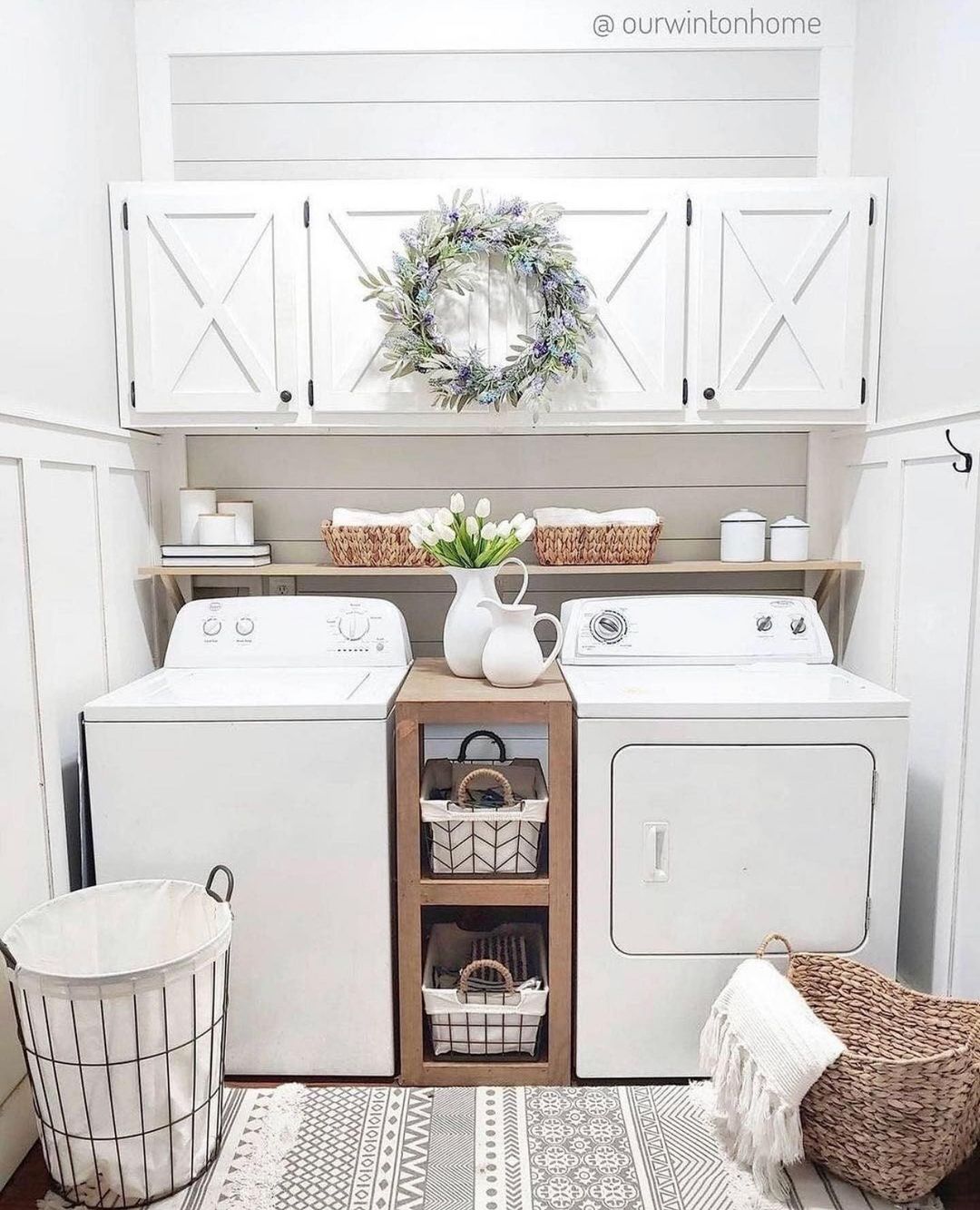 Many people are a fan of the rustic barnyard decor, and if it clashes with your modern design in the house, you can turn the laundry in your private rustic nook. White shiplap, white X-side cabinet doors, some wooden shelves for storage, and just a little something to break up the monochrome design.
Ochre Laundry Room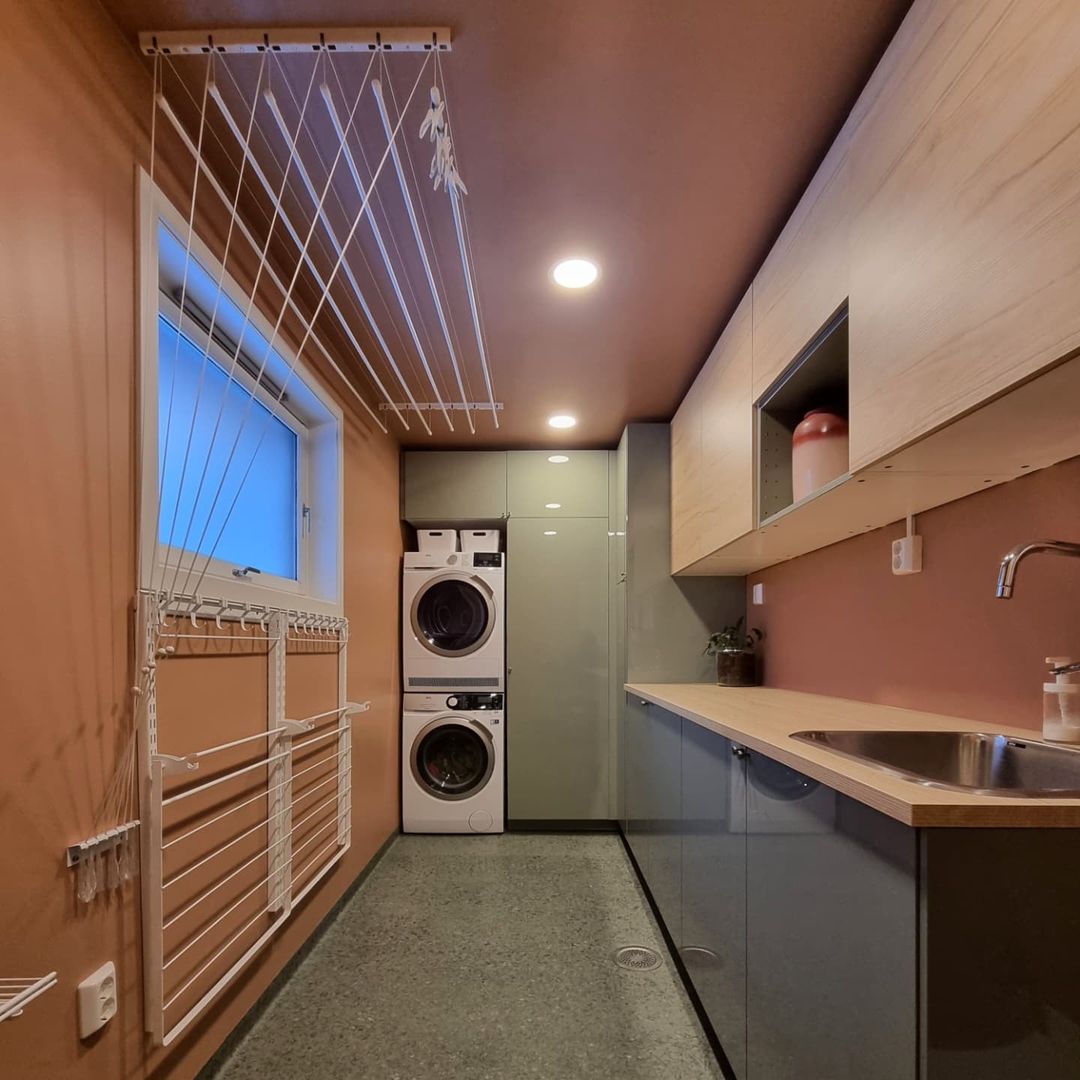 Greenish-gray closet and cabinets with wooden countertops make up this laundry, with some ochre colors on the walls tying it all up. The neat part here is that you have several foldable drying racks on along one wall and over the window, for those extra clothes that don't go into the dryer. And a little sink is always a plus.
Modern Spacious Laundry Room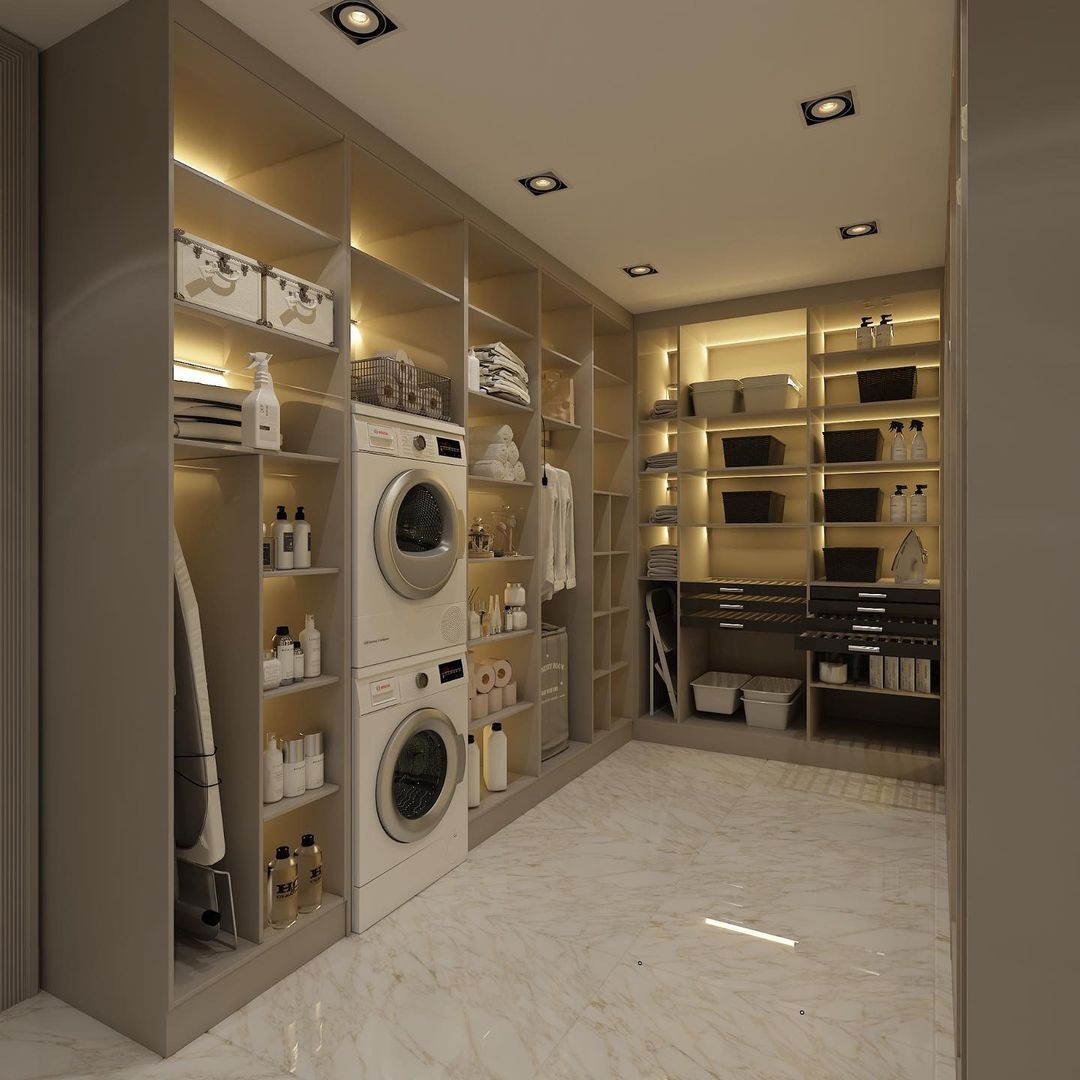 Everything in this laundry room screams high-end, from the design to the materials used. You have a different section for everything you need and more. Sleek white marble floors add brightness and contrast the light gray shelving units, and each has its own soft yellow light coming from inside. Pure luxury.
Modern Simplicity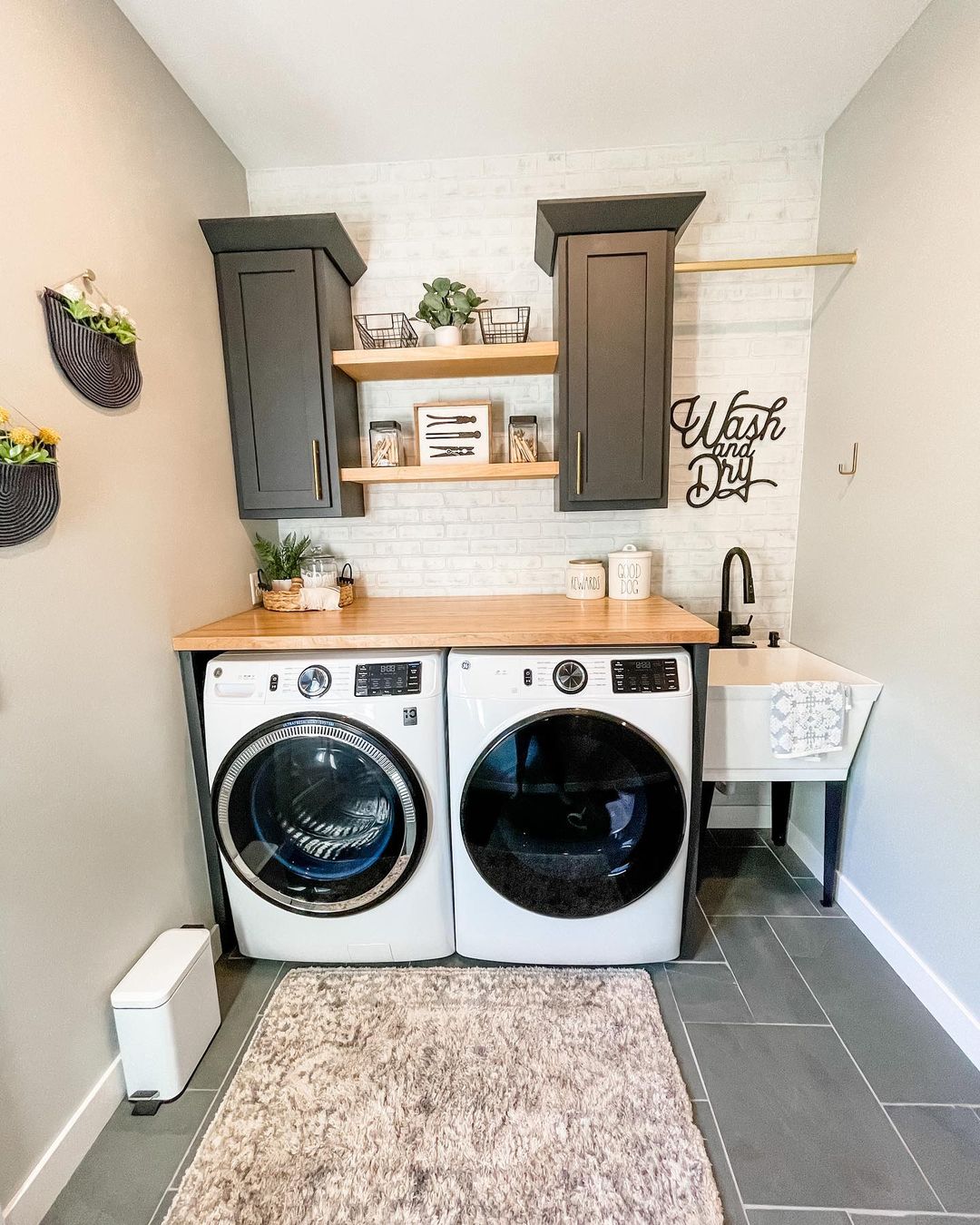 Small space to work with? No problem. All you need is space for the washer and dryer. You can place a cabinet or two in the empty space above, and this design is quite modern chic. Subway tiles for a backsplash, and if you can spare some space, a laundry tub would be nice.
Baby Blue Laundry Room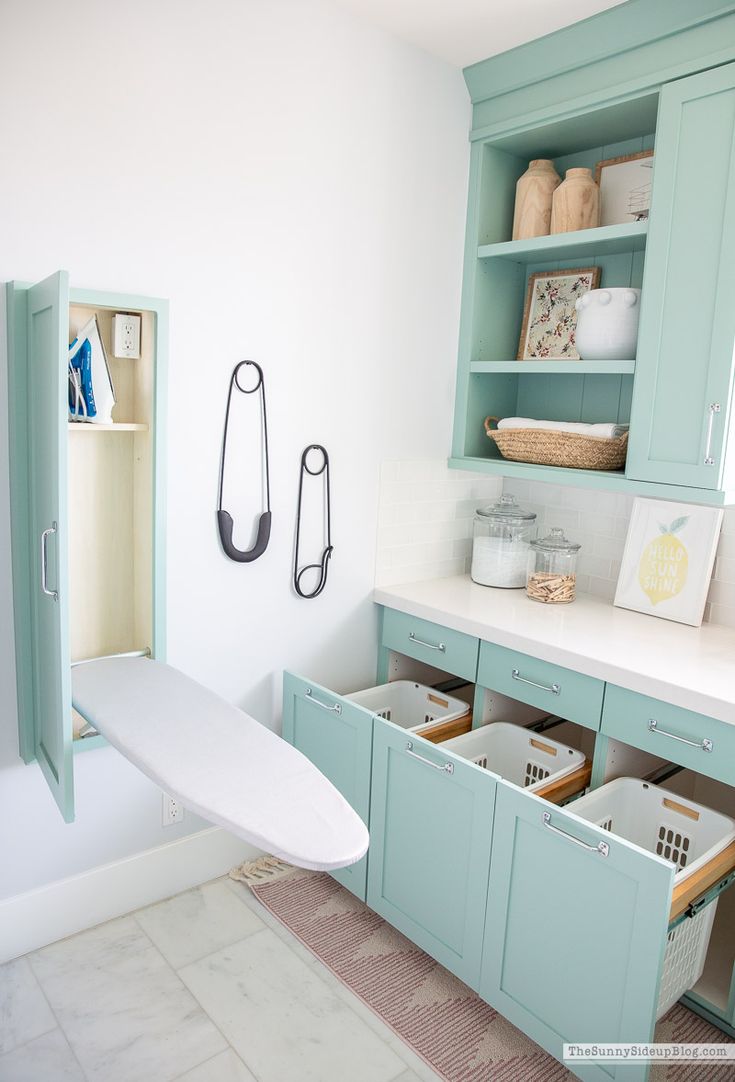 A baby blue is a very soft and calming color making it a great choice for the laundry. The neat thing here is that the laundry baskets are incorporated into the bottom cabinet drawers, making it easy to just put them away, keeping the space neat and tidy. Another cool feature is the hidden ironing board, always at hand, never in the way. As for the decor, those oversize safety pins sure look fun and would get at least a chuckle every time you see them.
Tiny Laundry Niche With A Sliding Door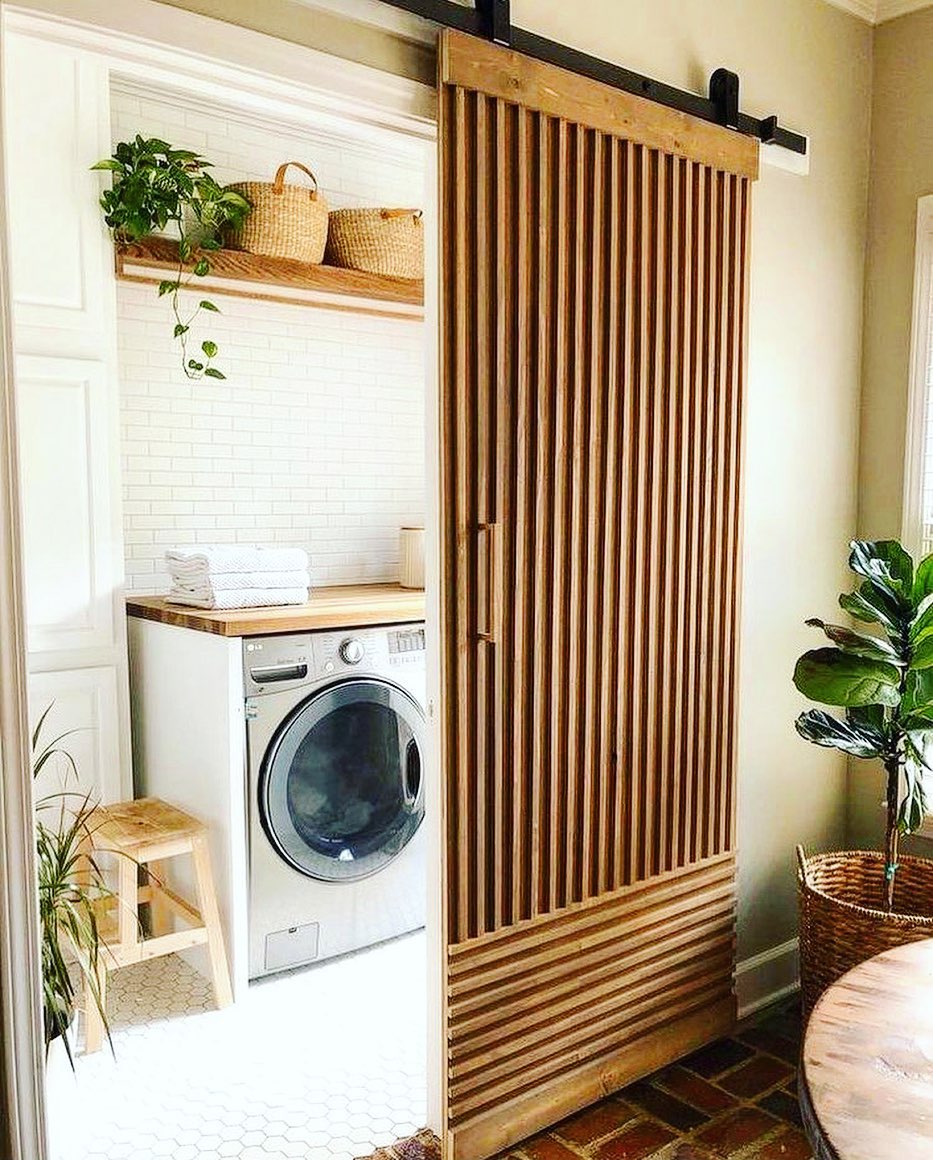 Some homes might not have a separate room to turn it into a laundry room, but you might have enough space in a room to section it off and create it. In those cases, saving space is essential, so a small wall and a sliding door will work perfectly. Keep the design inside the laundry simple, the appliances, a narrow cabinet, and some shelves will be enough.
Tiny, But Efficient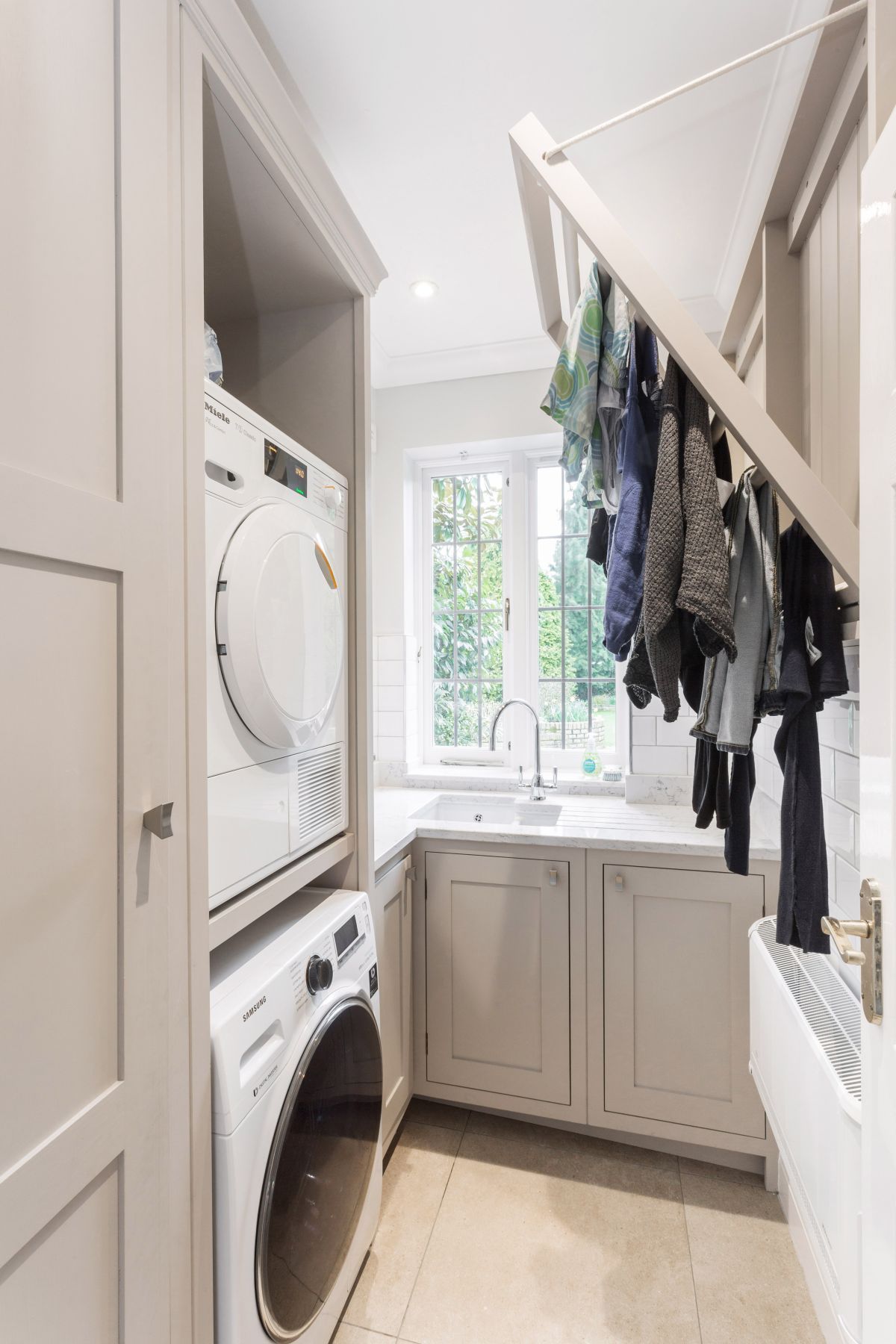 Similar to the previous idea, arranging everything you need in a tiny space takes some planning, but it can be done. This laundry room is small, but with one redeeming perk, which is the window. A small laundry tub underneath it some bottom cabinets with a simple block panel design, and the washer and dryer stacked one atop the other to save space. you'll even manage to put a foldable drying rack if you want.
Barnyard Sliding Door Laundry Room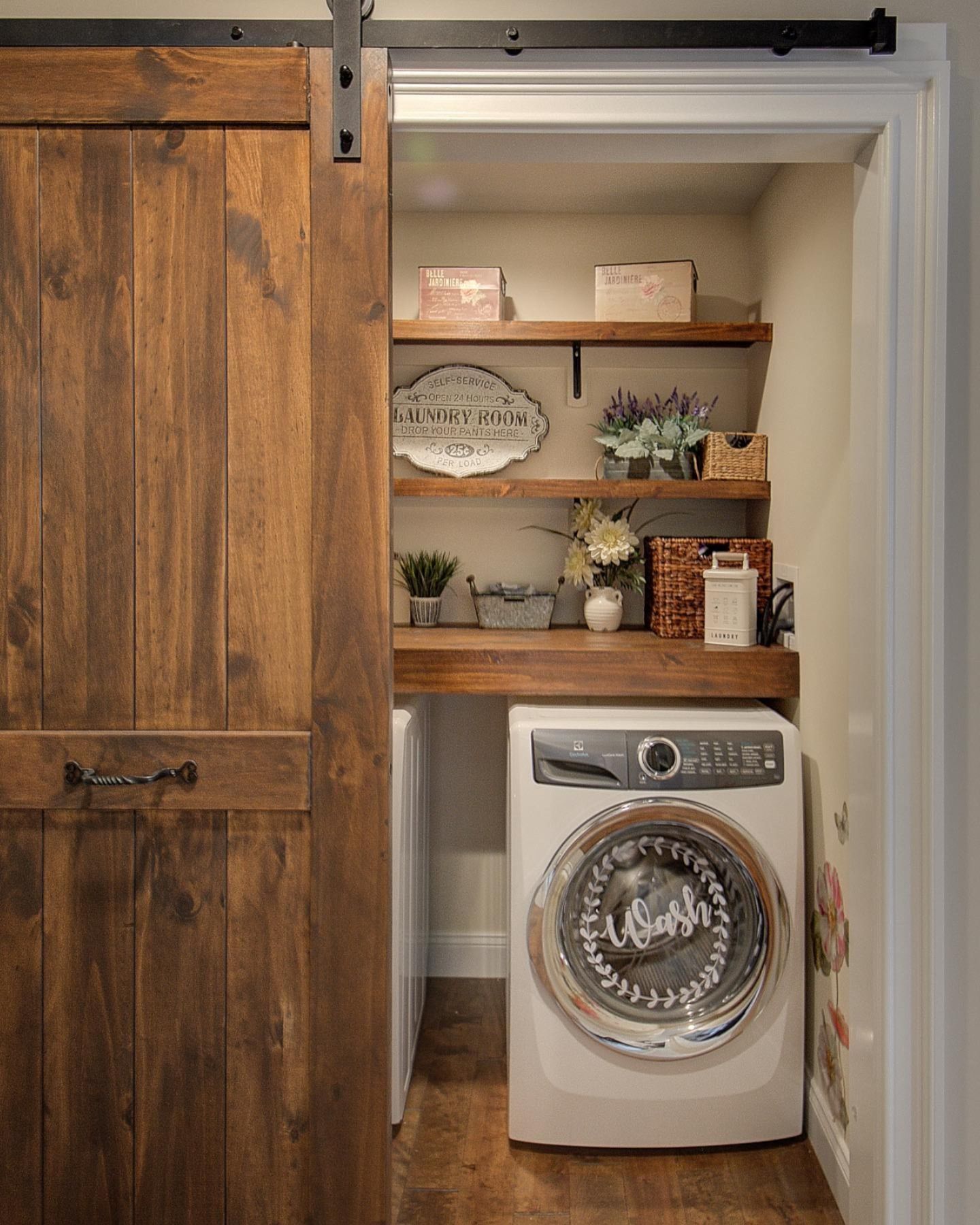 We mentioned a sliding door for sectioning off a laundry room, but it can also work for closing it off from the rest of the space if there is not enough room for a door. These types of small laundry rooms are more like laundry storage rooms, where you simply keep the washer and dryer and some laundry products. But you can always make room for some darling shelves and even put some decor pieces to brighten up the space.
Chinese Art Style Laundry Room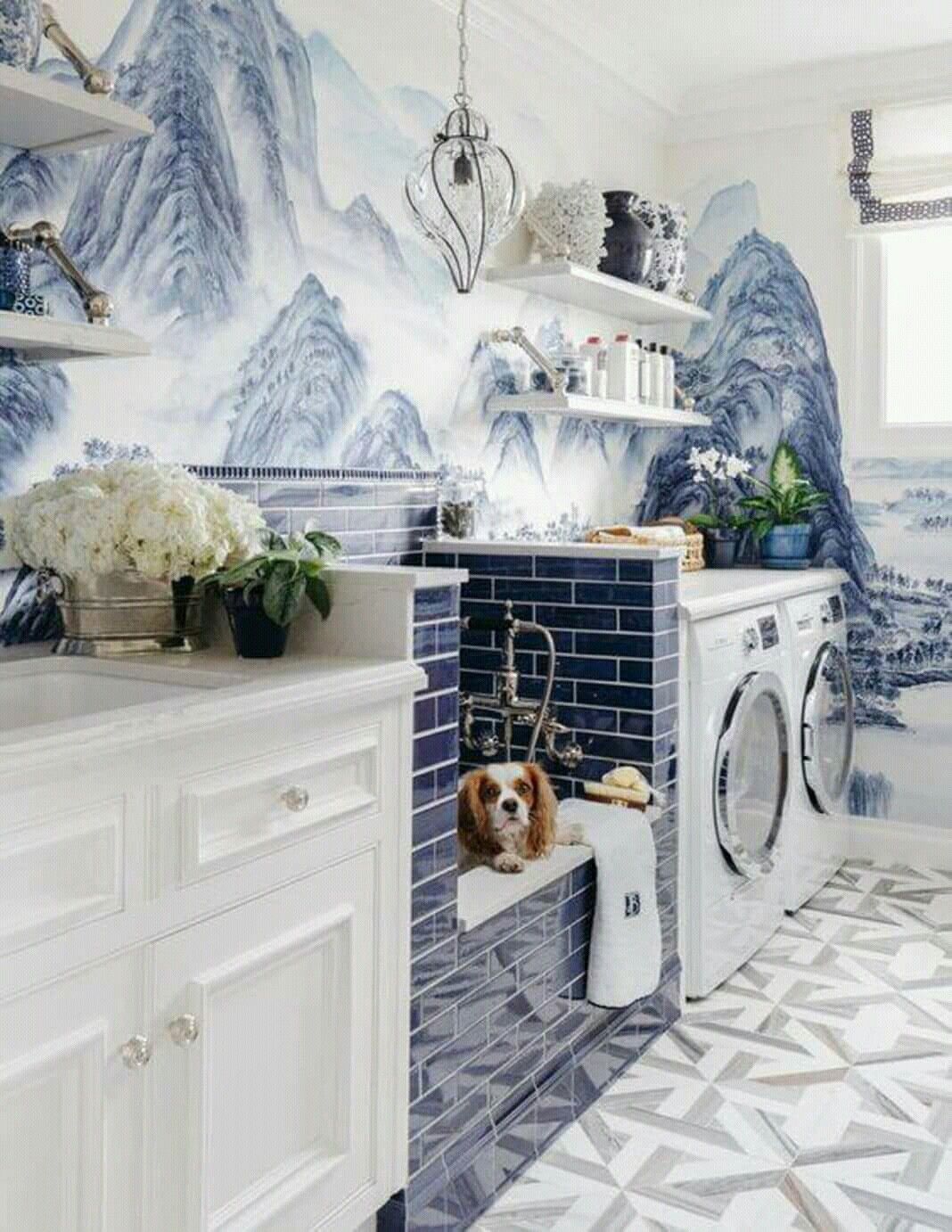 Even if the laundry room is not your favorite place in the home, you can turn it into a functional place of beauty. The magnificent mural of mountains done in traditional Chinese art is certainly something pleasant to gaze at while battling the mountain of clothes. The little dog washing area is another splendid addition you can have in the laundry. You can get your doggy clean without messing up your own bathroom in the process.
Luxurious Laundry Room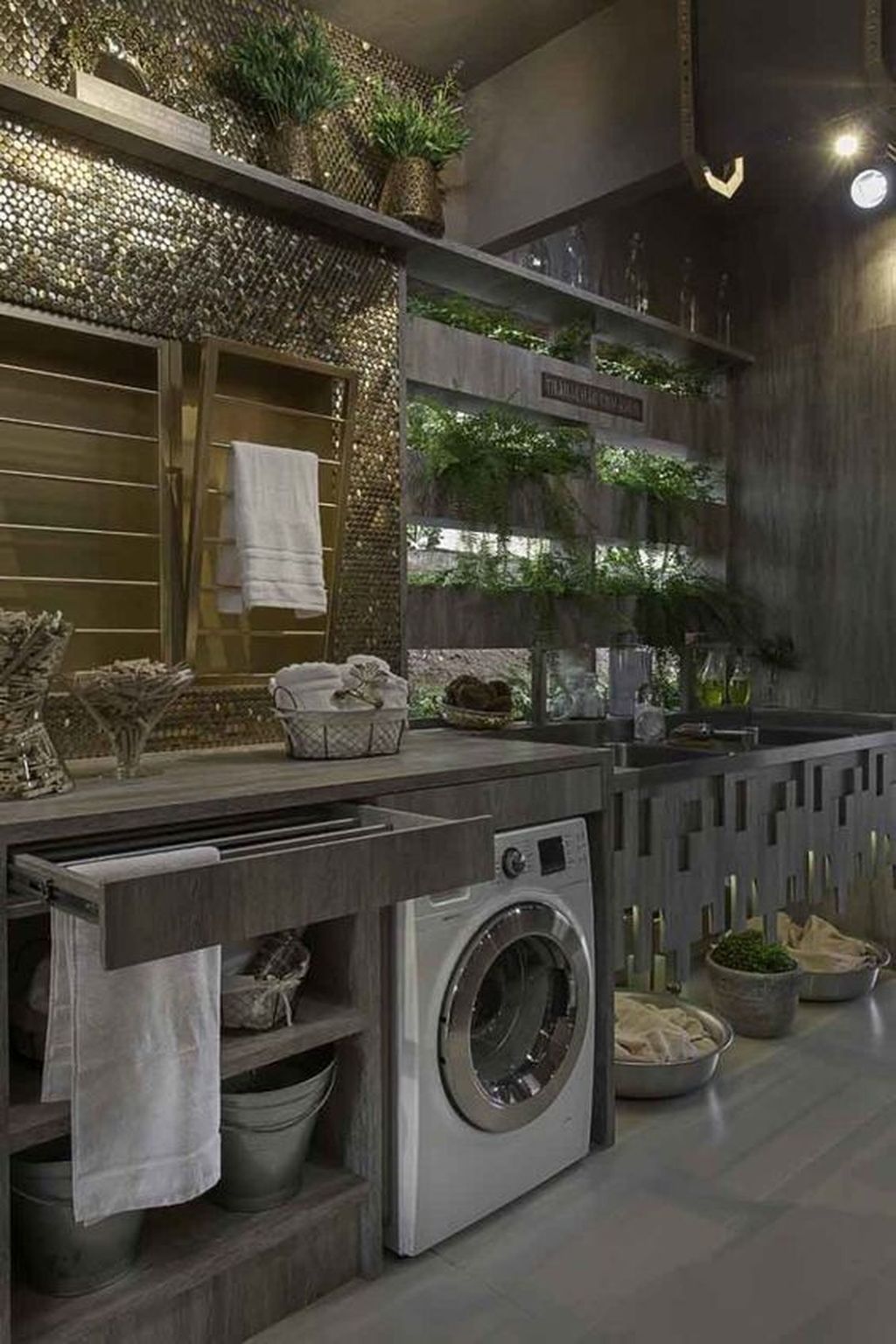 Honestly, we would all gladly do our laundry all day long if we had a laundry room like this one. This is a splendid display of high-end luxury. Copper and gold honeycomb mosaic around the foldable drying rack, gray stone slab counter and shelves, and even an indoor garden above the laundry tub with a beautiful geometric design underneath. Perfection.
Spandrel Laundry Room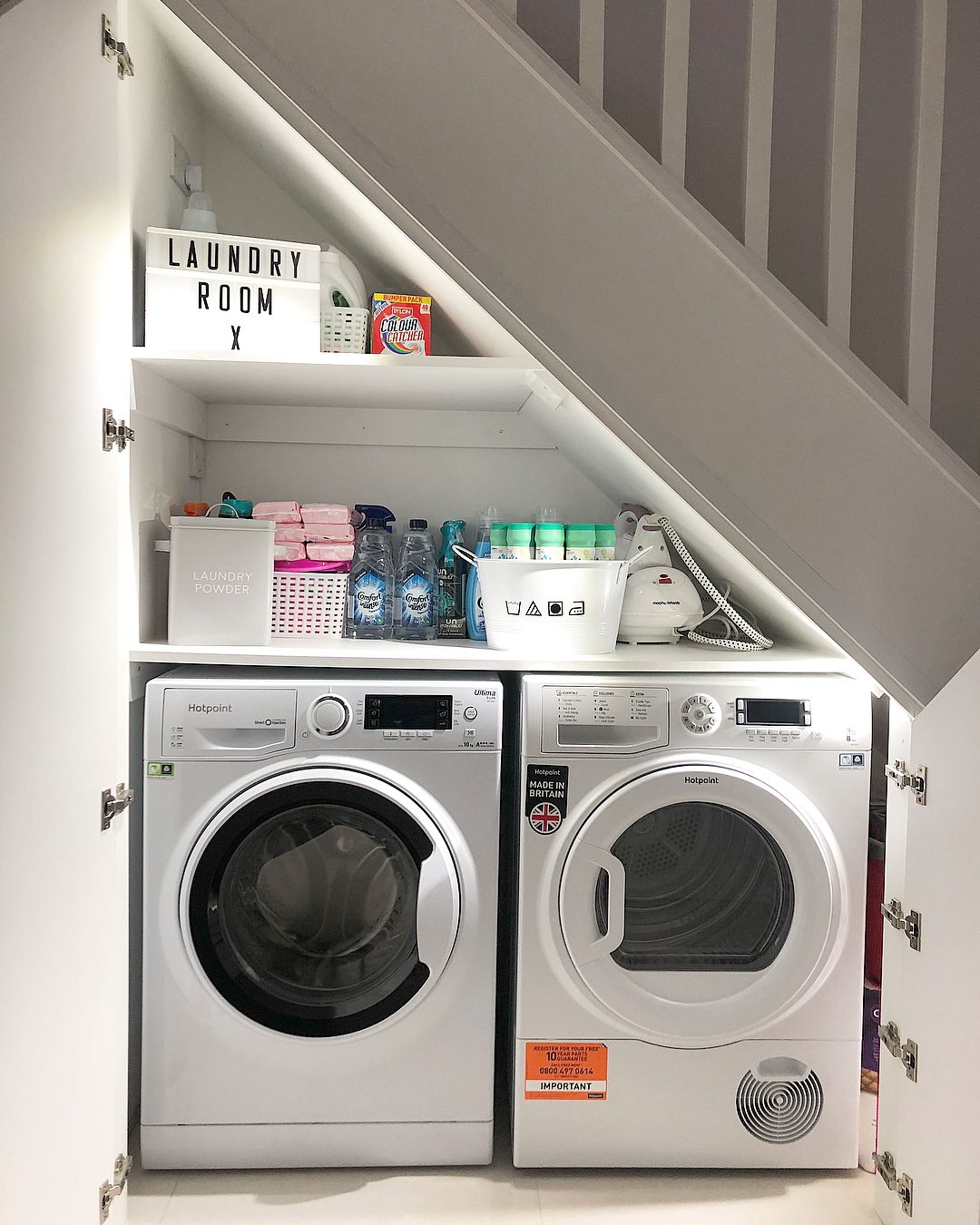 We often forget how many dead spaces we have in our home, those empty spaces that can be utilized, but aren't. The space beneath the stairs or the spandrel is one of them. It is most commonly used as a closet or a pantry, and if you were wondering where to set up your laundry room, this is a good place as any. You might not have a lot of space for ironing, but it is enough for the appliances and the laundry products.
Laundry Room With Accent Wall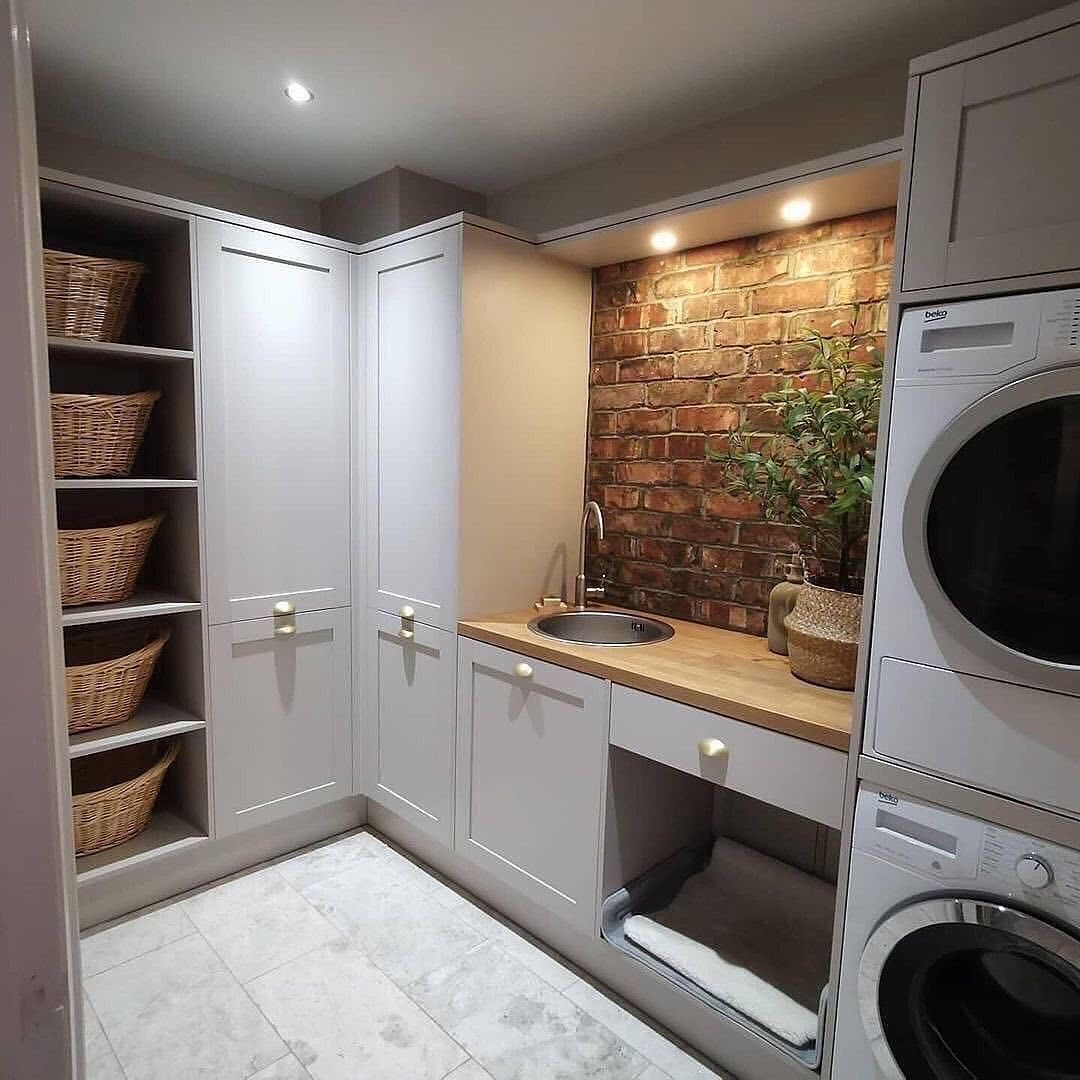 The laundry room needs to be a clean space and one that can be kept clean easily, but sometimes it might look too sterile. If you already have some ordinary cabinets for the laundry and are looking for a way to bring more character and warmth to the space, try adding an accent wall, like this lovely brick wall above the laundry tub, and you can even make a space for your pet, by adding a pet bed in one of the bottom cabinets.
Retro Laundry Room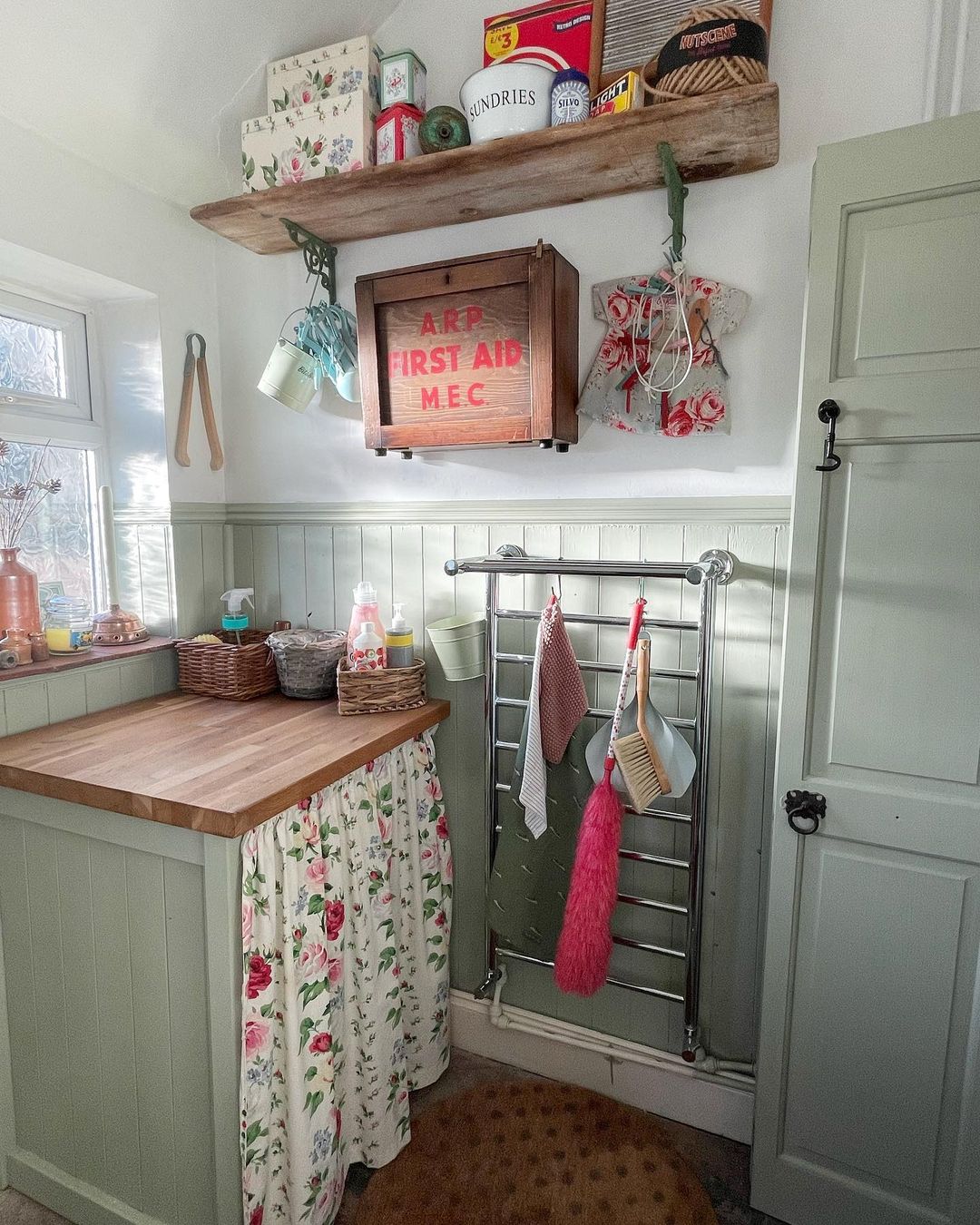 The laundry room doesn't have to have expensive elements to make it beautiful, yet practical. Sometimes we have to take from the past and add some retro touches that don't cost much, but make a lot of difference, like a nice floral curtain to hide the washing machine when not in use, a chick wooden cabinet and shelves for storage, and this very cool feature, a heated drying rack, that will air out your clothes faster.
Floral Laundry Room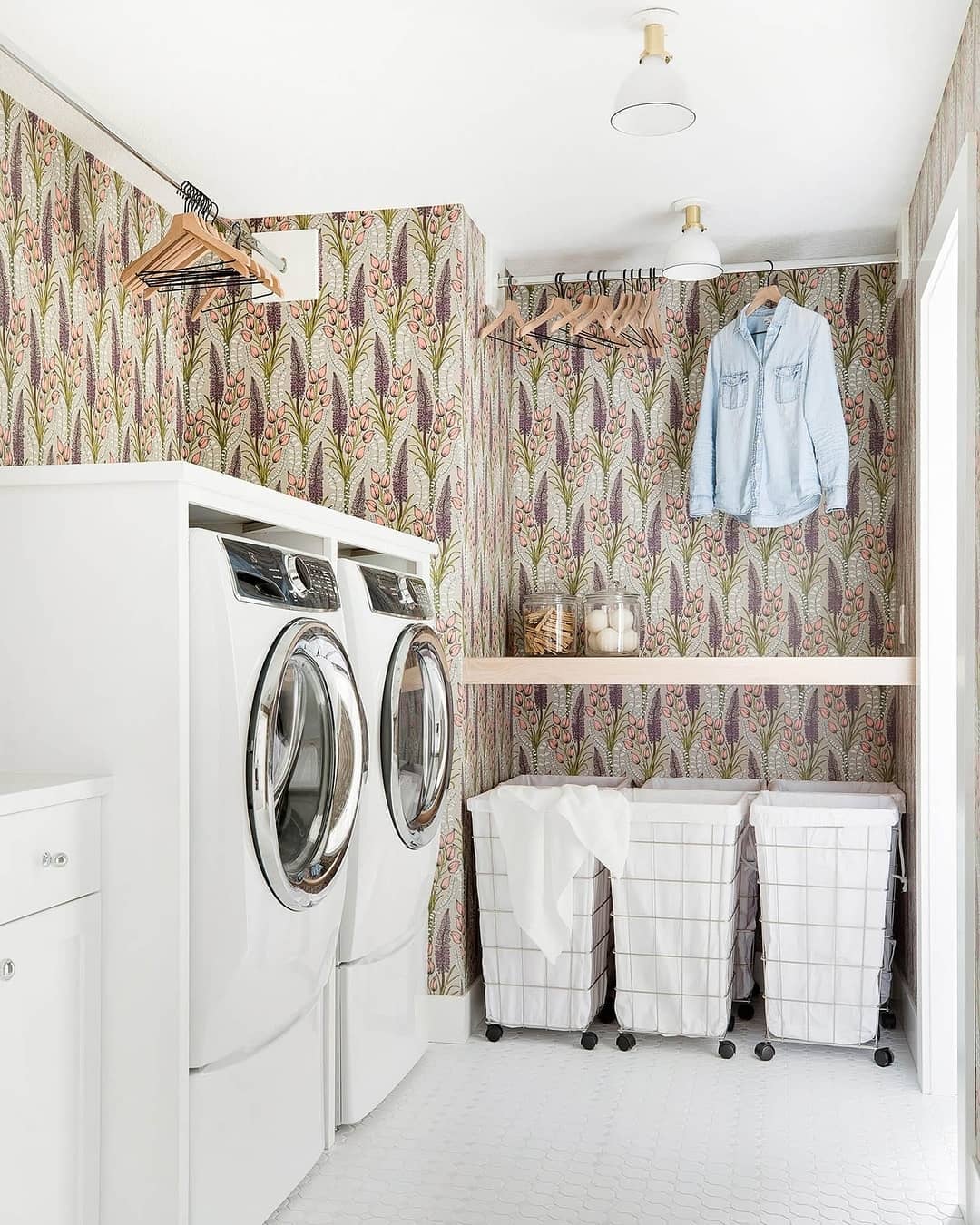 Some areas designated for a laundry room or panty make have a strange layout, with weird angles and nooks, but you can make good use of them nevertheless. A nook can be used for placing wall-to-wall shelves. some clothing rods and a storage area for laundry bins, like these wire bins on wheels. Having the washer and dryer elevated from the ground is also a great plus.
Gray Hued Laundry Room And Pet Wash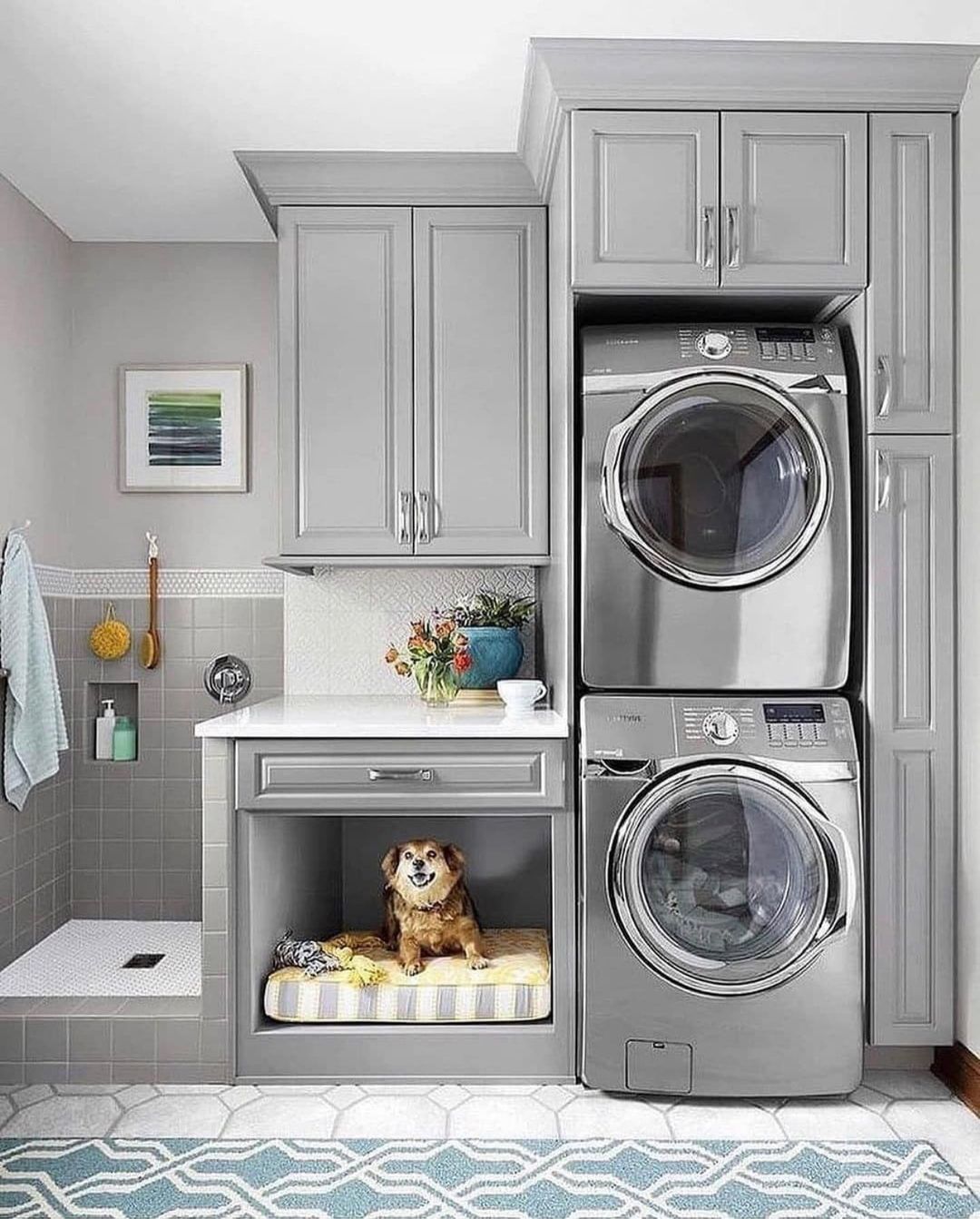 This is a great example of how a small room can accommodate both human and animal needs. The storage elements are done with classic block panel cabinet doors in different dimensions that go around the stacked washer and the dryer is stacked washer, leaving enough space for a small countertop and the washing station and pet bed for your four-legged member of the family.
Honeycomb Gray And White Laundry Room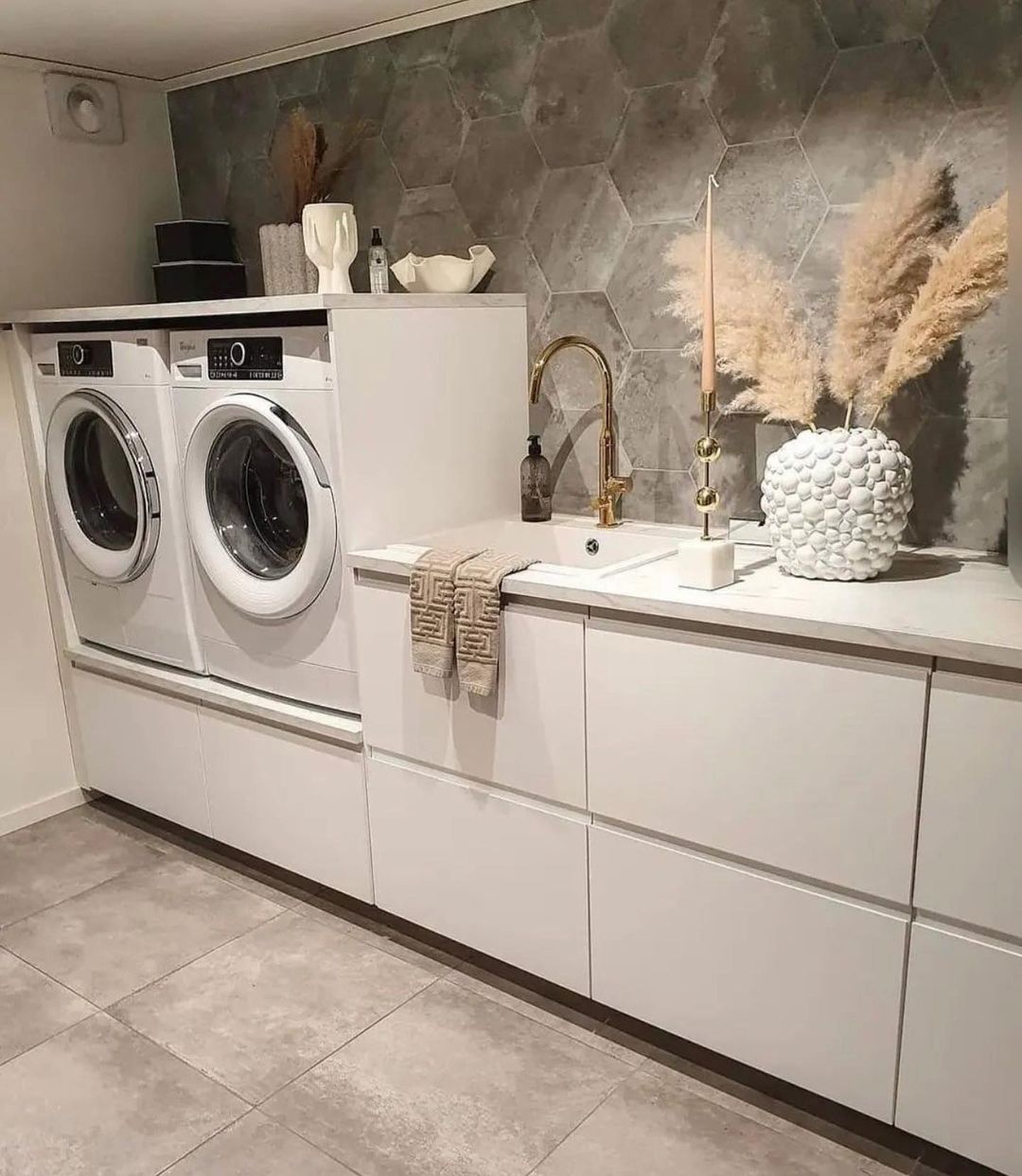 We did warn you that there would be a lot of gray laundry rooms. This one has grays stone honeycomb wall tiles are a nice way to add a subtle pattern to the room and to the sleek modern appearance of the white cabinets.
Self-service Laundry Room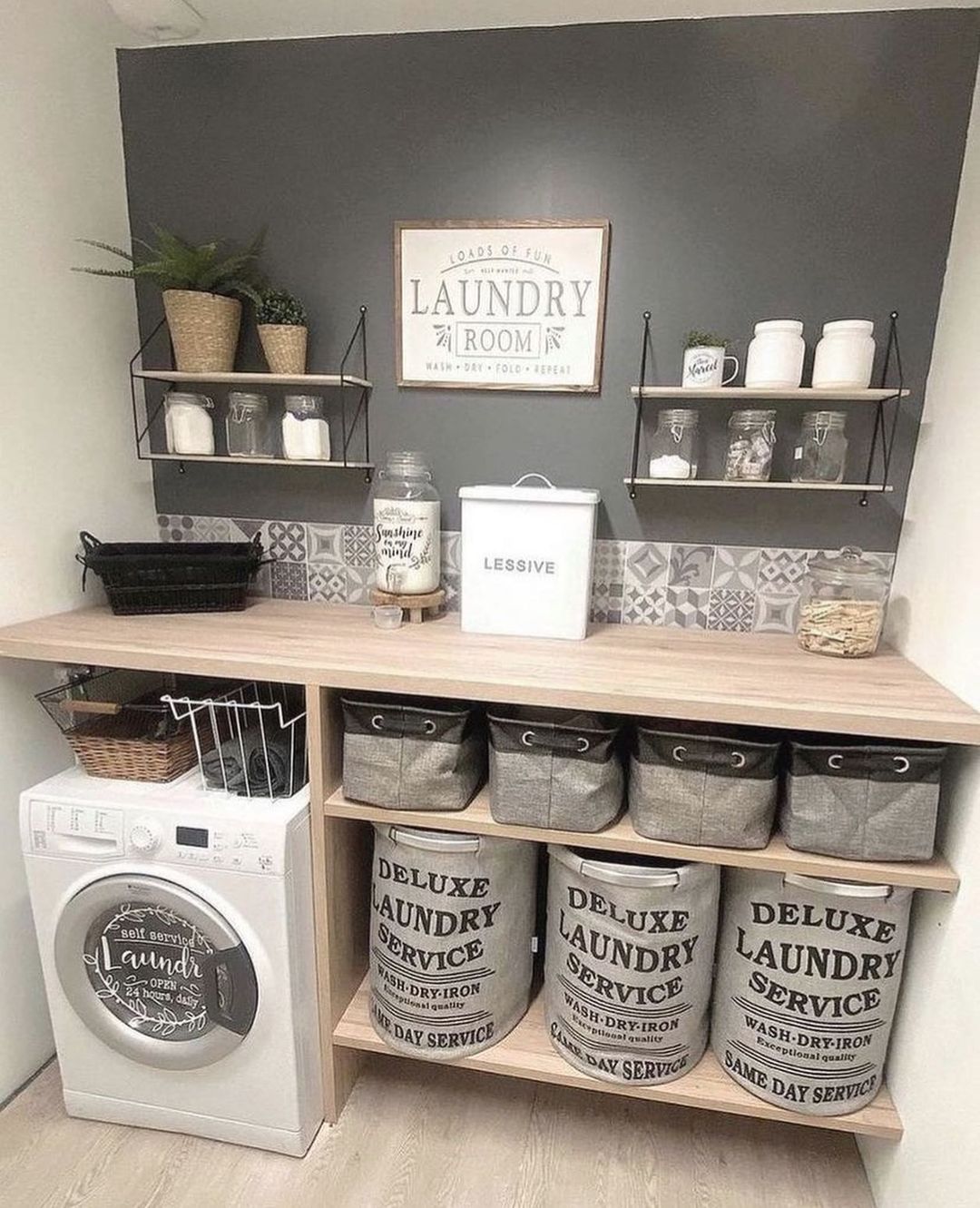 When you have to do some boring job or task, having fun while doing it makes it so much easier. This laundry room is done in an industrial style with gray walls and wooden shelves, but what's special about this one is the fun that was brought to it by adding laundry art on the wall, writing clever captions on the containers and the laundry bags, and most of all the sticker on the washer that is funny, but true.
You've reached the end of this design and decor load. we hope we didn't put your mind in a spin cycle and that you have clearer ideas on what to do with your laundry room. Make sure to share your thoughts and ideas in the comment section below.