Working on our computers while still being in bed is starting to replace business meetings and frantic morning drives, making the demand for work-from-home space is more important than ever. A well-organized bedroom office would mean setting aside household distractions and focusing on work. That is even easier when you have a designated workplace in your home. Converting your bedroom might be difficult, but it doesn't have to be a complete remodel if you use the appropriate tips and tactics.
There are a variety of ways to adopt when it comes to converting your room into a functional workspace. Consider putting a desk in one of your bedrooms, whether it's the master or a guest room. If you don't have any other options, a bedroom might be a great place to set up an office. It's quiet and free of the distractions found in the main living rooms – not to mention that the bed is nearby if you need a nap or some quiet time to think!
I decided to put together ideas that will help you discover new inspiration for outstanding setups that can be replicated since we already spend a lot of time searching for ideas online, no matter how small the space. So here are some home office ideas to help you create a work-friendly environment in your own house.
These home office design ideas will not only motivate you to finish that last bit of work but will also allow you to relax and enjoy your surroundings.
Wooden Built-In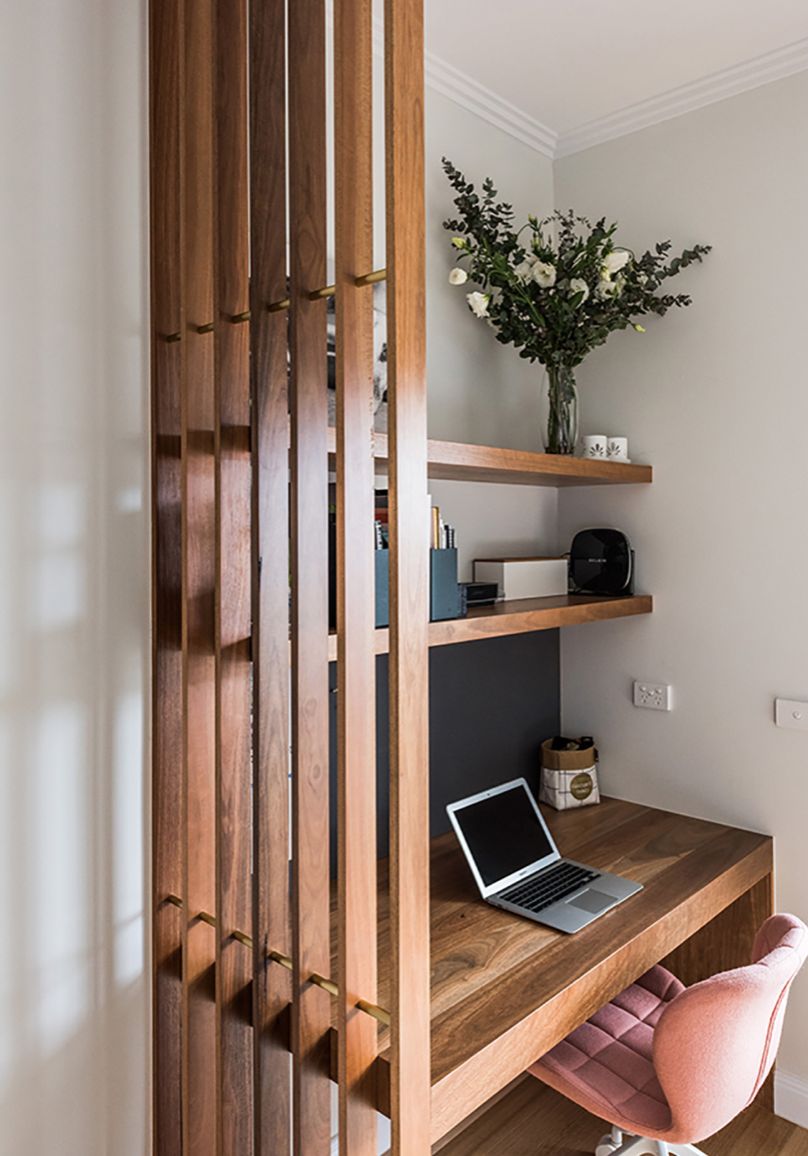 This wooden built-in is the perfect example of how to make a private home office space. It's a simple wooden desk and some floating shelves, but the main piece is the partial sidewall made of wooden panels. It's not cut off completely from the rest of the room and it looks excellent, and it gives you enough space to work.
Innovative Office Space in the Bedroom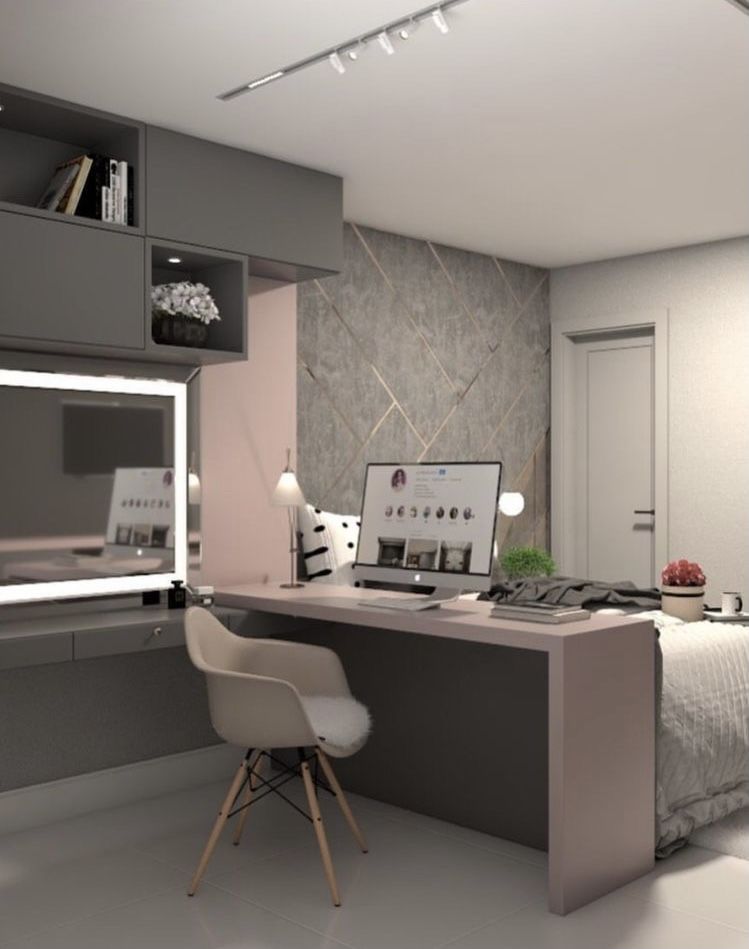 This bedroom is amazing and multi-functional. So if you have enough room, you can put the desk right behind the bed frame and make it a working space. Even better, if you have some extra room on the wall next to the desk, you can make your make-up station. The build-in is not mandatory, but if you have the space why not. Put a mirror on the wall and if you have some extra budget, put some drawers below the mirror. The room will be very useful for whatever purpose you need it.
Modern Home Office Setup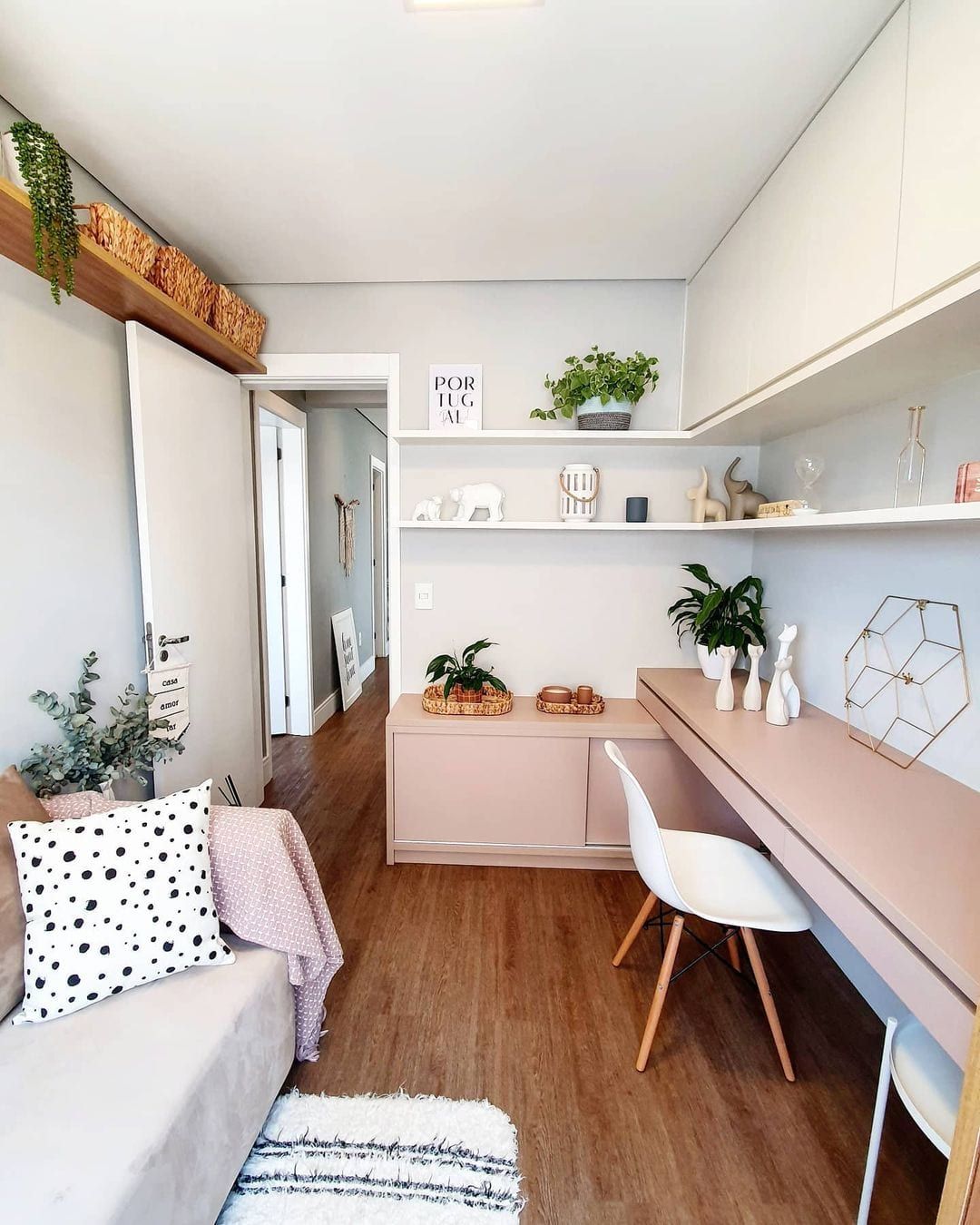 For those of you who have a guest room and can use the space as a home office, this is the perfect idea for your bedroom office. You can use the side build-ins for storage and the other side as a desk that actually has drawers as an office space. Shelves are optional, but in this workspace very useful. Of course, you can play with the details, decorations, plants, and so on.
Clean Office Space Under The Window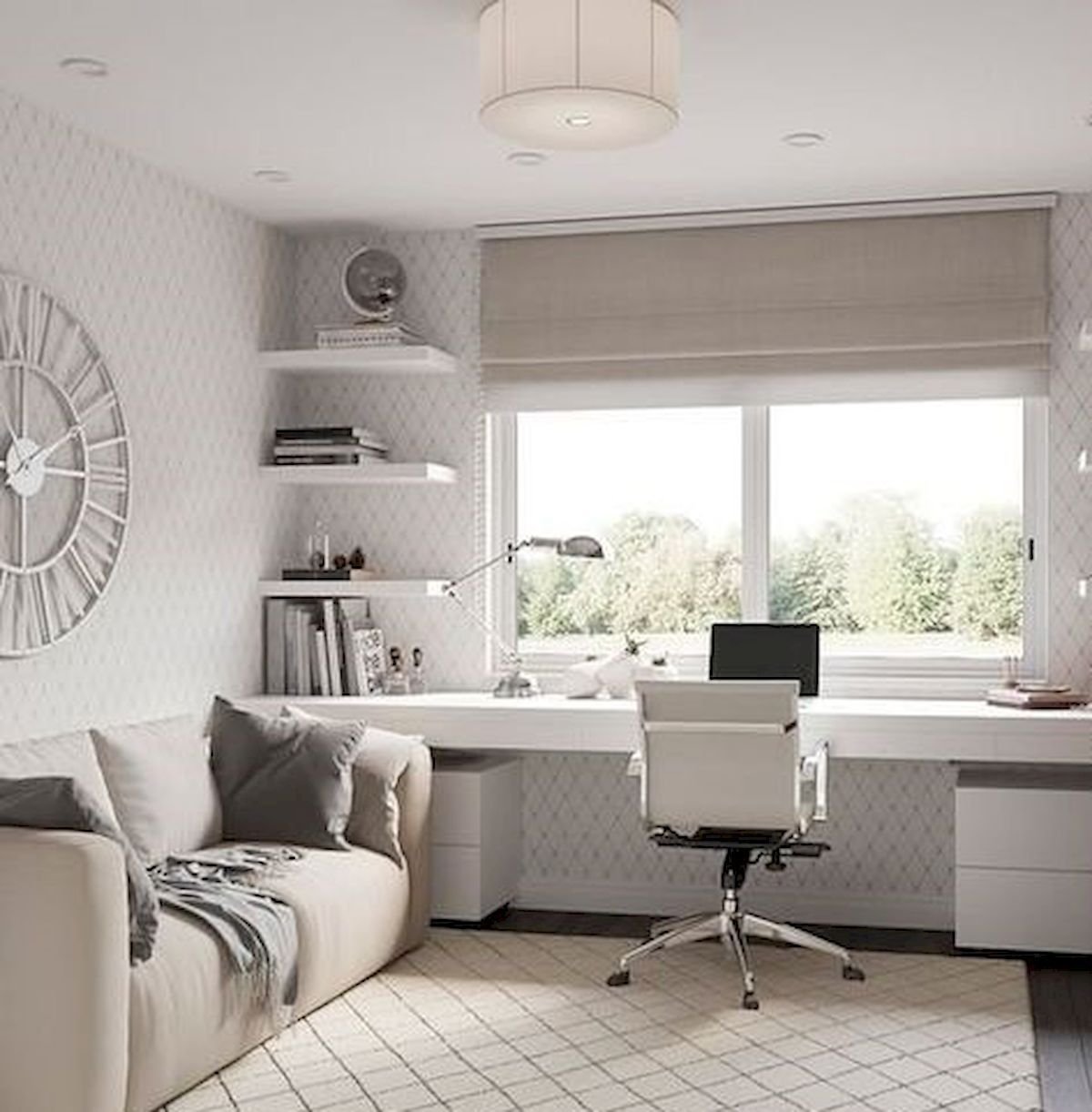 If you are one of those lucky ones who has a spacious bedroom with a big window in it, use this part of the room for your home bedroom office. You can put any kind of desk under the window, and enjoy the natural sunlight while you're working. Or if you want you can put a build-in desk from wall to wall, put drawer cabinets underneath it, and some floating shelves on each side. The sofa is optional, but I guarantee that it will be very useful for relaxing or getting your thoughts together while taking a break.
Dark Tones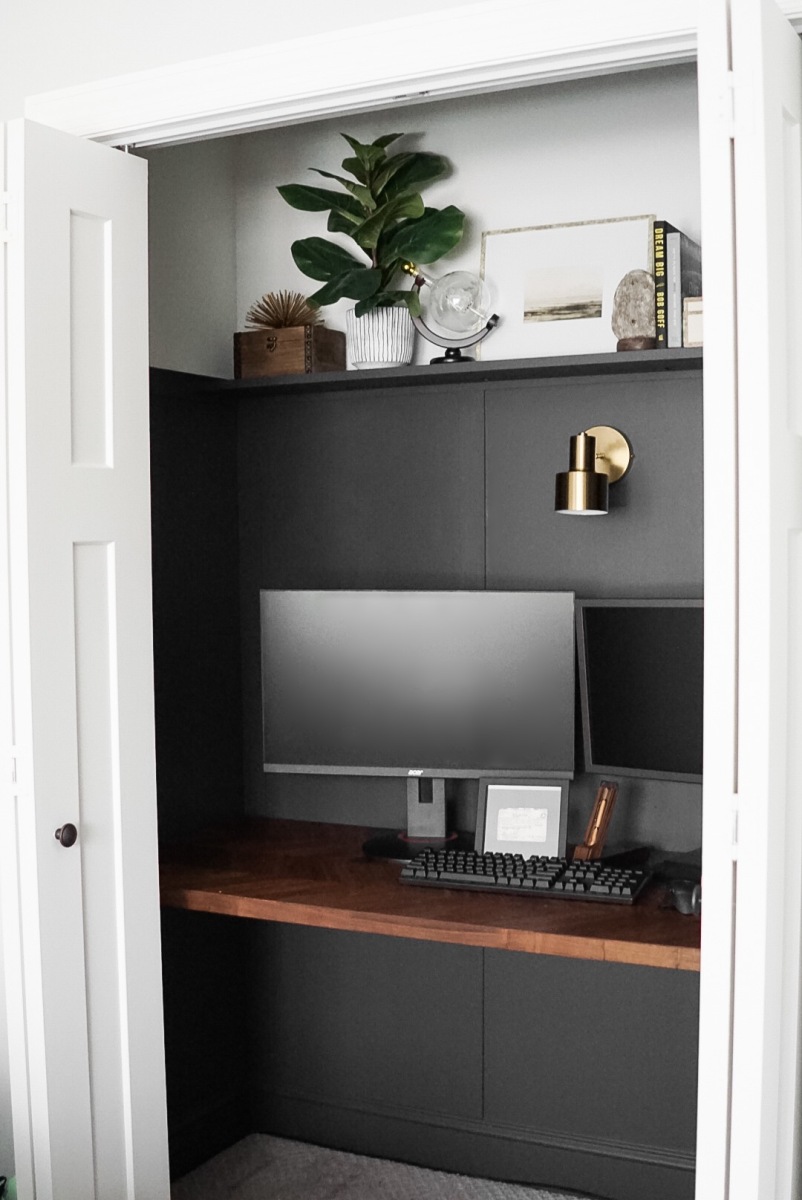 Do you have an empty closet and need office space? You probably would've never thought that this was a closet, but yes. And you can turn it into a very functional space, that is, your home office. You can paint it with darker tones to make it more dramatic and private, maybe use some panels if you like the style. And put a wooden piece to use as a desktop, and don't forget the floating shelves. You'll need a light fixture, and I'll leave the decorating to you. Picture frames, plants, candles, books, you do you!
So Fresh And So Clean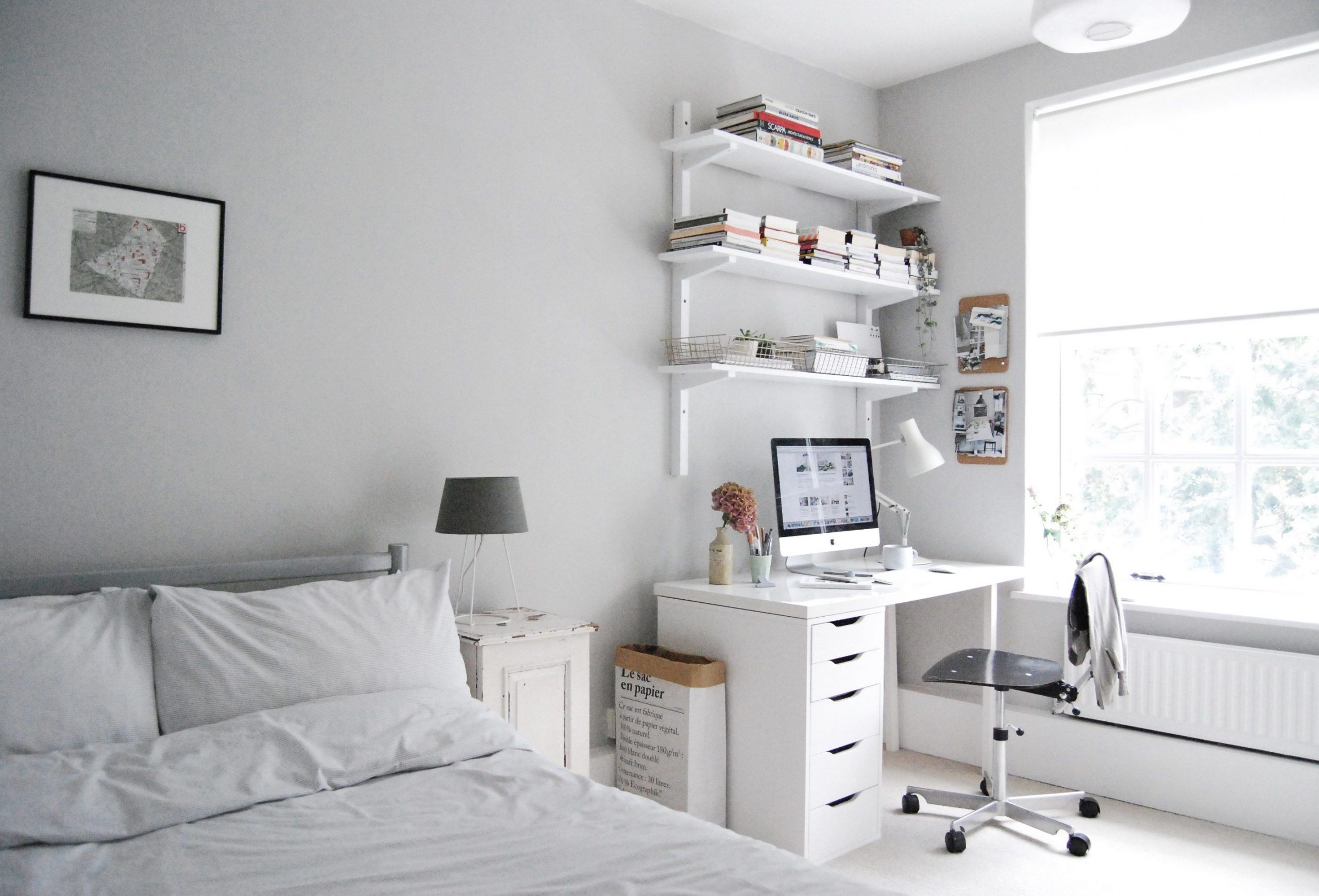 Nothing says fresh as white does. I love this whole concept, the white bedroom, the white nightstands, the white desk, and everything else. It gives you a fresh start to the day. And I think this is the perfect day to start working and give it all.
Turquoise Details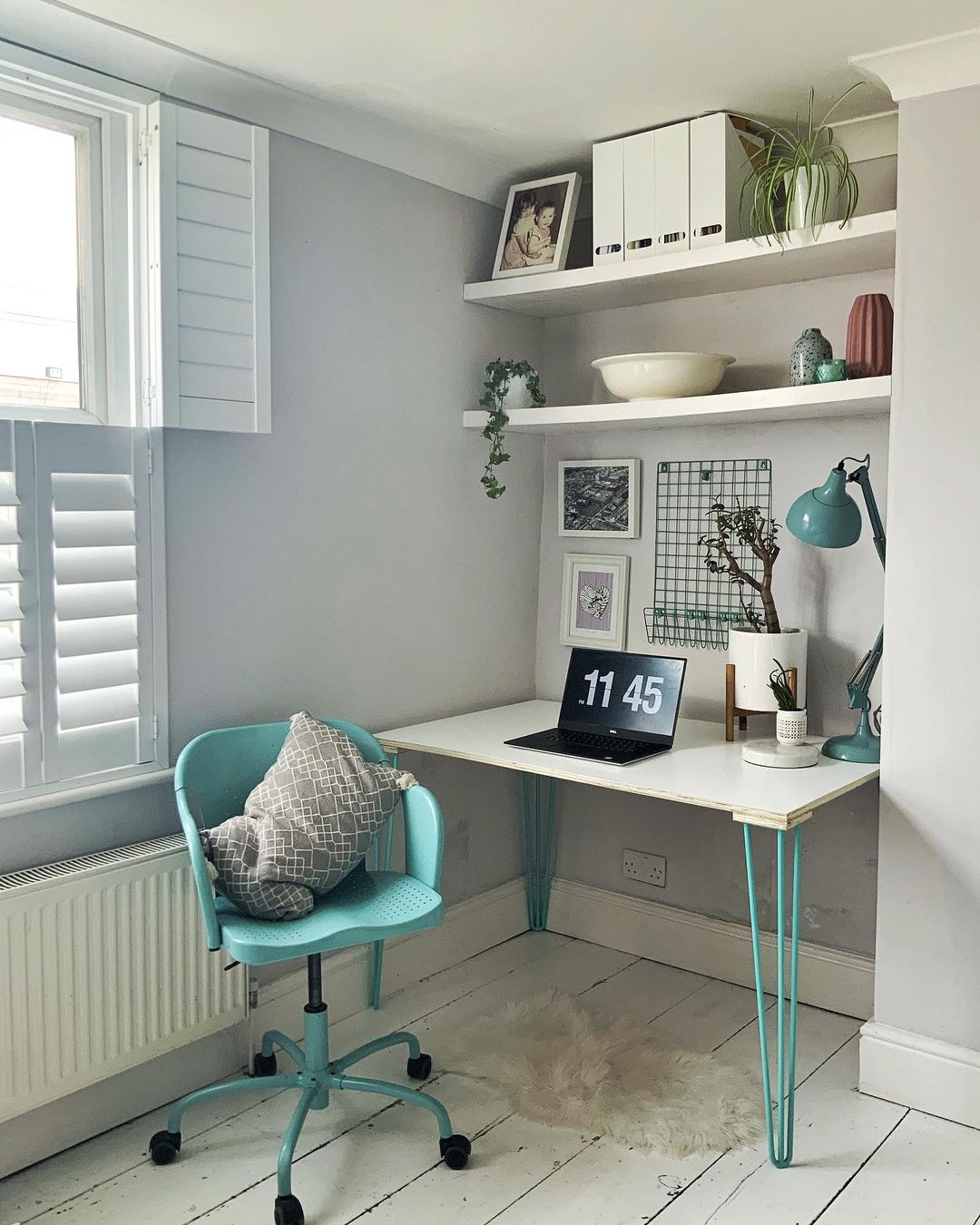 If you're dealing with an all-white space, you can always play with colors. The turquoise desk and chair, even the lamp complement the rest of the room's decor very well. Feel free to add some flowers to your favorite plants, vases, candles, picture frames. Make it personal and enjoy this space while working.
Sleek and Unique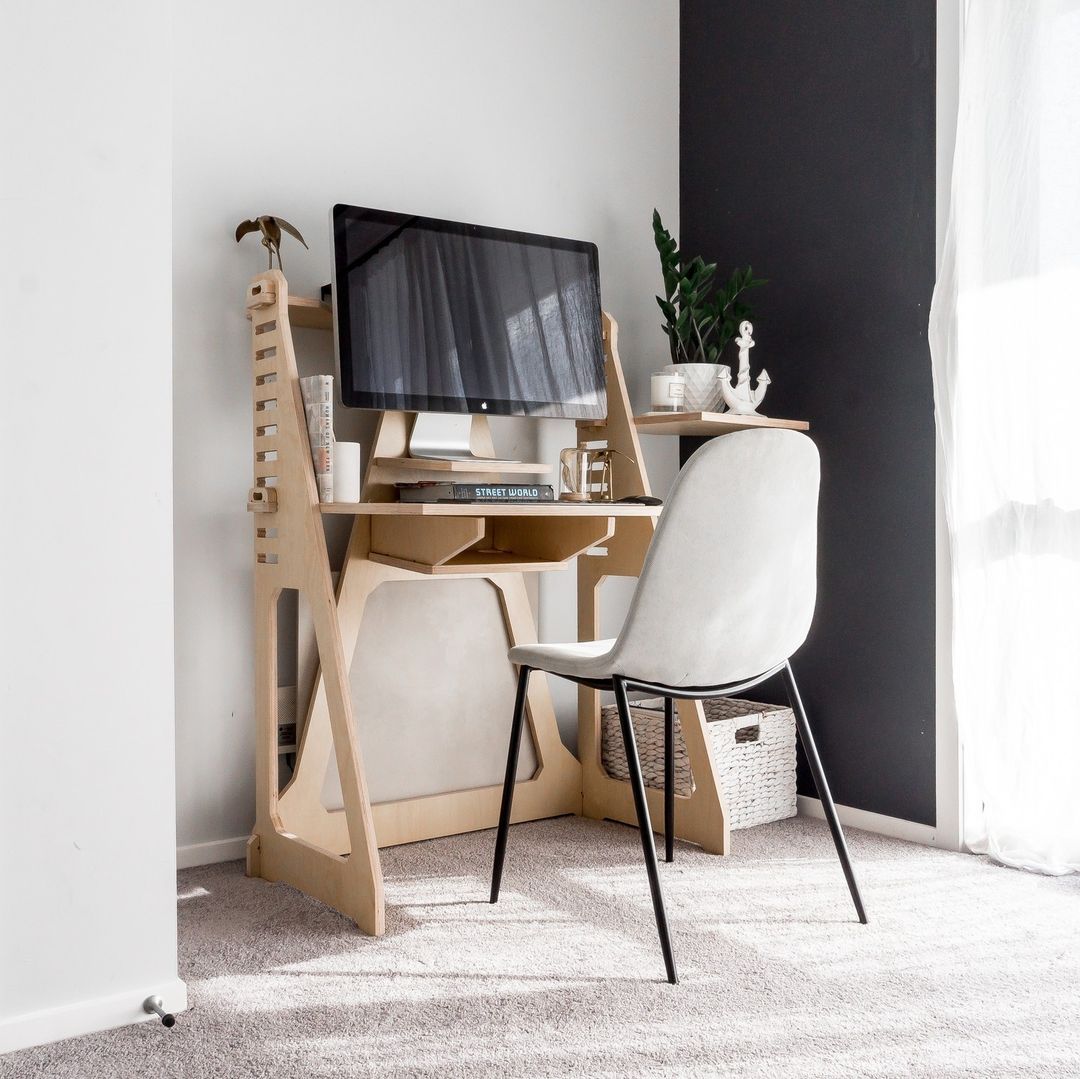 This space is full of natural light. I will not even mention how cool and sleek this desk is. The desk is so unique that it has more than enough for everything you need while working. Your personal space to create and be productive.
Boho Chic Green Office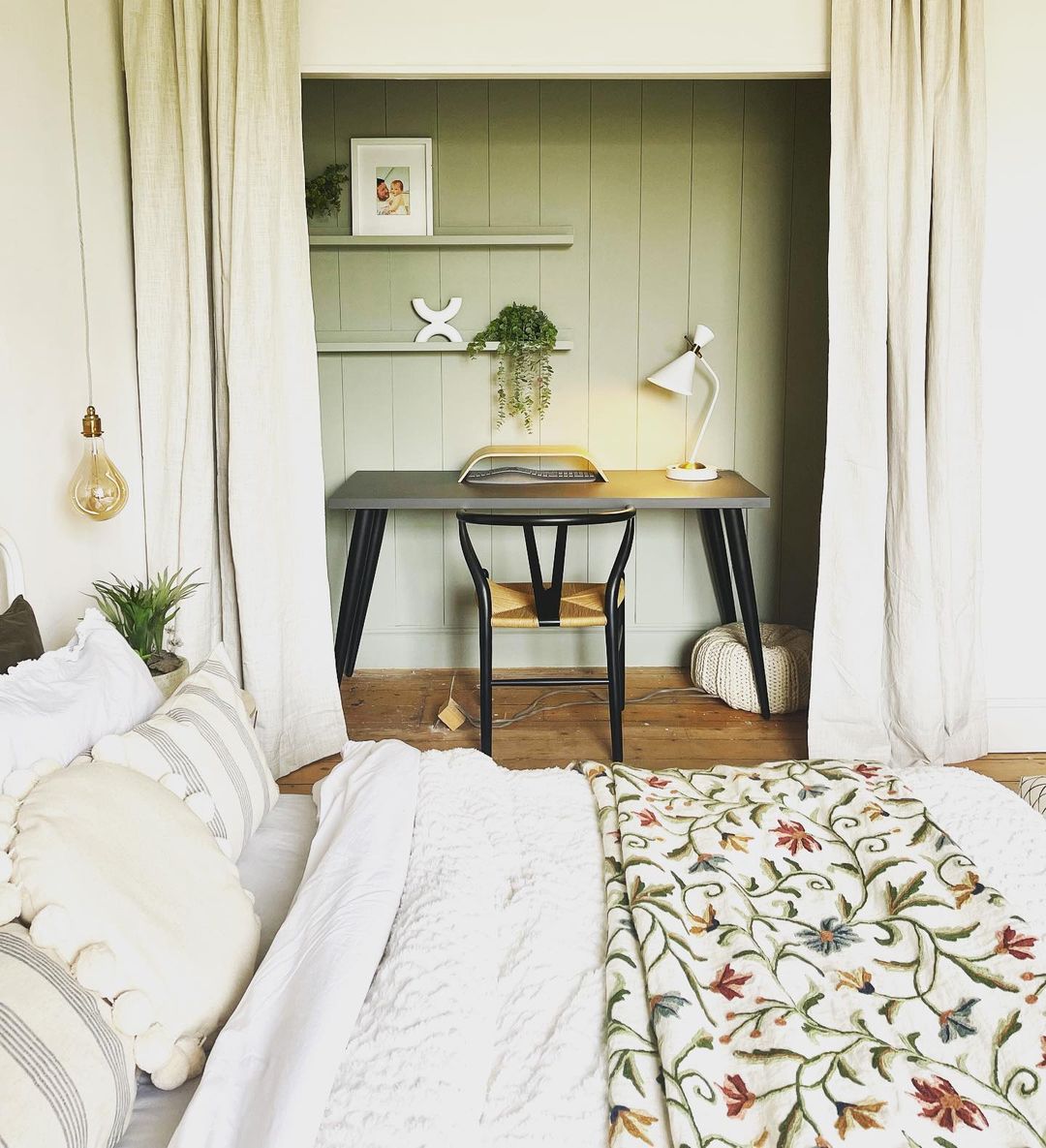 A bohemian bedroom and a home office go along well. This apartment looks effortlessly attractive thanks to this green wall and plenty of live plants. You can add some curtains for more privacy, or just to make it look chick. Besides the desk and the chair, you can add some shelves and a light fixture, of course.
Minimalist Nightstand Desk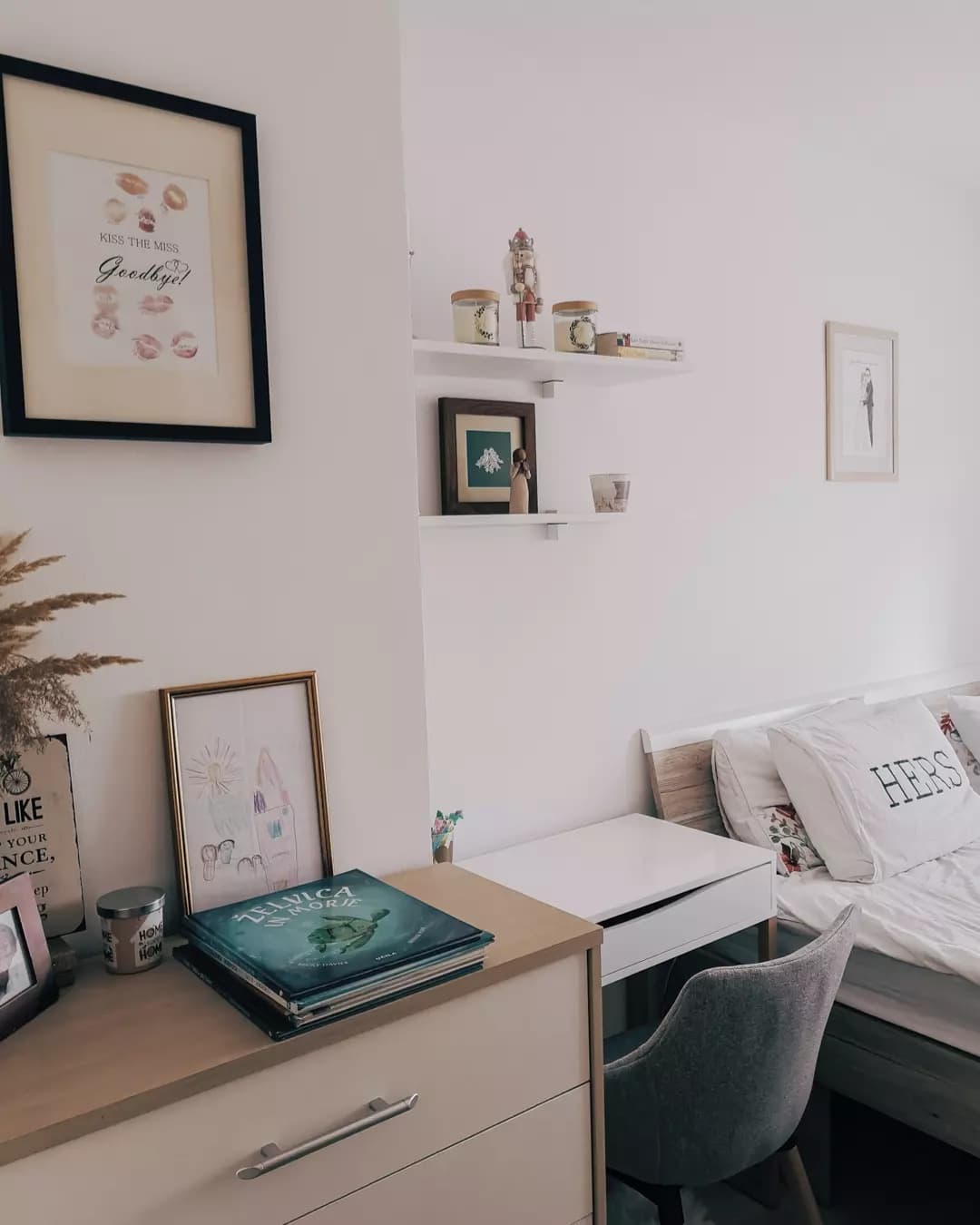 Replacing the nightstand next to your bed with a small and practical office desk saves some space and makes your space so much more useful. Very practical and creative.
Use Every Space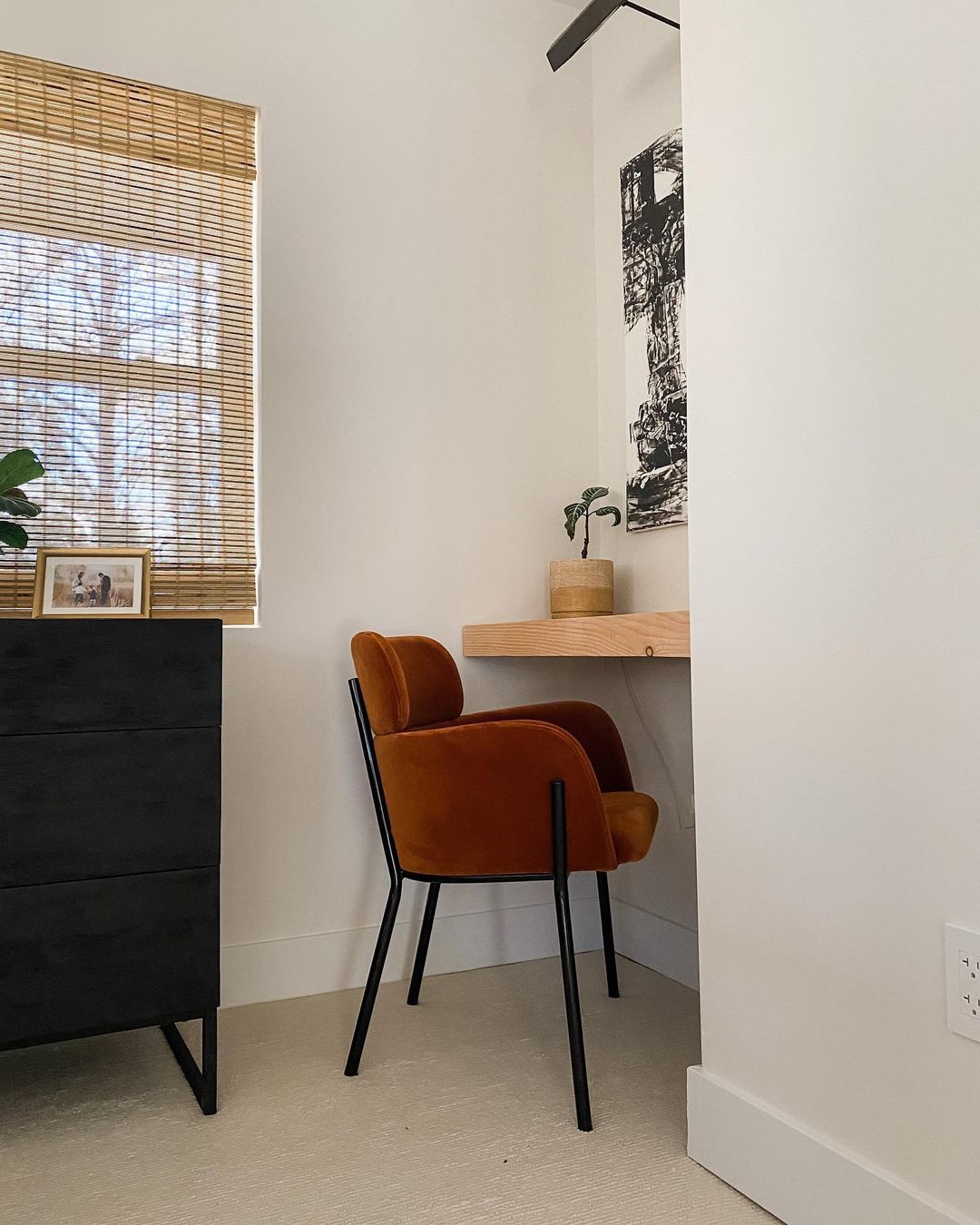 There aren't always perfectly square rooms. Some rooms have more geometric shapes, which might make decorating them more difficult. If you have a short wall, it can be an excellent location for a desk. This one is next to a window, so it gets a lot of natural light.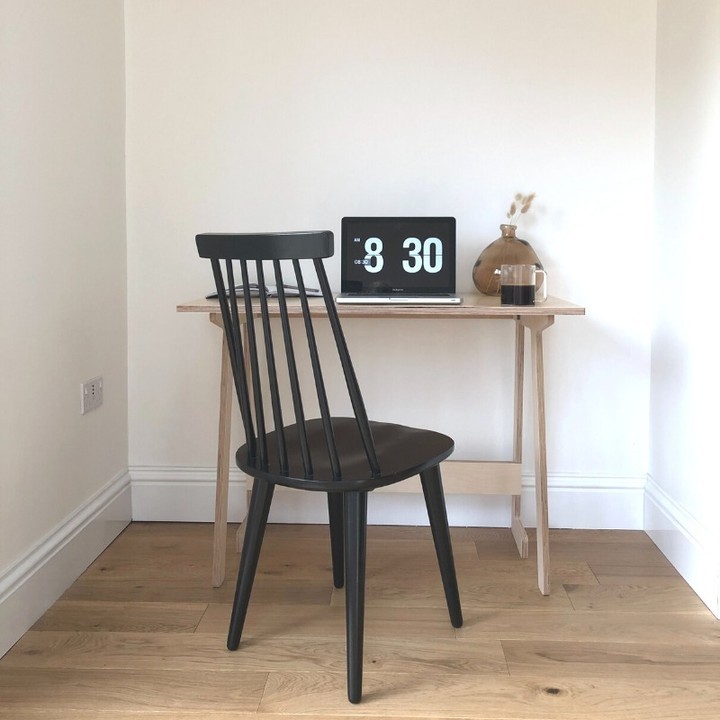 Scandinavian style is all about simplicity. So it doesn't get more simple than this: a table, a chair, and your computer. Such a clean space, a place to work and fill it with your ideas.
Cuteness In Your New Bedroom Office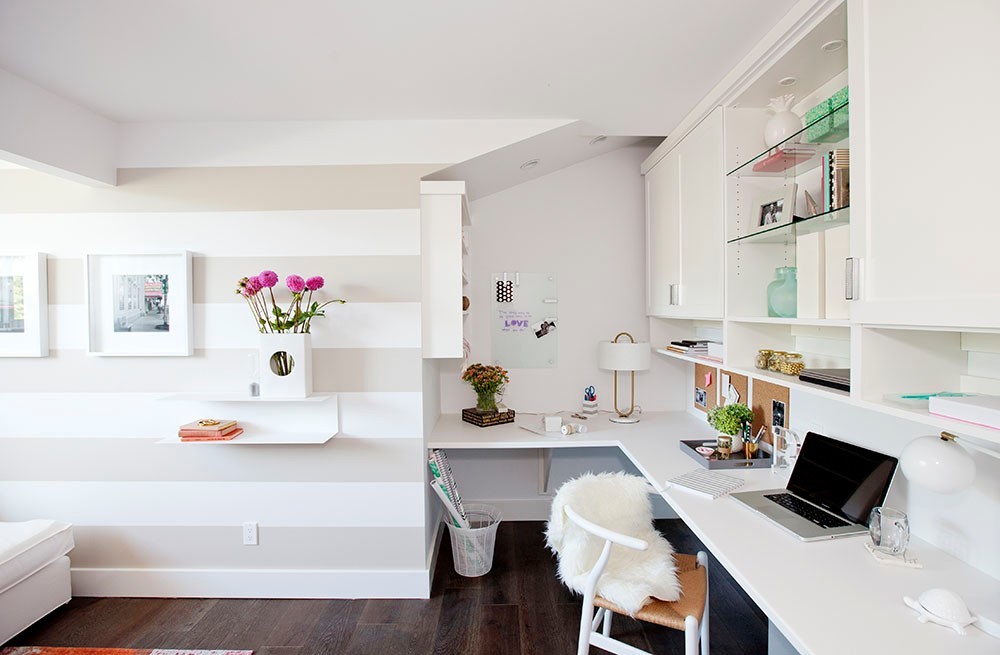 If your bedroom has become your office, clutter-free, tidy desk space in an otherwise underutilized location will help you maintain a healthy work-life balance. Choosing a built-in workstation with the same style as your other furniture will give a unified aesthetic while having the desk next to the cabinets allows for convenient access to office storage and increases productivity!  They can even make your workstation blend in with the other fitted cabinets.
Nature In The Home Office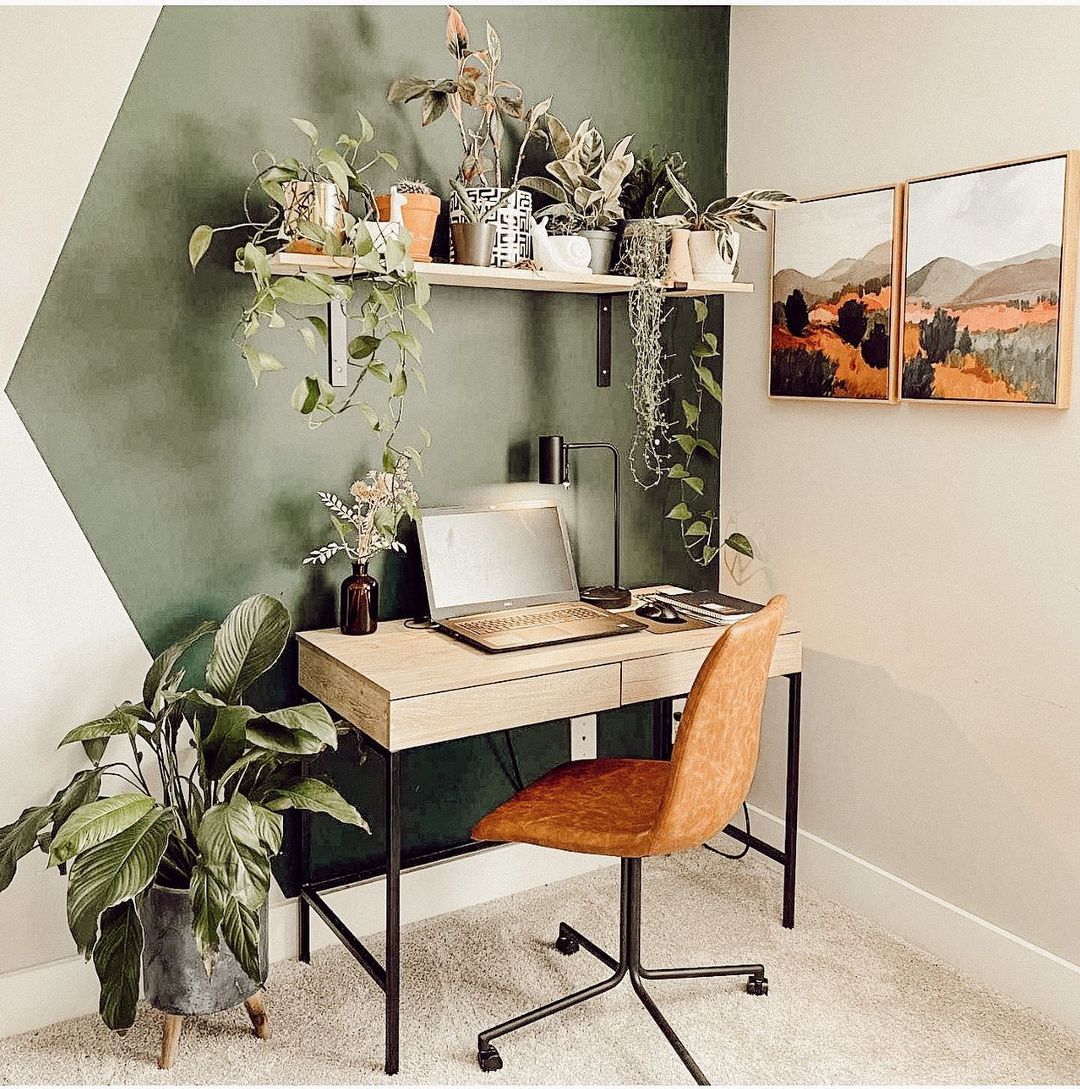 If you are a nature lover, here's an idea of how to make your personal working space. All you need is a free corner in your bedroom. First, paint the wall with some deep green color, it doesn't have to be the whole wall, you can make an interesting pattern such as this. Then put on your desk and some shelves. And then take all your favorite flowers and arrange them on the shelves, you can put some plants beside the desk or play with the space.
Awesome Gaming Desk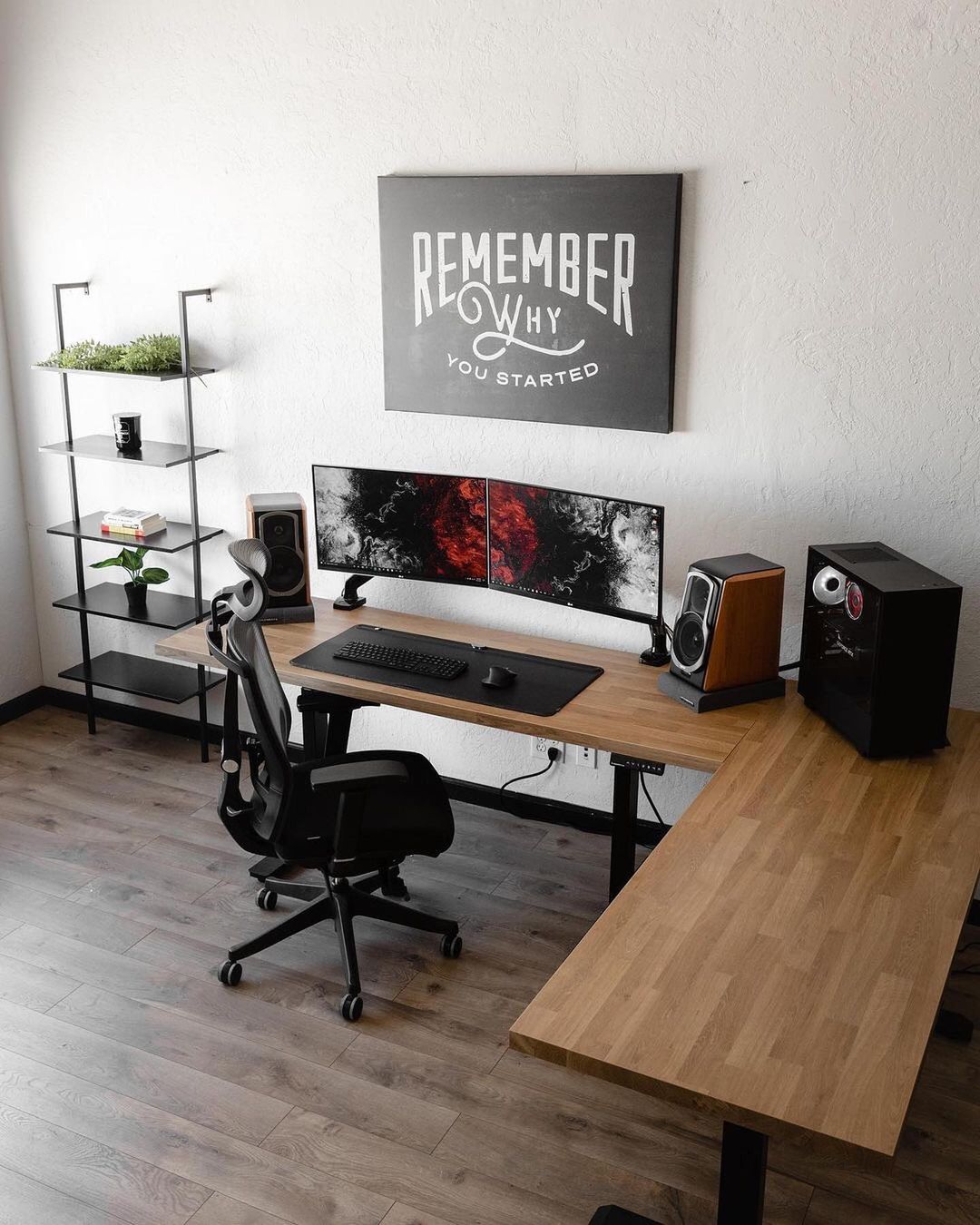 Working online sometimes feels like playing an online video game where you run the show. This corner desk is perfect for a double monitor computer and all the other things you need. Make sure you have a comfortable chair and let the working begin.
Lady Like Home Office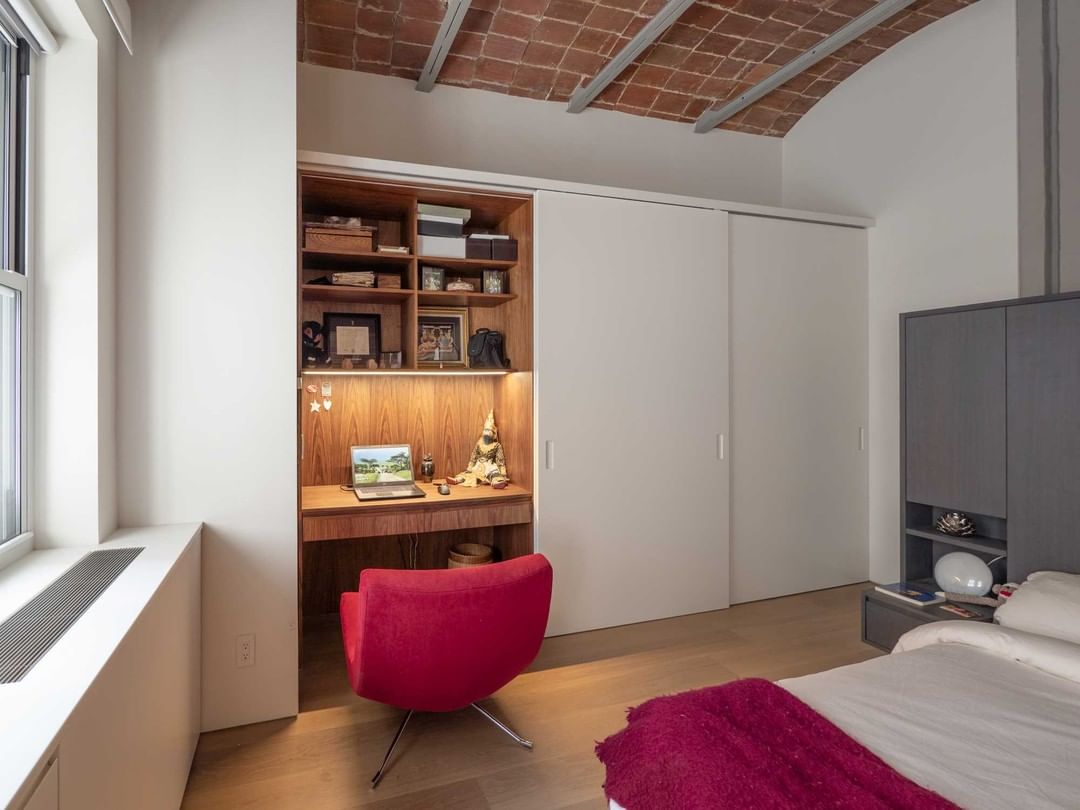 I love this room. This build-in is perfect. I love the wood between all the white elements and the chair that stands out, making the room more girly. Another thing that I really like is the hidden light under the shelf and the space above it. You can enjoy working while taking in all the natural light and this peaceful space.
So, those were my ideas for a bedroom office ideas, I hope you've found some inspiration to make your home office on any budget. sometimes all you need is a little creativity and inspiring ideas like this. Don't forget that it's really important to do what you love or do it from a place you love.
Make sure you like and share and write in the comments which one is your favorite, or maybe share with us some of your ideas for a bedroom office.