Is there anything more classic than a black and white interior? We certainly don't think so! This classic combination of colors never goes out of style. It is loved by many and always in trend. Choosing black and white for your whole home may seem a bit too much and over the top, so it's best to make one room in these colors. That room can be your living room. The living room is the place we spend most of our time at and we need to feel comfortable in it, so choose wisely. You need to make this space feel cozy and relaxed, but also modern and chic, and black and white is definitely the right choice to create a lovely atmosphere in your home. Invest in some statement pieces, like a black sofa or a white chandelier, and be sure that they will catch everyone's attention.
The good thing about the black and white design is that you can combine it with almost every color and you will create a wonderful look for your home. Whether you choose details with pops of gold, yellow, or red, this classic color combination goes with everything! Black and white can never be dull. These ideas will help you create a beautiful living room that everyone will feel comfortable in.
You can never go wrong with black and white. Get inspired by the following ideas and make your living room fabulous.
Pillow Paradise
This living room is a perfect example of how black and white design is never dull. Although the furniture and even the pillows are black and white, there is still texture and versatility.
Black Fireplace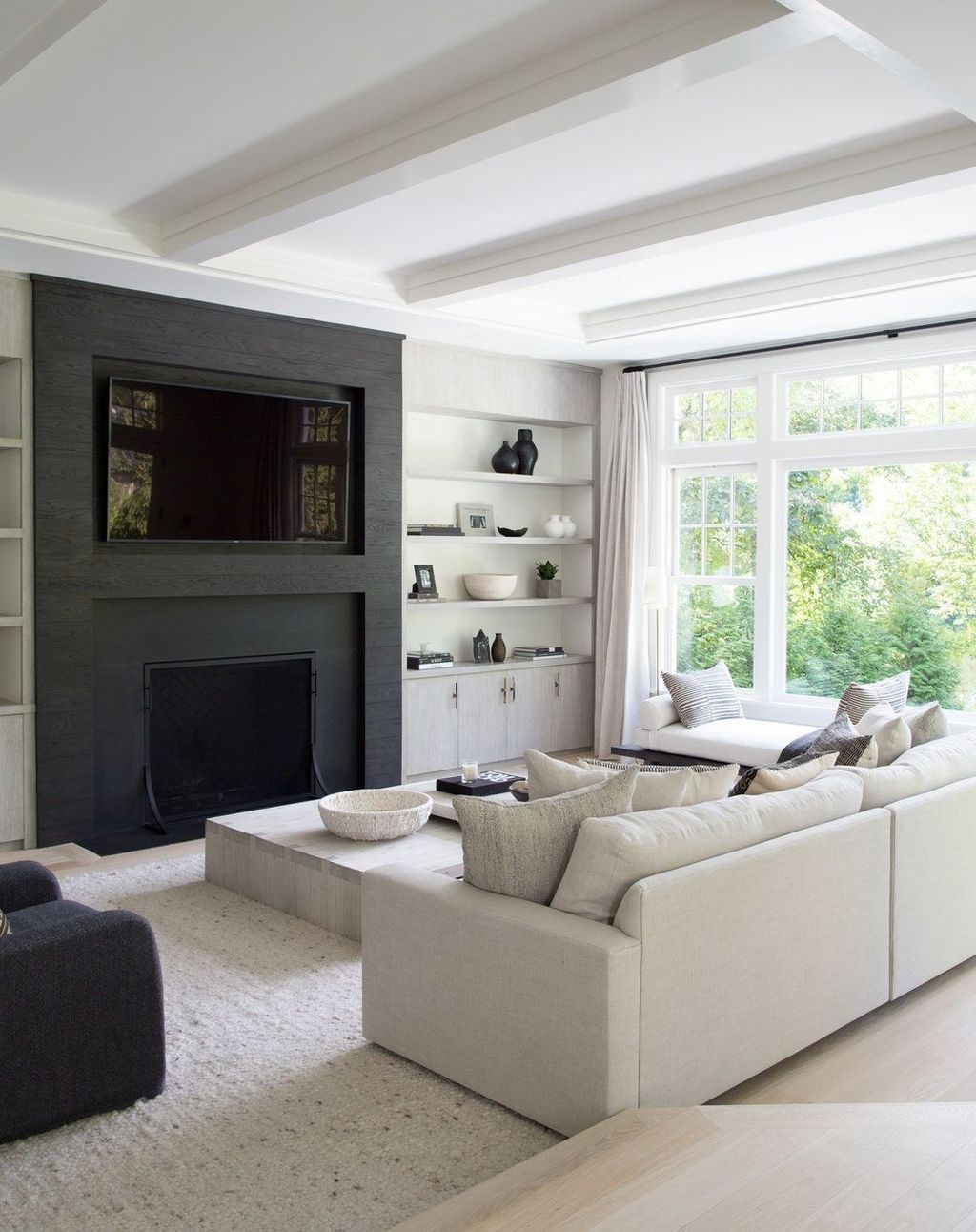 There is nothing that catches everyone's attention like a black fireplace. Combined with white shelves and a beige sofa, it makes the whole living room chic and relaxed.
Pop Of Green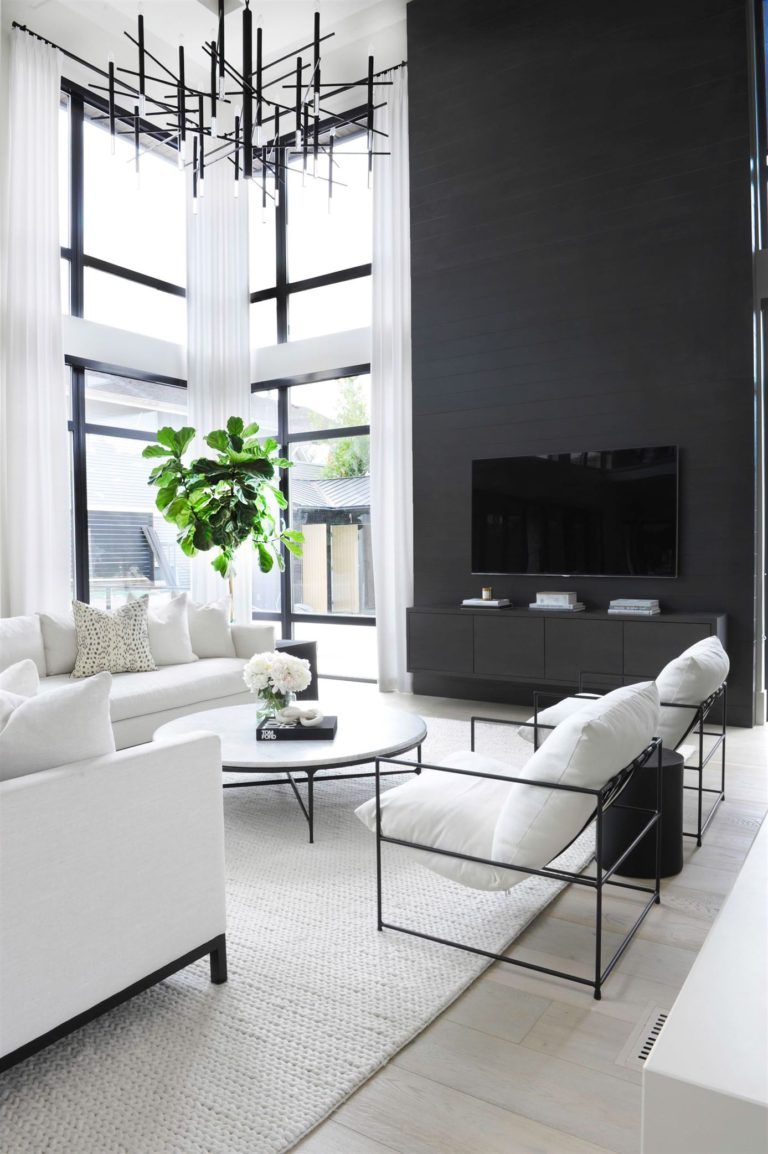 With black and white living rooms, it's always a good idea to add a pop of color. If that pop is some greenery, then the whole place will look perfect!
Nature At Home
It's always a good idea to bring nature into your home. This vase with branches makes a grand statement and brings a lovely feeling to this black and white living room.
Artistic + Modern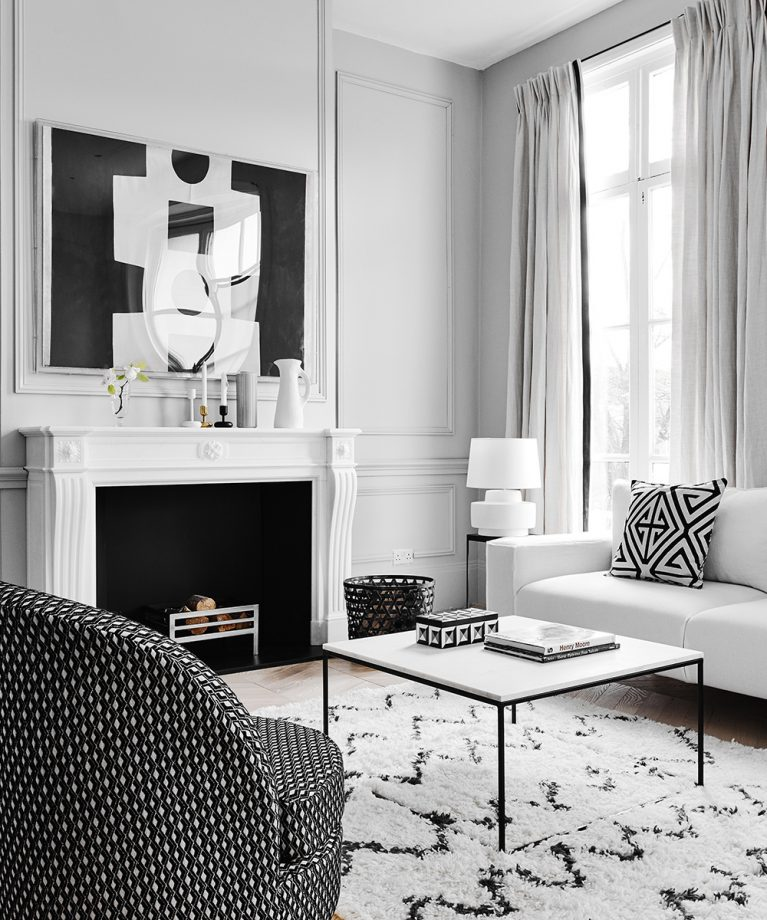 This living room is a perfect example of mastering the black and white design. Everything has its place and combined like this, it makes the space look very artistic and modern. The white fireplace just adds to the loveliness of it all.
Black Shelves and Cabinets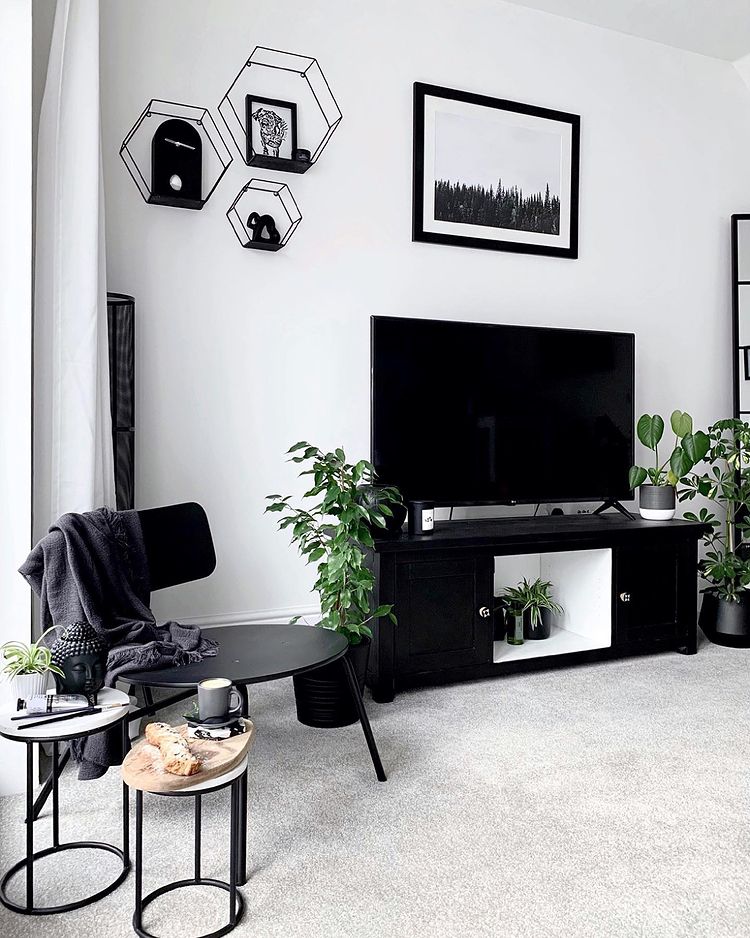 You might think that black shelves and cabinets will look dull if the walls are white, think again. This living room looks nothing but dull. The greenery just adds to the cozy feel of the room and it makes you want to stay there forever!
Pops of Color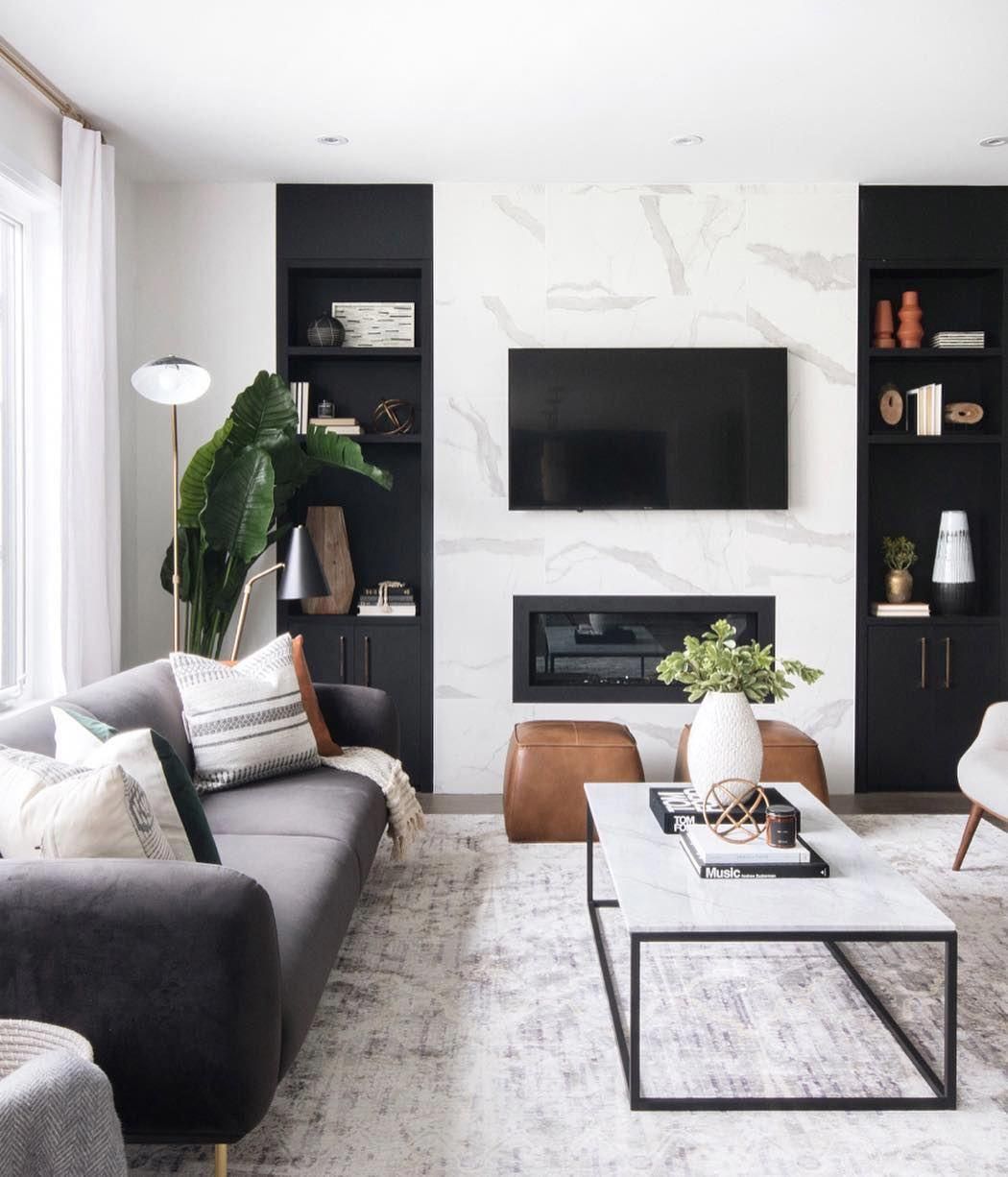 In this living room, the base is black and white, but the details are in other colors, which makes the classic black and white interior so much better. The coffee table from white marble is also a great statement piece.
Black and White Perfection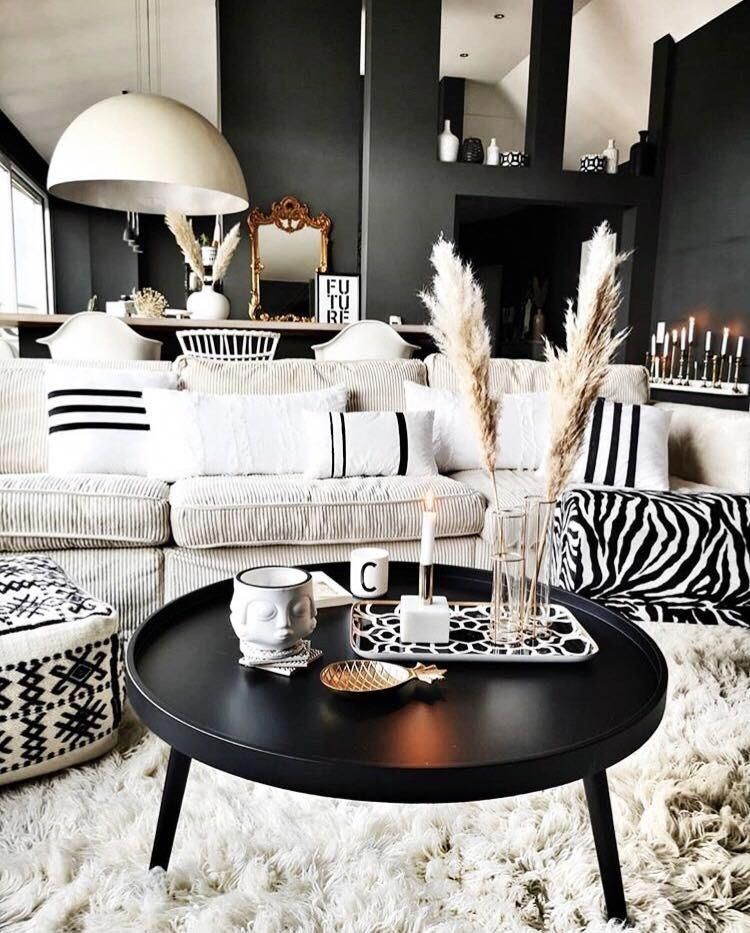 When you look at this room, don't you want to teleport and snuggle up there? We know we do! Almost everything is black and white, but the different textures make the room look versatile and fun.
Black Furniture + White Orchids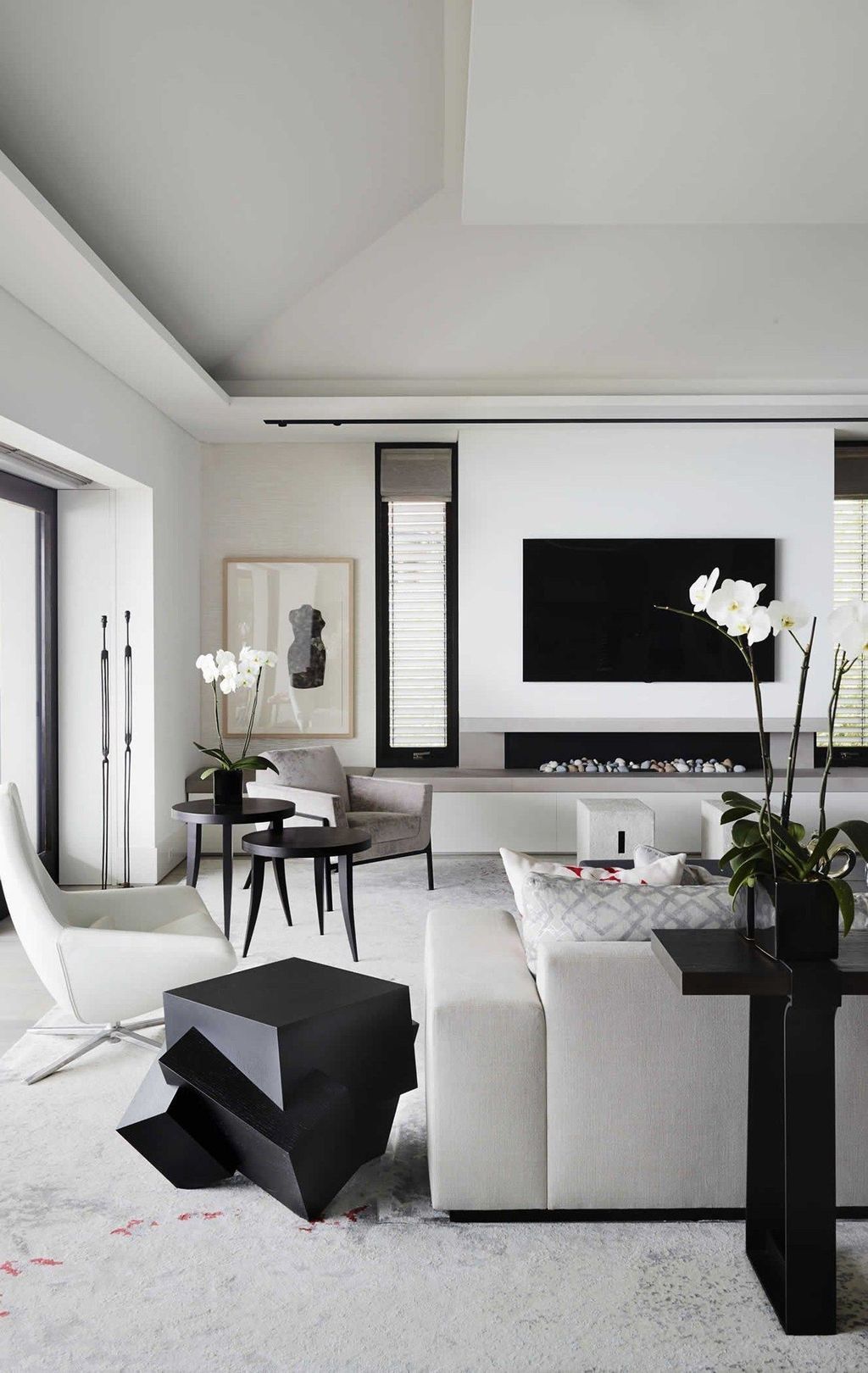 If you want even your plants and flowers to be black and white, white orchids are the way to go. They instantly boost the mood and add an elegant note to any space. They also give great contrast to the black furniture, especially the black coffee tables.
Gold Details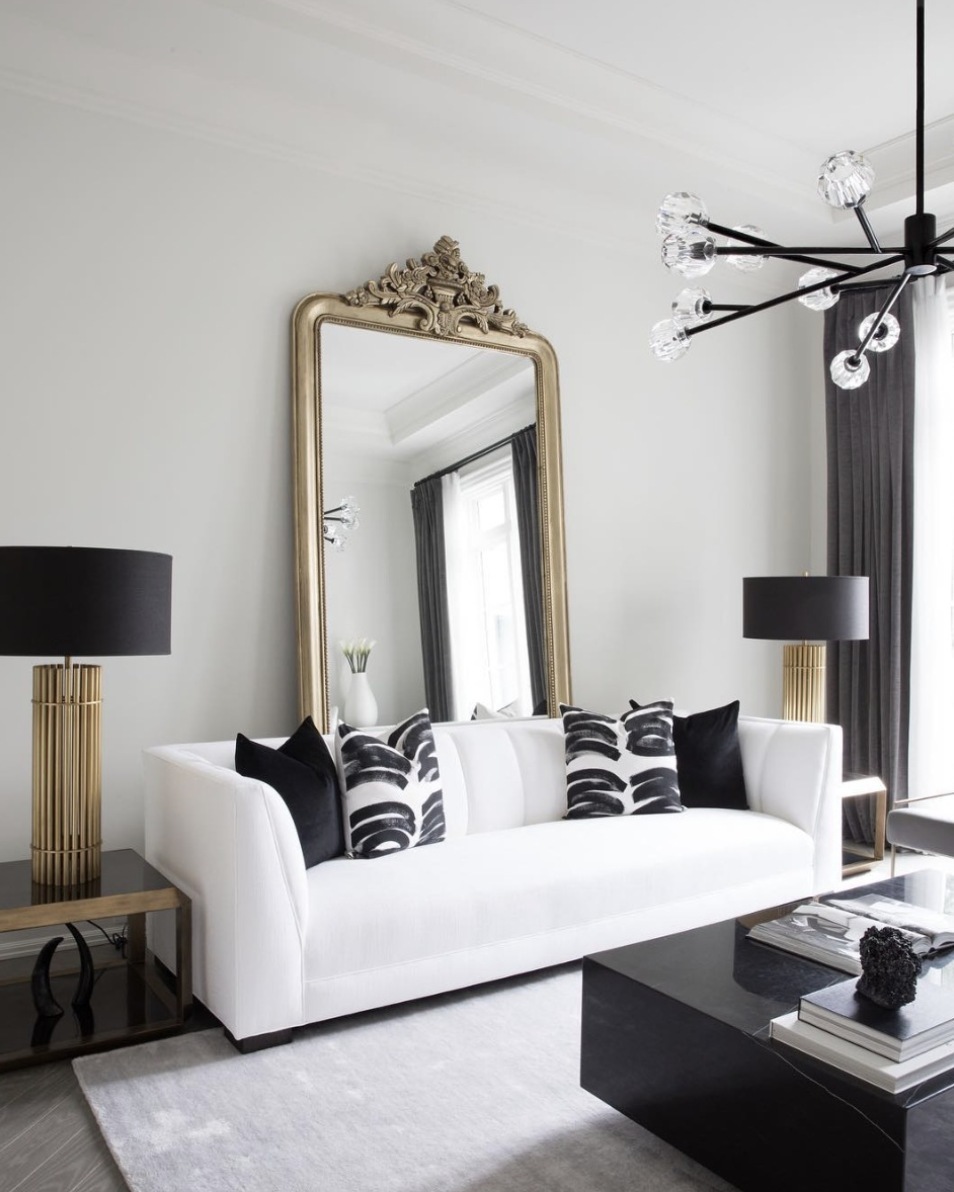 Even the interior design professionals agree that the most elegant way to combine a black and white living room is to add gold details. You can do that by adding a mirror with a gold frame or gold side tables with modern table lamps.
Black and White Luxury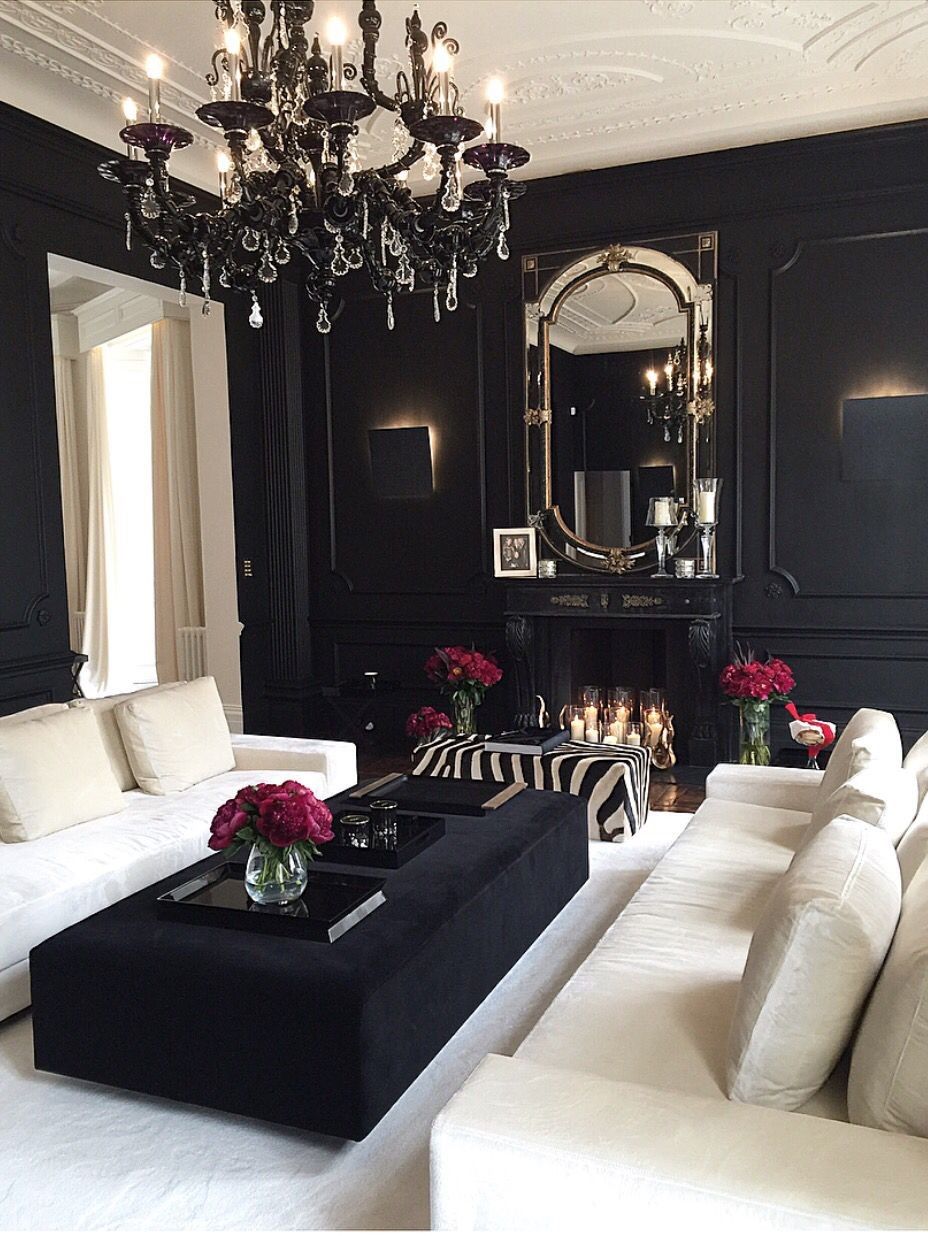 A black and white design is perfect for creating luxurious rooms. White sofas can be hard to clean, but when they are combined like this, they look absolutely perfect. The black panels on the wall accentuate the room nicely and add to the luxurious look.
Pops of Yellow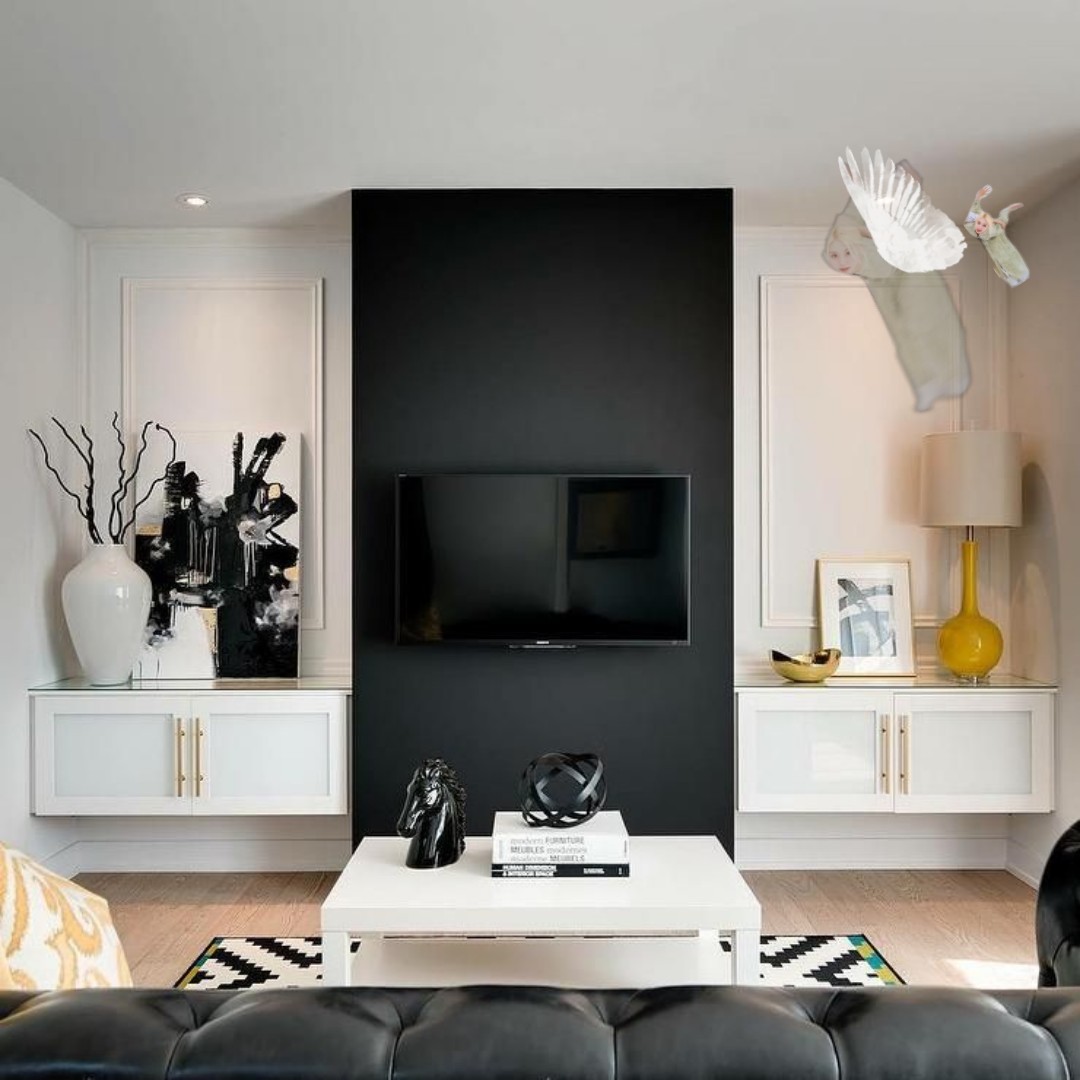 This living room is the epitome of simplicity and elegance. It all looks very well put together and in perfect order and the pops of yellow light up the whole room.
Zen Living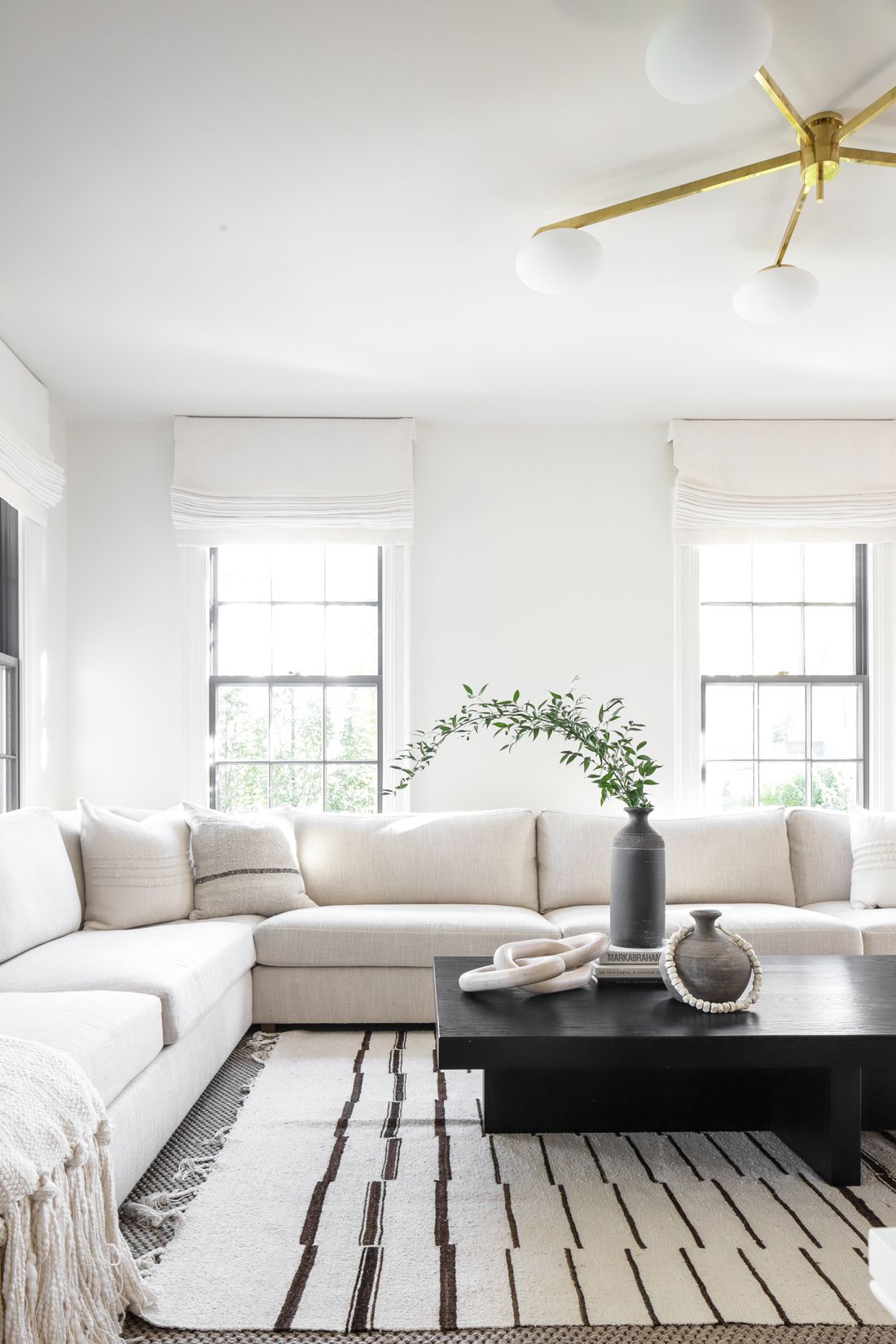 A beautiful living room – clean and simple, just like our minds should be. That's why this living room looks like a place for meditation. The classic combination of black and white makes this room inviting and relaxed.
Eclectic Design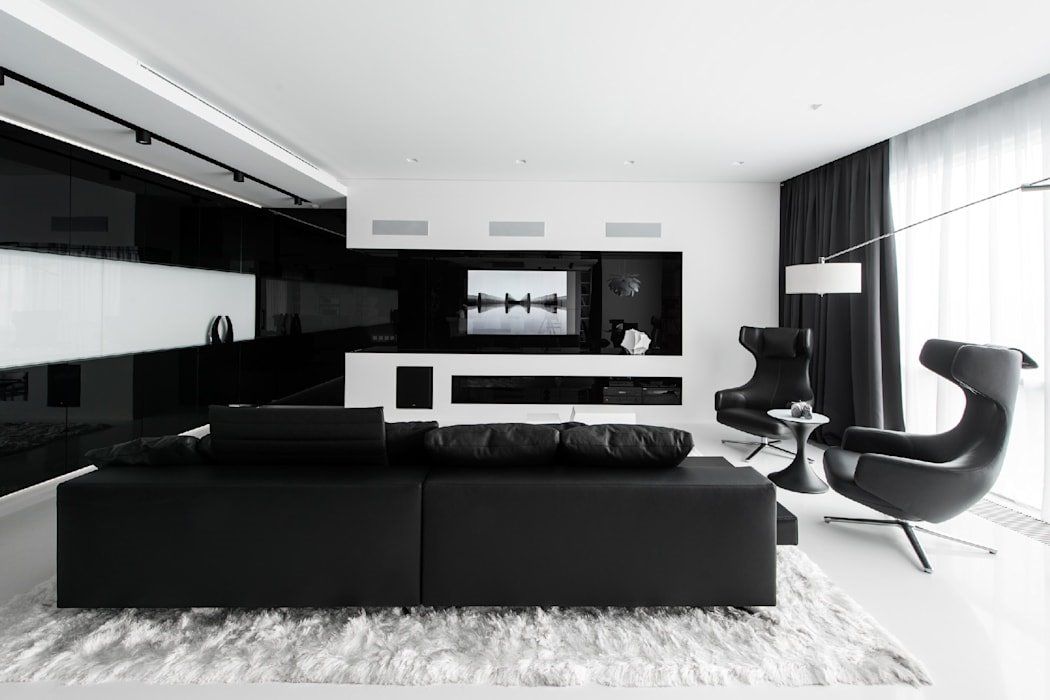 By now, we can all agree that black and white design can be incorporated in any home and to everyone's taste. If you are more into modern and eclectic interiors, get inspired by this living room and all the details in it.
Elegant and Classic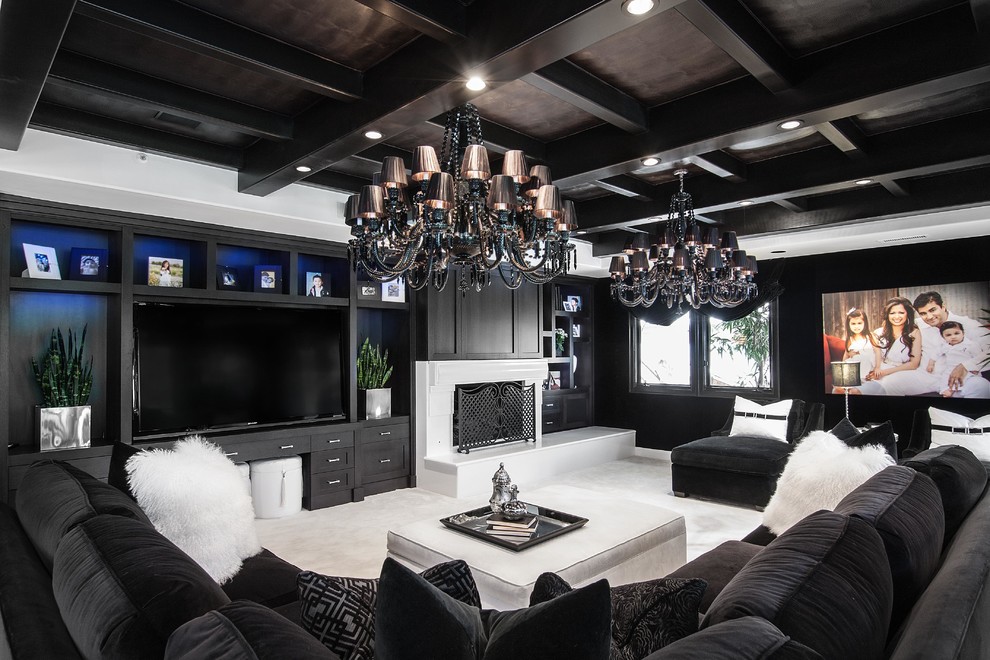 Although mostly black interior in a living room may seem a bit dark, this room looks very warm, spacious, and bright and has a kind of elegance to it. The chandeliers are the statement pieces, while the white, fluffy pillows make the atmosphere cozy and relaxed.
White Walls + Black Beams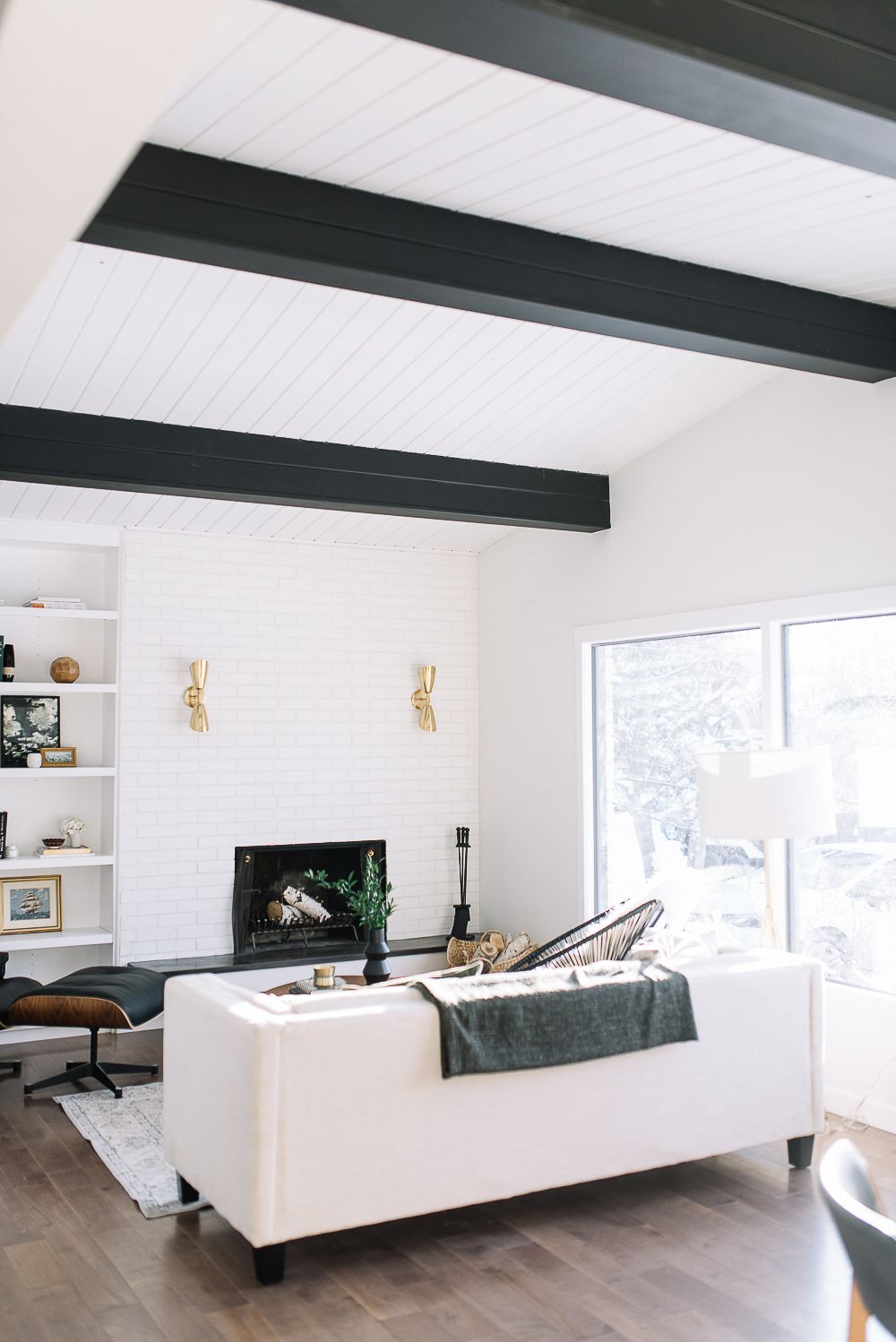 Exposed beams on a ceiling are one trend that never goes out of style. These black ones are the perfect contrast to the white walls and the white sofa. The whole living room looks very inviting and chic.
Black and White Gallery
In black and white living rooms, a black and white gallery is a great way to accentuate this color combination. Get inspired and be playful.
We think we can all agree that black and white living rooms will never go out of style. If you choose this combination for your home, you will not regret it. Have fun and don't be afraid to experiment. We hope these ideas will help you decorate your home in the way you want to. Share your favorite black and white living rooms in the comments and have fun decorating!