One of the places where the whole family gets together in the house is the kitchen. It's the place where you prepare meals, eat as a family, and even entertain guests, and have so much fun. There's a boatload of imaginative design ideas that may make you love your kitchen much more, whether you live in a small apartment or have a magnificent layout equipped with a wide marble island, spacious cupboards, and slick equipment. When it comes to remodeling your kitchen, there are two main design techniques you might follow. One of the most important things is to incorporate a wonderful piece of wall art to show off your flair and change your cooking environment with practical, affordable updates that won't break the bank. It's good to spend some time determining which option is best for your present lifestyle and budget.
If you're looking for some decorating ideas, have a look at this collection of kitchen wall decorating ideas. Every type of interior design enthusiast will find plenty of expert-approved suggestions and ideas. Colorful design schemes with bold paint colors will appeal to maximalists, as would minimalist layouts that are unquestionably ageless. The design options are limitless. All you have to do now is begin dreaming about decorating your ideal kitchen.
Family Signs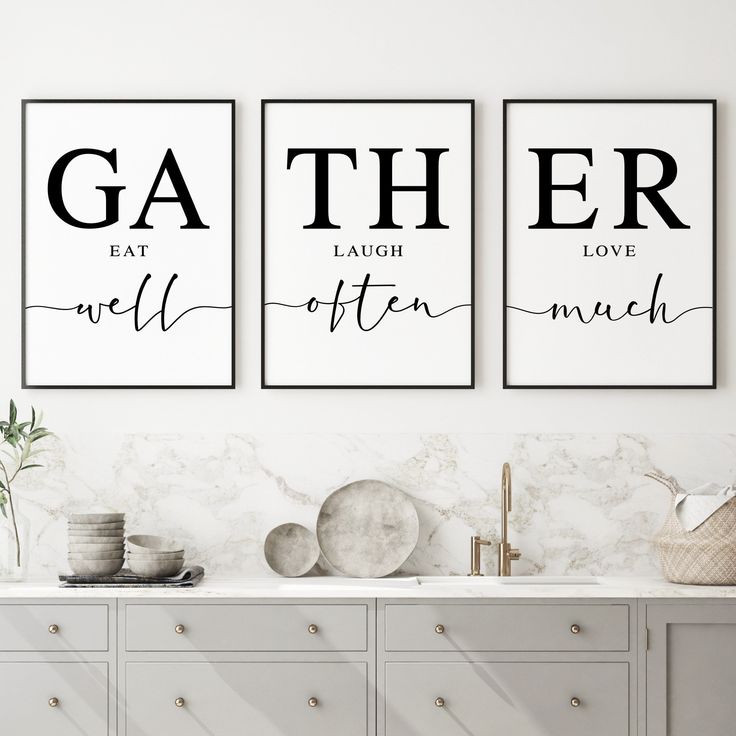 This lovely kitchen has a beautifully filled-up space with family signs. The meaning behind it is heartwarming, the simple reminders to always be together as a family at least for one meal a day, and enjoy each other's company. And yes, reminders to eat well, to laugh often, and to share much love.
Fresh Herbs In Your Kitchen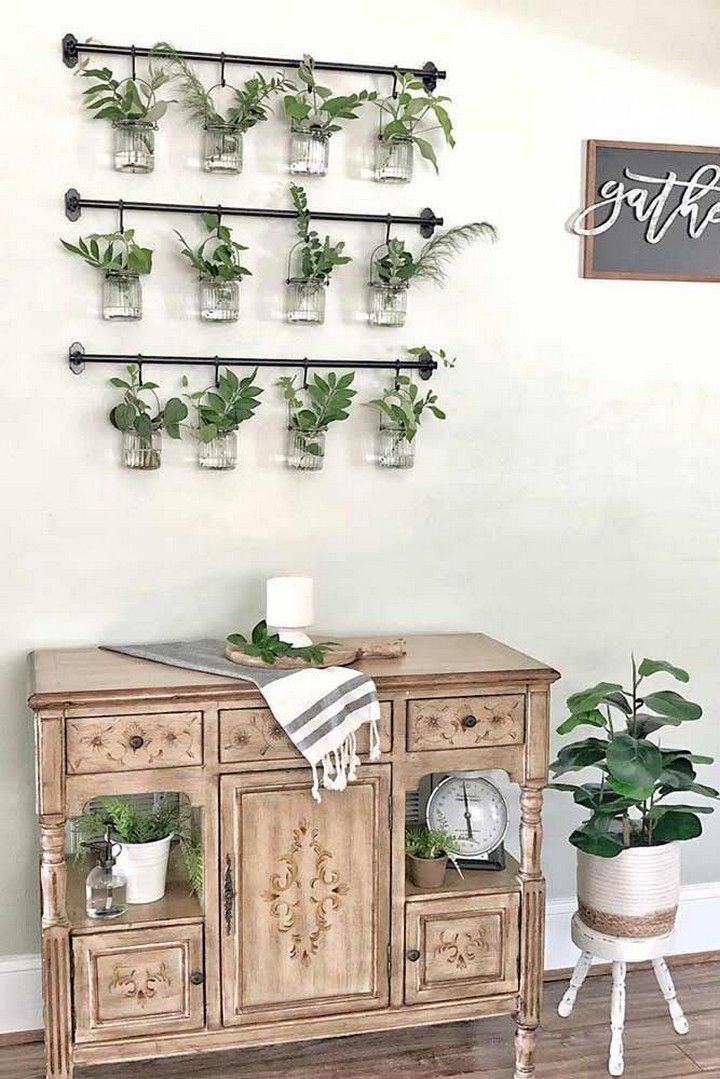 If you enjoy having fresh herbs in your kitchen then this is the perfect idea not just to decorate your wall, but to have a useful thing in the kitchen as well. You can use wooden or metal racks on the wall and hang glass jars with water and just put all your favorite fresh herbs in it, and you're all set.
Floating Shelves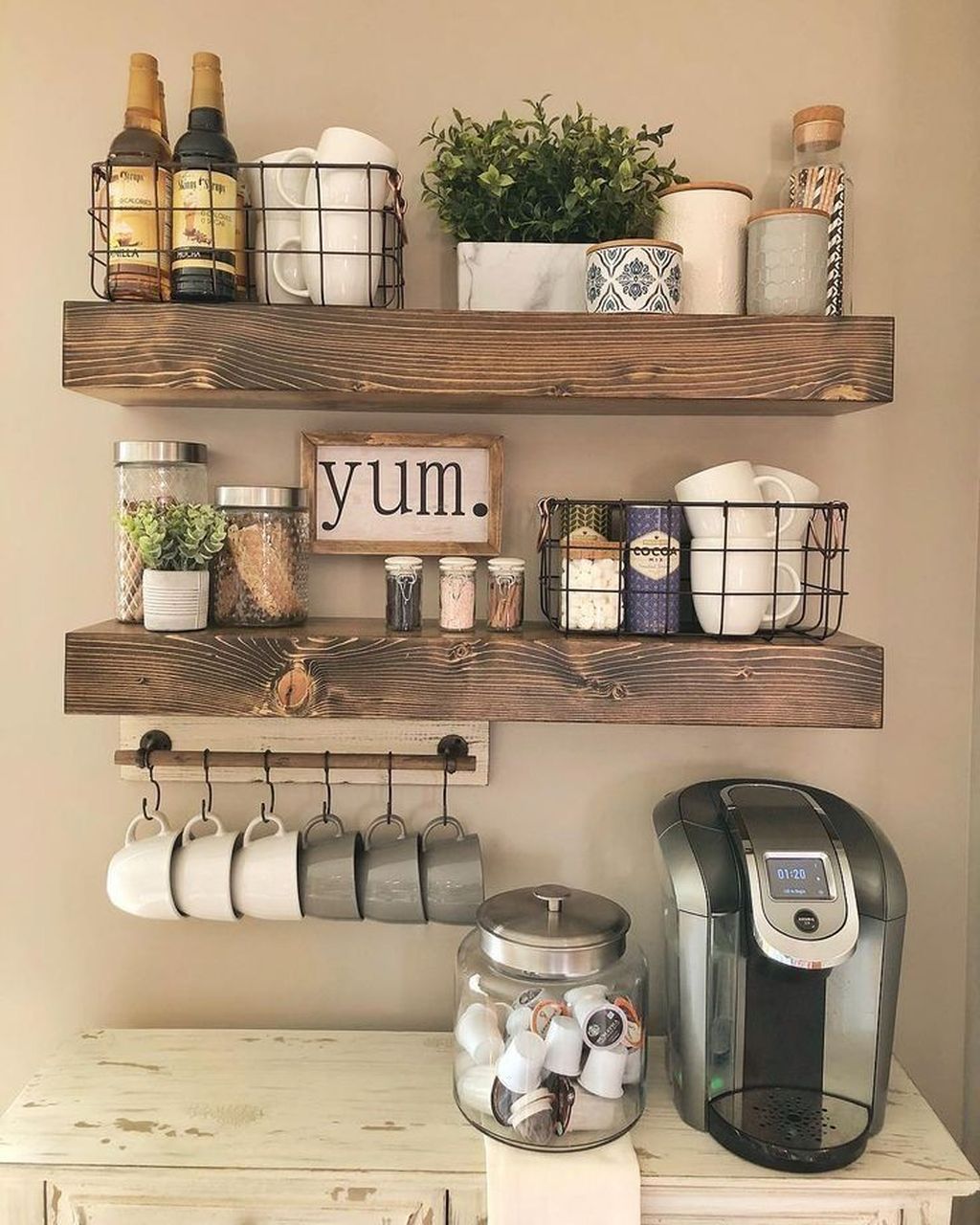 Floating shelves are very popular these past years and I have to admit, they look very nice and are very space-efficient as well. In this case, they're used as a coffee corner. Put on your coffee maker, favorite coffee cups, sweeteners, coffee spices and make sure on the top shelf there's some rum or something extra to spice up your coffee. And of course, enjoy it!
Metal Racks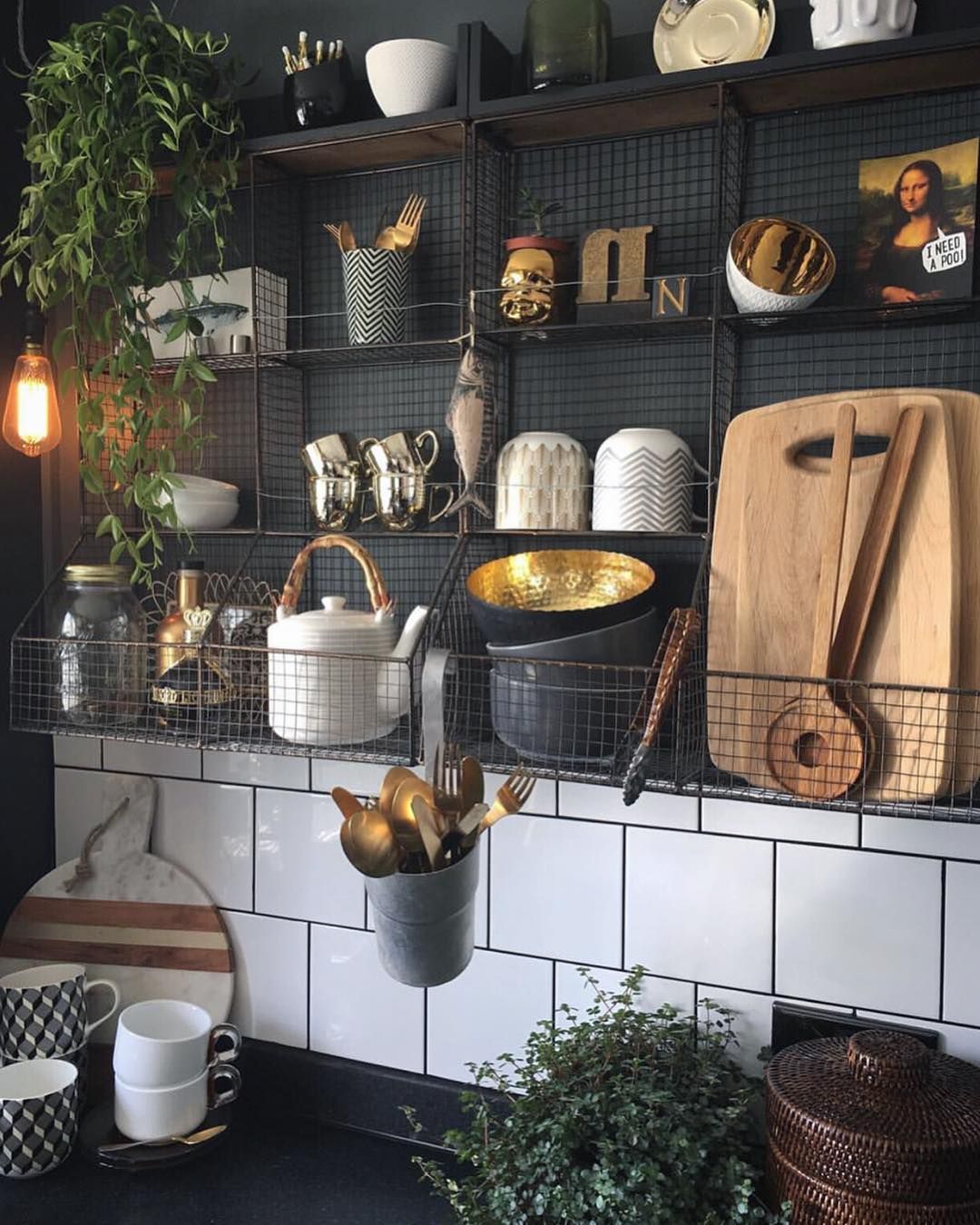 If you're tired of your old shelves and need a change, metal racks and shelves are all you need. You can use them for a lot of things, and the best part is that everything will be on display. You can make sections of it and put plates, coffee mugs, cutting boards, utensils, flowers, decorations. In this particular section, I love the color combination of black and gold, and the plants as well.
Decorate Your Empty Ladder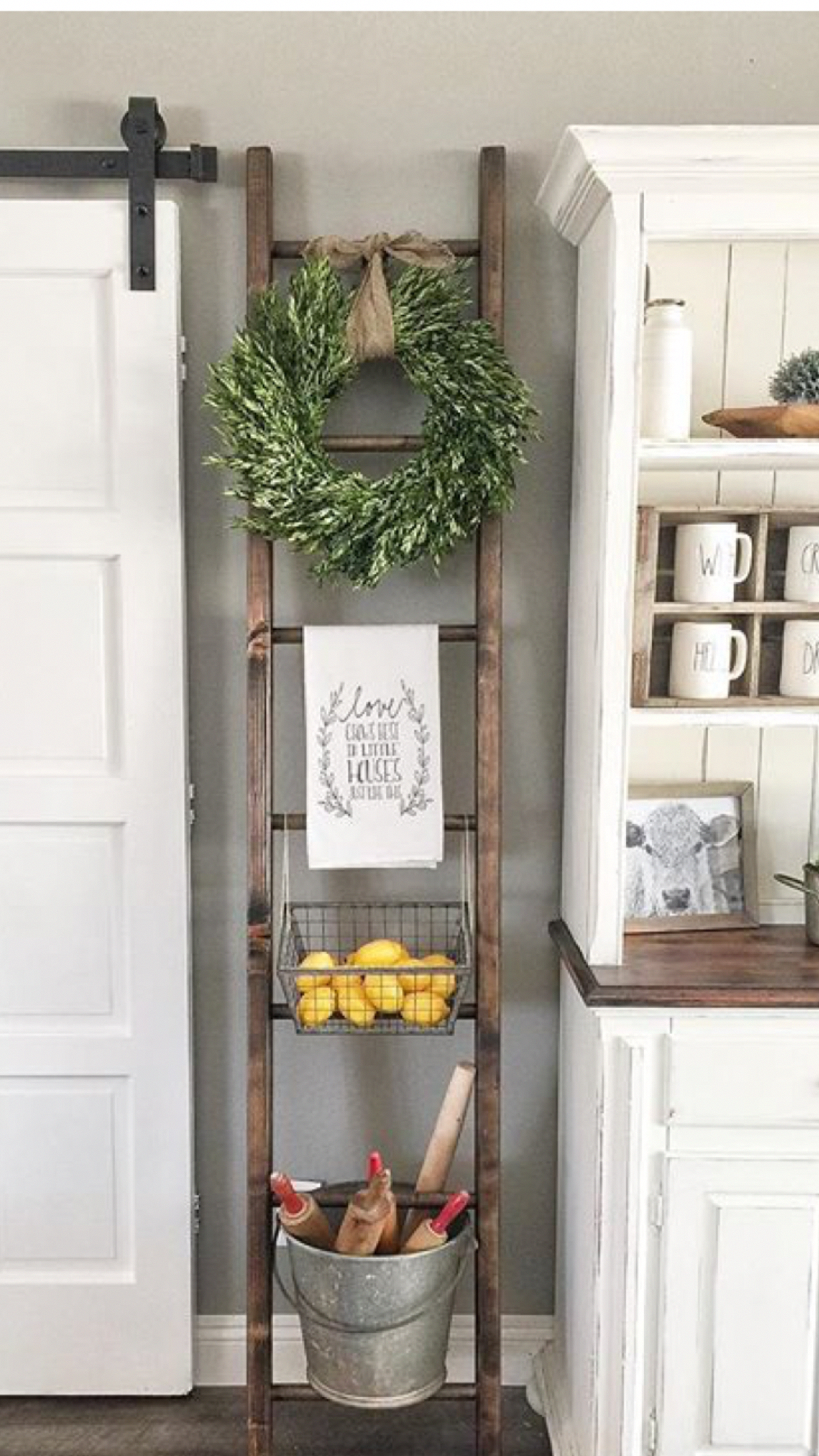 Everyone uses these kinds of ladders as a decoration and as blanket holders, but this is an idea to use them in the kitchen and it looks amazing. You can put a small Christmas wreath, your favorite towel, put a metal basket, and fill it with fruit or veggies, and my favorite is this metal bucket full of rolling pins. This may seem unusual, but I love repurposing things and giving them a new kind of meaning. What do you think?
Racks
These racks a perfect if you want to have all the things you need in one place. You don't need to go around the kitchen and look for things everywhere, you can just put different kinds of the race on your kitchen wall and not only make it useful but make it look beautiful as well. Pick one for your favorite plates, cups, spices, cutting boards, jars, even some flowers. You have to admit it all looks so good and makes your life easier.
All On Display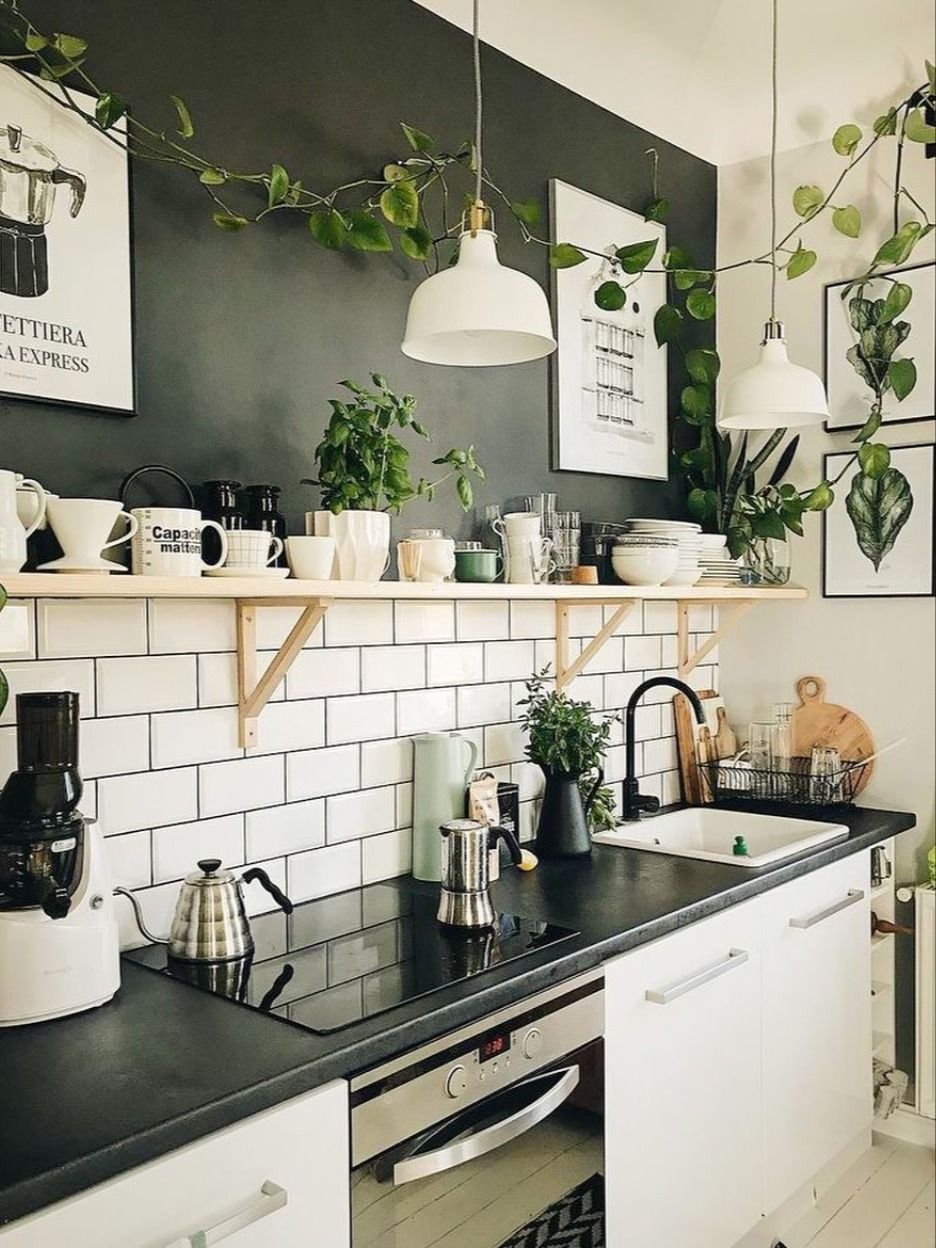 If you're a fan of simplicity, then this would make you very happy. Notice the one long beam trough out the whole space? Can see that it separates the wall and it's amazing that because of the darker green tone of the wall, all the cups and dishes are noticeable. Feel free to store plates, cups, bowls and put your plants on display. Everything will be on display and you can use it easily.
Utensils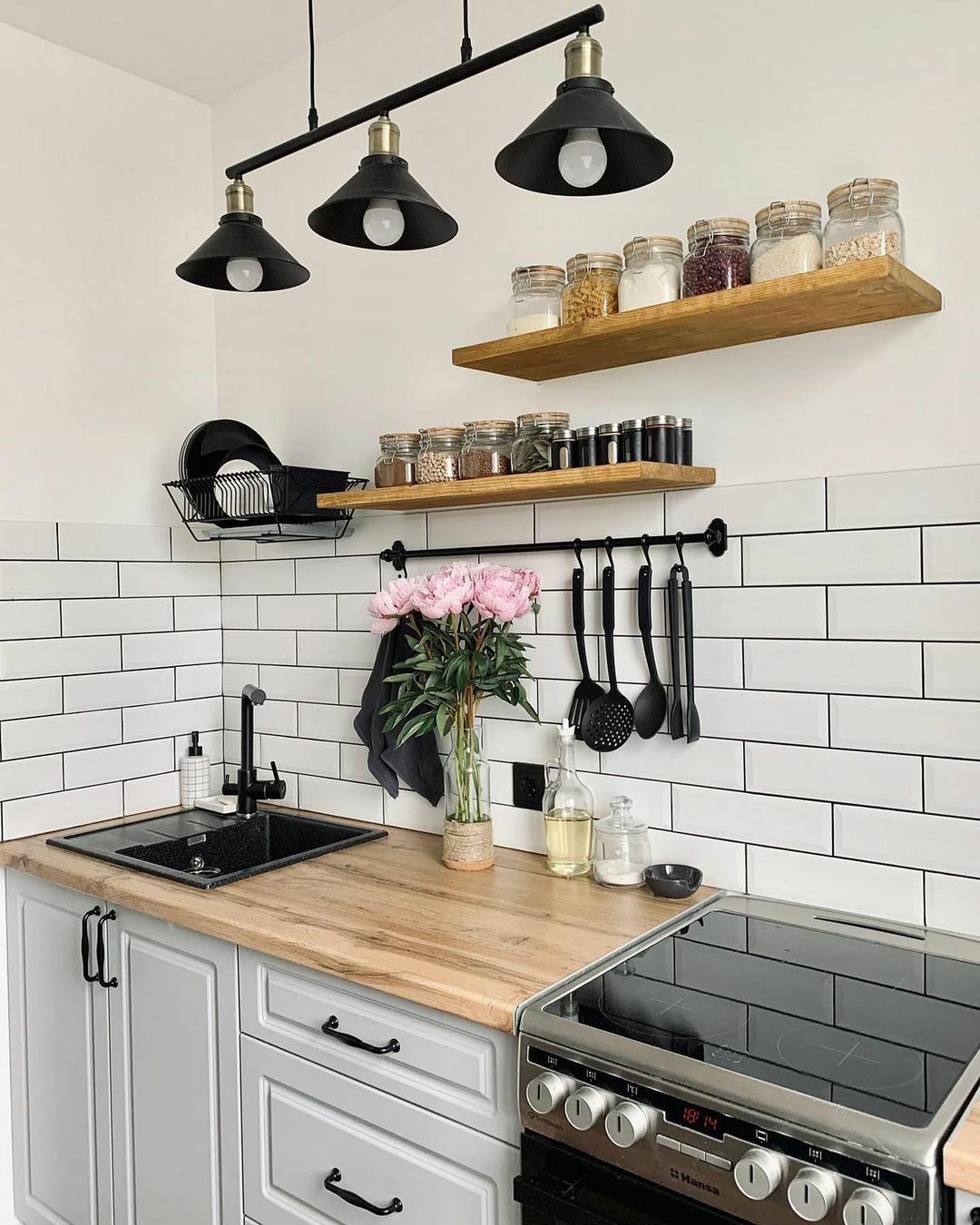 Say what you want about this but I've missed these utensil racks, just because there was a time when people stopped using them. Now they look chic not only in traditional kitchens but in very modern spaces as well. Needless to say that they are really useful while cooking.
Personal Coffee Bar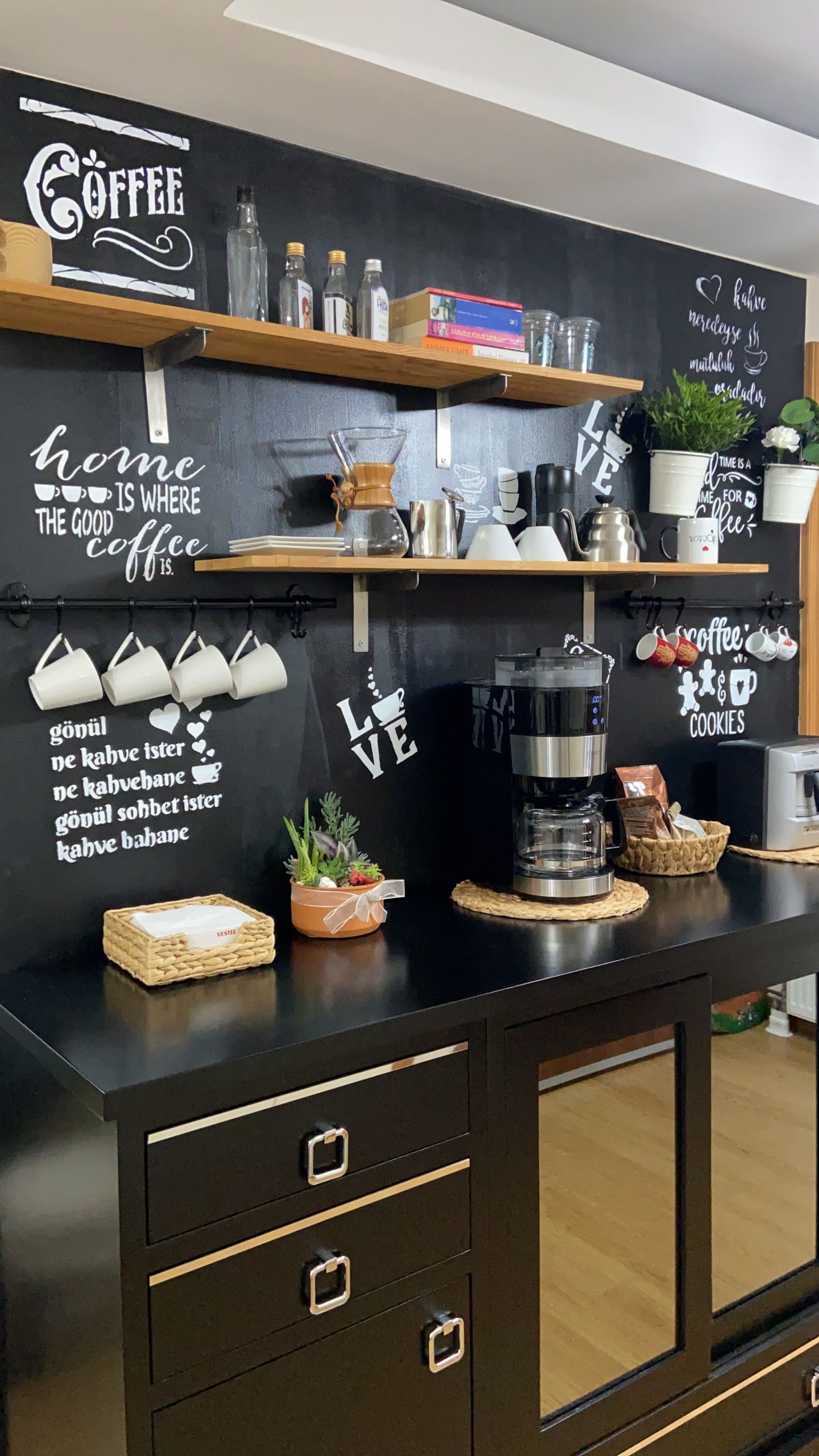 This inspired me to make my coffee stand in the kitchen. Where do I even begin? How cool does the black chalkboard look? You can write your recipes, inspiration quotes, even leave messages or make room for your shopping list. Hang your coffee mugs, some books, flowers, and make it your coffee bar so that everyone can feel great and enjoy coffee in your home.
Vine Glasses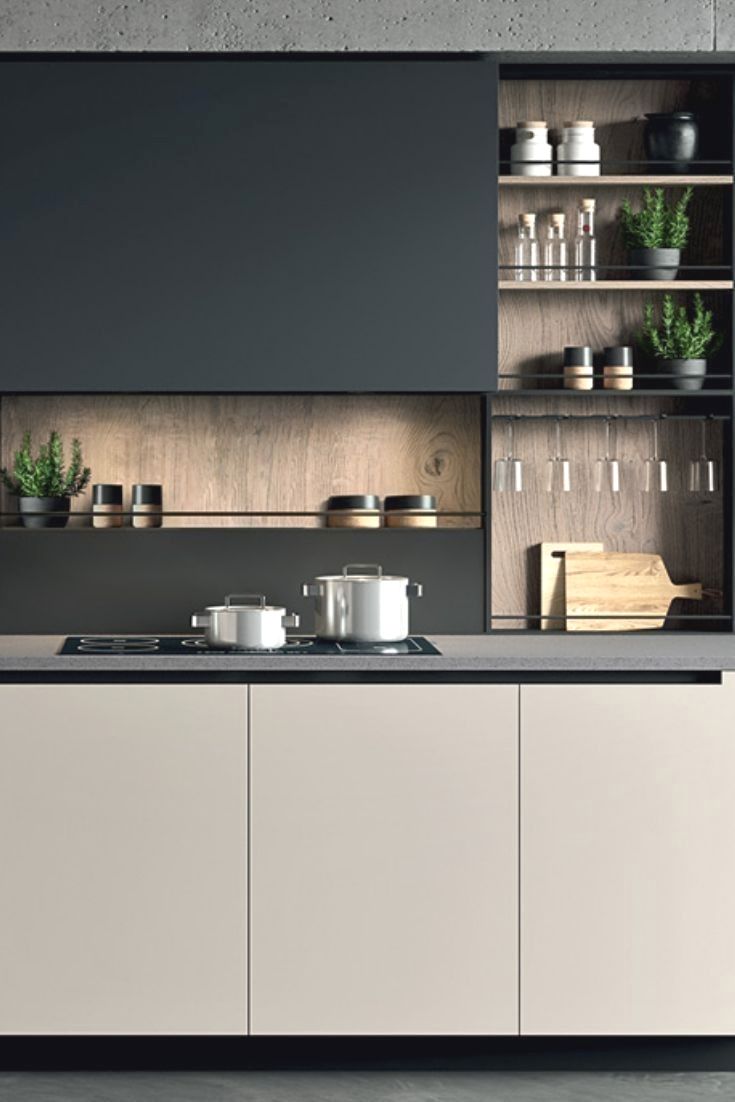 In this modern kitchen, there's a special place where you can store your wine glasses. They're on display, look amazing in this whole set, and just give that something extra on this kitchen wall. So, all of my wine lovers, I got you. Feel free to use this idea and incorporate it into your kitchen.
Knifes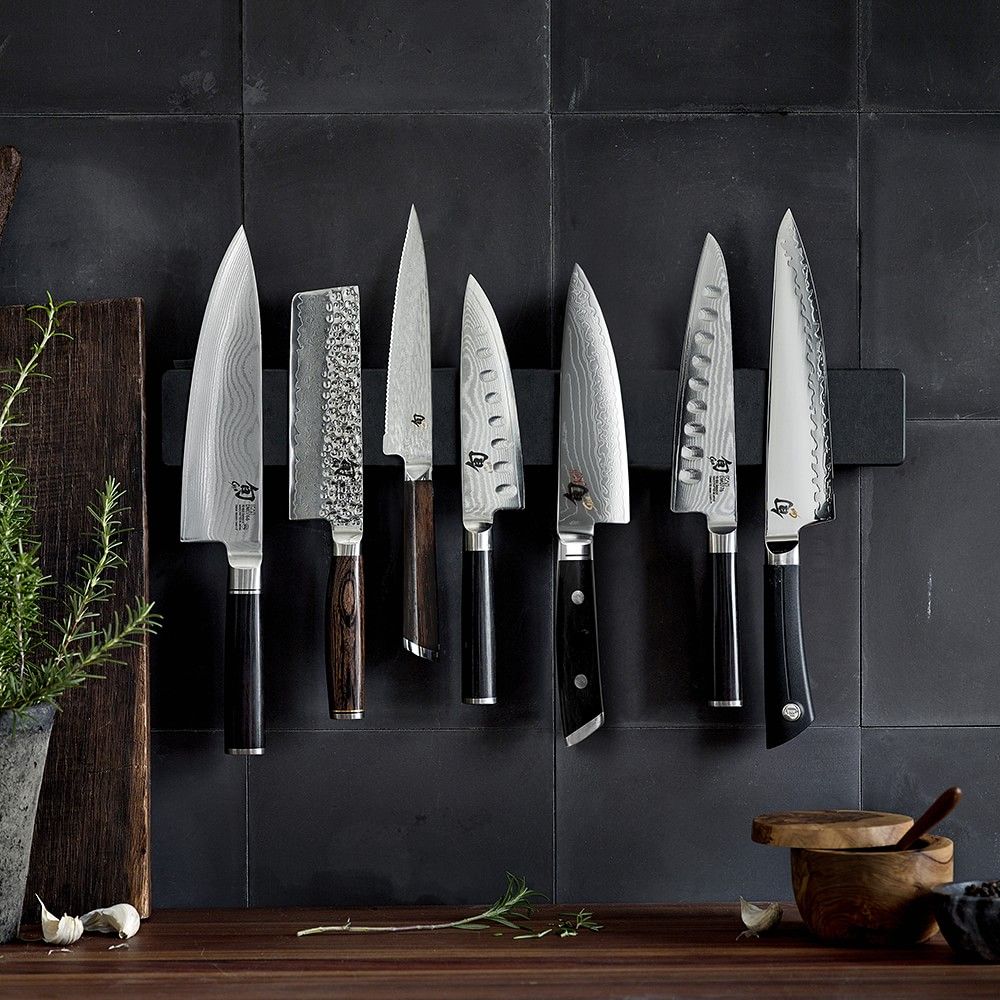 If you love to cook and use your knives frequently, this would make the most sense for you. Put your knives on the wall as a helpful tool and always at hand. If you have an impressive knife collection, a great decoration on your kitchen wall. Beautiful!
In The World Of Spaces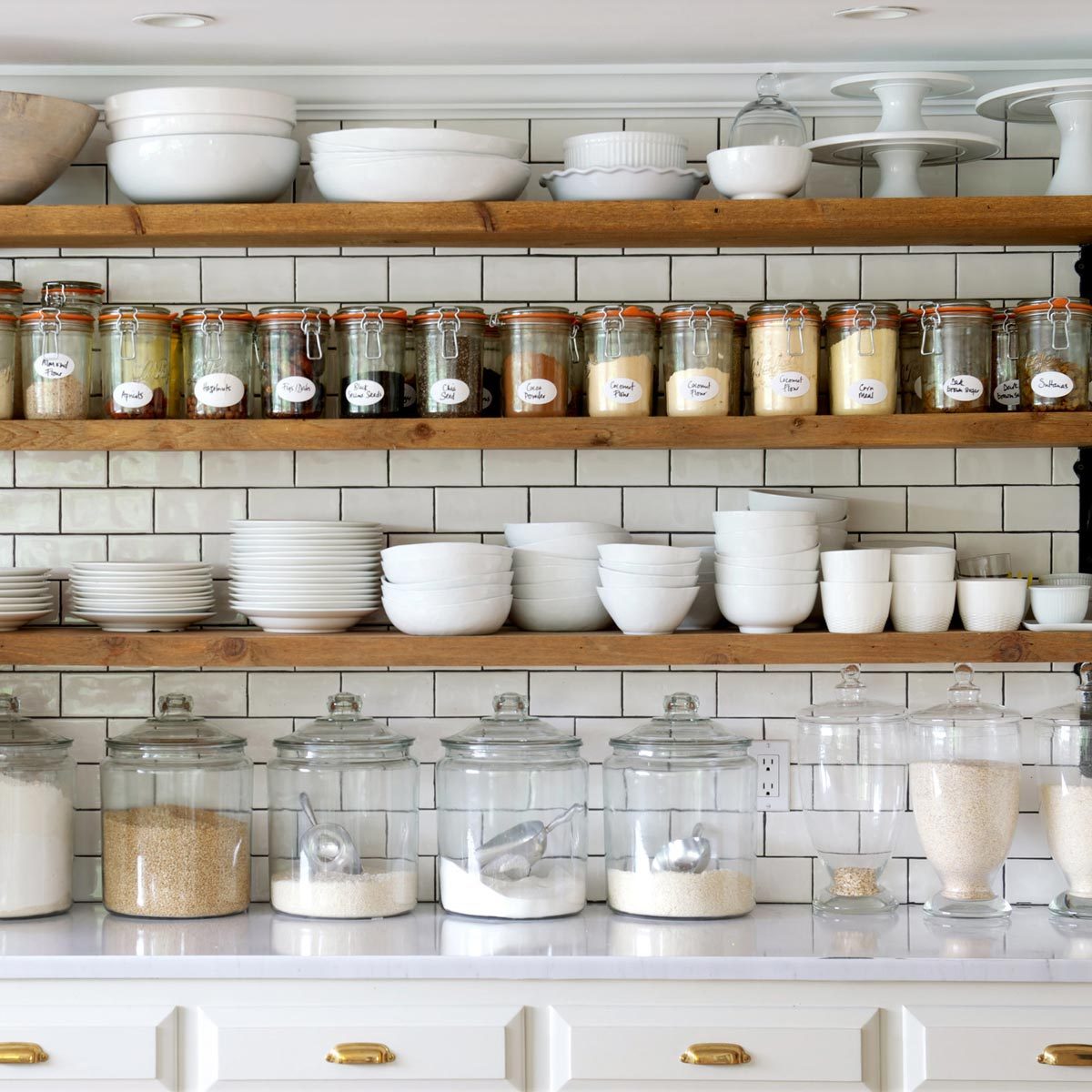 Ever wondered where is the right place to put your spices? In the pantry? In a kitchen drawer? In the cupboard? Let me tell you that the right place is where you make it, actually where you need them to be so that you can use them and feel happy about it. In this case, I love that these shelves are used not only for the flower jars, for the plates, bowls, and cups, but that there's a whole special shelf for all of your spices. You can organize them by color, by the way, you use them in your recipes, however, you want. It's gonna look great.
Cutting Boards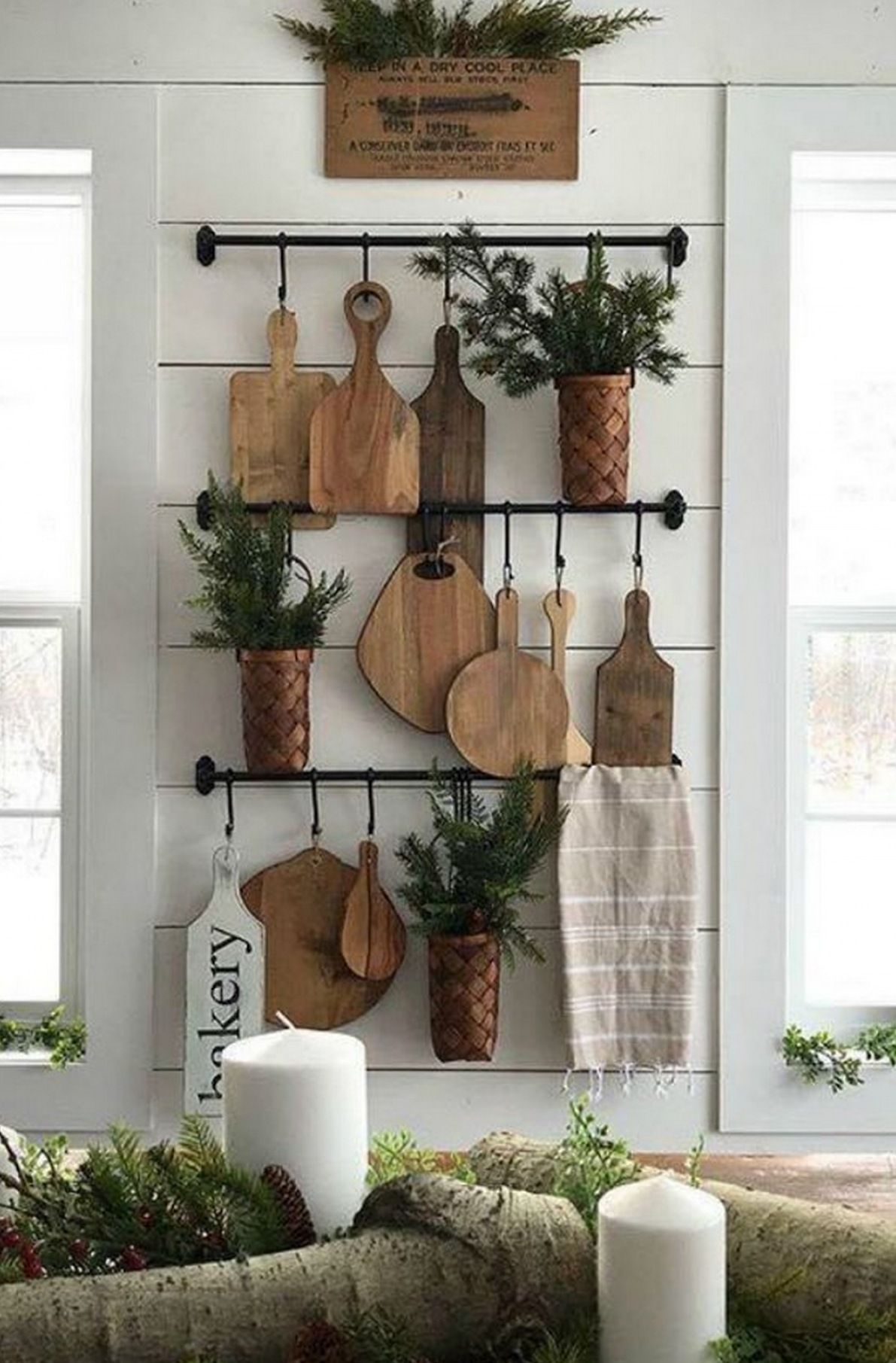 You don't have to use all these cutting boards, but you sure can use them as a decoration for your wall. Besides, it looks amazing with all the plants and the natural decorations around it.
Rolling Pin Board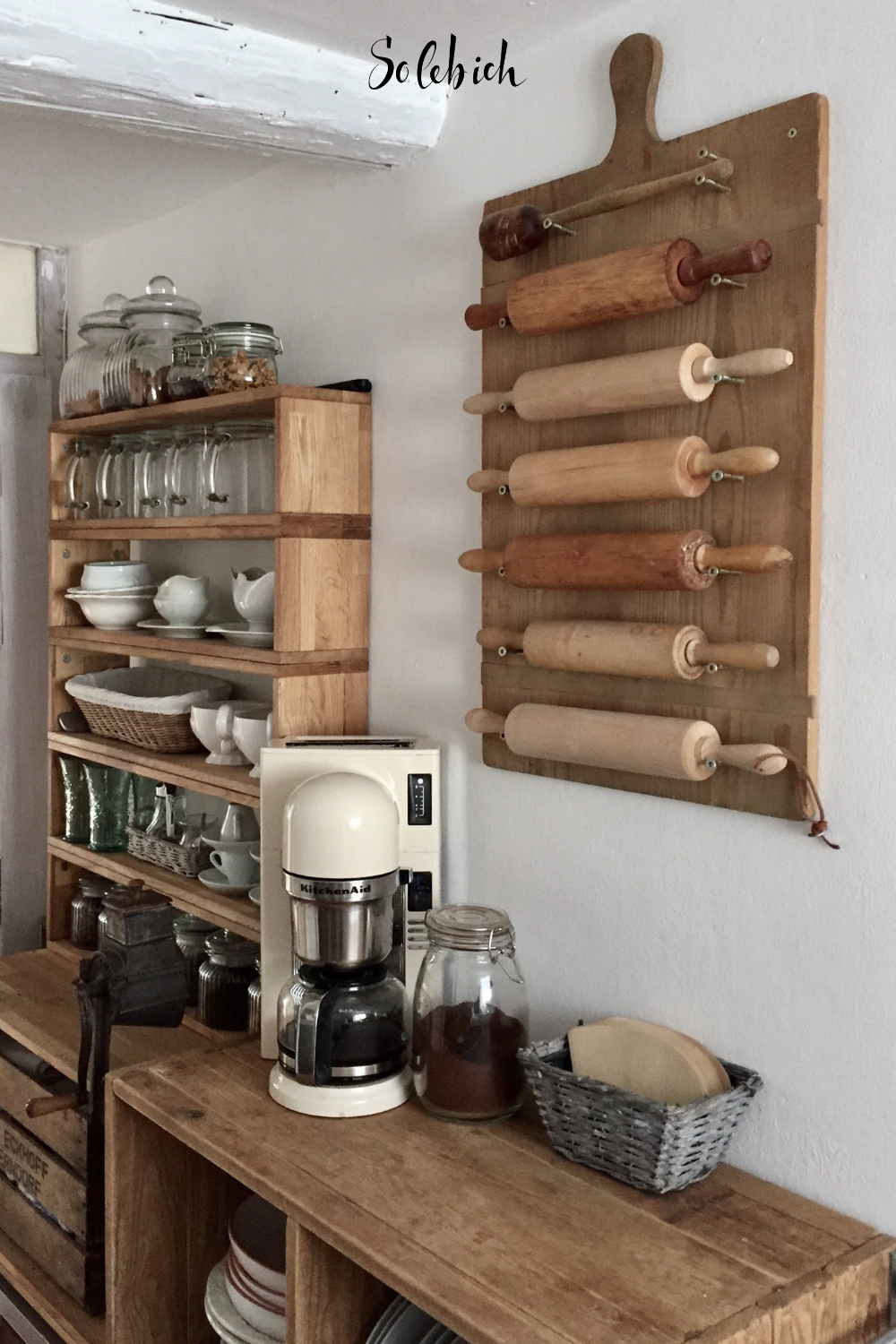 If you're a fan of baking and use your rolling pins often then you'll like this idea a lot. Even if you're not, don't worry, you can use them as decorations. All you need is a free space and a board that you'll put on the rolling pins.
Paper Towel Holder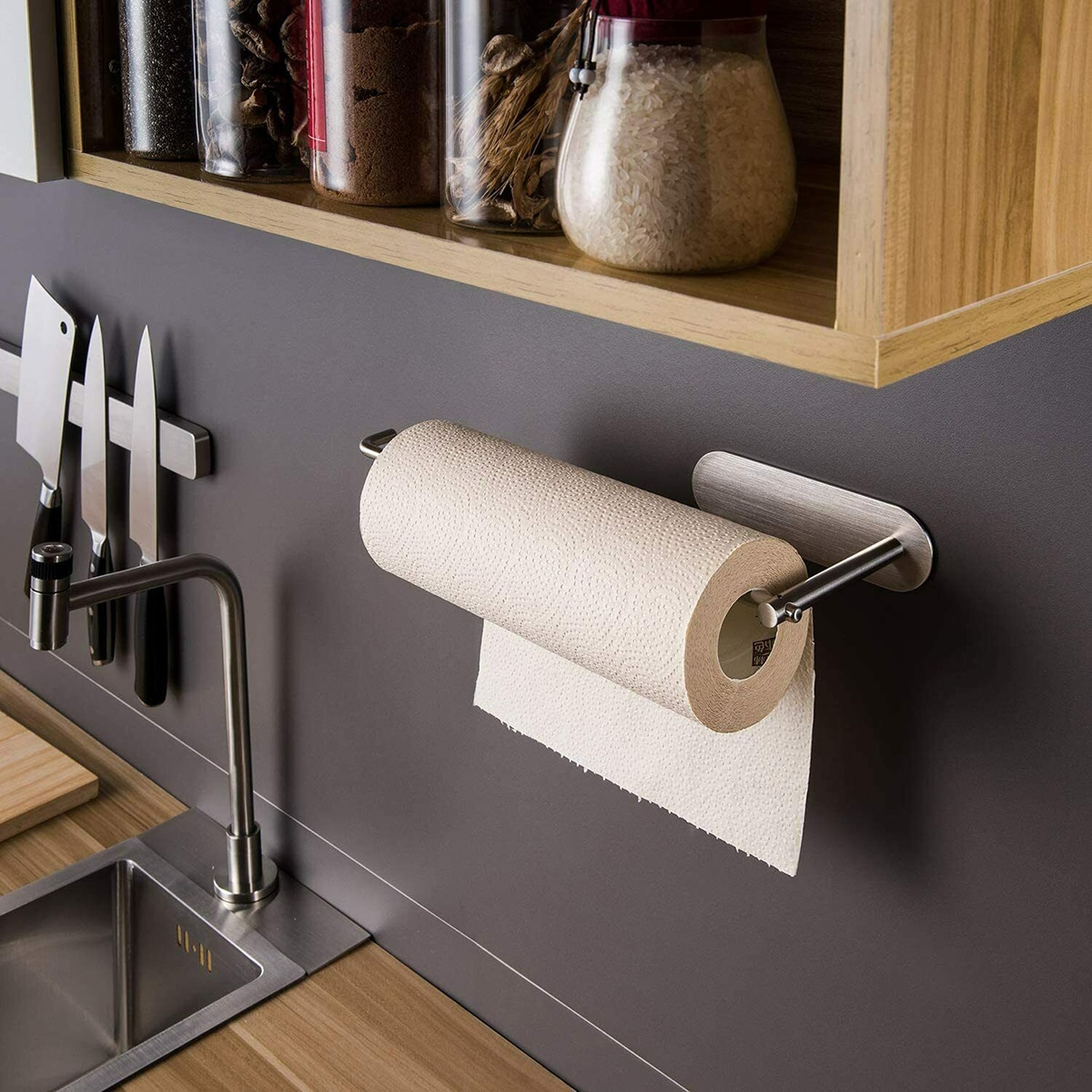 This is one of the essential things we use in our home, yet somehow we struggle for places to put it on. That's why I thought that it would be nice to put it on the wall as a decoration and as a very, very useful thing in the kitchen.
I'm sure you spend your time in the kitchen more often than before, and that you enjoy your space, so I hope this gave you enough ideas about making some changes in your kitchen, no matter how small they may seem, I promise sometimes they make all the difference int he world. So please like and share, leave a comment down below, even better if you have an idea that you'd like to share with our friends, feel free to do that as well. Till next time!