The kitchen has always been an important place in the home. That is where the delicious homecooked meals are prepared and where everyone from the family can meet and talk while grabbing a cup of coffee or a quick snack. Some would even say that it is the heart of the house, and in a way it is. If you love cooking, it can also be a place of relaxation and enjoyment, preparing the most delicious meals and creating wonderful dishes for you and your family. The ideal standard for a kitchen is to be as big and spacious as possible, with enough room for all the kitchenware and appliances, and enough room to freely move around, prepare and make the meal. Unfortunately, most urban dwellings aren't that spacious, leaving only a small piece of the entire space dedicated as the kitchen area.
Small kitchens have their own charm. Even without much space to work with, they can still be turned into a very pleasing area of the home, both in functionality and appearance. When trying to make the most of a small kitchen, as with other rooms, you should look at the layout, how much natural light it gets and what do you want to get from the kitchen, as in, what things will you be cooking in there the most. In small areas, the color pallet can make a great difference in the overall look and feel of the kitchen. People usually go for lighter colors to open up the space and make it appear bigger, but, as you will see, you can make darker colors work as well.
There are various things you can do to make a small kitchen appear bigger, without sacrificing too much storage space or functionality,  that's why we made this list of some amazing and even adorable ways you can design or re-design your tiny kitchen.
Tiny Boxed Kitchen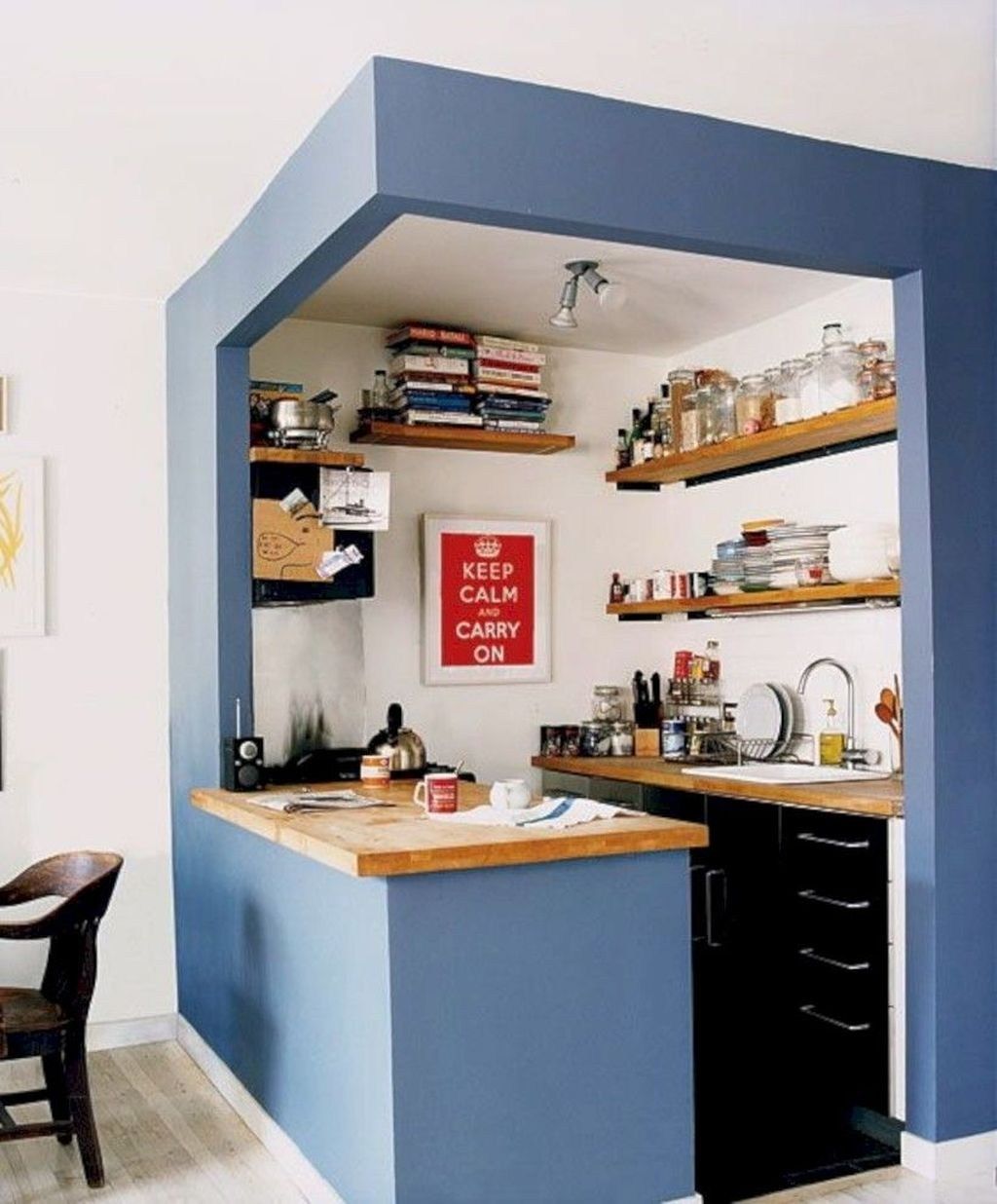 Plenty of apartments have the kitchen designed as an extension of the living room, tucked into one corner of it. While it seems counterproductive to close off an area of an already small space, if possible it is nice to have a clear separation between two different areas of the home. To make this work, a bar counter can serve as a space separator, creating additional space for meal preparations. Boxing up the entire kitchen does give it a nice look, with structural columns going all around it, that when painted in a different color, create a place that seems almost detached from the rest of the home. Your little piece of baking heaven.
Long Narrow Kitchen
Uppers cabinets can be a problem for narrower kitchens. They simply close off too much of the space. If possible put two rows of bottom cabinets on either side of the kitchen for extra storage, and leave the upper half bare or put some opened shelves on it. The color combo here is black, white, and gold, which creates a certain elegant balance between the two halves of the kitchen.
Kitchen Nook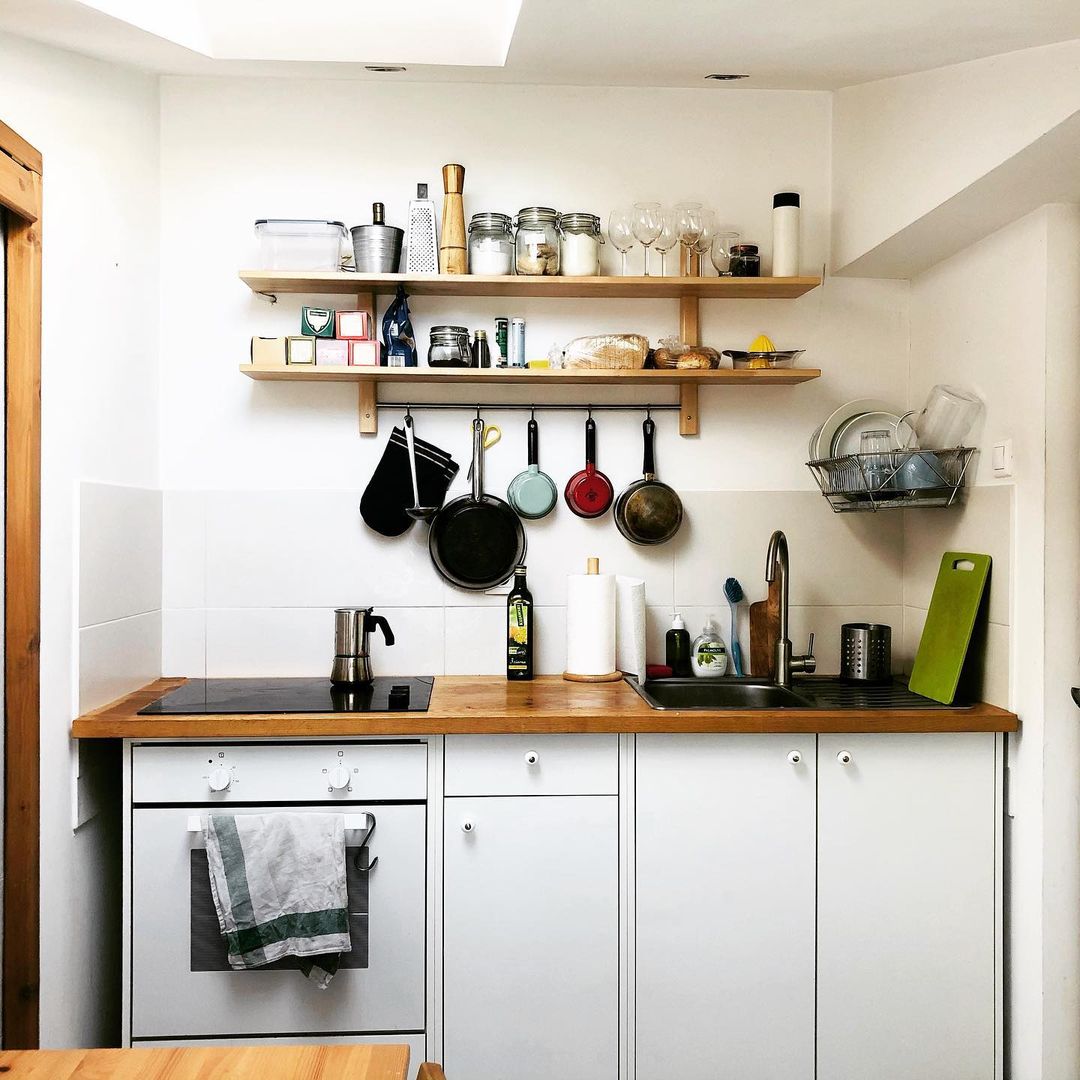 If someone tells you that their kitchen expands from all to wall, you might think that they have an enormous kitchen. Not when the distance from the wall to wall is around 10 feet. Even so, you can make it work. A build-in countertop with a touch stovetop on one side with the oven below, kitchen sink on the other, leaving enough space in the middle as a work zone. A few rustic shelves above for storing spices and some glasses, and your little kitchen nook is ready for everything.
Tiny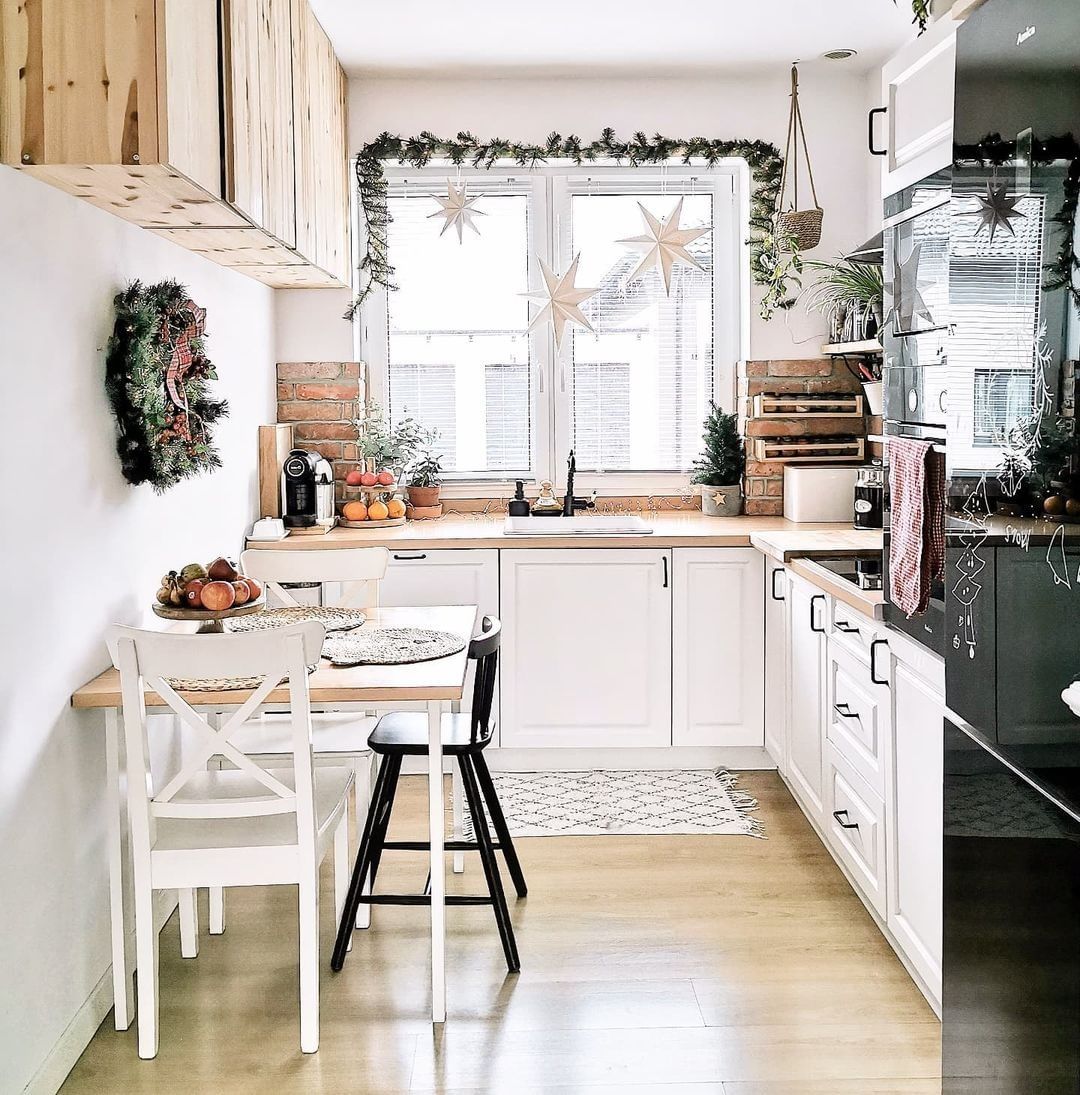 Small apartment kitchens might have enough space for a small table and a couple of chairs, creating a dining room where there isn't one. This country classic white kitchen is small but has it all, utilizing even the space above the small table with wooden cabinets that tie in the rustic look of the redbrick wall backsplash.
Tiny L-Shaped Kitchen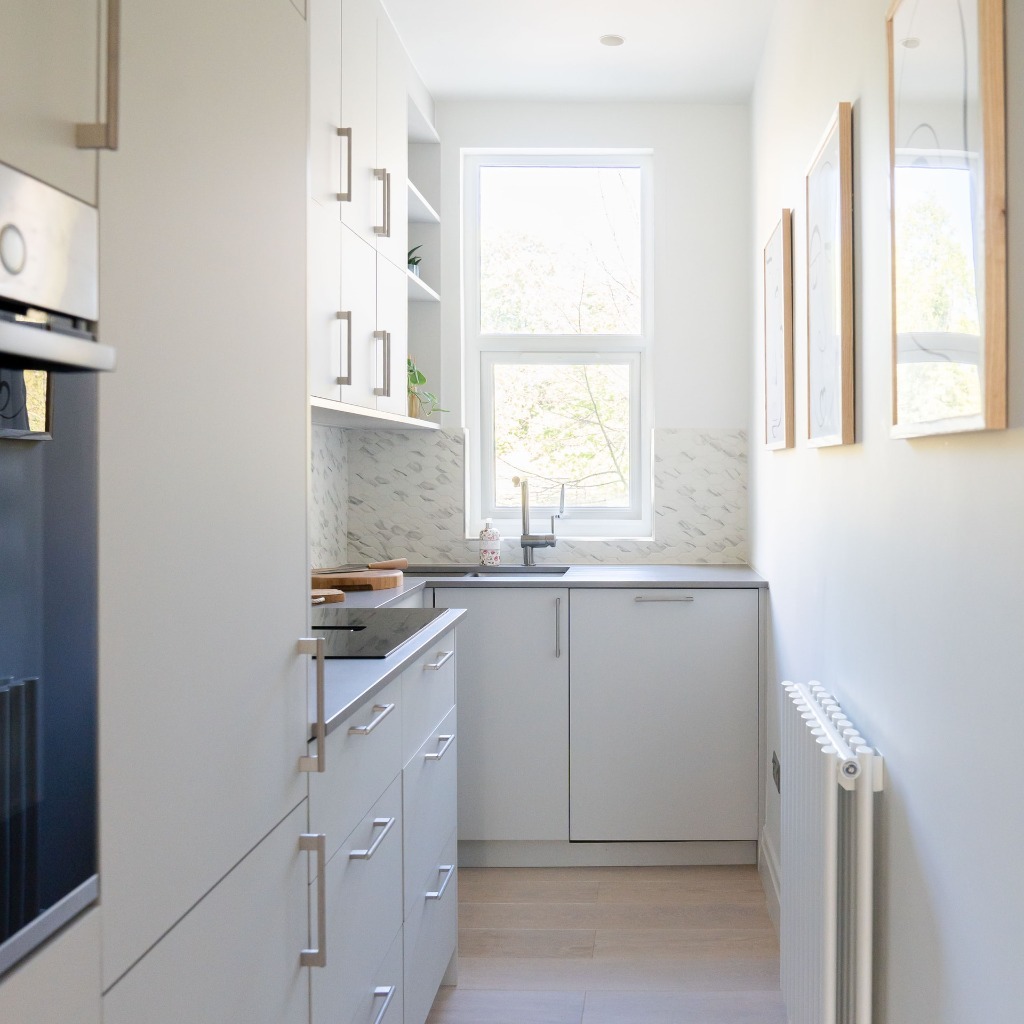 The most problematic thing about L-shaped kitchens is that you can lose a lot of space in the corner. One way to solve that problem is to place the sink and countertop at or near the corner, the rest of the space free for installing cabinets and even a utility cabinet.
Tiny U-shaped Kitchen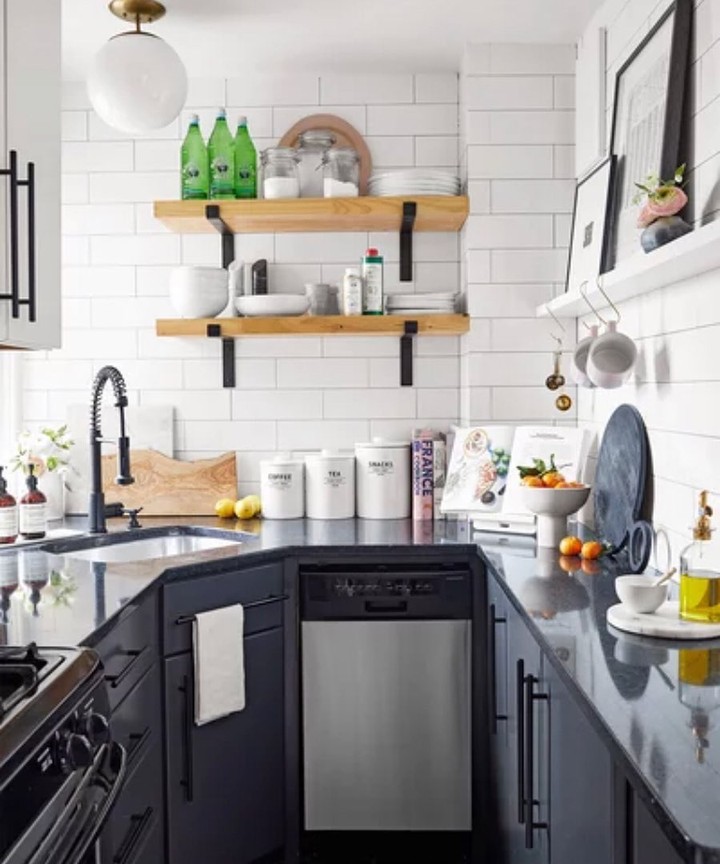 When you have a U-shaped kitchen you get an uninterrupted flow of movement while working, dancing around the kitchen prepping, cooking, and arranging things on all three sides of the room. Now, in a tiny U-shaped kitchen the dance may be more of a wobble, but you still have a lot of countertop space to work on, storage space, and fit all the appliances you might need. For a snuggly feeling, you can choose darker bottom cabinets with light-colored open shelves above, and some white subway tiles for a backsplash.
Tiny Kitchen With A Tiny Alcove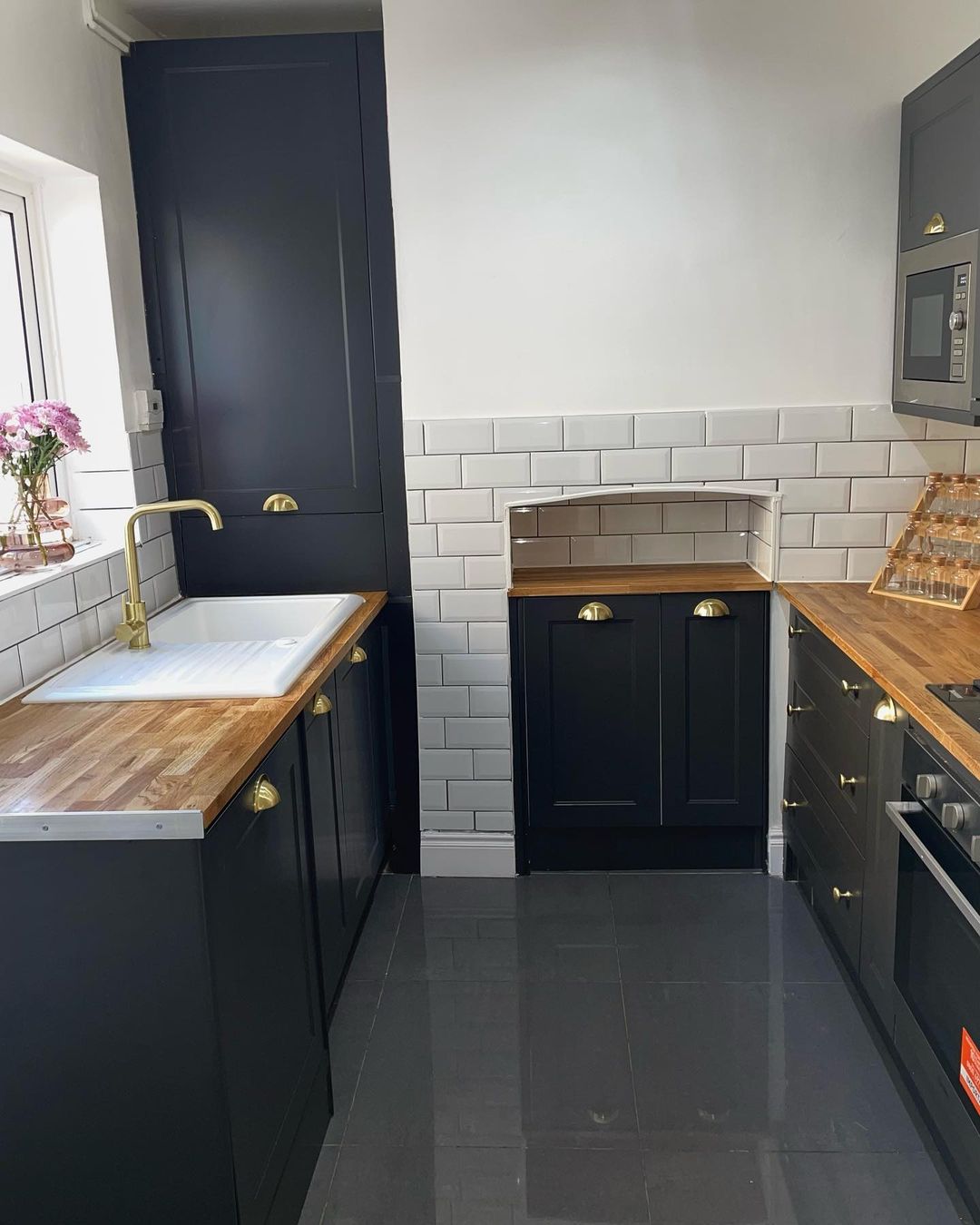 Navy blue cabinets, wooden countertops, and white backsplash seems like a popular color combo for modern kitchens and does suit this design of this galley kitchen just fine. The interesting feature here is the cute alcove in the wall that you should absolutely try to incorporate in your kitchen design if you can. It gives you extra storage without taking up space and even a bit of extra countertop space, for placing groceries or finished meals.
Modern Gray Kitchen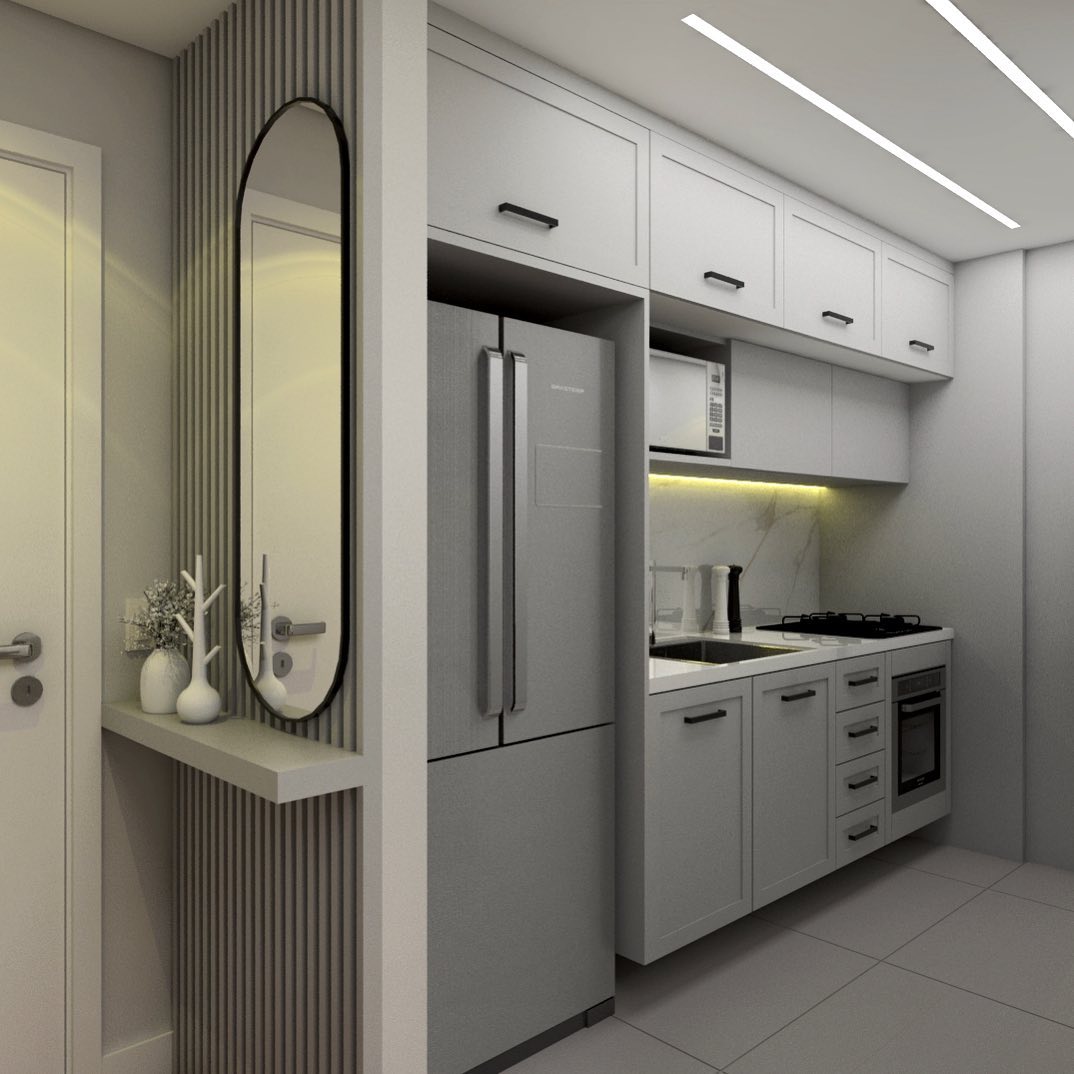 Gray kitchens might give out more of a sterile, mechanical vibe, but they do have their charm, especially if you choose wisely on the cabinet design, countertop, and backsplash. This kitchen with white top cabinets and light gray bottom block-panel cabinets has an integrated fridge and stove, with white countertops and a marble backsplash. It may be tiny but it oozes practicality.
Kitchen Hood Statement PIece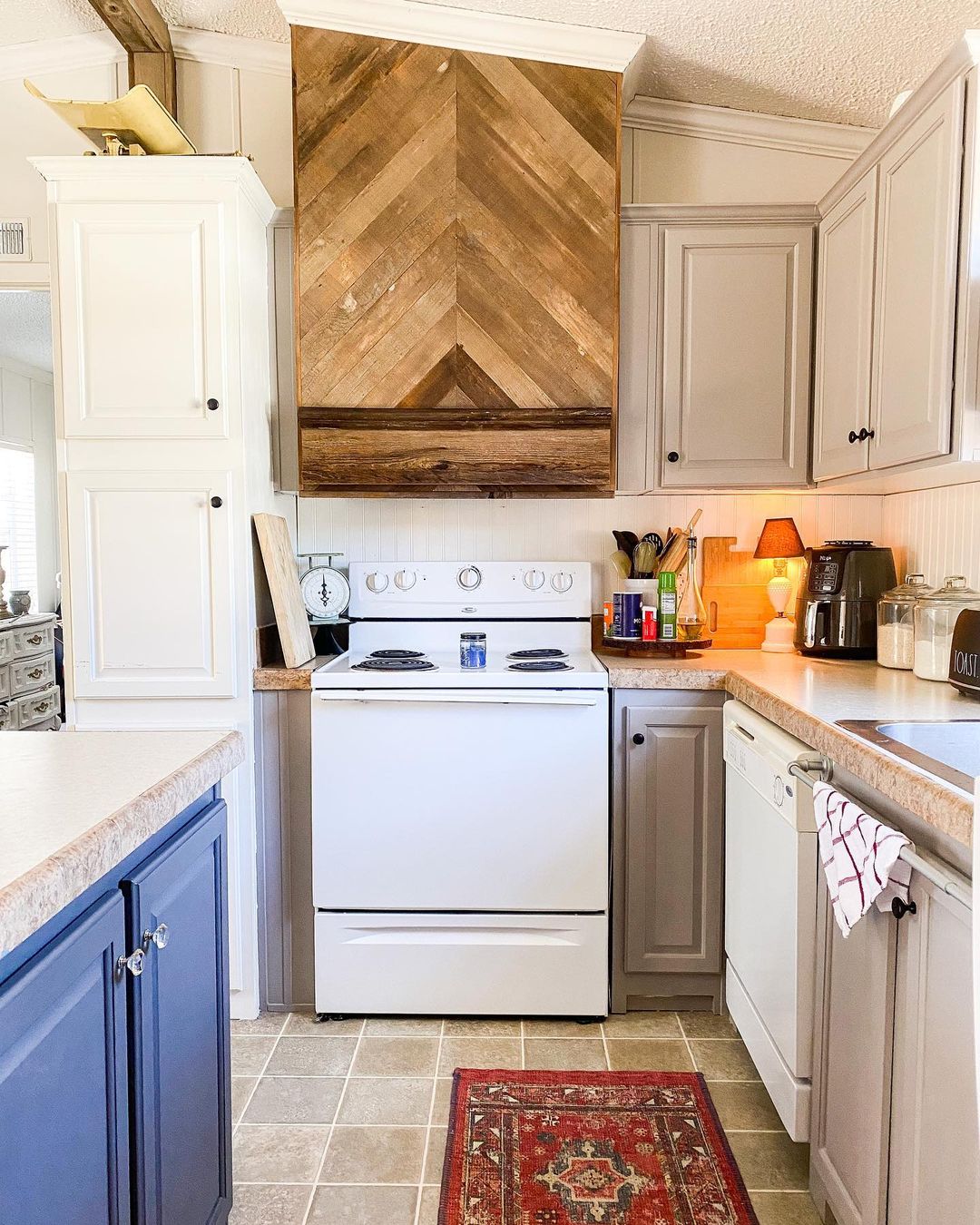 Playing around with color combinations is one way to add some character to a room, but this tiny kitchen has one big difference. The stove hood in most modern kitchens is usually under-cabinet compact ones, but you'll rarely find a big range hood in a small kitchen. Instead of replacing it, transform it into the kitchens statement piece, by building a wooden box cabinet around it from recycled wood. It creates warmth and a certain wow factor to this tiny space.
Unique Tiles And A Farmhouse Sink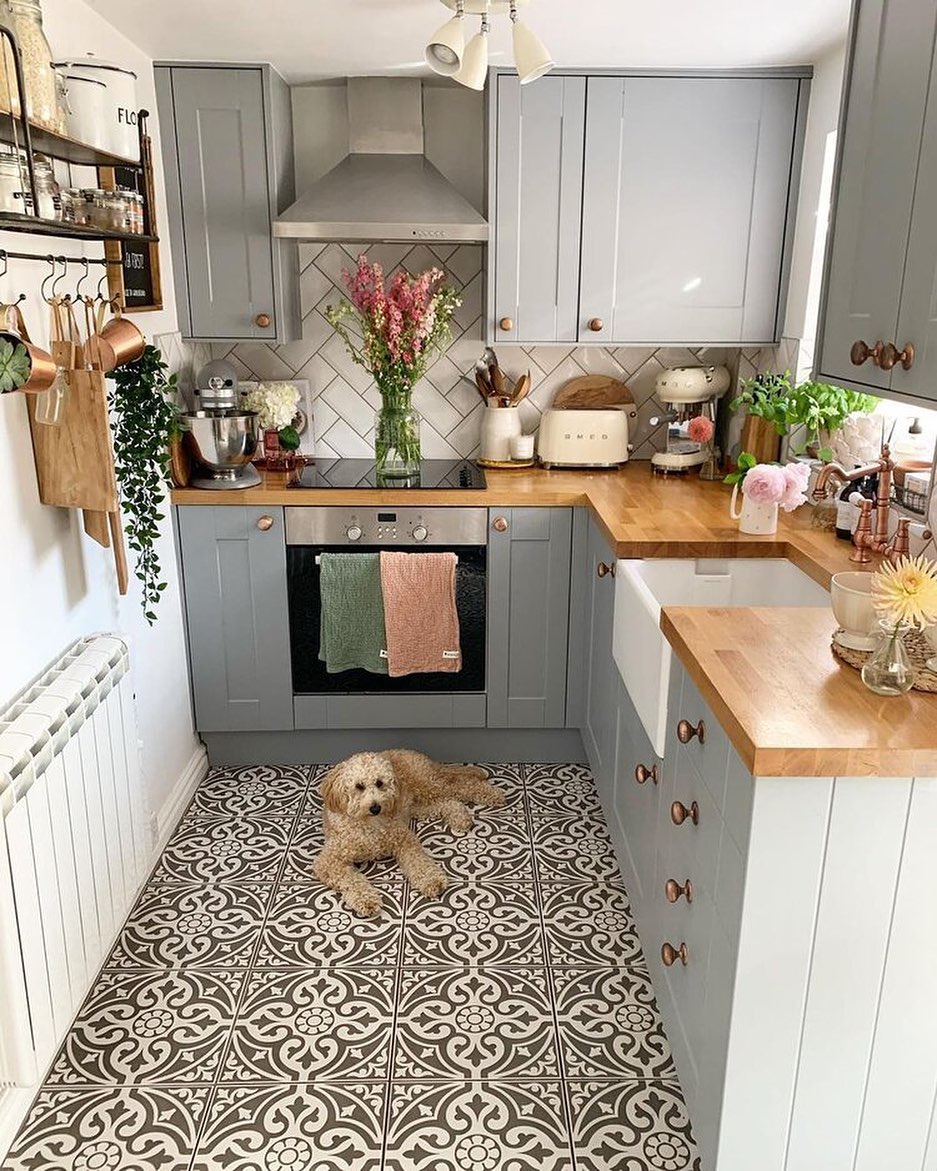 Farmhouse sinks are versatile and very durable and even come in various sizes. It is a good investment and it does look very nice, even in a small kitchen. Collor patterns on the floor tiles or backsplash can also add character to a kitchen and make it a more inviting place.
Pink Kitchen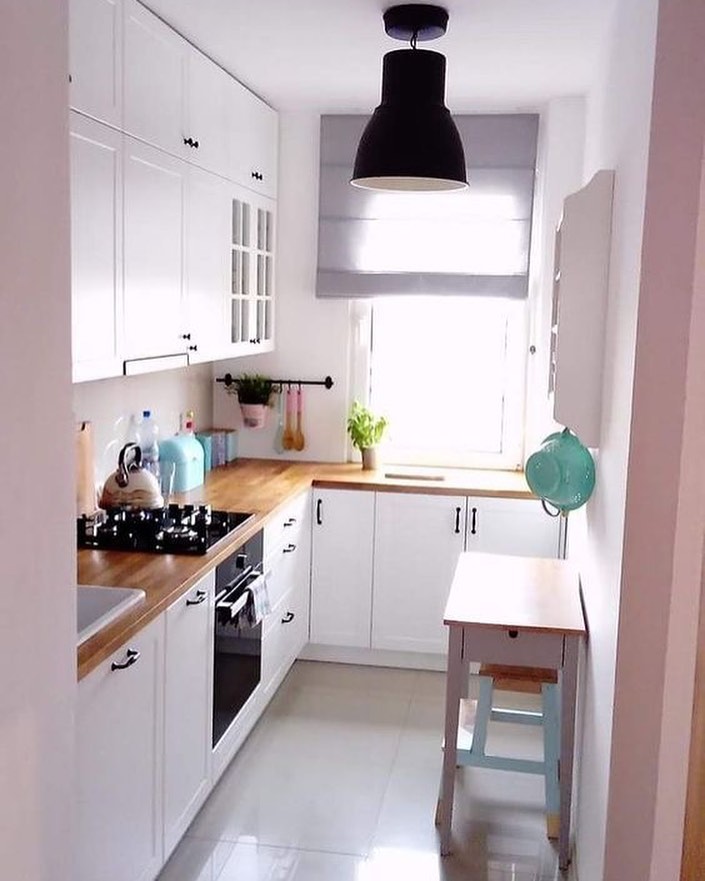 When talking about lighter hues when choosing the look for your kitchen, pink is probably last on the list. Yet, a baby pink and white kitchen gives out such warmth and cheer, that you'll put a smile on your face. The layout of the cabinets in this L-shaped kitchen allows you to use most of the space, even having a mounted shelf unit, and upper cabinets with an interesting design to avoid the feeling of being completely closed in.
Black Backsplash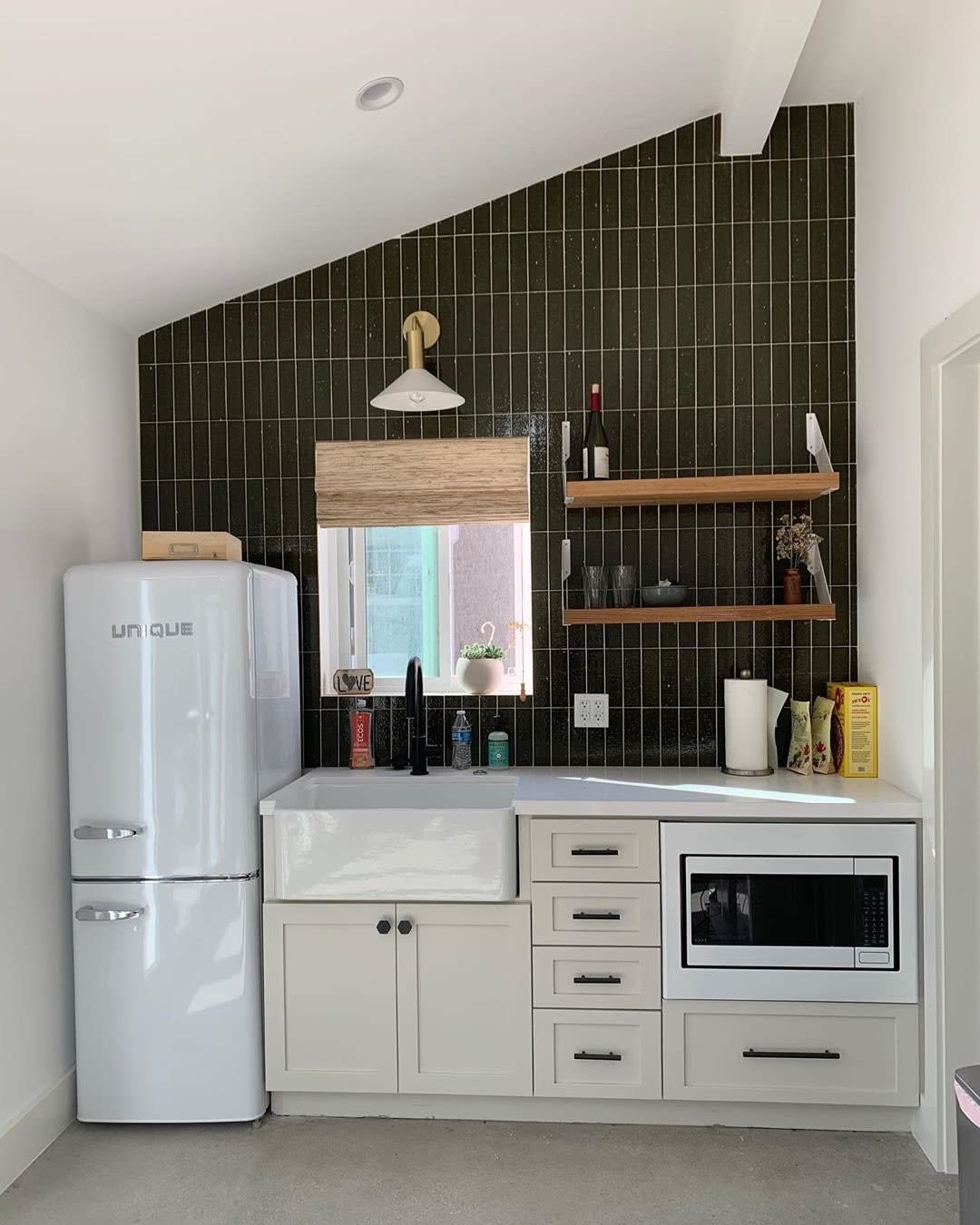 This small practical kitchen gives off that fine mix of vintage and modern. Retro refrigerator, farmhouse sink, and small oven topped with glossy white countertop contrast beautifully with black vertical stack bond subway tiles. Some nice wooden hanging shelves for extra storage complete the style.
Zen-ish Tiny Kitchen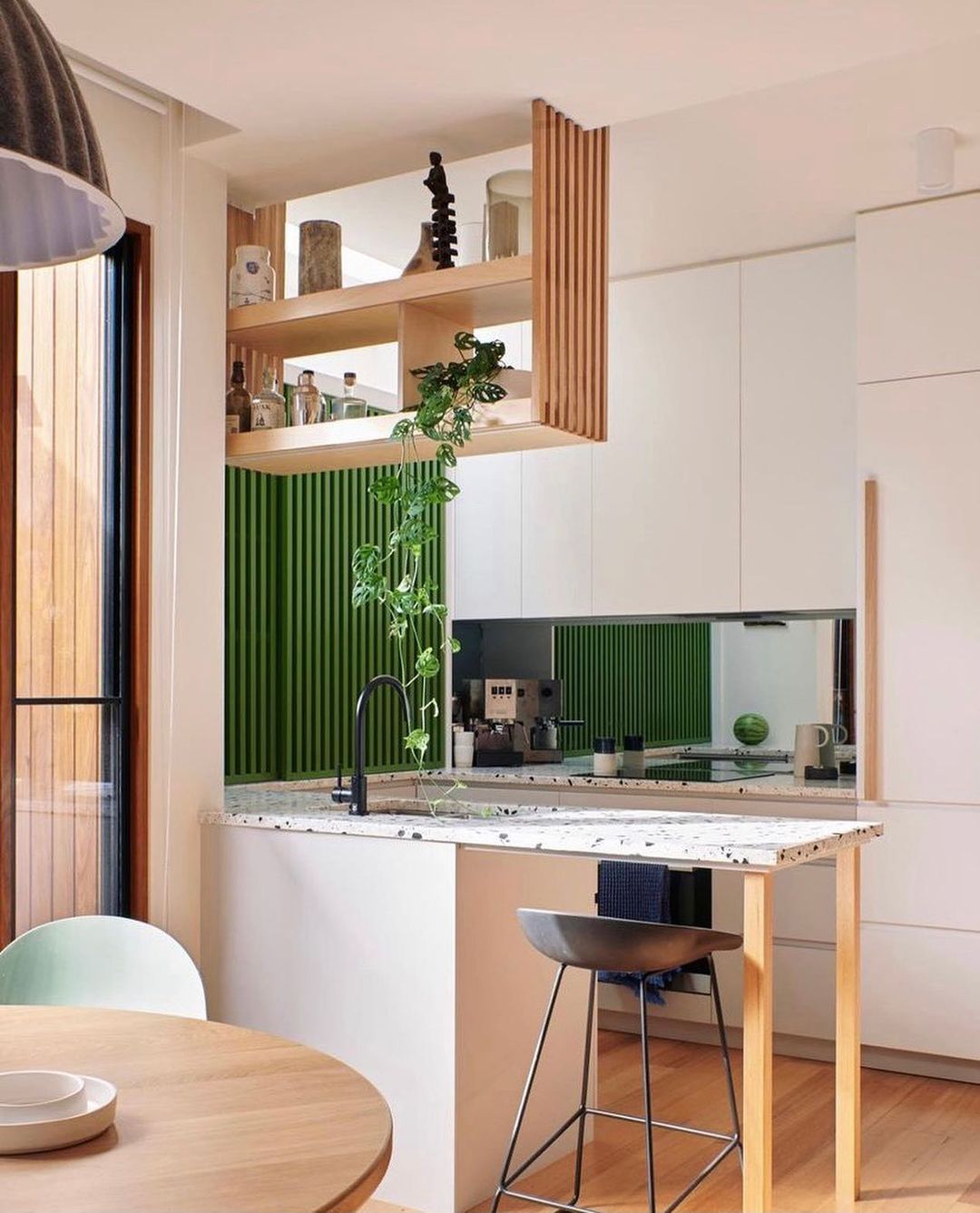 The modern design includes wood, stone, and metal, all-natural elements that create a calming vibe in the kitchen. The cheerful green balustrades give the abstract feeling of greenery complementing the wooden touches on the legs of the breakfast bar topped with a white granite countertop and the hanging shelf above it. A very pretty setting combining color and texture.
Green Elegance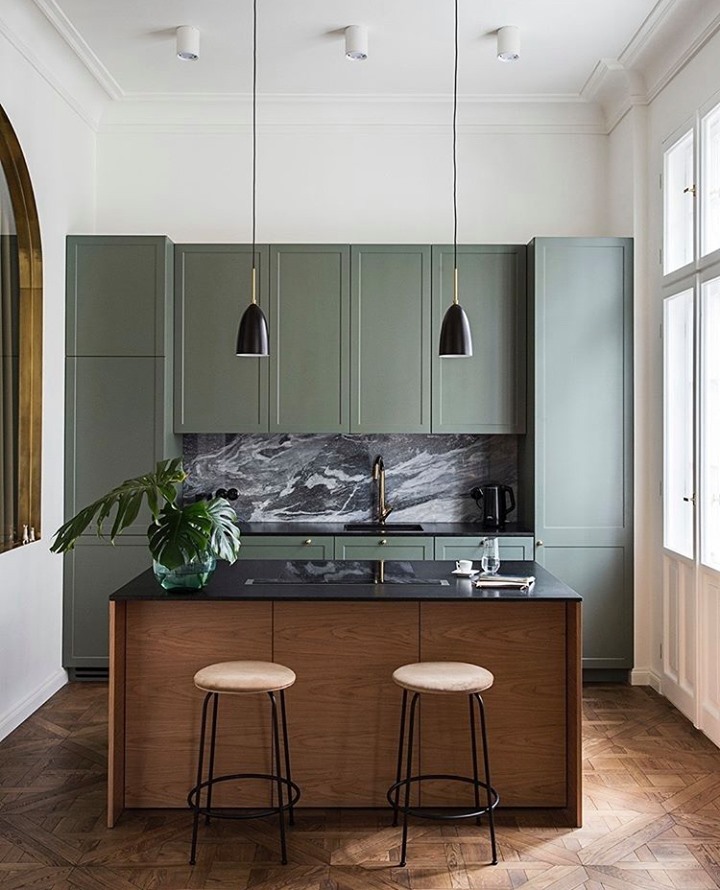 The black marble has always been used to achieve a more masculine and elegant design. The combination of this tiny kitchen with a rare kitchen island certainly gives out some calming, yet secure vibes. No special ornamentations, just the balanced combination of colors and natural patterns.
Herbal Kitchen Design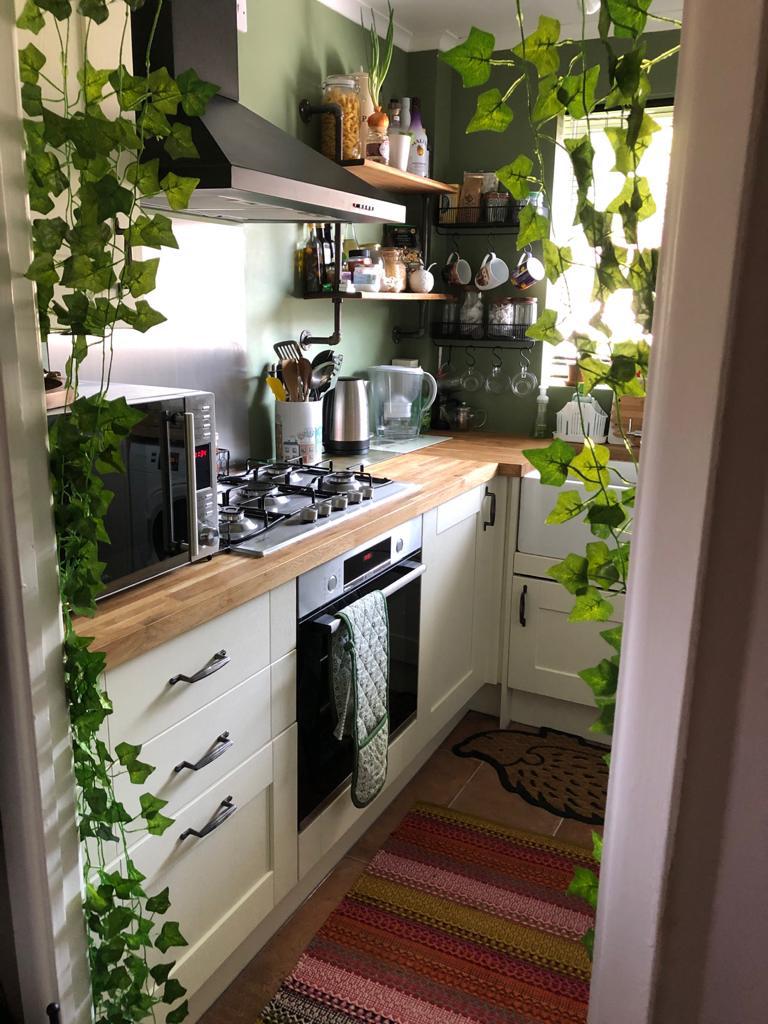 Narrow, closed-off kitchens can be a bit claustrophobic, yet when designed in a light or bright color palette can end up looking too bleak. Sometimes a space just needs to breathe a little, and plants are great for achieving that effect. While decorating with plants in the kitchen may seem unusual, you might feel more comfortable by adding a little herbal garden. It will both be useful and liven up the space.
Happy Sunshine Yellow Kitchen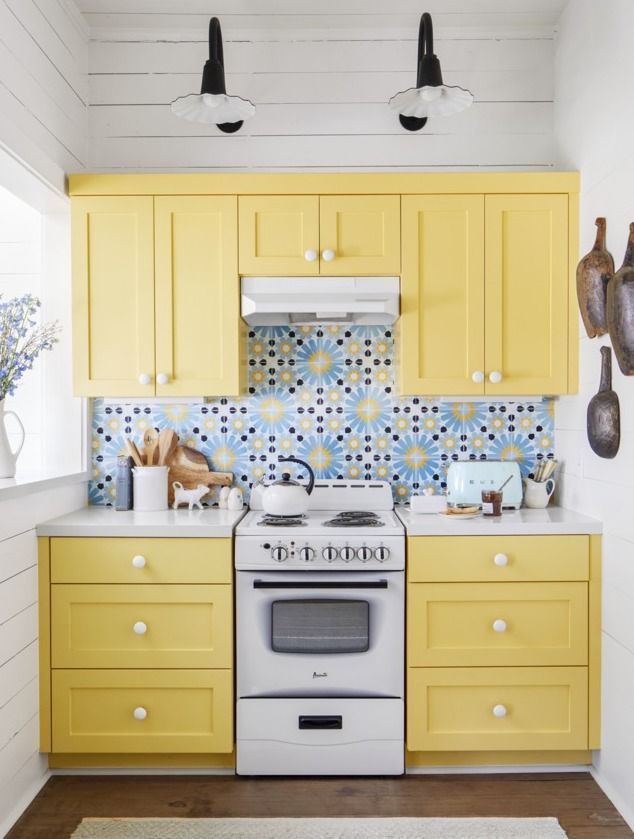 We finish our list with the sunniest most cheerful little kitchen you've seen. The sun-yellow cabinets and the blue floral backsplash just goес to show that sometimes the odd-sounding and less popular color patterns can create the most unique design ever.
That's all the tiny kitchen ideas we have for you for now. If you're stuck with a small kitchen, how would you design it for the most practical and aesthetic appeal? Share your most interesting tiny kitchen design ideas in the comments below.