Whether you're a skilled makeup artist with a large collection of items or prefer a minimalist approach to cosmetics, organizing your at-home kit will almost certainly benefit you. Getting a few makeup storage jars and containers is an easy approach to assist ease your spring cleaning and organization routine. If you enjoy wearing cosmetics, you probably enjoy organizing your collection. After all, you've worked hard for years to amass your collection, and you want to make the most of it. Unfortunately, keeping track of makeup isn't always as simple as it appears. If you have a lot of things, you can end up stacking them or hiding them in a drawer, which means you won't always be able to find what you need.
All of your lipsticks, eyeshadow palettes, and perfumes will be organized in the most efficient and elegant ways imaginable with these unique storage vessels, which range from cute cookie jars to rolling carts with shelves. Your vanity will be spotless in no time, and you'll be ready to stock your collection with more of the best beauty products. Also, I wanted to give some ideas about how to store your makeup no matter if you have a special place in your bedroom, your bathroom, or another special place for your daily routine. So let's begin.
Mirror Tray And Acrylic Cases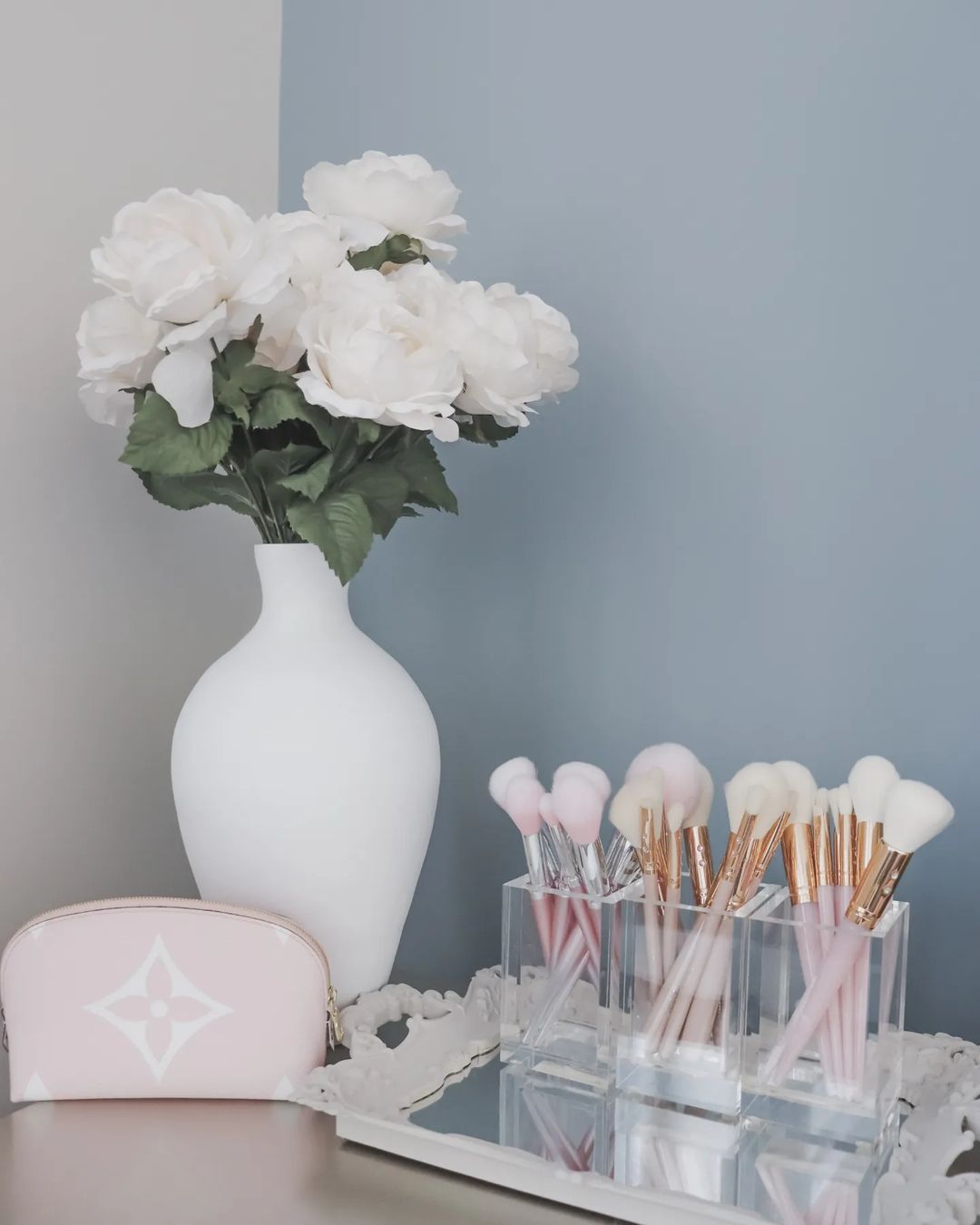 When it comes to storing makeup brushes, this is such a simple yet gorgeous idea of how to do it. You can use a mirror tray, or any other tray that will make this place a bit more glam, and a few acrylic bins. Separate your brushes by usage, by color, biggest to smallest, you do you. Without a doubt, the final product will be spectacular. Flowers are optional but always a good idea.
You're Golden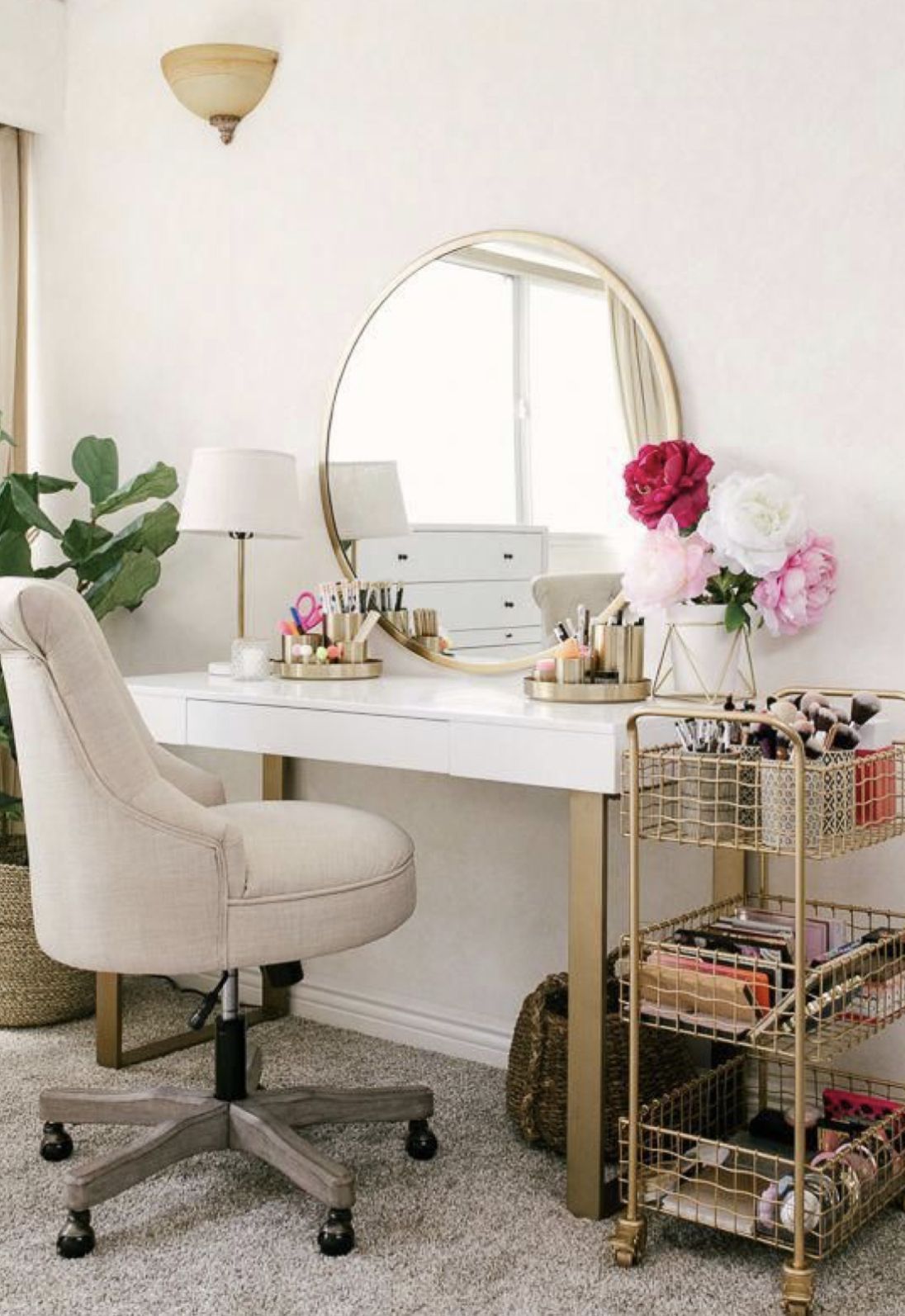 If you are a fan of gold and everything golden, this is the perfect vanity for you. If you want to you can add a few golden trays, bins, and boxes and separate your lipsticks from your lipliners. And for all the bulkier products, feel free to use a cart like this and put everything in it.
Pink Boxes And Bags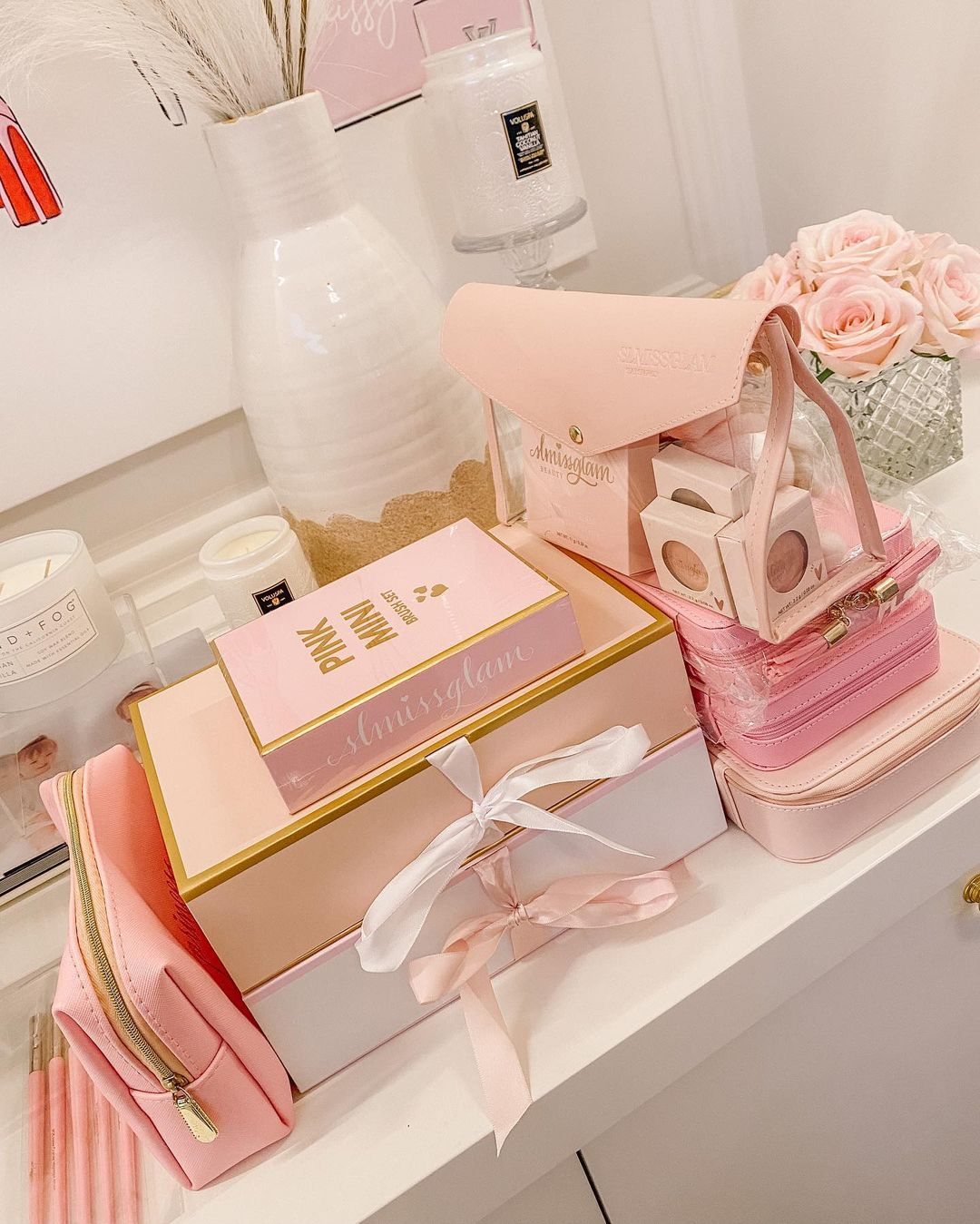 If you travel a lot and need your makeup to be put in separate bags or boxes, this not only looks so cute, but it's very helpful as well.
Wooden Cups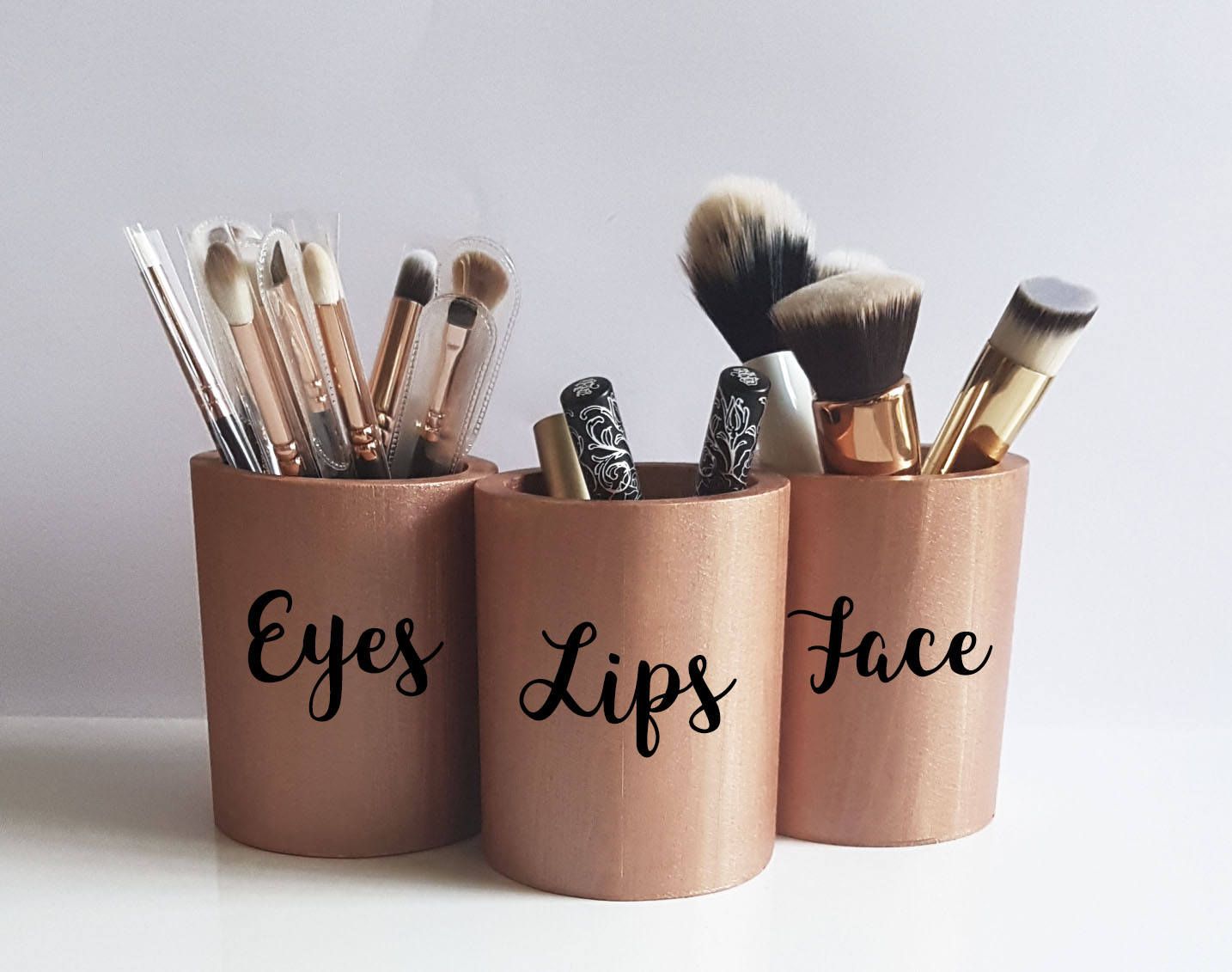 Labels are lifesavers sometimes arent they? Pick as many wooden cups you need and choose which goes where labeled it up, and your everyday makeup will never be lost again.
Makeup In The Kitchen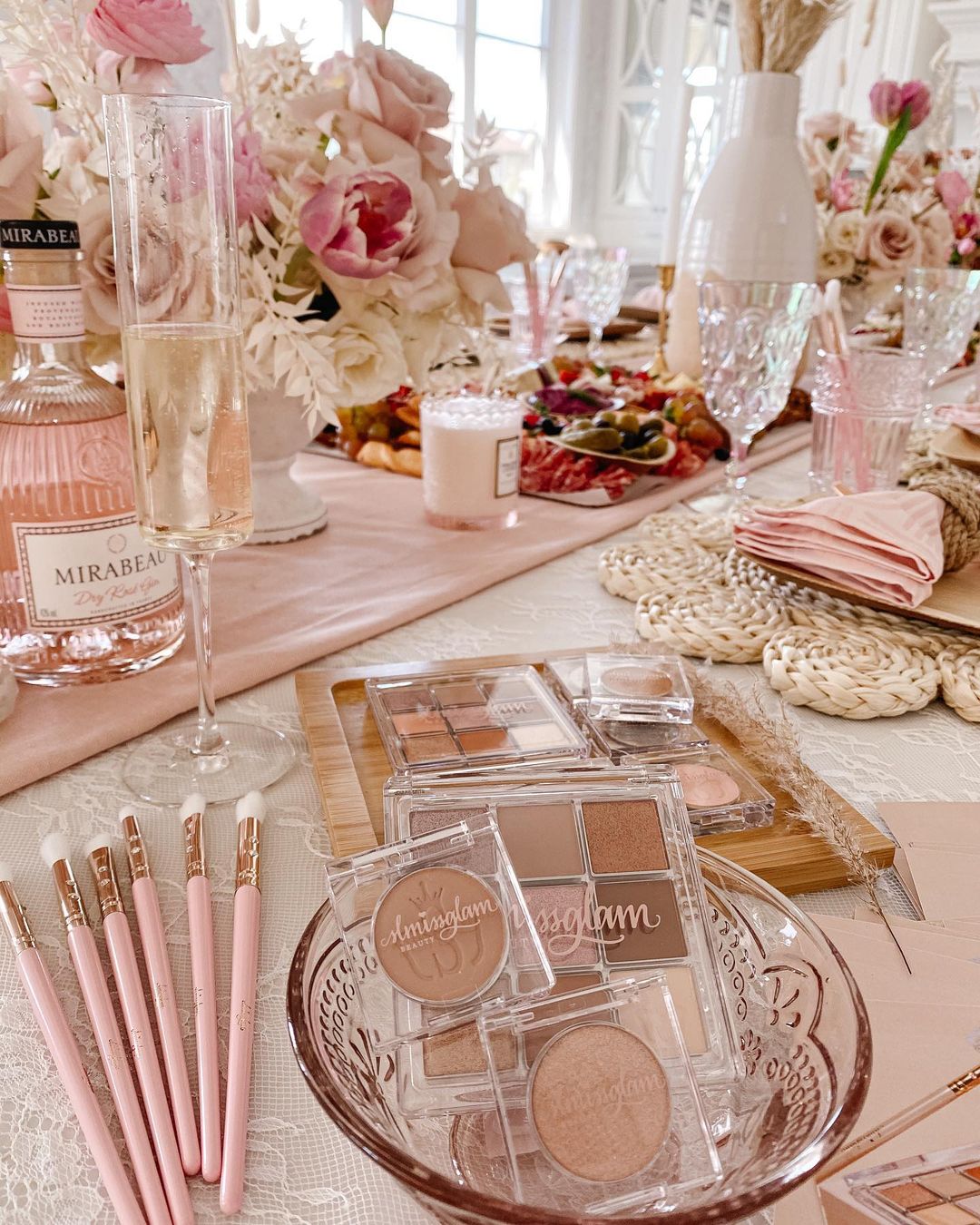 Here's an idea: why not invite all your girlfriends and do a makeup party in your kitchen? Bring all the food, all the drinks, and last but not least, your makeup. It will be the perfect evening to go glam it up, talk, relax and be girly girls all night long. You can use some of your kitchen dishes to display your makeup.
Hang it
If you thought that these hangers can be used in your kitchen only, you are very mistaken. If you have a blank wall in your bathroom, this is something you can do. A pot for your brushes, one for nail polish, one for lipstick, fountains, hairbands…
Flower Pots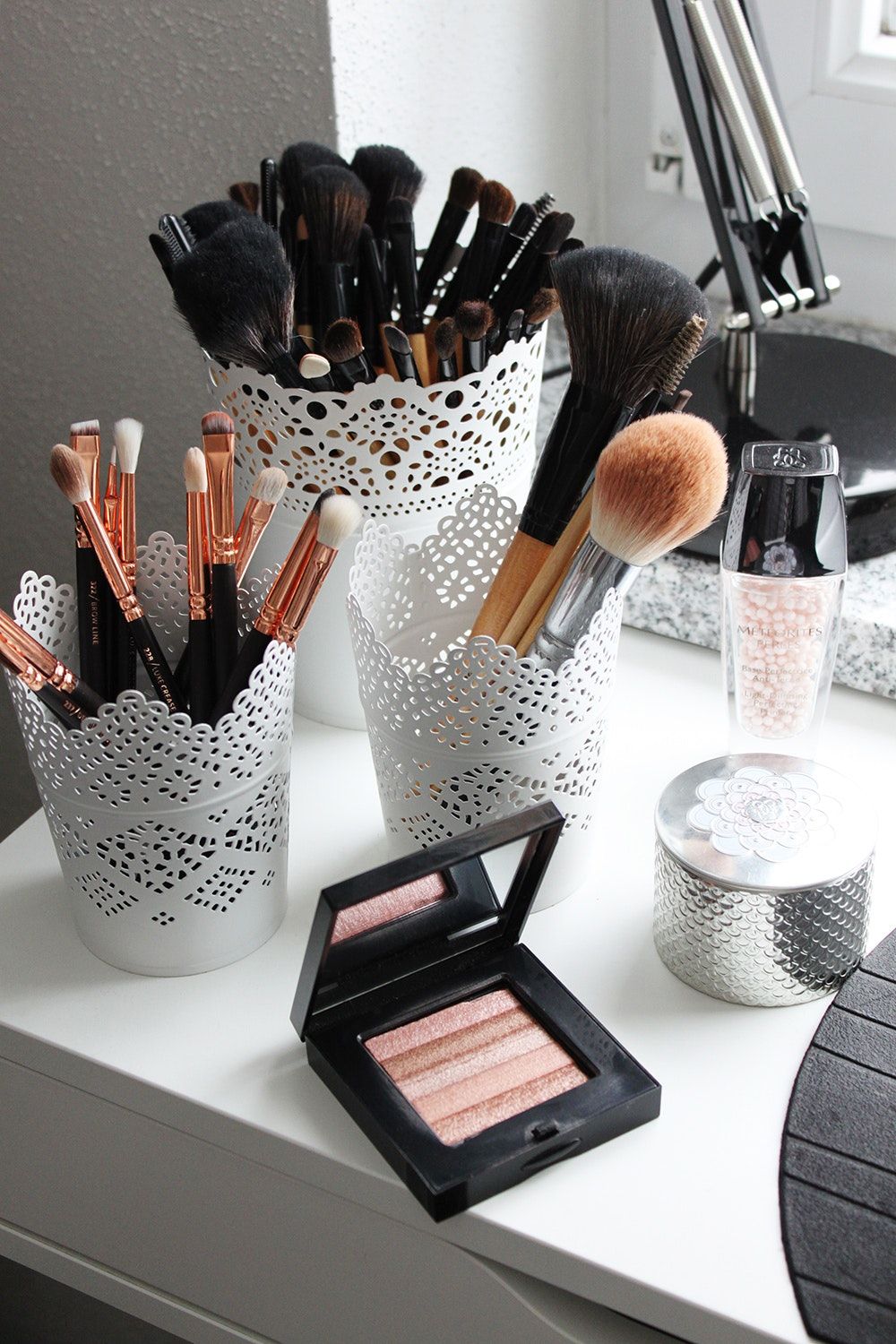 Aren't these small flowerpots the cutest? If you're bored of your old ways to keep your makeup, please use this idea to make your makeup area more fun and pretty.
Sparkly Mugs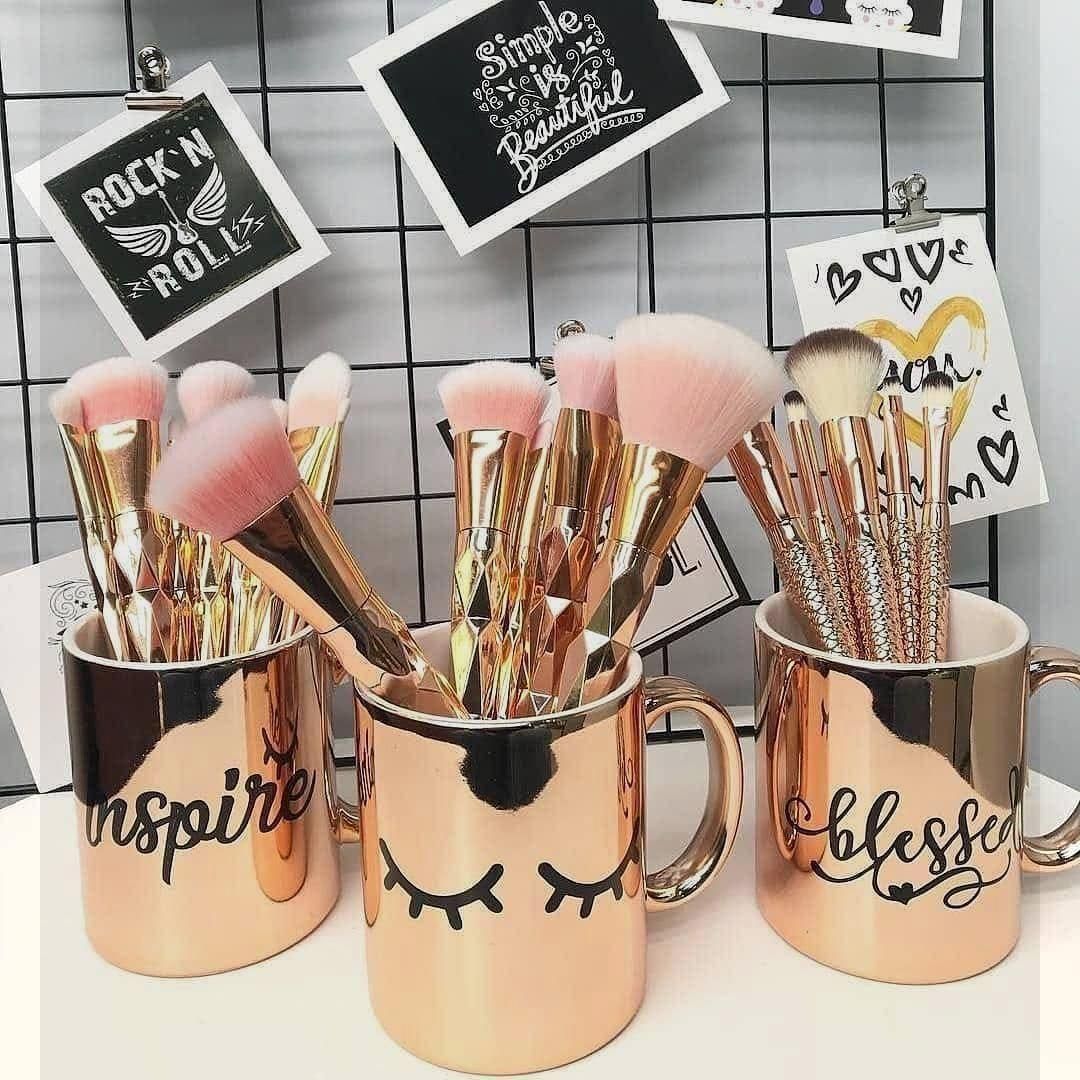 Muggs is not just for coffee or tea, right? If you love repurposing everyday items, I know you're gonna love this idea.
Everything On Display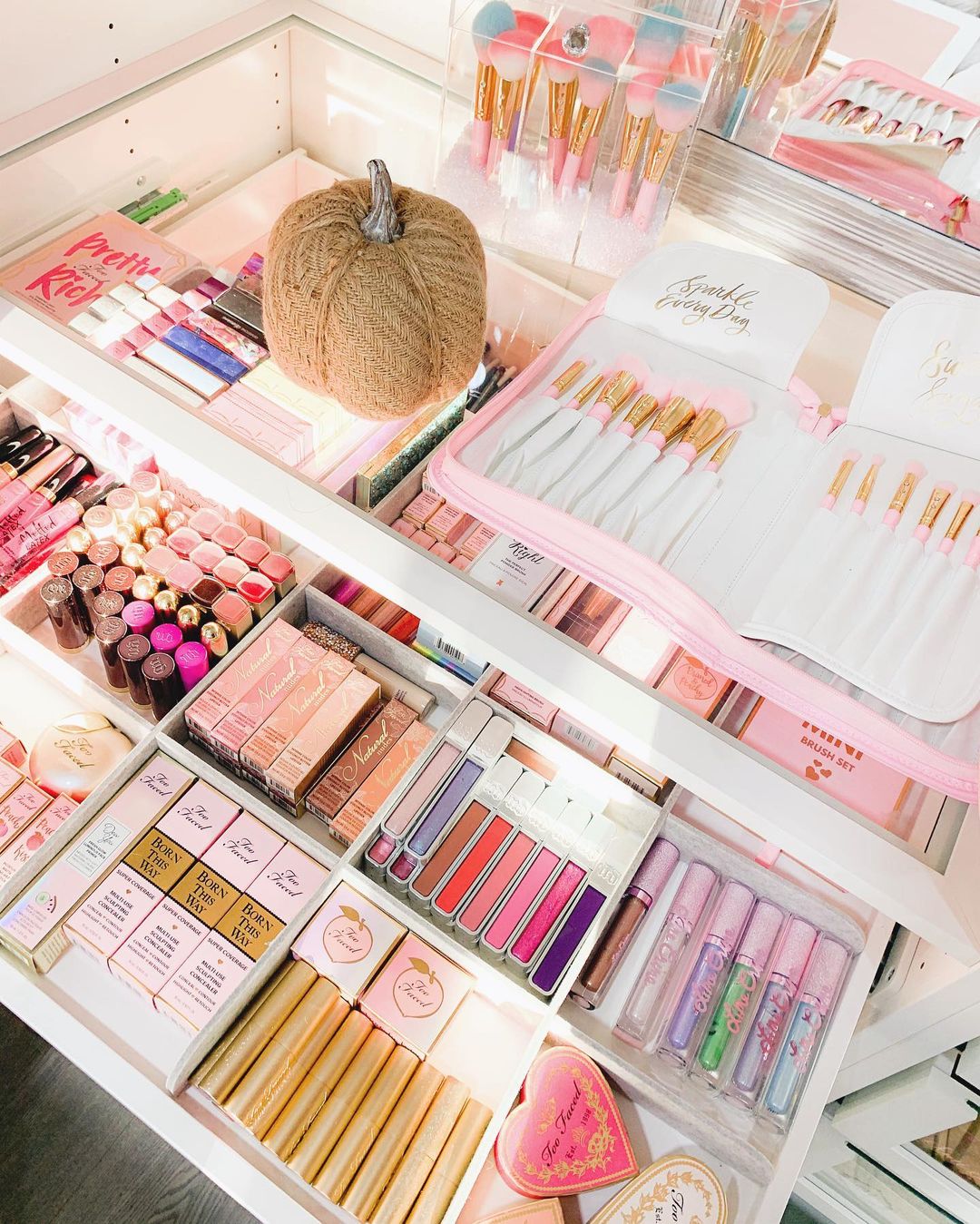 This is my favorite, I have to admit. I love seeing where everything is, as well as having it all organized. If you share this same passion as me, I know you'll love this idea.
Perfect Small Spaces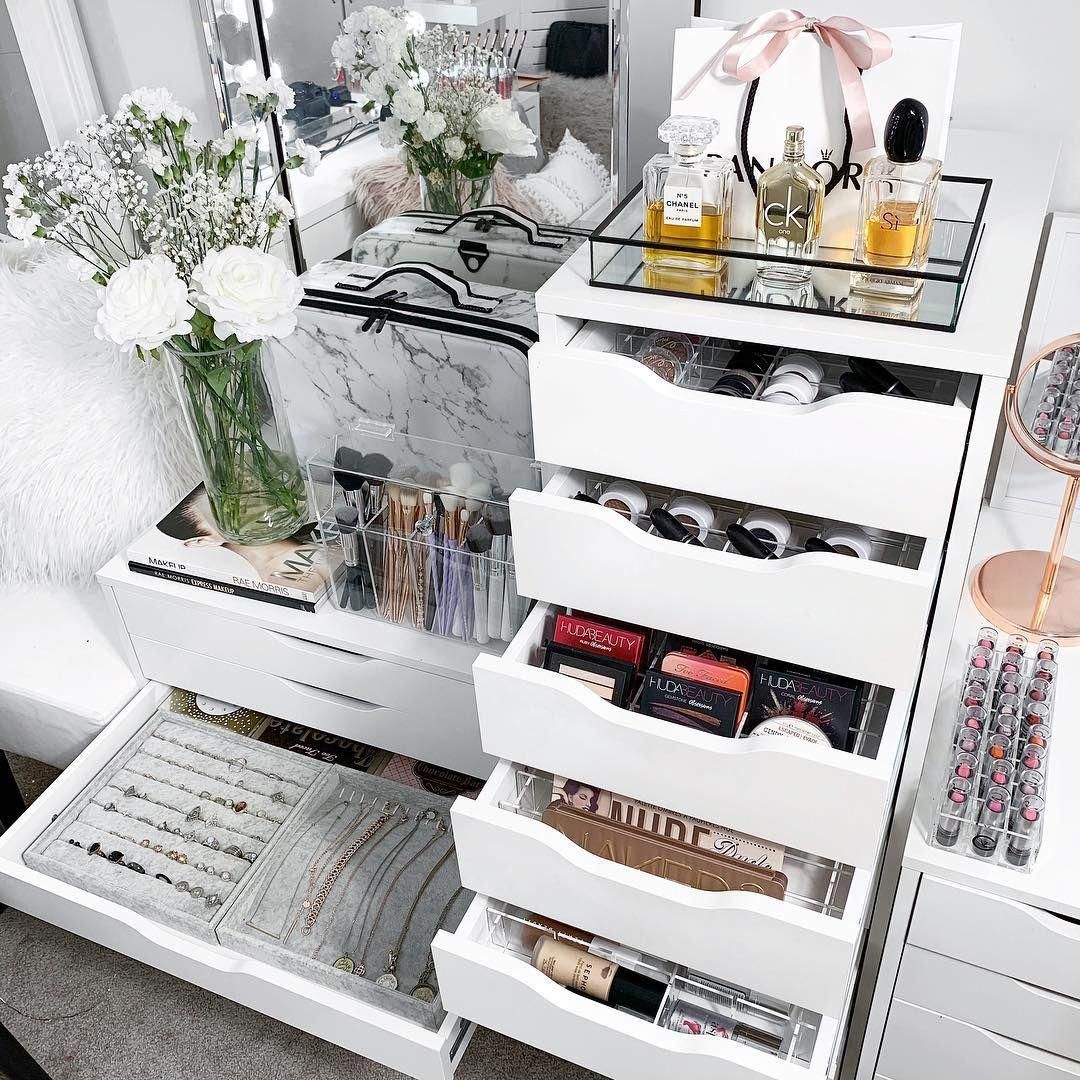 Small spaces can be well organized with the right tools. Usually, tall drawers do the trick, and if you stack a few of them next to each other, you'll have more than enough space for everything you need to get ready. Eve your jewelry.
Makeup Organizers
If you prefer to have a smaller space on your counter for your makeup, this organizer is all you need. It has few levels but it has more than enough space for everything you need, I promise.
Big Drawers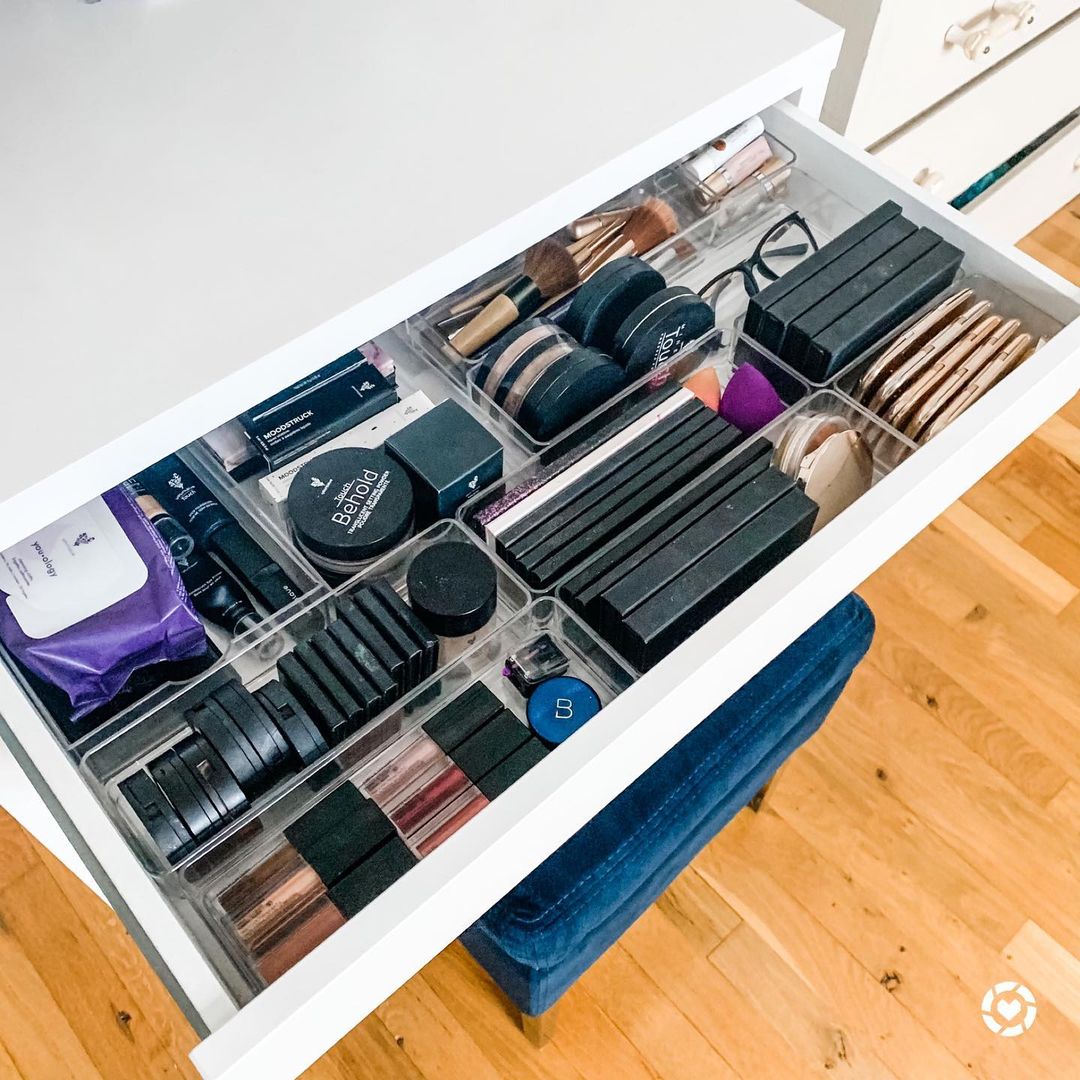 Remember those hidden drawers in the vanity? Yes, this is how they look, and how many things you can put in them. Everything is well organized, on hand and you won't have to struggle in the morning while you're getting ready.
Pink Perfection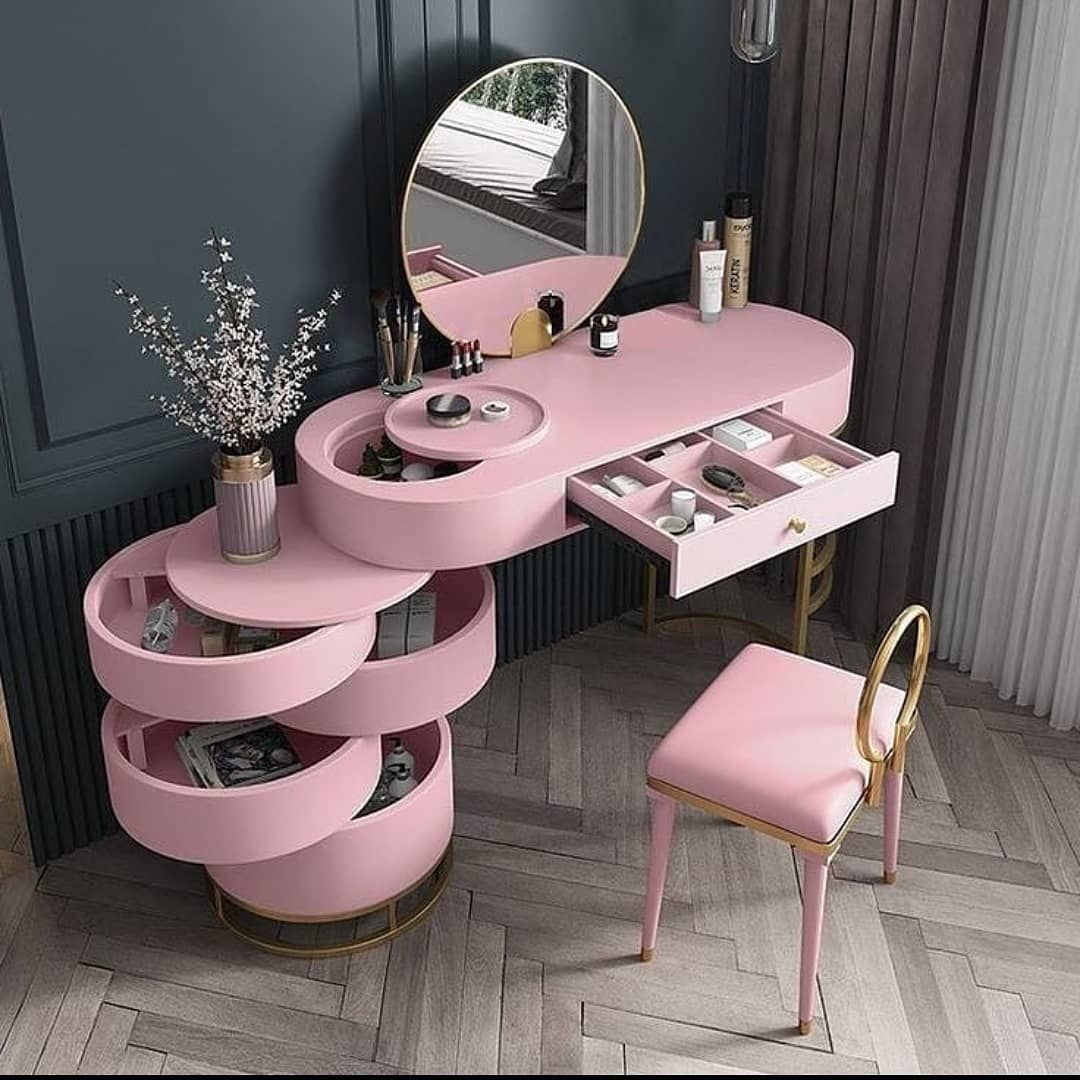 You know I never forget about the pink-lovers. Isn't this the girliest and the most amazing vanity you have ever seen? I love that it has so many levels to put your products in. Yes, we can all use things that looks perfect and beautiful, always!
Ladder Shelves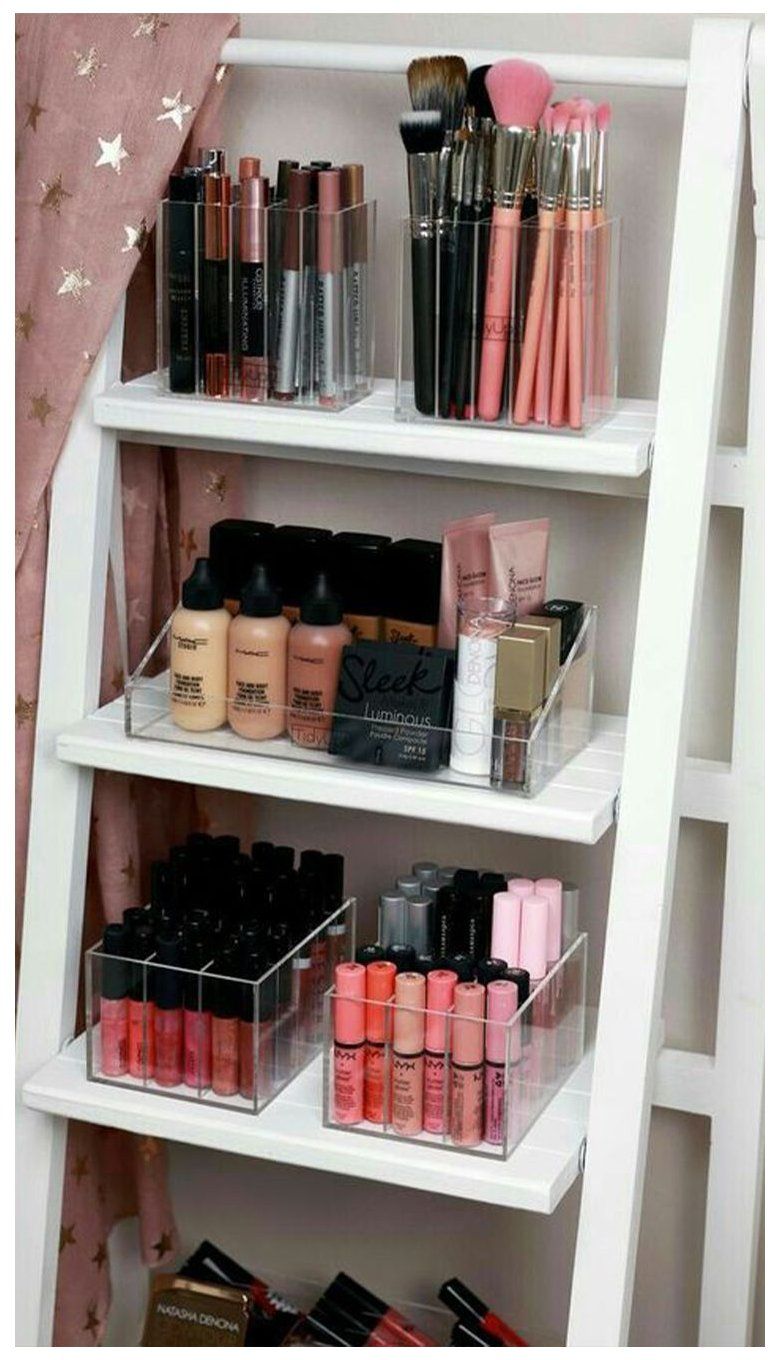 Ladder shelves usually are used for smaller spaces, and yes, you can find one and make it not only look beautiful but useful as well. This is perfect for a smaller bathroom, you can put it on the side of your vanity as well, or find the space that works for you.
Palettes All The Way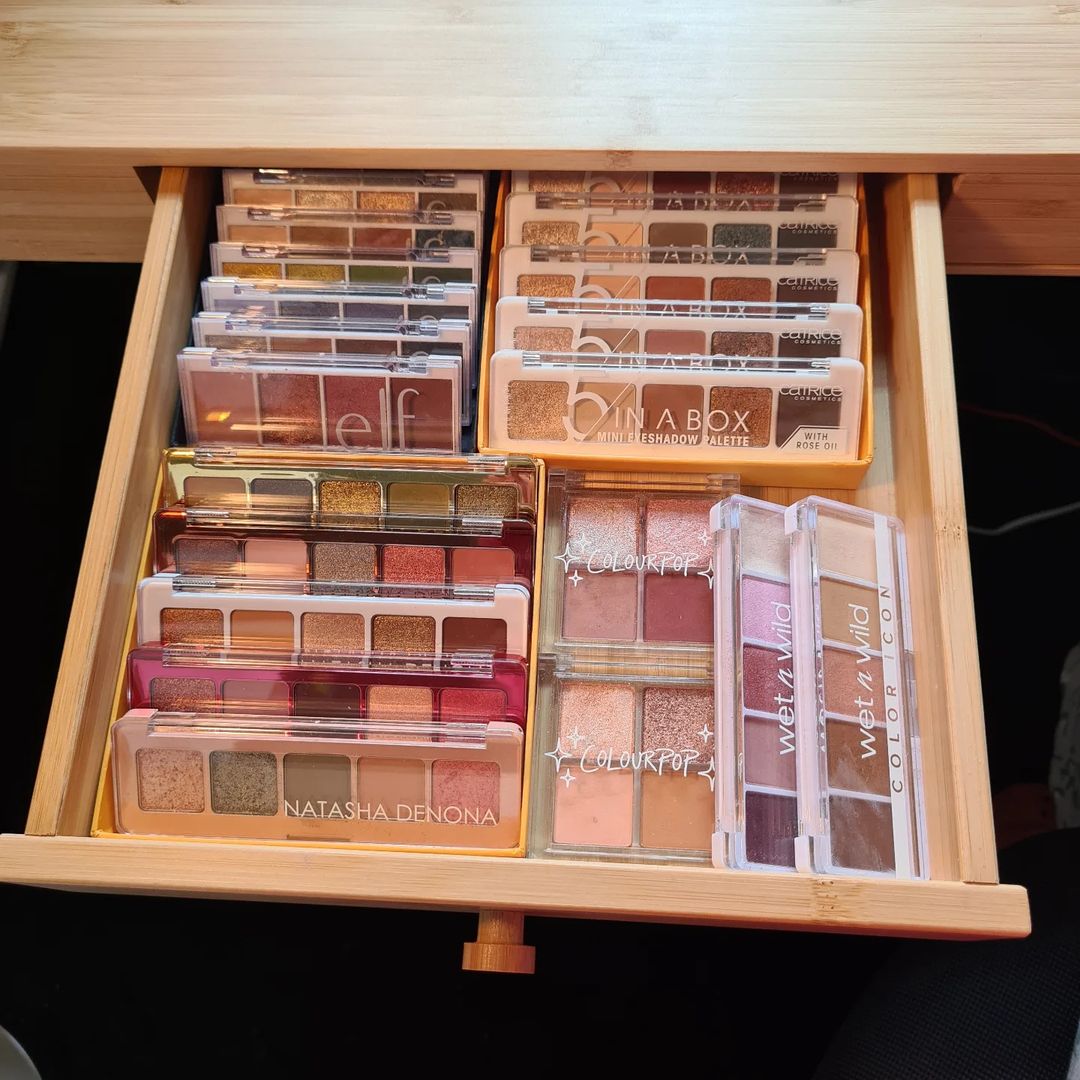 Ok ladies, how many of you use eye shadow on daily basis? How many own a million of them? Well, all you need is an empty drawer and categorize them well.
Elegant And Simple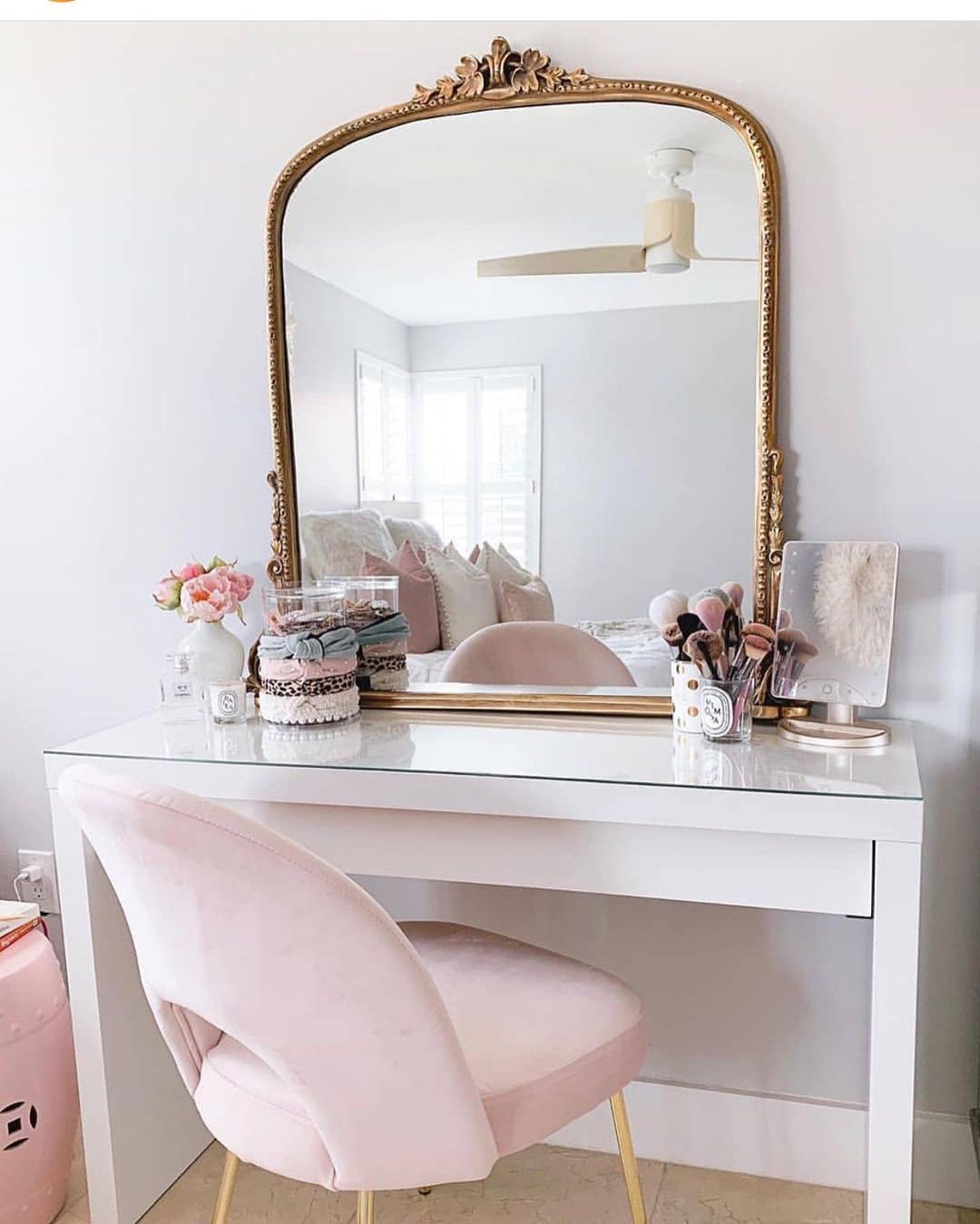 If you like a more clean space on your vanity, this is something to be inspired by. It's a calming, decluttered space, and if you thought for even a second "wait, where's all the makeup?" please know that this vanity has a secret drawer where you can perfectly organize everything.
Use Your Cart
I know that a lot of people use these carts for a lot of things, but I promise this may be the ideal thing to use it for. It has different levels, separators, and more the enough to make place for every piece of makeup you own. The best thing is, you can move it around the house, where ever you need to get ready that day.
Magic Pearls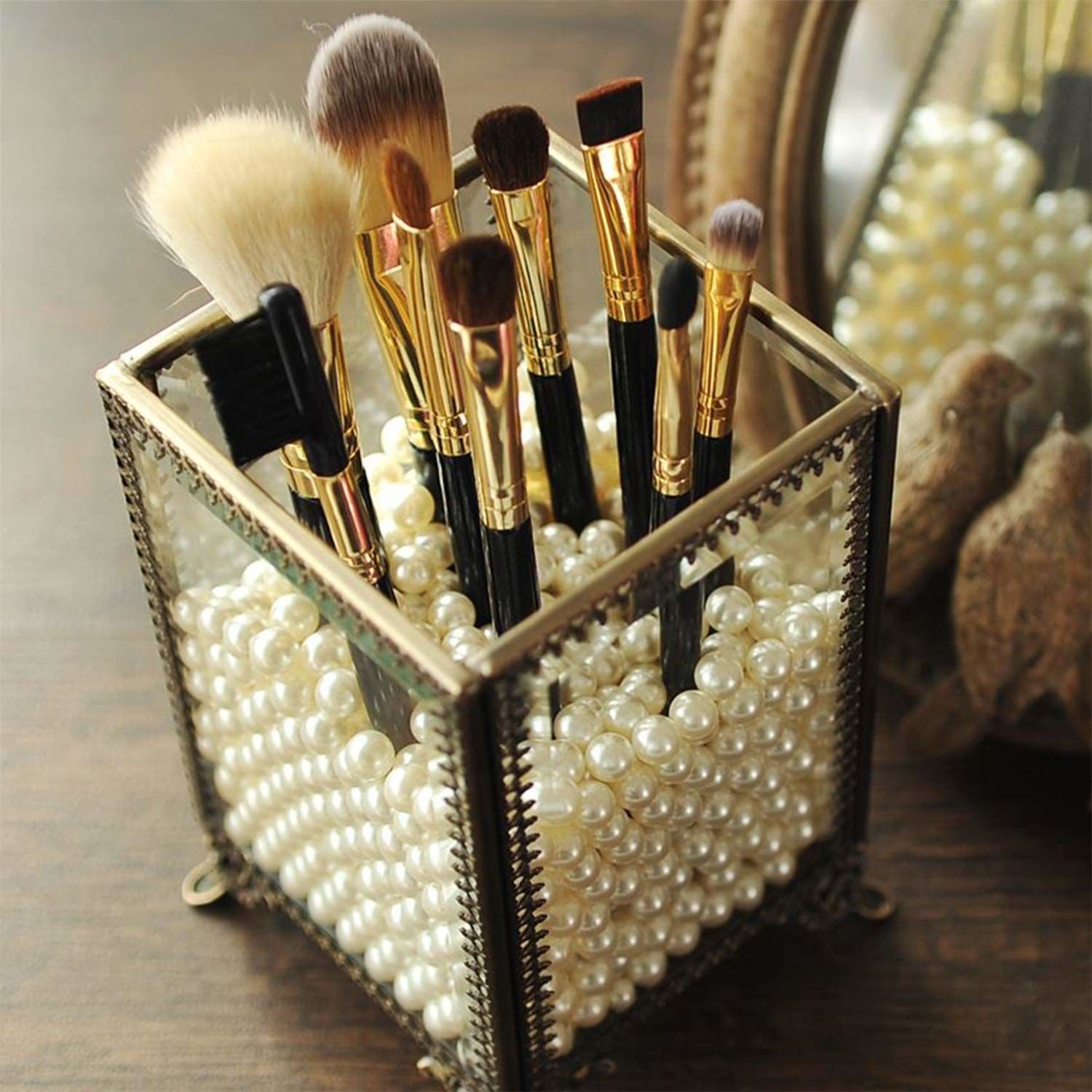 This brush storage is magical. Not only does it looks as it belongs in a fairytale, but it keeps preventing your brushed touching and mixing colors on one another. And it is a unique decoration as well, isn't it?
Makeup Room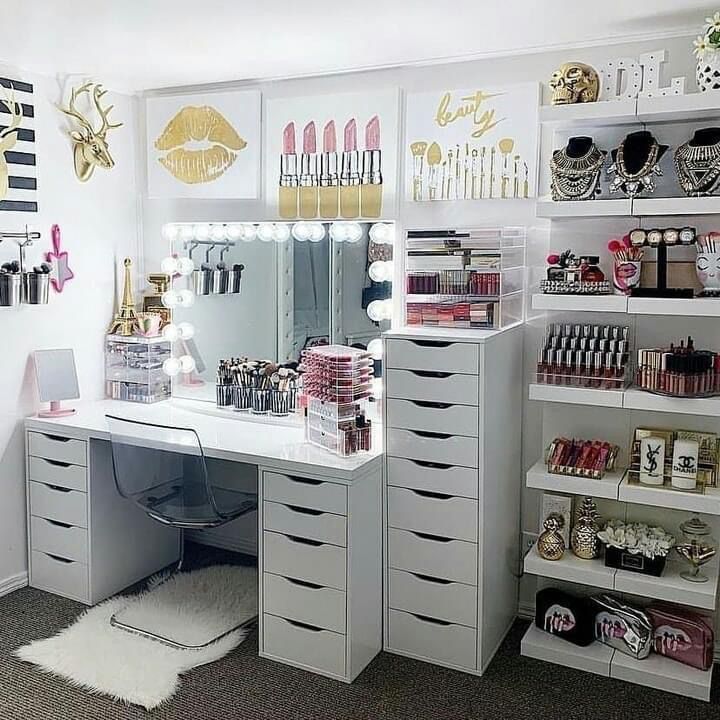 Dream room? Yes! This is the absolute dream come true for all you makeup lovers. I don't need to say that every single thing will have a place on its own and that getting ready will be something you do gladly.  Every. Single. Time.
Everything You Need In One Place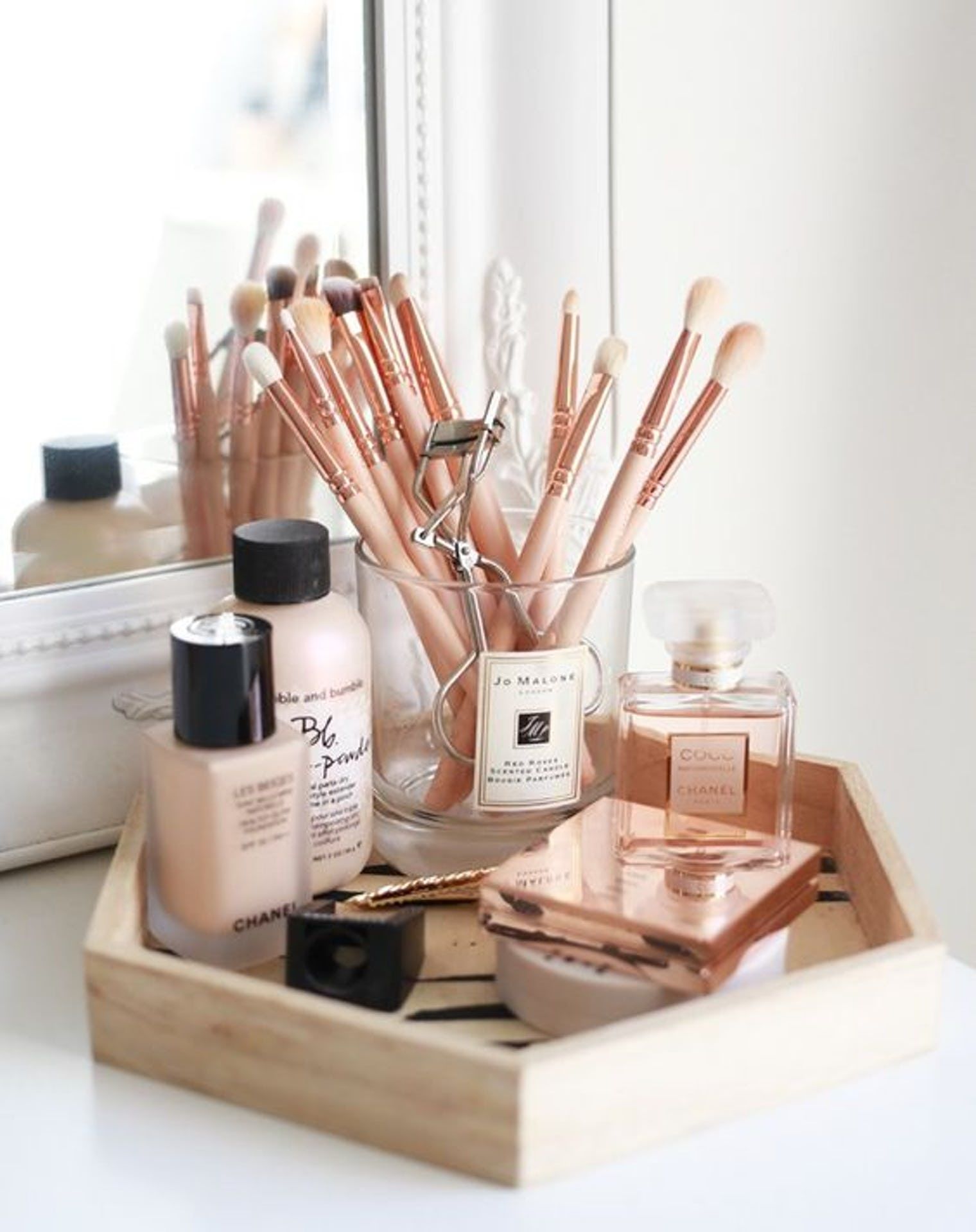 Sometimes you just need a place only for the make-up you use on daily basis. So why not pick a cute tray like this one and put the essentials? Getting ready for work will be easy as never before.
I truly hope you found some inspiration for your ideal makeup storage and inspiration on how to make your every day easier, while you enjoy this special moment for every woman. And never forget, the organization is half the job done. Please like and share with your girlfriends, maybe share with all of us some of your own ideas. Till next time!