Pastel colors have been a big trend lately. This trend may be found in branding schemes, websites, social networking platforms, fashion, and, most importantly, interior design.  Color has been found to influence both your mood and the appearance of a room. While all-white spaces can be just as attractive, there's something special about expressing your sense of style through a rich color pallet. That is why the rooms in our home must be furnished to make us feel as if we are in another universe where we can rest, relax, and enjoy ourselves with our loved ones.
These eye-catching hues, which range from pinks to blues, will elevate your home to new heights. However, before we can comprehend this trend, we must first comprehend what constitutes pastel. It's any hue with enough white blended in to make it look soft and pale while still maintaining its vibrant personality. Whimsy yellow, light azure, millennial pink, and creamy white are some of the pastel colors that have made their way into the pastel category this season. These colors have a soothing quality to them, and they will make your rooms feel cozier and more comfortable.
Maybe you're thinking of renovating your home? The good news is you don't have to change everything, you can start with the colors in your home. It appears that society is in pursuit of calm, which has been much needed recently. Pastel colors like pink, blue, mint green, and light beige will improve house interiors when matched with darker accessories. So, look for or make little projects to transform specific pieces of furniture into a mix of pastel colors, sleek lines, vintage spirit, and flowery prints.
Pastel colors will have a significant impact on your mood. They may instantly change the environment because they appear serene and pleasant to the human eye. Pastel interior design ideas are elegant and charming, making them ideal for a range of settings. Take a look at some of the suggestions I've put together for you and enjoy.
Luxury Living Room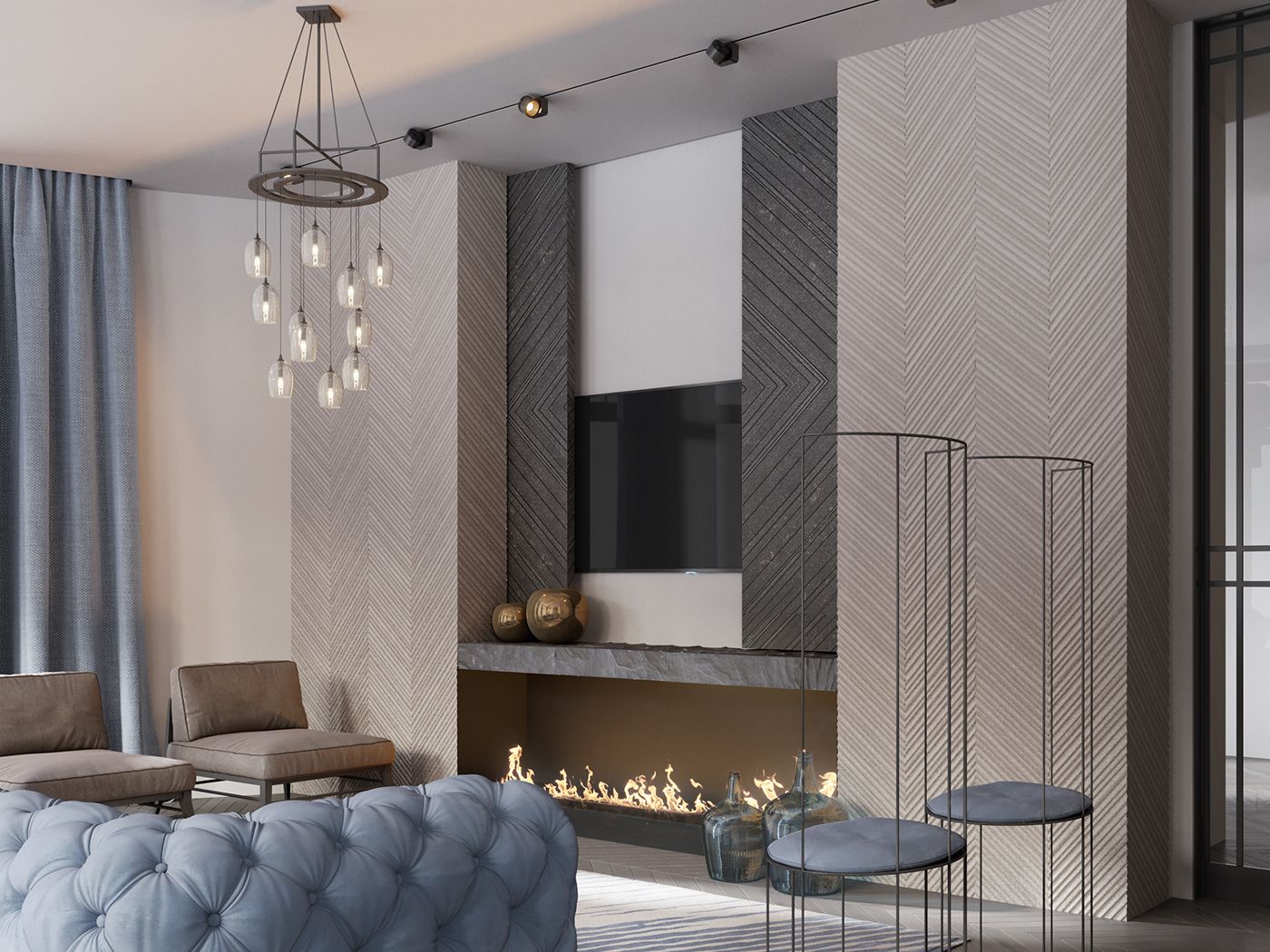 This luxury living room is full of calming energy and comfy vibes. The warmth of the subtle wooden tones and textures complement the soft pastel blue sofa, chair, and curtains perfectly. The carpet is a blend of all the colors in the room and the fireplace makes this whole room come to life.
Kids Bedroom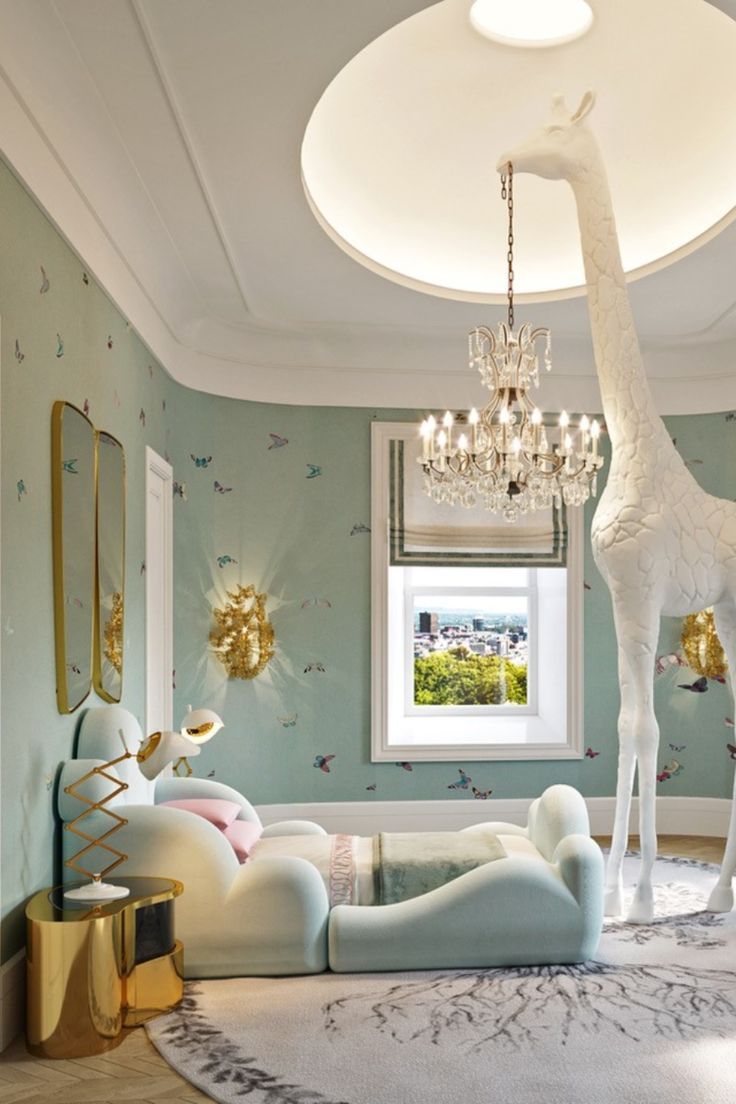 If you want to give your child a unique kind of room, this is the perfect idea for you. The mint butterfly walls are just the beginning. You can use a sticker or wallpaper, but the bed shaped like a teddy bear is really one of a kind. As well as the giraffe chandeleer. The golden fixtures, yes including the nightstand, are the perfect contrast to this cuteness overload.
Rose Gold Powder Room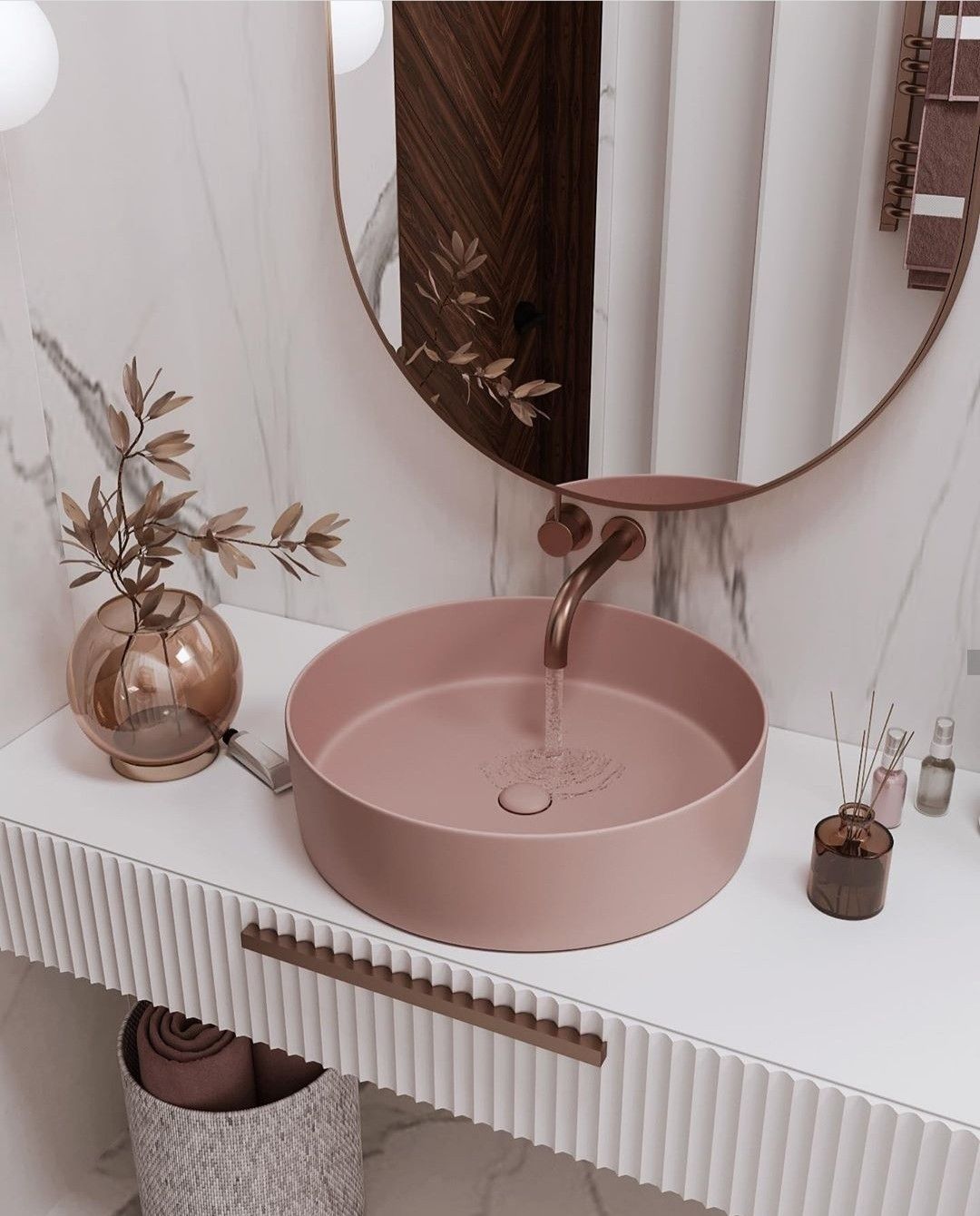 Details are everything. In this powder room, the main tone is white and white marble, but the thing that makes it special is the rose sink and all the rose gold details. Very girly and very beautiful.
Small Kitchen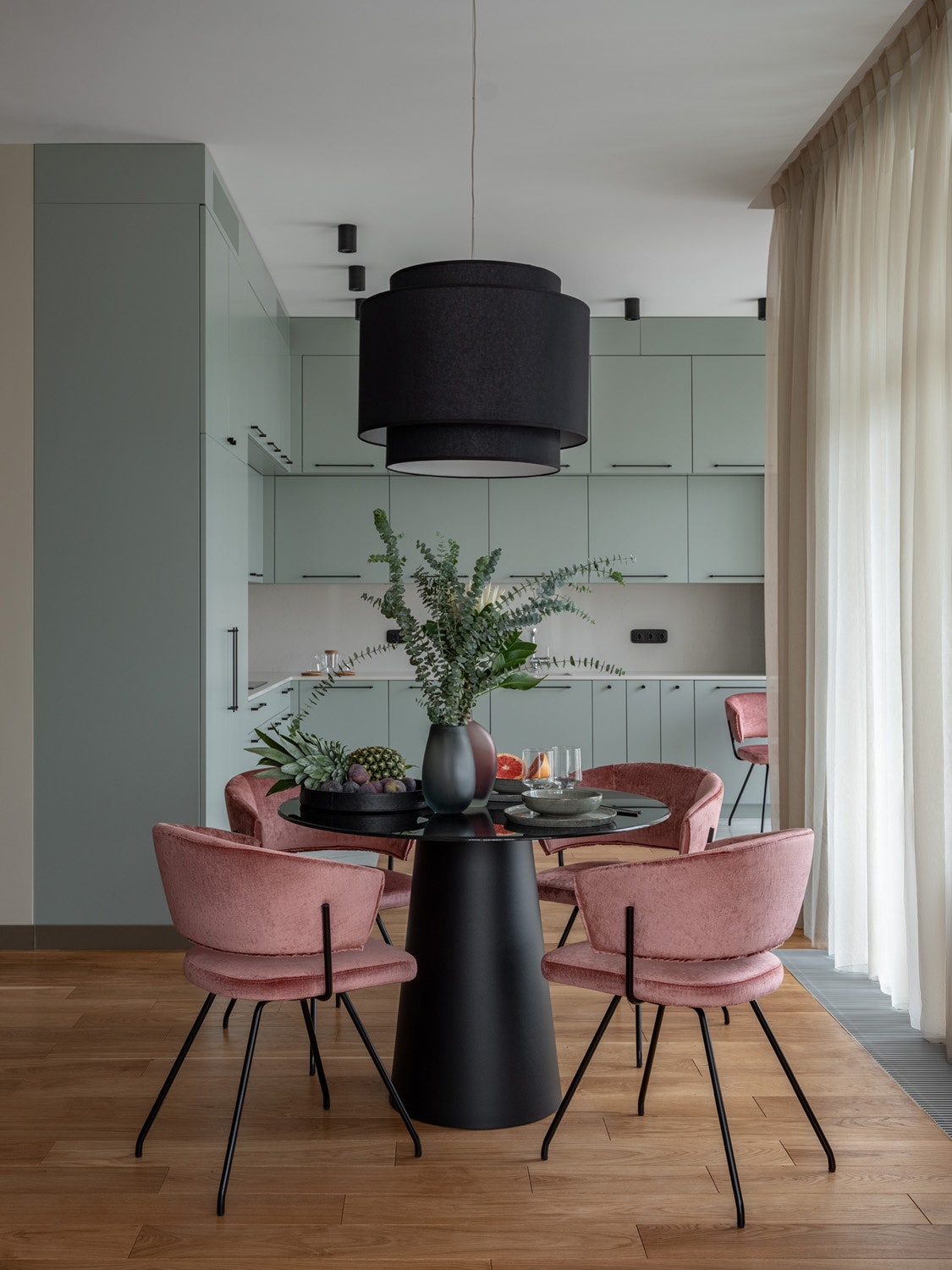 This small kitchen and dining room are so cute, yet so elegant. Since the whole kitchen is mint, the pink chairs give the very much-needed contrast, and the black table completes the whole space. These are some of the most frequently combined pastel colors for a reason, they give outstanding results in every space.
Main Bedroom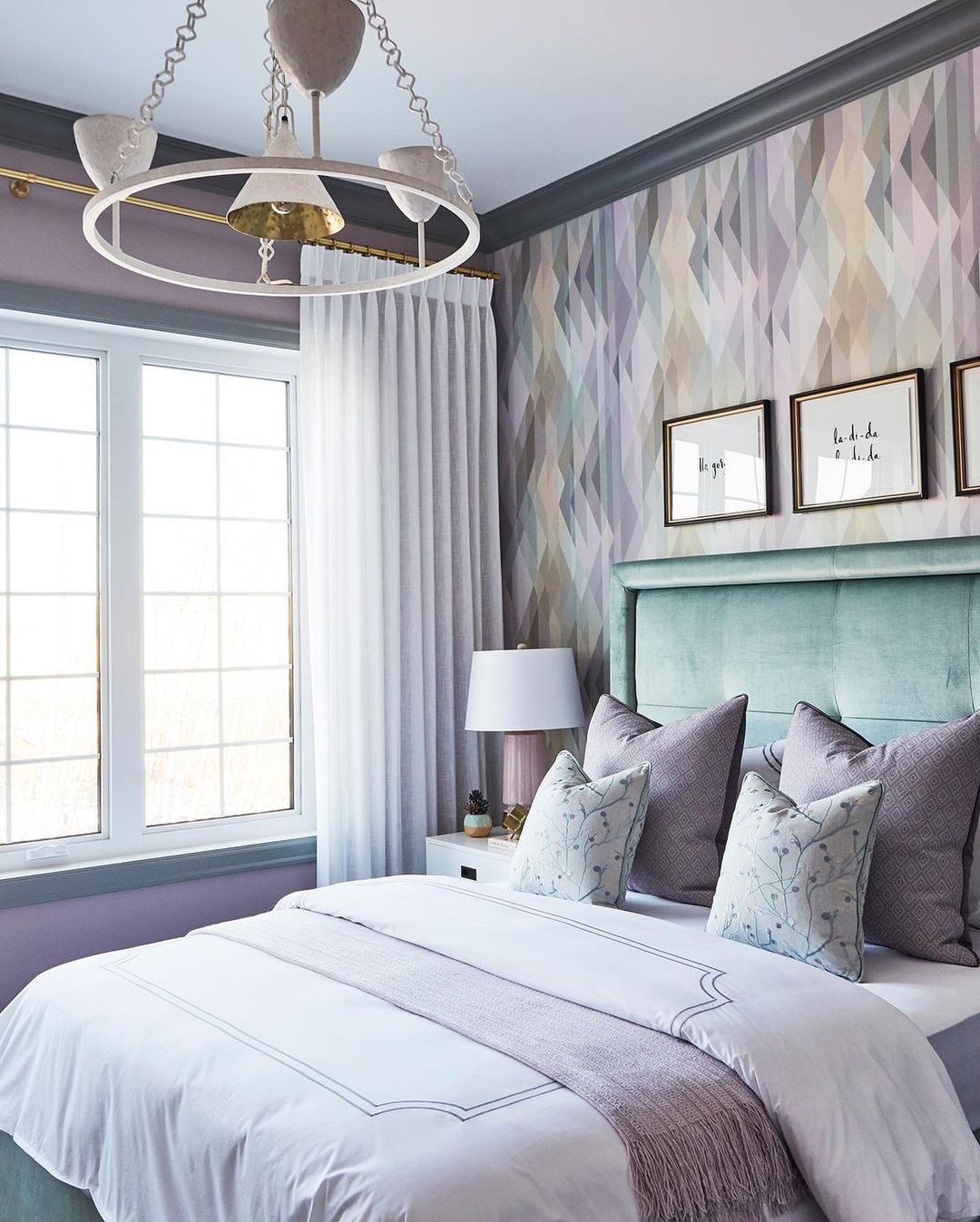 Even though this main bedroom is not the most spacious, it still looks pretty and welcoming. Let's start with the wallpaper that is an inspiration for the whole look of the room. Light purple, mint, and creamy tones will make your stay a little longer. The purple wall matches the bedding and the mint bed frame is like the perfect marriage in this whole color scheme.
Guest Room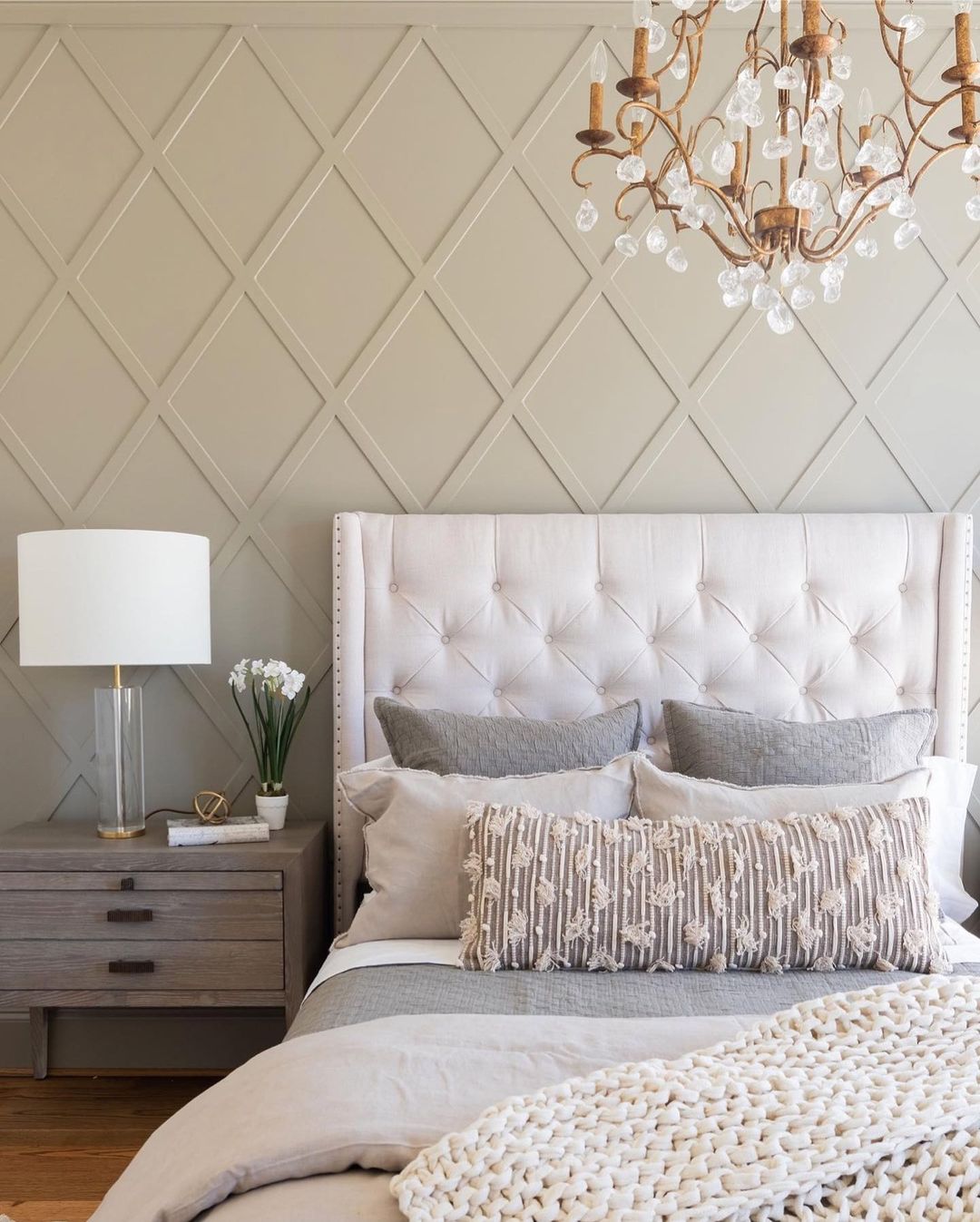 This space is something that should always be ready and welcoming for your guests. You can use white, cream, gray, and other well-combined colors to make it special. But if the colors seem too plain, feel free to play with textures. For the braver ones, do a different wall paneling, but if that's too much for you, you can play with blankets, pillows, bedding and so much more. Your guest will be thrilled.
Hallway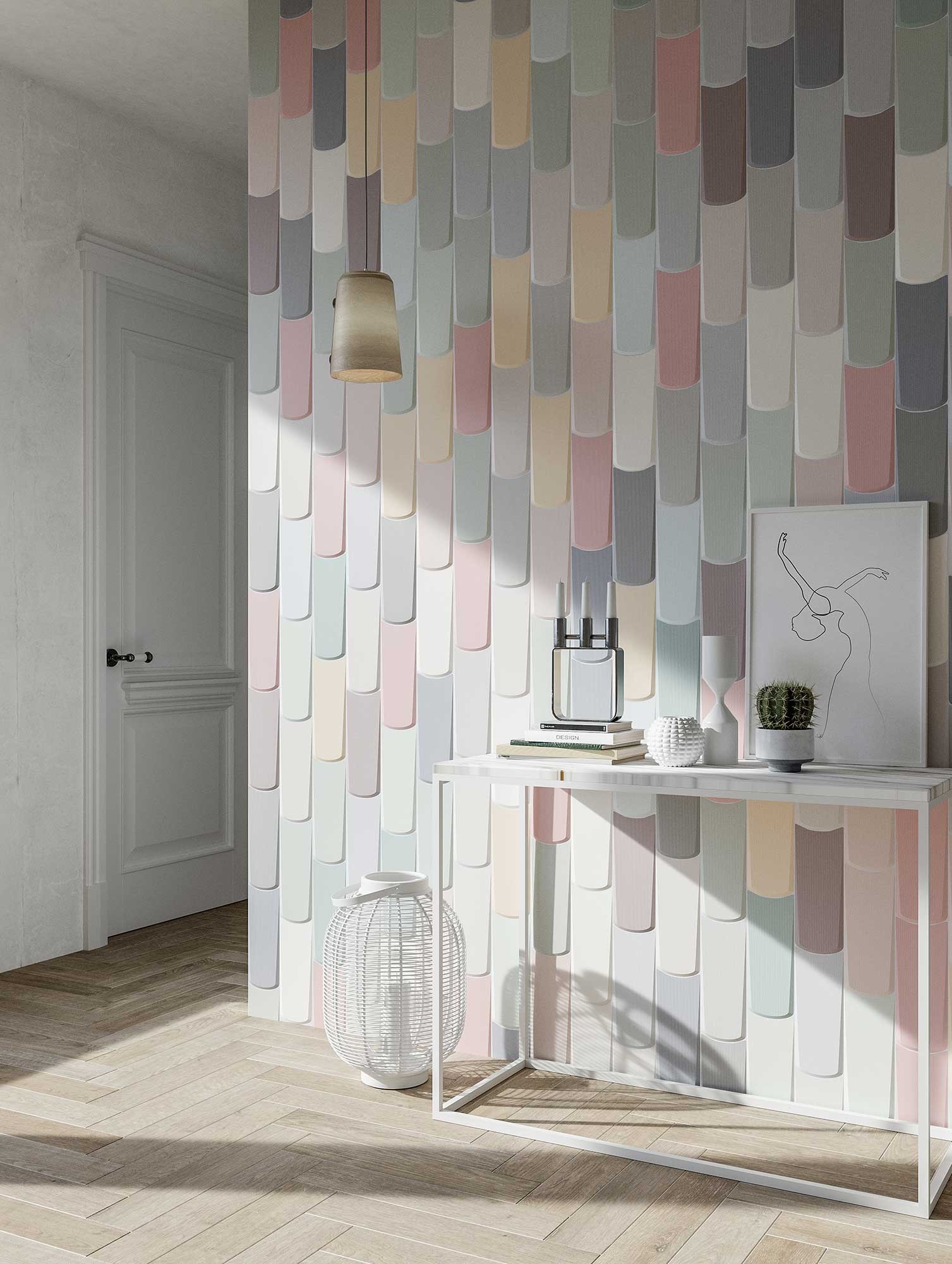 How amazing is this wall? It brightens the mood as soon as you walk inside. I admit this form of paneling is sort of difficult to find, but if you're artistic enough, you can do it by yourself. If not, find a similar wallpaper and you'll be greeted by a happy hallway like this one every time go get back home.
Coastal Bathroom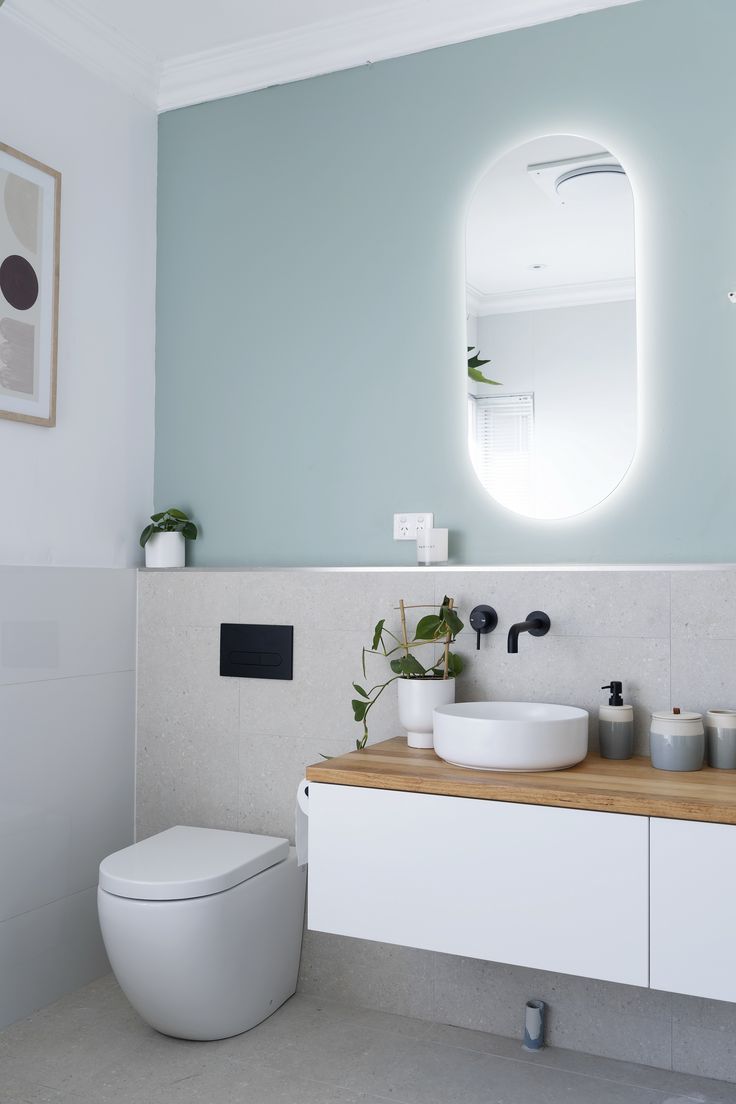 A small bathroom with a big statement. Only one-half of the wall is painted in baby blue color, and everything else is white. If you end up using this idea, the dark fixtures are a must, as well as some wooden elements. It will make this space look amazing.
Entryway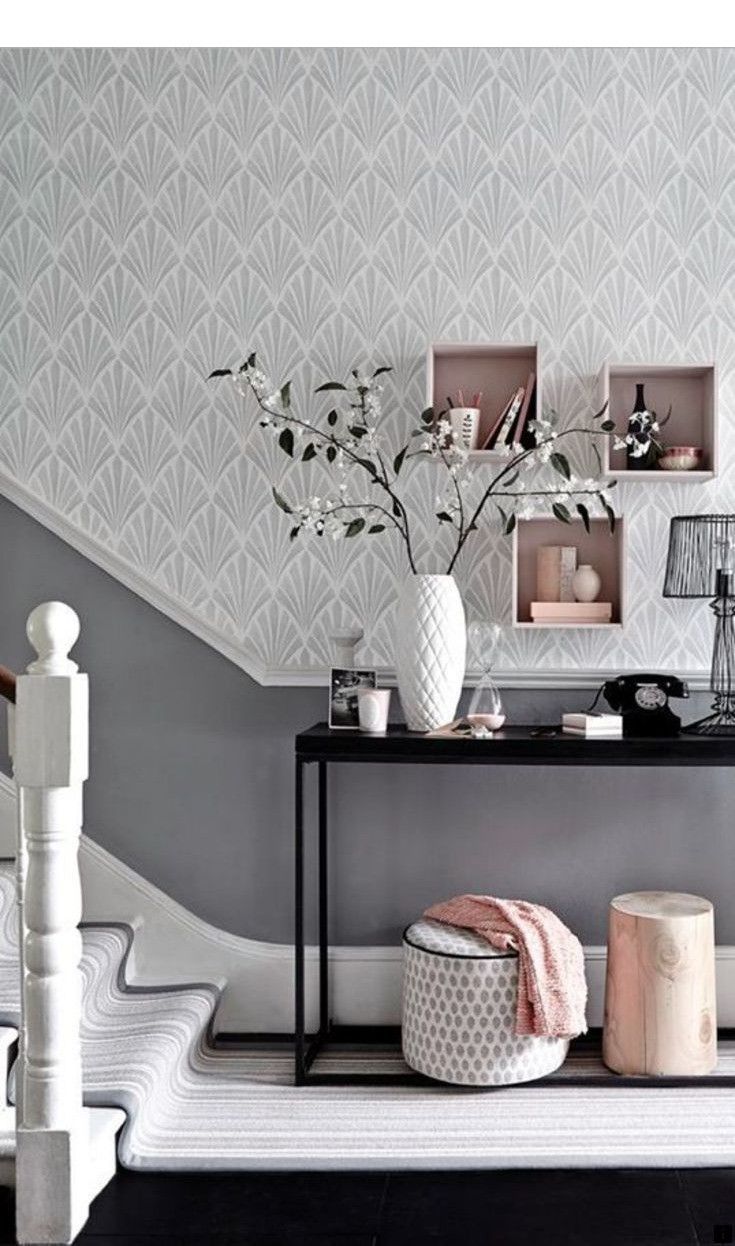 We all know how important is this space. Every time you get inside the house you need a space for almost every important thing you need before going out or a place to put things on. And yes, it needs to look great. When using a pastel palette, even it's white and grey, and if you want this space to stand out, remember to use a darker tone console table and play with different kinds of colors for the decor pieces.
Small Apartment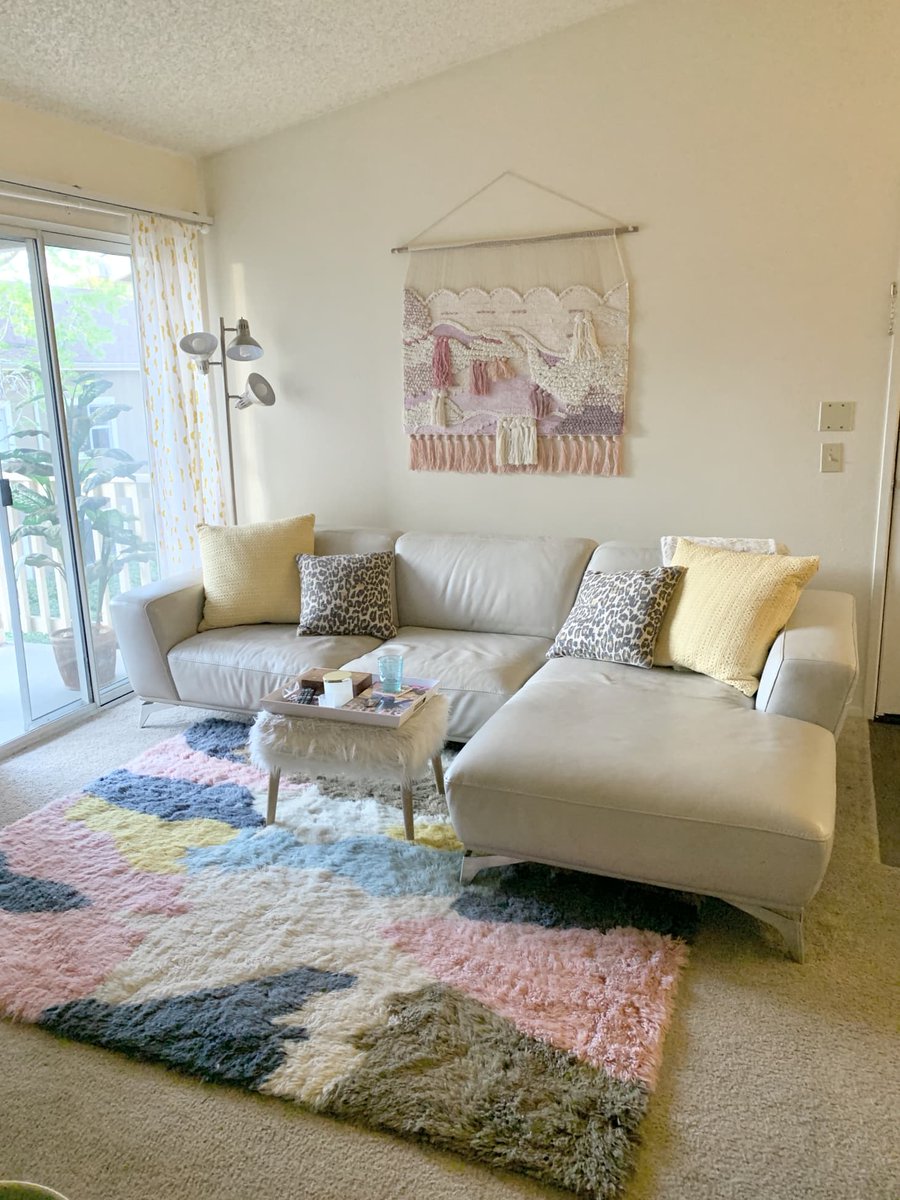 This small apartment has that Californian character. The color of the wall and sofa is beige and imagine how to blend this will all look without all the details in it. Starting with the colorful macrame, the pillows, and the thing you notice first is the carpet. Everything matches so well, making this room so beautiful.
Main Laundry Room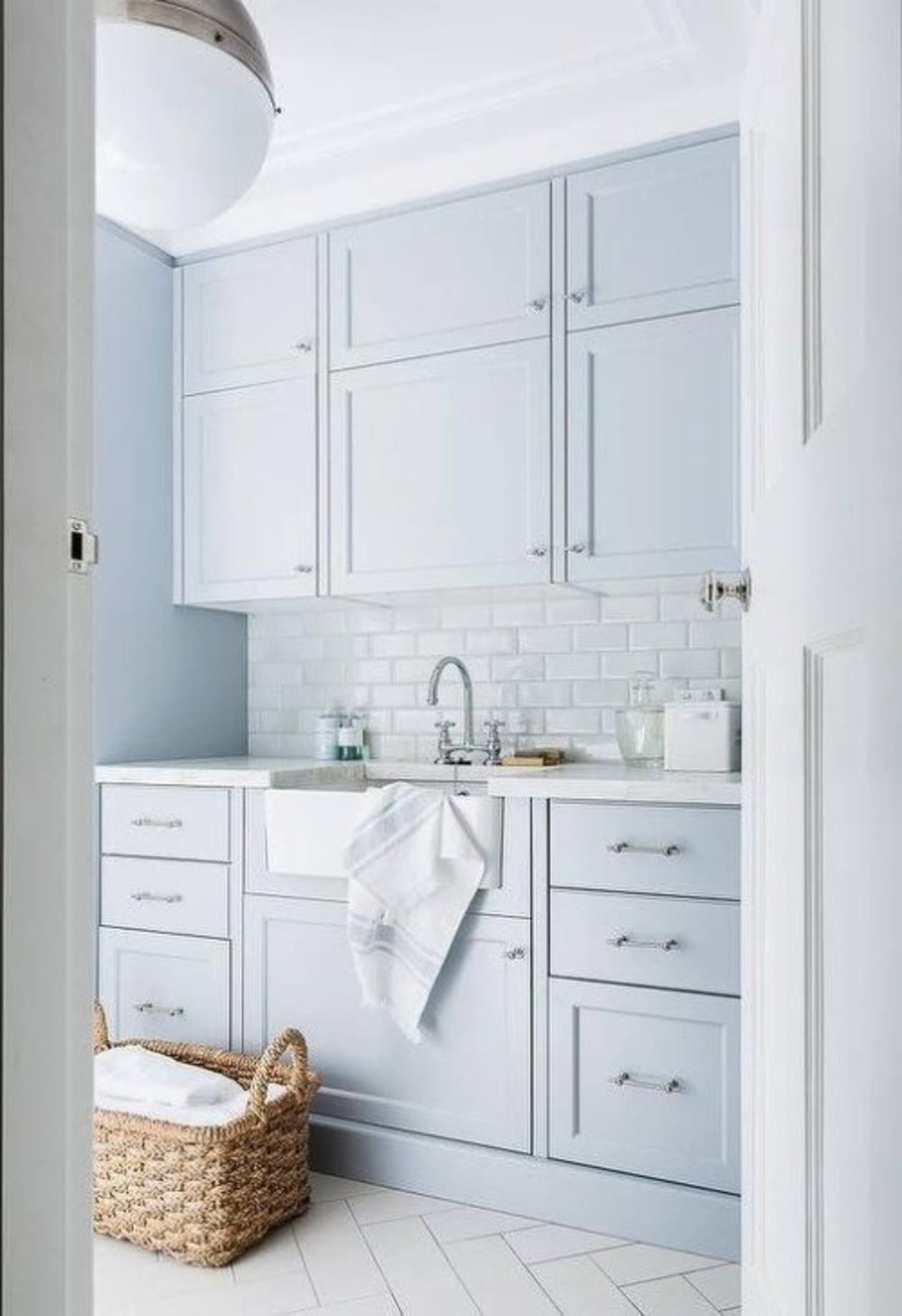 The room where the neverending chores are done has to look amazing no matter how much laundry you have to do. I love this all-baby blue cabinetry and the white tiles. It makes the space so calming and peaceful, and sometimes the perfect escape while you do everything you need to do.
Girls Room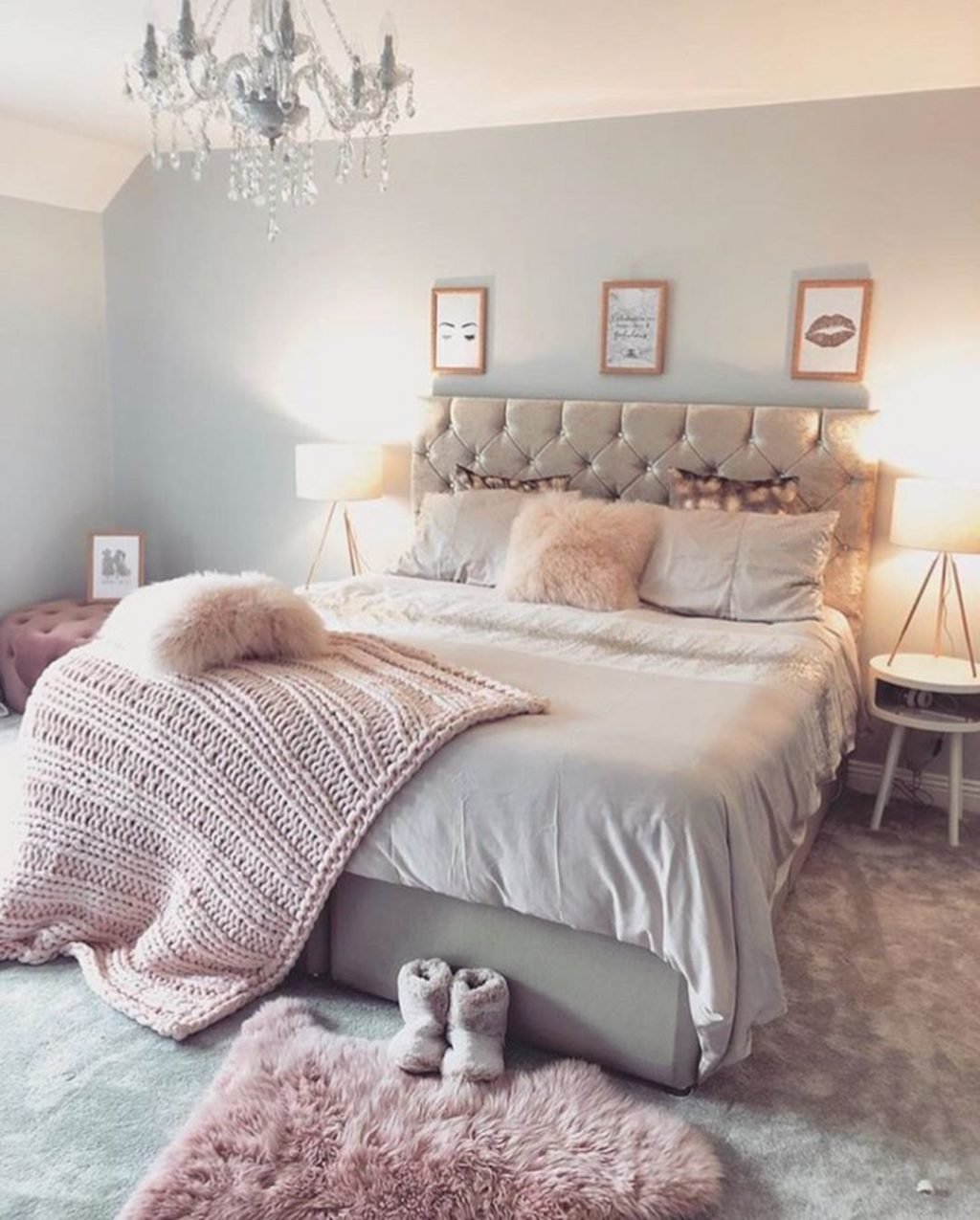 This pink and grey girls' room is so pretty, so calming, and relaxing. No need to all bubble gum pink to make a statement and point out that this is a girls' room. If you like pink, you can still enjoy subtle tones like this and have fun while doing so. As you can see the base color for this room is light grey, but the blanket the soft rug, and the ottoman are enough to make all the difference in this room.
Boys Room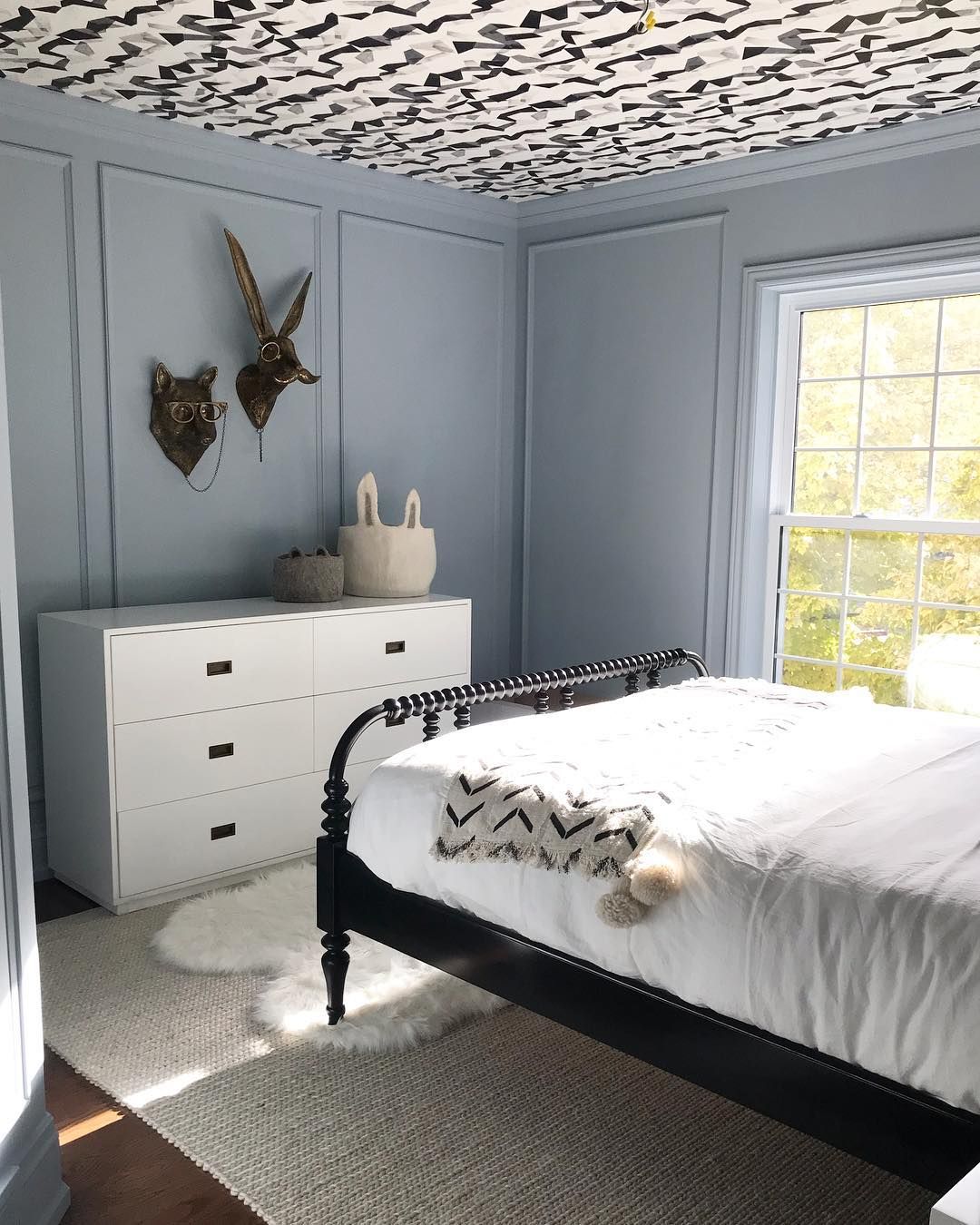 Not all boys want nor need themed rooms. Especially teen boys. If you or your boy choose something more calming for a bedroom, this is what you need. You can do some paneling on the walls, but you don't have to, the room will look awesome just with some color. This pastel blue on the walls goes perfectly with the white drawer and the window frames, and the accent thing in the bedroom is the black bed and all the details as well.
Home Office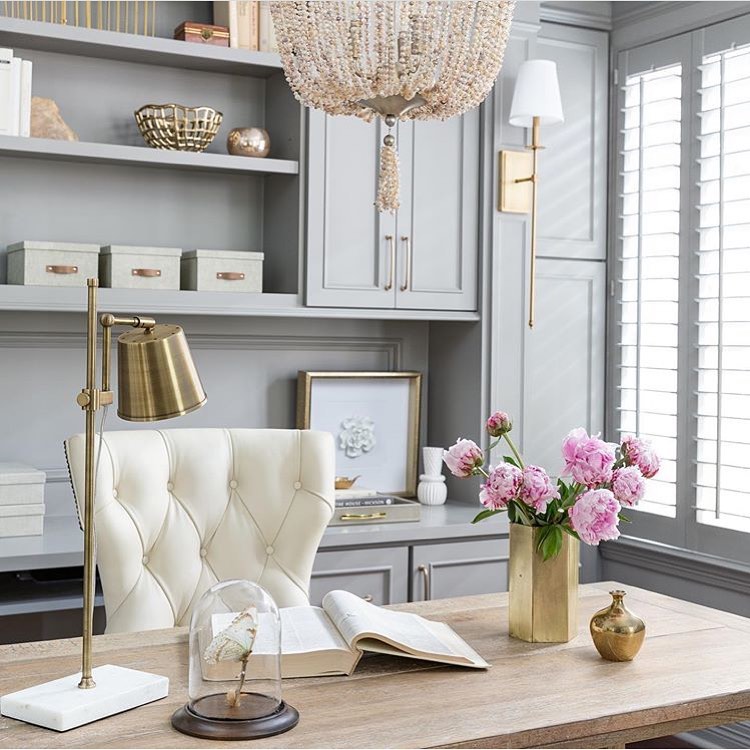 Needless to say how important this home office space has become in the past few years, so why not make it one of the places you not only work in but enjoy it as well. The latest trends have a lot darker cabinets and furniture, but as you can see, this combination of light grey and cream colors makes this space so fresh and inspiring, so that work comes effortless in this space.
Dining Room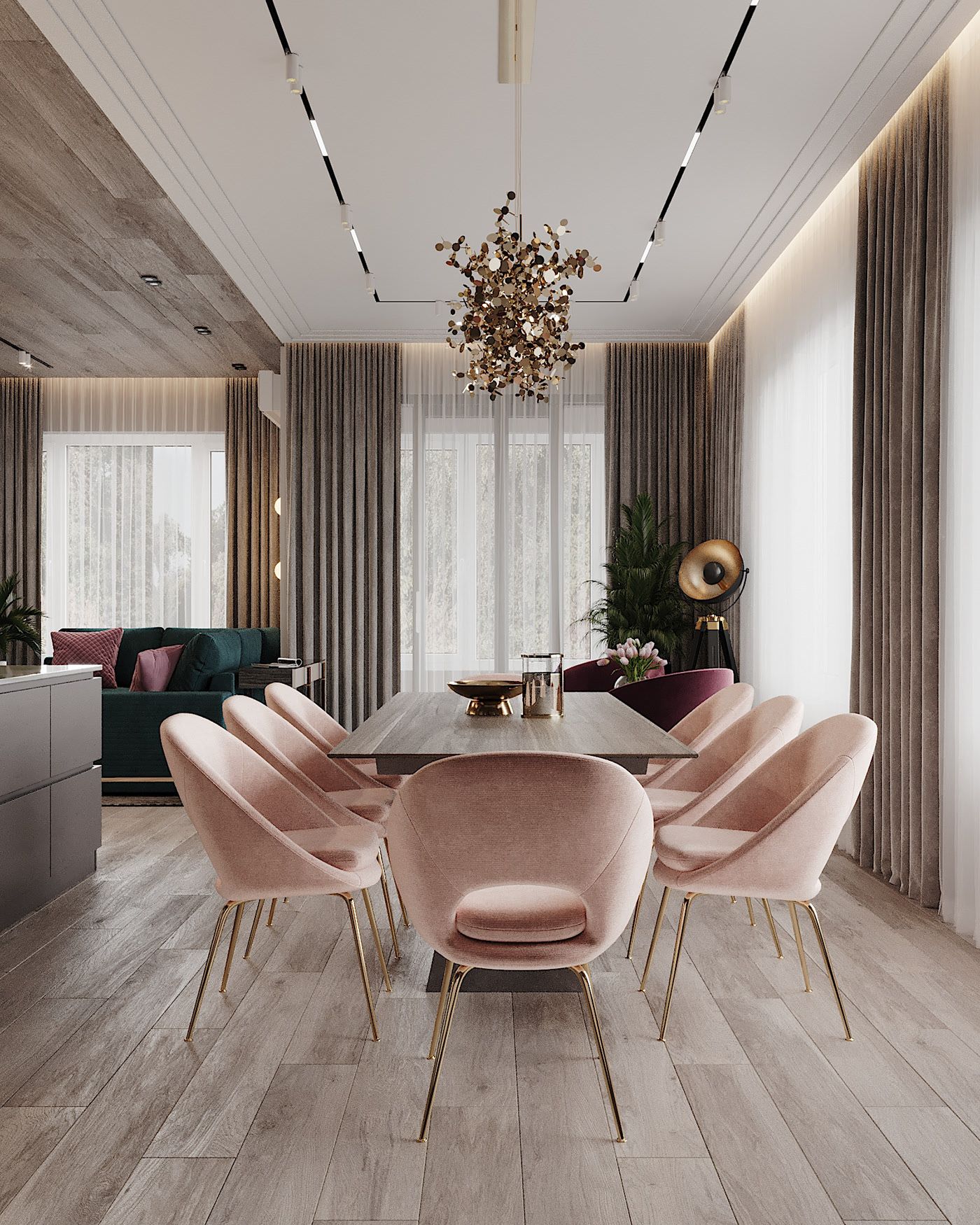 This is a dining room that is one of my favorites. It looks so luxurious and welcoming. It's an open space and it includes the living room as well, but let's focus on the main part. I'll start with the floors that have that neutral color and it matches the dining table and the curtains as well. Now, the thing that stands out is the velvet powder pink chairs. Include some greenery in this space and it's all you'll need to enjoy family dinners.
Guest Laundry Room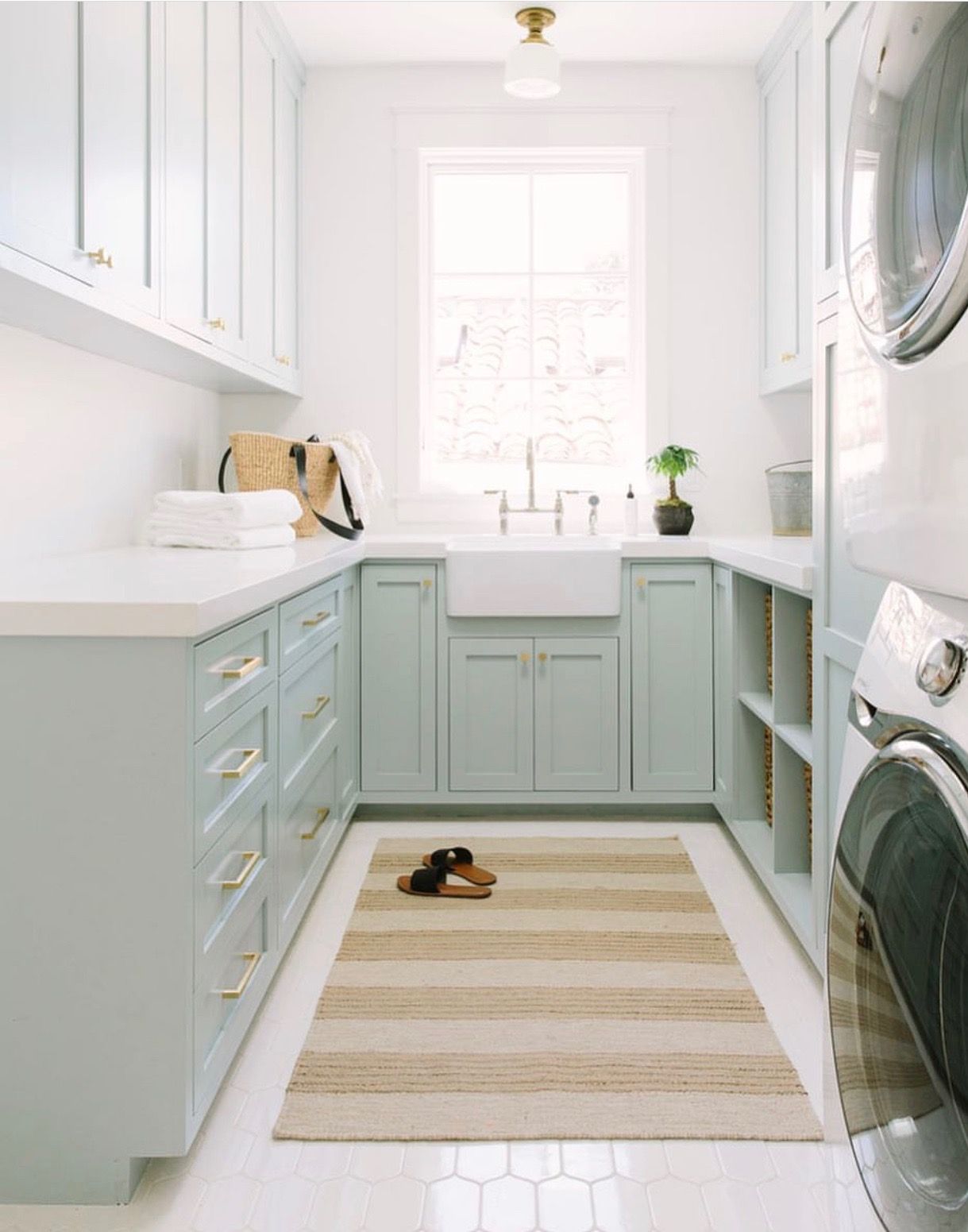 Not many households have a second laundry room, but if you do, this is a great idea on how to decorate it. I enjoy a clean white space as much as the next person, but these mint cabinets give a different dimension to this space. It looks so fresh, and no warmth is missing at all, the woven carpet and the baskets will make it the room you'll want to spend your time in.
Walk-In Closet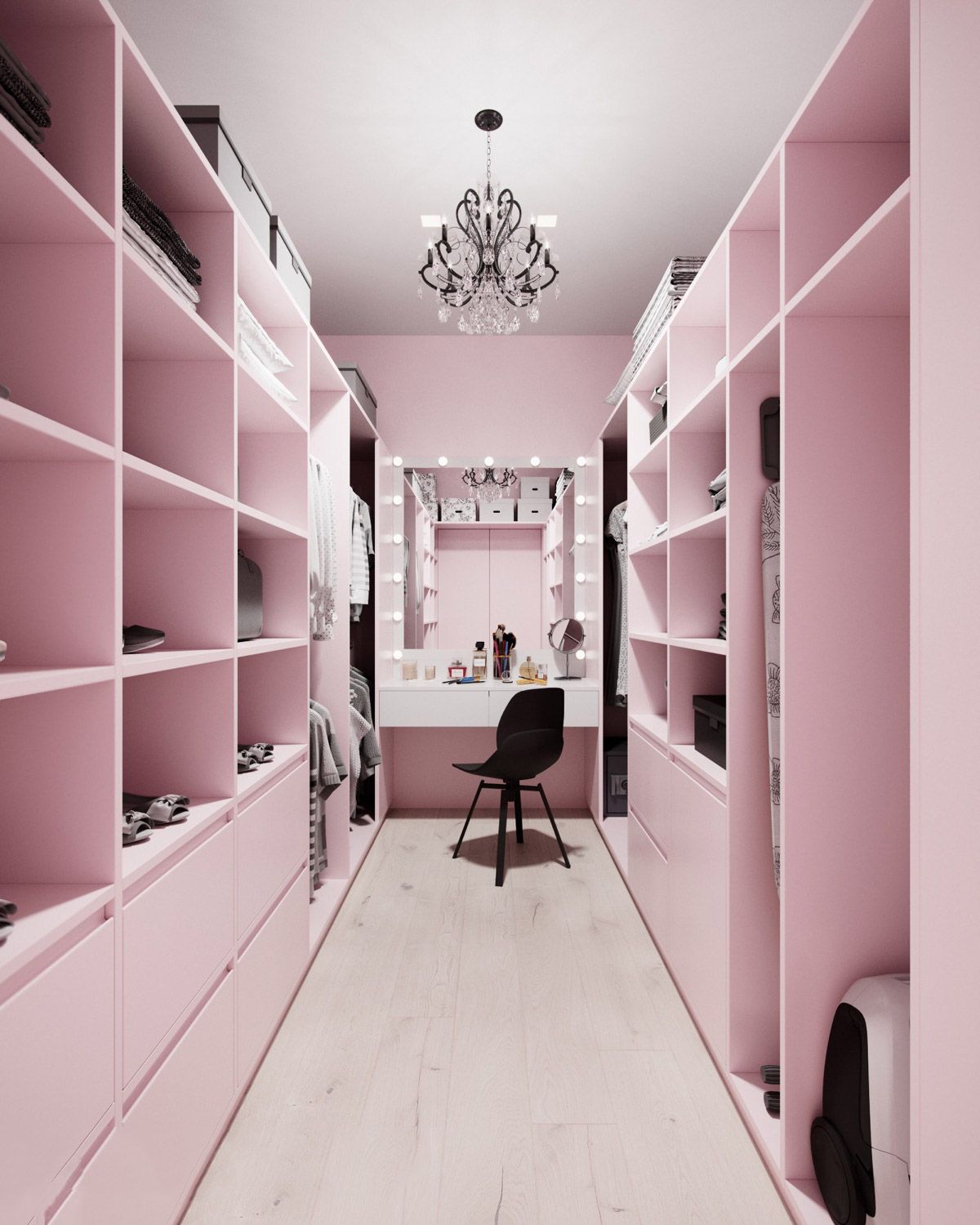 Ok, pink lovers, I didn't forget about you. How amazing does this walk-in closet look? Form top to bottom, a single place for all your things. If you love this look, you'll only need paint to change your favorite space.
Basement Kitchen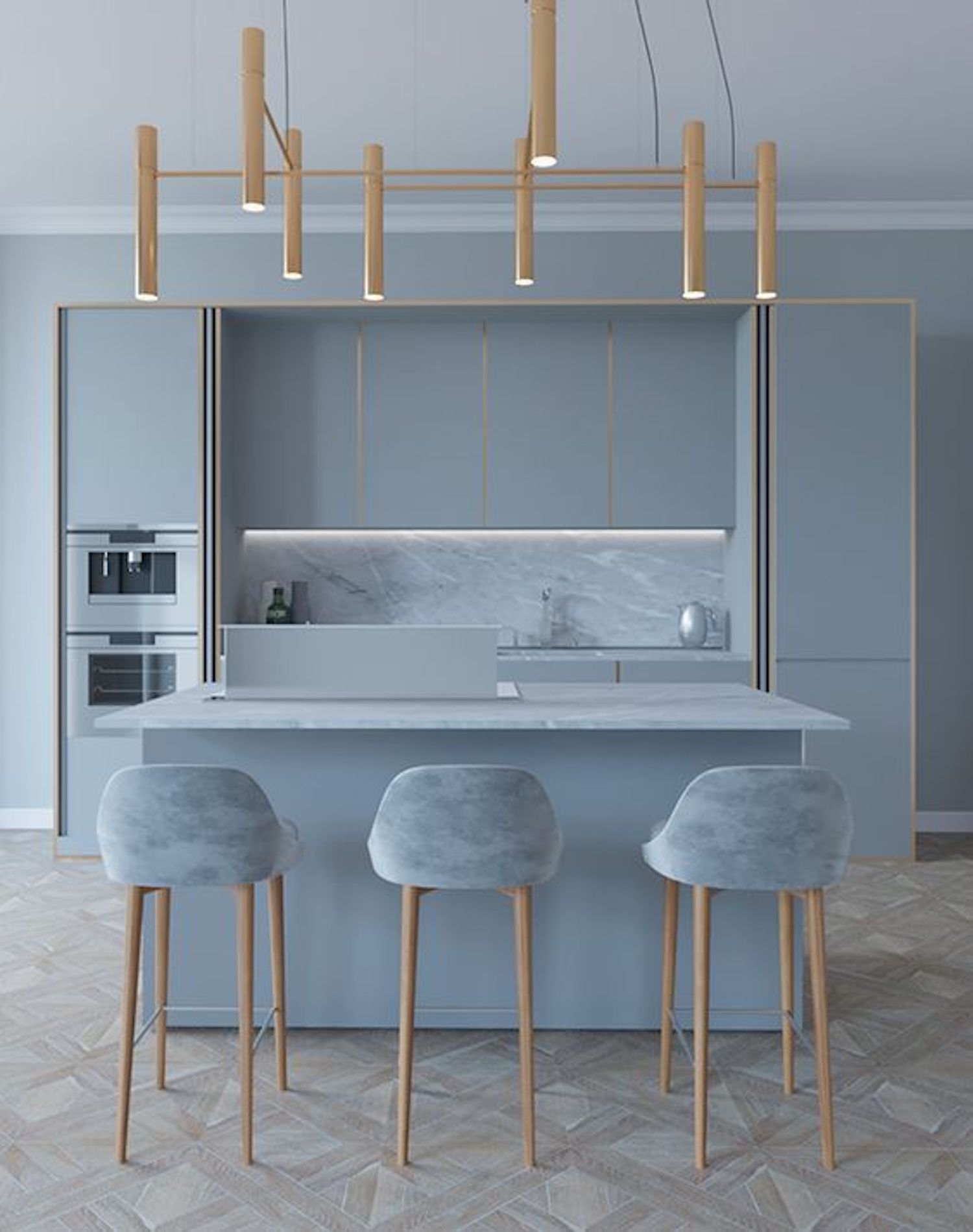 Usually, basement kitchens are the "second" kitchen in the house and people tend not to pay too much attention to it. If you invest some time in coloring the cabinet in the kitchen, that's gonna change, I promise. This baby blue kitchen is all you need to make it a space for you to enjoy by yourself, with friends and family.
Kids Playroom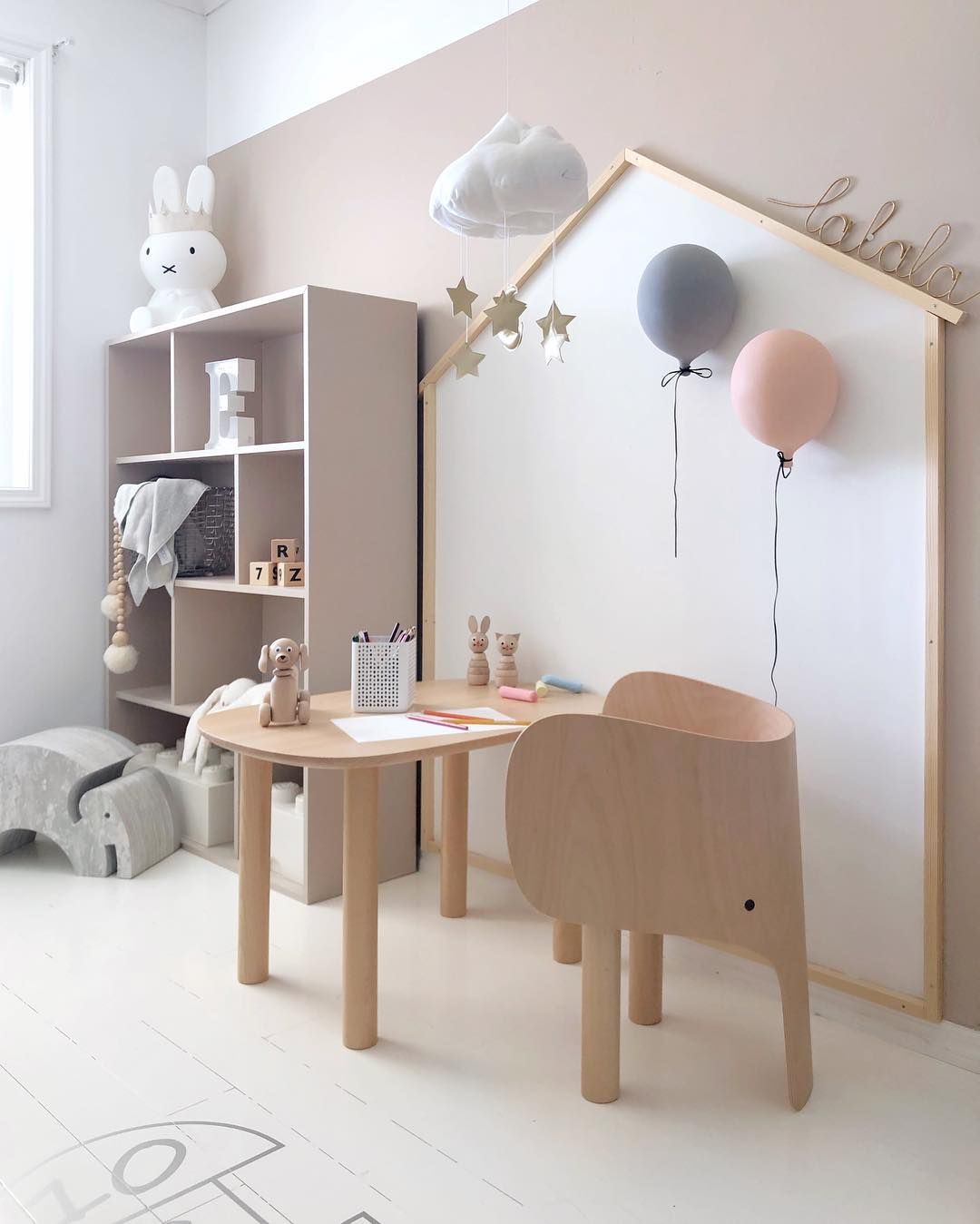 Playrooms can be often overwhelming just because of kids' colorful toys, but I would like to suggest something different. We all know that natural wooden toys are the best and safest for the little ones, so why not include them in the furniture as well. The calming space will make room for their character to come out and it will emphasize their creativity.
So, that's it for this time. If you plan on changing things in your life, I truly hope you found some inspiration in these pastel colors ideas for your interior. Have fun while making your home a beautiful and calming space for you and your family. And most important, enjoy it! Please like a share with your friends, leave a comment on which one is your favorite, and follow us. Till next time!