Art Nouveau, or Jugendstil, which literally means: "Youth style", is primarily a European style of art that emerged in the 1890s and became an international style in just two decades. Its name originated from the German magazine Jugend. This style became famous during the "belle epoque", hence the french version of the name, which ended with the end of the First World War in 1914. We have to have into consideration the fact that this style, was applied for nearly two decades, yet it was so influential afterward, influencing the other styles that will emerge later on and it is still relevant today. You can see art nouveau in almost every major metropolitan city worldwide, from France to Argentina.
This style as a reform movement was directed against historicism, which was then considered dishonest and outdated. It was spiritually related to life reform movements and other aspirations that rejected urban lifestyle since it was considered as narrow and restrictive.
In terms of interior design, art nouveau interior decoration first appeared in London and Paris, intending to incorporate art and design into daily life. Even utilitarian items were embellished and transformed into works of beauty. Namely, Art Nouveau was inspired by all forms of nature.
However, unlike most decor styles, such as industrial or bohemian, incorporating Art Nouveau components into an interior design may be rather difficult. However, we're here to inspire you and help you incorporate this style into your home.
Art Nouveau Door Frames
Let's get this straight: the Art Nouveau style is not for everyone's taste because it's very "euphemistic" in an interior design sense. Having this in mind, if you decide to decorate in Art Nouveau style, the chances are you will exaggerate a bit. So, if you want to add a touch to your home, which might be decorated in another style, then we recommend taking one part of your interior and designing it in Art Nouveau in a way that will blend in with the rest of the interior. Such is the case with this door frame. It perfectly blends with the rest of the house and adds an elegant touch.
Merge Art Nouveau with Other Styles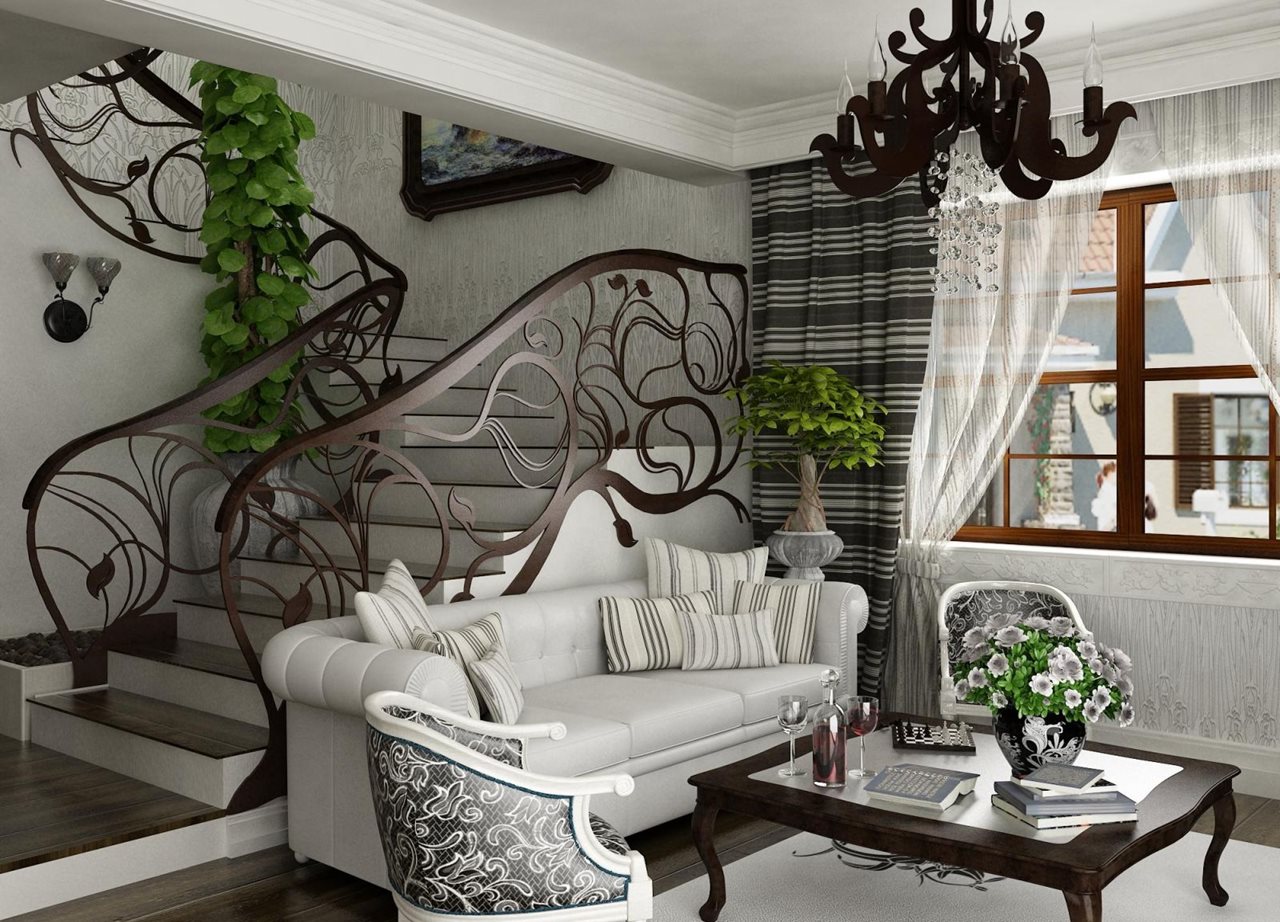 In Art Nouveau, it's all about color as well. So this combination of dark wooden details and white furniture goes hand in hand. The staircase handles have a beautiful floral design that is combined with the dark wood coffee table with similar floral elements and the beautiful chandelier.
Art Nouveau Bathroom Details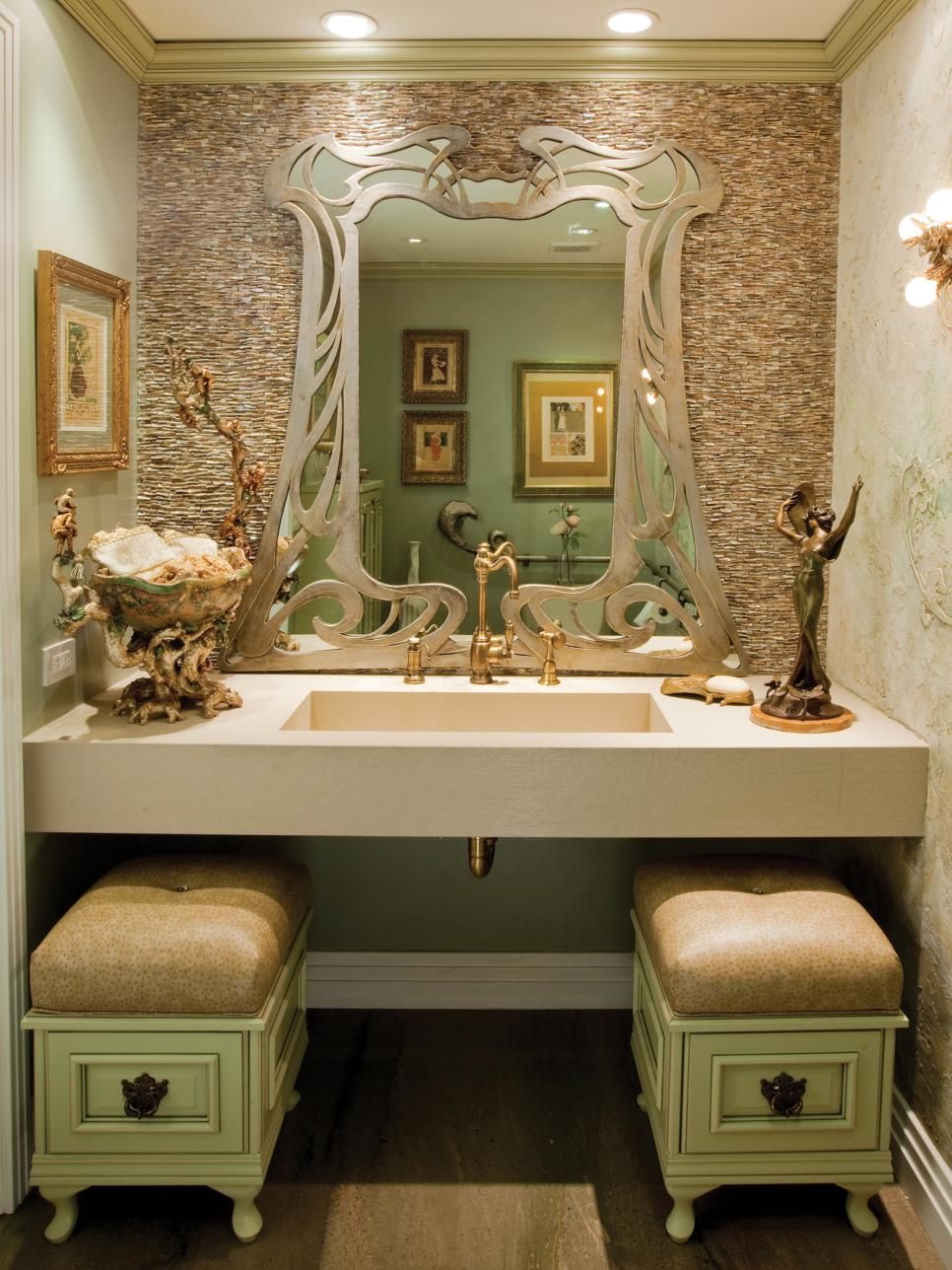 Bathroom sinks and mirrors are a very important part of the interior design in your home because it's the place where you first go once you wake up. It is the focal point of your bathroom therefore they need to be beautifully designed. This sink and bathroom mirror is designed in the Art Nouveau style with bright color tones. As you can see, the soap dish, the tiles, and the faucet together are meshed with the beautiful elements of the mirror.
Art Nouveau Bedroom
If you want a luxurious bedroom, then designing in Art Nouveau is the right choice for you. Several colors of blue, white, and gold are used in Art Nouveau color schemes. Choose a bed made of carved wood or curved metal rods for your bedroom. A wardrobe with carved designs or stained glass trimmings should also be taken into consideration. Lastly, the walls. It's very important to invest in beautifully designed walls, whether it's wallpaper or specially carved walls just for your bedroom.
Invest In Art Nouveau Furniture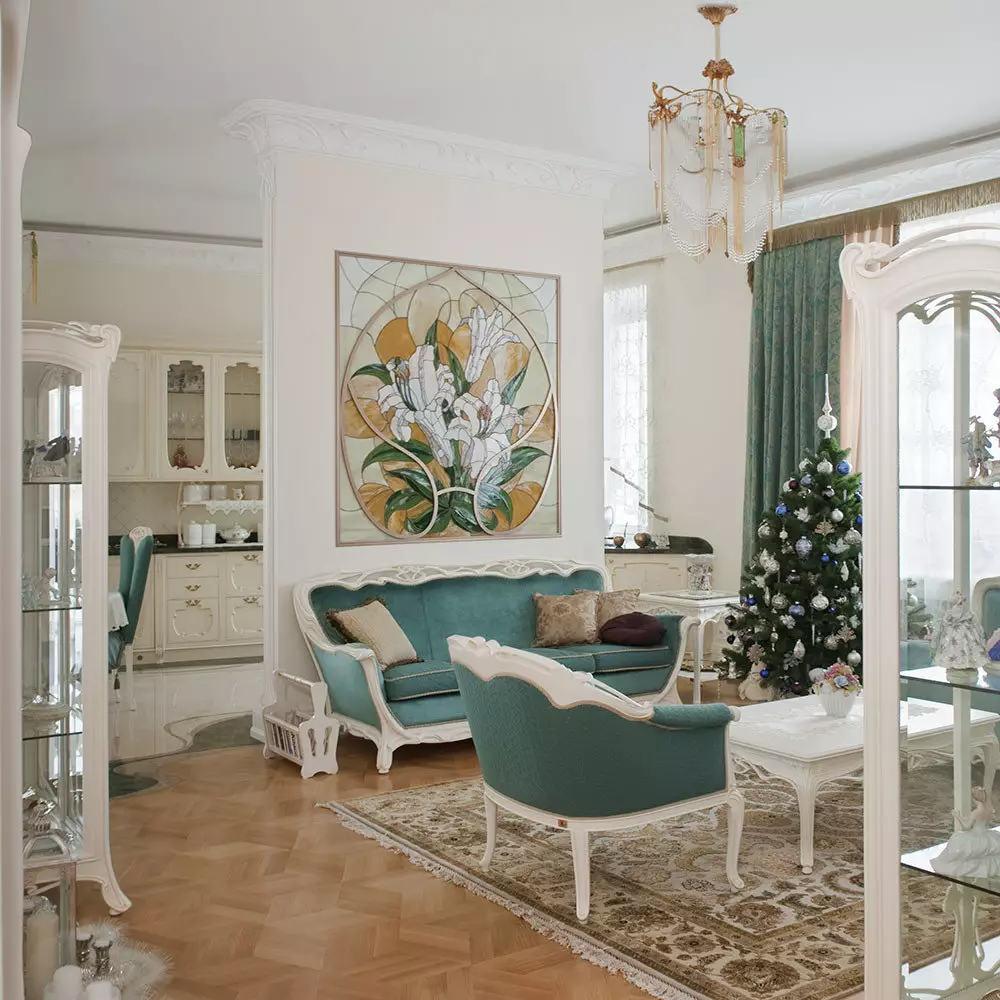 The living room walls should not be monochromatic; instead, there should be a significantly different pattern. Furniture for the living area should be made of rare kinds of wood. The coffee table should be with high legs with carved legs and backs would add grace and elegance. Pay attention to the wall art that you put in your living room. We recommend them to be Art Nouveau as well.
It's All About The Details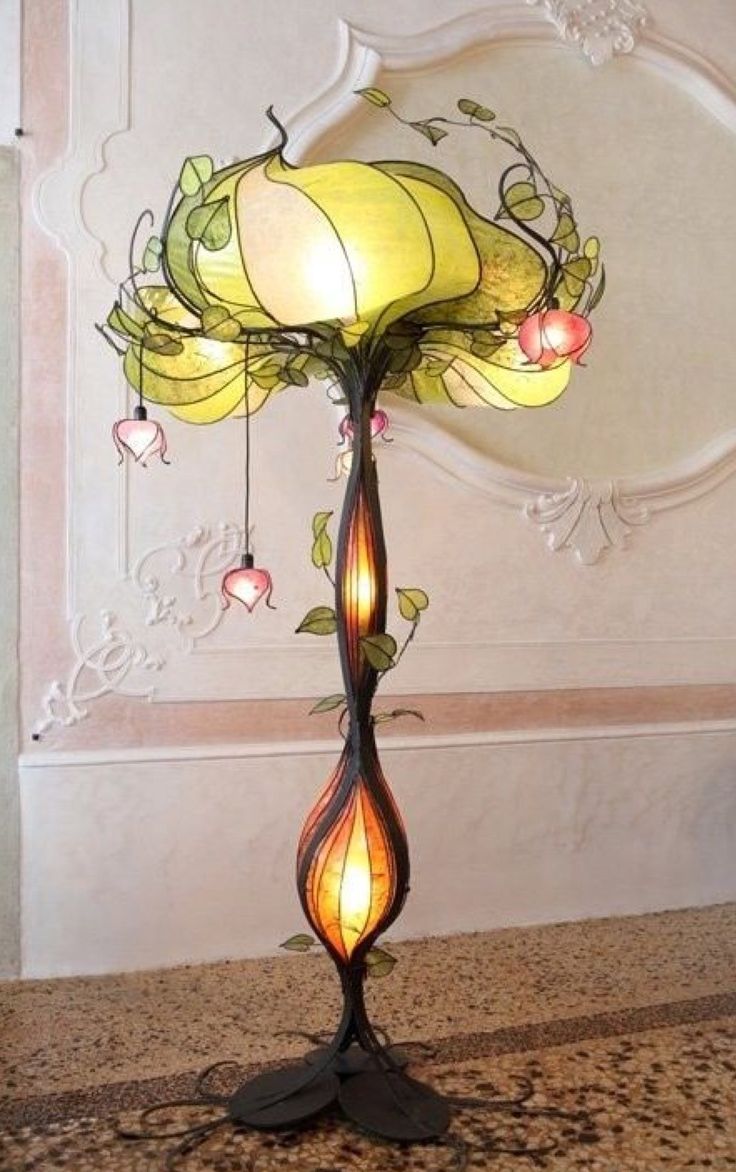 The exquisite Art Nouveau lamps can be used as statement pieces that you can add to your living room or your bedroom. They are unique because they are made of non-ordinary materials and are designed in nature-like colors and patterns which is a feature that only Art Nouveau has.
Bring Elegance To Your Staircase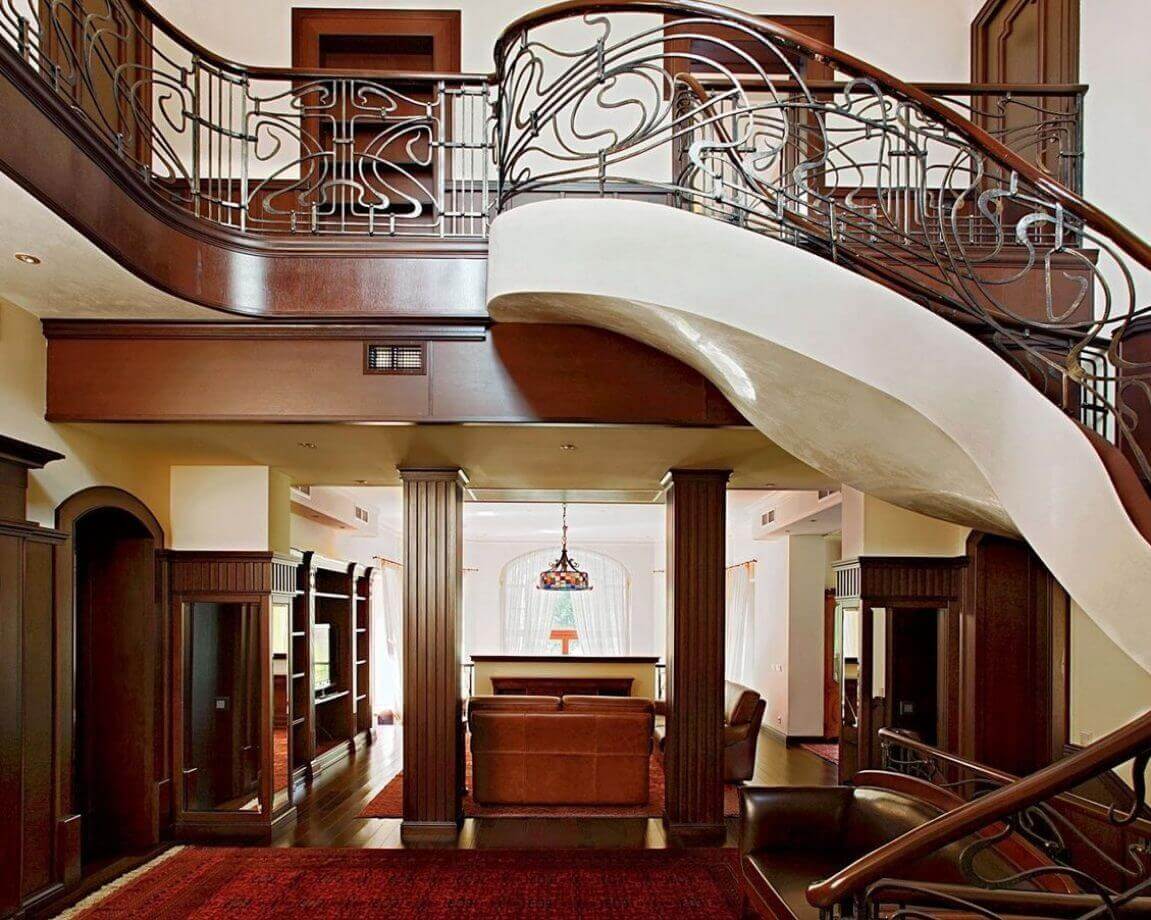 The staircase became an integral component of the main foyer and entryway of residences in Great Britain and the United States in the late 1800s and early 1900s. That is the reason why staircases became the centerpiece of Art Nouveau's interior design. The fashion at the time was to have a staircase with a landing on which welcoming the guests might take place, allowing the main lady of the house to be seen from afar as visitors enter the house. As a result, they had to be intricately carved to create a magnificent scene.
Art Nouveau Wallpaper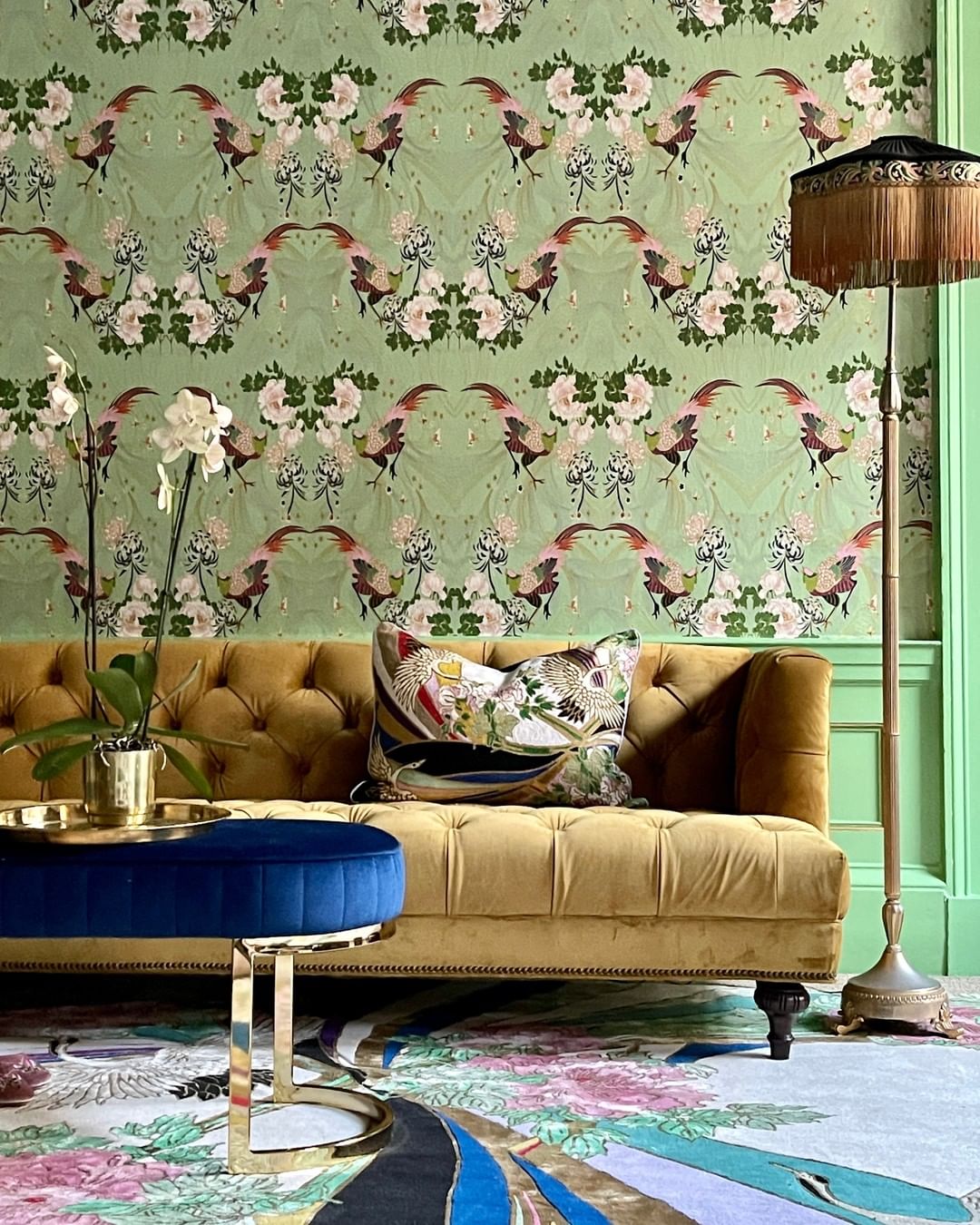 Art Nouveau-inspired wallpapers can be a great way to introduce natural-like patterns and details in your living room. If you want to add more to the scene, you can match the wallpaper with the lighting of the house like the lamps, chandeliers, etc.
Art Nouveau Rugs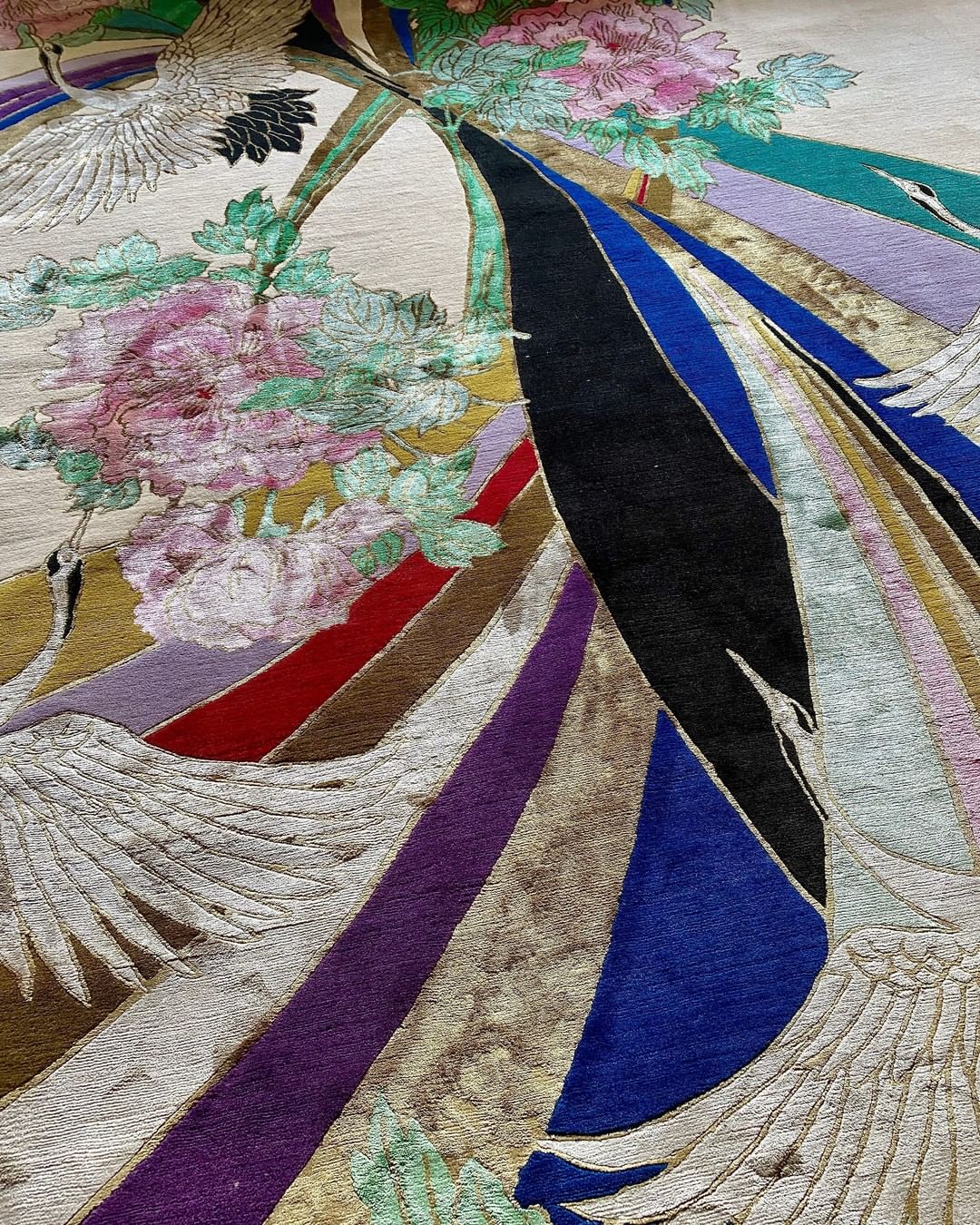 Art nouveau rugs are distinguished by their curved, flowing lines. These lines are used to create a variety of symmetrical structures and patterns, ranging from simple to complex. Sharper lines are frequently used to contrast or confine curves. The curves, which range from delicate curls to powerful, sinuous shapes, not only form patterns but also symbolize numerous natural elements.
Statement Piece Fireplace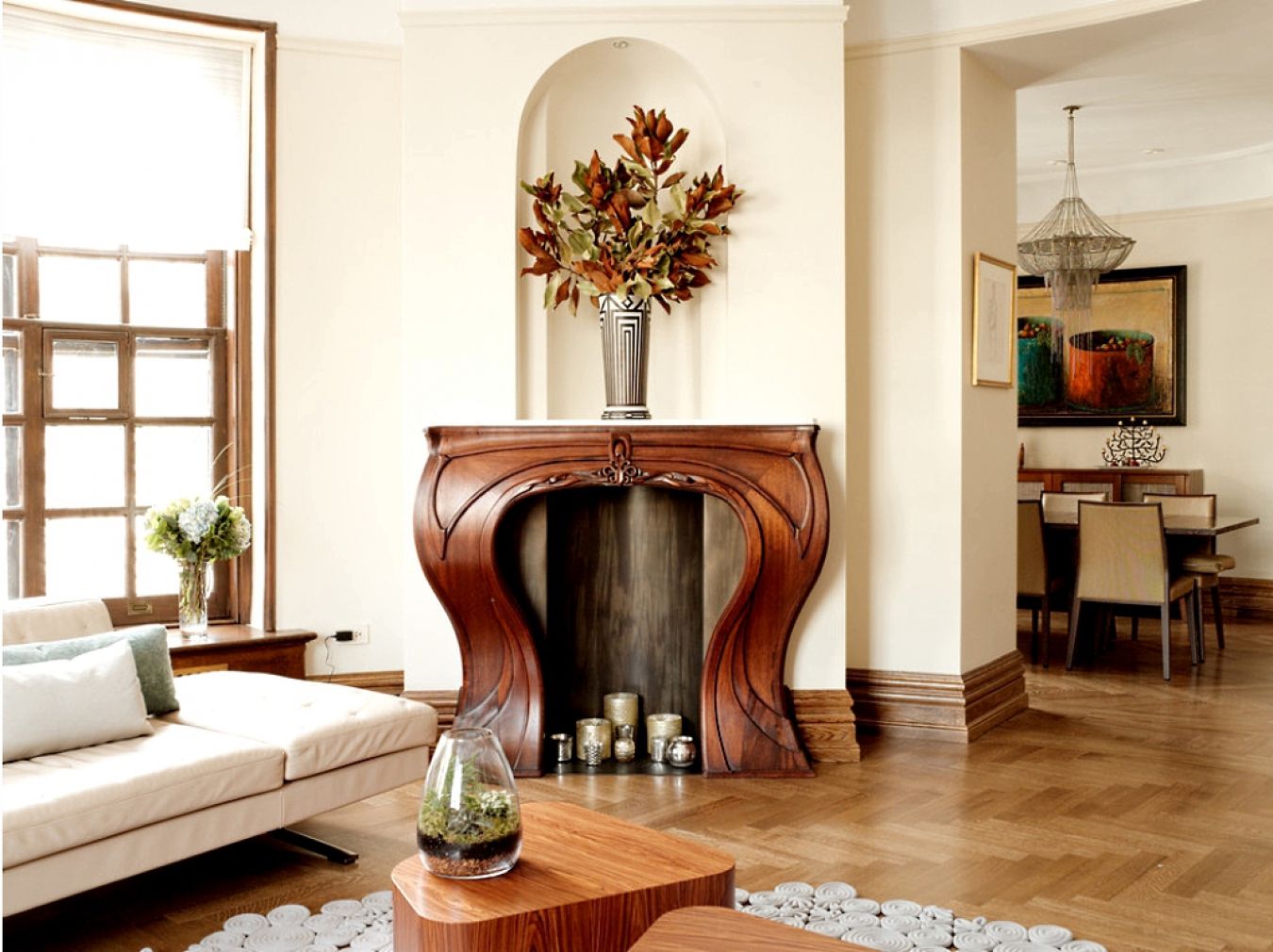 Back in the day when Art Nouveau emerged, people were heating their homes with fireplaces. When the weather is cold, snowy, or rainy, the fireplace becomes the focal point of the house where the family gathers. It creates a relaxing and soothing atmosphere. For this reason, use the fireplace as your Art Nouveau statement piece. Art Nouveau fireplaces could be identified by their resemblance to natural shapes, such as stylized flower decorations, flowing organic-looking lines, and motifs based on plant forms. Because of its timeless elegance, the style is still in high demand today.
Art Nouveau Dining Room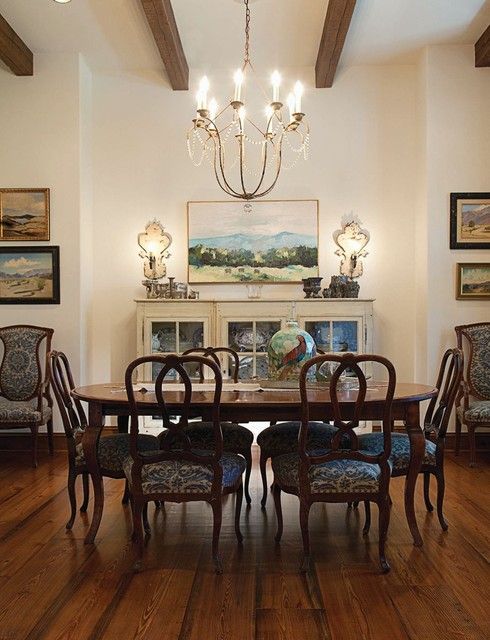 In terms of content, Art Nouveau dining room furniture was similar to that of the preceding eras. The dining room includes a dining table, side and armchairs, a sideboard or buffet, and a china cabinet. Again, the popular motifs for the design are trees, flowers, animal forms as well as abstract and indistinguishable forms and patterns.
Gorgeous Art Nouveau Kitchen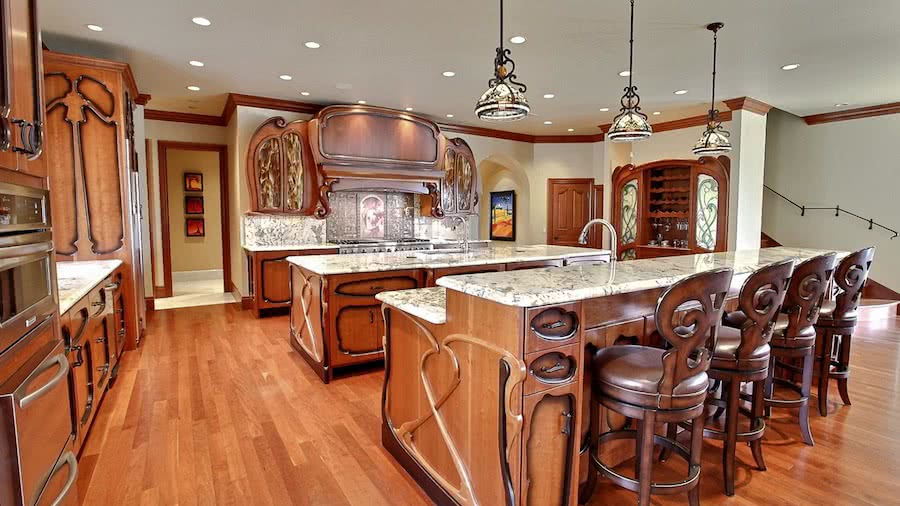 Get that vintage and detailed kitchen furniture that your grandmother gave you, and you'll have that precious food corner! Floral and antique trays or dishes can be used to decorate the walls of your kitchen. It's very important to use high-quality wood for your kitchen elements.
Vintage Art Nouveau Bathroom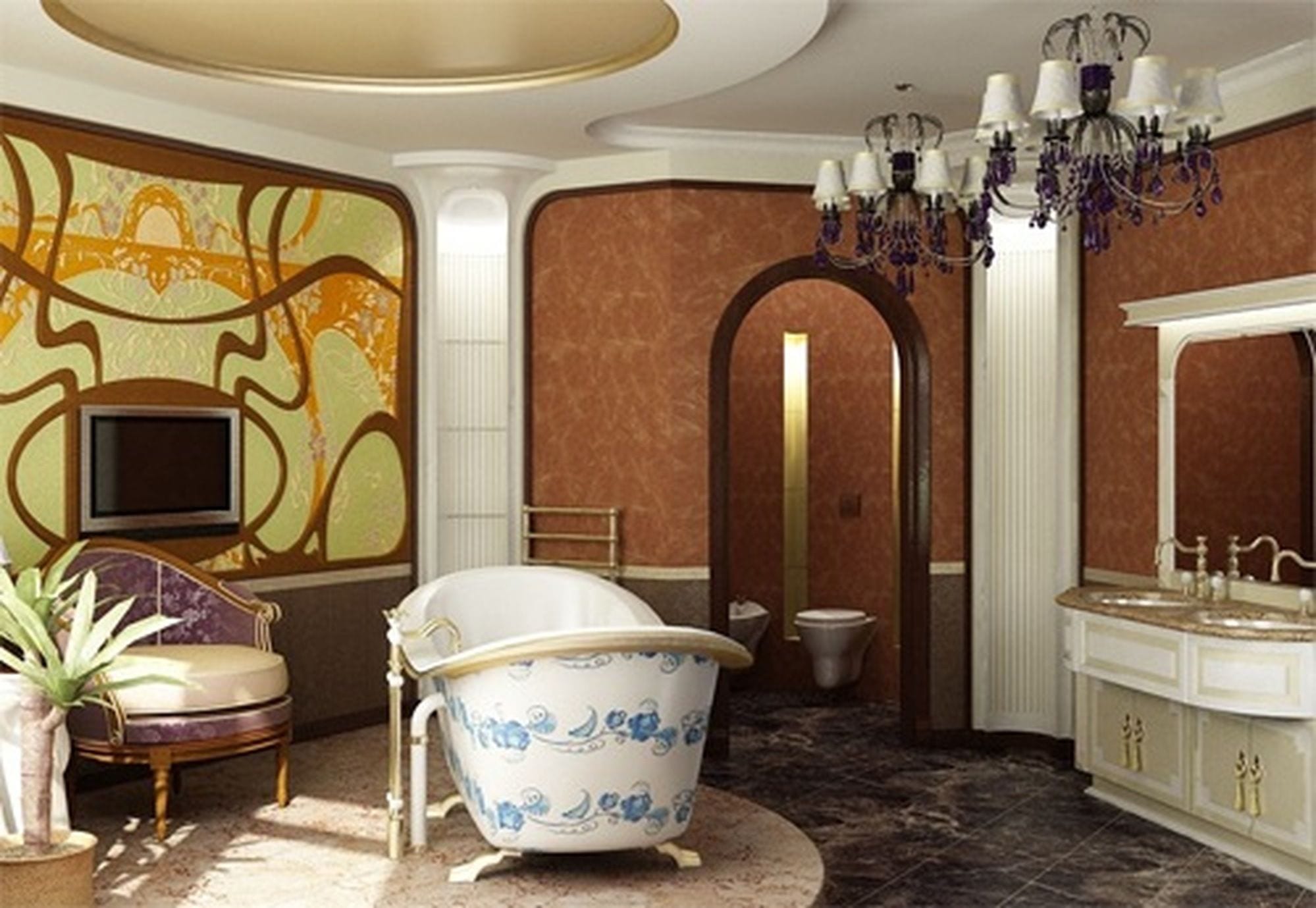 Relaxing in a vintage Art Nouveau bathtub is a unique experience that you can have every day. But designing the whole bathroom in Art Nouveau will bring you to another era. This example is rather an experimental version of Art Nouveau since the bathtub and the sink are white with golden details whereas the rest of the bathroom is covered in dark wood and earthly colors.
Glass Cupboard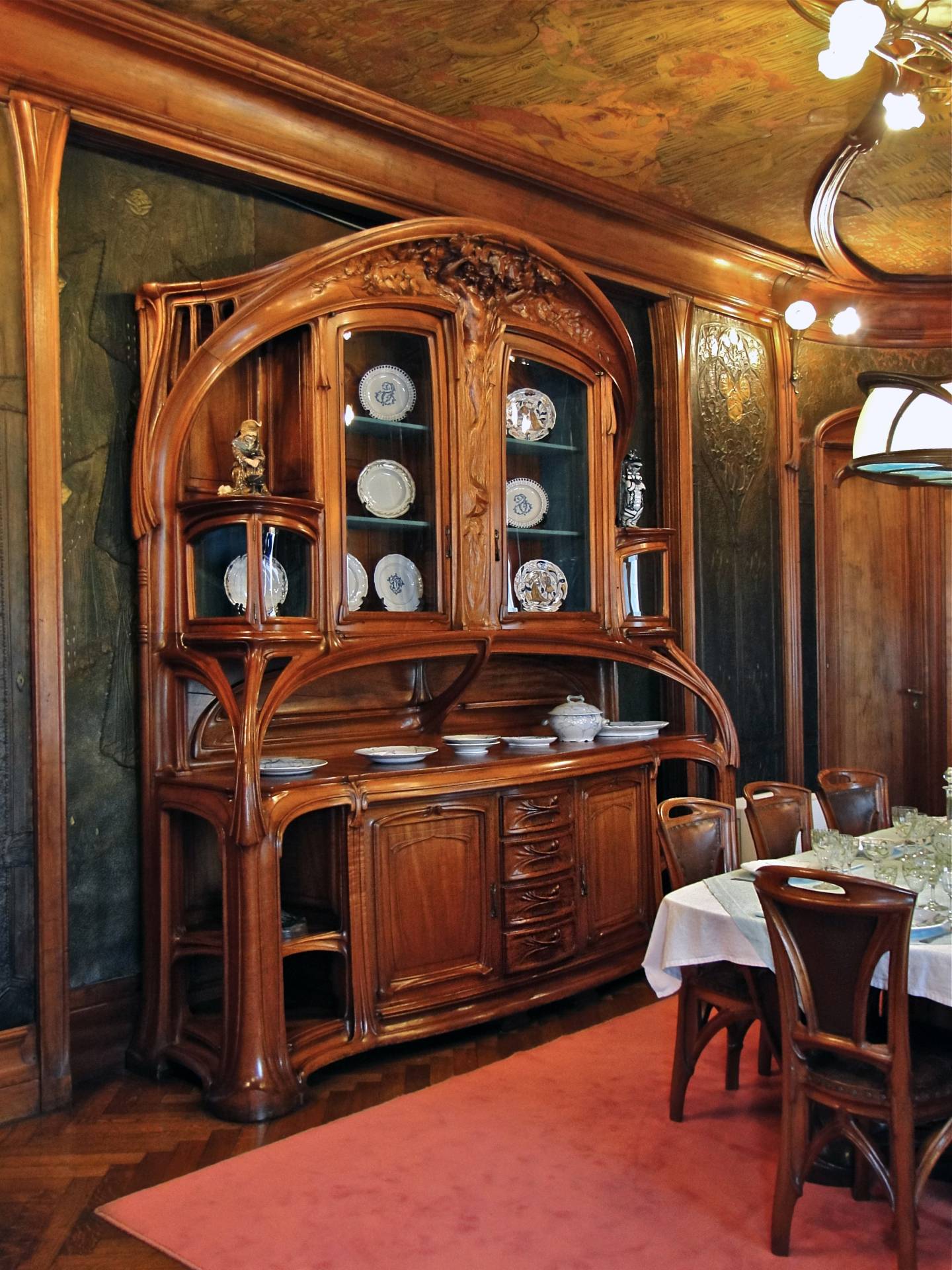 Glass cupboards have become outdated recently and something that is not used in the kitchen anymore but maybe it's time to reconsider it. They can be the vintage touch in your contemporary designed kitchen or dining room.
Add Art Nouveau Artwork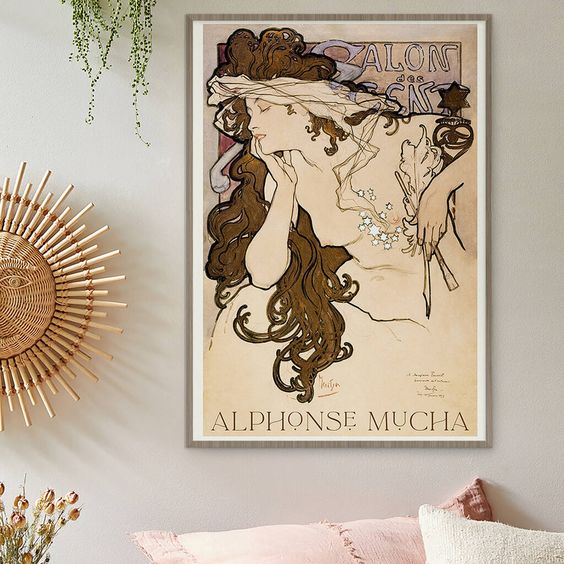 If you love this style but maybe you're not ready to go big on it, the last thing you can do is to just put Art Nouveau artwork on your walls.
Art nouveau is a unique style that you can either love or hate. It requires careful choice of details, colors, and materials. We hope this article helped you or at least gave you an idea about how to implement this gorgeous style into your home.