What is the one thing everyone craves after a long hard day at work? To go home, of course. To make a nice meal or snuggle up on the couch and watch some TV or read a good book. But most importantly, we crave some peace and aesthetics that will rest our eyes and lift our spirit. For that purpose, we need our homes to look tidy and bright. And the good news is that there are a lot of designs that offer us that possibility.
We can choose from fresh vintage or rustic look to modern boho or Scandinavian look. While the former styles give warmth, a little bit of good-natured clutter, and a homey feel, the latter designs are often chosen by people who want bright spaces with as few decorations as possible. They may seem dull or even cold at first, but even the emptiest of rooms can look aesthetically pleasing if you know how to furnish them. Besides, they're the easiest ones to clean, which is a huge plus.
As we mentioned, one of the features of the modern Scandinavian minimalistic design is bare surfaces with just a tad of modern decor or a potted plant here and there. What's also important here is to incorporate neutral colors, although there's no law against incorporating a few pastel elements to spice it up a bit. And another feature of this design is that it is mostly incorporated in lofts and studio apartments. Studio apartments with modern minimalistic design are perfect for busy people who want small but efficient spaces and if you think you're one of them, this article is just for you.
So, without further ado, read on and get some inspiration from these 18 minimalist studio apartments.
The Bare Necessities
First, we'll start with the perfect example of a minimalist studio apartment. This one has bare surfaces and only contains what you truly need in a home. That way your space won't be cluttered and you will be done cleaning it in no time.
Just Add Pillows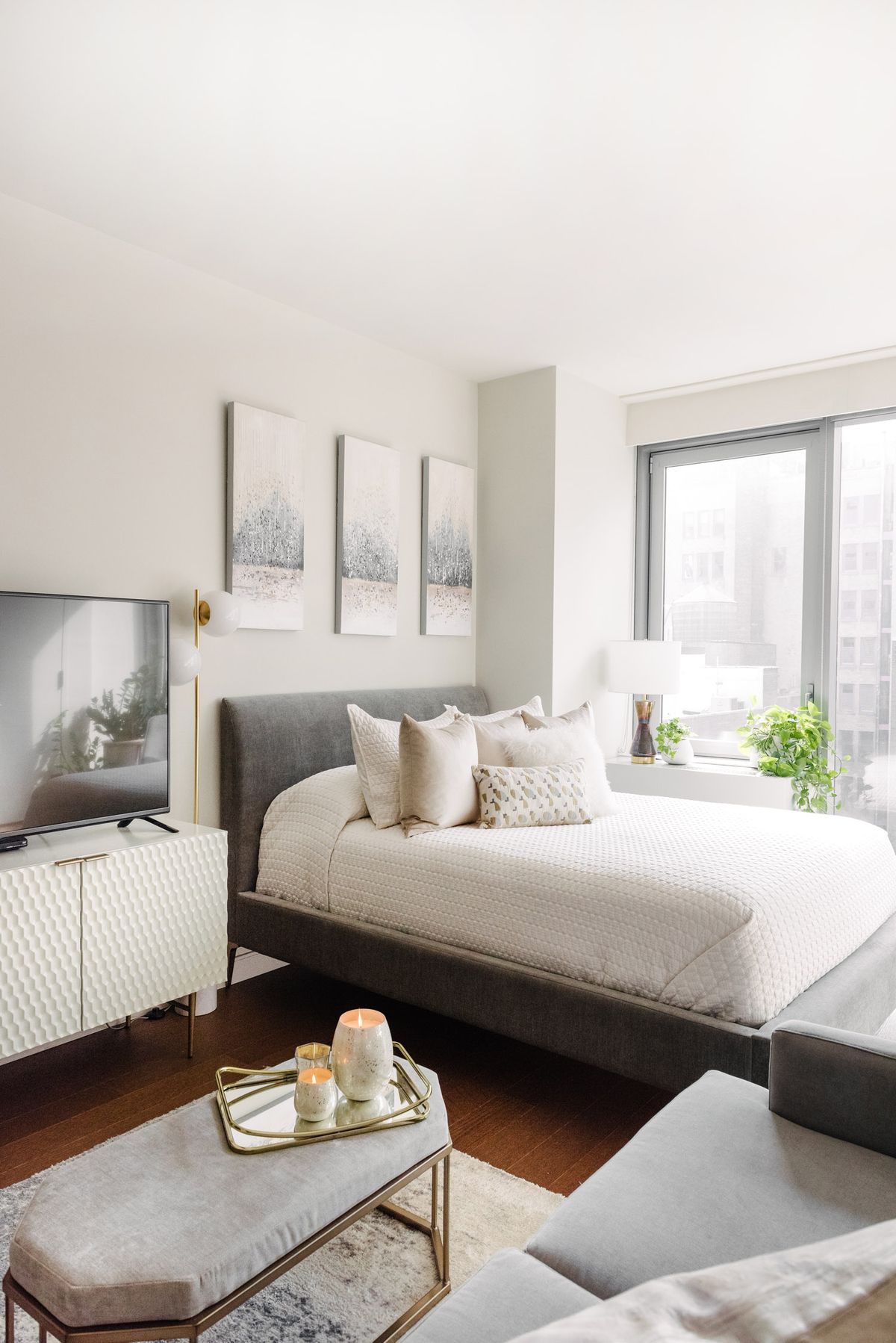 In case you're not into all-bare surfaces, adding some gold decor or pillows on the bed will soften your apartment and make it a bit homier. Whatever works for you will do.
The Black and White Minimalist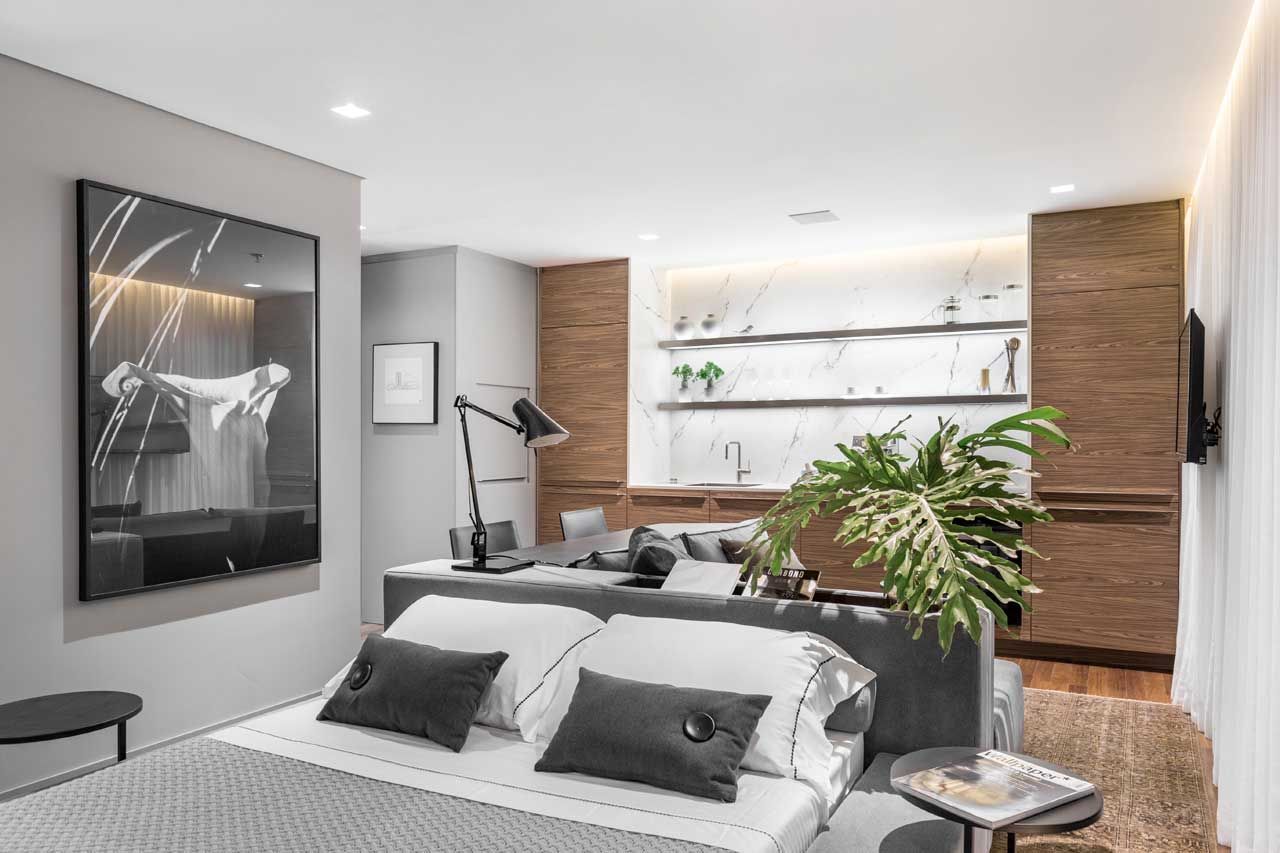 As we said, neutral colors are a big part of the minimalist style, so mixing soft black and white elements will do the trick. Whether you decide to do that will pillows or art, it's entirely up to you.
All-Black Interior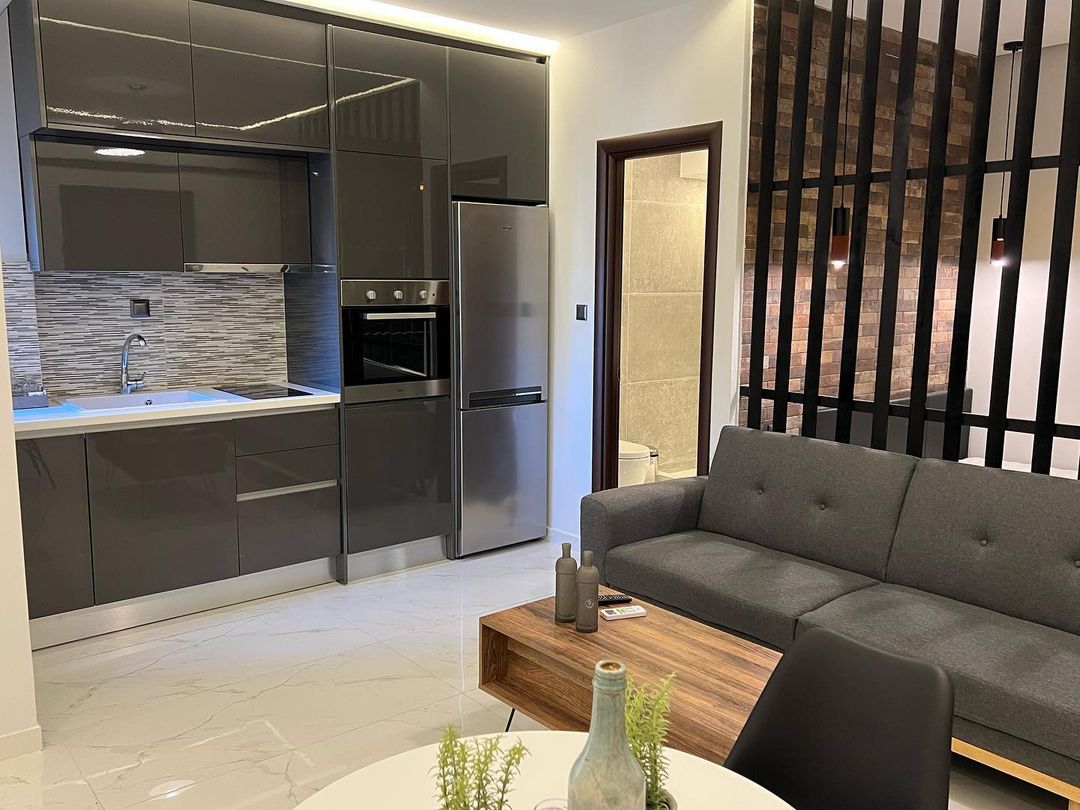 And if you're not a fan of bright spaces but still want that minimalist style, you can achieve it with all-black furniture. You can add a bit of appropriate color to break the monotonous feel, but other than that, you can't go wrong with this one.
Shapes and Colors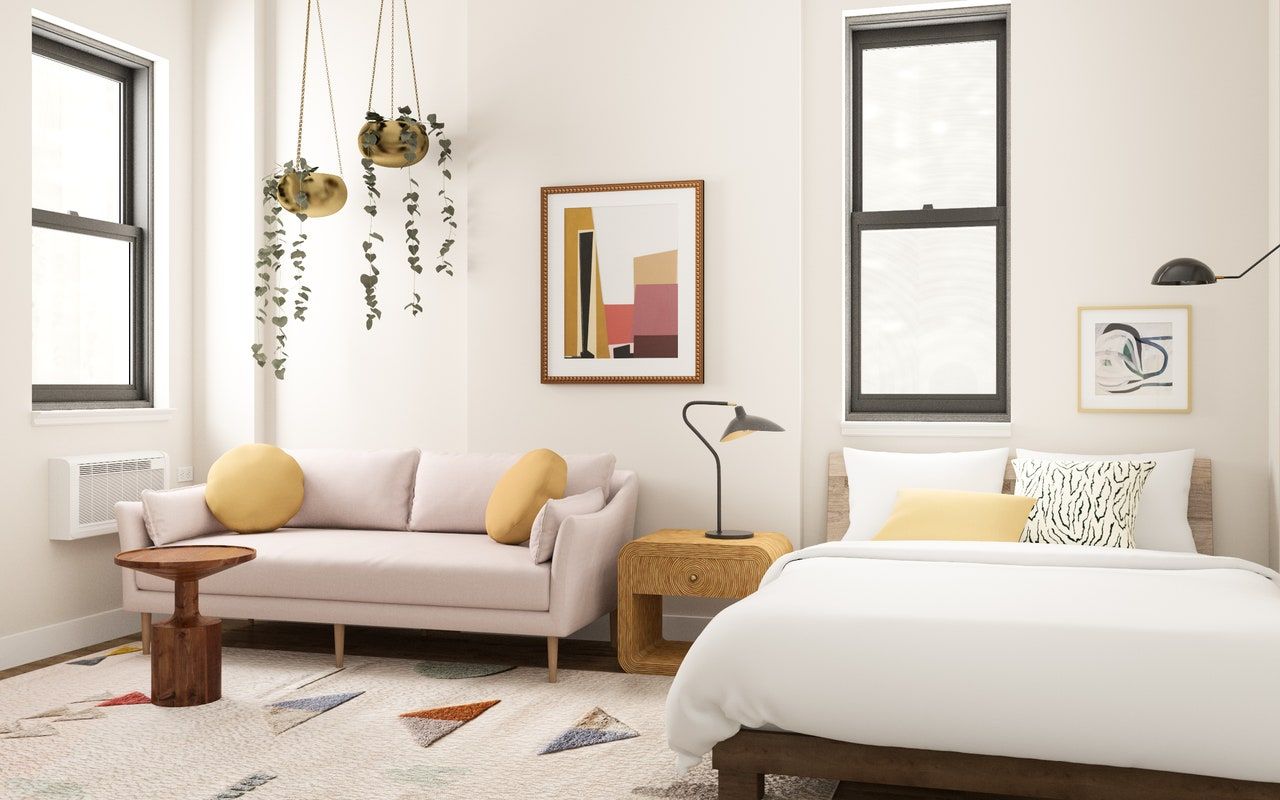 Remember when we said that you wouln't be breaking any laws if you wanted to incorporate some pastel colors into your minimalist studio apartment? Modern doesn't have to mean all white or all black, so feel free to do this if you want. On the flip side, shapes have been in trend for a while, so it's the perfect combination.
A Touch of Blue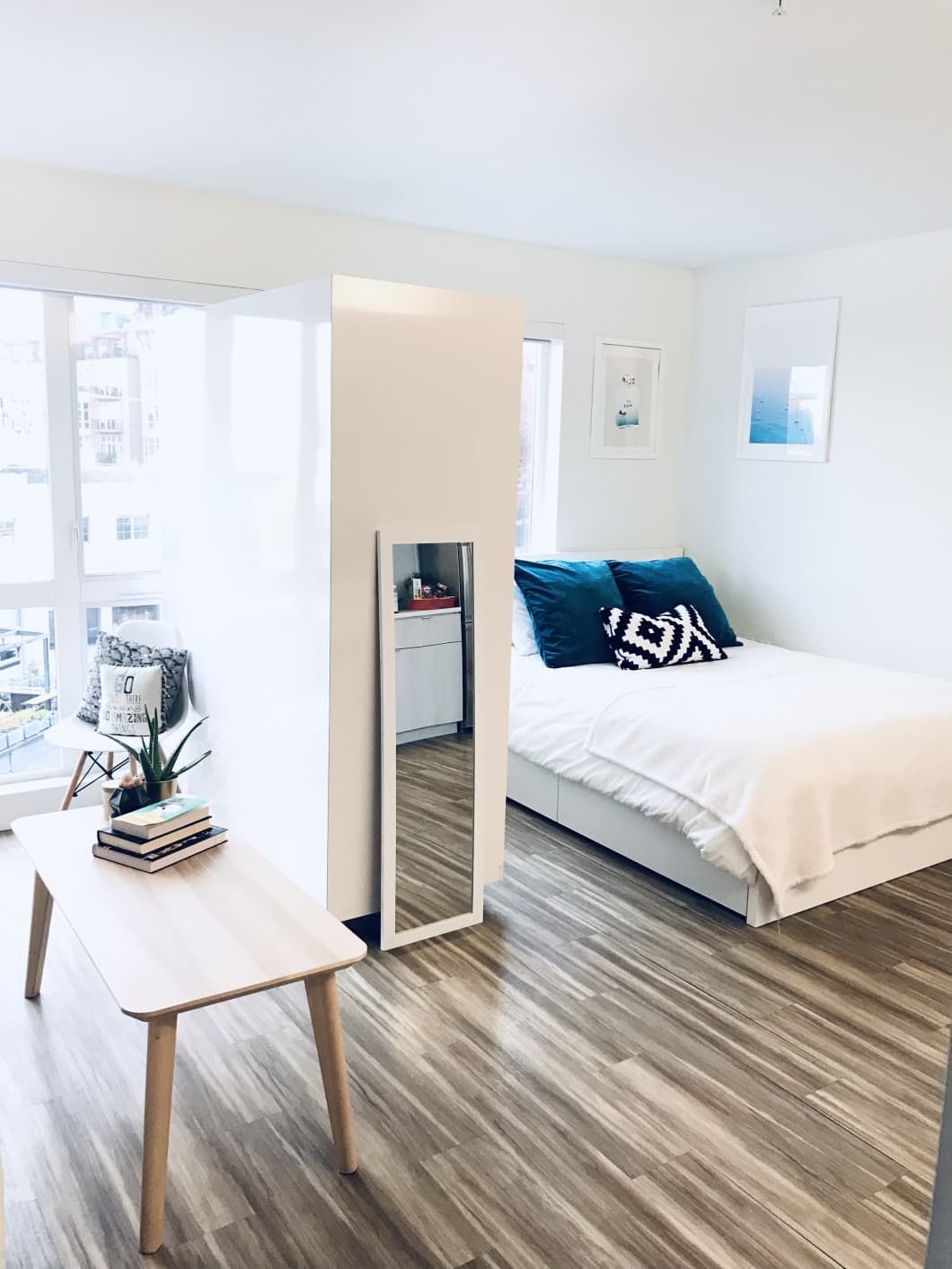 An amazing idea to add some color to your white studio apartment is to play around with blue as it adds a bit of contrast without it being too intense. Another thing that would be great is to add small elements that will fill the space without making it small.
A Touch of Blue pt. 2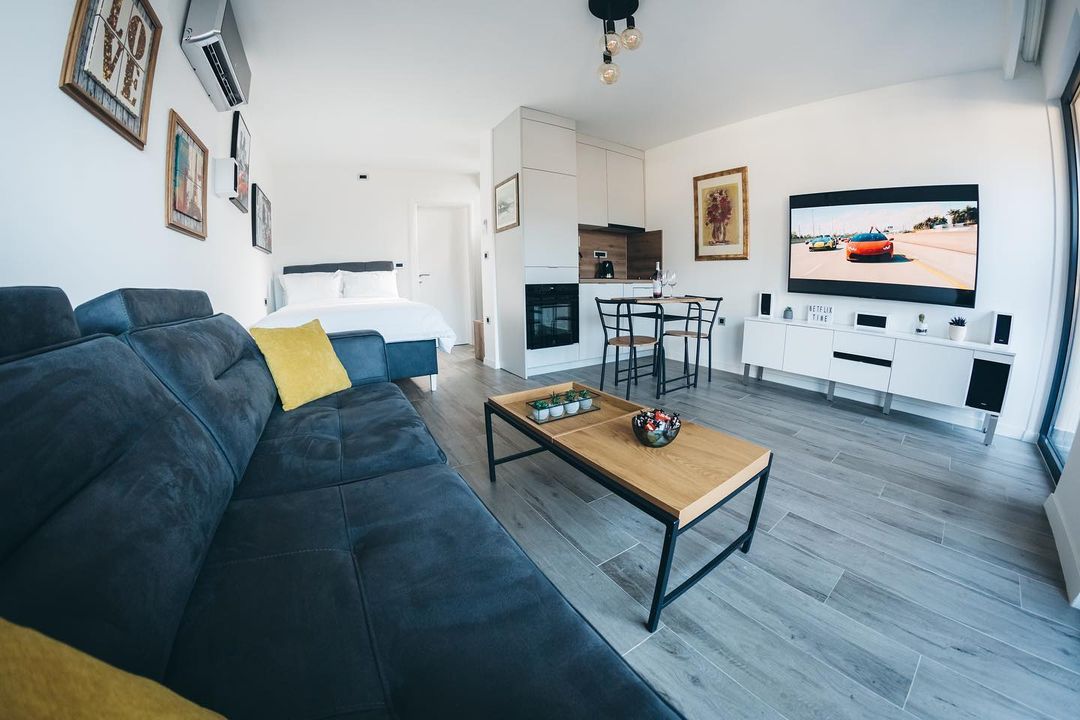 Or if you want to go crazy with the blue you can always get a blue couch. You don't have to worry that it will take away from that minimalistic style you want to achieve as this idea already has very few decorations aside from the pictures that serve to lighten up the seriousness of the style.
Compact and Bright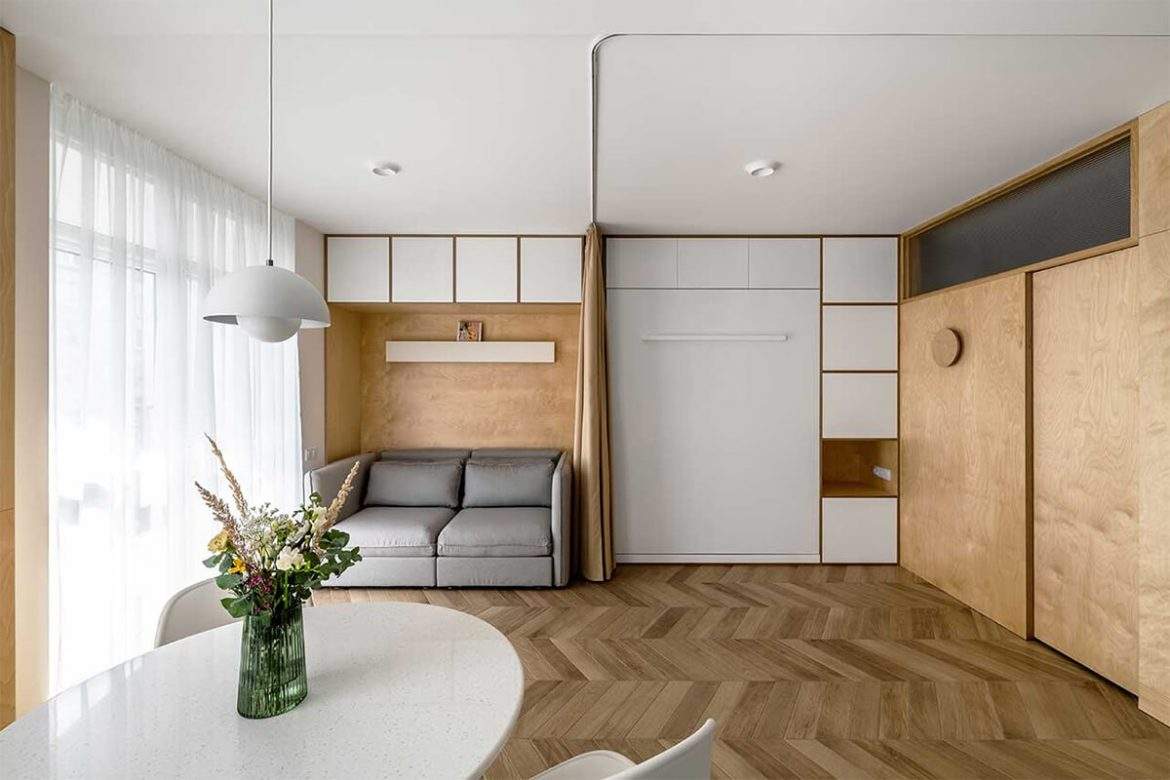 Who said living in a shoebox had to be dull and depressing? You're spared of endless dusting and this idea gives you plenty of space for your other creative or recreational activities such as painting or yoga.
Making the Most of It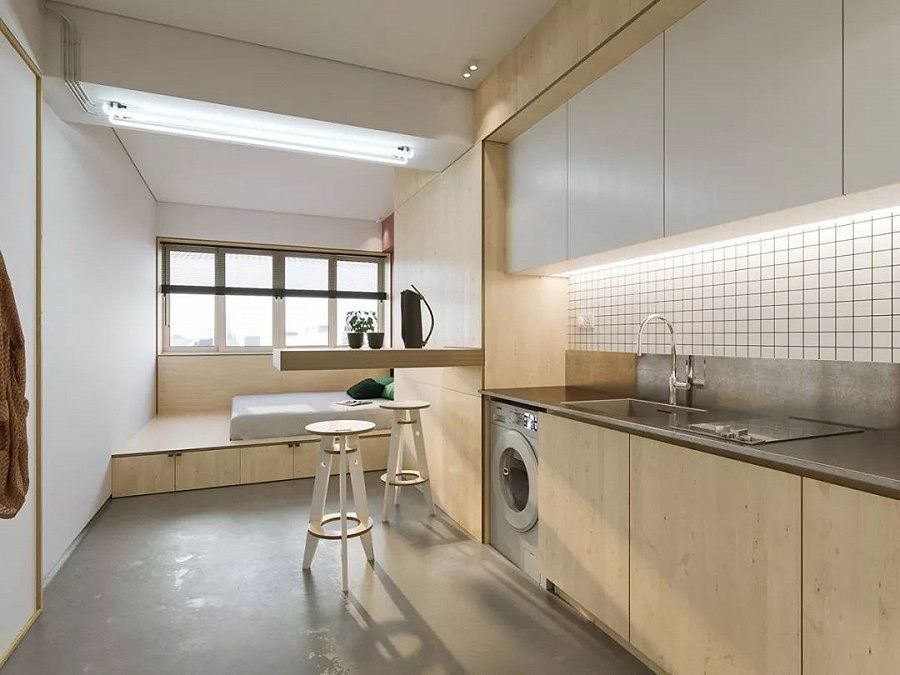 And since you've decided that you don't need a huge space to live, you should make the most of what you have. With a little bit of creative spirit, you can make the tiniest of studio apartments feel modern and comfortable and nowhere near claustrophobic.
Faux Wall Room Dividers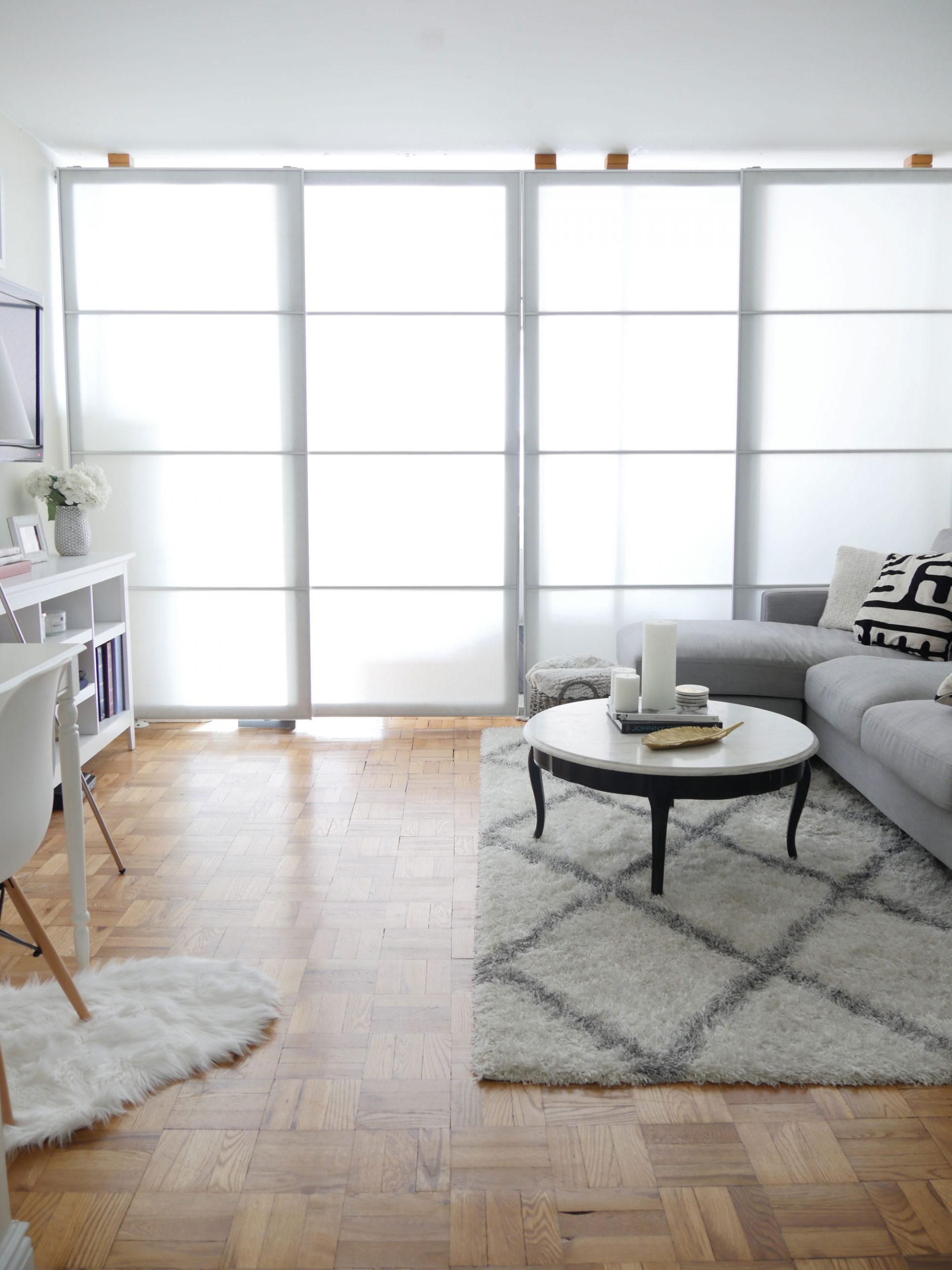 Next on the list is an idea that incorporates a faux wall that is used to divide your area and make separate rooms. This is a genius idea if you're not too keen on wide spaces. Plus, it makes your apartment truly feel like home.
Minimalist Student Studio Apartment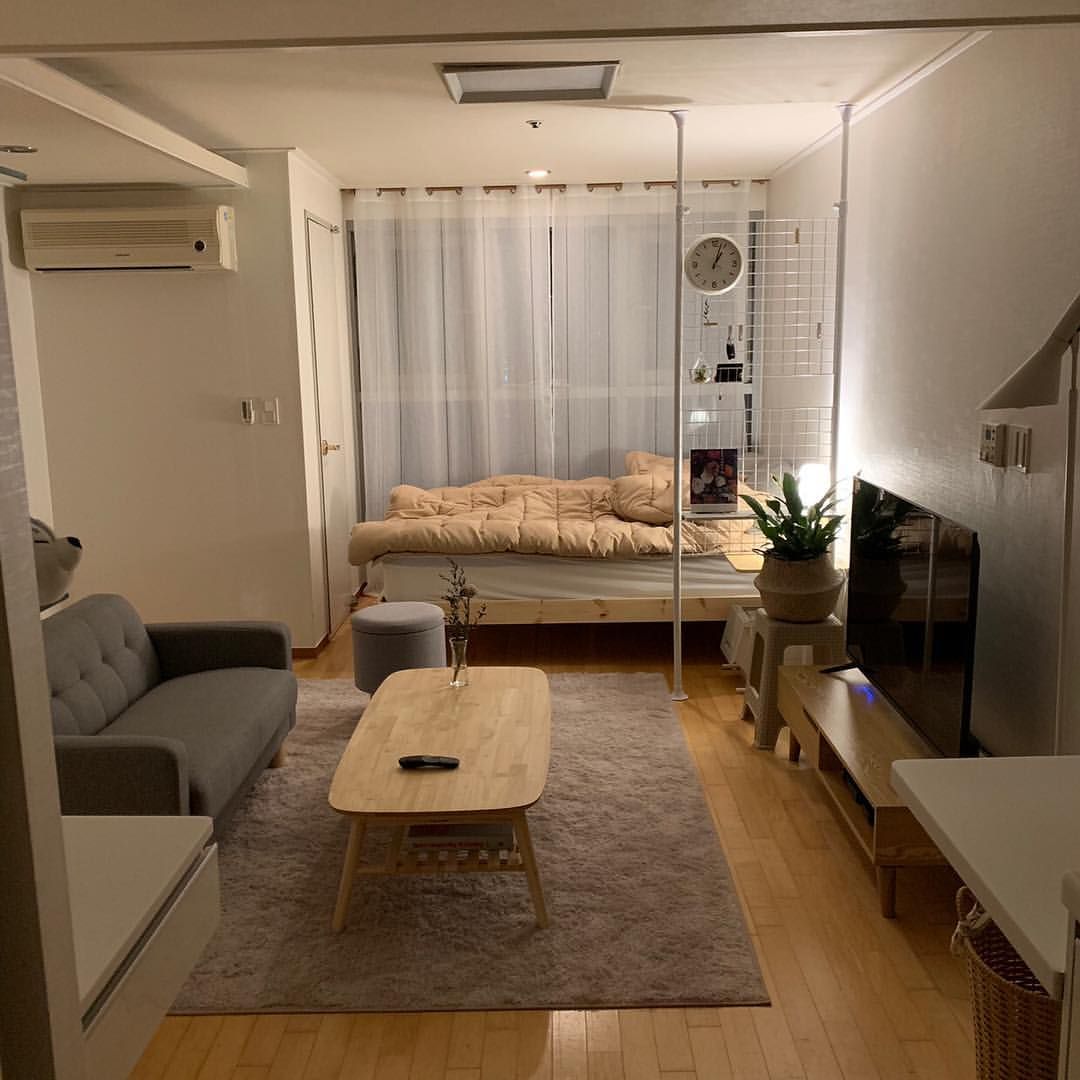 Here is a little something for the generations that will lead us to the future. Every college student wants a clutter-free and easy to clean space where they will be able to concentrate on their studies. One idea of such a space is this student studio apartment that looks both modern and playfull.
Modern-day Breakfast at Tiffany's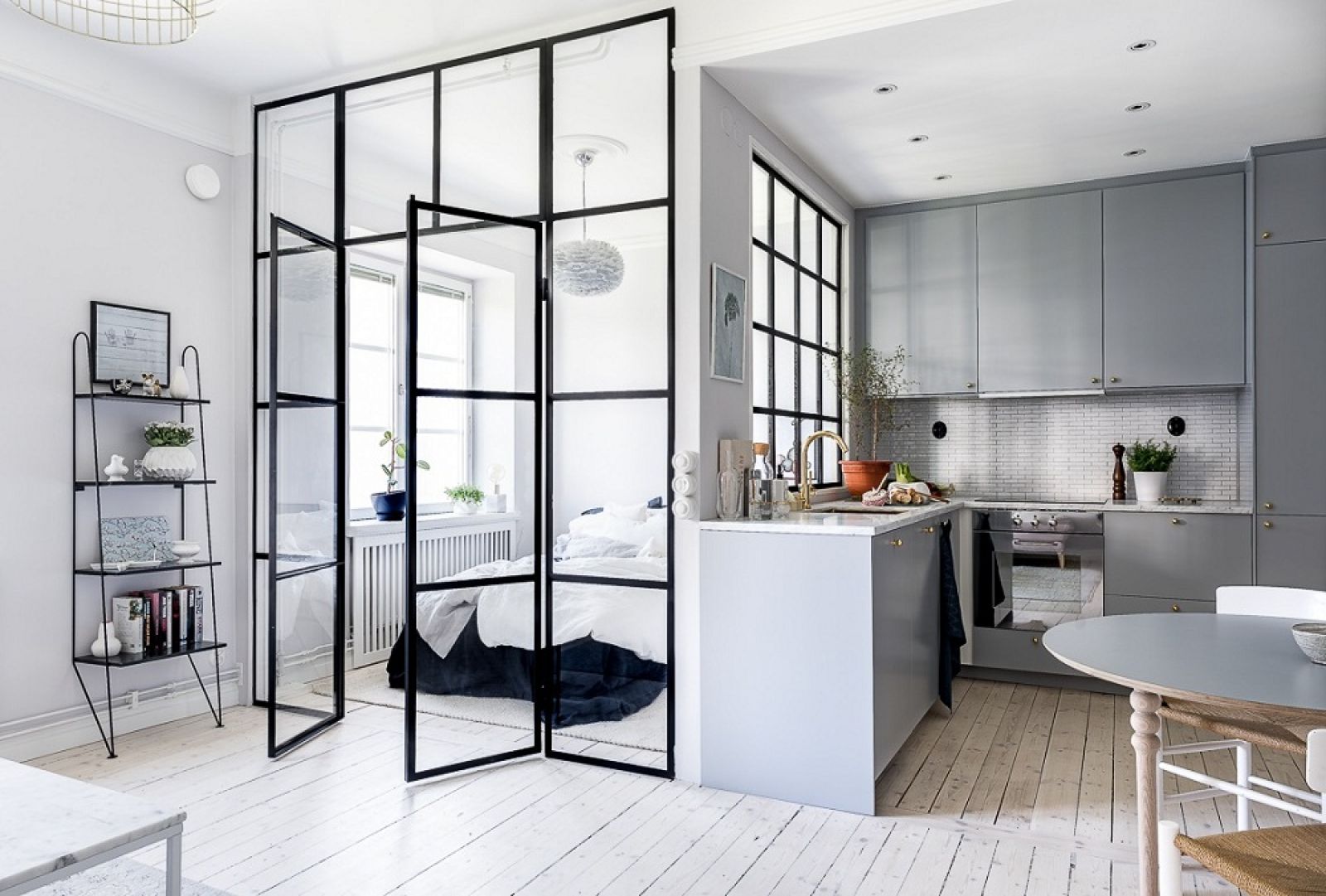 When we set eyes on this studio apartment we immediately thought of the movie 'Breakfast at Tiffany's'. If you're as great a fan of the movie as we are, you will definitely want to try this design idea.
Golden Modern Minimalism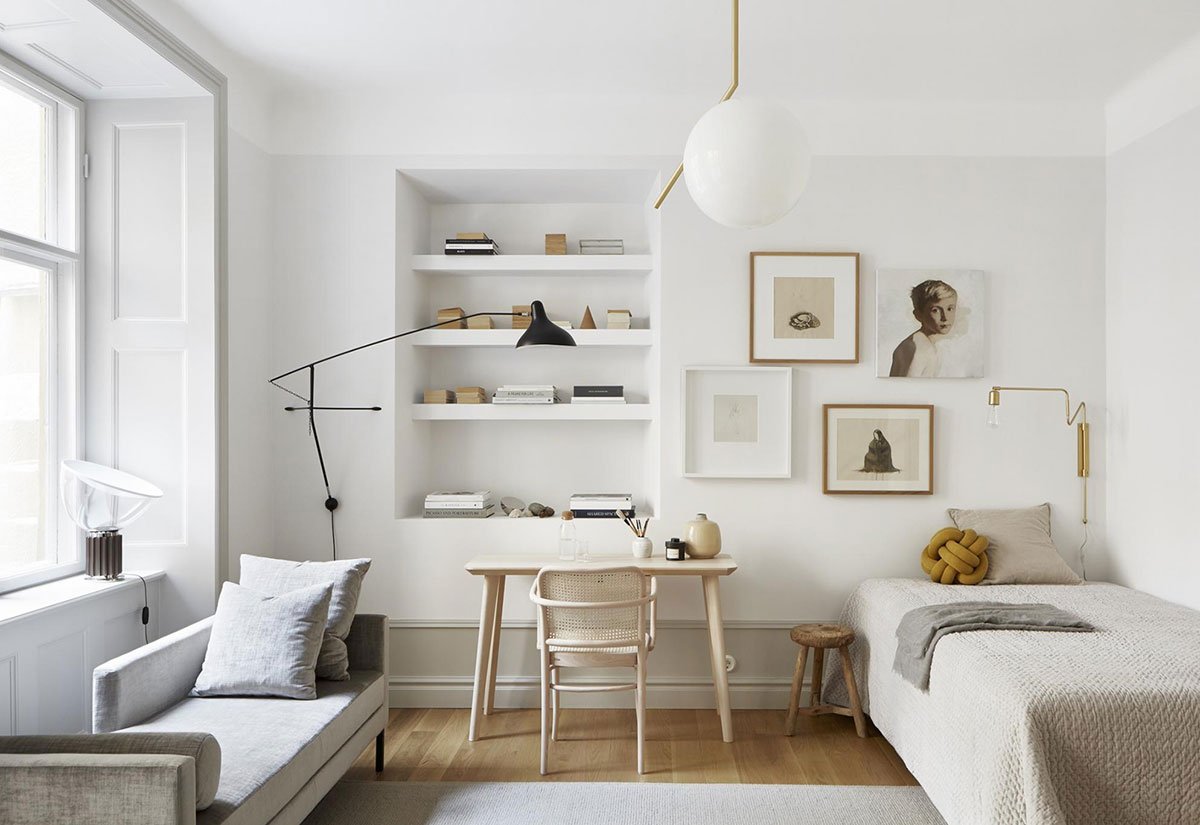 Maybe all that glitters is gold after all. Try experimenting with this color for your minimalist studio apartment if you're looking for something that will make it a bit more modern.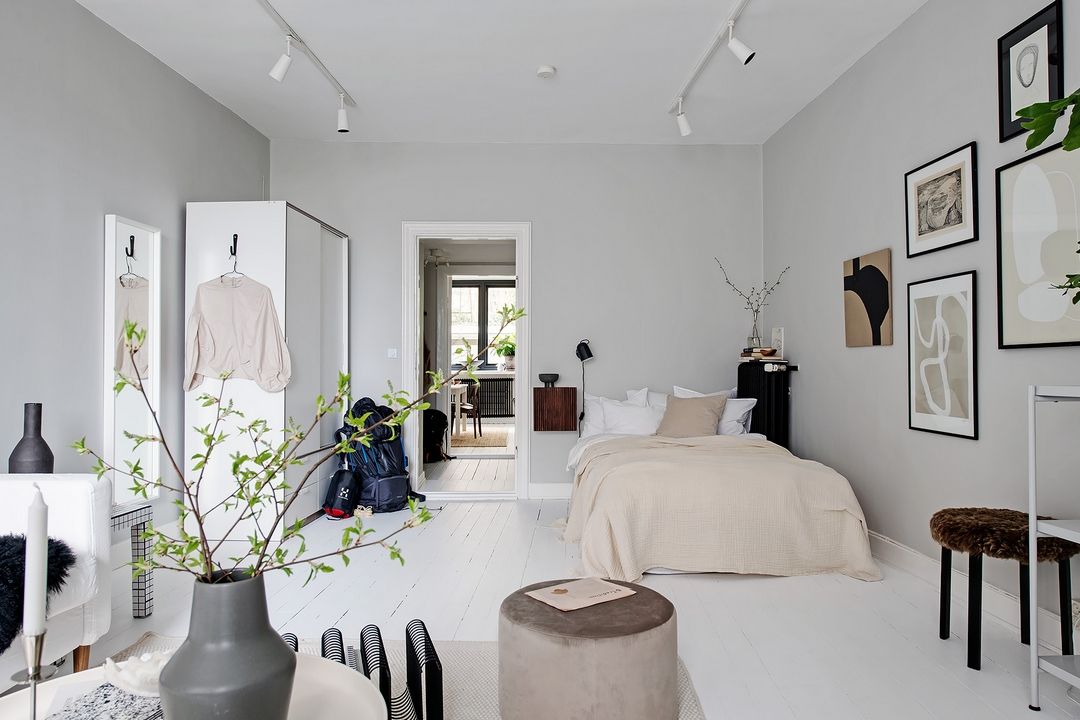 As opposed to strong gold and pastel colors, here we have a studio apartment that combines black elements with light cream colors. It's very aesthetically pleasing and everything that a minimalist studio apartment should be.
Every Modern Minimalist's Dream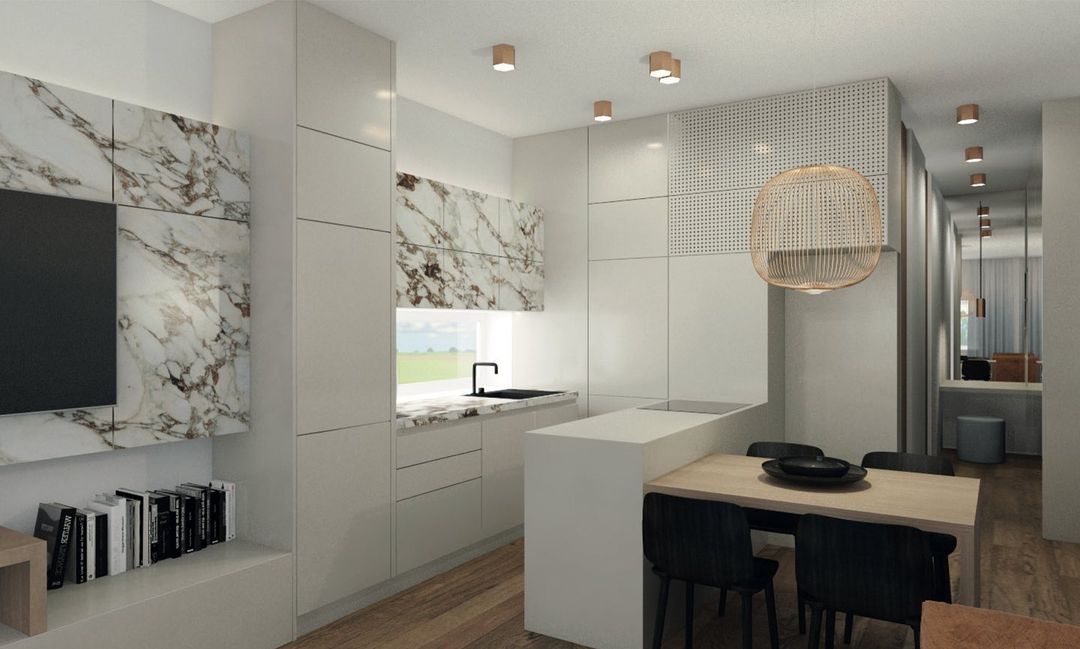 This idea has everything a modern minimalist dreams about – all-modern elements and bare surfaces they can easily clean. It really doesn't get any better than this.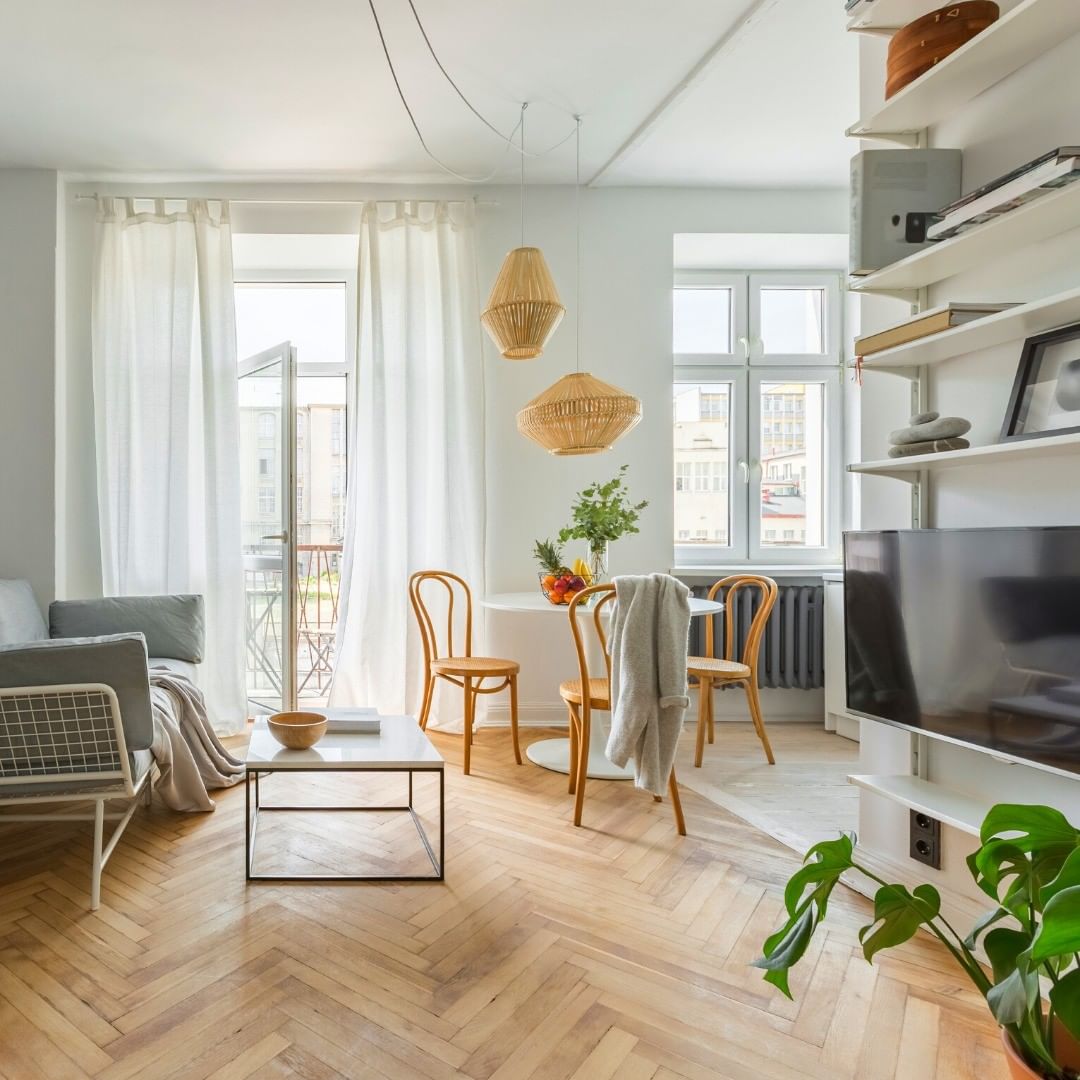 Now here is something for the boho lovers out there. This idea perfectly combines modern Scandinavian with Boho by mixing sharp-edged table and shelves and wooden chairs and bamboo ceiling lamps. If you're up for such a combination, feel free to try it.
Neutral Minimalism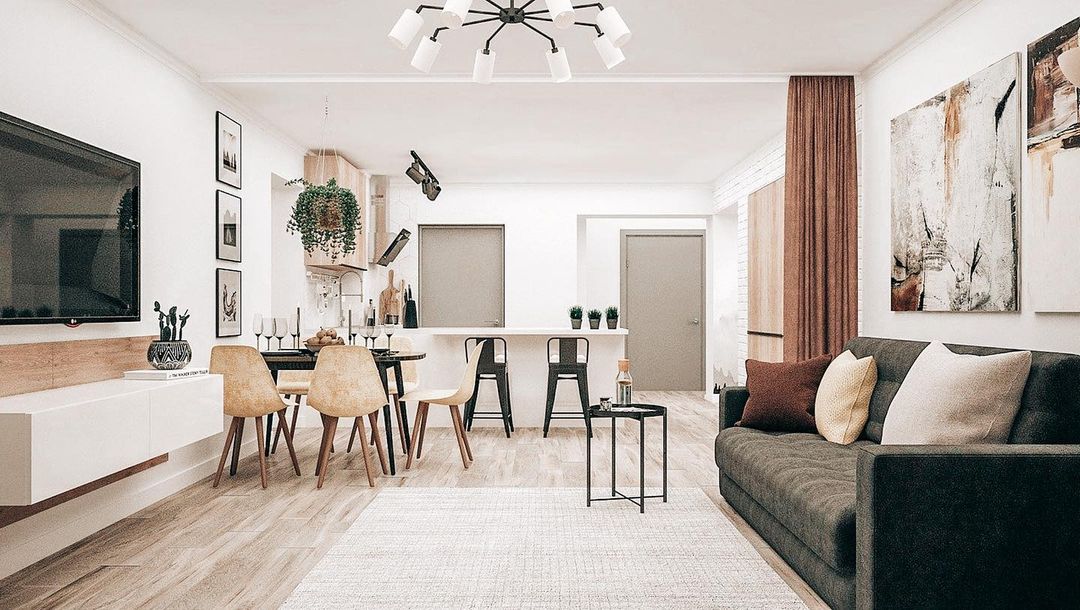 A perfect way to fill the space in a minimalistic space is to fill it with paintings of neutral colors and experiment with a bit of an old-fashioned dark-colored couch. Another great thing you can do it add a curtain in the middle of the apartment that will serve as a divider. All of this will add a bit of playful touch to your modern apartment studio.
Murphy Bed Studio Apartment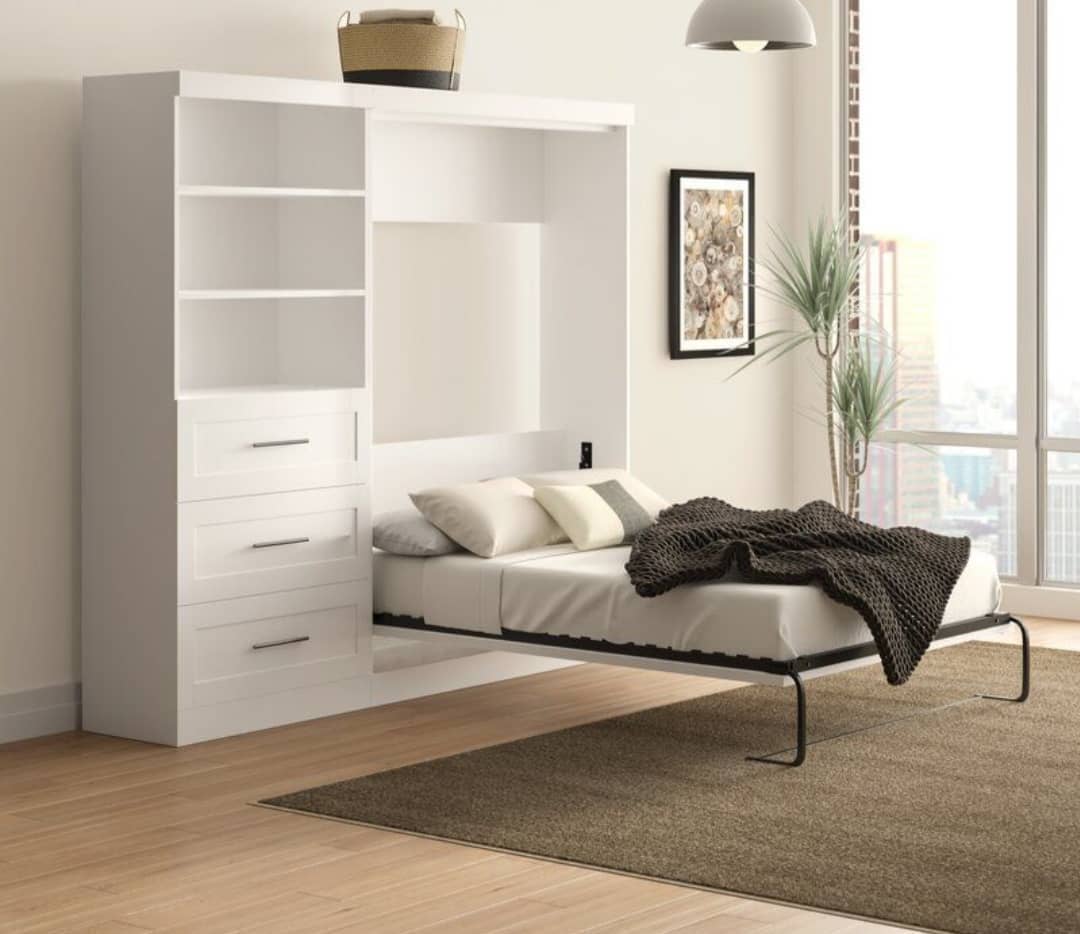 And finally, what's a modern minimalist studio apartment without a Murphy bed? It offers a smart space-saving solution and it's fun because your studio apartment will look different at night. It's a win-win situation, really.
That was it for today's article on 18 Minimalist Studio Apartment Designs for an Eye-Pleasing Aesthetics. We hope you found them inspiring. Do share your thoughts on them in the comment section below and we'll happily read them. Until next time!