No matter the obstacles this pandemic set up for all of us, some necessary changes were set in motion and carried out much faster, as they ought to be. For example, redesigning and reinvesting in our homes. A little warmth never hurt anyone, on the contrary, it can soothe even the more anxious soul. That's where Middle East interior design comes in.
But what is Middle Eastern style décor and what does Middle Eastern design look like? More importantly, how can it help you build stronger emotional connections with your home, your loved ones, and yourself?
Firstly, no other region in the world can boast of such cultural, religious, and ethnic diversity. Although the armchair explorer's depicted image of pyramids, temples, camels, and old bazaars with Aladin lamps is not far from the truth, the Middle East is additionally (and perhaps paradoxically), a hub of both science and the main monotheistic religions in the world. Hence, it's a source of indispensable knowledge and inspiration that one would be a fool to look away from.
Secondly, the patterns, colors, and specificities of design are truly impactful to even the untrained eye. Indeed, it's highly unlikely to see a Persian carpet or a Turkish bath and be completely clueless to which side of the world they originate from. Truly, Middle East-inspired design is impactful and although you might not be able to pinpoint the exact origin of a particular furniture piece, you'll definitely intuitively feel the difference from the West.
Thirdly, the importance of family is an undividable part of Middle Eastern culture which can be felt in the design of living, family, and guest rooms. The open spaces, ottomans, and lounges intended to fit the extended family are perfect for all types of get-togethers. There's nothing like warm colors, low seating, colorful rugs, and tapestries to make a room cozy and comfortable, hence, perfect for sharing and caring.  Middle east décor could be the glue that keeps your family together, allowing a chill place for everyone after dinner
It's hard to say which country is best for interior design when it comes to the Middle East. Although they all share some basic principles, each country and region have a specific and unique trait that might make them more appealing to your taste or match your home better.  Here are a list of Middle East countries and their notable decors, styles, or furniture pieces that will help you get that mystic vibe you were looking for:
Modern Day Arabian Nights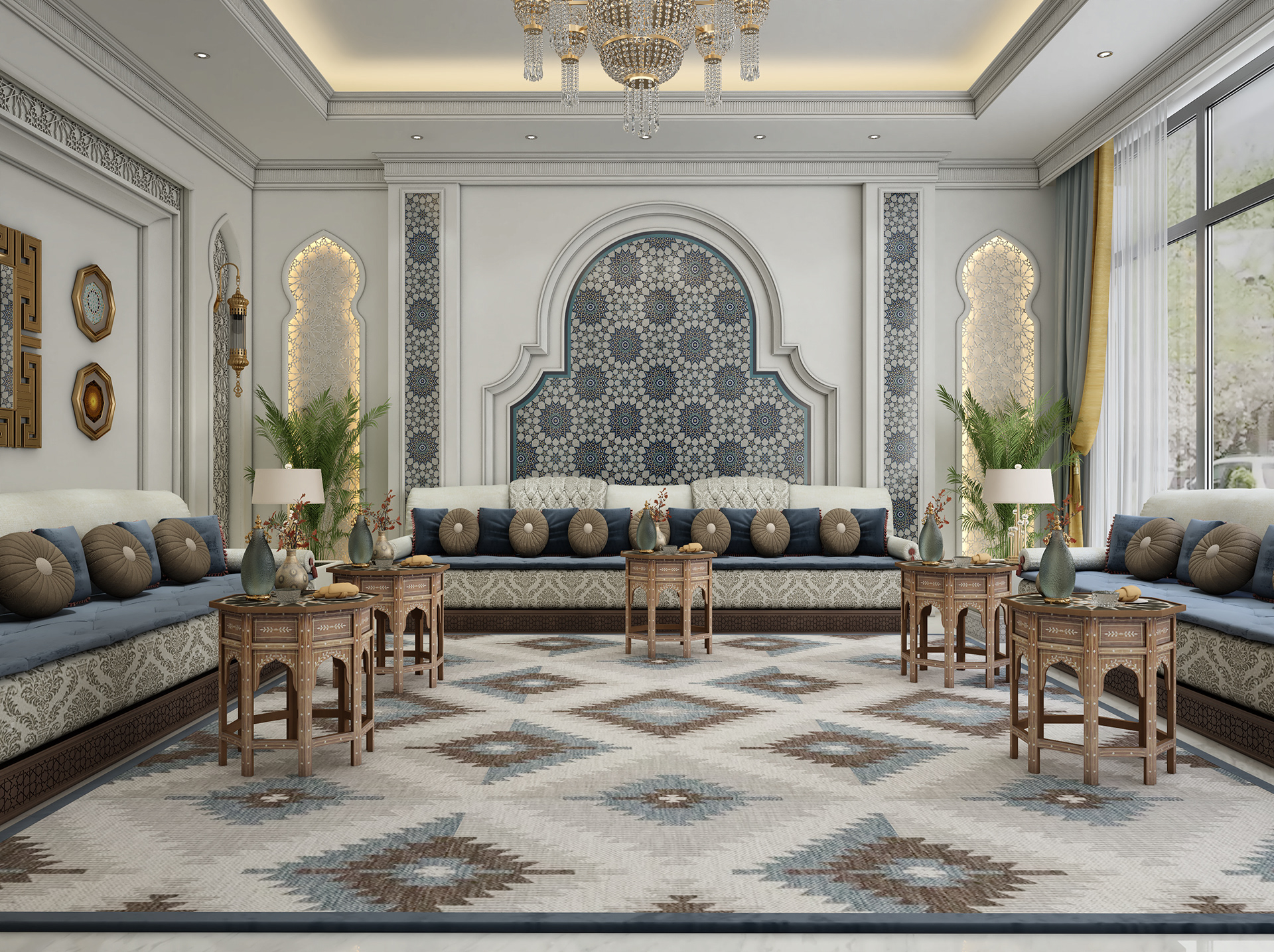 Although Saudi Arabia's interior design departments are still in their seedling phase, this kingdom's interior design sector is one of the largest in the Middle East. Tradition and progress, however, can sometimes go hand in hand. This country's décor customs keep up with ongoing trends and the right choice for someone who wants a living room or bedroom that oozes both heritage and novelty.
United Arab Emirates Extravagance
Dubai and Abu Dhabi need no introduction and neither does their luxurious style. The United Arab Emirates has redefined what is Arabian interior design and have allowed anyone to draw inspiration from world-renowned hotels and villas to create the feeling of glamour and wanderlust in their own living room. For example, a fabulous sunken living room can serve as both a conversation pit and a cozy getaway into the depths of your own mind.
Syrian Furniture Splendor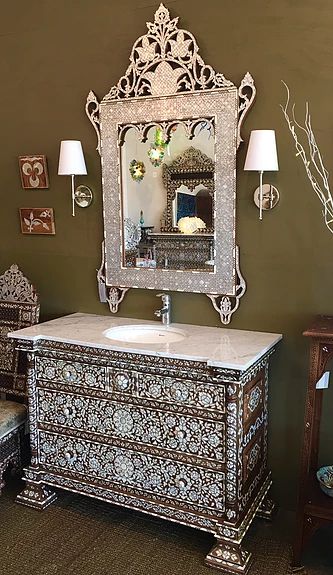 If you dream of a fairytale boudoir or bathroom where every morning or night out begins with precious, private moments of preparation, your interior design plans should be topped with Syrian furniture pieces. They truly are breathtaking and undeniably unique.
Their authenticity lies in the carved details. Whether in ivory or walnut, mirrors, designers, furniture makers, craftsmen, and women have found ways to imbed the rich Syrian culture into almost any Middle East-inspired interior design idea they have. Indeed, you can find mirrors, commodes, headboards, or coffee tables topped with mother of pearl or silver wire and thus, create a truly unique, jaw-dropping, and eye-catching interior.
The Best of Both Continents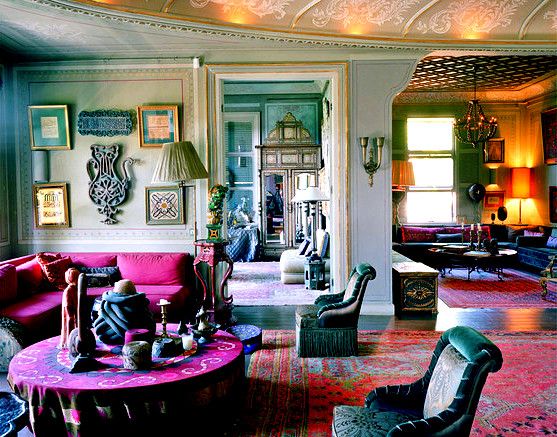 Turkish interior designers undoubtedly draw inspiration from the Ottoman era. However, Turkey is turning into a truly progressive country, thus, there's something in store for everyone. Whether you're looking to recreate an extravagant sultan palace or are leaning on the new age style, you can still enjoy the picturesque Turkish ways and style in every single room of your home.
Tunisian Turquoise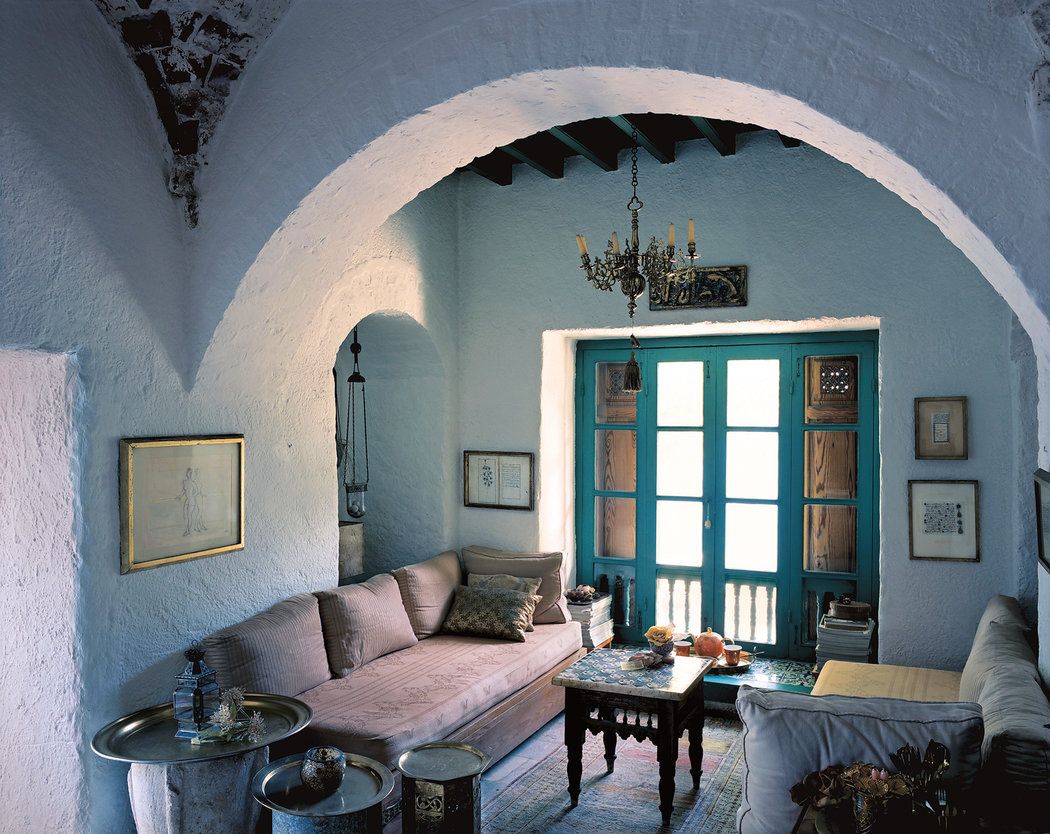 Due to the influence of the Roman Empire but also being part of Africa, Tunisian architecture and interior design incorporate elements of both cultures, thus, creating a mesmerizing effect on any host. Additionally, the influence of both the Mediterranean waves and the desert heat can be felt in both the color palette and choice of patterns.
Moroccan Interior Design Mysticism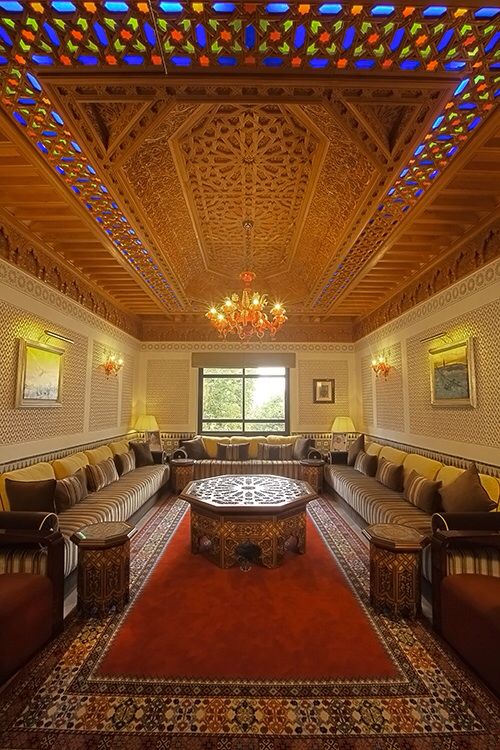 Sizzling destinations such as Marrakesh have drawn in more than just tourists. Both interior designers and DIY enthusiasts are now in awe of the mystic spaces of Morrocco. So, how do you make a Moroccan theme room?
Large booth-shaped sofas up against the walls with many cushions in warm colors like red, orange, and yellow, a hexagonal table in the center of the room, and, last but not least, an eye-catching chandelier. Moroccan top walls are quite intriguing and specific, mostly wooden with carved-in floral patterns and colored glass that creates an intricate play of light rays.
Into the Algerian Blue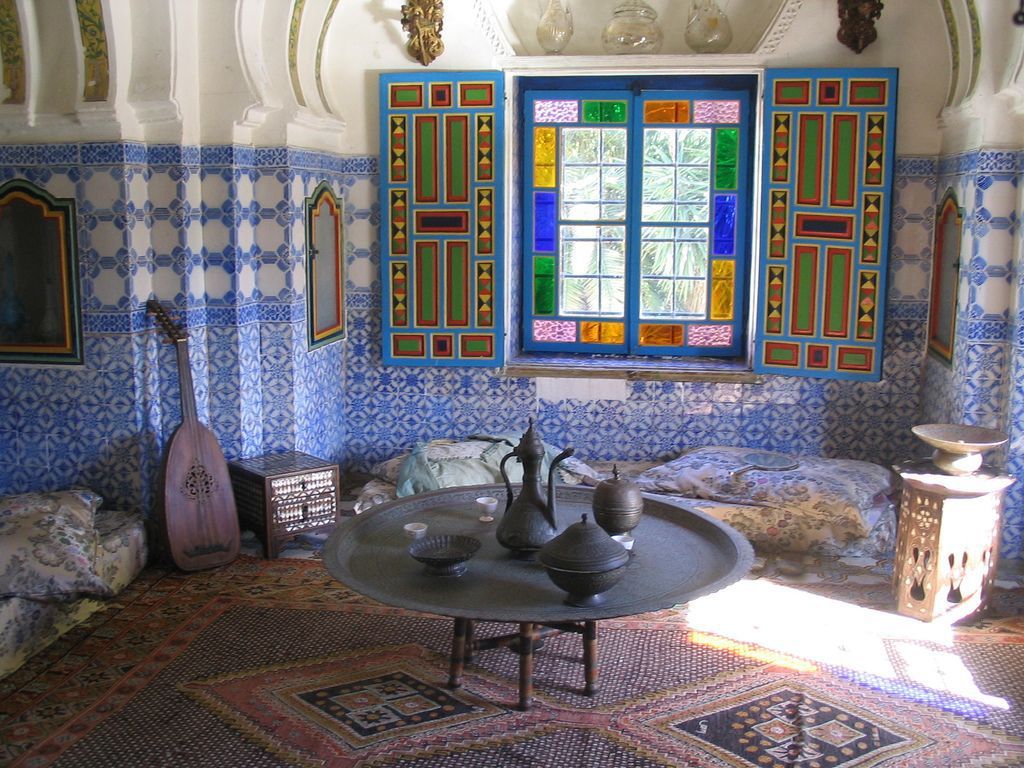 For those who aim for Middle East vibes but are fonder of less intense color design schemes, drawing inspiration from Algerian homes is the way to go.  Predominately in white and blue, you can easily create the Mediterranean atmosphere in your own kitchen or living room. Choose simplistic, low seating furniture and concentrate your creativity on your walls and windows.
Egyptian Pizzazz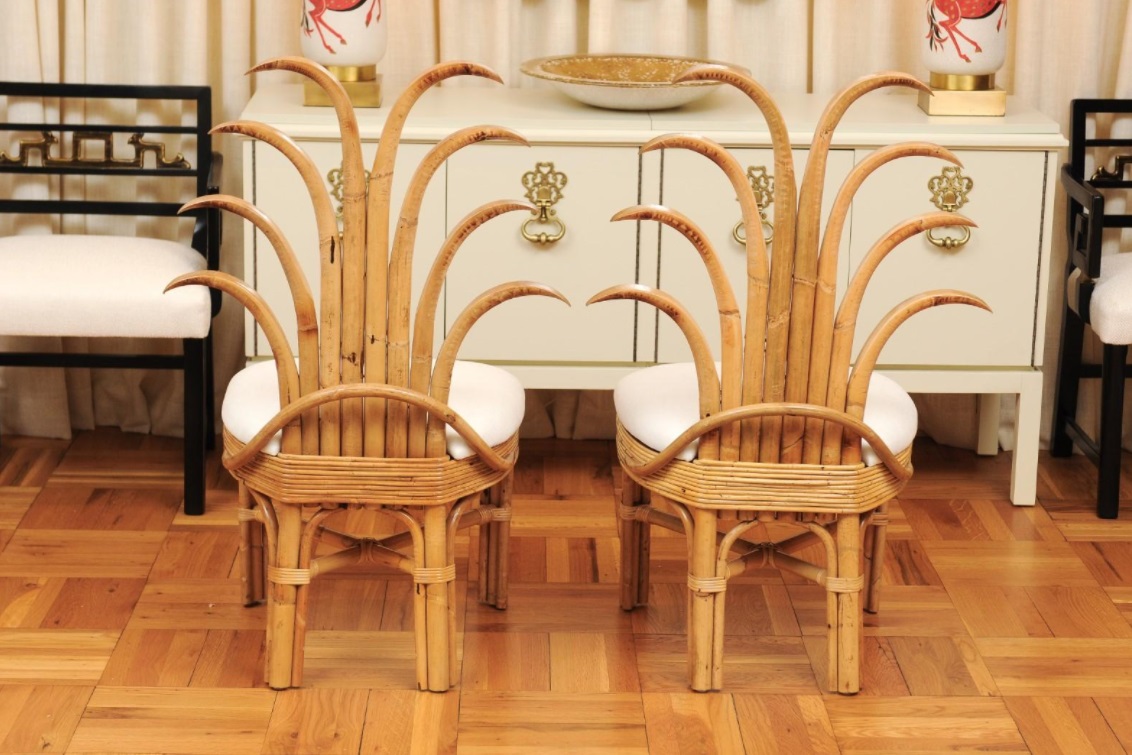 It's almost impossible to live on planet Earth and not be affected (or at least aware) of how Egyptians influence modern architecture, interior design, and art. When it comes to your home, however, aiming for the spectacularism of pyramids is a bit over the top. Luckily, Egypt is not only known for royal lounges, golden armchairs, and staggering pillars but also for the traditional Egyptian handicrafts. Indeed, there are simple, eco-friendly, efficient, and waste-free furniture pieces that can be used by anyone that would love a pharaonic feel to their home without splurging.
Date palm fronds have been traditionally used in Egypt since ancient times and they exceed in functionality, durability, and sustainability. From sofas, coffee tables, and dining chairs to wall décor and ornaments, palm fronds are an inseparable part of Egyptian interior design.  In addition, their simplistic looks and natural tones can easily put you at ease and truly add to the comfort of your home. You'll be doing a favor for both yourself and the planet.
Palestinian Embellishment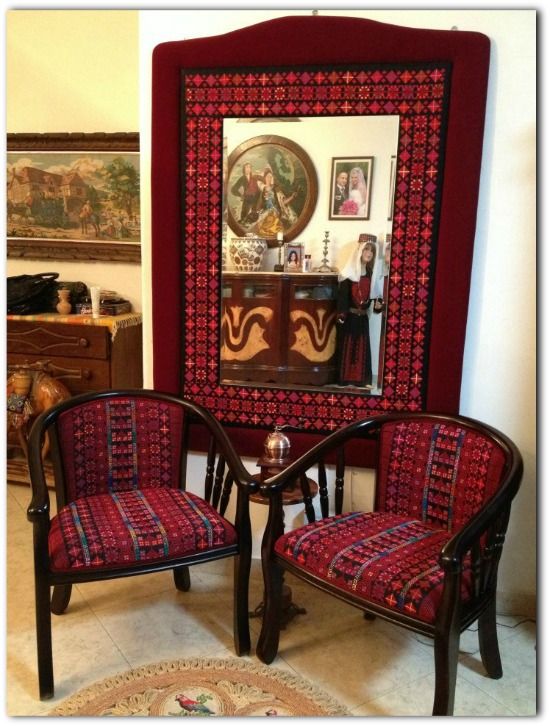 The signature Palestinian décor is undoubtedly embroidery and red velvet. Indeed, cushions and carpets are perhaps the most mundane embraided Palestinian furniture pieces. For those looking to be anything but ordinary, choose a mirror with an embraided frame. If you're looking for ways to create a boho-style bedroom, a red velvet bedroom bench will make you feel like true Middle East royalty.
Intricate Iranian Interior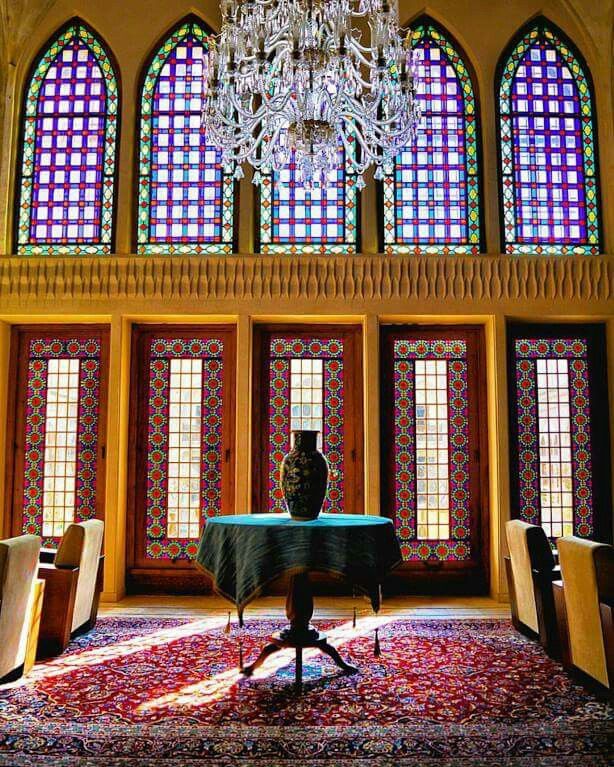 Iran still draws inspiration from its antiquity, and for good reason. Being the epicenter of the Persian empire sounds like something any country would be proud of, and not just for its magnitude but also the culture and style.
For lovers of traditional or bohemian styles, a Persian rug design will bring an Eastern warmth you've been dreaming of. If you can afford an original Persian rug, you'll be making an additional investment as they are considered to be true works of art. They are not unique but are made of premium materials like silk or wool and high-quality cotton woven for months or even years.
Both Sides of the Iraqi Color Spectrum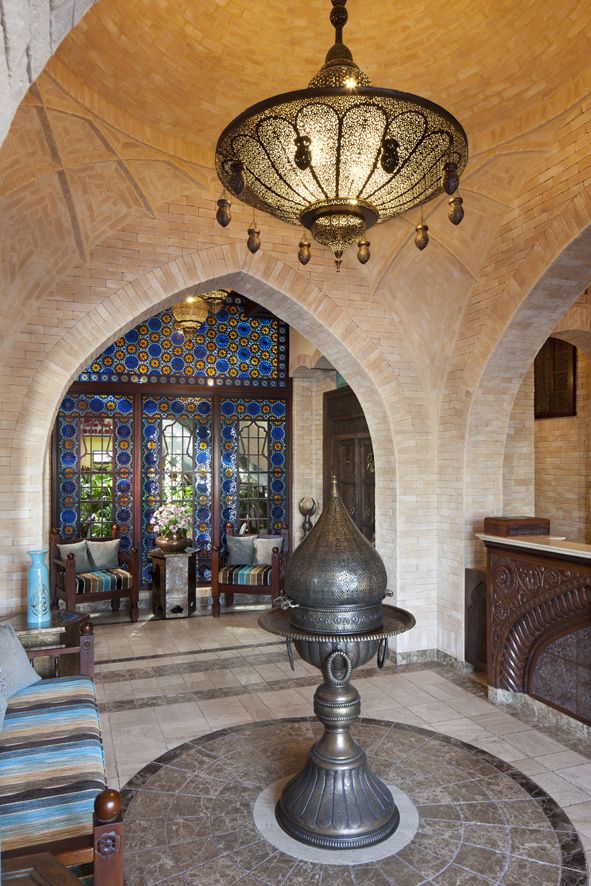 Brick walls and tiles in grey tones are part of both traditional and modern Iraqi designs. In addition, Iraqi houses, as well as many others in the Arabian world, have excelled at creating outdoor-inspired indoor spaces intended for maximum relaxation and connection with the environment. Once again, stained glass embellishes the darker tones.
The Ease of a Yemeni Living Room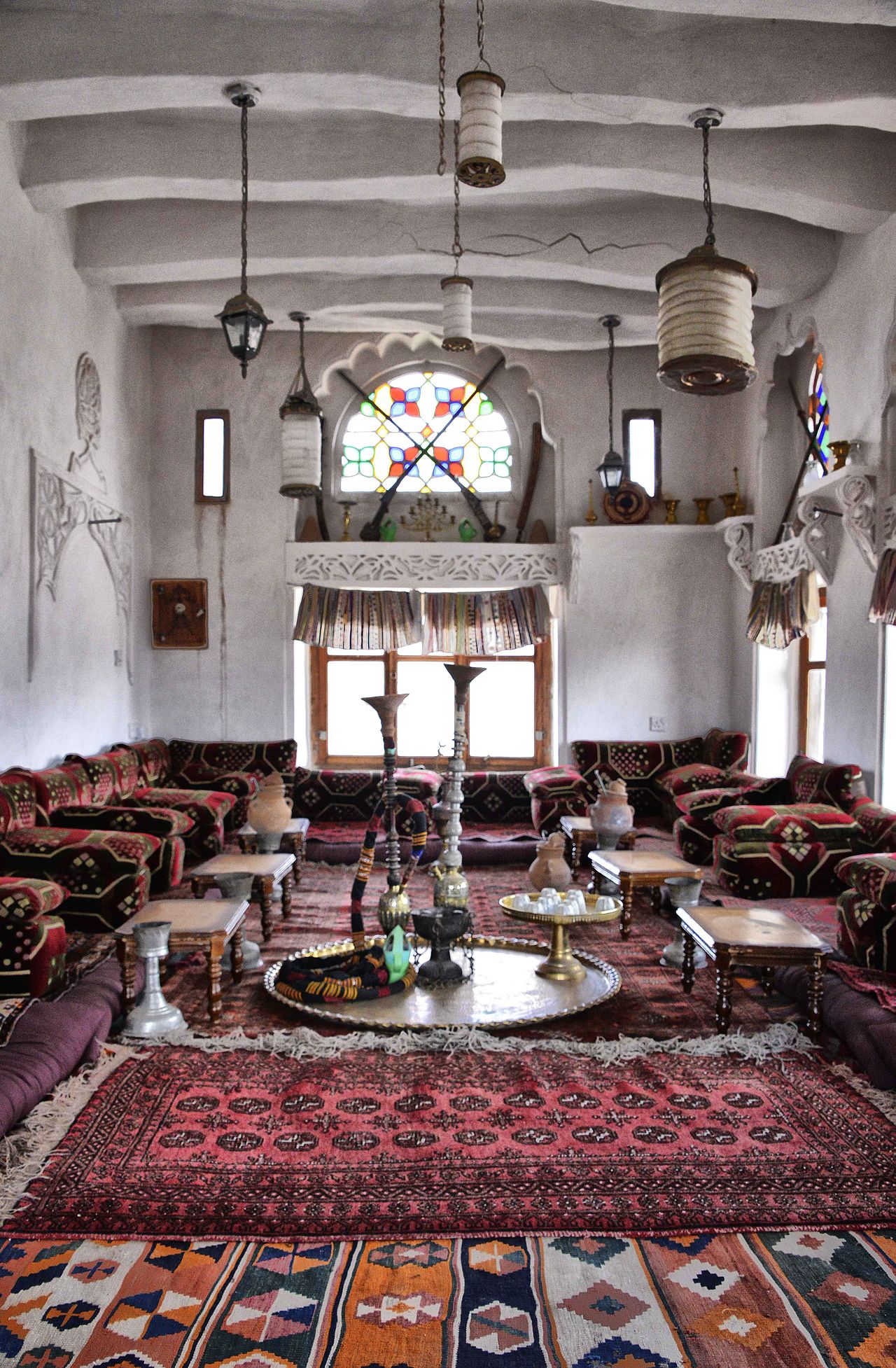 Depending on their economic stability, the people of Yemen could opt out for straw huts or huts of stone and baked brick or, if they're in the position to do so, large two to eight-story houses with a unique southwestern Arabia style.
In turn, you can choose decoratively outlined windows, large lounge chairs next positioned next to the walls that will open up your common area, and a carpet that seems like it can fly you away into dreamland. All of you shisha lovers can top this design with a hookah positioned centrally which will not only add oomph but also create a gathering space for an eventful social night you have planned.
Lounge in Lebanese Style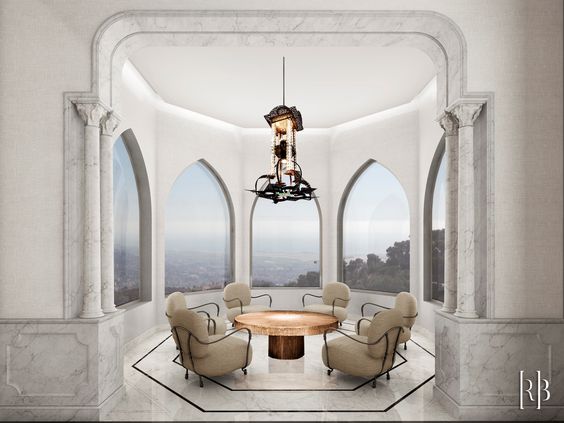 Most of Beirut's homes combine traditional Lebanese architecture with the simplicity and modernity of white nuances. It's the perfect place to draw inspiration from if you're not that fond of the typical ultra-colorful Middle East designs. Once again, the hexagonal seating creates the perfect combination of open spaces with closeness.
Libyan Living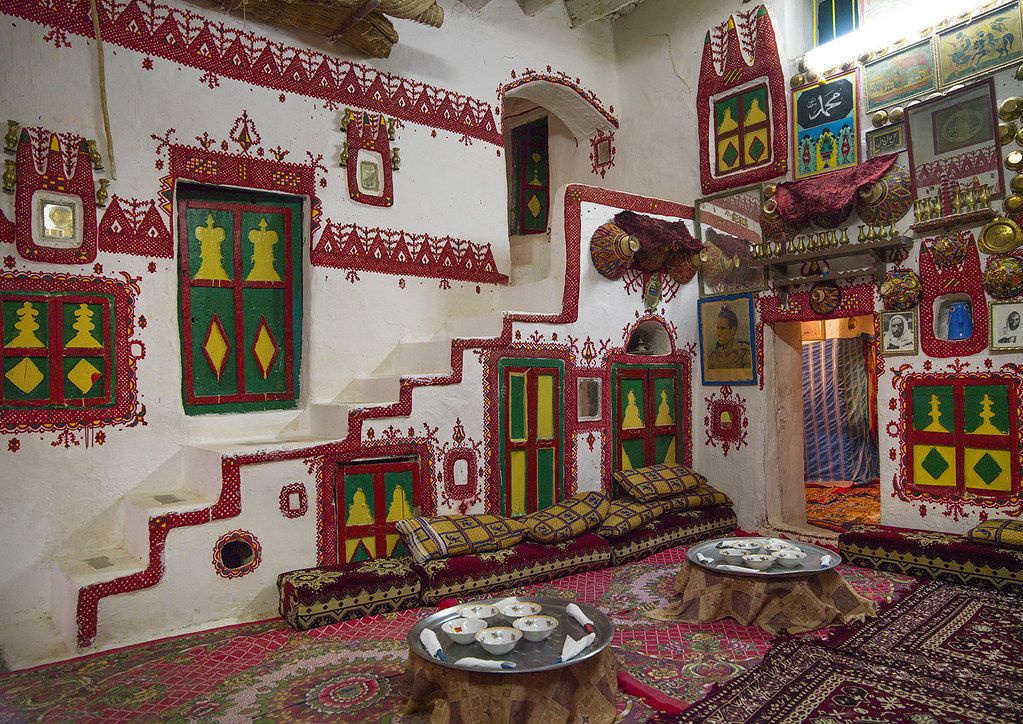 If you're a fan of white walls with an abundance of decorations, take a look at some of Libya's homes. Red and green embroidery and traditional dishes and cutlery hanging from the walls of a low seating, intimate living room oozes snugness and privacy.
As Pearly as Bahrain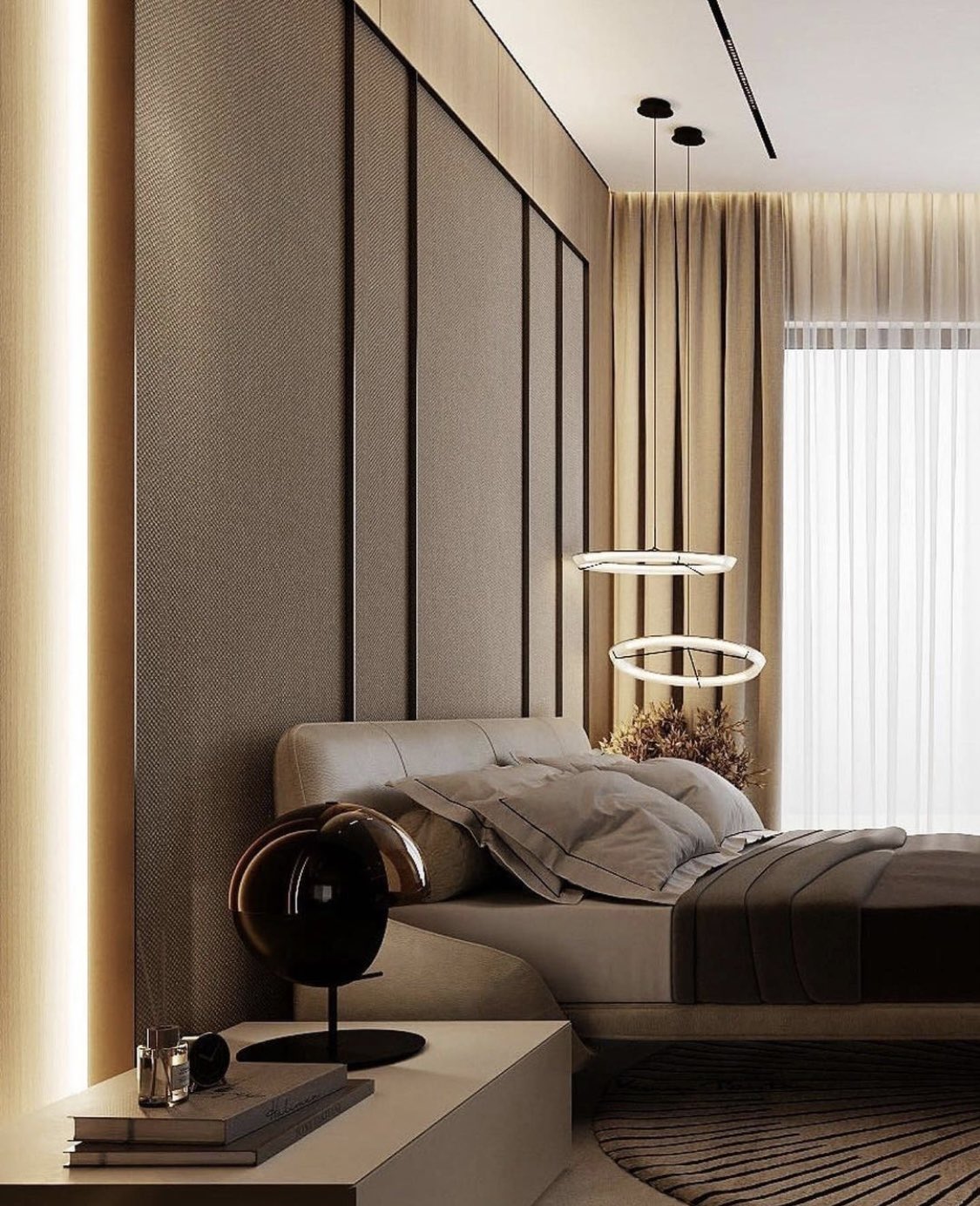 Famous for its date palm trees and pearls, this island Middle East country mirrors its natural beauties and depicts the sophistication and simplicity of its resources through interior design. Contrary to its neighboring countries, oval shapes predominate in addition to white and earth tones and turquoise colors, thus, matching the scenic view from the windows of Bahrain homes and hotels.
Whether you're looking to spice things up or trying to create a peaceful and spiritual atmosphere, Middle East-inspired interior design has something in store for every old soul that tries to fight the blandness of modernism and minimalism. From home office design ideas to luxury living spaces, this pandemic gives you a chance to say goodbye to the boring cubicles and welcome cushions, lounges, tapestries, and cozy carpets that fly you off to the magical desert in the blink of an eye.