The home is a place of warmth, safety, and hospitality, where we and our friends and family can feel at ease. It is said that the people are what make a house a home. Whatever the case, in the end, it's the decor and design inside is what help showcase and convey those warm, inviting vibes. That is probably some of the top reasons why most people when designing their homes choose wood and ceramic elements and warmer color tones, while stones and dark color schemes are less common. Even so, there is a certain charm of using stone elements in the home, that creates a certain balance and adds a certain character to the place that is far from cold and lifeless. From the many types of rocks used in design and decor, today we'll check what can be done in the home with river stones.
Riverstones come in different colors, shapes, and sizes providing a variety of opportunities to be incorporated into the home. The smaller ones make a perfect material for making small decorations or adding decorative elements to the home with a mosaic-like appearance, while the bigger ones are perfect for decorative coverings on bigger projects, both indoors and outdoors. These natural pebble stones are mostly used in landscaping, not only creating a greater aesthetic for the yard but also adding a layer of protection from weeds and keeping erosion of the soil under control. They have also found their way inside the home, as a material of choice for many crafters and as a tranquil decorative feature by designers. Looking at the river rocks, they can give the sense of water where there isn't any, and a certain toughness and durability is something that looks tiny and fragile.
River rocks decorations can be added in any home, even transforming entire rooms, so to give you an idea of what can be done with river stones and what look do they create, let's check our list.
River Stone Heart
Chicken-wire is a widely accessible, affordable, and playable material, making it a fine choice for creating interesting, almost 3D decorations around the home. Once you've decided on a shape and completed the project. you can fill it with small river rocks making it a great decor piece for the yard or the home.
River Stone Mat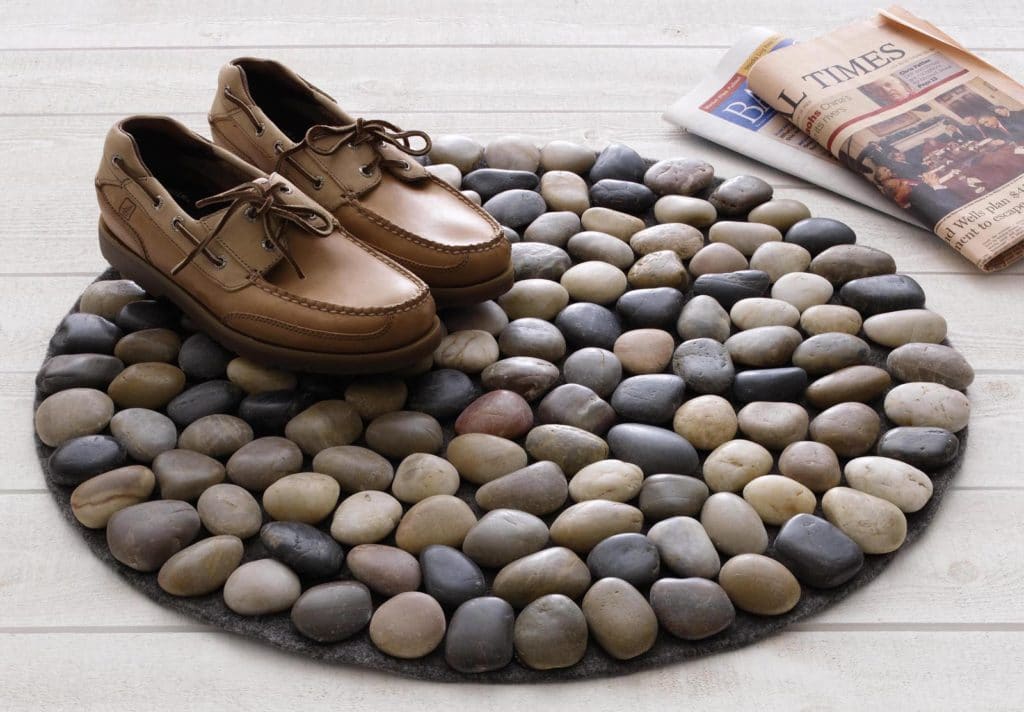 Riverstones don't retain water and can absorb quite a lot of heat, making them a good choice for some interesting mats. You can make or buy river stone doormats or coasters, depending on your needs. They will last you a lot longer, that's for sure.
Rain Chain River Stone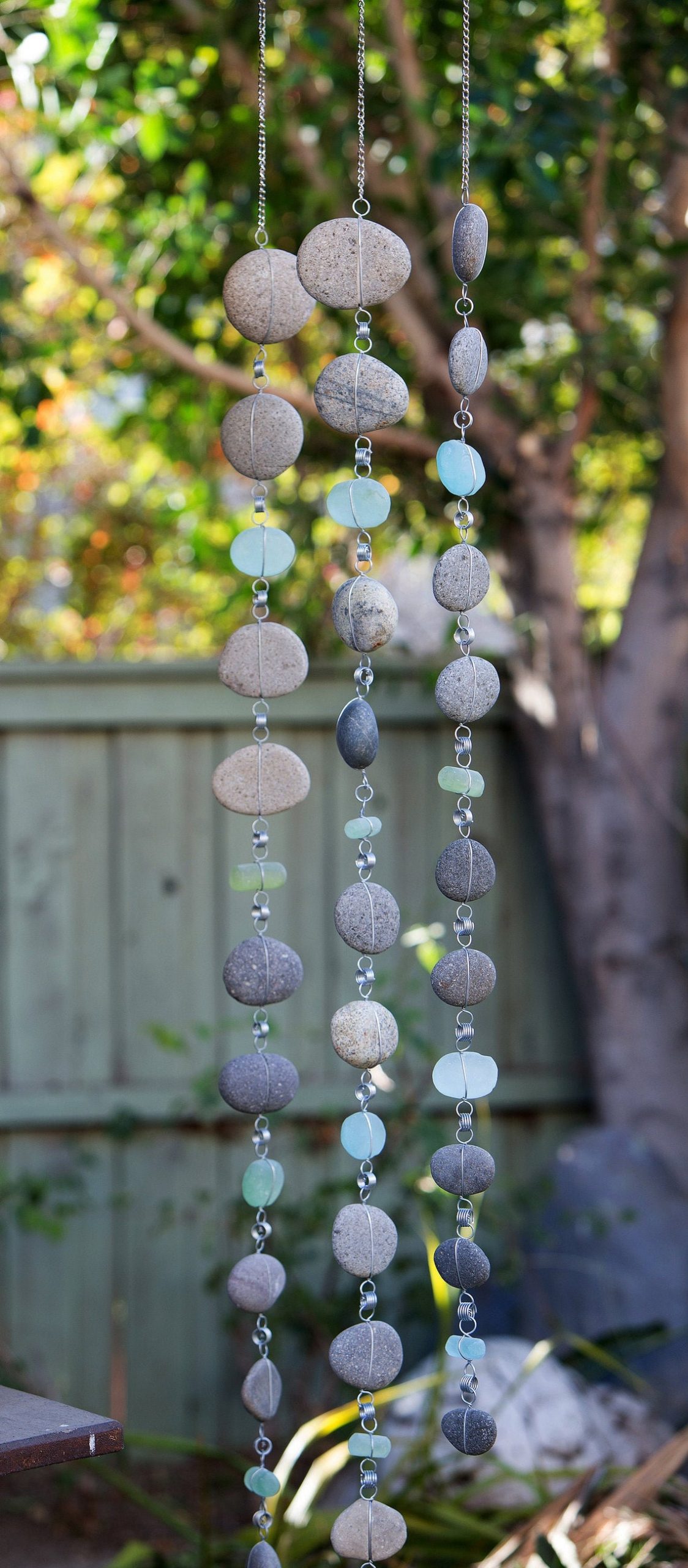 Today, much like wind-chimes, we don't really see that many rain chains, but if you are looking for some new decor to hang near the window, balcony, or drain pipe, some river stones and some wire are all you need to make an easy and lovely rain chain.
River Stone Birdhouse And Yard Ball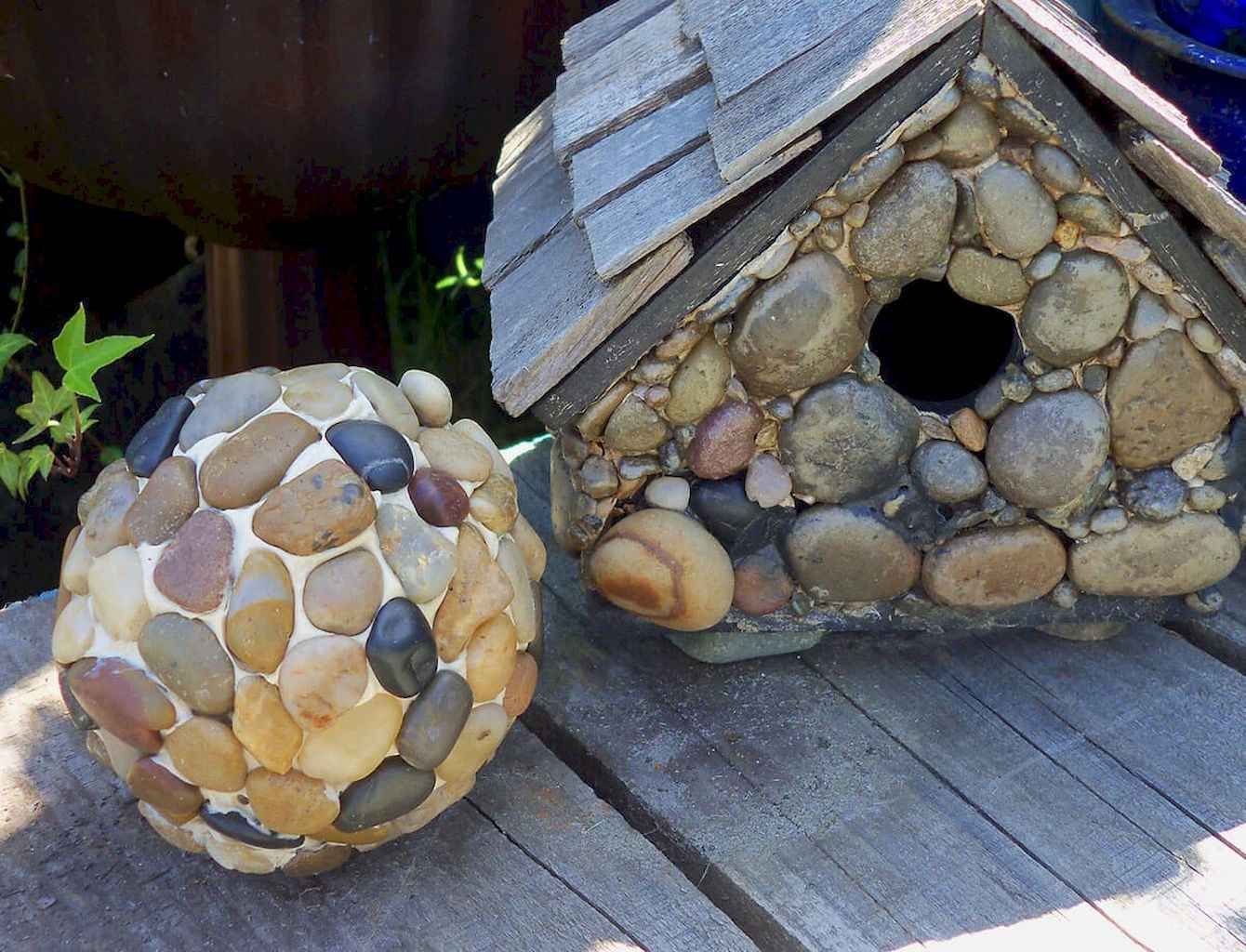 Yard decorations should be noticeable, but not overwhelming. After all, nature is the main thing adorning the yard, anything else is just a personal preference. That is why people mostly go for natural materials when decorating their yards, and river stones are perfect for it. Aside from using them in the flower beds, you can use them to cover the outside of the birdhouse, or make a river stone ball, that you can roll around and place wherever you want.
River Stone Wall Art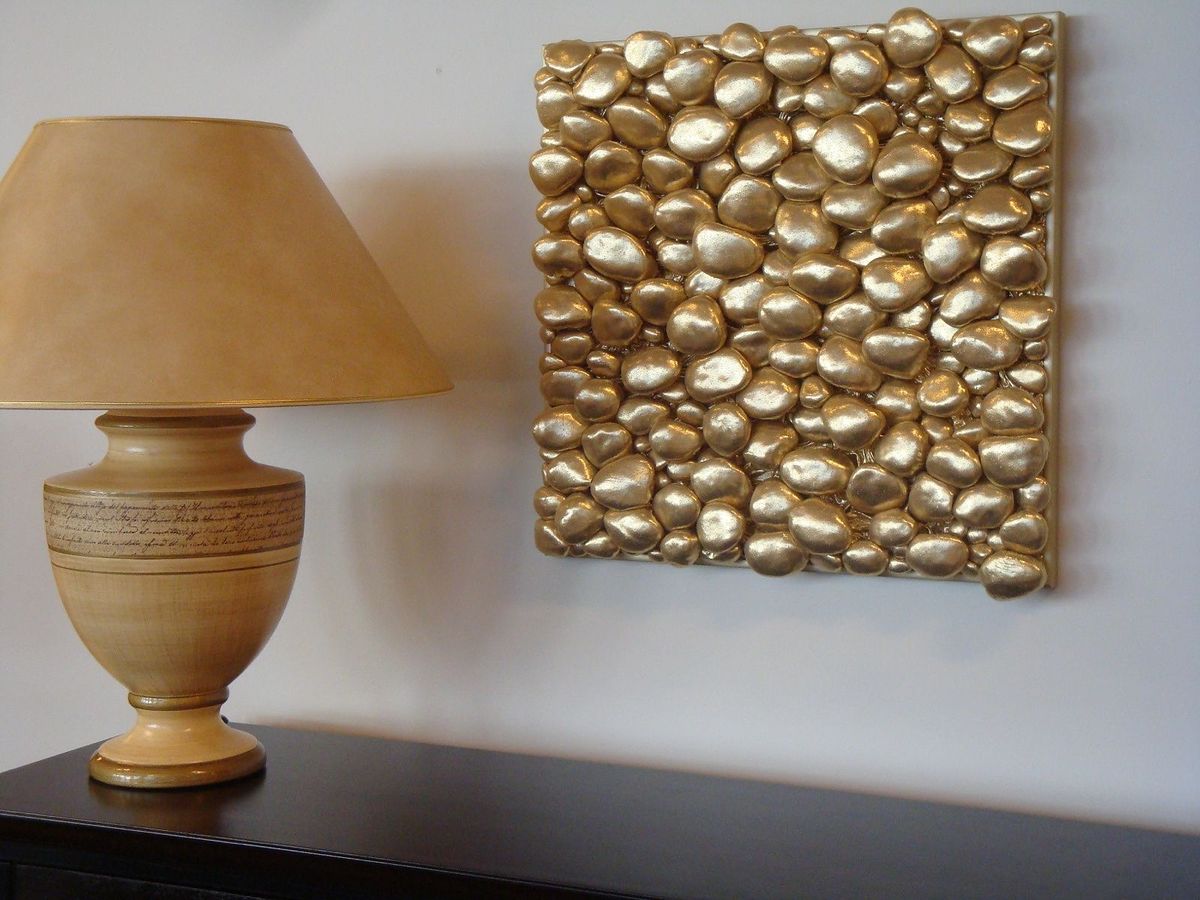 The smooth surface is one of the river stones is one of their more desirable features, while their sizes and shapes are another. The gray tones may be offputting to some, considered cold and melancholic, but you can still create beautiful art with them, like this gilded painting.
River Stone Outdoor Table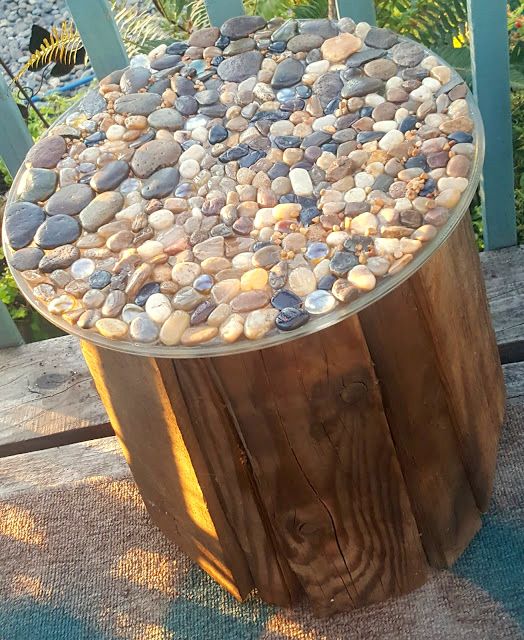 Many people don't want to spend a lot of money on fancy-looking or more intricate outdoor furniture because it is exposed to the elements and naturally it won't last very long. If you share this opinion, remember that you can upgrade your furniture without having to spend too much money, just a bit of your time. This river stone table is a perfect example of it. It looks great, and it is certainly more durable than before adding the river stones.
River Stone Candle Votive And Picture Frame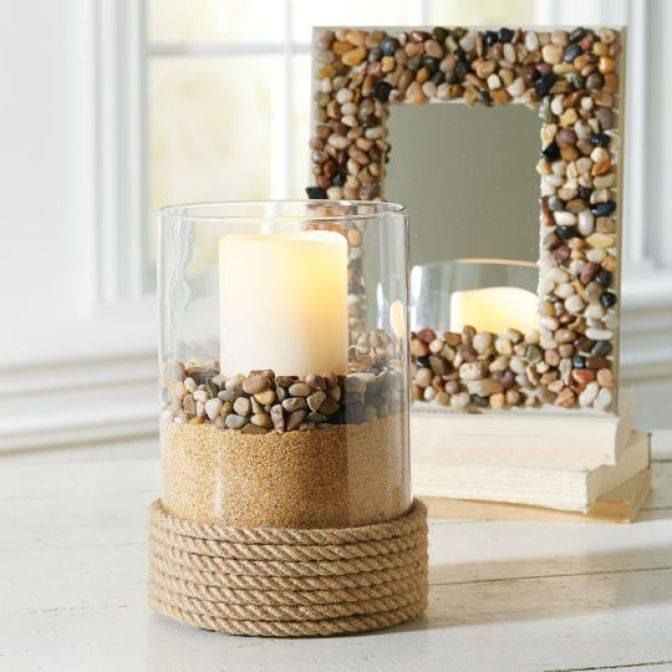 It's nice when you have matching ornaments on your shelves. It's almost like you have a collection or a matching set, which always looks nice. So here we have a candle votive and a picture/mirror frame adorned with river stones, that look adorable and give out a bit of a coastal vibe.
River Stone Placemat
We mentioned doormats and coasters before, and here are also some very colorful placemats for the dinner table. They might not be very festive, but are very durable, making them perfect for everyday use or for casual dinners when friends come to visit.
River Stone Lamp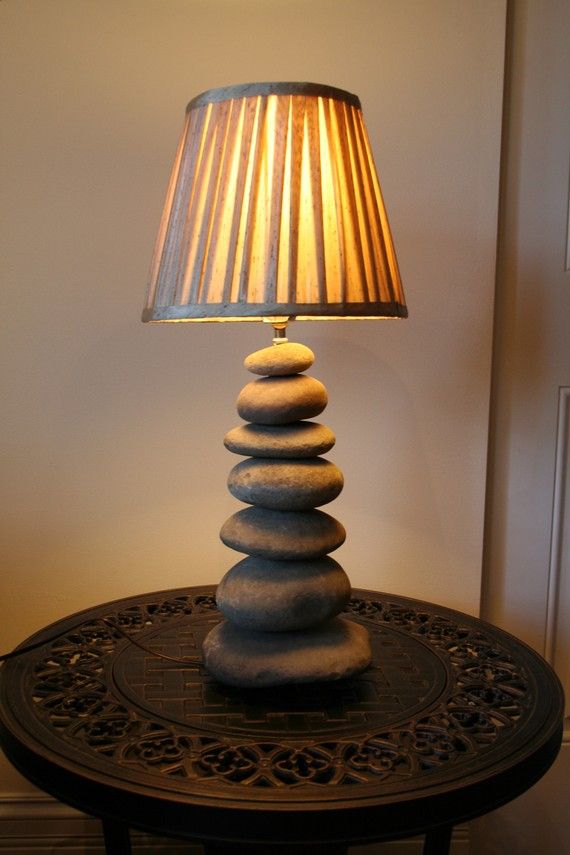 Larger river stones are used on bigger items and projects, yet give out the same effect as the smaller ones. And sometimes just a few of them can be used to create something quite interesting. Rock stacking is a form of art that social media has picked up, and the unnatural balancing of the rocks is quite mesmerizing. There are even items available for purchase, that show that same beauty like this gorgeous river stone lamp that is a functional masterpiece.
River Stone Art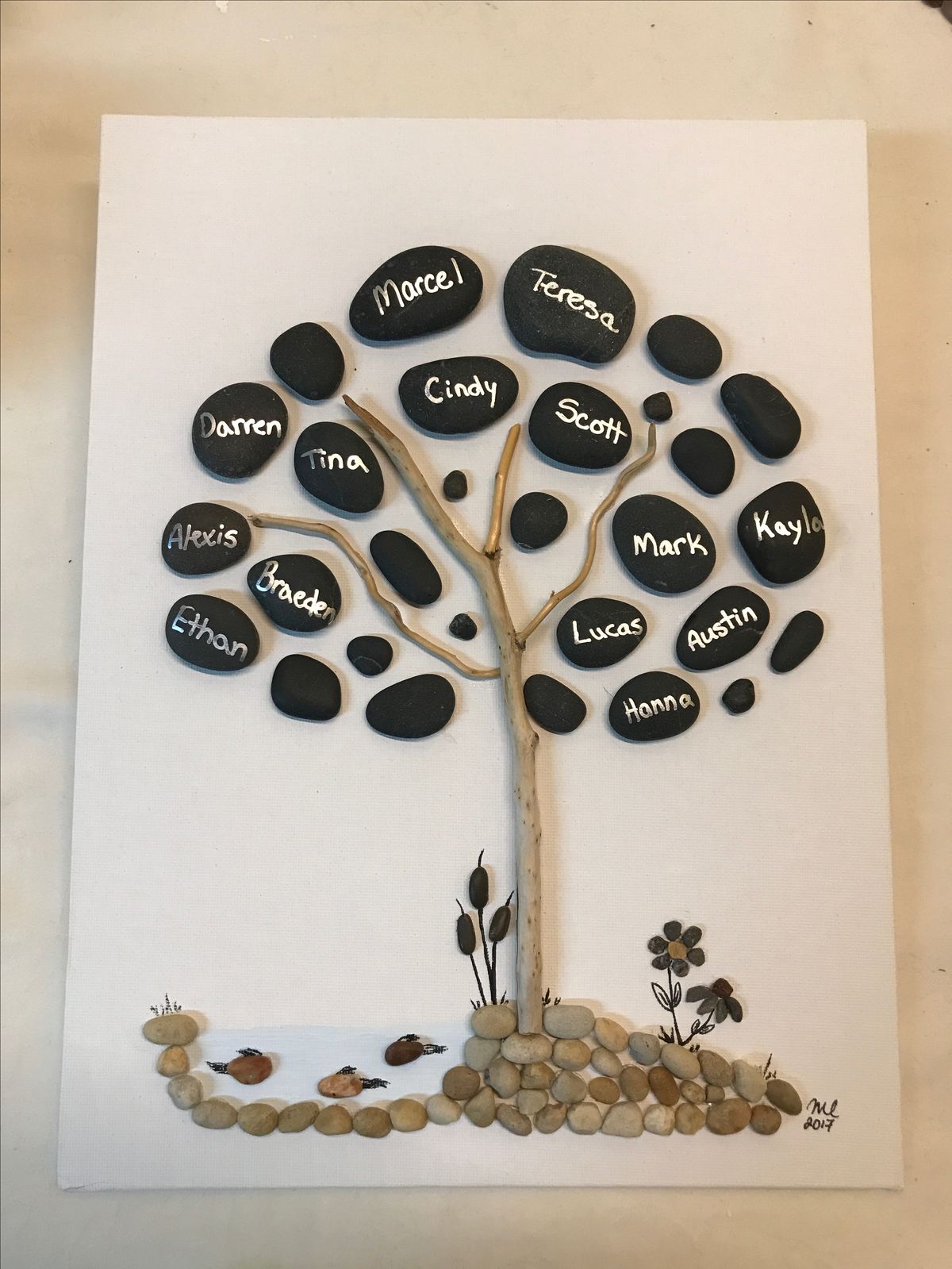 We already mentioned that a lot of crafters use river stones for various projects and fun little art projects like this one worth giving a try. The whole family can create an interesting and lasting art gluing together and painting some river stones on some material, which you can frame, put up, and enjoy for years to come.
River Stone Sconces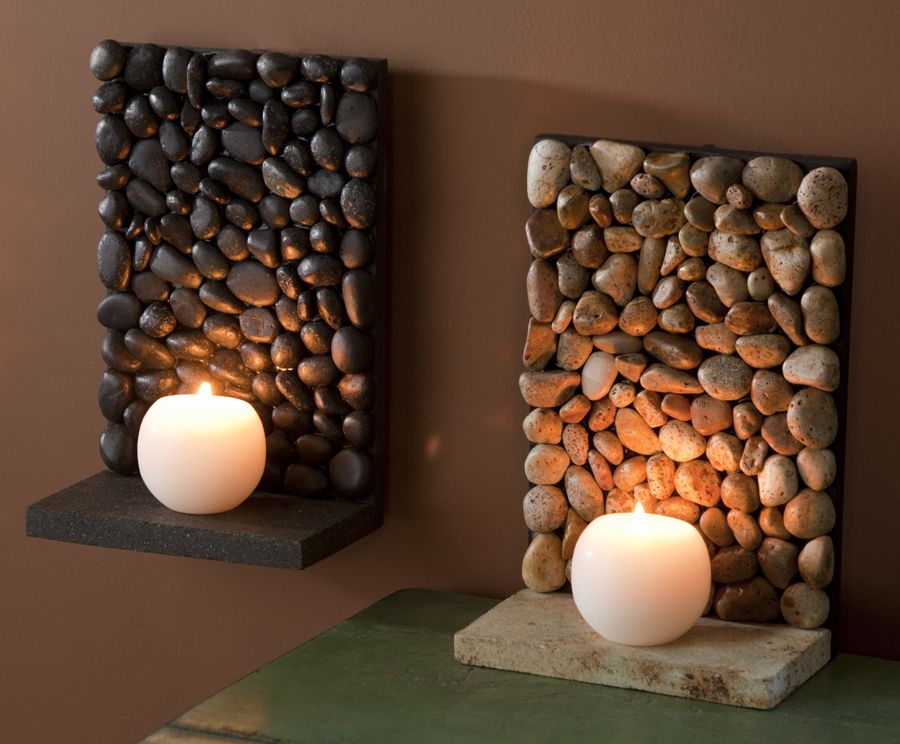 Whether electrical sconces or just wall-mounted candle holders, there are always some places in the house that need some extra lighting, be it for practical purposes or for creating that soft, calming mood in the room. The soft light reflecting from the river stones and the little shadows they create are most definitely good for creating a calming mood.
River Stone Backsplash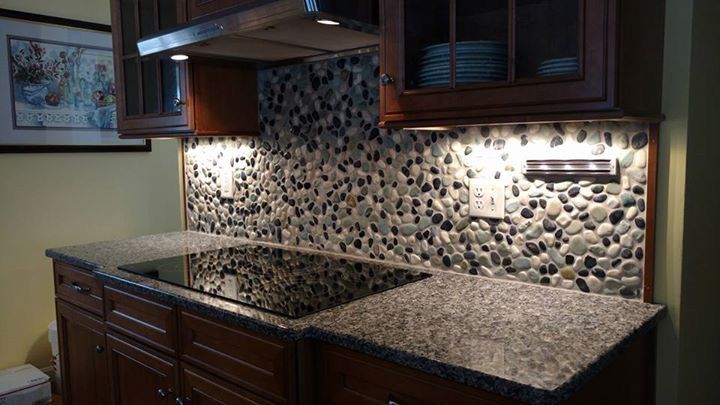 We mentioned that larger river stones are used for larger projects, but here is one where the medium-sized stones are just right. This material is a good choice for the kitchen, since it's water-resistant and heat absorbent, and unlike the tiles, it adds a certain playfulness to the kitchen.
River Stone Shower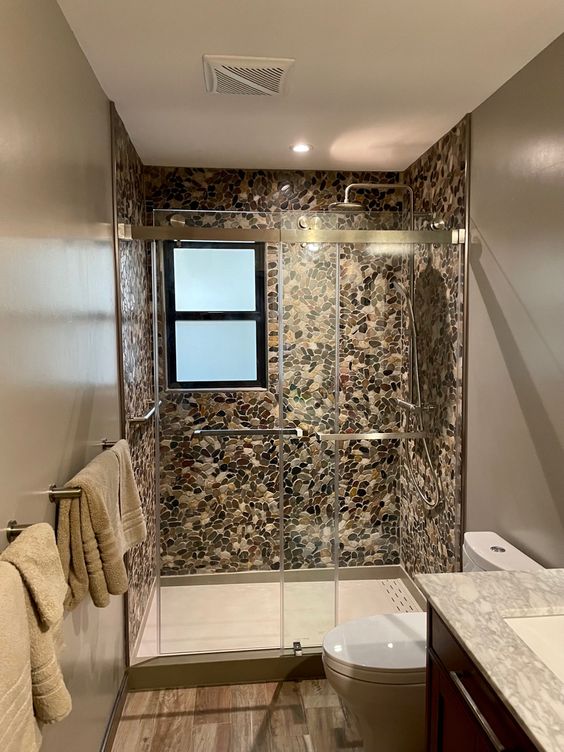 If there's any place in the house where the river stone most certainly belongs, it is the shower. A wall of river stones already gives out the illusion of water flowing, so when the water does flow over them, it's glorious. Certainly, a beautiful thing to gaze at while taking a shower.
River Stobe Bedroom Accent Wall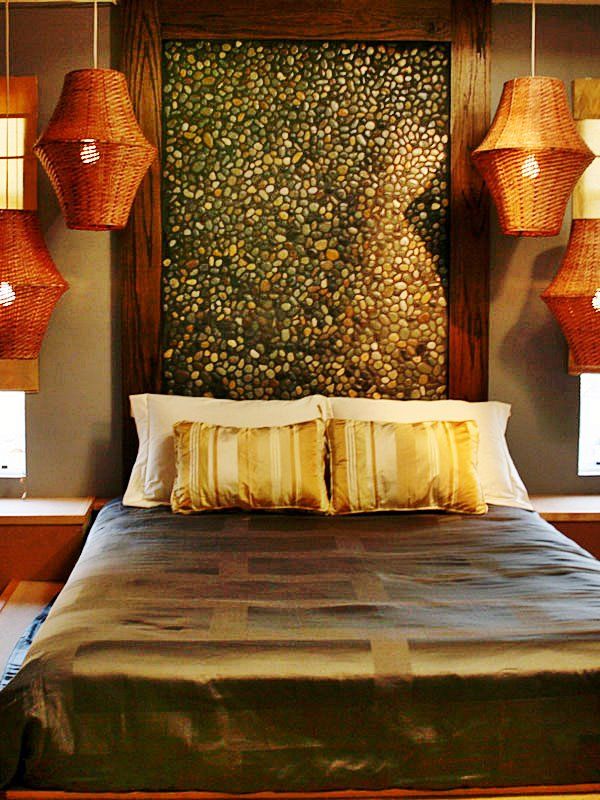 The bedroom should be designed according to the taste of the person sleeping in it. Having a wall of pebbled river stones favor your head, maybe too much for some, but if you enjoy the colors of nature and the feeling of constant flow, don't let anyone stop you from incorporating river stones into your bedroom
Riverstone And Glass Bathroom Countertop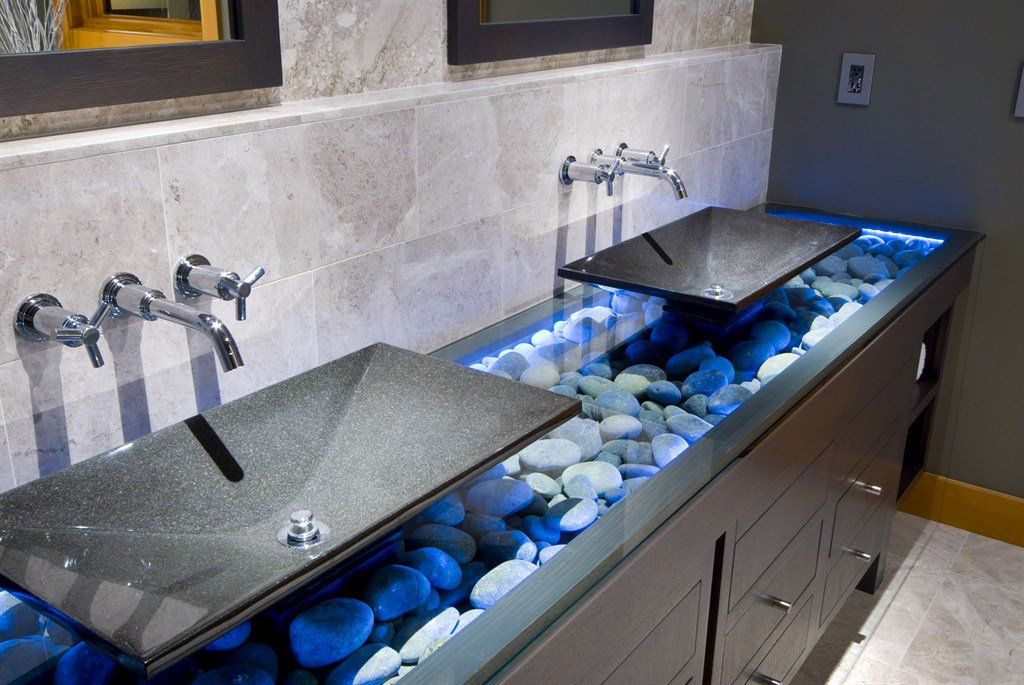 Much like the shower example, this one is creating an added illusion with the feeling of flowing water on the river stones. Covered with glass top and some soft blue light mimicking water, his fancy black sink bathroom countertop is an eye-catching modern design.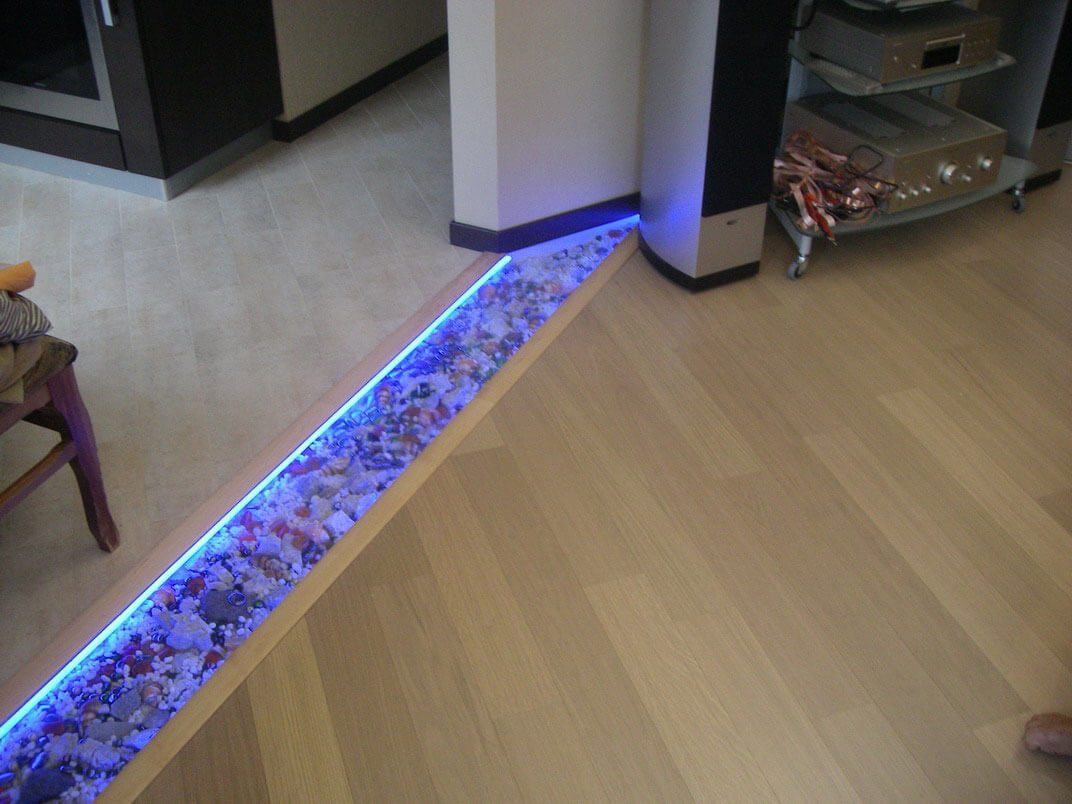 You should seriously consider making this project if you're changing your flooring or don't mind opening a long hole somewhere. The illusion of having water running through your home, washing all the negative energy away  and the calming light it emanates, is something worth every penny of the project.
Fireplaces and mantles are made from some type of stone, brick, or wood, so it is only natural to add the river stone mantle to this list. It gives a certain flow to the mantle, adding texture and color where normally there would be neat rows of stone slabs or bricks. The river stone mantle may be just for outside appearance, but it is still a nice choice if you don't want a classical fireplace look.
What did you think of our list? Did you get interested in creating some river stone projects of your own? Whether yes or not, it is always good to know your options, and if you have some ideas, questions, and suggestions, share them in the comments.