Baroque was an artistic, musical, and architectural style that began in Europe in the early 1600s and lasted until the mid-1700s. The word came from the French "baroque" which originally was used to refer to "irregularly shaped pearls". However, later on, it was used to express everything from this period that had a bizarre look or sound to it. As far as music went, this term was used by critics but in no way used to pay compliments, but rather to express satirical reviews about it.
As far as interior design went, there was an abundance of bold colors (of which gold is the most dominant), ebony furniture, and walls profusely decorated with carvings and ornaments like festoons, baby angels, and lion heads, as well as floral wallpapers and fabrics. Chandeliers were present in almost every room (yes, even bathrooms) and large decorated bedposts were all the rage at that time.
Although the Baroque era is long gone, people haven't stopped admiring the interior design of this style. Whether there's a small reading nook or a full-blown baroque home, you can still feel its presence today. And in case you've been mesmerized by this style and have wanted to see how your home would look like with a baroque spirit instilled in it, you've come to the right place.
In this article, we'll show you 18 ideas of how you can decorate every room in your home in baroque style, from your living room, bedroom, bedroom, to your kitchen and dining room. Read on and enjoy.
Baroque Reading Nook By The Fire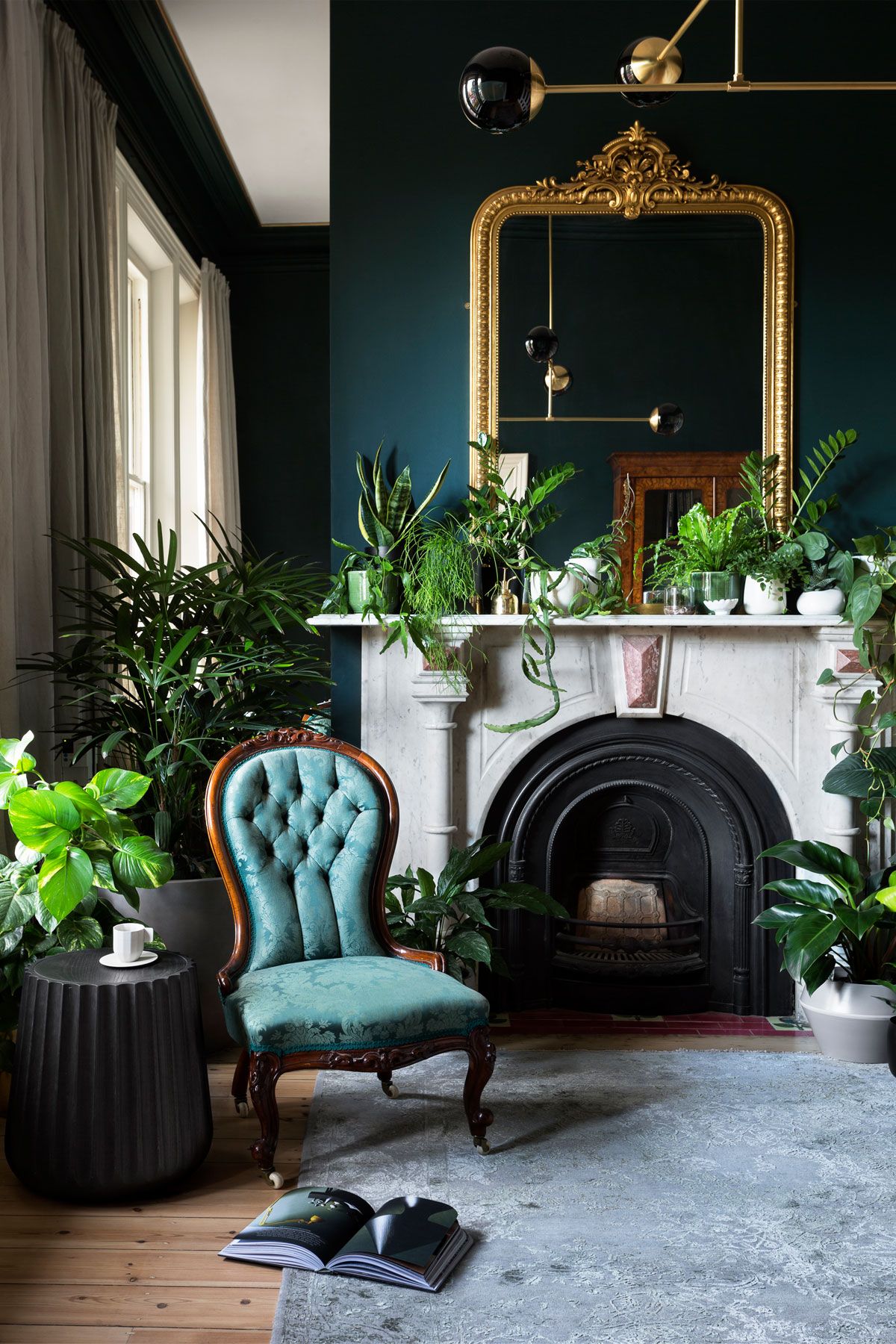 This idea is perfect if you're not completely certain if you want to dive into the Baroque style of decorating. A reading nook with just a comfortable Baroque-style armchair will do the trick.
Baroque Designed Library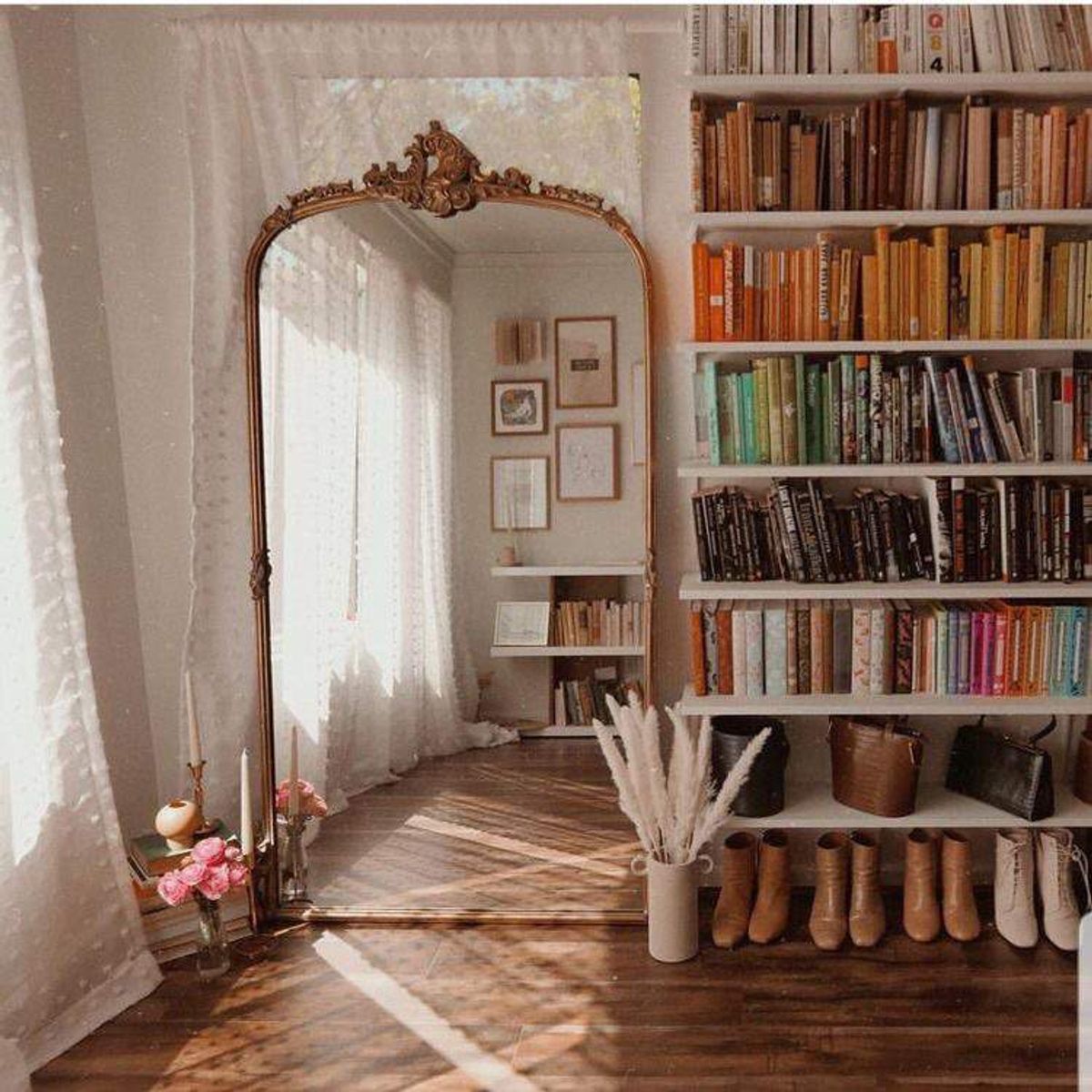 Now that you've set up your library and reading nook, all you need is something to make it look more baroque. You don't necessarily need to put carvings on your shelves. Instead, fill them with old books, put a decorative mirror and some flowers and you'll be done.
Baroque Ballet Spot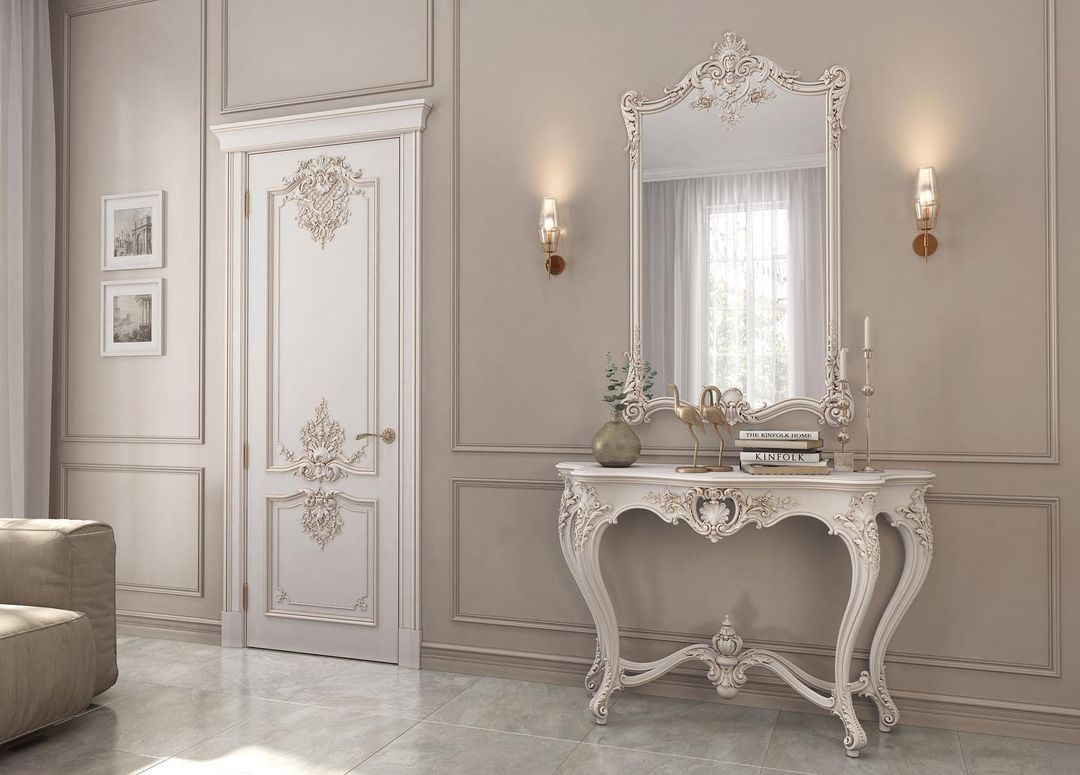 Who wouldn't want to play some baroque music and have a dance or two in a spot like this? The Baroque era may have given birth to classical ballet, but you can revive it in your very own home.
Baroque Drawing Room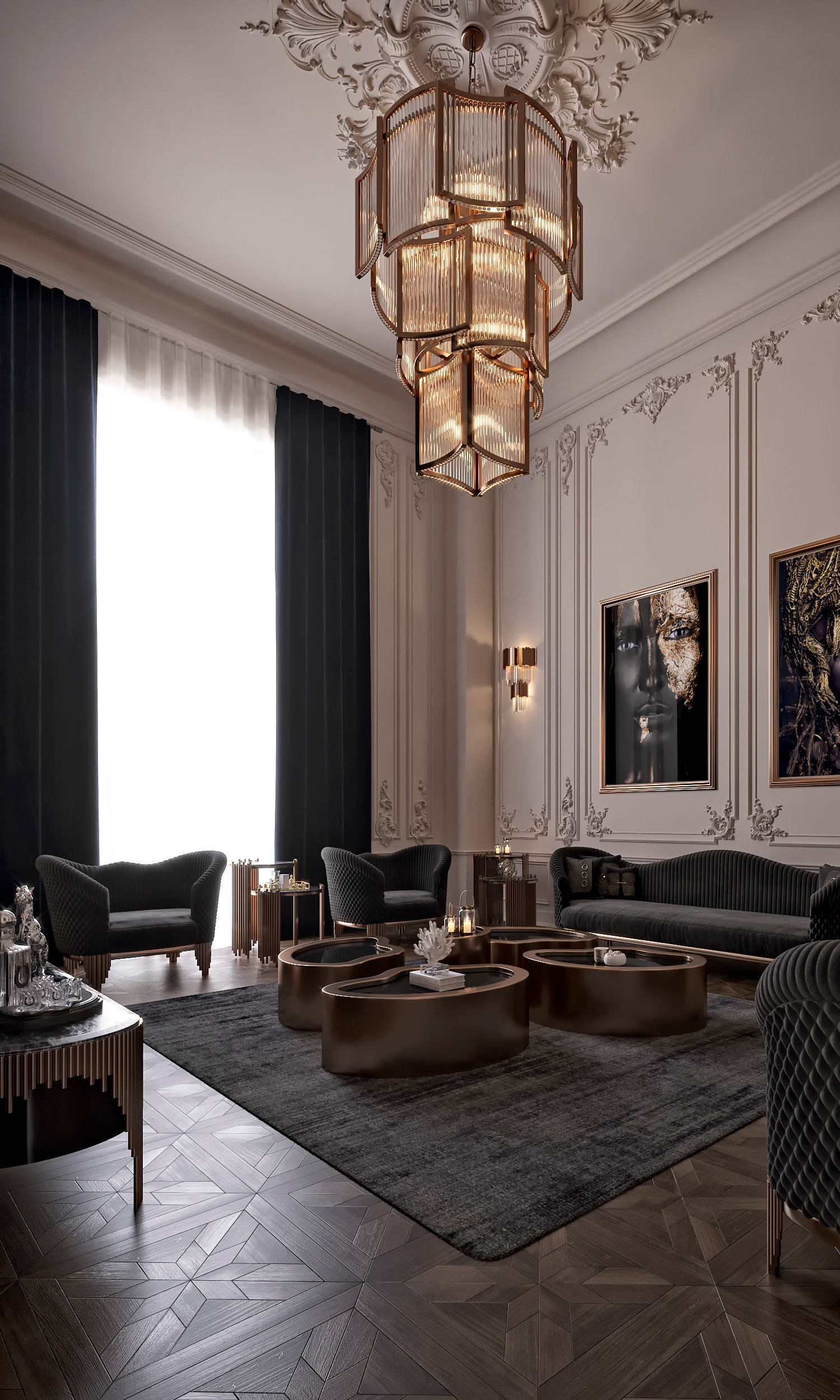 Nowadays you may not find many homes with historical drawing rooms, but if you find the idea of having one for your guests fascinating, there's no reason you shouldn't create one. And if you play around with different styles like in the photo, yours will be everyone's favorite room to hang out in.
Baroque Kitchen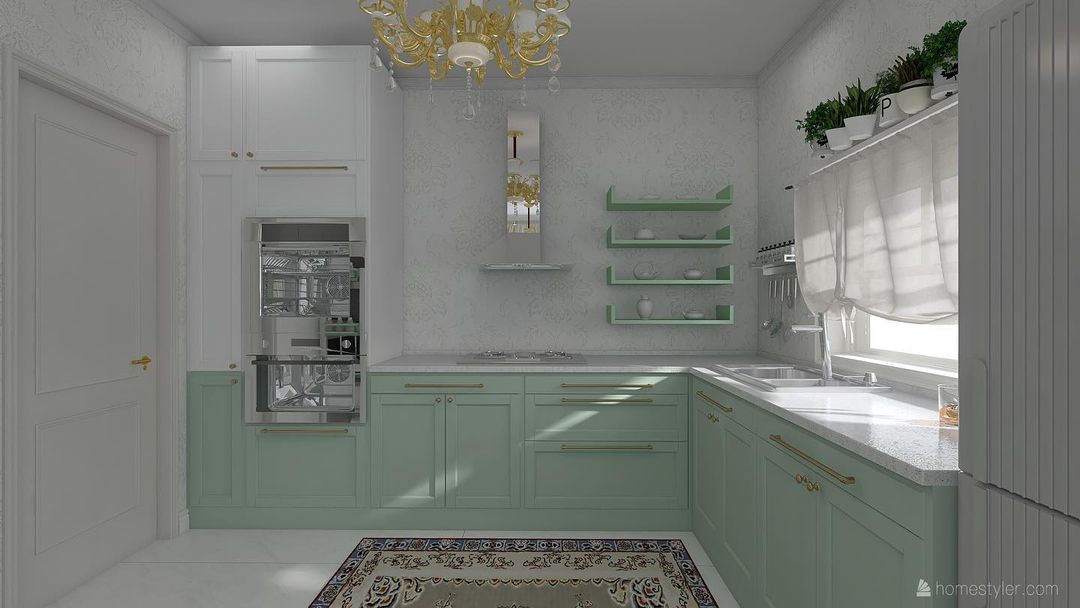 Do you have a plain kitchen but have no idea how to turn its style into baroque? All you need is a small chandelier and a rug rich in color to achieve that look.
Baroque Dining Room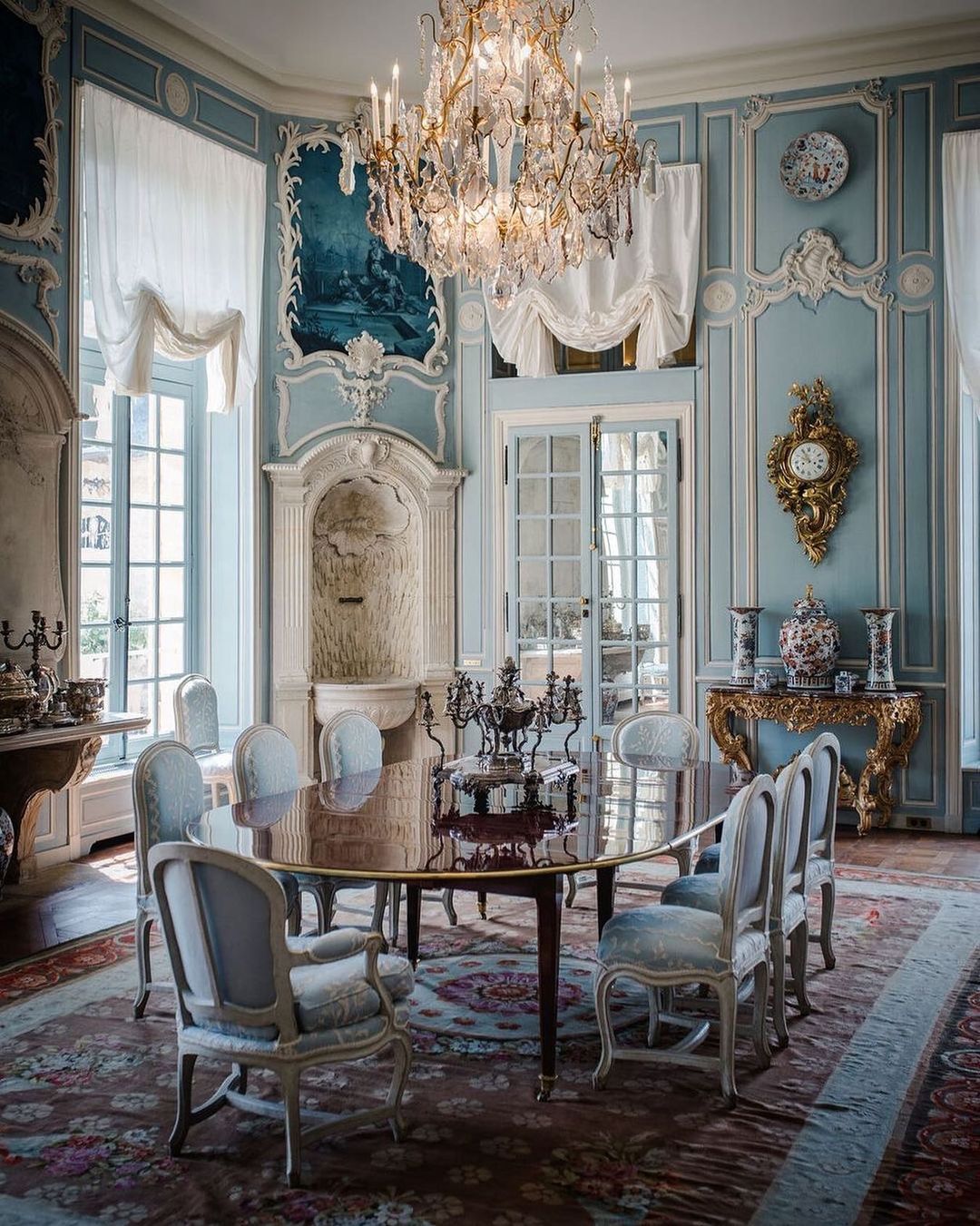 Dining rooms during the Baroque era did not only have many guests and an abundance of food. Those feasts were accompanied by colorful floral carpets, carved furniture, and overall ornamented interiors. So if you're thinking of satisfying your appetite for a Baroque kitchen as well as a good feast, this idea is more than satisfactory.
Baroque Wedding at Home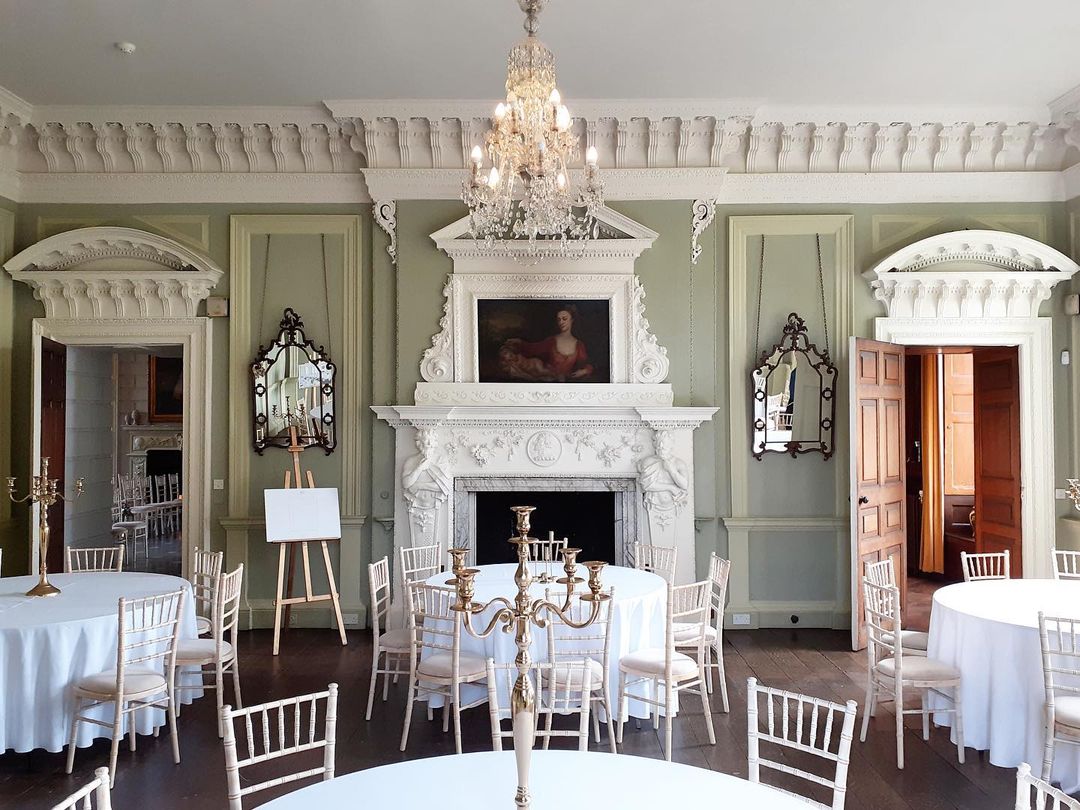 Imagine you're about to get married to someone who matches your Baroque soul. Or at least someone who doesn't roll their eyes at your insistence of having a Baroque-themed wedding at home. If you have the space and means to achieve something like this, get ready to have the most memorable weddings of all.
Baroque Makeup Vanity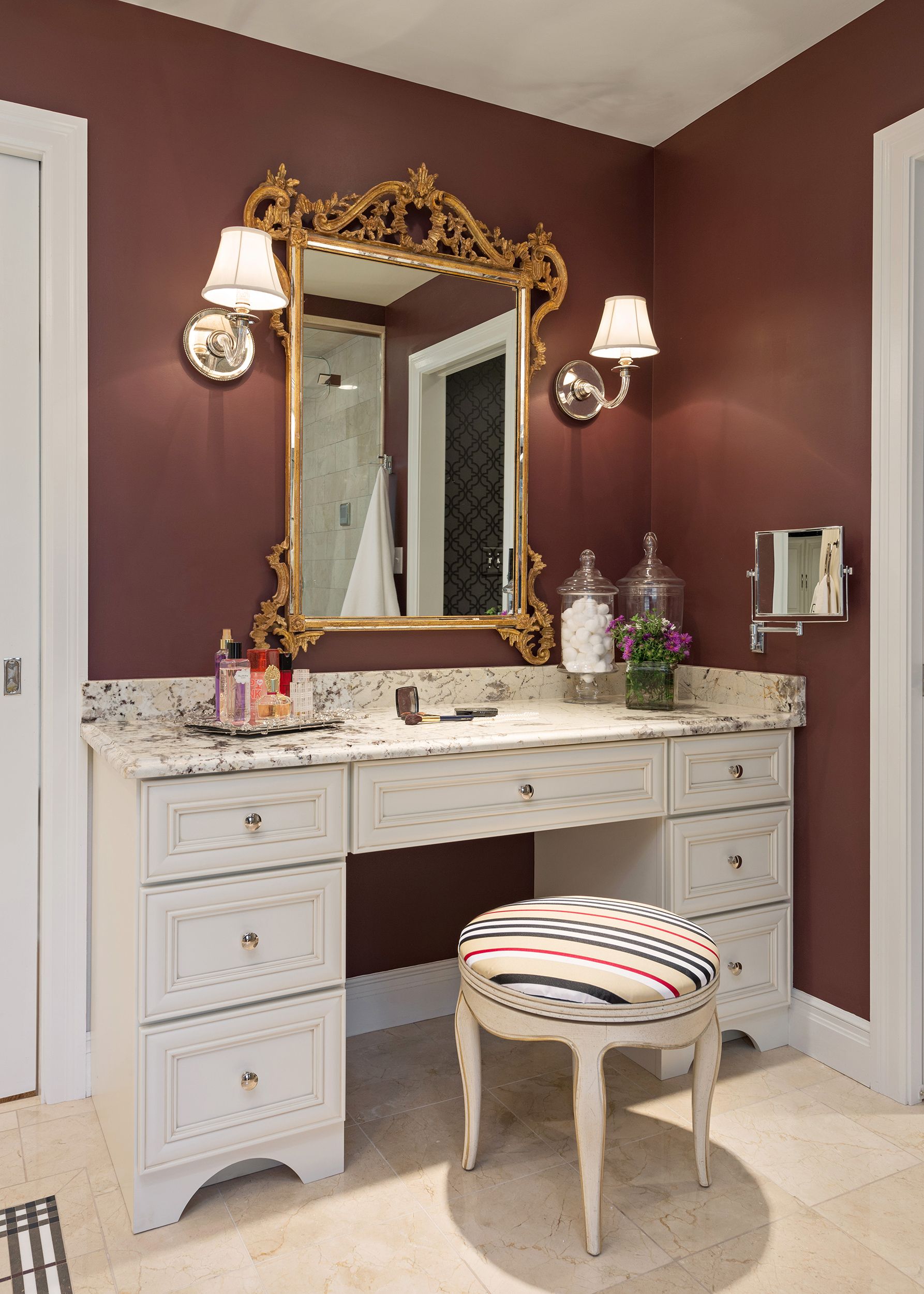 Every bedroom in the past had a makeup vanity. The Baroque era was no exception. Even though makeup vanities nowadays have different, more modern styles, you can easily transform them into your new favorite style by simply adding a few ornaments and carvings to your furniture.
Bedroom For The Baroque Spirited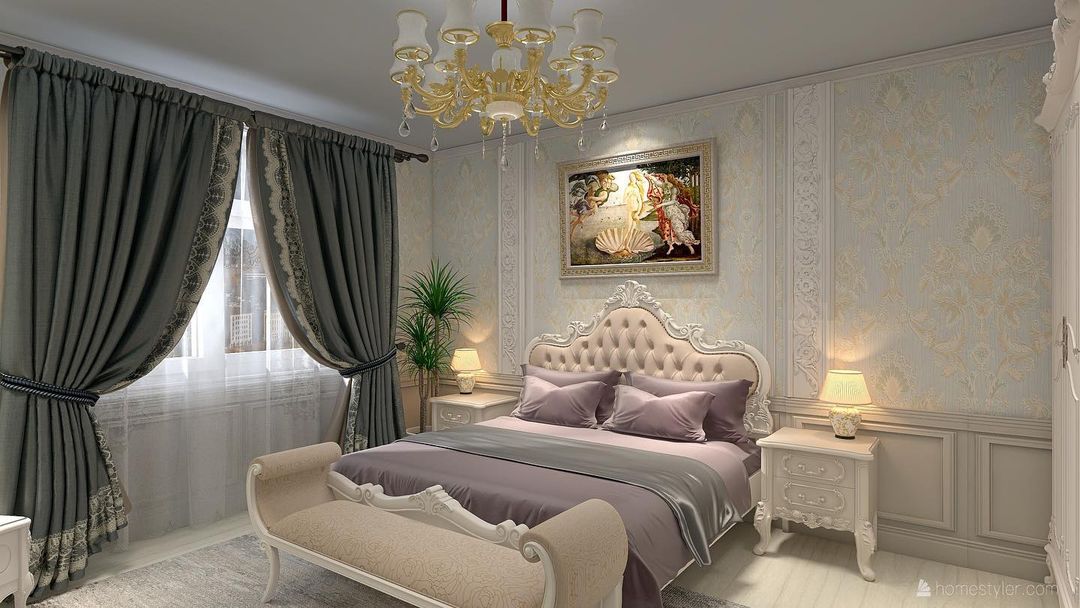 In case you're a teenage girl who's obsessed with the Baroque era or you have one at home, this bedroom idea is just what you need. It does require a full transformation, but it's not as heavily ornamented if a balance between heavy and simplicity is what you want to focus on.
Royally Baroque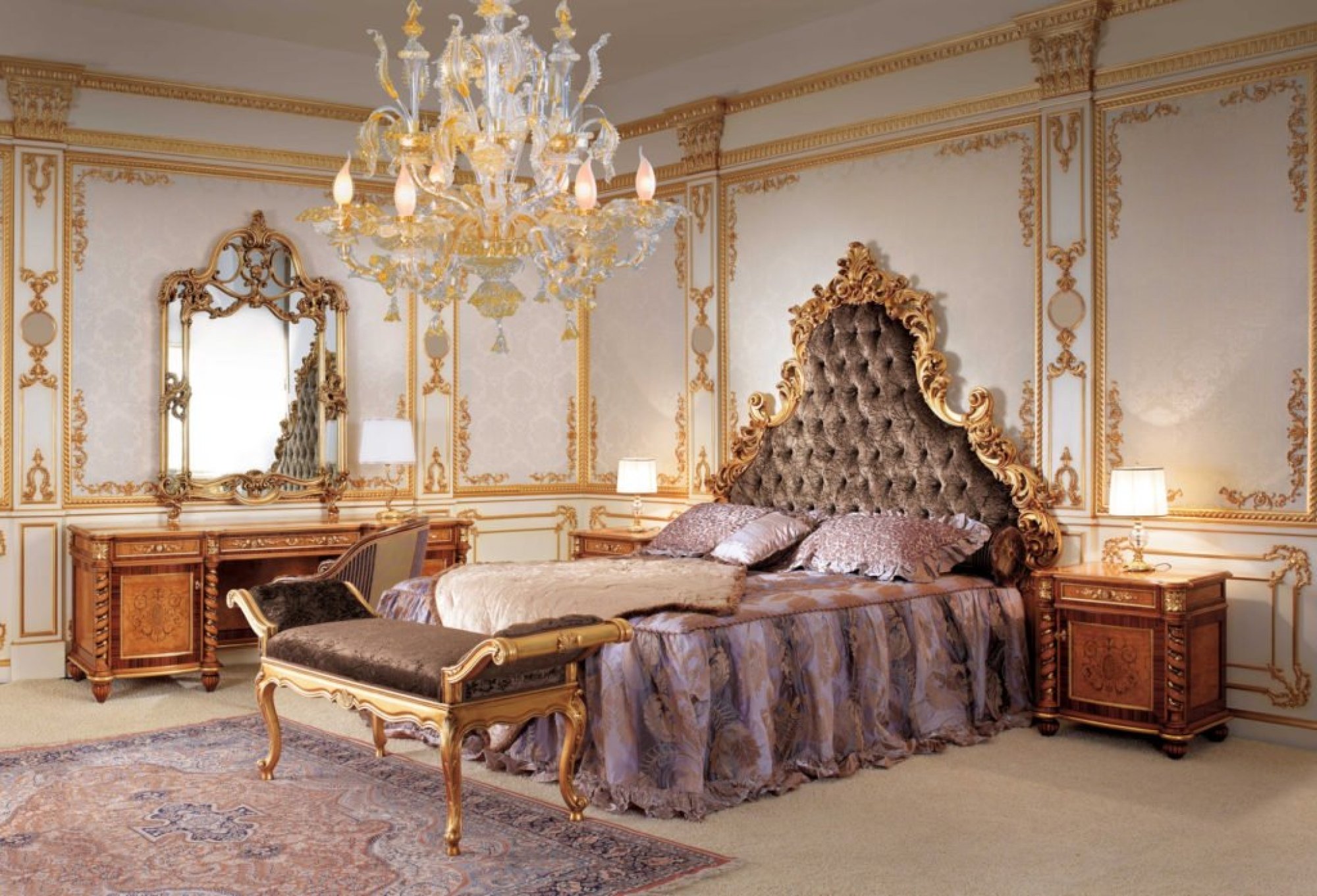 Speaking of balance between heavy and simple, this bedroom certainly lacks that. But a true Baroque person in heart values designs like this and if you're one of them, you won't find this bedroom idea just a kitsch eyesore.
Baroque Nursery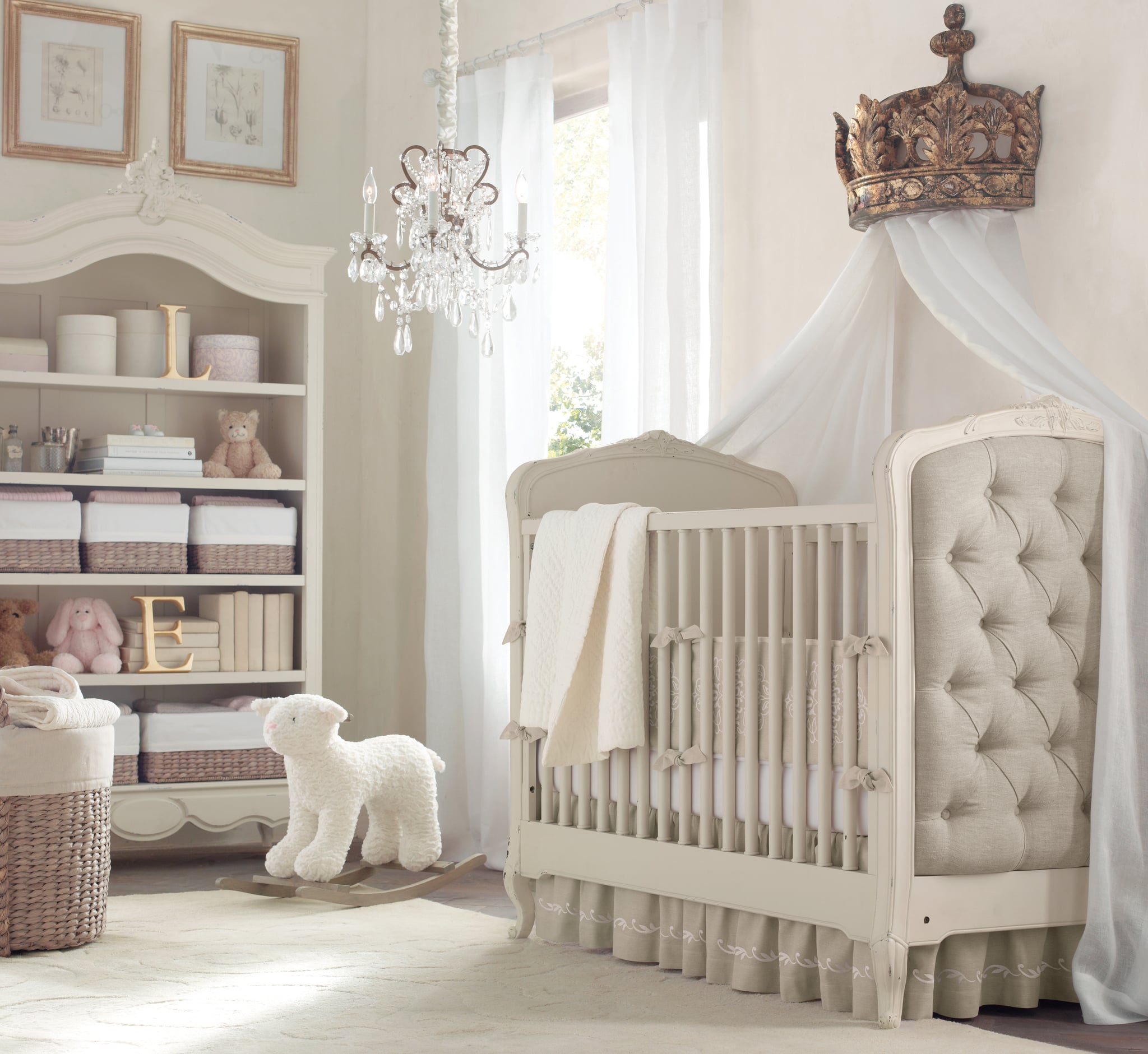 After you have taken care of your own bedroom, it's time to transform your newborn's one to match. The colors certainly don't have to be heavy and dark, but with just the right Baroque designs, your child will grow up into the prince/princess they deserve to become.
Baroque Studio Apartment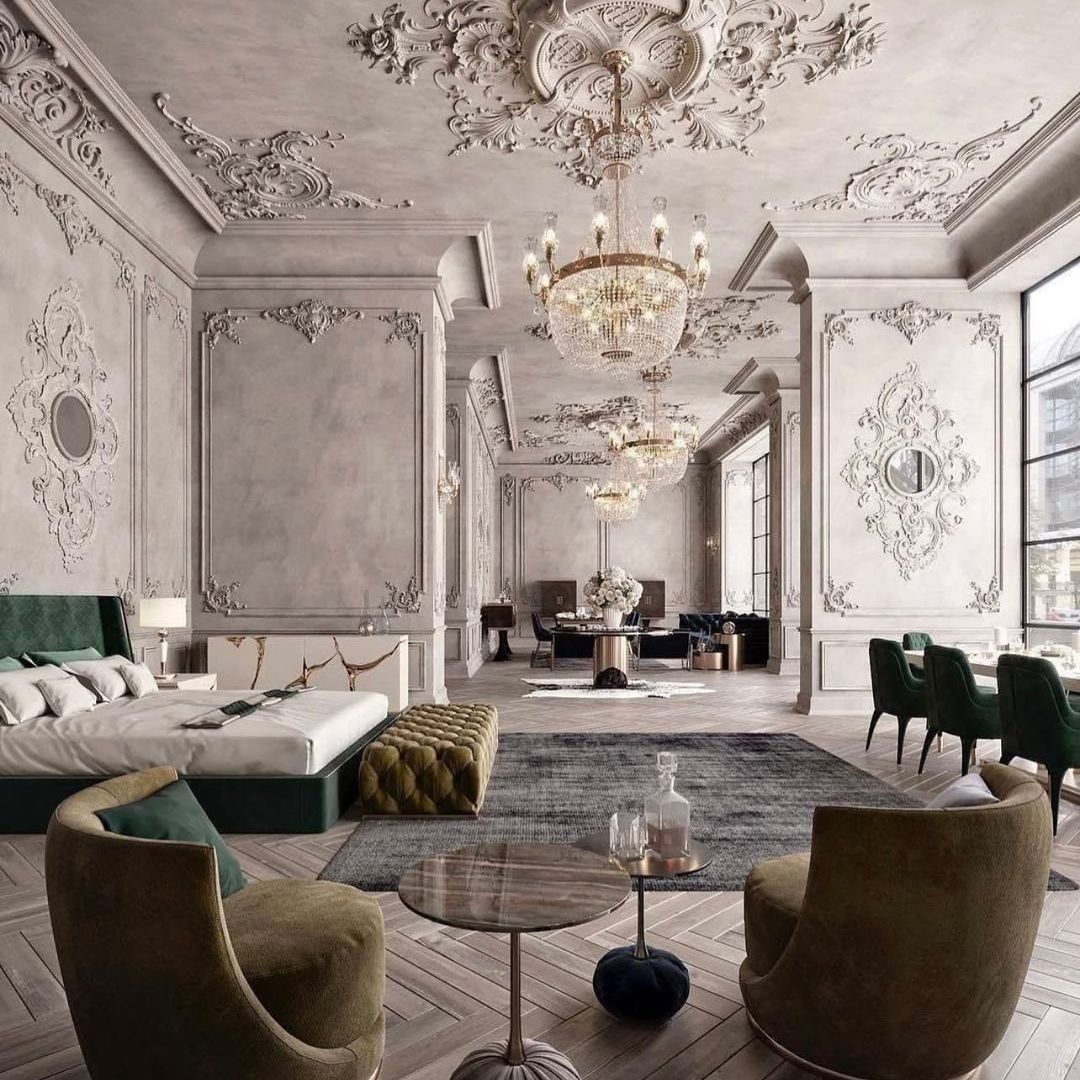 You don't need to live in a huge mansion to bring the spirit of Baroque into your home. Plus, if you happen to have 1970s furniture, you'd be surprised at how well it goes with it.
Small Baroque Bathroom
The great thing about this idea is that you don't need a lot of time and effort to turn your simple bathroom into cute baroque-style spa heaven. Simply add a bit more color, some floral patterns, a simple gold chandelier, and a mirror frame.
Large Baroque Bathroom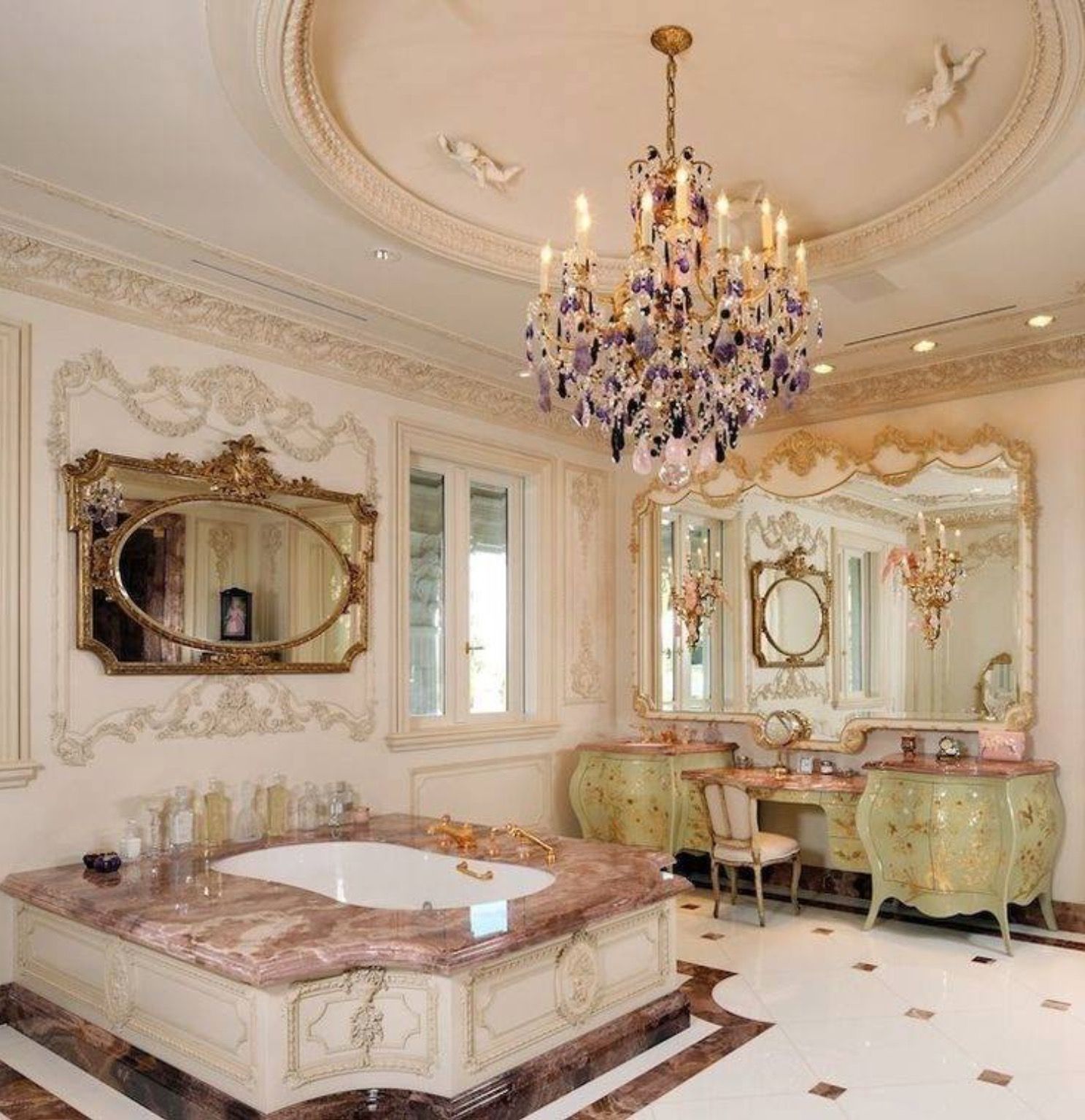 Or if you want to go full-on Baroque on your huge bathroom, why not? This Queen-like bathroom idea includes a richly graving-ornamented bath, a makeup-and-sink vanity, a grand chandelier, and a ceiling with angel babies on it.
Bath In A Bedroom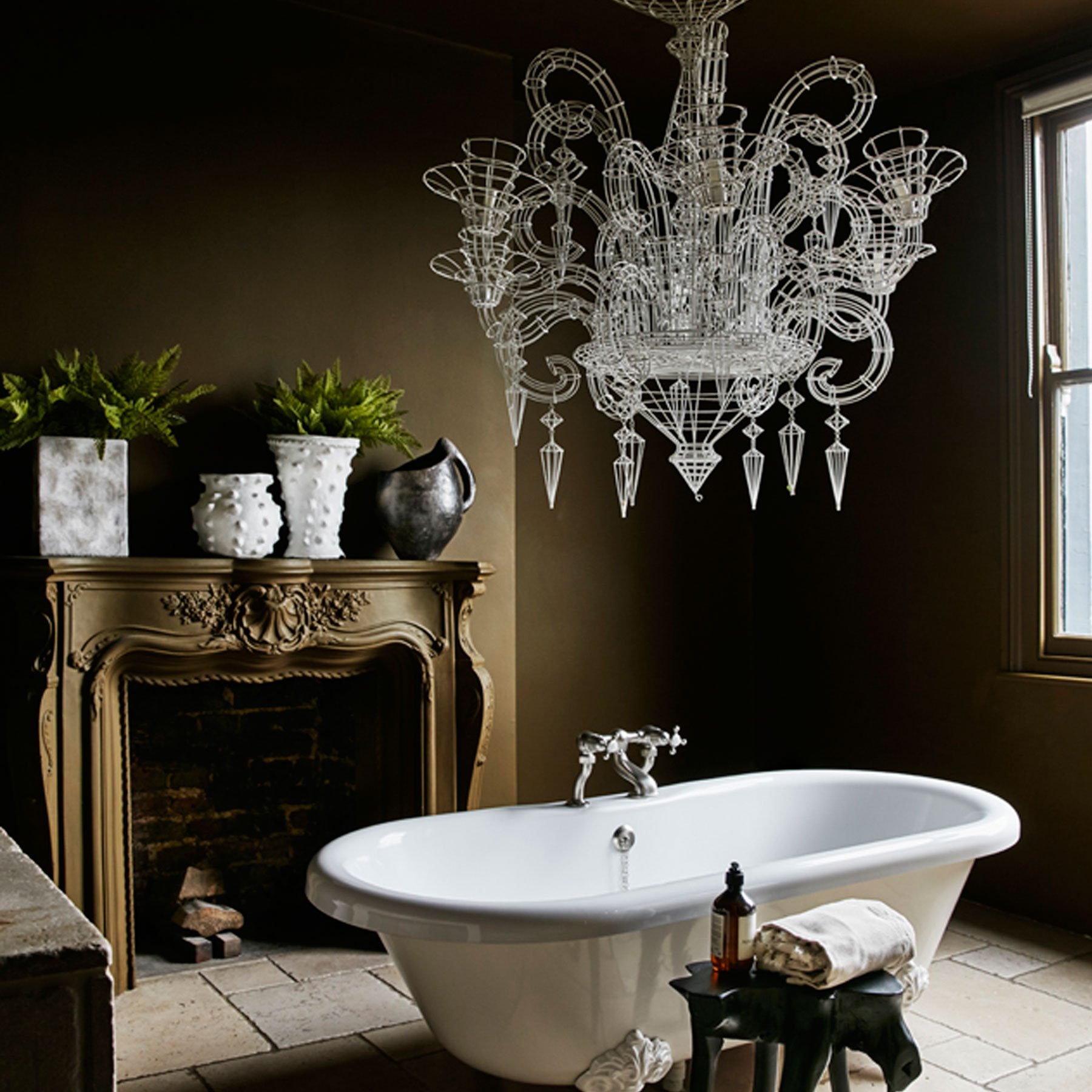 It wasn't uncommon for women's bedrooms to have bathtubs in them. So if you want to achieve a full Baroque look for your bedroom, we suggest this idea.
Petit Baroque/Modern Apartment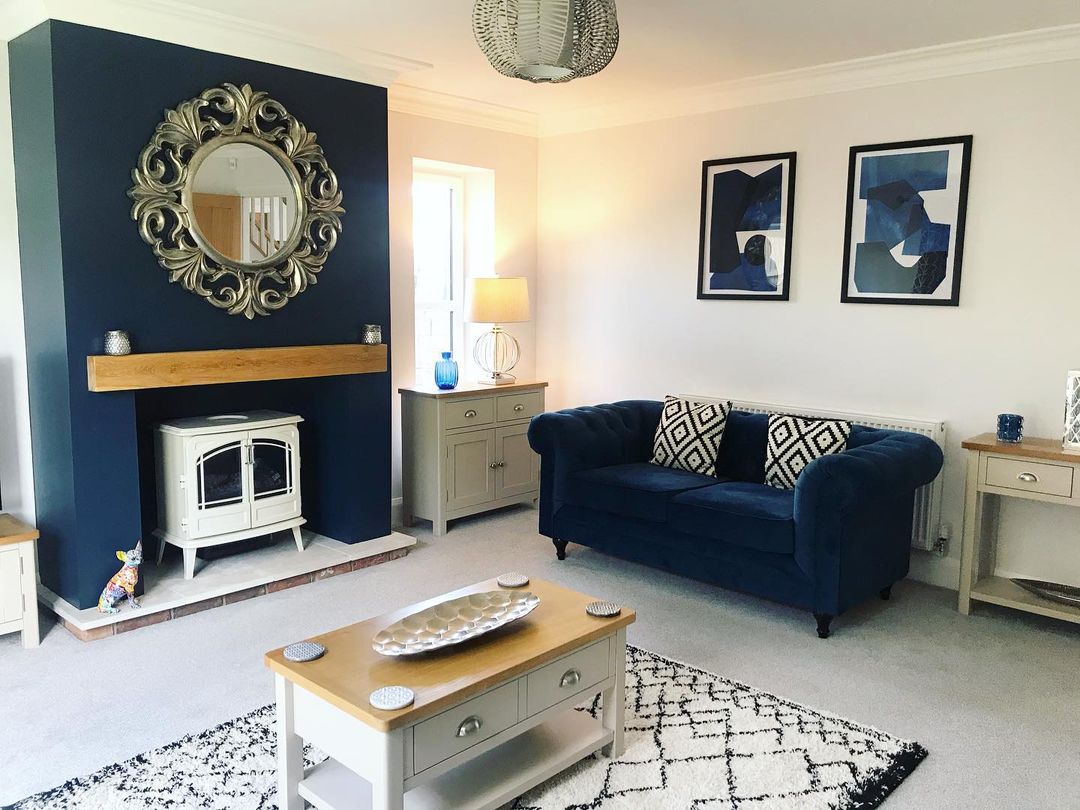 If you have a good eye for interior and you know how to mix styles, your home will never be boring. And with just a few Baroque details you will successfully transform your favorite modern sanctuary.
Baroque Hallway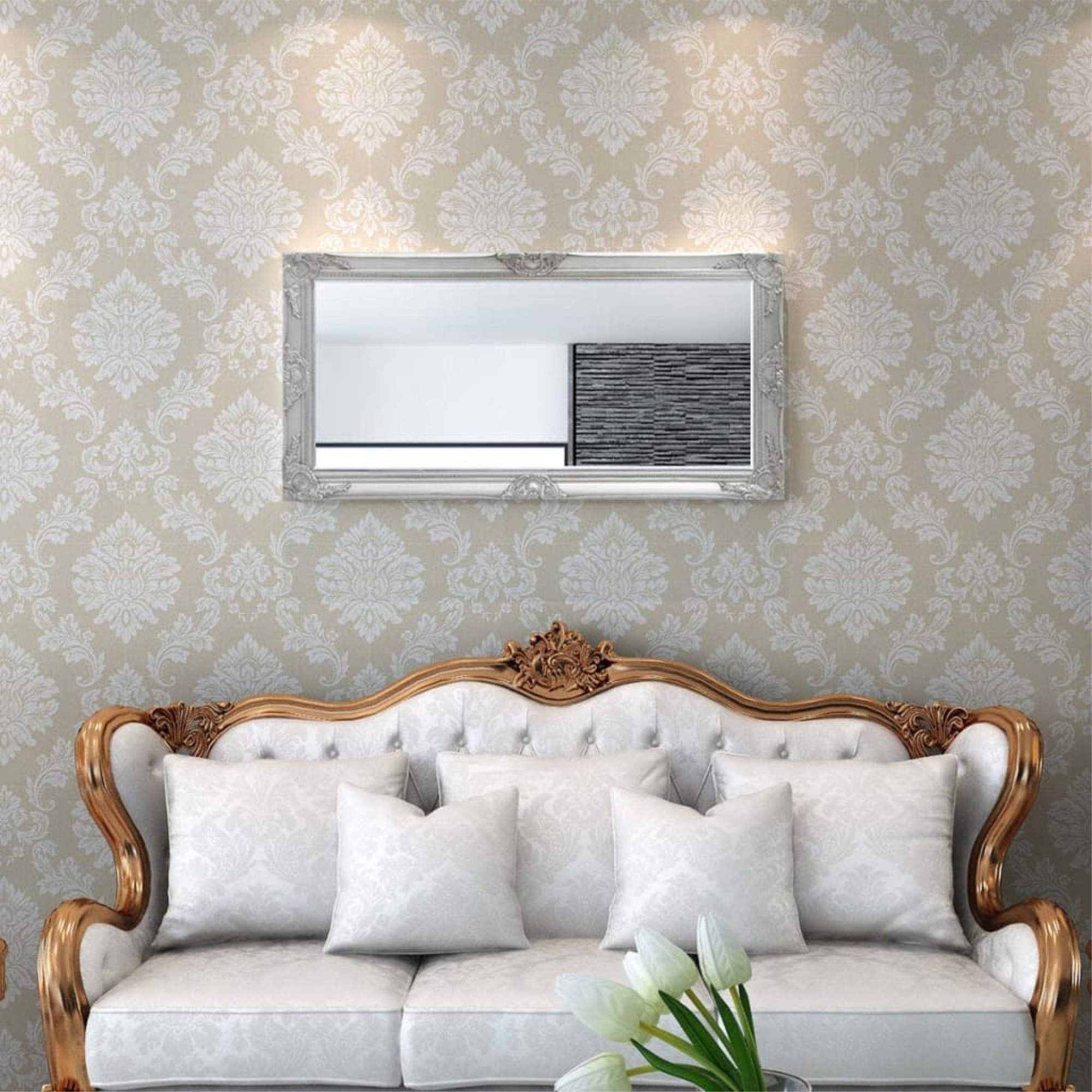 Another place you can furnish with Baroque-style furniture is your hallway. Simply put up a floral wallpaper and add a fancy sofa just like the one in the photo. You will feel refined in no time.
Rustic Baroque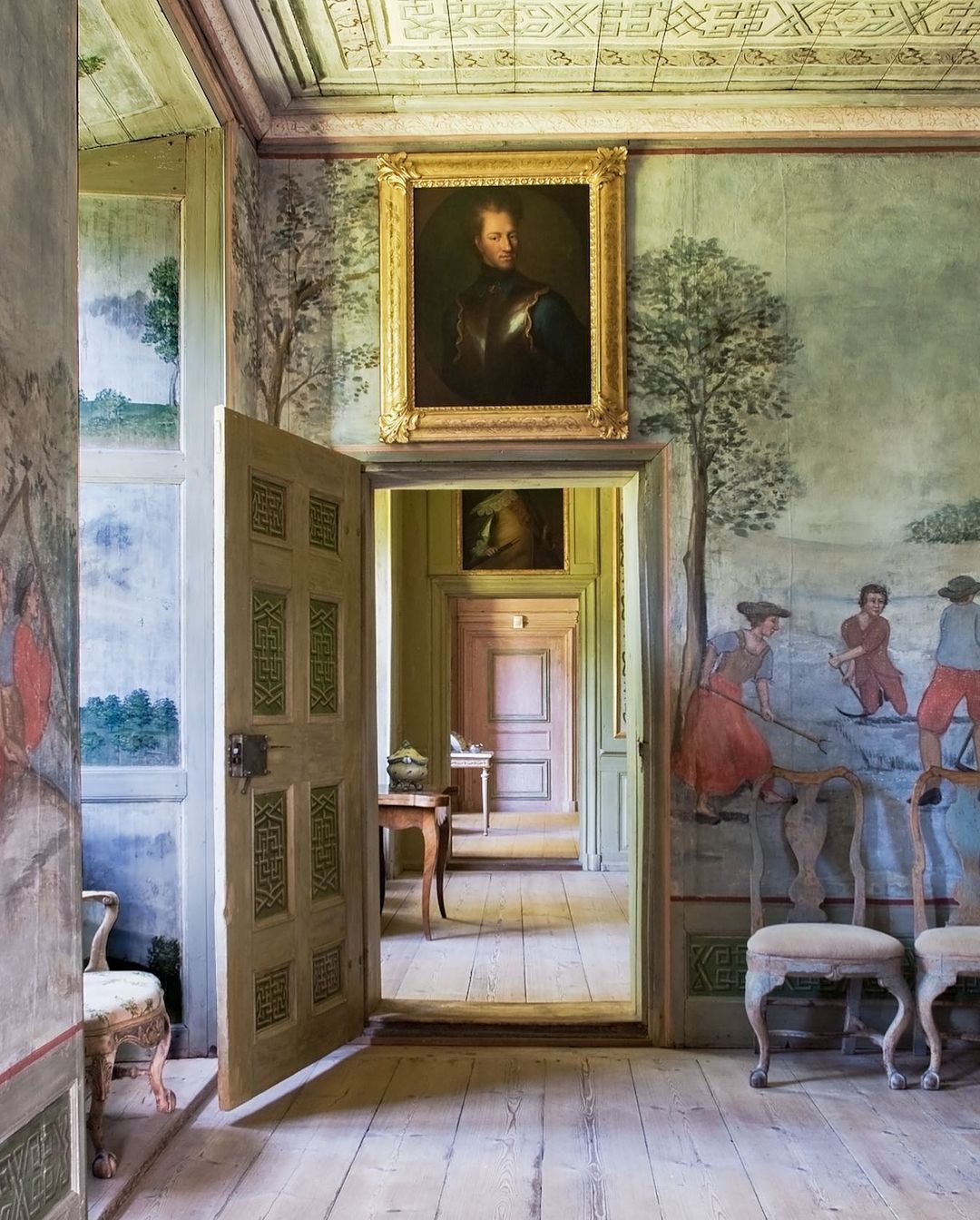 Do you happen to have a cabin in the country that you want to turn into a home museum? This is the perfect idea for you. You already have the all-wooden interior, now you will need colorful wallpaper, some paintings, and some vintage furniture pieces.
That's all for today's article on Baroque interior design ideas. We're looking forward to reading your thoughts on them in the comments above, hoping we've inspired you to try some of them out.