Industrial style interiors have their roots in the Industrial Revolution, although they are considered a modern style. The core of the industrial design is the creation of massive factories capable of housing enormous machines and a lot of personnel. Exposed architectural components such as pipes, brick, and concrete, as well as a minimalist design philosophy, define the industrial house design style.
While the design is centered on open, minimalist spaces, the incorporation of numerous rustic materials in furniture and lighting elements allows homeowners to incorporate industrial interior design into any living area. In living rooms, dining rooms, and throughout the home, contemporary homes combine a mix of industrial, mid-century modern, and farmhouse styles to create a pleasant blend.
The industrial style focuses on using natural light as much as possible, so you probably won't see any curtains or blinds in rooms that embrace this style. The room should look raw and unfinished, so that's why there are exposed bricks, pipework, and ducts. In terms of color palette, it's almost always a neutral one. The most commonly used colors are shades of black, gray, white, and brown.
The furniture should be minimal and it's always a good idea to mix old things with new things. Vintage pieces and antiques also play a great role in this design style. The ceilings should be high and the accent should be put on the open layout and the overall architecture. You can see many Edison bulbs or even bare bulbs hanging solo or in a pair of two or more. A castor-wheeled wooden coffee table, a repurposed bookshelf, and repurposed dining tables are all staples of industrial style and a terrific way to incorporate natural features into the metal-heavy components.
This trend in the interior is getting its popularity and we hope you'll get inspired with these ideas and incorporate this style in your home.
High Ceilings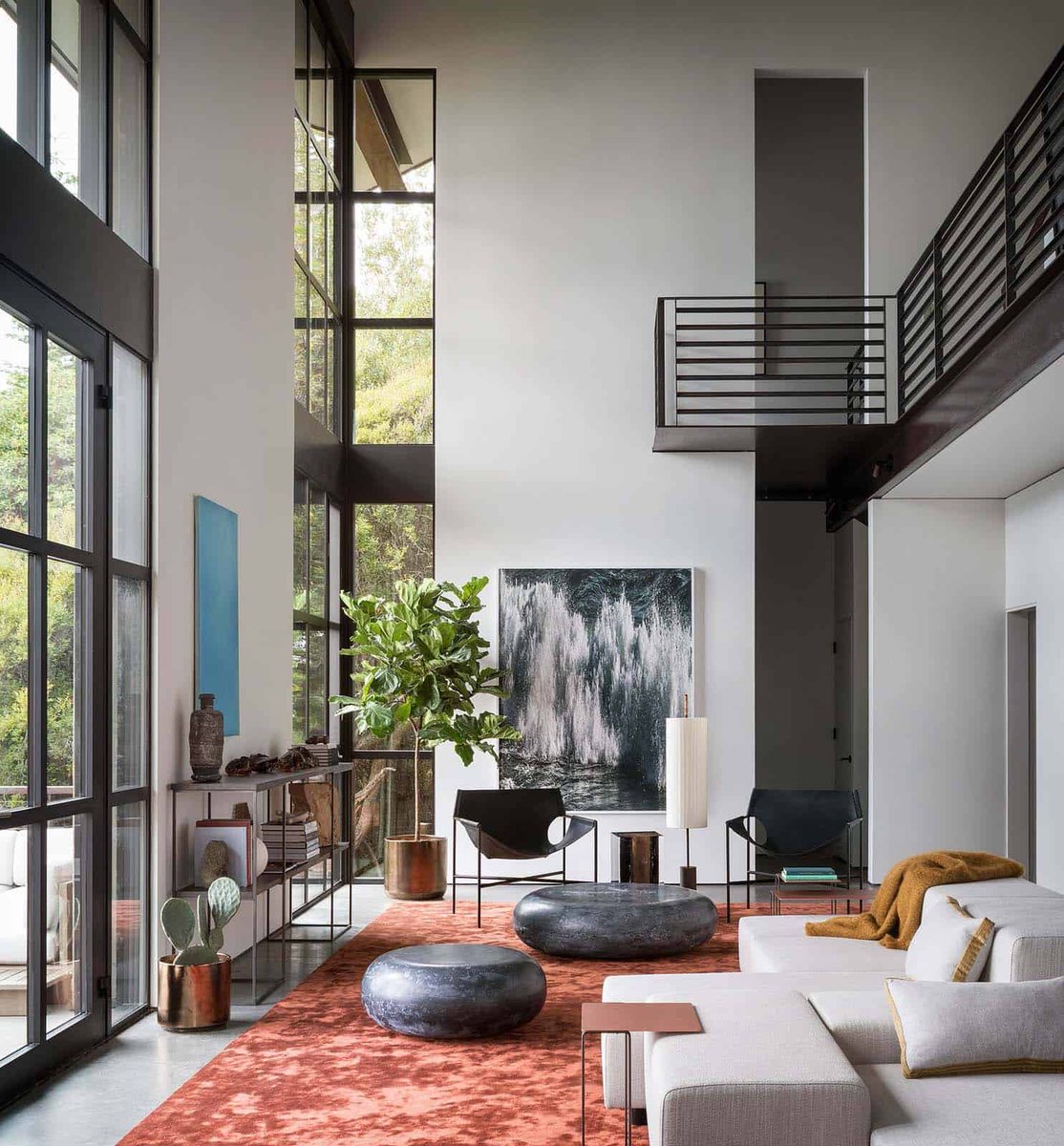 High ceilings are one of the main features of a true industrial-style living room. That's because rooms with high ceilings have that old factory look that this style is inspired from. However, you can embrace this style even if your ceilings are not that high as long as you stick to the other characteristics.
Open Layout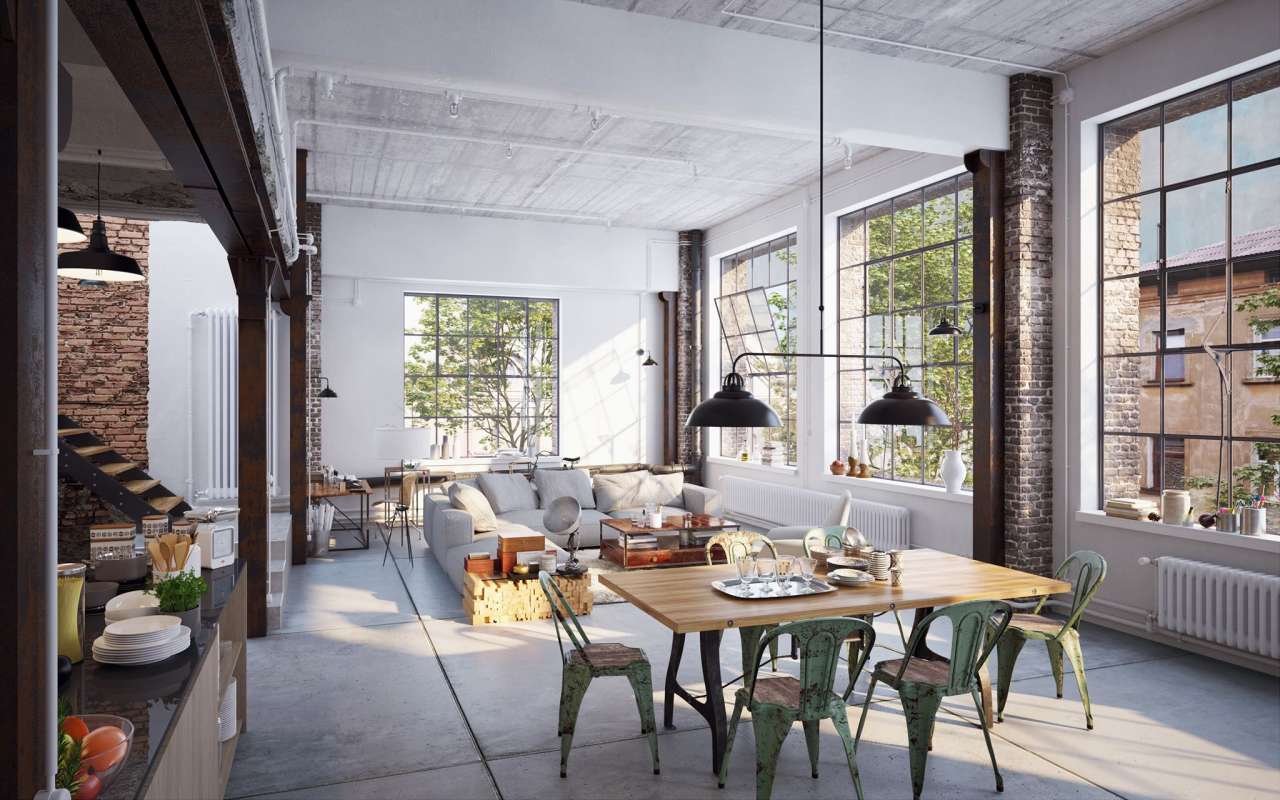 The open layout is another key characteristic of the industrial interior style since this layout has been used in industrial factories in the past. If you have an open layout, it'll be easier to turn your living room into an industrial one.
Exposed Bricks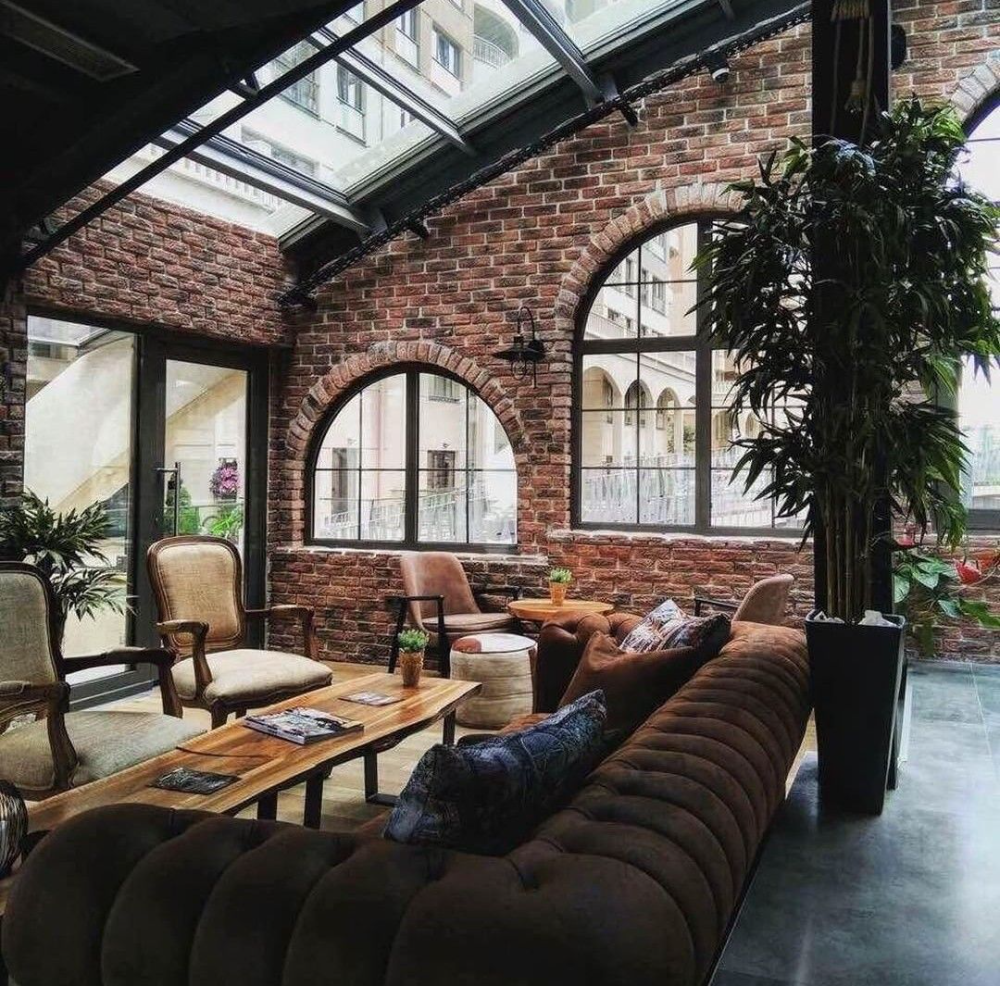 In the industrial style, it's all about celebrating imperfections. Naturally, exposed bricks are the right way to go. Your living-room wall will look fabulous and very warm.
Dark-wood Cabinets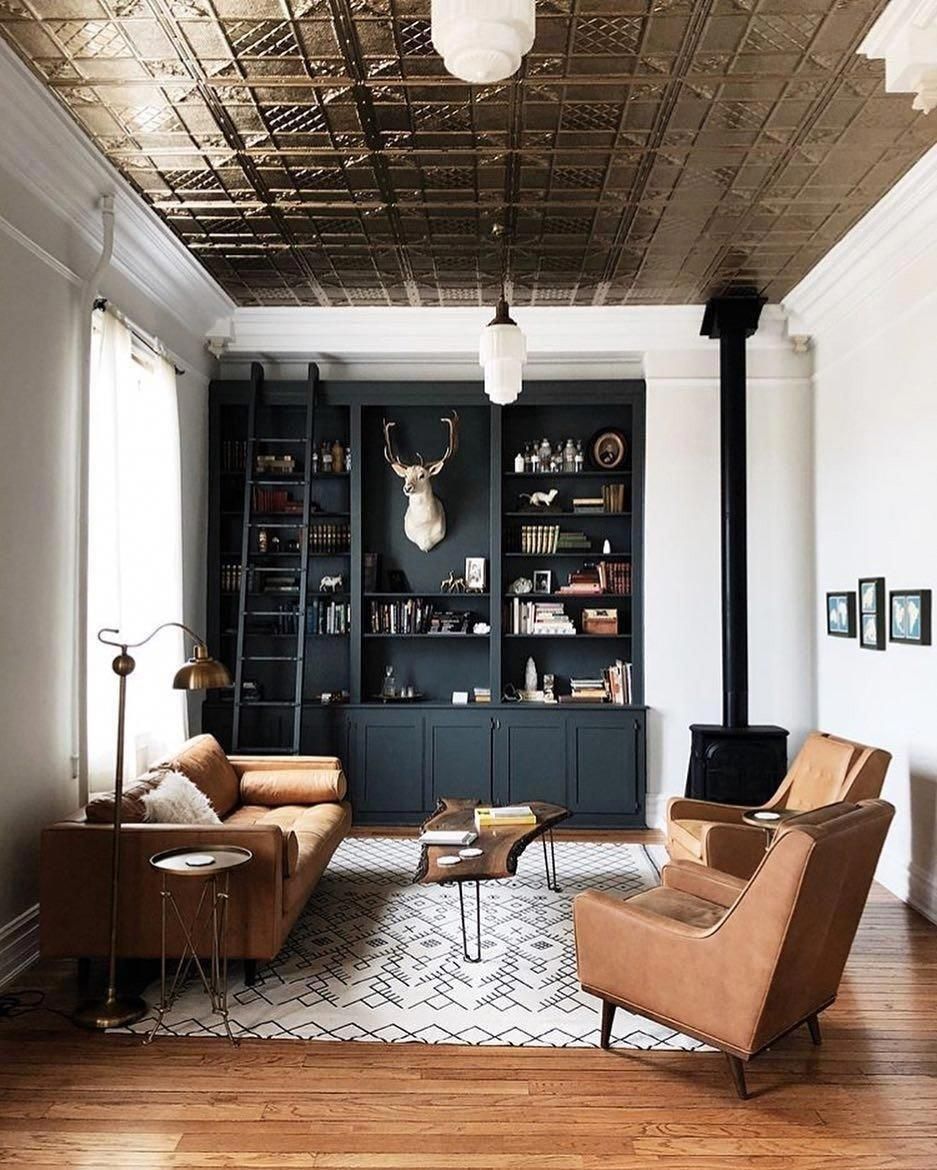 The industrial design celebrates dark shades, so black, dark-wood cabinets are very common in industrial living rooms. You have to admit, they look great and add a touch of elegance to the space.
Repurposed Furniture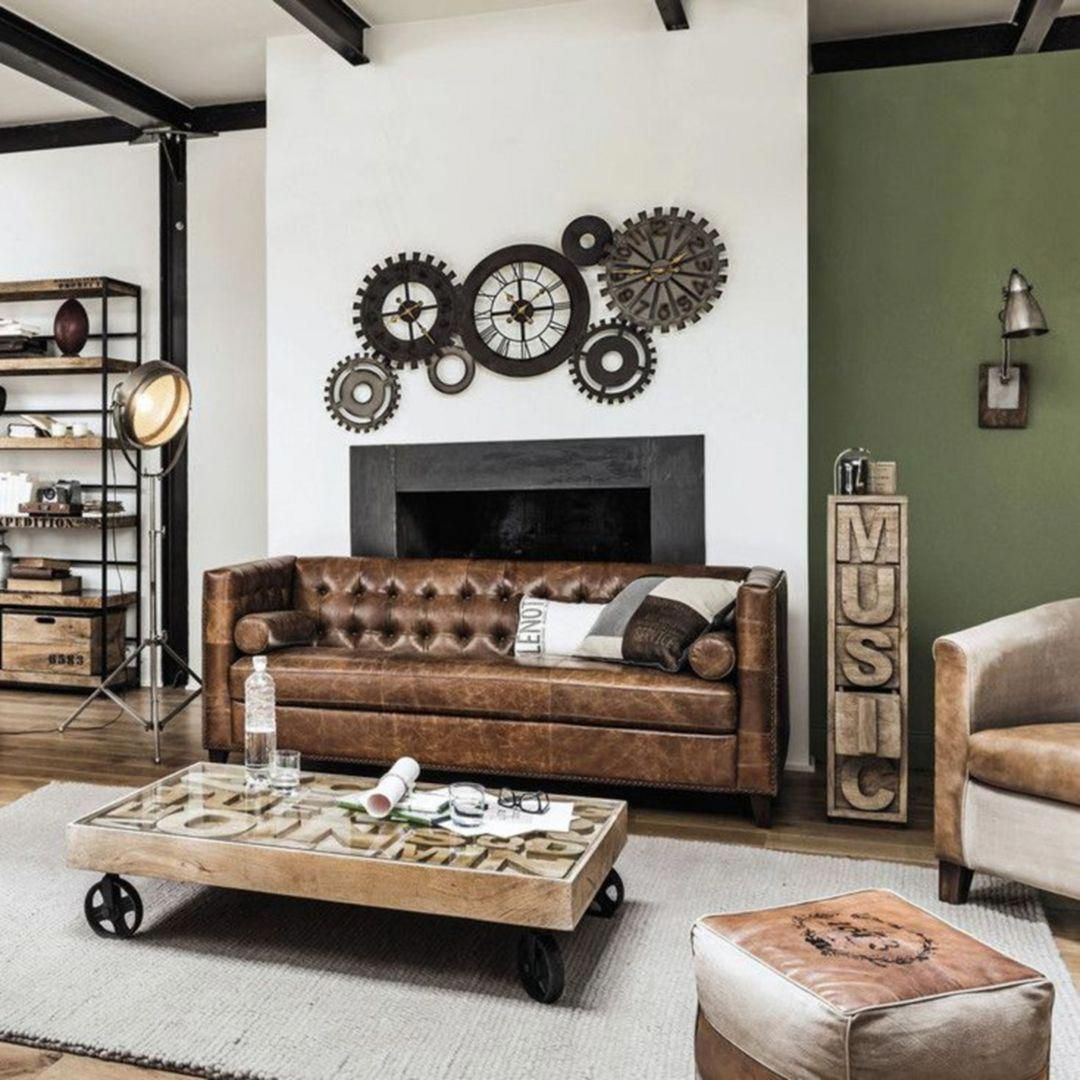 If you have some old pieces of furniture that are sentimental to you or you think you can repurpose them and use them again, great! They would be a great addition to your industrial design living room, like this coffee table with casters.
Pops Of Color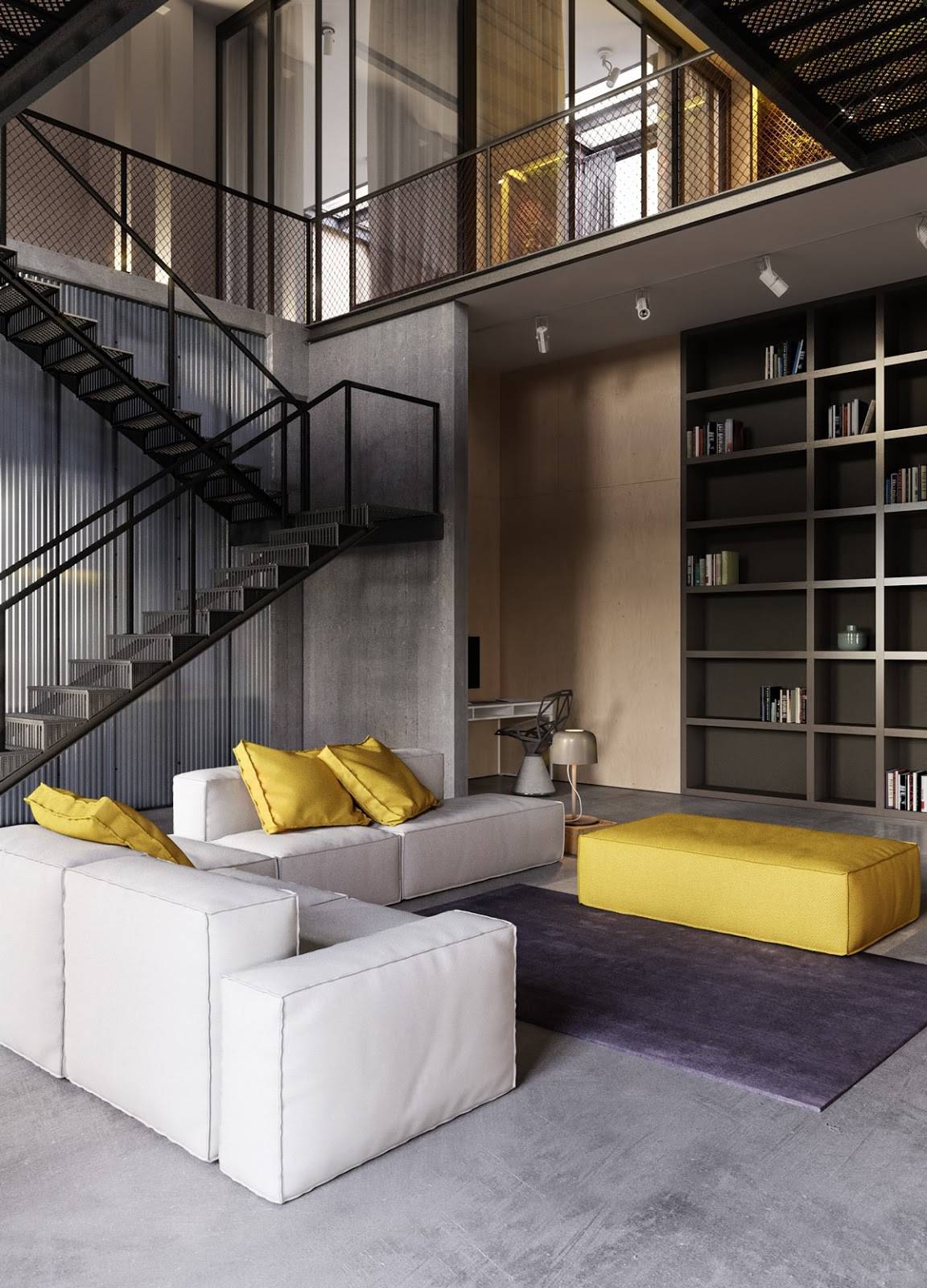 Don't be afraid to add pops of color into your industrial living room. It will brighten up the room and it will give it a more cozy feel. These yellow cushions look amazing and they fit in the room perfectly.
Artistic Pieces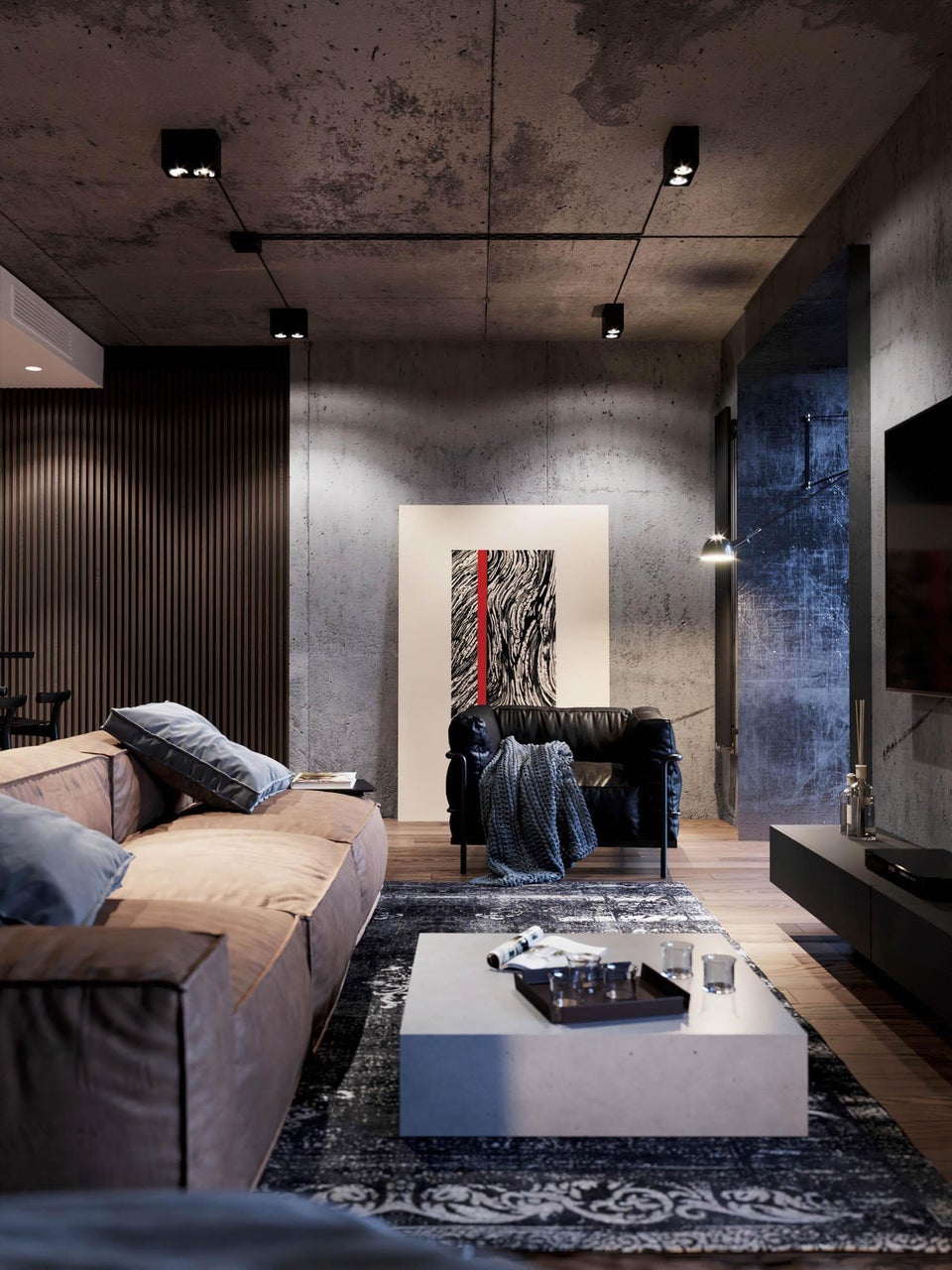 Artwork plays a great role and it makes a difference in any interior. Instead of having multiple artistic pieces in your living room, opt for one large artwork that will make an expressive statement.
Exposed Pipes And Ducts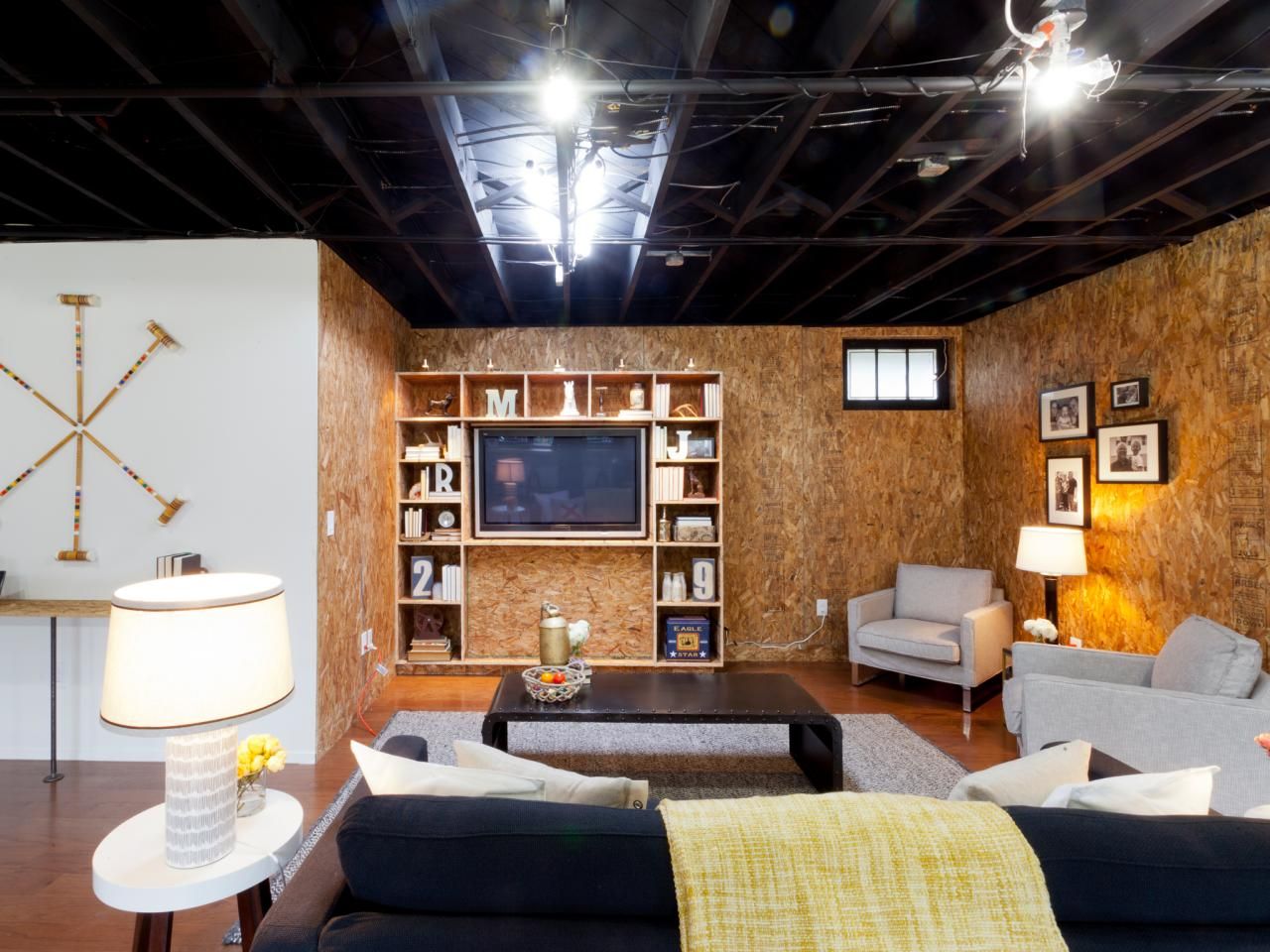 We've already established that the industrial design embraces an unfinished and raw look. Aside from exposed bricks, exposed pipes and ducts in the ceiling are also one of the main characteristics of this interior style.
Low-Hanging Pendants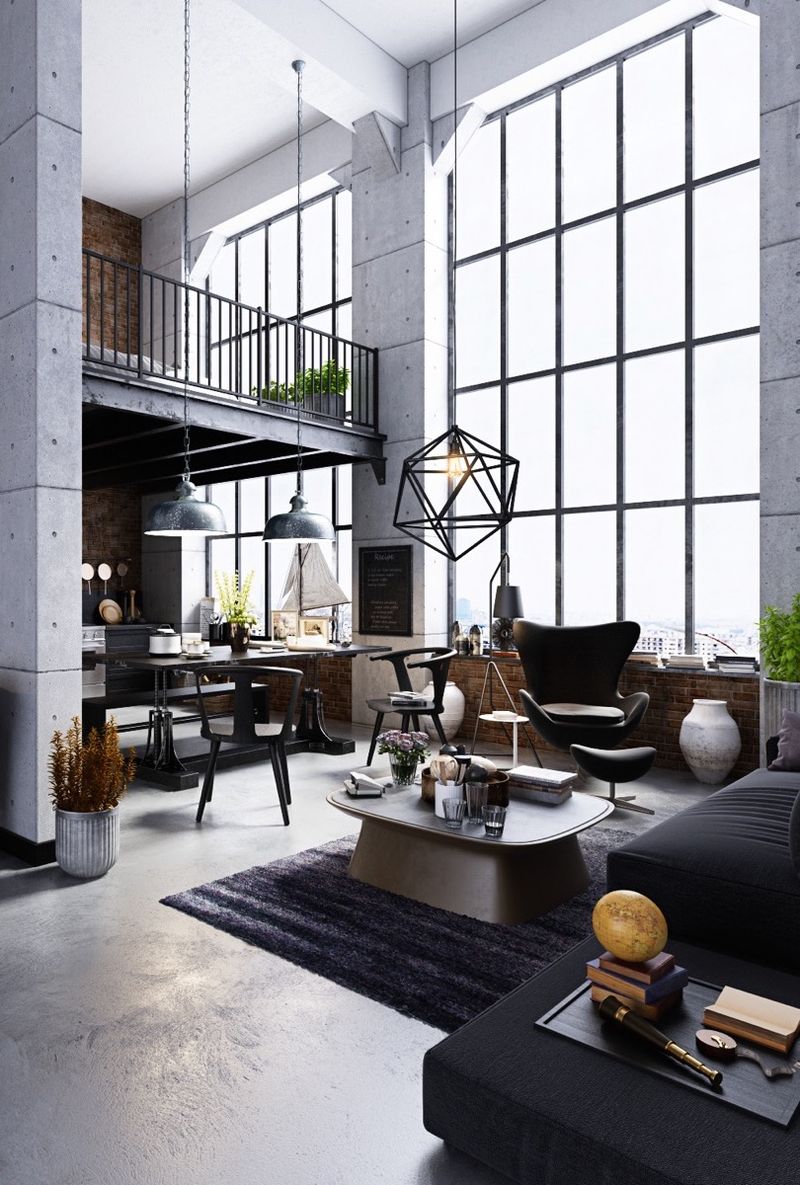 When it comes to the industrial style, the possibilities for playing with lights are endless. However, low-hanging pendants, especially black or grey, are always the right choice. They brighten up the room nicely and look very modern and chic.
Leather Fabrics
Natural textiles create a lived-in and cozy feel. In many industrial living rooms, the preferred fabric for the sofa and the armchairs is leather. Aside from being comfortable and easy to maintain, leather is a fabric that's very modern and on-trend, which makes it perfect for this style.
Metal And Wood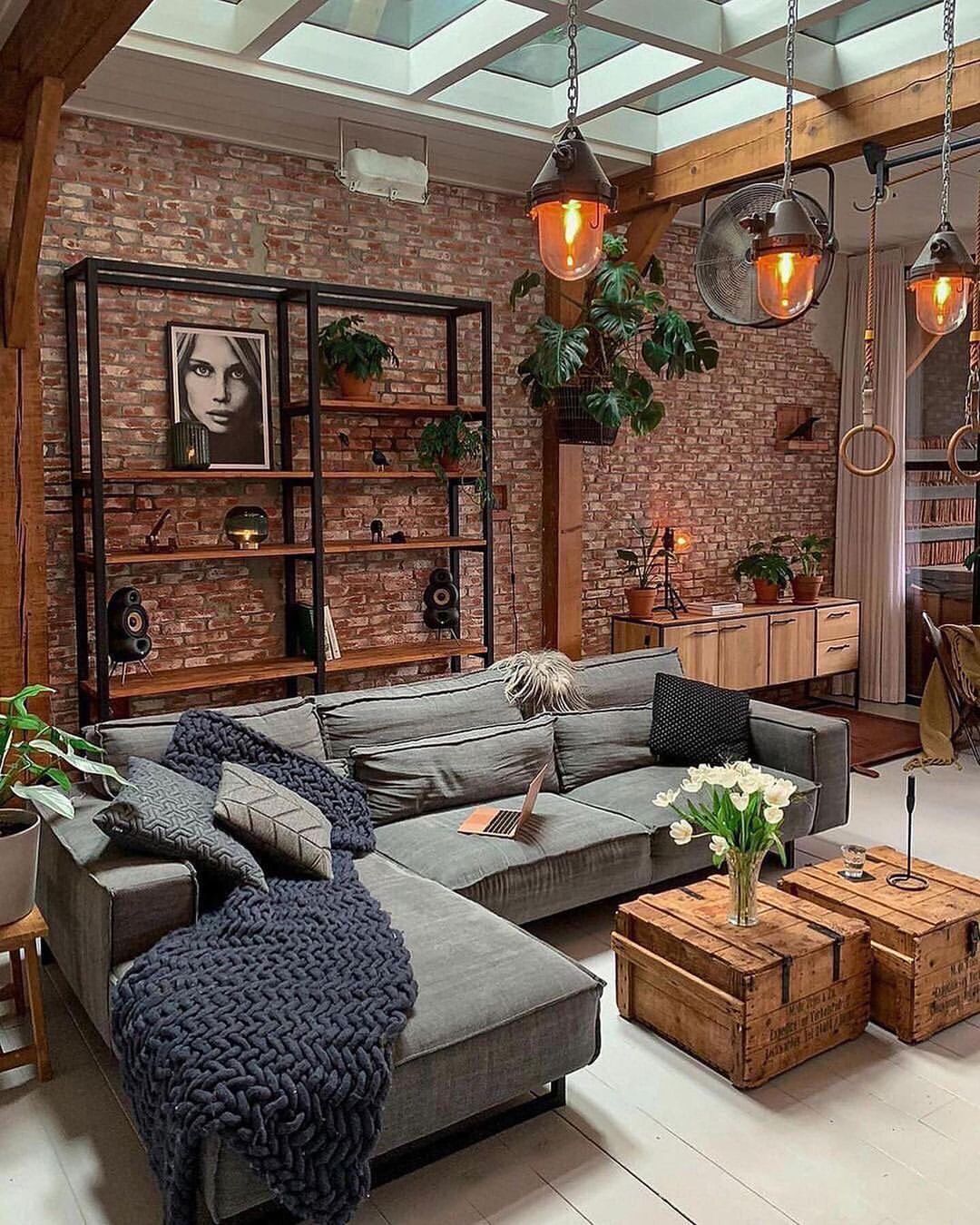 Combining metal and wood pieces has become a timeless combination in the interior in recent years. It can be done in a lot of ways and the most common one is the combination of metal and wood for the shelves on the wall.
Neutral Color Palette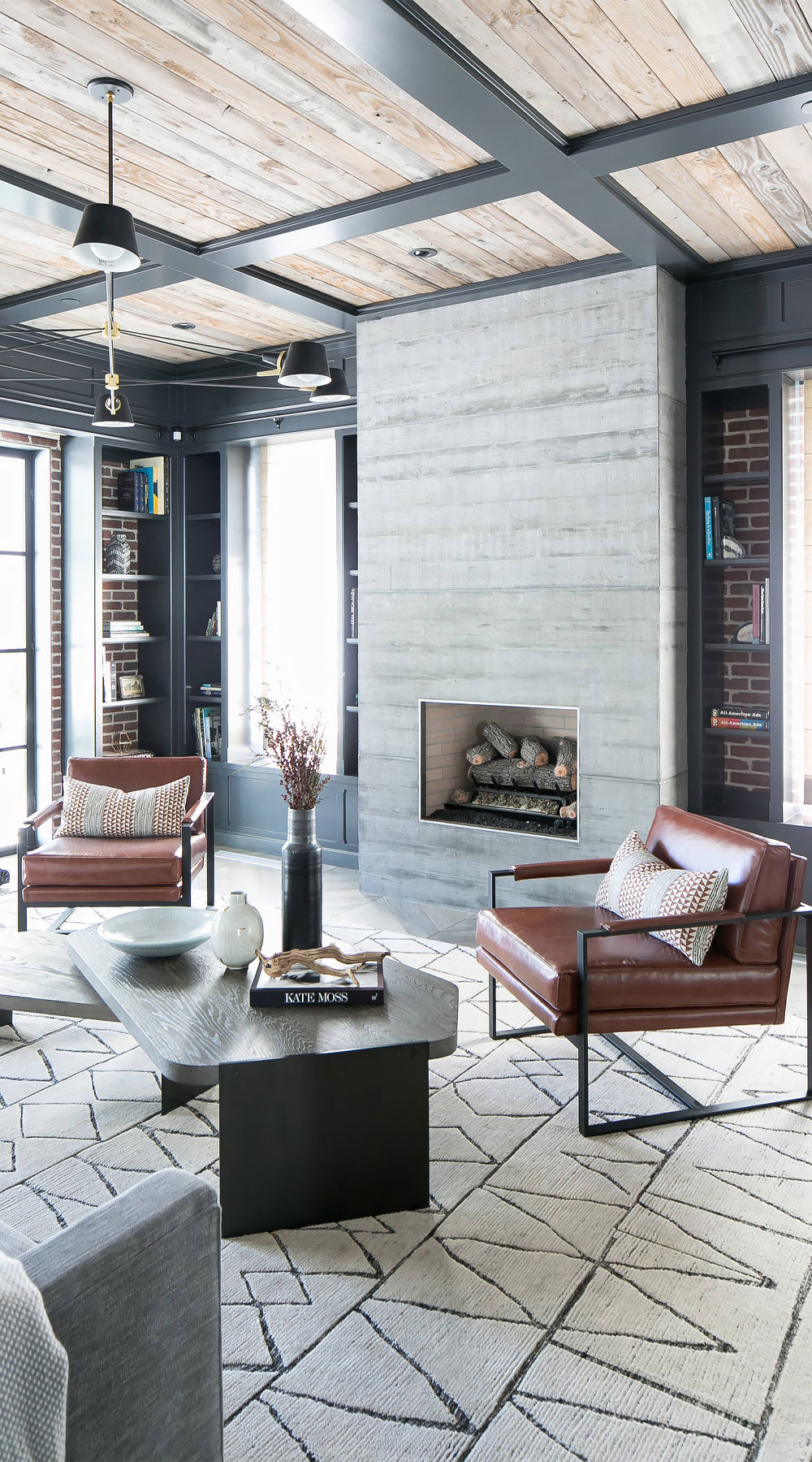 When it comes to an industrial-style interior, it's always best to stick to a neutral color palette that consists mainly of black, white, and grey. Adding decorations of more vibrant colors will give you the desired look.
Antique Pieces
The industrial style emphasizes the mixture of old and new so adding an antique piece especially in a focal place in the room will make a lot of difference, like this vintage trunk that serves as a coffee table. Looks amazing, right?
Concrete Walls
Concrete is a natural material so it's not a surprise that it is widely used in industrial-style interiors, especially in living rooms. A concrete wall might seem a bit cold when you think about it, but when you combine it with the right furniture pieces, it fits in the room perfectly.
Black Grid Frames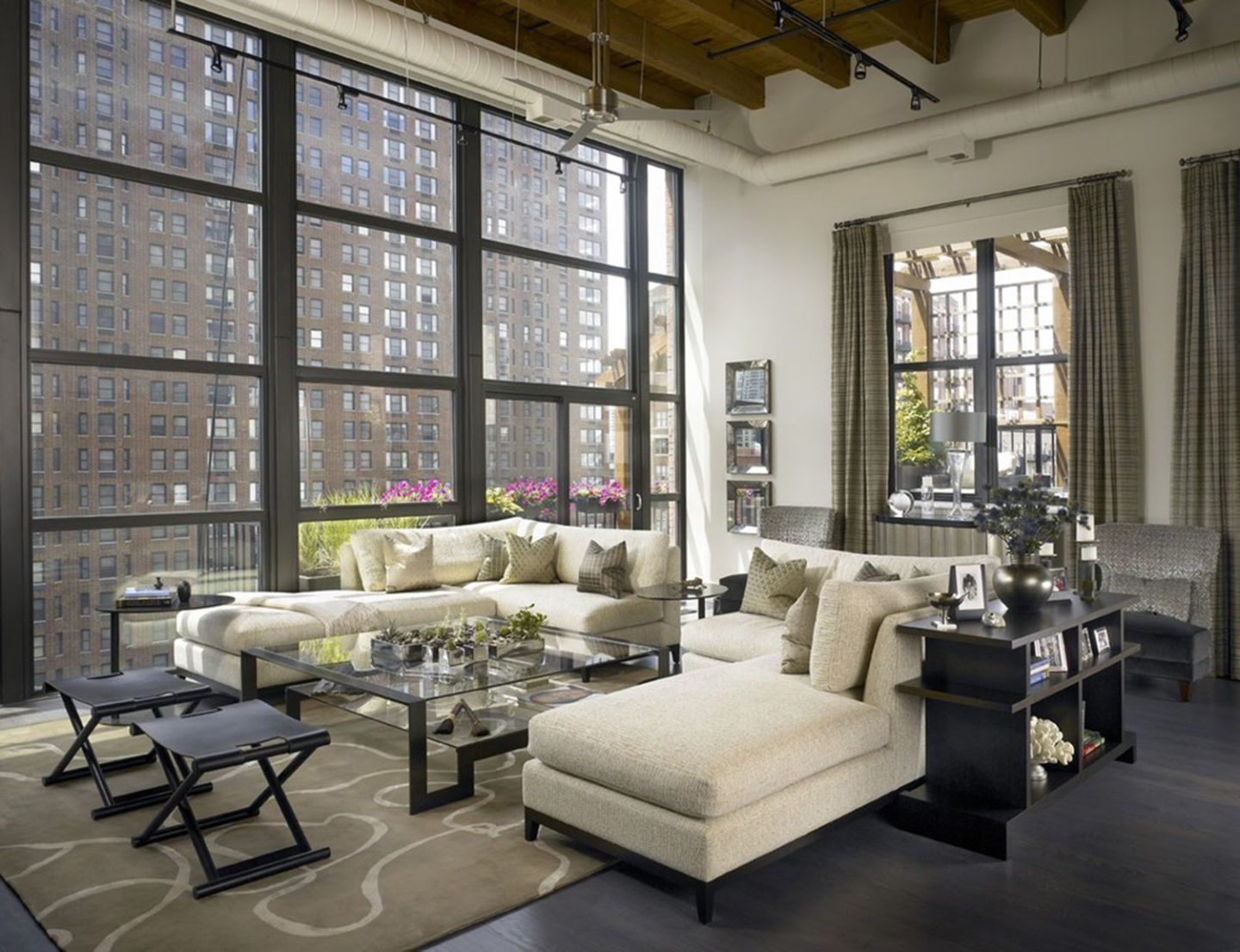 Industrial design often reminds people of those great apartments in the big cities, such as New York and Chicago that have floor-to-ceiling windows with black frames that look like a grid. This is a perfect example of those apartments that represent the industrial style.
Combination Of Textures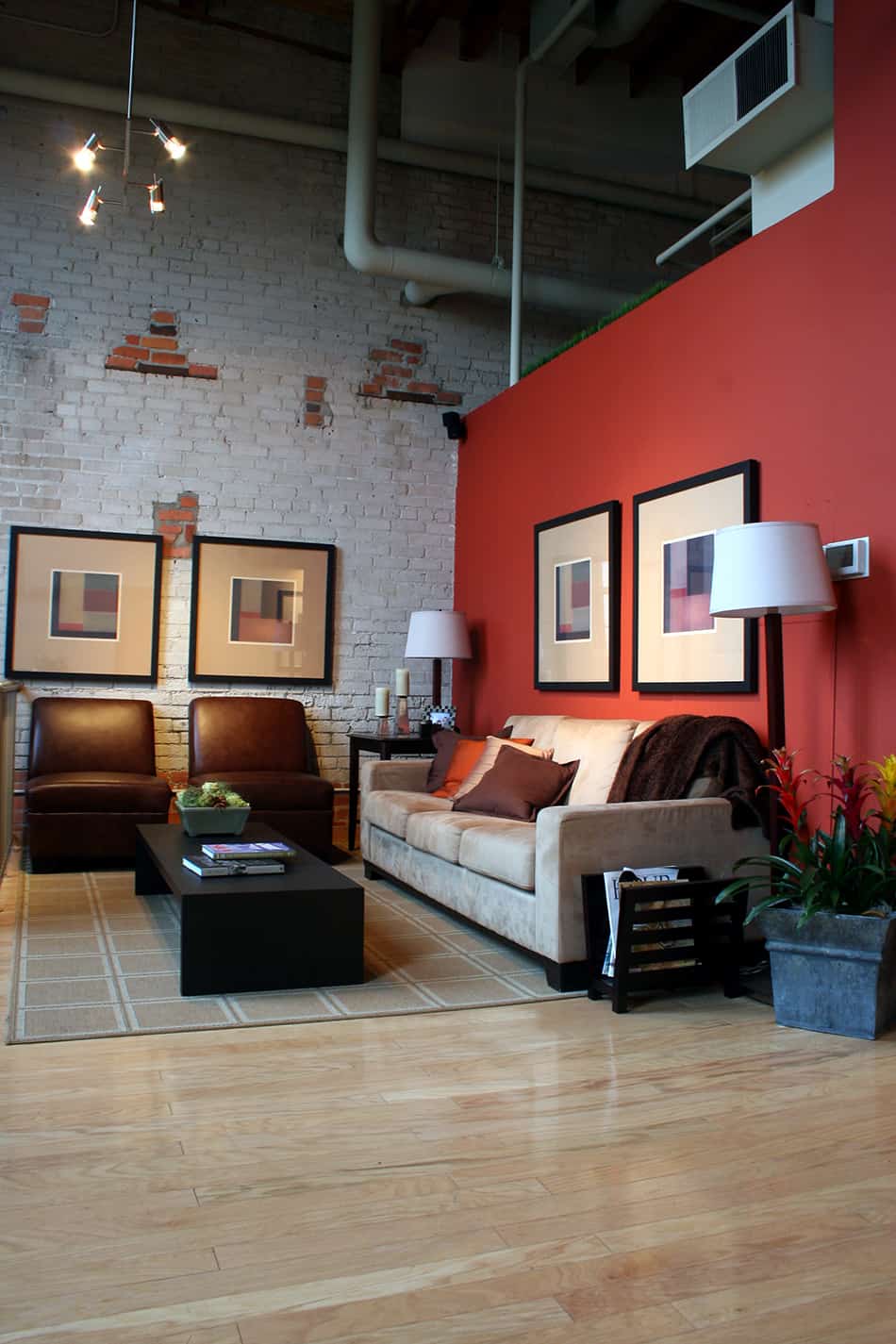 Since the use of furniture should be minimal, textures play a key role in industrial interiors. Pay attention to the lighting, the fabrics, and the wall art. All these items add texture and character to the room.
We hope you learned more about the industrial design style. If you like this style for your living room, don't be afraid to experiment and incorporate some pieces. Share your thought about this interior style in the comments.