A loft apartment is a unit in a building that has been converted from commercial, manufacturing, or warehouse use to residential use. Wide-open rooms, columns, brick walls, and large windows are common features of lofts. Every person's dream is to live in a pleasant, large, and multifunctional home. During the 1960s and 1970s, artists illegally converted outdated manufacturing buildings into live-work spaces, resulting in the popularity of loft apartments in New York. The Loft Law was enacted in 1982 to safeguard tenants in these buildings by requiring landlords to bring them up to code and get a Certificate of Occupancy. Many business and manufacturing buildings in New York City have been legally converted into Loft Apartments since then.
However, because of the limited amount of land available, we are forced to create a loft that is sometimes less appealing and comfortable. Loft apartments have become increasingly popular in recent years, owing to their comfort and the fact that they provide for a wide range of interior design alternatives. Less traditional folks with a greater feeling of creativity and creative sensibility will always be drawn to these large, spacious places with plenty of natural light.
Only your imagination limits the possibilities for transforming these chilly areas into elegant residences. The loft apartment, in general, is characterized by a bigger investment of imagination and a more prominent artistic component. When planning a loft makeover, there are numerous architectural aspects that we typically see in lofts that should be considered. Everyone has different tastes, so how you handle the details of a loft makeover may differ, but these are all things to consider while designing your loft. Living in a loft has an amazing effect on your mood and emotions, it's a true oasis in an urban environment.
To help with the decoration and refurbishment of your favorite loft, we selected some of the finest loft designs for you. Take a look at them below and get inspired before you get into buying and selecting the colors, the tones, and the furniture. You might change your mind in between.
Amsterdam Loft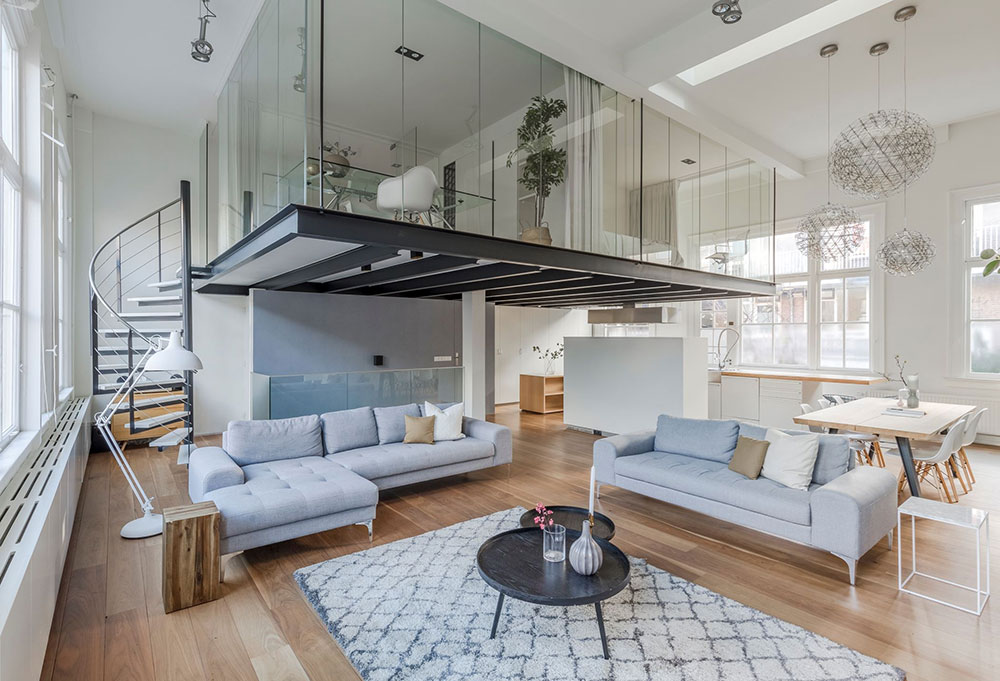 In the Netherlands, lofts are highly popular. Surrounded by huge windows and 5 meters high ceilings they are full of light, and bright furnishings add to the feeling of openness and airiness. The mezzanine bedroom is set floating above the living area, and the rest of the space is reserved for some more bedrooms and private rooms.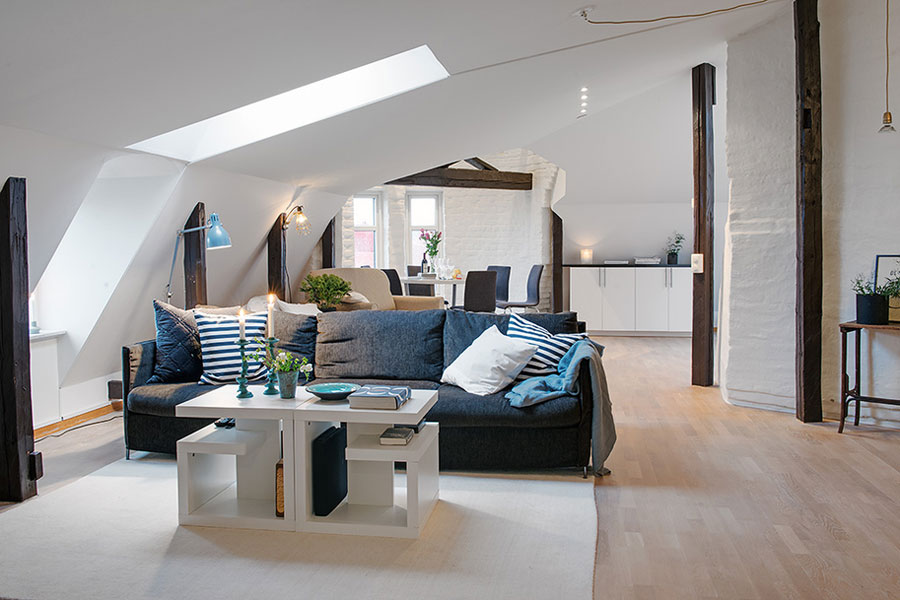 Scandinavian style is very unique with clean lines and solid colors. This loft is unique in the size and form of the walls and ceilings and the minimalistic white approach to it brings out the best of the space. Dark elements and pillars make the room pop and give you a very cozy feeling.
Loft Office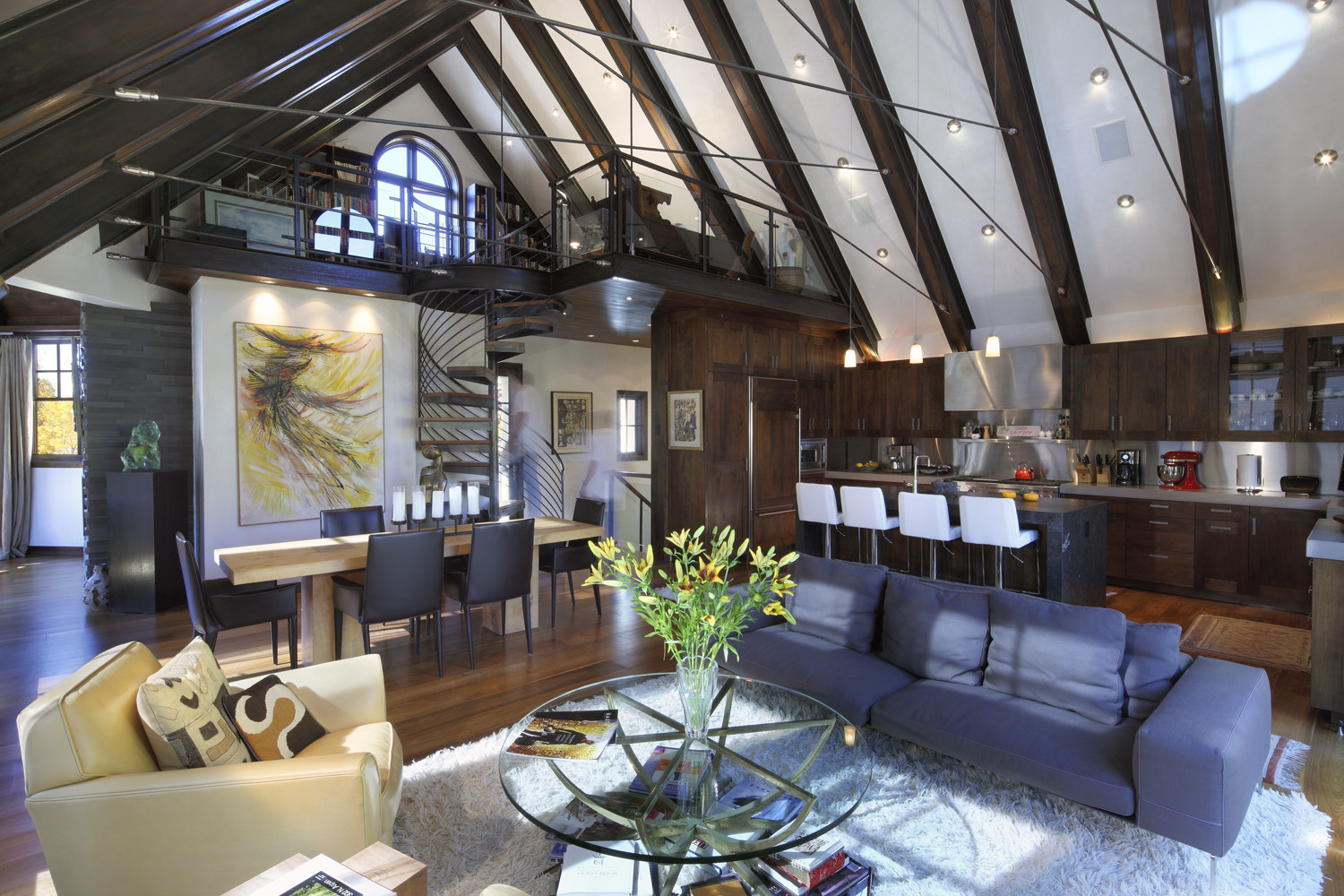 This lovely mountain-style apartment features a great office located at the loft to make you feel isolated and private when doing the best of your passionate work. The coziness of the place comes from the feel that you get when going to a snowy mountain cottage with high ceilings and wooden floors and walls. The framed picture on the wall only adds some elegance and style.
Lofted Bedroom Apartment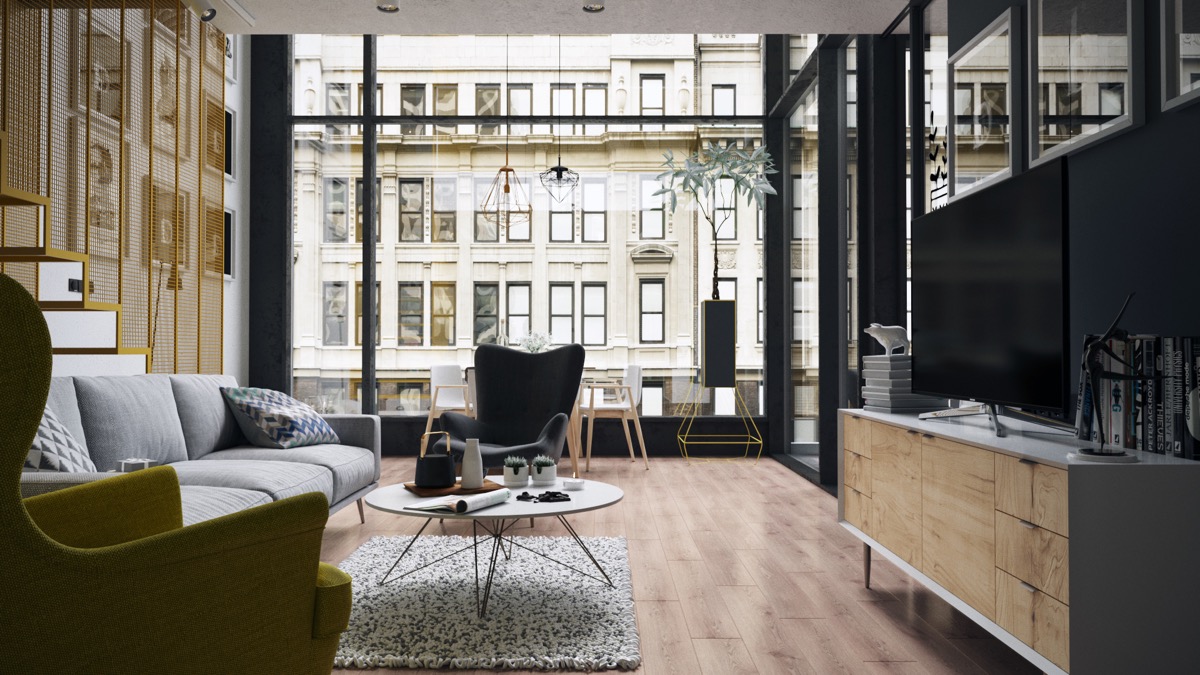 This loft apartment features big windows and an industrial staircase. The bright color of the staircase and some of the furniture makes a great contrast to the dark window frames and makes the place feel warmer. The carefully chosen decorations only add to what you get out of style and elegance in this lovely space.
19th Century Building Loft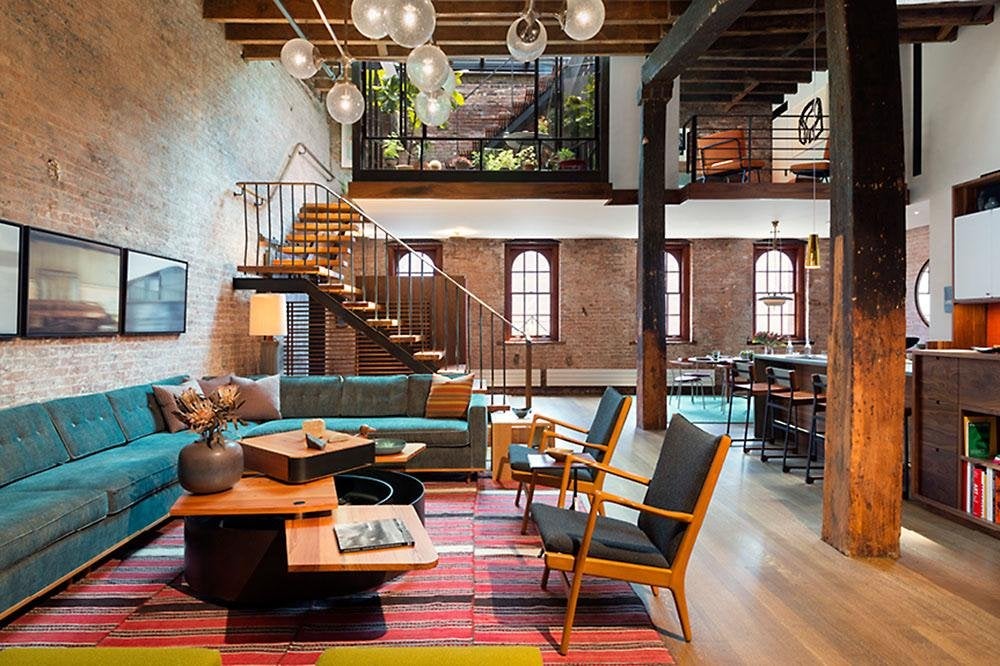 It's known that lofts were created by artists that squatted the abandoned industrial buildings. This loft is just the case. It's located in a 19th-century industrial building, it features an open floor plan and a mezzanine to accommodate everything that is necessary for urban living. The rooftop terrace only adds to its beauty.
Tasteful Modern Loft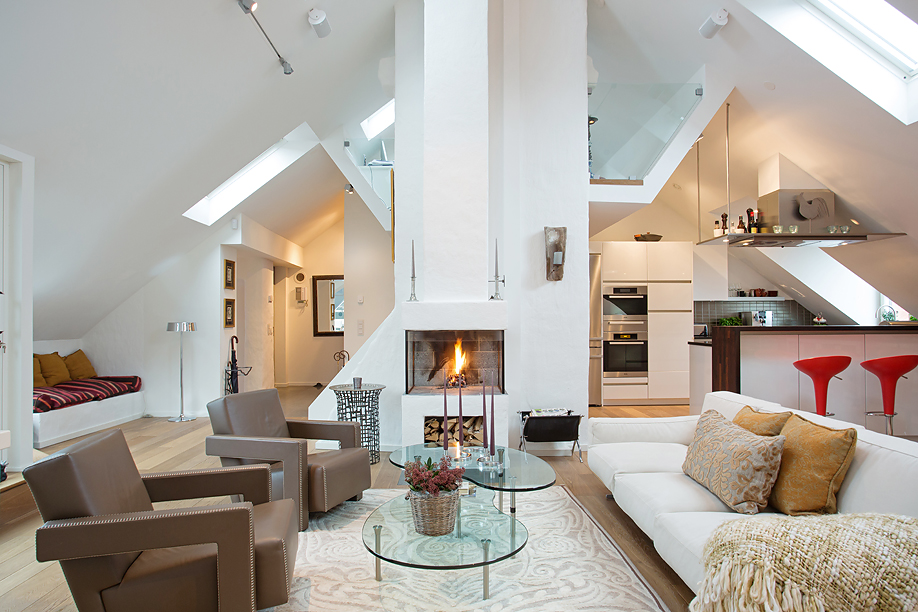 This loft is one of the larger ones, featuring 5 bedrooms and 2 loft rooms. It's white only to make it bigger, and the contrast with the color of the furniture only adds to the coziness of the space. The chimney divides the space into living and dining areas, and the sofa right behind it gives you a place for privacy. It's truly amazing!
Stylish Loft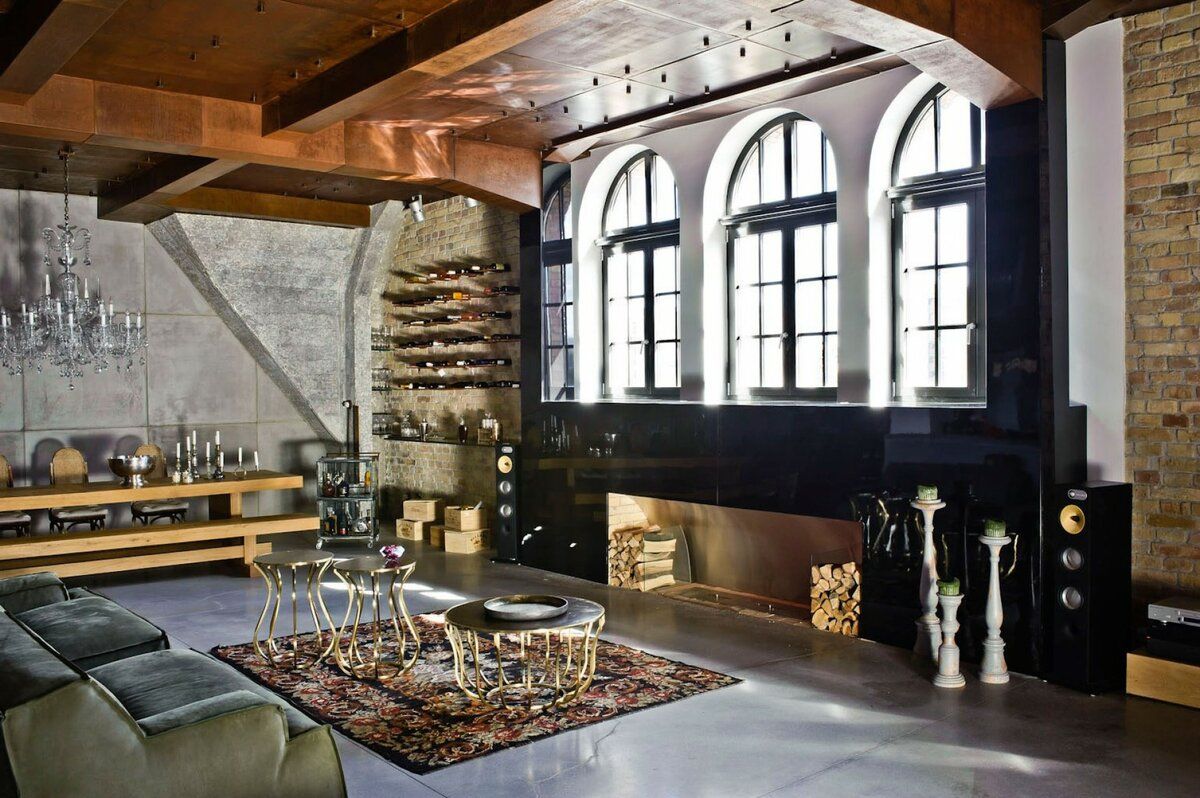 This loft is full of style. Combining industrial, rustic, glamorous, and cosmopolitan styles creates a casual elegance full of comfort and intrigue. If you have a chance to walk around it, you'll see rustic brick walls, industrial cabinets, rooms flowing one into the other, and a marvelous look out of the room. It's eclectic and elegant all at once.
Small Loft Apartment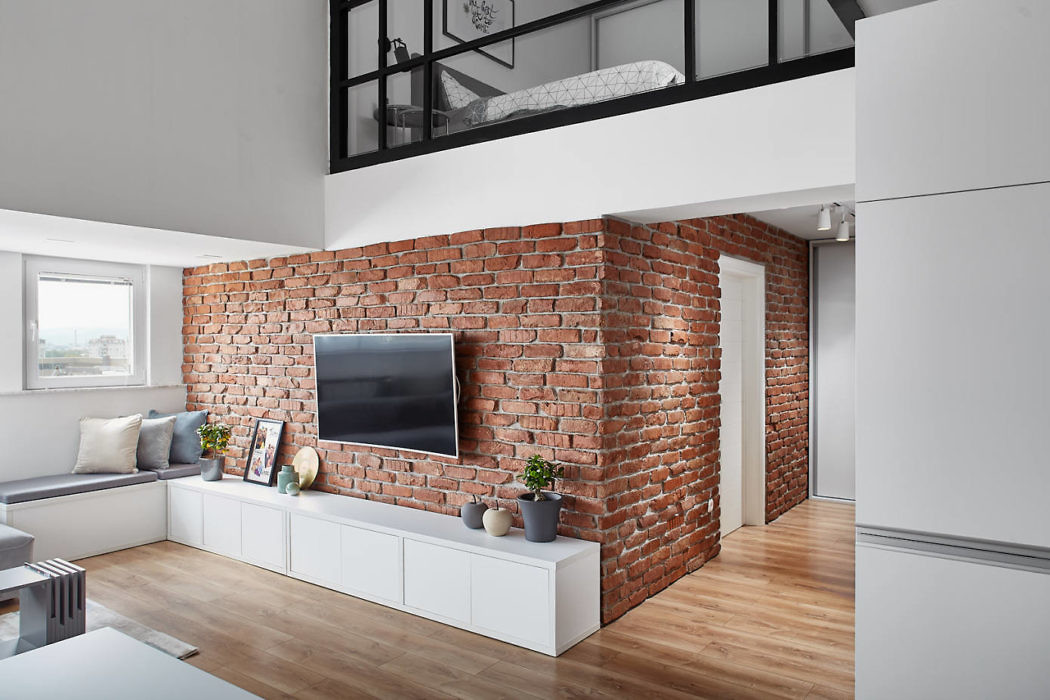 This small loft apartment is located in a building that really needs a complete use of space. The designers have made a great combination of rustic bricks and modern glass walls to fulfill the needs of the tenants and use the space wisely. Having the bedroom located on the mezzanine and surrounded by glass walls gives the impression of wider space and makes a great combination of styles. The feeling is cozy and relaxing and the look is posh and elegant.
Vintage Rustic Loft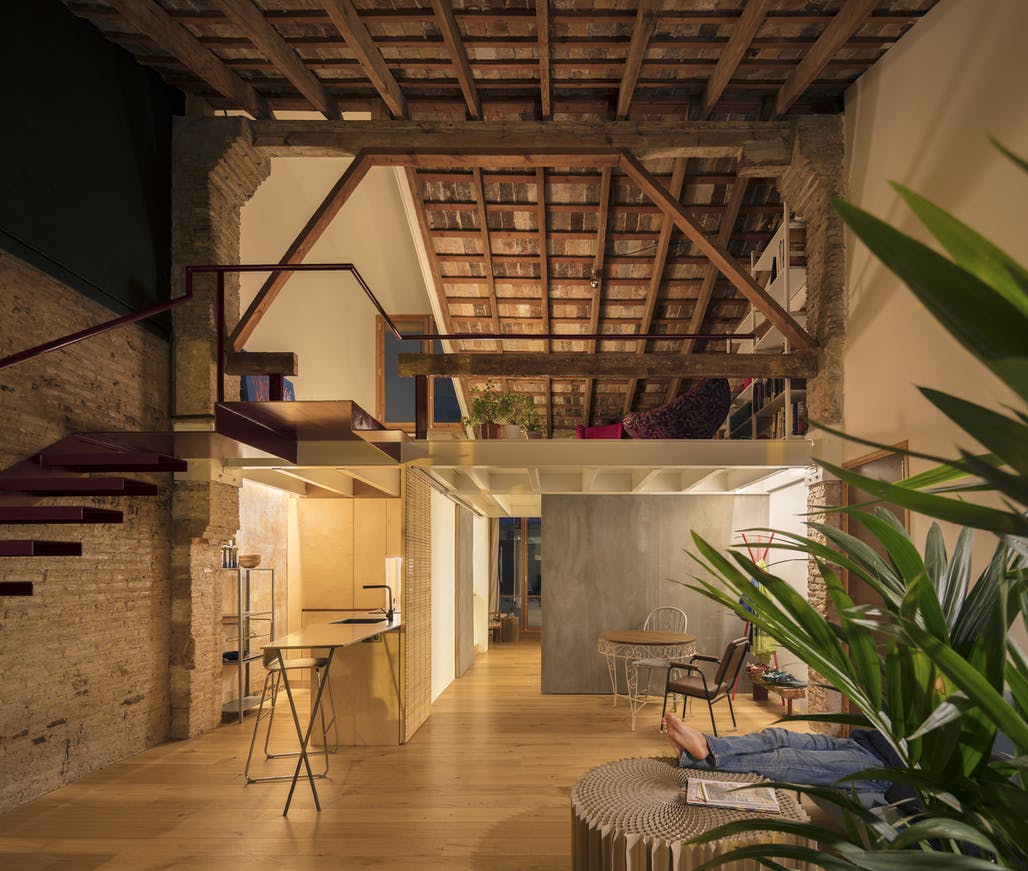 This loft was created by a designer that wanted to recreate the space he used so that he can live in it as well. The earlier window openings, which were built within an older existing structure, allow natural light to flood the space while maintaining the structure's original elevation. The structure's original roof was elevated to allow natural light and ventilation into the home, which reached both the mezzanine and the living room. The main materials used throughout the project include brick, concrete, steel, and wood.
Cheerful Loft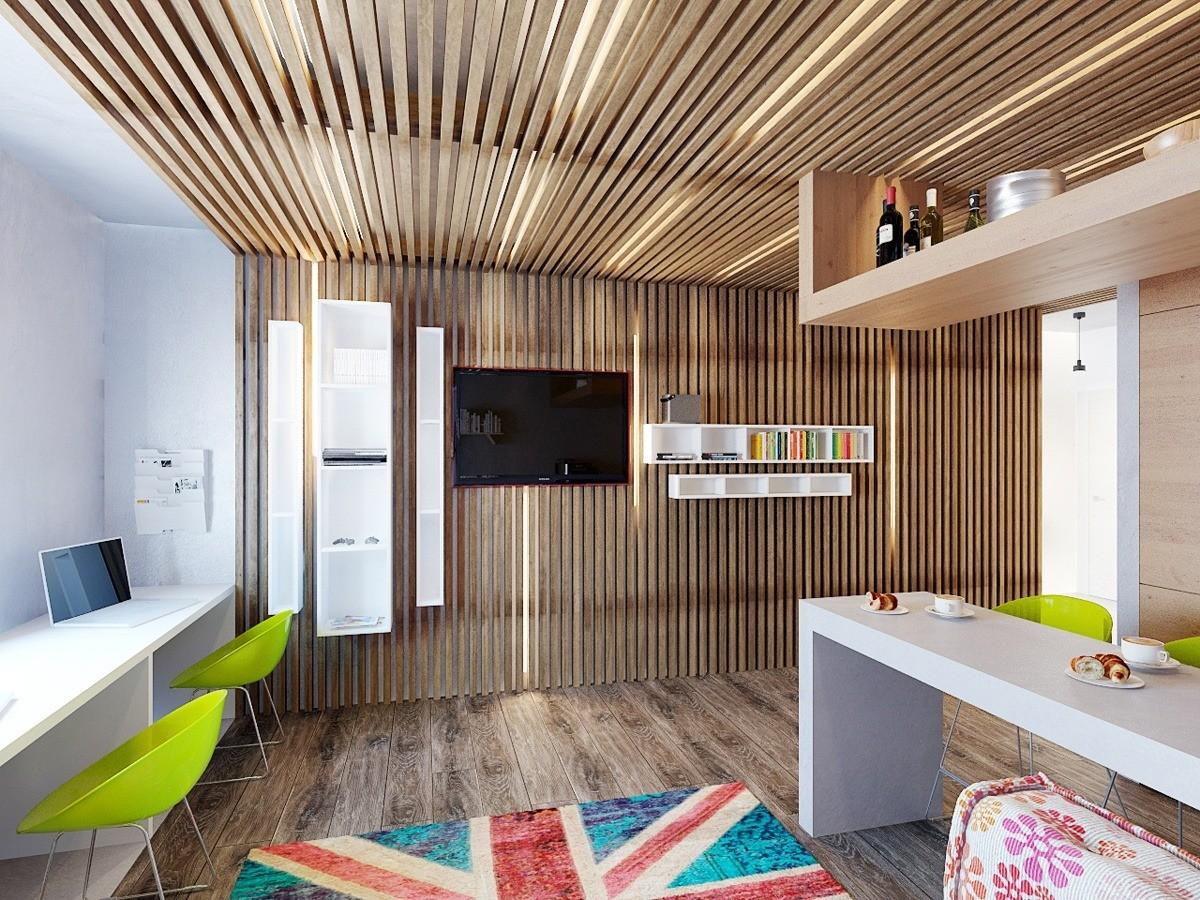 A few well-placed splashes of color may sometimes completely change a space. The inside has a basic design with lively colors. The living room opens into the breakfast area and kitchen with a pair of lime green chairs. The ceiling and walls are finished in wood, which adds to the overall comfort. And the Union Jack rag is only a plus.
Crazy Cozy Loft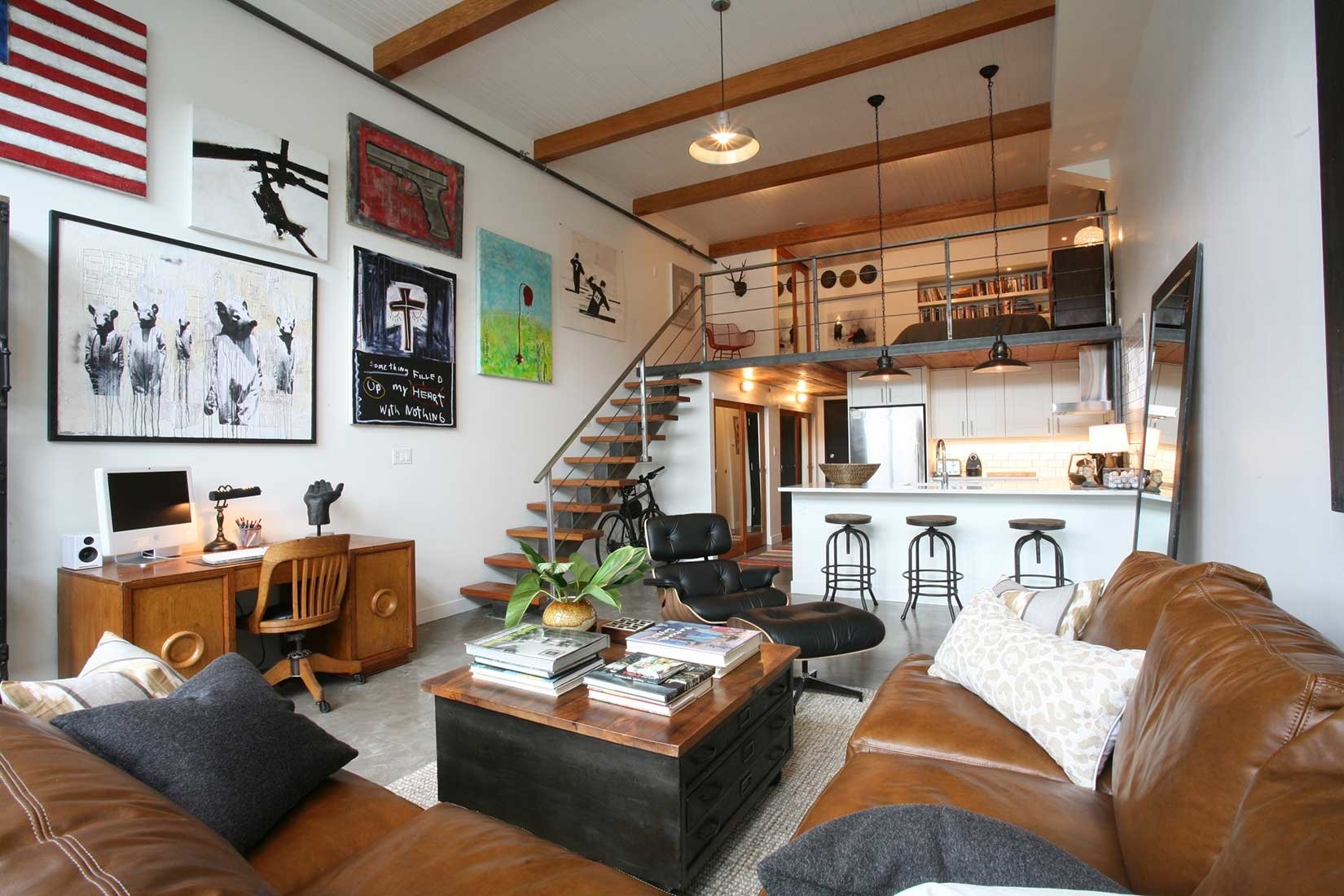 The artwork in this loft is excellent, and the industrial/rustic furniture gives it a weird, unique vibe. The 'less is more' approach, which is widely embraced in all spheres of interior design, does not have to apply to the loft: as long as clutter is kept to a minimum and functionality is prioritized, you are free to bring whatever you want inside.
Versatile Loft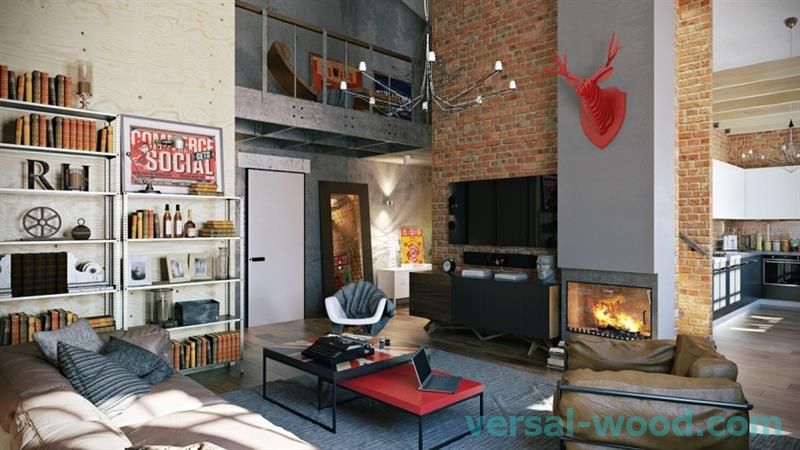 The most common mix combines industrial vintage design elements with a variety of supplies, accessories, and decorations that have a higher "warmth" content. The variety of furniture and artistic components, as well as the color scheme, can transform these rooms into warm and inviting houses.
Open Space Loft
An open plan refers to an area with as few walls as possible. This frequently results in a single open area that includes the kitchen, dining room, and living room, which is referred to as a great room. The fact that loft apartments may be vast open rooms is the single most amazing feature of them. A loft apartment with one large open space as the focal point is ideal for social gatherings or relaxing at home. It's incredible to sit in a vast open place and take everything in.
Unique Synergies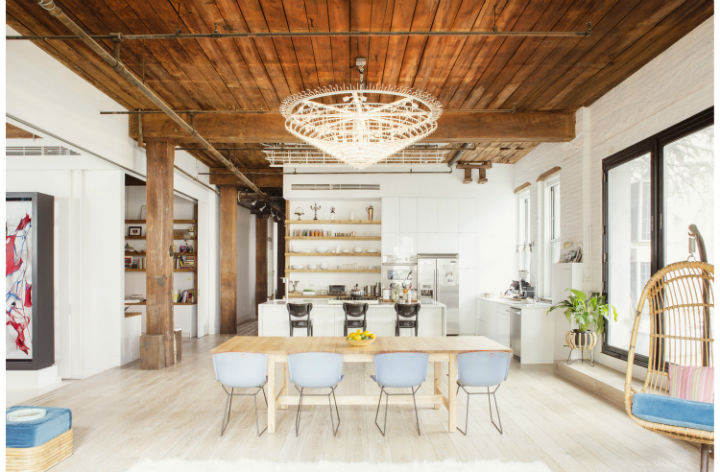 A loft with unrivaled synergy for the ideal work-life balance. Many of the original characteristics have been kept and accentuated with white paint and vintage furnishings, giving this home a distinct Mediterranean flavor. You'd believe it was a country house in the Mediterranean if it weren't for some structural components that have been kept, such as the brick, which has been painted white in this case, or the windows. The predominant material is wood, with the beams that have been retained standing out for their white color and brilliance interspersed with blue tones.
One Loft, Double Apartment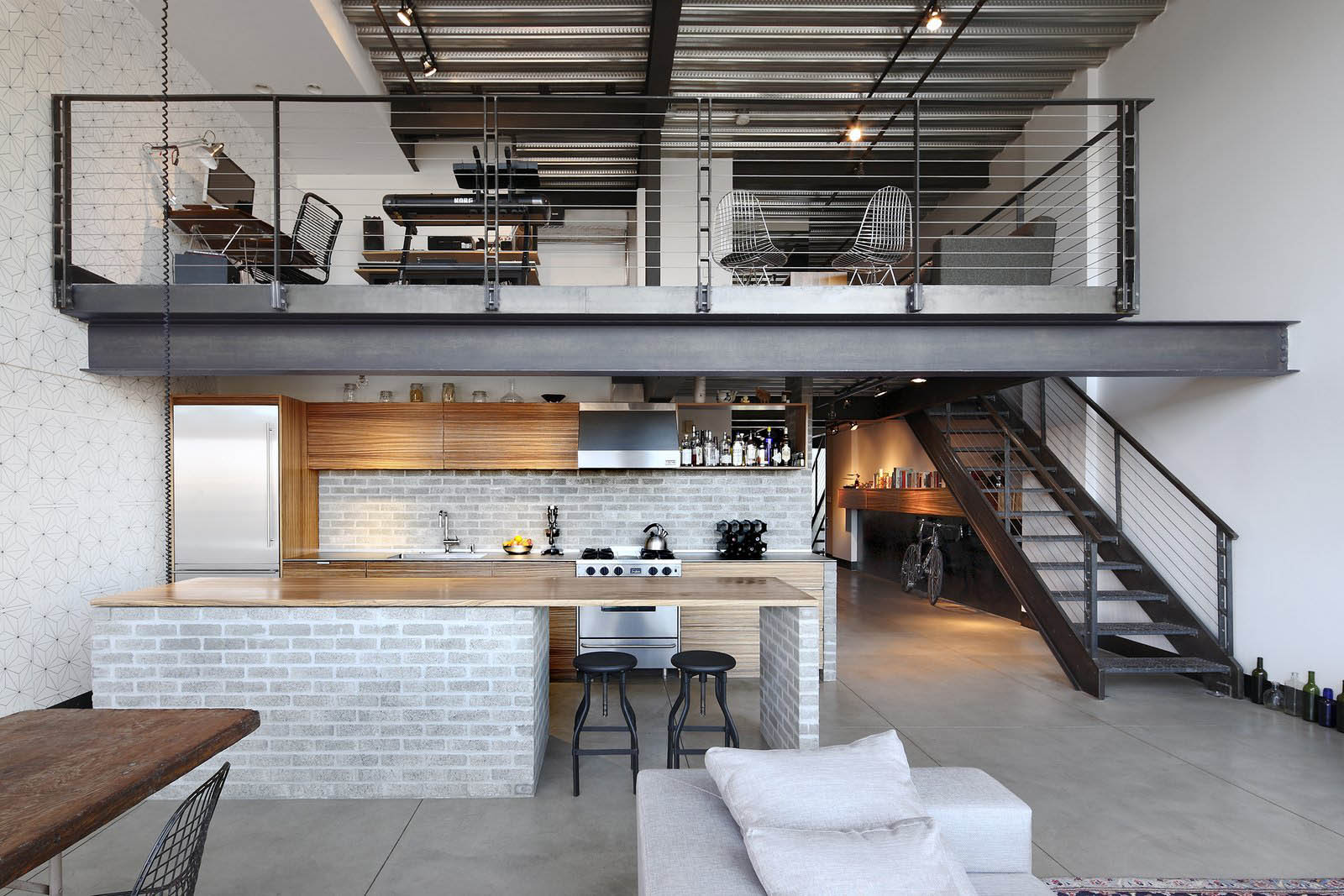 This modern loft has been transformed in a way to accommodate two apartments. The mezzanine was transformed into a second apartment-like area, instead of incorporating only the bedrooms or the working area. So, with one remodeling, you get two living spaces. It's an interesting idea, and can very well balance between two different generations willing to save money and space and make a different, modern co-living.
A Home For Two
The owners' wishes for separate private spaces were taken into consideration when designing this flat. This loft's design and decor are highly appealing and fashionable, and they manage to captivate you from the first minute. Warmth, liveliness, and comfort were used to transform the apartment into a delightful home. The loft's long vertical space was used to create two distinct bedrooms, level them, and add a little living room, with plenty of natural light streaming in through the glass panels. The light wood floor and white walls keep the space feeling airy.
Venice Loft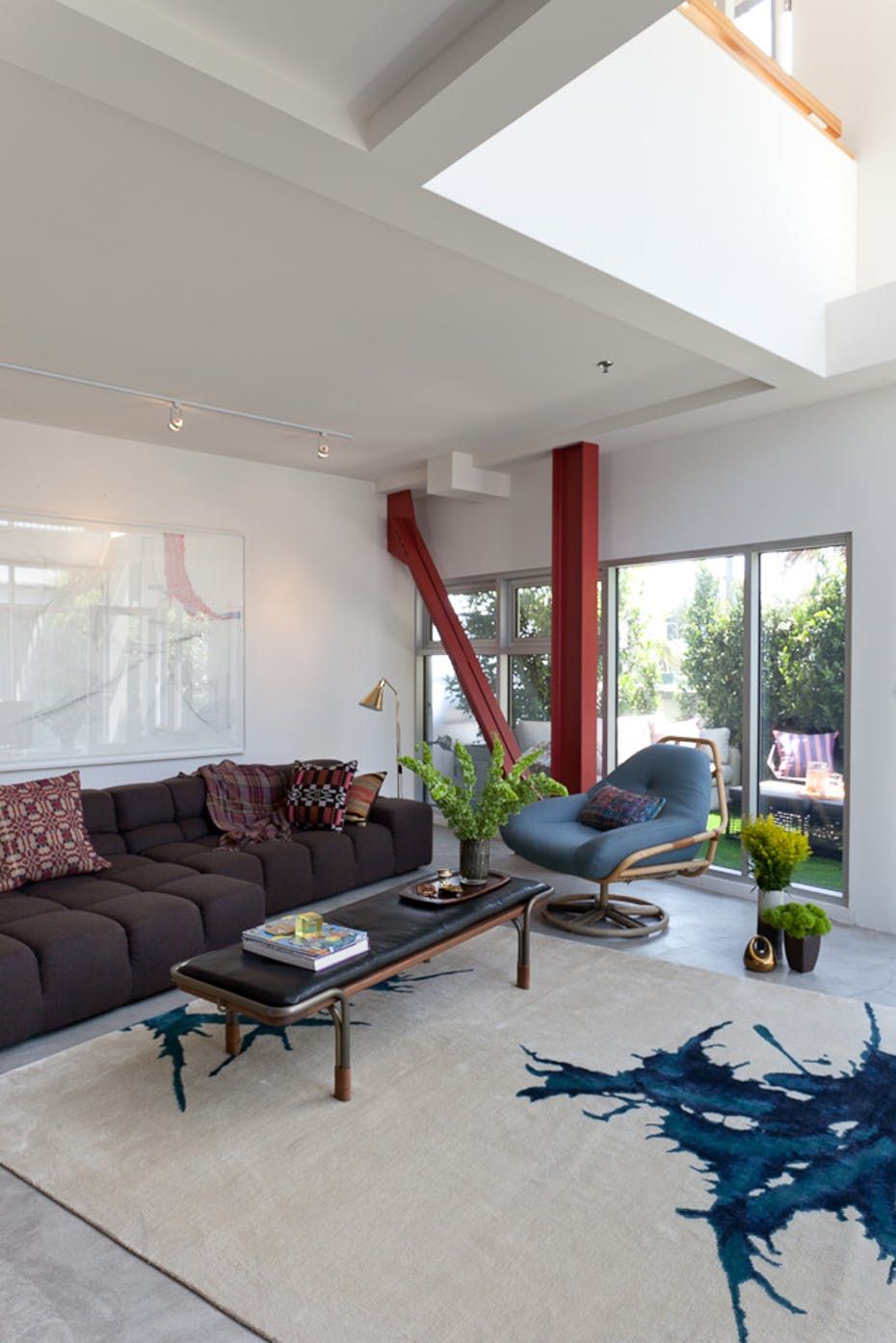 The concrete flooring and unusual window layouts of the Venice Loft Building on Main Street provided an interesting setting. The upper and lower terraces are covered with turf and enclosed with a tight hedge to privatize the playful outdoor living spaces. Vintage objects have a lot of character and are well-made. The options, both ancient and new, featured caning details and chain metal. The fiery red-orange tones present in the existing architectural steel throughout the loft contrast with the cold blue palette.
Loft Room
Even in small rooms, high ceilings considerably expand the available area. A mezzanine can be erected above a part of the room with a ceiling height of more than 3 meters. A loft room can be the ideal answer if you require additional storage space. It won't be easy to construct, but the end effect will be spectacular. This approach is particularly useful in children's rooms and kitchen-living areas.
Now that you've seen the ideas we selected for you, get inspired and redecorate your loft. and don't forget to share it with us in the comments below.