You don't need to live in the country, nor do you need a barn or a backyard chicken coop to experience the benefits of Barnhouse sensibility. You don't have to live in the country to fulfill your Barnhouse fantasies.
Barnhouse style with design ideas for every room is simply to be admired. Get a couple of cans of white paint, enough shiplap to cover your walls, and as many salvaged wood embellishments as possible. Fortunately, most of these Barnhouse design ideas incorporate both modern and rustic features, so you won't have to part with your prized antiques or your most recent store-bought purchases to get these Pinterest-worthy looks. It's absolutely up to you how you use them.
Play around with different textures, materials, and patterns; this is your personal sanctuary, so have fun with it! Try using a neutral color palette and adding splashes of color, whatever combination you like, to make your area a romantic sanctuary, a rustic refuge, an antique treasure, or a minimalist place that is easy to care for. Whatever style combination you want, integrating rustic and modern elements will add beauty to your room. The combination of worn walls and modern furnishings provides a stunning and sophisticated look. To create a quiet and relaxing ambiance, add a fireplace, bathtub, an antler on the wall, or an animal skin area rug on the floor.
We've got professional tips and techniques on anything from kitchens to bedroom design ideas to rustic bathrooms to keep you inspired. Every concept is inspired by a real-life home or room, such as exquisite kitchen trends from a Mississippi barn, living room ideas from an 18th-century farmhouse, and vintage cabinet ideas straight from the walls of a New York farmhouse.
White Barn Bedroom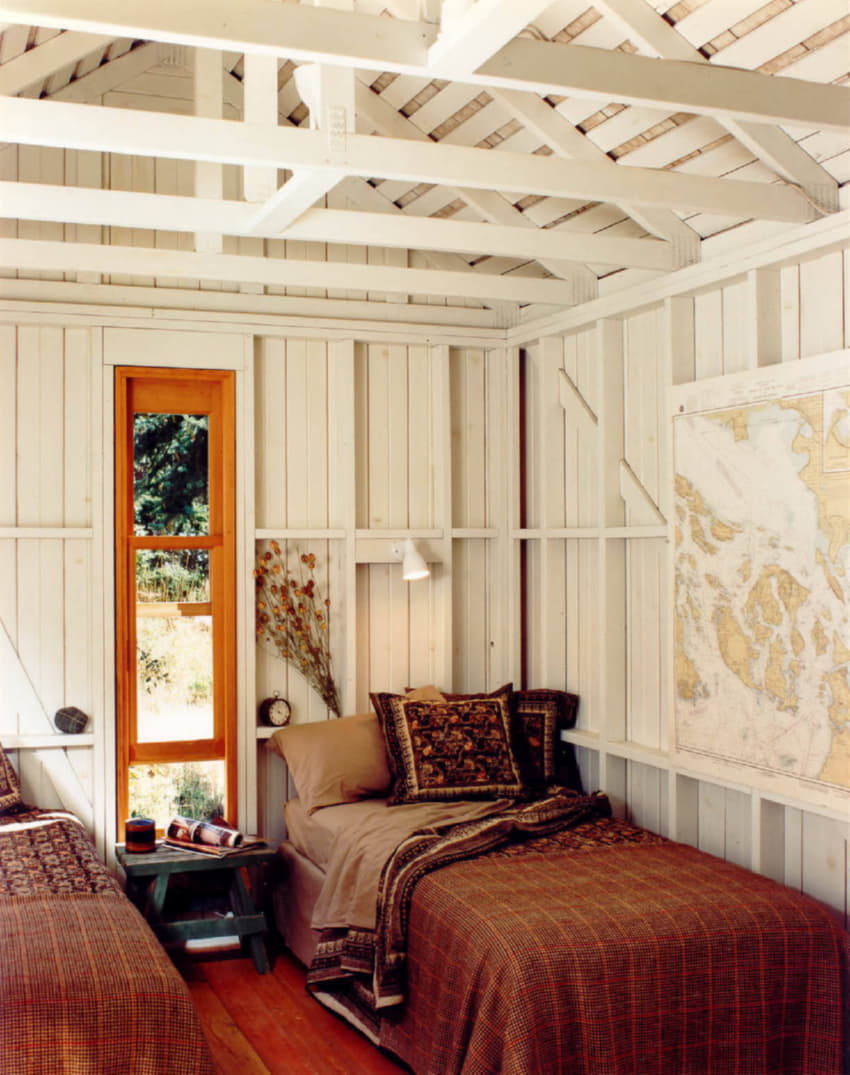 Remember when we said above that you need a few cans of white color? Well, here it is. Paint the walls and the ceiling in white, leaving all the wooden structures visible and easily noticeable for everyone to see. Whether it will be your own bedroom or a guest bedroom, or maybe you'll turn the whole space into a guest-house, this style will give you a cozy and charming feeling you can enjoy whenever you feel like it.
Cozy Living Room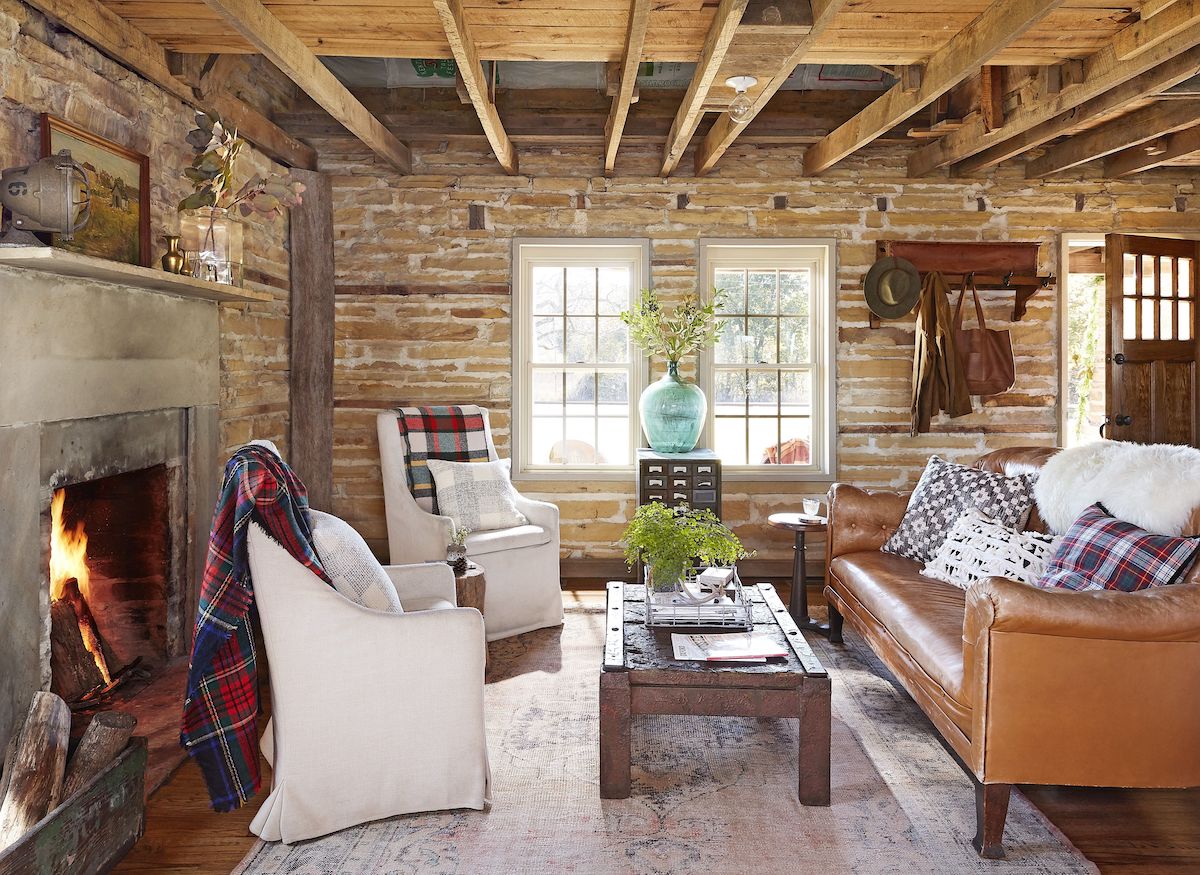 This living room features a combination of a brick wall and a wooden ceiling. The hardwood floor only completes the barn look and the fireplace adds to the coziness of the room. Here, you can play with the materials of the furniture, as well, like combining a brown leather couch and white cloth armchairs with a rough wooden table. The pleated blankets only complete the feeling.
High Ceiling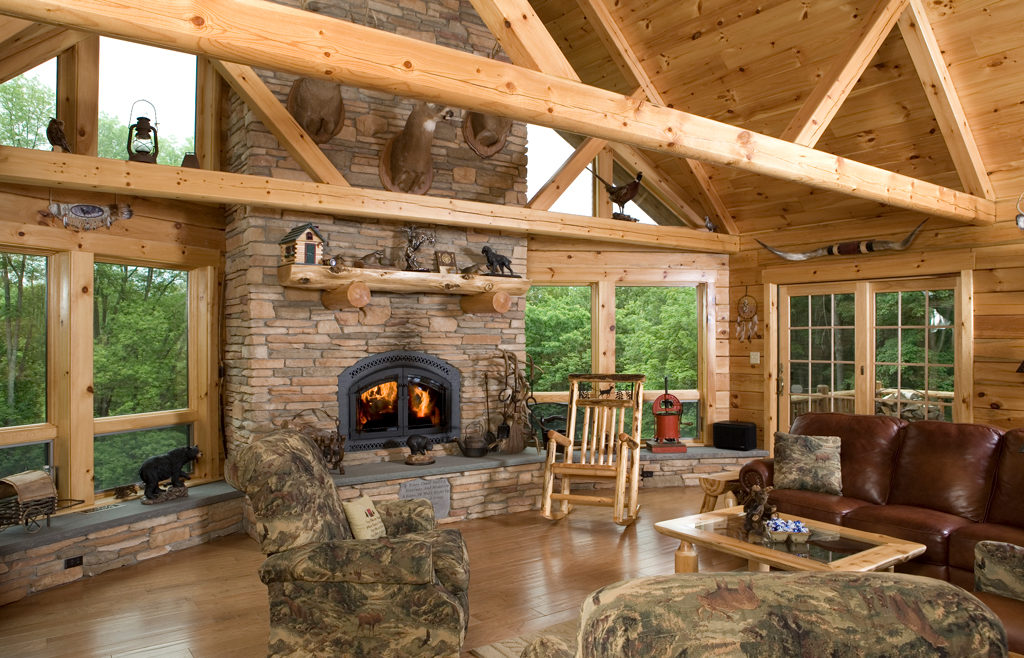 A high ceiling is one of the marks of a great Barnhouse. Leave the beams open, and the ceiling widely visible to get the barn look, and add rustic stylish furniture to give the room the warmness it needs. The low windows with no curtains overlooking the woods will give you an impression of being outside, and the image of the sky will give you a vibe that you are out in the open. So, enjoy it.
Barn Style Bedroom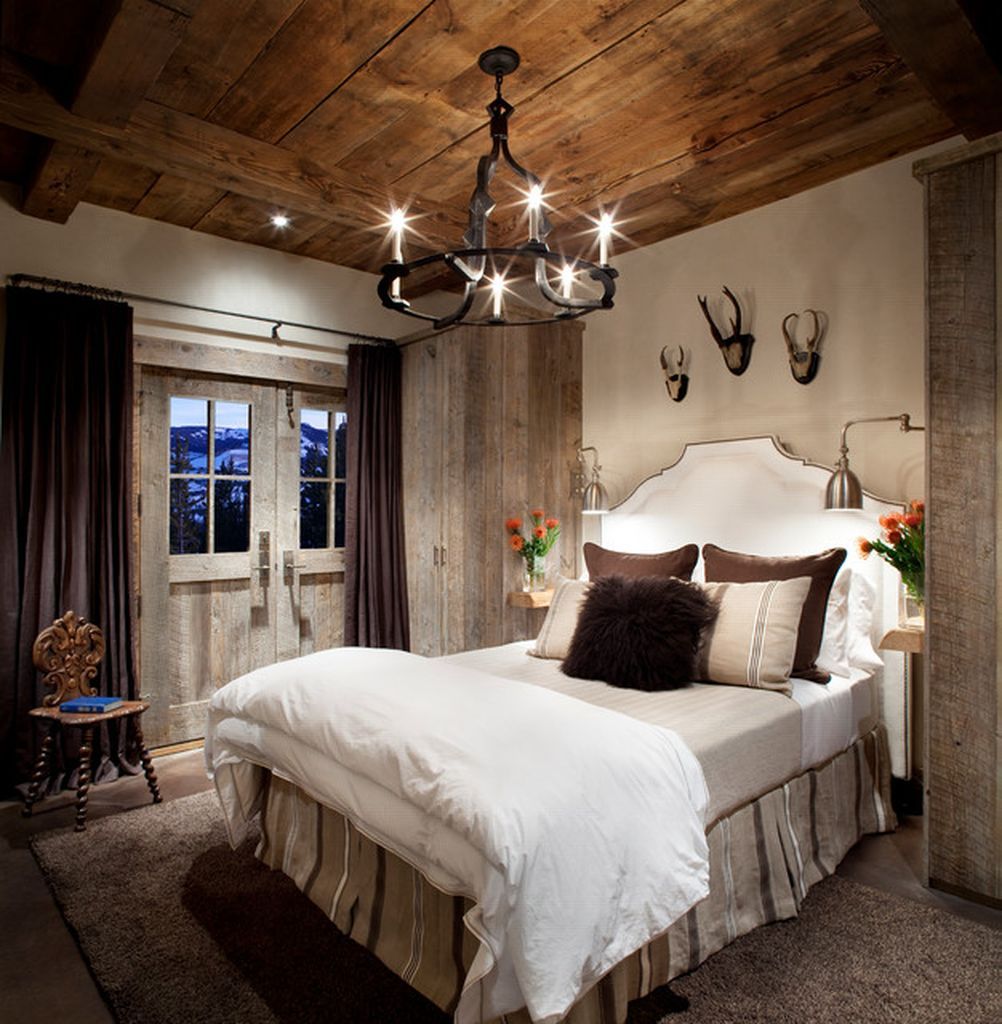 A cozy white bed into a rustic rough room makes a great combination for a wonderful bedroom. Add an industrial style chandelier and some grey rugs in combination with white curtains and dark drapes to complete the look and the coziness for you, or your loved ones.
Stone Chimney Room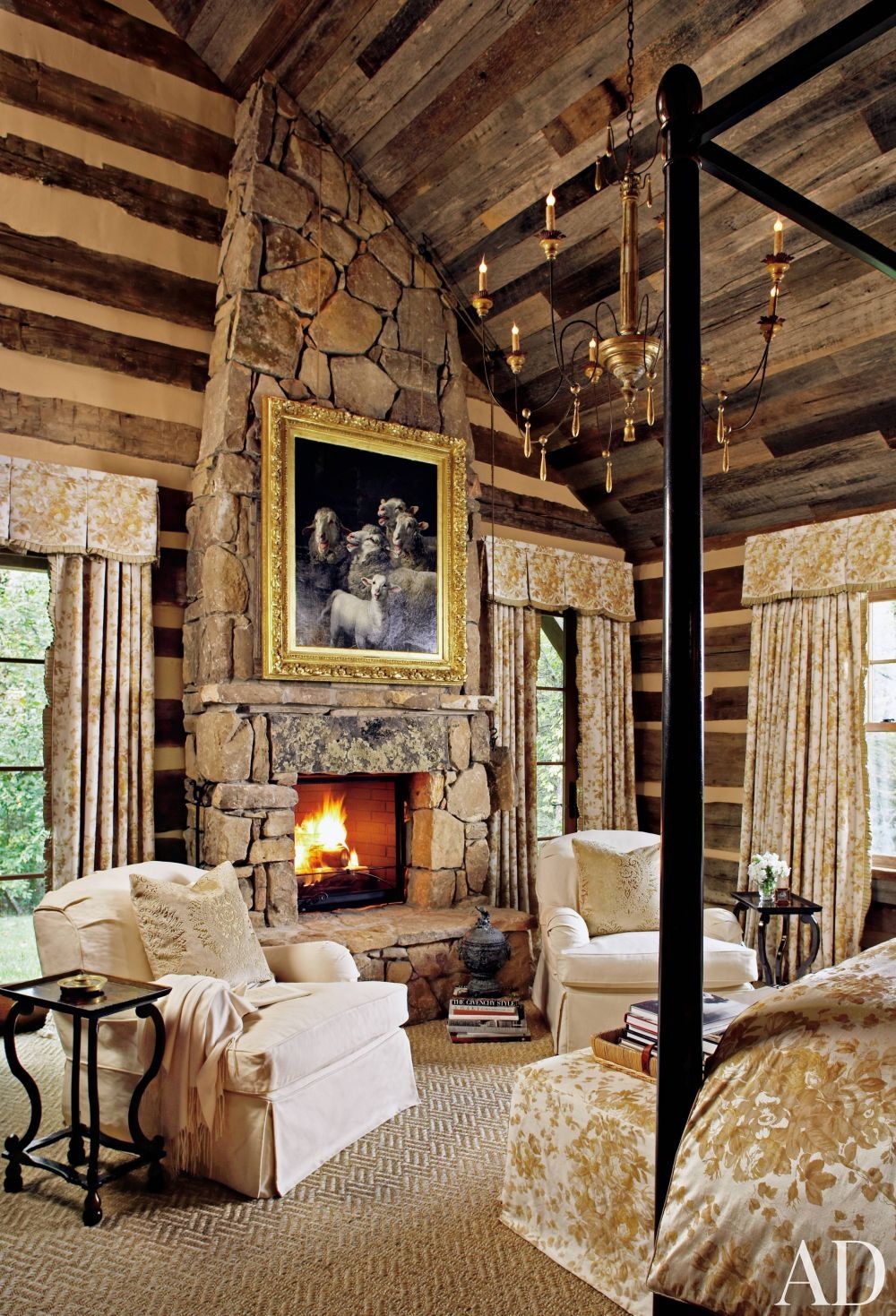 Here is an idea for those that might not have that big of a space, but still want to feel like they are in a barn. The combination of a stone chimney and wooden ceilings with large windows creates an impression of a bigger room than what you already have. Choose smaller furniture so that you don't clog up the space, and play with bright colors to make the place shine.
Contrasted Colors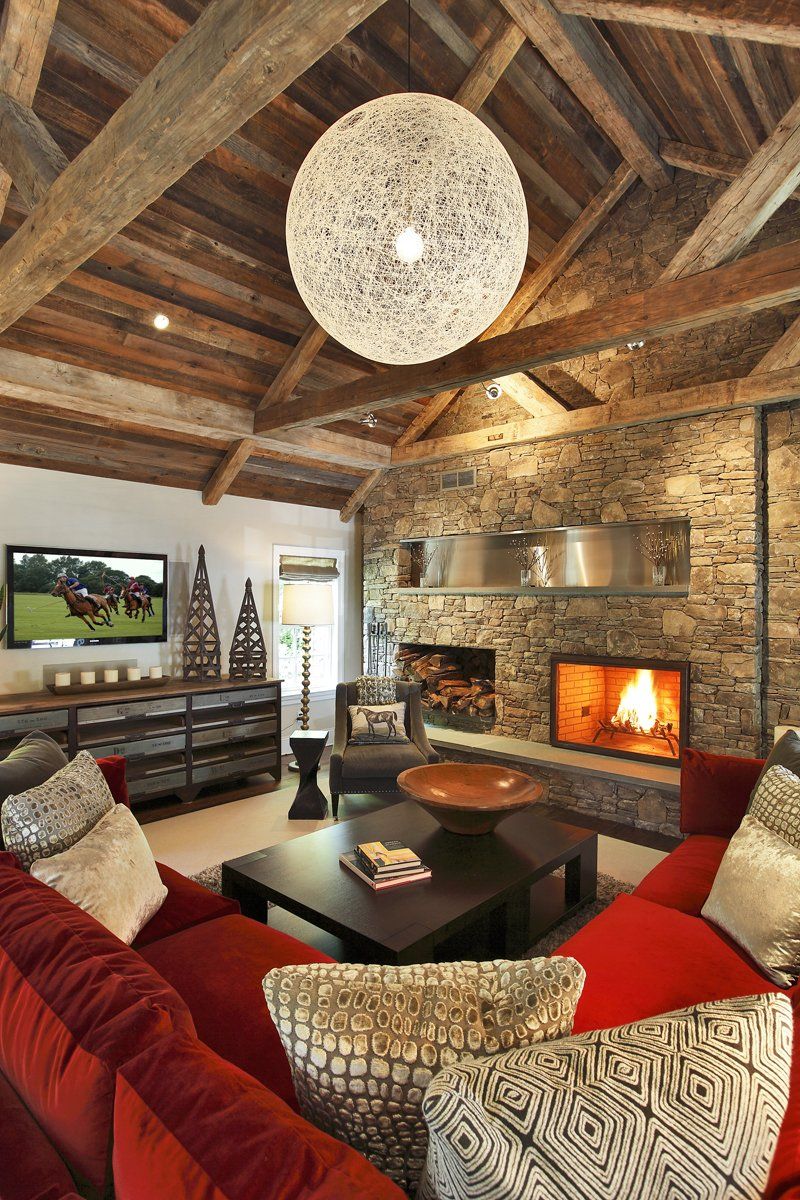 The wooden ceiling, white walls, cozy fireplace, and fire red furniture are a great combination of vintage and modern. A dark table, lighter-colored cushions, and a red base are perfect solutions for combining modern and rustic styles. The stones on the wall and a wonderful painting only complete the look and the feeling.
Rustic Bedroom and Bathroom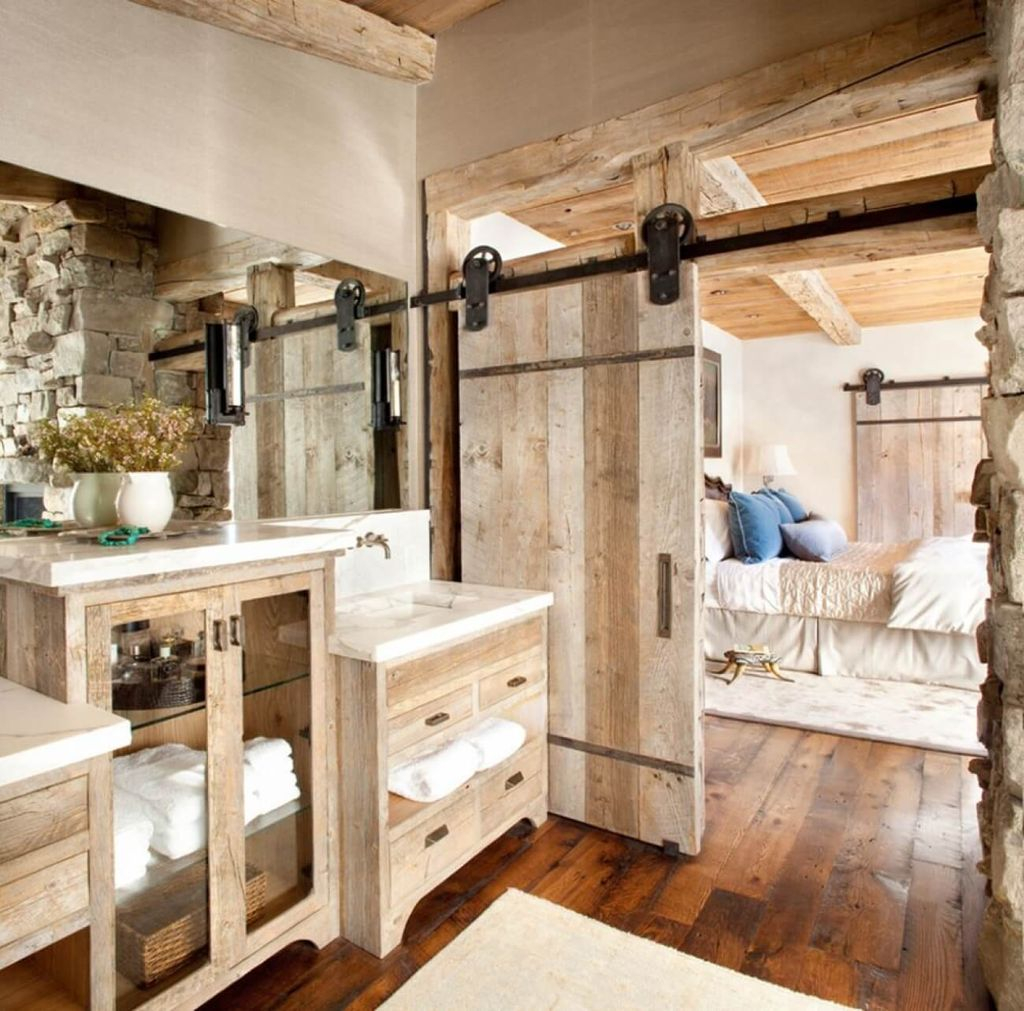 The Master bedroom and a master bathroom can still be decorated in a barn house style. Use a sliding door with metal knobs and sliding wheels to divide the bedroom and the bathroom, and still keep the rustic barn look of both houses. Complete the look with white elements on the bed and in the bathroom to get a perfect style.
Barn Pool House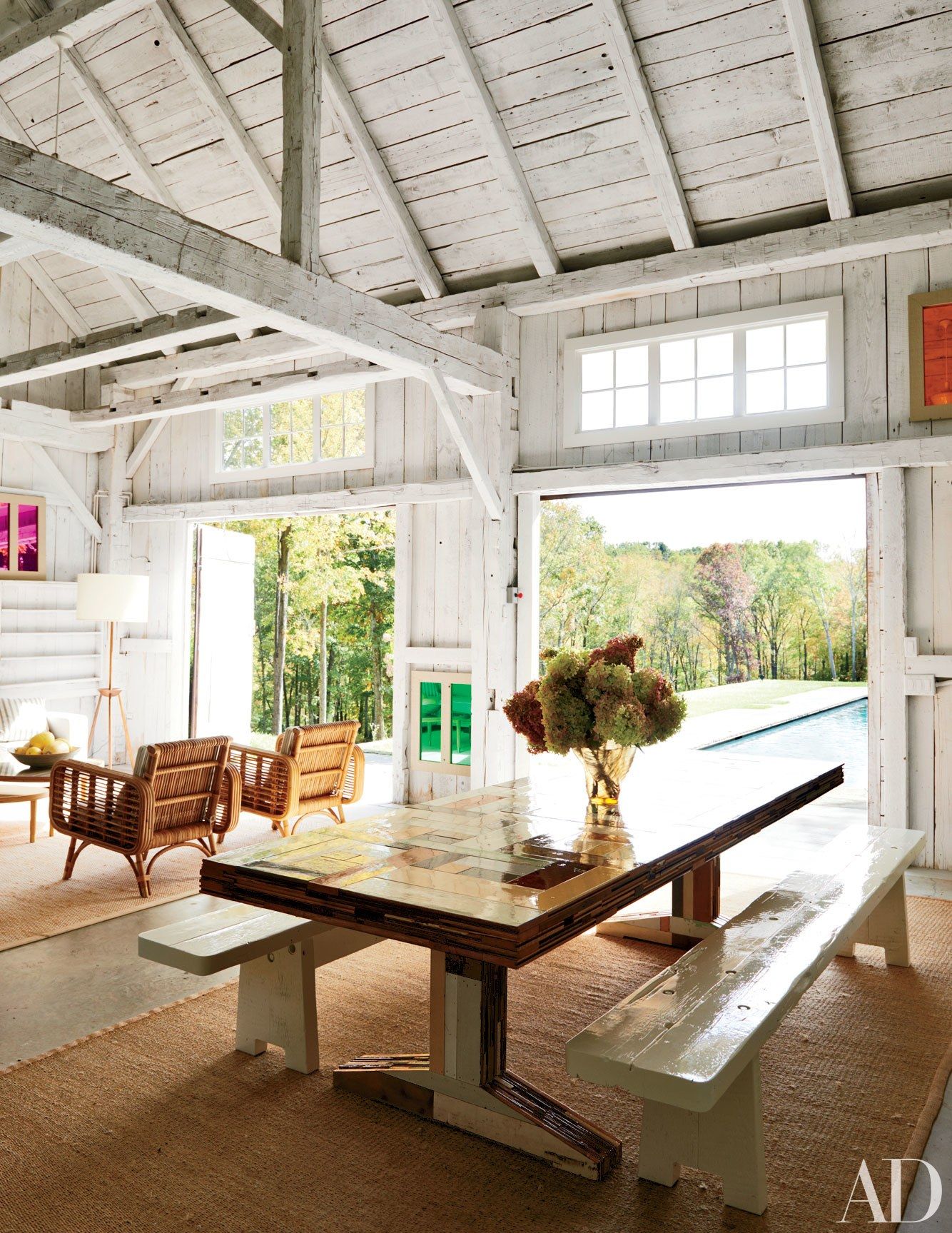 Poolside furniture should be polished but not costly, and it should be able to endure damp swimsuits. Still cosmopolitan, but quieter. Change the rooflines, align the entrances, and windows, and connect the two different second-story wings with a new hallway to give the structure a more coherent character. Rustic timber beams are bleached, and wood paneling is used to add depth to bare walls and ceilings.
Brick Pillar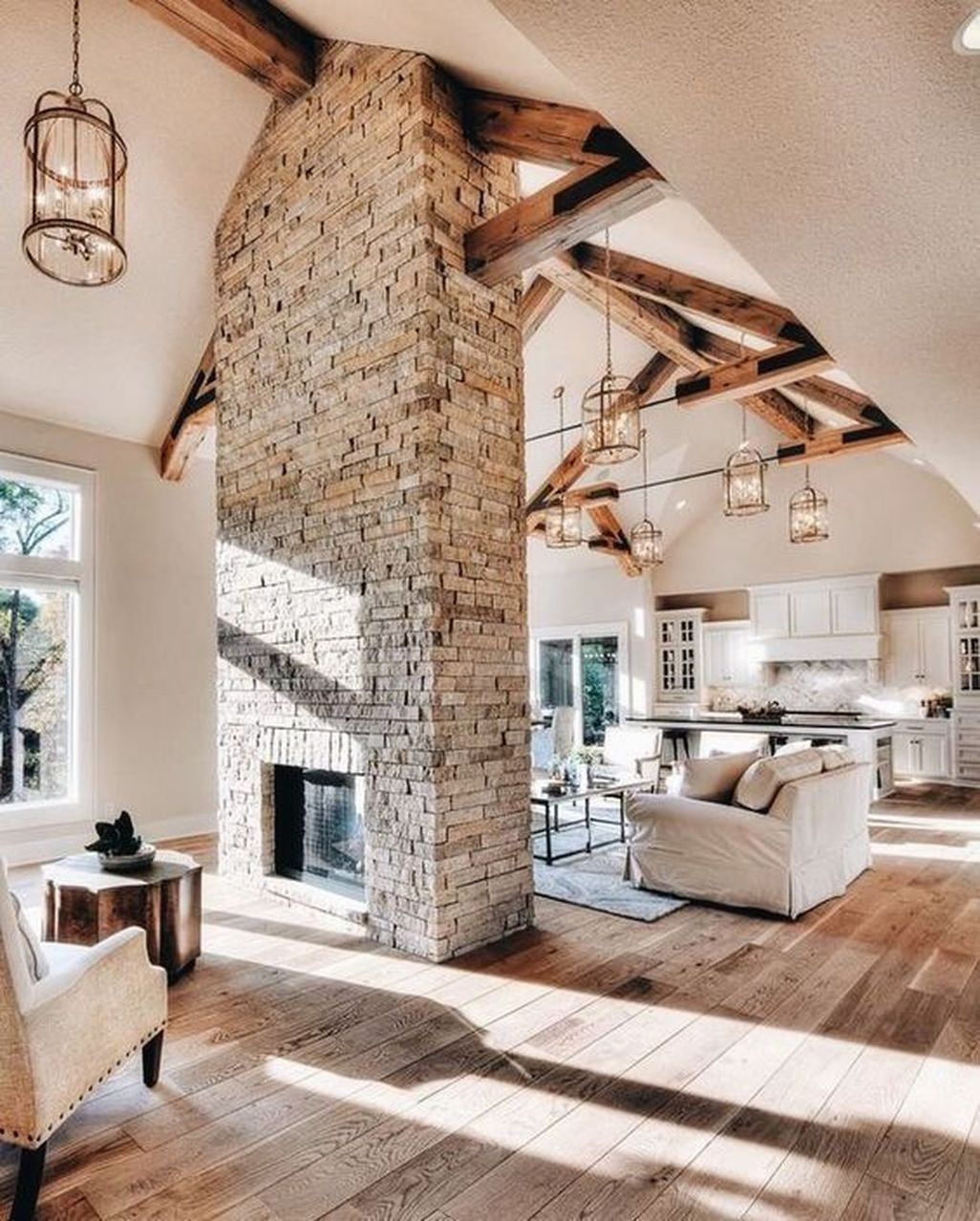 This wonderful room is designed around an old brick pillar inside the barn. It is the centerpiece of the room and it really gives it the charm it needs. Whitewashed hardwood floor and white furniture and kitchen elements give this room the light it lacks. Use steel lamps to complete the look.
Bright Room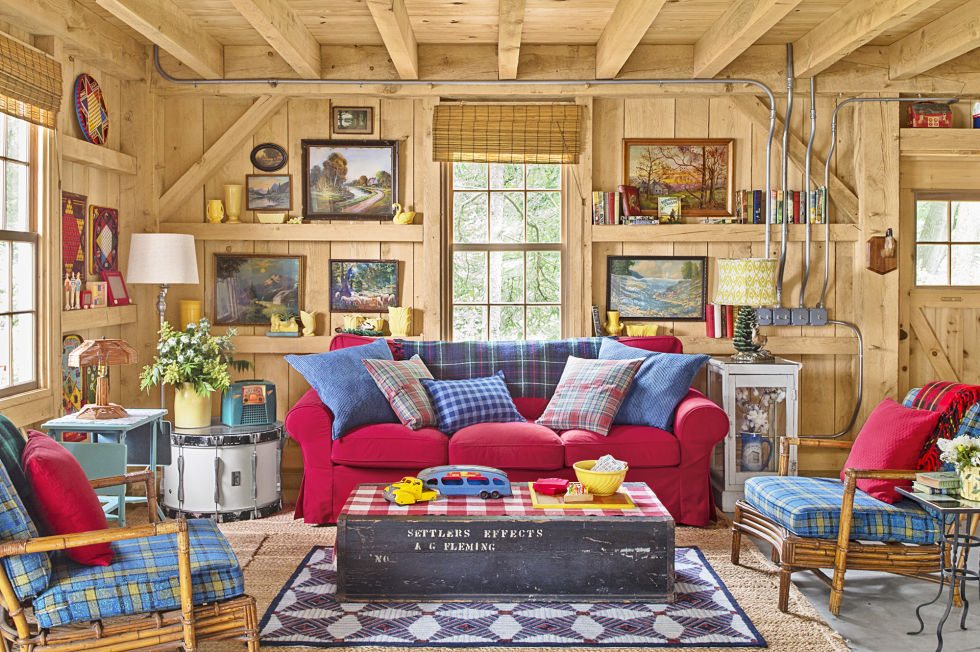 Colors that mix and pair beautifully in the fall. To give it a rustic character, the living room has exposed wood. The soft sofa and personalized touches in the decor make you want to unwind. Plush seating, featuring a pair of tartan chairs, as well as a creative side table that is guaranteed to spark conversation, encourages unwinding.
Green Kitchen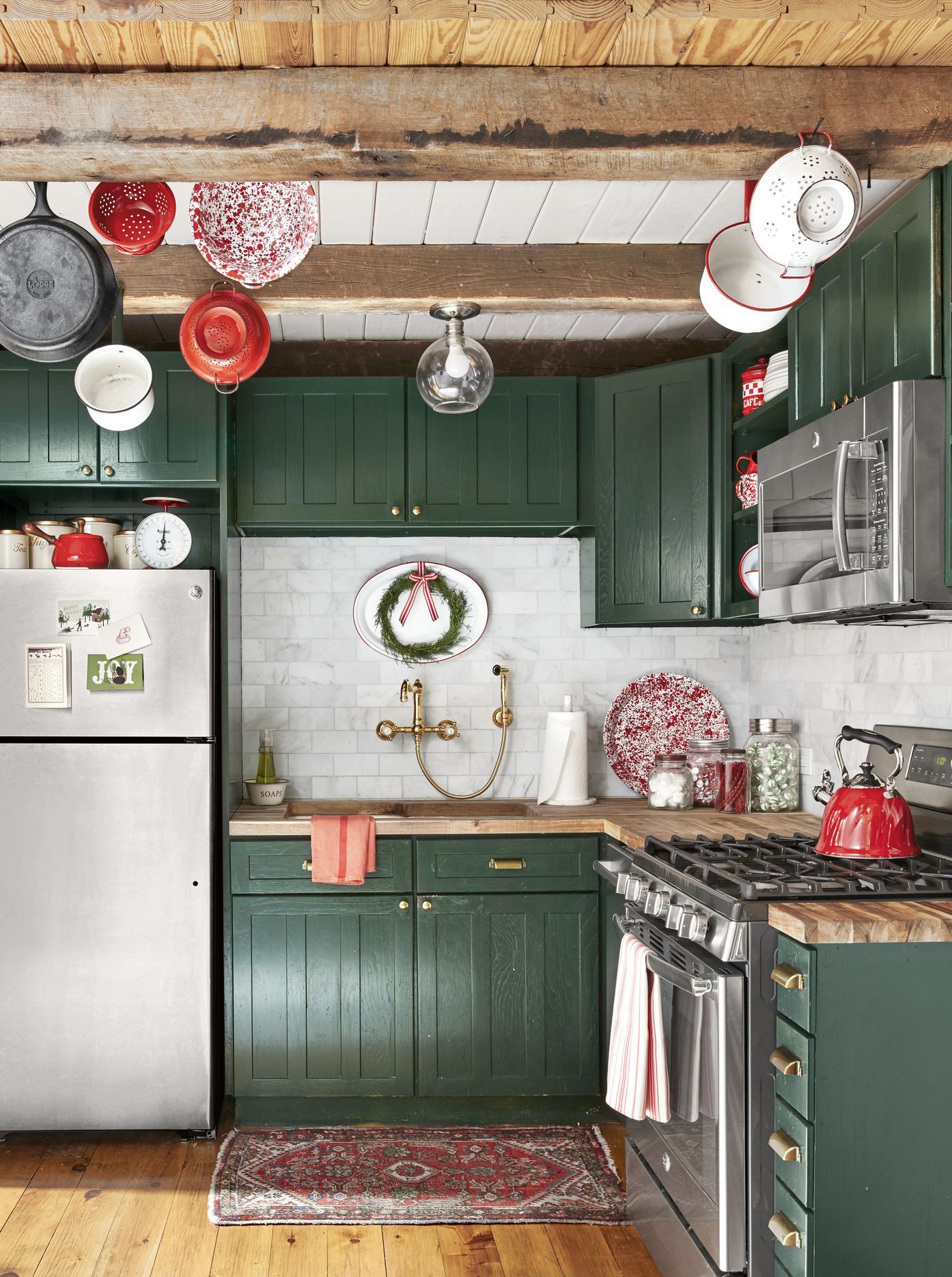 We've discovered the greatest paint colors for small rooms. These paint colors will make a small room feel larger. When you're surrounded by rolling hills, attractive pastures, and plenty of trees, it never hurts to take color cues from nature. In this compact kitchen, the cabinets stand out against the white tiling, exposed beams, and lovely wood floors.
Great Gatsby Chandelier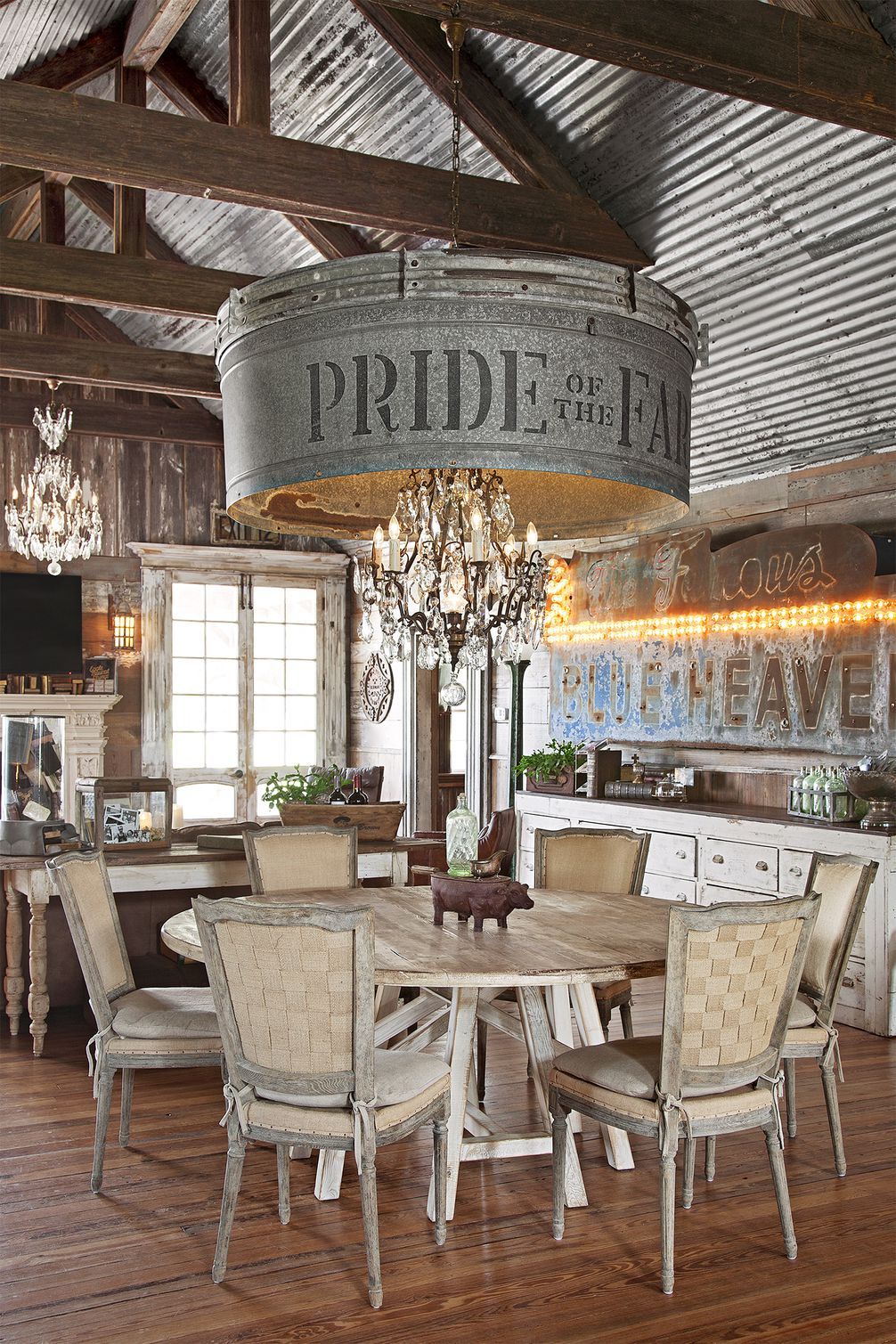 Following the release of The Great Gatsby, a Hollywood adaptation of F. Fitzgerald's novel of the same name, the 1920s image became immensely fashionable, not only in clothing but also in apartment interiors. In the kitchen and dining area, old hay trolleys are mixed with an antique European chandelier and an old pig feeder to create the ultimate high-sow fixture. We're really enamored with this eye-catching fixture.
Rustic Kitchen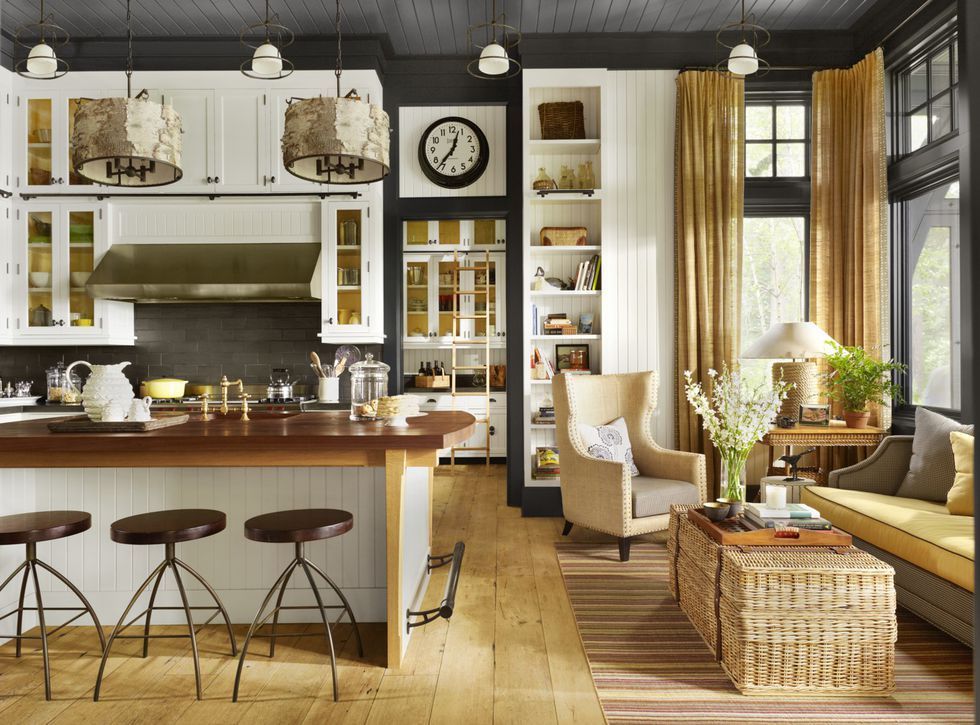 Handcrafted and woven elements adorn this rustic kitchen design. The kitchen decor of this lake home is softened by handcrafted and woven embellishments, as well as rounded counter edges. Barnhouse style in home décor is popular presently in the western portion of the universe. People claim that this style is timeless and that it adds a sense of joy, excitement, and comfort to their homes.
Porch-Turned-Room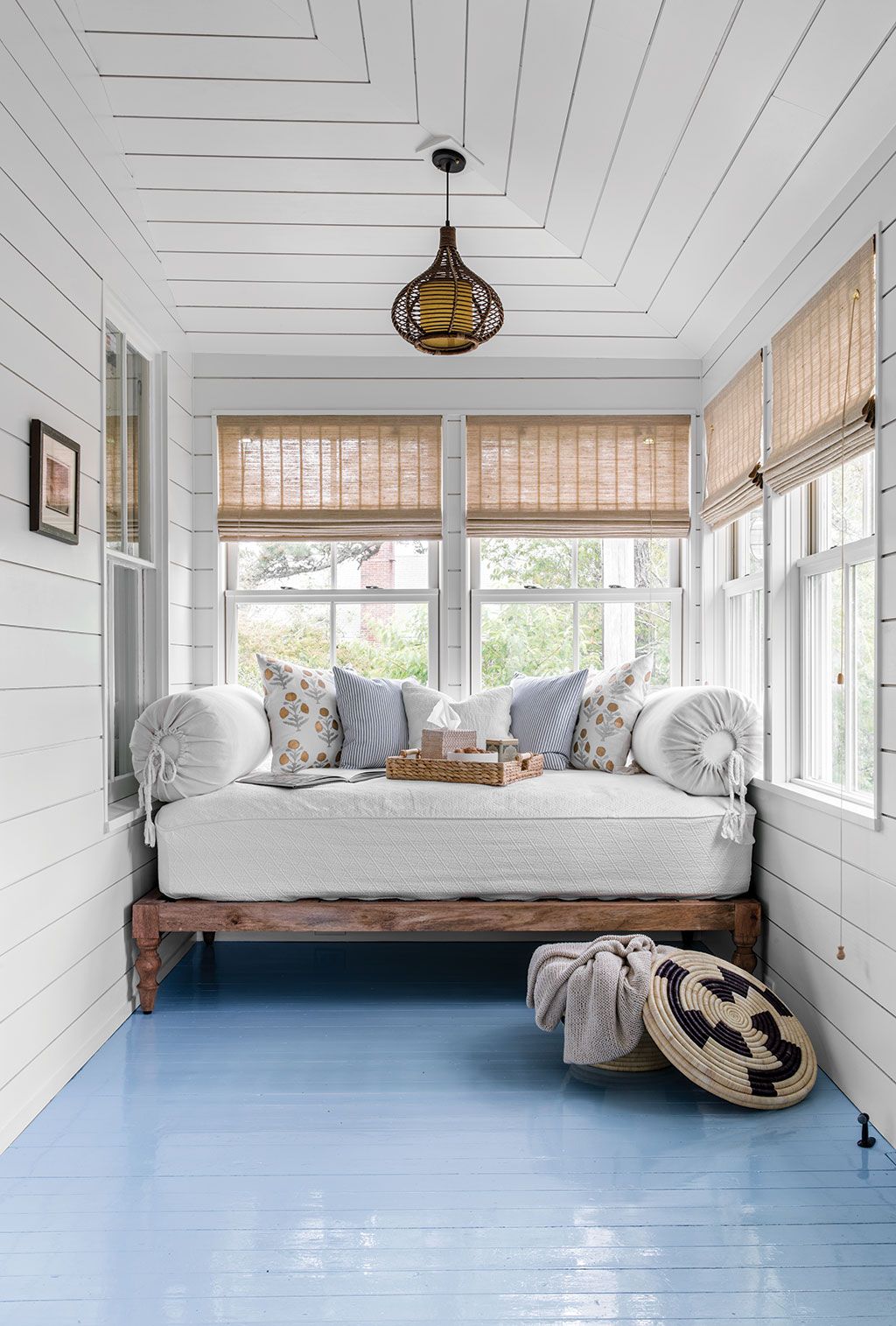 Sometimes it's fun to turn the porch into cozy lightroom. To capture the sunlight and natural light into the house, install large windows and paint the walls, ceiling, and floor in bright colors. Use the corner of the porch to create a reading nook with comfortable pillows and a big mattress. You will thank the sun and the breeze while enjoying a great read.
Patterned Ceiling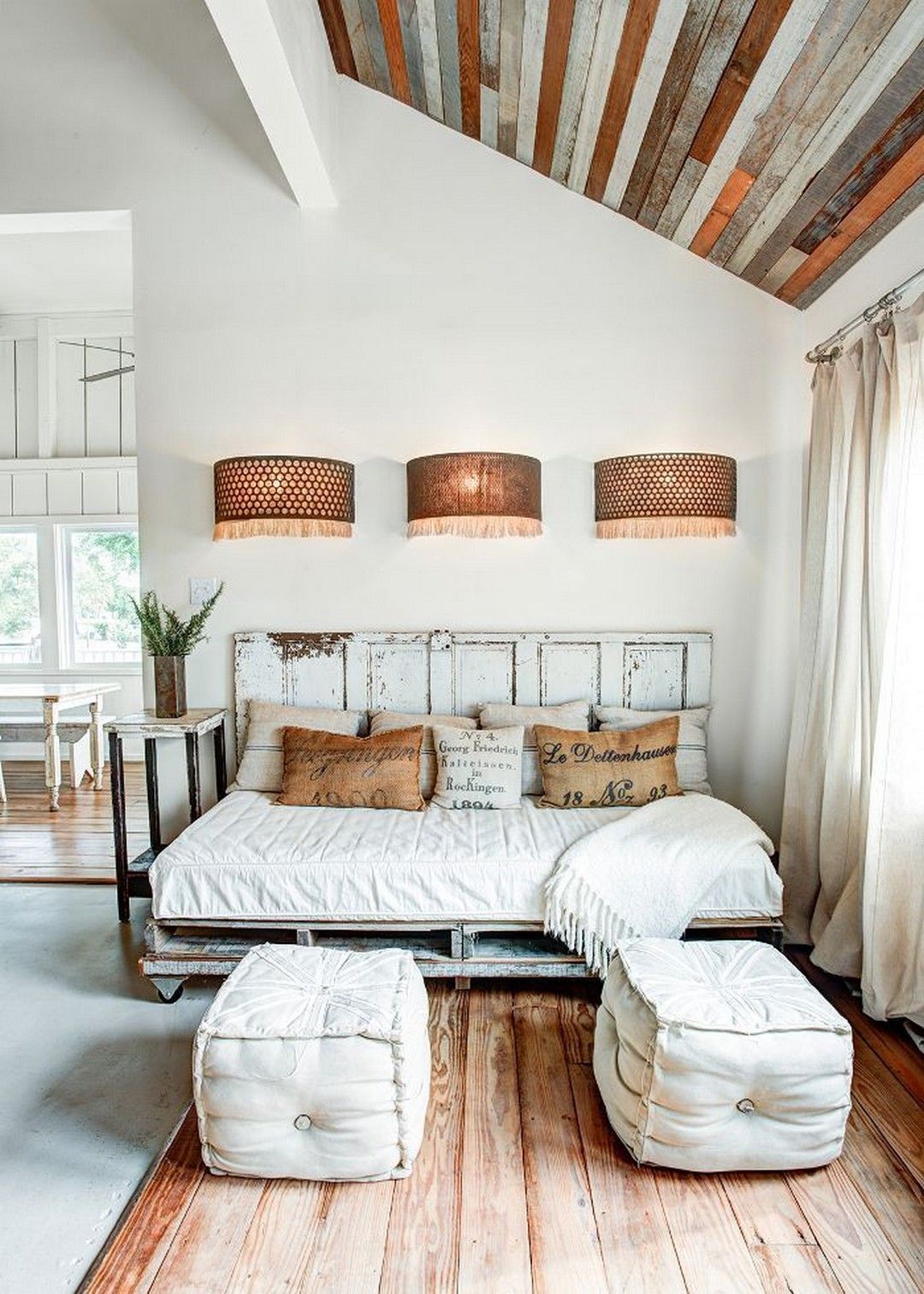 Sometimes the only thing you need to turn your home into Barnhouse style is a good detail that will stand out from everything. Look at this idea of how a normal room has been turned into a Barnhouse room only by adding a patterned ceiling and some wooden floor. The rustic bed only adds to the look.
New Barhnouse Home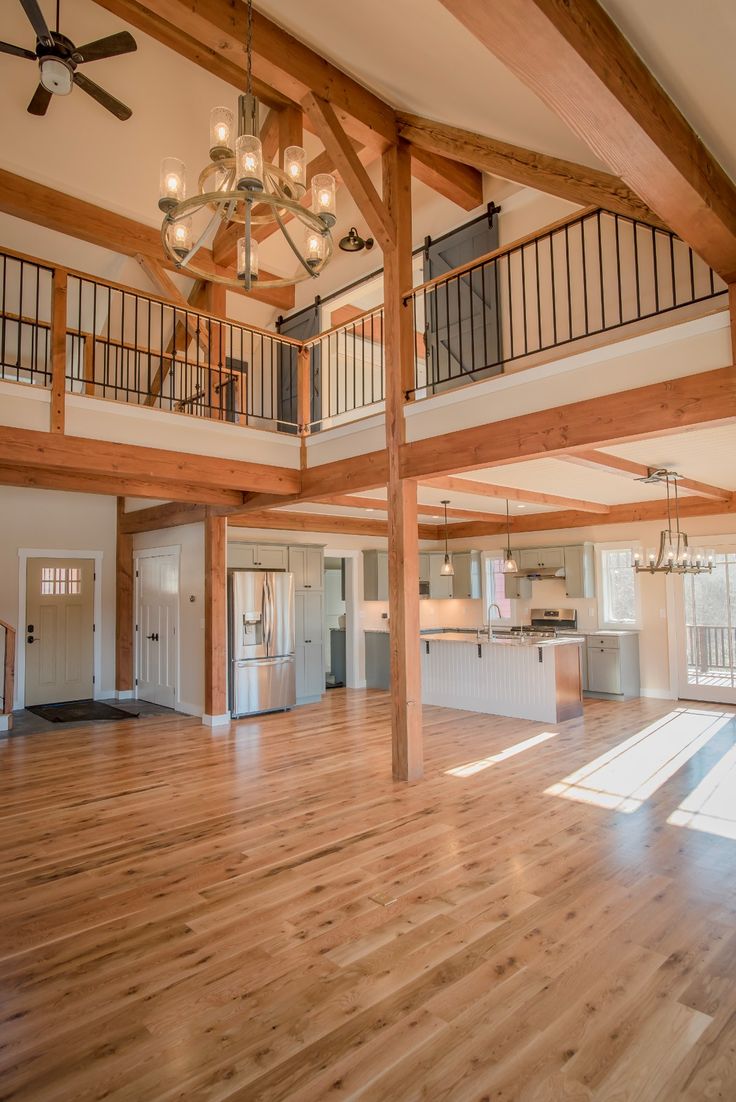 Even if you're building a house from scratch, you can still enjoy the Barnhouse style. The only thing that you need to keep in mind is that there has to be lots of wood everywhere. Leave the wooden pillars naked, and the beams open and visible to create the barn style, and bring the ceiling up and unprotected so that you get the perfect barn feeling. Now, enjoy your new home.
Barn Loft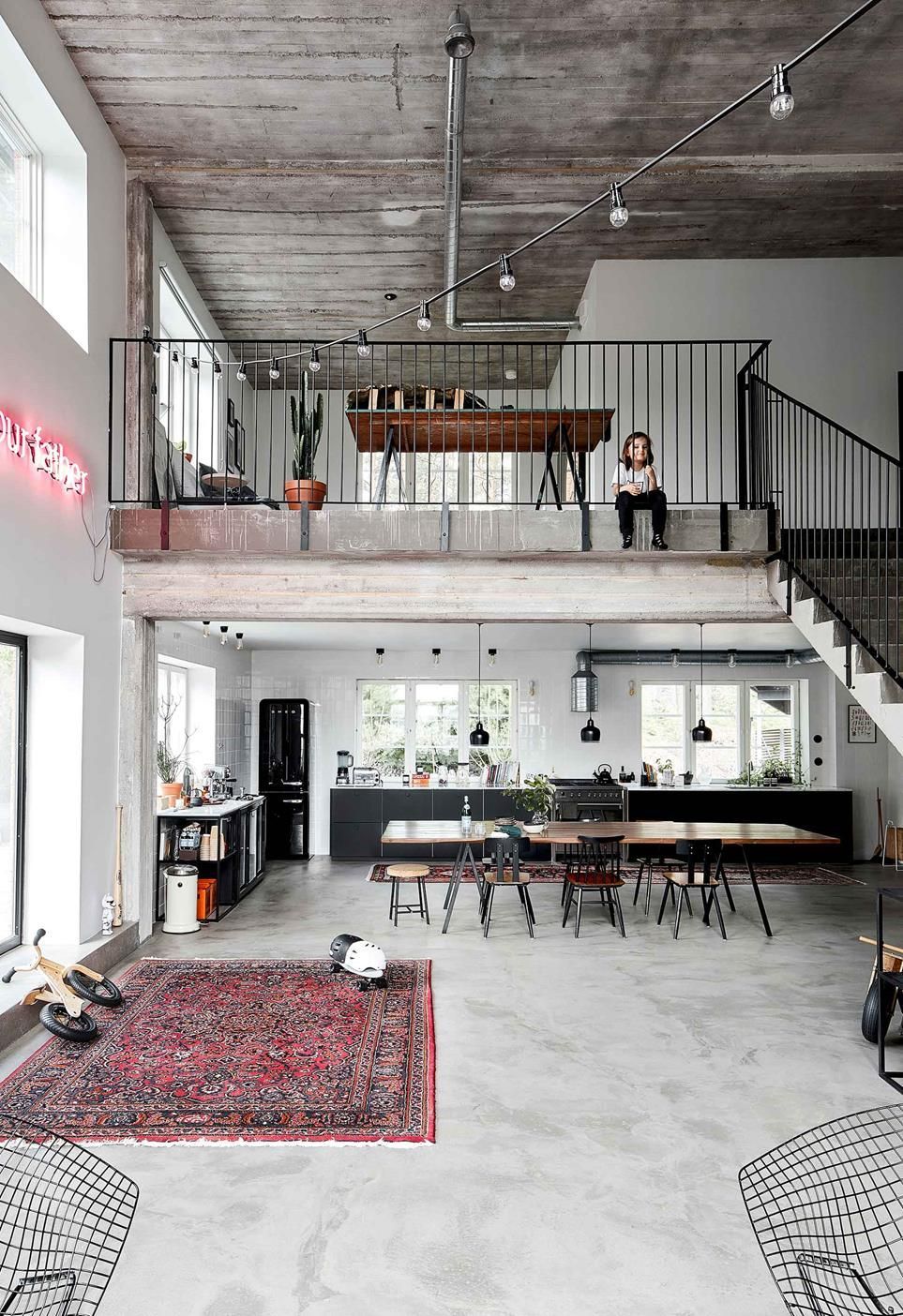 Since all barns have a lot of vertical space, you can certainly turn one into a loft. If you prefer to have the sleeping and dining or living area separated, this is a great solution. Create a loft in the barn, use the rustic materials that are available and enjoy the home that you have made for yourself in the style that best suits your needs and desires.
Modern Rustic Barnhouse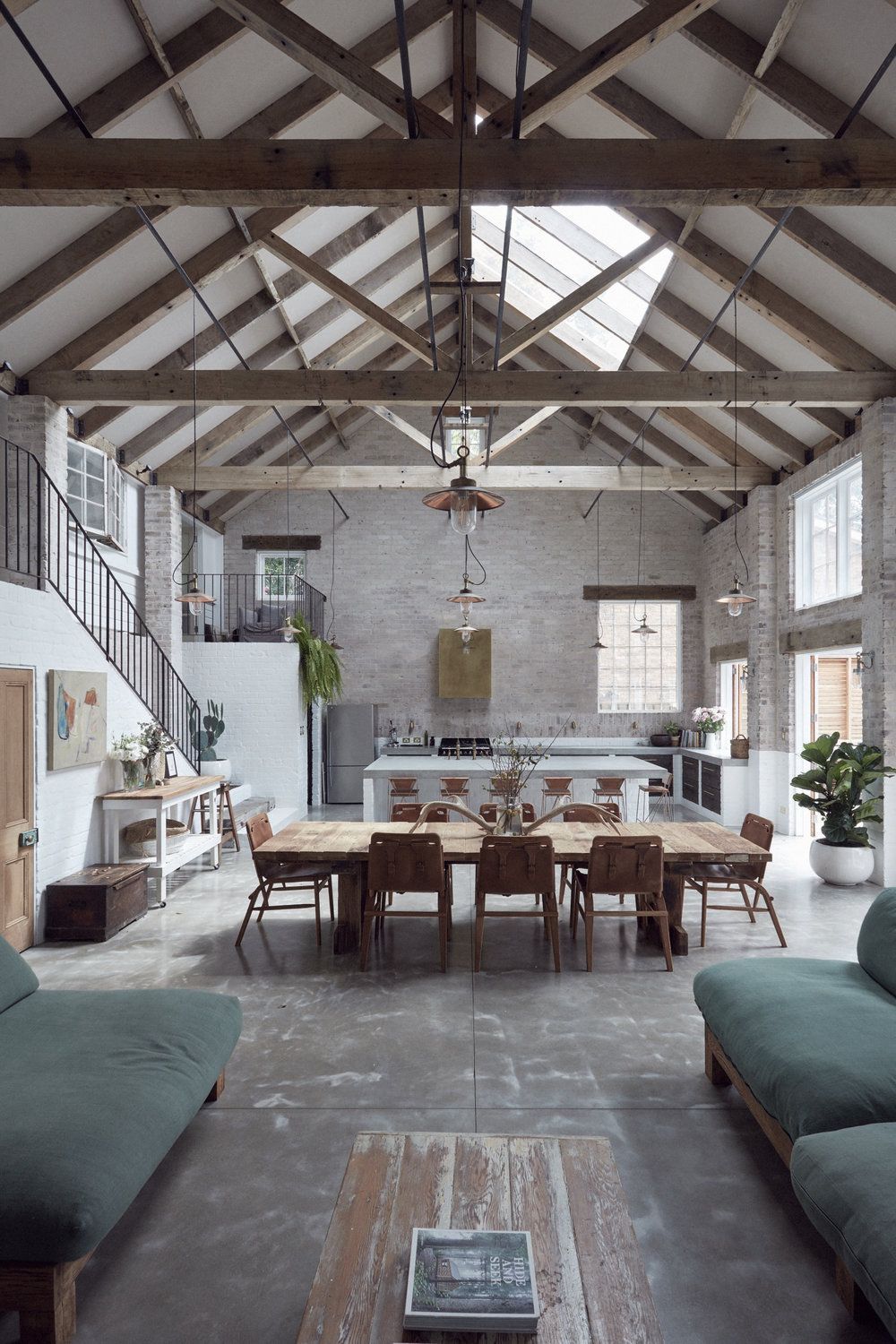 This Barnhouse is a modern rustic dream come true. A Barnhouse has a large open floor plan and high ceilings, which are generally adorned with large wooden beams. This is also true here, and it's paired with concrete floors and stone walls to create a barn-like atmosphere. Warmth and friendliness are provided by the large wooden dining table and green sofas. What a lovely lady!
Wooden Ceiling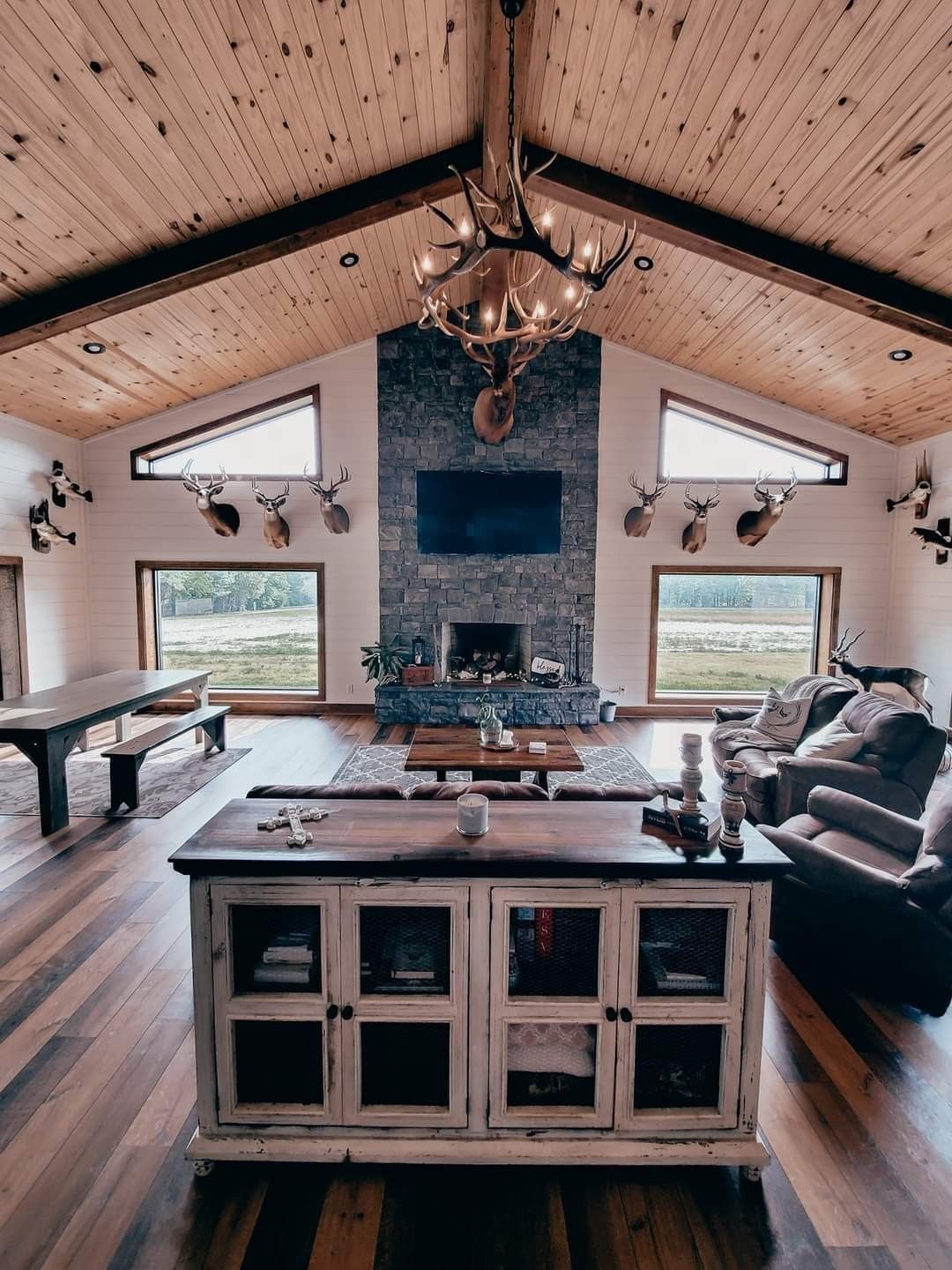 To create the best Barnhouse style into your existing home, do a simple thing. Put shiplap all over the ceiling, leaving the beams exposed and darker, add a quirky chandelier and a rustic element in the middle of the room. Uncover the hardwood floor and you're all set to enjoy the new look of your home.
Dark Walls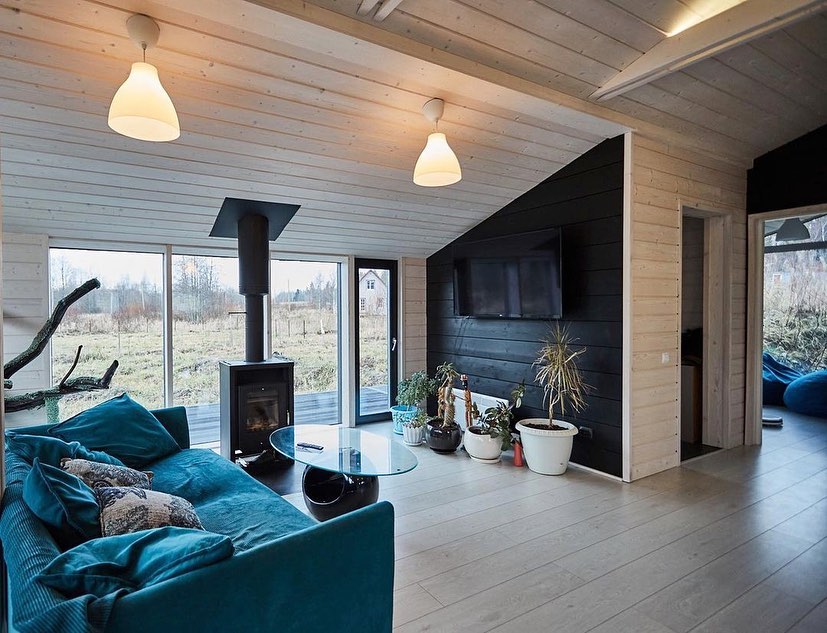 Some darker walls as a contrast to the white shiplap and large windows will make the perfect solution for the Barnhouse style you're looking for. Just make sure that you choose the correct walls to get the perfect balance of light and dark, and completely use the natural daylight you get from outside. Play with the color of the furniture to make the space pop.
These were the ideas we chose for you. Now it's up to you to get inspired and creative to refurbish your old home, or maybe build a new one from scratch. Whatever you do, don't forget to share your work with us in the comments below.