Lake cottages, beach houses, and other seaside vacation homes have some of the nicest nautical bathrooms. We looked everywhere for the best nautical bathroom design ideas so you could create the bathroom of your dreams. Different coastal homes have nautical bathroom decor ideas, but we especially like the ones that integrate classic nautical symbols like navy blue, sailboats, and ship steering wheels.
You don't have to live near the sea to have seaworthy style in your home. Because a nautical-themed bathroom will give any home, even if it is landlocked, a beach-inspired vibe. Are you willing to take a chance? Color, fittings, and decorative accessories can all be used to create a nautical-inspired bathroom that will make even landlubbers envious.
Little Boat On The Wall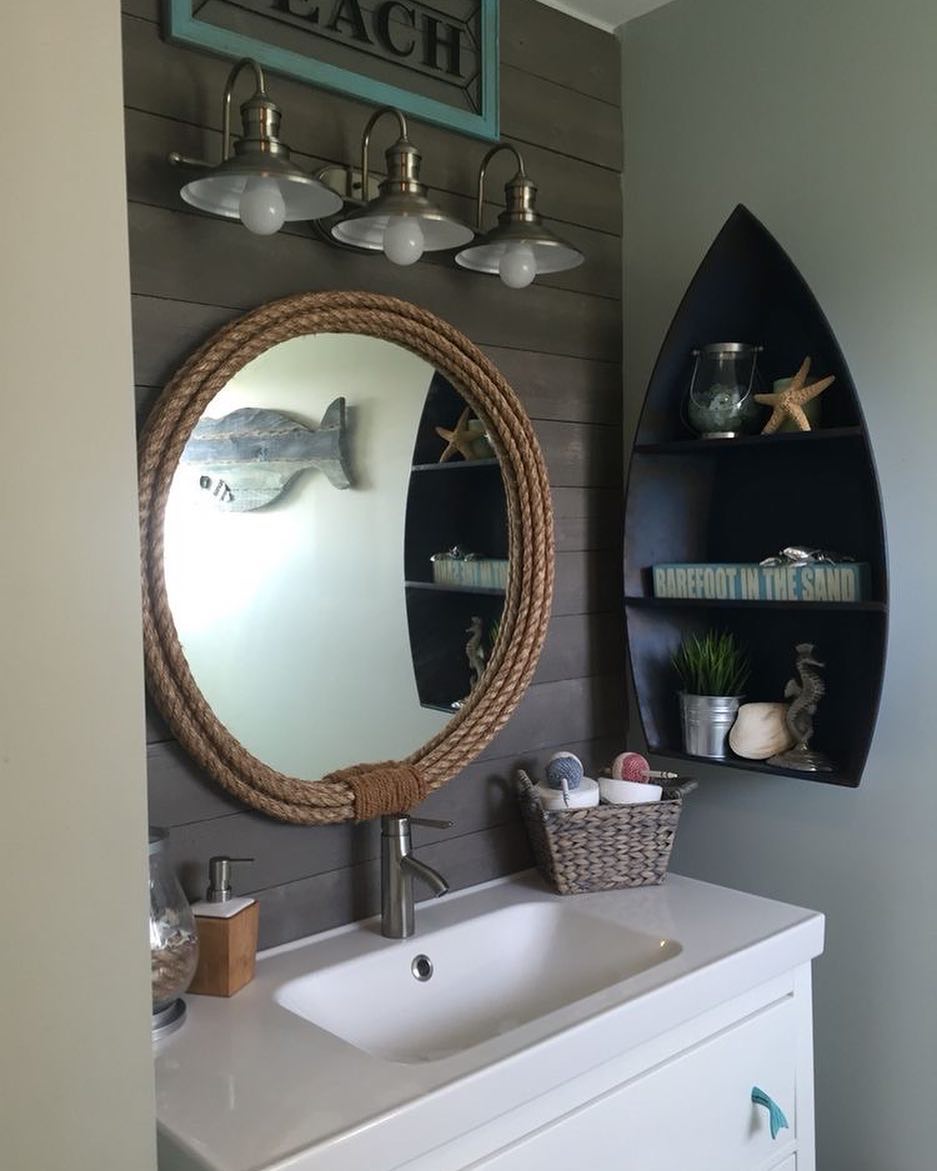 One of the best ideas for shelves I have ever seen. So original, so cool and so practical. If you're crafty you can do it yourself, but if not, you can just buy it and decorate it. And all the details are amazing, like the mermaid's tail.
All About The Details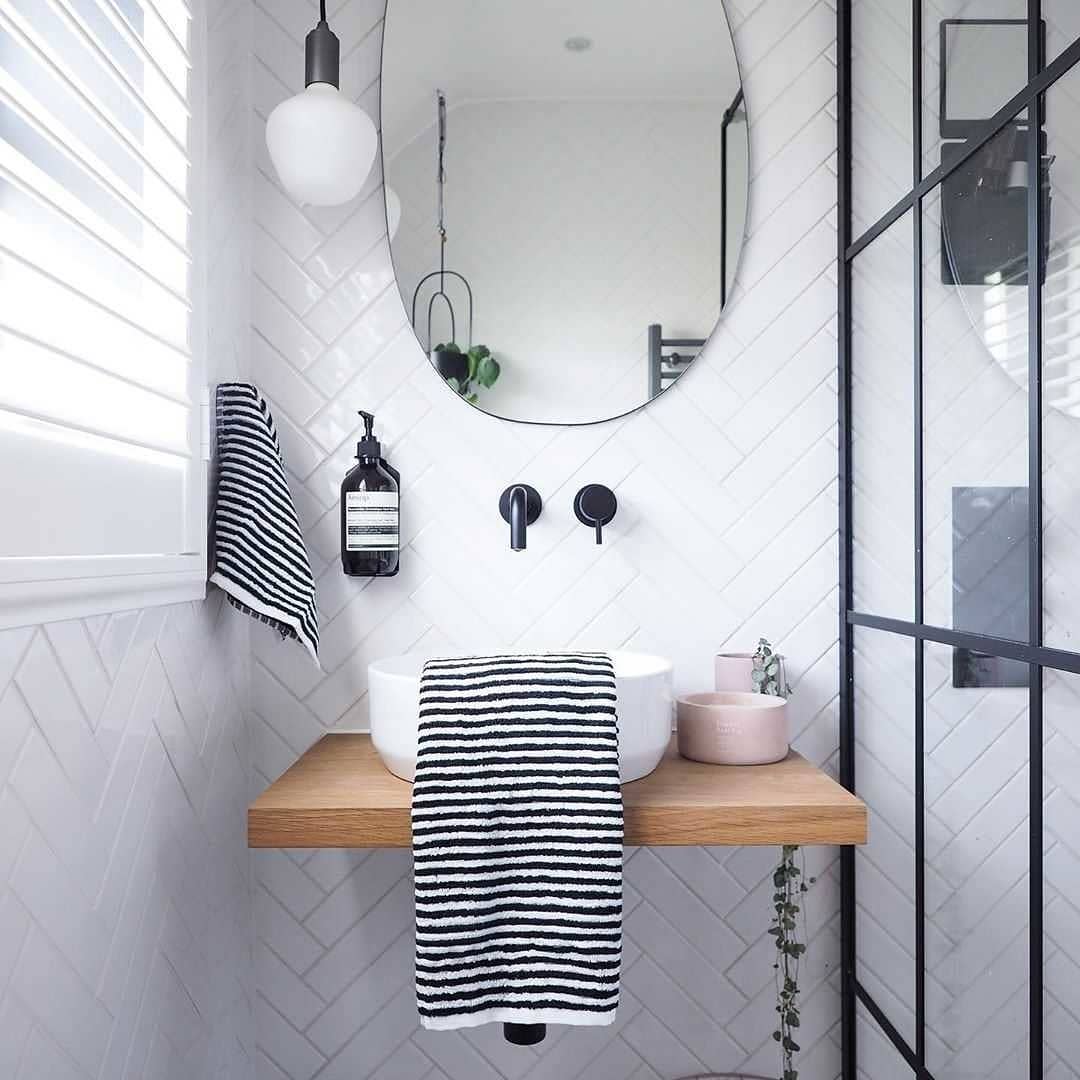 Typically this would be a black bathroom, but it takes only a little to give it nautical vibes. Towels are usually the best way to decorate, but you can play with soap containers and plants.
Summer Tiles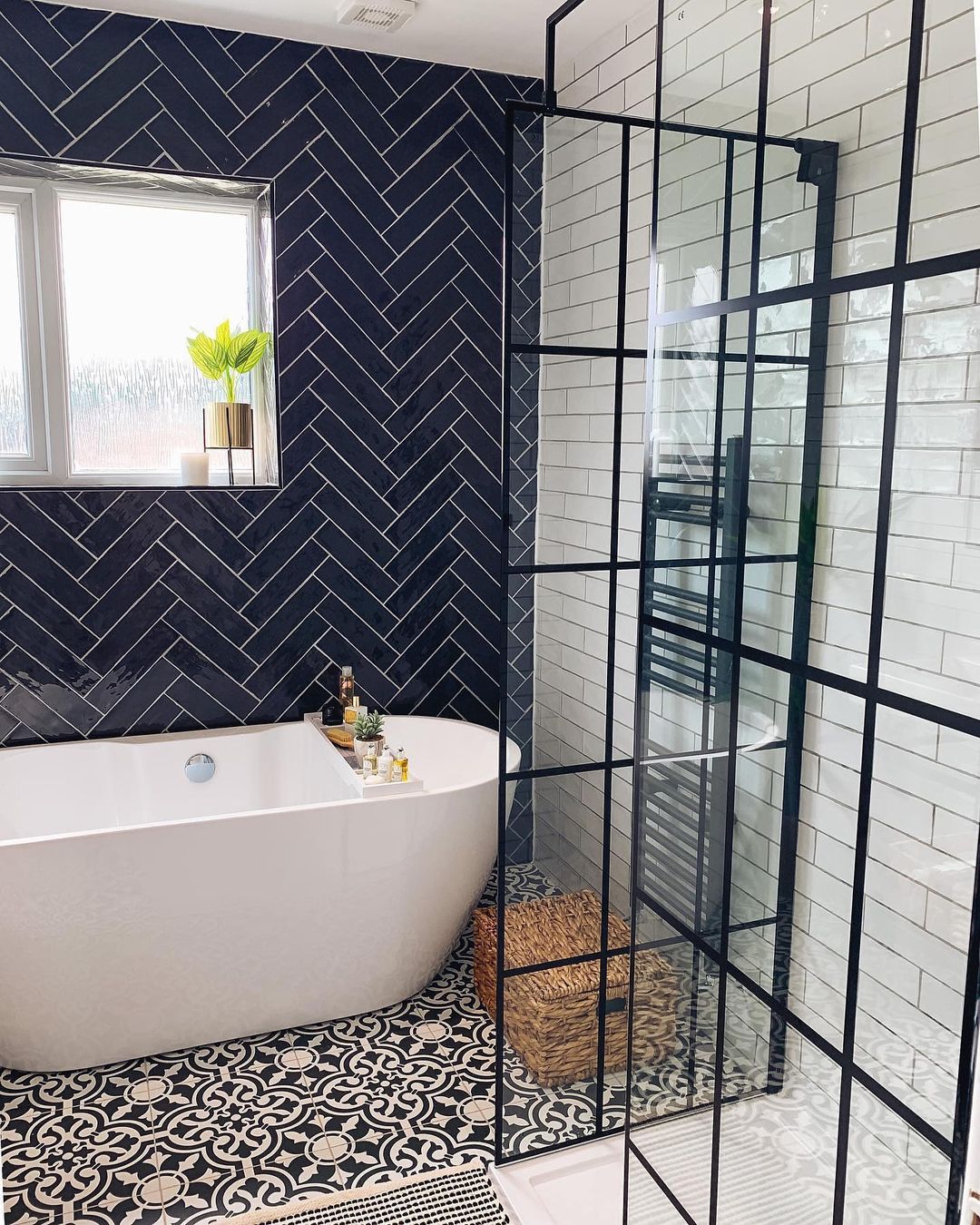 This bathroom has three different tile styles, and they go so well together, that you won't need any extra decoration to give this bathroom a nautical look.
Let's Go To The Lighthouse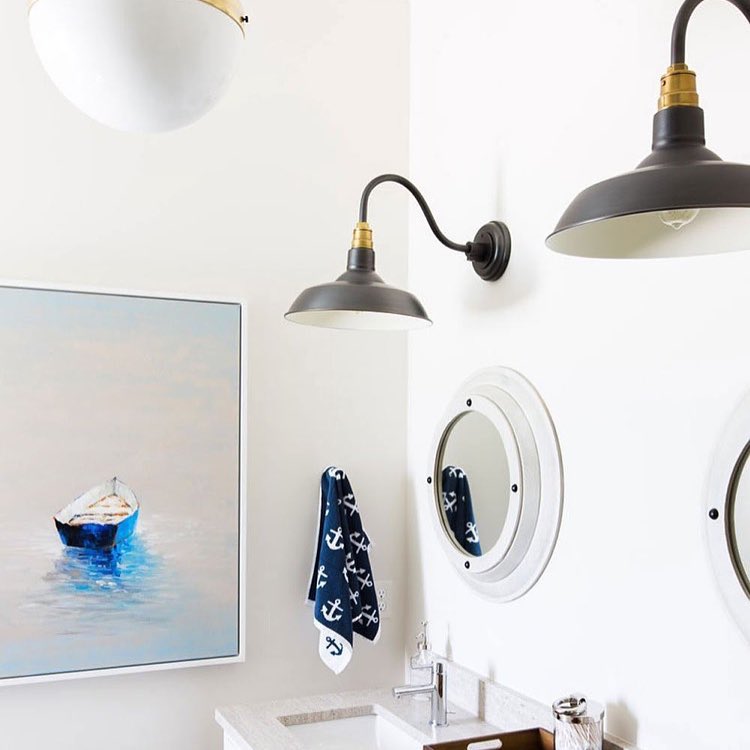 How cool are these light fixtures? And the mirrors? It's more than enough. You gonna feel like living in a boat or sailing to a lighthouse. The picture is a bonus, and the towel is a must to complete this look.
Sea World In The House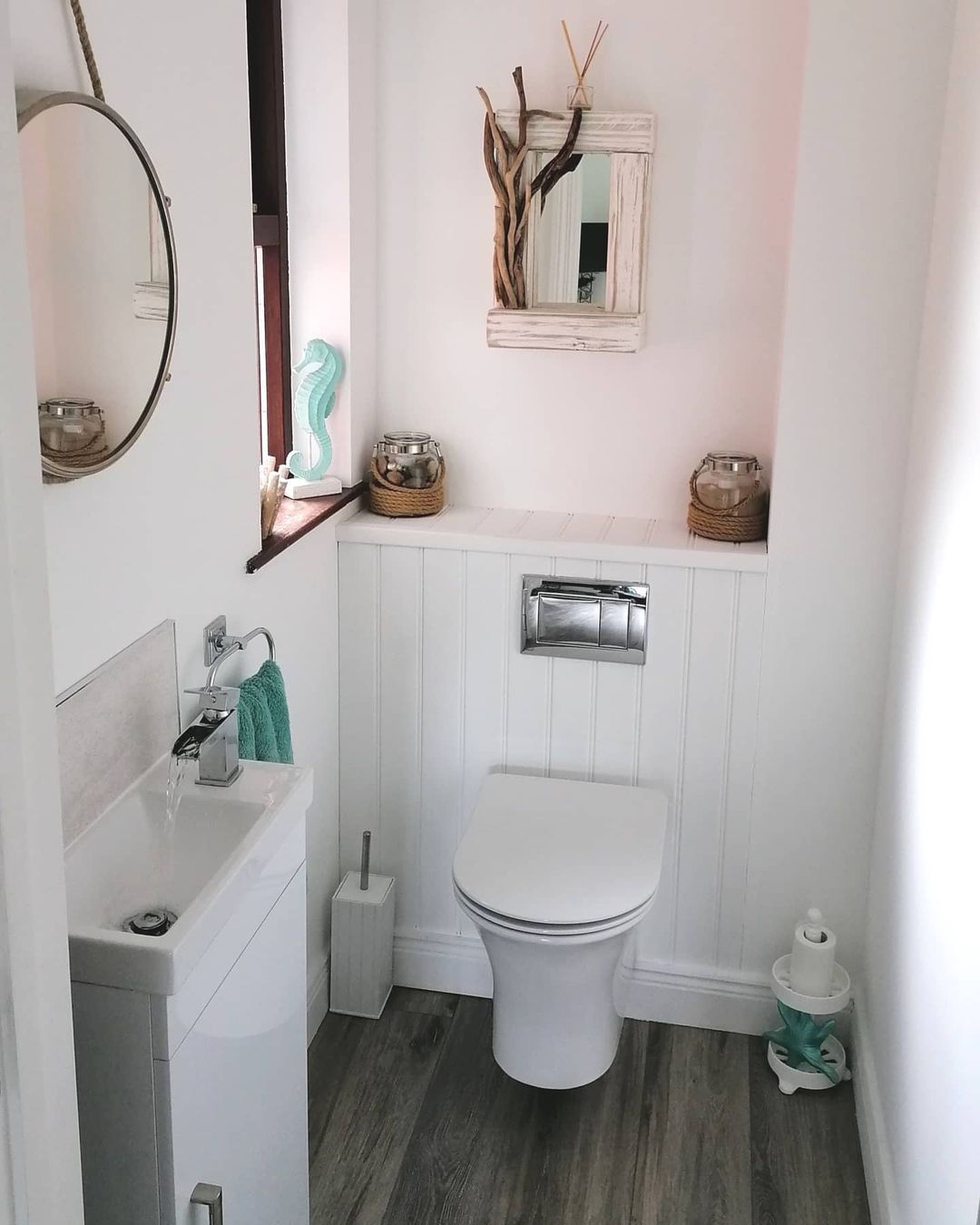 Where to start? The mirror with the branches is super cool and just look at the turquoise sea horse and the toilet brush holder. And, of course, details can change a room, just like the mason jars filled with sand, rocks, and shells.
Into The Blue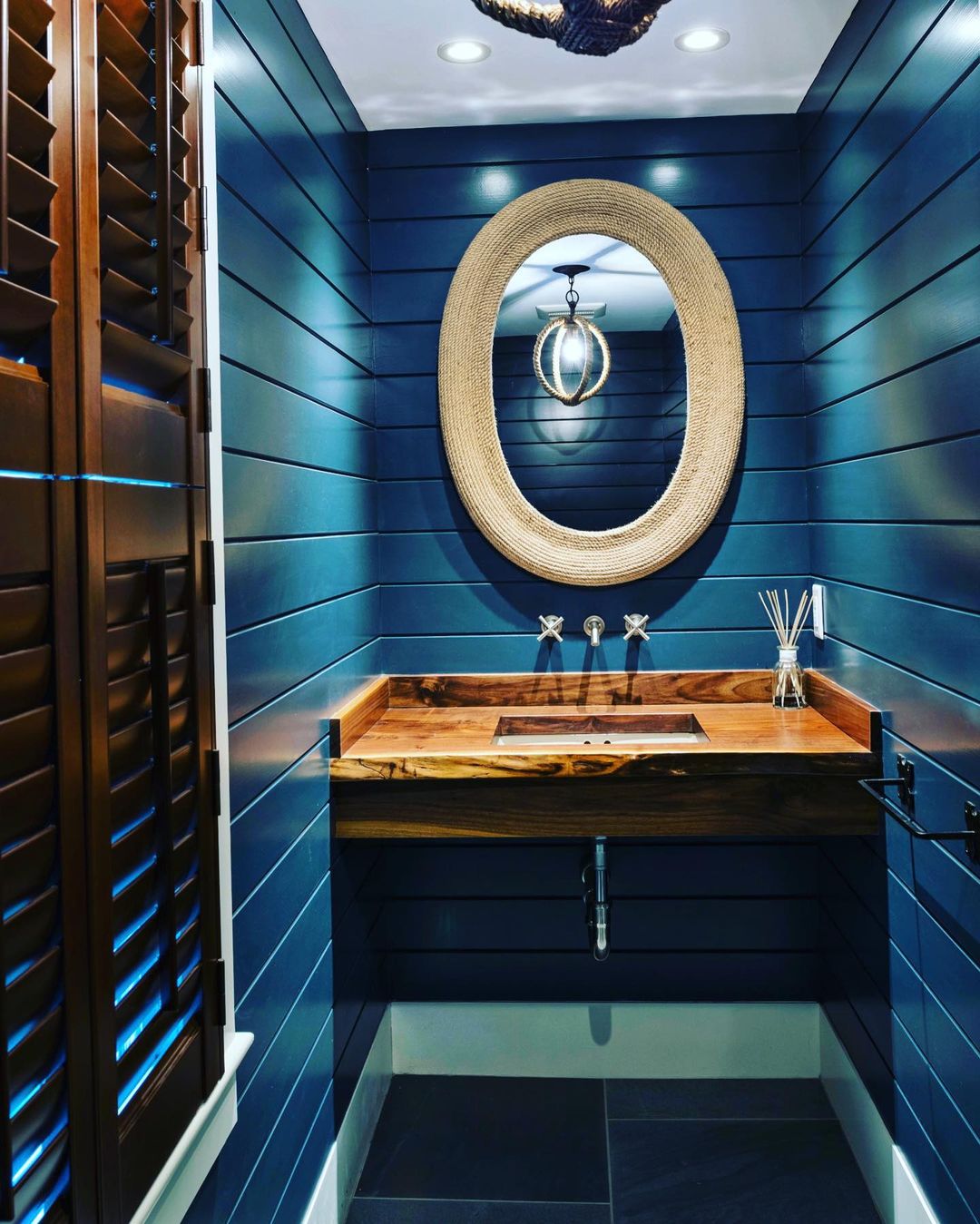 Shiplap has been used in bedrooms, in-home office rooms, playrooms, and why not do it in the bathroom. And this deep blue color is just what you need to give it the summer vibes.
Home Is Where The Beach Is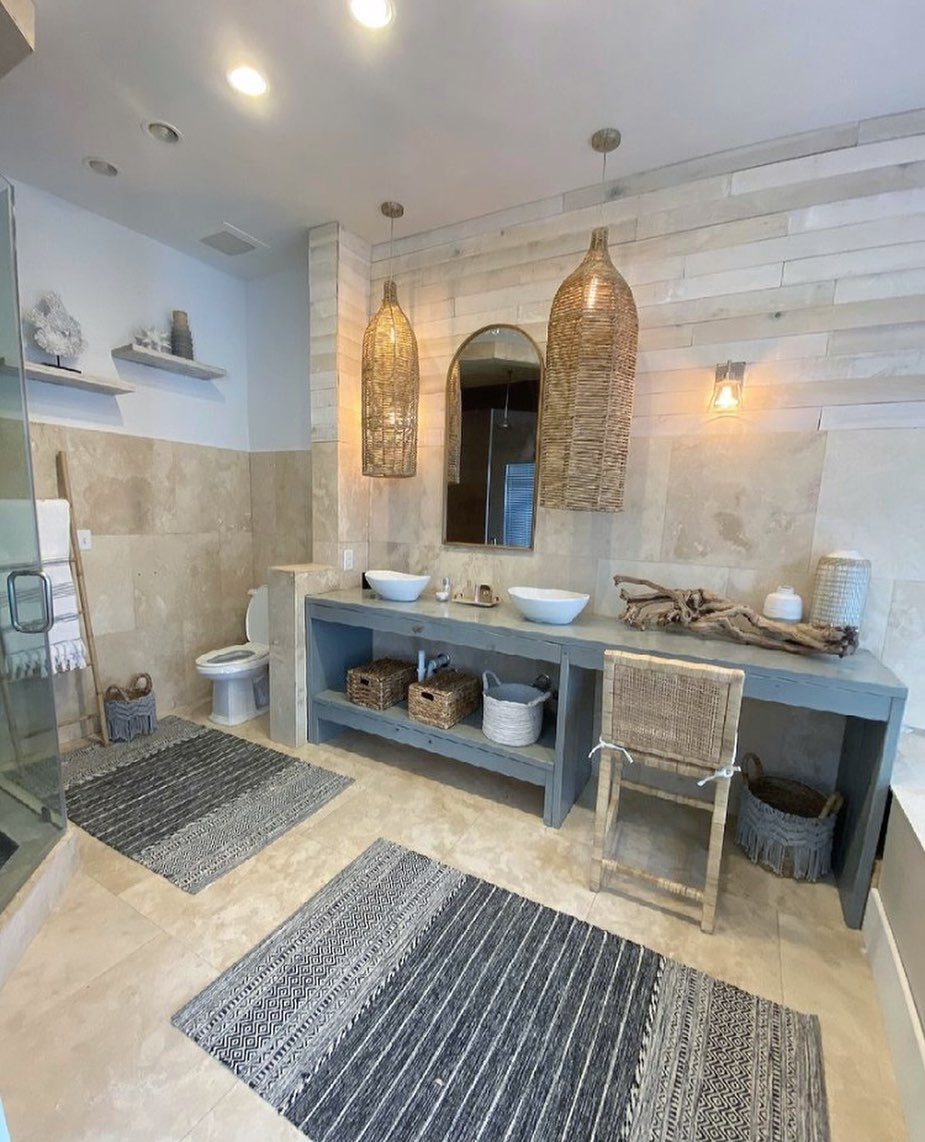 This is my favorite. You can use this idea for your summer house for your home during the summer days, whatever you decide, you can't go wrong. Everything is so authentic, I don't know even where to begin. The sand-colored tiles, the rustic vanity, the carpet, or all of the details. You own a beach bathroom.
Fish Curtain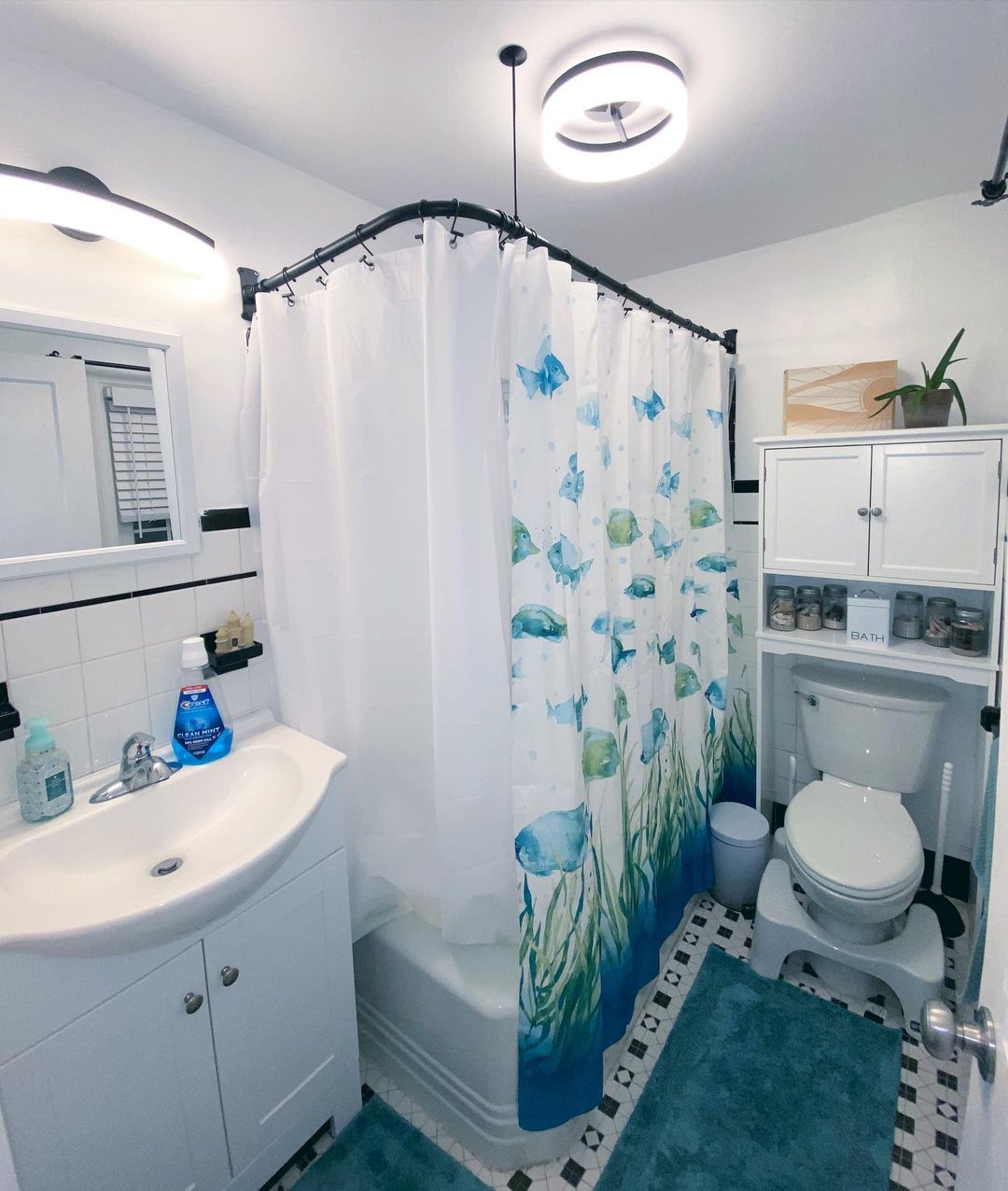 If you don't have a huge bathroom, and still want that nautical style in it, don't worry. There are so many ways to decorate it. One of the easiest ways is to pick the proper shower curtain. It will change the whole room. The bathroom floor rugs that match the curtains are a great idea too.
Shells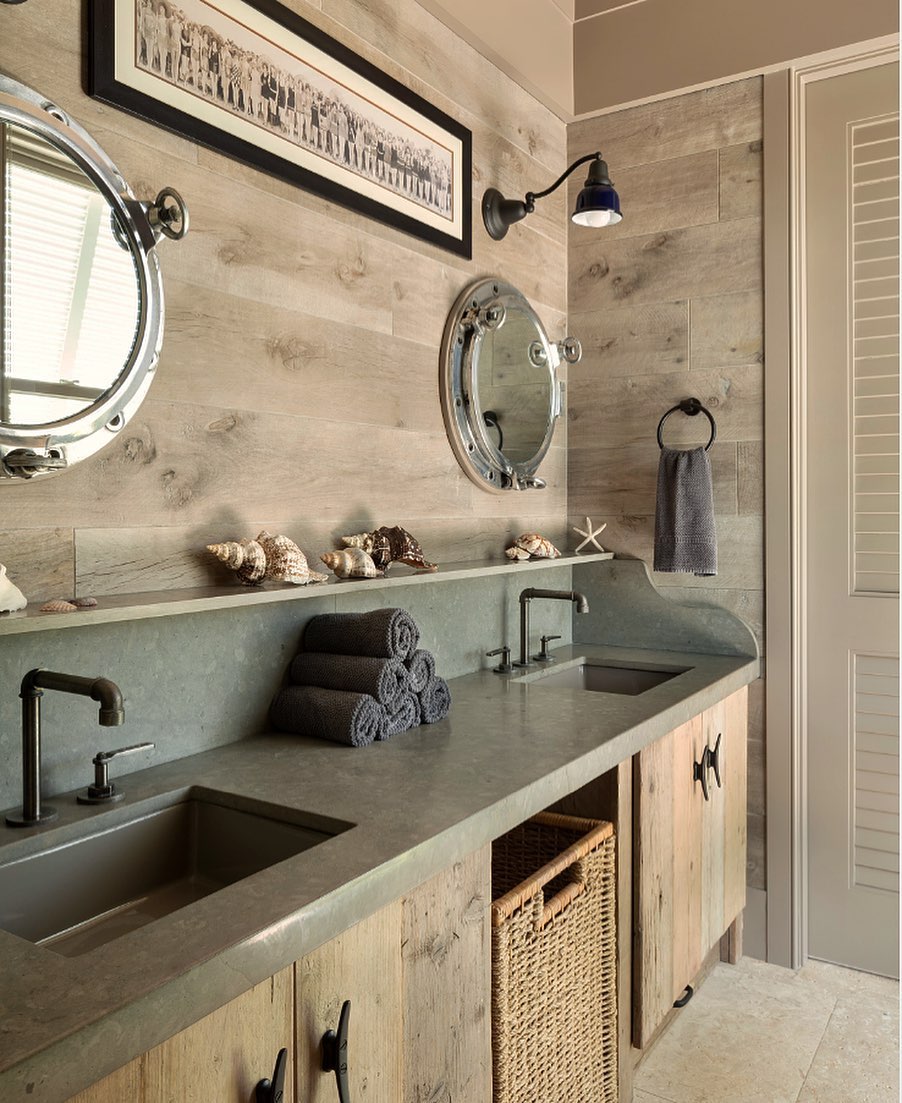 These sandy tiles on the wall and the floor are matching the cabinets in the bathroom as well. The countertop stands out just because has that pale blu/green color, and the industrial fixtures match the whole bathroom style.
Deep Blue Cabinets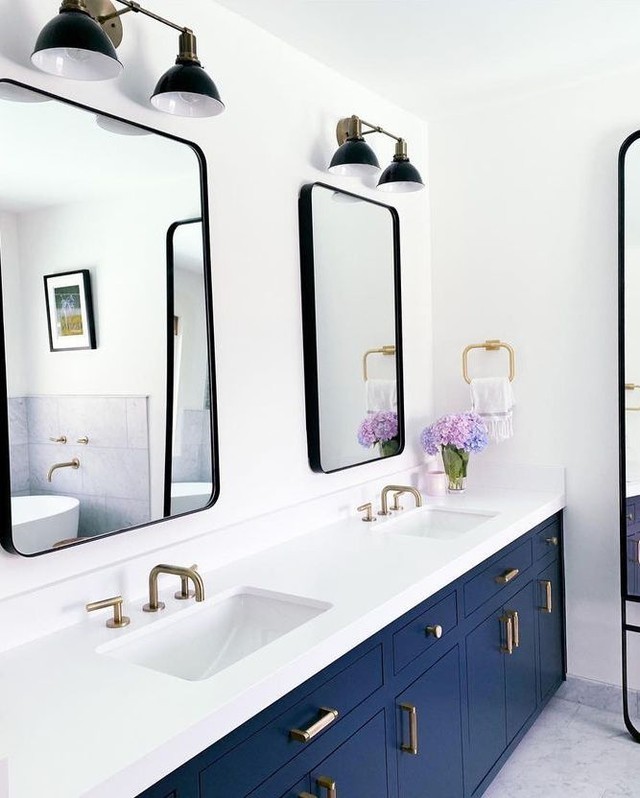 If you're not a big fan of details and if you don't like cluttered spaces, this is the perfect idea on how to decorate your nautical bathroom. Just paint the lower cabinets in dark blue, and add golden handles. You can add some contrast with the black-framed mirrors and light fixtures as well.
Elegant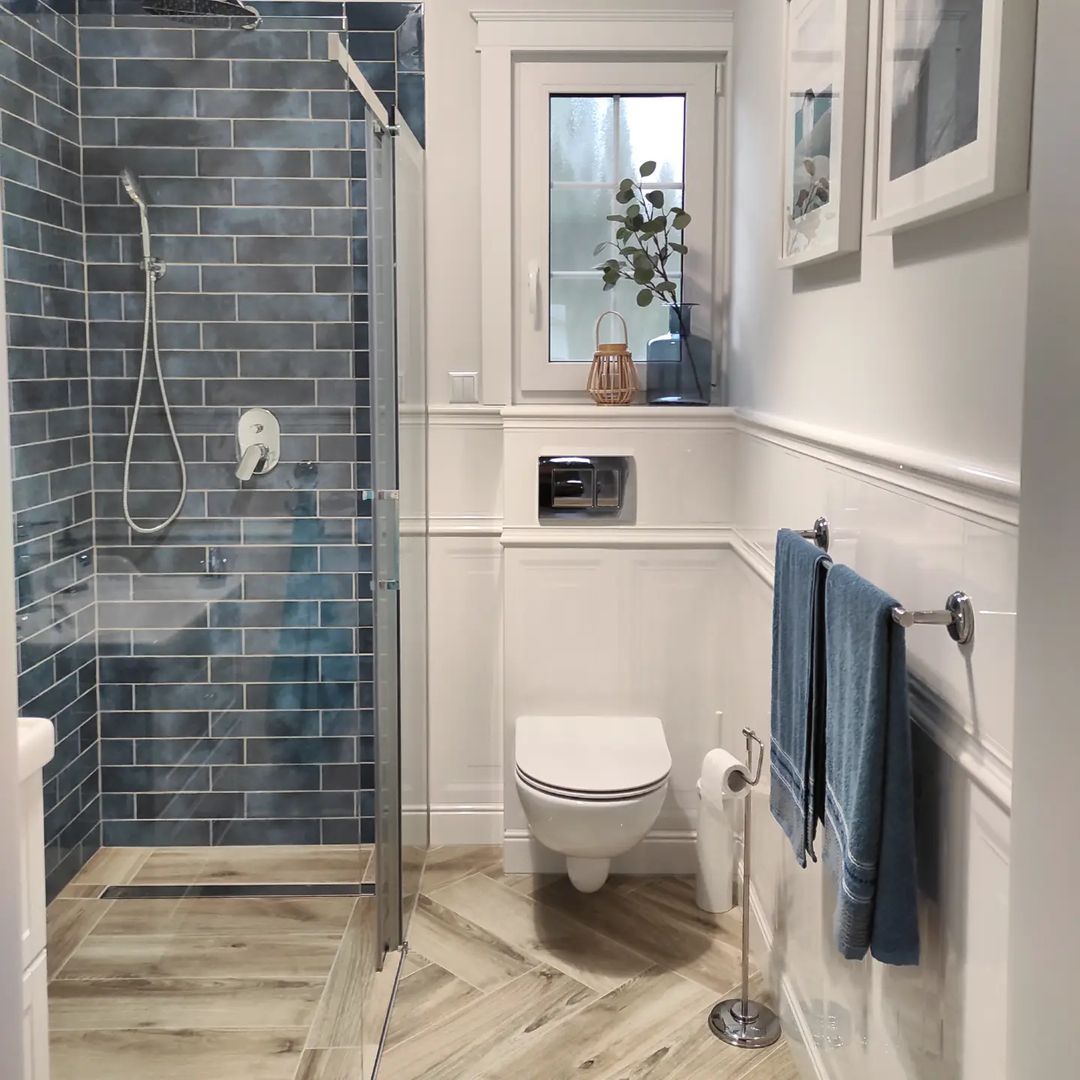 For all of you who like more subtle and calming spaces, yet still get that nautical look, you can pick sand-colored tiles for the floor, and blue tiles only for the shower walls. Add some matching towels and there you go. Pure perfection.
Light And Summery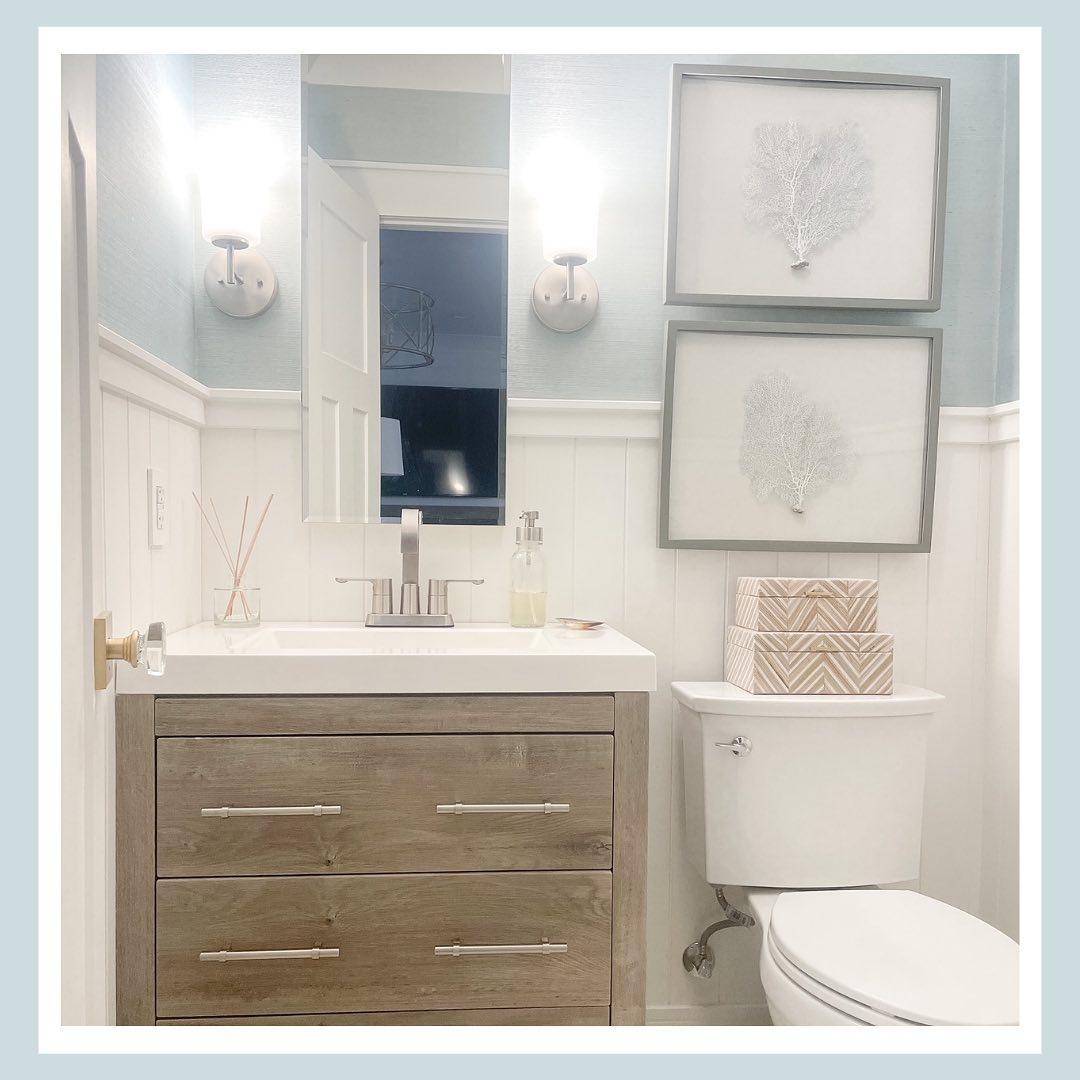 I love how clean and fresh this bathroom looks. It's the perfect thing to do with your guest room or your half bathroom. All it takes is a baby blue color for the top part of the walls, and some details for the wall to have this great look.
When In Need of Luxury, Add Gold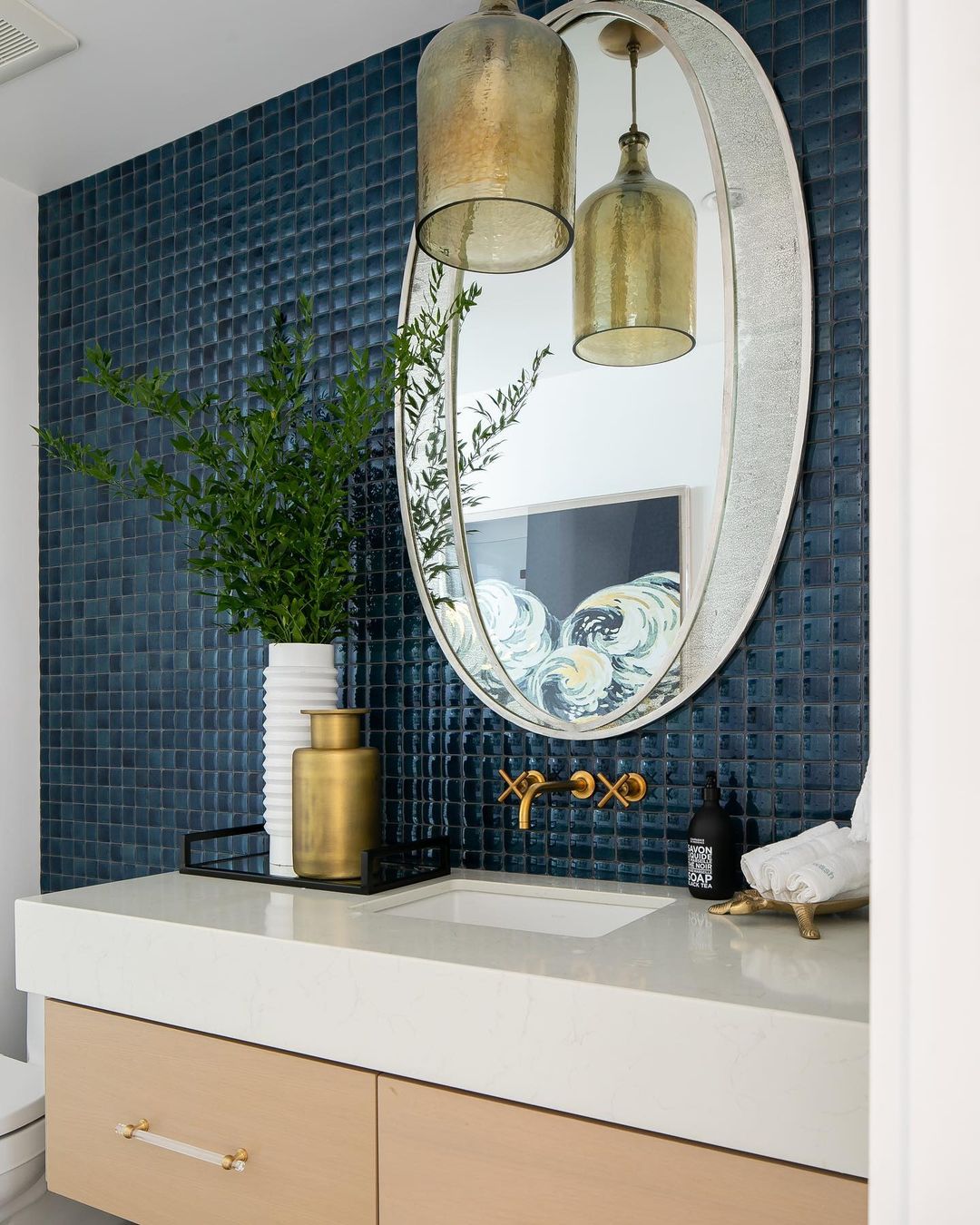 If you're aiming for a more luxurious nautical style, this is it. The tile is simply amazing, but the golden elements make it pop and give it that much more character. The greenery makes it look fresh, yet so elegant. You can paint the cabinet in some lighter color but it's gonna look good no matter what color you pick.
Accent Wall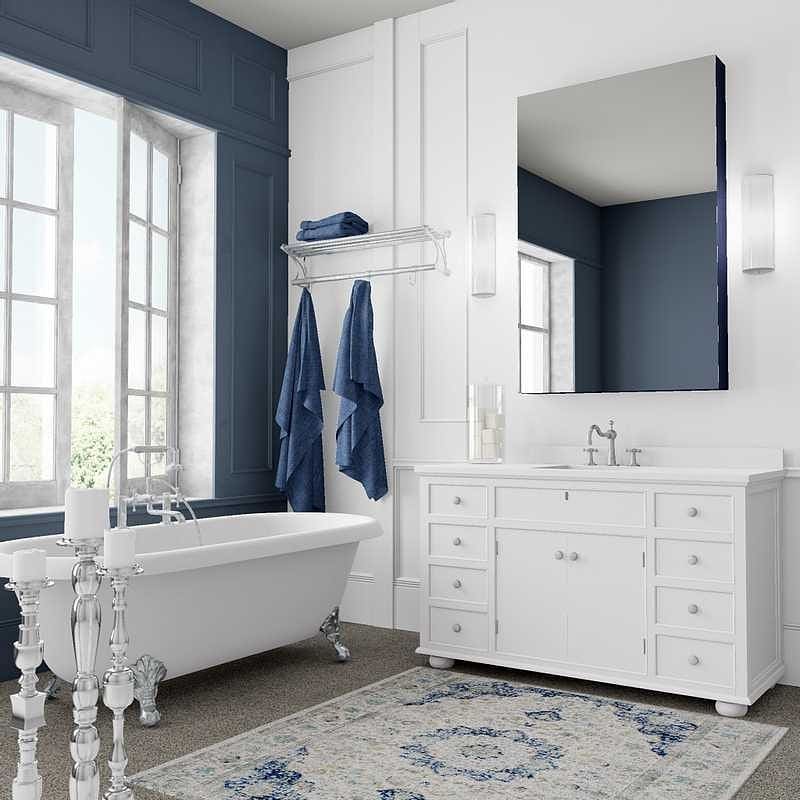 This bathroom has a more traditional look because of the framed panels, and the dark blue accent wall gives this bathroom that authentic nautical look. The carpet has some shades of the same blue color, as well as that bathroom towels. The silver element makes it more glam as well.
Mosaic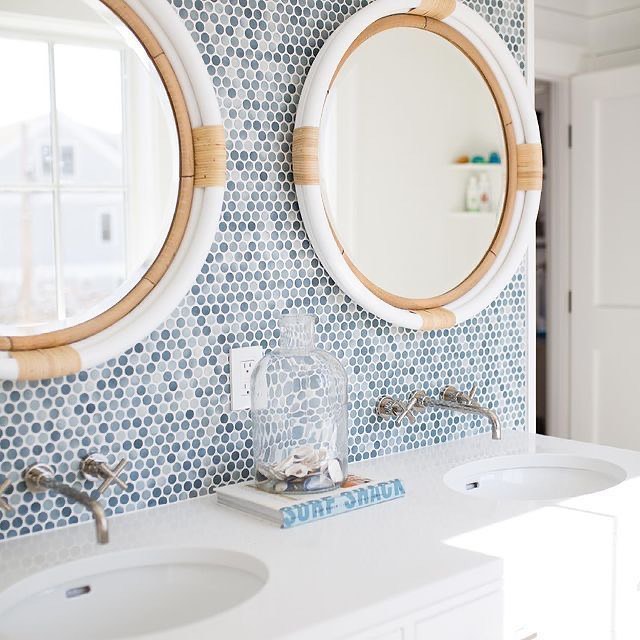 Mosaic tiles in blue and white color are an excellent choice for a bathroom wall if you want to give your bathroom a nautical style. The big jar filled with shells is a great decoration for smaller spaces, and the beach mirrors are completing this beach bathroom.
Living In The Ocean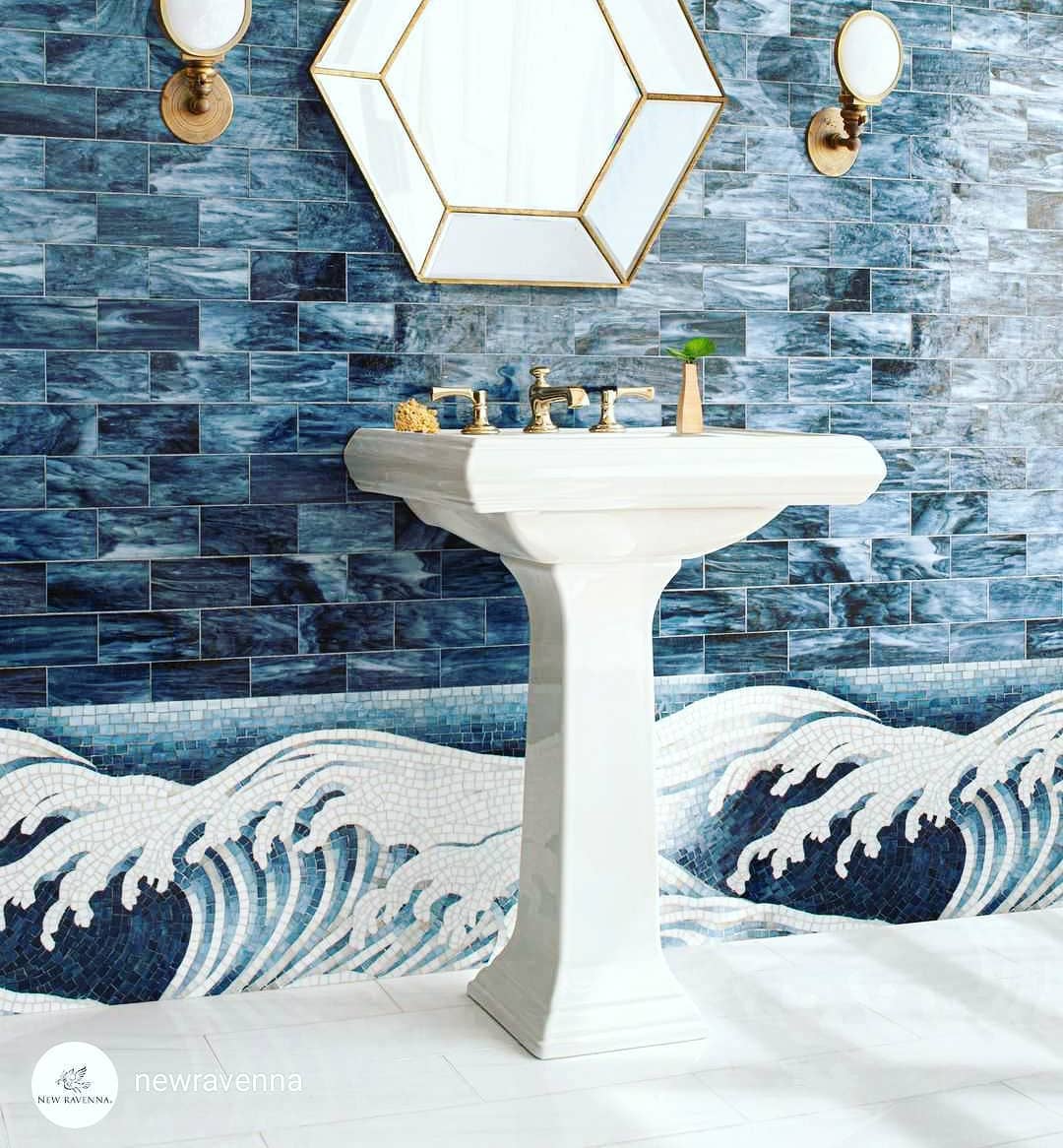 Amazing, isn't it? This whole wall is made of different tiles and it looks like the ocean, with the waves and all. This sink is smaller for a purpose, you wouldn't like to hide this beauty with a huge sink, wouldn't you? The gold fixtures pop up in this space and it's a great bathroom, that's for sure.
Magical Light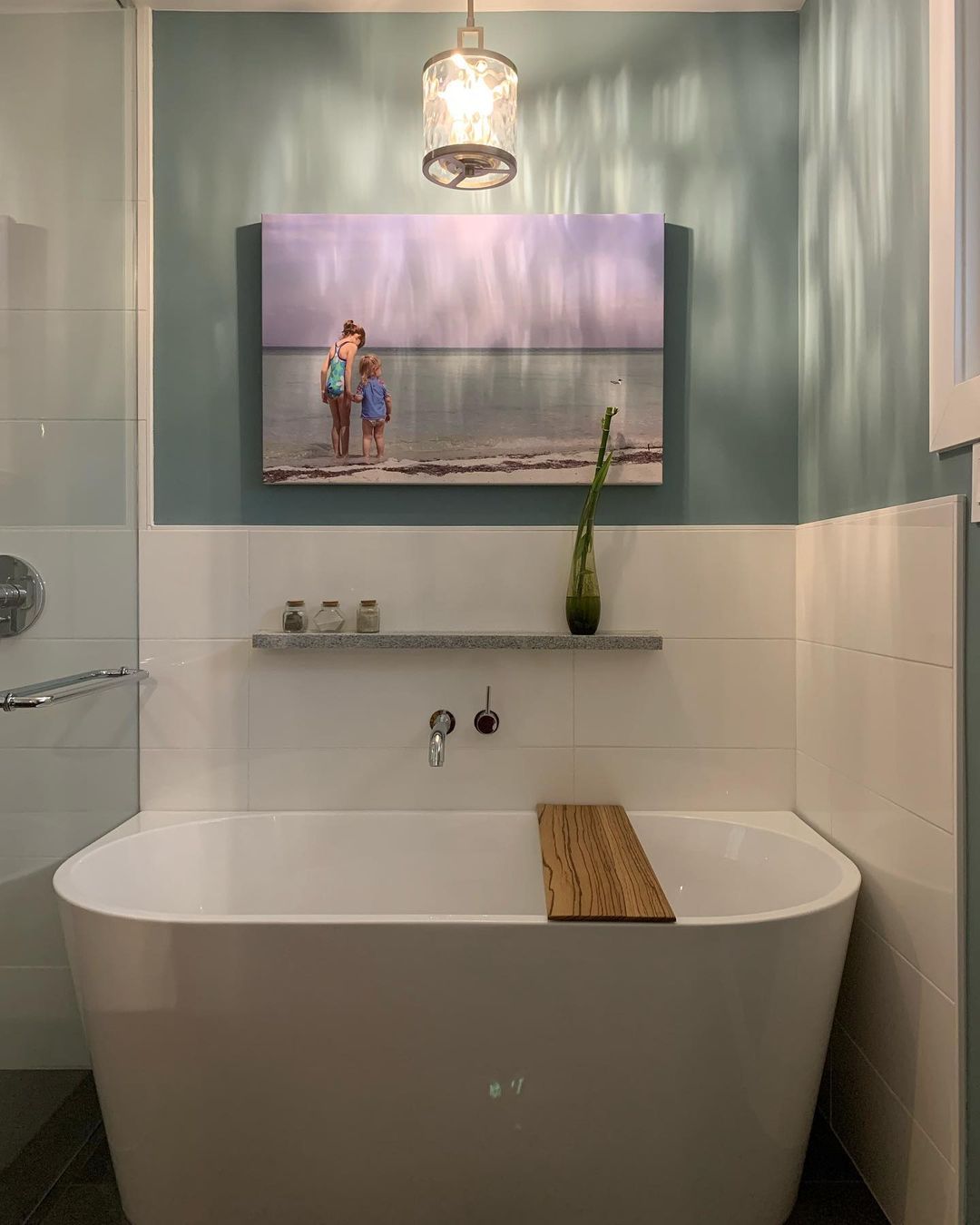 If you already picked the colors and the thing you want for your bathroom, and maybe you can't still figure out the details, why not choose a painting or a picture of your loved ones and put it on the wall. To make things more magical, pick a light fixture that will make your bathroom magical.
With summer around the corner, if you need a change, why not remodel your bathroom and give yourself the very much-needed space for relaxation. I'll be very happy if some of these photos inspired you on how to do that and please like, share, and comment on which one is your favorite. Maybe share with us some of your ideas. Till next time!