The entryway is probably one of the spaces in a home that often gets overlooked. As it is the first thing people see when they walk in through your door, it needs to make a positive first impression. It is the first thing that greets you after a long day, so it needs to convey positive vibes to make you feel happy to be home. When it comes to entryway concepts that need to work harder in terms of aesthetics and function, it's all about maximizing what you already have. Many homes don't have a lot of space for a proper-sized entryway. However, even though a small entryway can be difficult to work with, it doesn't mean it can't be attractive – or useful if you need it to be.
Whether you live in an apartment, a townhouse, or a tiny house, you can create a beautiful and welcoming entryway that will make a great first impression. Even if you just have a tiny amount of space to work with, you can still create a lovely entryway. Regardless of the size, there are a lot of amazingly good storage and decor alternatives that you can employ to maximize its appearance. Your entryway should be a combination of aesthetics and practicality.
These small entryway ideas will provide you with all the inspiration you need to create a small doorway that makes a big impression, from space-saving furniture, functional cabinets, and shelves to beautiful entryway wall art and cozy ambiance.
Oversized Mirror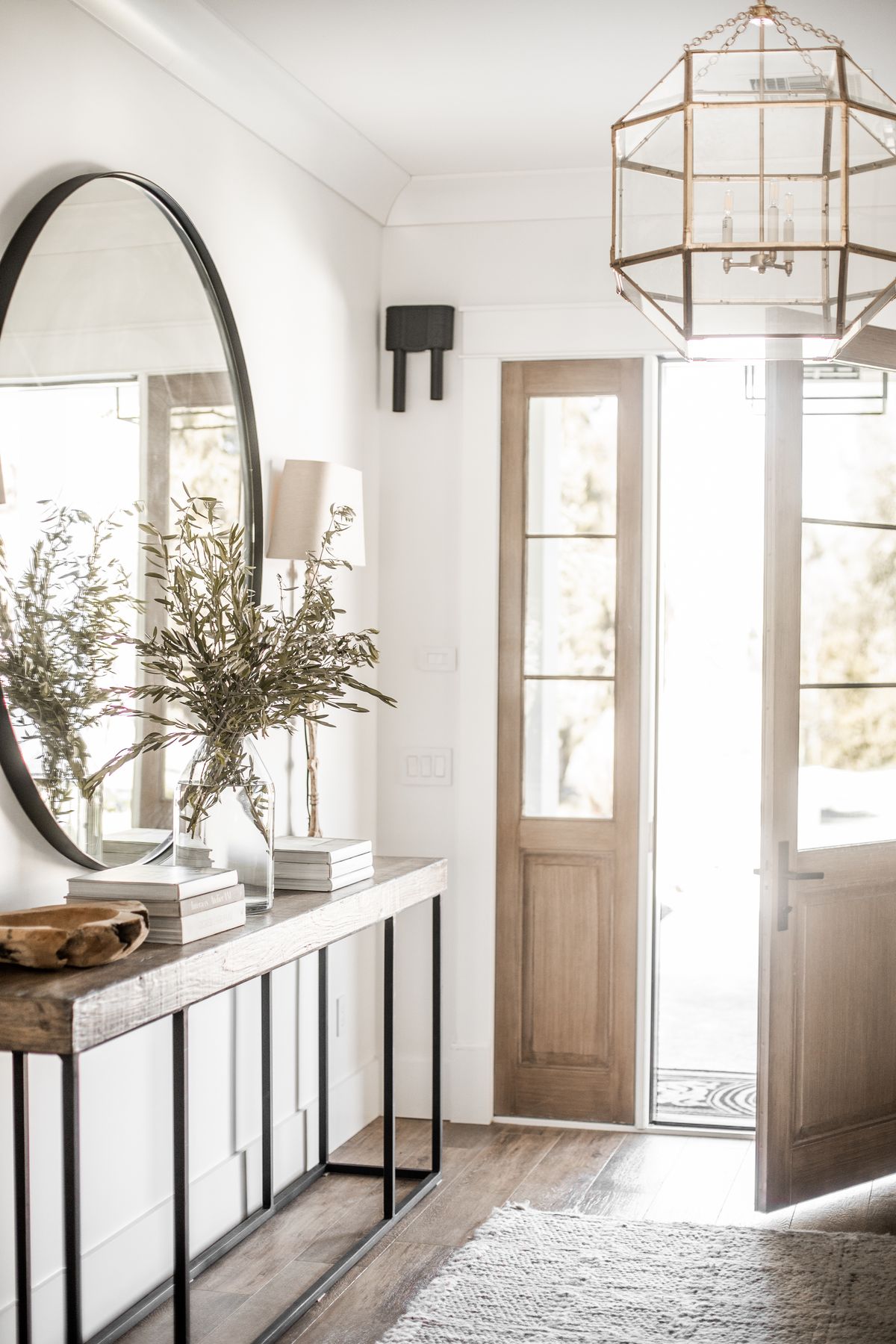 There simply cannot be an entryway without at least one mirror. You can't go wrong with an oversized one. Not only is it practical, but it will also create a great ambiance in the space.
Interesting Wall Hooks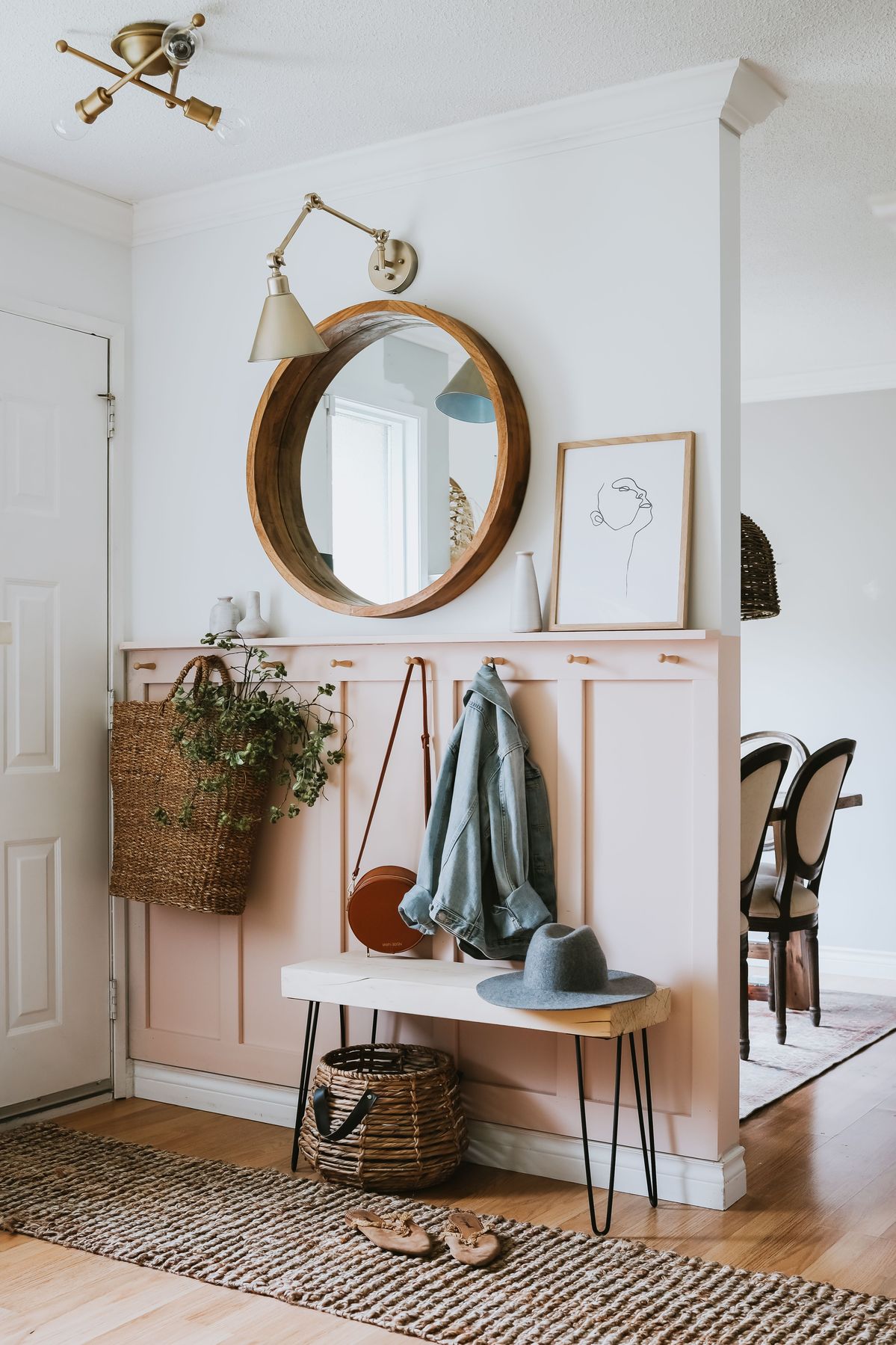 Wall hooks are another "must" for the entryway. They serve to hang your coats, bags, scarves, etc., so instead of putting plain hooks that look dull, opt for some interesting hooks that will make a great impression.
All White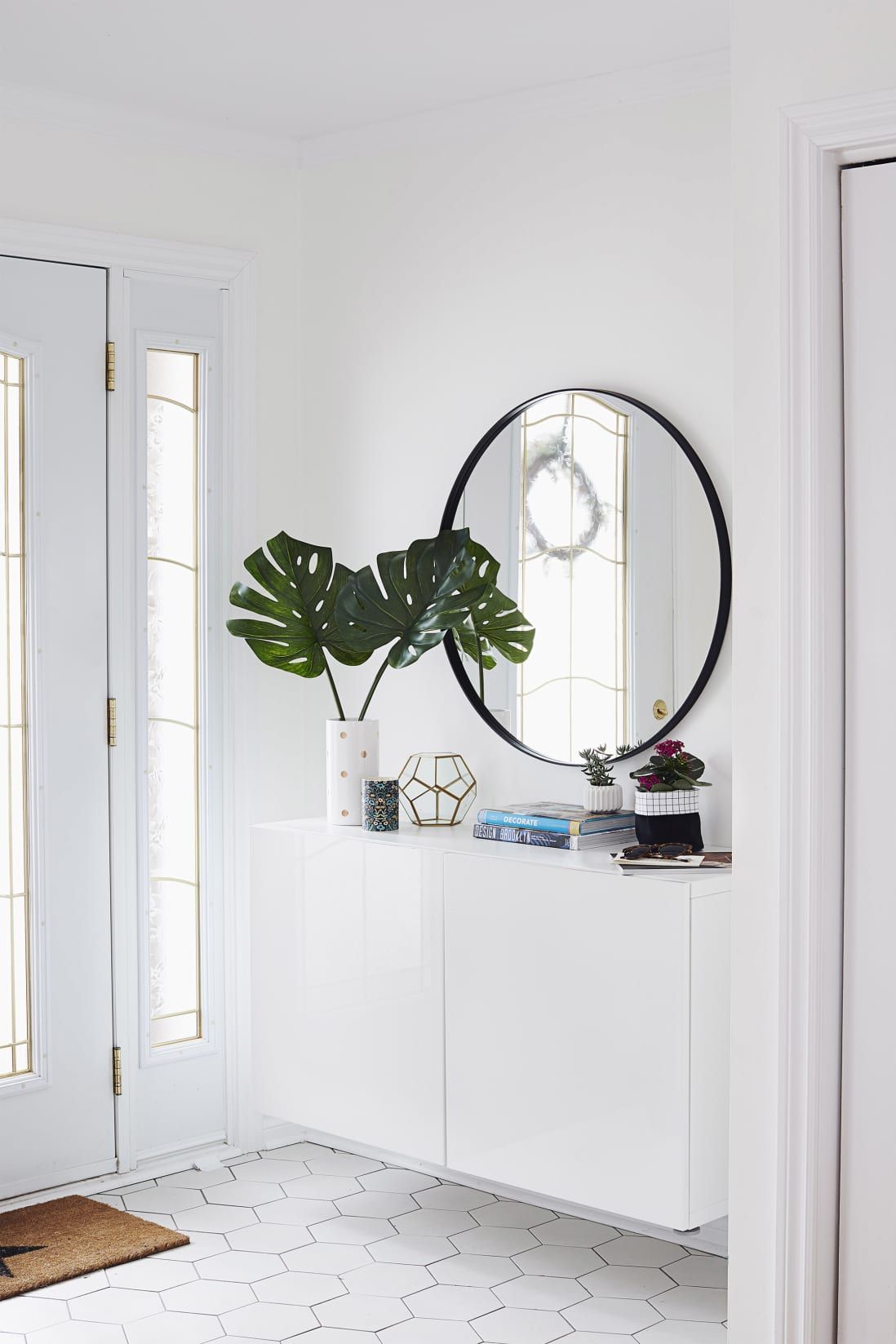 A white door, white walls, white floor tiles, and white drawers? Looking dull? Not a chance! An all-white entryway makes the space look larger than it actually is. Add some colorful decorations and you'll have yourself a great-looking entryway in your home.
Think Vertical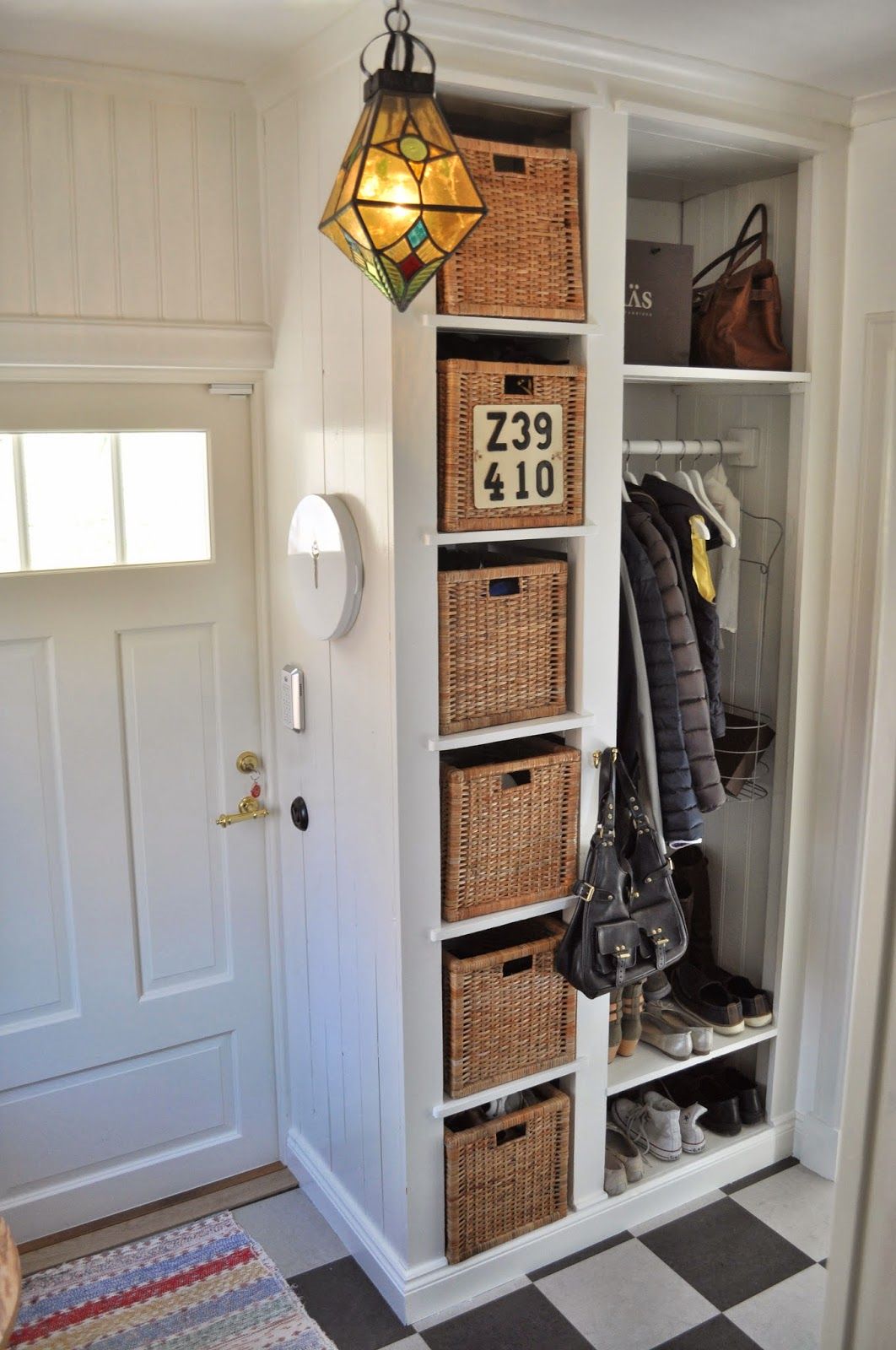 In a small space, it is always smart to use it as much as you can and a floor-to-ceiling closet is a great way to do so. Choose one that has vertical shelves, a hanging rack, and a space for storing your shoes.
Utilize The Stairs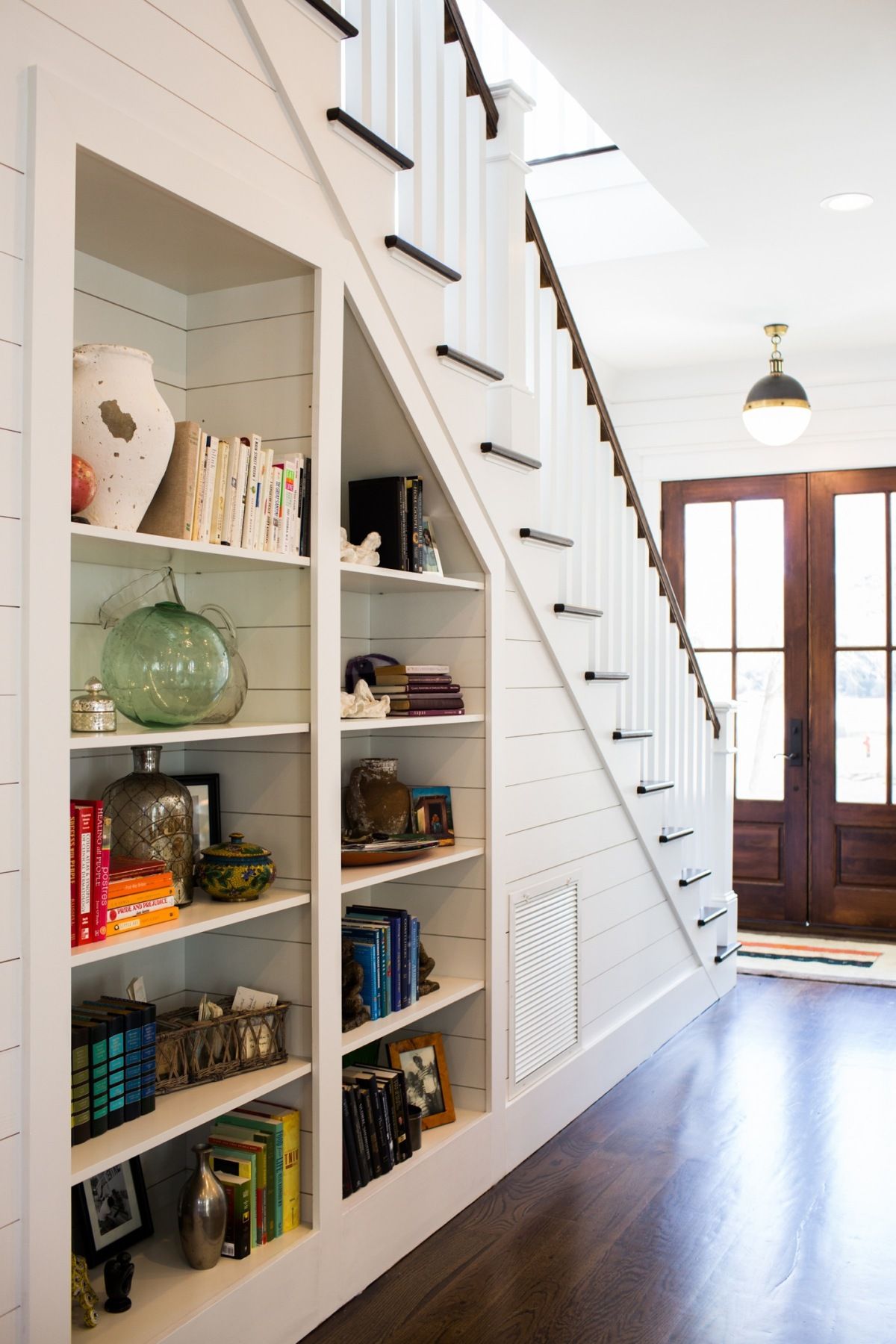 If there's no room for a classic entryway and you have stairs in your home, make use of them. Create built-in shelves for storage and decorations and you're good to go!
Create Dimension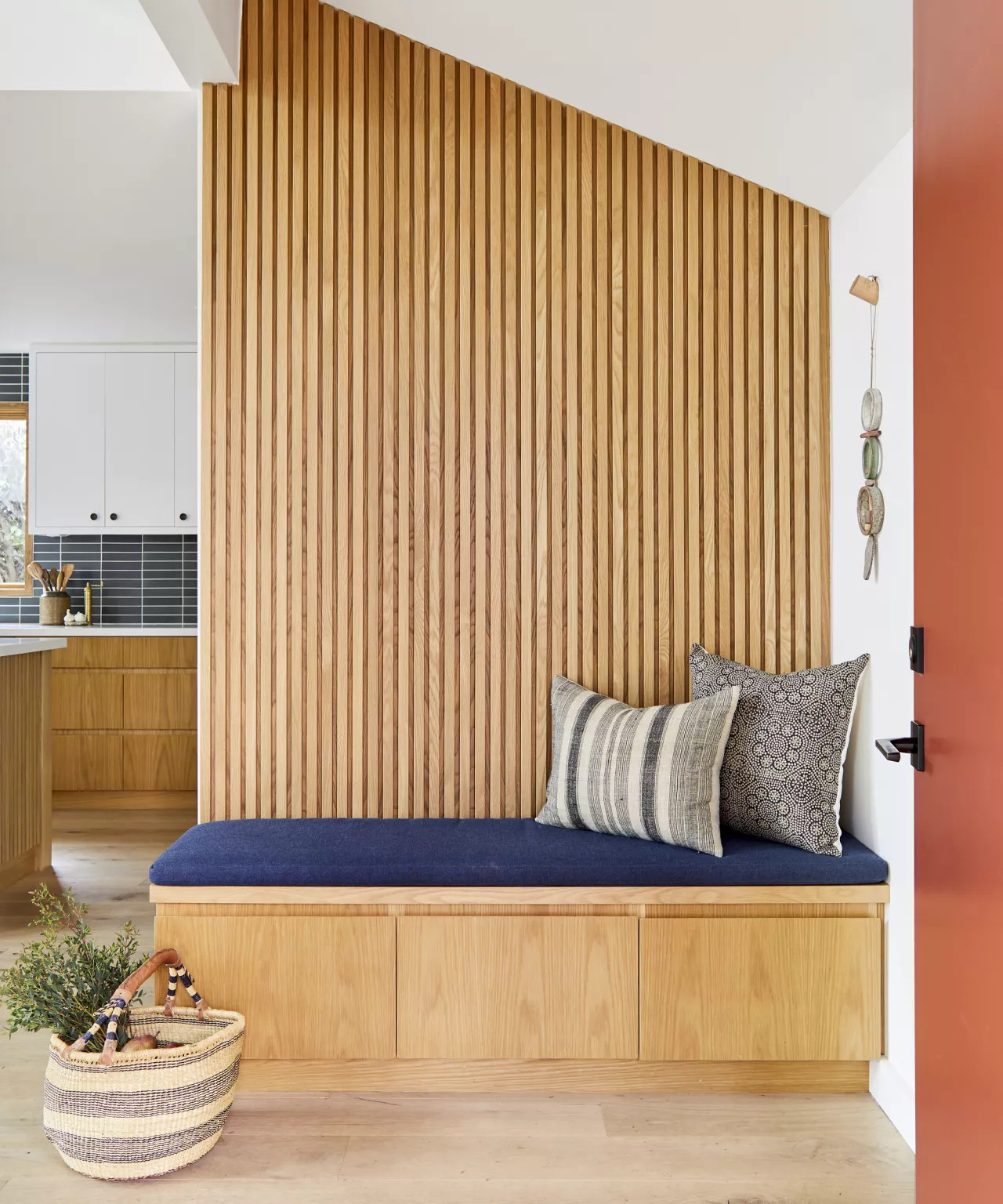 To make your small entryway look visually larger, try adding a wooden palette. This will create dimension and the space will automatically look longer and larger. The wood as a natural material also looks aesthetic and makes a great impression.
Two-In-One Bench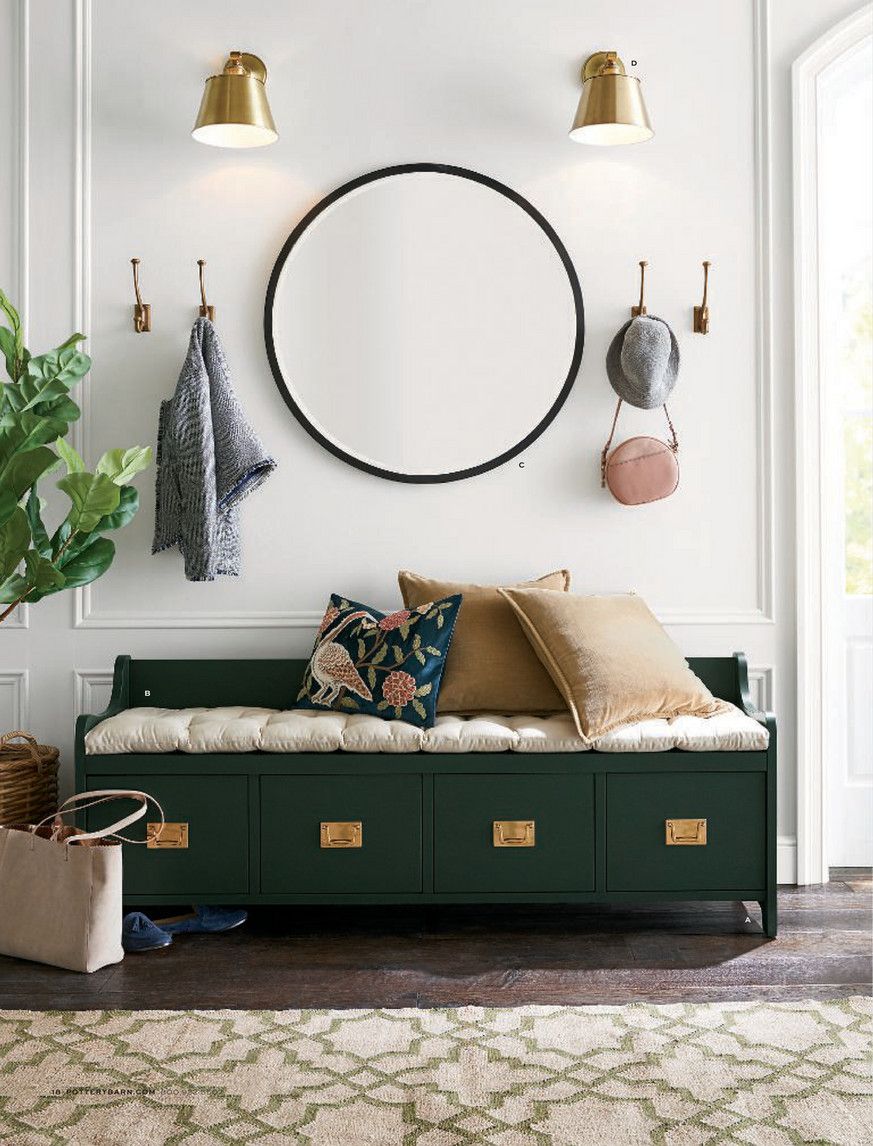 For maximum utilization of your small hallway, you have to think about functionality above all. This bench has two purposes. It serves as a seating place and it also has cabinets for storing everything you need. Looks amazing, doesn't it?
Gallery Wall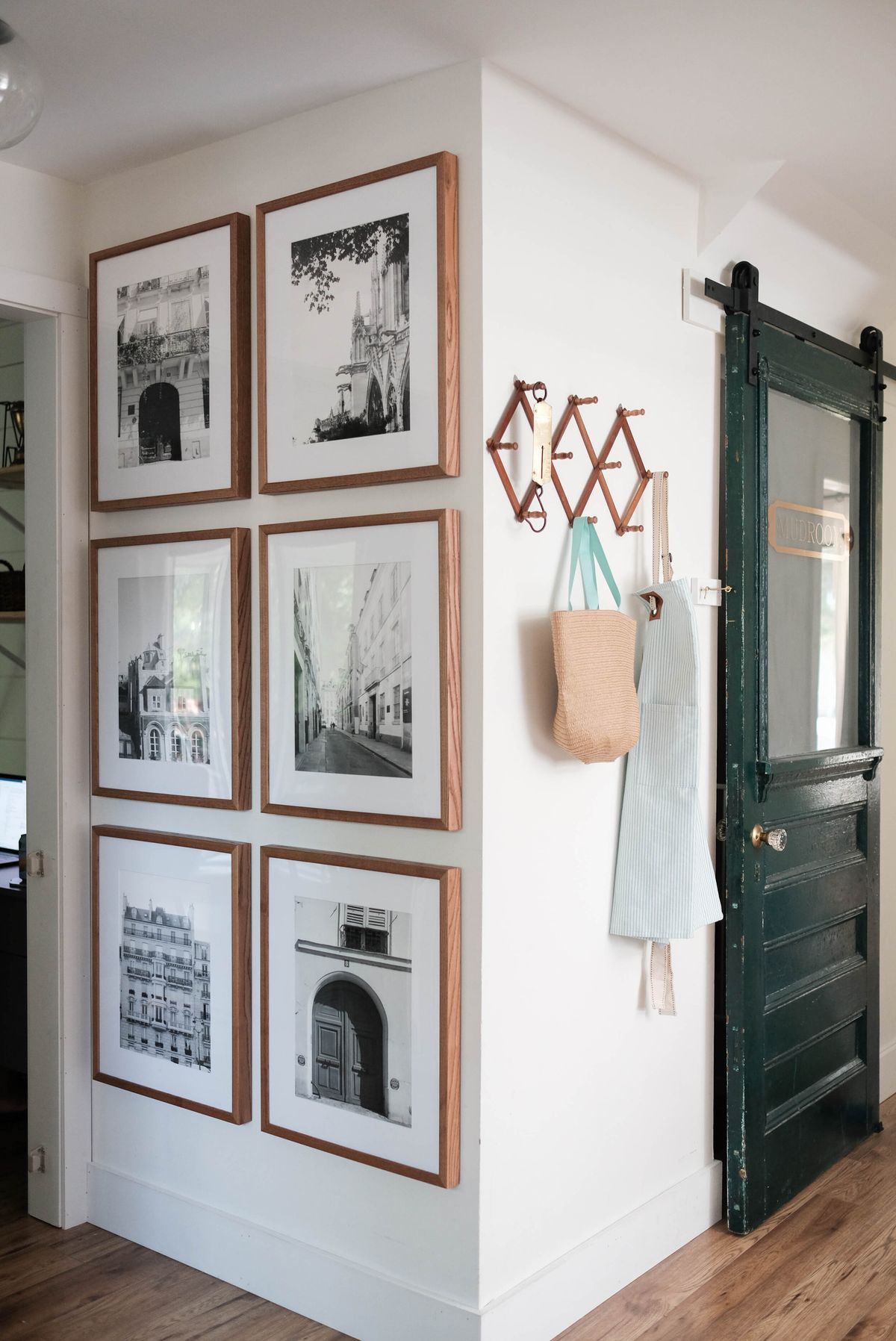 Even if there's not much room for an entryway, creating a simple gallery wall will make the space look lovely and it will also look like it is nicely separated from the other rooms in your home. Opt for simple black-and-white family photos or photos from your favorite cities in the world.
Add Plants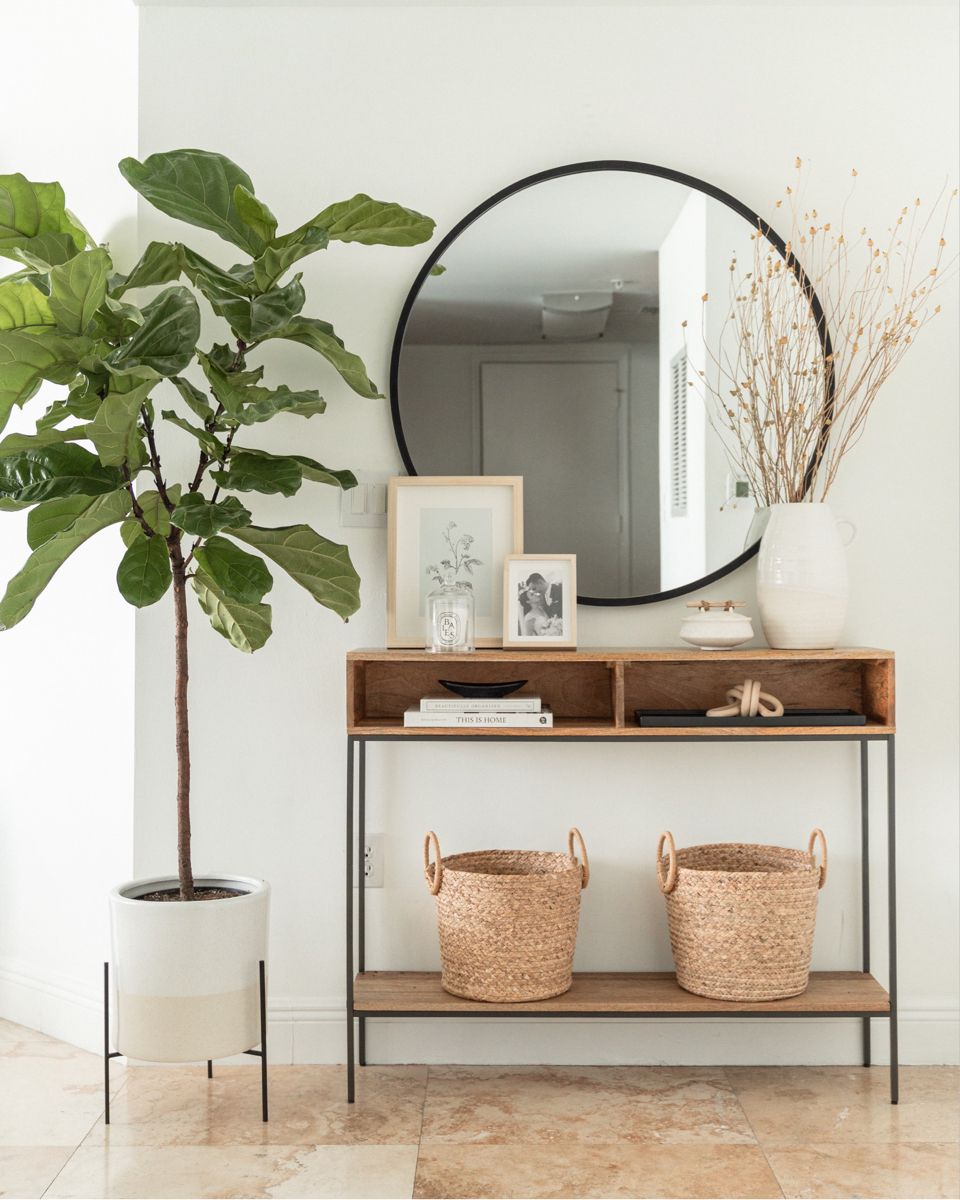 An oversized plant makes the space look bigger and instantly steals the attention of everyone who enters your home. Of course, you can always add more greenery to create a calm, positive space that everyone will love.
Baskets For Maximum Storage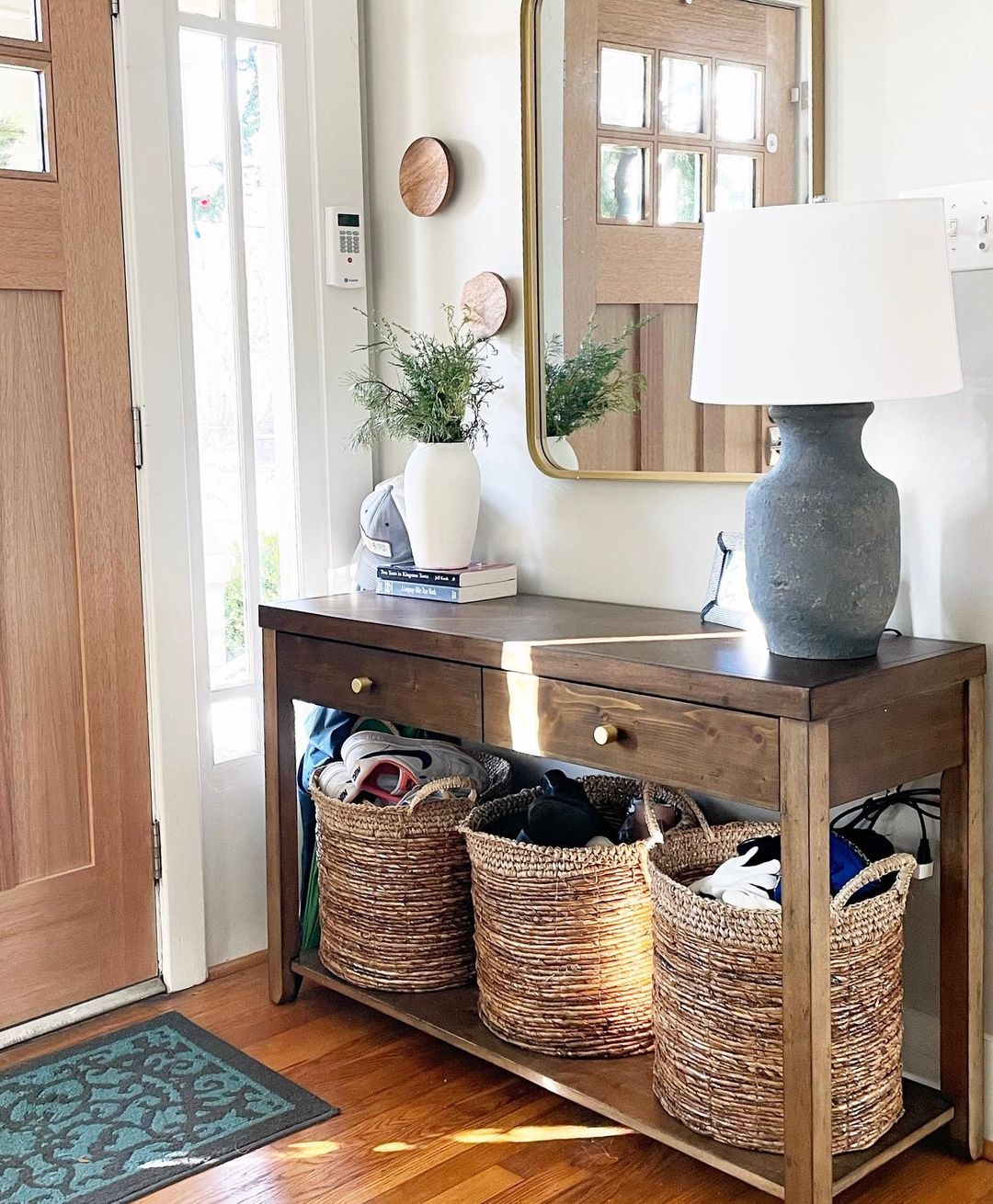 You don't have to spend a lot of money on fancy drawers and cabinets. Instead, add some baskets and fill them with everything you use in your everyday life. The entryway will always look in order and you will spend less time cleaning and organizing.
Add An Interesting Wallpaper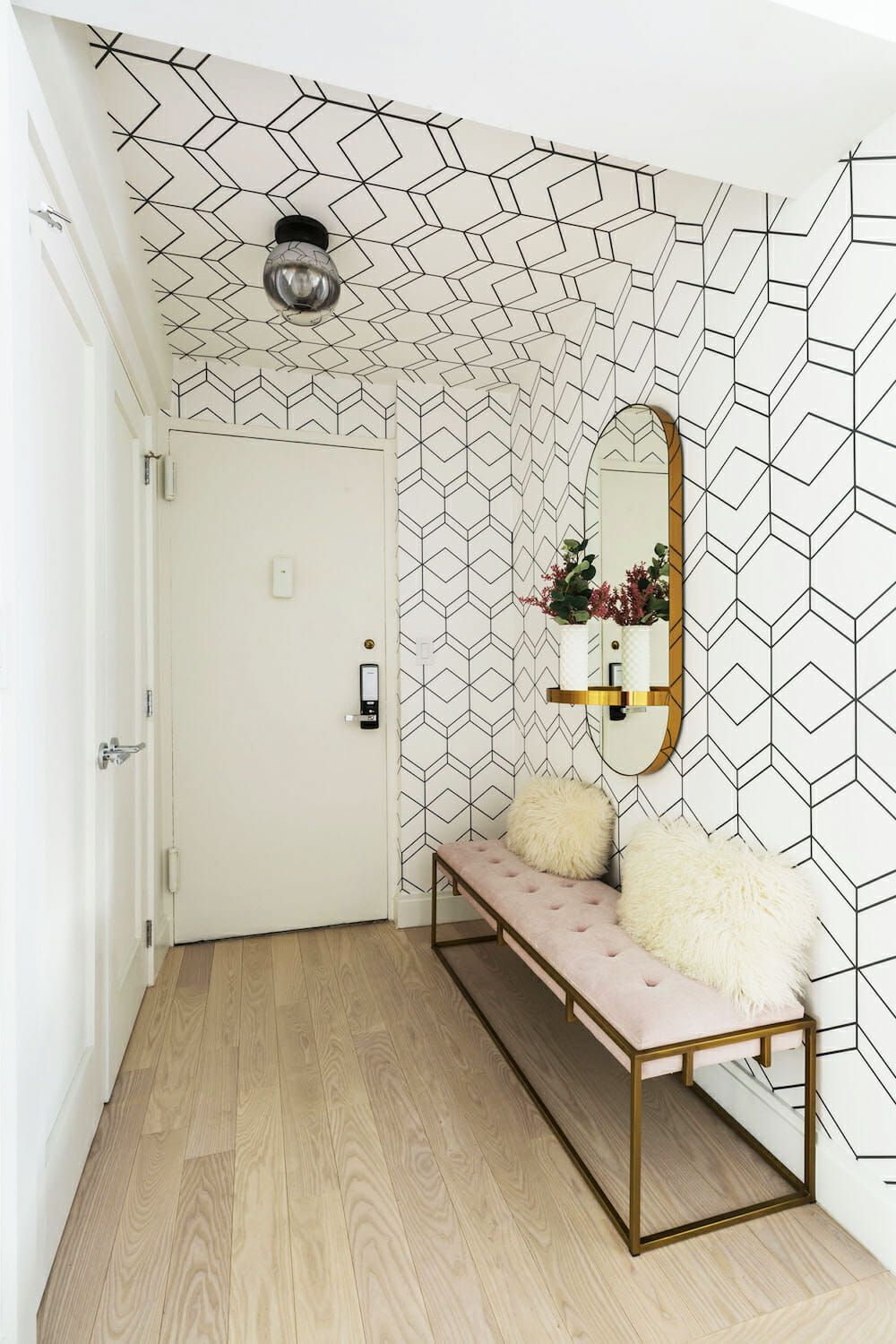 Rather than just adding one or two pieces of wall art, transform your entire foyer into an art show. The effects are amazing whether you paint it by hand or use wallpaper with a unique design.
Board And Batten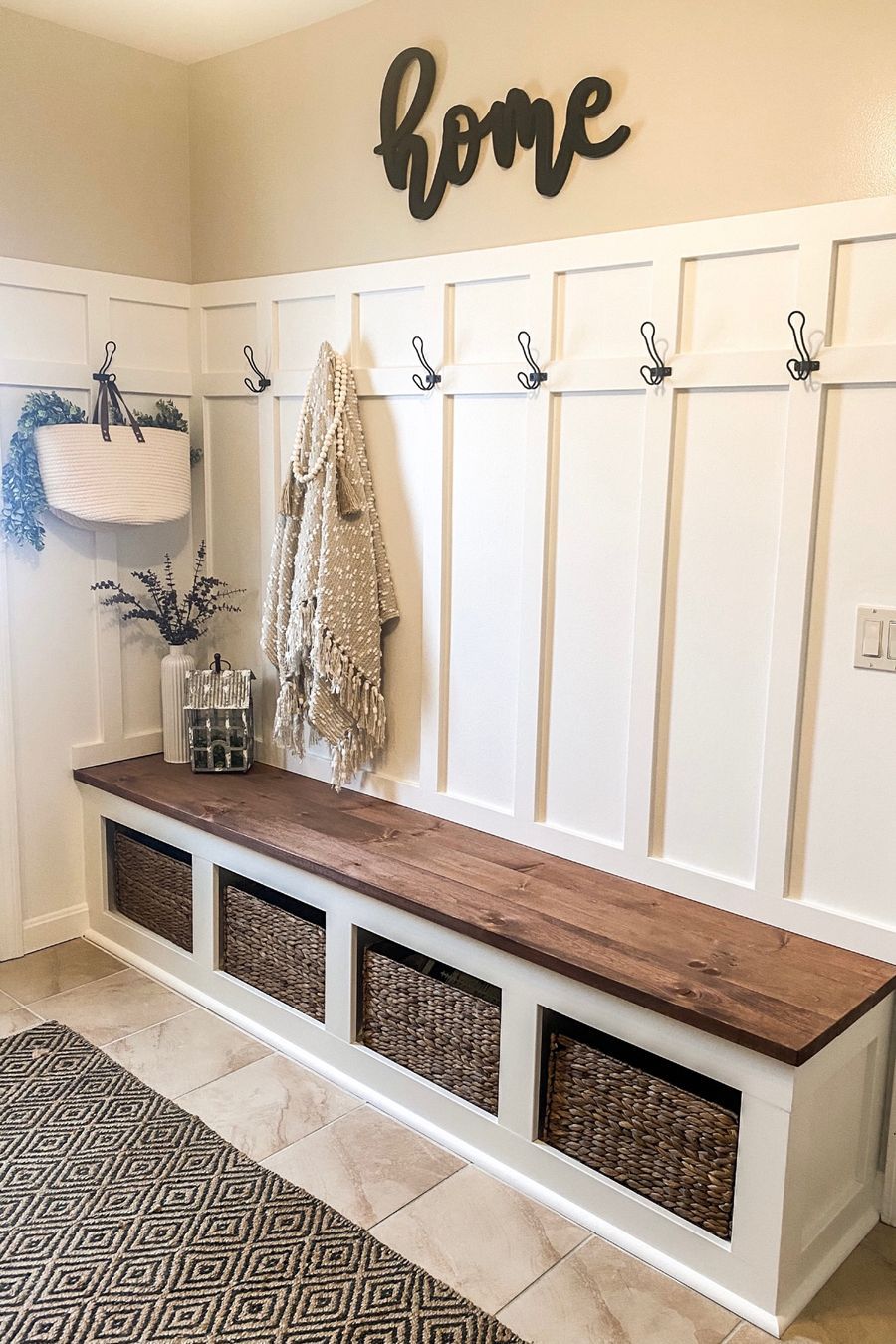 Board and batten are a great choice for small entryways. They have multiple purposes and a lot of room for storage. You can even do them yourself, so this makes them a budget-friendly option as well. Win-win!
Boho For Coziness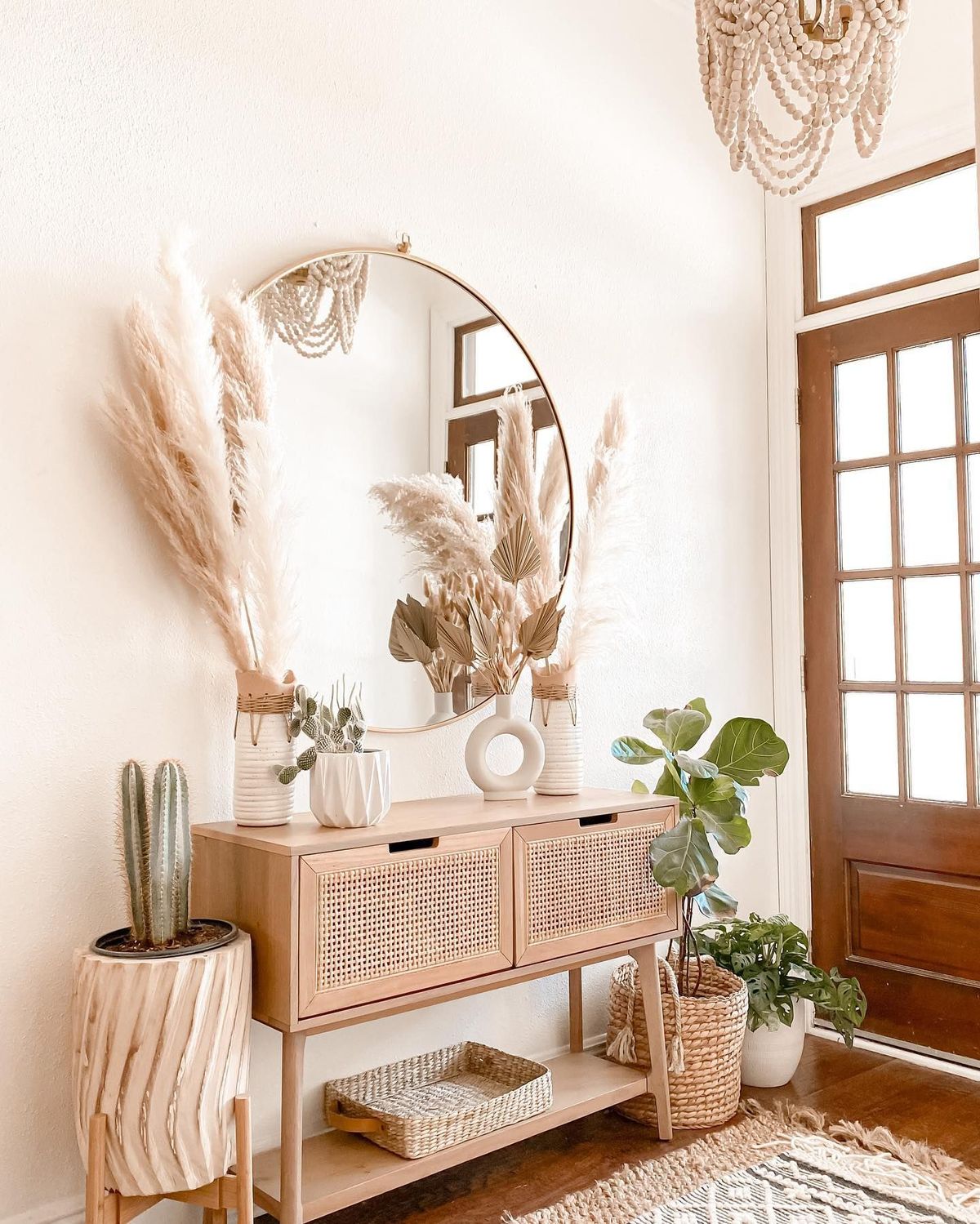 If you want to mix it up and create an entryway that's nowhere near boring, try the boho look. It creates coziness from the start and gives out warm and lovely vibes. Use items from natural materials and add some greenery.
Large Closet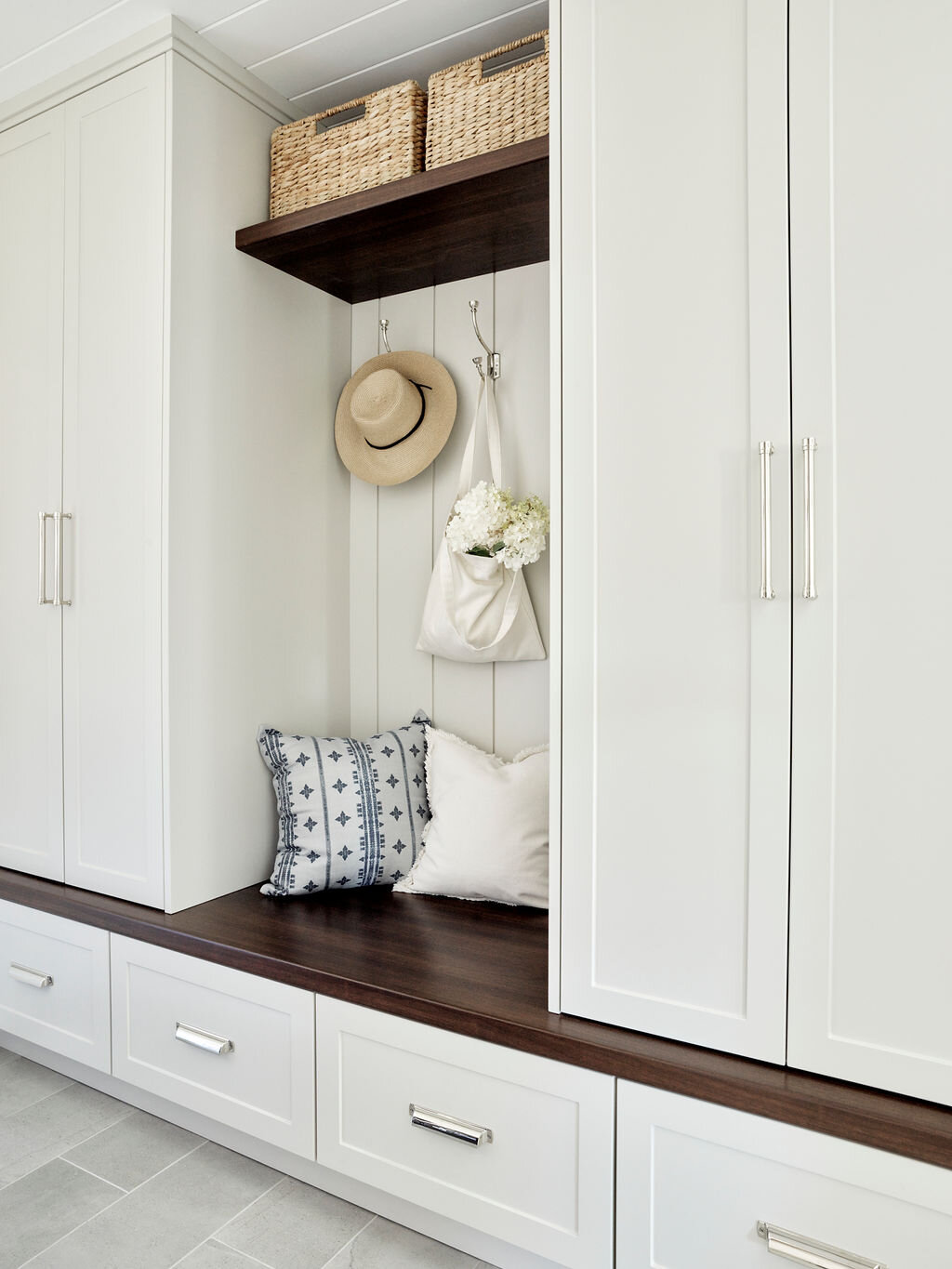 If you have a small entryway, consider turning one wall into a large closet where you can keep a lot of things for the entire family. Choose a closet with drawers, hooks, and everything that will suit your needs.
Keep It Simple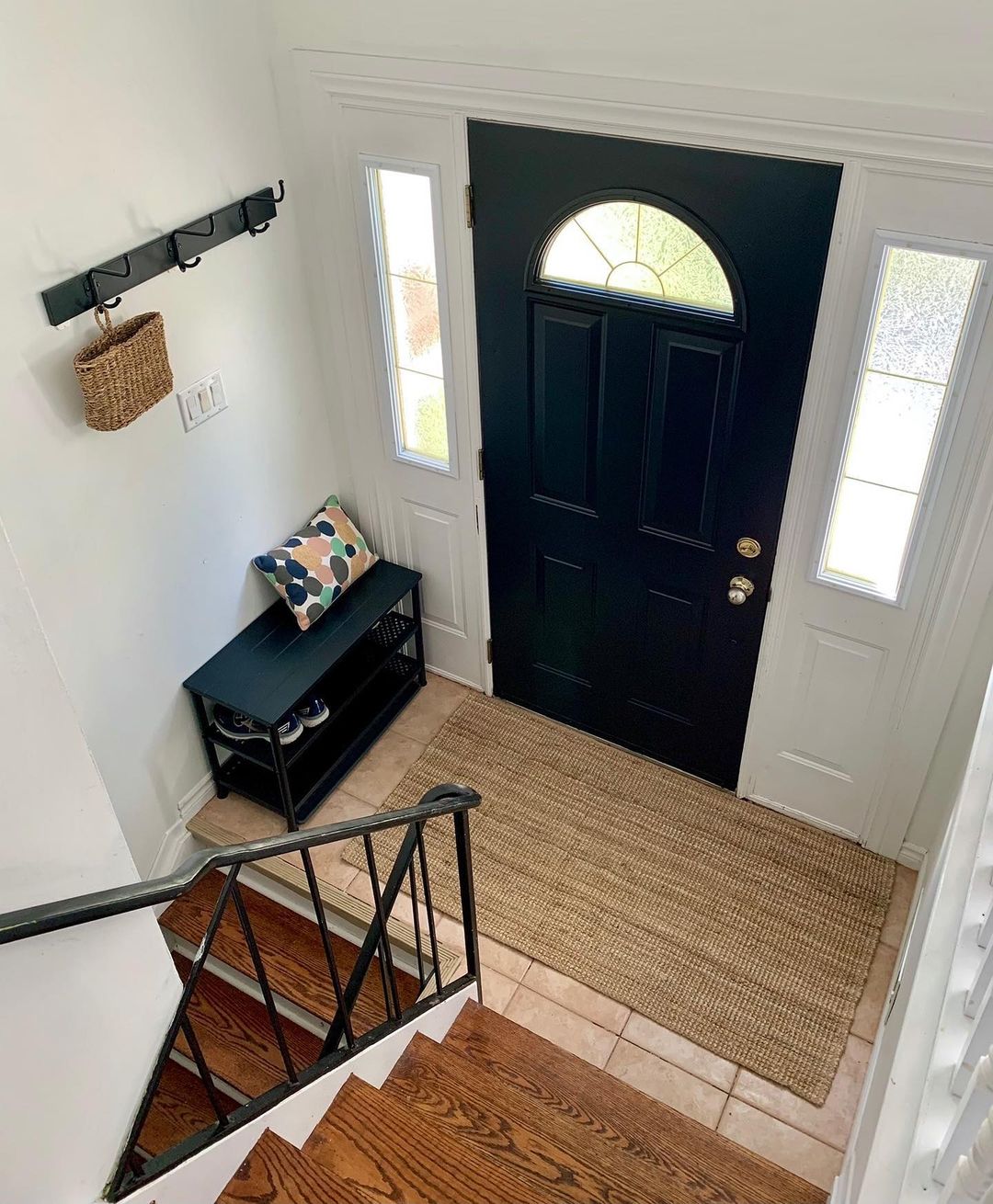 If you have a small hallway, you don't have to put a lot of furniture there if you don't want to. You can just add the basics: wall hooks for coats and shelves for the shoes. This will be enough. Keep it simple and minimal.
Unique Flooring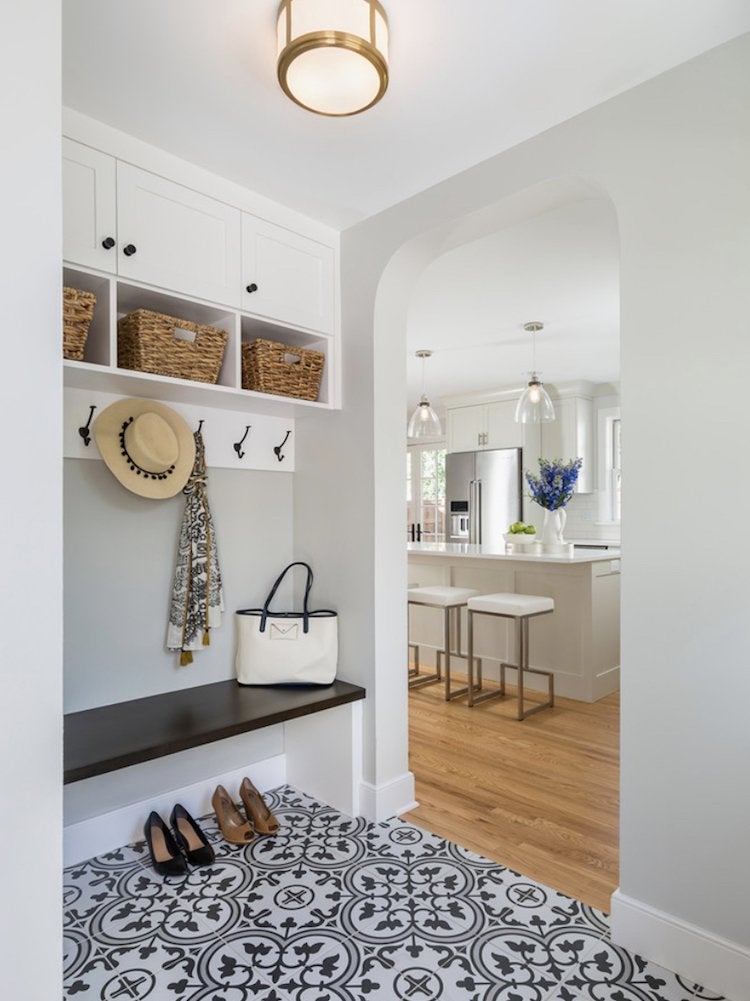 Adding a unique flooring pattern is another way to make a small entryway look bigger and it also makes a great first impression for you and all your visitors. Of course, floor tiles are the most practical solution for an entryway, but you can choose some other flooring type as well.
Add Shelves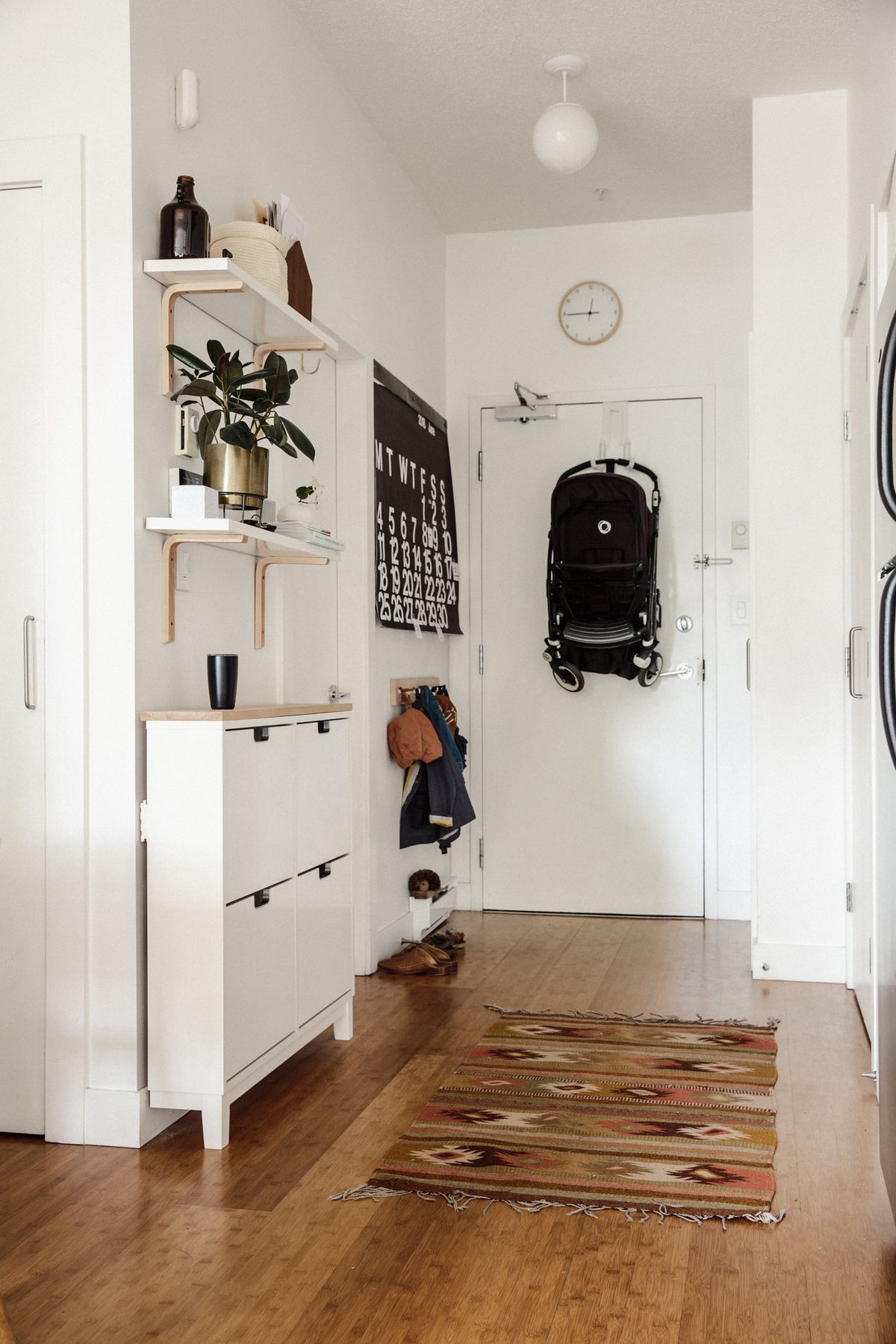 In a small space, it is always smart to use the walls as much as you can. So, hang some shelves above the cabinets and display your decorations or simply use them for some extra storage.
Pillows For Coziness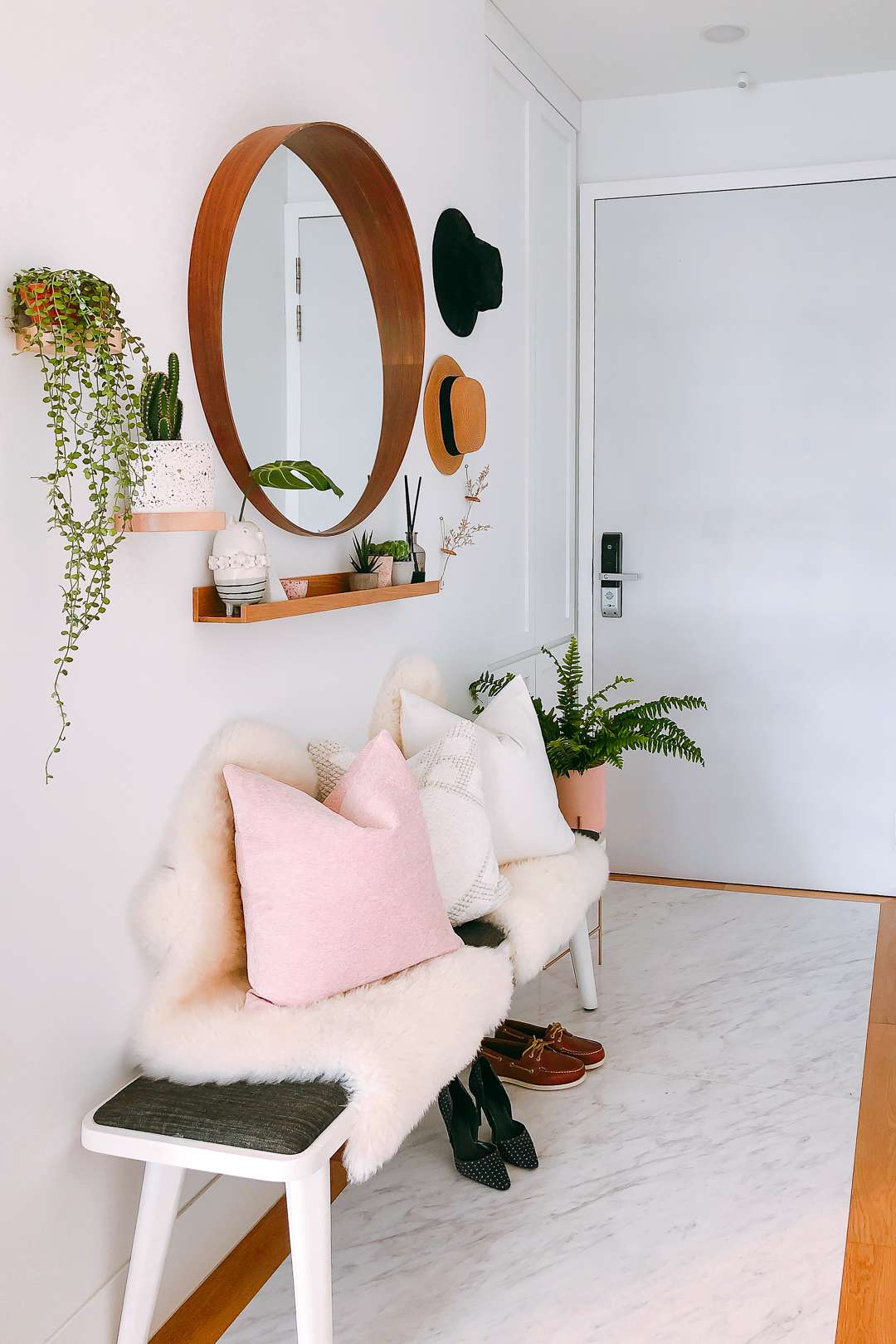 If you are more into the aesthetic side of things, you don't have to add a lot of furniture for storage. Make the entryway look beautiful and welcoming by adding some lovely throw pillows onto a bench. It looks like a perfect welcoming nook.
Add An Accent Rug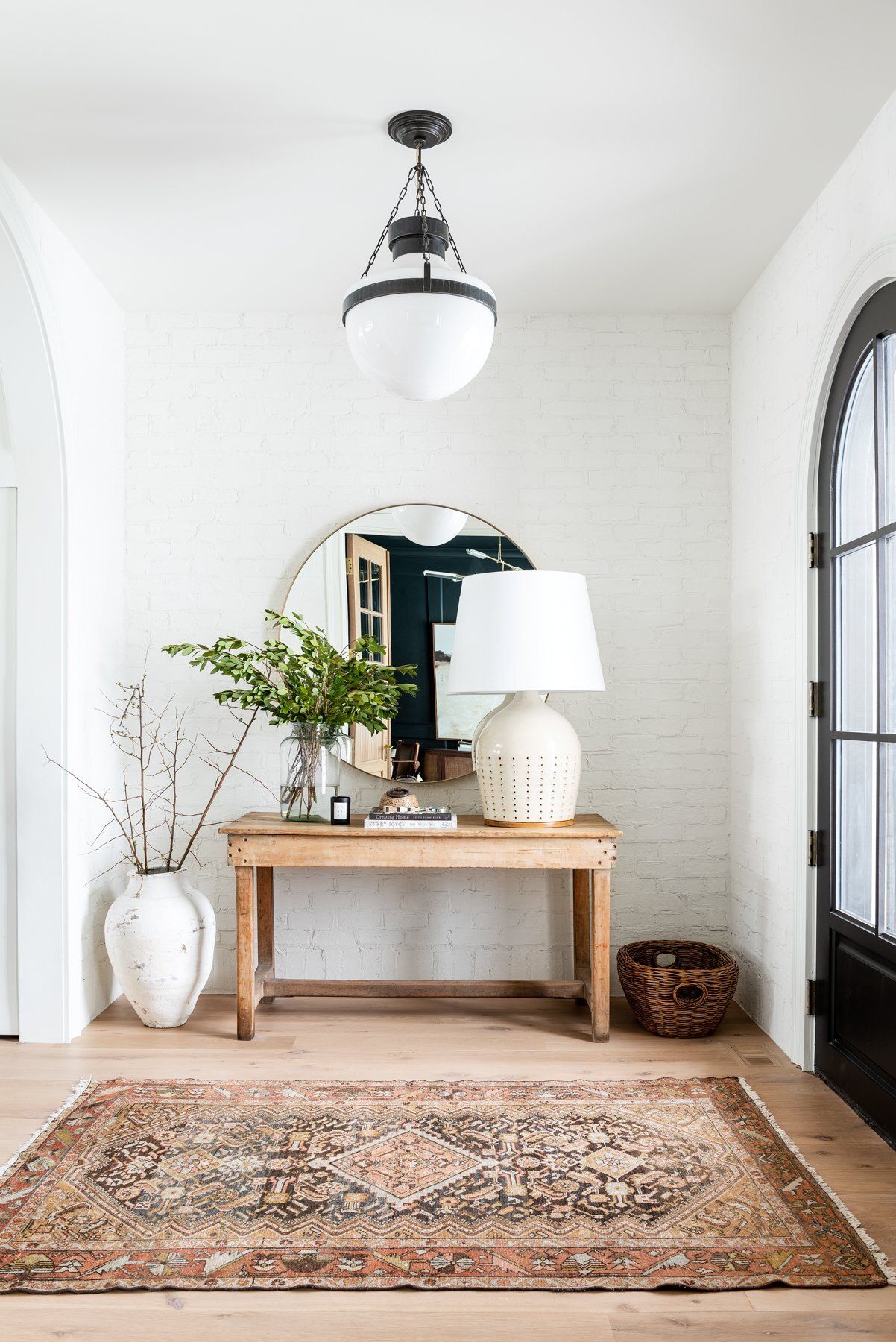 Make a statement in your small entryway by adding an accent rug. Choose a vintage rug or a rug with interesting patterns. You can't go wrong either way.
From black-and-white gallery walls to floor-to-ceiling closets, there are a lot of ways to make your small entryway look large, cozy, and functional at the same time. All you need to do is be creative, have an open mind, and get inspired to make some changes in your home. We hope we gave you some great ideas to make your entryway shine. Share your thoughts with us in the comment section.