Who doesn't want a space to keep all of your and your family's clothes and accessories neat and organized? We've all been at that moment in life when you open the doors of the closet and you are met with an avalanche of piled-up clothes you've hurriedly thrown in there just to make the room look tidy. Or when you're in a hurry and trying to find that one piece of clothing you know is somewhere in the closet but, for the life of you, can't find it among the mountain of clothes.
Yes, we've all been there. Every time we are faced with a pile of clothes and feel frustrated about the size of the clothing storage space, the dream of having a walk-in closet comes to mind. Walk-in closets or wardrobes are definitely a luxury item for your home, but the number one reason why most people don't have one, isn't the price tag, rather the square footage of the home.
Humans have worn clothes for millennia, so you might think that closets have been around for just as long, or at least since the first homes were built. That is far from the truth. Something like walk-in closets appeared around the end of the Middle ages probably, and the hangers we use to keep our precious clothes neat, visible, and wrinkle-free have only been around for a few centuries. Today, we can choose from a wide range of customized and mass-produced closet designs made in every color and from a variety of materials. But, the walk-in closet tops them all.
With that being said, let's take a look at some of the more luxurious and amazing walk-in closets.
Gray Marble and Wood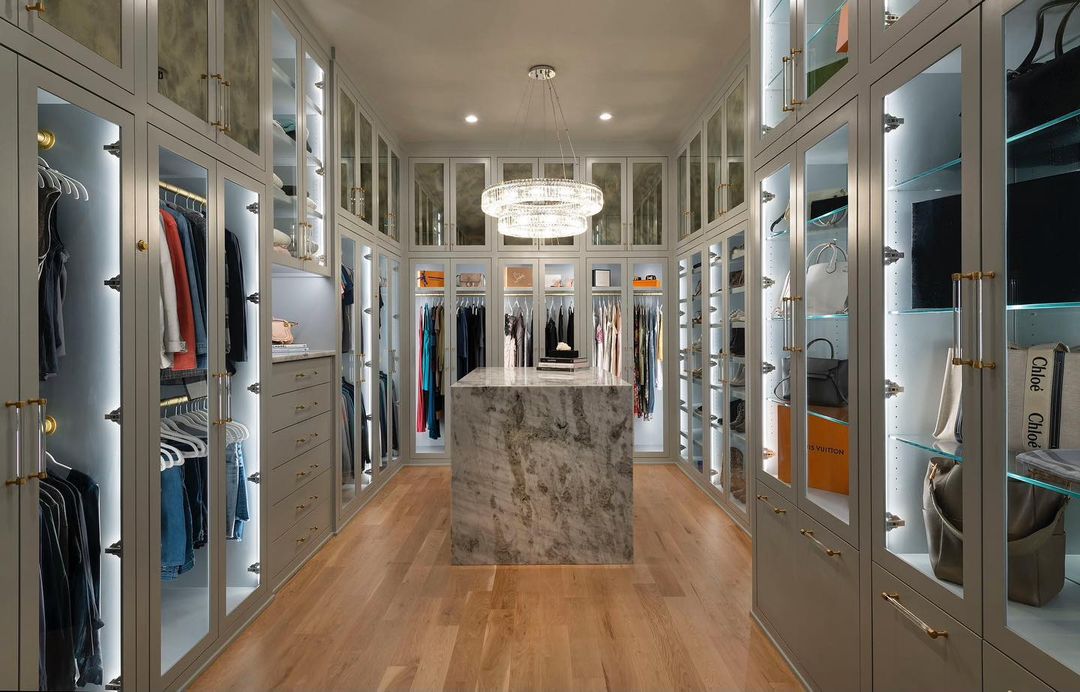 Starting off big, this is an earthy calming combo for a large walk-in closet. Rows of soft gray wardrobes with glass doors light up from the inside, complemented with a gray-black closet island in the middle. The gray is balanced with the warm tones of the hardwood floor.
Double Closet Island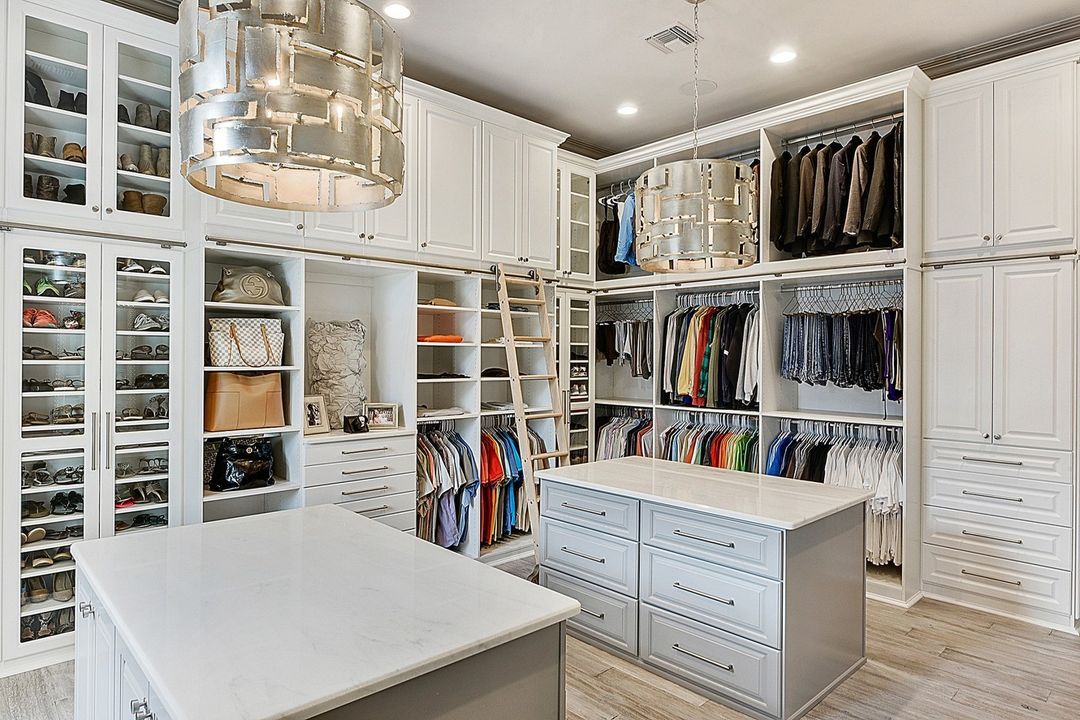 While most decently sized walk-in closets might not have the space for even one closet island, this one has two. It offers more storage space and working surface which you can use for placing clothes you've picked or need to place inside, or maybe find some other uses altogether. The ladder for reaching the higher parts is another great idea to implement if you have the chance… And space.
Regal Feeling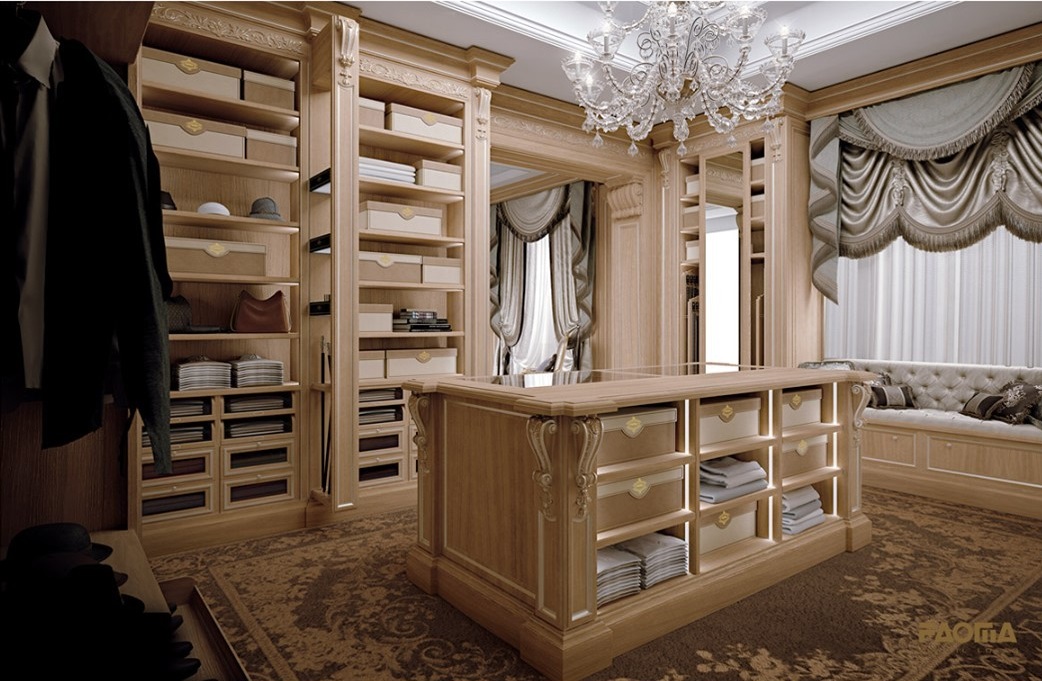 If you're a fan of rococo or baroque style furniture and want to bring that regal feel to your closet, then this is a very modern way to do it. The light wood and carvings on the closet island carry that 17th or 18th-century style, while the incorporated lights and open shelves give out more of a modern minimalist feel.
Pink Piece of Heaven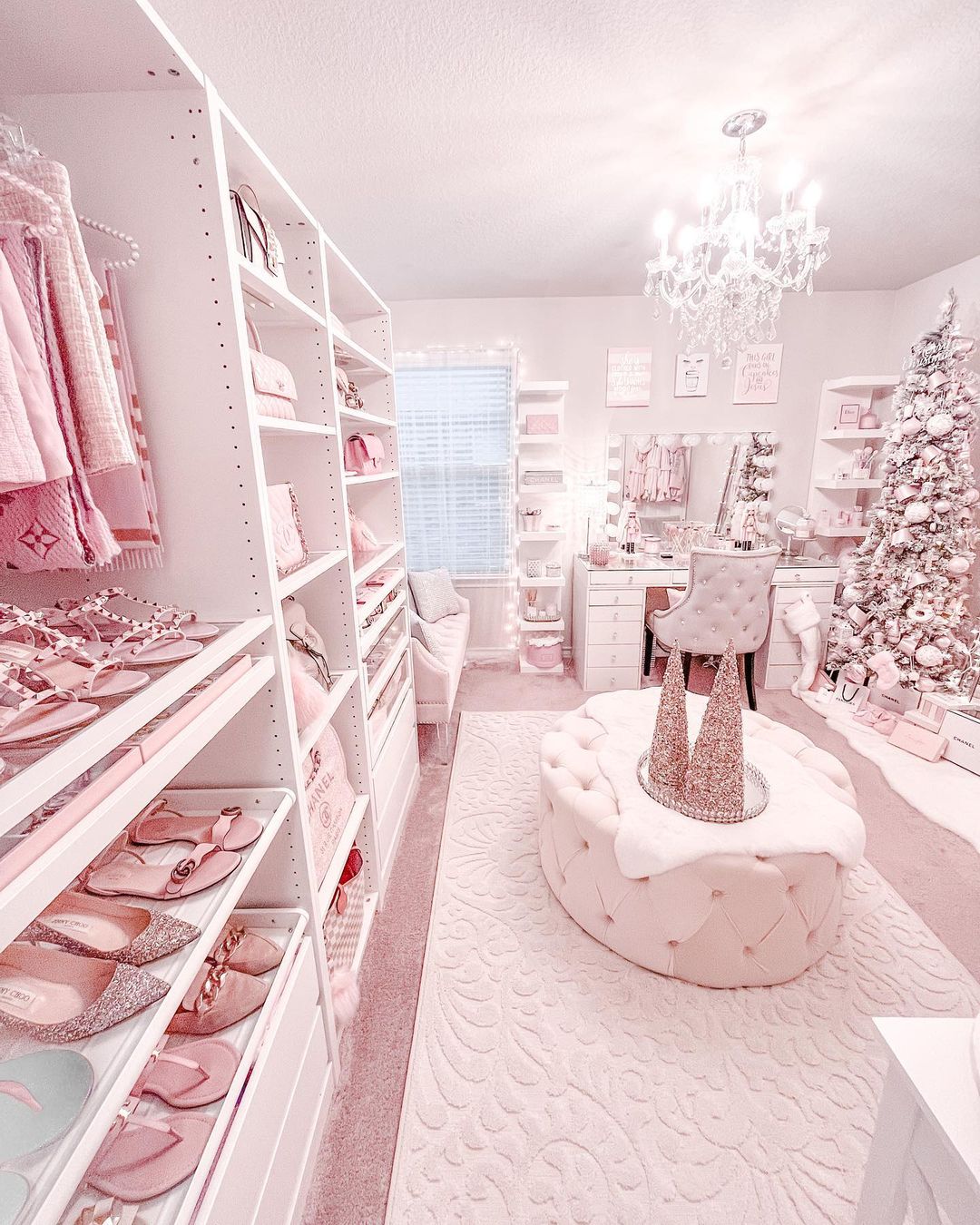 There's nothing wrong with loving pink things even when you're an adult. It is a bright, warm, cheerful color and if you wish to bring that warmth and cheer to your special place, do it and don't let anyone tell you otherwise. Just look at this gorgeous baby pink closet, complete with a small ottoman and even a Hollywood-style vanity.
Small and Practical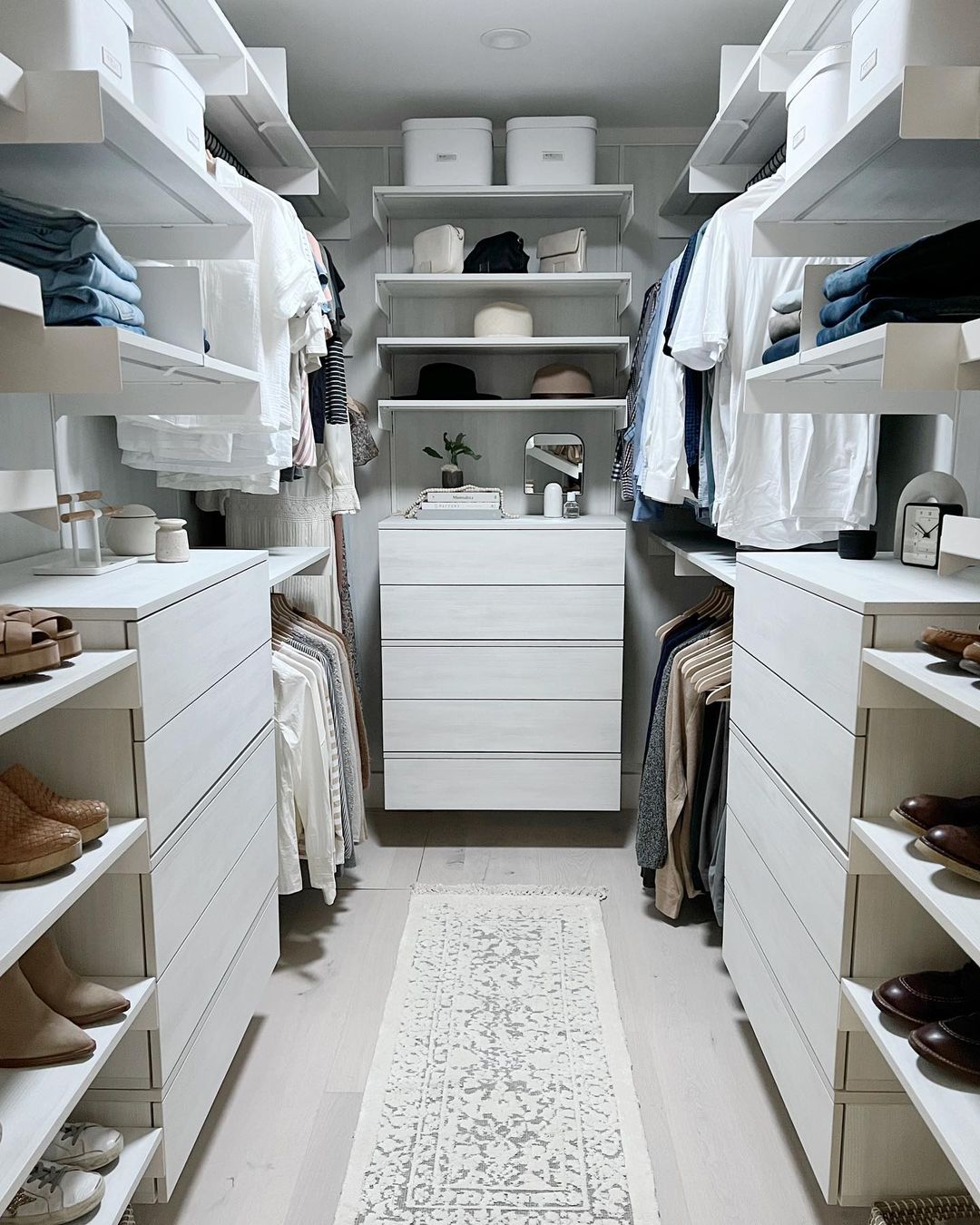 Not everything has to be glam and extravagant. After all, the walk-in closet's main purpose is practicality. When dealing with a smaller narrower space, try to maximize it without overcrowding it. Leave enough places for shelves and hangers, it will give you storage room without making the place feel closed off or even claustrophobic.
Modern Chic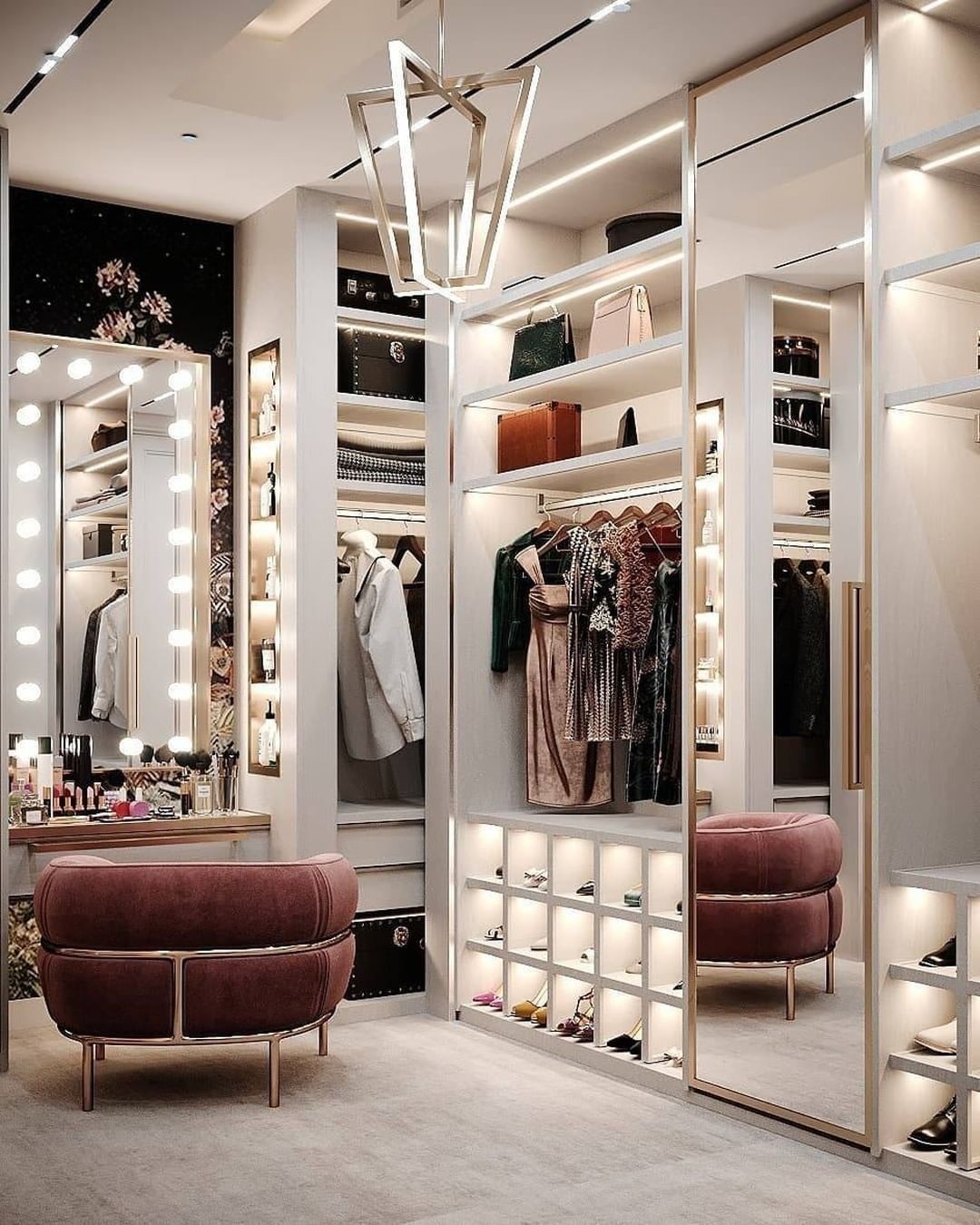 When you have the chance to make your walk-in closet a comfortable place where you can prepare for your day, why not use it. Small box shelves for shoe storage, hangers for all those fancy clothes, and a hanging vanity and a round, comfy chair to go with it. Light gray-beige tones contrasting with touched of bronze and red, add to the elegance of the space.
Long, White Walk-In Closet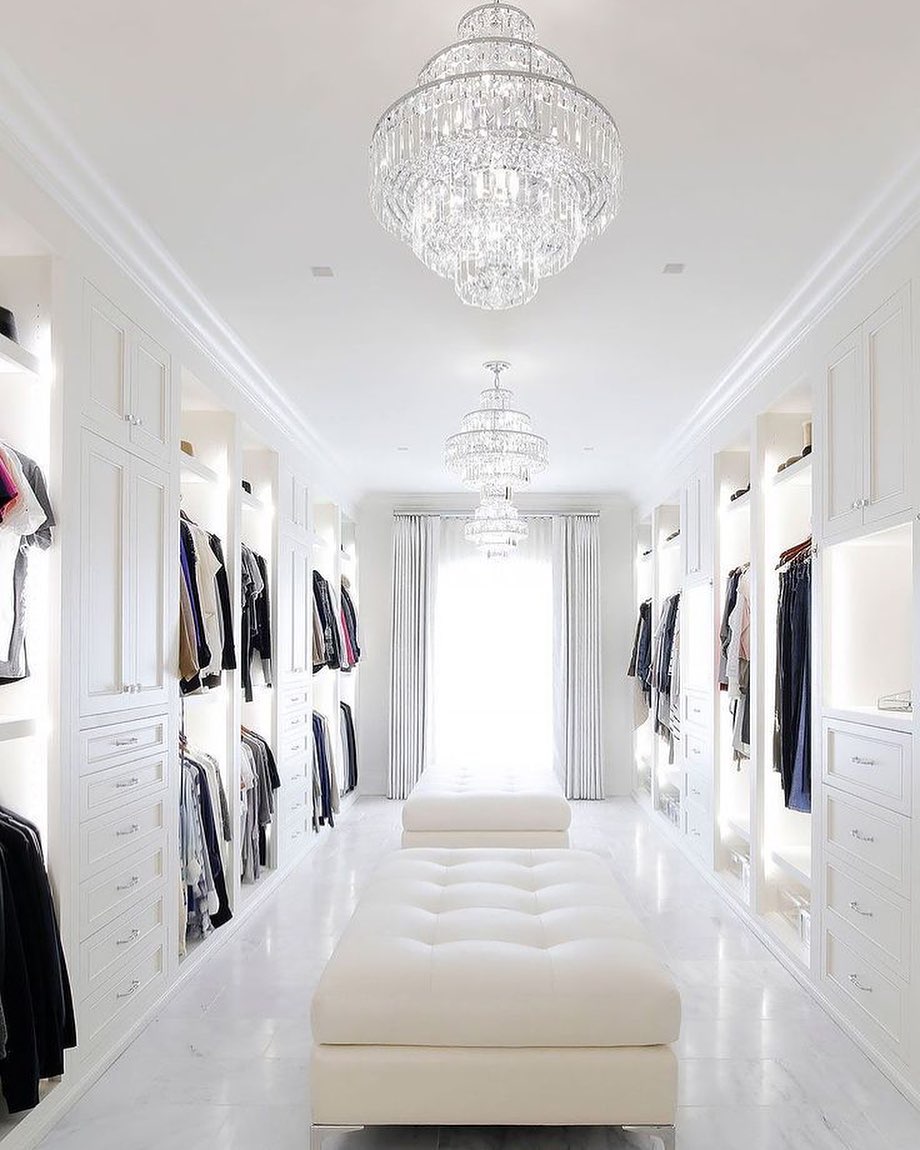 Lighting is one of the most important things for walk-in closest since more often than not, the room does not have a window or the one it has doesn't provide enough natural lighting. It is amazing when you have a floor-to-ceiling window in your closet, but even if you don't you can maximize the light the room gets by choosing white or lighter colored elements.
Attic Walk-In Closet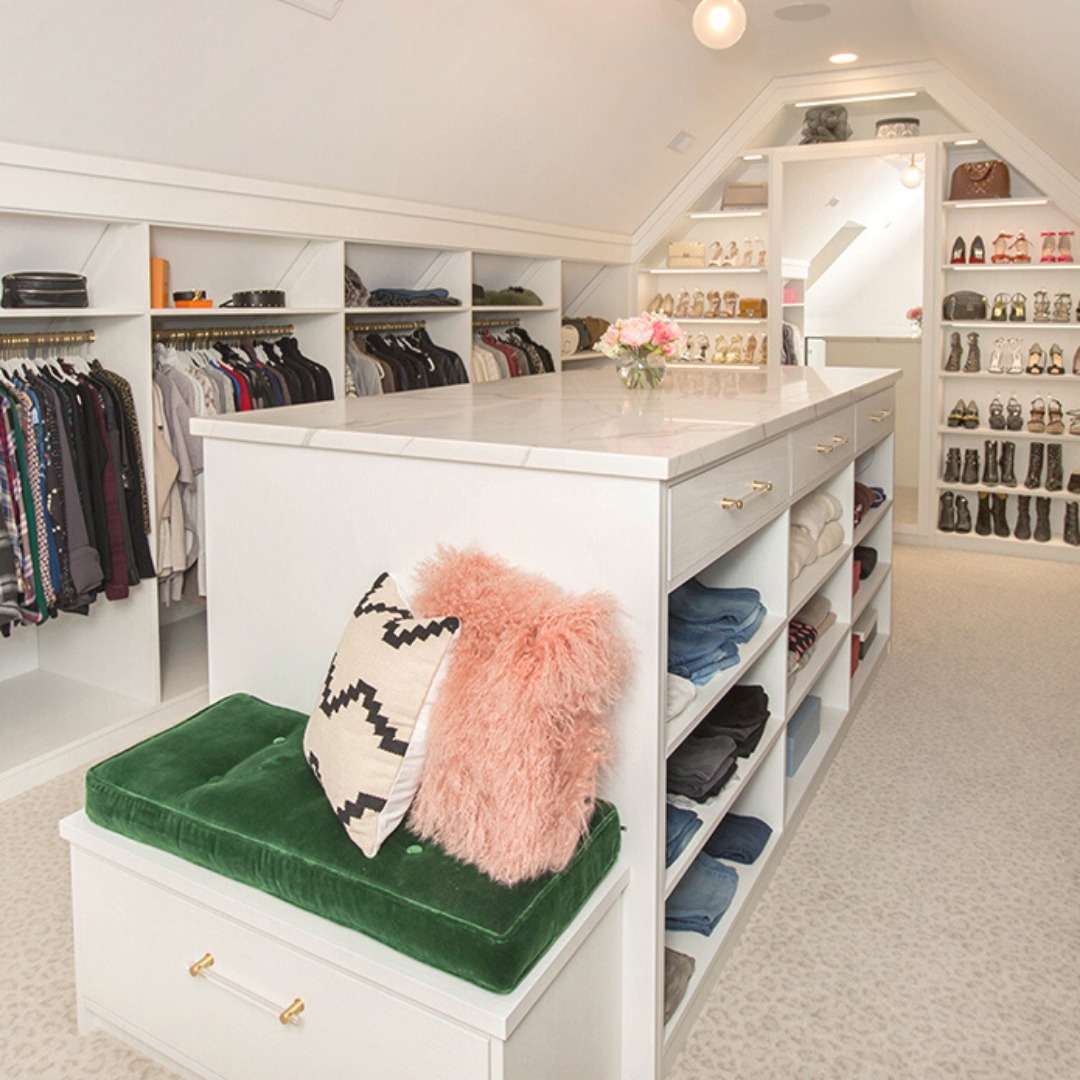 The most ideal place for a walk-in closet is adjacent to the bedroom, from where you can privately walk into it. But, as they say, beggars can't be choosers, and if you have a free attic space you don't know what to do with, here's an idea. It won't be right next to your bedroom, but you'll finally have a large open space to keep and organize all the family's clothes.
Gray and Copper Shine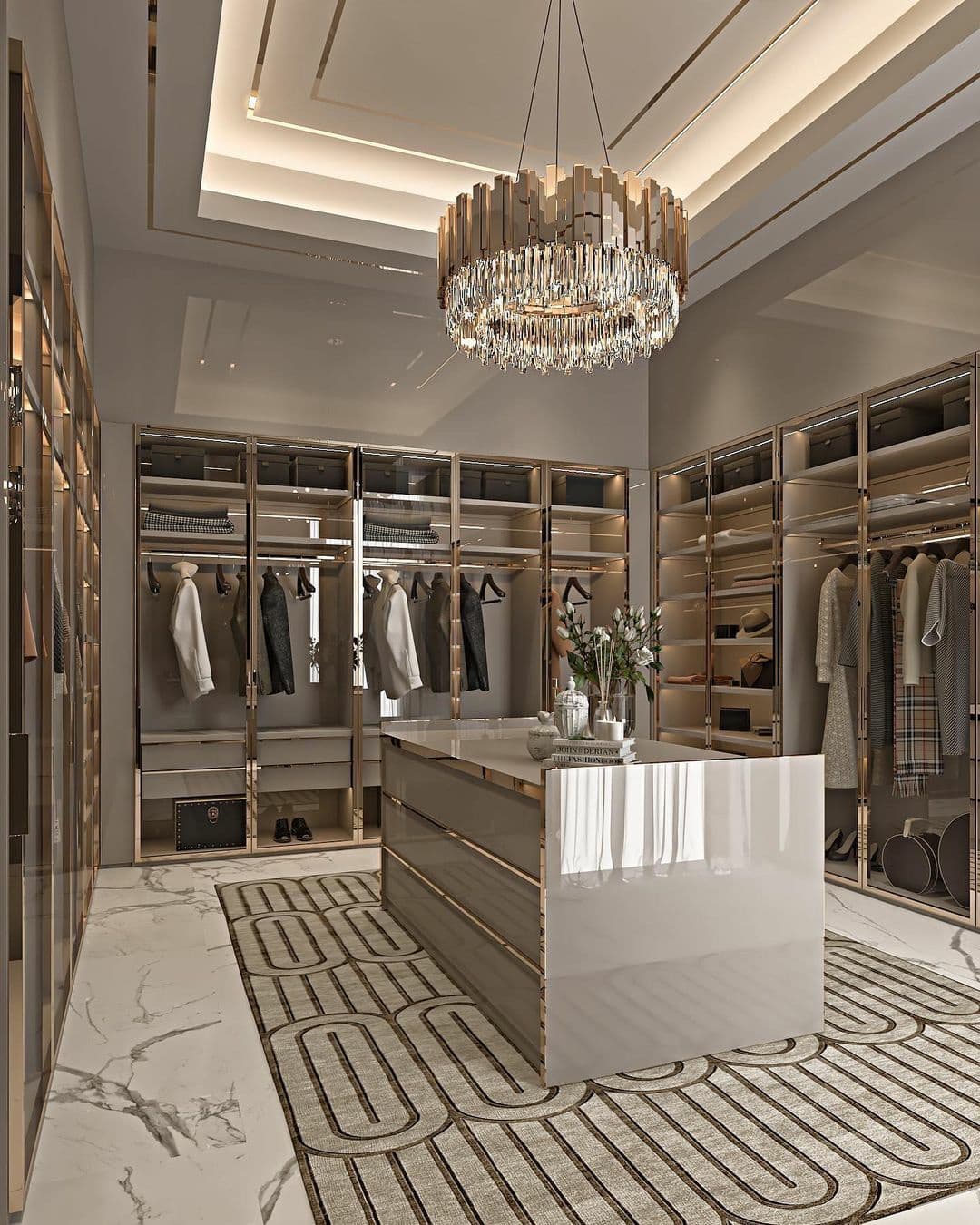 Here is another gray-themed very modern, very masculine design for a walk-in closet. Minimalistic, with glistening copper-like, edged along with the storage units and a solid closet island adds to the sleek and elegant look.
Showroom Walk-In Closet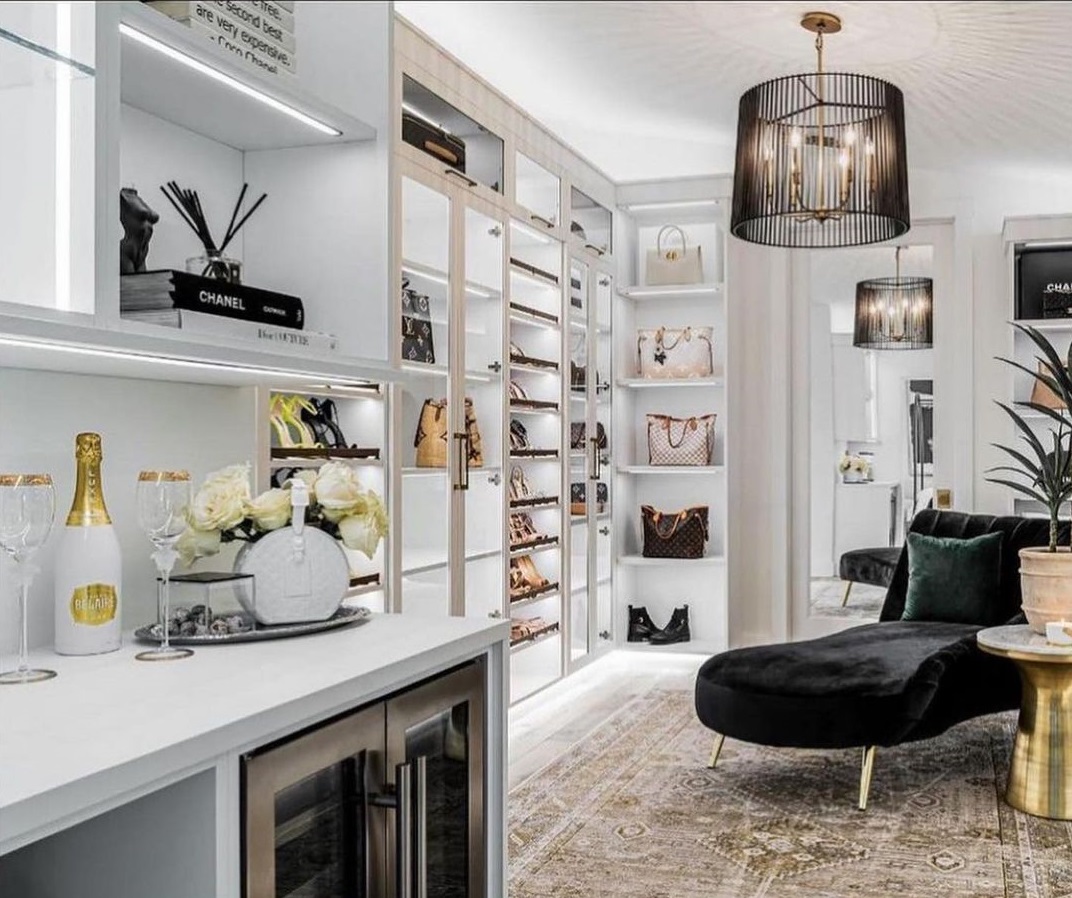 Walk-in closets don't have to only be for storing your clothes, they can also serve as a showroom for all the rare and valuable accessories you have, like bags, shoes, or even jewelry. Even if you don't invite people over to show it, you yourself can enjoy and spend quality time by yourself or your special someone, and really become a quiet place just to get away from it all.
Black And Gold And Marble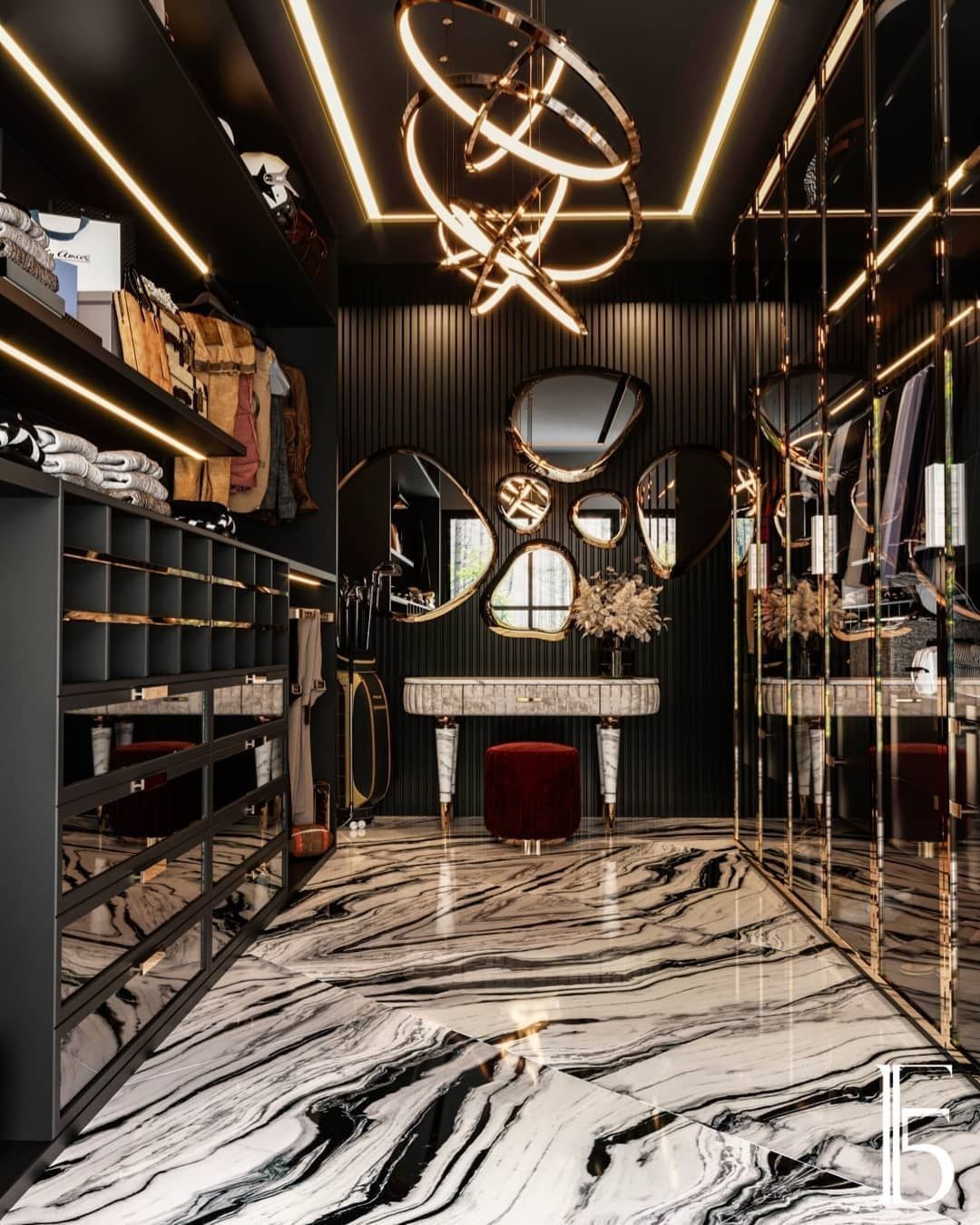 Taling about slick and elegant, this one truly has that mystique edge about it. As I mentioned, it is preferable to have bright-colored elements in a walk-in closet due to the low lighting they usually get, but I couldn't pass out on this futuristic design of black and gold. All of the elements create a nice balance of light and dark and the shape of the mirrors above the vintage vanity look almost like portals.
Lighting And Glass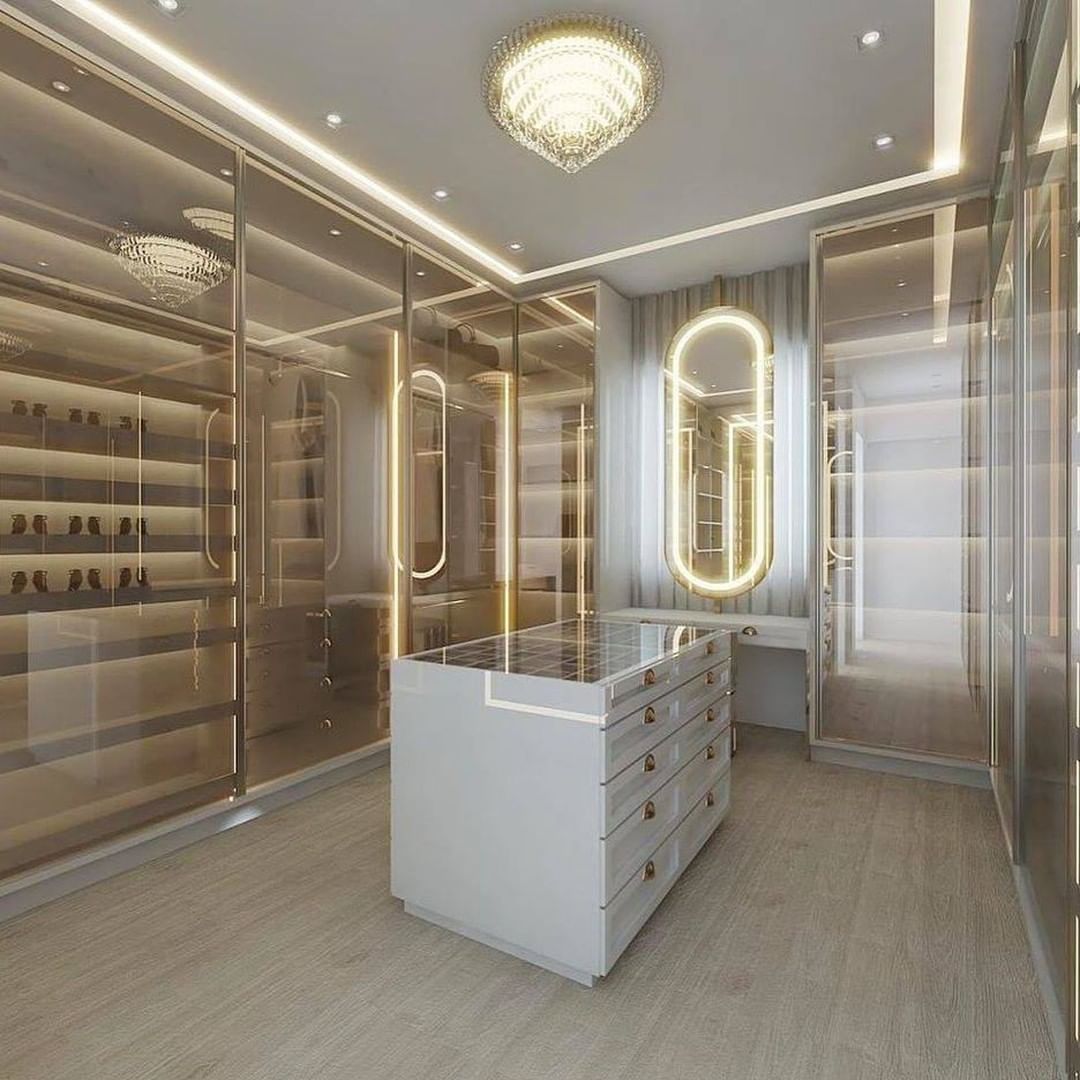 While having glass doors from the wardrobes is convenient and protects the close, sometimes you just don't want to see the mess that has been created over time, which can happen, even among the tidy ones. A slightly tinted glass might do the trick. Let's not forget the lighting as well, which in this design is absolutely lit. It all just works well together.
Getting The Most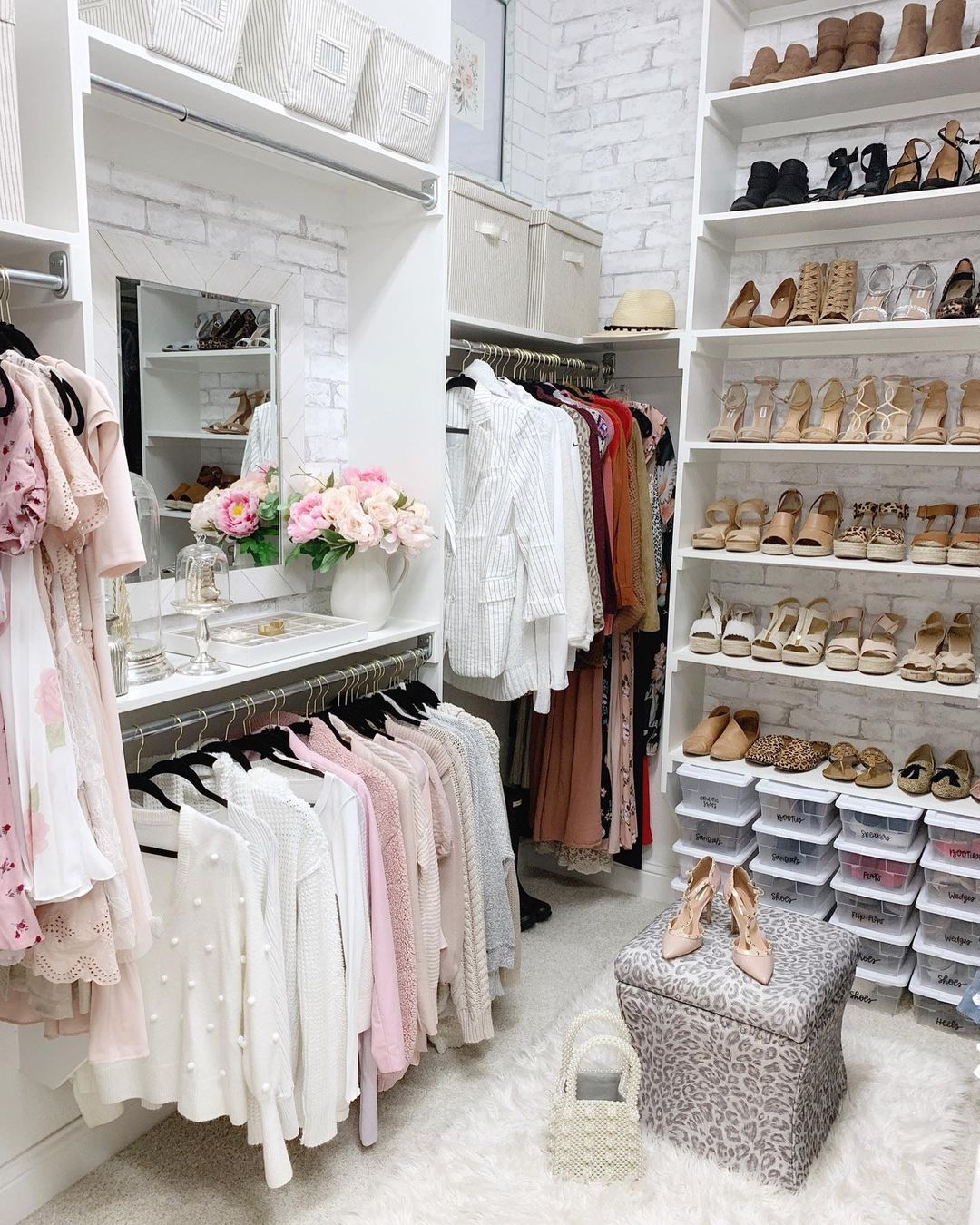 Having a great walk-in closet doesn't mean it has to be enormous. While that is certainly a big plus, even if your available space is just a couple of square feet, you can turn it into quite a functional and decent walk-in closet, by strategically and wisely using every available inch, from to bottom.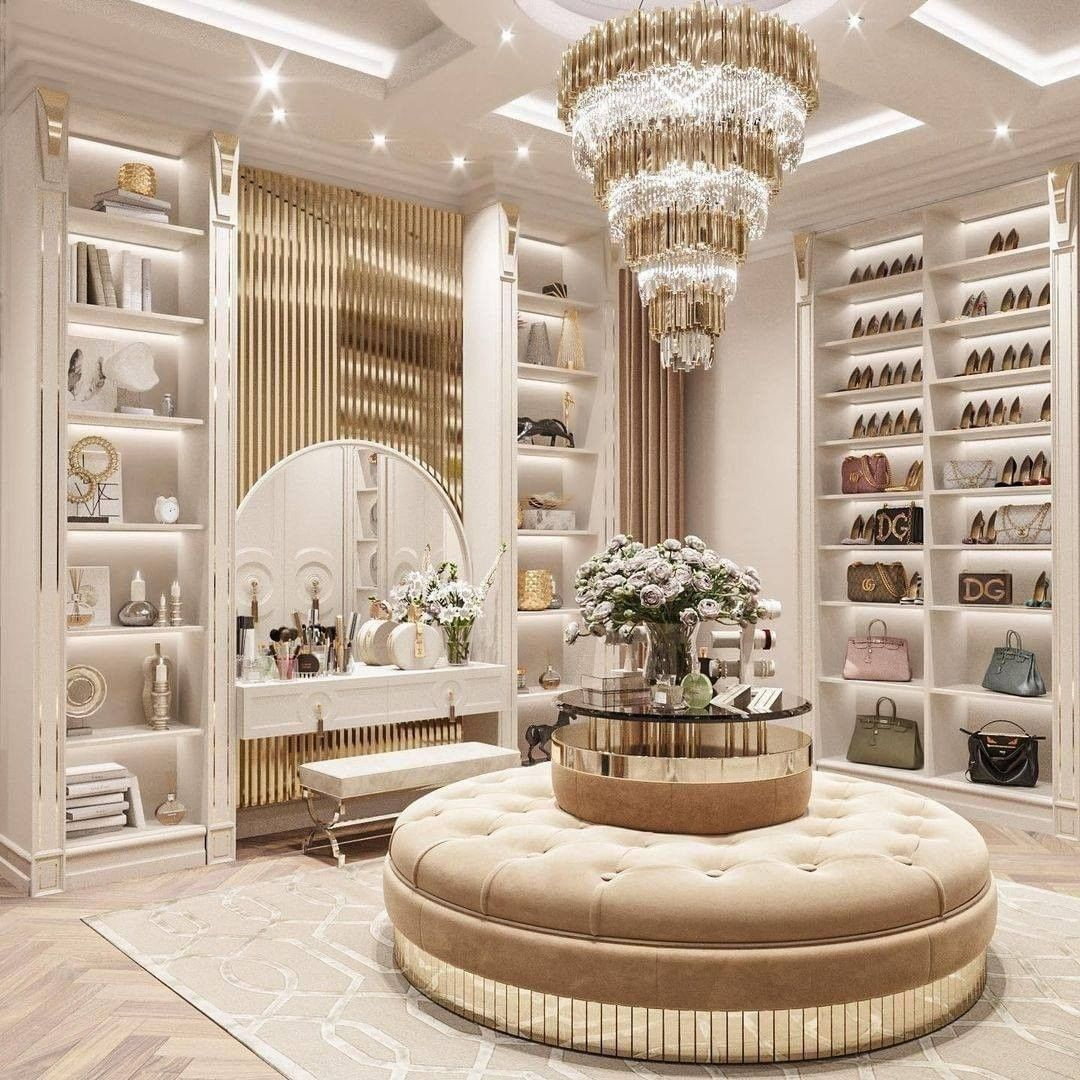 This walk-in closet is absolutely gorgeous, almost like it's some changing station from a famous boutique or something. The large, circular tufted bench has a small surface in the middle, and the shelving is spaced to be both functional and showy, A true star-worthy walk-in closet.
Small, But Functional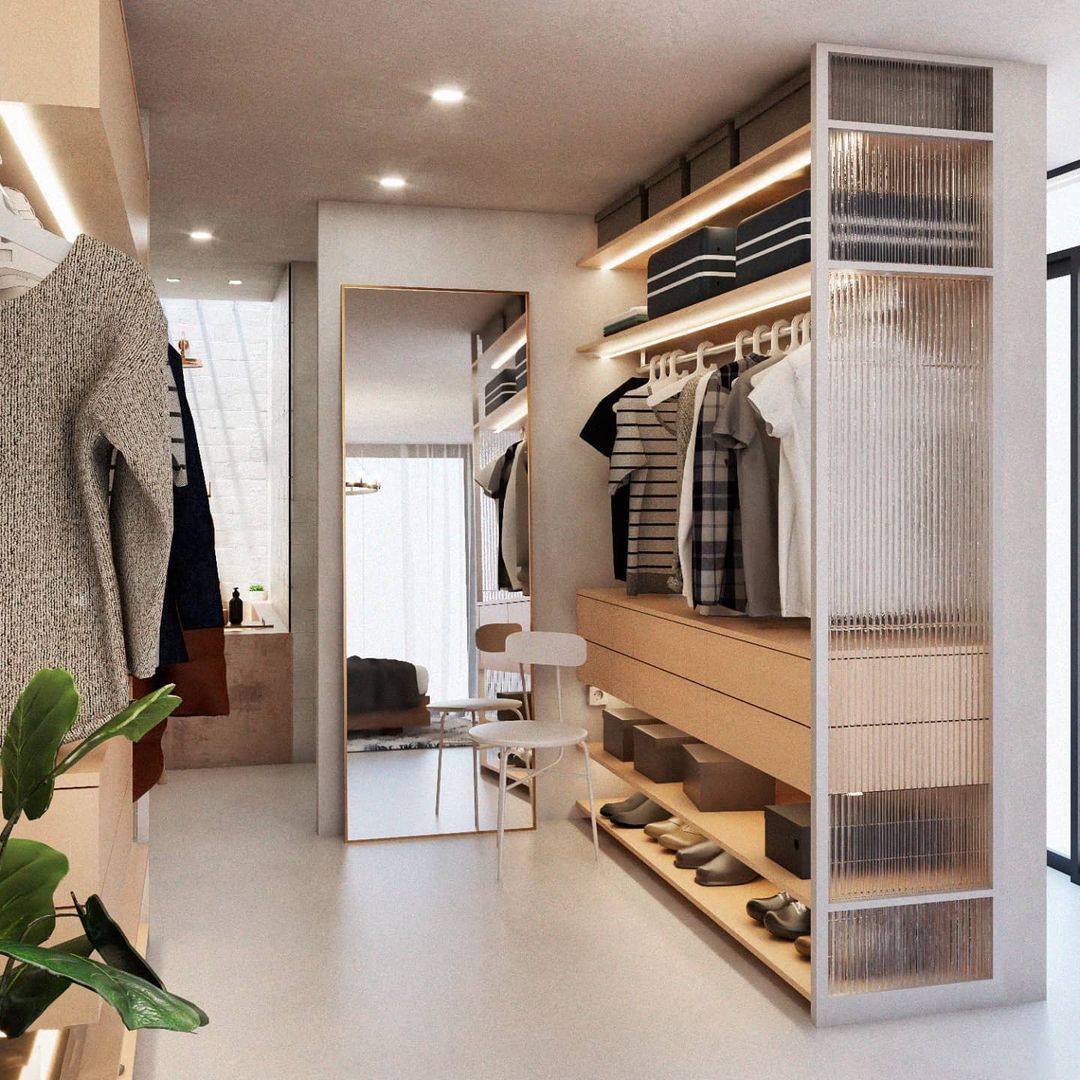 Depending on how your house is designed, you might have a nook or part of the room that looks interesting but is not really functional. If possible, turn that nook into a separate room, with a room divider and that room will certainly make a decent small walk-in closet, at least for a few of your belongings.
White and Blue Shaker Walk-In Closet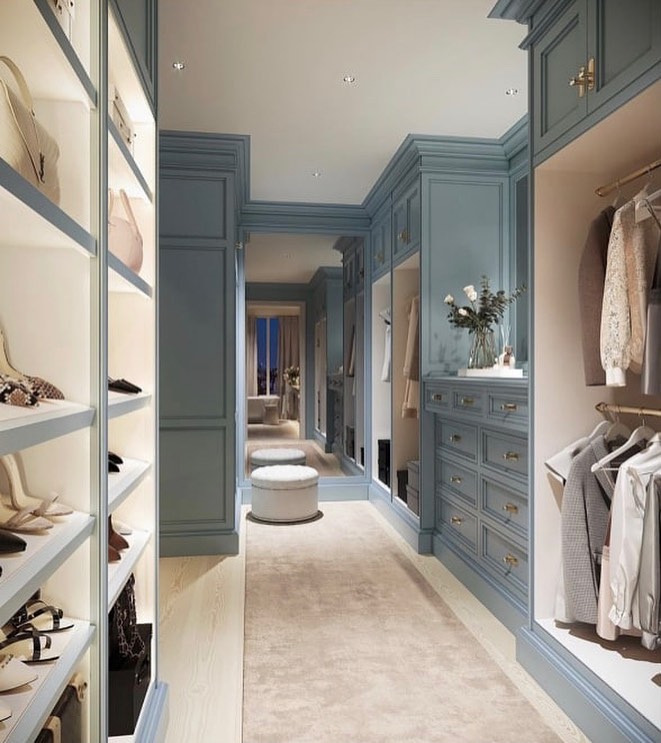 Shaker style is a style that was quite popular a few decades ago. While it is a slick design, and pleasing to the eye with the signature panels, they might not be a lot of popular now, but the design is timeless. And given the right design, it will make your closet timeless as well.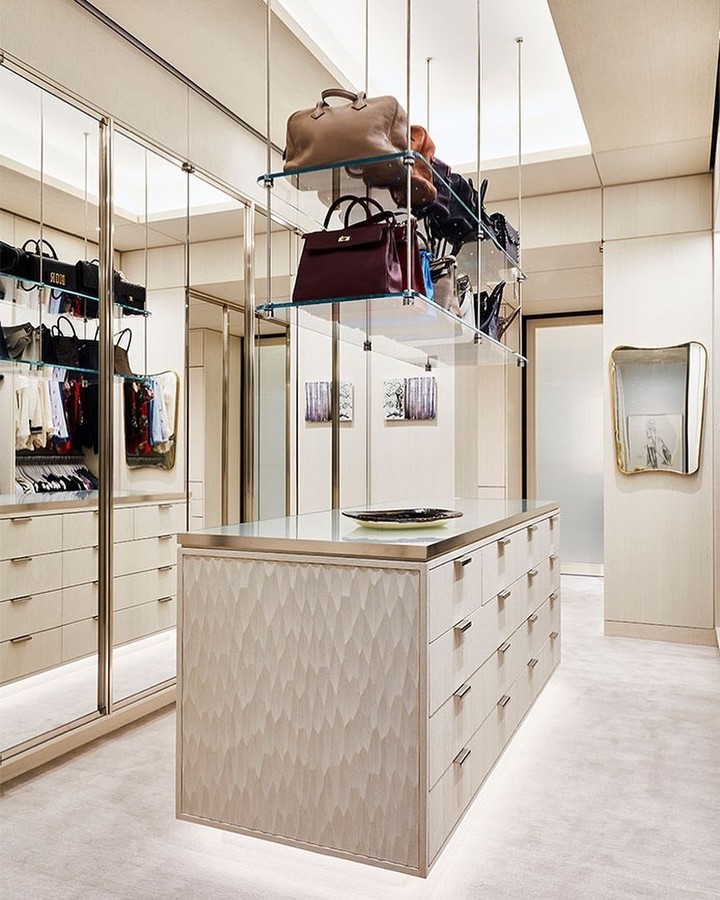 Now, if you truly want a futuristic walk-in closet, you simply must get yourself one of these floating closet islands. So, all right, it is not really floating, but the lights from underneath it sure make it seem that way. The patterns on the side are also gorgeous, like little mountains, and the airy feel it gives with the mirror doors and floating acrylic shelves, this walk-in closet is huge and also well designed.
Boho Style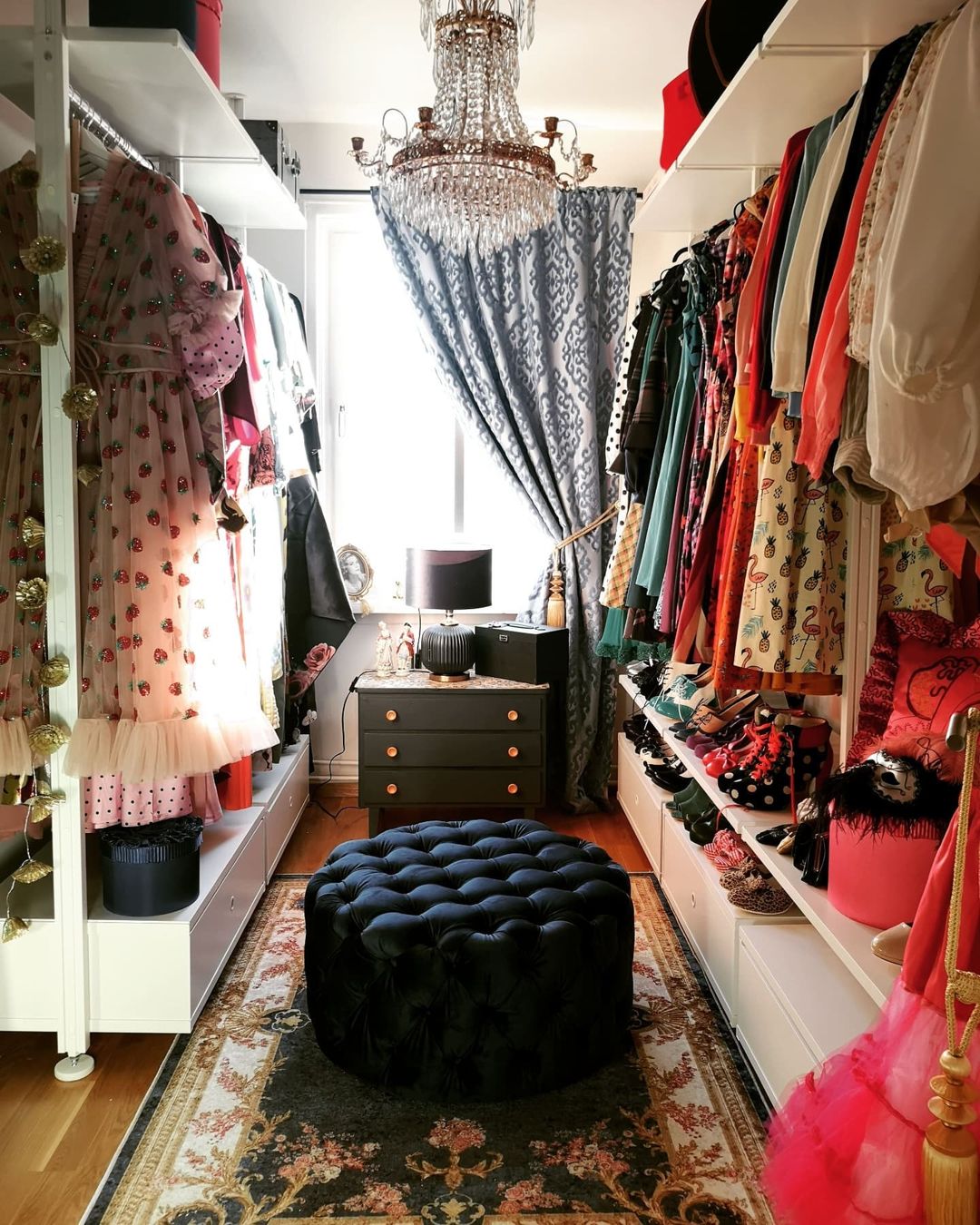 Last, but not least, if you have the chance to afford yourself a walk-in closet, don't let it dictate your behavior. You don't have to keep it neat and tidy all the time, but it is important that everything has its place and everything will get to its place… Eventually. Even if it's a small nook with some hangers and a few drawers, a walk-in closet is a walk-in closet.
That's all I got for you today. I hope you had a fun journey browsing through incredible walk-in closet designs and maybe got an inspiration to try and squeeze one in your home. We all deserve that space, don't we? Share your thoughts and ideas and tell us which one was your favorite in the comments below.