Who among us doesn't love to cook and have their spices lined up neatly and ready to use? Everyone? I thought so. Sadly, that's not always the case, as more often than not, we leave our spices just anywhere because we don't know how to organize them. Have you ever dug through your cabinet trying to find the right spice to go with your dish? Or maybe you have looked for your curry jar everywhere, only to realize that it was under the towel, but it was too late? These tiny unfortunate events can be really unnerving, so why not just get rid of them once and for all?
We ascribe this to lack of space, but is that the real reason behind our spice chaos? Well, the good news is that lack of space isn't the main problem, but rather the lack of organizing ideas. You can fit everything you need into the space you have; you just need to make it work.
You have a wall in your kitchen, don't you? Why not place a few shelves and put the spices there, or make spice dividers in your spice drawer instead of piling up your spices inside? Please stick around, as we have much to share with you!
Door Shelves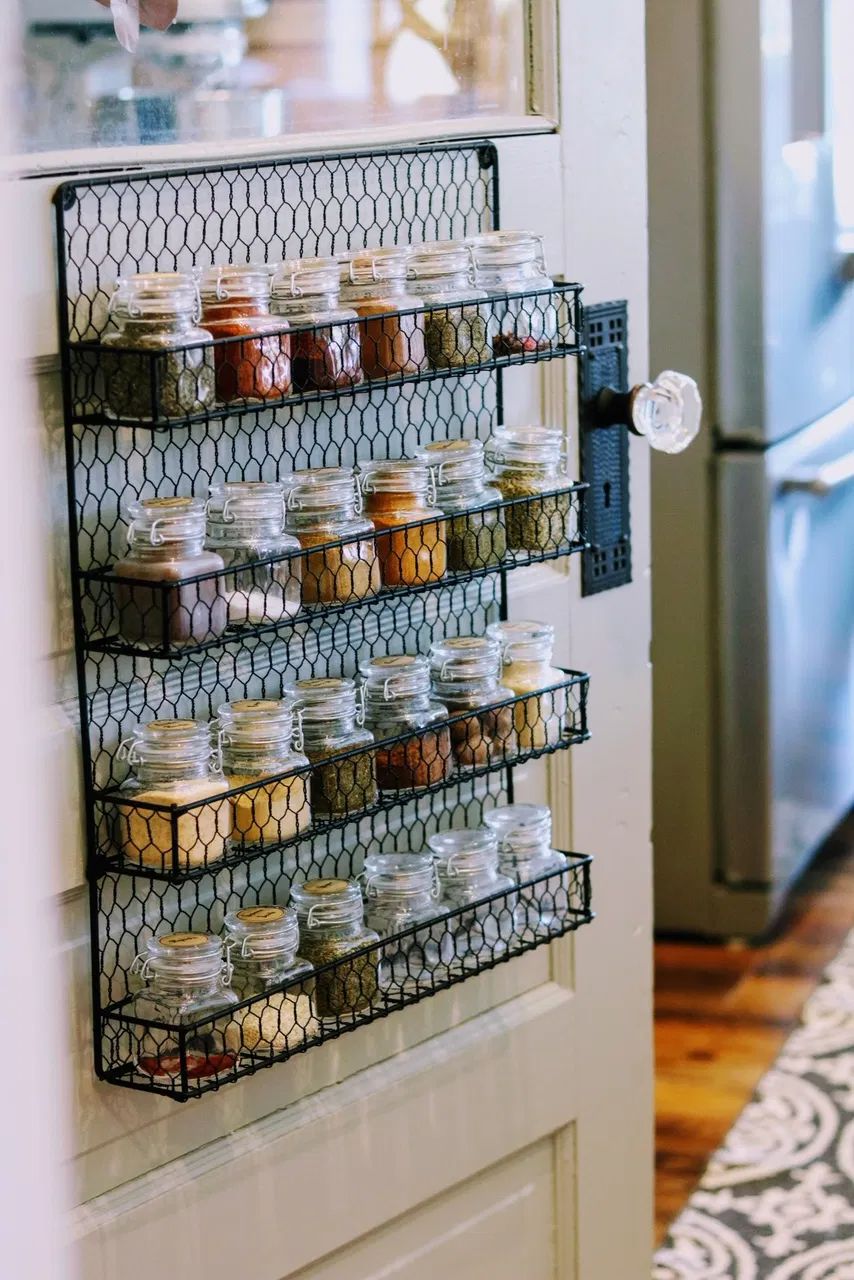 If you don't have enough counter space to place your spice rack, there's always the door. All you need is a few screws and a hammer, and you have a practical, space-saving, and neat spice rack.
Spice Spinner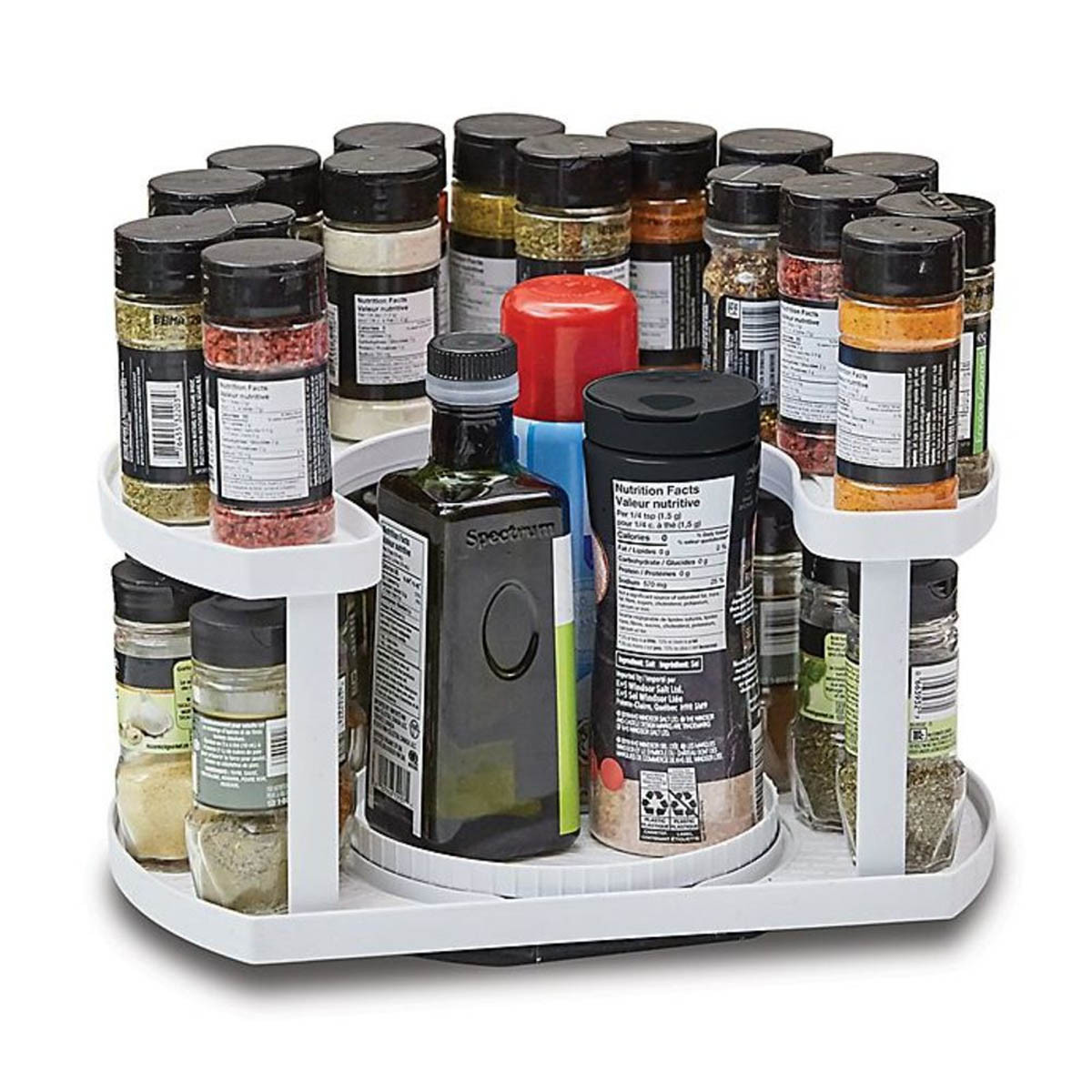 An excellent solution for your spice mess. Using a spice spinner will ease your troubles, as you won't have to dig to find the spice you need. The beauty of the spice spinner consists in its simplicity. It doesn't require additional space, just enough to fit in it.
Door Spice Holders
Whether you mount it on your kitchen or pantry door, this spice holder will do a great job keeping your spices organized. You won't have any problem finding the spice you need the second you need it, without creating chaos around you. You can also use this spice holder for other items, such as bottles and jars, freeing your cabinets from clutter.
Magnetic Spice Rack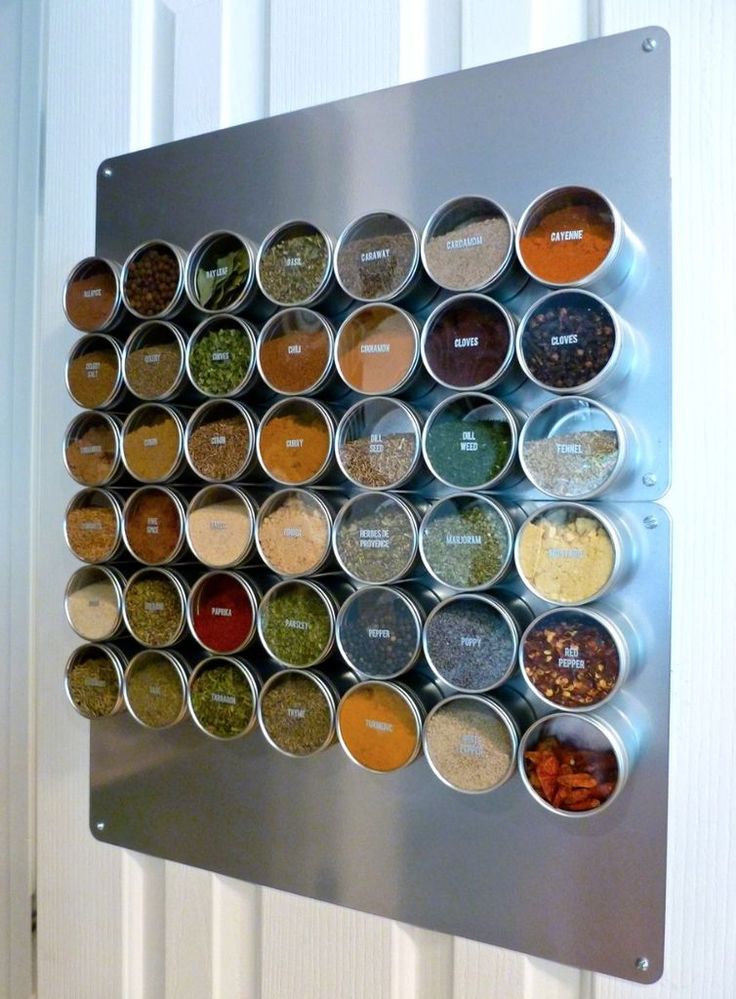 This is a genius spice organizing idea. Because it is magnetic, you will simply pull and stick the spices. You can buy it or make it yourself. The only thing you have to have are metal jar lids. Mount it wherever you want to and enjoy cooking!
Vertical Spinner Spice Rack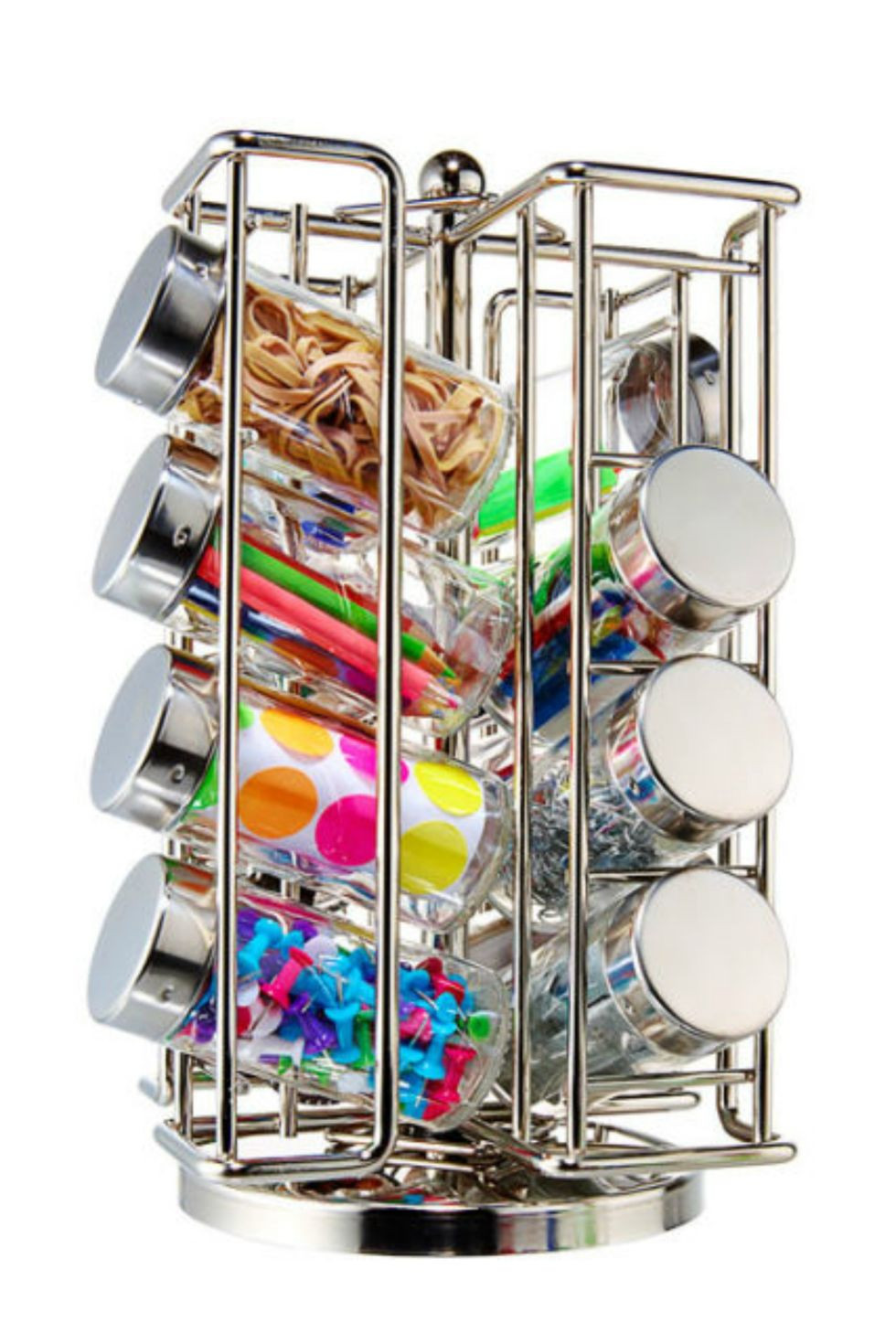 Elegant, simple, neutral, and practical, this vertical spinner spice rack can adjust to almost any type of kitchen. Since it is tall rather than wide, it will do a great job-saving space. You can easily have everything handy and displayed neatly right in front of you. Spice organizing has never been an easier task.
Spice Clips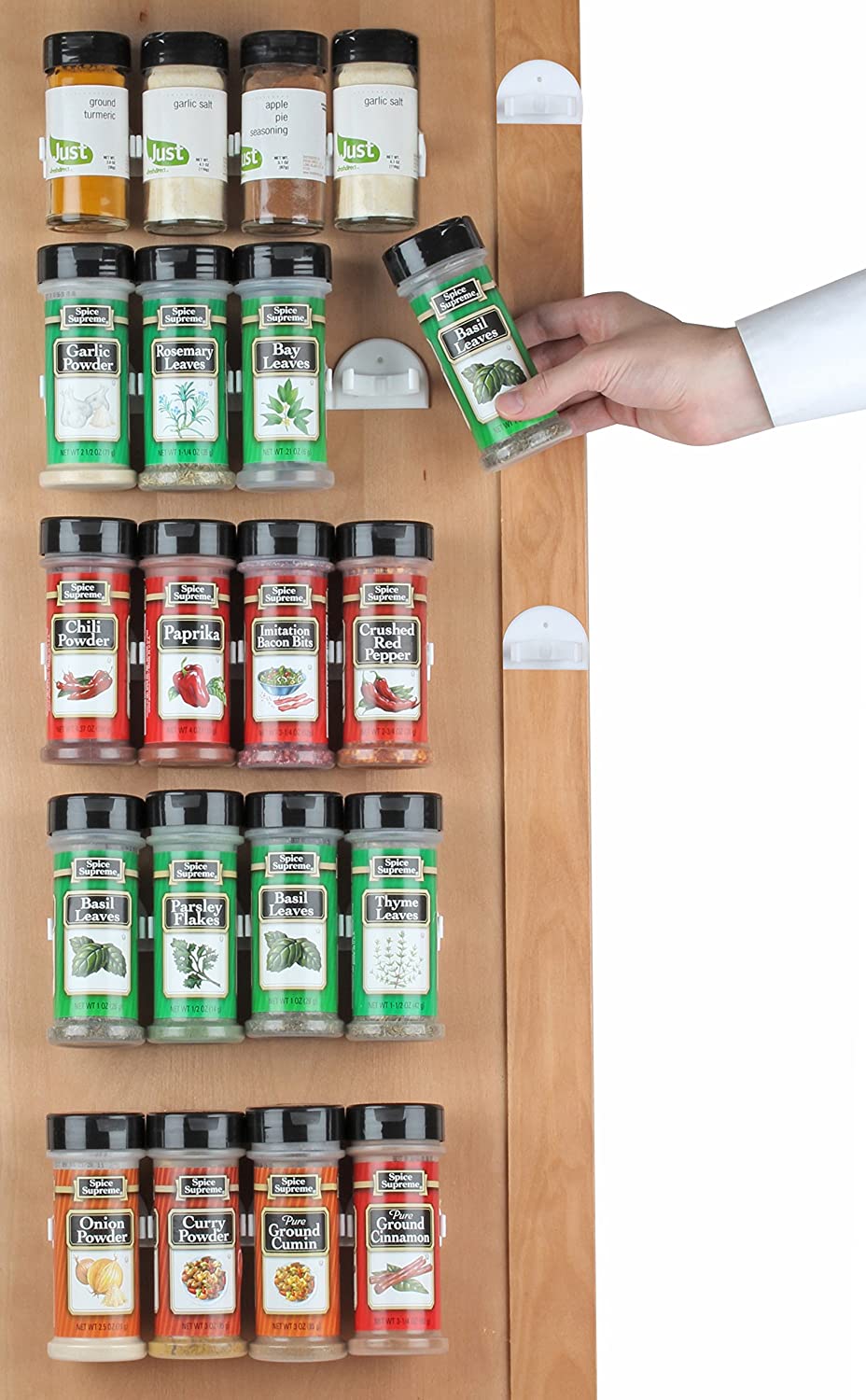 These space-friendly practical spice clips can make a huge difference in your kitchen. They are easy to find and easy to mount. However, you will need same-size spice containers to make this work.
Spice Rails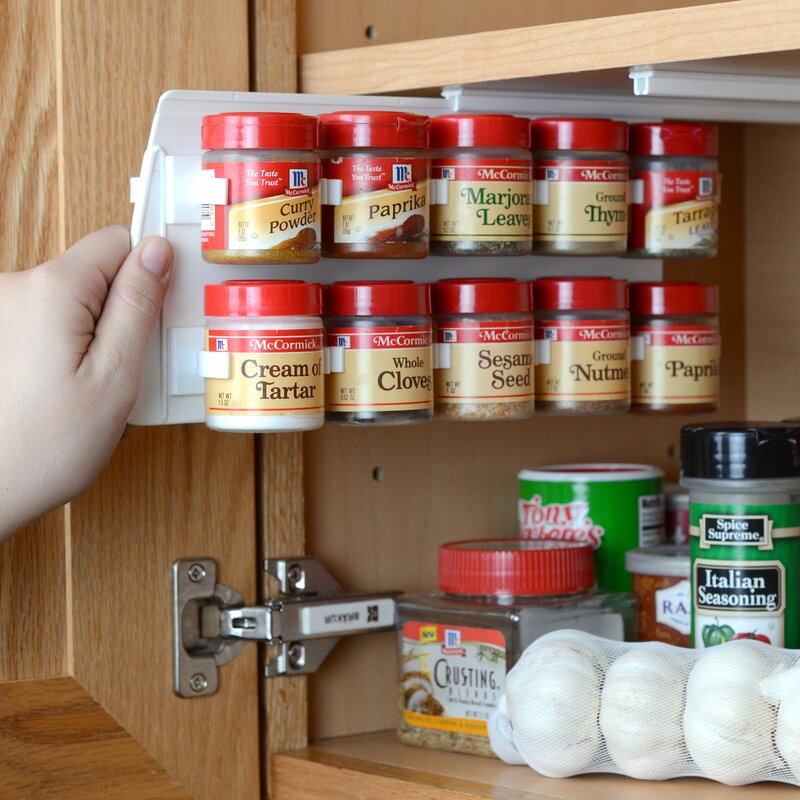 Similar to the spice clips, the spice rails have an added bonus- the sliding feature. You can mount them wherever you see fit, even inside your kitchen cabinets. The spice rails hardly take up any space, so you will have your spices in your kitchen cabinet and still have the cabinet free.
Spice Drawer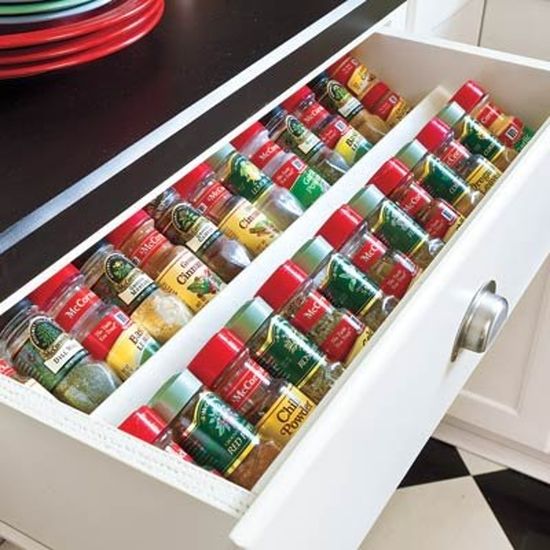 No spice rack discussion is complete without the spice drawer. Placing a divider in the middle of your kitchen drawer can turn a regular drawer into a perfect spice organization space. You can make it yourself, or you can buy one. Whether you buy it or make it yourself, the spice drawer will eliminate your spice organizing troubles turning your kitchen counter into a clean and smooth cooking-only surface.
DIY Spice Rack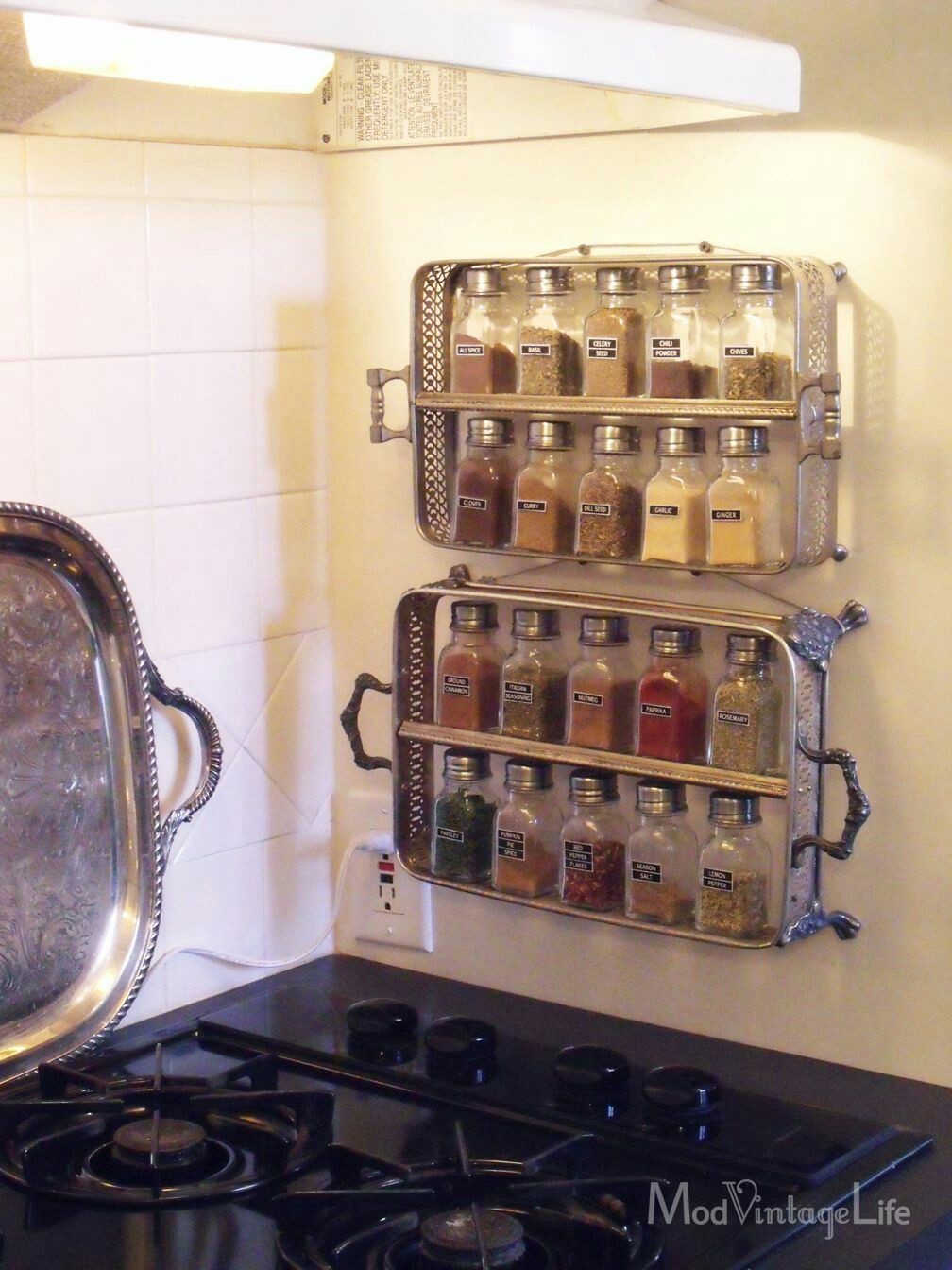 Not only does that it will resolve your spice storage problem, but it will give your old serving trays a new shine. This DIY spice rack is a multi-practical way to declutter and decorate your kitchen while increasing its efficiency.
Hanging Spice Rack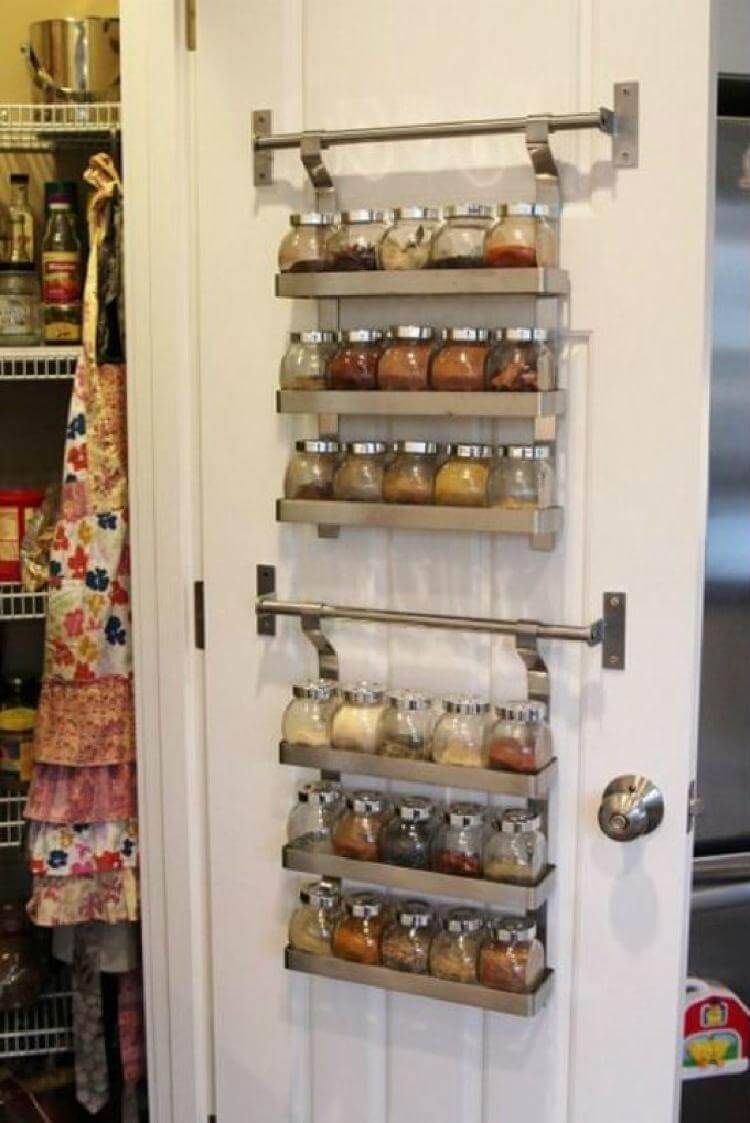 Whether mounted on the door, wall, or your kitchen cabinets, this spice storage solution will help you organize your spices and have them handy whenever you need them. Widely available to buy and very easy to make, the hanging spice rack is just the thing you need if you have a small kitchen.
Spice Rack on Wheels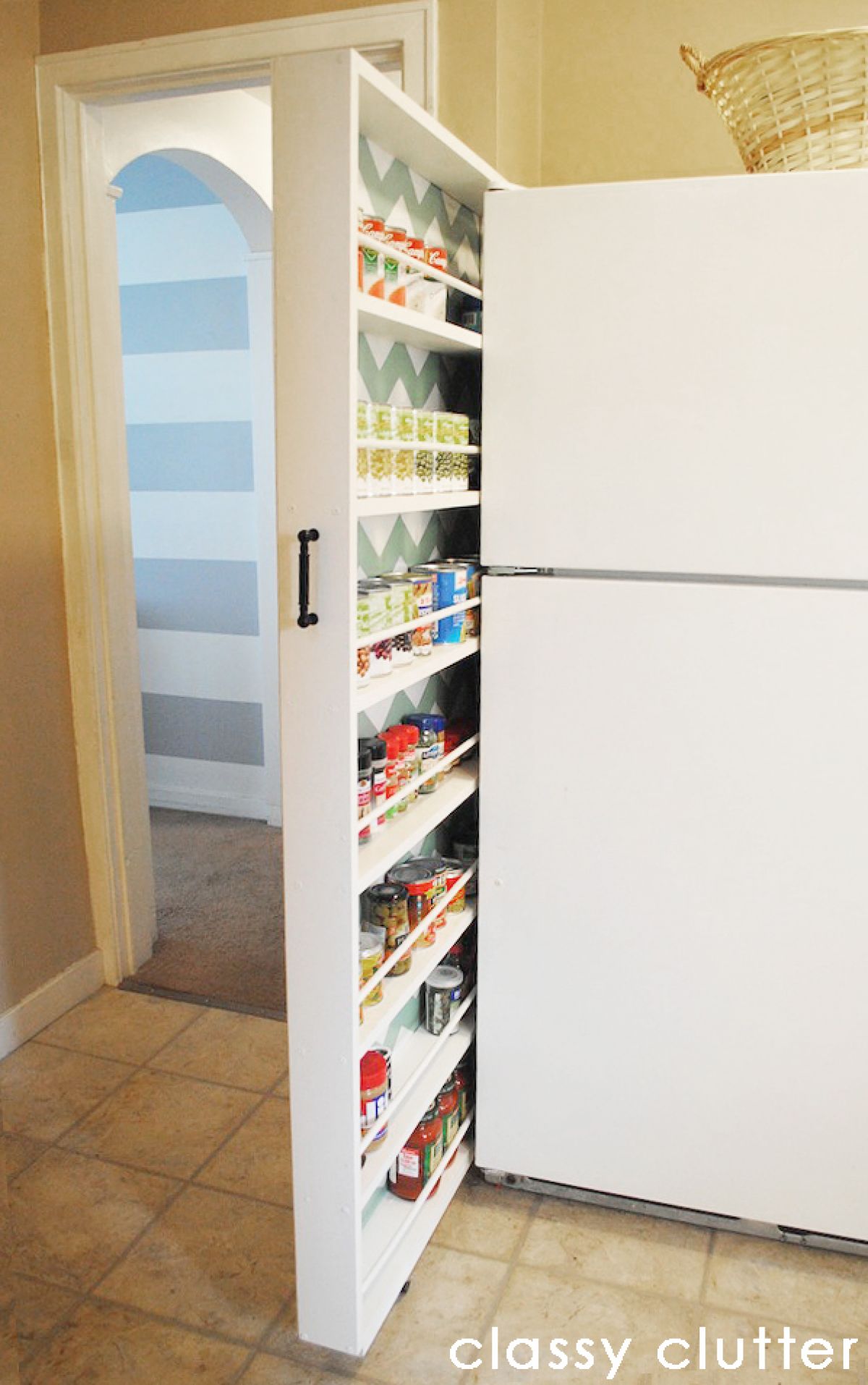 Do you have some unused space in your kitchen that is somehow too big and too small at the same time? Well then, this spice rack on wheels might just be the missing puzzle piece. You can fit this spice rack in that empty space you always had but never used. Thin and practical, you can use this spice rack for much more than just spices. Now, you can neatly store everything that's in your way and have it ready to use whenever you want.
Crate Spice Rack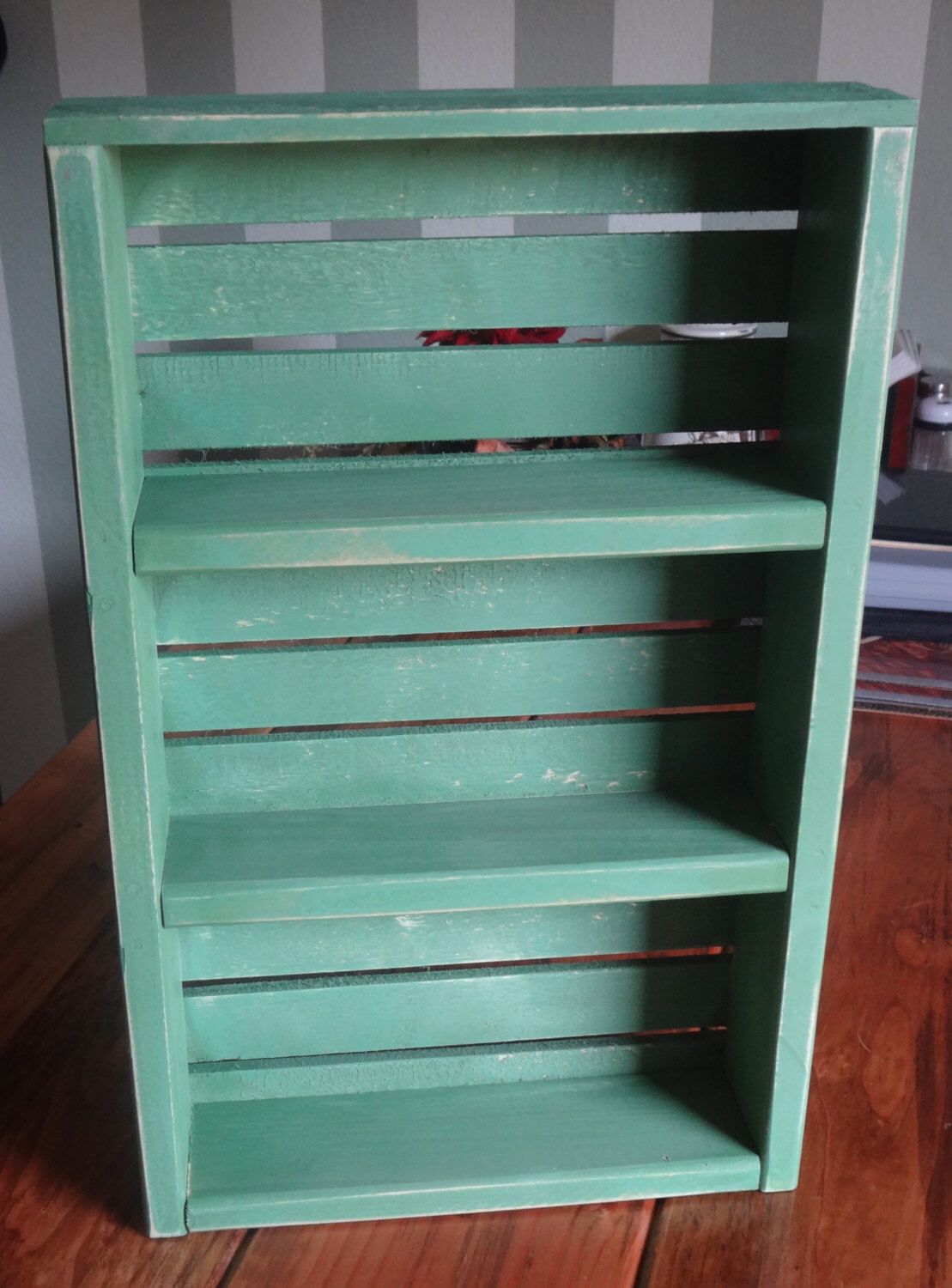 On the counter, behind the door, or mounted on the wall, this crate spice rack will definitely solve your spice organizing problem. Spacious enough, yet space-saving, it will fit all your spices, and the best thing is, you can put it just about anywhere.
Grid Rack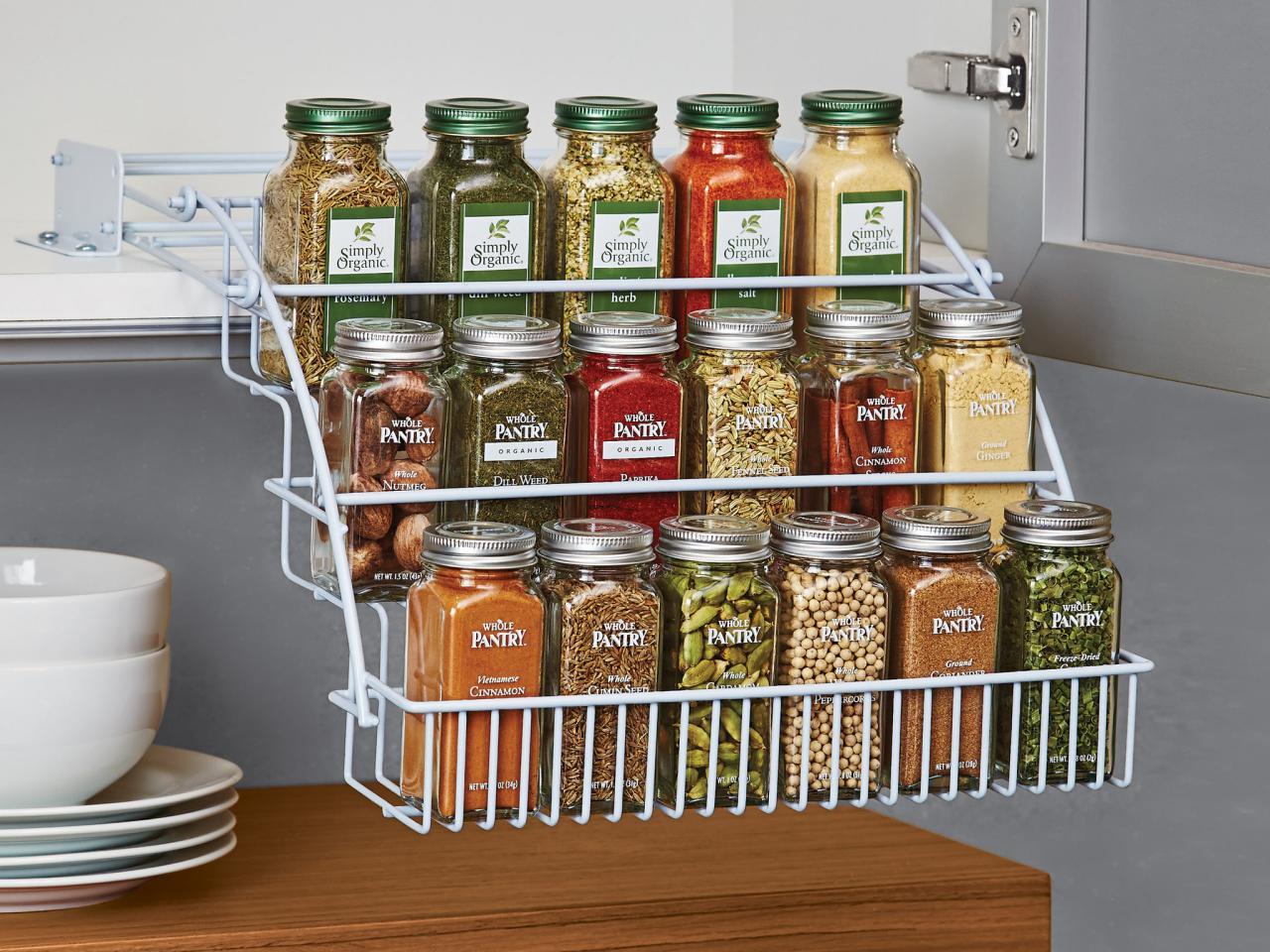 Another great space-friendly option is to keep your spices organized. The best thing about this spice rack is that it's foldable, so you can just fold it back after you are done. It fits anywhere- in the kitchen cabinets, on a shelf, or on your kitchen counter. Its only requirement is a flat and firm mounting surface.
Spice Compartments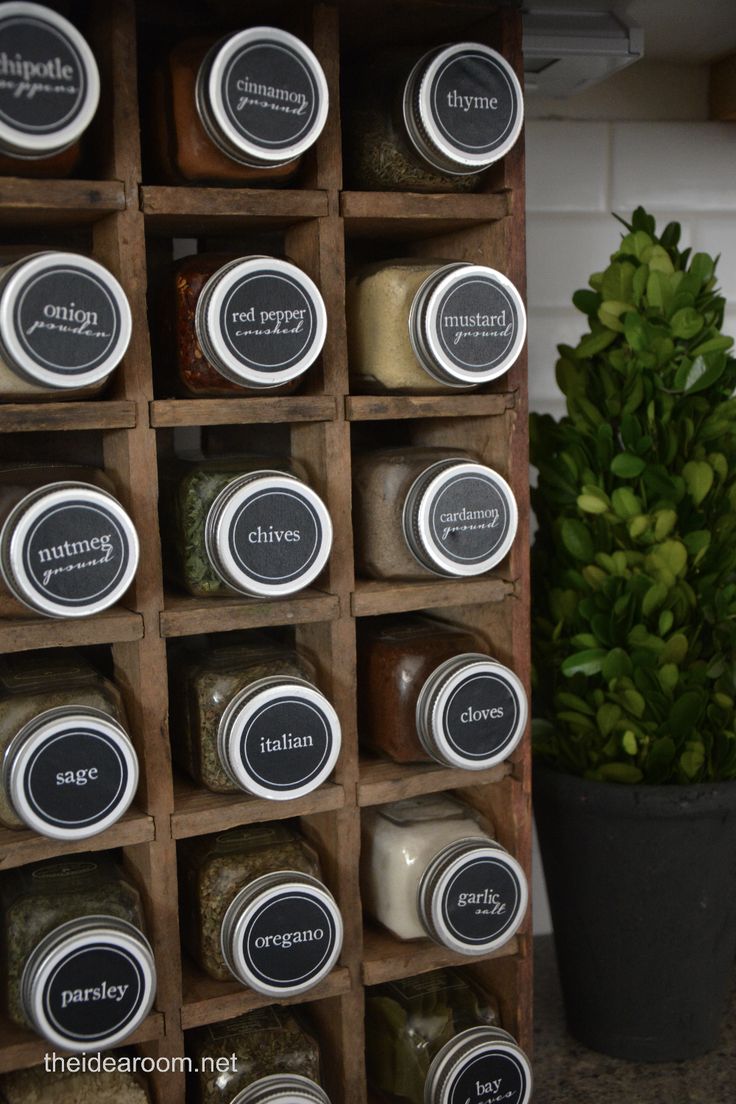 This wooden spice storing space will give your kitchen a more rustic vibe, but if you paint it, it can give your kitchen whatever vibe you want. More importantly, it will keep each spice in its own place, meaning you won't have to go through your kitchen drawers and cabinets for a pinch of oregano ever again.
Cabinet Door Space Rack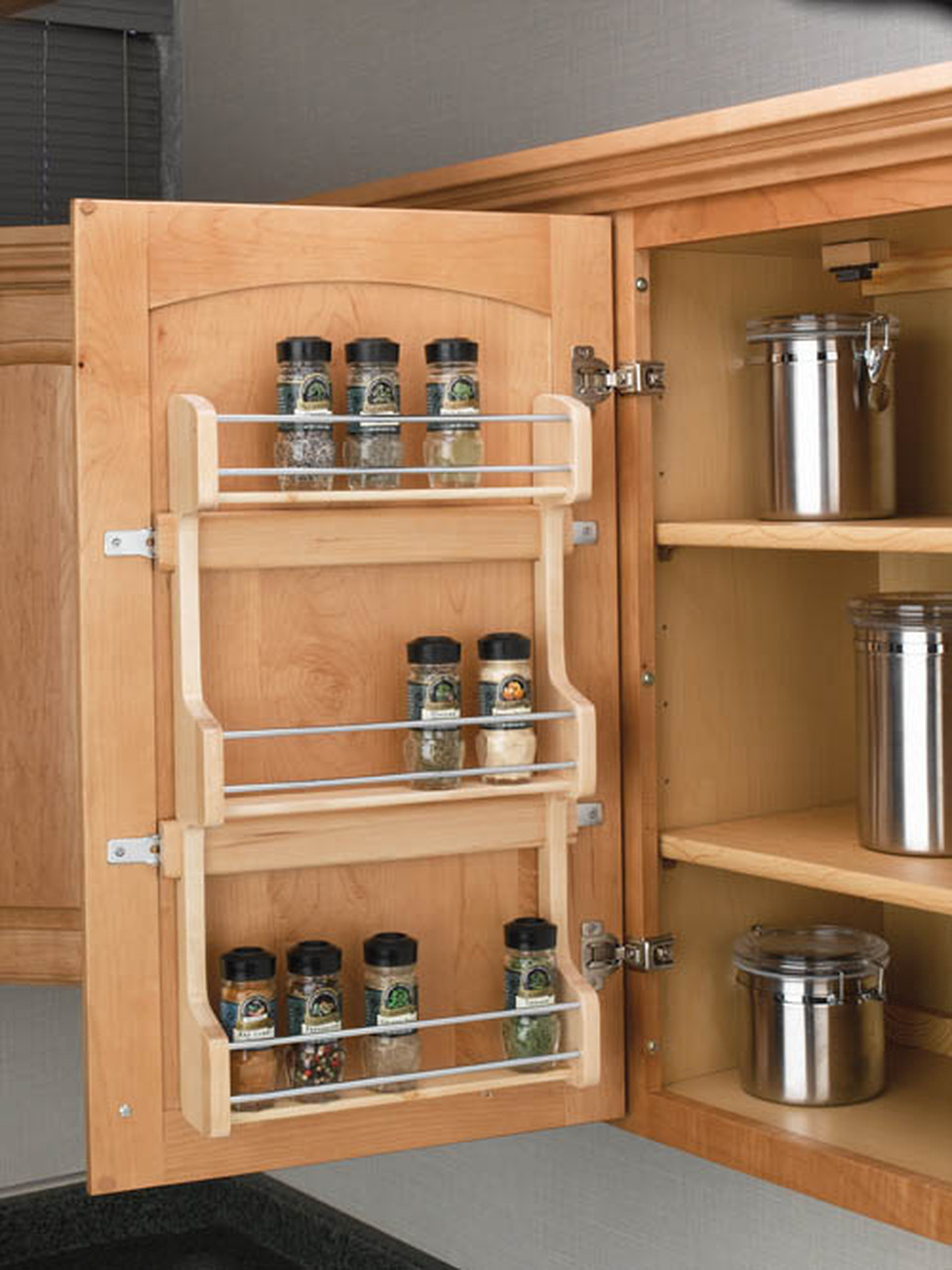 Regular counter spice racks mounted on your cabinet door. Although similar to some of the previous ideas, what makes this spice storing solution special is its ridiculous simplicity. Chances are you already have something like this lying around your kitchen, and this might be the inspiration you need to turn that old space rack into an irreplaceable storage space.
The kitchen is where many of us spend a lot of time, and it should be easy on the eyes. These spice rack organizing ideas can offer you additional space giving your kitchen a nice and polished look. In addition, having everything you need at your fingertips would definitely be awesome. We sincerely hope that we helped you better organize your spices, and we would be thrilled to hear your opinions in the comment section below!