Shabby chic is an interior design style that celebrates the imperfection of objects. It perfectly combines comfort with style. It is a very popular design style, especially in recent years. Combining vintage pieces of furniture and decor with modern touches, this style is all about preserving quality pieces that have a meaningful purpose. The colors almost always include pastels such as white, pink, blue, green, beige, etc. Shabby chic is very similar to farmhouse and country, but it is nevertheless a style with its own features and characteristics. Some might say that this style is feminine, but there are ways to make your home shabby chic and not look feminine.
Many choose this style for their cottages and country houses, but why not choose it for your home? The kitchen, as the central and maybe the most important room in your home, is a great choice for a shabby chic style. Colors, wallpapers, whitewashed furniture, vintage pieces, you name it, everything goes! It is one of the most creative design styles that will catch everyone's attention. It's unique and you can let your imagination run wild. Decorative pillows, vases with fresh flowers, signboards, candles, handmade decorations, bowls with fruit – the choice is yours.
If you're not sure what to do with your grandmother's kitchen items or have old decorations that need some work, why not give them a new purpose and include them in your shabby chic kitchen? Something old, something new, a lot of pastels, florals, and romantic tones – that's what shabby chic is all about. It's a style that blends rustic items with modern ones and the truth is, there are no strict rules in decorating. You can mix and match and even mismatch and the result will be fabulous.  We can all agree that this style is perfect for your home, especially your kitchen. It looks esthetic and gives out cozy and warm vibes. Your kitchen will look timeless and modern at the same time. Get inspired with these ideas:
White Romantic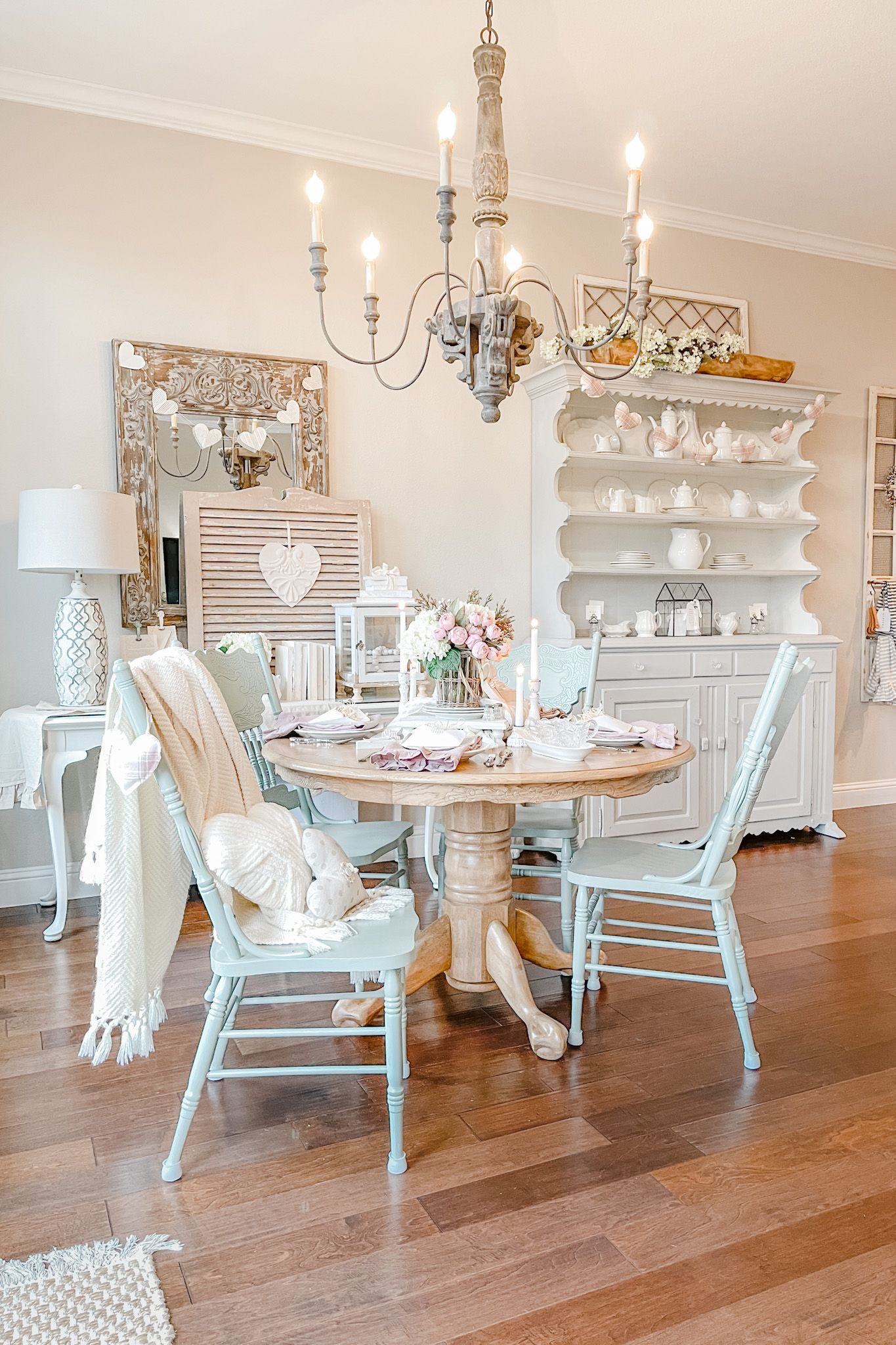 As we mentioned before, shabby chic is known for its romantic tones. This combination of white and light blue with candles and little hearts as decorations is a true representative of this style.
Exposed Beams And Marble Tabletops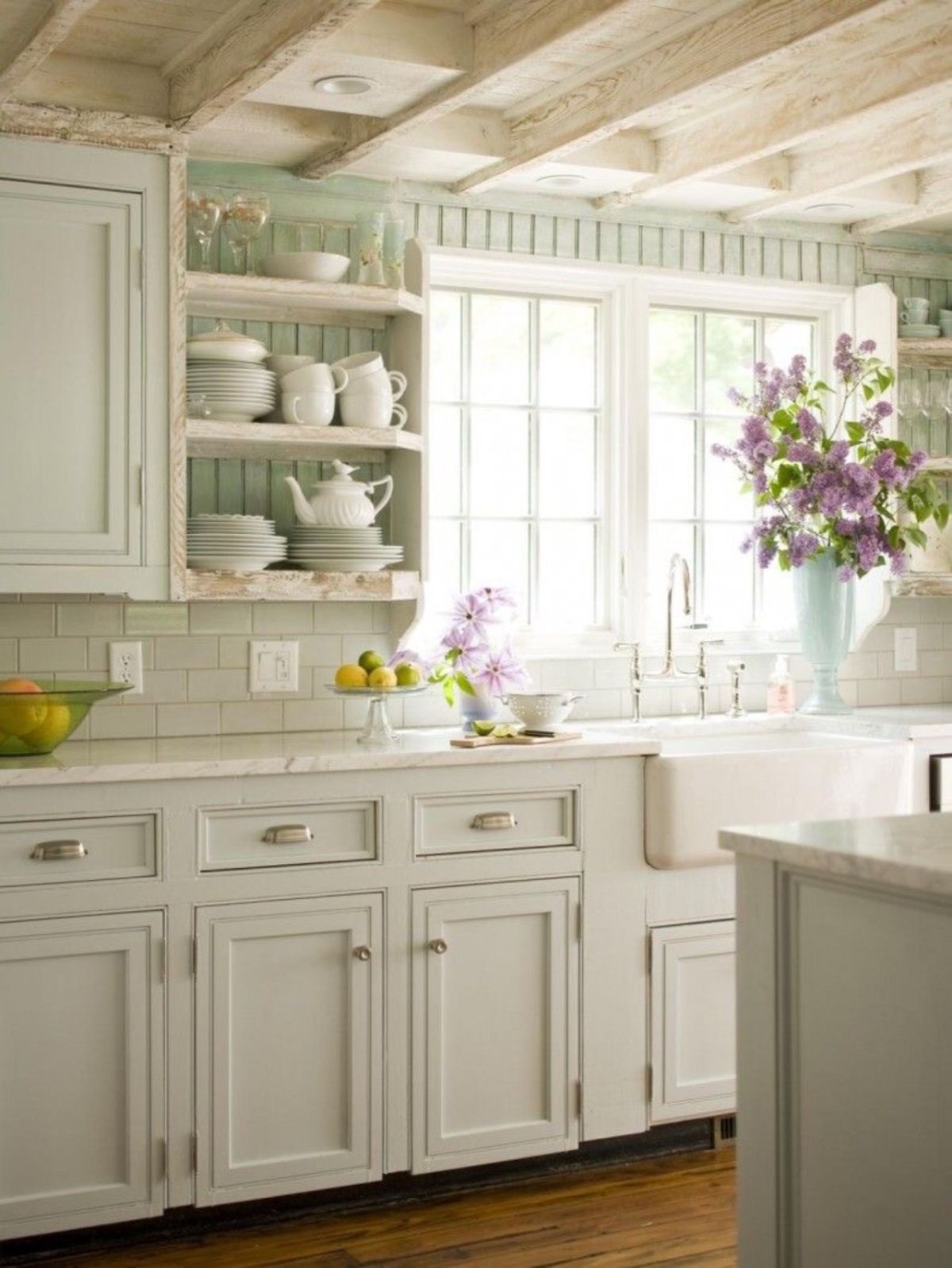 There is something country and cozy when there are exposed wooden beams in a kitchen. Paired with marble tabletops and other decorative details, it looks very lovely and shabby chic.
Refurbished Cabinets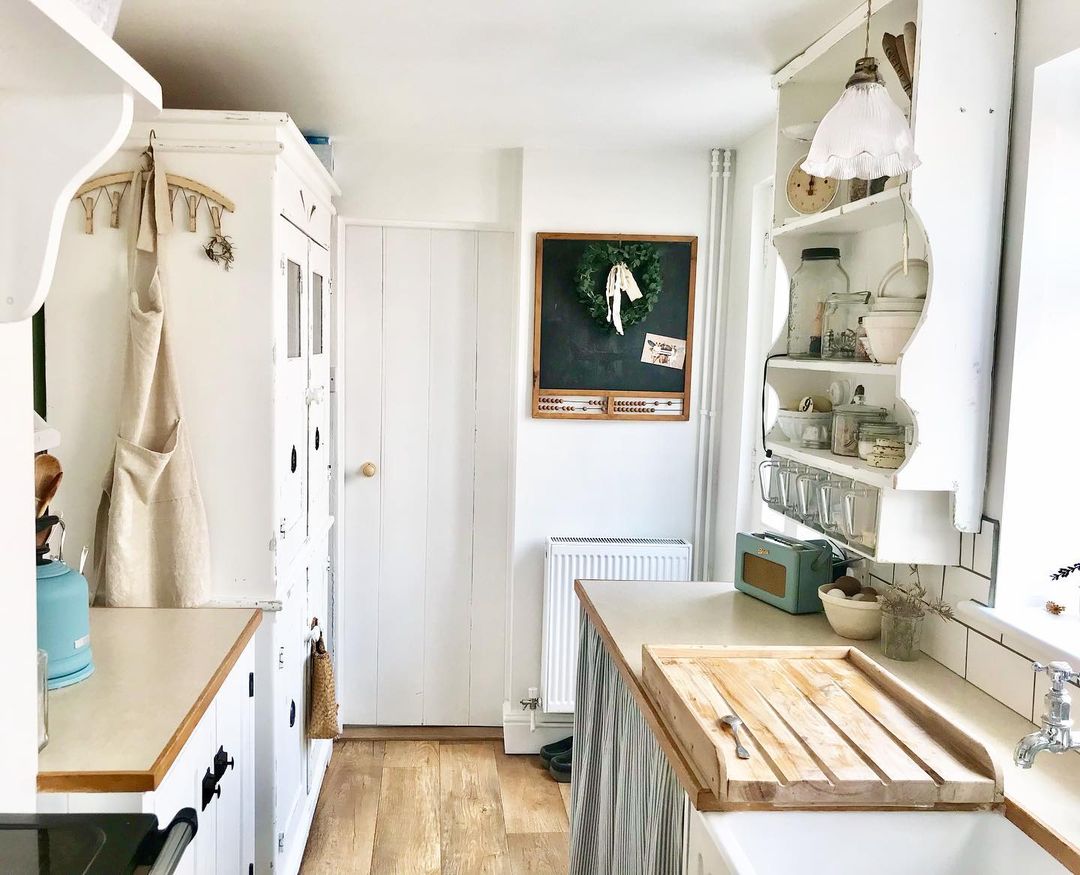 If your cabinets look a little bit old and used, give them a makeover by painting them white. Add some cute, vintage glassware and other trinkets and you have a real, shabby chic kitchen!
More Is More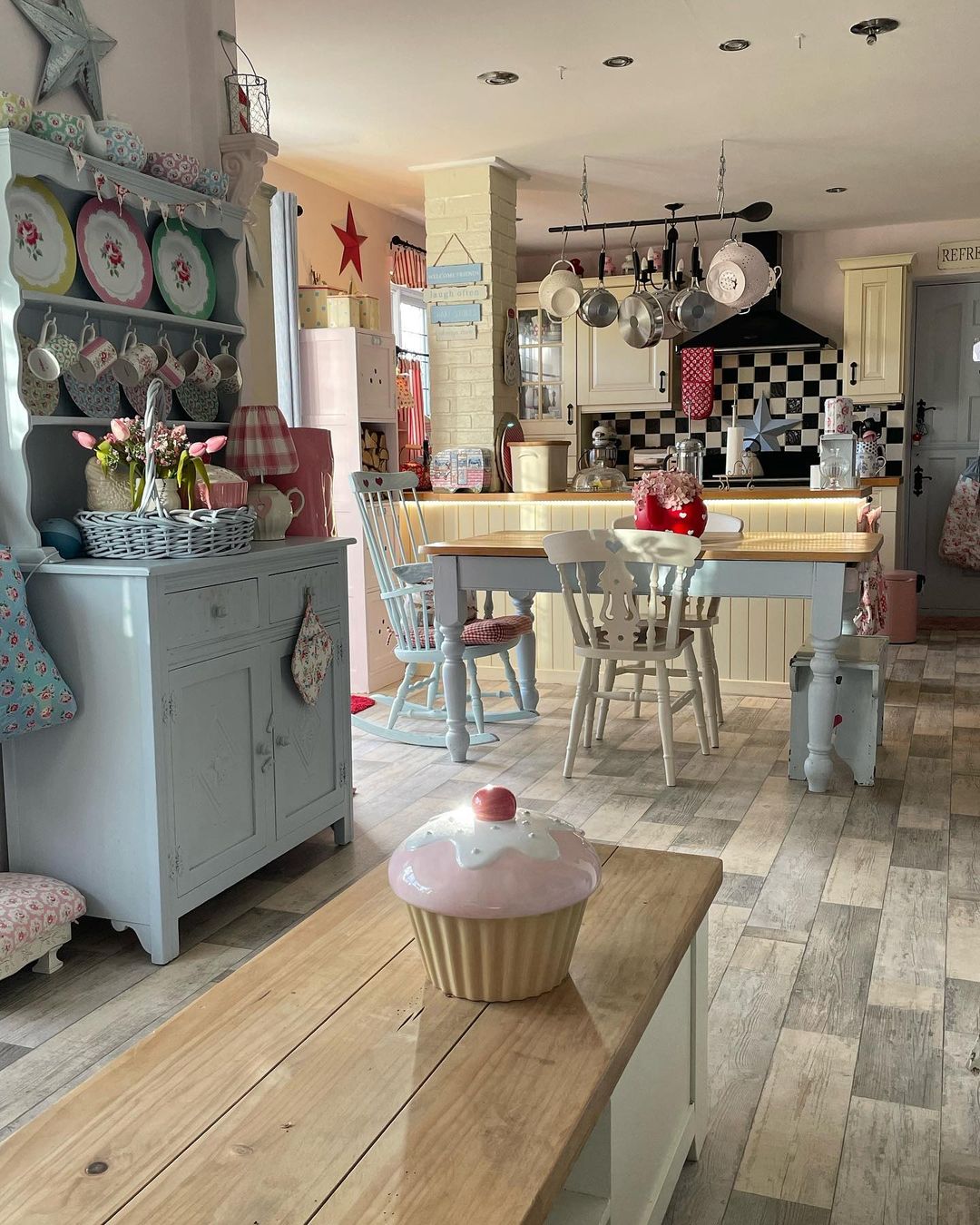 We've already established that when it comes to shabby chic, there are no rules. You can mix and match, add as many colors as you'd like, put some flowers in a nice vase and enjoy the new look of your kitchen.
White Perfection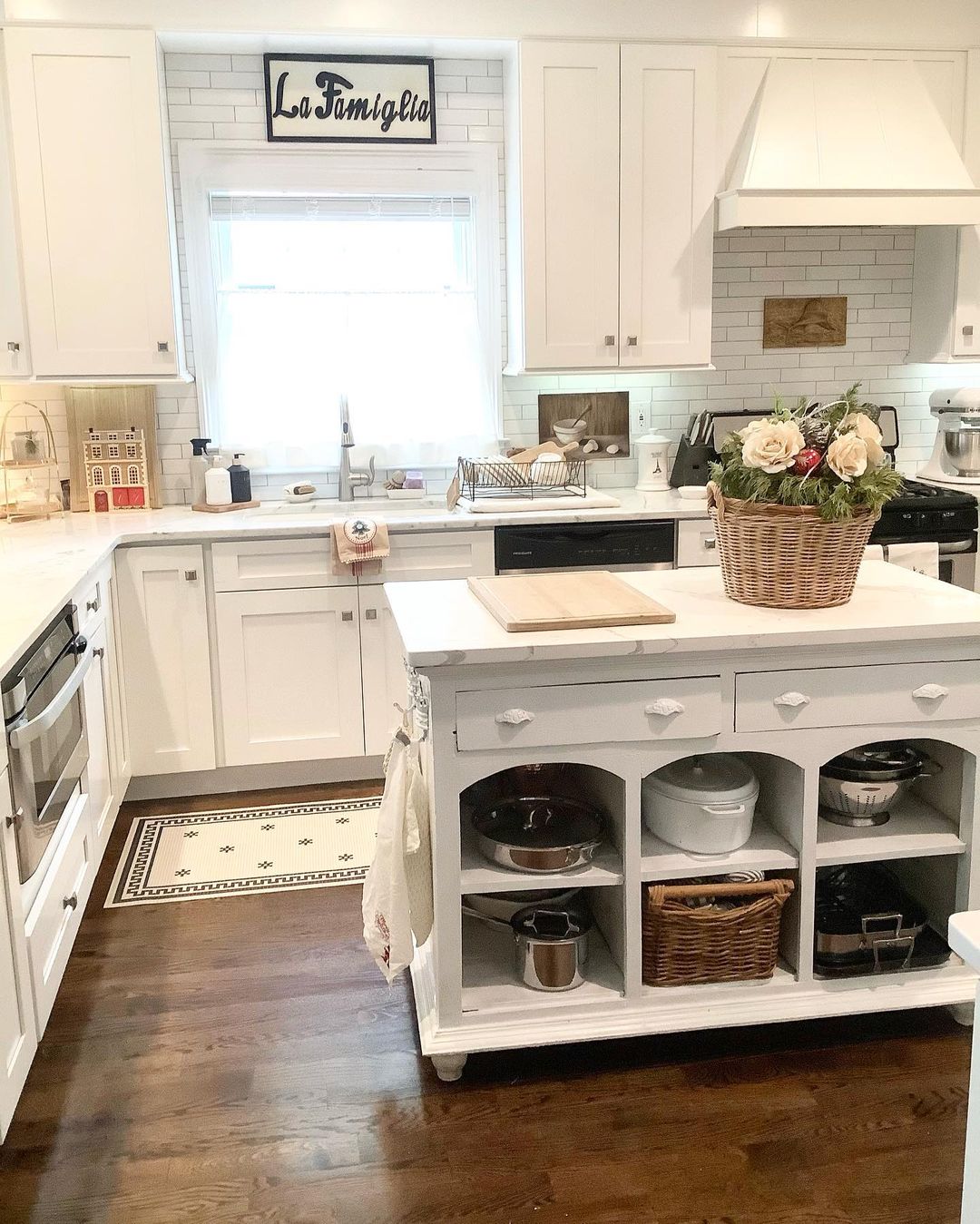 This kitchen sure has some great ideas to steal for your home. White cabinets are always a good idea, especially when paired with wooden details. The signboard above gives extra coziness to the whole room.
Shabby Chic Meets Rustic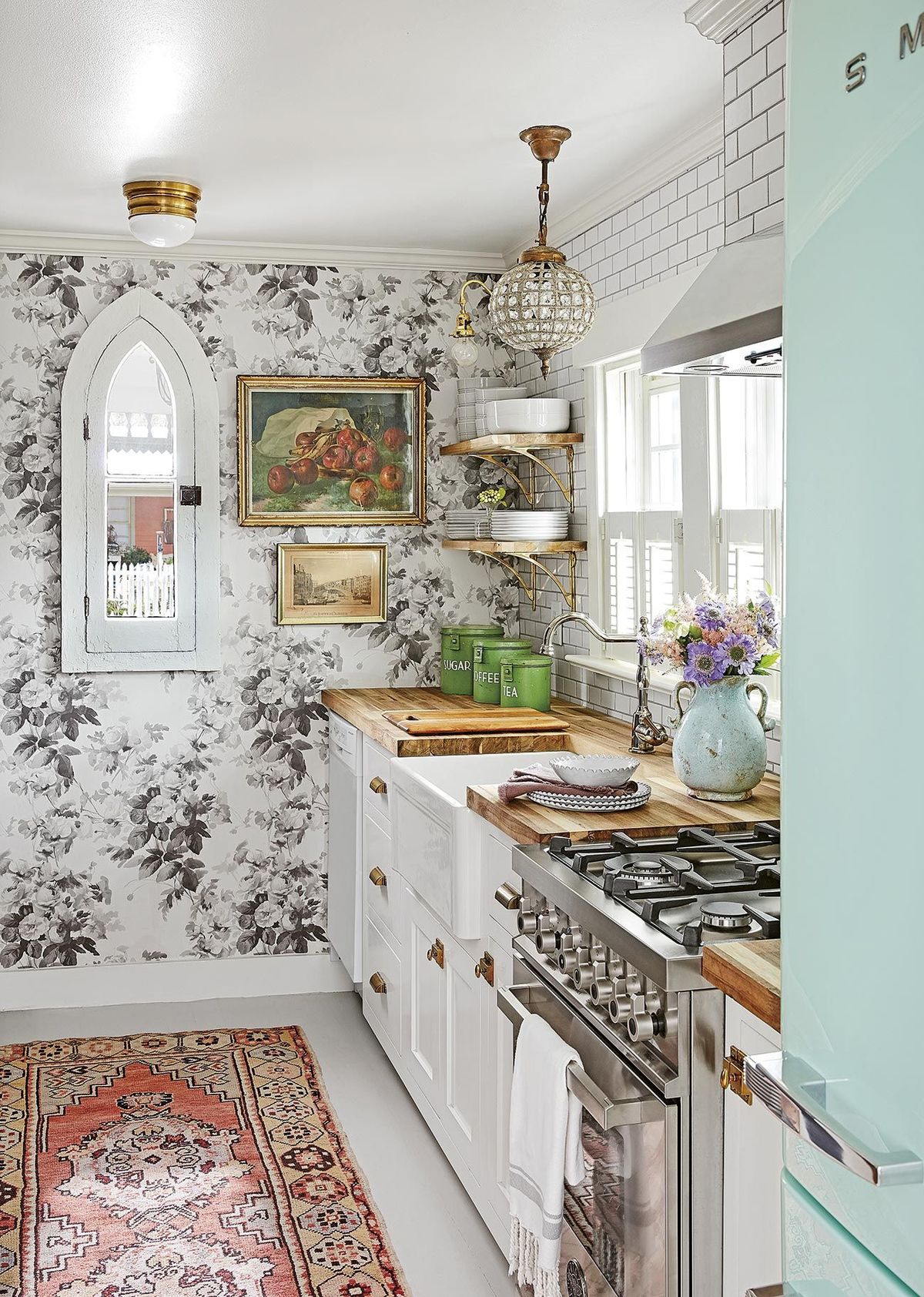 The shabby chic style includes many rustic characteristics and this is a perfect example of that. The floral wallpaper and the rustic rag are two statement pieces that make all the difference in this kitchen.
Open Shelves And Greenery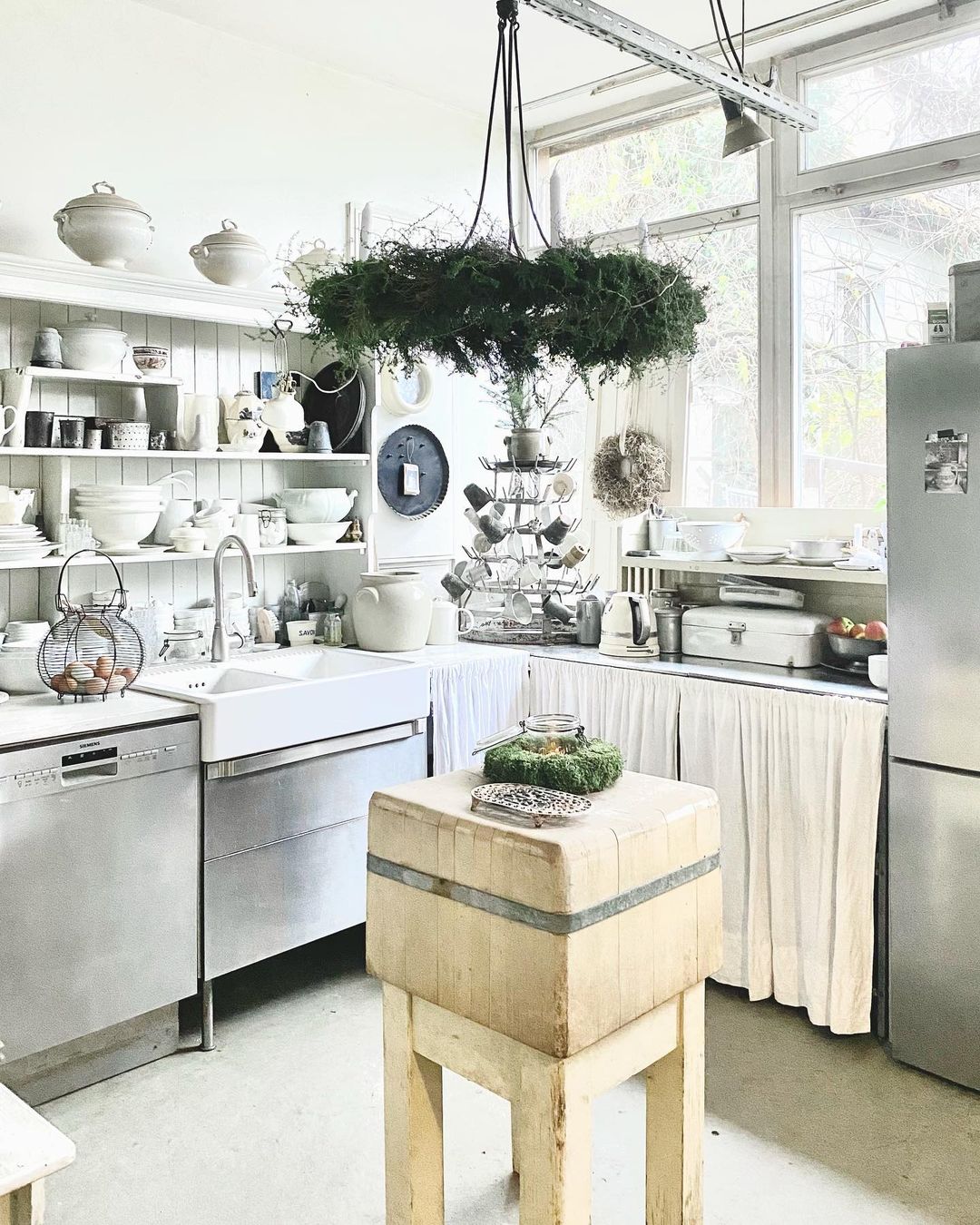 Open shelves are a great and very practical kitchen concept. When combined with greenery from your garden or the local park, it's safe to say that it gives shabby chic and vintage vibes. Plus, we're sure this vintage kitchen island used to have a different purpose but refurbished like this, it totally belongs in the whole concept.
Shabby Chic + Modern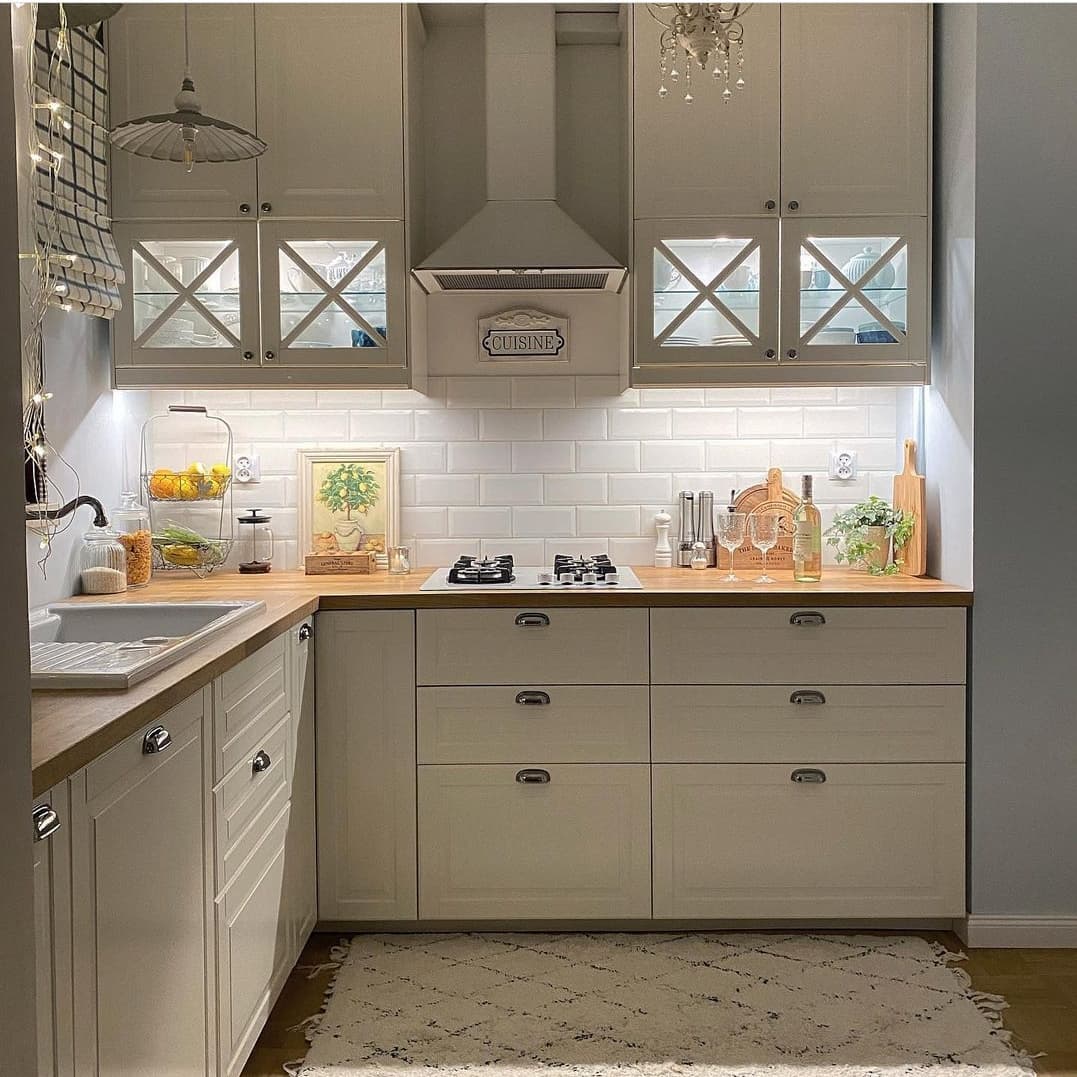 Embracing the shabby chic style doesn't mean that you should only opt for vintage and DIY pieces. You can achieve the desired look even with contemporary cabinets by adding shabby chic decorations.
Pink Fairytale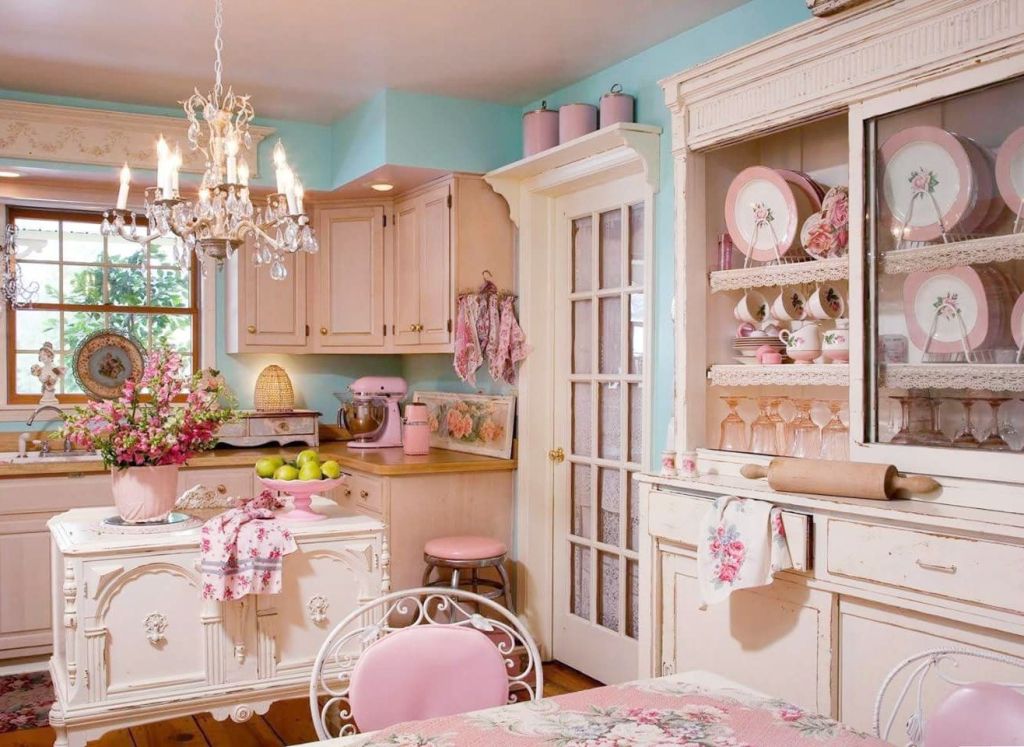 This kitchen reminds us of a kitchen from a fairytale! The pink details are dominant and look lovely and romantic along with the whitewashed cabinets. This is a true example of the shabby chic kitchen.
White Minimalism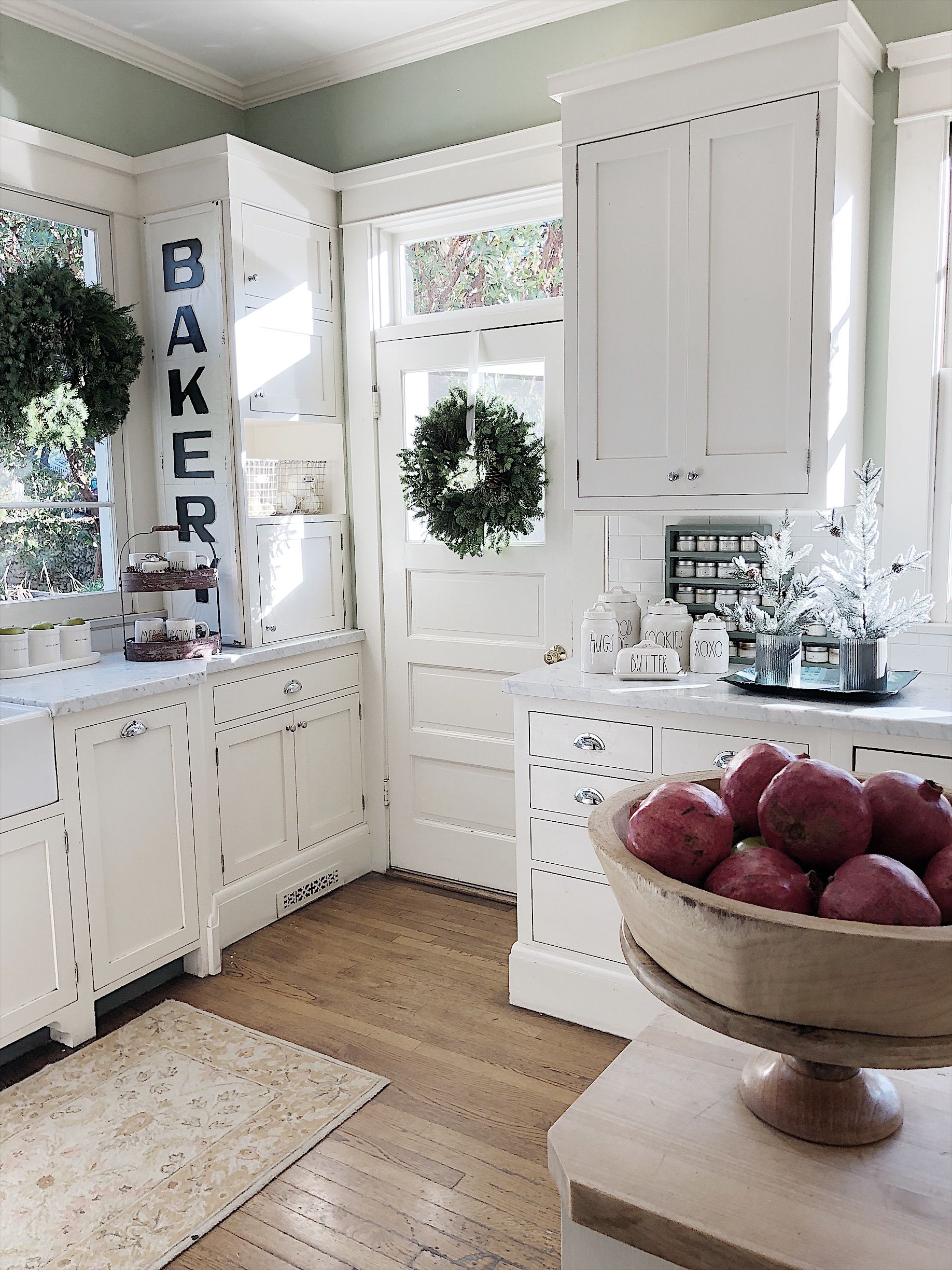 These imperfect cabinets don't need to be painted and that's the essence of the shabby chic style. They look perfect the way they are. Almost everything in this kitchen is white and simple and it doesn't look dull at all.
Cozy Vibes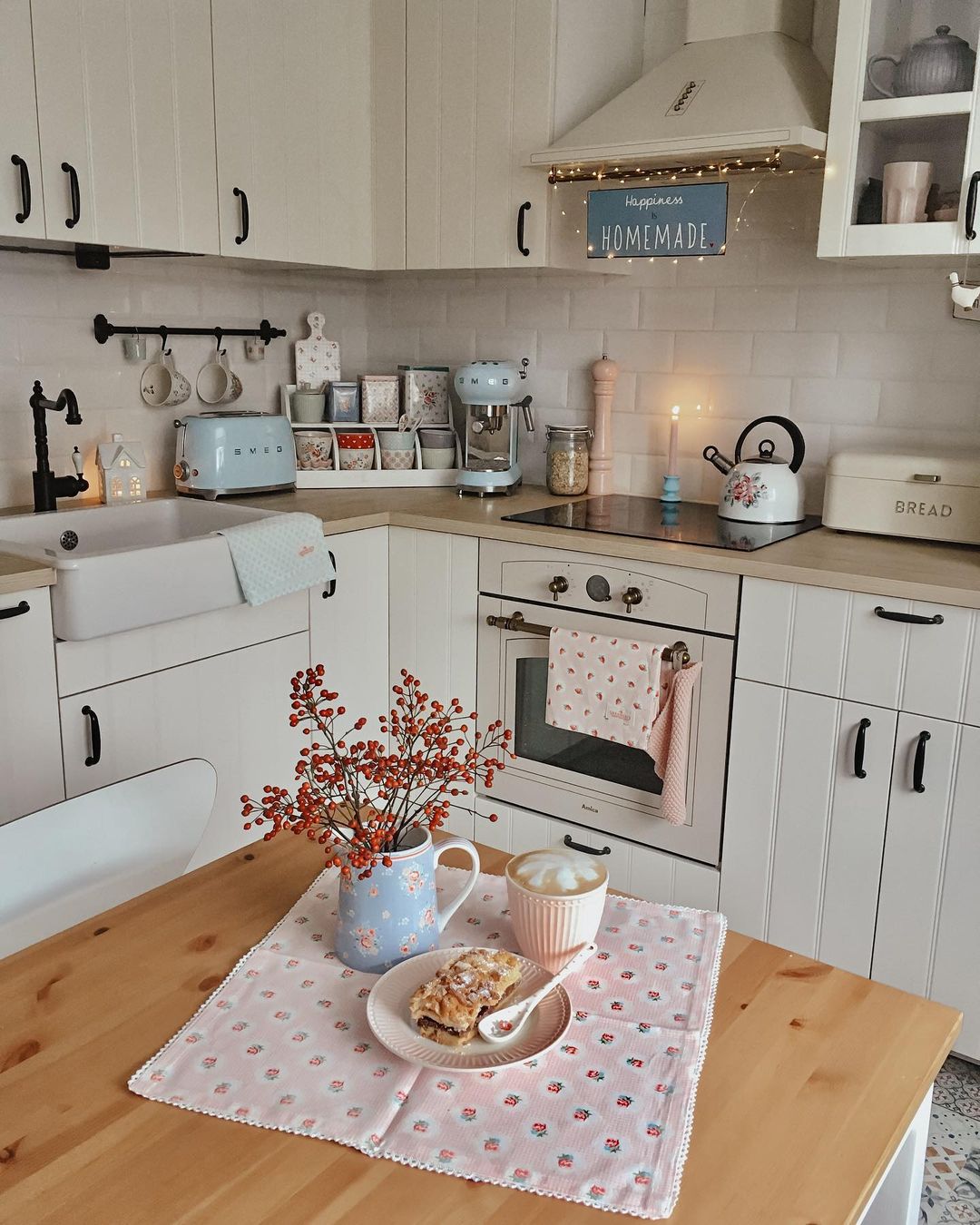 This is one of those kitchens that we would stay in forever. White cabinets with floral decorations, wooden tabletop, and vintage-looking appliances, isn't it perfect?
White, Blue, And Floral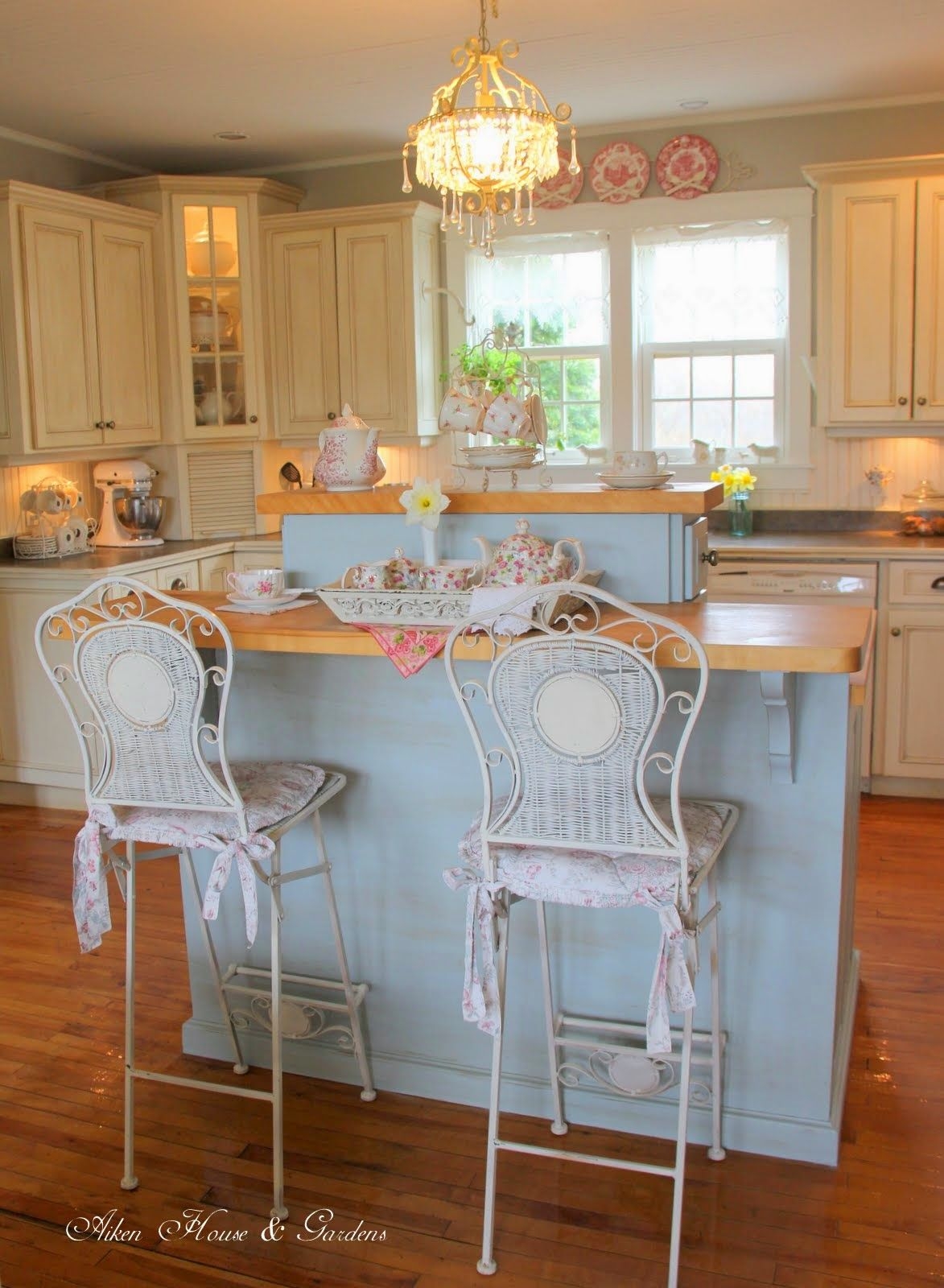 As a true example of the shabby chic style, this kitchen looks like it's in a country house somewhere in France. The high chairs are the statement pieces and the white cabinets, the pastel blue island, and the floral details look amazing.
Beige And Rustic
You can create a shabby chic look with beige and brown details as well. The chequered floor as well as the old, rustic chair bring out the rustic charm of the kitchen.
Porcelain Perfection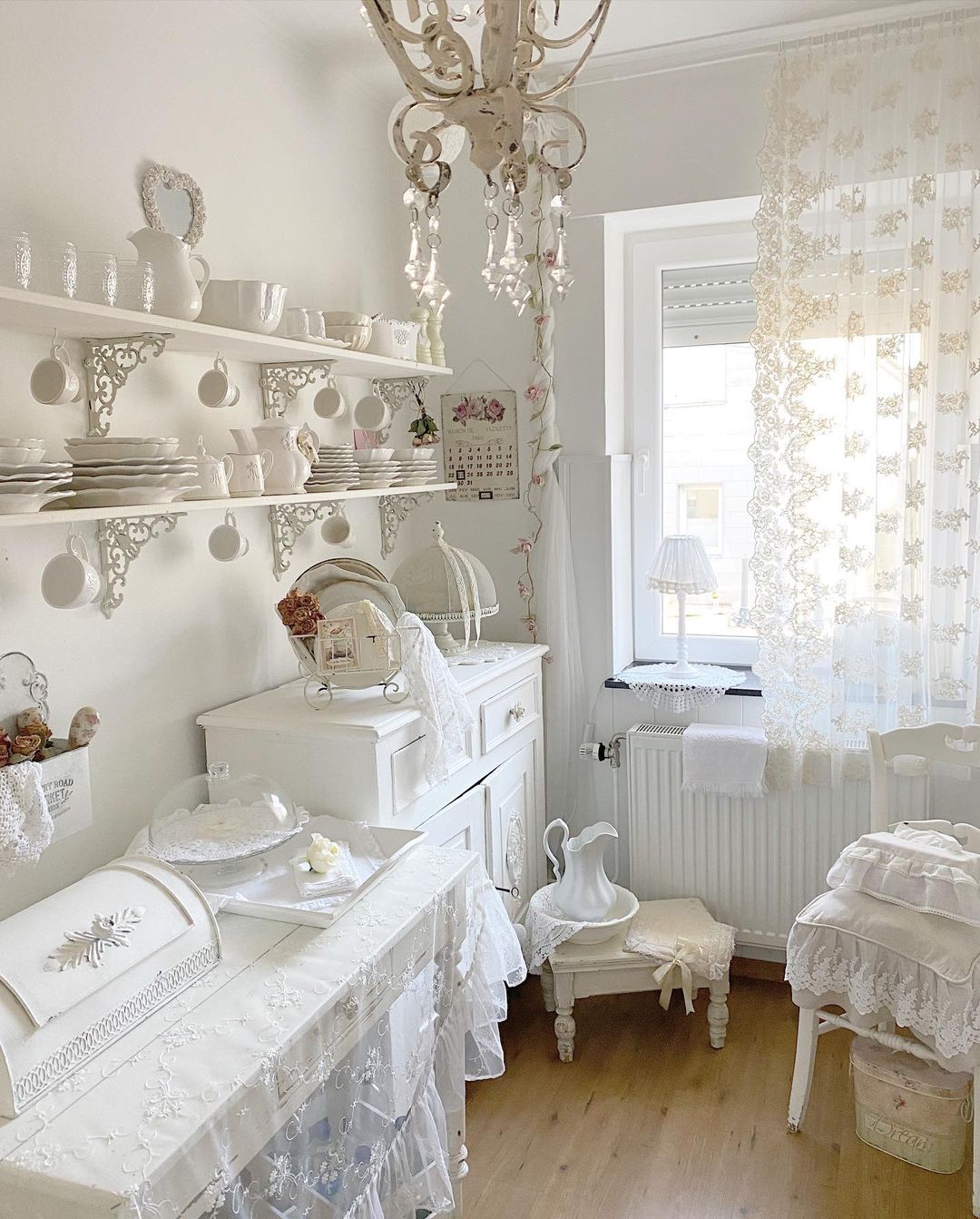 A bit of elegance never hurt anyone, right? This kitchen looks so romantic and feminine. The white porcelain looks like it was taken from some dollhouse. Everything is absolutely perfect!
All About The Wall Decor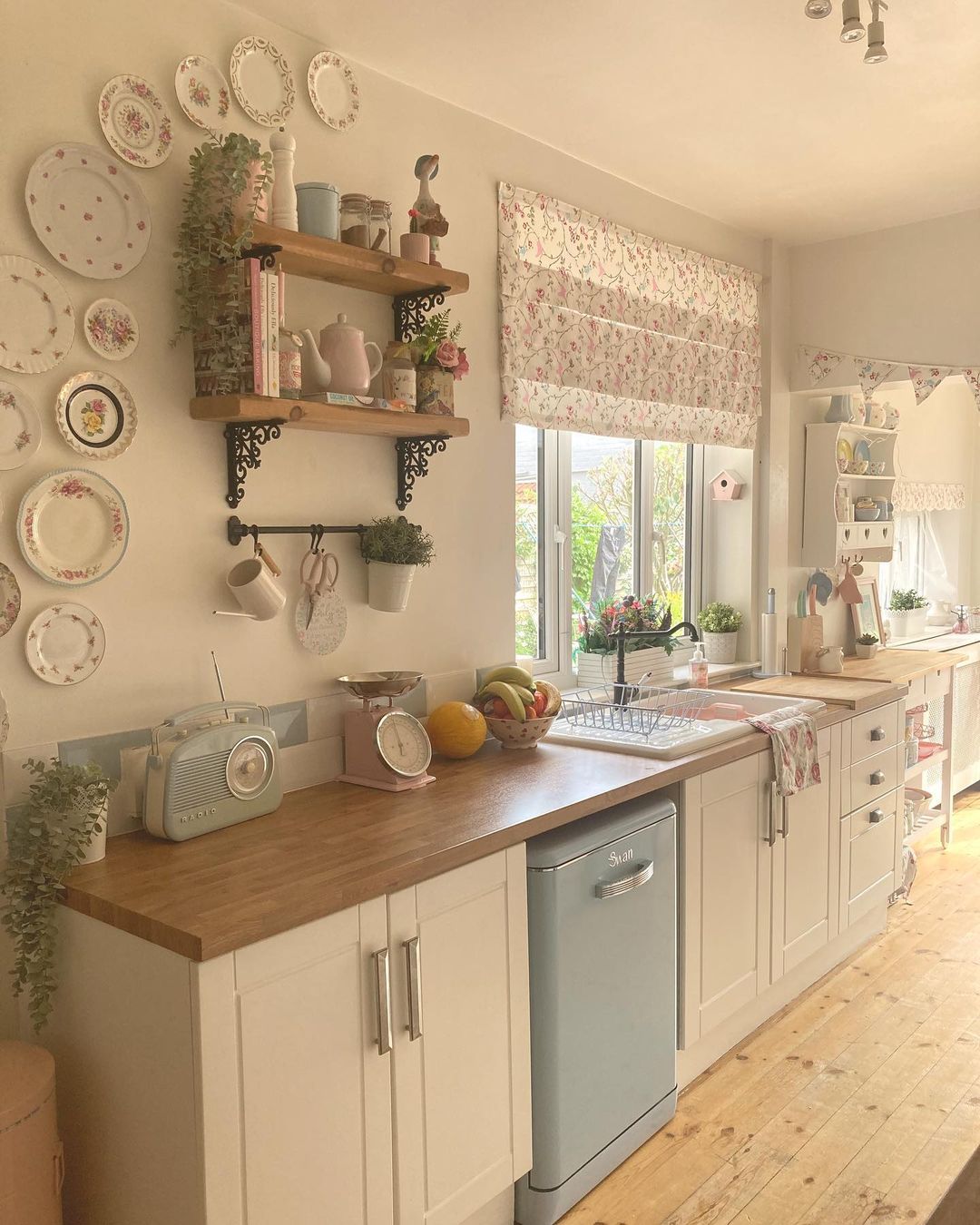 In shabby chic, anything goes. These vintage plates may be mismatched, but they sure look good as wall decorations. The floral curtains and the blue fridge add to the whole shabby chic look of this lovely kitchen.
Blue Details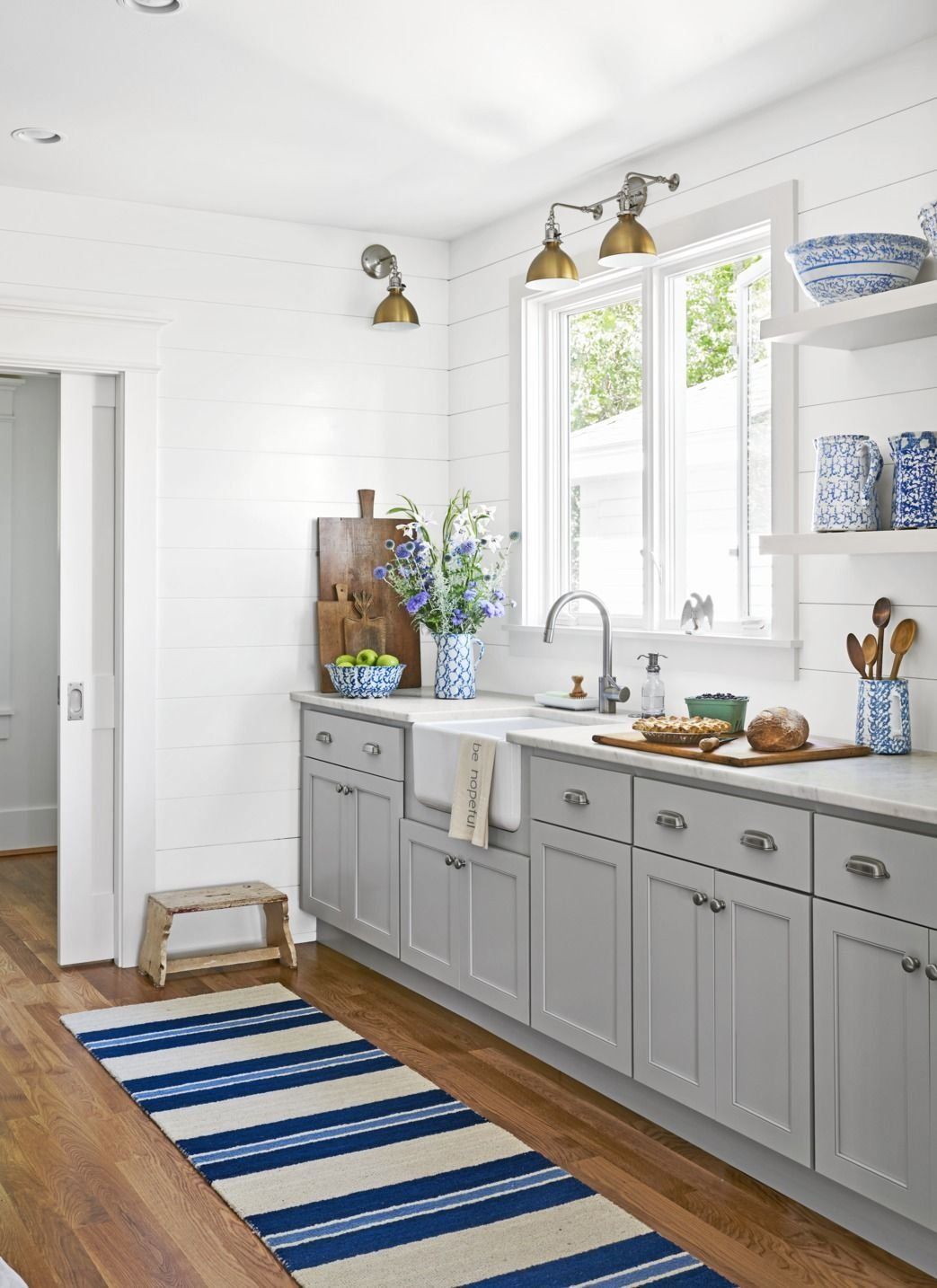 There is something elegant and luxurious about the blue color. This is a perfect example of modern shabby chic. Everything is perfectly combined and it looks like a picture from a magazine.
All About Florals
Floral decorations may sometimes look exaggerated, but not in this case. This kitchen is very lovely and romantic and it looks like a combination of shabby chic and French country. Again, the all-white cabinets don't look dull at all.
What do you think about the shabby chic style for our kitchen? We hope we inspired you to try this style in your home. Share your thoughts in the comments.