It's only natural that when you think of pink, you immediately think of something that is female-oriented, which, is no longer true. Today we think about how to design our homes and offices in a way that is pleasing to the eye. Pink offers a bundle of happiness and delight. Historically, pink has been one of the most popular hues used in interior design and home décor, and it continues to remain so. But you have to be careful in how you use it. If it's used too often, it can become quite irritating., while some might find it pleasing and calming Think carefully about which parts of the house will be painted pink. We propose that you choose little, trim pink decorations that have a significant impression, such as votive candles, photo frames, vases, lamps, and other such items. Accessories allow you to be completely creative with pink and not be scared to make mistakes because they can easily be changed.
Pink can enhance the beauty of your home and you can combine it with other colors so it doesn't become overwhelming. Combining it with calm green, for example, will add a natural feel,  adding a bit of flowery feel without using actual plants. Pink walls with white or light pink pillars and an off-center yellow painted canvas that is closer to the ceiling are both excellent choices for a room. combining them with flat toned white sofas, center tables, and chairs, as well as a red carpet with pink periwinkles on the white cushion, creates a fantastic effect in the space Once you've chosen the colors you want to combine, combining them correctly is critical to creating a space that is relaxing, beautiful, and inspiring.
The color pink is unquestionably associated with feelings of love and tenderness. If you think of color in this way, and you want to bring that feeling into your home and everyday life, here are some ideas on how to decorate your home and turn it into a pinkish piece of heaven,
Pink Vibe Dining Room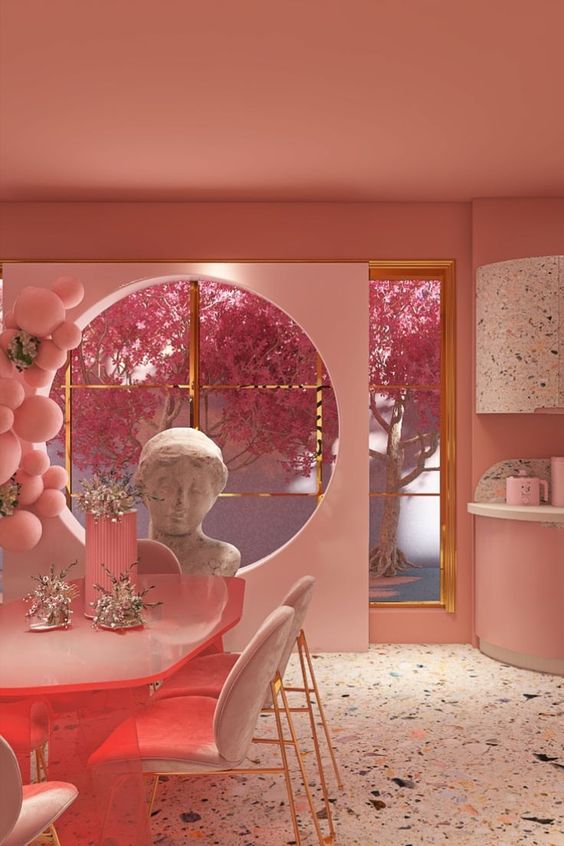 Surrealist art is the inspiration for this pink-themed interior and exterior design that is both fun and creative.
Pink Shaggy Vanity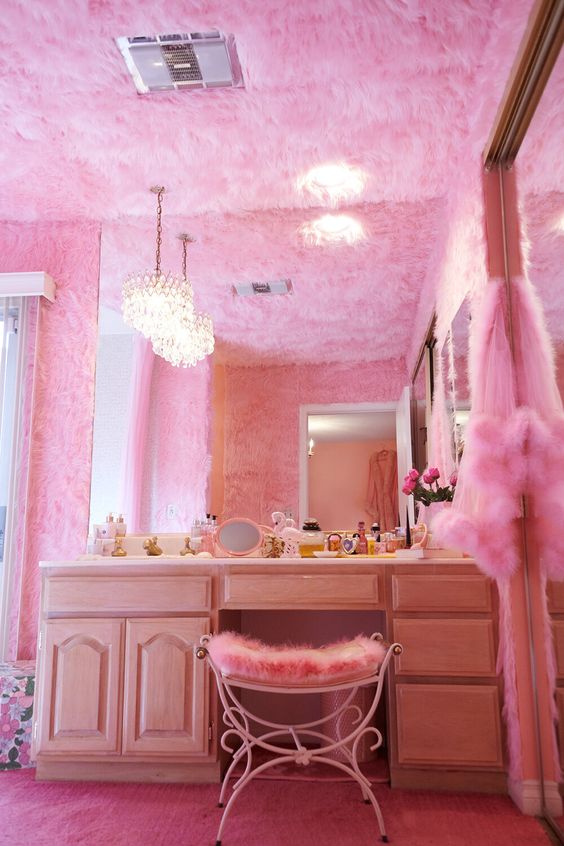 Shag carpets and tapestries were all the rage in the 60s and 70s, and they were even popular in Hollywood for a while. If you love that nostalgic feeling of girly Holywood glamour, you can try turning back time at your vanity, with pink shaggy walls, and a nice pink fluffy chair.
A Pink Ballerina & Swan Toddler Bedroom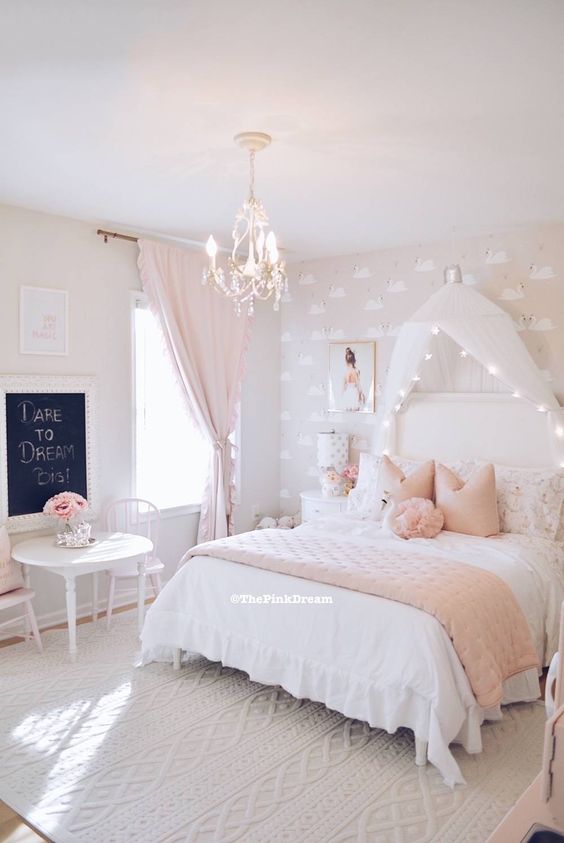 A swan toddler room with swan wallpaper and swan decor. It's great for a little girl or a baby's nursery.
Pink Lounge Dream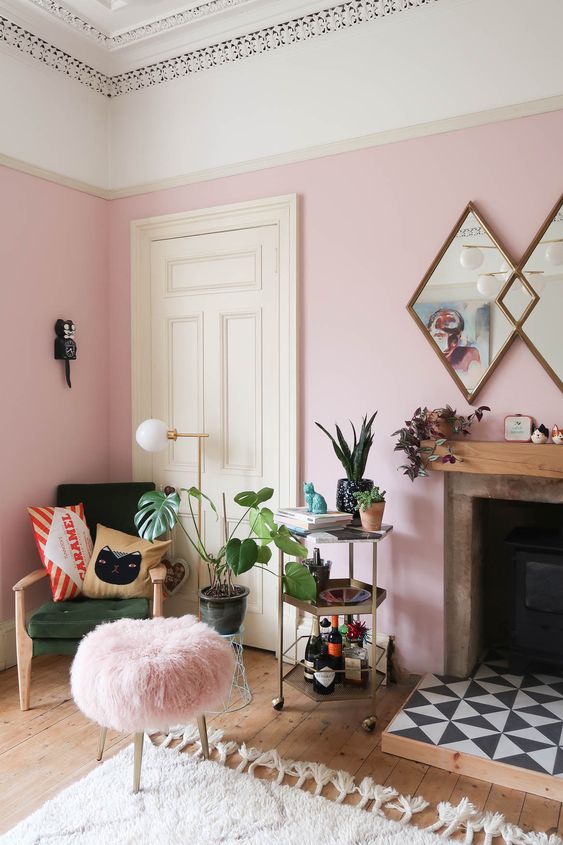 Pink is a happy color, and here's proof. This pink lounge looks bright and happy.
Chic and Modern Blush Pink Living Room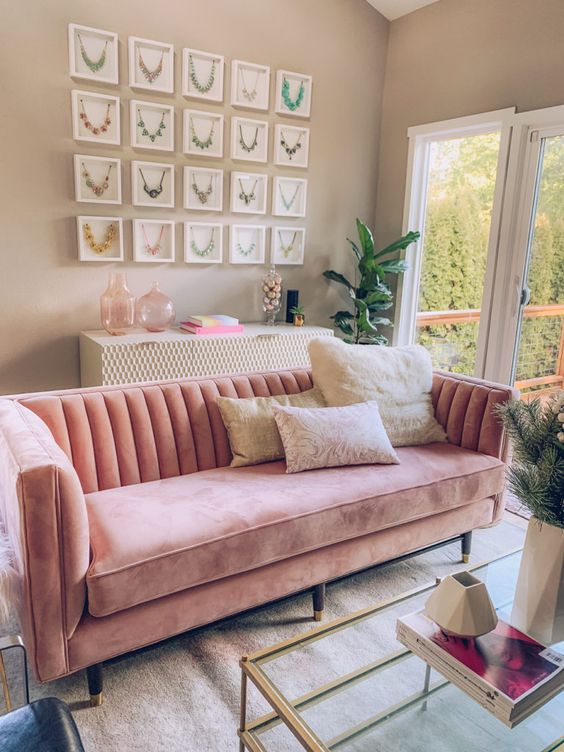 To keep a living room modern and chic but not too girly, here's a tip. If you buy pink furniture, paint your walls a different color.
Pink & Gold Bedroom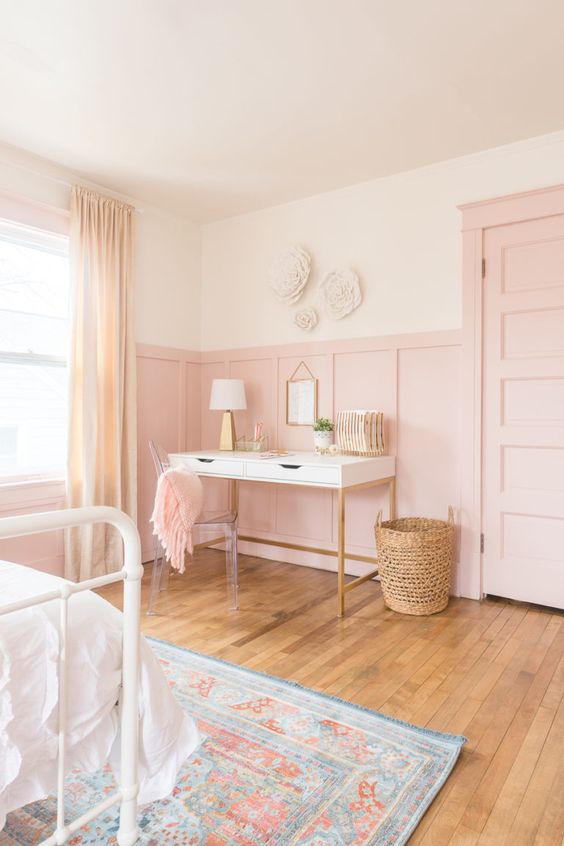 A pink modern touch, fun seating, and a functional desk space make this a great place for kids of all ages.
Pink Palm Trees Sitting Room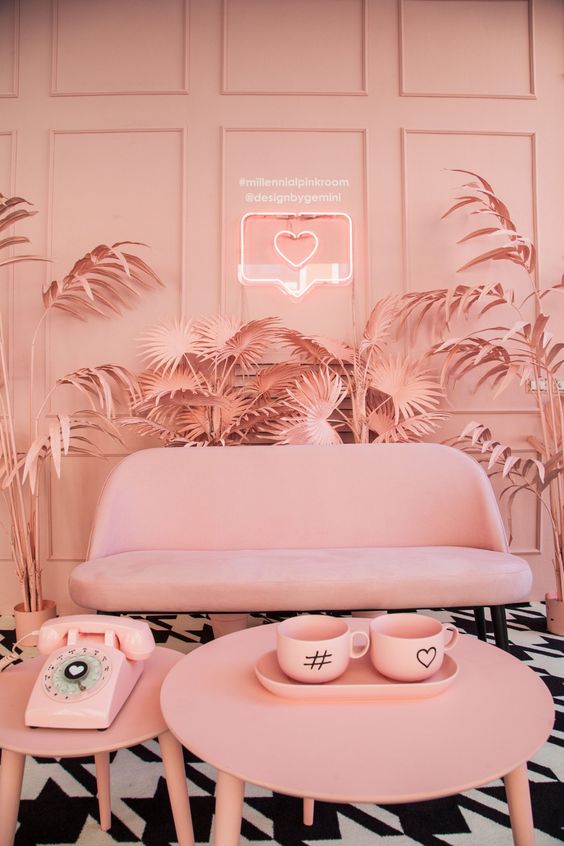 A mix of old and new things, like furniture from the 60s and a mid-century sofa with a rotary phone and breakfast cups with the word "love" on them.
Pink Christmas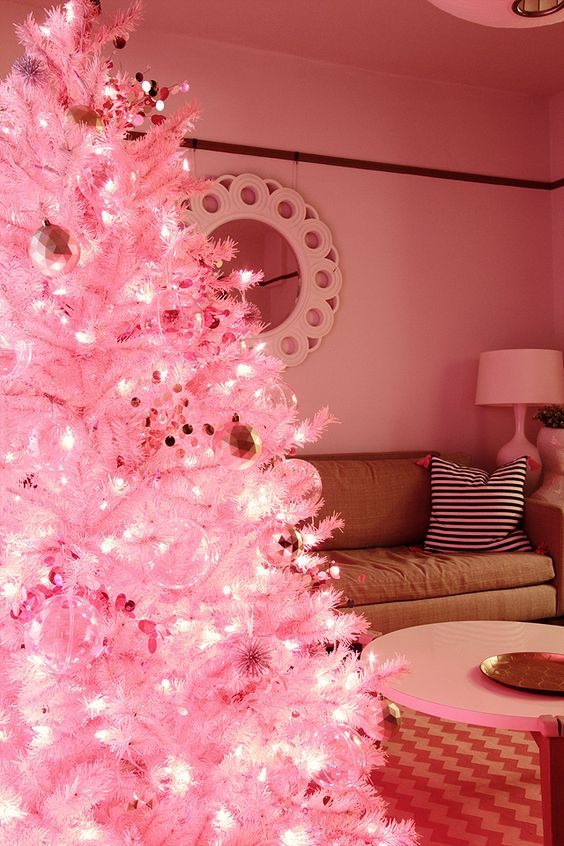 There isn't Christmas until the pink tree is up.
Blush Pink Nook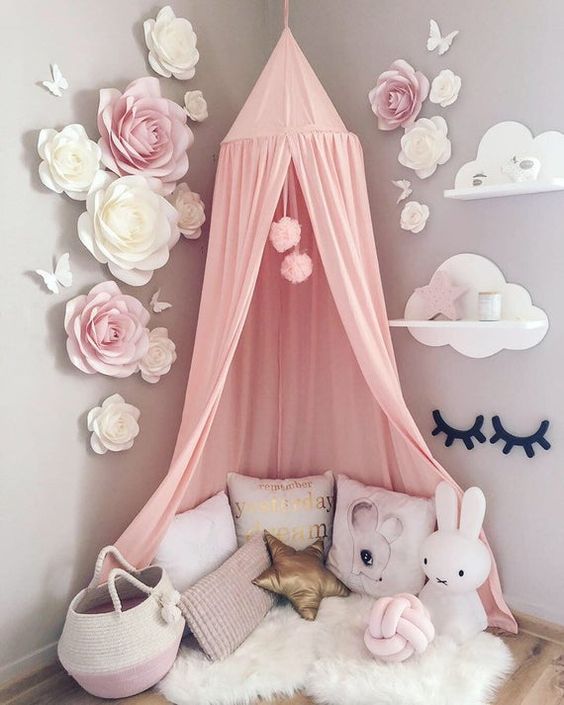 Blush pink and white are great colors to add to your baby girl's nursery.
Pastel Aesthetic Desk Setup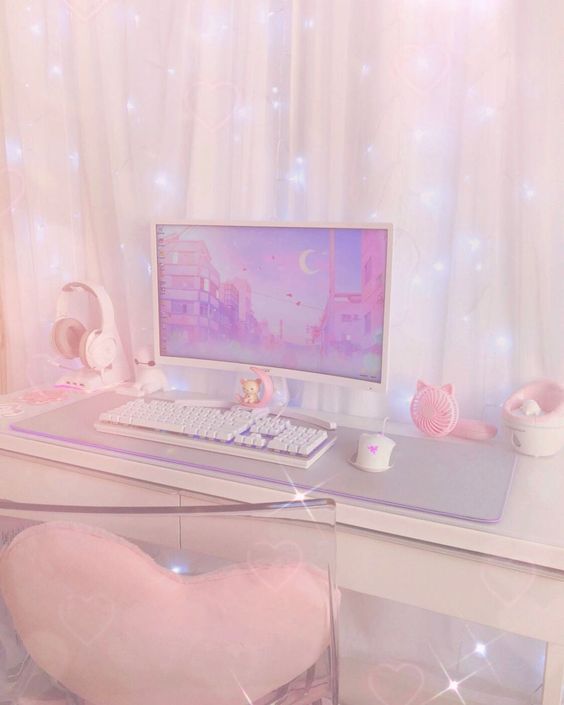 If you are a gamer girl, transfer your desk setup into a heaven gaming place by just adding a few pink pieces of furniture!
Pink Coffee Bar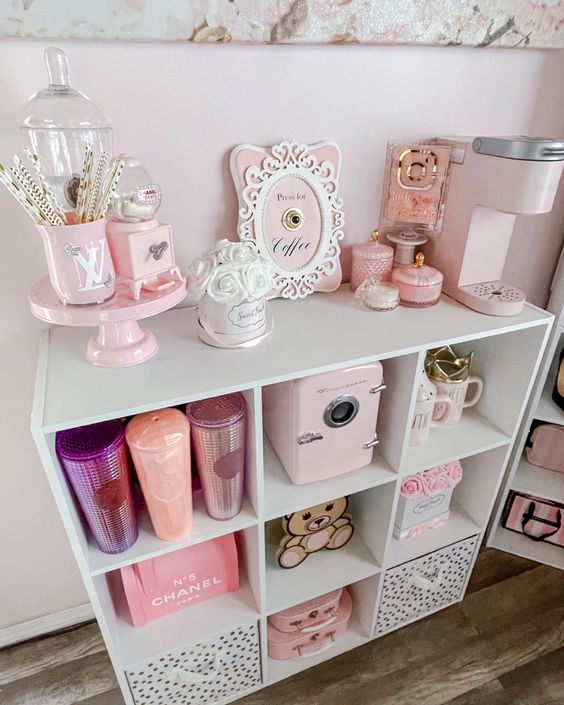 If you love coffee and if you love pink, try adding a pink coffee machine and pink cups. You will love it!
Pink Vanity Room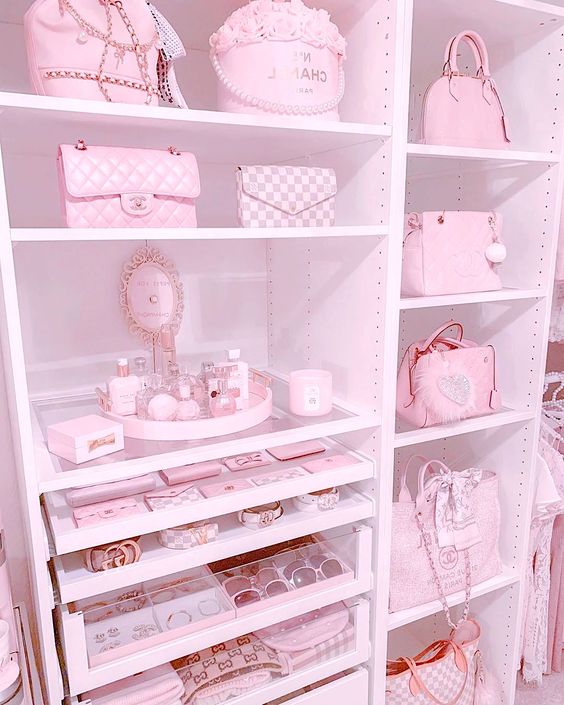 This lovely room features a large soft cushioned pouf with buttons. With a pouf like this, assembling the rest of the furniture is simple. Take a risk and follow your instincts.
Pink Corridor and Colorful Details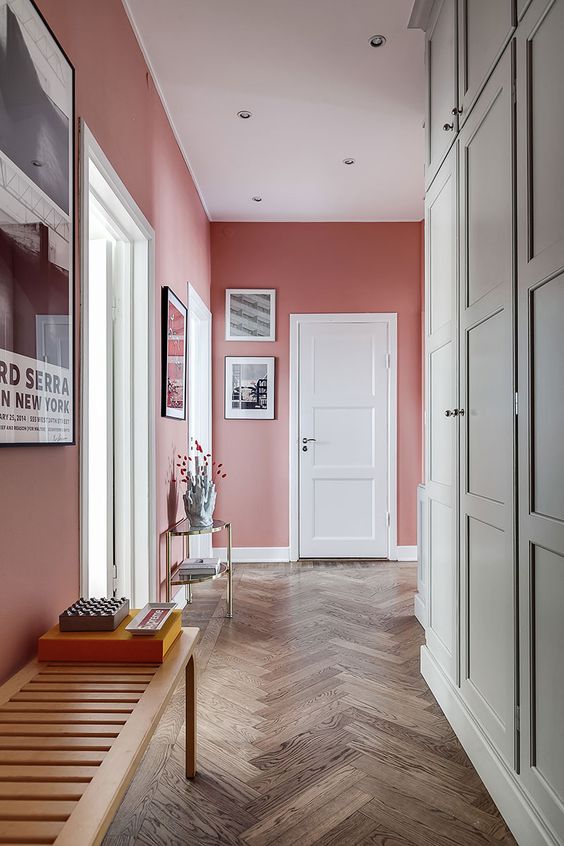 Pink paint and colorful details, a beautiful duo!
Pink Magnificence For The Perfect Bedroom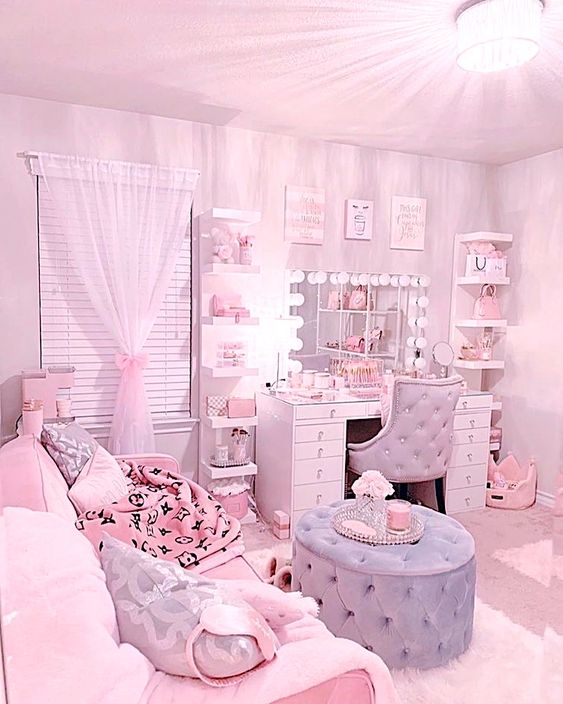 Comfort comes from the amazing mix of pink and half-tones that make the room look so cozy.
Pink Beauty Nook
Creating a girl's dream beauty nook by choosing the right pink pieces of furniture!
Pink Laundry Room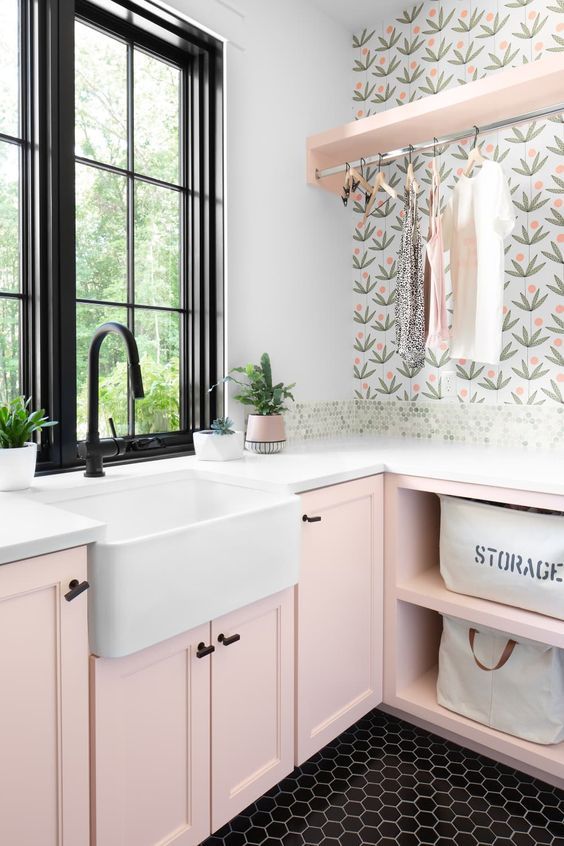 If you hate doing laundry but you love pink, try painting your laundry room pink. It sure helps!
Pastel Pink Kitchen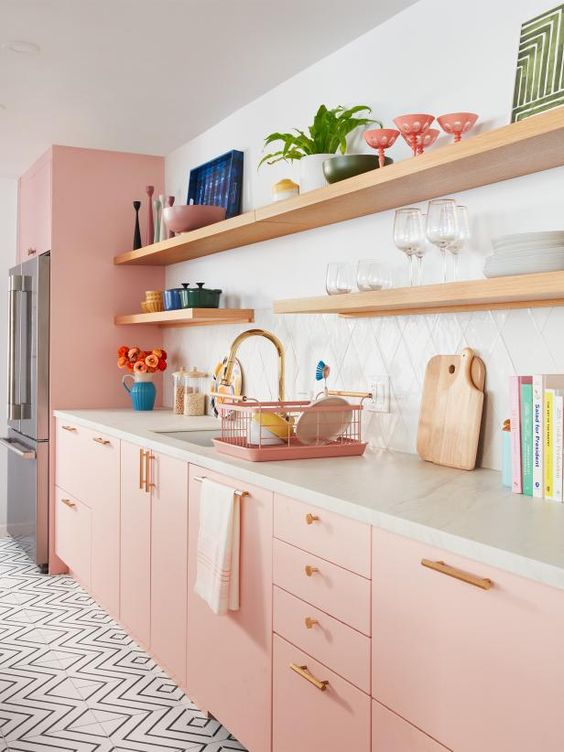 The amazing mix of pink cabinets and white countertop is pretty sure a chef's heaven! Of course, if you love pink.
The Pink Bathroom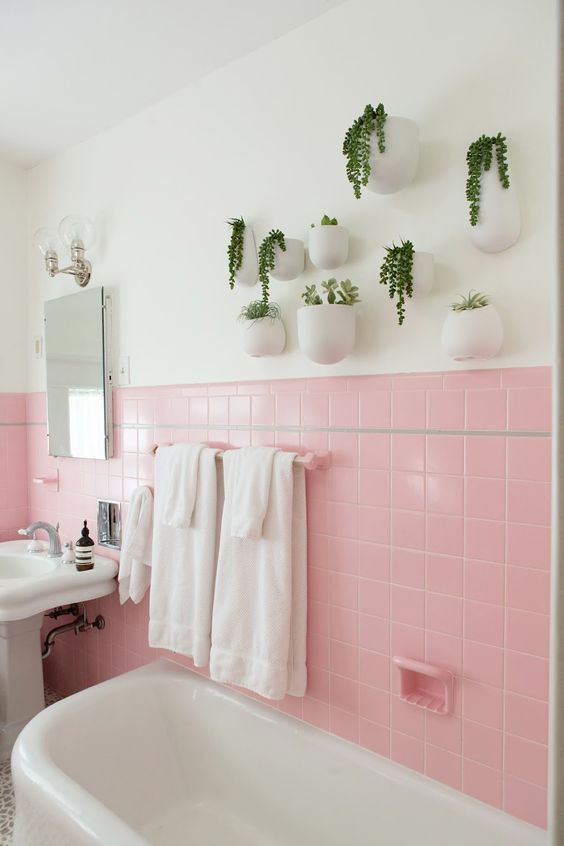 Imagine taking a bath in a pink shower! Whoa!
Pink Garland Christmas Porch Décor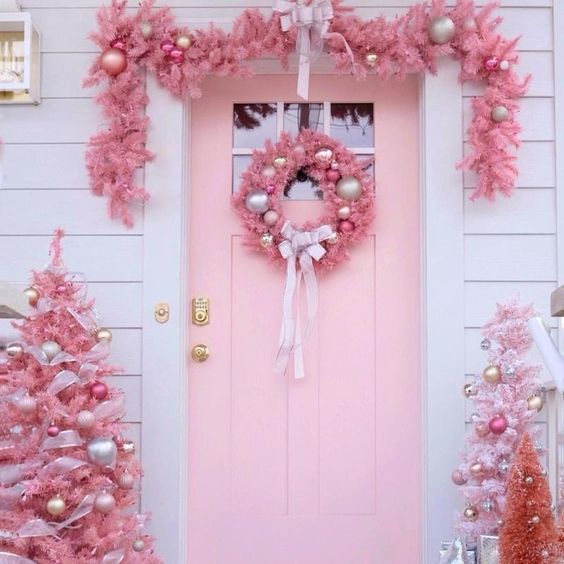 Brighten up the Christmas night with the soft pink glow of the wreath and the pretty pink bow.
Pink Victorian Tiny Home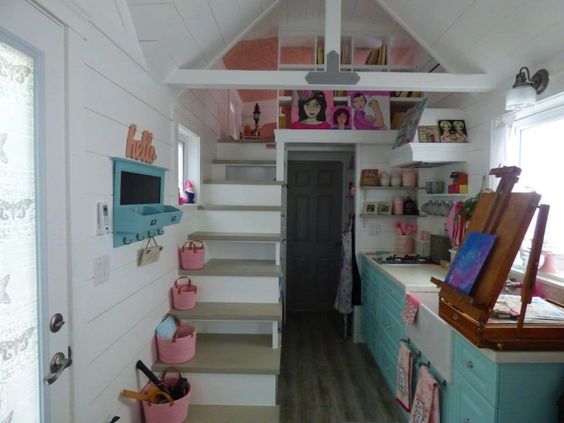 Keep up with modern and vintage tastes with this pink Victorian-style tiny home on wheels.
Pink Easter Table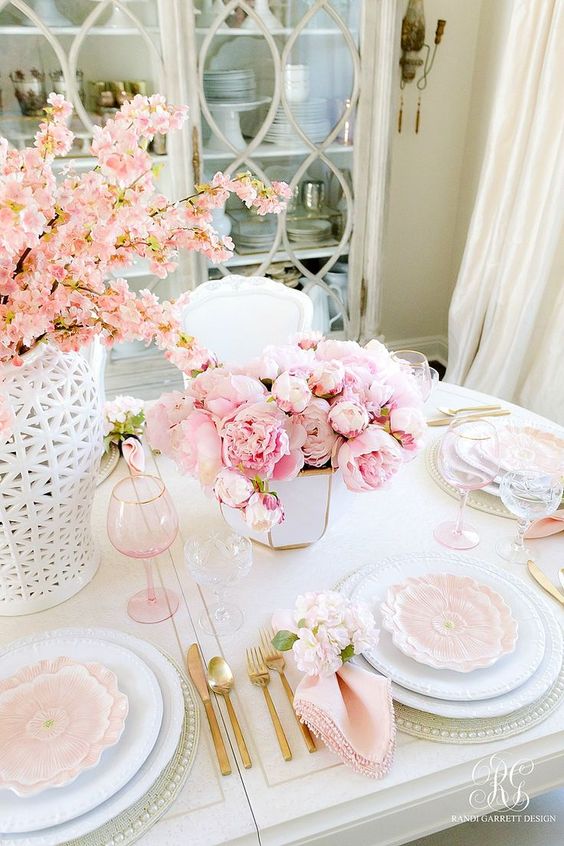 If you love rabbits, just imagine it in pink color and as a decoration.
Pink Blackout Curtains In Nordic Style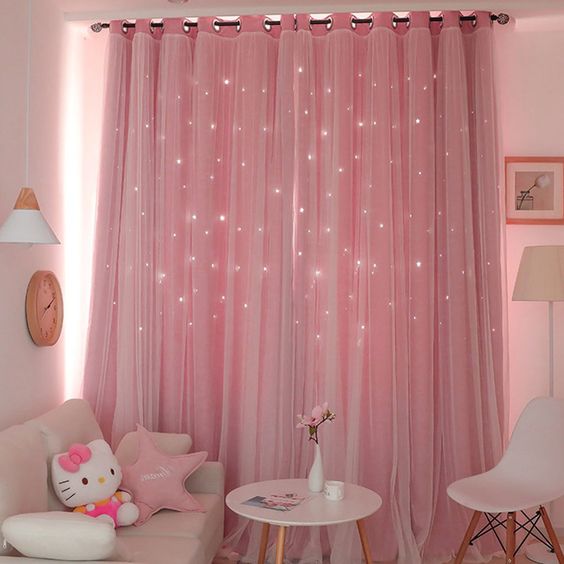 Suitable for all of the seasons, these pink curtains are truly what your place misses!
Magenta, Hot Pink, and Fuchsia Spaces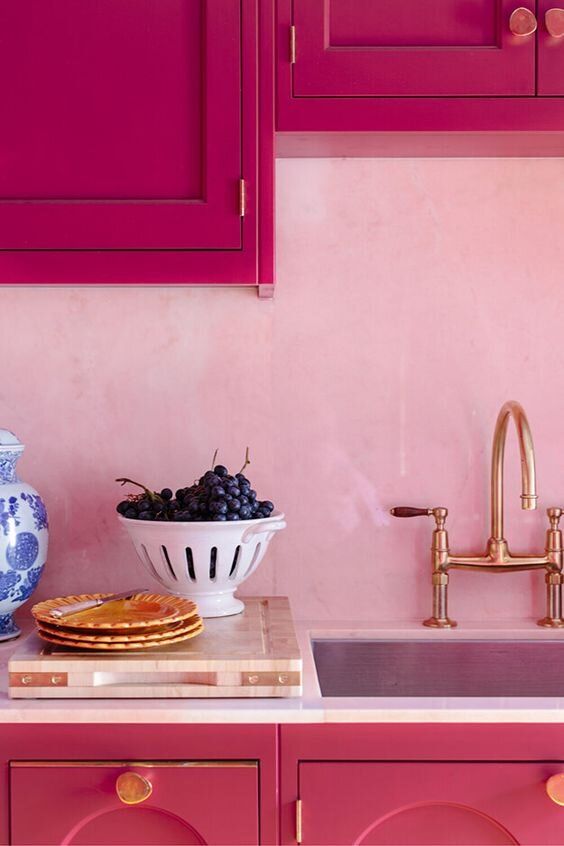 It doesn't have to be just for little girls to like magenta and hot pink. These rooms show that. If you want to add a lot of bold hot pink or fuchsia to your home, look at these!
Pink Bathroom Sink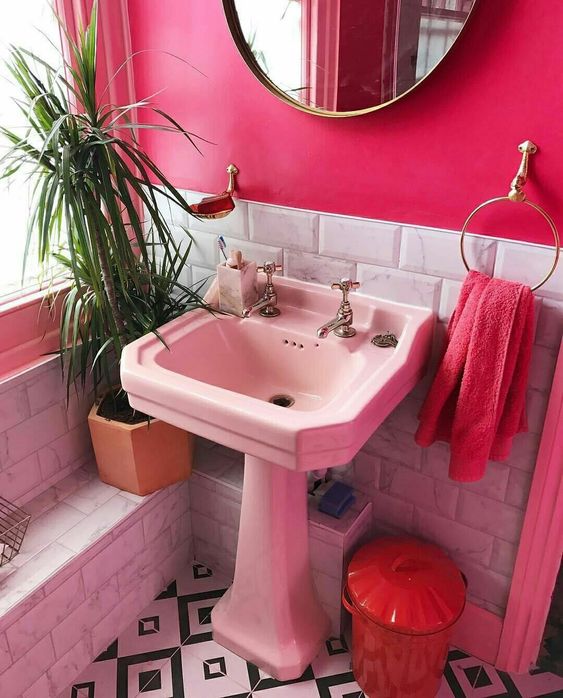 If you decide to put this pink bathroom sink in your bathroom, it is better to choose white or gray paint for the walls, so you can see the real power of pink!
Pink Shower Curtain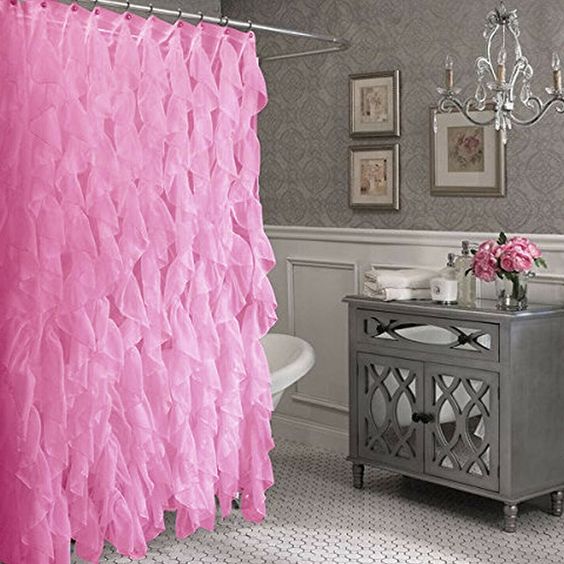 An interesting detail to have! It will change the whole look of the bathroom.
Pink Entrance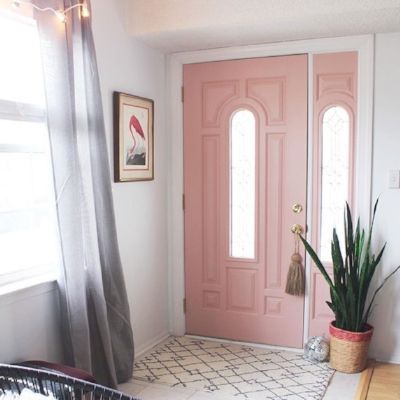 A large pink door for the entrance is something for the bravest out there! Not anybody can allow having this at home, but it's surely worth it!
Pink Stair Runner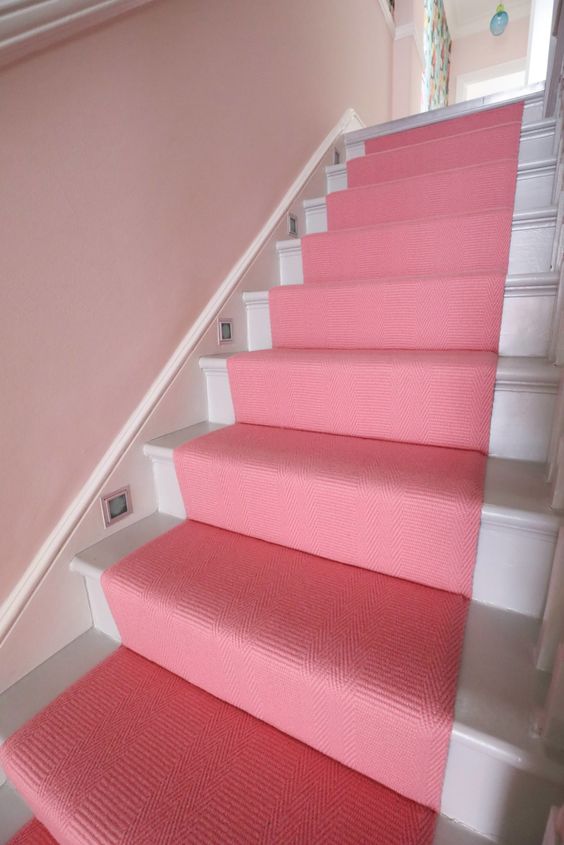 A great way to add warmth and luxury to the stairs is to put carpet on them.
Pink Farmhouse Centerpiece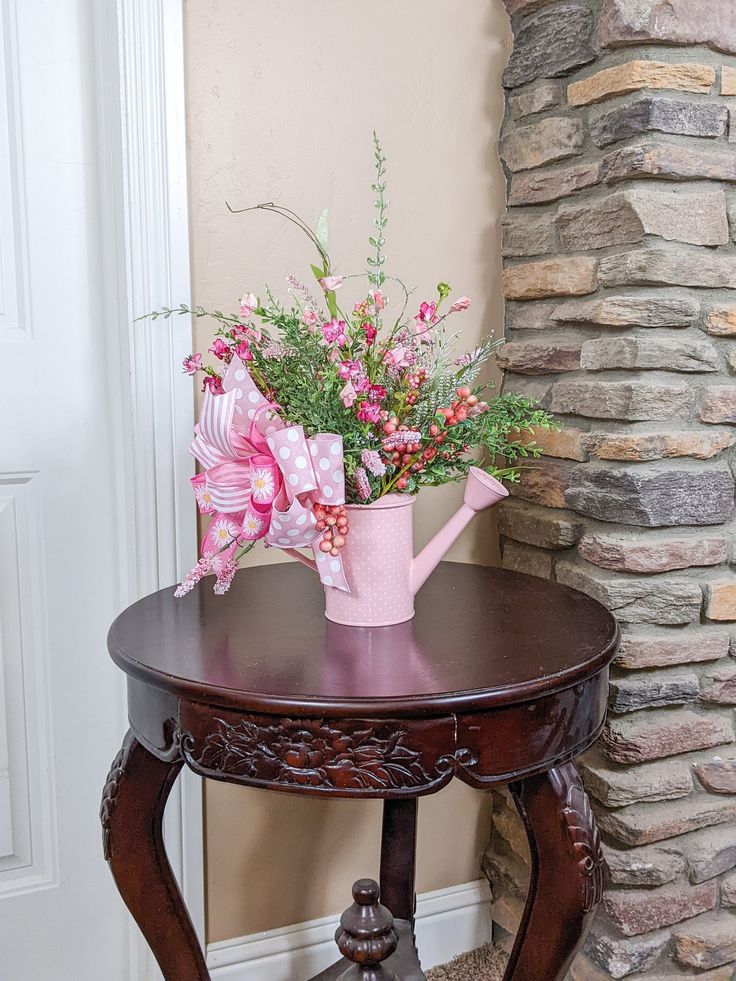 The terms pink and farmhouse do not always go together, but try to arrange a beautiful centerpiece that will change the aesthetic for the better! Try using flowers!
Pink Makeup Vanity Table With Swivel Mirror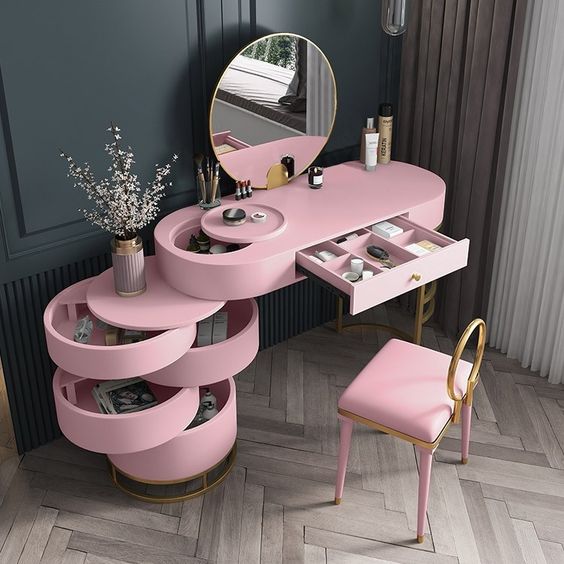 To make your bedroom look a little more glamorous and functional, get a white makeup vanity set and put it in there. If you want to look good while you're getting ready for work, this vanity comes with a smooth tabletop that can be used for either.
French Country Style Sofa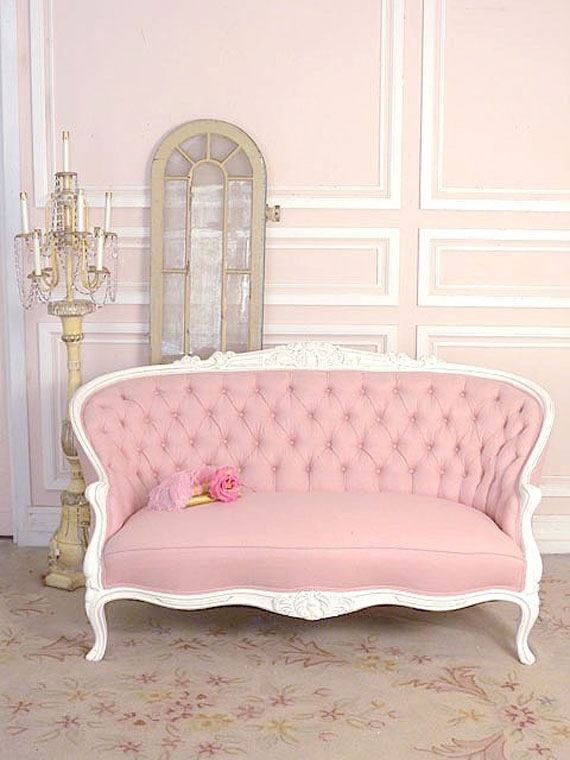 If you like country style, bring this joyful pink sofa to your living room. It will surely cheer the place up.
Pink Farmhouse Cabinet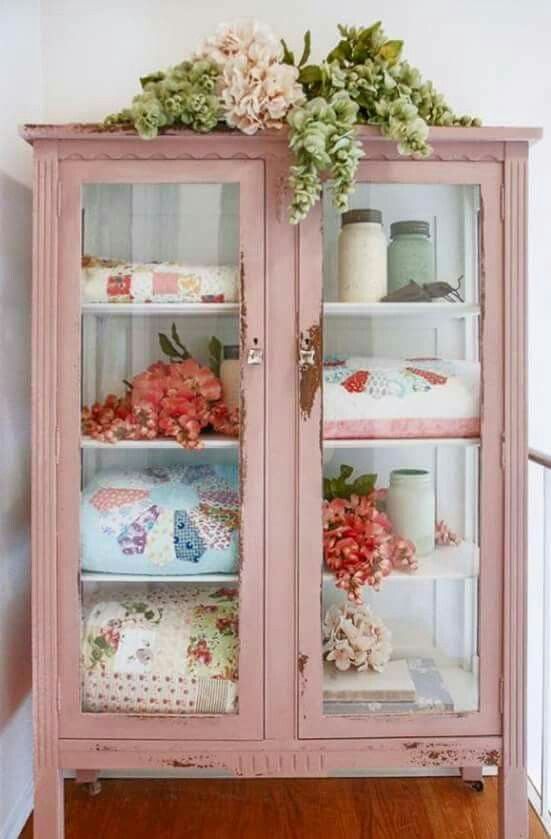 This rustic cabinet will bring some bright and cheerful vintage notes to your dining room.
Pink Crystal Tufted Full Length Mirror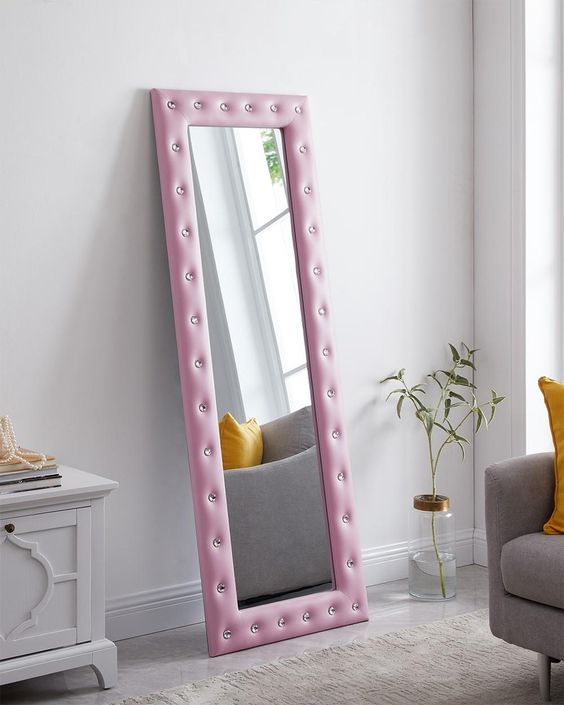 To match your old Hollywood glamour, or if you want to add some luxury to a modern living room, this is the right mirror for you to buy.
Pink Art Deco Funky Vases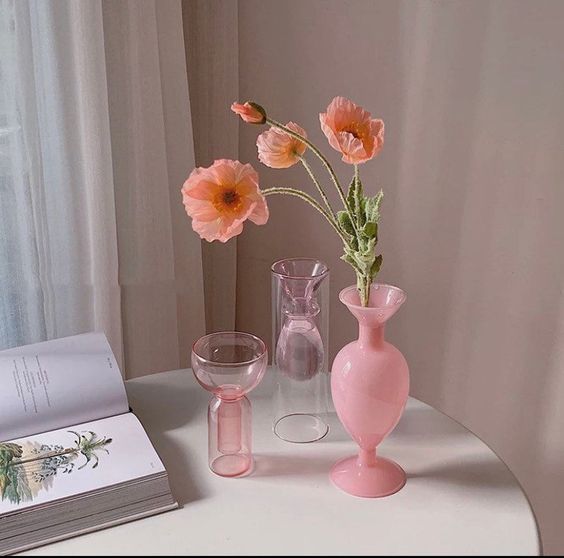 The best way to add pink to a Scandi-style look.
Pink Locker
Use the pink locker to store things in your living room, bedroom, home office, or kids' room. It can also be used as a piece of furniture.
Pink Peonies Arrangements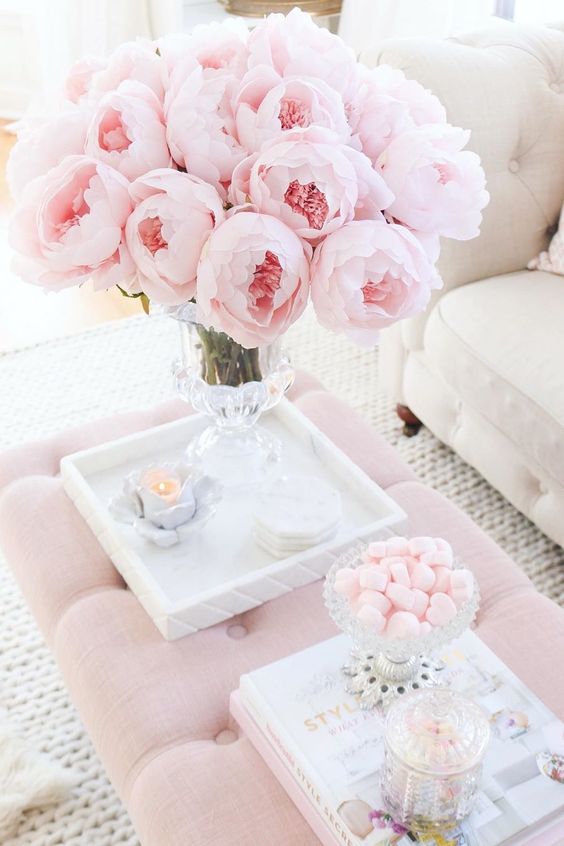 These pink flower arrangements are the best addition to the living room.
Pink Dining Table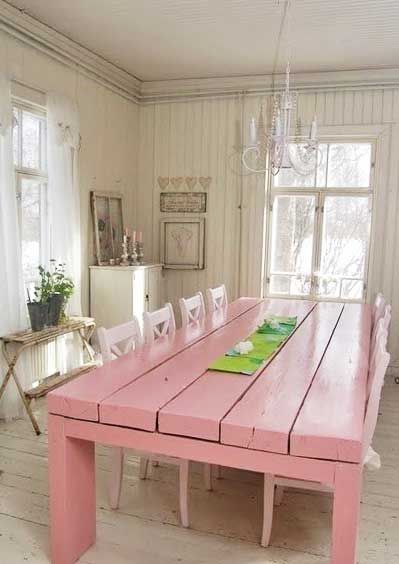 A pink dining table is a magnificent centerpiece for the dining room. Make sure to put more monochrome colors around so this pink table can be the real star here!
Pink Kitchen Island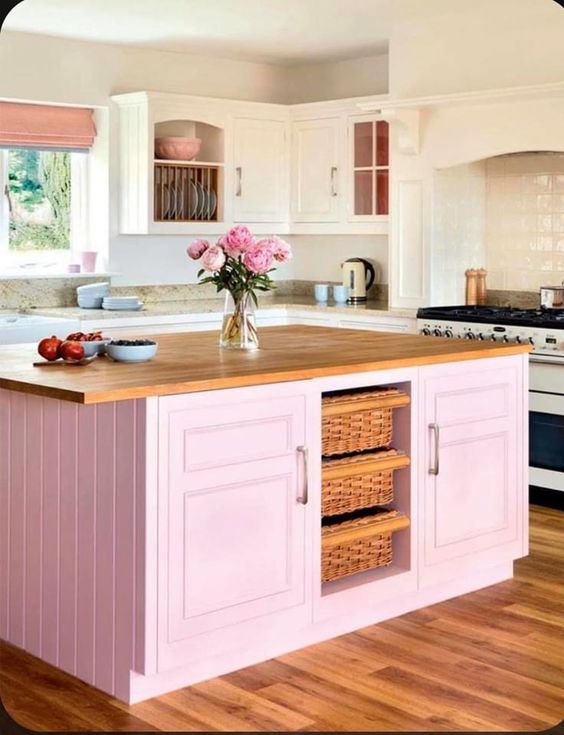 An adorable piece of furniture. Not The smile it will put n your face every time you cook is surely worth buying it.
As much as pink is used in modern designs, its talent is what makes people love the color. Passion, boldness, vigor, and aggressiveness are all characteristics associated with the color pink, and you should not be hesitant to express them. We hope that our list gave you the push to take the next step towards pink. What will your pink décor be? Share your thoughts and ideas in the comments.