If you want to make sure that your home makes a good first impression on your guests, you need to pay attention to the decor in your front hall. Make an entry hall you always look at as if it were your first time seeing it. But if you haven't set aside money for it, you don't have to spend a lot on the entryway. The main idea of the Scandinavian home decor style is to make your home look beautiful and functional without spending a lot of money on things that you don't need. Scandinavian minimalism is an aesthetic that is based on regional trends in the Nordic countries. It is simple, functional, and calm. Consumer goods and home design in this area are known for being high-quality and easy to use.
A need for endurance and comfort led to the creation of this style. The harsh and long winters in northern Europe called for functional structures that could withstand harsh weather. For people who kept warm inside during long winters, there was also a desire for open, inviting rooms and spaces that let light in. Most people probably don't give too much thought to the design of the entryway as long as it's clean and has enough space to store some coats and shoes once you enter the home. But it is the first thing you see when you enter the home, so it sets the tone for the rest of it.
Just as there are different designs for decorating a room, there are entryway designs as well, and today we are going to show you some lovely examples of designing and decorating a Scandinavian style entryway.
Basket Space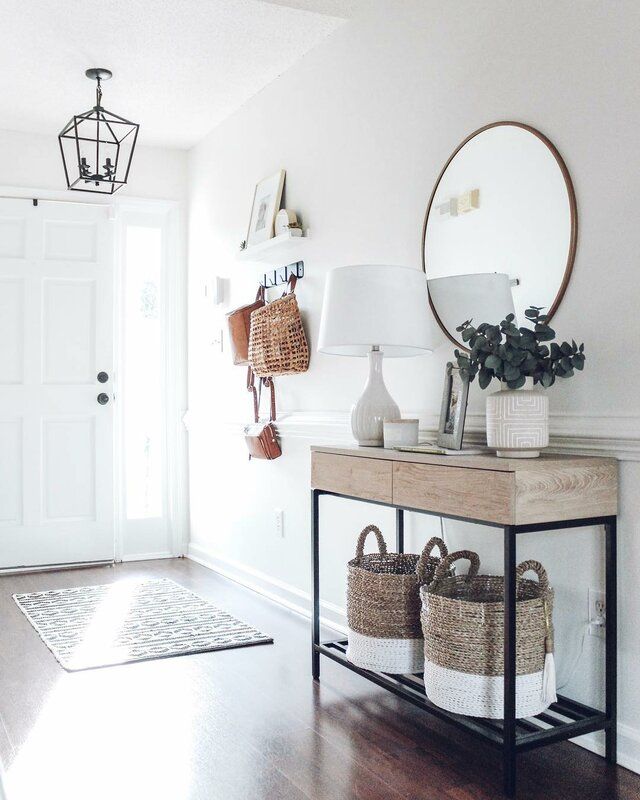 This minimalistic design can be a perfect fit for your house entryway. A small drawer to leave your car keys on, along with a small round mirror is a great and clean look for any guests coming and even for yourself and your family.
Warm Beige Colors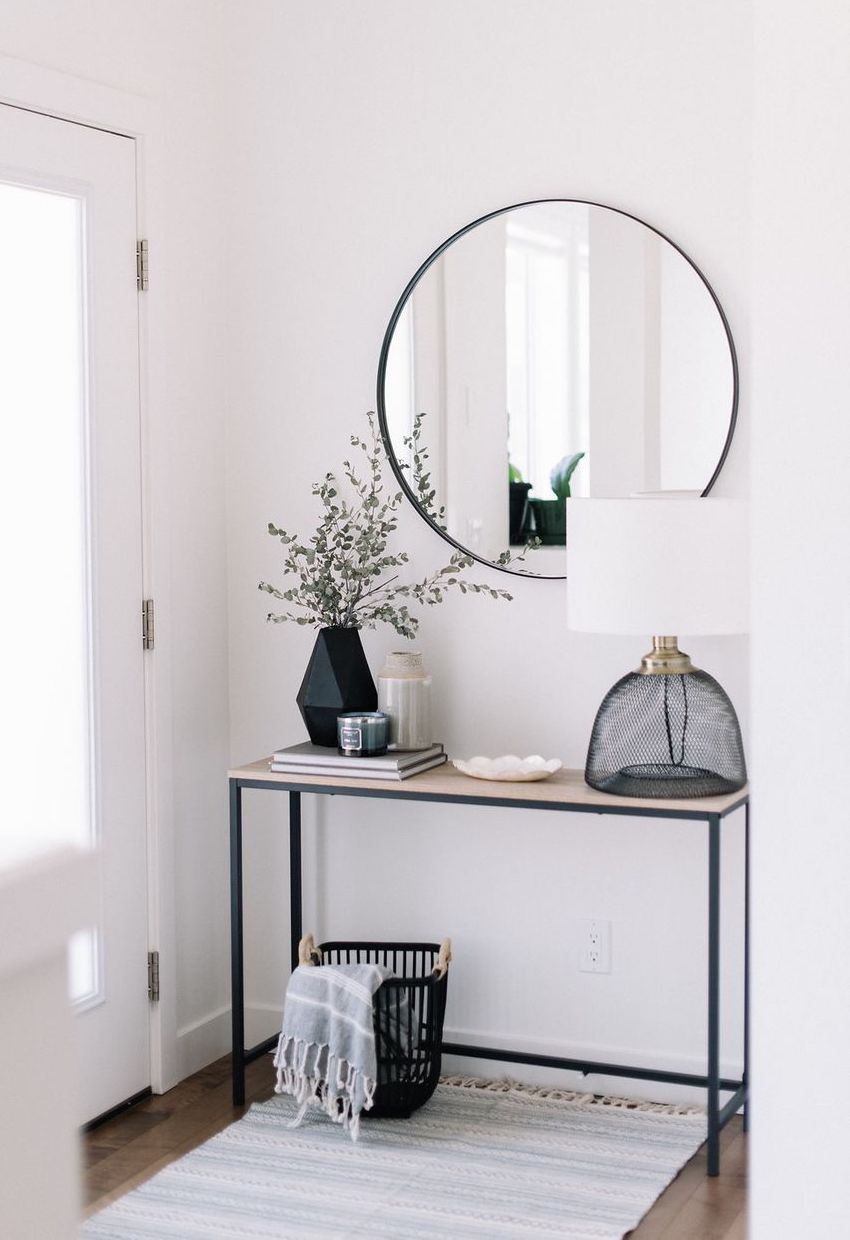 A huge round mirror is a breathtaking look for your hallway and a striking design feature. The beige color is dominant here with multiple objects filling the space to make a great all-around display of minimalism.
Matted Pink Walls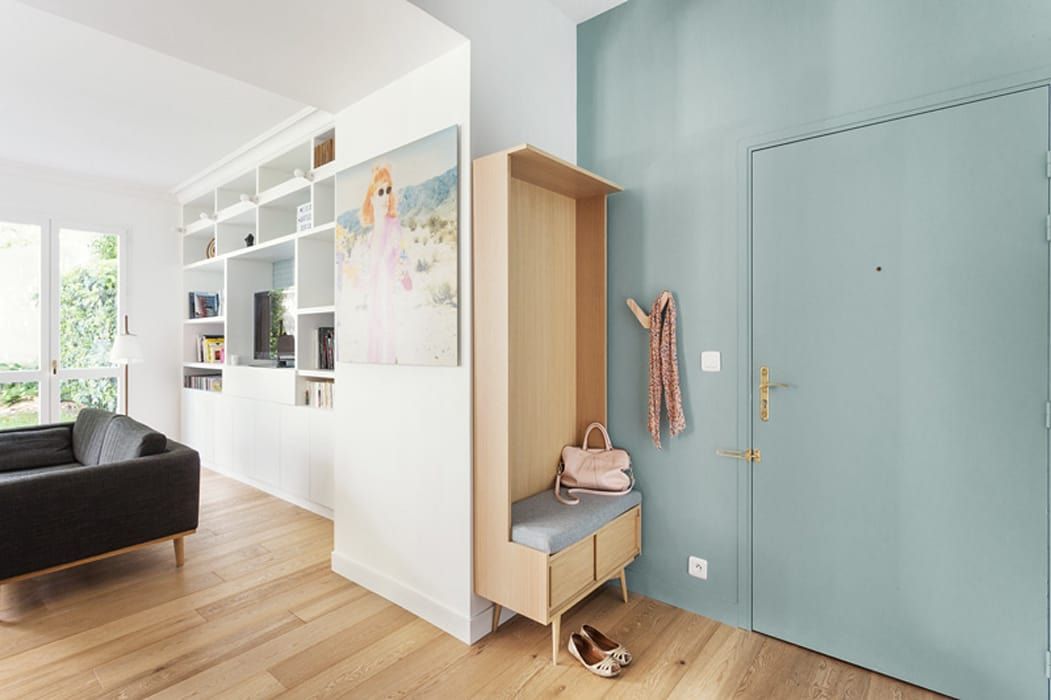 Matted pinkish walls and a little wooden bench are a fine way to channel some of that Scandi design. You can also add a few pictures to the sidewall to make it look less monotone but still clean and tidy.
Industrial Grey Floors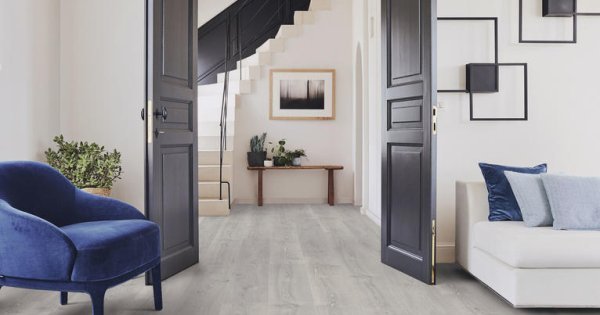 This design idea has white walls, industrial gray flooring, and a high ceiling which makes this foyer look like it came from a factory. There is a piece of art on the wall next to the door that stands out against the white walls. There is also a wooden shelf on the next wall.
Redbrick Wall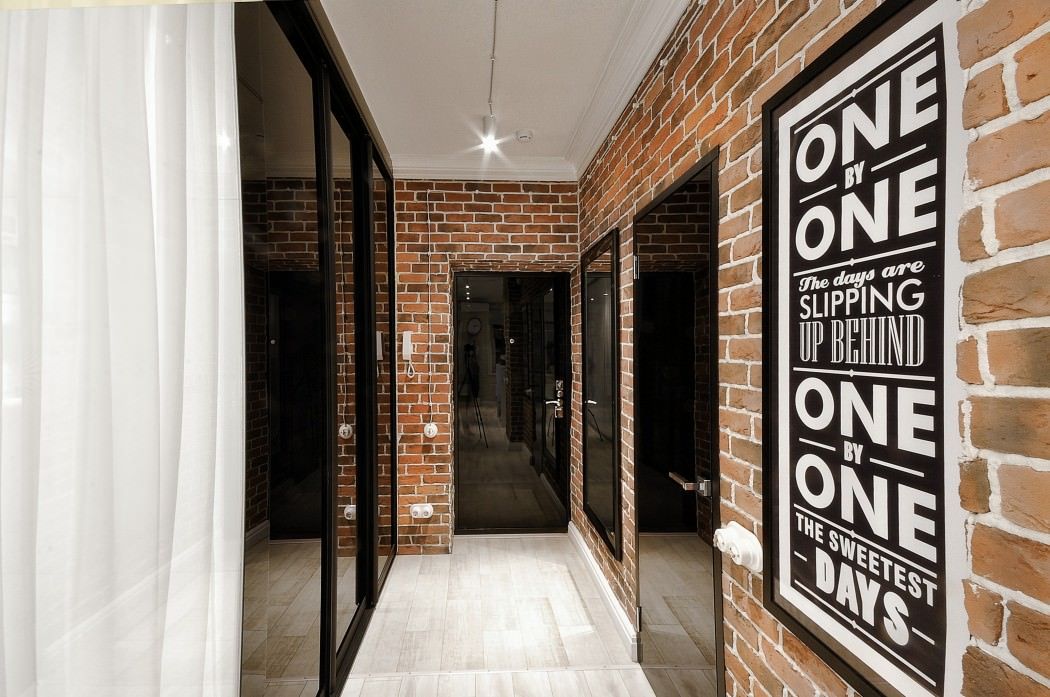 In this hallway foyer, the walls have a red brick wall finish, which makes the sleek black doors stand out against the rough surface. Illuminated by the white ceiling pin lights, there is a text poster that has been put up on the wall.
White Walls And Ceilings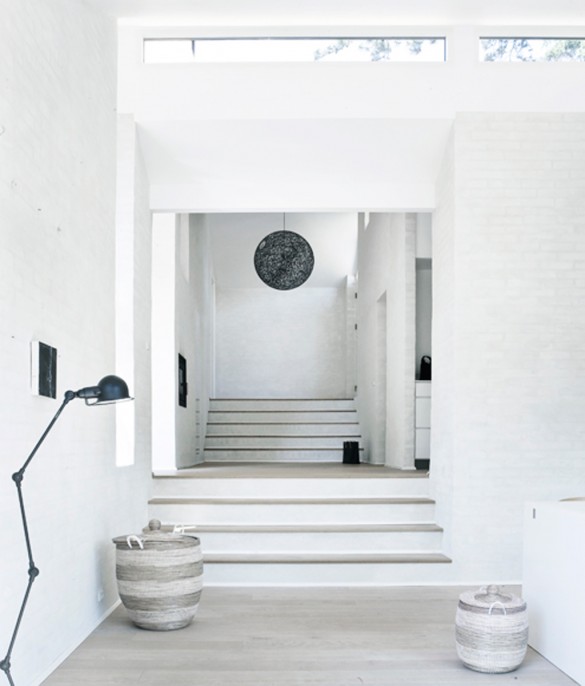 This is a mostly white Scandinavian-style foyer with white walls, white ceilings, and bleached wood floors. This is paired with baskets of the same color as the floor and a black lamp and black spherical pendant light.
Lime Color Design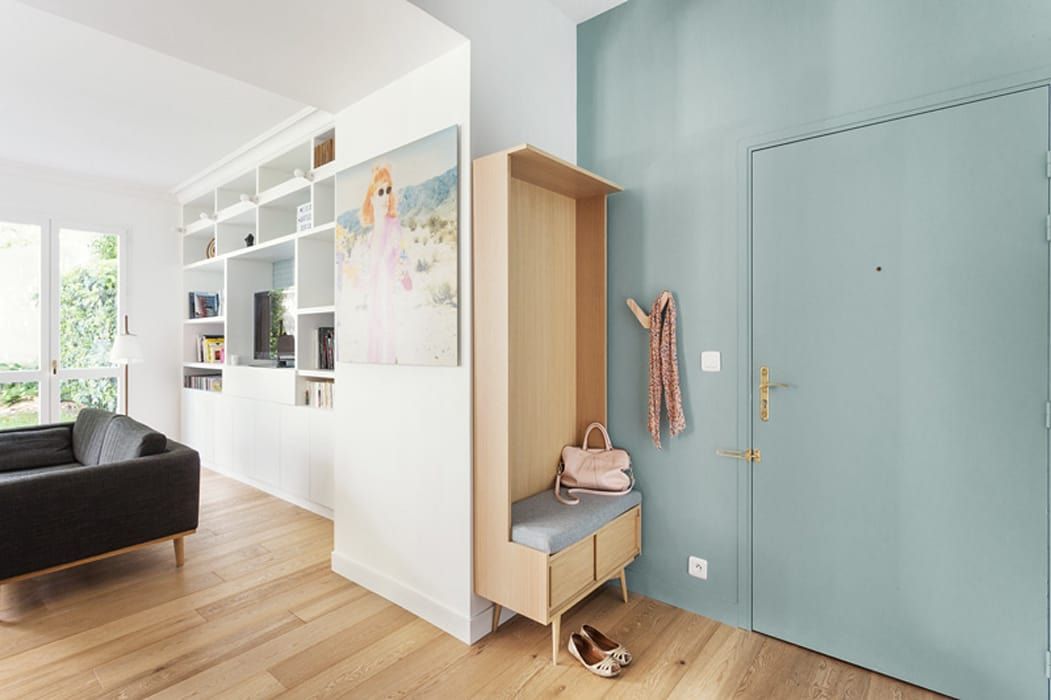 A perfect small and stylish Scandinavian-style foyer with a limpet-colored wall that goes all the way to the main door in a single color. When you buy this, you can match it with the cushion of this small bench, which has wooden legs that go to an extra shelf for shoes and hats.
Dark Flooring And Main Door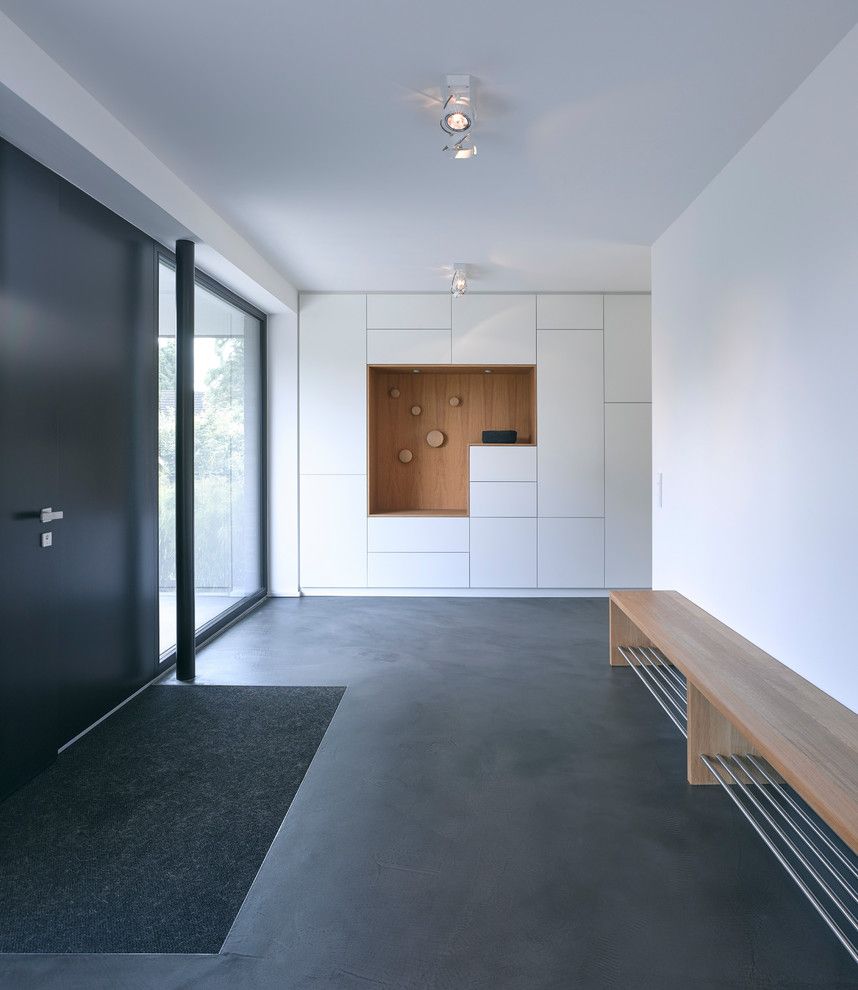 In this simple foyer, there is a lot of space on the floor, with white walls and a white ceiling. The dark flooring and dark main door make the space look even bigger. When you open this door, you'll see a long wooden bench with a built-in shoe rack below.
Dark-tiled Floor Design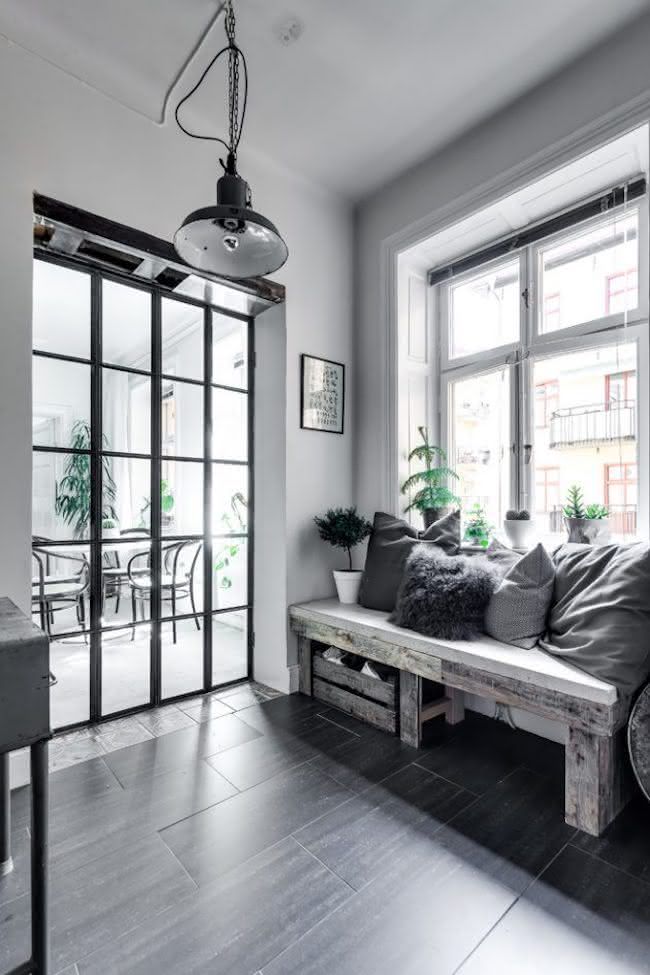 This is a beautiful Scandinavian-style foyer with glass French doors that open up to dark-tiled floors. By having a large window built into the white wall next to the doors, these floors look a lot more cheery. This window has a wooden bench with pillows and a crate for shoes under it.
Simple White Door Design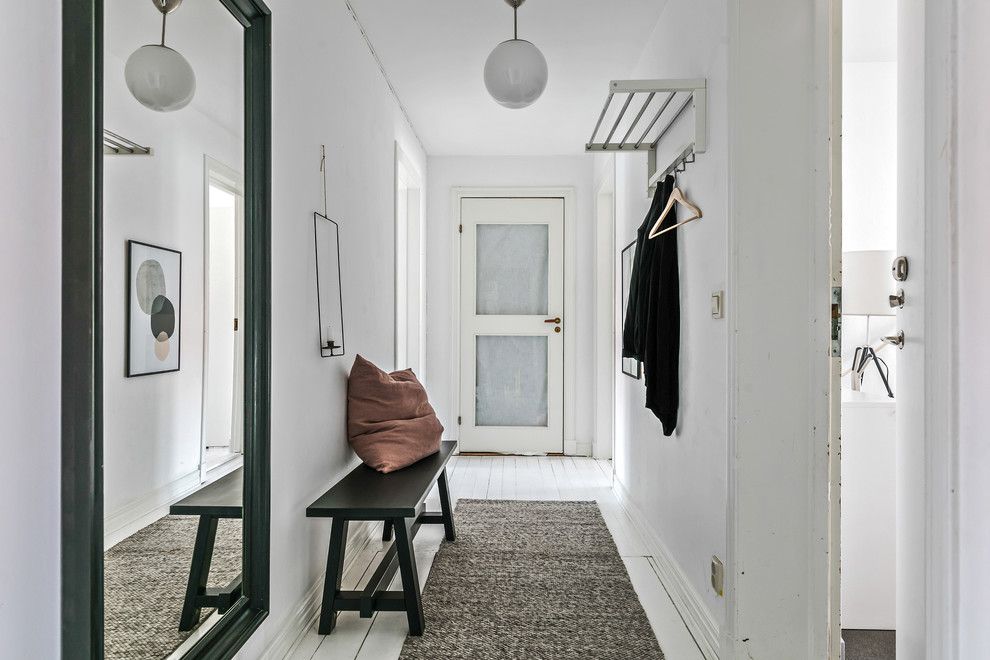 The door is a simple white door with two glass panels that are basically a window to this enclosed space. White flooring contrasts blends with the white ceiling and is contrasts well by adding dark elements like a dark wooden bench or a black-frame mirror.
Wooden Door Design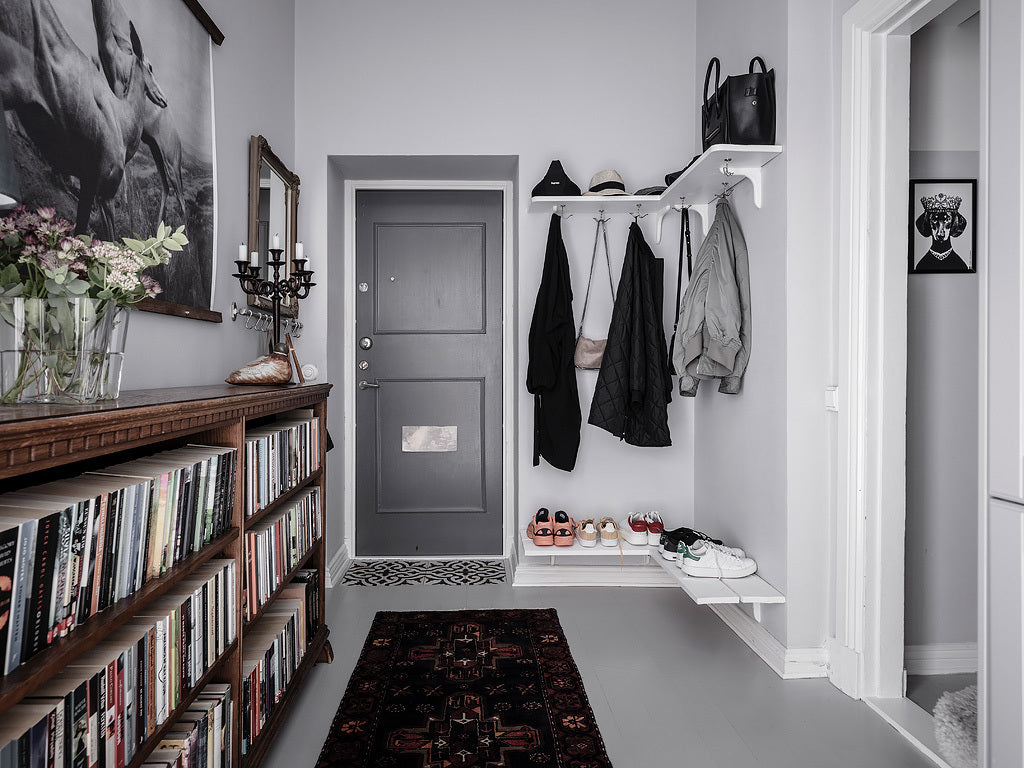 On one side of the gray wooden door, there is a long, waist-high bookshelf and a high console table. White shoe and coat racks that are on the wall are next to it. They blend in beautifully with the white wall.
Colorful Design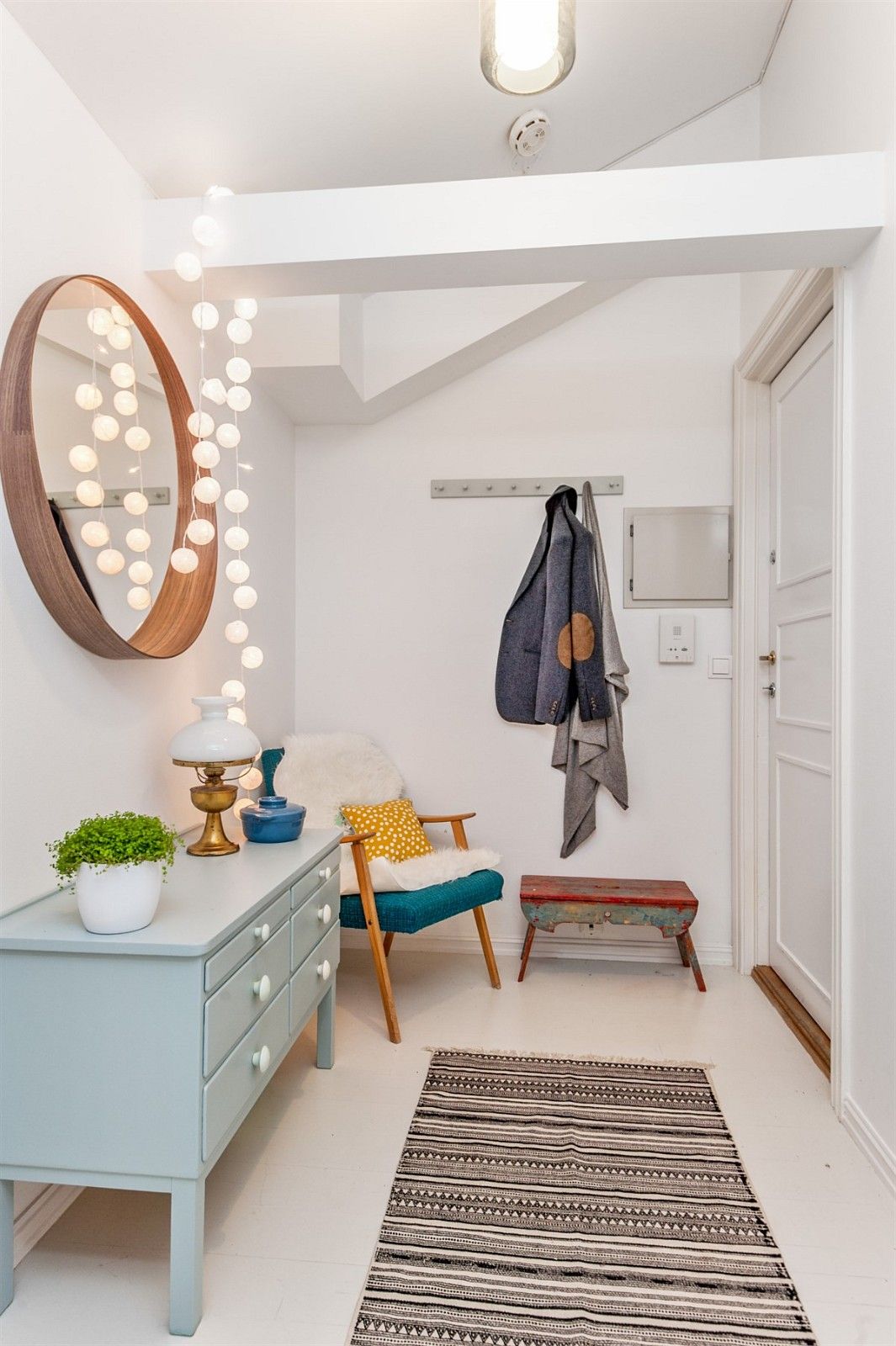 This colorful design with a small blue chair right next to the coat rack is another awesome idea for your Scandinavian-style foyer. Add a light blue cupboard and the characteristic round mirror and you have yourself a great Northern European corner in your house.
Dark Front Door Design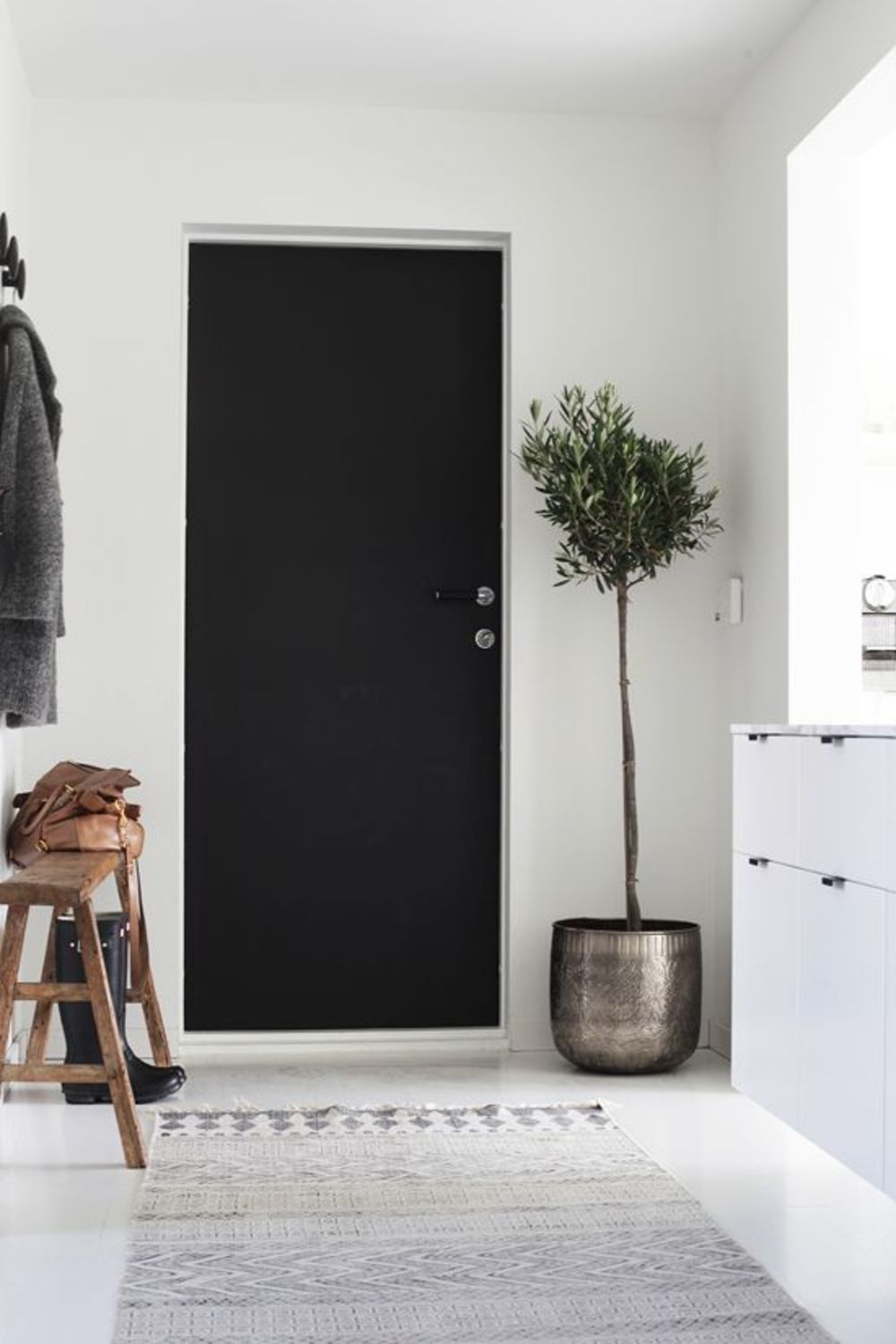 A dark door with a small wooden bench might suit your style? If so, look no further than this design idea. You can add a tall plant right next to the entrance to make the decoration look even better.
Bold Dark Walls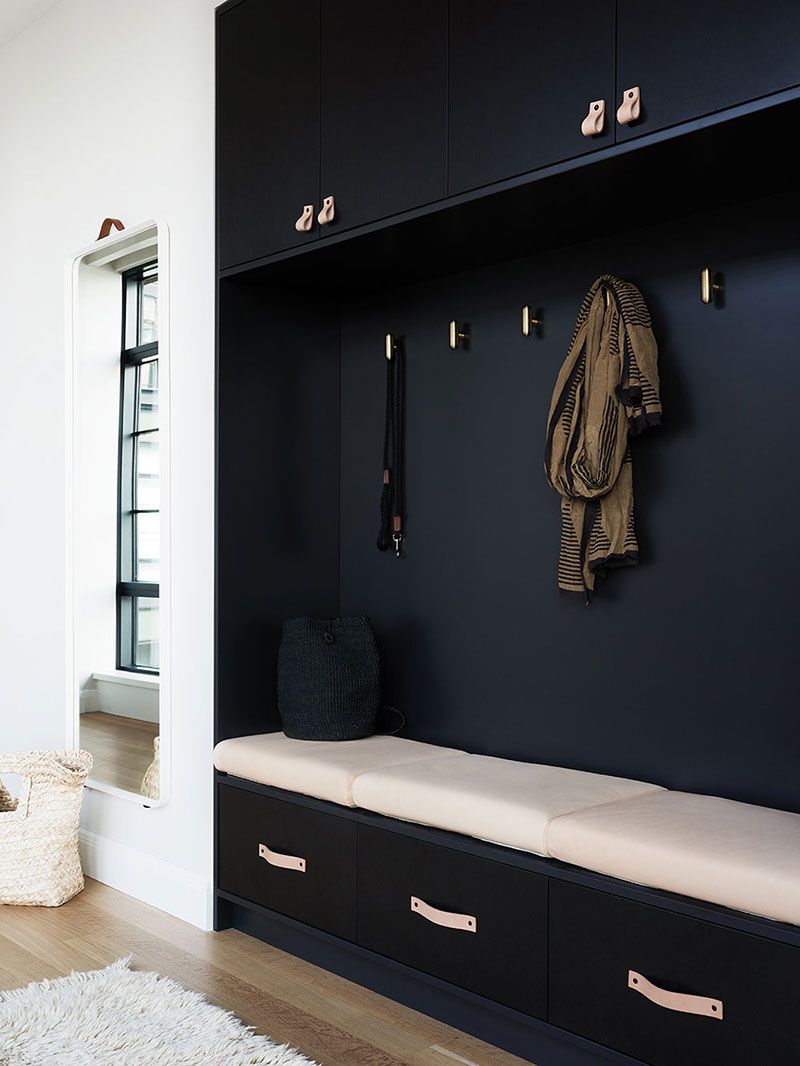 Not everything minimalistic has to be white, right? This dark wall design is sure to catch the eye of your visitor. Add some white cushions to have that little bit of contrast and you're in for a treat!
Minimalistic Hall Design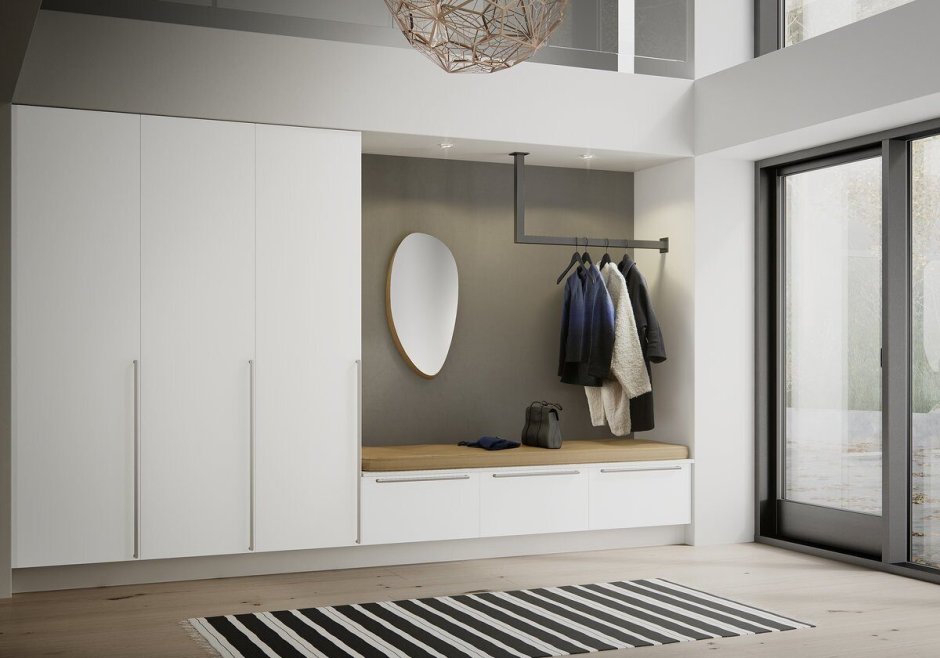 Last but certainly not least on our list, we have this stunning hall design by Danish Kvik. A dark frame around a glass door with great white drawers and a closet for clothes and shoes. The dark coat hook just fits perfectly here as well!
These are just a few of the many, many Scandinavian-style designs out there. Perhaps you are lucky enough to have a hallway designed like these, or maybe even the entire home? Do you have a custom design of your own? We would love to see and read all about them. Share your thoughts and ideas in the comments with us.