One thing that no one tells you about crafting is is an expensive hobby or a lucrative small business opportunity. Going into crafting, be mindful that you'll have to spend a lot of money on supplies and additional equipment and storage to help you get all your crafting done.
Having a diverse collection of helpful instruments entails creating an adequate storage space for them all. The reason why this is important is that it allows for your creative process to flow unhindered and keep everything neat and at hand. This is even more true when you live in a tiny place where every square inch matters. Even so, whether you live in a large house and practice a variety of crafts or if you work with a single material and only have space for one person, the fact remains that you need a plethora of storage alternatives available to you in the craft sector.
If you're using baskets, crates, or bins, make sure that everything inside them is always neat and tidy. To quickly find what's inside, you should label the boxes. This way, you won't have to dig through the boxes each time you need something. Give yourself enough room to add some new things to your craft supplies in the future.
Storage Shelves Using Wooden Crates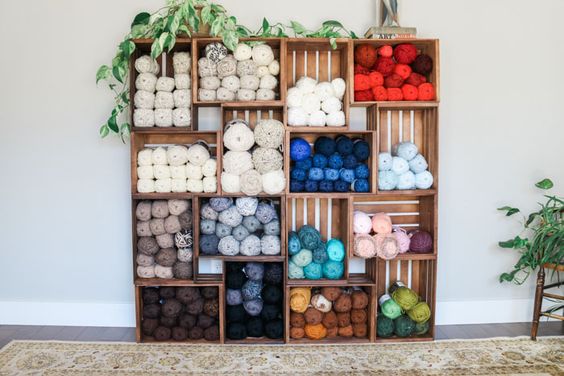 All you need to do is just get a few wooden crates and secure them together!
Hexagon Storage Shelves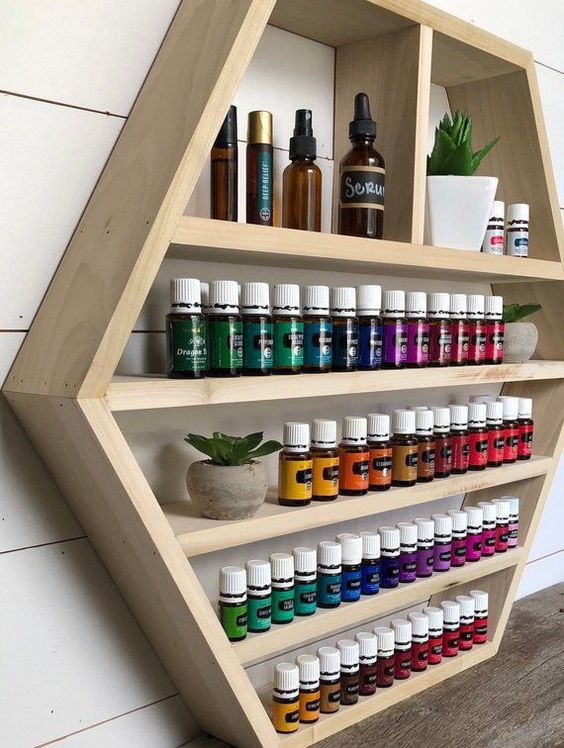 In order to make them last forever, you could either glue them in or let the weight of your supplies hold them down. You can make these DIY hexagon storage shelves to add a lot of fun to your office.
Drawer Cabinet Half Tray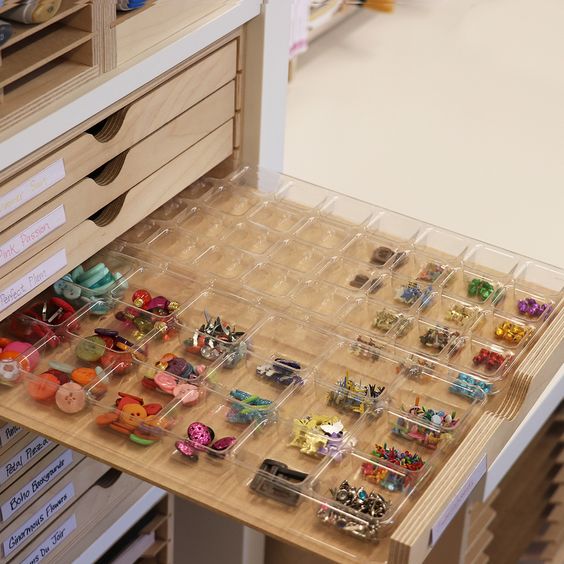 These two trays will fit next to each other in the drawer. You can mix and match the size and number of compartments.
Ribbon Organizer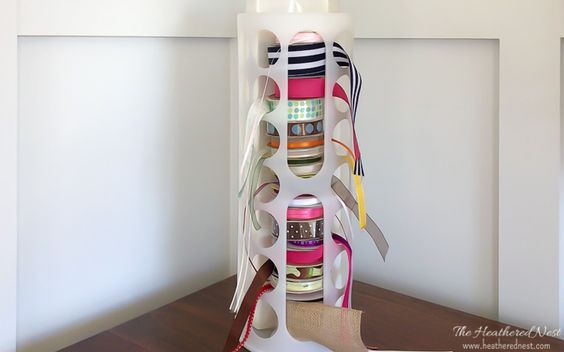 You can do this by buying a "Variera" bag dispenser! If you don't have a big budget, this is the right thing to do.
Cube Dividers and Organizers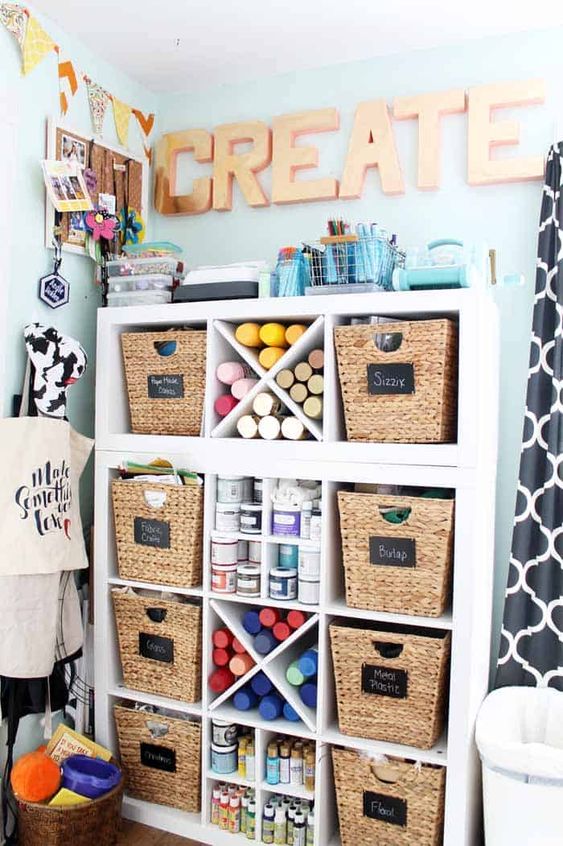 Cube organizers are great for organizing your craft room. These dividers keep the paint organized and make it look great. Paint bottles are hard to keep organized, but these dividers make it easier.
Art Tote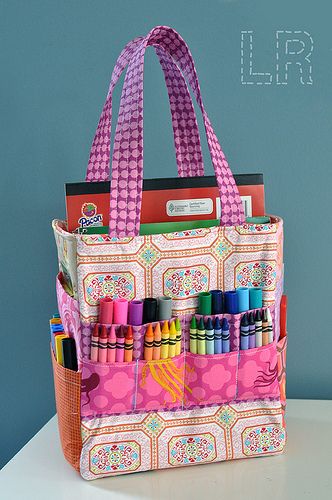 The best thing about this art tote is that it's easy to move. A great tool for acrylic paints and glitter and yarn and ribbons and paper and markers and crayons as well as fabric.
Craft Cart With Wheels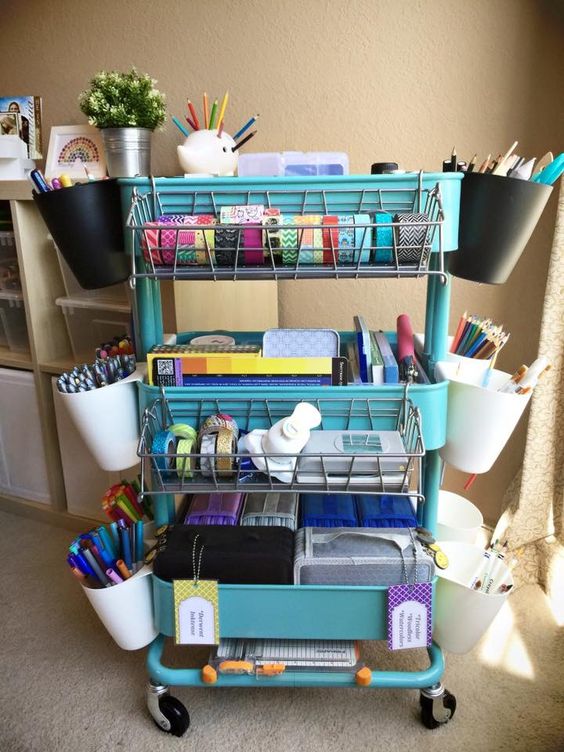 This craft cart can be used to store a lot of different things. It has three large shelves that can hold a lot of different things. If you want to get even more organized, there is also a built-in pegboard with hooks and a pencil holder.
Island Counter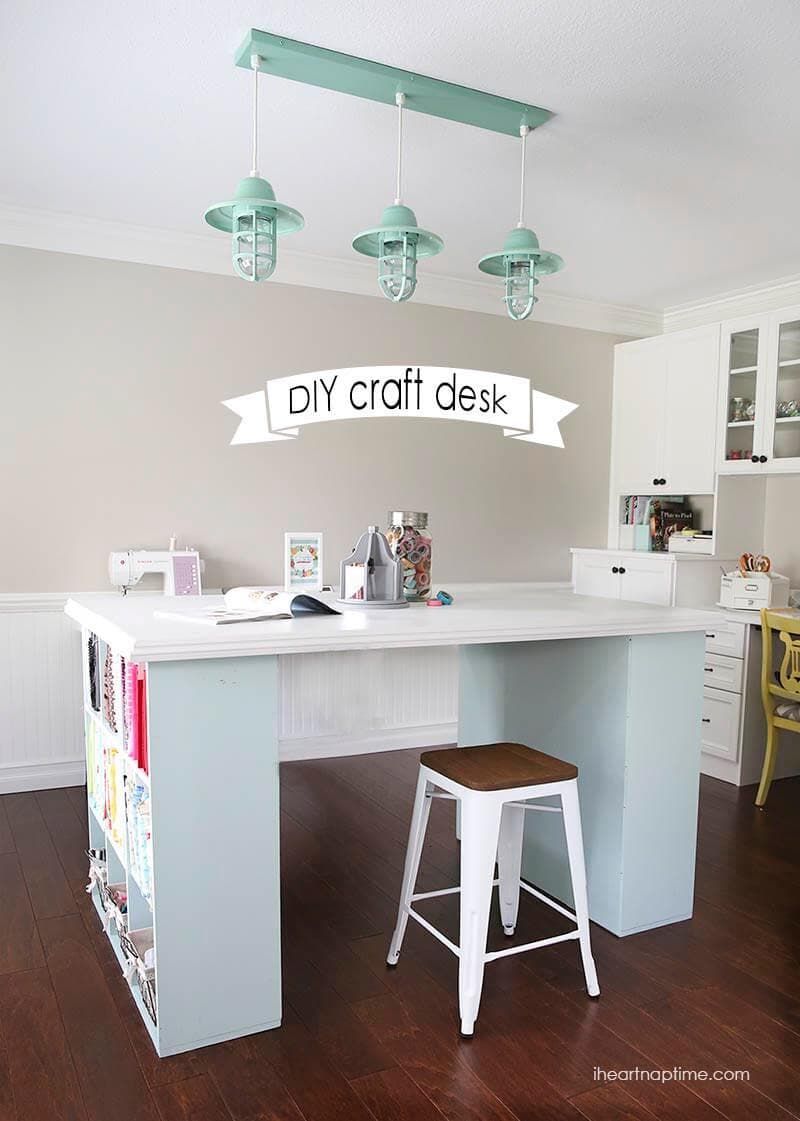 On each side of its legs are built-in cabinets in a soft blue color. That there is enough space for more than just bolts of fabric, sewing supplies, other bobbins, and knick-knacks. It also helps you keep your desktop clean and free of things.
Gas Pipe Washi Tape Holder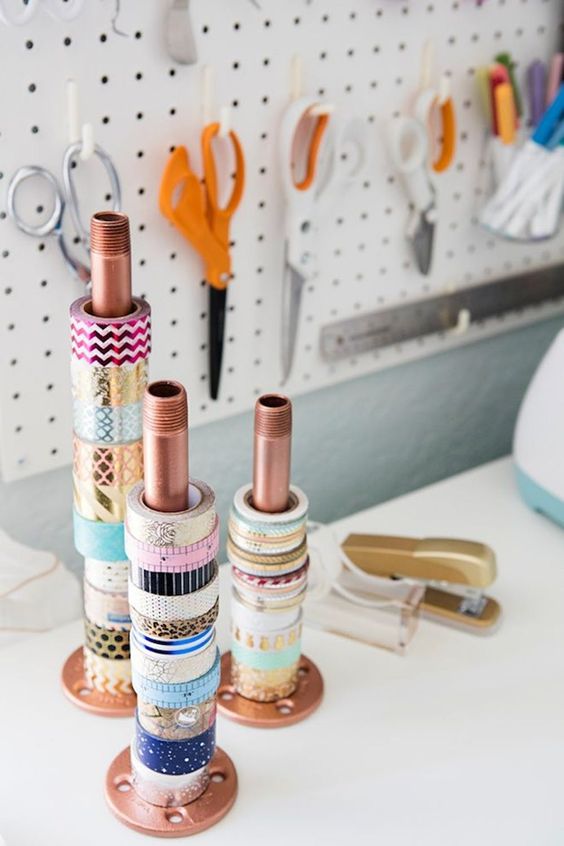 These pipe washi tape holders are a very unique way to store your tapes, and they look really cool. These pipes can be used anywhere.
Marker Stash Organization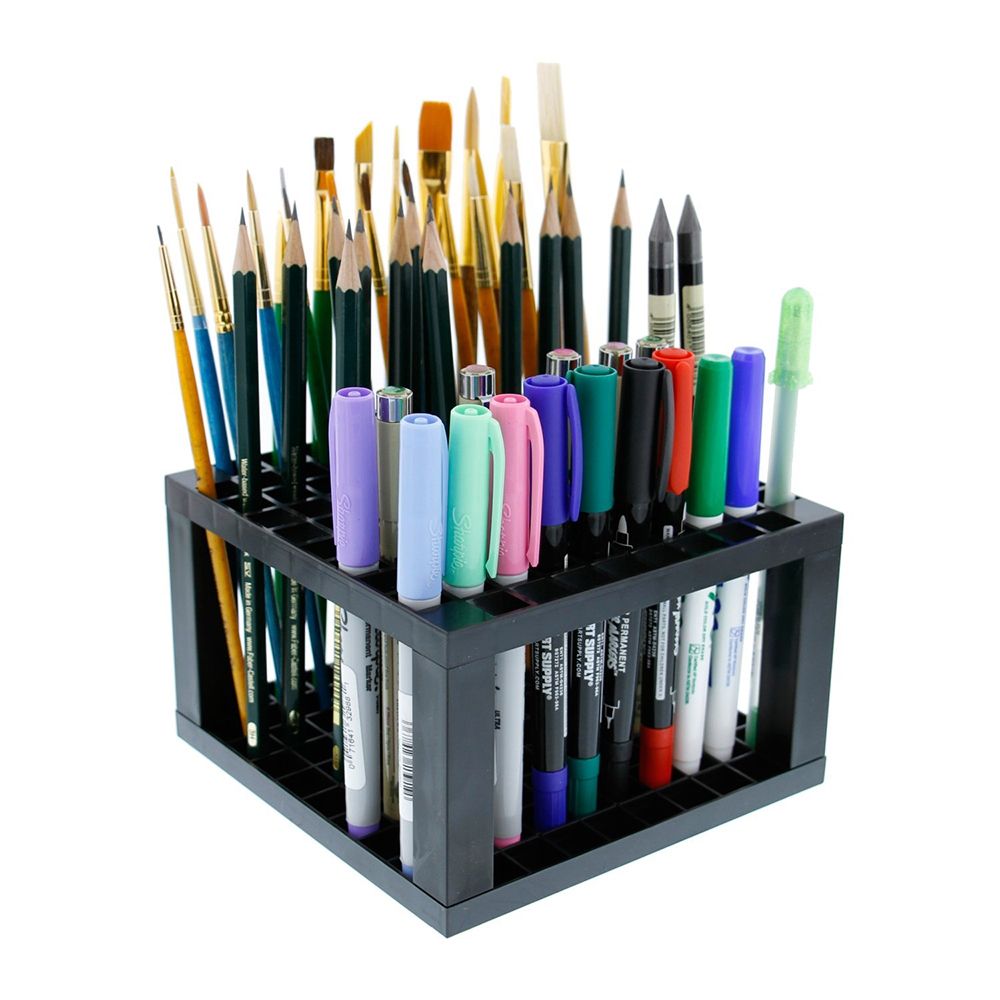 If you have a lot of pens, markers, and pencils, this is a great way to store them. It's cheap and easy to use.
It not only looks great, but you can also organize your markers by color so that they are easy to find when you're working on something and need them. Is small enough to fit in many places.
Wall Mounted Magnets
Magnets can be put on the wall to catch anything. To store small things, put them in small metal tins. You can also put tools, scissors, and other metal things in them, like screws.
Pencil Roll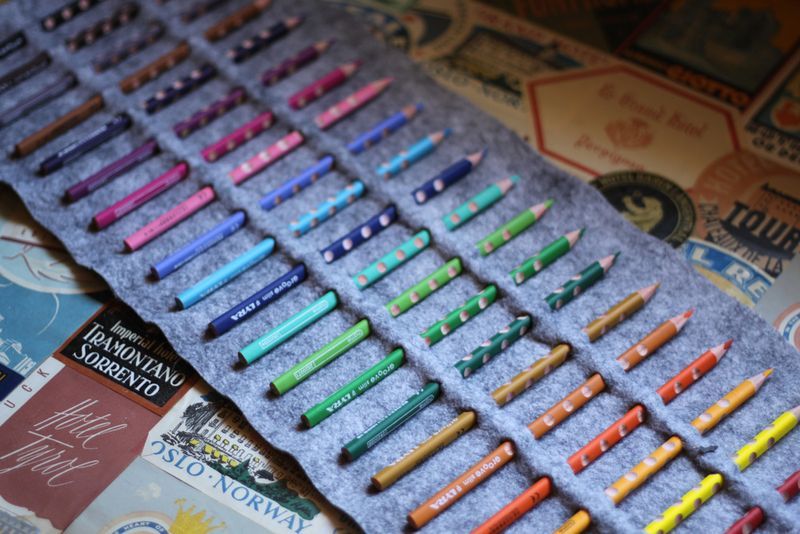 You can keep your pens and pencils together and in order with this no-sew felt roll-up.
Scrapbook Cardstock Organiser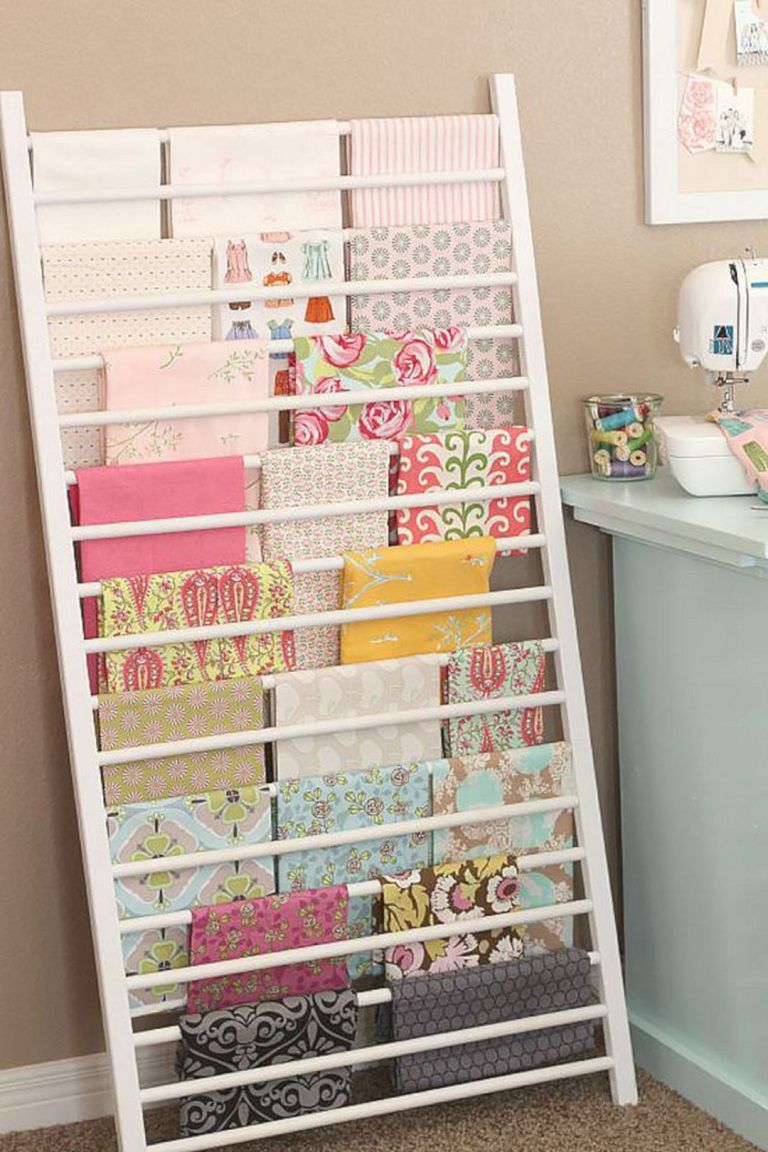 It can be hard to find a place to store scrapbooking paper and cardstock that is 12 inches wide. These plastic crates can also be stacked.
Rotating Craft Caddy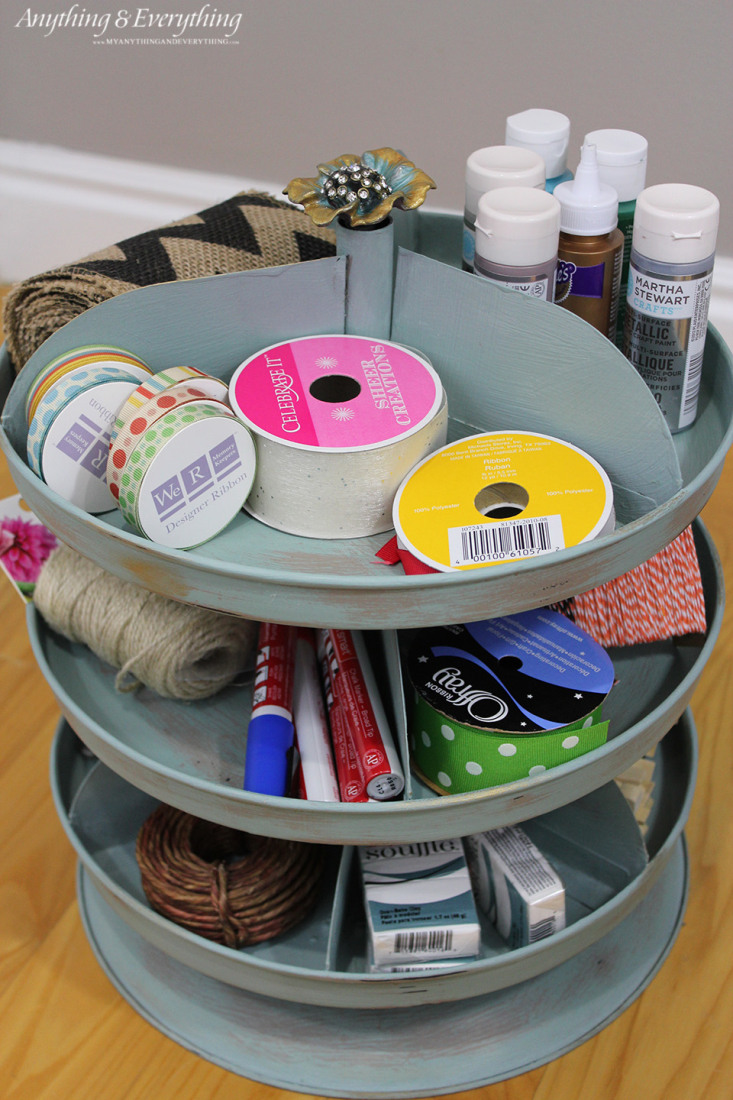 A lot of markers, pencils, and other things can be stored in it. It also rotates. This is a great thing to have.
Craft Storage in Glass Jars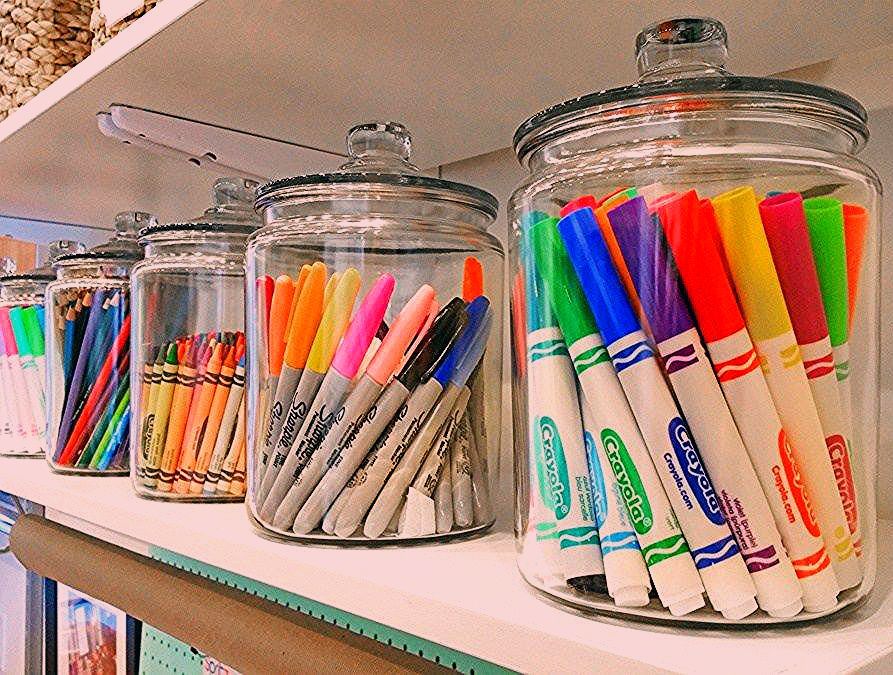 It's a great way to store your crafts because it's easy to see, organized, and looks good.
Mobile Wrapping Station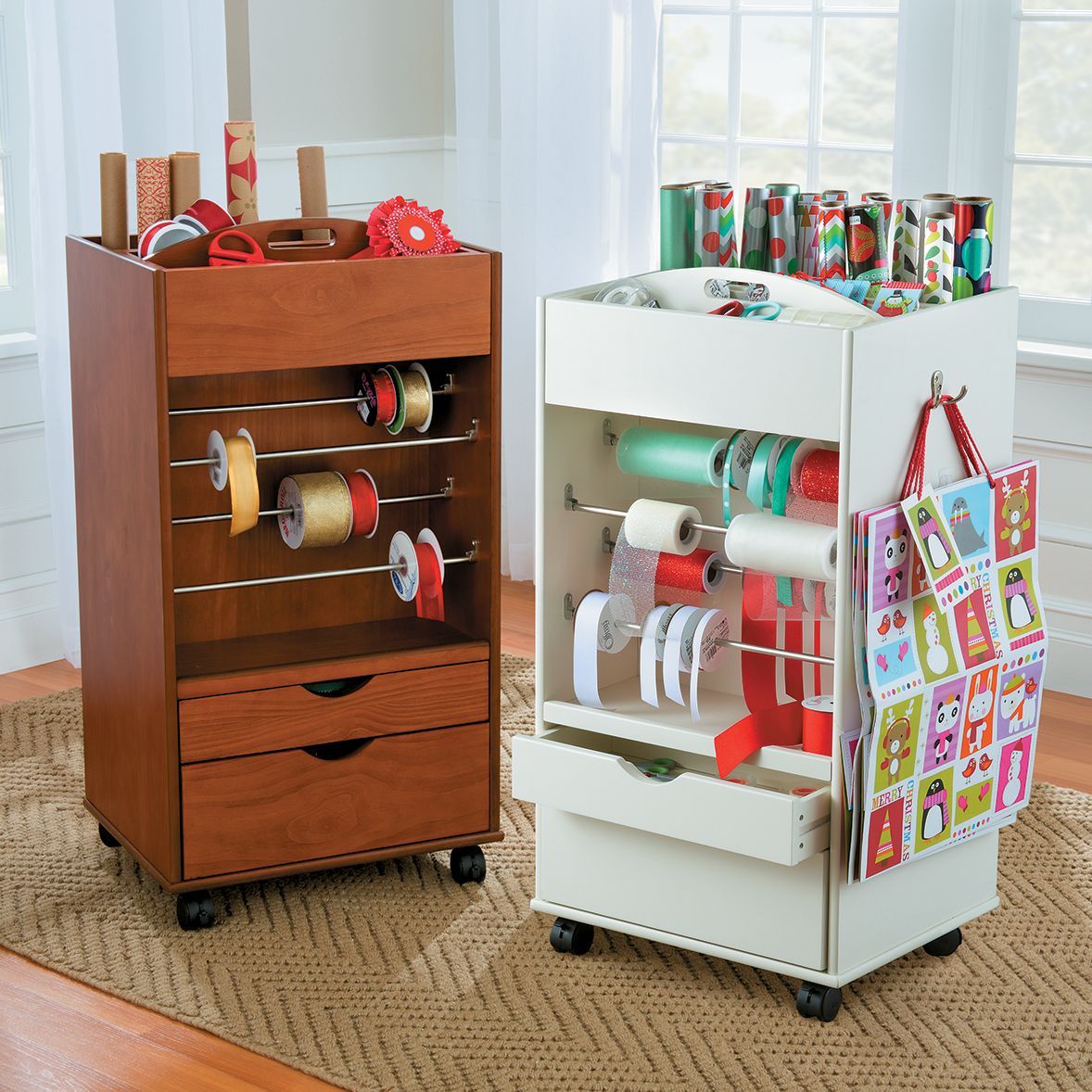 Having a mobile wrapping station is a great way to keep your craft room clean and tidy. Make it easy to wrap gifts for any occasion by having all of your wrapping paper, ribbon, tape, bags, and other decorations in one place.
Button Organizer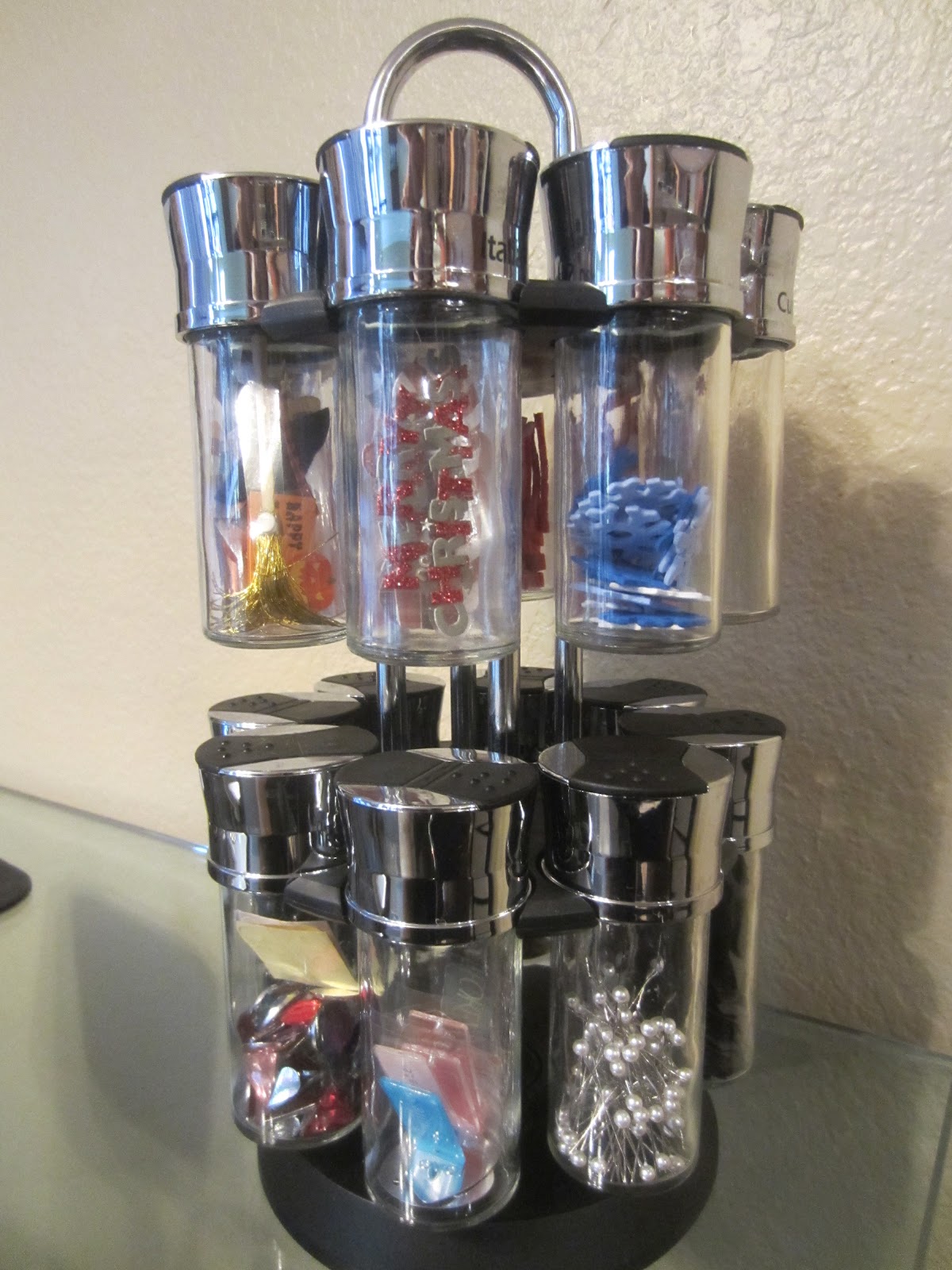 Besides being functional, this button organizer is also pretty to look at as well! You could put this old spice rack to good use.
Craft Room Display Shelves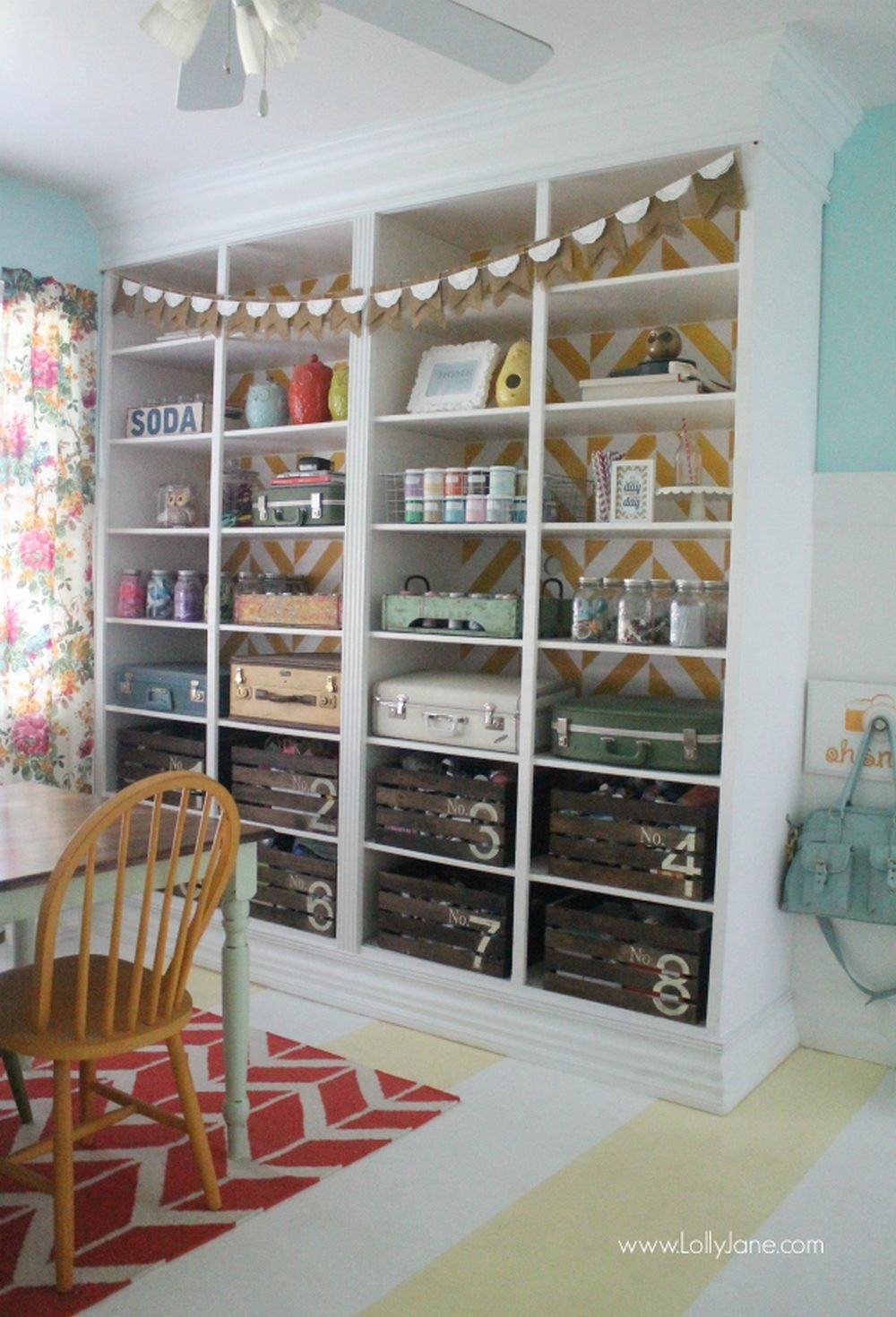 Shelving is important to keep things organized and easy to find. Using old suitcases and rustic crates in a traditional bookcase adds both style and storage.
Label Wicker Baskets for Craft Storage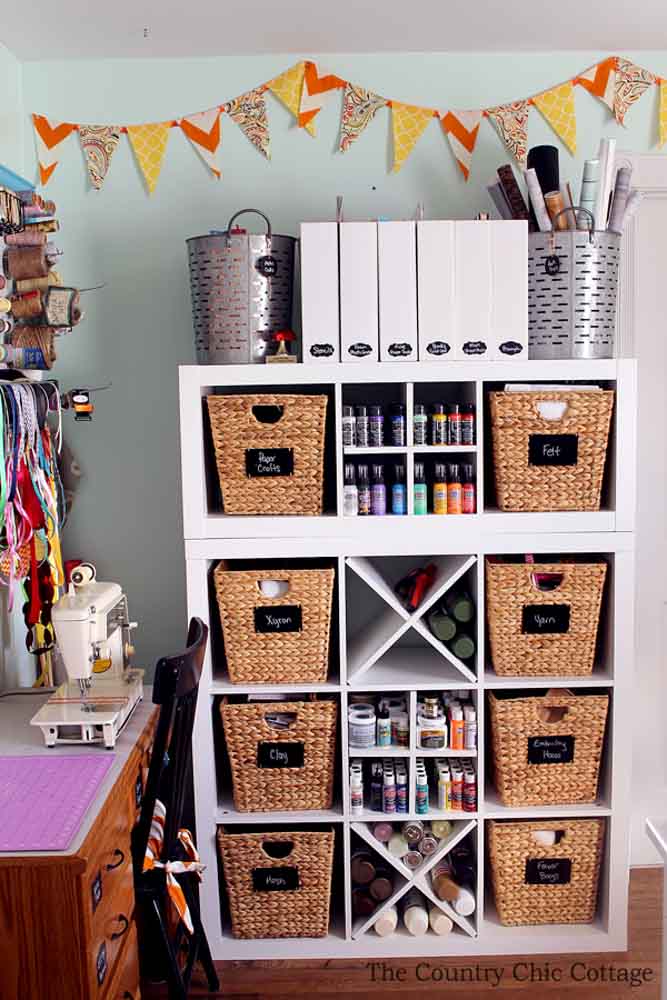 This is what you should try to do in your craft rooms: make them blend in with the rest of your home. In this case, you might want to label and organize your craft supplies in wicker baskets inside your craft room.
Craft Organization Board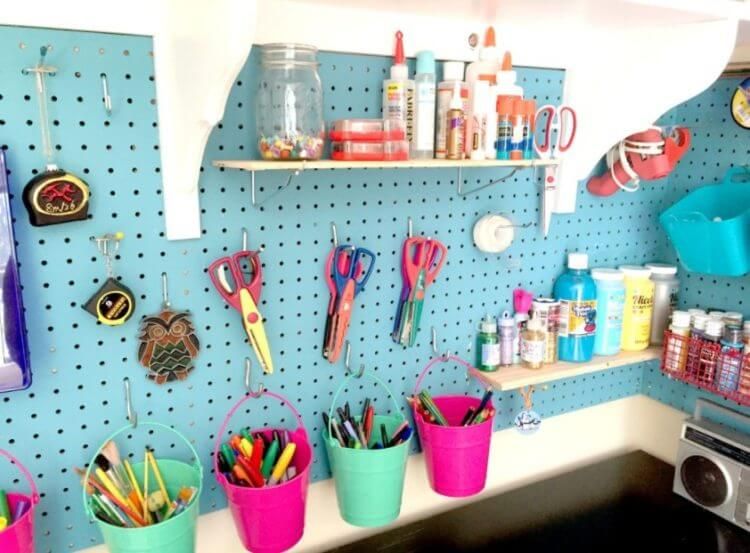 If you have an old board, this is the right project for you! Find the paint that suits you and finish the job. After that, you can add ribbons, staples, etc.
Turn Closets into Workshop and Craft Room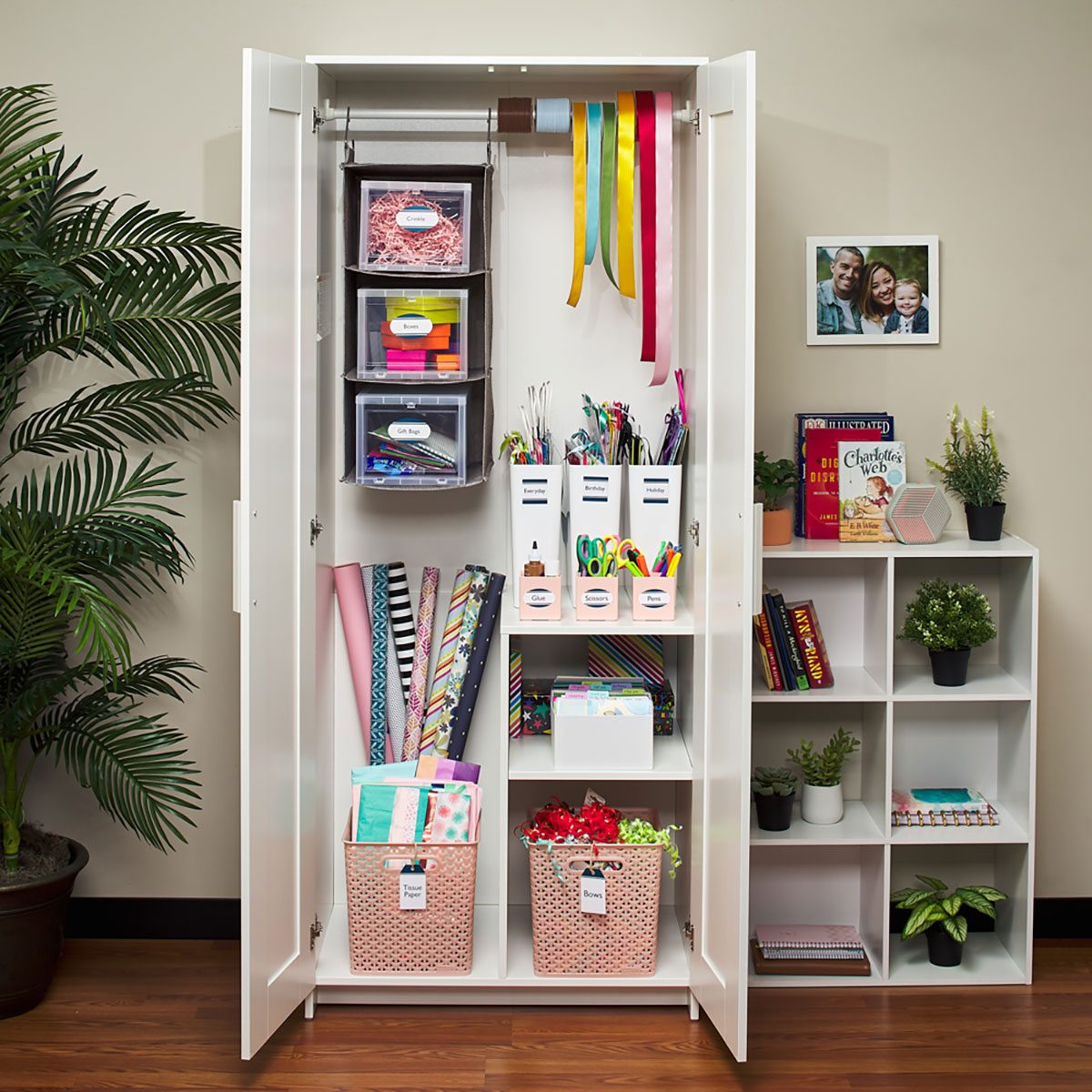 Getting to open a closet door and see so much beautiful storage space in your workshop or craft room is so great.
We hope these ideas will aid you in propelling your crafting skills and productivity to the next level. After all, everything goes a lot easier when you don't have to spend energy looking for the things you need, especially those small ones. What is your favorite way to store your crafting supplies? Share your thoughts in the comment section below.