Generally used to house a motor vehicle, the garage is more than that. It can be a place you can do the things you enjoy, start a new hobby, or even start a new business venture, as the myths of the Silicon Valley startups say. The uses of a garage space are far more than the main aim it was built for. Some of the most common ways of using it are storage. It can easily convert into an equivalent of a household junk drawer. The workshop is another typical use of a garage – you can do all your handy projects, from repairing a vehicle to making do-it-yourself furniture.
Renting a workspace is usually expensive, so it's best for startups. It can be a space for entertainment, a home gym, studio for different hobbies, from painting to pottery. Garages are the perfect space for a man cave for which every man has dreamed since left the caves. Home office and study is another way to use the garage. Of course, women are welcome to use it as a yoga or pilates, or dancing practice. The possibilities are endless.
The garage is the place for your car mainly, and when you want to use it for different purposes, you have to take care to keep it functional. Here the organization of the space comes in handy, especially if you start using it to store the household clutter. Things can come out of control in no time. It's a challenge to organize it well. But when you do it, your life will become easier.
The first thing to do is learn how to organize a garage: read some tips and tricks about it, watch youtube videos, etc. Then you choose the proper storage units and start cleaning your garage. First, get everything off the floor. You can use some old furniture, shelves, and hooks to put the staff in them. When placing the pieces of furniture, take care to put the wooden items away from the door to avoid moistening them. Let's get us organized and make a list of options that'll help you use the precious space well.
Use heavy-duty hooks. You can hang chairs, skis, snowboards, strollers, shovels, rakes, and power and garden tools. Have hooks for your tools well arranged. It is a pleasure to know where everything is. Use an organizer for the bulk items. Categorize the items and put them accordingly. Don't forget to label them. Use the overhead space for storage. Have a wall-mounted hanger for cleaning tools. Magnets are perfect for smaller metal tools to keep them handy and organized. You can also hang your bike on the wall. Make a controlled area of things that roll – skateboards, basketballs, etc. You can use a form of the basket for them.
Organizing a garage isn't a one-size-fits-all scheme. It depends on its dimensions and on the purpose you will use it. We've gathered some garage storage and uses ideas you can use for your garage. Check these tips out to make your garage more organized and better to use.
Benefits Of Vertical Spacing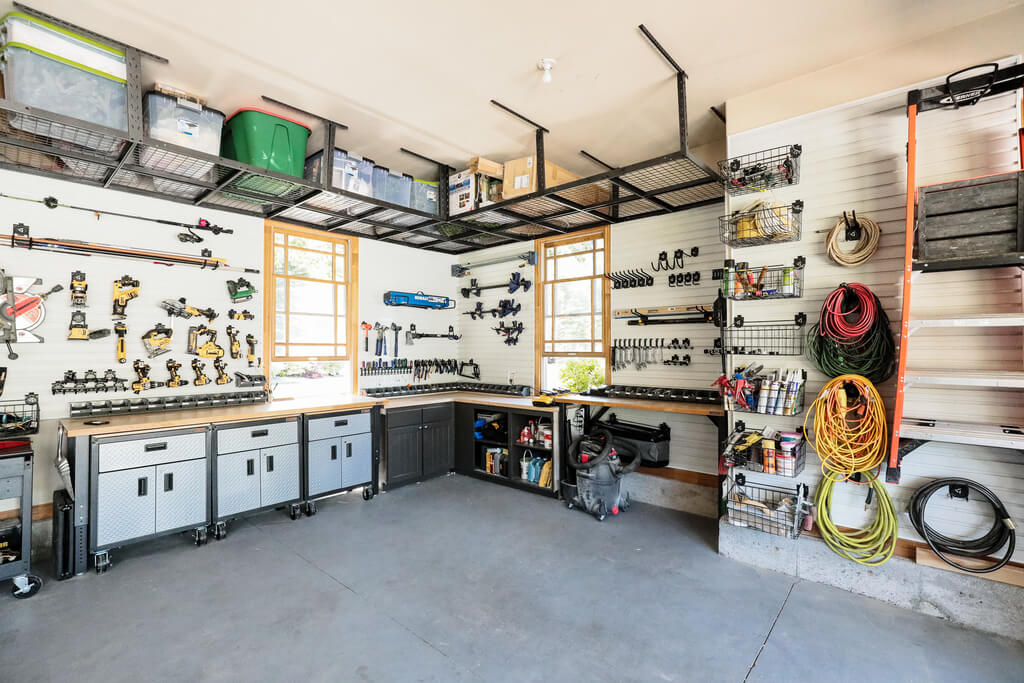 A massive assortment of tools, garden supplies, and holiday décor can be safely and neatly placed in the garage if you wisely use the space. Every inch of the walls is used this way, from the floor to the ceiling. You can mount plastic storage bins up high and install a pegboard for smaller hand tools, ropes, and miscellaneous.
Everything Tidy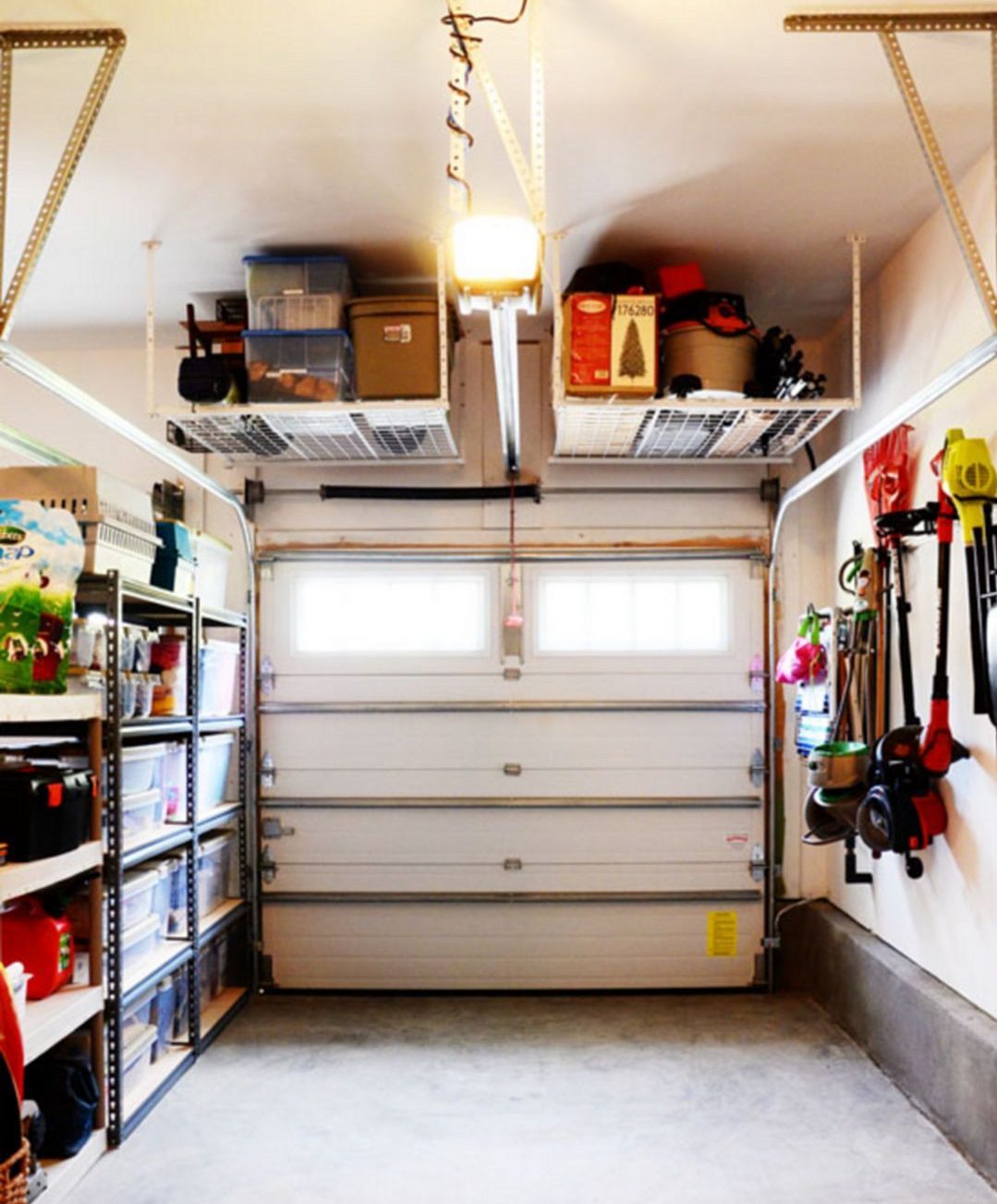 Use garage ceiling space for storing seasonal staff you don't have to have quick access to. Everything is neatly put on the walls and shelves, so you have enough space to put your car without hitting things.
As A Workshop Space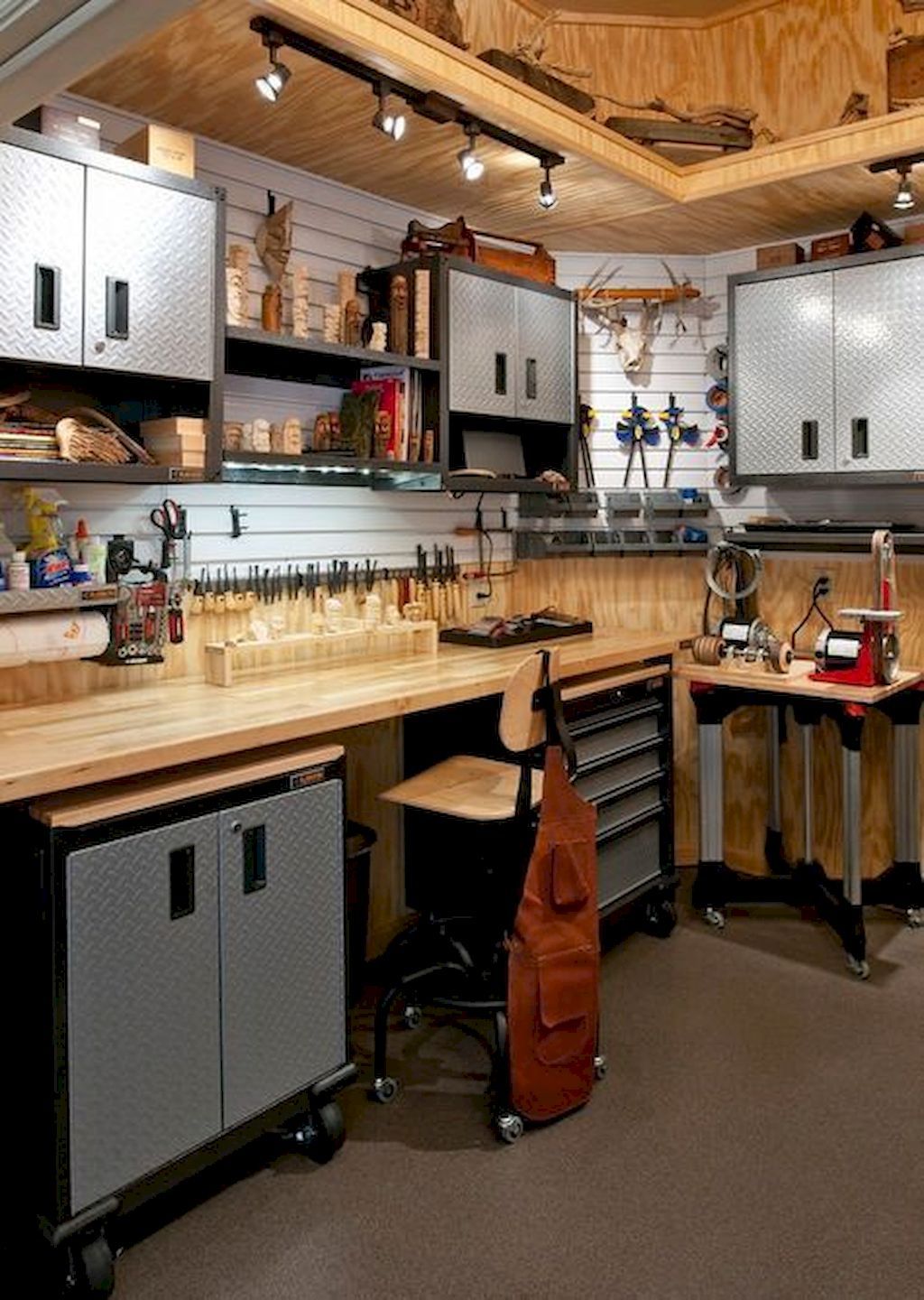 Put a desk on which you can work. Drawers below the desk, shelves above, and place to hook your tools for easy access. So, you have your working space organized.
Overhead Storage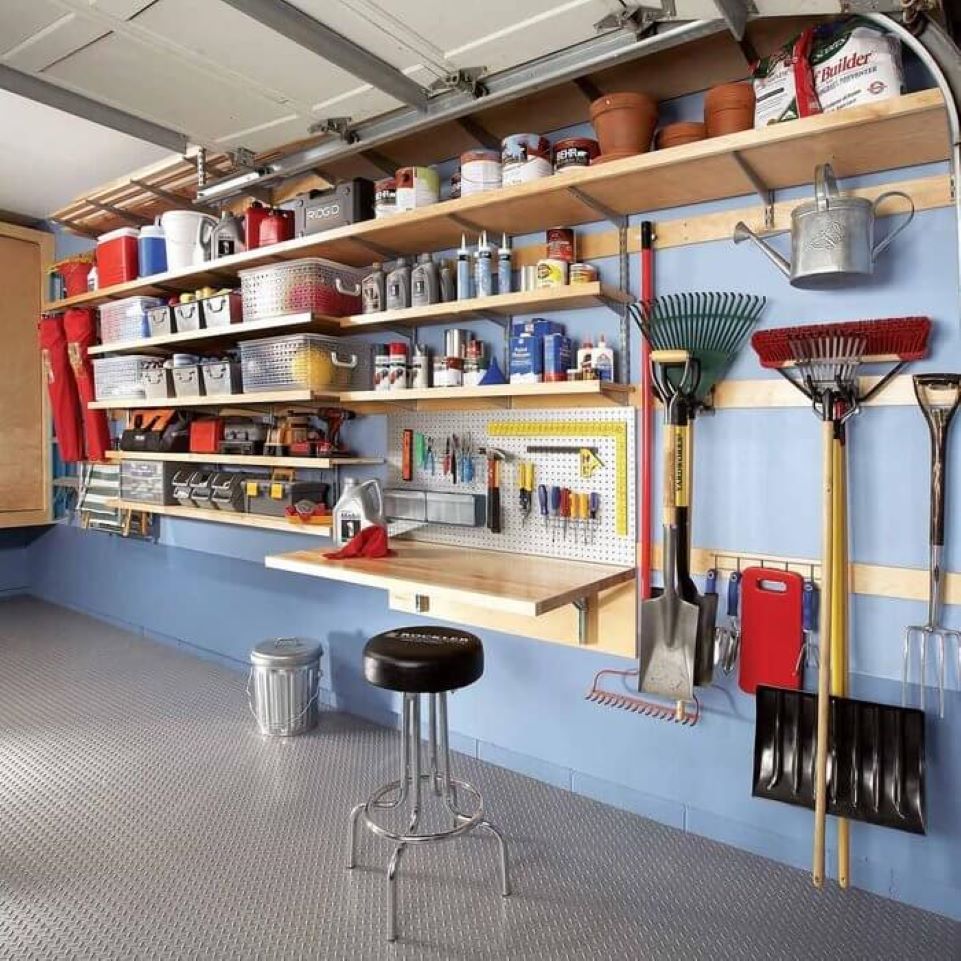 Another proof that the garage ceiling is a perfect place to store light and medium-weight seasonal items – holiday decorations and camping gear. If you are skillful, you can build a ceiling storage system in no time. If not, find professionals to do it for you. It will pay off.
Everything Is In Place And Visible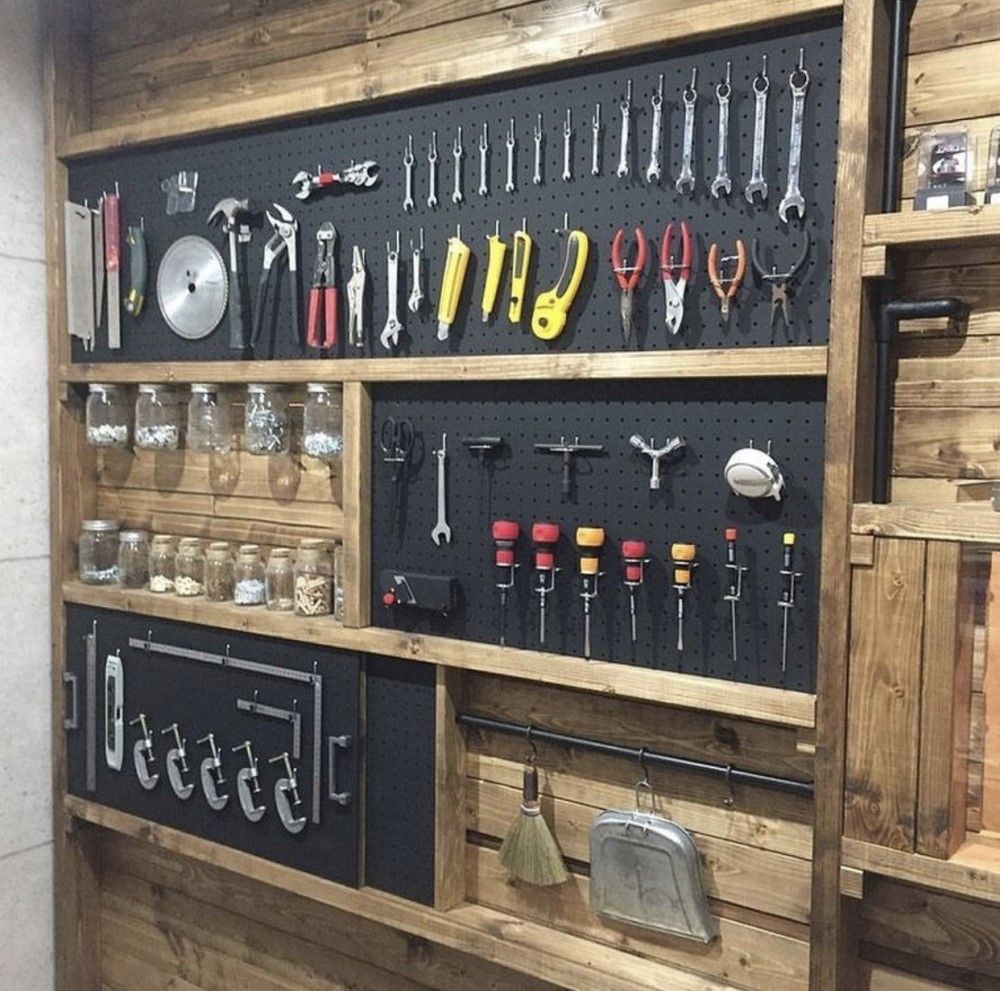 To declutter and organize the garage, put every item in its place to make it visible and easy to find. Jars are suitable for keeping screws and similar small items organized.
Shelves And Drawers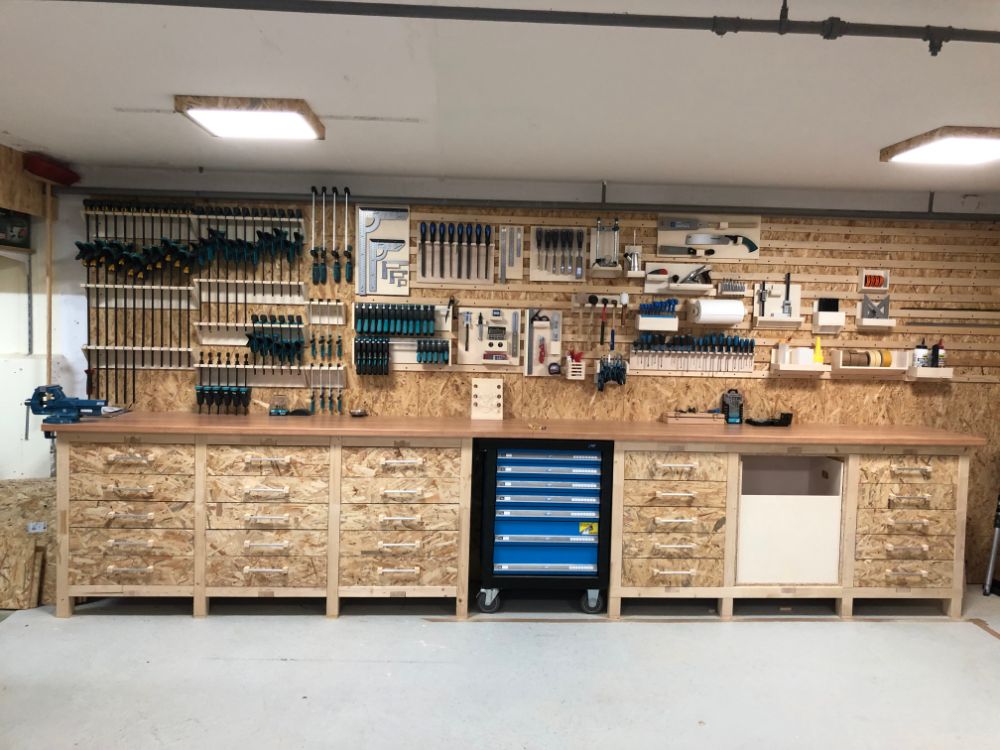 This is another way to keep your garage tidy. If you are good at woodworking, you can do it yourself. Anyway, label the drawers and organize items in categories, so be able to find your staff without hustle.
A Workshop Station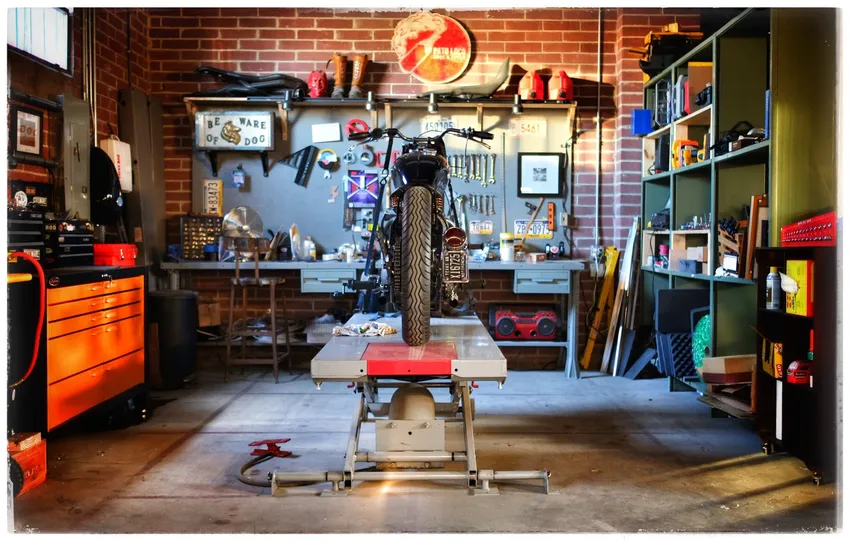 Adding a workshop in the garage can be a great idea. And if you're like me, wanting to make your hands dirty from time to time, working on restoring an old bike, then sit and have a couple of beers thinking about your next moves. The modern industrial design of this garage makes it a nice place to hang around.
Hang Them All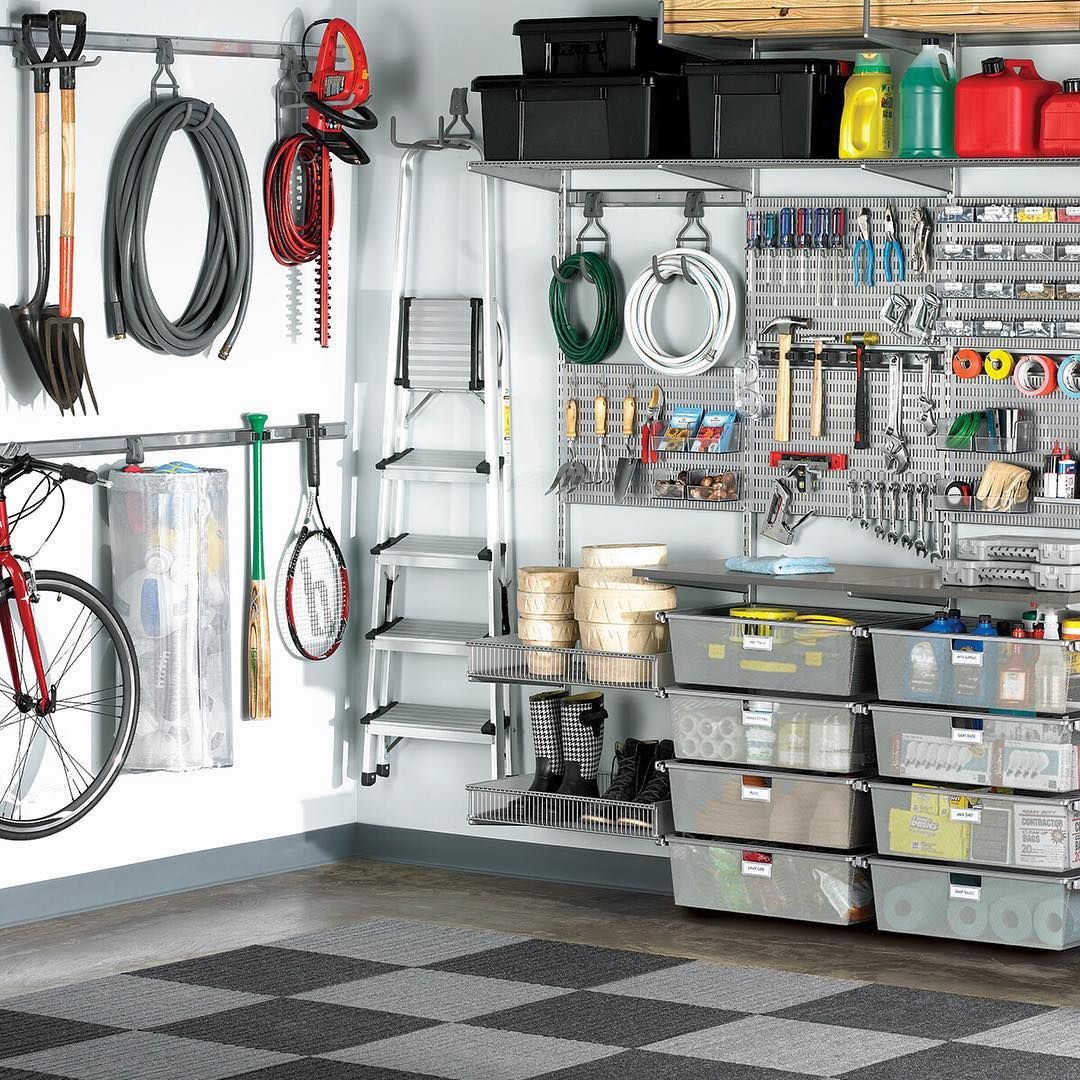 Good garage organization is essential if you want a clean space and easy-to-find items. So, have a place for everything to get well-organized garage storage. Hanging things occupy almost no space, using the wall typically left empty. A few shelves and hanging systems give you a place to store plastic bins and other items like bikes.
Wall-mounted Workbench
The folding mechanism gives you a workbench that can be folded away when you don't use it. Hang the tools on a pegboard or similar structure, so they will be handy when you need them.
Used Pallet Rake As A Holder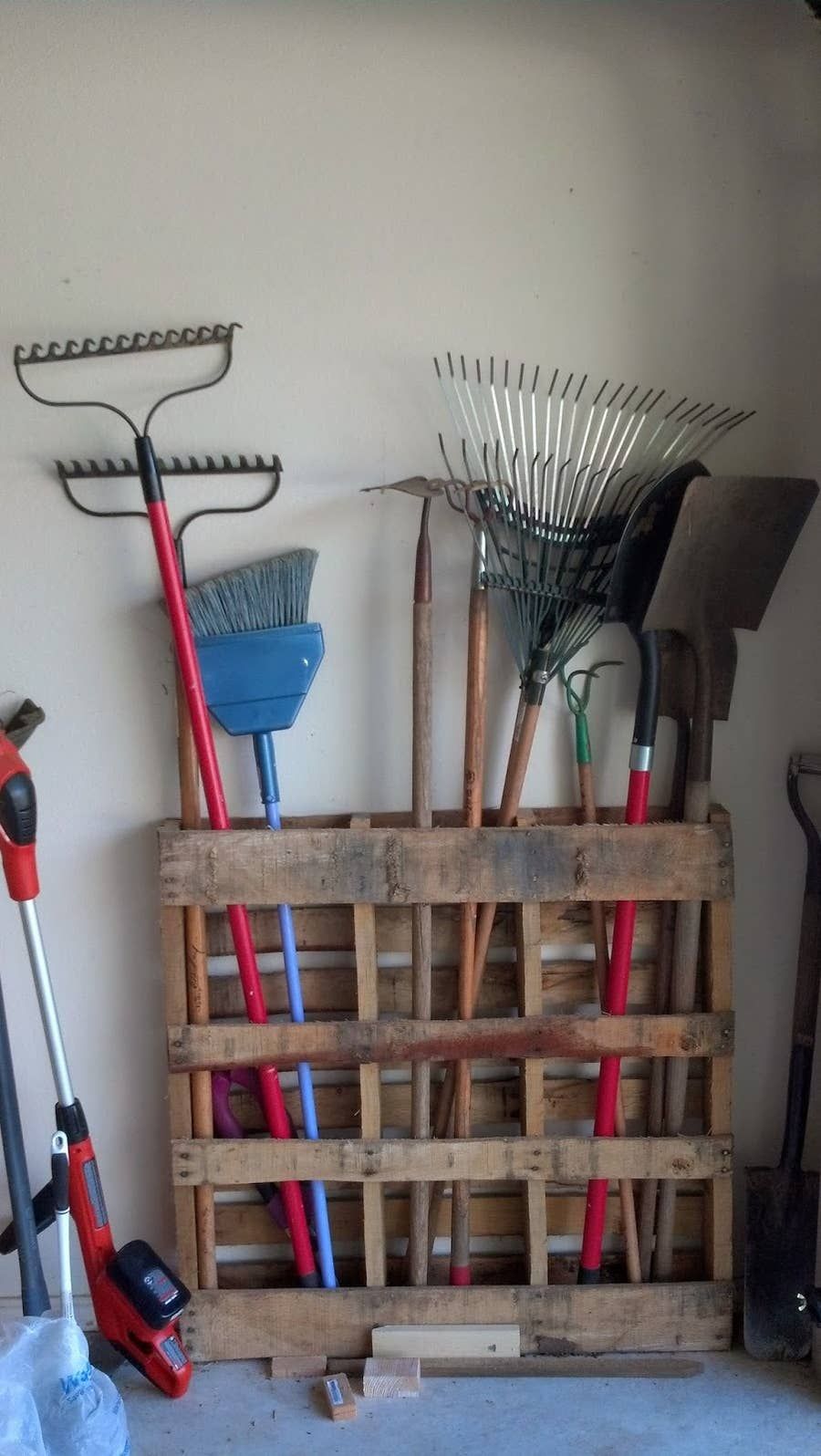 This is a creative way of using a pallet to store long-handled gardening tools. You even don't have to fasten it to the wall.
Make It Functional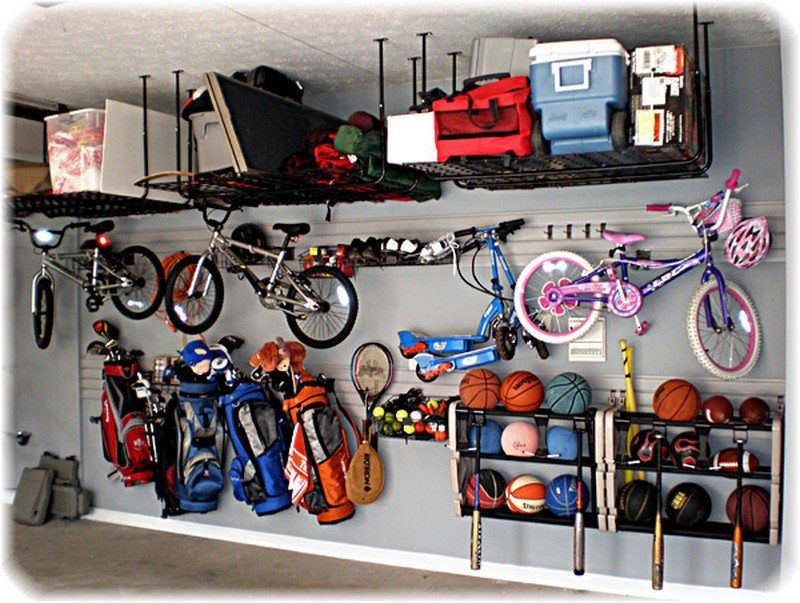 I find this is a good inspiration for storage space in the garage. There are shelves for bins and underneath for hanging often used things.
Very Well-used Wall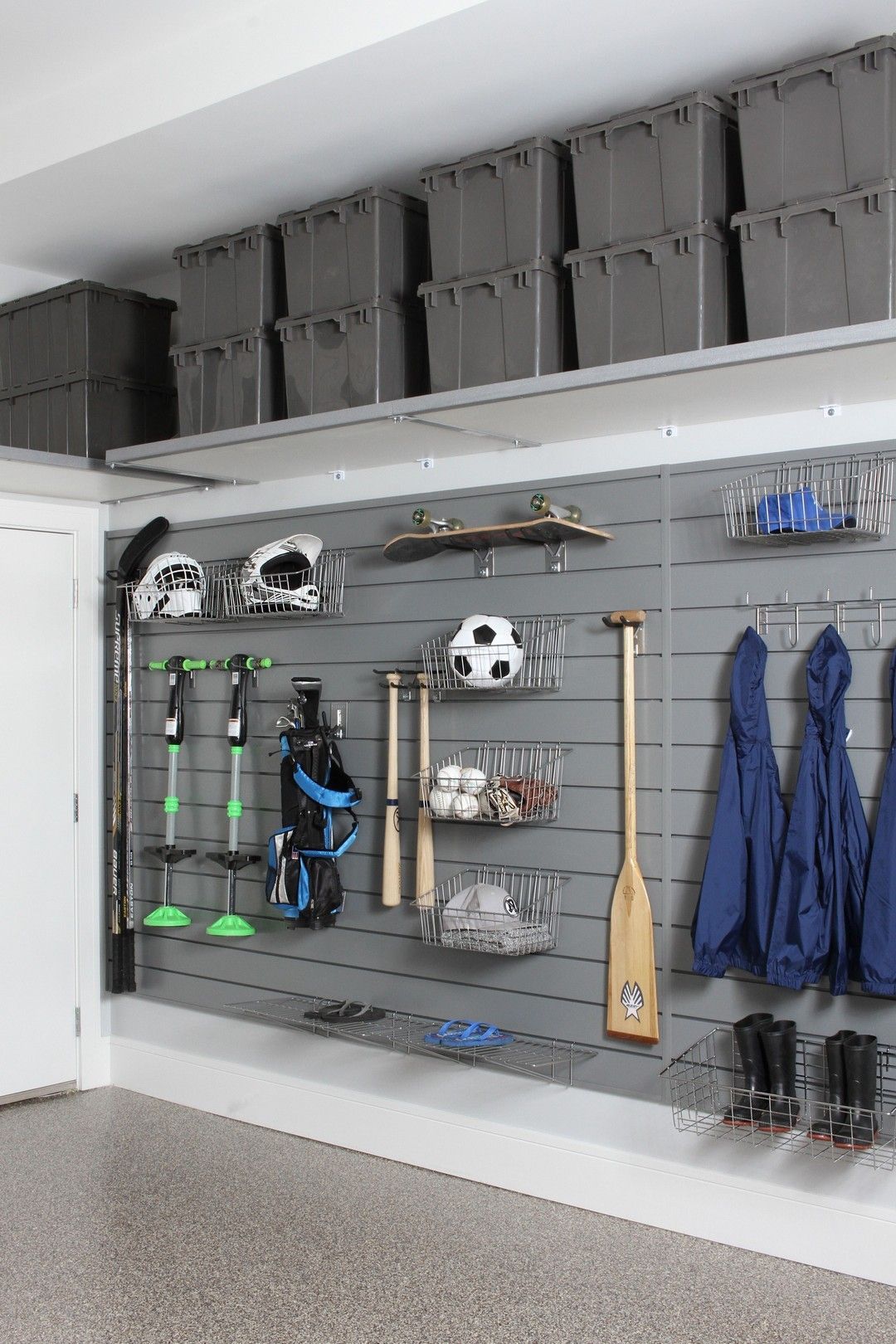 A system of a shelf for the bins put on top, hooks, and storage baskets. Everything is neatly organized: the sports equipment and clothing is there when the season arrives.
Shelf Brackets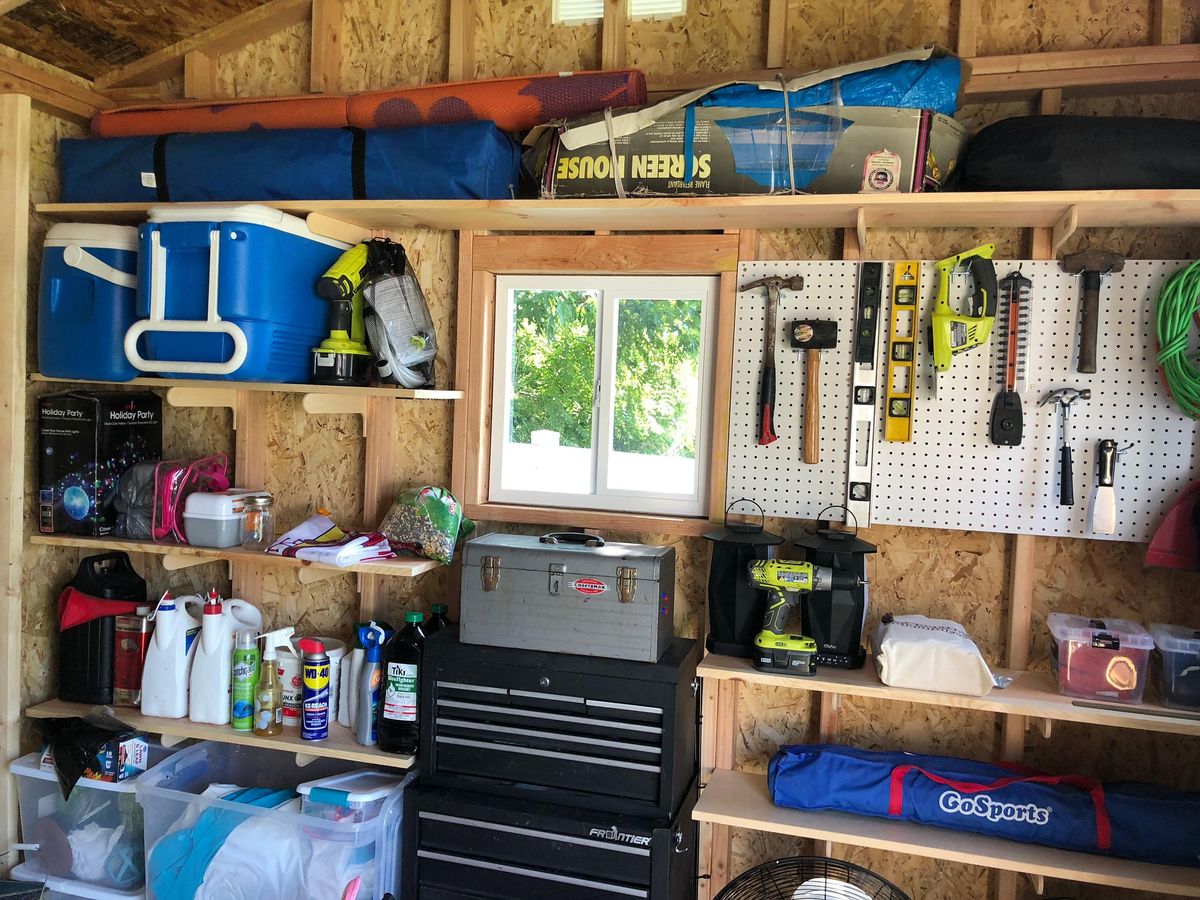 Shelf brackets are quick and easy to install while inexpensive. And it keeps your storage place tidy and organized.
All About Your Garden On A Single Wall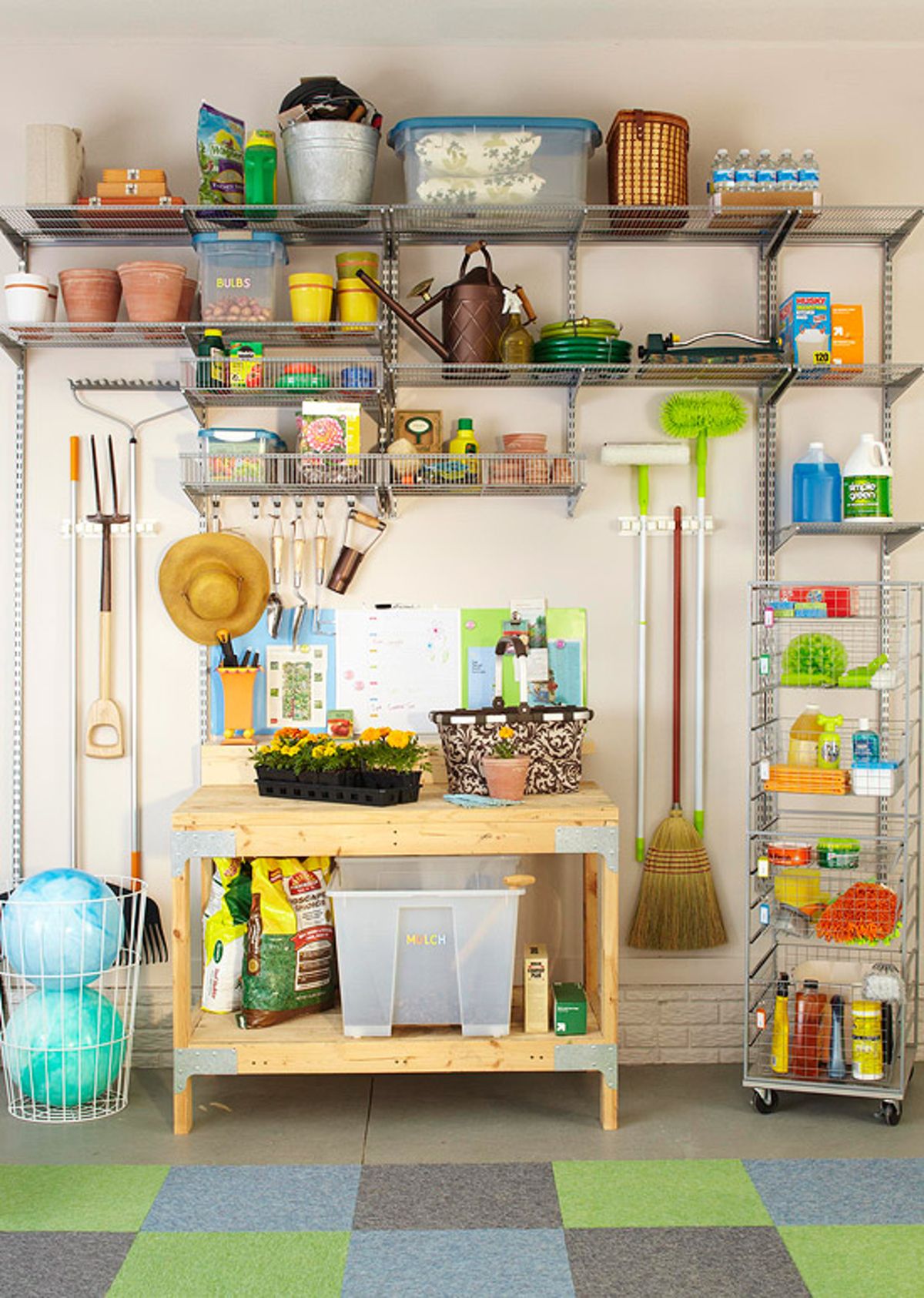 Several shelves, an old tea table, and a movable shelf, together with some hooks for hanging, make this space well organized. You can put all your gardening tools and cleaning items in a small fraction of your garage wall.
Power Tools Charging Station And Cabinet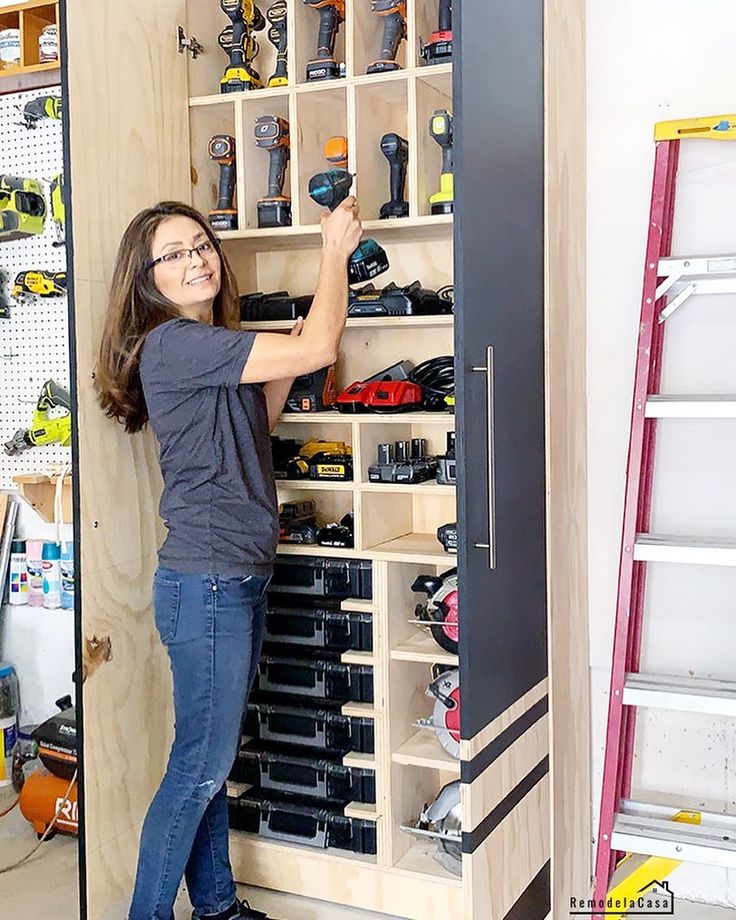 An organized workshop with all the tools in place. A pegboard and two-purpose cabinet for storage and power charging station. Investment in stuff like extra pegboard and cabinets will make use of your space rational, and most importantly, you'll know where all those tools are placed.
Wall French Cleat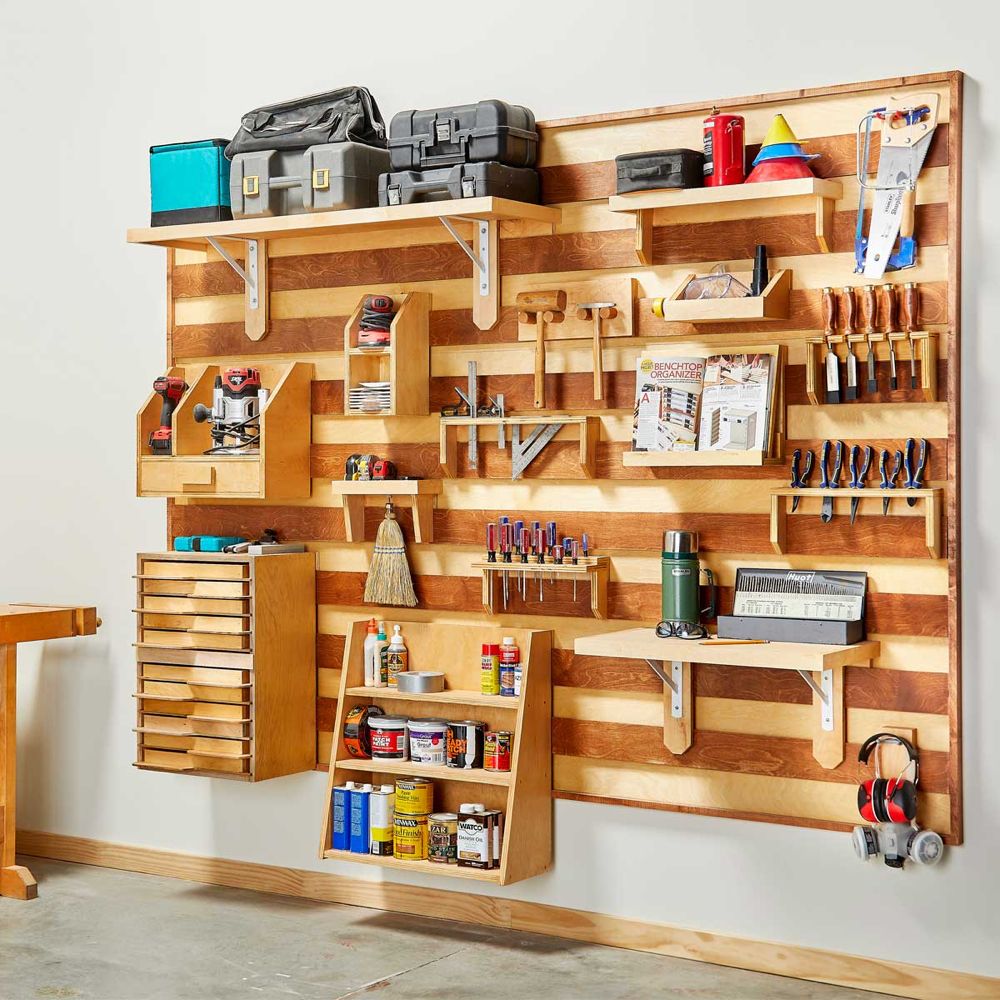 A French cleat is a means of hanging almost anything. Drop the tool holder over the cleat, and you're done. It is easy and not very expensive to make, and it's easy to reconfigure as your tool collection grows. You can accommodate all your tools, and they'll be right at your fingertips and easy to clean up at the end of the day when you know where everything belongs.
The car is a five-figure investment, so leaving it outdoors can suffer damage. UV exposure, bird droppings, and tree sap are ruining your car body. Keeping it in a garage will retain it cleaner and prolong its life. If a reason exists that you don't park your car inside your garage, put away that obstacle ASAP. A small investment for decluttering your garage space will pay off the manifold by keeping your vehicle new. If so, follow some of the ideas we presented above. We hope they will inspire you to clean and tidy up your garage. And don't forget to write below about your experience in managing to organize your staff and get a clean, well-organized garage.