A study, or a home office, is a room in a house where we do our paperwork, writing, or reading. It developed from the cabinet of the Renaissance era. The middle-class families were making separate study and library areas within the house where commercial work, correspondence, fact-recording, and some reading were done. The Internet transformed the study room with its localized functions into a home office. The technology enabled us to work remotely via the Internet, email, and videophones. Shortly, study became one of the areas where we spend most of our working day.
If you have no sеpарате room for a study, the most often way to create it is to use a small spare bedroom or even a closet and make it the most functional it can be. Storage space is necessary, although most of the work is done digitally. Vertical spacing is the solution for restricted space. Shelves are a practical way to do it but do not exaggerate with shelves. Keep in mind the aesthetics of the room. Due to many hours spent during the day working on the study, think of ergonomic solutions: adjustable desks and comfortable chairs. Proper lighting is also something to take care of: besides the table lamp, have ceiling lights. Natural light from the windows is the best to have. Find a solution for a quiet place for the phone calls or Zoom meetings to have your privacy and don't disturb other members of your family.
Perhaps you think that all you need to work or study is a simple desk and a chair, but there are plenty of small items that can improve your productivity. So, plan how to decorate the room in an organized way, so you will have all the tools you need for work handy. That way, you will not spend time finding things. Put some decoration to inspire you, like graphics, quotes, and similar, and put some personal touch to it. You can add some rugs for a classy look and a cozy touch for an elegant look. Some greenery will make the space lively: one or two plants in your study room are enough. When we come to the wall color, choose lighter shades. It'll make the room look bigger and will increase your working mood. Also, the light will be healthier.
As an additional tip, have an armchair. A cozy and cushioned armchair will make your study warm and appealing. The desk is better to be big enough to work for hours. One with drawers and shelves will help you increase your storage and organize better. Organizers to keep things neat and accessible.
Enough talking. We selected different decoration options for your study room: from the most simple and minimalistic to very extravagant and luxurious. Choose what suits you best. And what makes you feel at your best while working.
Natural Light & Oak Boards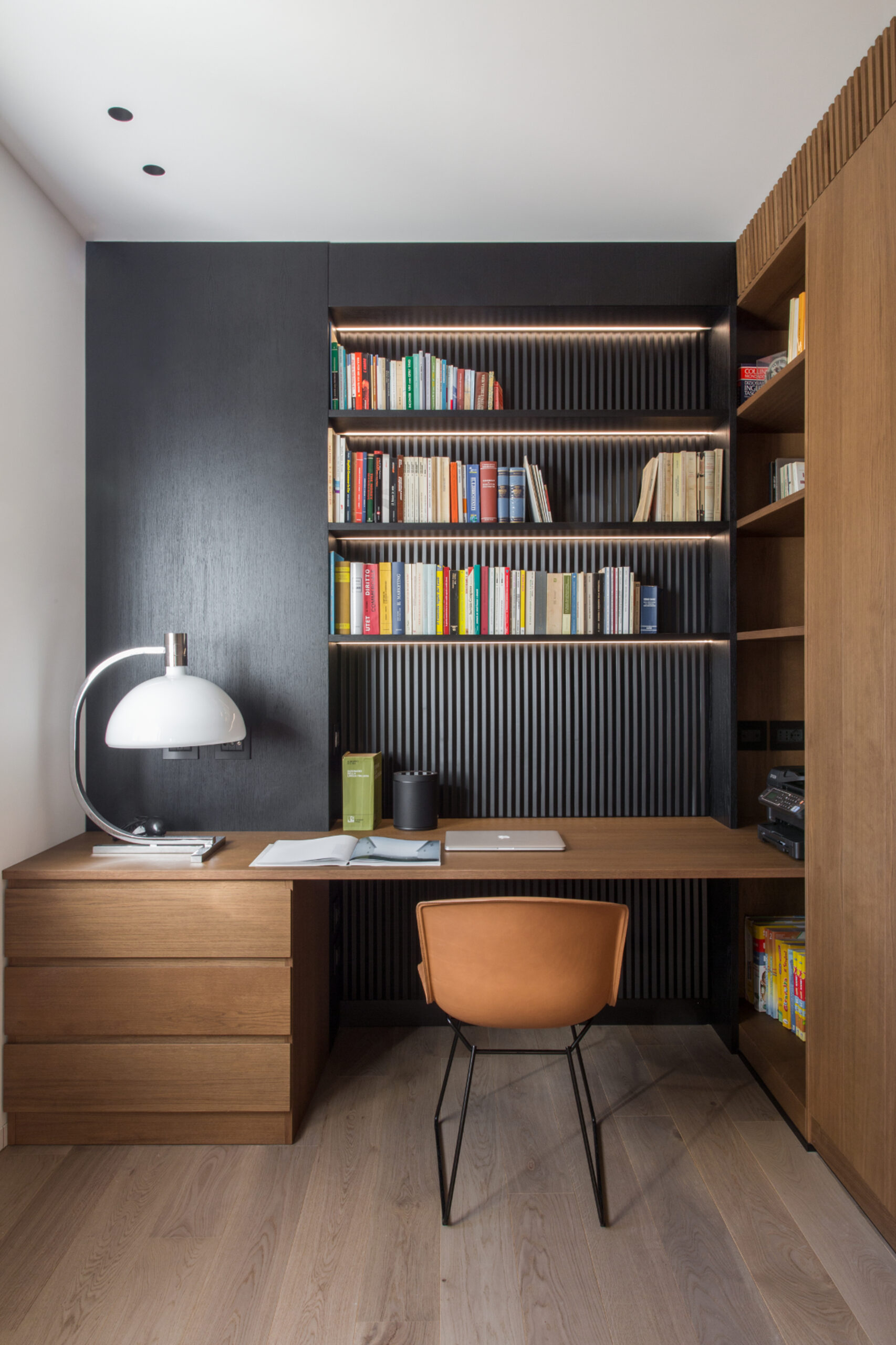 Natural Light is an important topic when designing your study room. You'll spend much of your day indoors. And you know the benefits of natural sunlight. Make sure the light falls from your left-hand side or front side. Having a nice view through the window is a big plus. The working space in this study room is well organized, with all necessary pieces of equipment handy. A touch of elegance is added with the wall of black oak boards and a custom desk of tobacco oak. A Cassina lamp and a minimalistic chair.
Cozy Chair In A White Room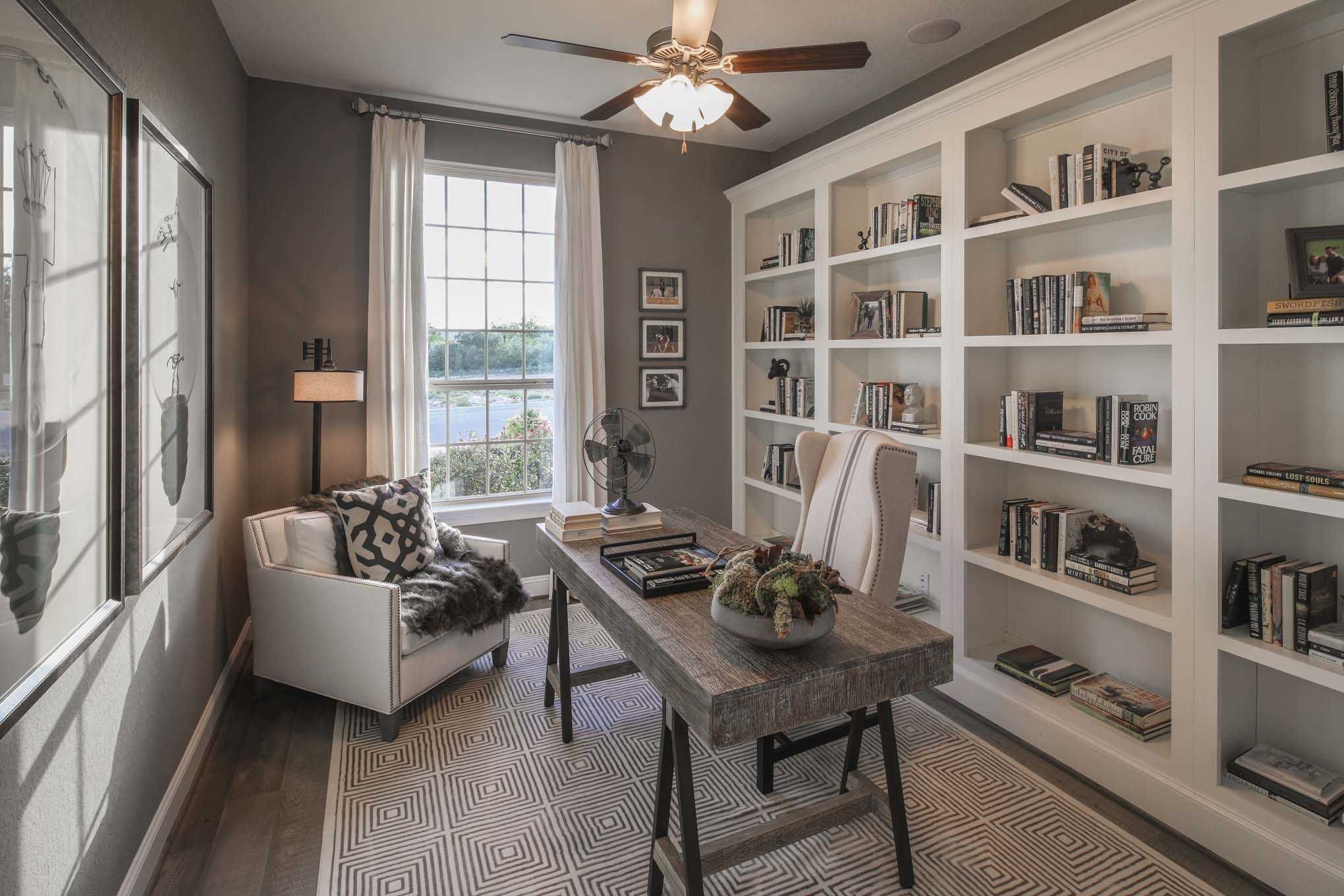 It is never enough words to stress the importance of the atmosphere you work in. And how comfortable and good-looking is your chair. In most cases, when someone enters your cabinet, the first thing to notice is the chair. How big is it? The color? And not only that. You will sit for hours on your working chair. Make sure you feel comfortable in it. The whole room is nicely decorated and well lit. There's an armchair where you can have a guest sitting. Or you can change your position while reading or working.
An Office In The Park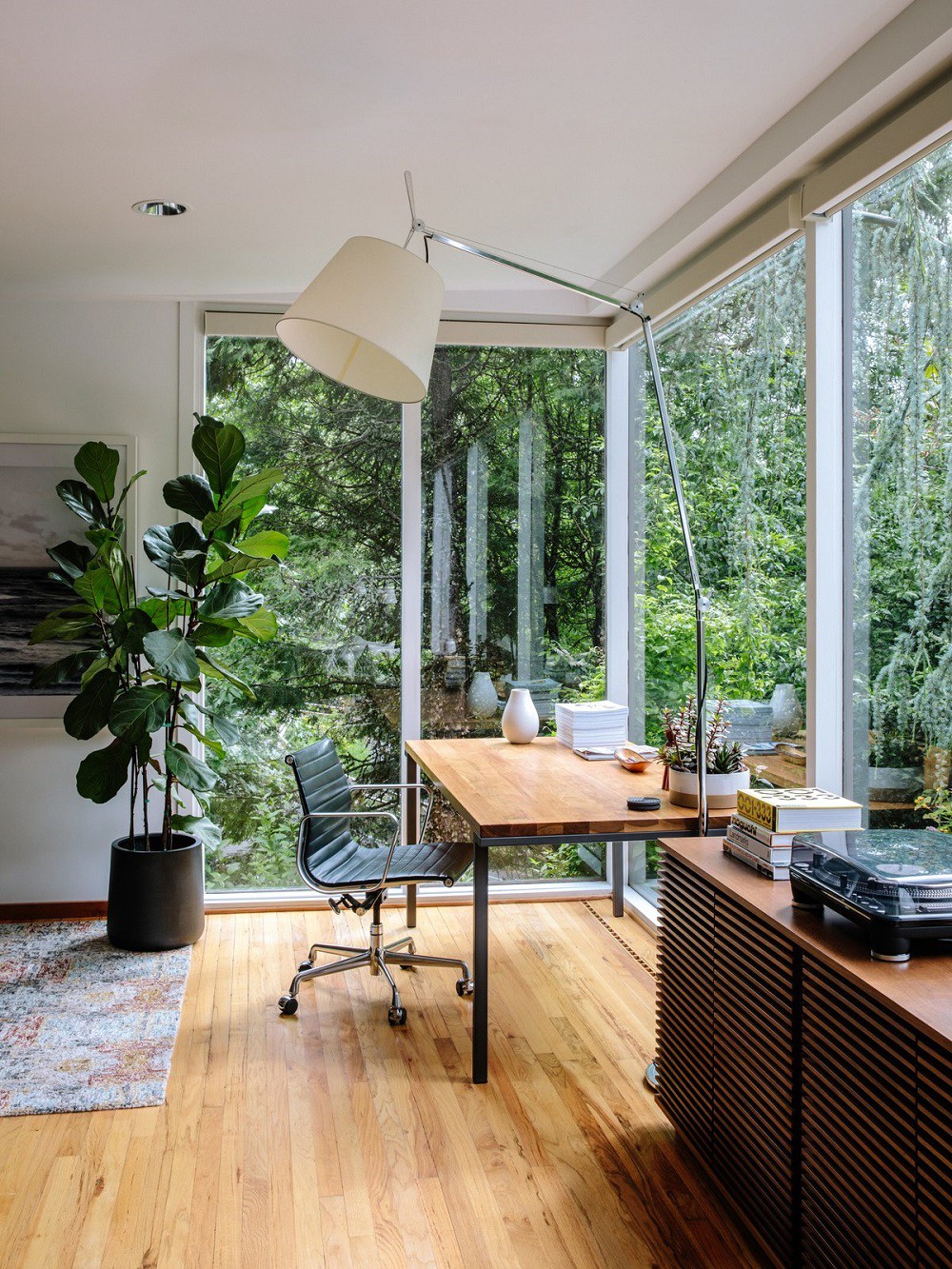 This study room is a great way to enjoy nature while working or studying. Pieces of furniture are minimalistic but very well chosen and elegant. The Tolomeo Mega floor lamp is a way for a good light beside the natural. Some living plants on and beside the desk keep the touch with nature, and the area with a gramophone and books, because work and not play and enjoyment is not healthy. Balance is perfect for productivity at work.
By the way, on the pic is a House in Oregon being called the name of the great American architect, Frank Lloyd Wright.
Work, Relax, Then Work Again!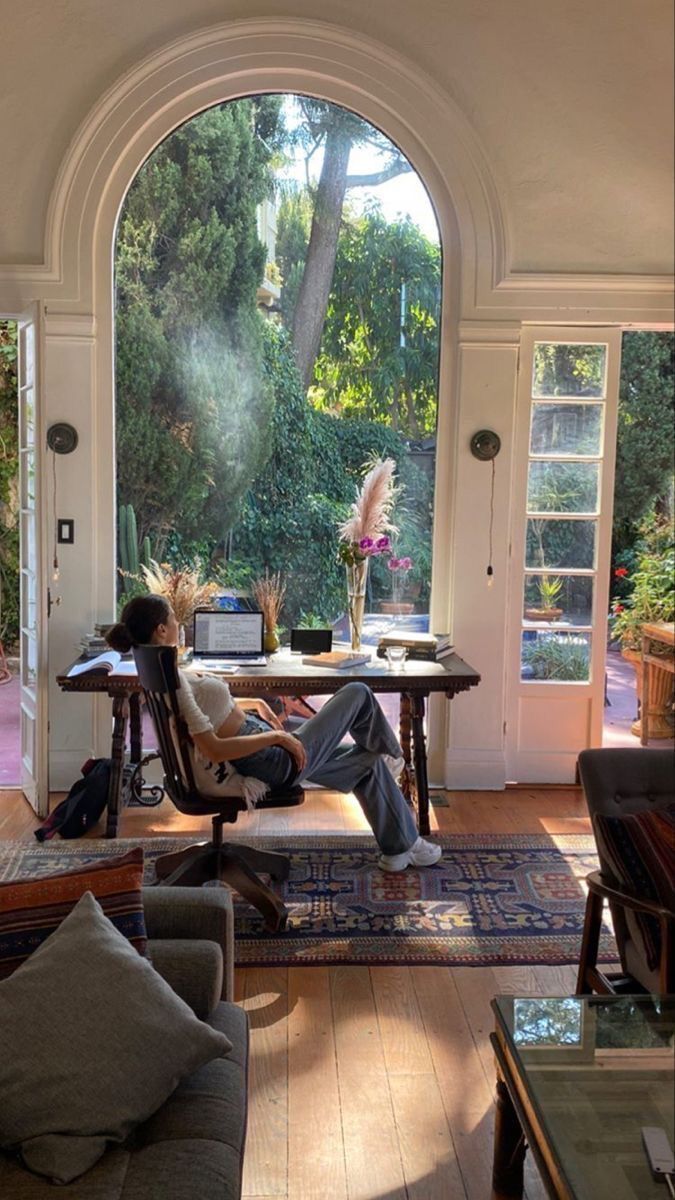 A perfect place to work, especially if you have a creative job. This aesthetically pleasing decoration has everything you need to produce creative work. The rug gives personality and warmth. You've got a set of armchairs and a sofa nearby if you like to change your perspective.
Study Corner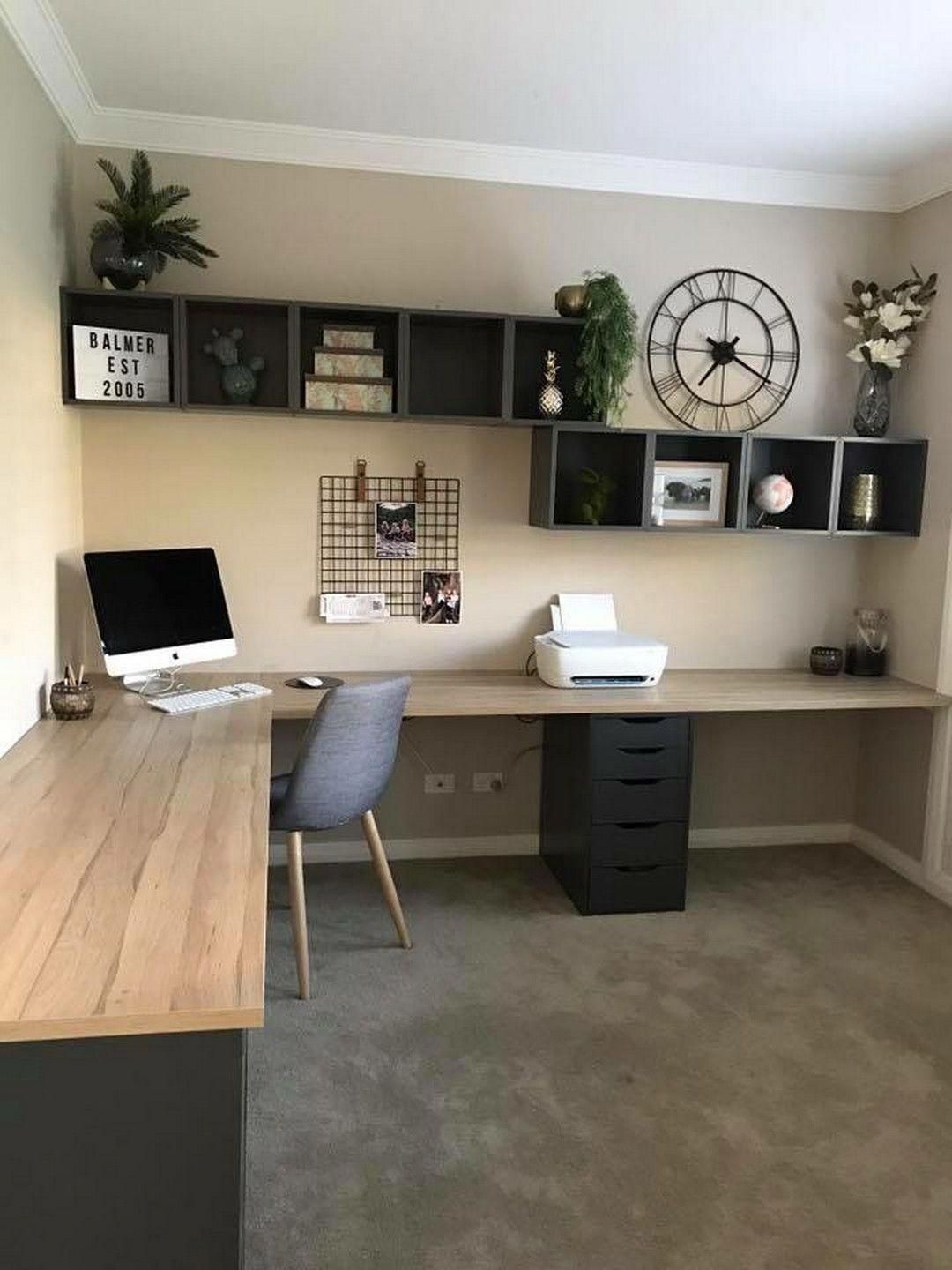 This study room shows that you don't have to spend tons of money on furnishing your home office. The space is used wisely. The working area on the desk is huge. All necessary equipment is nearby, together with the shelves and the drawers. Very pleasant to work with and well decorated as well.
Luxurious To Every Detail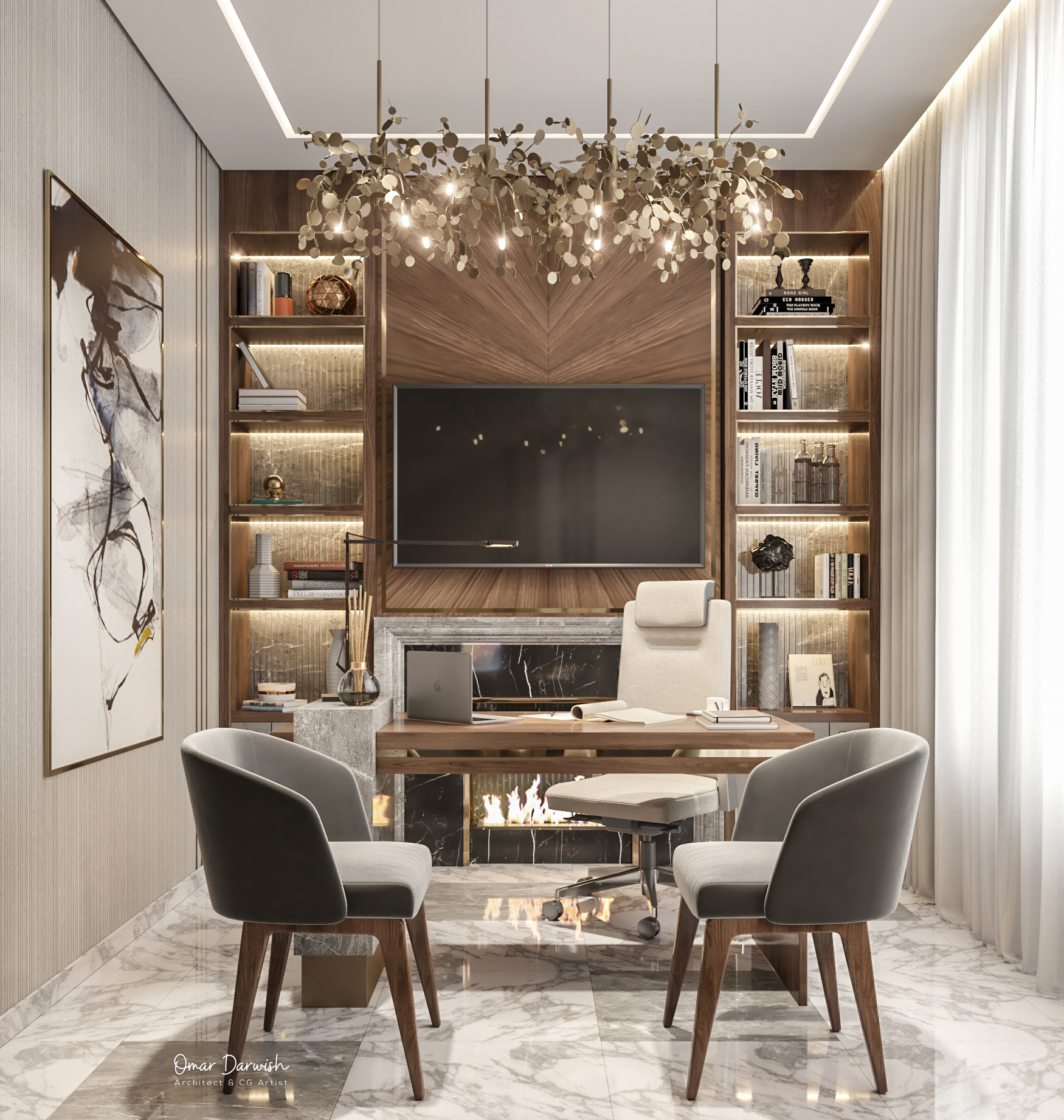 A complete opposite to the previous design, this office is overly luxurious. To start from the chair, for which you should never save money, to the golden hanging lamp and other decorations in the room that show style and power. They say richly embellished offices with golden objects attract wealth. Good to try!
All Elements In Place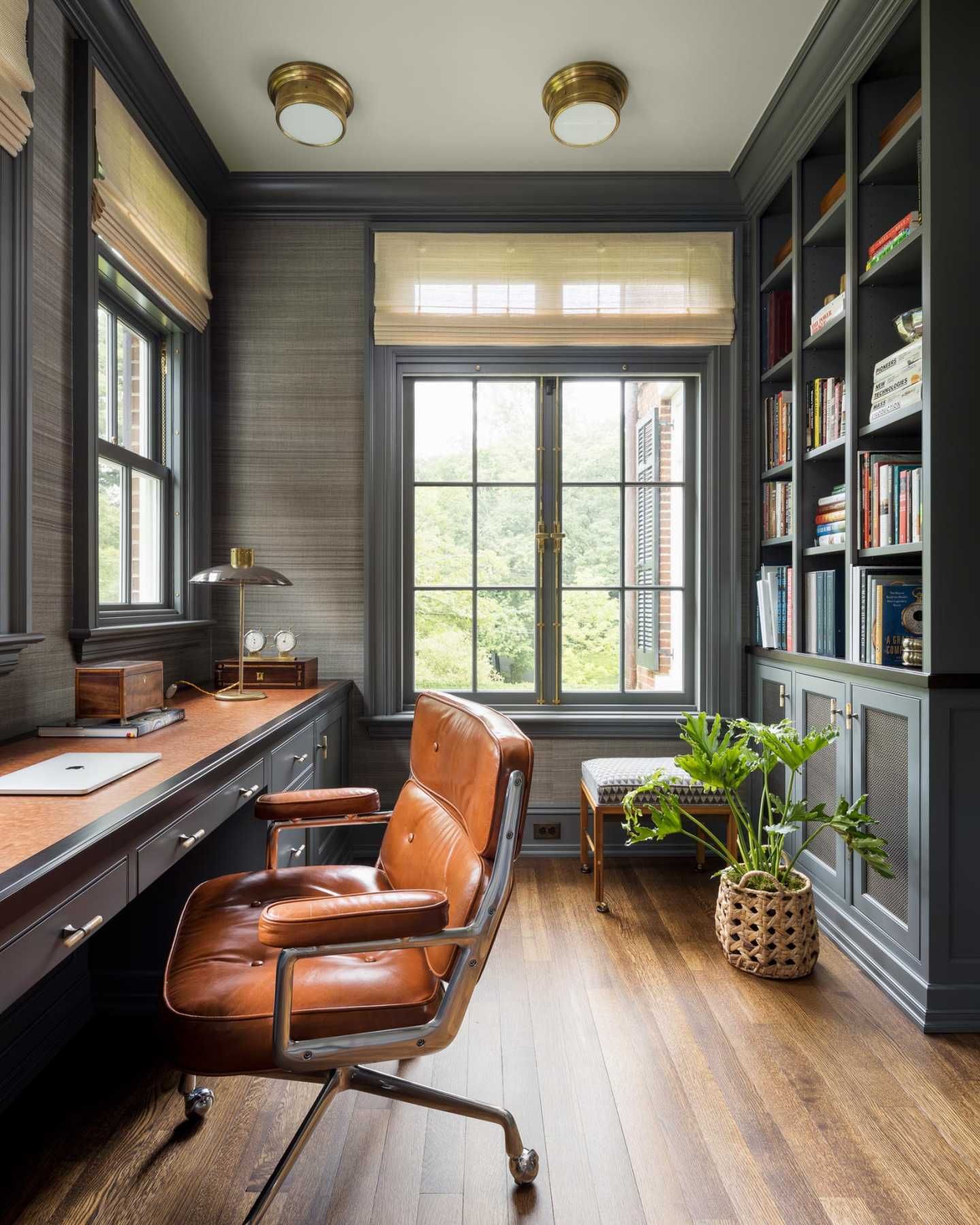 This is an example of a study room with all the necessary items to make it great looking and pleasant to work in: a beautiful and functional chair, lots of desk space, bookshelves, and some storage room under the desk and the shelves. The decorative elements are also present, making the whole atmosphere want to spend more time working.
Playful Colors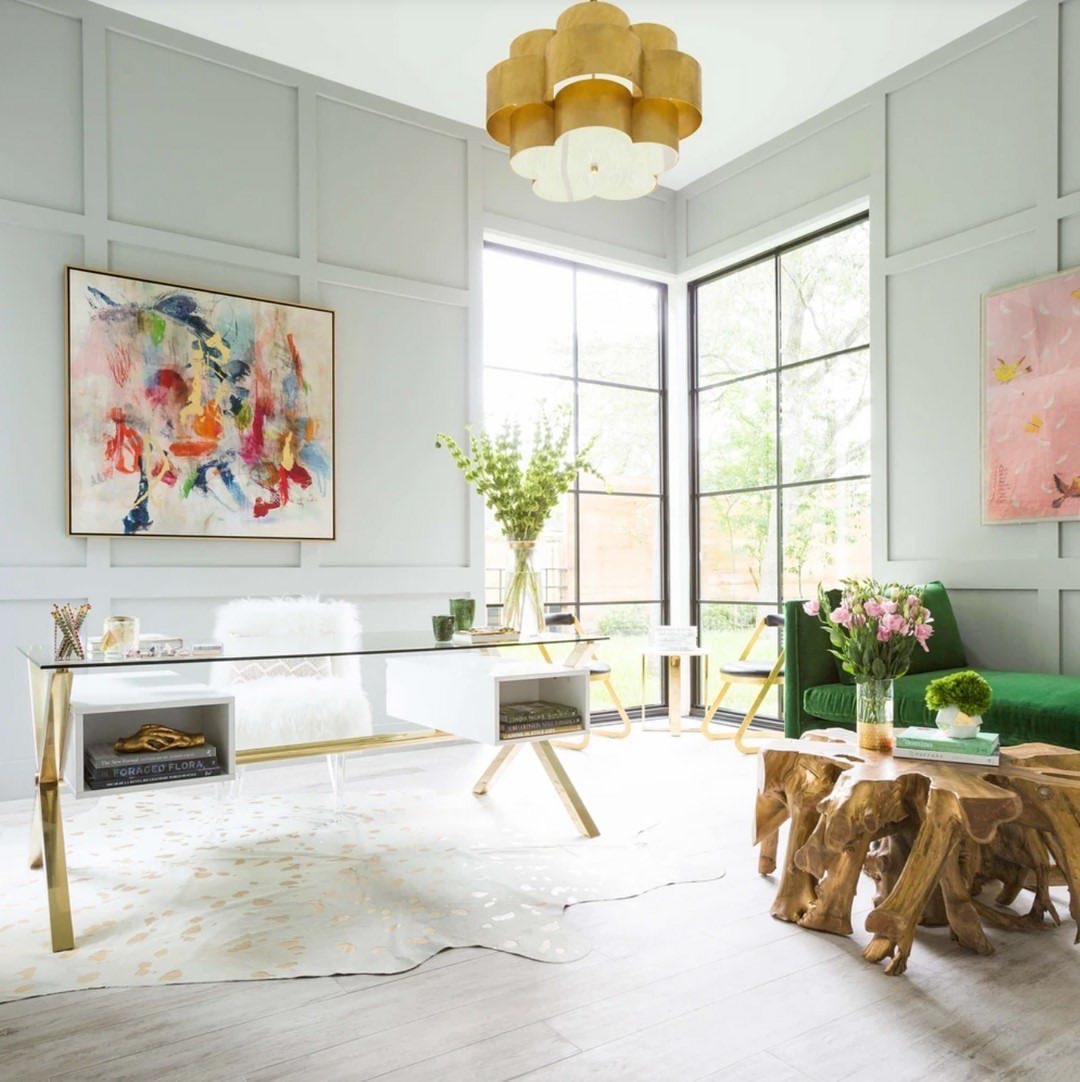 A space of an extraordinary home dedicated to work. Good taste is what this study space shows: a minimalistic glass desk and a chair. Pictures and flowers make the room vibrant and live.
Minimalistic With Much Light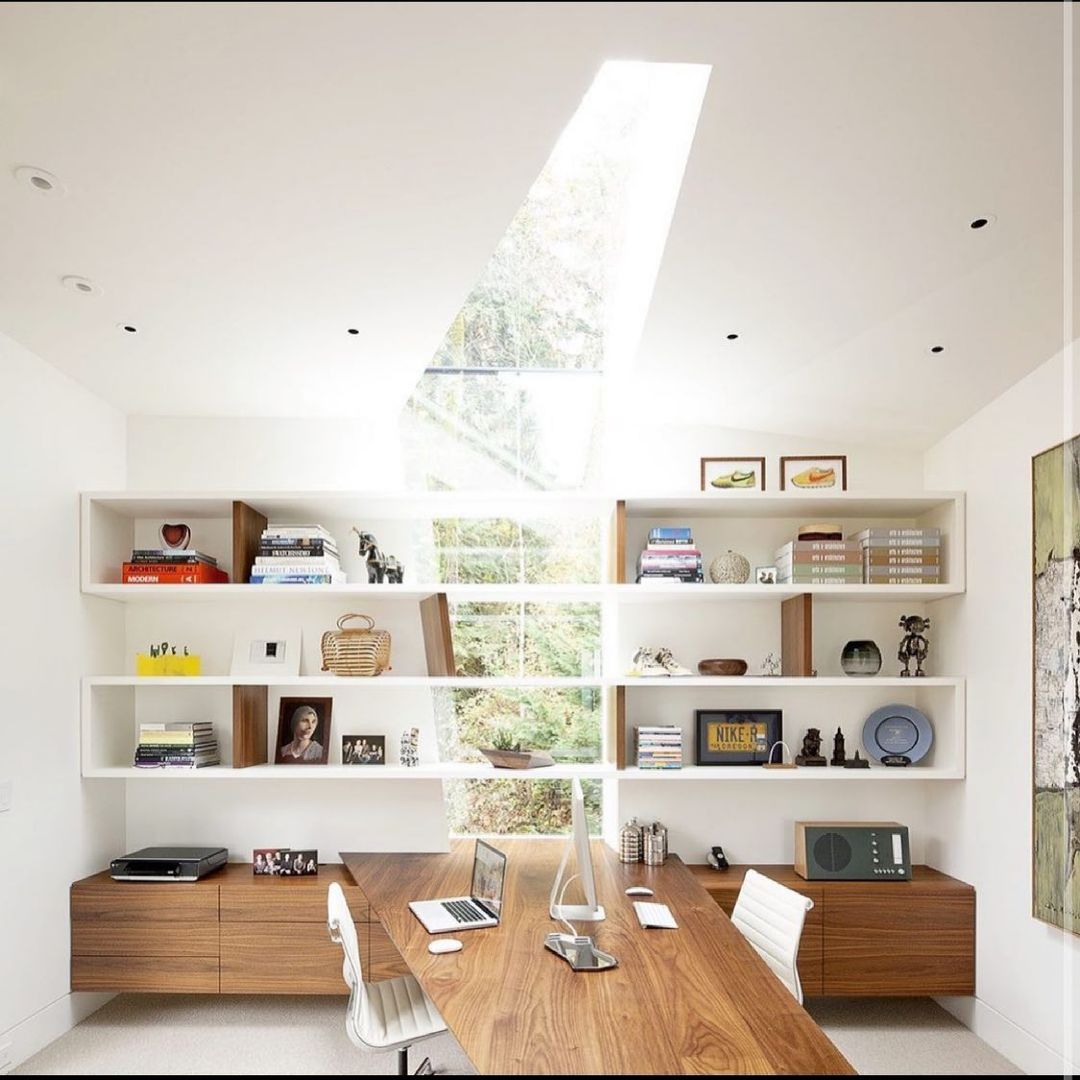 Light and bright office with minimalistic furniture. Everything needed is handy, and many items of interest make the space more pleasant for work. You can work and meet one on one in this office that shows much personality.
Neat, With A Good Taste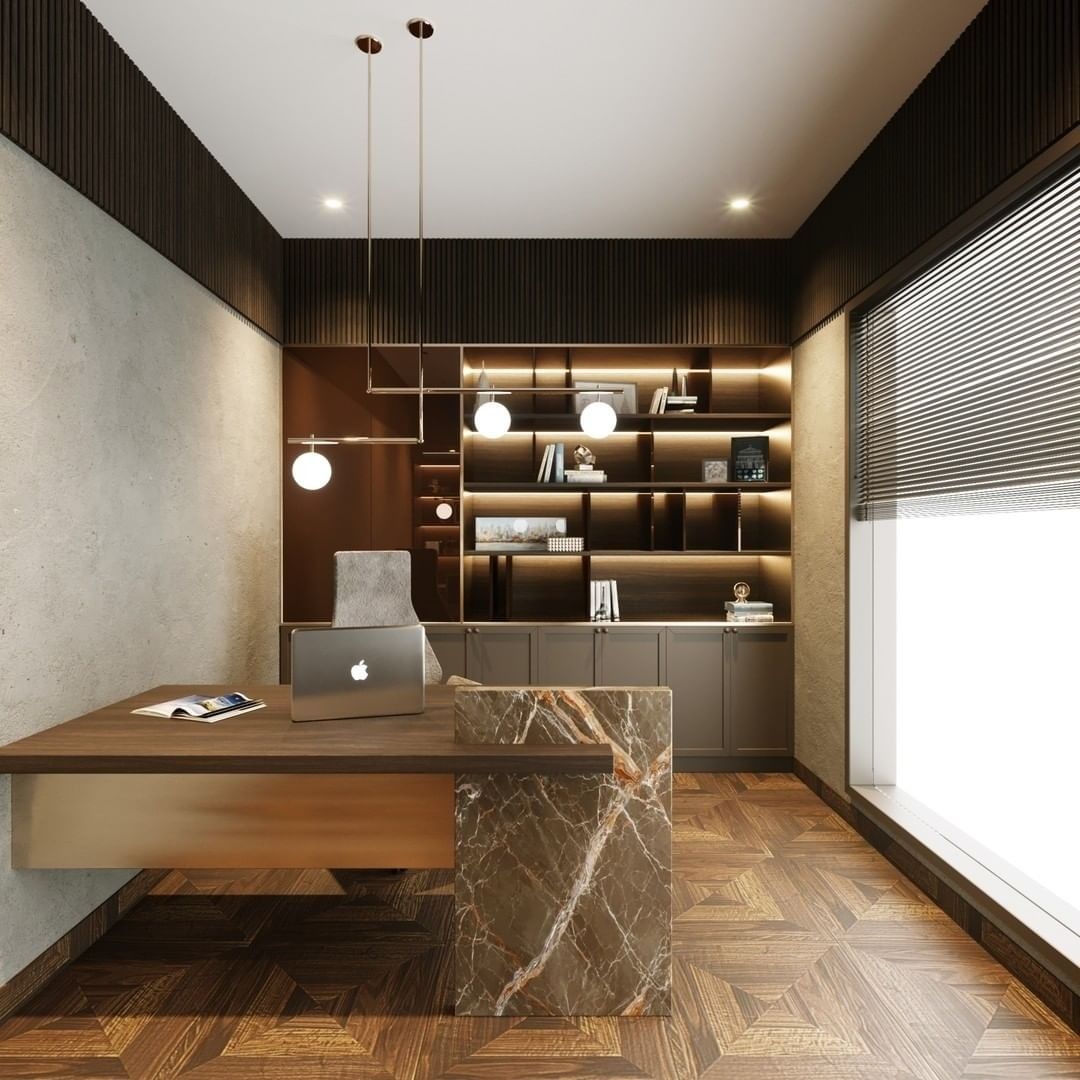 The different shades of brown color and lights call for a rich taste of what's beautiful. The desk is not one every day we see: one side on the wall and a large decorated board on the other side. Plenty of space for work and beautiful aesthetics. When we come to the aesthetic appeal, a home office can have a more luxurious feeling than a standard one. Why not have one that suits the rest of your apartment.
Venetian Timber Blinds And Irregular Shape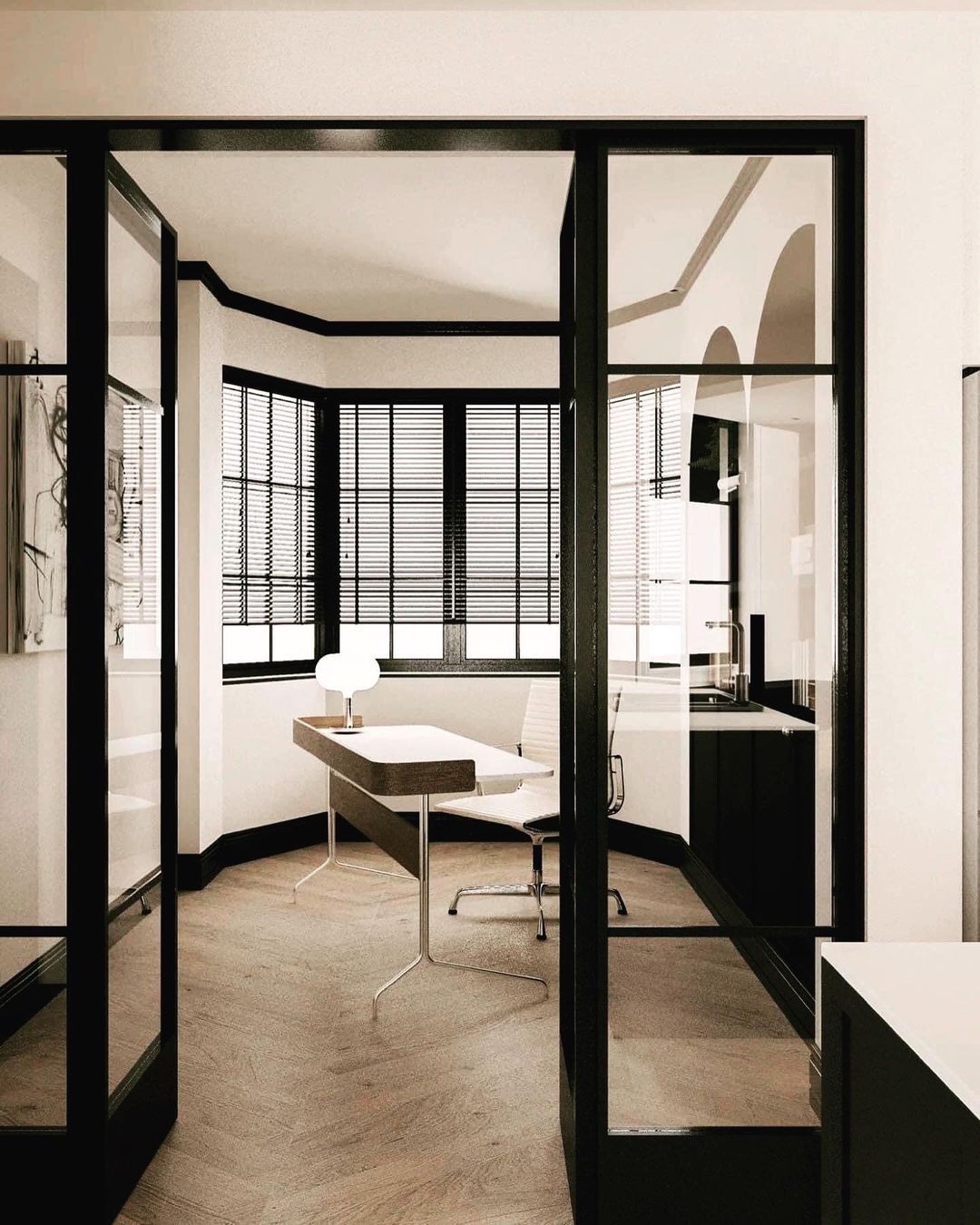 This study room vibrates with elegance, with the irregular shape, windows with timber blinds in a Venetian style, and a minimalist desk with a lamp and a chair. Very classy and gives a sense of privacy. Tiny adaptation is needed to make a space to meet one on one.
Symmetry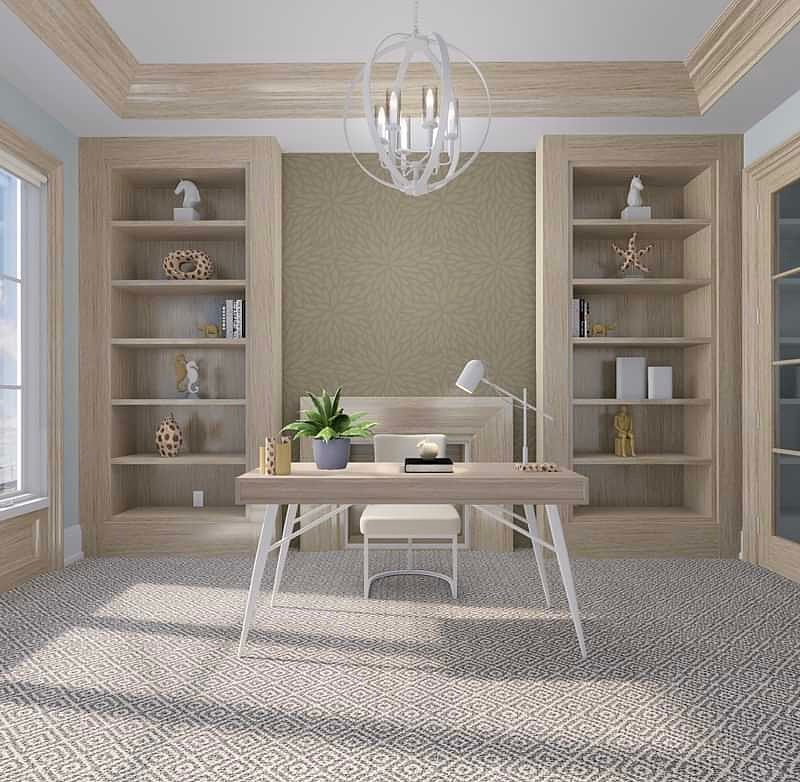 This room shows elegance and attention to detail. Although it is minimalistic, the arrangement of decorations cares for detailing. A small plant on the desk and large windows for natural sunlight. It will probably get messier at the peak of work.
Handy And Stylish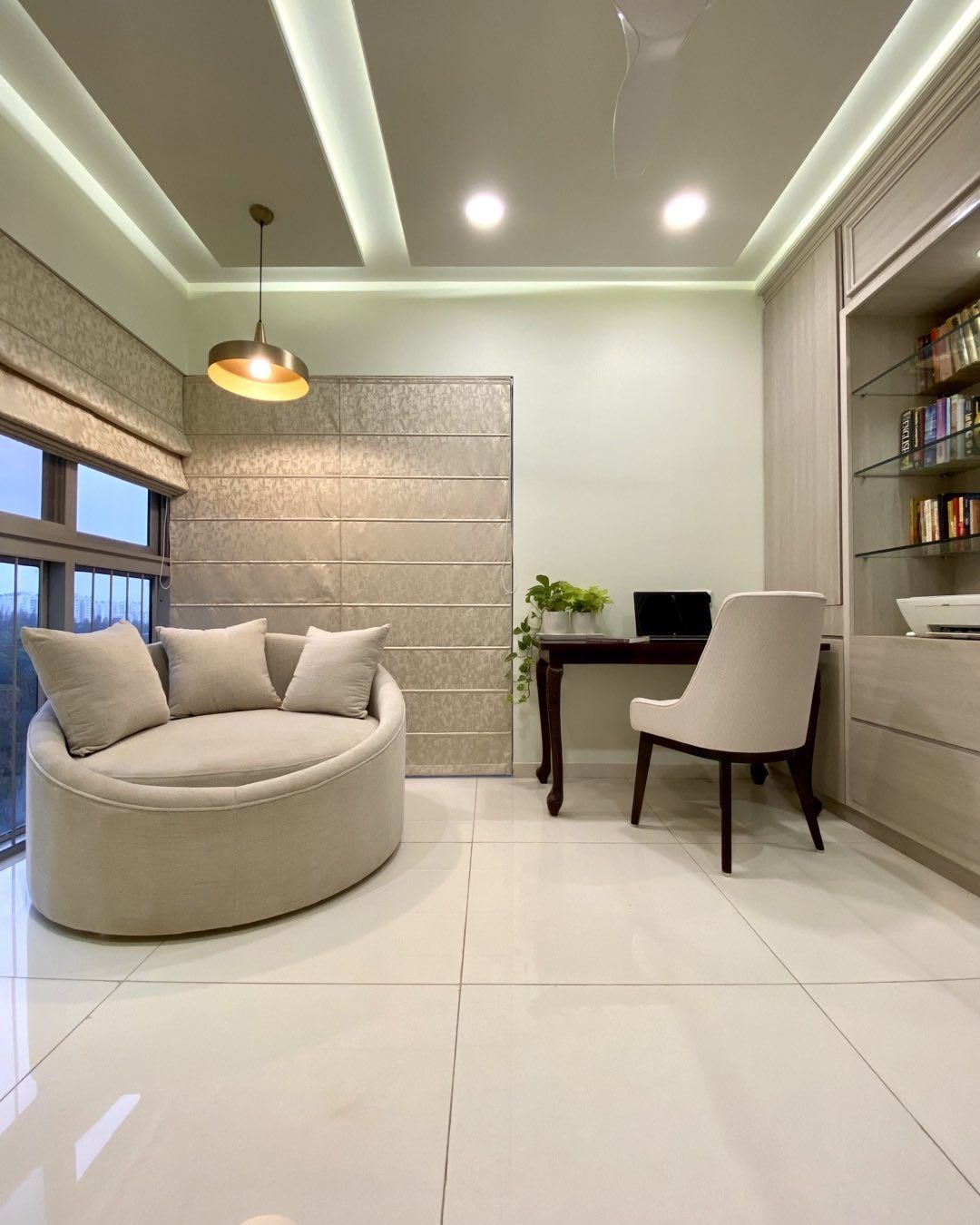 Working long hours, I used to have a sofa in my office for a power nap in the afternoons. For home, you might need only this sitting piece to stretch a little after hours of sitting. It could be a place where visitors can sit for a short briefing. Everything is well organized, with the files and books handy. The desk space seems to be enough with this organization of other things. The small plant at its corner is a lovely idea.
Big Monitor And Pieces of Art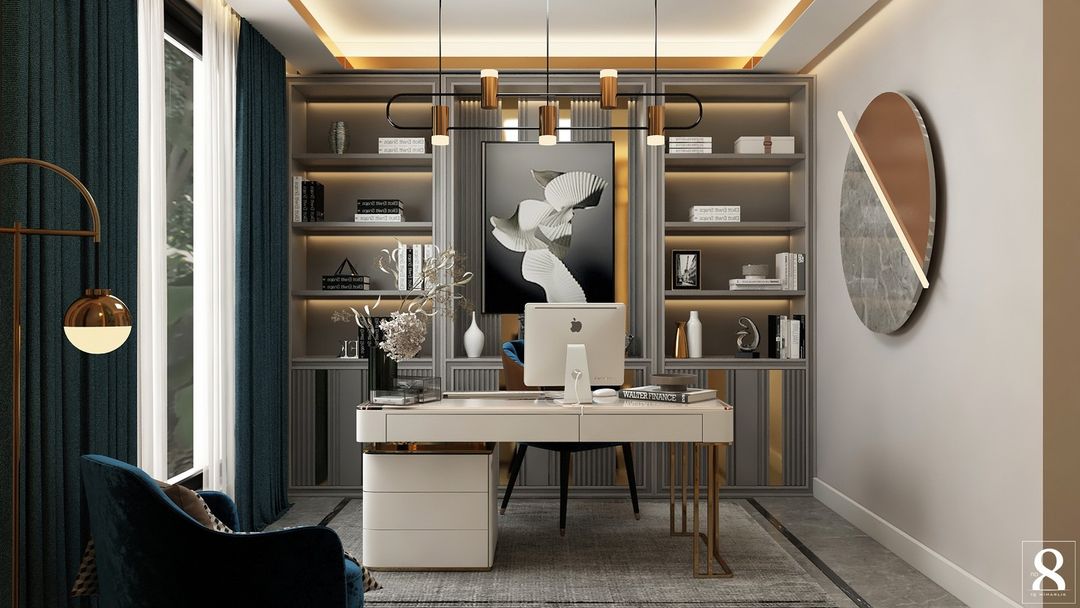 A large screen for your computer is an excellent idea. It saves your eyesight, especially if you spend many hours staring at the monitor. This study is pretty decorated. Besides the books and files, it has items arranged as beautiful art. The armchair I love. You can continue reading or reading reports or files while sitting on it. Or a visitor can set himself comfortable in it while meeting with you.
Wow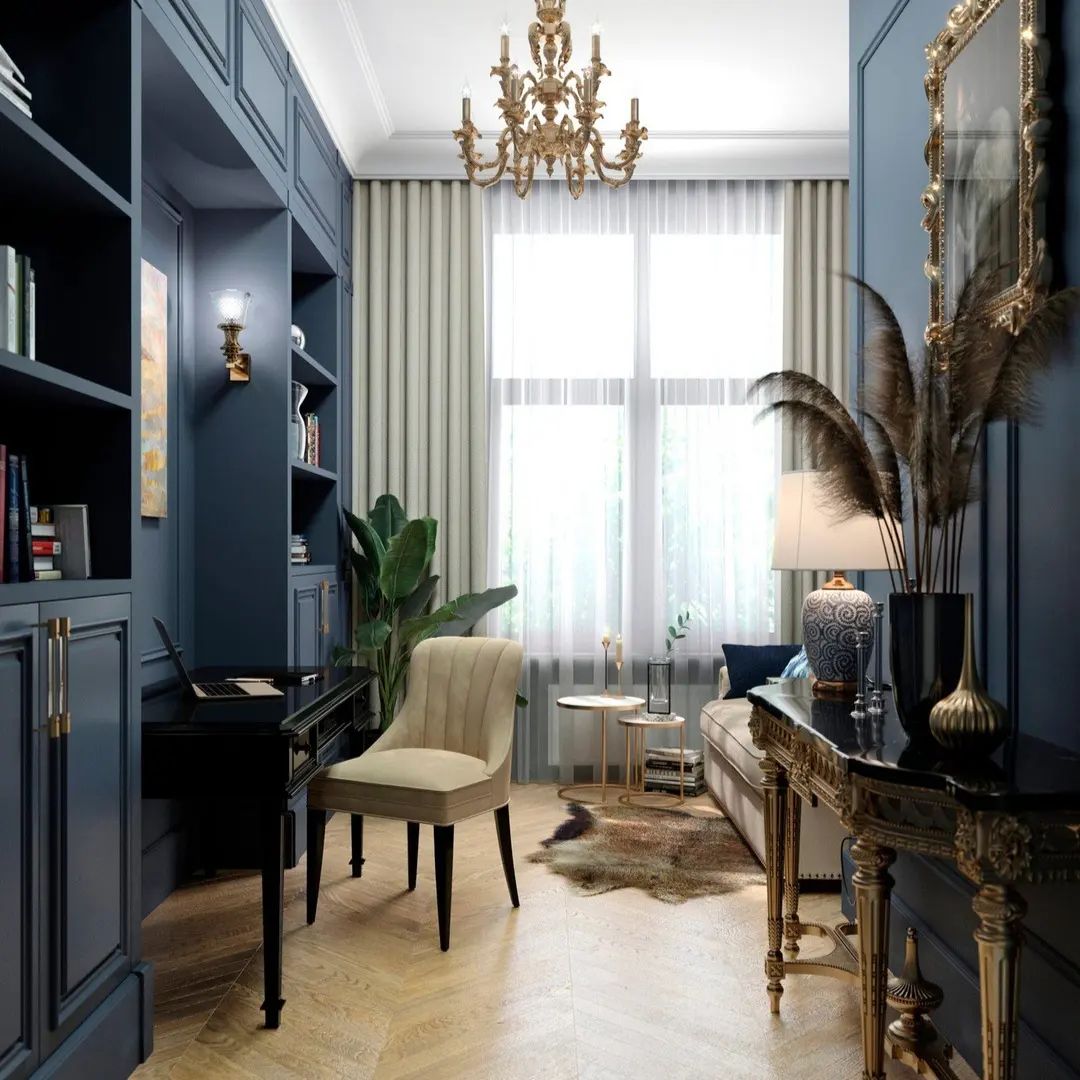 You can work, sit on the bench, and have a cup of tea. This particular home office is not aimed to work in many hours, but is very richly decorated, has some good lighting and a beautiful plant by the window.
Never sacrifice style for comfort or vice versa – opt for stylish and ergonomic furniture. The chair is not an item to save money on: the height, firmness of the seat, lumbar support, and armrests for proper posture are the key features of your chair. Choose the best one that suits you. Making a creative and positive environment to work or study is everything to your study room. It is not only a desk and a chair but the whole atmosphere that counts. Like colors or a minimalist, we presented some ideas from simple to luxurious. Give us feedback on how you find our study room decorations options useful.